This post may contain affiliate links to things like tours, hotels, Amazon associates and products. These help me earn a small commission at no additional charge to you.
Manchester is effortlessly cool: the Northern Quarter street art, the hipster cafes, the locals not flinching – or even putting up an umbrella – in the pouring rain. Why should the restaurants be any different? There are countless cool places to eat in Manchester, some of them new in 2021, some of them old favourites.

Since Manchester is such a blend of cultures, you'll find every cuisine under the sun. Armenian? Got it. Korean? Completed it. Polish? Of course!

The food in Manchester suits a range of budgets. From cheap eats in Manchester to fine dining, you'll find something to tempt your tastebuds whether you've got £5 or £500.
Coolest areas to eat in Manchester
Northern Quarter – full of independent businesses, this creative quarter of Manchester has been hip for years now. Lots of cool Manchester restaurants can be found in the NQ, along with speciality coffee roasteries and speakeasy-style bars.
Ancoats – this is THE place to watch. A few years ago, there wasn't much in this canal-side neighbourhood but it's now been gentrified with cool brunch cafes like Trove and Pollen. It's even been voted one of the world's coolest neighbourhoods!
Chorlton – in the south of Manchester, this is one of the poshest neighbourhoods and, as a result, there are plenty of happening places to eat and drink.
Altrincham – further south still is Manchester's other posh neighbourhood. Don't miss Alty Market and the cool cafes on Shaw's Road.
Suggested food tours in Manchester:
Cool restaurants in Manchester
Here are the coolest places to eat in Manchester for 2023…
1. Ramona's Pizza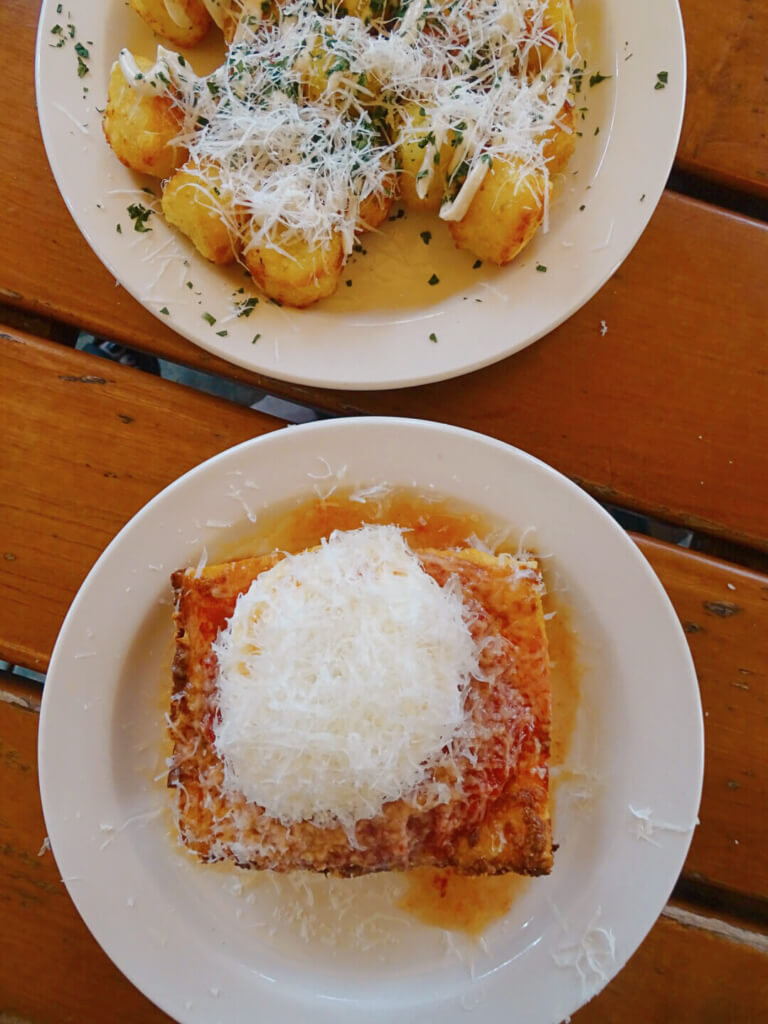 Did someone say festival tent? Better yet, did they say burrata cheese and margs?

Ramona is a brand new pizza place in Manchester with a twist: Detroit-style pizza is served by the slice with thick, doughy bases and ingredients spread to the edges.

There are so many trendy woodfire pizza restaurants in Manchester (and every UK city) so it was great to try something a bit different.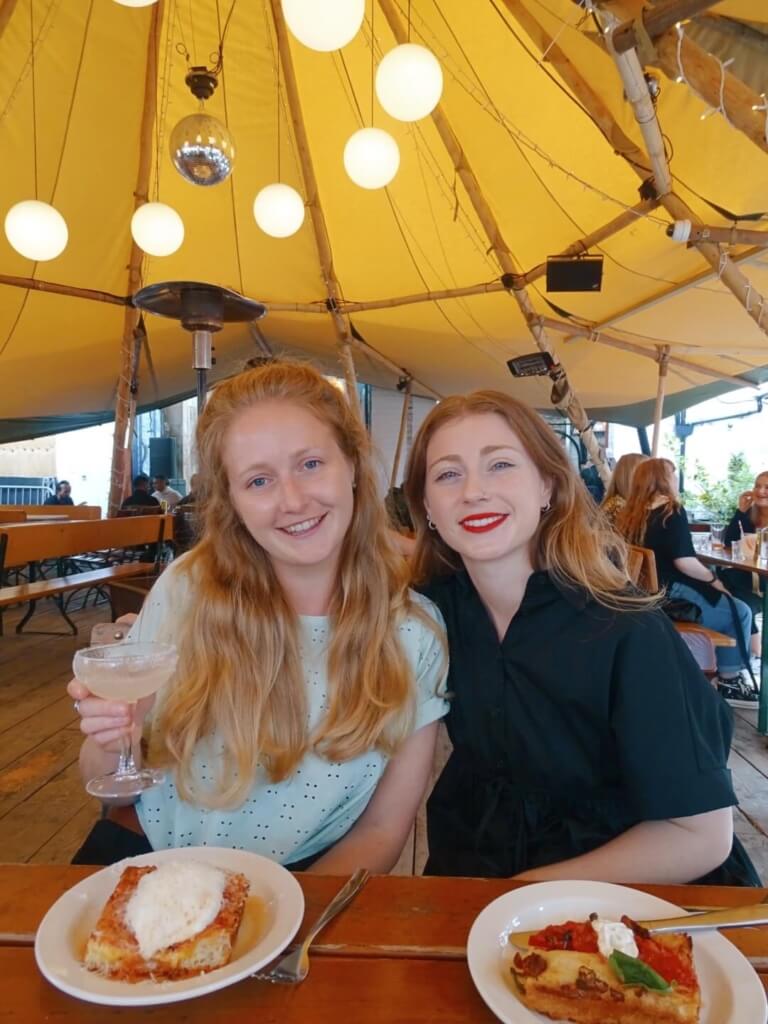 The BEST slice on the menu, in my humble, pizza-loving opinion, is the Cali Peps (£7.50) topped with pepperoni, burrata, pecorino cheese and hot honey. Although honey on pizza might sound strange, it seems to be the ingredient of the minute. You can't escape it at cool Manchester restaurants!

We also ordered tater tots and – the highlight – garlic bread, oozing melted cheese. Absolutely phenomenal!

The outdoor area is very vibey, kept dry with a giant festival-style tent. With live music and big shared tables, it's one of the coolest places to eat in Manchester.

My only complaint? The margaritas were pricey at £9.50 and not amazing (but maybe I'm just a marg snob).

Where: 40 Swan Street, just past the Northern Quarter.
FRESS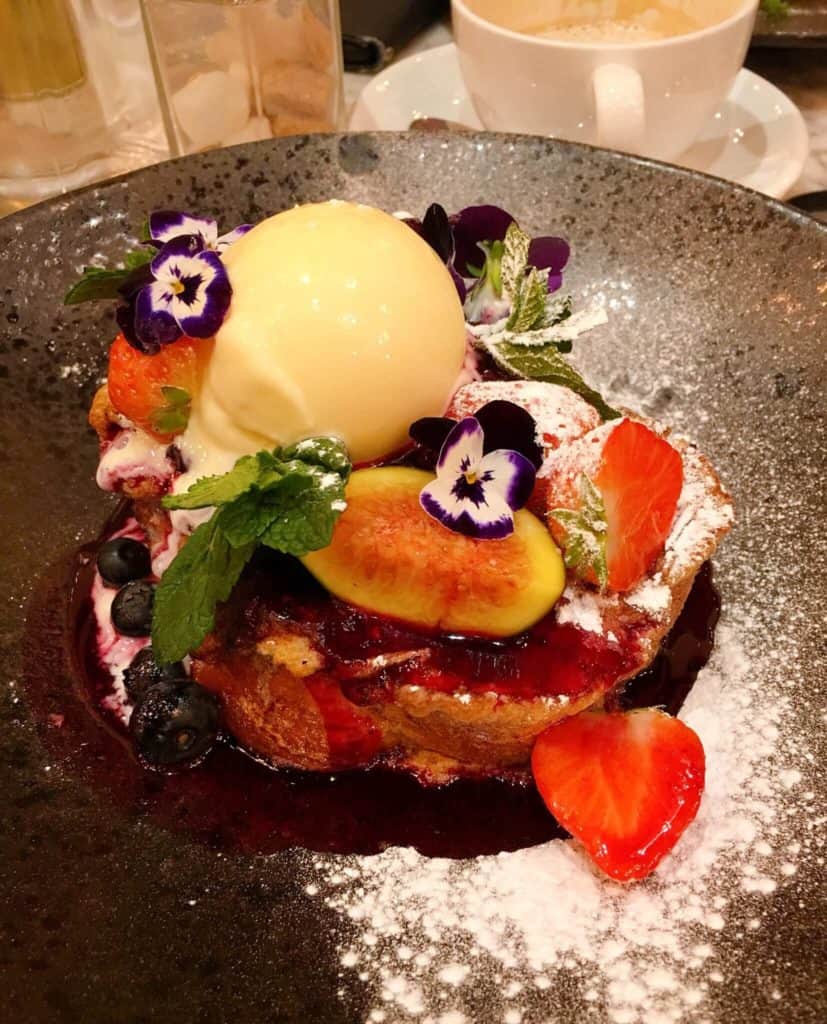 FRESS is a cool place to eat in Manchester's Northern Quarter (where else?) meant to resemble a subway carriage with a narrow feel and seats at either side. Decor-wise, it's white and minimalistic with bright colour pops and neon slogans.

The food is just as aesthetically pleasing as the interior. How pretty is my French toast topped with edible flowers? With berry compote, mascarpone ice cream, mint and fig, it tasted as good as it looked.

FRESS serve seasonal main dishes all day as well as brunch, afternoon tea and cocktails. If you fancy a burger with a twist, order the buttermilk waffle burger, Korean chicken burger or halloumi truffle burger. I don't know how I'd ever choose between those three!

Where: 62 Oldham Street.
Albert Schloss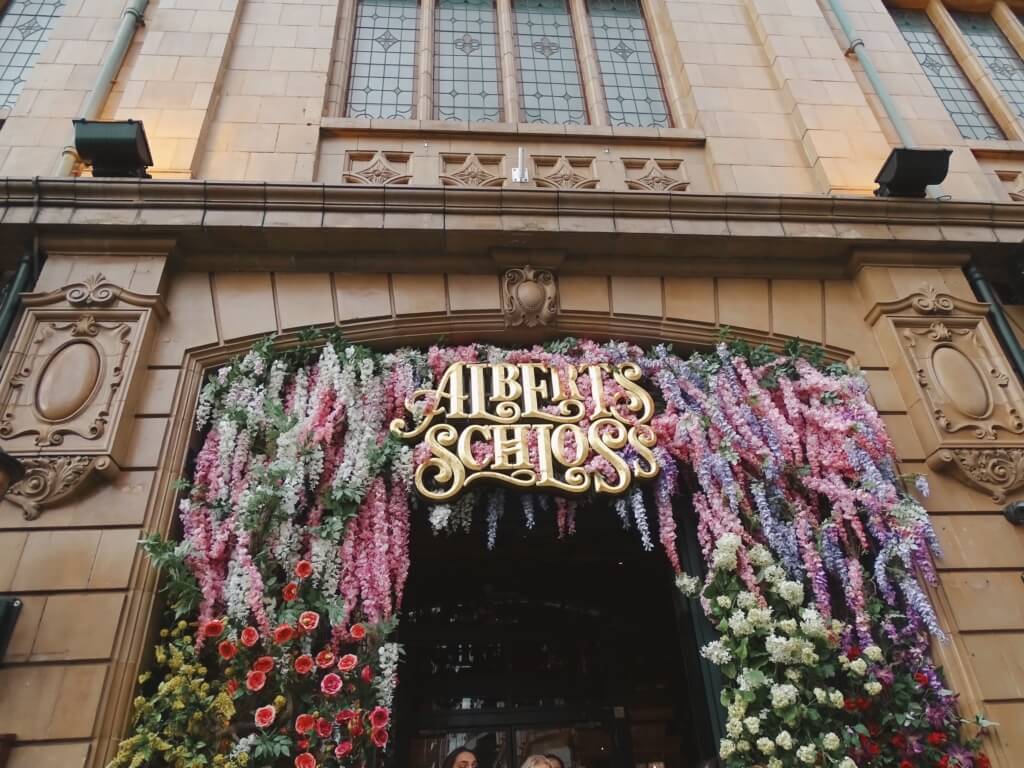 Albert Schloss is not a new kid on the block: it's been around for years, remaining one of the coolest restaurants in Manchester to this day.

This Bavarian-style beer cellar has an enormous range of pilsner beers (bottled and on tap) as well as authentic German beer hall classics. Start with soft, salty pretzels with alpine cheese and move onto mains like schweinshaxe, wild mushroom spatzle and chicken schnitzel, all with fancy touches like parmesan mayonnaise and sage butter.

The Bier Palace is a vibey place to be in the evenings when cocktails flow and cabaret shows go on until late. There's nowhere else in Manchester – or anywhere else that I know of – quite like this!

Where: 27 Peter Street.
Ciaooo Pizzeria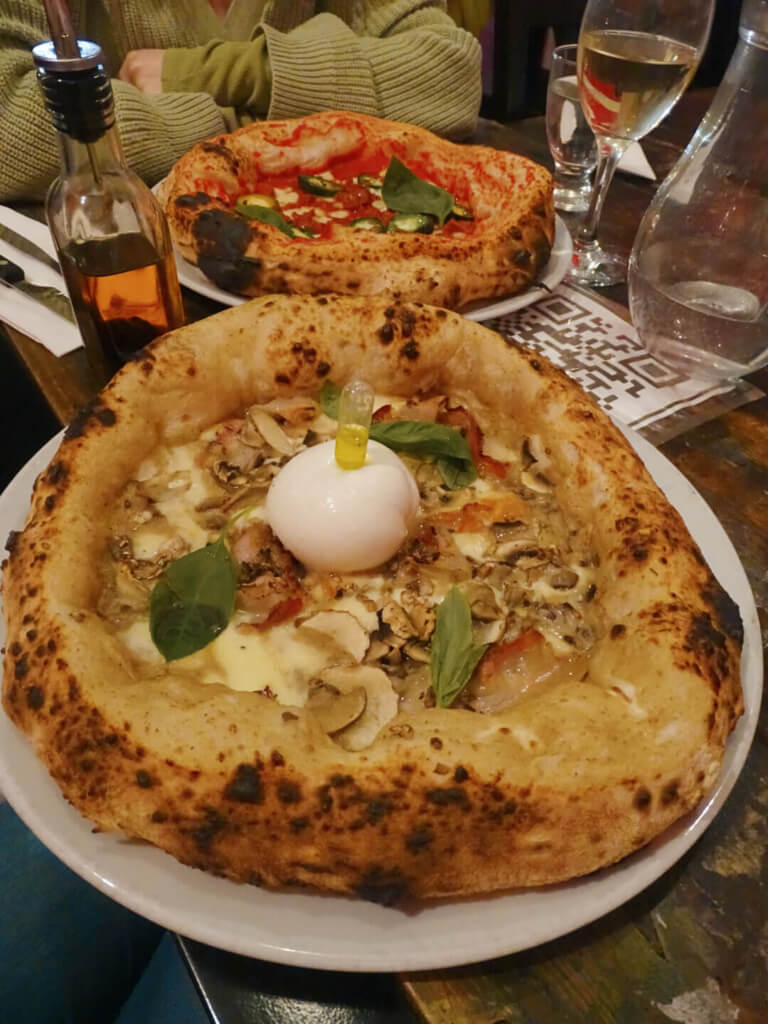 The interior of Ciaooo Pizzeria isn't anything to write home about (in fact, they're probably due for a refurb) but its reputation as one of the city's best pizzerias secures it a spot as one of the coolest places to eat in Manchester. The 'grammable oil syringes inside balls of burrata are #InstaGoals.

Enormous calzones and desserts like Sicilian pistachio mousse are also on the menu. However, there's no bliss quite like the garlic bread. Melted cheese layered on perfectly risen dough, is this Italian heaven?

Where: 62-64 Swan Street.
Ezra & Gil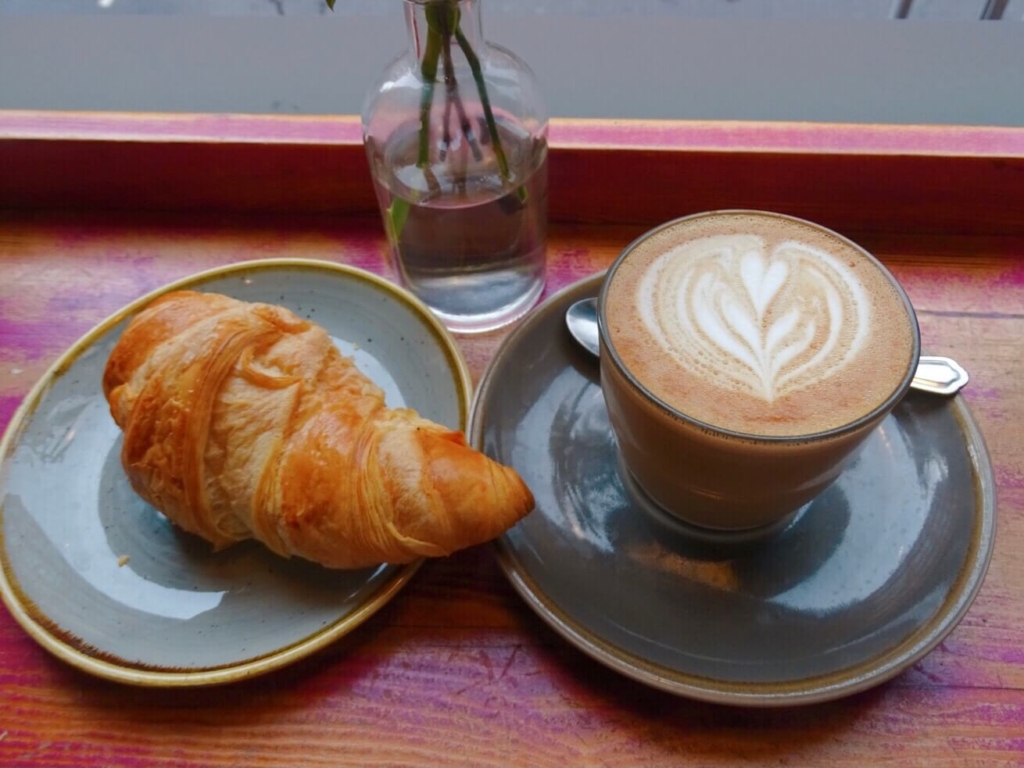 This cool restaurant in Manchester's Northern Quarter gets busy from 9am and stays that way throughout the day and evening. If you see a long line of people (usually sheltering under umbrellas) on Hilton Street come Saturday morning, rest assured they're trying to get a seat at Ezra & Gil.

There's a huge brunch menu ranging from your standard egg and avo combos to more unusual dishes like lemon cheesecake French toast, and chorizo and sweet potato hash. From 12pm, they also serve poke bowls and Italian pasta dishes like ravioli, rigatoni and linguine.

It's a bright, airy restaurant with big tables for groups as well as window bars for pairs and solo diners.

Where: 20 Hilton Street and 49 Peter Street.
Cool food courts in Manchester
In addition to the cool restaurants in Manchester, a plethora of food courts have recently opened. Each one has a distinctive look and feel, plus the food is prepared by some of Manchester's best businesses.

They all operate in the same way: scan the QR code on your table, access the menu, place your order and pay on your phone. Your food and drinks will be brought to your table.

If you're looking for cool places to eat in Manchester, check out the following food courts for lunch or dinner…
Mackie Mayor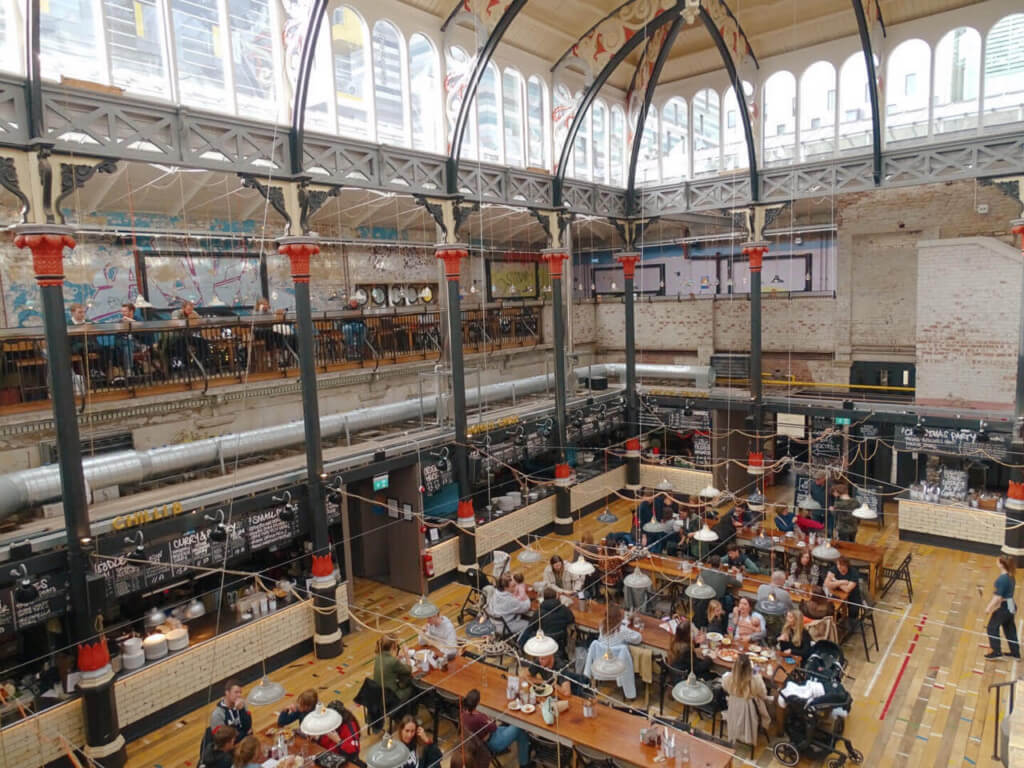 In the 4 years since it's opened, Mackie Mayor has quickly become the most famous food court in Manchester. Inside a Grade II listed building dating back to 1858, it's visually impressive with a sociable vibe and plenty of food options.

The only problem? Choosing between ramen and bao buns at New Wave Ramen, tacos at Eat Picos, pizza at Honest Crust and sustainable seafood at Fin Fish Bar. Help!

Where: 1 Eagle Street, on the edge of the Northern Quarter.
Mala Secret Garden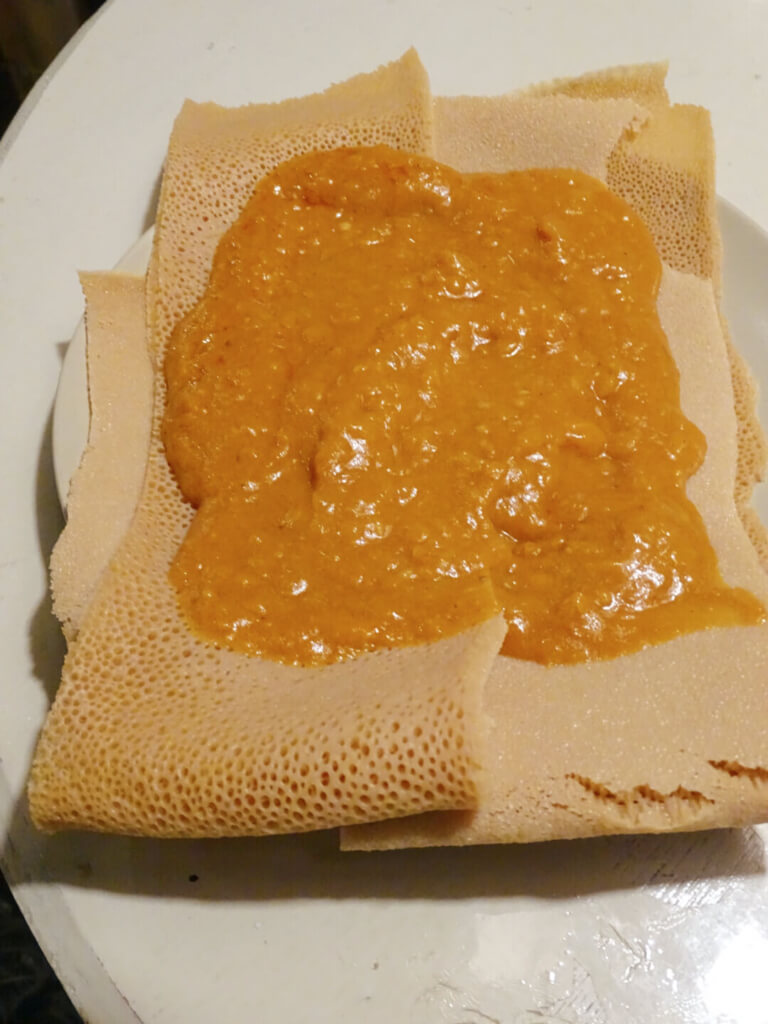 Hidden away in the Northern Quarter, Mala Secret Garden is one of those places you have to know about to visit. It doesn't look much from the outside but it's an adorable winter wonderland when you enter.

It's open from noon but becomes most atmospheric in the evenings when fairy lights illuminate the trees and you can sit in cosy cabins with your friends.

I ordered an Ethiopian curry and injera from Habesha but other options include poke bowls, South African cuisine and pizza. The decadent crumbles from Crumbled UK look wildly delicious.

Honest review – while Mala is a beautiful setting and I enjoyed the food, the vendors aren't on-site so everything arrives at different times in takeaway packaging. If this were to change, I would give it a 10/10 but for the moment, it's not very sustainable and feels disjointed when you aren't eating at the same time as your table.

Where: 19 Lever Street.
Society – trendy food court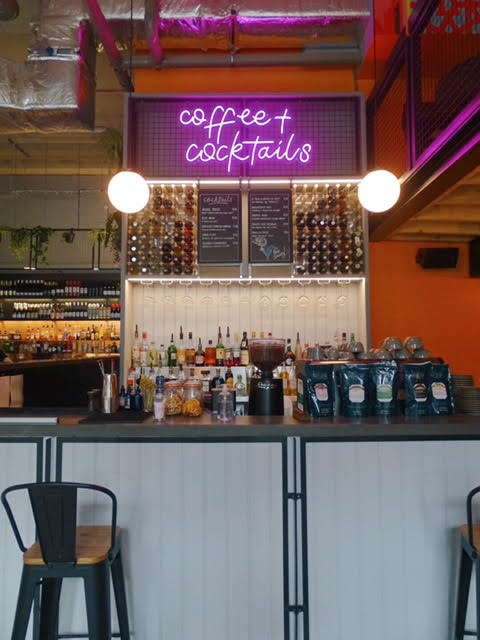 For a cool place to eat in Manchester city centre, get yourself to Society food court beside Barbirolli Square. Unlike the grand setting of Mackie Mayor and the adorable atmosphere of Mala Secret Garden, this place is straight-up hipster: modern with a warehouse feel and neon signs.

I ordered the honey-garlic Korean fried chicken with a side of kimchi mandu (dumplings) from Yoki Social Table and I've heard great things about the burgers from Slap & Pickle.

Where: Basement, 100 Barbirolli Square.

When: I visited for lunch on a Tuesday when it was VERY quiet (but great for a makeshift co-working space). For a lively atmosphere, visit during evenings and weekends.
Hatch – halloumi fries (and more)
Hatch is another cool Manchester food court, semi outside with a covered area and heaters. As well as vintage clothes shops, food vendors and bars, there's a double-decker bus serving authentic Vietnamese food.

Despite my love for banh mi, I went for the halloumi fries from Eat Mor Mor paired with padron peppers and a craft beer. Other vendors include Parmogeddon (serving cheesy chicken parms), KBOM (Brazilian and Portuguese street food) and Abeja Tapas Bar.

Finish with Oh My Cheesecake served in weird and wonderful ways for example on sticks, inside croissants and in jars to take home!

Where: 103 Oxford Road.
Altrincham Market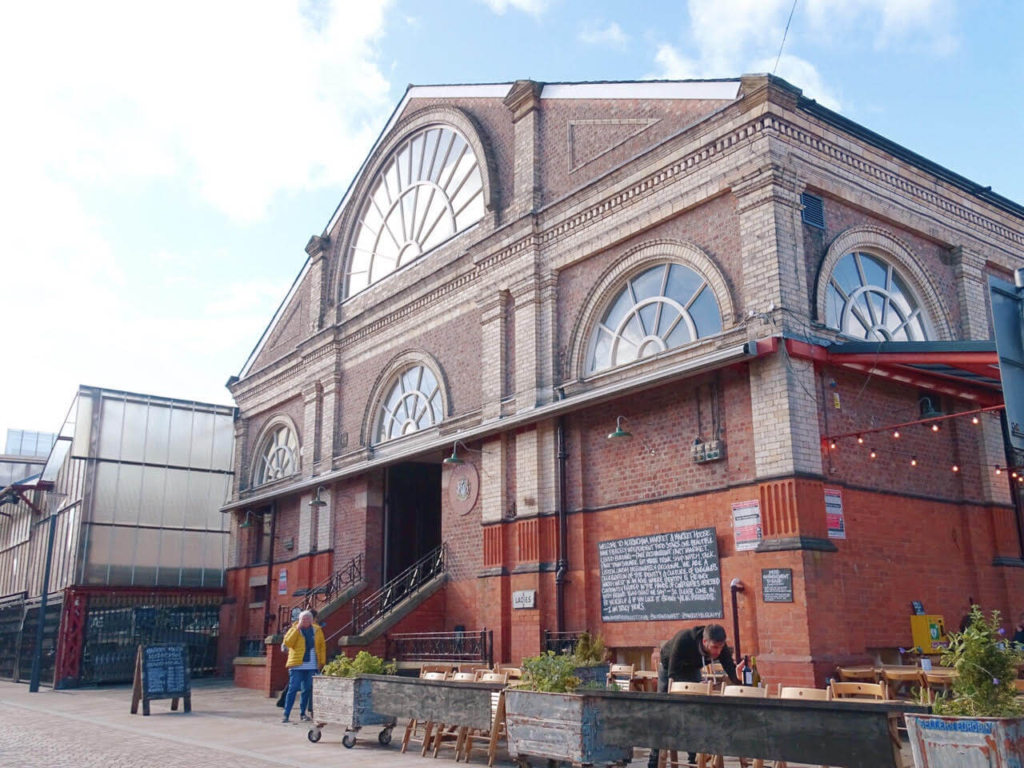 As one of the coolest (and most expensive) suburbs of Manchester, of course Altrincham has some stylish food options.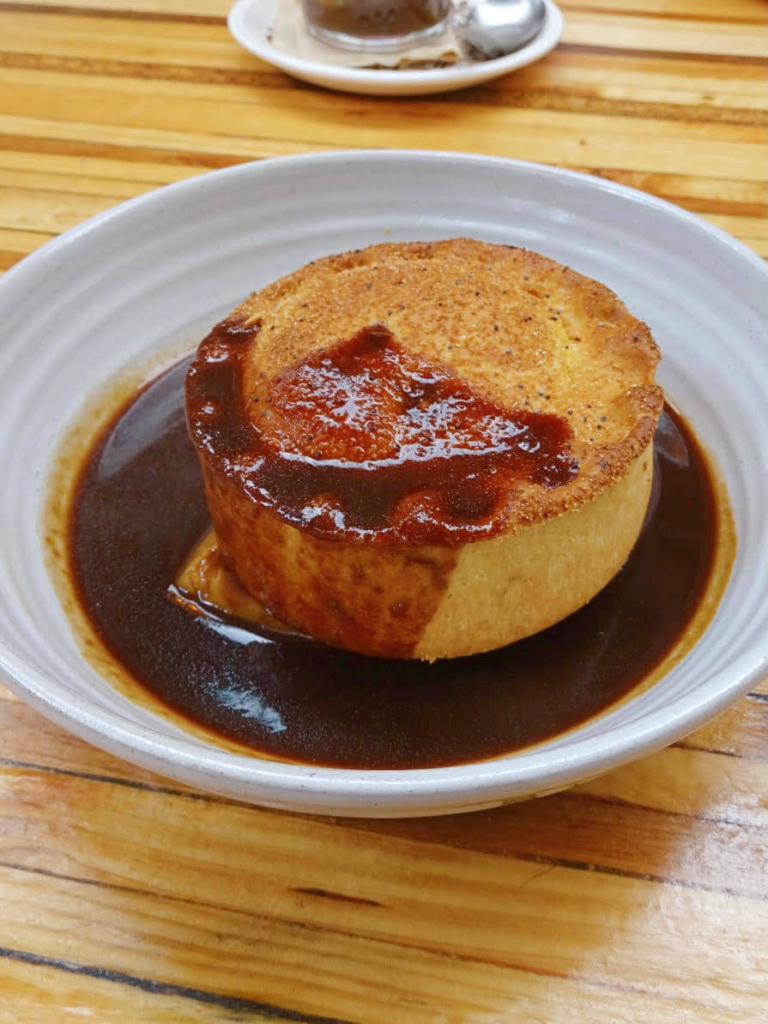 The coolest place to eat in Manchester's Altrincham is Alty Market, inside a refurbished food market dating back to 1290. Bet they didn't have vegan tacos and matcha lattes back then!

With the same management as Mackie Mayor, you'll find lots of the same award-winning businesses like Eat Pico's (don't miss the squash & mole rosa tacos), meaty pies with mash and gravy at Great North Pie Company and vegetarian Asian food at Banh Vi.

For the Market House food stands, visit from Tuesday-Saturday between 9am and 10pm and until 6pm on Sundays and Bank Holiday Mondays.
Makers Market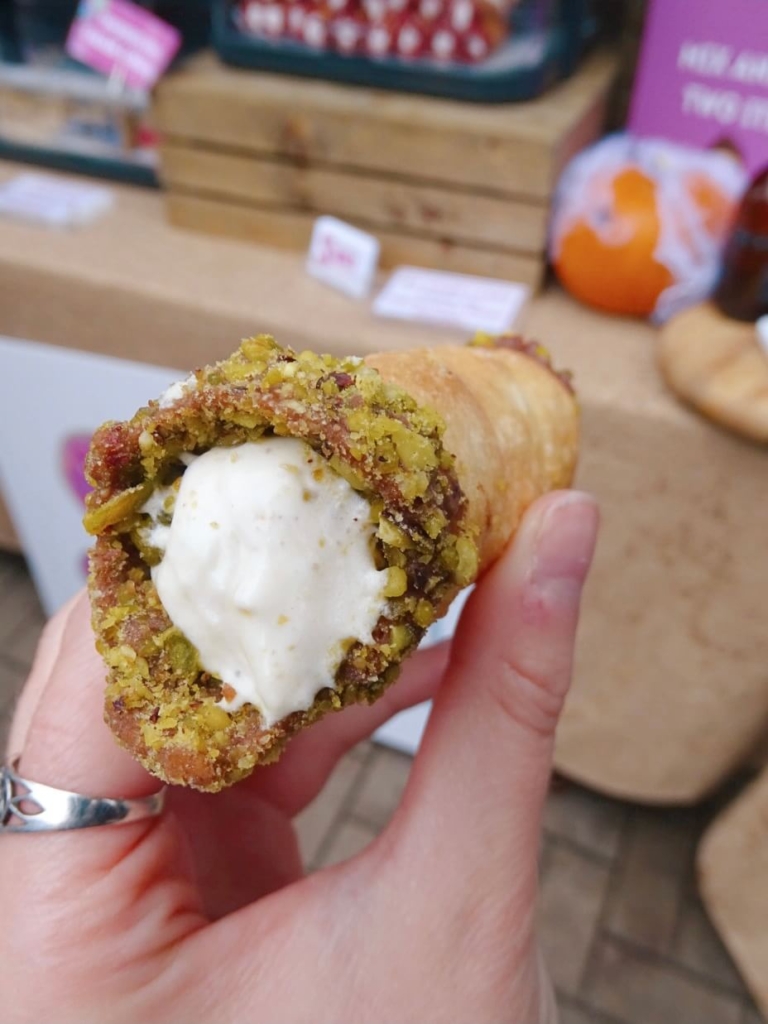 Unlike the many food courts listed above, the Makers Market is Manchester's long-standing outdoor food market, rotating between different locations on weekends. Pay in cash or with card.

With giant meaty, cheesy toasties and delicious Sicilian cannoli (among other fantastic independent businesses), the Makers Market is a cool place to eat in Manchester with affordable prices. My pulled pork Cubano toastie was just £6.50 and my cannoli was £3. Bargain!

Where: Catch the market on the second Sunday of the month in the Northern Quarter and during the last weekend at MediaCity.
Cool bars in Manchester
For all the cool restaurants in Manchester, there are just as many drinking holes. Choose from fancy cocktail bars, classic pubs and hidden speakeasies. Here are a few of my favourites…
Dusk Til Pawn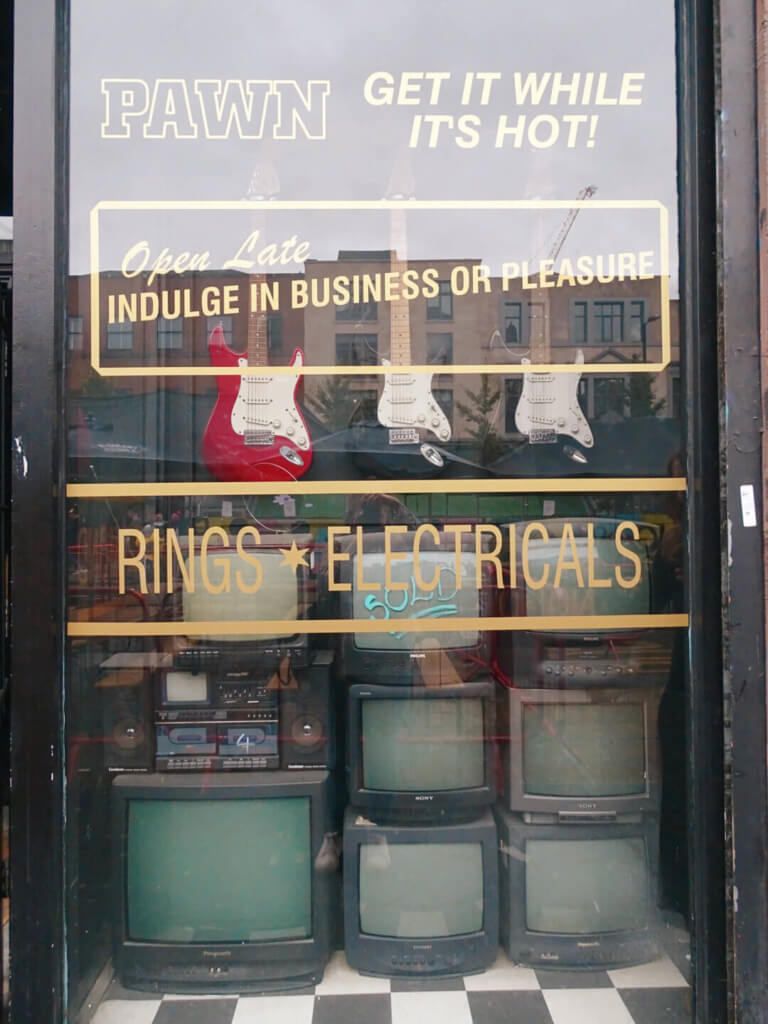 My sister and I were on the hunt for entertainment one rainy Saturday and a quick Google Maps search for 'cocktails' took us to what looked like a pawn shop selling broken TV and jewellery. What the..?

The front is simply a facade. Nip through the door and you'll be inside one of the Northern Quarter's coolest cocktail bars, Dusk Til Pawn. With red brick walls, dark wooden furnishings and moody lighting, this intimate bar has a cosy, secretive feel.

Drinks aren't cheap; we paid €9.50 for espresso martinis but I can't deny they were excellent.

Where: Stevenson Square.
El Capo
El Capo is known as a cool place to eat in Manchester but so far I've only visited for drinks. This tequila and mezcal bar in the Northern Quarter is decked out with Mexican details like crosses, skulls, La Catrina imagery and a large screen showing the Day of the Dead parade scene from the 2015 James Bond film, Spectre.

Drinks-wise, they serve all your regular cocktails, Mexican beers and a few different margs: original, coronita (mixed with beer), frozen margs and giant sharing ones. I haven't tried the food but I know they serve tacos, nachos and burritos with meat, seafood and veggie fillings.

Where: 12 Tariff Street.
Cool coffee shops in Manchester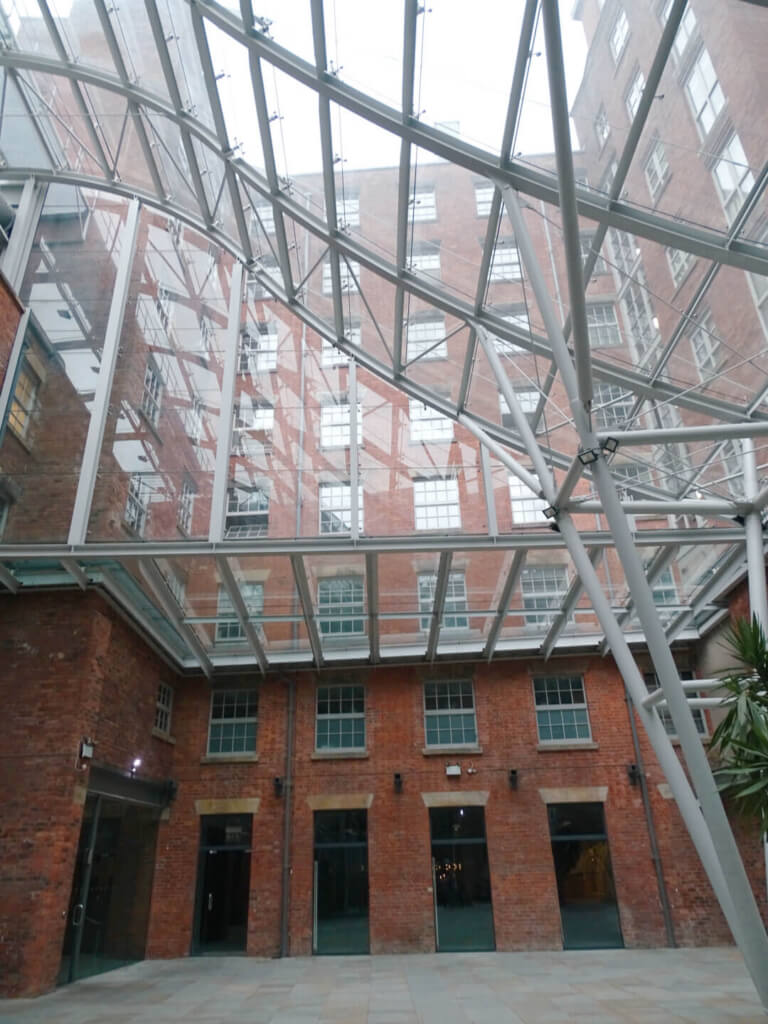 If we're talking cool places to eat and drink in Manchester, we can't miss the quirky coffee shops. As we all know, speciality coffee is a huge deal these days. From matcha to macchiatos and cappuccinos to cortados, Manchester doesn't sleep on the trends.

A few of my favourite cafes include:
Ancoats Coffee Co – hidden inside the old Royal Mills in a quiet part of Ancoats, this is the perfect place to sip coffee or get some work done.
Pot Kettle Black (Barton Arcade) – top tier coffee and cake inside an aesthetically pleasing Victorian arcade? This cafe ticks all the boxes.
TAKK – this Nordic-inspired cafe with moody lighting has seating for groups and co-workers. Northern Quarter goals!
Read next: 12 best cafes in Manchester
Thanks for reading!
Read some of my other North England blogs:
Travelling the UK? Check out all my England, Scotland and Wales blogs and my complete guide to travelling the UK on a budget.
Liked these cool restaurants in Manchester? Pin this for later!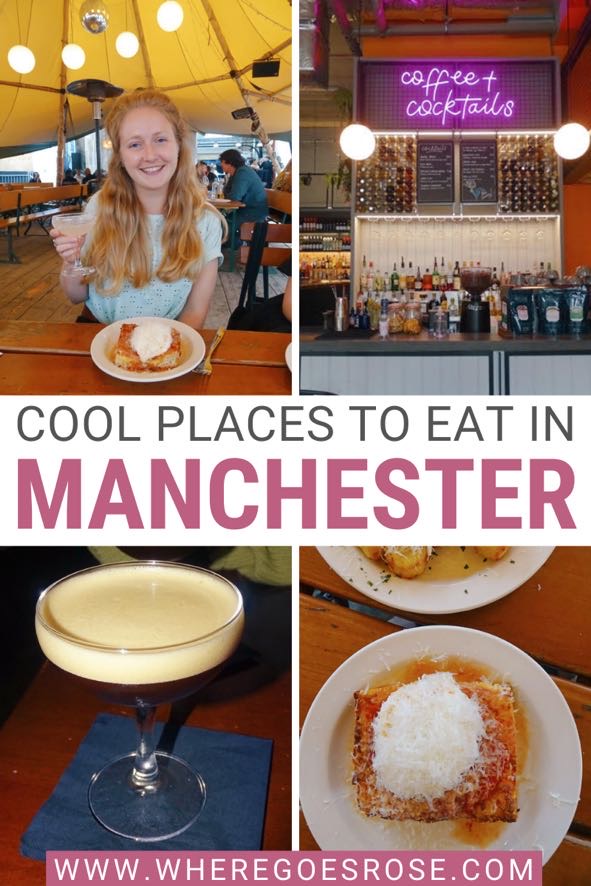 TRUSTED RESOURCES FOR VISITING THE UK

Getting there & around by air – I use Skyscanner to find the best-value flights, using the 'search by month' tool to find the cheapest dates. You can also use the 'to anywhere' feature if you're flexible on where you're going.

Car hire – use Rentalcars.com to compare car rentals and campers in the UK (and all around the world).

For UK trains, I use Trainline. The search feature allows you to compare prices, and they show live departure times on the website.

For buses, I use busbud. It's the only site that compares UK coaches and buses. Find London to Manchester journeys for £1!

For hotels and self-catering apartments, I use Booking.com. You can filter by review score and price to find the best-rated budget places. For hostels, I use Hostelworld.com.

Browse UK tours and activities on GetYourGuide.

Pack the latest copy of Lonely Planet UK.

To save money on accommodation, I use Trusted Housesitters, a website that connects homeowners going away and travellers who can sit their homes & pets.

Need travel insurance? I use True Traveller (for UK & Europe residents) since it's some of the most affordable insurance out there but still covers everything you'd need including various activities, valuables and pre-existing conditions. Unlike some companies, they insure you if you're already travelling / don't yet have your flight home booked. Get a quote.

For other nationalities, I recommend Hey Mundo and for long-term digital nomad travellers, I suggest Safety Wing.