This post may contain affiliate links to things like tours, hotels, Amazon associates and products. These help me earn a small commission at no additional charge to you.
Before my trip, I spent a lot of time asking the internet, is Cuba expensive? As a budget traveller, I usually have a general idea of a country's costs before visiting. But when it came to Cuba budget travel, I didn't know where to start…

Firstly, many people told me that ATMs in Cuba are frequently out of cash. Rather than get stuck without money, I wanted to know how much to budget for Cuba in advance.
CUBA TRAVEL ESSENTIALS

Accommodation: Airbnb / Booking.com / Hostelworld

Travel insurance: True Traveller (European travellers) / Hey Mundo (other nationalities) / Safety Wing (digital nomads)

Activities: Urban Adventures
Secondly, the internet is virtually non-existent in Cuba meaning it's hard to sort out any financial issues you may encounter.

Cuba can be a confusing country to visit generally and as a solo traveller in Cuba, I didn't want to find myself in a sticky situation. For that reason, I tried to calculate my Cuba budget in advance.

In this Cuba budget travel guide, I'll break down Cuba costs and help you plan your trip.
Note – all costs in this guide are in CUP (Cuban pesos) and USD unless otherwise stated.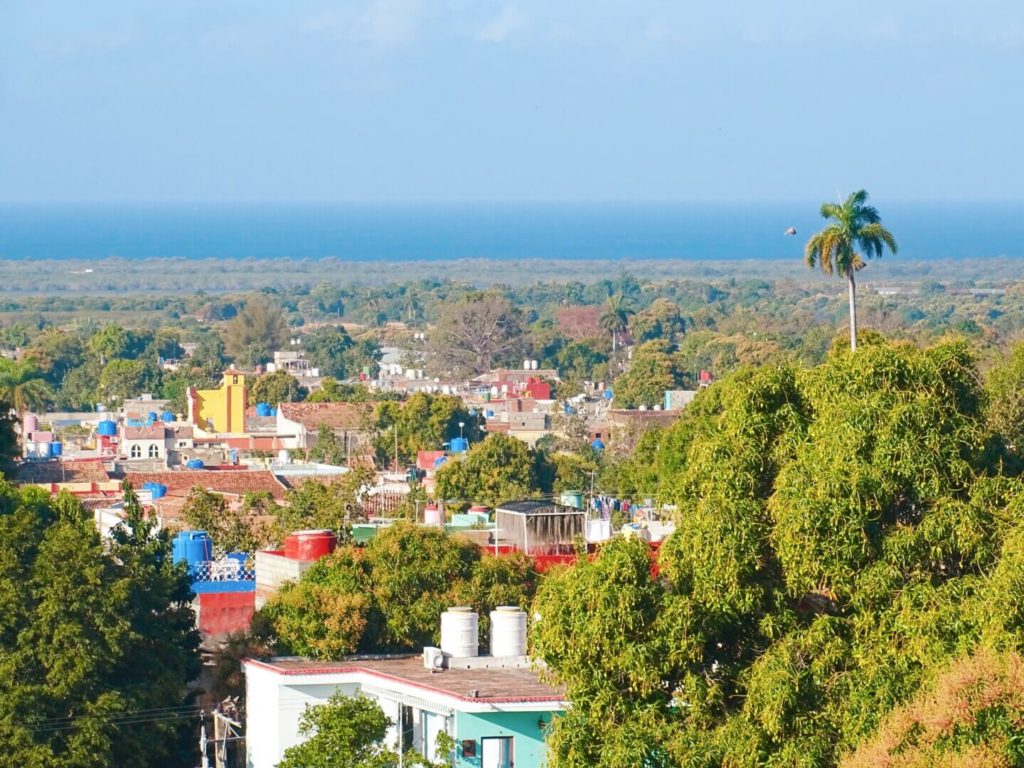 Top tip – since it's so hard to get online in Cuba, I would recommend bringing a guidebook and phrasebook to help you along the way. I recommend the latest copy of Lonely Planet Cuba and a Latin American Spanish Phrasebook & Dictionary.
Is Cuba expensive?
Like anywhere, it depends on how you want to live. Transport is very expensive but otherwise, I was pleasantly surprised because so many people had told me that Cuba is expensive. Yes, some things were but, overall, it wasn't as bad as I expected.

I spent $420 USD in 10 days. This paid for my accommodation, food, transport and many pina coladas. I could have done it cheaper but I also could have spent much, much more.

This means my daily Cuba budget was just $42.

Budget travel in Cuba is indeed possible!

It's worth noting I did a couple of tours sponsored thanks to this blog so if you want to do things like a bar crawl, convertible car tour or a Havana to Vinales day trip, add these things to your Cuba budget (activity costs below).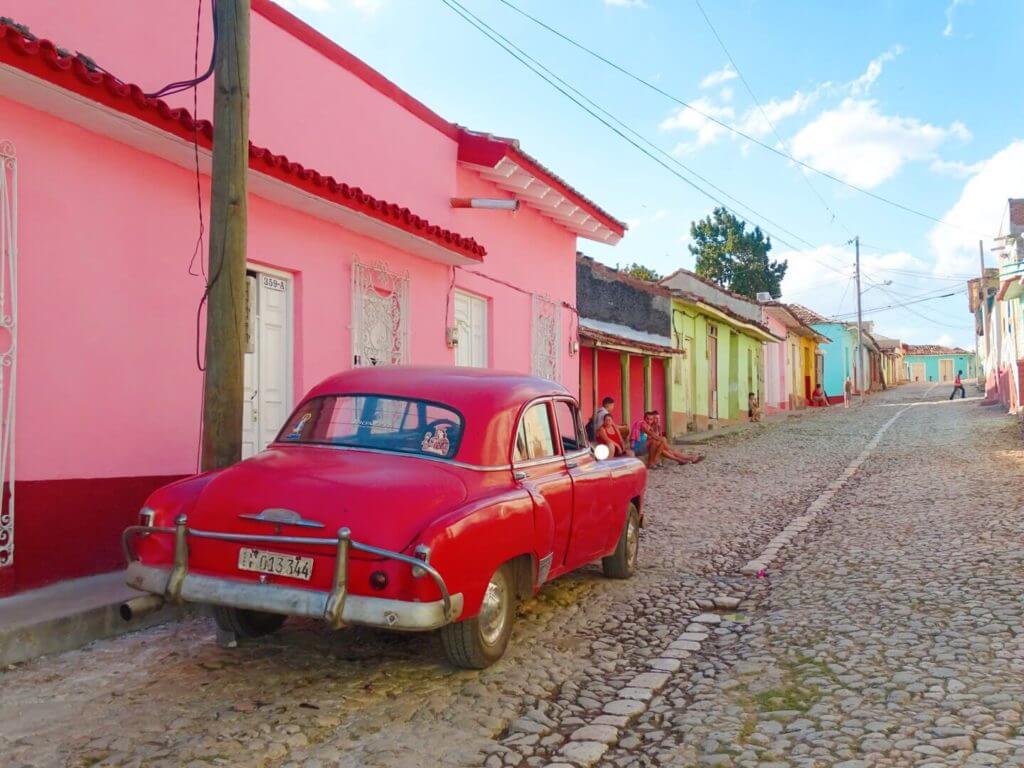 Spending 10 days in Cuba? Follow my Cuba 10 day itinerary.
Understanding the currency
When I visited in 2020, Cuba had a confusing two-currency system. It involved the Cuban convertible peso (CUC) used mainly by tourists and the Cuban peso (CUP) predominantly used by locals for daily items.

In 2021, the CUC was dissolved and the only currency in use is now the CUP. As of 2023, there's 24 CUP to 1 USD.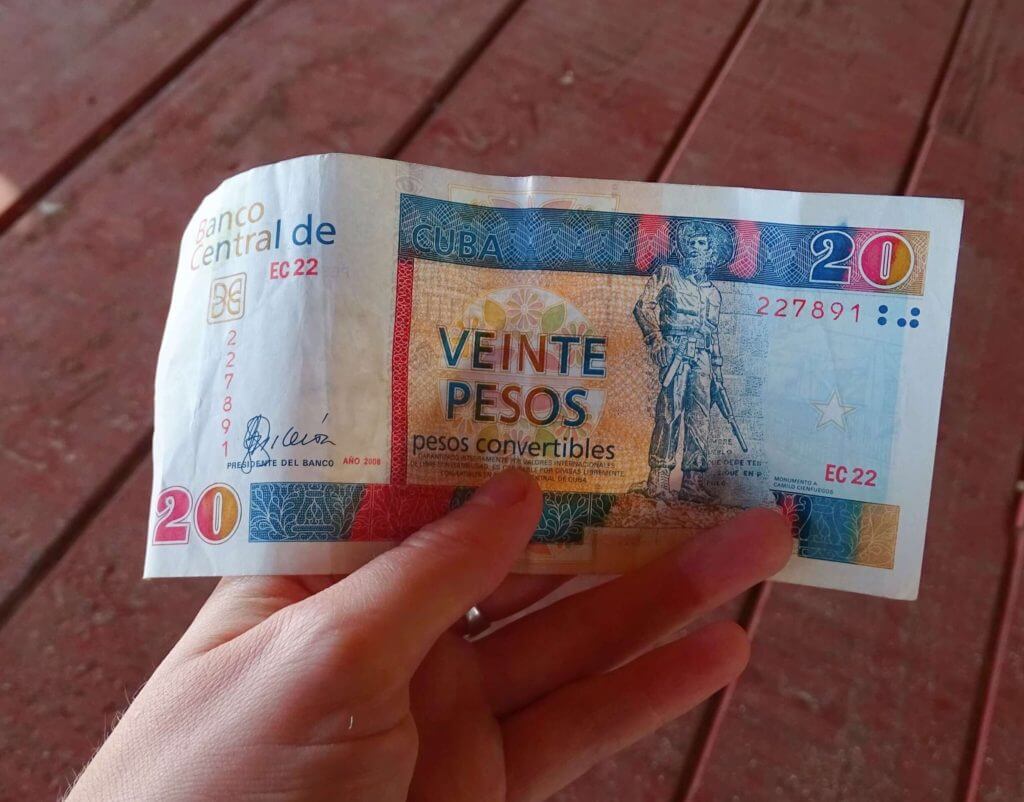 Where to get money in Cuba
Since we're talking about money, you might be wondering how to withdraw cash to start with. You can't take CUP into or out of Cuba. You either need to withdraw it when you arrive or bring your own currency and exchange it.
ATMs
These charge an extra 3-4% on top of your bank's charges. In addition to the fact they're often out of money, they also don't accept American cards. It's worth noting that you may also have problems with American cards issued from other countries, for example a British Mastercard. I didn't use mine so can't tell you, unfortunately.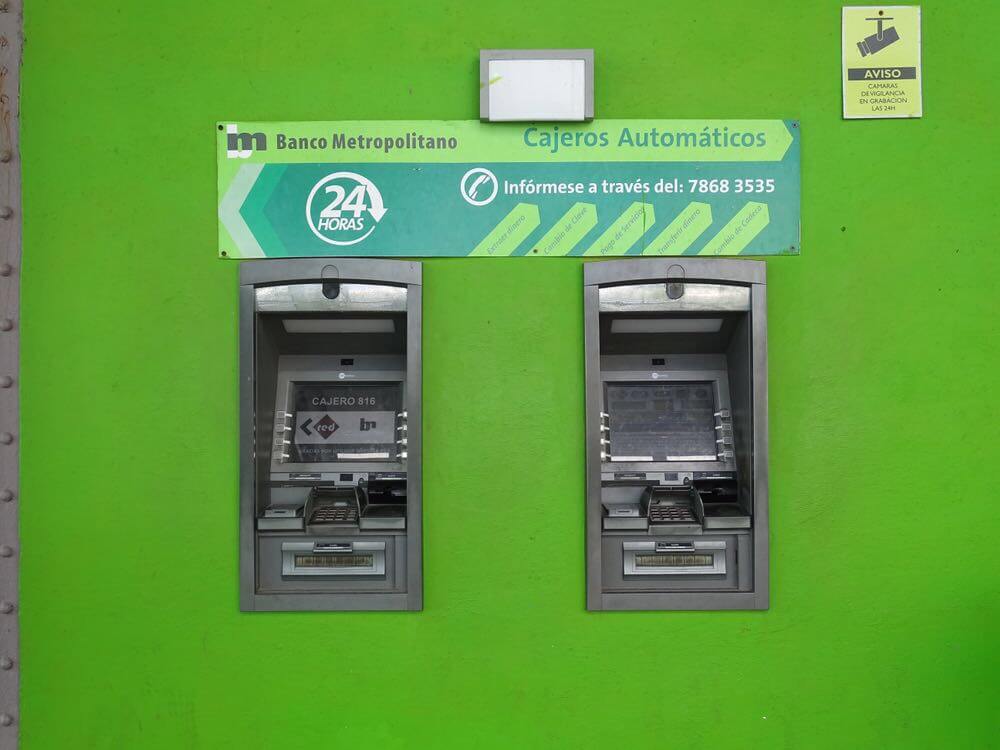 Currency exchange
Due to the ATM situation, many people take the safer option of bringing their spending money in a foreign currency and changing it on arrival. You can do this at a Cadeca office, in the street or at the airport. Since you'll need money to get from the airport to your accommodation (there's no Uber in Cuba, friends!), you should to do this at the airport.
An additional 10% is added to the exchange of USD so the best currency to bring and exchange is Euro or Pound Sterling. Since I was coming from Mexico and had neither, I brought Mexican Pesos. The rate seemed fair.
My top tip – if you're exchanging money at the airport, run like the wind from arrivals to the currency exchange office which is outside near the taxi rank. I was lucky to be the 5th person in the queue but still waited about an hour for cash as everything was taking so long. There were 20+ people behind me who must have been waiting until 4am.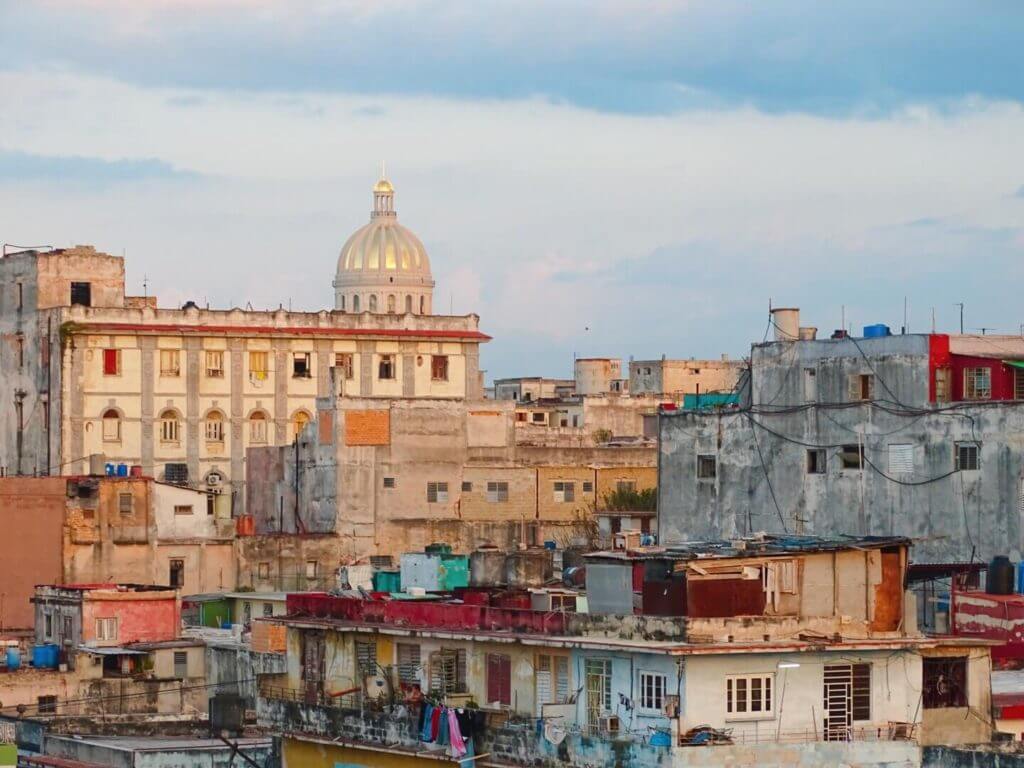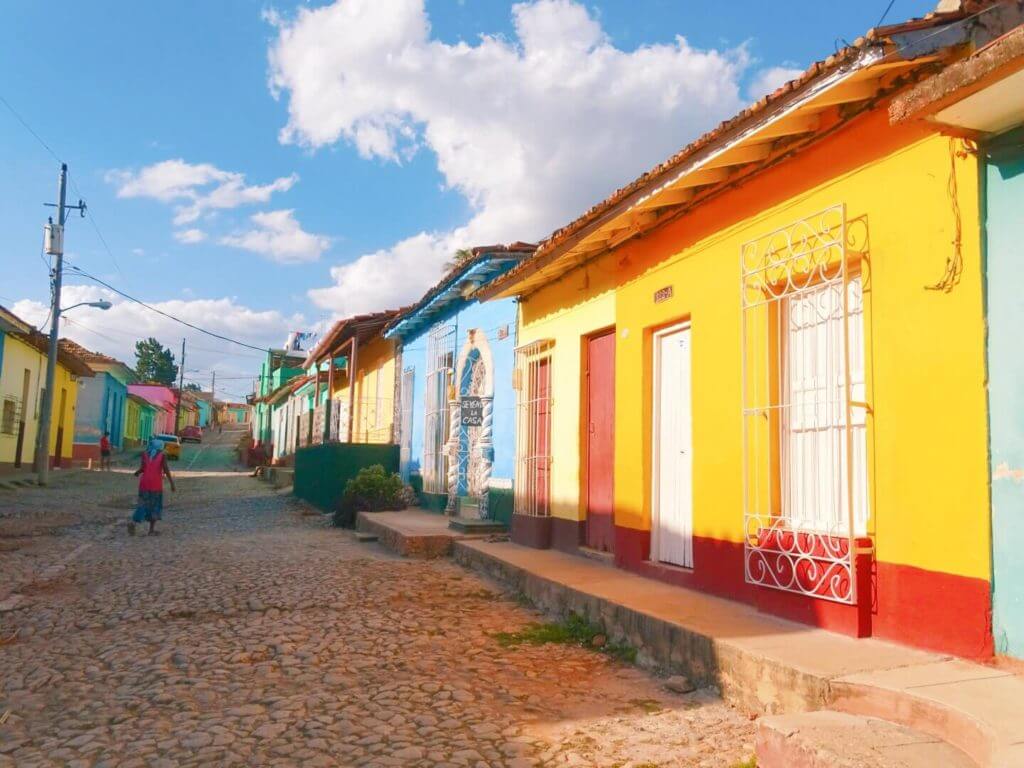 Cuba budget travel – how much do you need?
Phew, we've covered the complicated matter of where to get the two different types of Cuban currency. So, how much money to bring to Cuba? So you can get a general idea of what to budget for Cuba, let's look at how much things cost.
Cuba budget – cost of a visa
I don't like to give visa-related advice as things change and it varies for different countries. I advise you do your own research based on your nationality.

However I can tell you that, as a Brit flying from Mexico, I got my Cuba visa from the airline desk in Mexico City Airport (check which other Mexican airports offer this). The cost is $20 USD or the equivalent in Mexican pesos.
Cuba budget travel – cost of accommodation
This is usually the thing you spend the most on while travelling. Actually, accommodation in Cuba starts low especially if you stay in casa particulars, in other words homes run by local families. Not only does this keep the costs down for you, but it's a great way to support local people. If you're on a budget of $15 a night, you can stay somewhere cosy, comfy and friendly.

Of course, there are hotels in Cuba but none of your money will trickle down to the local people.

Accommodation budget for Cuba: $15 per person per day or even less if you stay in shared hostel rooms.
Cost of hostels in Cuba
For budget travel in Cuba, I would recommend looking out for hostels. These can be booked on Hostelworld but they're not the kind you'll be used to elsewhere. They're more like shared rooms in casa particulars. But with beds starting at $5, you can't complain.

Havana – I stayed at Hostel Casa de Ania in Havana which had excellent breakfasts although the rooms were quite basic. It's a bit of a walk from Old Havana but I liked that it was across from Cafe Brown and a great local chicken shop.

Trinidad – I loved Alcuria hostel which had a dorm room for $8. The family were so friendly and serve generous home-cooked meals on the rooftop. Backpackers should really stay here!
Cost of Airbnbs in Cuba
Airbnb is a great way to book private rooms in casa particulars and it's very affordable for tourists.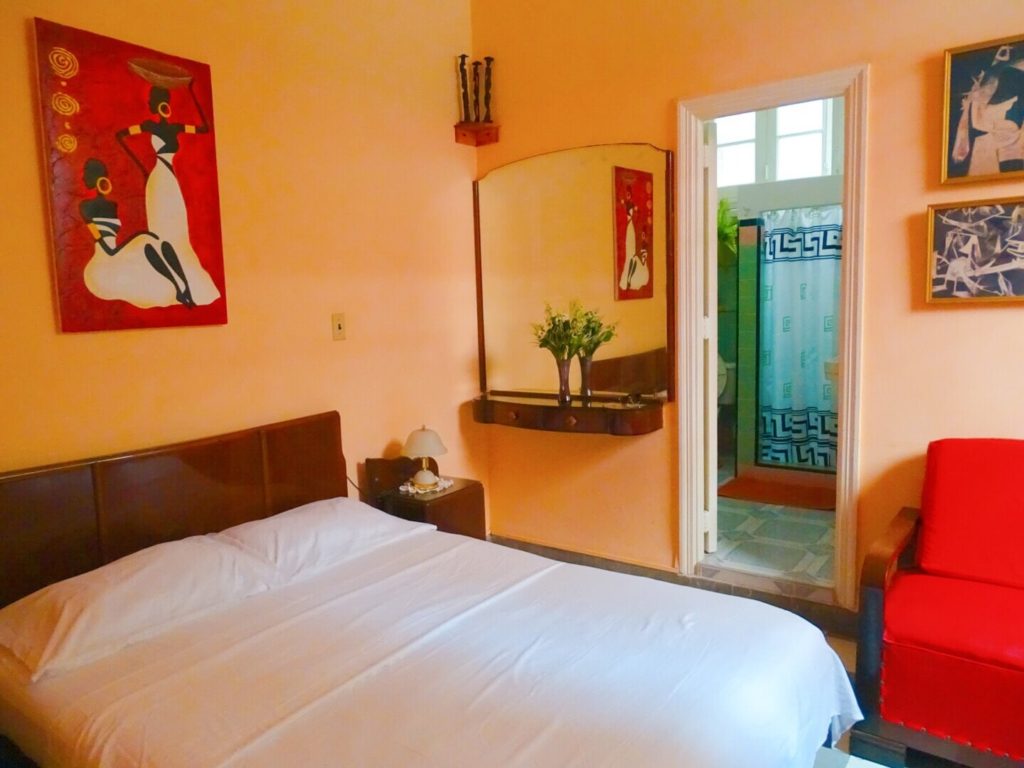 Under the rule of Castro, companies like Airbnb were banned and the app has only been allowed recently. It's one of the few ways that Cubans can benefit from tourism. They still have to give a large percentage of their profit (I believe around 60%) to the government but sadly, that's Cuba.
Read next: What I thought of Cuba – my honest thoughts
Cuba budget travel – cost of food
The cost of food in Cuba can be very cheap or quite expensive. Meals start at around 70 CUP and can cost anywhere up to 1,000 CUP including dinner and drinks if you dine somewhere nice.

Lunch prices: At lunchtime in restaurants in Old Havana, 120 CUP for a meal and soft drink is considered reasonably cheap. Of course, you'll pay more at nicer restaurants.

Dinner prices: Restaurants in Old Havana charge more for dinner and you can easily spend 250-500 CUP on dinner and a drink. Many cafes add on 10% service automatically.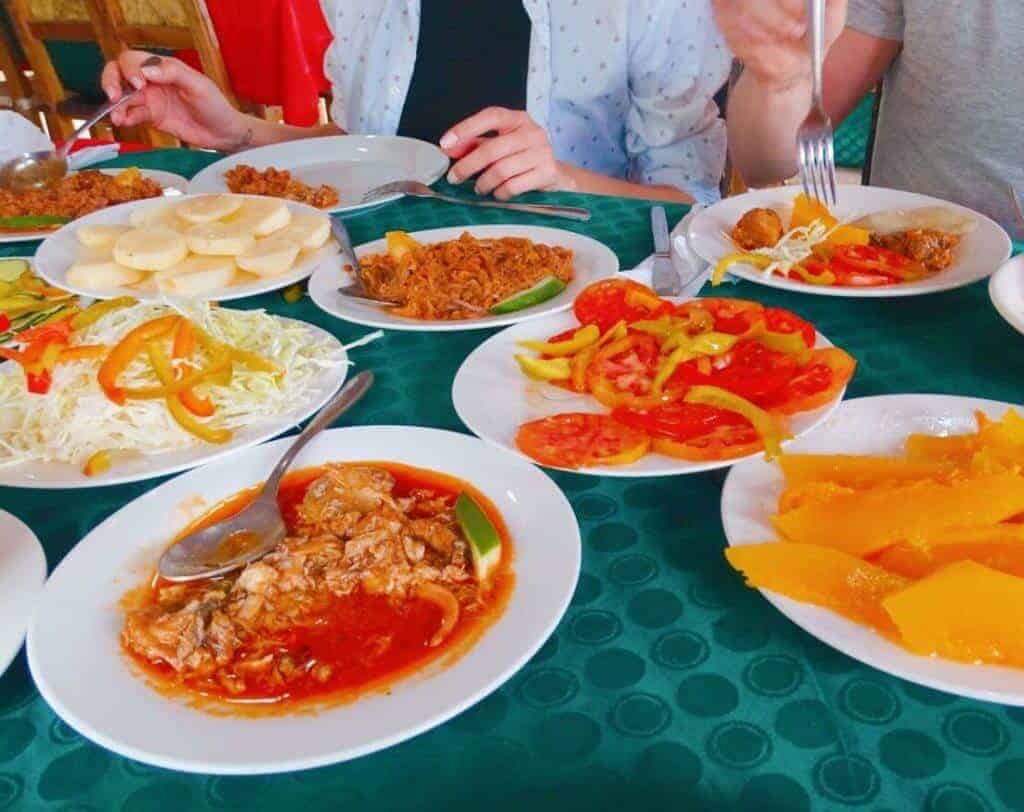 Budget restaurants in Havana:

Cafe Brown – I loved this restaurant in Central Havana which serves Cuban tapas, lobsters for 150 CUP and hundreds of inventive cocktails for 70 CUP. It's nothing fancy, just excellent food.

Malecon 663 – this hotel with a cafe downstairs is super quirky with menus on old vinyls. Coffee and brunch cost 150 CUP.

Check out other budget Havana restaurants here.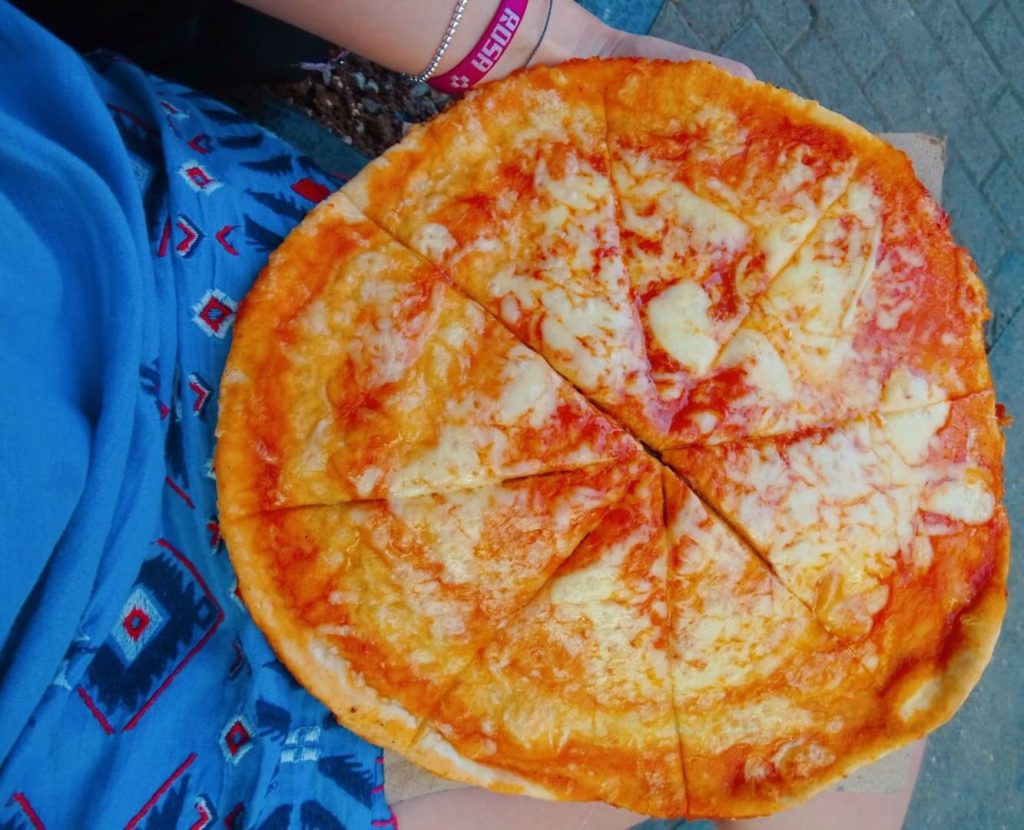 Cost of paladars & street food in Cuba
You can eat a filling dinner for 25 CUP although I can't promise it will be very nutritious. If you eat like this, you could spend less than $30 USD in a week! Here are some of the costs of things I bought:

Pizza with cheese and ham – 25 CUP.

Ice cream – 5 CUP.

Cheese sandwich – 2.5 CUP.

Ropa vieja (at a sit-down paladar) – 20 CUP.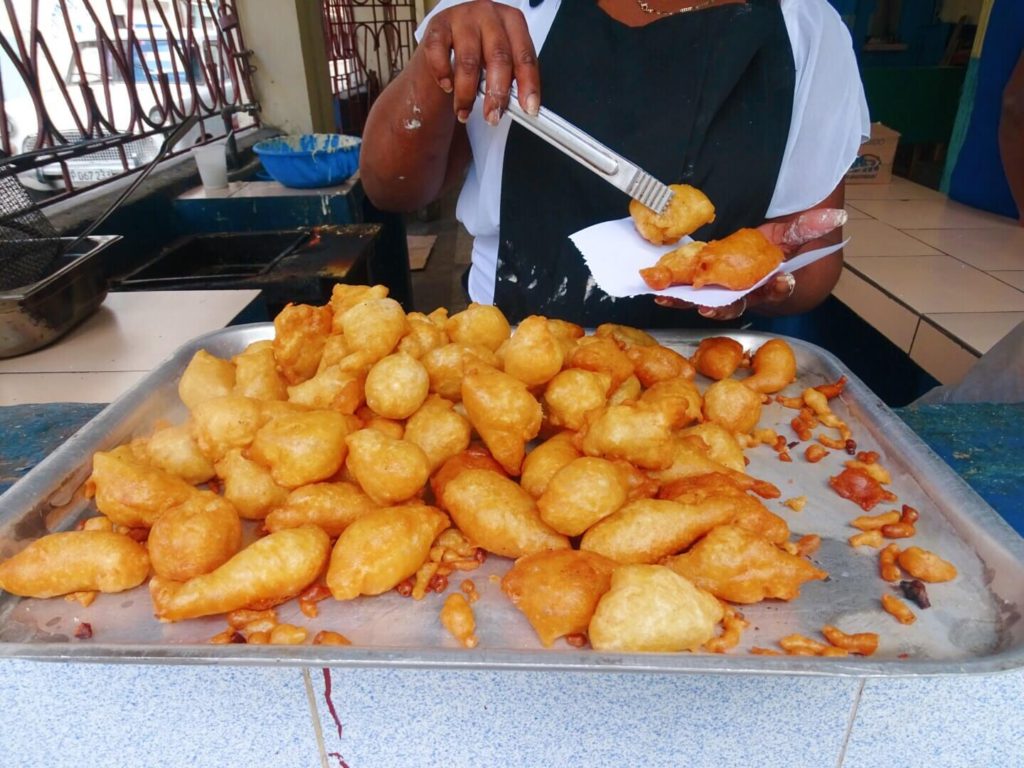 Look out for local paladar restaurants. Many of them serve a wide range of tasty Cuban dishes. You'll find more of these as you journey further away from touristic Old Havana towards Central Havana. Best dishes to eat include ropa vieja (pulled beef with rice, black beans and fried plantain) and lechon (roast pork).

Street food – this isn't served on the streets like in Mexico or Asia; it's from casual kitchens and takeaway windows. While street food can be very inexpensive in Cuba, you're looking at things like limp pizza, hotdogs and spam sandwiches.
Food budget for Cuba: While this varies considerably, I'd estimate around $15 a day providing you eat local-style food from time to time. Add an extra $10 a day if you don't think you'll eat street food, and the same again if you fancy a few drinks each night.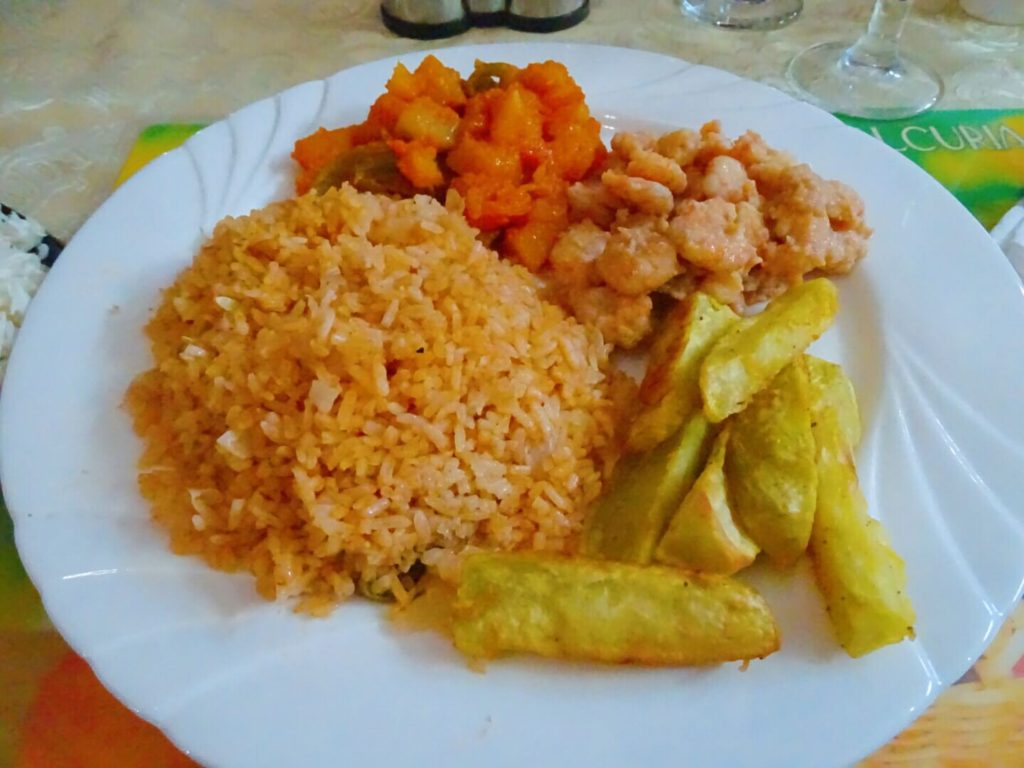 Cost of transport in Cuba
If you're asking is Cuba expensive?, it depends how many places you plan to visit. If you're just visiting Havana, you won't need to budget for transport unless you catch taxis. However, if you're visiting other destinations like Vinales and Trinidad, you'll need to stretch that Cuba budget considerably.
Cost of getting from Havana Airport
This is a set fee. There is no haggling to be done and you can't use any taxi apps. The cost from the airport to Havana by government taxi is 600 CUP (per taxi). Solo travellers could try and buddy up with some other tourists at the rank since everyone's heading toward Havana.
Buses around Cuba
The main bus networks in Cuba is Viazul. These buses are comfortable if not particularly affordable. You also need to book Viazul buses at least four days in advance. You also have to create an account and register your passport on the website before you can search for a journey. Oh, and American bank cards don't work.
Government taxis around Cuba
I chose to catch government taxis rather than buses in Cuba as the prices weren't much more. For example, the Viazul bus from Havana to Trinidad was only 5 CUP less but I'd have had to the bus station by taxi.

Government taxis can be booked by your accommodation the day before and will take you door to door. Prices of government taxis in Havana are as follows.
Havana to Trinidad by government taxi: 120 CUP (per person, per way).

Havana to Vinales by government taxi: 150 CUP (per person, per way).
Car hires in Cuba
Hiring a car in Cuba can cost up to 2,500 CUP per day. It's difficult to organise but it is possible if you're keen for the freedom it brings. Make sure to organise it in advance of your trip.
Cost of getting around Havana
If you're staying in Old Havana, it's easy to see most of the sights by foot. If you want to go further afield…
Taxis in Havana: I couldn't believe how expensive these were. One evening I was headed from Central Havana to Madrigal Bar Cafe to begin a bar crawl. It was a 40-minute walk / 10-minute drive away but government taxis quoted me 350 CUP, more than a London black cab!

I just ended up walking there myself at 10pm with irritating men honking from their cars. The cost of the taxis put me off travelling outside of walking distance in Havana.

Local buses in Havana: There are local buses which travel around Havana for a tiny fraction of taxi costs, as little as $0.04. I would advise brushing up on your Spanish to work out where they go!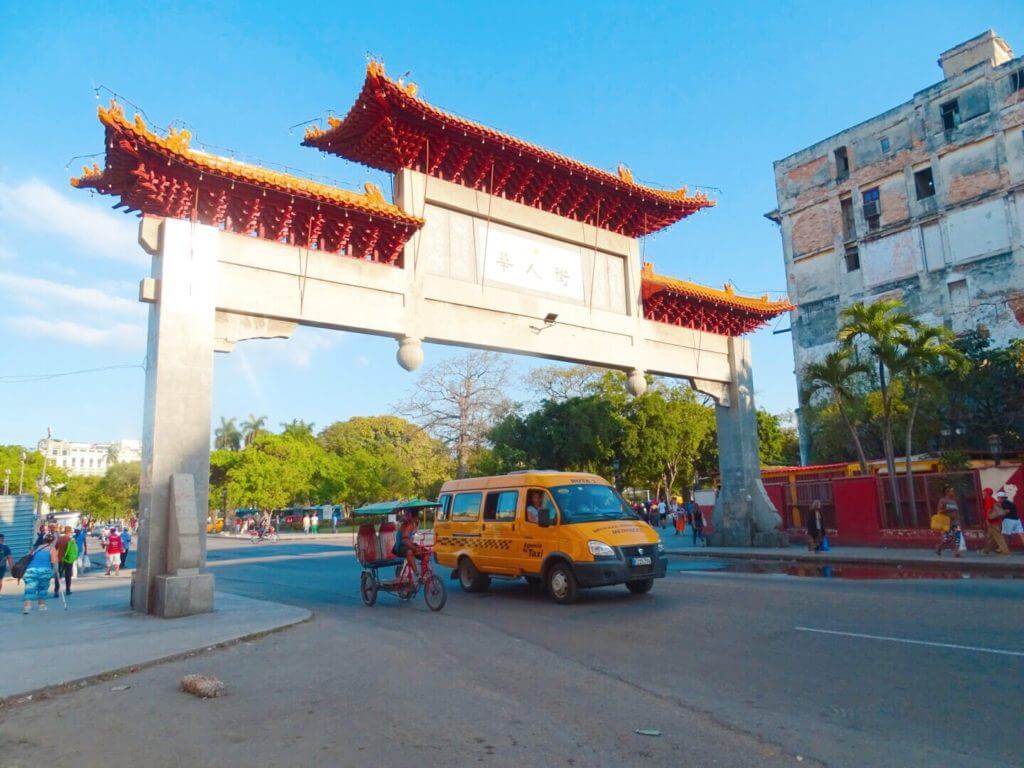 Transport budget for Cuba
If you visit Trinidad, Vinales and travel to and from the airport, budget 160 USD. Is Cuba expensive for transportation? YUP.

Note – if you're travelling with other people, you can split the airport taxi costs but not the cross-country ones as these are quoted per person.
Cuba budget for cocktails / nightlife
So far my list of Cuba costs reads accommodation, food, transport and cocktails. I think that sums it up really! There's nowhere in the world I've had as many cocktails as in Cuba. They were delicious!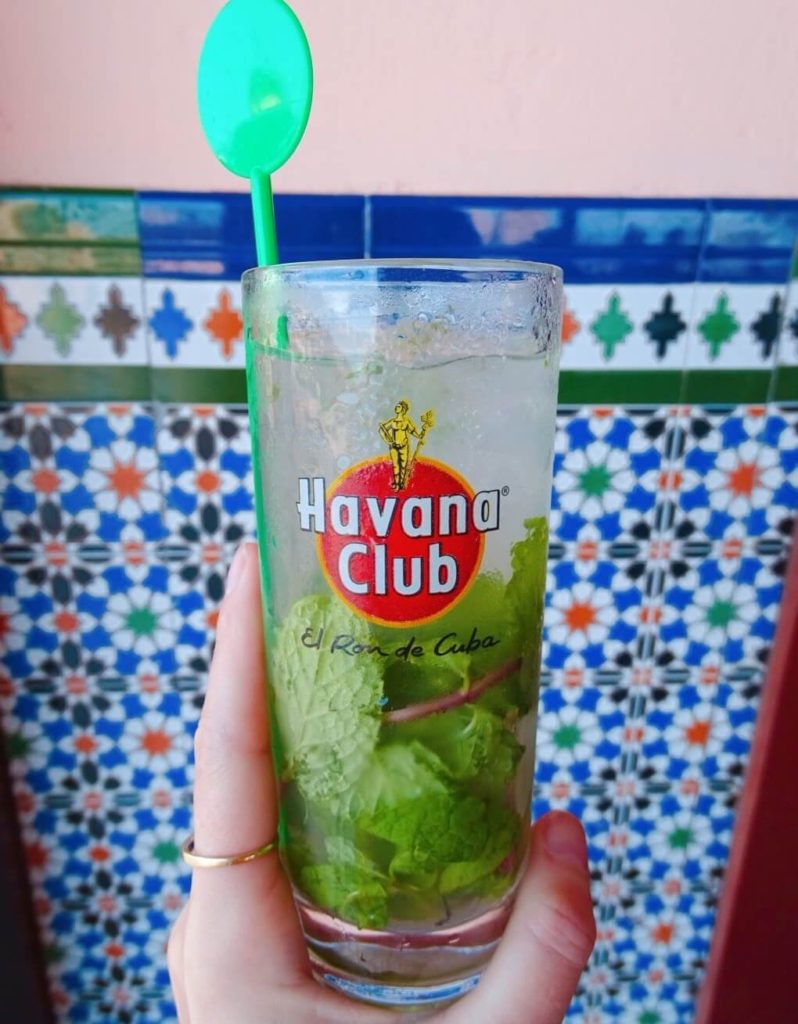 Unlike transport, you won't need to stretch your Cuba budget to enjoy mojitos and daiquiris. Many Havana bars serve cocktails for 50 CUP and I even found one place in Trinidad serving pina coladas for 35 CUP. A return taxi ride from Havana to Trinidad cost me 60 CUP so I almost wish I'd stayed in Havana and had 30 mojitos!
Read next: the best bars and rooftops in Havana
Cuba budget for internet
Get ready for another complicated and baffling Cuba situation!

The main way for foreigners to get online in Cuba is to locate an ETECSA store and purchase a scratch card then find a hotspot (usually in public squares and parks) and use the details on the card to log in. When you see lots of people gathered around on their phones, you know you've found one.

Remember to bring your passport to purchase an ETECSA card. Internet costs 25 CUP per hour of usage so it's not particularly expensive but, because the connection is usually so slow, it takes five times longer than normal to do things!
Remember to click 'end session' after using your internet card. I just swiped into aeroplane mode assuming it would end my session and it didn't, draining my 120 CUP of data! Oops.
Cuba budget for activities
Activities in Cuba are priced with foreign tourists in mind. It's hard to guess what another person will find expensive but I'd say they're somewhere in the middle: cheap compared to Europe and North America but pricey by Asian or Latin American standards. To give you an idea, I'll share the costs of the tours I did (in USD).
Bar crawl including a drink and Cuban cigar: $35
Vintage car ride: $40
Day trip from Havana to Vinales including lunch and entrance fees: $100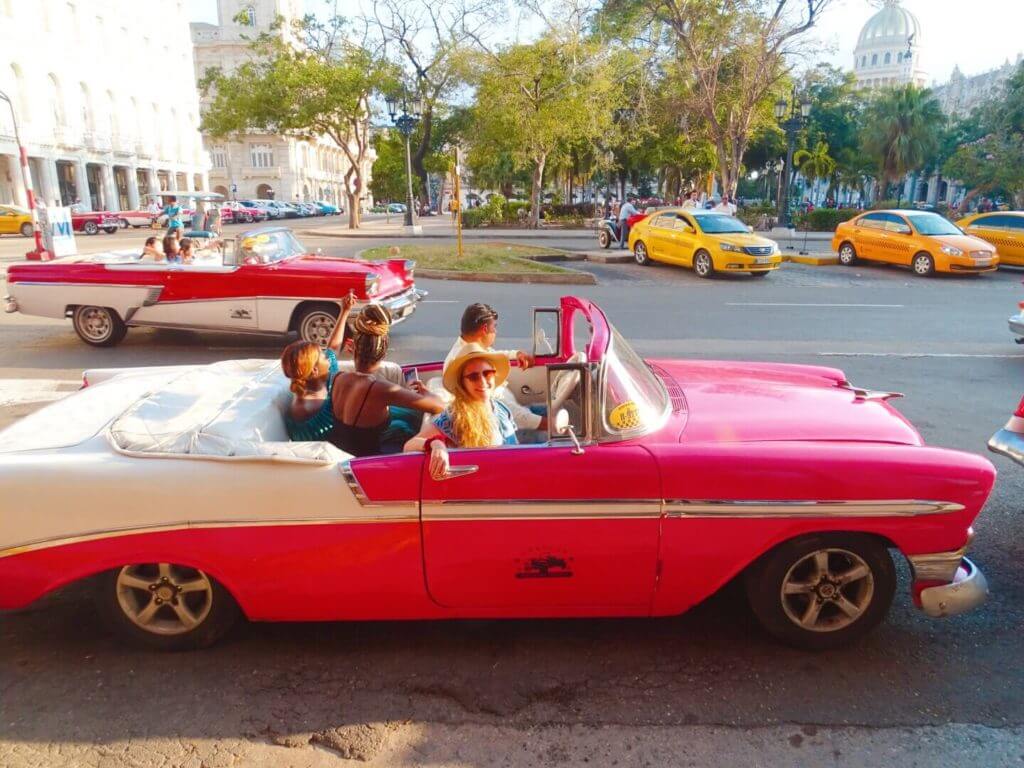 I enjoyed all the Airbnb Experiences I took, especially since they were run by locals who make a livelihood from tourism. Under the communist system, it can be tricky for your money to trickle down to those who need it. On Airbnb, you can also take cooking courses, walking tours, street art tours and more depending on your interests and Cuba budget.

Cuba budget tip: take the free walking tour of Havana run by the Me Gusta Company. This was fantastic! You can give whatever you think it's worth. I gave 120 CUP.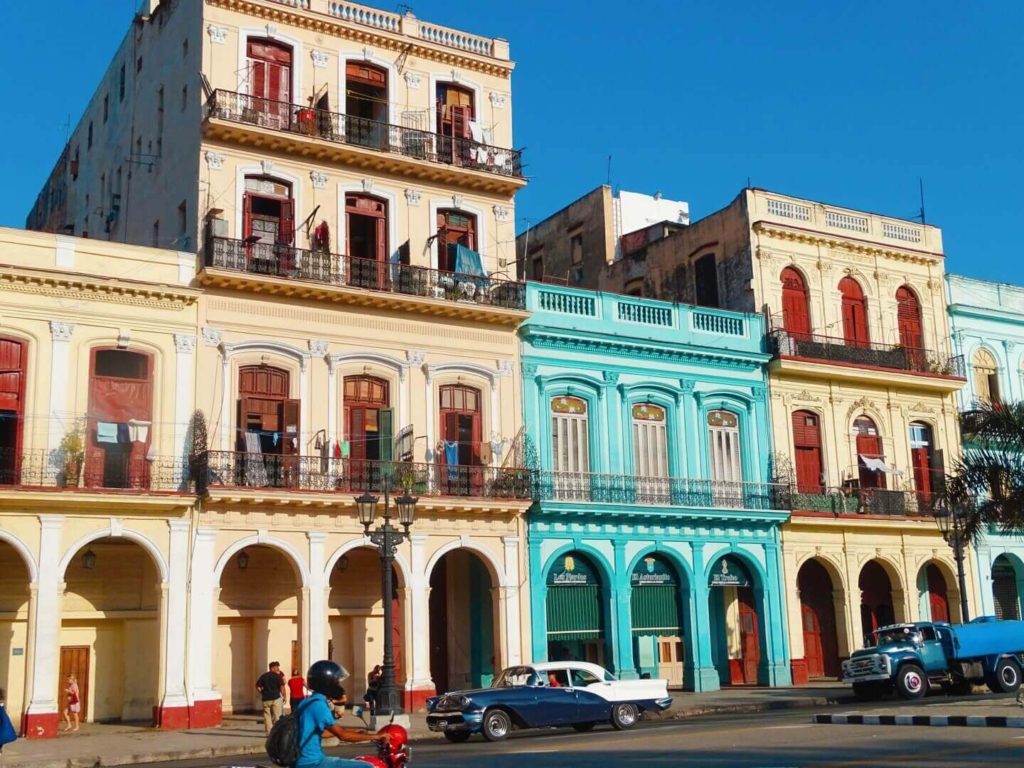 Cuba budget tips
Aside from the obvious tip of eating cheaper local food, these are my top tips for Cuba on a budget.
Bring a stainless steel reusable water bottle and fill it up. Most places I stayed let me fill mine up for free with filtered water which saved me 25 CUP per large bottle. Also, there's just no excuse for using plastic bottles in 2022.
Pick a local beach. Many people travel to Varadero, which is the holiday hotspot of Cuba with lots of diving opportunities, however a taxi from Havana Airport is 2,500 CUP. I got my beach fix instead on a budget day trip to Ancon Beach from Trinidad. You can catch a local bus for 120 CUP or share a taxi by buddying up with others if you're staying in a hostel.

Alternatively, take a day trip to Bacuranao, 15km from Havana. A local bus is 120 CUP.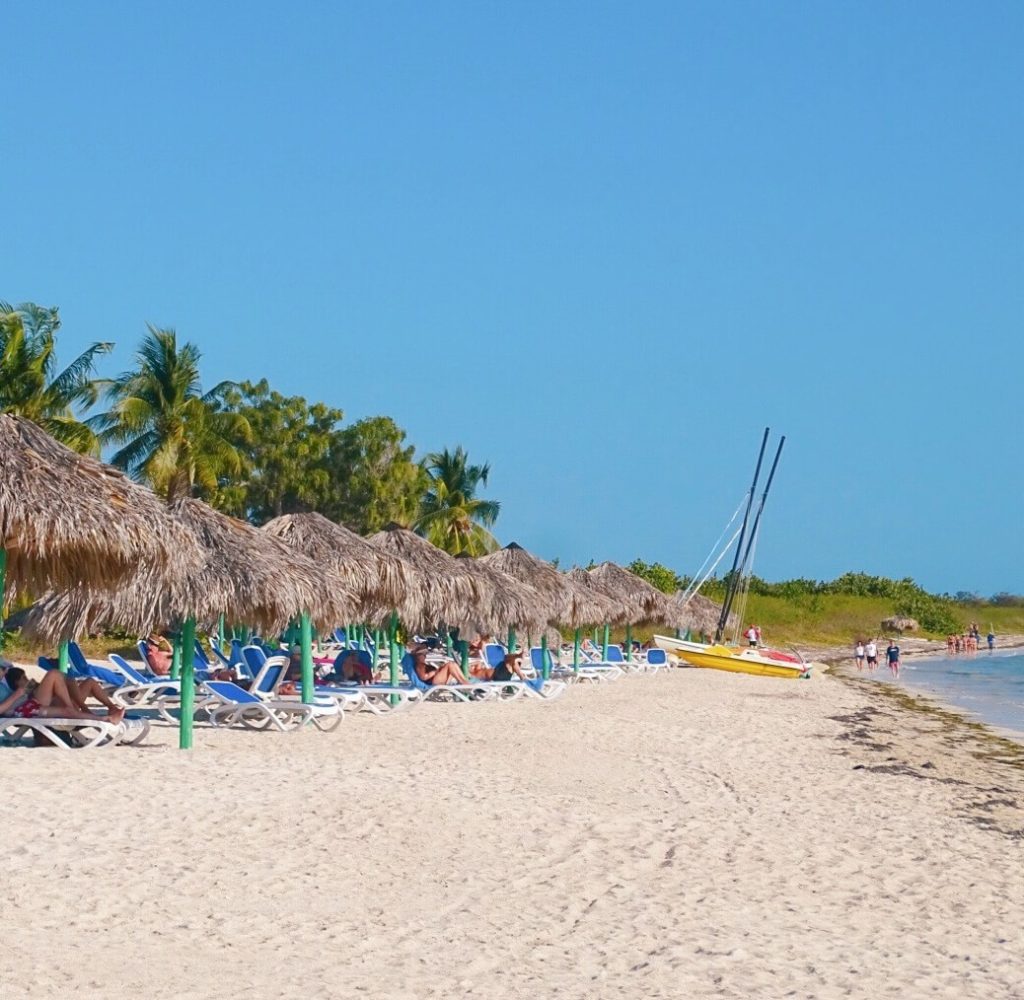 Cycle to El Cubano National Park from Trinidad – I didn't want to take a horse riding door for ethical reasons, plus they were expensive. I asked locals in Trinidad where I could hire a bicycle (which cost 120 CUP) and cycled there and back through the countryside.
Brush up on your Spanish – you're not going to get a bargain if you can't speak the lingo. My best tips are to bring a Spanish phrasebook and download the Google Translate app. Make sure to download Spanish offline on the app which means it works without data or Wi-Fi.

Bring on your toiletries – economic sanctions against US brands make it hard to find commonly-used items in Cuba. Bring suncream, bug spray, toothpaste, shampoo and conditioner with you.
Free things to do in Havana
Keep the budget down by doing the following:

– Hike up to the Estatua de Cristo statue and look down over Havana.

– Visit a Greek Orthodox church and wander beautiful gardens at Jardín Madre Teresa de Calcuta near Plaza de San Franciso de Asis.

– Stroll the Malecon, taking in views of the ocean and spotting classic Cuban cars.

– Take the daily free walking tours mentioned above!

– Tour the main plazas, Plaza Vieja, Plaza de Armas, Plaza de la Cathedral and Plaza San Francisco. In Plaza Vieja, there are several free museums like Museum de Naipes.
Cuba budget itinerary
Since transport is expensive, the best money-saving Cuba tip is be picky when choosing your destinations. The more places you go, the more money you spend.

This is my 10 day Cuba itinerary suitable for those travelling Cuba on a budget:

Days 1-3 – Explore Havana.

Day 4 – travel to Trinidad in the morning. Spend the afternoon seeing the town.

Days 5-6 – Take some day trips from Trinidad. Visit El Cubano National Park one day and Ancon Beach the next.

Day 7 – travel back to Havana. You can decide whether to travel onwards to Vinales the same day or base again in Havana to visit Vinales as a day trip.

Days 8-9 – either explore Vinales if you're based there or take a Havana to Vinales day trip on day 8 and spend a final day in Havana on day 9.

Day 10 – depart Cuba.

Stay overnight in Vinales or take a day trip? I decided to take a day trip because it seemed cost-effective compared to taking a government taxi there and back and getting around Vinales. The attractions are spread out across the countryside so you can't get around on foot. However, if you choose to stay over in Vinales, I would recommend hiring a bike to get about on a budget.
Read next: How to take a Vinales day tour from Havana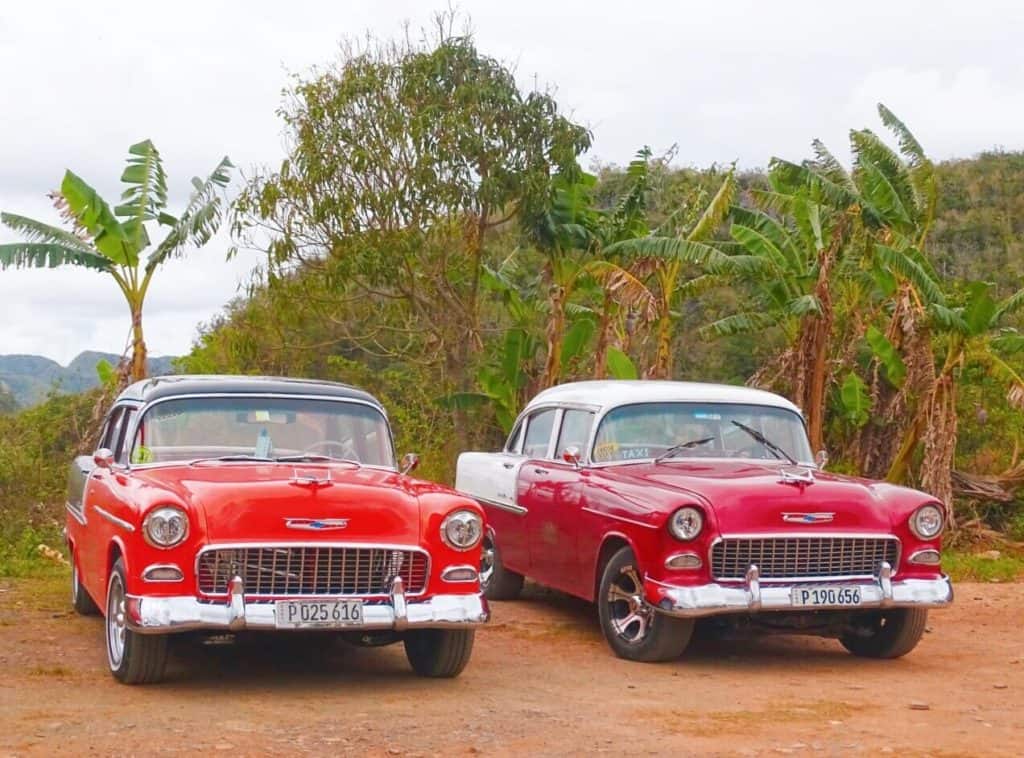 Cuba essentials
Thanks for reading my Cuba budget guide!
I hope I've answered your question, is Cuba expensive? The answer is really a mix: transport is expensive, accommodation is affordable, cocktails are a bargain, and food is either very cheap or fairly pricey depending where you're eat and what prices you're used to, I guess!
Read my other Cuba blogs:
For more travel content, follow me on Instagram, Facebook, Twitter and YouTube.
See you next time for more adventures,
Rose x
Ps. Like my Cuba budget guide? Pin it for later!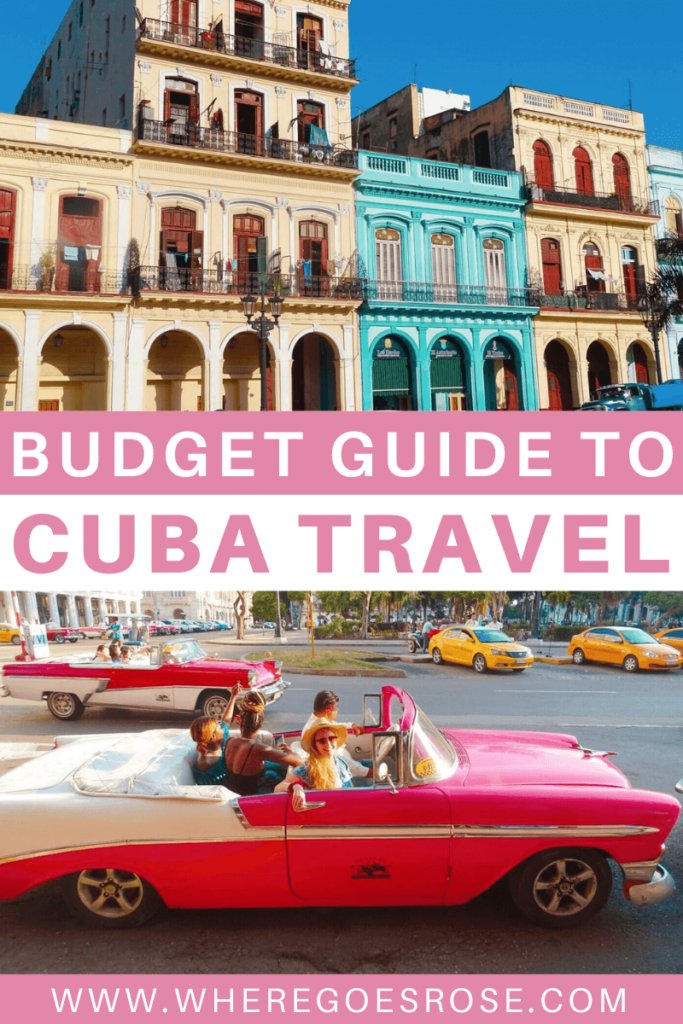 VISITING CUBA?

These are my trusted resources:

Getting there – I use Skyscanner to find the best-value flights, using the 'search by month' tool to find the cheapest dates. You can also use the 'to anywhere' feature if you're flexible on where you're going.

For apartments and private rooms, use Airbnb. For hotels, I recommend Booking.com.

For hostels, I use Hostelworld. Hostels in Cuba are the best places to meet other travellers.

Browse Cuba tours and activities on Airbnb Experiences and Urban Adventures.

Need to top up your Spanish? Pick up a Lonely Planet Latin American Spanish Phrasebook & Dictionary.

Need travel insurance? I use True Traveller (for UK & Europe residents) since it's affordable but covers everything you'd need including various activities, valuables and pre-existing conditions. Unlike some companies, they insure you if you're already travelling / don't yet have your flight home booked. Get a quote.

For travel insurance for other nationalities, I recommend Hey Mundo and for long-term digital nomad travellers, I suggest Safety Wing.

Check out my resources page for more travel discounts and tips from 10+ years of travel!