1. Hvar Island (1-2 hour ferry)
2. Brač Island (1 hour ferry)
3. Vis Island (2 hour ferry)
4. Korčula Island (2.5-hour ferry)
How to get to Korčula: although a cheaper Jadrolinija ferry runs, it takes close to 4 hours. It's best to get the fast boat that takes 2.5 hours. We caught it early in the morning and spent the day on Korčula, taking the return ferry at 6.30pm.
5. Plitvice Lakes (2.5-hour drive)
6. Krka National Park (1 hour 15 min drive)
7. Čikola Canyon (car needed)
Combine it with Ključica Fortress
11. Imotski (hidden Croatian gem!)
12. Makarska (1-hour drive)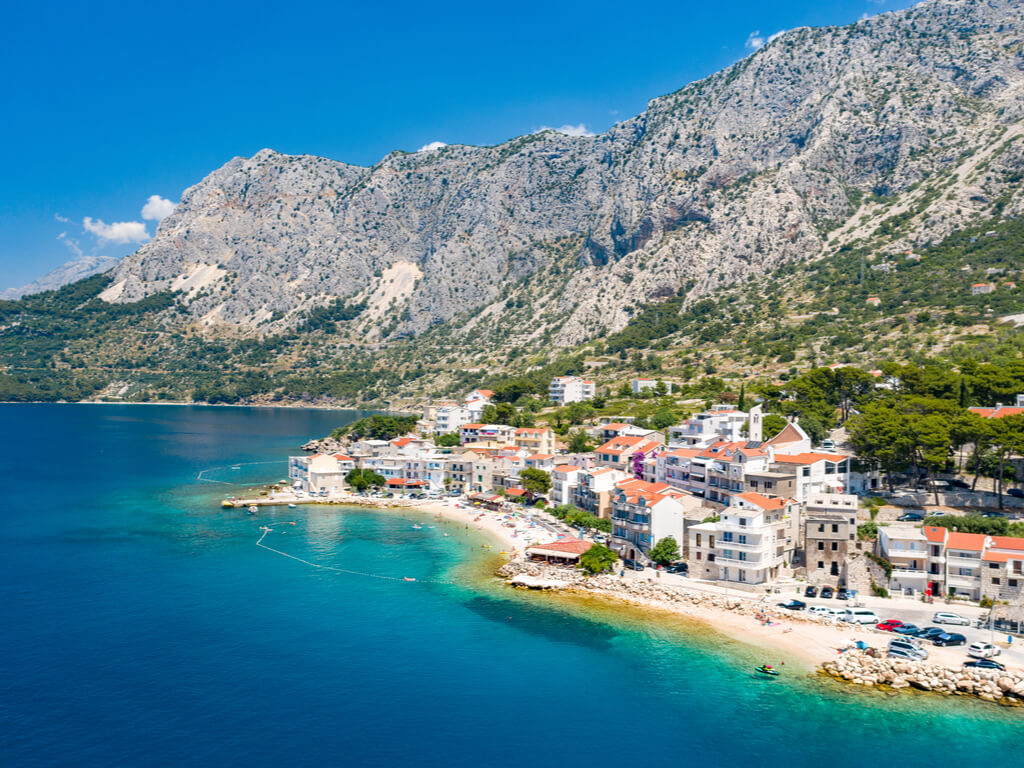 Known as the Makarska Riveria thanks to its beautiful beaches and seafront promenades, this stretch of Dalmatian Coastline is known for food, nightlife (don't miss Deep Cave Bar, literally inside a cave), beaches, watersports… the list goes on!

Makarska Town is touristic and popular with families so independent travellers may prefer exploring the smaller towns along the Riveria. Hiring a car is the best way to explore points of interest like Makarska Beach stretching for miles and, for those feeling confident, Nugal nude beach. Other activities in Makarska include watching sunset from the lighthouse on St. Peter's Peninsula and hiking to St. Jure (the complete route takes 7 hours but you can do just part of it).

For walkers, there's a lovely coastal walking taking 2.5 hours to…
13. Brela
With beaches galore, you could spend the whole day occupied in Brela. Another option is soaking up the highlights of both Makarska and Brela during a day trip from Split. Basking on Punta Rata beach is the most popular pastime but other things to do in Brela include kayaking and rock climbing.

Getting to Makarska and Brela: Drive or take a bus to Makarska in 1 hour 15 minutes. A better option for the summer months is the catamaran that leaves Split at 7.30am and arrives in Makarska at 9.15am. Getting between Makarska and Brela takes 20 minutes by car or 2.5 hours as a scenic coastal walk.
14. Mostar, Bosnia & Herzegovina (2-hour drive)
16. Omiš (30 min drive)
There are two fortresses you can climb: Tvrđava Mirabela, just a flight of stairs from the town (sadly it was closed for off-season during our April visit.) The other is Starigrad Fortress which requires quite a serious hike. Although Google Maps tells you it's a 15-minute walk from town, this isn't true. Don't try without proper hiking boots, a backpack, sun protection and enough water!
20. Klis Fortress (20 min drive)
21. Park Suma Marjan peninsular