This post may contain affiliate links to things like tours, hotels, Amazon associates and products. These help me earn a small commission at no additional charge to you.
Puerto Princesa is the largest city on Palawan island, the Philippines, and the main port of entry for travellers.
Palawan is renowned for island hopping, beautiful lagoons and first-class snorkelling and diving, with El Nido and Coron being two of the most visited spots by tourists.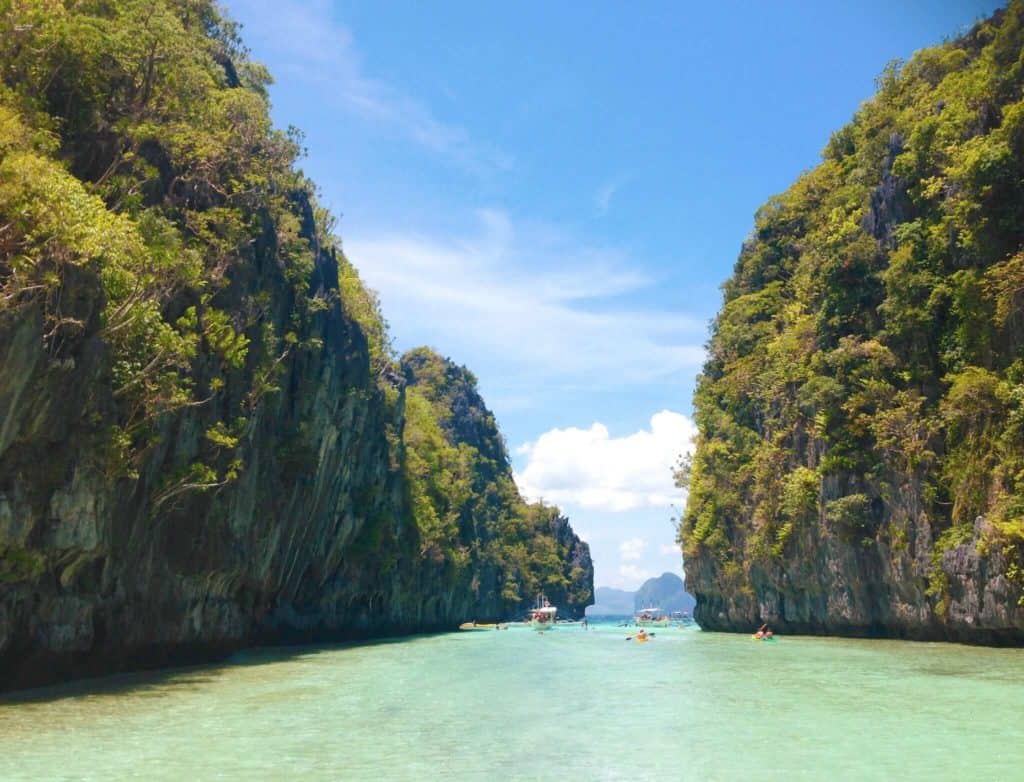 But aside from the Underground River, which is a New7Wonder of Nature winner, Puerto Princesa doesn't have a huge amount to do. It's the urban port of entry and for the most part a very local city. Backpackers tend to stay a night before heading to El Nido and generally miss out on what was one of the highlights of my time in the Philippines.
I stopped for two weeks in Puerto Princesa and volunteered at a hostel; a project I got involved with through Workaway. In exchange for working five hours a day, I received free accommodation. With a local manager and team of Filipino staff, I learned more about Puerto Princesa than the average backpacker would and was particularly interested by the sound of the 'dancing prisoners'.
Definitely not what you'd expect from your time exploring a tropical island, the main reason to visit Iwahig Prison and Penal Farm is to watch highly-coordinated dance shows performed by the talented prisoners. The idea is that the men receive a small income in the form of donations from visitors, and it keeps them busy, stimulated and focused, while providing an insight for the guests.
It all sounded pretty fascinating, so I headed to the prison with the intention of learning more.
I arrived at Iwahig just before midday. The prison is on a large plot of land about a 30-minute drive from the city centre, but for a few hundred pesos (a couple of pounds for us) a tricycle driver will take you there and back.
As we entered, the prisoners immediately organised themselves into their dance positions and flipped on a stereo. I was amazed at the speed they clocked new visitors, stopped what they were doing and burst into their energetic routine. They performed to a Filipino song, and were all completely in time and didn't miss a beat – it was clear they'd been practicing hard.
Visually, they really looked the part. Most of the guys wore oversize tops, high-top trainers and backwards hats. They later told us they were only allowed two t-shirts a year – it was clear they'd selected them carefully. They'd have fitted in perfectly in any western music video or Hollywood stage, and completely shattered any stereotypes I'd had of what prisoners would look like.
Once the performance was over, we sat and chatted with the dancers. It was only low-security prisoners, I learnt, who were offered the opportunity to dance and meet outside visitors. I'd say this made me feel safer and more secure, but the guys were so normal and friendly that I didn't need any reassurance.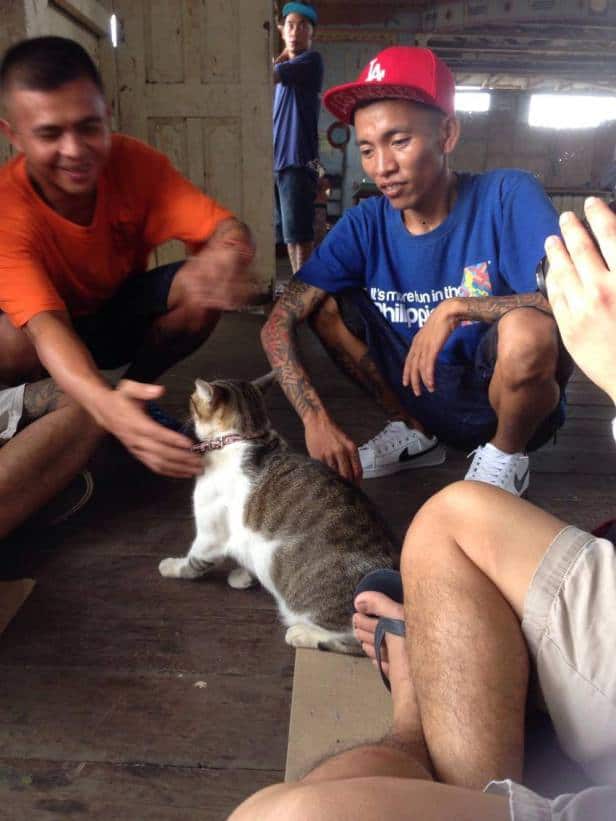 Despite having little of their own, they invited us to share their lunch: a chicken dish and pieces of preserved pickled mango. They laughed as I screwed up my face at the sharp taste of the fruit. I felt uncomfortable asking questions that were too personal, such as what crimes they had committed and how long they were inside.
We started by talking about tattoos. All of the men were adorned in positively hundreds, their arms and legs completely covered. Could they get tattoos done in prison, I asked?
Yes, it turned out. One of the guys, Jeffrey, was a tattoo artist and used bamboo to ink his designs. The rest of the group proudly showed me their body art, all of which Jeffrey had completed. Most of them had sleeves done, but one guy had a Christian cross on his forehead and black teardrops coming from his eyes. Did it have a deep and symbolic meaning I asked? Sort of: it made him look like Lil' Wayne who had the same ones. Fair enough.
I shouldn't have worried about asking personal questions, as the guys readily volunteered their stories. An older guy asked my age then told me he'd been in prison longer than I'd been alive. He was serving a life sentence (usually 40 years in the Philippines) for selling marijuana: an exceptionally tough sentence by many countries' standards.

He also told me that, sadly, he had lost contact with his daughters whilst inside and his letters are returned to sender as they no longer live at the address he has for them.
Due to the length of time he had already served, this was one of the saddest stories shared with me. The majority of the guys were young, mostly between 20 and 35. One had been dealt 30 years for stealing a car; another nine years for robbing a grocery store.
During the day, the prisoners usually wake at 6am and spend time planting rice on the prison farm. The area is spacious with miles of land including a hospital and the homes of staff. With the exception of maximum security prisoners who aren't permitted to leave their confinements, the prisoners can travel freely within this land on the condition they don't go further than the entrance gate and return to their barracks by 5pm.
After farm work, the day of dancing begins. Performances start as and when guests enter and, if they choose to hang around, the inmates chat and spend time with them. They asked if I wanted to hear them beatbox – I absolutely did.
The guy with Lil Wayne tattoos and another inmate performed a Filipino song I'd never heard before, but it was definitely catchy. They shared the tasks of singing, beatboxing and rapping. I thought they were incredible!
One inmate asked if I wanted to play badminton with him. Surreal as the experience was, I enjoyed it. I wasn't much good to start with but picked it up as we went on.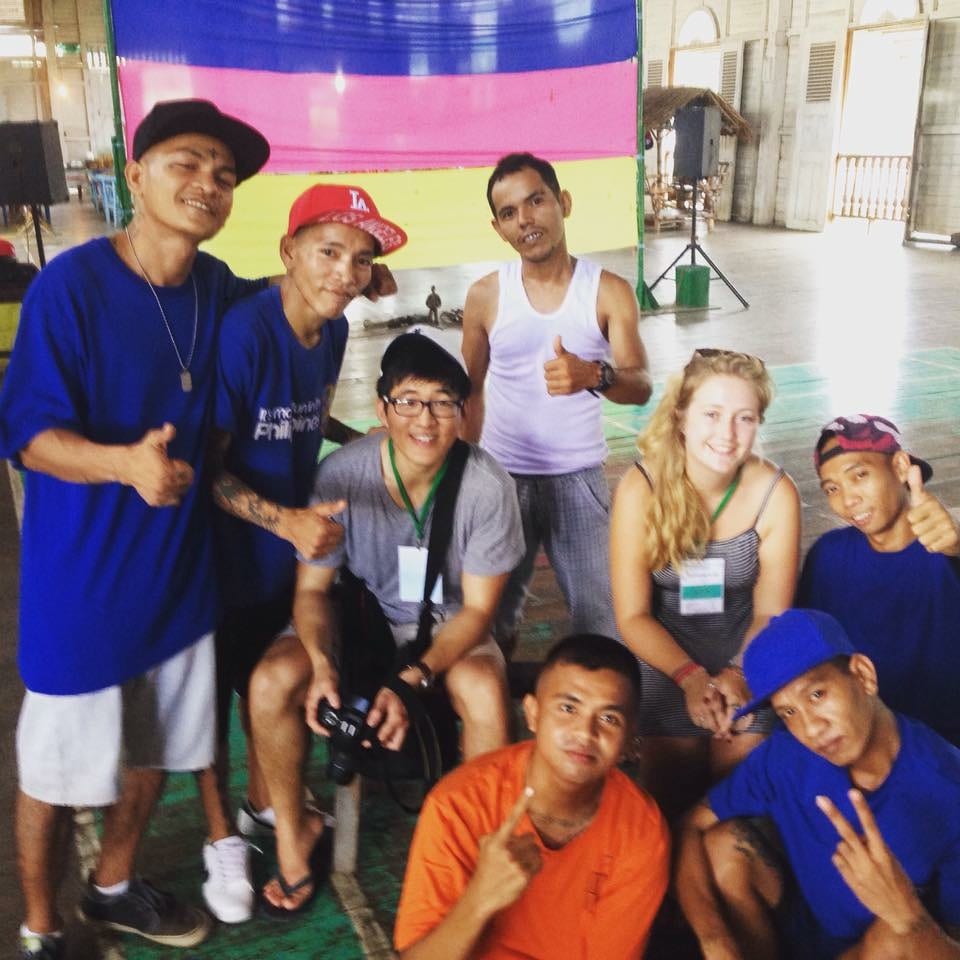 Without doubt, the men at Iwahig are talented: at dancing, performing, sport and crafts. They make a whole host of souvenirs themselves which can be brought by tourists to provide a moderate income.

Not only that, they're smart guys who speak to guests in more than one language. When my Japanese friend visited a few days before me, they were excited for her to teach them new words to add to their repertoire, presumably to impress future Japanese guests who might come by.
Despite their situation, the guys appear to keep up their spirits by performing and learning about foreign cultures via their guests.
Many of them have just made a few wrong turns and have landed life sentences for crimes which would simply have cost them fines overseas. It's worth noting that, politically, things are all-change for in the Philippines as they've recently acquired a new political leader.

Rodrigo Duterte delivers an even tougher approach to crime and drugs than currently stands and is renowned for killing those who cross him. If his approach succeeds in eliminating crime and ridding the country of drugs, life could be very different for future prisoners. Jail sentences could be exchanged for death sentences, but will harsher punishments mean less crime altogether?
It's hard to say what the future holds for the prisoners. Saying this, my friend who also visited Iwahig caught a night ferry just a few weeks later where she saw a couple of the inmates who'd recently been released and were heading back to their families in Manila. Apparently, they were pleased to see her and had a friendly chat (knowing the Filipinos and having met these guys, I couldn't imagine it going any other way).
Rather than the traditional holiday activities of sunbathing and basking on the beach, Iwahig is a place where you can engage with the locals and give back to the community. If you visit Palawan, you'll most likely have to pass through Puerto Princesa, and I'd definitely recommend you make time for a visit.
Thanks for reading!
If you liked it, please share it 🙂
Read my other posts about the Philippines:
See you next time for more adventures,
Rose