This post may contain affiliate links to things like tours, hotels, Amazon associates and products. These help me earn a small commission at no additional charge to you.
Namibia part four…
I can't believe this is my fourth blog post about Namibia – even Tanzania (my all-time favourite country on this Africa overlanding tour) only got two! Read Namibia parts one, two and three here, here and here.
The dry scenery, golden sand dunes and wildlife created so many photos and memories that I've had to split them up rather than post the world's longest blog. I've already covered Windhoek, our Etosha safaris, rock carvings, Spitzkoppe, Swakopmund and the start of our desert adventures… So next up, it's Dune 45.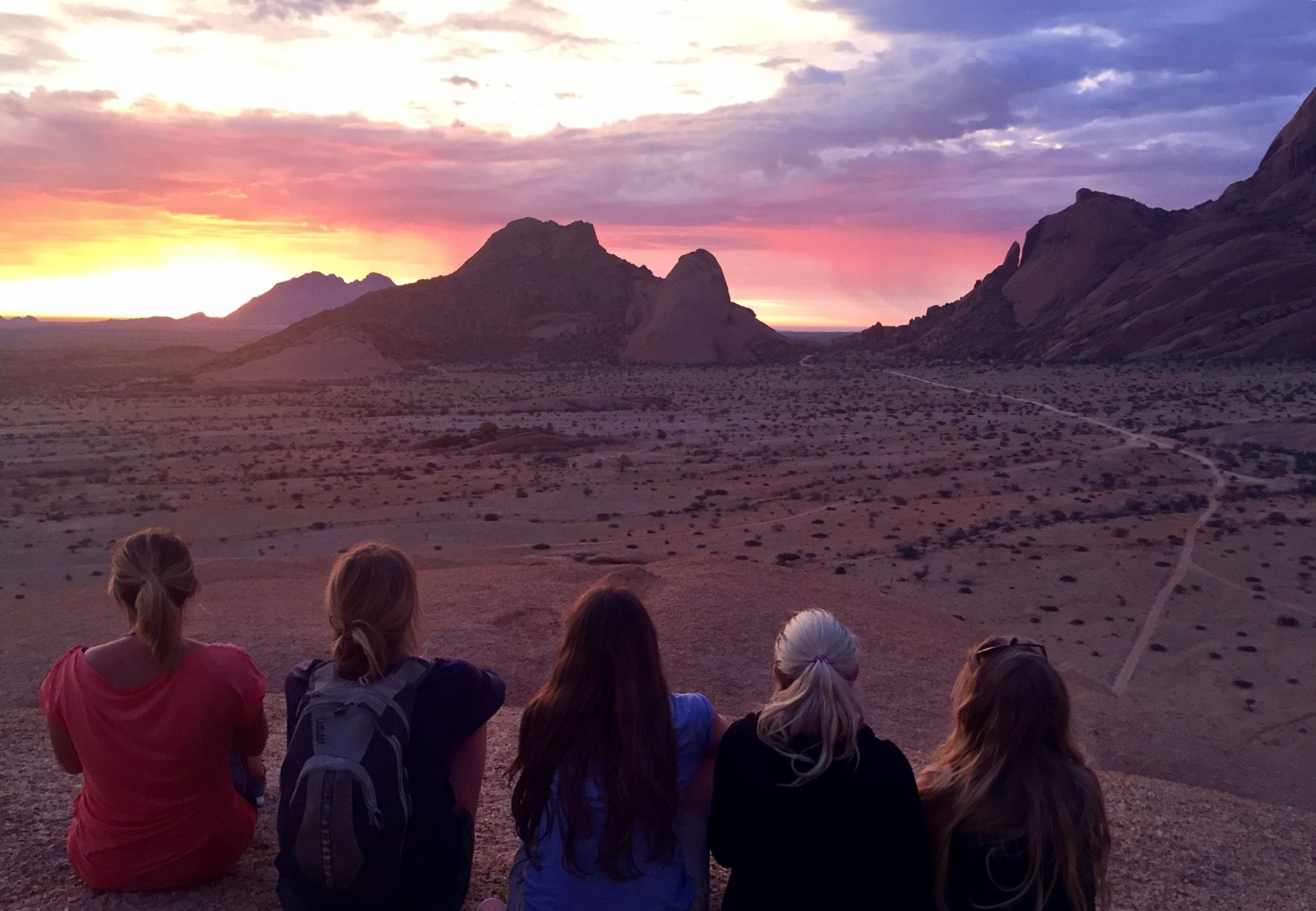 Namibia is home to thousands of dunes but Dune 45 is the only one tourists are allowed to climb. The name comes from the fact that it's found at the 45th kilometre along the road from the Sesriem Gate to Sossusvlei.

It's also a 'star dune' – one that is symmetrical and has three or more arms when seen from above.
Our challenge for the morning was to climb one of the arms all the way to the top – and we had to get there before the sand started to heat up and become too hot to walk on (after about 9am).
It was hard work!! From the ground, it looked pretty steep but I wasn't phased. When we started climbing however it got ridiculously tough. Just think how running on sand feels, then probably quadruple it and imagine combining it with climbing a mountain.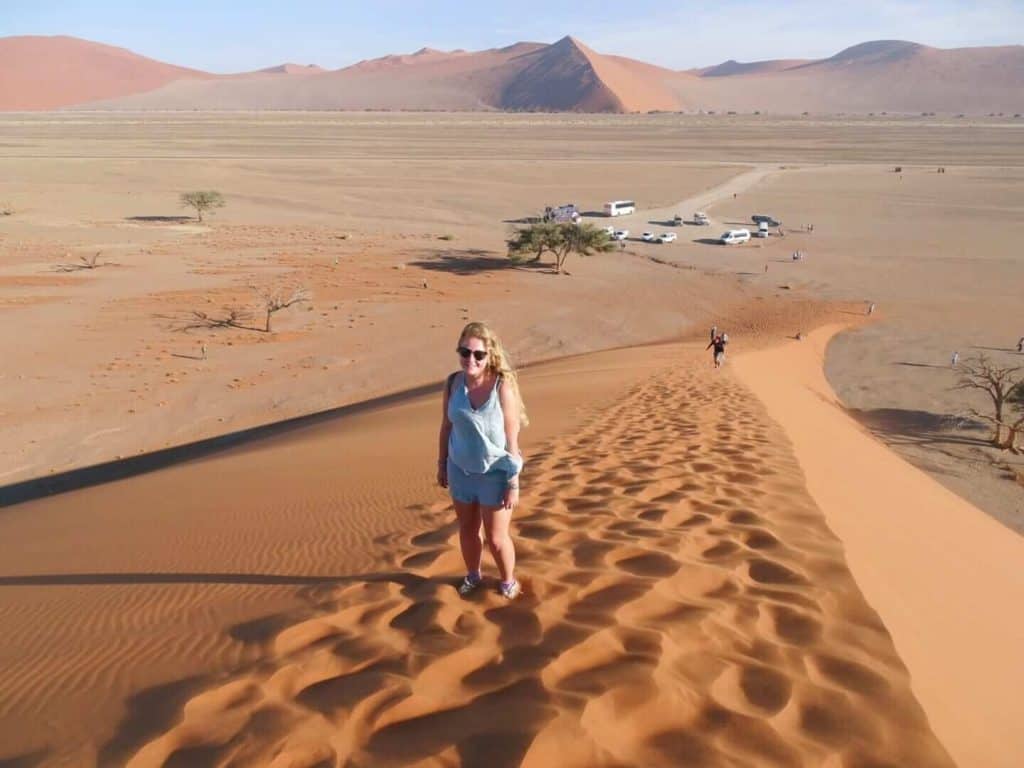 Me and Jen took it at a leisurely pace and, hey – when you're right at the back at least there's hardly anyone behind you to spoil the photo!
There are no words for the view from the top. Get ready for the gallery cus I'm going for it NOW: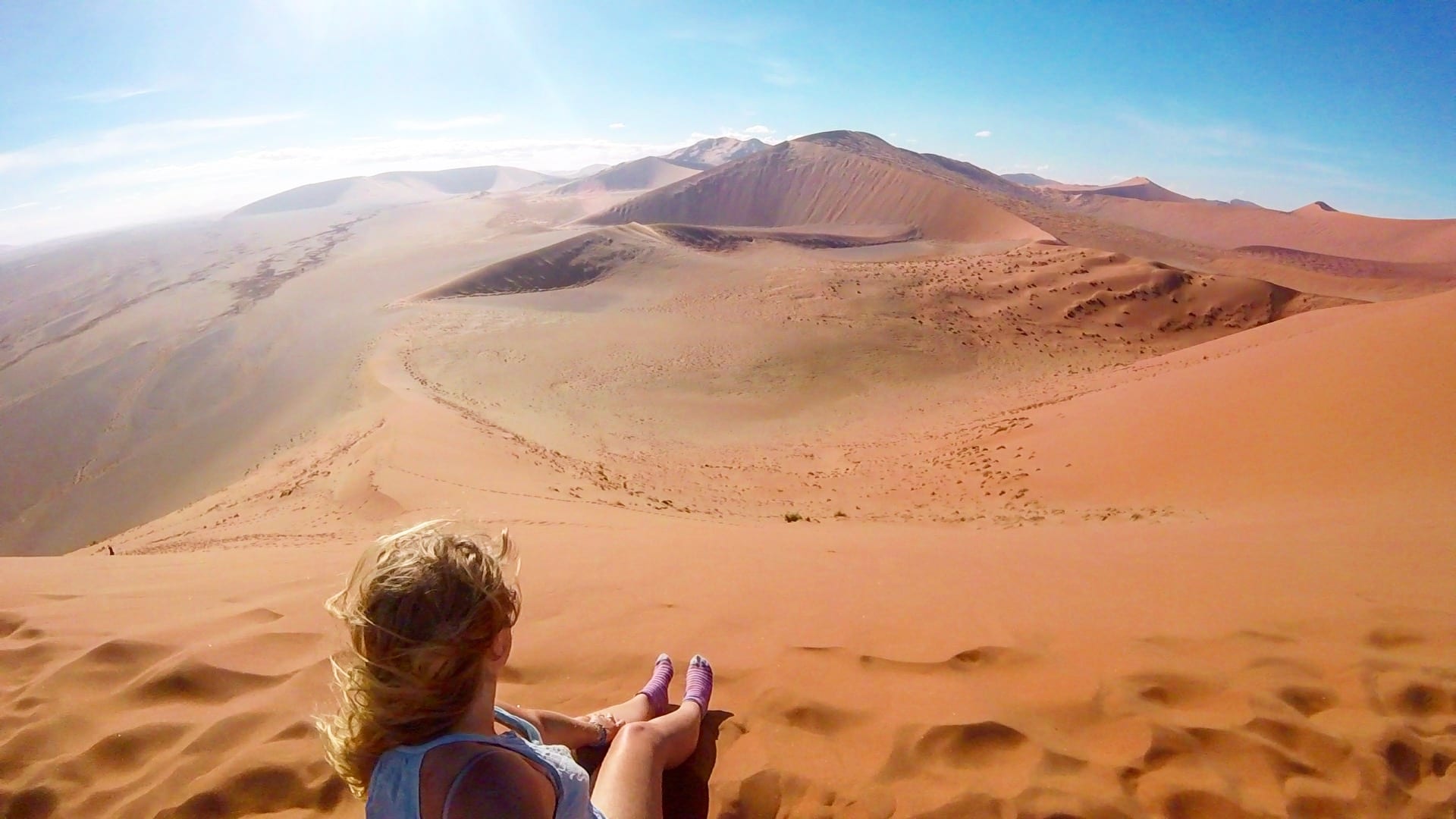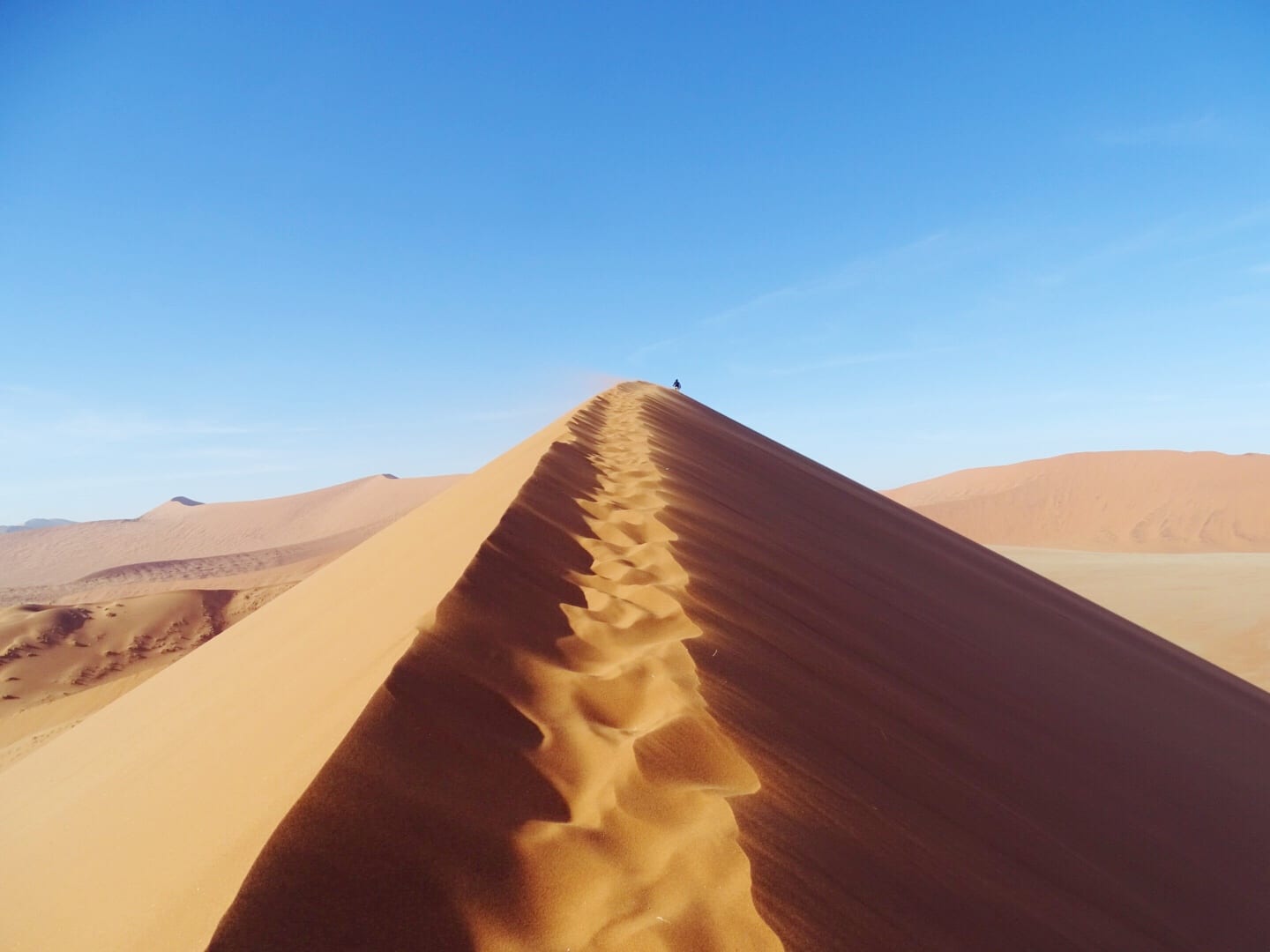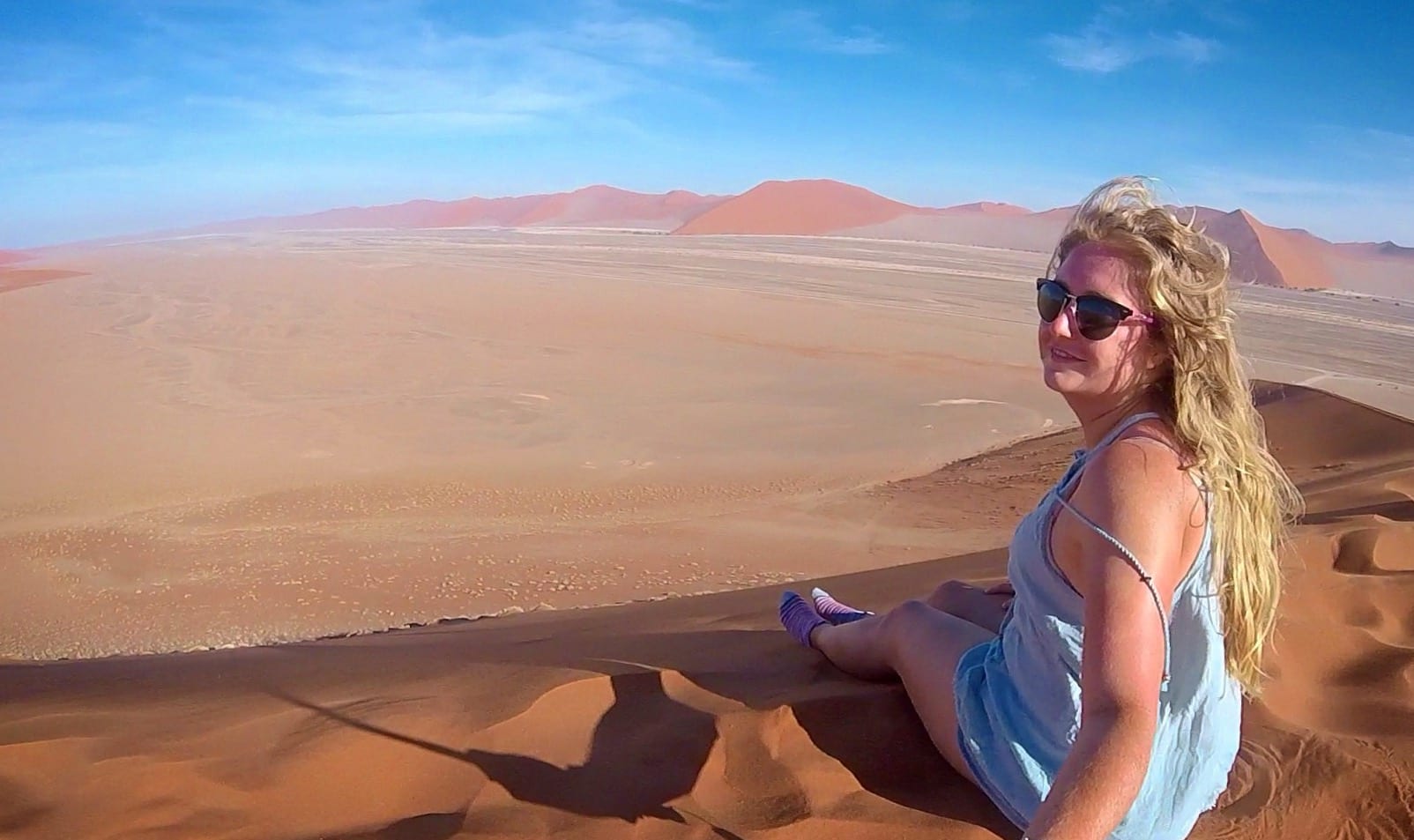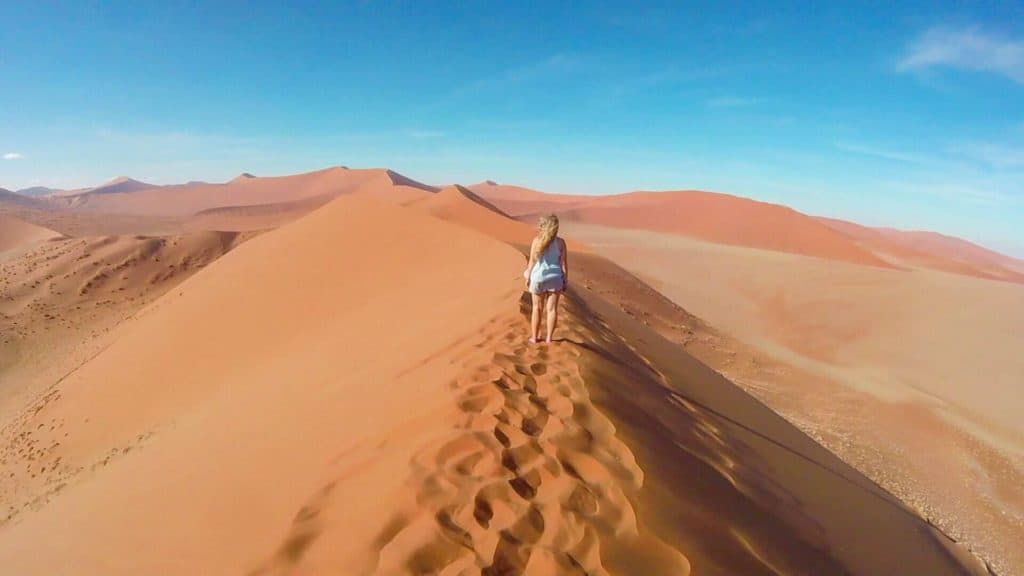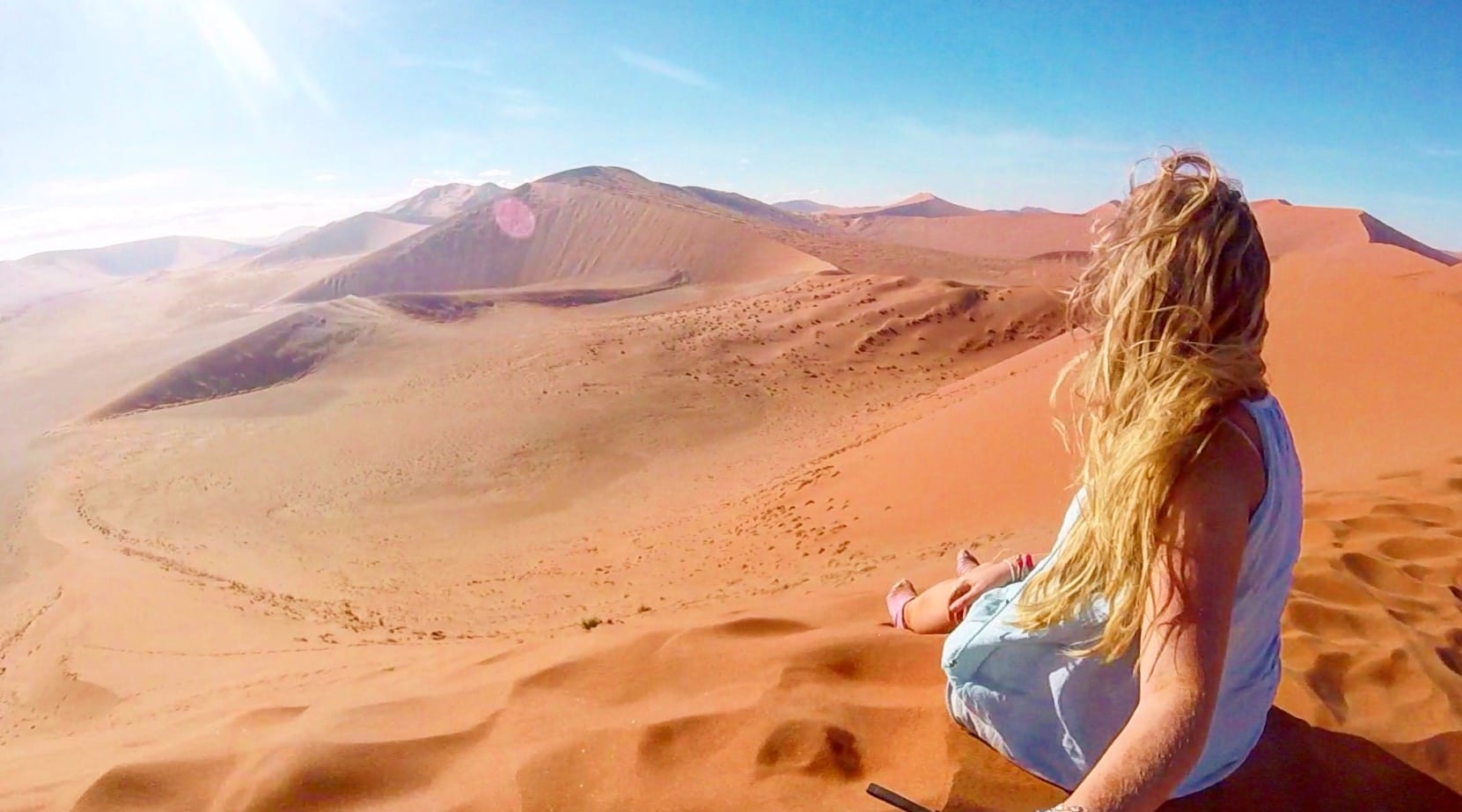 Despite the early start and aching legs, we kept our energy up a little longer as there was another incredible location to check out before the day was over:
Sossusvlei
Set in the middle of the striking orange dunes, Sossusvlei is a dry salt pan: a flat, white expanse of land characterised by the blackened skeleton trees growing in it.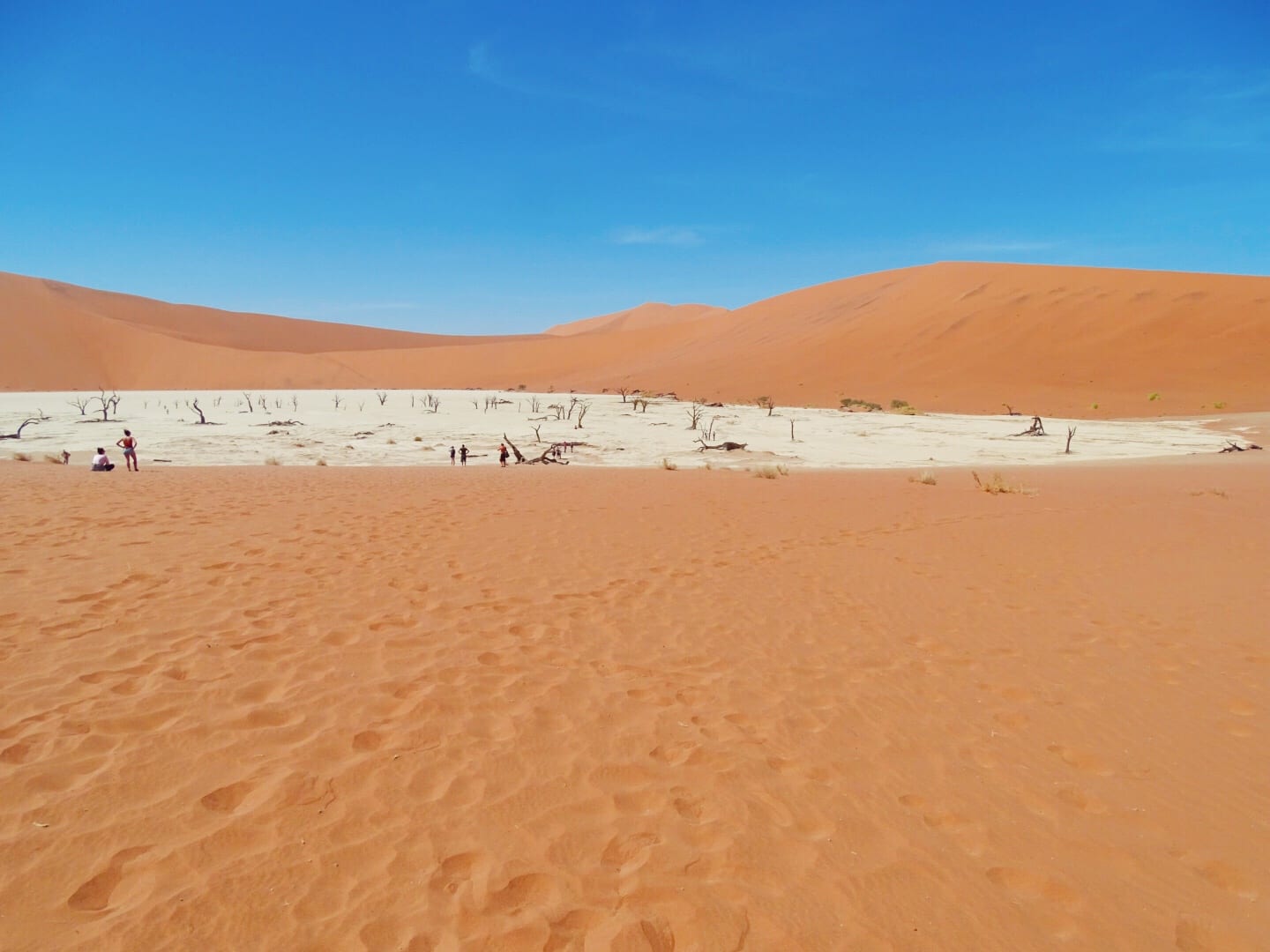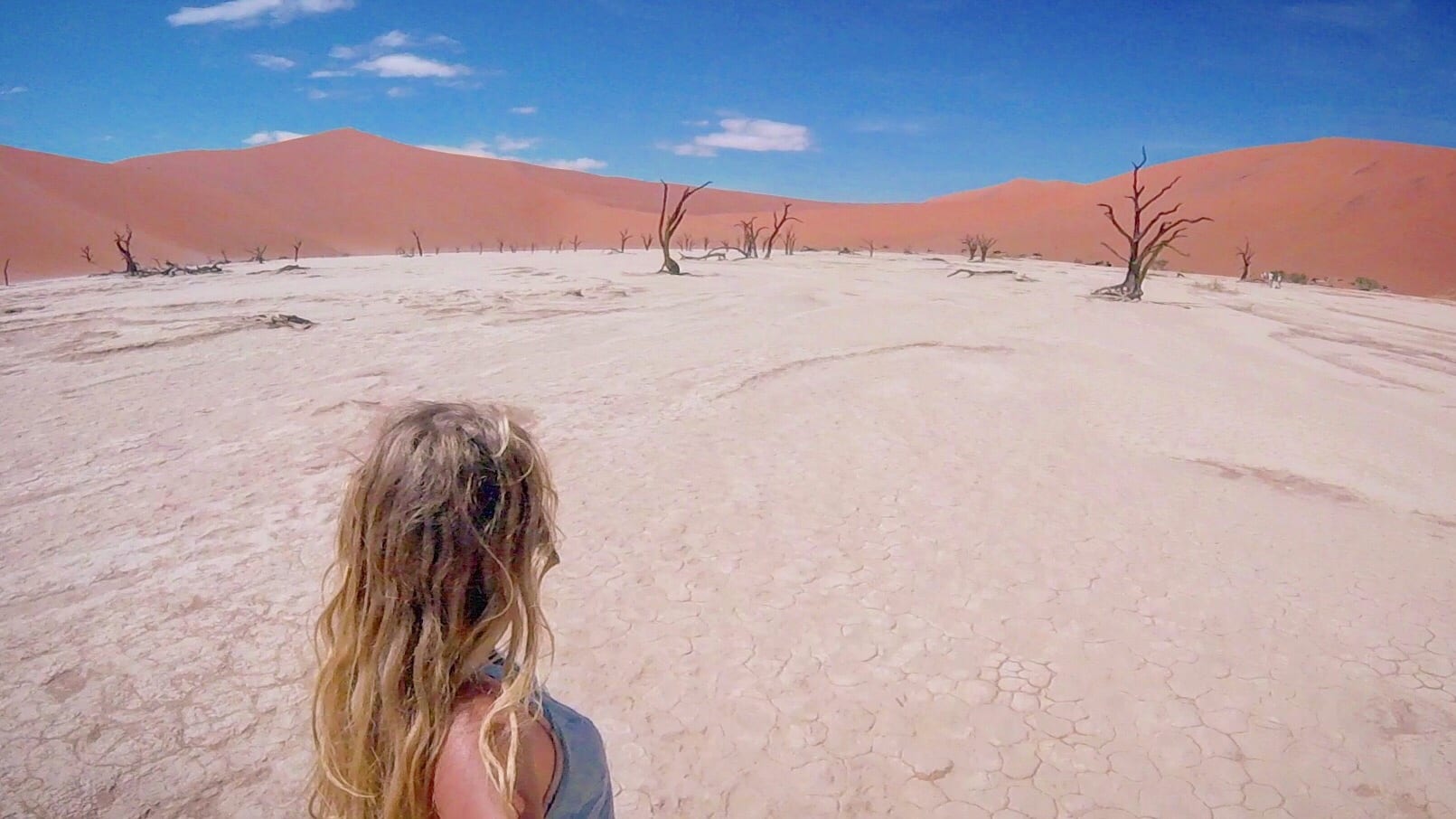 We hopped in a shuttle bus to the pan and spent a while wandering around the land. Apparently, a river used to run to this area but slowly was cut off by the salt build-up, hence the death of the once-green trees.
An afternoon of napping and resting our legs was on the agenda after the mad day we'd had. The following day was our final in Namibia and there was one last breathtaking sight to see before crossing the border to South Africa…
Fish River Canyon
After checking into our camp for the night, we headed to explore the world's second-largest canyon (only beaten in size by the Grand Canyon).
Justus and Joseph dropped us off and headed to the sunset lookout point to cook our dinner – giving us time to hang out, take photos and soak up the views before meeting them when we were hungry.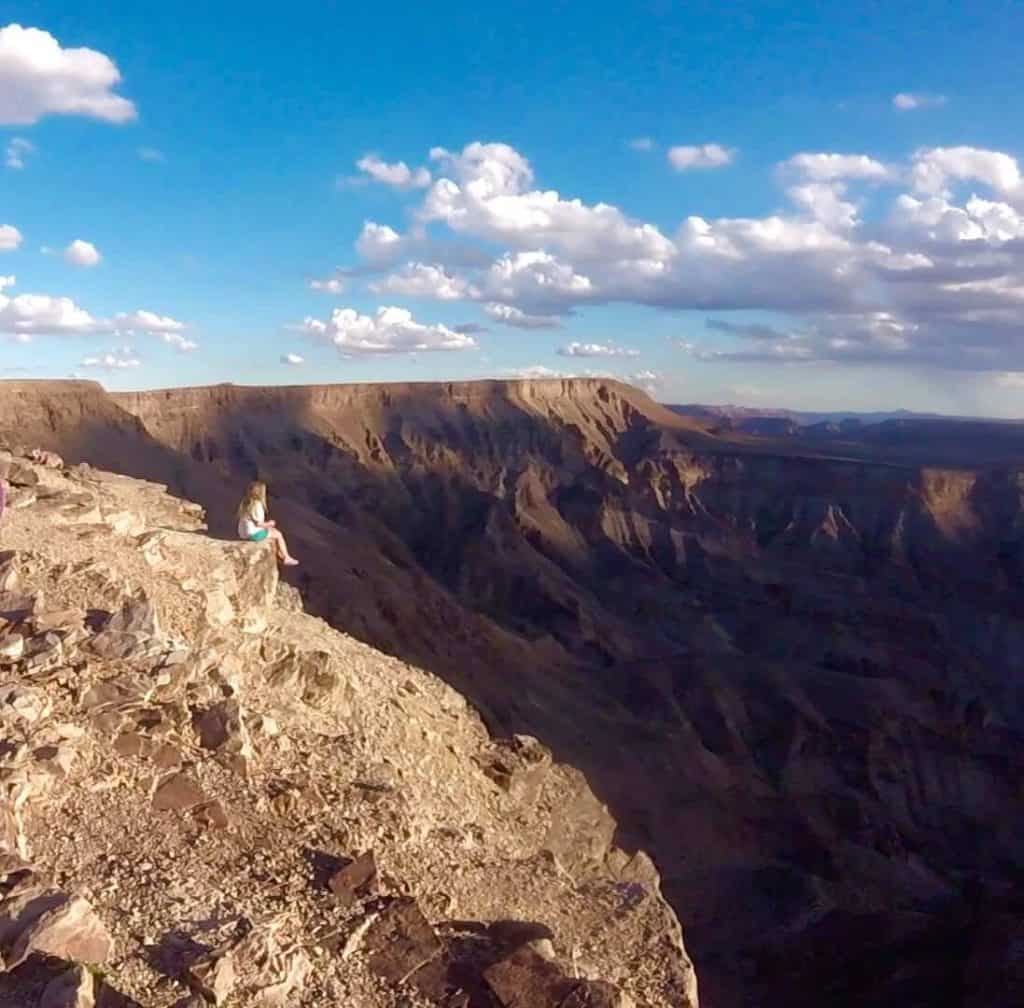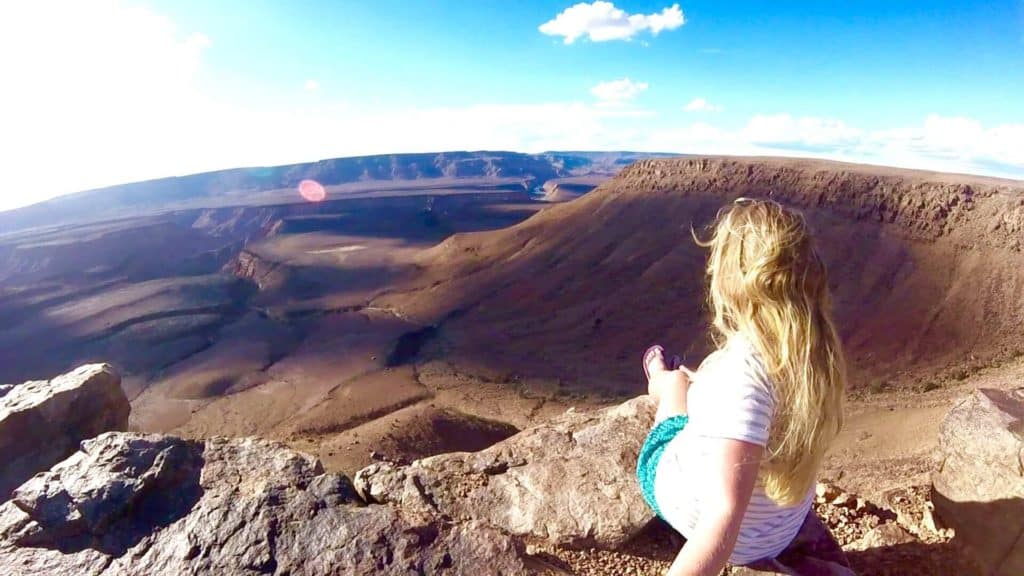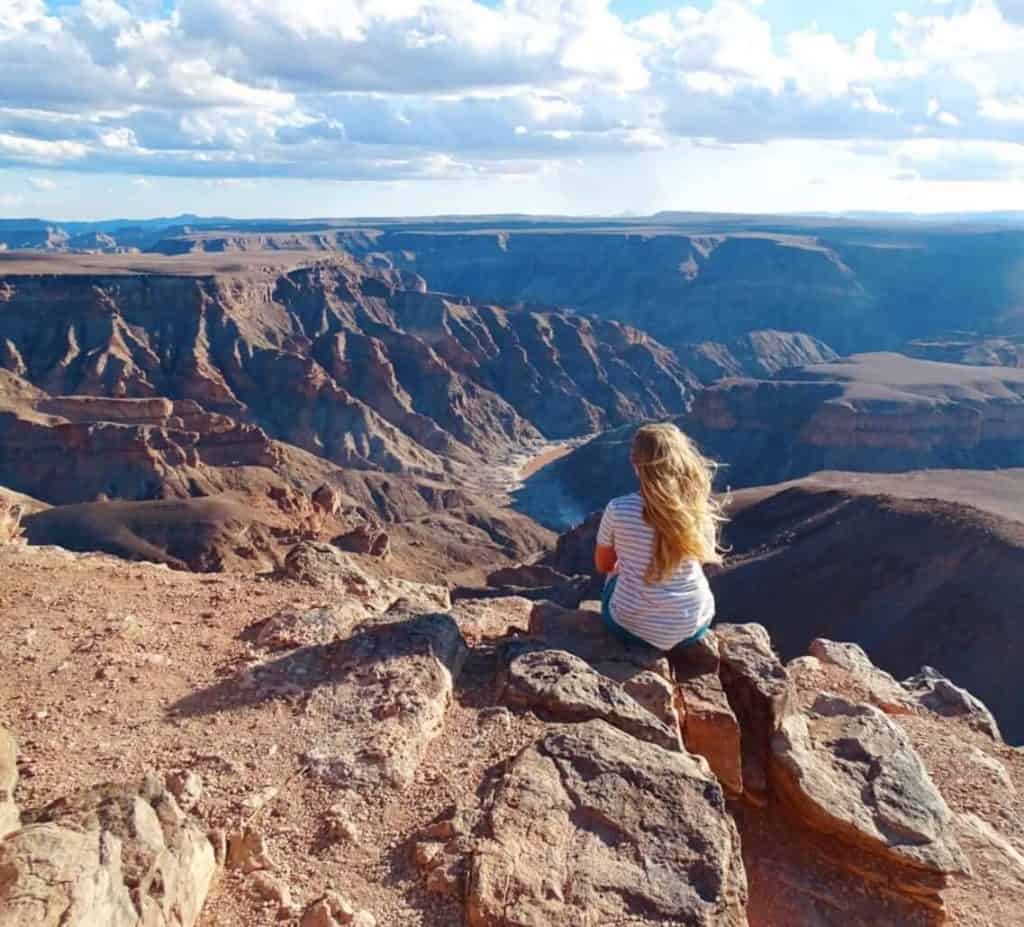 Obviously, there's nothing to make you feel alive like dangling over a canyon to get the best photos possible!
The best bit was that there was no one else around… at all. I'm racking my brains trying to think of the last time I visited a tourist attraction and was actually alone. It doesn't happen often, so we made the most of the moment.
After a sunset dinner, it was back to the campsite to sleep and continue our journey to South Africa the next morning. After the seven countries we'd seen, Namibia was way up there as one of my favourites. How would South Africa compare? I was about to find out.
Thanks for reading!
See you next time for more adventures,
Rose