This post may contain affiliate links to things like tours, hotels, Amazon associates and products. These help me earn a small commission at no additional charge to you.
Durban is South Africa's second-largest city, rivalled only in size by Cape Town. It has surprisingly good beaches for an urban area and tourists flock to them, but they don't tend to hang out in the city centre.
Why? The centre of the city isn't the safest or most glamorous. Following mass movement to the city after apartheid (before which only white people were allowed access), it's become crowded and run down. Crime levels have risen and tourists spend time in the city's various other more affluent areas instead.

Initially, I thought it wasn't a place I'd spend much time – little did I know, my favourite experience in Durban would actually be visiting it!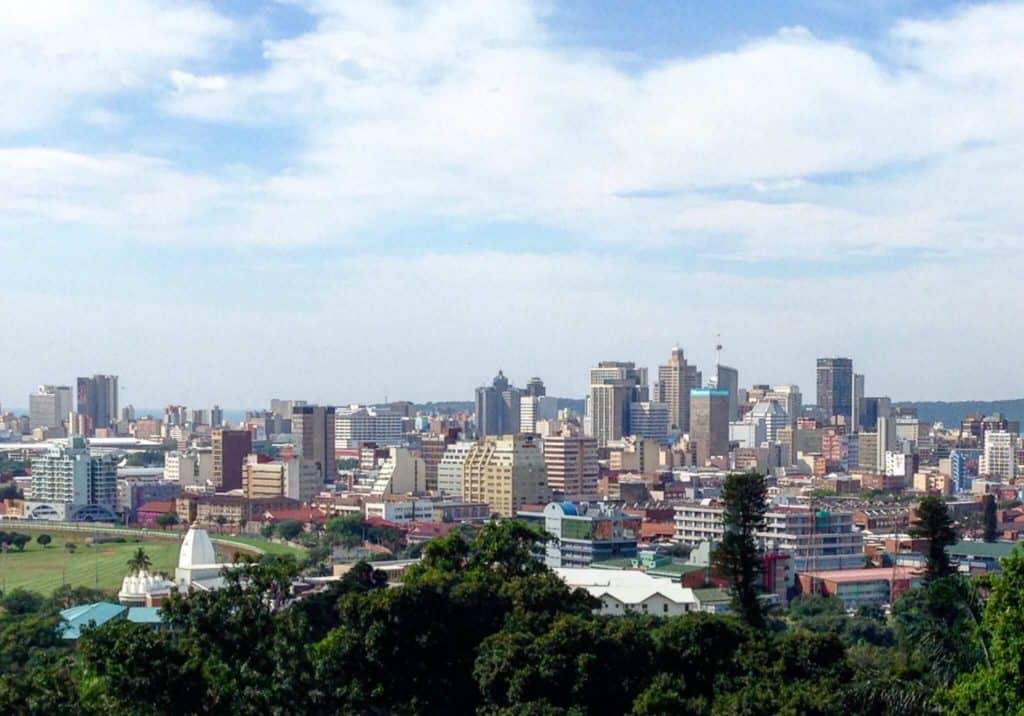 Johnny's Walking Tour
I stayed at a local backpackers and was recommended Johnny's Walking Tour. It was described as going 'where others fear to tread' – despite that sounding totally ominous, it seemed like a great way to get off the tourist track and see something a bit different.

Leader of the walking tour, Johnny, was a tough-looking yet funny and friendly coloured guy who the locals all knew. Before I go any further I should explain the term 'coloured' which in South Africa means someone of mixed race and is not a derogatory term.

During apartheid, coloured people had a limited set of rights somewhere between white and black people.

Because apartheid ended only 25 years ago, the country is still catching up in terms of education and jobs for non-whites. Johnny even remembers an era when he had to sneak into a 'white' hotel to meet his ex-wife and could have been in serious trouble for doing so.

Before we set off on the tour, tough-looking Johnny told us to take as many photos as we liked. He warned us that some things we would see might shock us and we set off.
The urban city centre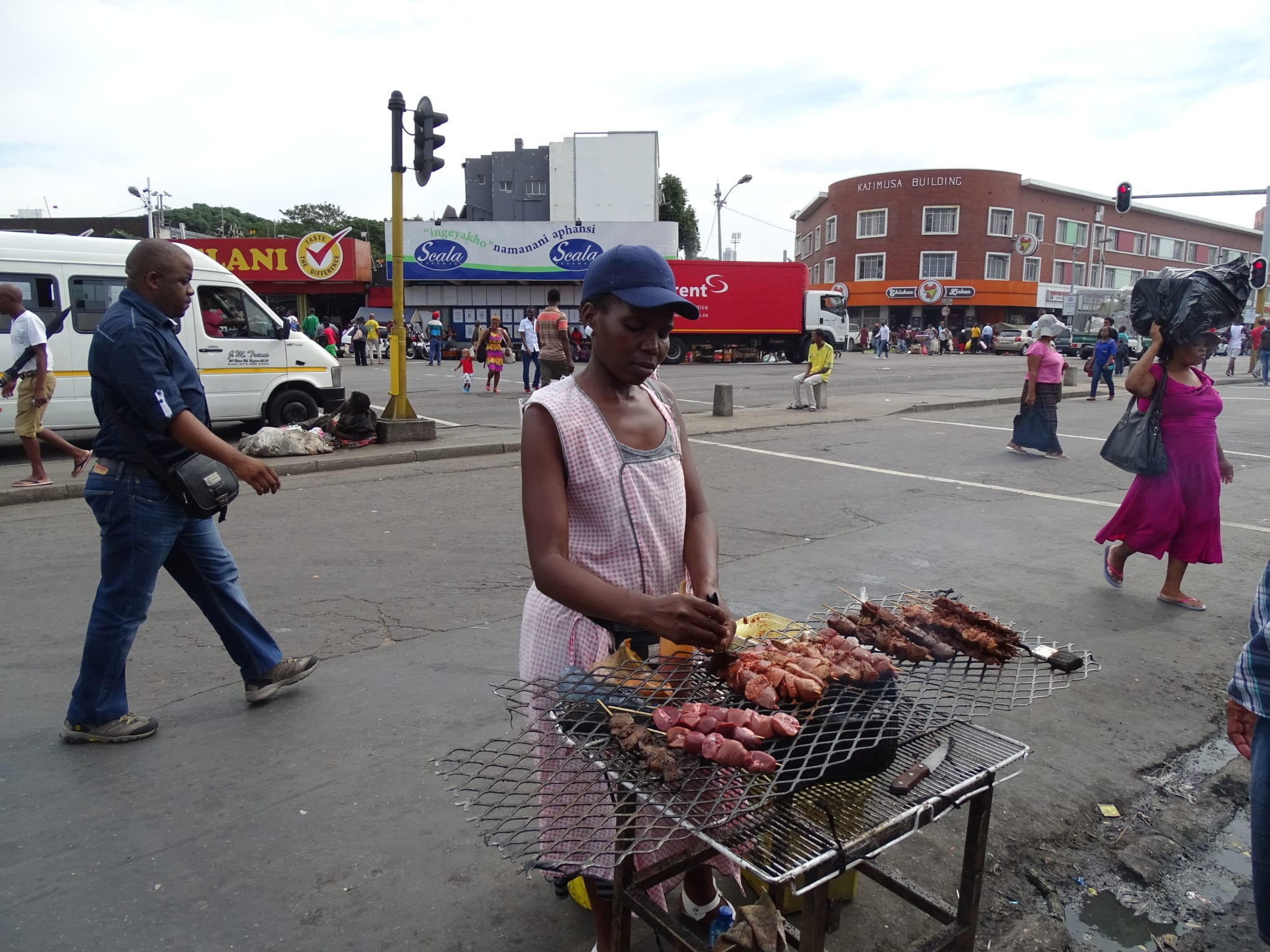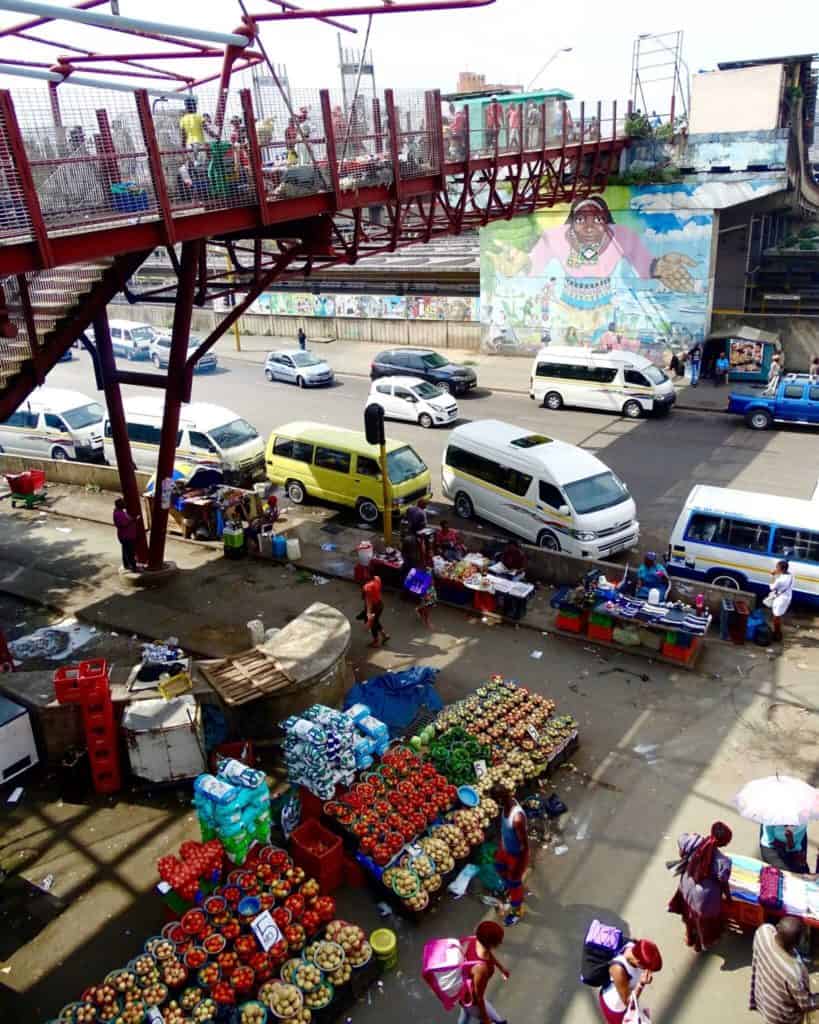 Johnny wasn't wrong. As soon as we turned the corner into the city centre, not only was the poverty apparent, there were rows of people completely out of it on drugs. Slumped forward it; as far from reality as you could possibly get. Culture shock definitely kicked in.

Despite that, I found myself buzzing to be around noise and colour. It really drove home what a city girl I am – I'd rather be somewhere urban, even if it is chaotic than anywhere quiet and rural.

We walked through streets lined with market stalls selling colourful fruit and veg, clothes, gadgets and counterfeit DVDs. As we stood taking in our surroundings Johnny explained to us that his was the only tour to come this deep into the heart of Durban. Other companies deem it unsafe and either drive by bus to the outskirts and describe what's inside or park on the flyover and look down the on the area.
The black market
As well as the outdoor market, there was a tightly packed indoor one which got darker and more questionable the further we ventured in. In the heart of it, Johnny told us we couldn't use our cameras as this was the black market. My stomach turned as I saw what looked like a possum being skinned and Johnny suggested they were selling all kinds of illegal animal products.

It was quite clear that we were Johnny's guests and his local connections and reputation were the reason we weren't being asked to leave immediately.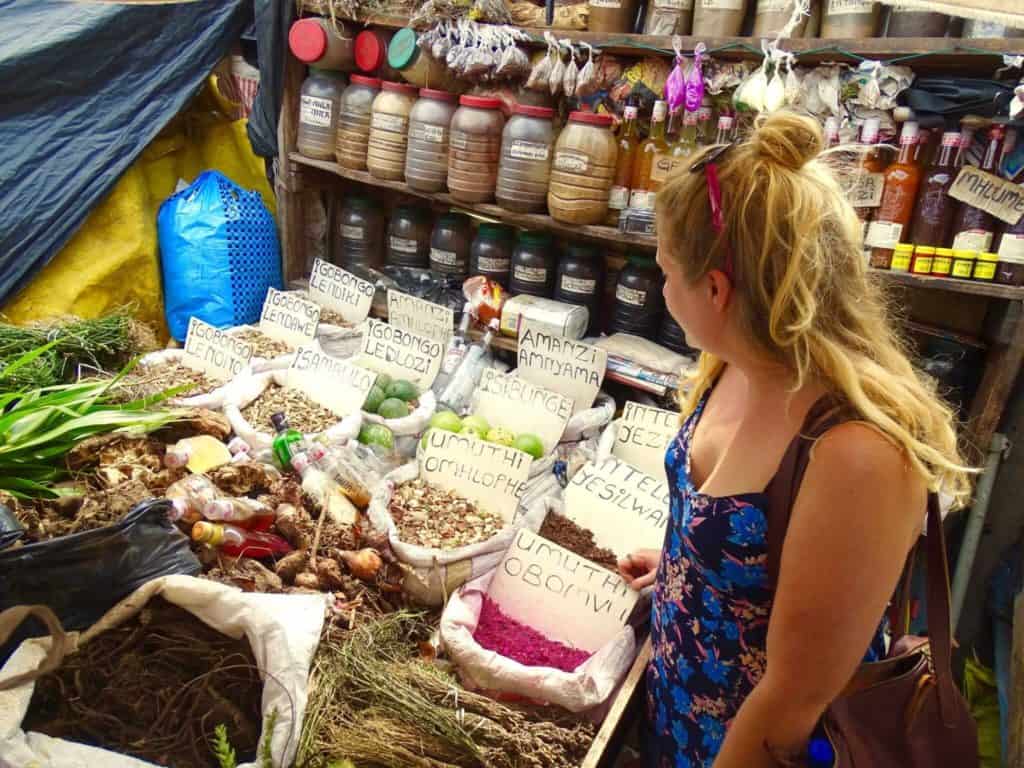 There was another thing I was sure of: this was an authentic experience. I don't know about you but I've been in so many situations set up for tourists. This wasn't one of those – Johnny's local links and know-how made us one of a few tourists per day who see the heart of Durban's urban centre.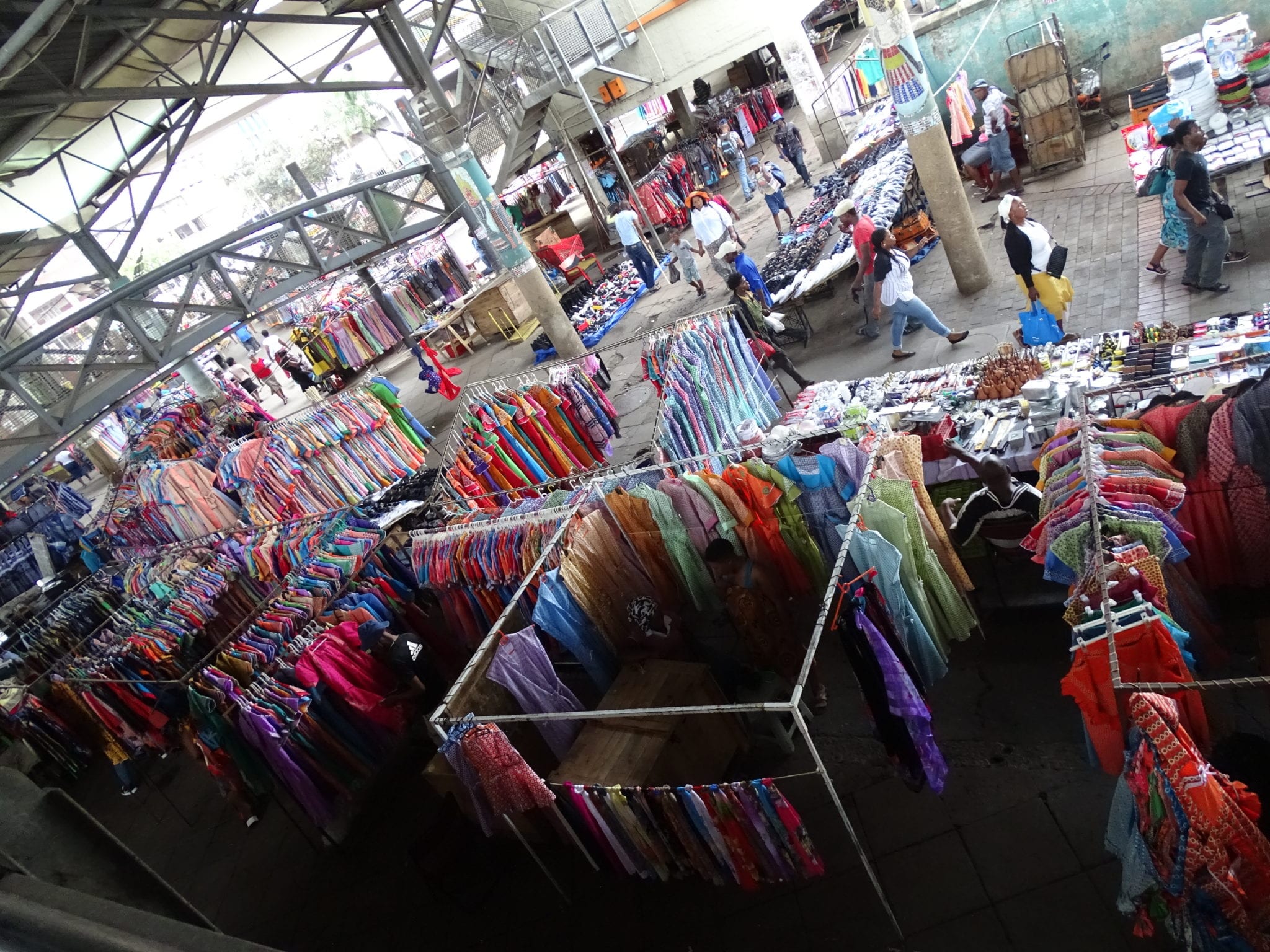 Pig's head for lunch
Johnny asked us if we wanted to sample a local delicacy. Of course we did! We entered a large, semi-open wooden building where women in colourful clothes were boiling and chopping meat. Kids clamoured, looking at us with wide eyes while pots bubbled and people laughed, joked and ate.

Johnny explained we were about to eat pig's head. Well thanks, Johnny for telling us that AFTER we agreed to try the 'delicacy'! Saying this, it was actually really good – I suppose meat tastes similar whatever part of the animal it's from. In the UK we're used to wasting food but let's not delude ourselves that we're the majority.

Our pork was cut up and served with chilli, salt and a doughy maize meal. We paid about 20p each and continued on our adventures, totally stuffed and aware we still had our actual lunch coming up soon.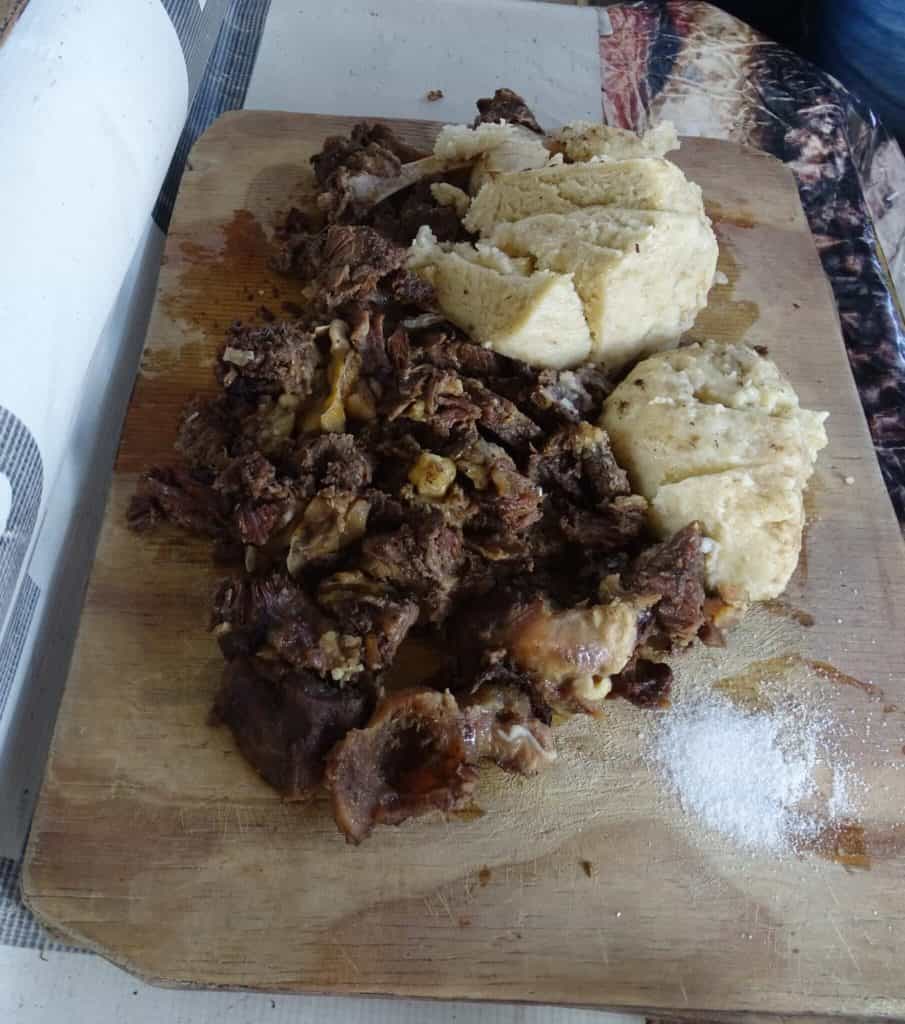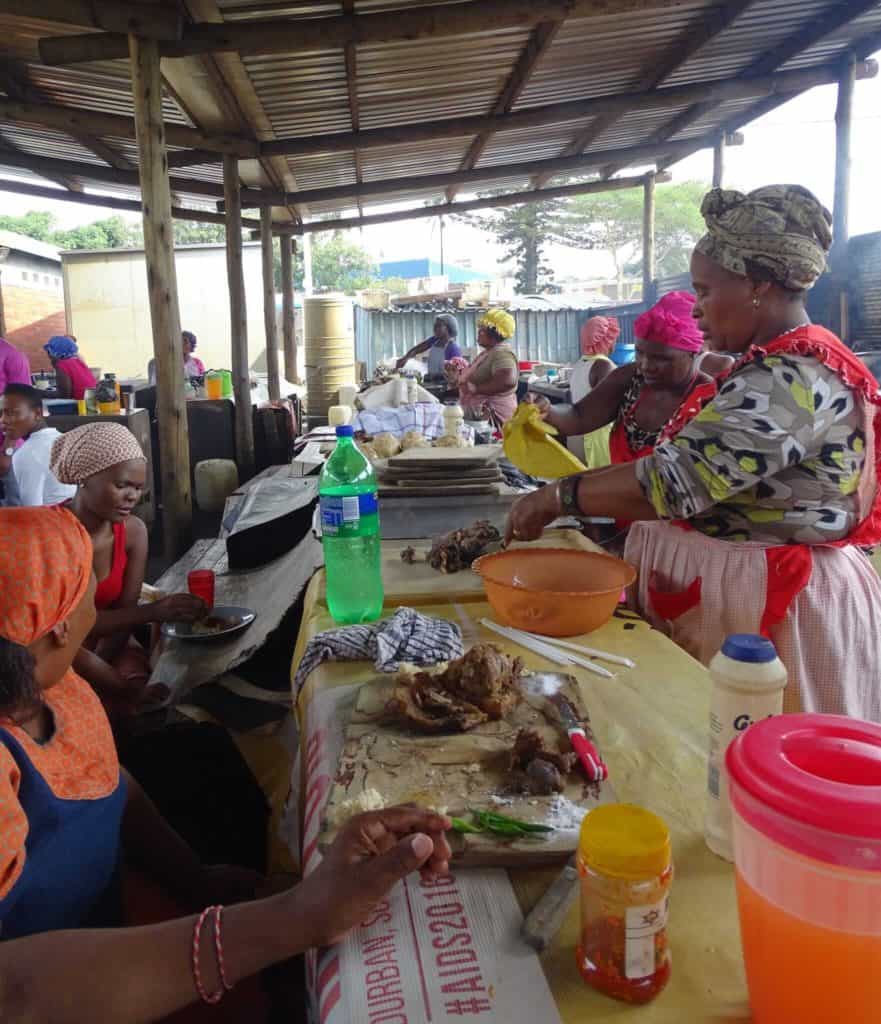 Johnny had another treat for us – we were going to meet one of his friends. Dane was a 'magic man' or a witch doctor and worked prescribing people natural medicines in the market. In Africa, many people have a strong faith in magic and healing and sadly many even believe it can cure HIV.

I was definitely expecting an old, wizened man with hippie views but Dane couldn't have been a more normal, funny guy. If you'd have chatted to him on the street in London you wouldn't have batted an eye. He told us the business had been handed down to him by his father and asked a mate to mind his stall while he happily knocked off for a pint with us.

The pub we went to was like no other I've been to before: a makeshift street bar where we sat on plastic beer crates on the pavement with a can each.
Life in Durban post-apartheid
Johnny and Dane chatted to us about life in Durban. They told us 25 years ago, before apartheid had ended, they wouldn't have been even been allowed in the city centre – where we were sat at that moment – as they were non-whites. Following urbanisation and increasing poverty in the inner city, the tables had turned and I was now the one who stood out.

I could feel wary, questioning eyes on me and I'm sure Johnny and Dane were alertly aware of the situation.

Sitting on a beer crate with a black guy and a coloured guy telling me about their real life experiences of apartheid reminded me why I travel. No books or amount of education could have taken me to this place – this location or this place of understanding.

It even reinforced to me the way I travel – no Western, expensive tour company would have had me laughing over a beer with Johnny and Dane on the pavement; I'd have been in a bus on the flyover being told how high the levels of crime were below me.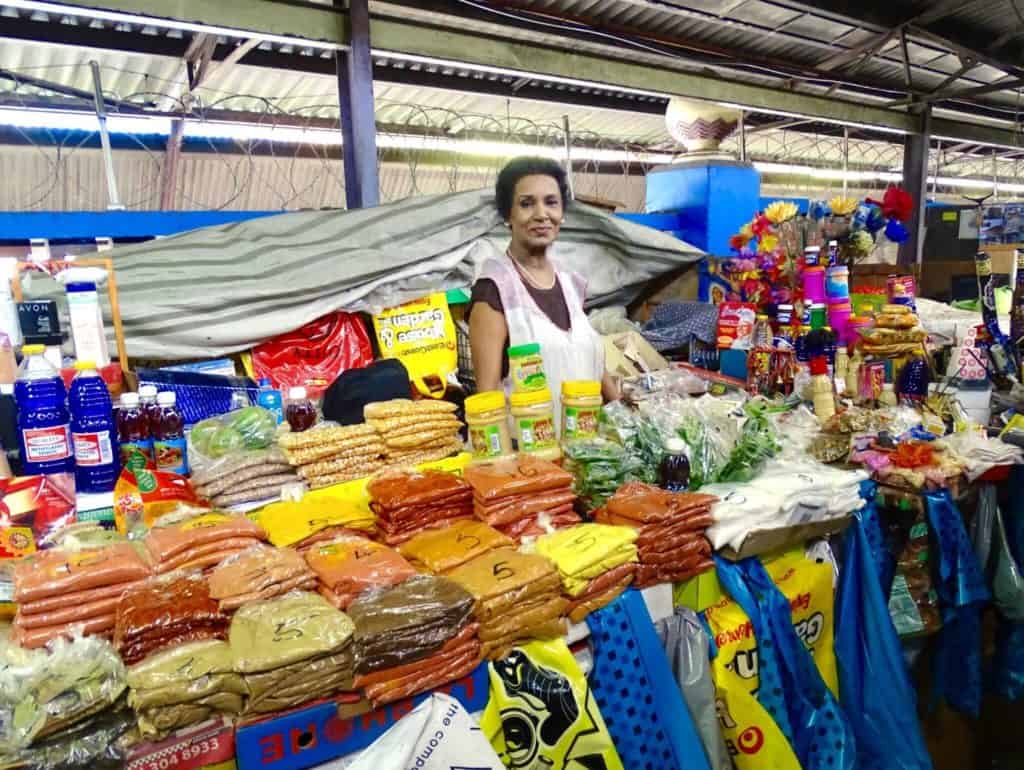 After our beer, Johnny walked us through a few more markets, introducing us to his friends who sold everything from cooking spices to love potions – something he kept encouraging me to buy and I kept declining!

We also ended up buying some of the cheapest souvenirs I've ever picked up travelling – I'd seen the same stuff in Cape Town's popular Green Market Square for four times the price.
The seafront – a million miles away
Our last stop of the day was the seafront. To get there, we hopped in local minibus taxis which are always booming music, packed full and driving at ridiculous speeds (I've heard people die in accidents daily in Cape Town but Durban seems a bit safer).

Once we reached the seafront, Johnny showed us some glitzy malls, a fancy sea life centre and a strip of bars and restaurants. The area was such a contrast to the city centre – very affluent, home to holidaymakers from around the world, and with prices in upmarket restaurants reflecting Europe.

It was another reminder of the vast contrast in South Africa – your money can get you four times more just two miles away, and culturally you feel as if you could have swapped continents not neighbourhoods. The only language being spoken around the seafront seemed to be English whereas Zulu (the language of the ethnic group of the same name) was prevalent in the city centre.

Johnny ordered us lunch – bunny chow!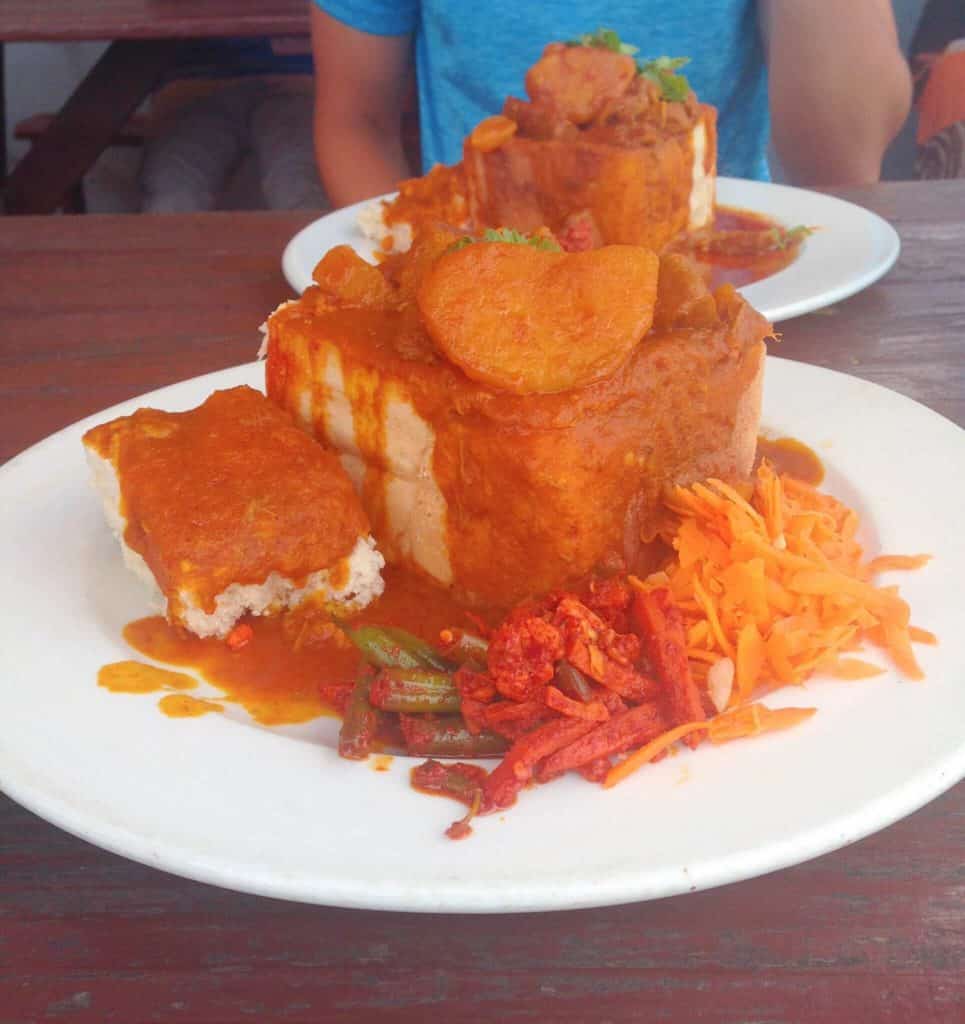 He obviously thought we'd be excited to try something we'd not heard of before but I'd actually eaten it loads, including the day before. Still, I can never say no to bunny chow which is a loaf of bread hollowed out and stuffed full of rich curry – I opted for lamb.

It was so good! Every time I eat bunny chow I'm honestly full for about 24 hours.
Durban's Indian community
Bunny chow is now popular across South Africa but it was actually created by Durban's Indian community.

To give you a bit more background, as well as blacks, whites and coloureds (again, these are South African terms not my own), Durban has the largest Indian population outside of India. This came about when Indian slaves were brought to the area to work on colonial plantations, and now the community is integral to the country's culture.
Finishing with a sundowner
We finished our day with cocktails at a bar on the tip of the pier where we watched surfers ride the early evening waves. I felt pretty tired from walking all day and also a bit mentally and emotionally exhausted from what was one of the most interesting days I've had in a long time.

I've never been anywhere as diverse and contrasting as South Africa and personally, I think that's because there aren't many places. There's still a long road to real equality ahead, yet the country has moved so far forward in just 25 years.

I went to bed feeling privileged to have the chance to explore this fascinating city and country.

Have you ever been to Durban, or South Africa in general? How did you find it? I'd love to know!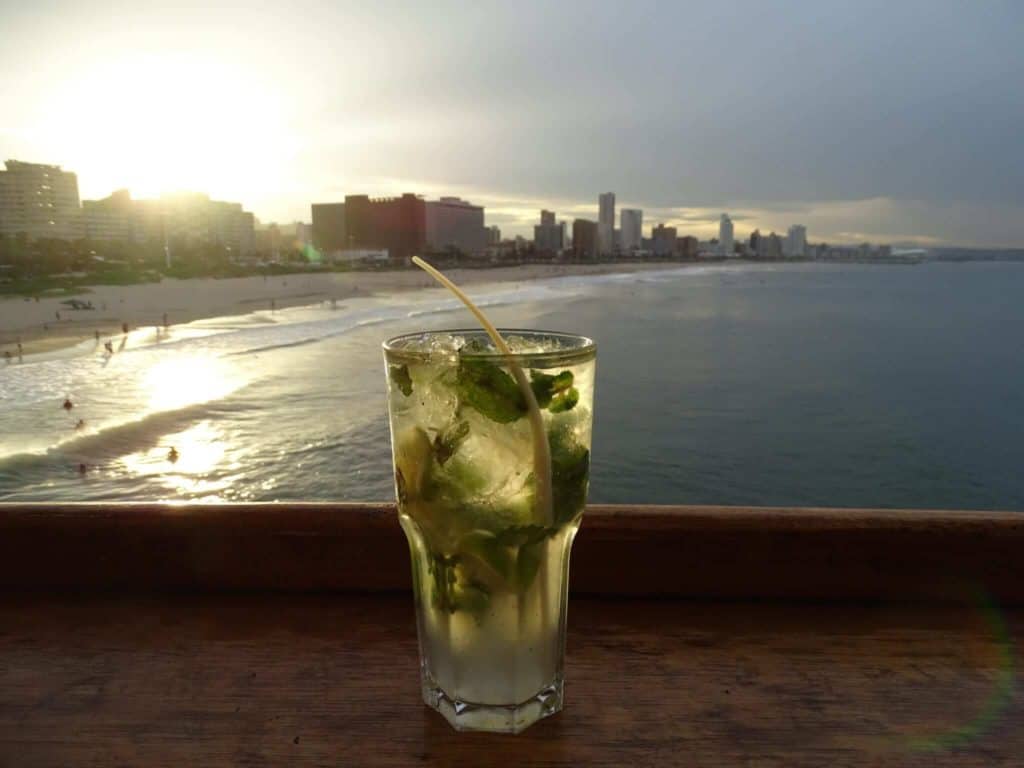 Thanks for reading!
If you liked it, please share it 🙂

See you next time for more adventures,
Rose