This post may contain affiliate links to things like tours, hotels, Amazon associates and products. These help me earn a small commission at no additional charge to you.
Hoorah, my first foodie blog about Mexico!
After a week in Mexico, I'm seriously obsessed with the food. Is anyone surprised? Obviously not.

However, sometimes ordering new things in Mexico can be a little tricky as my Spanish is still limited (aka totally crap) so I was excited to be shown around by a local.

Read next: Mexico City itinrary for 5 days
Check out my other Mexico City food guides:
Eat Like a Local Tours in Mexico City
Not only was I excited to eat a lot of Mexican food but I felt great about my partnership with Eat Like A Local. This sustainable tour company based in Mexico City is locally-owned and led by women. Our lovely guide, Lorenza, explained that wages are not always equal for females in Mexico. To combat the problem, her sister founded Eat Like A Local and pledged to only employ female tour guides, paying them a great wage. I love this!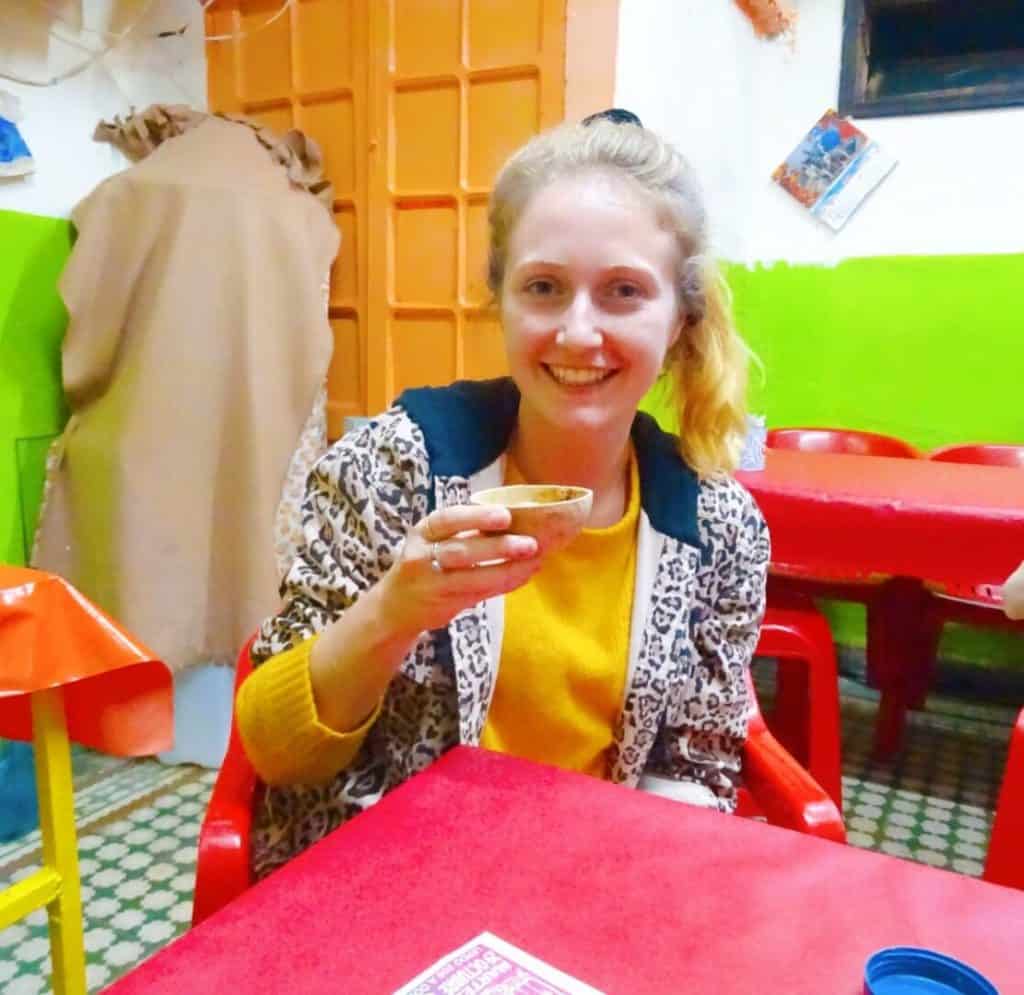 Foodie visiting Mexico City? You can book this tour on EatWith, and browse other local-hosted food experiences and supper clubs.
Eat Like A Local also sponsor English lessons for school-aged children in Mexico City and donate food to the homeless. As tour companies go, you really can't put your money anywhere better.

I headed on the street food at night and hidden neighbourhoods tour but there are a couple to choose from depending what you want. There's a tour of cool Condesa & Roma neighbourhoods as well as one focusing solely on tacos and mezcal.
Tip – if you take the same tour as me, Sundays are the best days as you visit an authentic saloon (Mexican dancehall).
If you're considering taking the tour, let's get stuck into my tour review and see everything I ate!
Esquite O Elote (giant corn)
When we arrived at this popular food stall with queues down the street, I wondered what all the fuss was about. How good could corn be?

It turns out very good. This stand is open 24 hours a day simply because of the demand. We watched as the staff slathered corn in mayonnaise, cheese, chili and lime. It was certainly a way to turn something healthy into something very unhealthy but there were no complaints from me!
Torte de Cochinita (slow-cooked pork sandwich)
The next dish on the Eat Like A Local tour was quite possibly my favourite. It was my first torta which is essentially a Mexican sandwich. Cochinita pibil is a type of slow-cooked pork that originates from the Yucatan peninsula and is now popular all over. It was smoky and succulent, served wth refried beans, avocado tomato and jalapenos.

And that's how Rose died and went to food heaven!

Seriously, I could eat this sandwich daily. My body might not be happy but my tastebuds certainly would be.
Tacos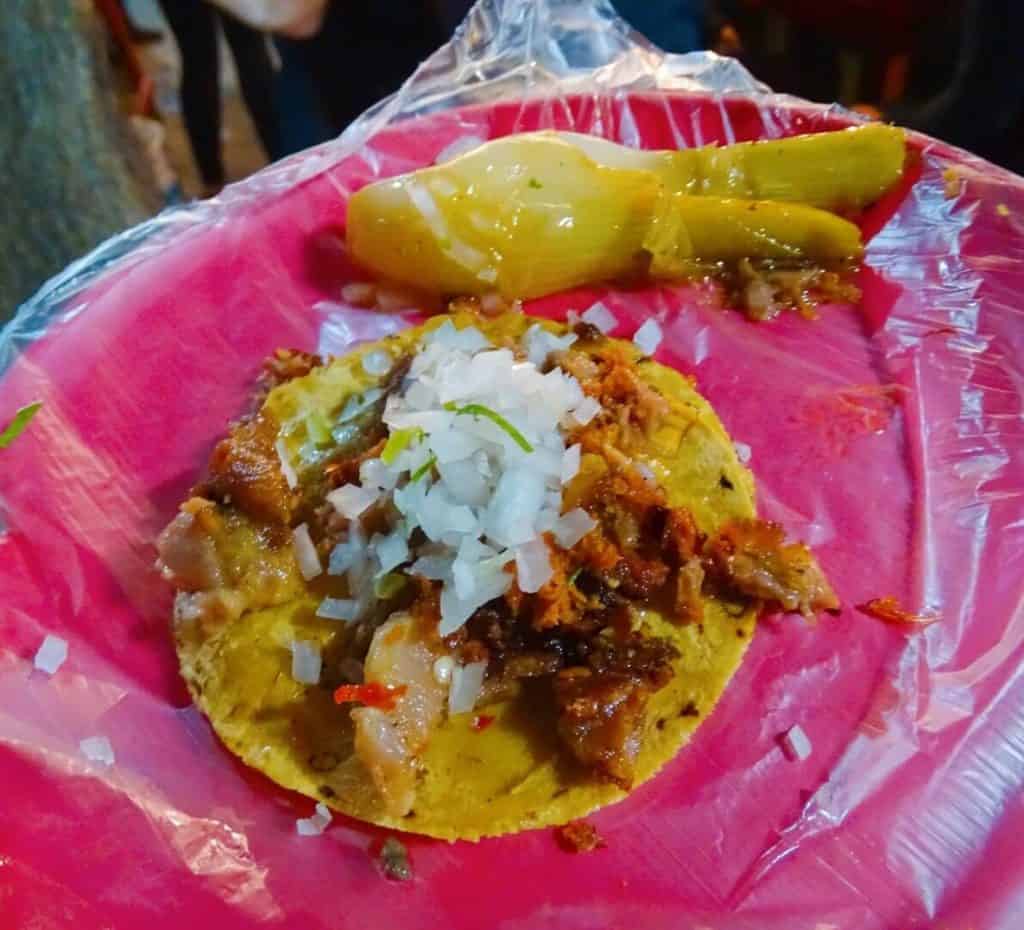 Is it even possible to go on a food tour in Mexico and not eat tacos? I don't wish to find out.

So far I'd only tried tacos al pastor (served with shawarma meat). I have to say I preferred this new type made with beef brisket and chorizo. The brisket was smooth with a subtle crunch, piled on top of a soft corn tortilla with all the trimmings.

At this stop we had the chance to get adventurous. The modest taqueria served eyeball and tongue tacos, something we all said 'no, gracias' to. Maybe next time!
Stopping a saloon!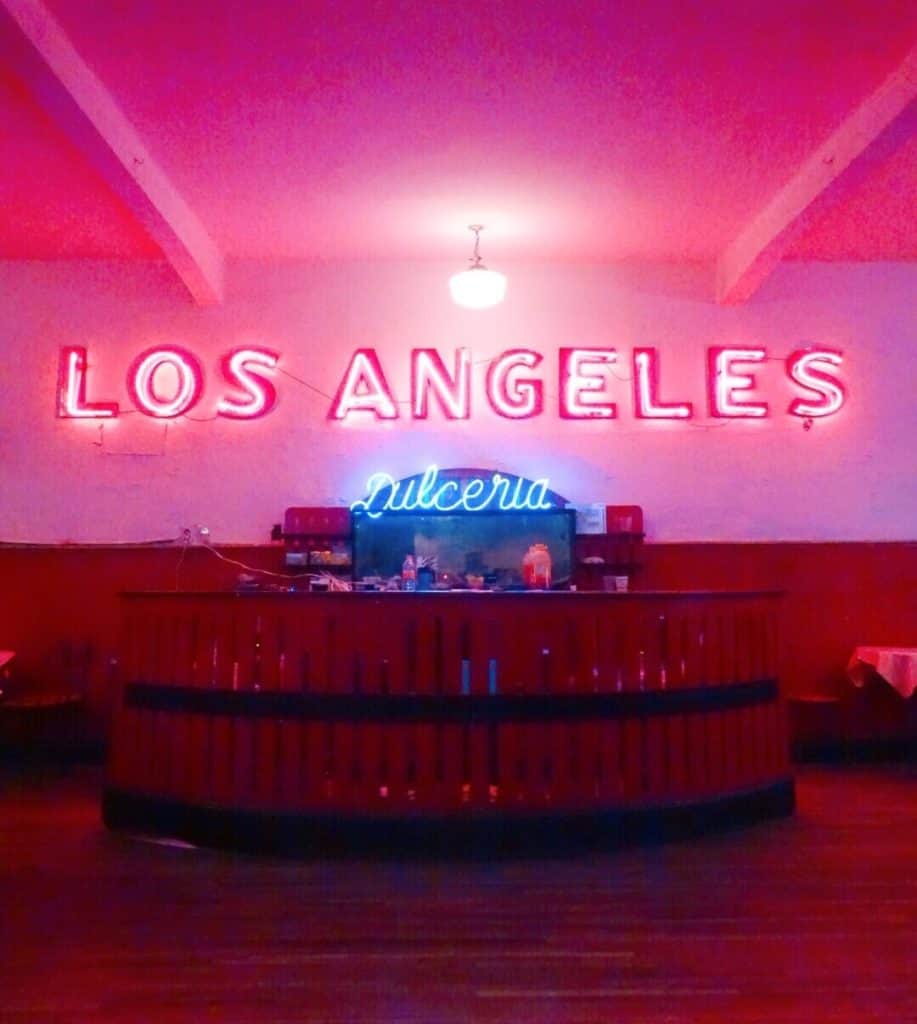 The highlight of the tour for me was stopping at this authentic local saloon open Sunday and Wednesday nights. Salon Los Angeles is overflowing with retro decor and an excellent place to nurse a beer while watching elderly couples take to the dance floor. They had so much passion and talent. Apparently, lots of people come alone and match up with different dance partners. I can't image older people in the UK doing this but I reckon they should!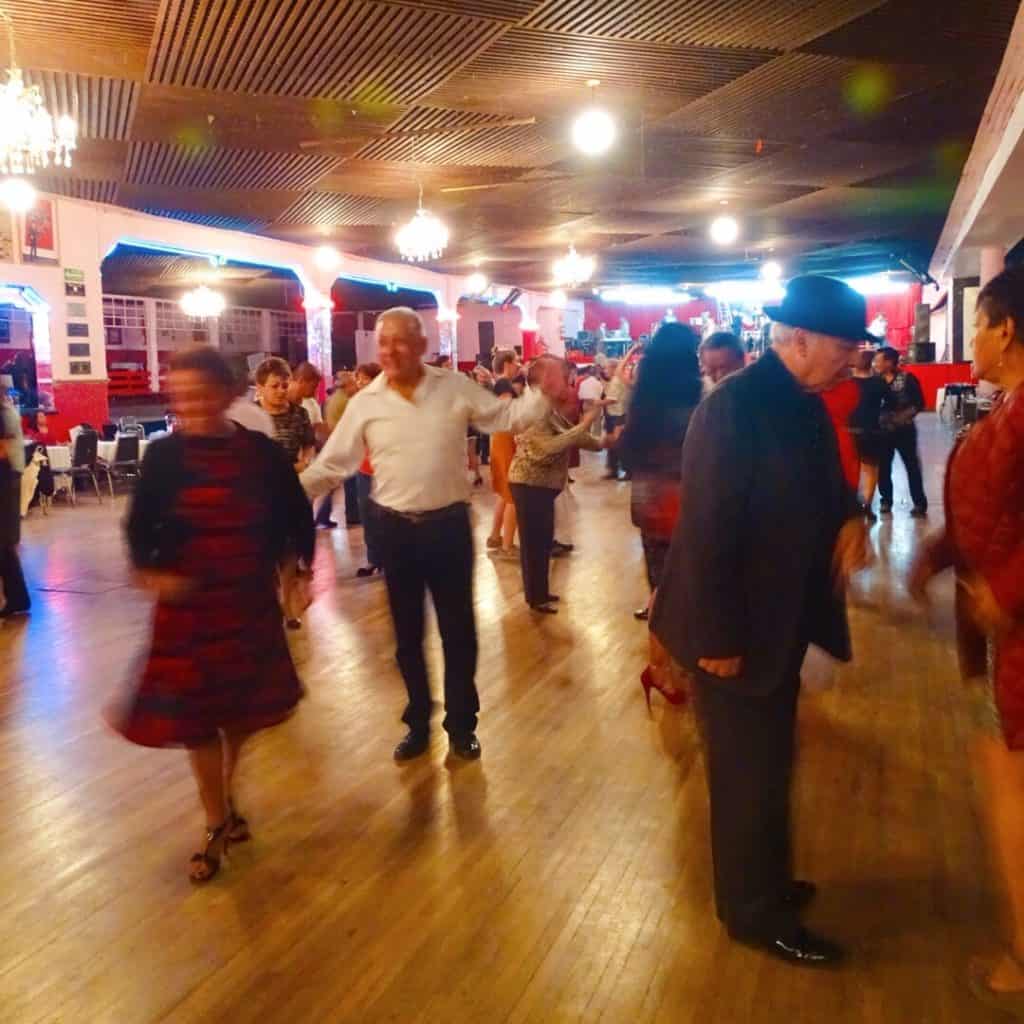 Salon Los Angeles is in the Guerrero neighbourhood, one tourists don't usually see. I'd never heard of it so I'm very glad we discovered it during the food tour. Despite being relatively unknown to foreign visitors, some of Mexico City's best food is in this neighbourhood. We headed to a modest family restaurant for a total feast…
Mole enchillada, pambazo and tamal de mole amarillo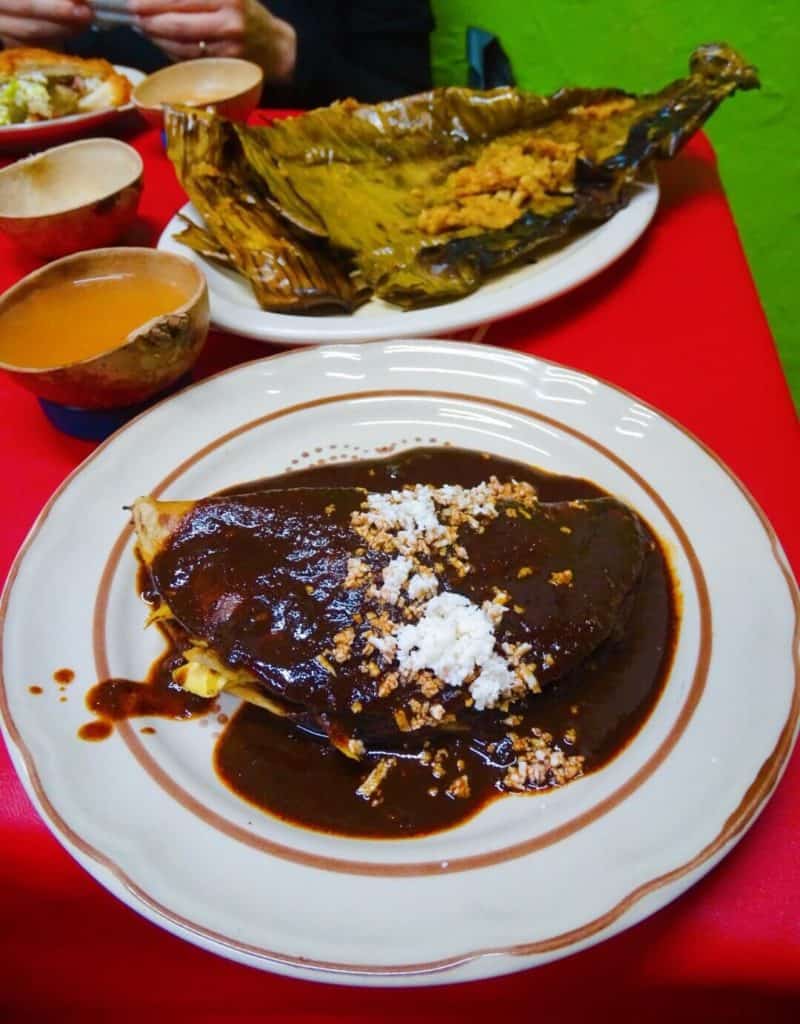 Mole (pronounced mol-ay) is now my favourite Mexican sauce. When I first heard of it, I wondered what on earth it was. Of all the Mexcian dishes that have made it to the UK, this dish isn't one.

Mole has a distinct flavour that can be made with many different ingredients. This one was flavoured with chili, chocolate, fruit, garlic and onion. The chocolate wasn't sweet so it went well with the savoury ingredients, giving it just a hint of chocolatey kick.

Mole originates from Oaxaca (pronounced Wahaca), somewhere I'm visiting very soon. I can't wait to eat it again there.

We also tried tamal de mole amarillo, another brand new dish to me. Steamed corn is mixed with pork and served in a banana leaf with a yellow mole sauce. There was something smoky and creamy about this dish that I can imagine developing a dependency on.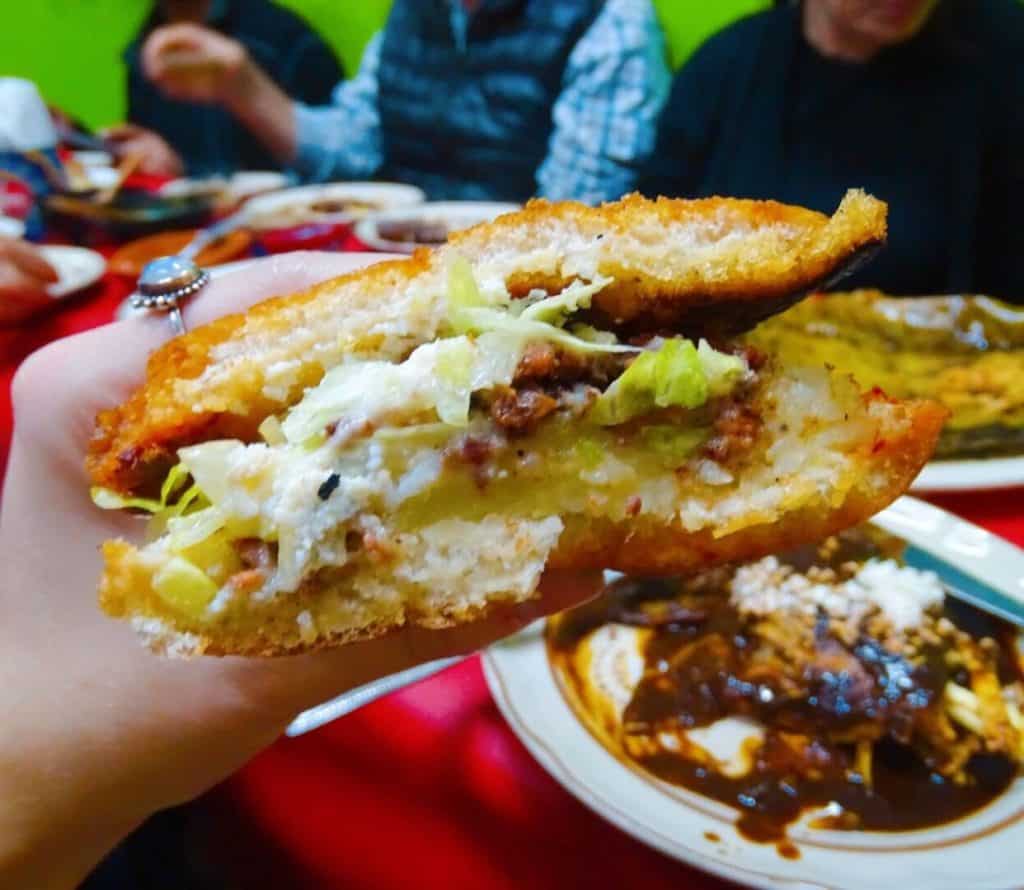 Starting to feel full, we shared a couple of pambazo tortas between the group. These sandwiches were filled with potato, chorizo, cheese, cream and lettuce. Carby and indulgent!
Trying grasshoppers!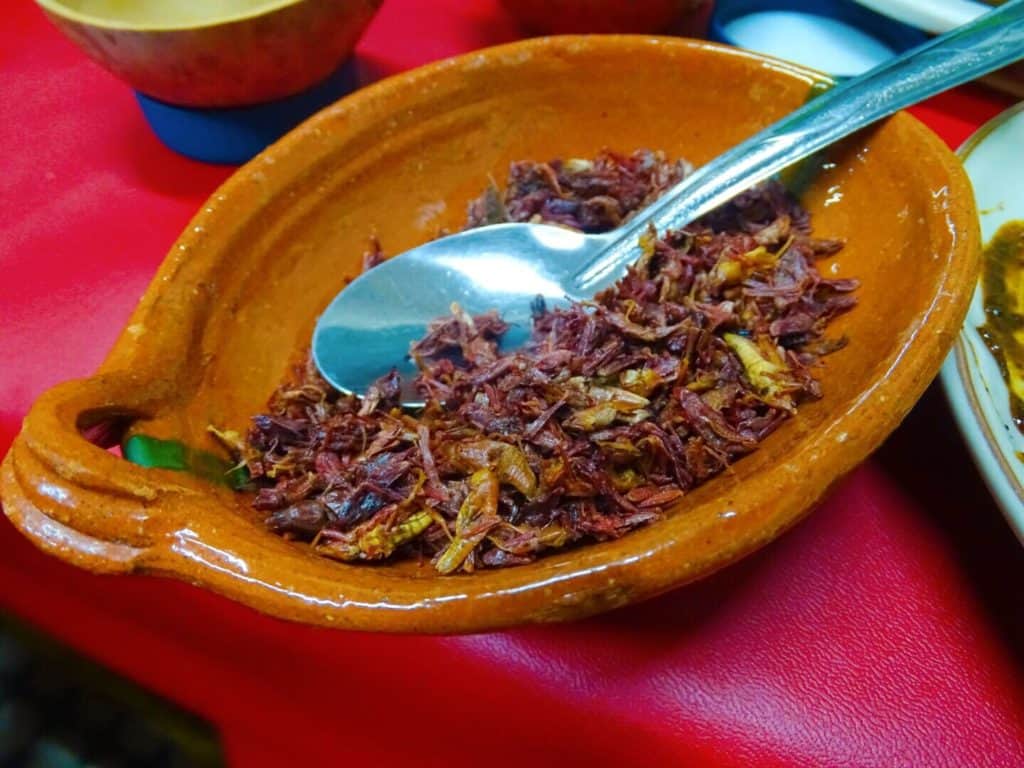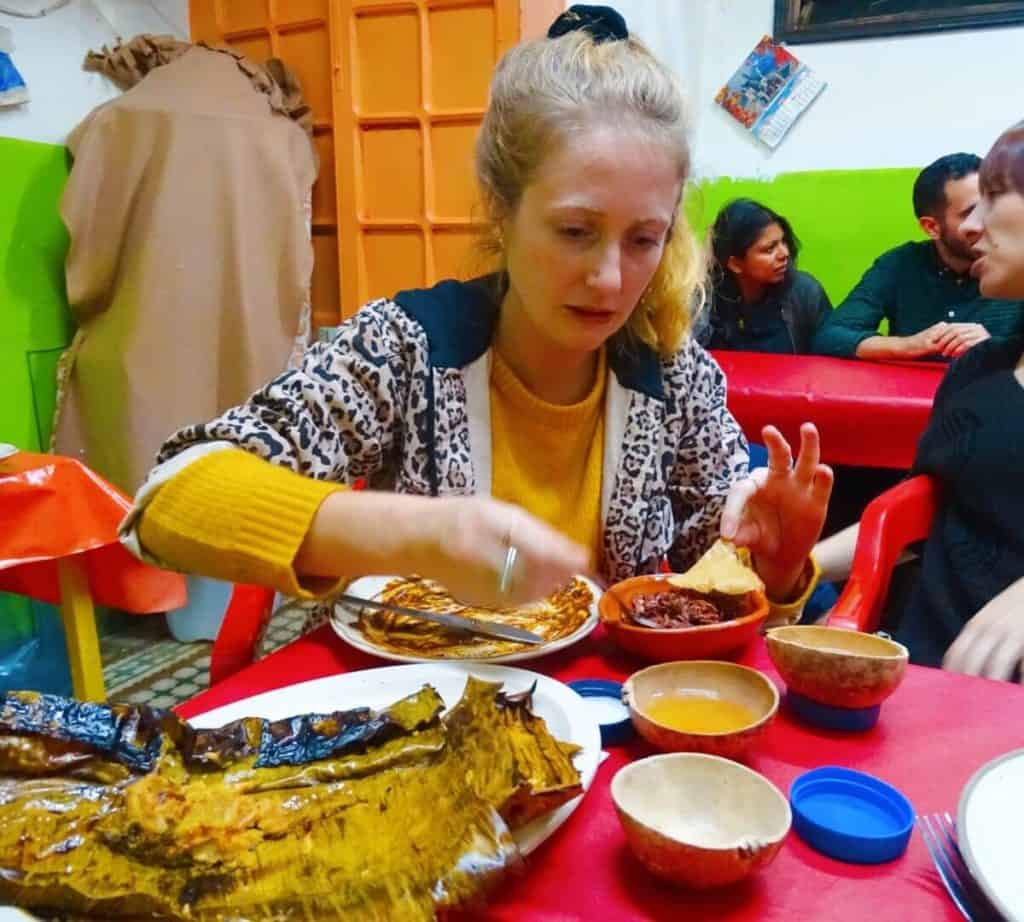 On a scale of 1-10, how unenthusiastic is my face here!?

Before we left the restaurant, we had the chance to try a traditional Mexican snack. Having eaten maggots and tarantulas in Asia, I thought why not? The grasshoppers were crunchy without much real flavour so I didn't mind eating a couple scattered on a tortilla chip with a scoop of chili. When in Mexico, right?
Traditional Mexican drinks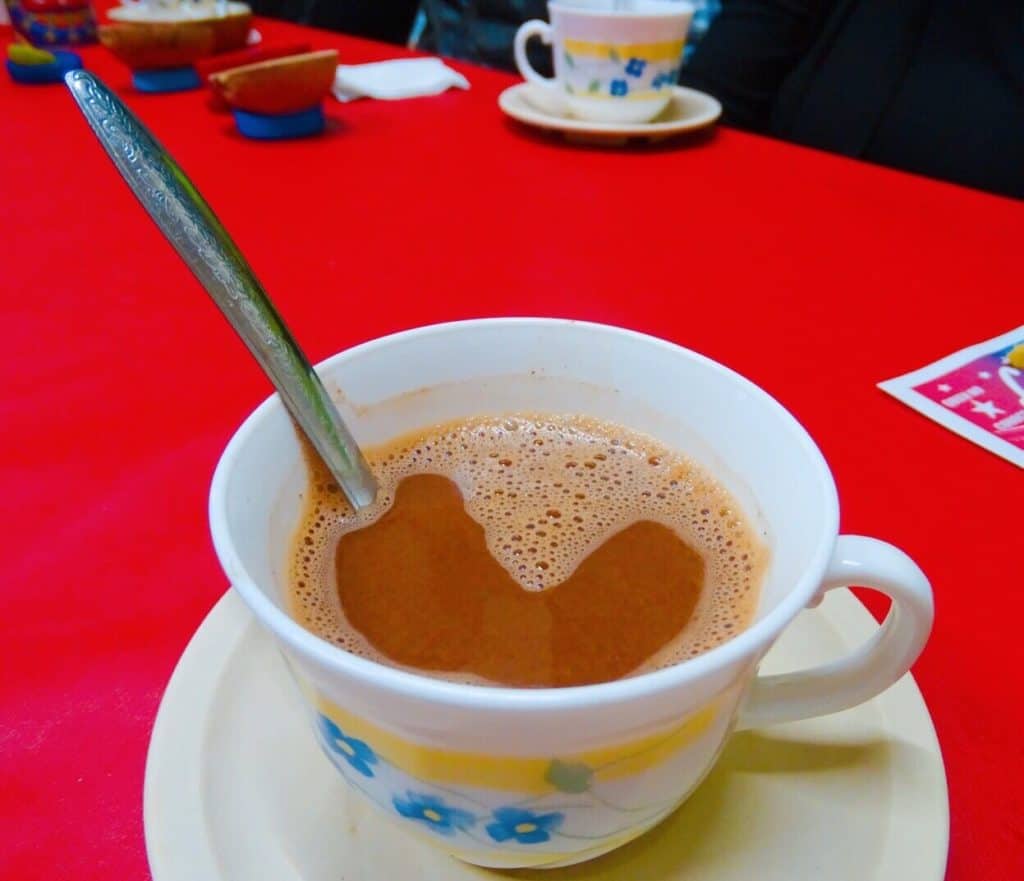 Most of these Mexican drinks were brand new to me. We got to try a selection served in mini cups made of hardened fruit shell.
Oaxaca hot chocolate – we all know hot chocolate but this was an especially sweet and indulgent variety also from the Mexican city of Oaxaca.
Mezcal – the most famous Mexican spirit after tequila, this distilled drink is made from agave. I'm not a huge fan of sipping a straight spirit but it definitely wasn't as potent as many others
Tapache – this fermented pineapple juice with sugarcane was delicious! A bit like kombucha.
Tejete – made with cacao, cacao flower and mamey, this is essentially drinking chocolate.
Agua de chilacayota – we finished our meal with a sweet pumpkin 'water' which had the texture of jelly. I liked it.
Gringas, birria and dessert in the historic centre
We hopped in an Uber to the historic centre of Mexico City which was alive and busy even though it was 11pm on a Sunday.

The first dish we tried was a gringa which Lorenza explained was a newer type of taco. A couple of gringos (Latin American slang for Westerner) were visiting Mexico City and requested their tacos with cheese. The locals thought this was a bizarre choice but obliged. Somehow the dish caught on and nowadays is made with pork, cheese, pineapple, onions and cilantro.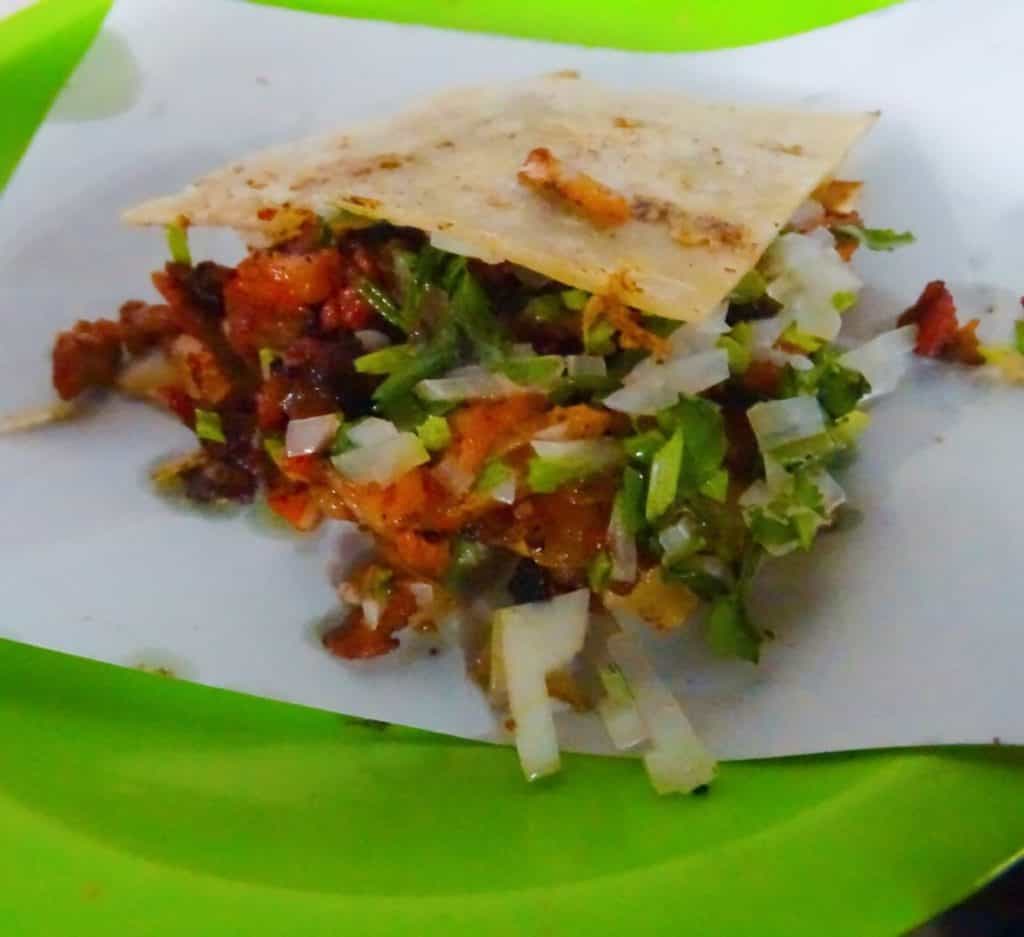 We also tried birria, a type of beef stew. This was a little rich for me, plus I was stuffed from all the food we'd eaten. I had a small spot left for dessert but the usual churro guy was apparently missing. We ate fried banana with condensed milk instead which is a popular street snack here in Mexico. Afterwards, I could barely walk I was so full!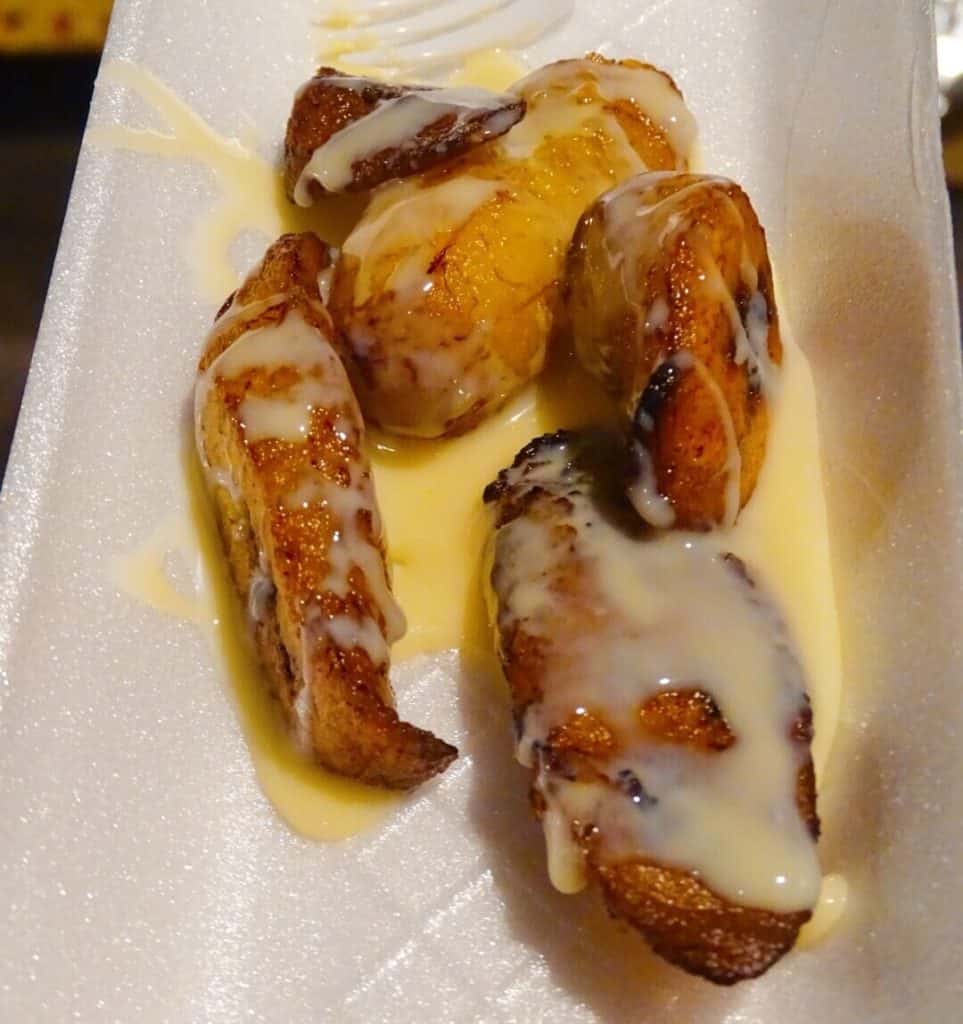 Finishing the night with some sightseeing
Before we caught our Ubers home, Lorenza took us for a quick guided walk through the Historic Centre of Mexico City. I'd yet to explore this area so it was the ideal final stop for me. How amazing is the Palacio de Bellas Artes all lit up at night?
We also headed inside Casa de los Azulejos, translating as the House of Tiles. From the outside, the thousands of pretty blue and yellow tiles reminded me of Portugal. Inside, the elaborate doorways and peacock paintings made me think of India. Apparently, the richest man in the city owns this building and has chosen to put a cheap food chain restaurant inside. Random but I guess he can do what he likes!
We also learnt that Mexico City is sinking as it was built on a lake. Many of the buildings in the Historic Centre are slightly wonky, including this one. There's so much weird and wonderful history in Mexico and I'm glad I got to explore some of it during this amazig food tour.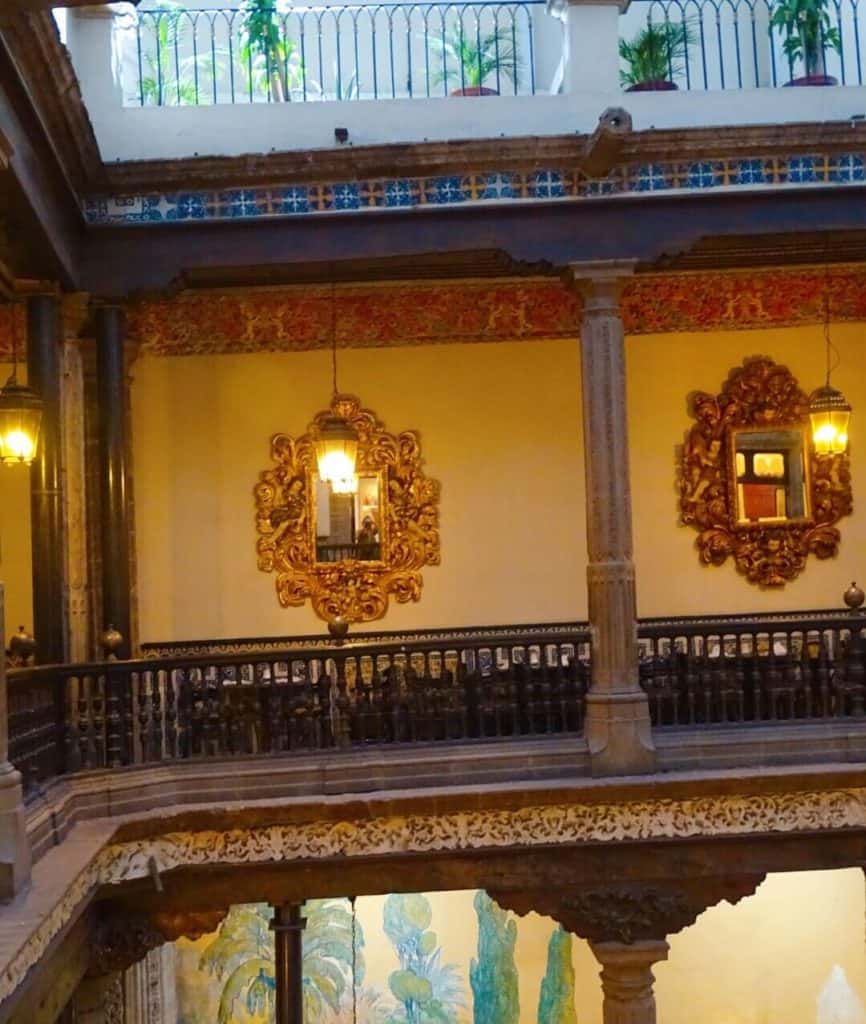 Thanks for reading!
See you next time for more adventures,
Rose x
Note: While I was hosted by Eat Like A Local, all opinions are my own.
Ps. Pin this for later!