This post may contain affiliate links to things like tours, hotels, Amazon associates and products. These help me earn a small commission at no additional charge to you.
Today we're going to talk about one of my favourite drinks, Vietnamese egg coffee! To be specific, I'm going to tell you where to drink egg coffee in Hanoi and share the history behind this unusual but iconic beverage.

When I tell people outside of Vietnam about egg coffee, their reaction is usually anything but positive. In fact, it goes a bit like this:
EGG coffee? Coffee with egg? Is that safe?
Um, yes. Egg coffee, known as ca phe trung, is absolutely delicious. People seem to forget that there's egg in cake and loads of other recipes. You couldn't say 'ew, EGG cake?' would you?

Vietnamese egg coffee is a staple. Although you can now find it around the world, it began life in Hanoi. For that reason, I would recommend drinking egg coffee in Hanoi, although that's not to say you can't drink it elsewhere, too. I've drunk it in every Vietnamese city I've been to!
HANOI ESSENTIALS

E-sim data plan

Copy of Lonely Planet Vietnam

Getting there: flight (Skyscanner) / train / bus 12GoAsia

Accommodation: Booking.com // Hostelworld

Tours: GetYourGuide
Related reads: 3 day Hanoi itinerary and 2 week Vietnam itinerary
What does egg coffee taste like?
If I had to describe the taste of egg coffee (which I basically do since I just wrote that heading above) I would say it's like tiramisu. Yes, there's whipped egg in the recipe but it doesn't taste at all 'eggy' if that makes sense.

The top layer is sweet, frothy and creamy since it's basically whipped condensed milk with egg white. The brewed espresso coffee below is rich and black, made from the finest Vietnamese Robusta coffee. If you imagine the taste of liquid tiramisu, it's not so different.
Planning to eat and drink in Hanoi? Don't miss my monster Hanoi food guide
The history of egg coffee in Hanoi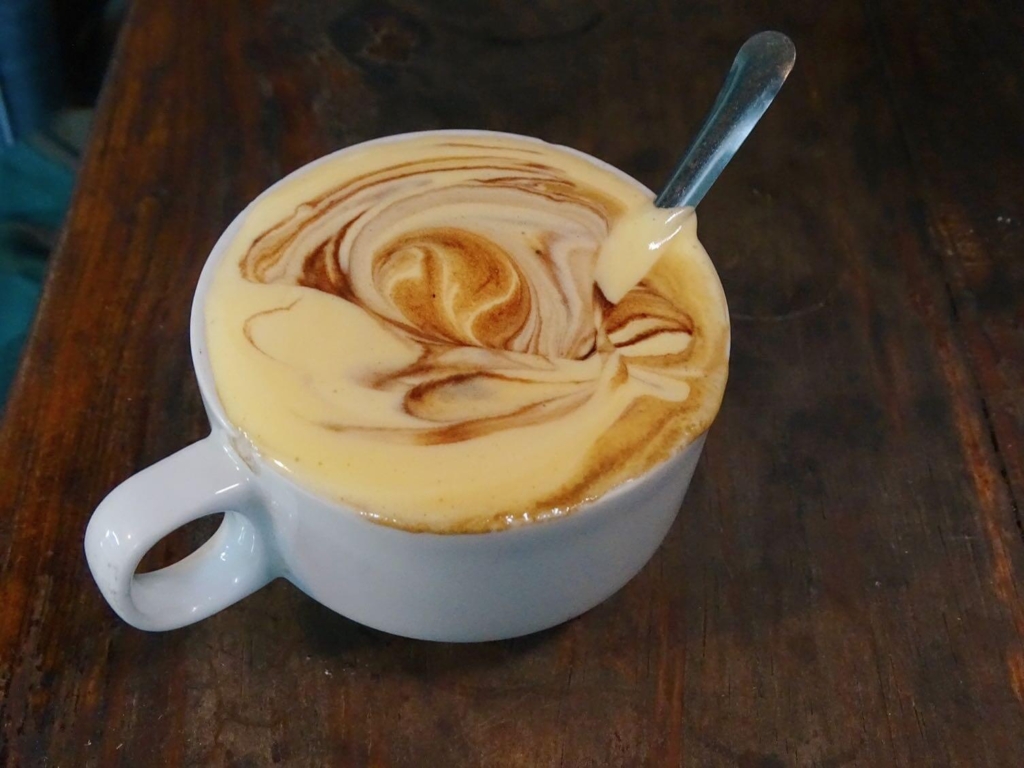 To understand the history of egg coffee, you should first understand the history of coffee in Vietnam. Many people don't know that Vietnam is the second-largest coffee producer after Brazil. Lots of Vietnamese people have proudly told me this and Farrer's Coffee can vouch for it, too.
I was surprised to learn this since coffee production is often associated with Latin America or African countries like Ethiopia. With that in mind, it's little wonder the coffee in Hanoi is so good. I love sipping sweet coconut iced coffee, as well as rich caphe sua (milk coffee) and, of course, delicious egg coffee.

The war with America caused problems for Vietnam in more ways than one. Today I'll just stick to coffee. When fresh milk was rationed during the war years, it became difficult to make normal Vietnamese coffee. A bartender at the Sofitel hotel named Nguyen Van Giang came up with an ingenious recipe: whisking up egg as a milk substitute.

It caught on. He ended up creating his own coffee shop just to serve the beloved beverage. The war is long over and fresh milk is readily available yet locals and tourists still guzzle egg coffee. You should, too!
Where to drink the best egg coffee in Hanoi
There are hundreds of places to sip coffee in Hanoi. For a wide variety of cafes, visit my Hanoi cafe guide. Today, I'm just talking about egg coffee locations in Hanoi. Let's get stuck in!
Related activity: Hanoi egg coffee tour inc cyclo ride
Foodie in Vietnam?
Read my other Vietnam food blogs:
Cafe Giang
Remember the cafe I mentioned founded by Nguyen Van Giang, the father of egg coffee? It's still open despite the fact that he's now passed away. Now run by his son, it receives hundreds of customers a day who visit to drink the most famous egg coffee in Hanoi.

Cafe Giang is a busy and friendly spot, although some say it's not authentic anymore. I feel this idea of 'authenticity' has got scrambled recently. As soon as something's popular, it's mainstream and no longer worthy, apparently. I don't think this cafe should be marked down just because tourists know about it, too.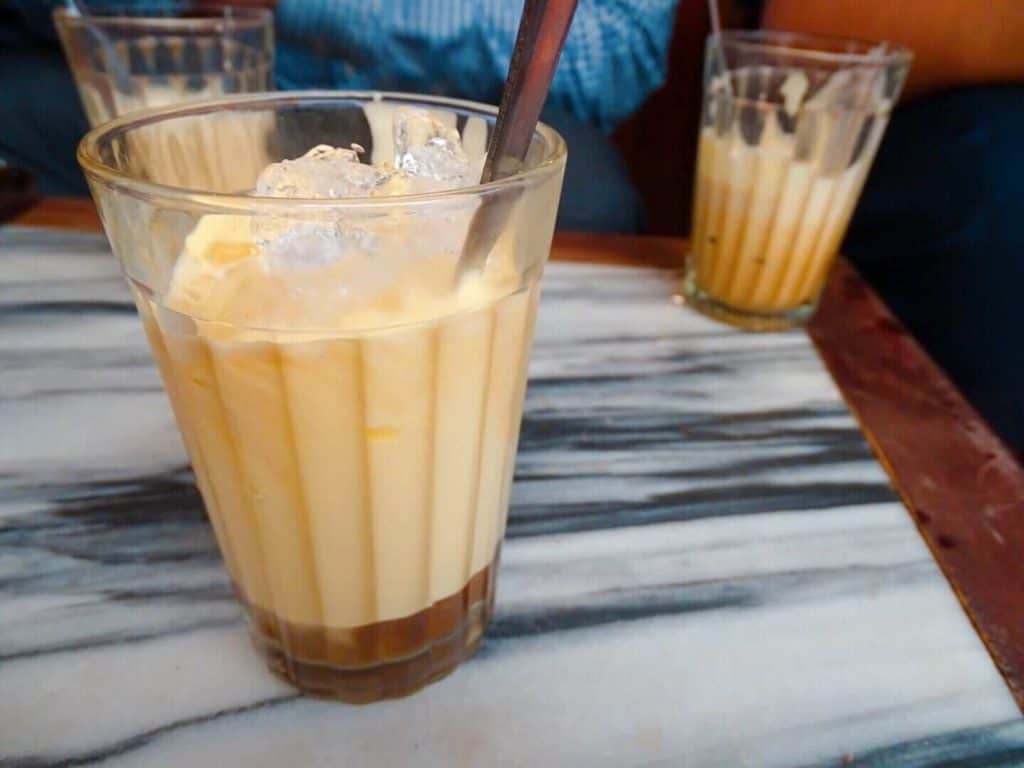 I decided to order the iced egg coffee because I'd tried the regular version so many times before. Having now tried both types, I'd suggest going for the OG hot coffee.

I enjoyed my visit to Cafe Giang because it was a chance to rub shoulders with the locals. I sat at a small stool at an equally tiny table and chatted with two local businessmen taking a quick coffee break. They spoke a bit of English and we swapped Instagram handles.

At Cafe Giang you grab a stool, place an order and wait for your drink to arrive teetering on a heavy tray. You may be waiting for some time as the cafe is always busy. It's worth the wait!

Address: 39 Nguyễn Hữu Huân, Lý Thái Tổ, Hoàn Kiếm, Hà Nội.

Opening times: 7am-10pm, daily.
Cafe Dinh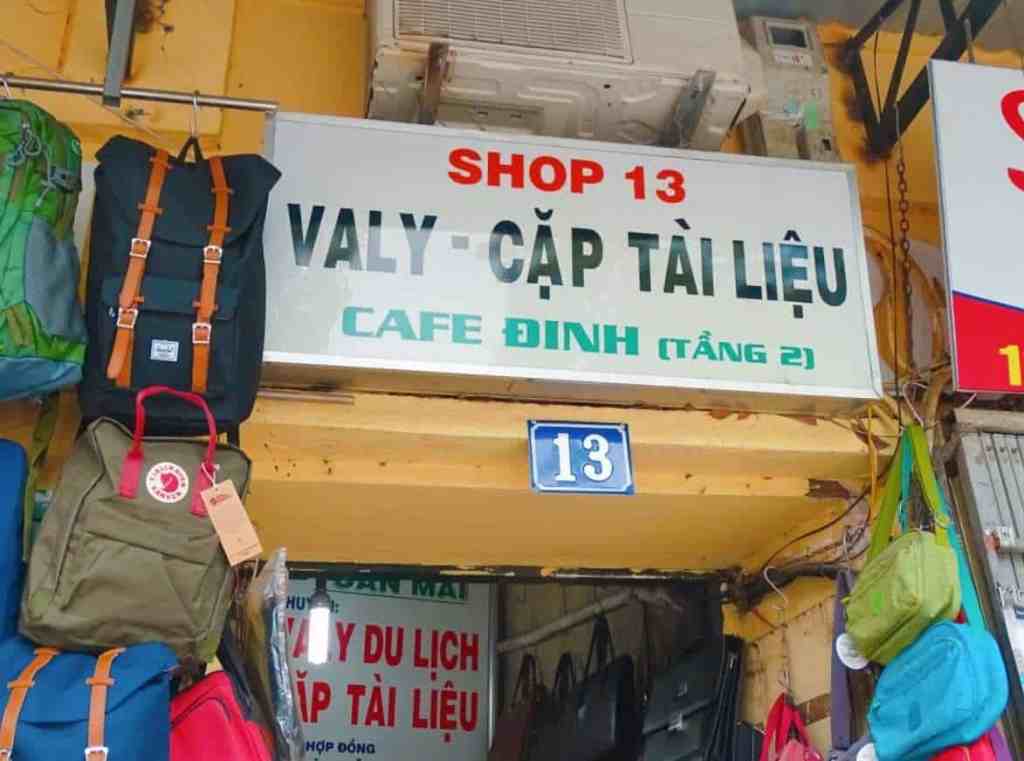 There's a reason the egg coffee at Cafe Dinh can rival that of Cafe Giang. The owner is none other than Nguyen Van Giang's adult daughter. How else do you think she perfected the recipe?

I love the intimacy of Cafe Giang, hidden away above a bag shop near Hoan Kiem Lake. If you know Hanoi, you know it's a complete maze. Many of the buildings have six or seven floors despite only being a few feet wide.

From the outside, you'd never guess to visit Cafe Dinh. Yet word has got out lately. When I visited in 2018, there were only a few locals inside. But in 2019, it had attracted groups of tourists. I don't know what happened in that year but I don't blame them – some of the best egg coffee in Hanoi is served here so why wouldn't they want to try it?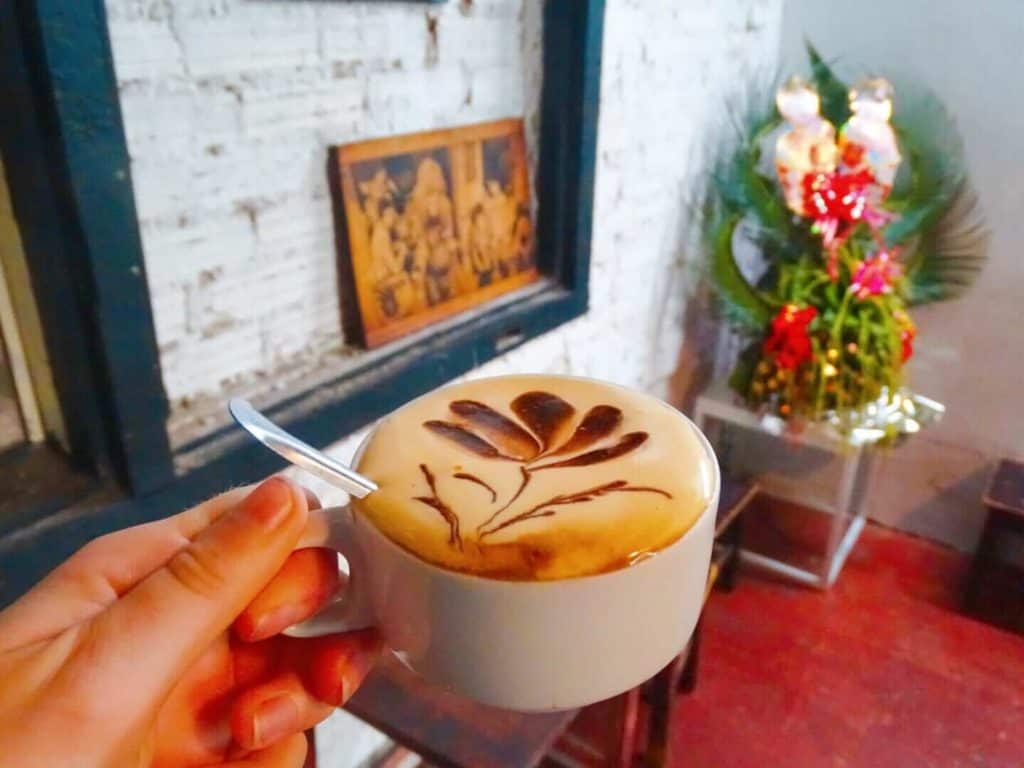 I don't love how smoky this cafe feels with people lighting up inside but I do love the little balcony overlooking the lake. The sepia photos of the Giang family add character to the walls of this otherwise plain coffee shop.

To find Cafe Dinh, you'll need to wander Đinh Tiên Hoàng and find number 13. Although you won't see the number, you will see a small sign saying Cafe Dinh Tang 2. This means it's on floor two.

Walk past the bag shop below and climb the spiral staircase. You'll come out in Cafe Dinh. Now to sit back and sip sweet, rich egg coffee. Bliss!

Address: 13 Đinh Tiên Hoàng, Hàng Trống, Hoàn Kiếm, Hà Nội.

Opening times: 7am-9.30pm daily.
Cafe Pho Co
Hidden away behind a silk store (Silklike), this Hanoi hidden gem is worth finding. Once you've located the red shopfront, follow the alleyway to the 'Cafe Pho Co' sign. Inside is a cosy cafe serving, rich flavoursome egg coffee. You can't beat it!

Address: 11 Hàng Gai, Hàng Trống, Hoàn Kiếm, Hà Nội 10000.

Opening times: 8am-11pm.
Loading T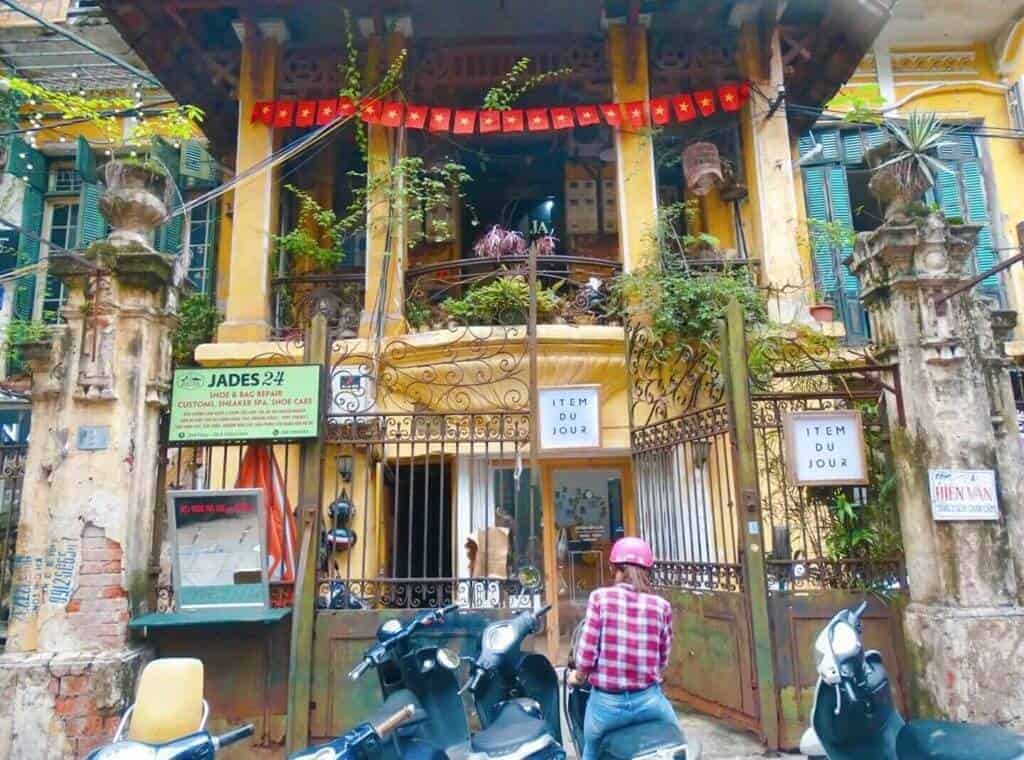 Loading T is a gorgeous little cafe I've visited several times over the years. Set inside a crumbling yellow French mansion, it was a government building later divided up between several families. The owner of this section turned it into a cafe, something I'm highly thankful for.
While the building looks old and traditional from the outside, it couldn't be more hipster inside. With exposed brick walls and quirky bric-a-brac, it's a lovely place to hang out, plus there's aircon. Sadly, the toilet situation is dire.

For egg coffee in Hanoi Old Quarter, it doesn't get much better. Rather than follow the traditional recipe, they blend their egg coffee with a touch of cinnamon. This added sweetness went perfectly with the rich and bitter Robusta below.

I paid 30k VND (£1). Not bad at all!

Address: 8 P. Chân Cầm, Hàng Trống, Hoàn Kiếm, Hà Nội.

Opening times: 8am-10pm daily.
Cafe Lam
This cafe Is located on famous coffee street, Nguyễn Hữu Huâ. This street has an interesting history as it's one of the first places cafes opened up after the war years.

After so long living with rations in place, the Hanoian people craved socialising with friends, sitting outside and drinking coffee. At Cafe Lam, they could do this finally after many years. It's still an amazing atmosphere to this day.

While egg coffee wasn't invented here, it's still been served here for decades. To drink it and befriend friendly local Hanoians, pay Cafe Lam a visit.

Address: 60 Nguyễn Hữu Huân, Hàng Bạc, Hoàn Kiếm, Hà Nội.

Opening times: 7am-10pm daily.
Note Coffee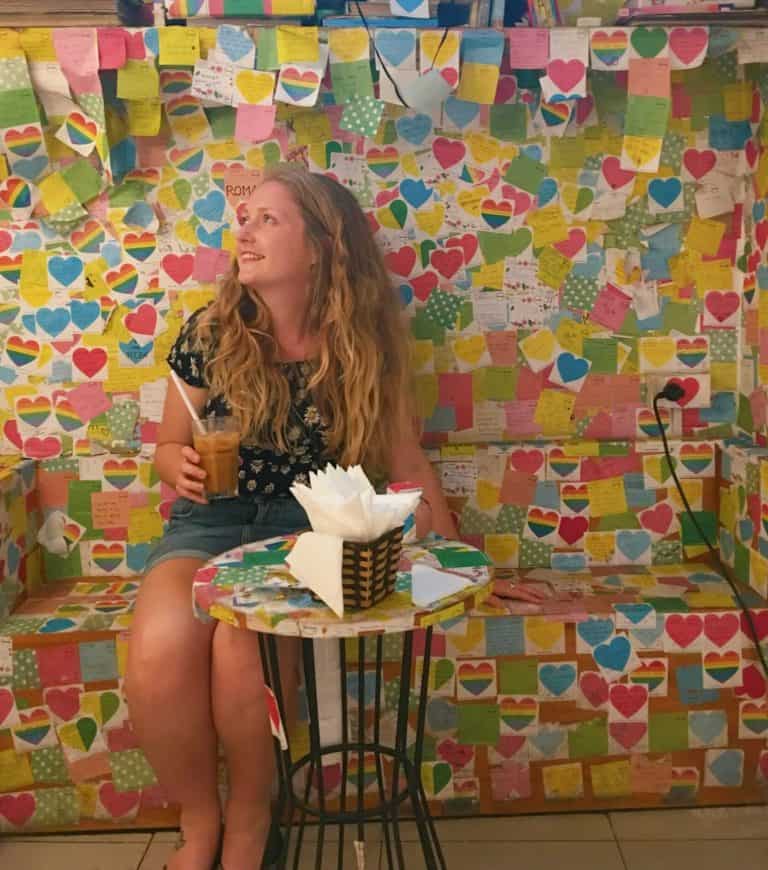 For a colourful, Instagram-friendly cafe, Note Coffee serves surprisingly decent egg coffee. I was expecting this cafe to be more about style than substance but I was wrong.

Their ca phe trung doesn't quite rival Cafe Giang or Cafe Dinh but it has something they don't: hundreds if not thousands of heart-shaped Post-It notes sharing messages from past guests. Not only is the concept adorable, but there are unrivalled views over Hoàn Kiếm Lake.

Address: 64 Lương Văn Can, Hàng Trống, Hoàn Kiếm, Hà Nội.

Opening times: 8am-10pm.
Which is the overall BEST egg coffee in Hanoi?
I would have to say it's a tie between Cafe Giang and Cafe Dinh. In my opinion, the quality is similar (in terms of taste, texture and consistency), but Cafe Giang has a busy, atmospheric feel, while Cafe Dinh feels mysterious and hidden. It just depends which vibe you prefer!

I don't think you can go wrong with either cafe.
Don't miss my Hanoi cafe guide for all the coolest cafes & different styles of coffee
Can you make Hanoi egg coffee at home?
Absolutely. I recently had decent egg coffee at a Vietnamese cafe in Mexico City so it's certainly not exclusive to Hanoi… although I can't promise it will be as good! I'm contemplating trying to make it myself so I'll have to share how this goes (as the worst cook ever I'm not holding out much hope).

All you need to make egg coffee is 4 egg yolks, 200ml espresso, 150ml condensed milk and a little vanilla extract or cinnamon. Place all the ingredients apart from the coffee in a bowl and whisk with an electric whisk for 5 minutes.

Once it's fluffy, pour over freshly brewed coffee and voila!
Check out my other Hanoi guides:
Thanks for reading!
Hoi An & central Vietnam posts:
Saigon blogs:
Broader advice:
See you next time for more adventures,
Rose
For more content, follow me on Instagram, Facebook, Twitter and YouTube.
Ps. Liked this? Pin it for later!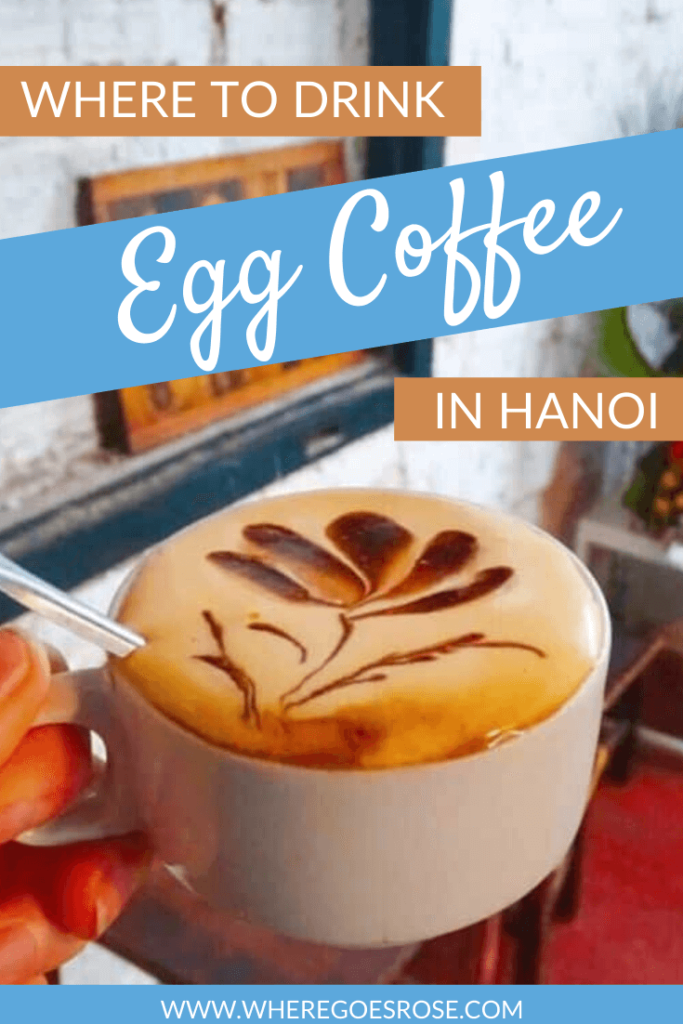 Vietnam quick links

Getting around by air – it's easy to get between cities by flight. I use Skyscanner to find the best-value flights, using the 'search by month' tool to find the cheapest dates. You can also use the 'to anywhere' feature if you're flexible on where you're going.

Stay connected with E-sim data plans that don't require delivery or collection; just span the QR code.

In my opinion, Lonely Planet offer the best guidebooks. Get the latest Lonely Planet Vietnam.

For Vietnam buses and trains, I use 12GoAsia. The search feature allows you to compare prices and durations.

I use Booking.com for accommodation. They have the best range of hotels and self-catering apartments, plus you can filter by review score and price to find the best-rated budget places. For hostels, I use Hostelworld.

To save money on accommodation, I use Trusted Housesitters, a website that connects homeowners going away and travellers who can sit their homes & pets.

For activities, I use GetYourGuide as they have a huge range of affordable tours.

Need travel insurance? I use True Traveller (for UK & Europe residents) since it's affordable but covers everything you'd need including various activities, valuables and pre-existing conditions. Unlike some companies, they insure you if you're already travelling / don't yet have your flight home booked. Get a quote.

For travel insurance for other nationalities, I recommend Hey Mundo and for long-term digital nomad travellers, I suggest Safety Wing.

Check out my resources page for more travel discounts and tips!