This post may contain affiliate links to things like tours, hotels, Amazon associates and products. These help me earn a small commission at no additional charge to you.
Thinking of celebrating Holi festival as a female in India?

YASS QUEEN, DO IT.

Although it's never going to be listed as the easiest experience for solo travellers in Asia, celebrating Holi was one of my favourite moments of 2019 and I can't wait to share my tips for celebrating Holi as a female traveller whether you're solo or in a group.

This vibrant celebration of colour is easily one of the best Indian festivals and better yet, it's an easy one for foreigners to join in with. Rather than being a celebration that takes place in family homes (like Dia de Muertos in Mexico), it takes place on the street. You literally can't miss it!
Read next: tips for solo travel in India
Is Holi safe for female travellers?
Before I dive into my female Holi tips, the question that seems to be on everyone's lips: is Holi safe for solo female travellers?

Let's be frank: no city or country is 100% for women. We can be hurt in our homes by the people meant to love us. But I can happily confirm that I attended Holi as a female traveller and had a safe and fantastic time!

Of course, there's the odd isolated incident that can occur anywhere, and Holi can be busy and crowded. It's likely you'll feel out of your comfort zone rather than 'unsafe' but that's nothing to fear. Extending your comfort is one of the best things about solo travel, and with these Holi tips for female travellers, you're going to have an amazing and unforgettable time.
Read next: 101 solo female travel tips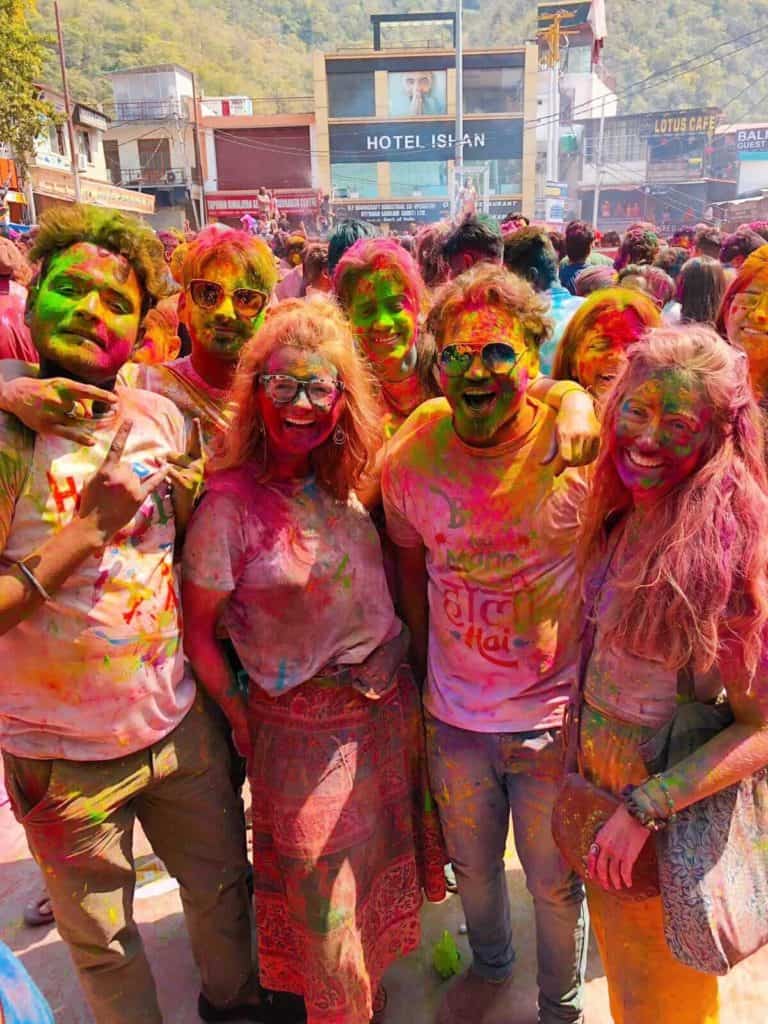 Female travel tips for Holi Festival, India
There are a few things you'll want to think about before celebrating Holi as a female traveller, from where to celebrate to Holi tips and advice during the celebrations.

I also have a few aftercare tips for ensuring paint comes out of your hair and skin. As a result, I've organised this blog in the order you'll need the information.

These are my best female travel tips for Holi Festival!
Pick a good place to celebrate Holi
Everywhere in India is a party over Holi Festival. What I mean by a good place to celebrate Holi is somewhere where foreigners aren't too much of a spectacle and you won't receive more attention than necessary.
Places for female travellers to celebrate Holi in India:

Pushkar – this is one of the most popular places for foreigners including females to celebrate Holi in India and as a result, the celebrations are big and busy. You'll need to book accommodation in advance because hostels get booked up. Expect the town to be packed with tourists and locals alike.

Rishikesh – as one of the safest places for solo travel in India, this is where I spent Holi in 2019 and I can recommend it as a fun and friendly option for females during Holi. Stay at Shiv Shakti hostel!

Other popular places for backpacking in Rajasthan like Udaipur and Jodhpur will have plenty of other solo female travellers celebrating Holi.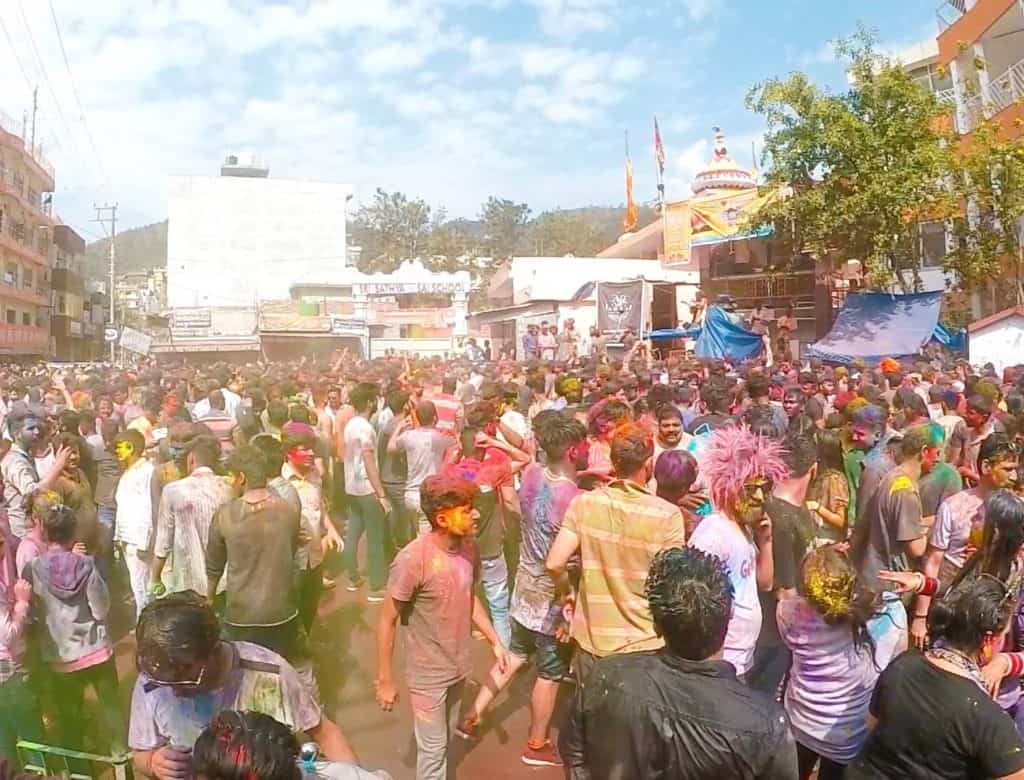 Find a girl gang
Or any type of gang! I hadn't really considered this before celebrating Holi as a female traveller. But whilst celebrating with two new friends, Paige and Alice, at Holi in Rishikesh, I realised how much better Holi is with a group.
Read next: how to meet people when travelling solo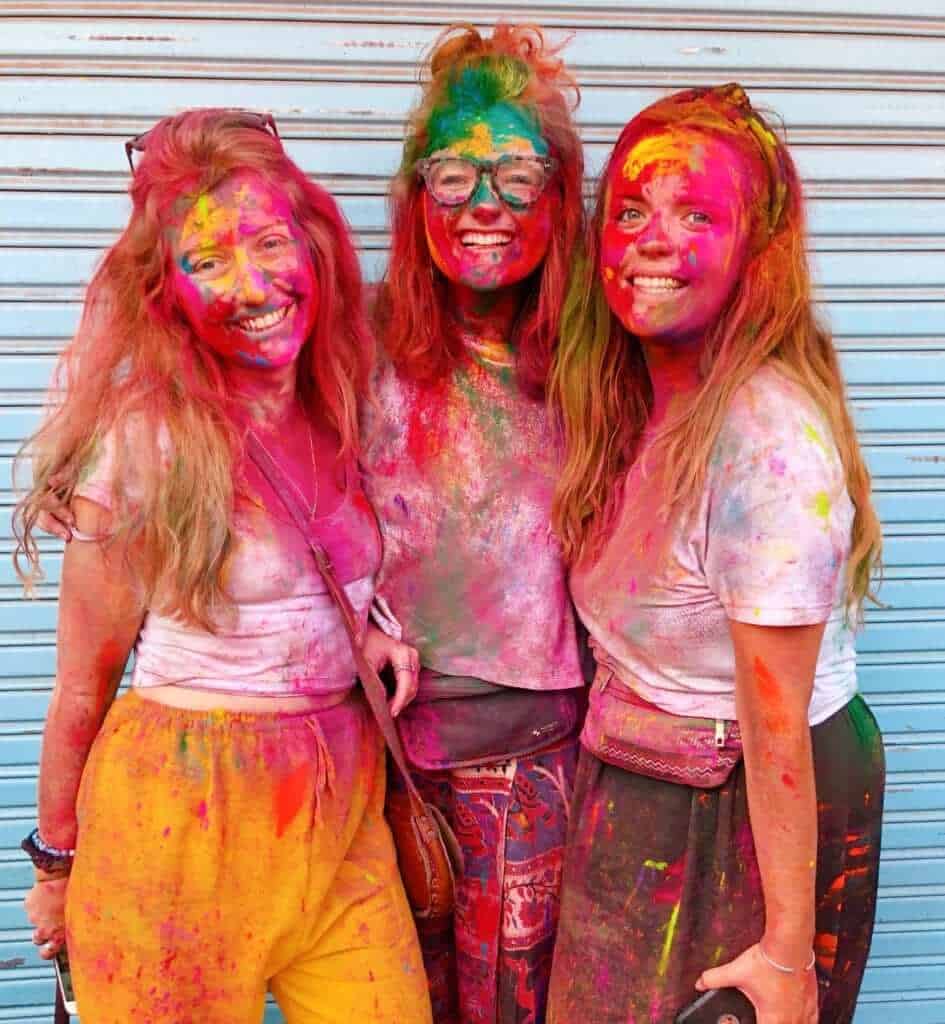 Sure, you could go to Holi solo and still enjoy the celebrations but personally, I think parties are always more fun with friends. Also, you'll feel like you have back up in the midst of the hectic and busy celebrations.

Of course, the best way to meet fellow female Holi travellers is to stay at a hostel. In India, these are excellent – every hostel I stayed in was a sociable base with group trips and plenty of opportunities to make friends. The other thing you could try is using Facebook groups like Girls Love Travel. As soon as you've got a friend or two to celebrate Holi with, you'll feel confident and meet plenty more people there.
Wear your worst clothes
My second female Holi tip – anything you wear to Holi is never returning to its original colour. You have a couple of options:
Wear dark colours but where's the fun in that?
Wash your clothes continually to no avail
Buy some cheap white (or pale) clothing for Holi and dispose/donate them afterwards
Personally, I took the last option and brought some yellow baggy trousers and a white top to wear to Holi then left them with my hostel to donate to charity afterwards. I'm pretty sure they're never going to be white or yellow again but you never know. Read more about what clothes to pack for India here.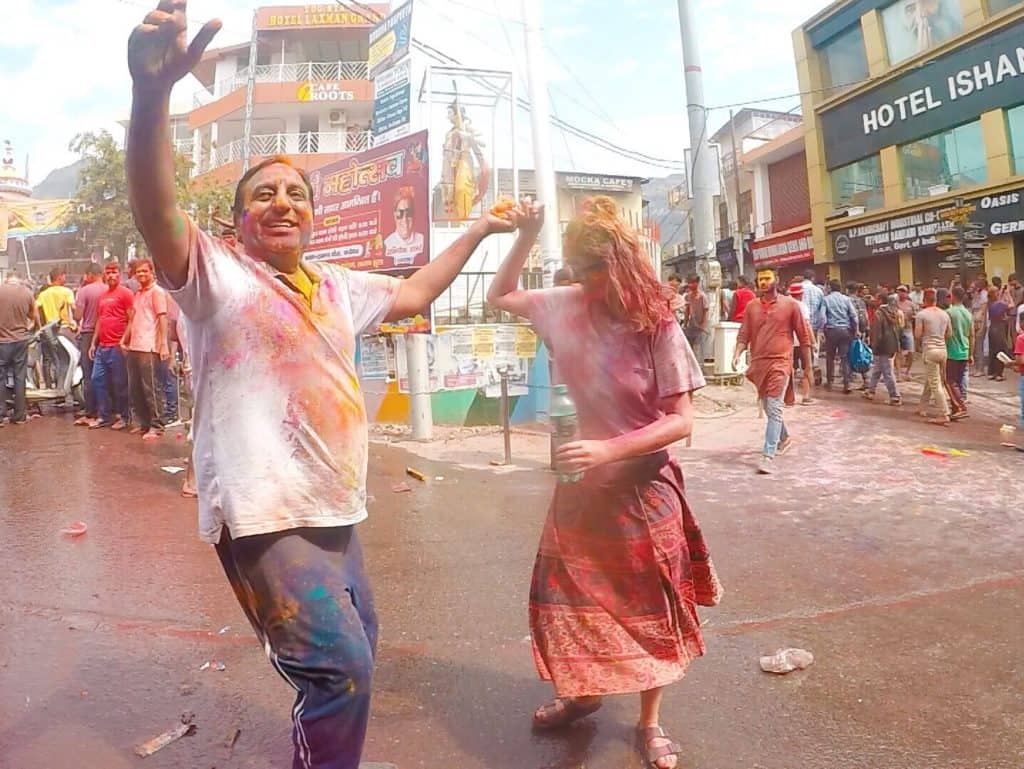 Bring sunglasses
Whether it's sunny or not during Holi Festival, wear sunglasses! The colourful paint can really sting if it gets into your eyes so it's ideal to have an extra layer of protection.

Especially as a foreigner and a female at Holi, you will indeed attract a little more attention. People only want to involve you in the celebrations and I didn't mind people throwing powder at me generally… but when it got into my eyes, I stopped enjoying things so much.
Eat and drink before
And bring enough water! Holi is a busy, crowded event and most cafes and restaurants close to celebrate. For this reason, it may be difficult to find food and drink in the crowds. Especially as India will be hot by March and crowds can exacerbate this, don't get caught out. There's nothing worse than feeling unwell and dehydrated in a busy space you can't get out of. Bring a big bottle of water and eat before you come.

Saying this, Holi is an event all about goodwill, and Indians are a friendly bunch. While celebrating Holi in Rishikesh, there were plenty of veg meals being given out for free to locals and tourists alike. If you're backpacking India on a budget like me, who could say no to free food?

As I've always said, it's better to eat twice than not at all. So eat before Holi and then hopefully again during – what could be better?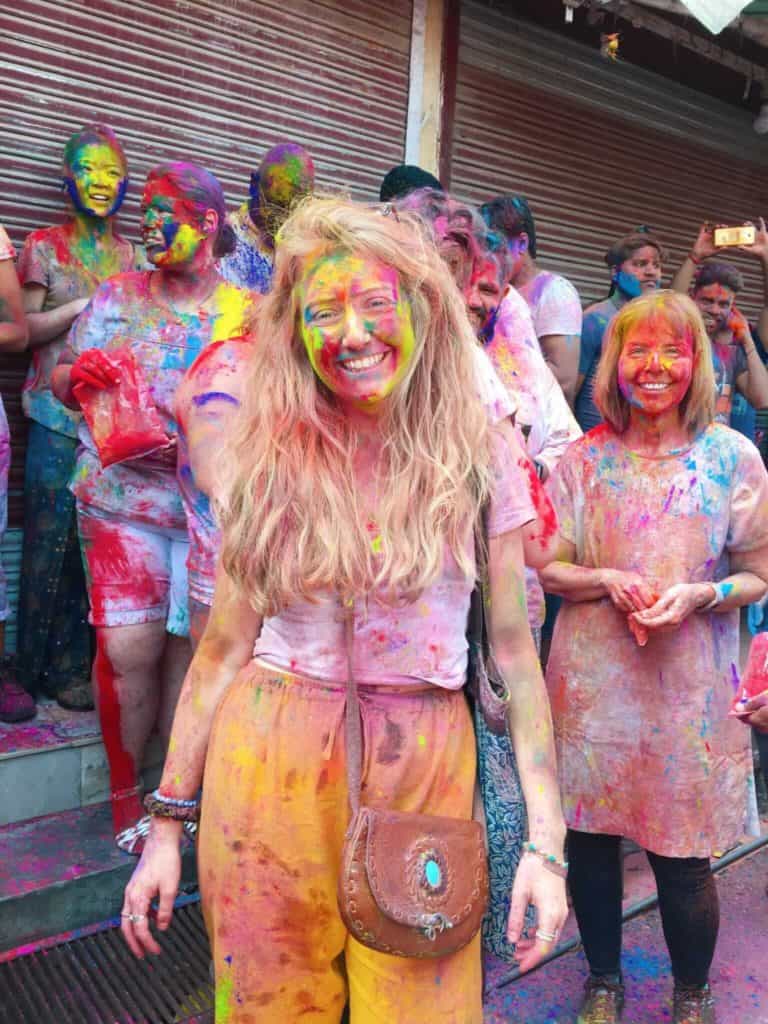 Locate a safe space or meeting point
'Where are you?' 'By the stage!' 'Me too, but where?'

We all know what it's like finding someone at a festival or concert. For Holi, you can triple the chaos. Rather than spending half the morning looking for your friends, I would recommend making a meeting spot when you arrive. Choose somewhere out of the madness like a flight of steps where you can sit down.

Not only will this give you a place to take a much-needed break, but it's an excellent way to people-watch. Half the fun of Holi is drinking in the celebrations whether you're dancing or simply observing the colourful chaos.
Don't bring much to the festival
Managing your belongings is one of the challenges of solo female travel. Luckily, you don't really need much to enjoy Holi. I love taking photos with my camera but I was too worried about powder getting in the lens, so I just brought my iPhone instead.

You also don't need much money because Holi isn't like a Western festival where you'll be at the bar the whole time – there isn't really much to buy. Especially if you celebrate in Pushkar or Rishikesh, these are holy dry cities anyway so there's no alcohol to be found.
I would recommend wearing a bum bag or small bag with a strap around your body for security and so you can keep an eye on your belongings. Carry a bottle of water and that's all you need!
How to stop powder staining your hair and skin
This isn't so much a female Holi tip but one for everyone.

After Holi, my hair was a strange orange colour for about a week. Also, there were blue-purple marks all down my chest and back which looked like I'd fallen down a flight of stairs.

Yep, Holi paint really stains so I would recommend an important pre Holi tip. Buy some cheap skin oil, for example vaseline or any local brand. Slick some of it over your skin and hair which will stop the Holi powder absorbing. After the celebrations, wash it off in the shower and hopefully (I can't promise), your hair and skin won't be too badly stained. If they are, keep showering as normal for a few days and I promise you will return to normal eventually!
Go early
Holi is a morning festival. By lunchtime, most people have finished celebrating and its back to business as usual. Cafes start opening again in the PM and the only reminder of Holi is the poor cows trotting around with rainbow paint all over them. Don't miss the fun – head down after breakfast.
Be prepared to get messy
The worst thing you could do at Holi is hope to keep clean and calm. Whether you're on the outskirts of the party, the surrounding streets, or anywhere outside of your hotel room to be honest, you're going to get paint thrown all over you. The locals don't really hold back so it's probably going to get smeared in your face, chucked over your head, etc. They're not being aggressive – it's just Holi. Honestly, you have to embrace it otherwise you'll hate it!

Get stuck in, chicas.
What's Holi all about?
While the purpose of this blog is to provide tips for solo female travellers at Holi festival, I didn't want to write about this vibrant cultural event without a little background.

Holi is a spring festival dating back centuries. The meaning? Washing away negativity associated with the old year and bringing in the new year with a colourful celebration of colour. Ultimately, it's about good triumphing evil.

The night before Holi, the locals will light bonfires and burn demon statues. This relates to the story of Hiranyakashyapa who planned to kill his own son in a bonfire for worshipping a god other than him. Vishnu saved him and killed the evil king instead, which is why people still hold bonfires today.

You should head out the evening before to experience this part of the culture. Be warned, people start throwing paint from this point so you'll need your Holi outfit ready!

If you've experienced Songkran water festival in Thailand, the concept of washing away evil and welcoming the coming year is very similar. I love this idea and think we could all use a Holi/Songkran once in a while!
Thanks for reading my female Holi tips!
Check out my other India blogs:
For more travel content, follow me on Instagram, Facebook, Twitter and YouTube.
See you next time for more adventures,
Rose
Ps. Liked my Holi travel tips for female travellers? Pin this for later!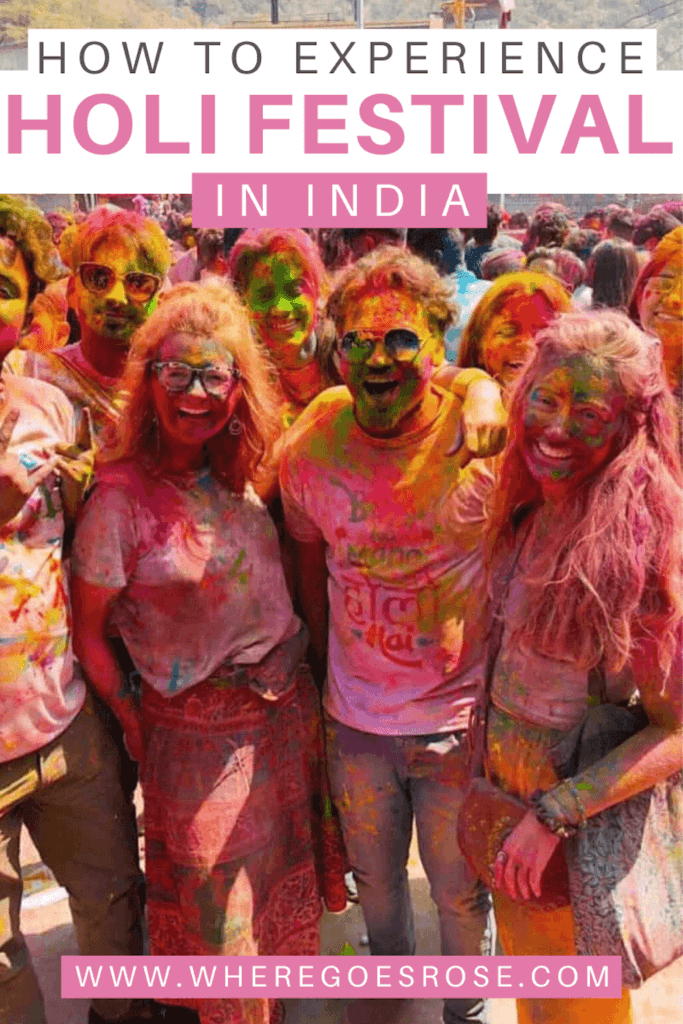 VISITING INDIA?

These are my trusted resources:

Getting around by air – it's easy to get between cities by flight. I use Skyscanner and search by whole month to find the best value dates.

Buses – buses are comfy and efficient. Use 12Go to book.

Trains – these are a good option for long journeys because you have a bed rather than a seat. Use 12Go to book.

For hotels, I use Booking.com – they also have self-catering apartments. You can filter by review score and price to find the best-rated budget places. For hostels, I use Hostelworld.

Browse tours and activities on GetYourGuide. I also check Viator and Klook in case they have a better price.

For food experiences with passionate local chefs and foodies, check out EatWith.

Pack the latest copy of India Lonely Planet.

Need travel insurance? I use True Traveller (for UK & Europe residents) since it's affordable but covers everything you'd need including various activities, valuables and pre-existing conditions. Unlike some companies, they insure you if you're already travelling / don't yet have your flight home booked. Get a quote.

For travel insurance for other nationalities, I recommend Hey Mundo and for long-term digital nomad travellers, I suggest Safety Wing.

Check out my resources page for more travel discounts and tips!