This post may contain affiliate links to things like tours, hotels, Amazon associates and products. These help me earn a small commission at no additional charge to you.
When I first arrived, I was overwhelmed by the sheer volume of free things to do in Edinburgh, Scotland. I stayed five days which is a fairly long time for a city break but I by no means got around to doing everything.
This historical city was one of the highlights of my Scotland road trip even though it had other destinations like vibrant Glasgow, quaint Inverness and famous Loch Ness to compete with.

I'd been to Edinburgh twice previously but not for almost 10 years. I was an 18-year-old backpacker then living on as little as possible and, guess what, not much has changed a decade later!

Edinburgh is much more expensive than Glasgow which makes sense since it receives so much more tourism. I made it my mission to find cheap and free things to do in Edinburgh as I'll share with you in this guide…
EDINBURGH ESSENTIALS

Accommodation: Booking.com / Hostelworld.com

A copy of Lonely Planet Pocket Edinburgh

Activities: GetYourGuide

Getting there: Trainline / Busbud

Must-read: A complete guide to budget travel in the UK
Free things to do in Edinburgh
A trip to Edinburgh can involve a lot of entrance fees. Top touristic attractions like Edinburgh Castle and the Dungeons are akin to London entry fees. It would be easy to spend £100 on tickets within a few days, hence why I decided to suss out the free things to do in Edinburgh. Enjoy!
Free things to do in Edinburgh – hikes and parks
If you have good weather, get outdoors and see the countryside and parks for free in Edinburgh…
1. Hike Arthur's Seat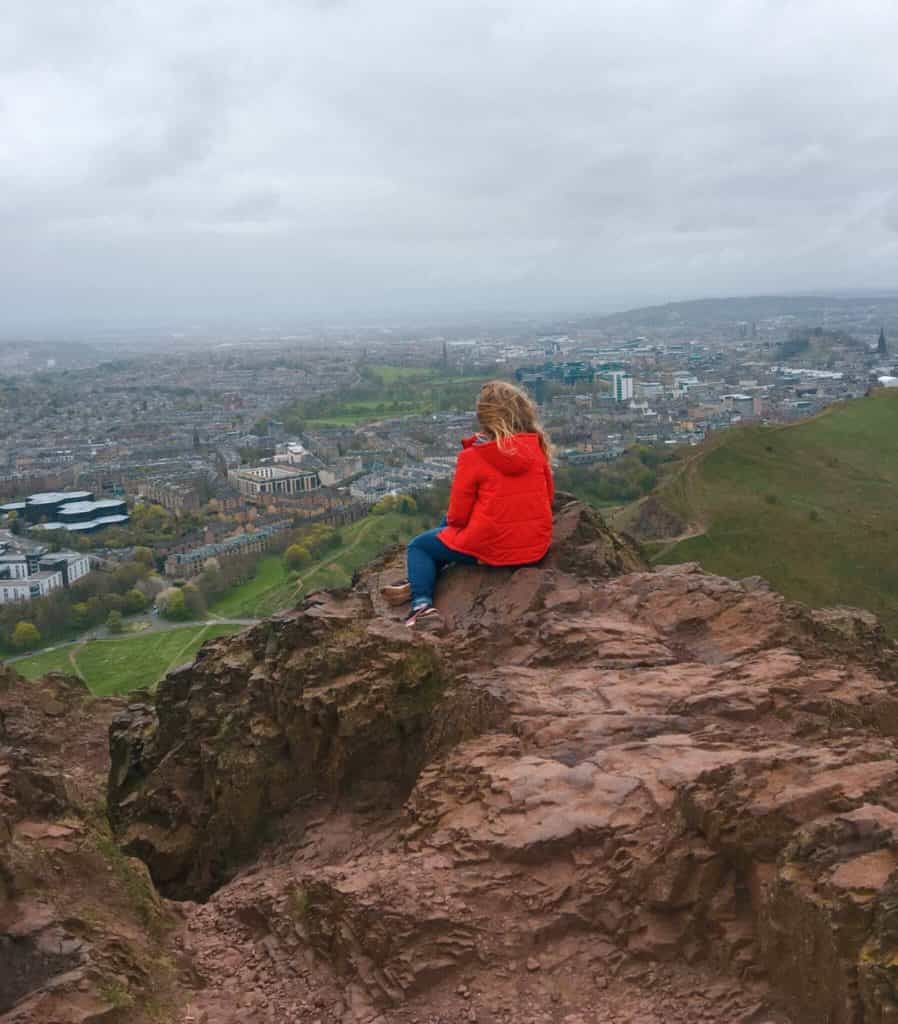 Despite the fact I had the greyest day on record to work with, the Arthur's Seat hike was stunning.

Many people don't know that what they're hiking is actually an ancient volcano dating back to the days when Scotland had a tropical climate (no time recently then!).
Arthur's Seat is close to the city centre. No public transport is necessary, making it a totally free thing to do in Edinburgh. Walk down Cowgate and turn off by the Palace of Holyroodhouse. It's just 45 minutes (depending on how fast you walk) uphill from there. For a tougher walk, tag on the Salisbury Crags.
2. Explore Iron Age forts in Holyrood Park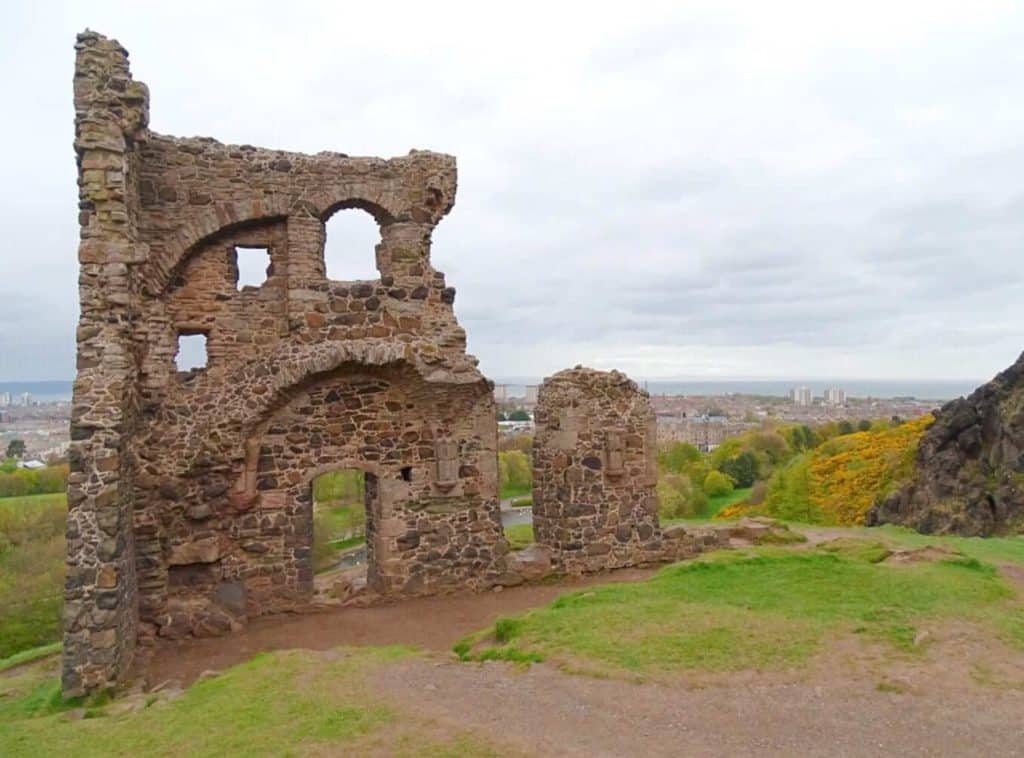 After hiking Arthur's Seat, you should linger in Holyrood Park which is the largest green space in Edinburgh. You can also learn about the area's history and archaeology at Holyrood Lodge Information Centre and Iron Age forts.
3. Visit The Royal Botanical Garden Edinburgh
What was once primarily a place for the scientific study of plants is now one of the most popular tourist attractions in Scotland. It was founded in 1670 to grow medicinal plants and now holds more than 13,000 species.

Wander at your leisure and find peace and quiet in the heart of the city.
4. Princes Street Gardens
Relaxing in a park is certainly one of the best things to do in Edinburgh during the summer months. Princes Street Gardens are busy and atmospheric during sunny days and evenings but you can usually find a secluded spot under a tree to relax and unwind.

The best thing about Princes Street Gardens is that you get fantastic views of Edinburgh Castle without paying to go inside!
5. The Meadows
An act of Parliament in the 1800s prohibited this patch of land from being built on and, as a result, it's become one of Edinburgh's best-loved parks. You can relax in the park, hold an event there or compete in The Meadows Marathon, a 5k fun run held in aid of charity.
6. Pentland Hills Regional Park
The drawback of hiking Arthur's Seat is how busy it gets especially during summer weekends.

For hikers, the best free thing to do in Edinburgh is escape the beaten path and travel further afield to Pentland Hills Regional Park.

Here you can take several walks of varying difficulty levels. Families and children can learn about local wildlife along Harlaw biodiversity trail.
Free indoor activities in Edinburgh – museums & more
For rainy days and to learn about Edinburgh's rich history and culture, pay a visit to the following museums, galleries and other indoor free locations in Edinburgh…
7. The Writers Museum
Celebrating the three most famous Scottish literary legends, this cosy museum is dedicated to Robert Burns, Sir Walter Scott and Robert Louis Stevenson. Here you can see books, writing equipment and personal items used by the three writers, all without spending a penny on entrance fees.
8. People's Story Museum
This second free museum in Edinburgh is dedicated to the real working-class people of Edinburgh. Images, objects and personal stories are used to document the lives of locals between the 18th and 20th centuries. Spend an hour browsing.
9. Museum on the Mound
Located on (you guessed it) The Mound, this unique museum in Edinburgh focuses on money, yet entrance doesn't require any. Inside you'll spy a Bank of England £1 million note and learn about ancient Scottish currency.

This quirky museum was set to close in 2017 but after public outcry, it was saved!
10. Visit the National Museum of Scotland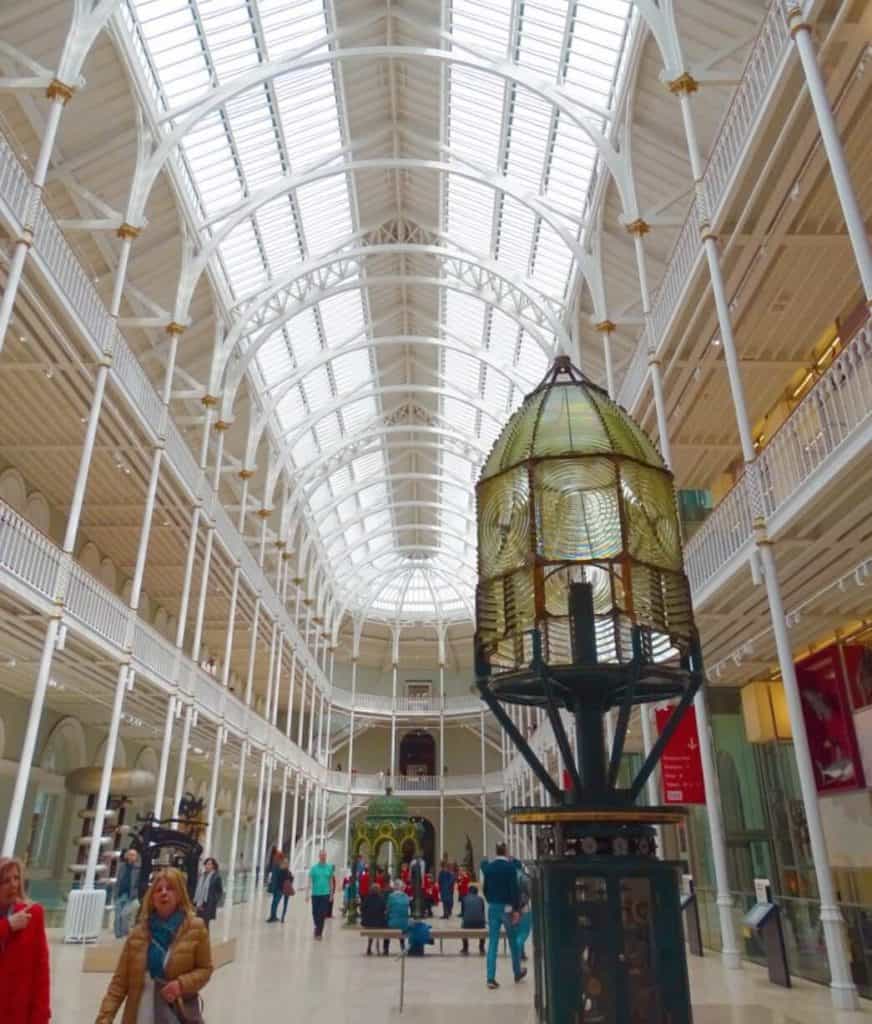 This modern museum which covers just about everything from ancient Scottish history to inventions.

The most impressive exhibit is the preserved body of Dolly the Sheep, the first mammal to be genetically cloned. It has dedicated rooms to other non-Scottish topics like African animals and Asian culture. Basically, it's a vibrant and interesting place to spend a rainy afternoon.
11. Museum of Edinburgh
This small and cosy museum across the road from The People's Story is another free Edinburgh attraction. It tells the story of the Scottish capital from gruesome details to bizarre facts. There are plenty of iconic items inside including the collar and dog bowl of famous Greyfriars Bobby (more on him later!).
12. National Portrait Gallery
To see portraits of history's most famous Scots, head to this free gallery in Edinburgh located on Queen Street. Inside an impressive red sandstone, it's known to be the world's first purpose-built portrait gallery. Wander inside to learn about the iconic characters who shaped modern-day Edinburgh.
13. Scottish Parliament
From Monday to Saturday, you can visit and learn about Scottish Parliament from within its headquarters. Better yet, it's free! For opening times, tours and what you can do while visiting, check out the Scottish Parliament website.
14. Scottish National Gallery
Located on the Mound near Princes Street, the Scottish National Gallery is another free, central attraction to squeeze into your Edinburgh itinerary.

Fans of fine art will enjoy the chance to view the collections and exhibitions which include both Scottish and international art. Even the building itself is impressive, built in neoclassical style in 1859.
15. Browse at Armchair Books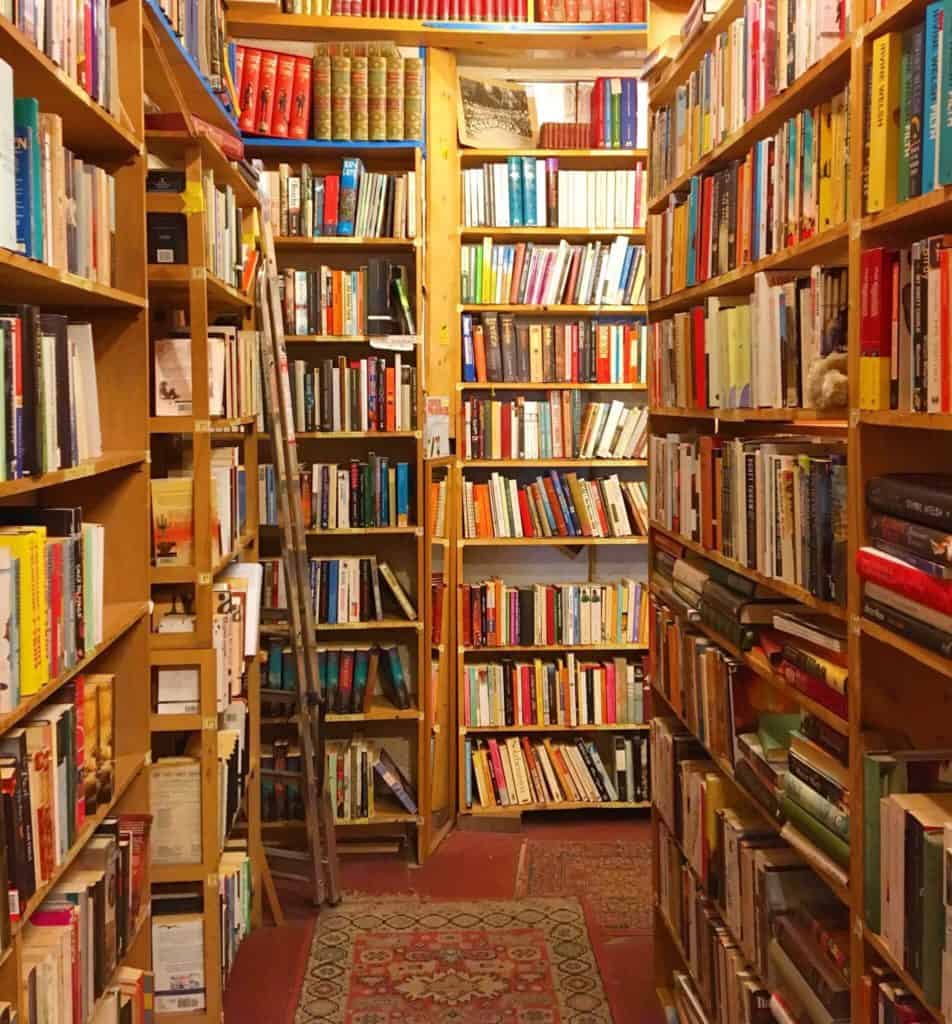 If you're escaping the rain and bored of museums, huddle inside this quirky bookshop. Armchair Books sell everything from Harry Potter to ancient, crumbling leatherbacks which look like they're made from parchment.
16. The National Gallery of Modern Art
Modern art fans will enjoy this free activity in Edinburgh. I personally enjoy modern art more than fine art so decided to prioritise this gallery over the Scottish National Gallery and the National Portrait Gallery mentioned above.

The venue is home to modern art exhibitions, sculptures, a pop-up cafe and a beautiful set of gardens. Check opening times on the website.
17. St Giles Cathedral
Dating back to 1124, this enormous cathedral in the east of Edinburgh pre-dates the majority of the city. It's free to go inside St Giles Cathedral and you can also take free guided walking tours lasting 30 minutes.

If you have the budget, it's possible to upgrade for guided rooftop tours for a small fee.
18. The Museum of Childhood
Despite there being millions of children in the world, there's only one Museum of Childhood. This is one of the best free things to do in Edinburgh for families thanks to its fun and interactive exhibits.

There are lots of games and toys including a few with emotional stories, for example a teddy bear that travelled on a Kindertransport train destined to rescue children from Nazi Germany. These poignant items will ensure that even adults will enjoy this museum.
Other free things to do in Edinburgh
There's much more to Edinburgh than free museums and parks. Plenty of Edinburgh's coolest and most historic neighbourhoods can be explored on foot and there are plenty of hidden gems to be found within these areas. There are some great self-led walking tours to take yourself on.

Check out the following budget-friendly activities in Edinburgh…
19. Sandemans free Edinburgh walking tour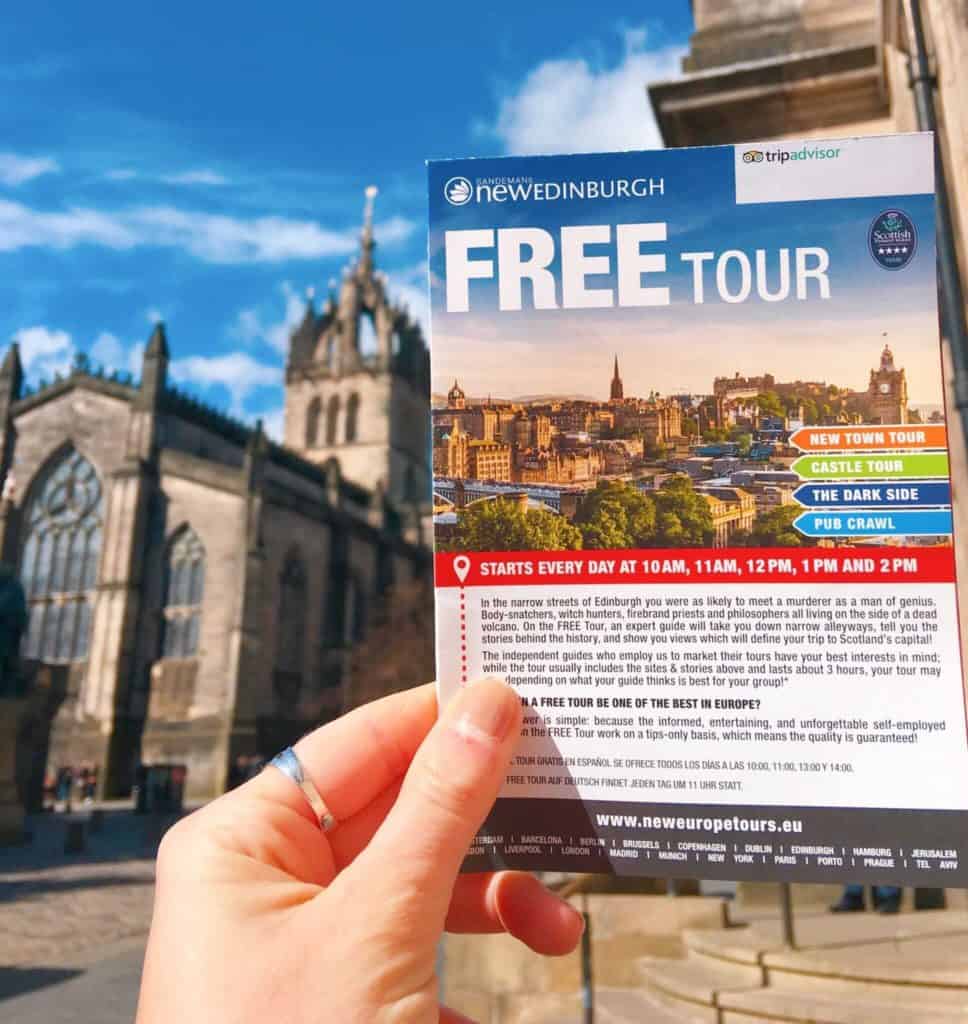 One of the best free things to do in Edinburgh (in my eyes anyway) is get immersed in the history and learn about its past.

There are plenty of tour companies offering paid-for tours but luckily, Sandemans operate for free meaning you can learn about fascinating Edinburgh without spending a penny!

Although the tours are free, you can give tips if you enjoy them. I have done a few in Europe and usually give £5. If I had the budget, I would gladly give more as they're usually fantastic and really informative. This free Edinburgh tour is no exception. It takes you past the castle, around Greyfriars Kirkyard and through Grassmarket. Book your space at New Europe tours.

Tip: try and get Fiona as your guide – she's hilarious!
20. Discover the Harry Potter history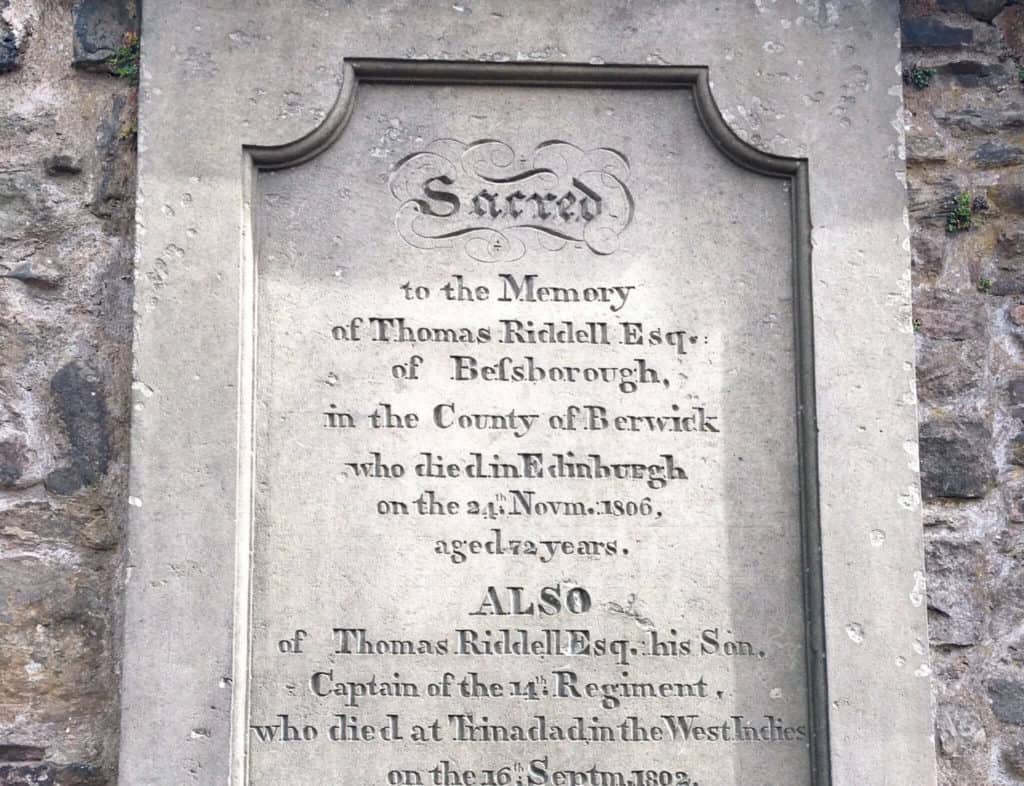 From Tom Riddle's grave to the cafe where J.K Rowling wrote the books, there's loads of Harry history in Edinburgh. I compiled it all into one guide for you:
21. Dean Village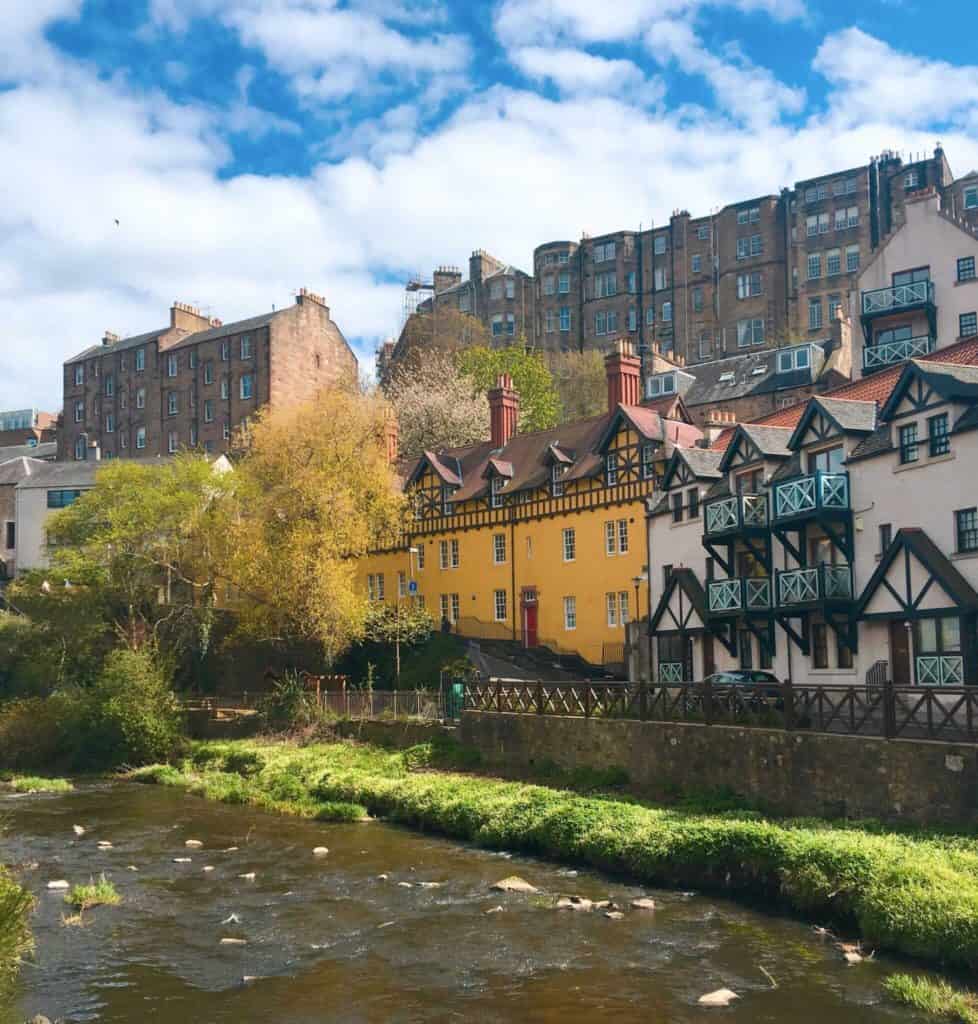 For a beautiful morning and totally free thing to do in Edinburgh, take a walk to Dean Village.

This picture-perfect neighbourhood which looked more like Bavaria than Scotland. All set around a pretty river, you'll find the village about a 20-minute walk from the centre of town. I promise it's worth the trip over there.
22. Explore Stockbridge – Circus Lane and the Royal Circus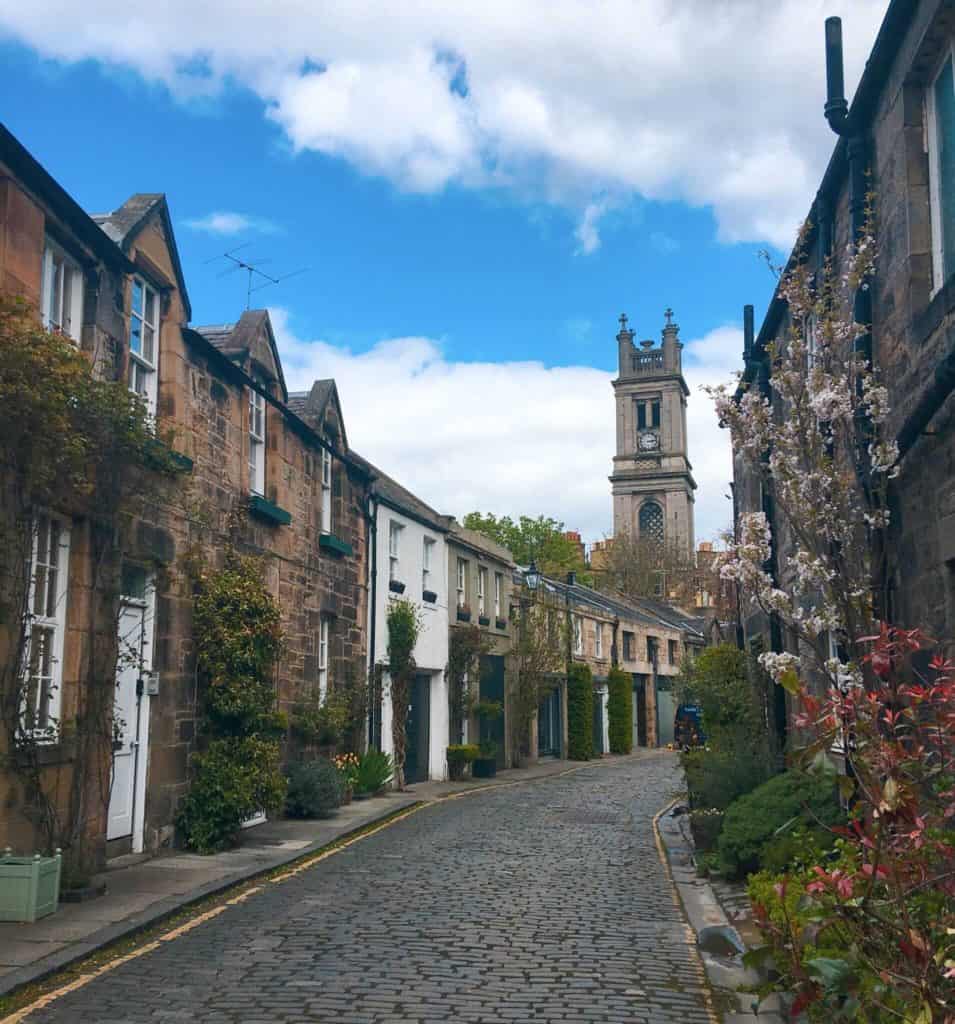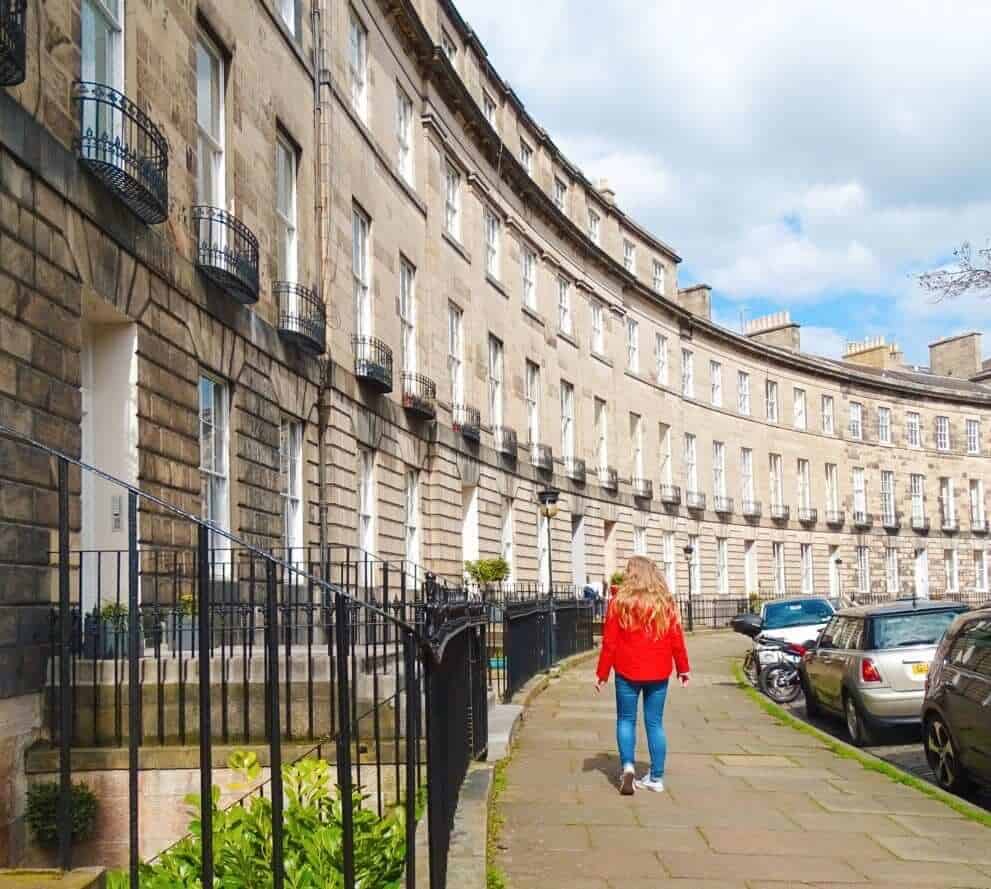 Don't miss Stockbridge which is a pretty, historical area of town that reminds me of England's Bath. Not only do some of the places have the same names, there's a curving crescent of impressive houses there, too.

In Stockbridge, you'll find Circus Lane which is pretty and hidden away, and the Royal Circus which features some seriously stunning homes. This area of town isn't far from Dean Village so visit them both in one afternoon and take the riverwalk between the two.

Stockbridge Market is held on Sundays. For a cheeky free thing to do in Edinburgh, gorge yourself on free samples!
23. Wander the Royal Mile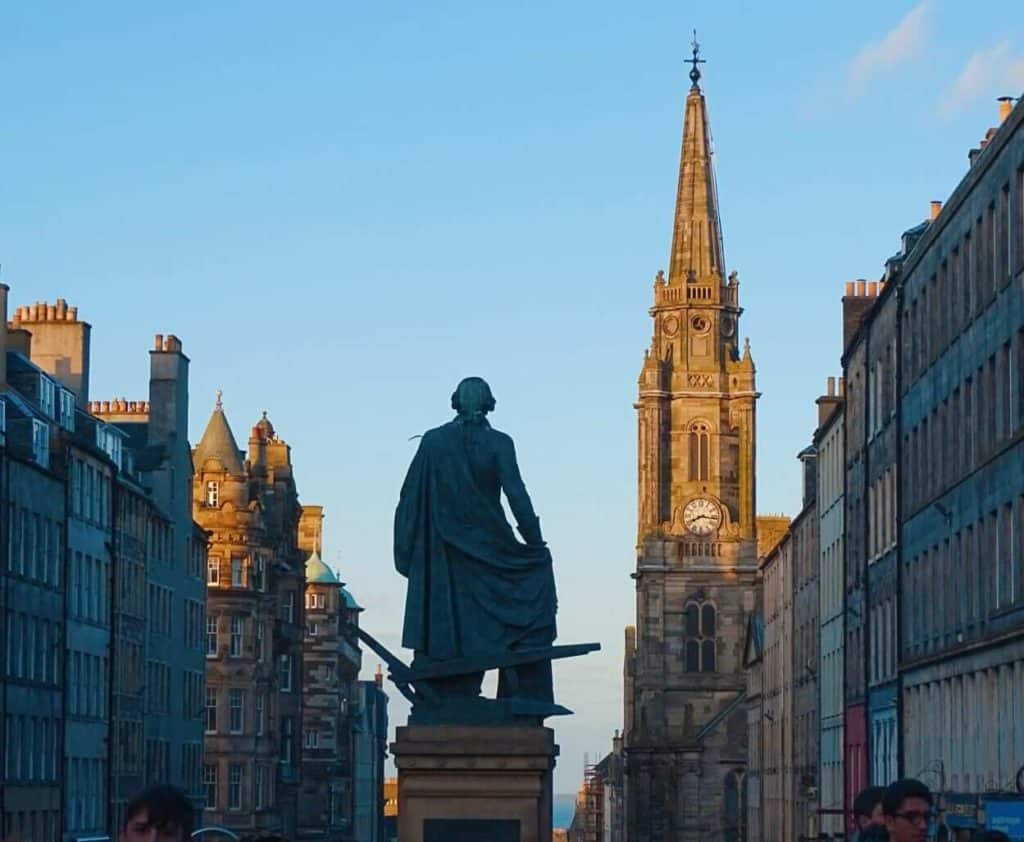 Another free activity in Edinburgh is aimlessly wandering the Royal Mile, picking up your souvenirs and watching the street performers. It'll be busy with tourists every single day of the year but that's no reason not to join the party.
24. Explore Victoria Street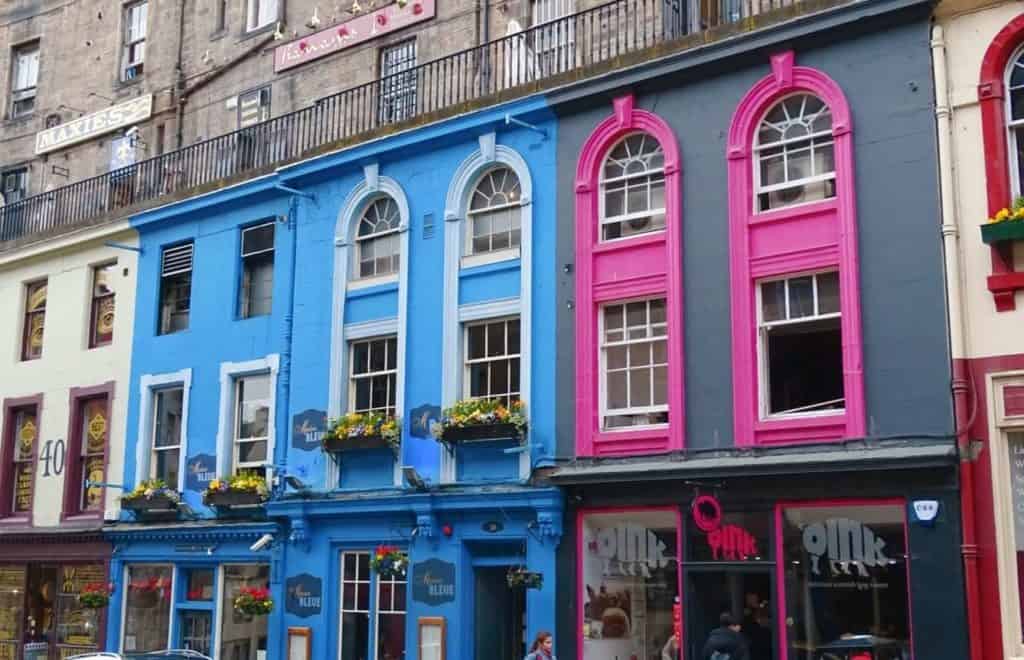 This colourful, winding street could have been made for Instagram but no, it was built many hundreds of years before it was invented.

Harry Potter fans can go crazy in the dedicated shops here, or you can sample the best pulled pork sandwich in the city at Oink.
25. Visit Grassmarket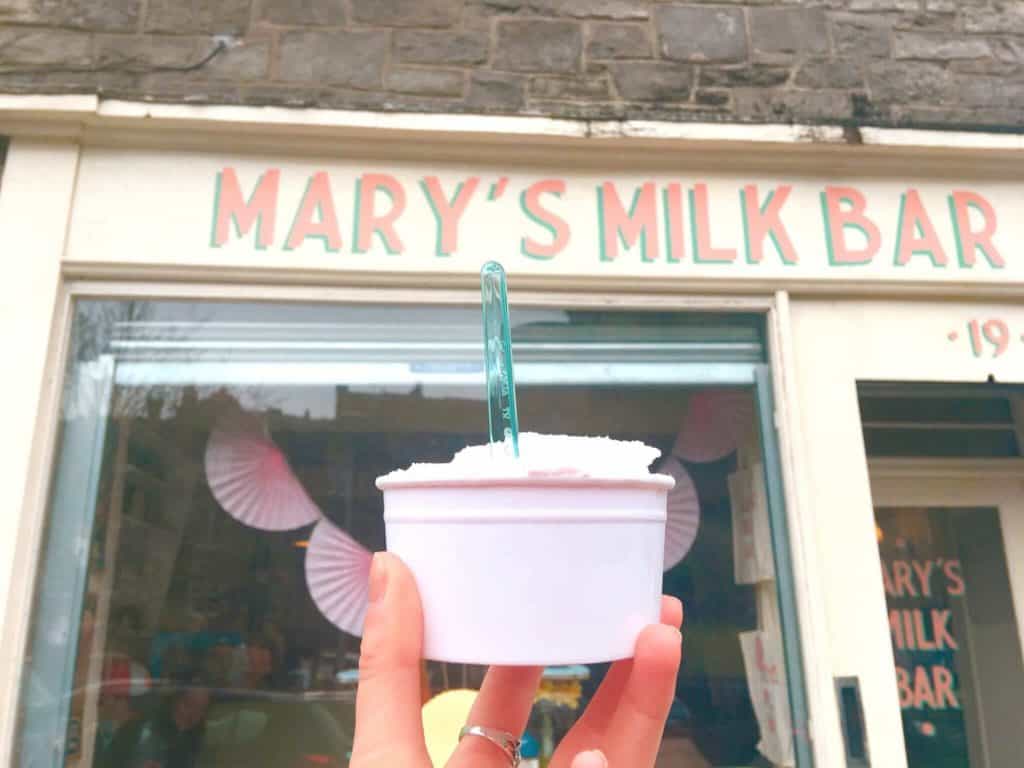 This important area of the city is where the gallows stood and people were publicly executed. The lines of the gallows are still painted on the ground yet it's hard to imagine such events occurring – it's a reminder of Scotland's rich yet gruesome history.

The only woman recorded to survive her execution now has a pub on the street dedicated to her, Maggie Dicksons. Explore the area and, if the budget allows, grab some of the best ice cream in town at Mary's Milk Bar.
26. See the view from Calton Hill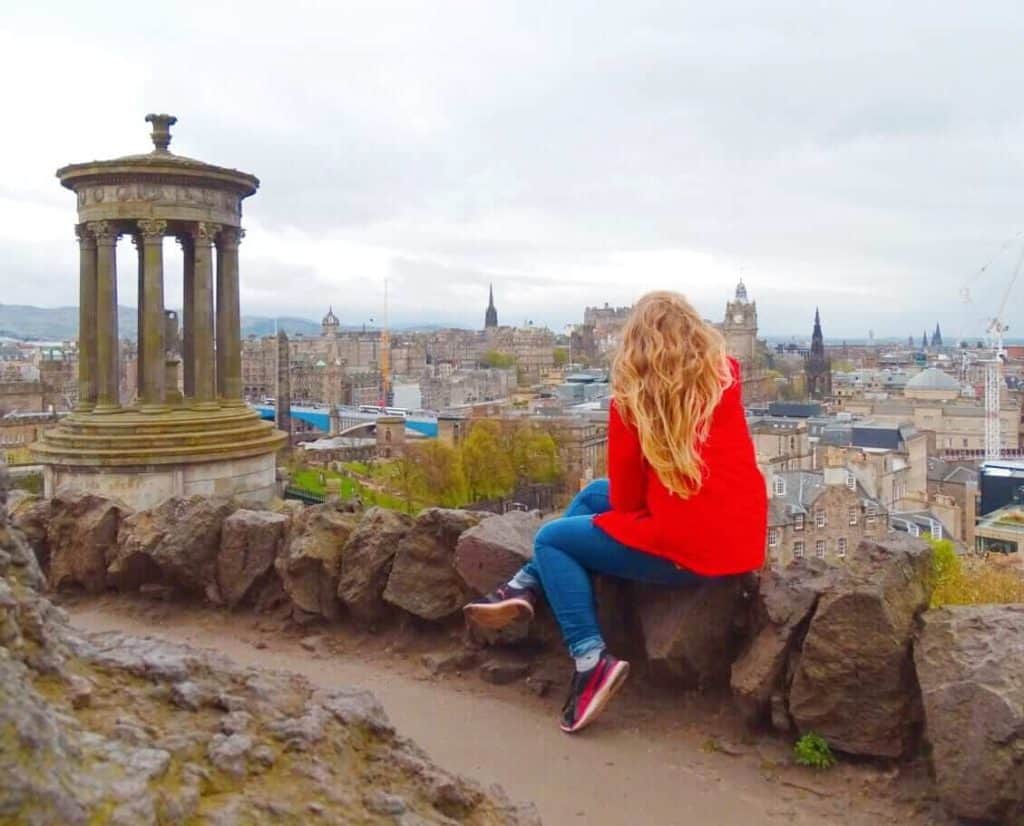 Between Arthur's Seat and town is another free thing to do in Edinburgh: Calton Hill. This is a great place to catch urban views to one side and mountainous ones to the other. The unfinished Scottish National Monument is also at the top.
27. Visit Portobello Beach
Very occasionally in Scotland, the sun comes out. When it does, a free Edinburgh activity is heading down to the beach before it hides away again.

I didn't make it over during my recent visit but I have fond memories from when I visited as a teenager for the Edinburgh Fringe Festival. You can reach Portobello in 45 minutes on the number 45 bus.
28. Meet a famous dog
Greyfriars Bobby is now a pub named after Scotland's most famous canine. This terrier guarded the grave of his owner, city watchman John Gray, for 14 years until he too passed away. You can admire the statue of Bobby outside the pub.
29. Take a trip to Leith
If you have spare time in Edinburgh, take a trip to the neighbourhood of Leith. The most popular attraction is the docked HMY Brittania which once belonged to the Royal Family.

However, I most wanted to get over there for the Pitt Market which serves world street food and is open 'til 10pm on Saturdays.

Whatever your motivation for visiting Leith, it's a lovely area which can be reached in half an hour from Edinburgh city centre.
30. Water of Leith Walkway
Locate the Water of Leith Walkway which runs for 22 miles beside the river. Wander along until you run out of time or energy.
31. Visit the world's most haunted graveyard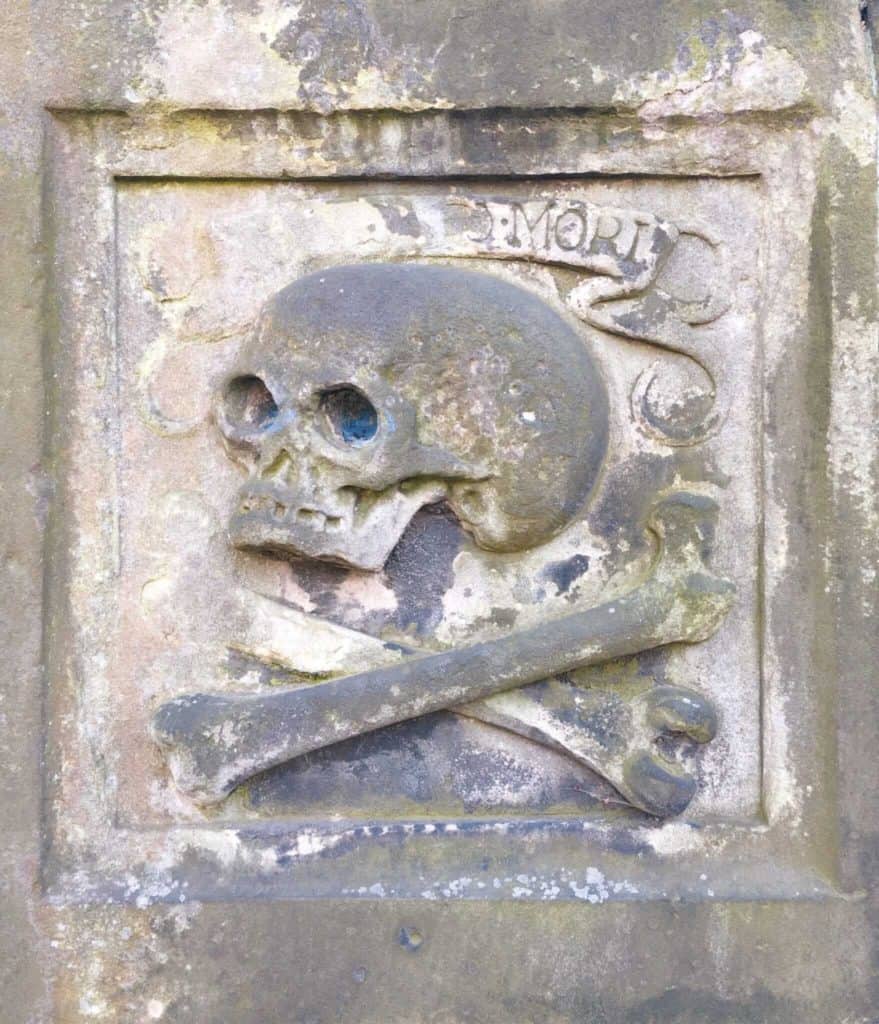 Don't want to pay for a ghost tour? This next attraction is the creepiest free thing to do in Edinburgh…

As well as being the resting place of Bobby the dog's owner and the location of Tom Riddle's grave, there are another two famous areas of Greyfriars Kirkyard. One is the Covenanter's Prison where 400 men were held hostage and tortured after a battle in the 1600s.

Another 'haunted' location in the graveyard is George MacKenzie's grave which was boarded up by the council due to reports of ghostly experiences including scratches and attacks. You can easily access it from the graveyard – if you dare!
32. Edinburgh Fringe free events
The Edinburgh Fringe Festival happens once a year in the month of August. Even though accommodation prices are notoriously high during the festival, plenty of the events are free from dance performances, theatre, concerts, magic shows and more.

It's one of the UK's most exciting and vibrant festivals that I've been lucky enough to experience twice!
MY TRUSTED RESOURCES FOR SCOTLAND TRAVEL

Flights (international and domestic) – I use Skyscanner to find the best-value flights, using the 'search by month' tool to find the cheapest dates. You can also use the 'to anywhere' feature if you're flexible on where you're going.

Car hire – use Rentalcars.com to compare car rentals in the UK (and all around the world).

For UK trains, I use Trainline. The search feature allows you to compare prices, and they show live departure times on the website.

For buses, I use Busbud. It's the only site that compares UK coaches and buses. Find London to Manchester journeys for £1! 

Use Omio to compare trains and buses in one search. It's so handy.

For hotels and self-catering apartments, I use Booking.com. You can filter by review score and price to find the best-rated budget places. For hostels, I use Hostelworld.com.

To save money on accommodation, I use Trusted Housesitters, a website that connects homeowners going away and travellers who can sit their homes & pets.

I use GetYourGuide for tours & activities when I don't want to travel solo. The guides are knowledgeable and you can't beat the prices. I also check Viator as they often have fun and unique offerings.

Need travel insurance? I use True Traveller (for UK & Europe residents) since it's affordable but covers everything you'd need including various activities, valuables and pre-existing conditions. Unlike some companies, they insure you if you're already travelling / don't yet have your flight home booked. Get a quote.

For travel insurance for other nationalities, I recommend Hey Mundo and for long-term digital nomad travellers, I suggest Safety Wing.
Thanks for reading my free Edinburgh guide
For more travel content, follow me on Instagram, Facebook, Twitter and YouTube.
Check out some of my other Scotland posts:
See you next time for more adventures,
Rose
Ps. Liked these free things to do in Edinburgh? Pin this for later!