This post may contain affiliate links to things like tours, hotels, Amazon associates and products. These help me earn a small commission at no additional charge to you.
The beautiful city of Oxford is a tourist favourite due to its iconic buildings, history and charming feel. However, it can be expensive which is why I'm sharing this ultimate guide to the free things to do in Oxford.
As someone who has spent a lot of time here the last few years, I know it's not all about the tourist sights. Due to the popularity of Harry Potter filming locations in Oxford, I've seen colleges like Christ Church triple their entrance fees in just a couple of years making it tricky to explore Oxford on a budget.
OXFORD ESSENTIALS

Oxford & Cotswolds Pocket Lonely Planet guidebook

Accommodation: Booking.com

Activities: GetYourGuide

Must read: my UK budget travel guide

Getting there: Trainline / Busbud
Many Oxford locals miserably declare that Oxford is the most expensive place to live in the UK since housing prices almost match London's but residents don't receive London weighting when it comes to salaries. This won't affect you much when visiting but you can give waiting staff a tip if you want to help out!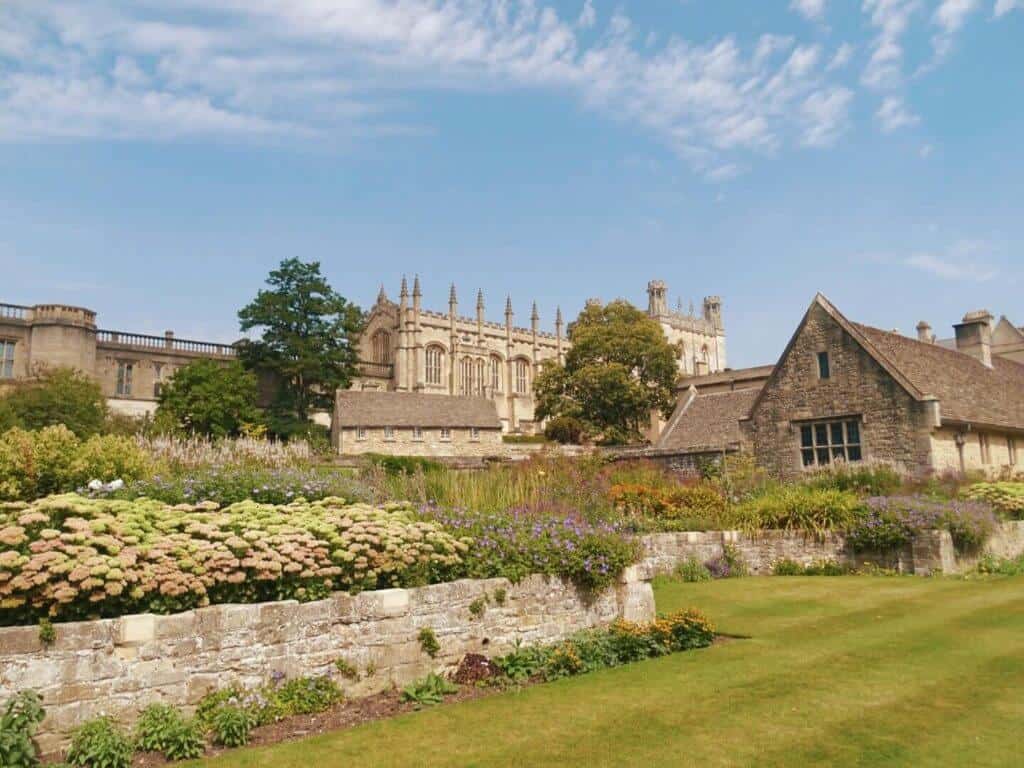 Check out my Oxford day trip guide and my weekend in Oxford guide.
While it can be an expensive city to live, there are plenty of free things to do in Oxford for visitors. It's a city full of museums and parks, plus some of the Oxford colleges are free to go inside. Let's get stuck into travelling on a budget…
Free galleries and museums in Oxford
Museums in the UK are great when you're at a lose end without a huge budget. They're also great for rainy days, something that's usually pretty hard to avoid in England.

These Oxford museums are free…
1. Pitt Rivers Museum
You could stay busy all day in Oxford without leaving the Pitt Rivers Museum. Housed in one of the biggest and most impressive buildings in Oxford on Parks Road, it's stocked to the brim with artefacts from different time periods and civilisations around the world. Including masks from Mexico and pottery from Pakistan, it's all here.

Visit from 10am – 4.30pm every day apart from Monday. Entrance is free but you can leave a donation.
2. Museum of Natural History
This museum is actually in the same building as Pitt Rivers so you can kill two birds with one stone. Speaking of dead birds, the Museum of Natural History is home to the only tissue remains of a dodo in the world, as well as a giant dinosaur skeleton which is the first thing you'll see when you walk in. With lots of interactive and colourful exhibits, it's a great free museum in Oxford to bring kids.
3. The Ashmolean
My personal favourite museum is the Ashmolean. As another top free thing to do in Oxford, you can while away a few hours without spending any money (unless you indulge in afternoon tea and cocktails at the cafe. Tempting!).

The Ashmolean has been open since 1638 and does a great job of telling stories from various period of time such as ancient Egypt and Rome. There are lots of exhibits focussing on female, POC and LGBT+ voices and stories. The exterior of the Ashmolean is amazing so you'll want to snap a few photos from the outside.
4. Museum of Oxford
This museum located on St Aldates has, for many years, been the place to go for all things Oxford. While other Oxford museums focus on art or archaeology from different countries around the world, this museum shares stories of Oxford throughout the ages including the history of the University.

Rather than being stuffy, there are lots of interactive exhibitions and room reconstructions you can go inside.
5. Museum of History of Science
Anyone with an interest in science will want to check out this free museum in Oxford. The Museum of History of Science is home to 20,000 items, although only are a fifth are on display. Real science fans can make requests to view items of specific interest to them. Otherwise, you can pop in to browse items including a blackboard used to Albert Einstein. It's open from midday to 5pm, every day apart from Mondays.
6. Modern Art Oxford
If you're more into art than artifacts, another free thing to do in Oxford is visit the Modern Art Museum at 30 Pembroke Street. This space displays the work of modern artists around the world. You'll find a cafe and shop, as well as the occasional live performance. Since the exhibits change often, visit the website to check what's on.
Free things to do in Oxford – outdoor activities
7. Free walking tour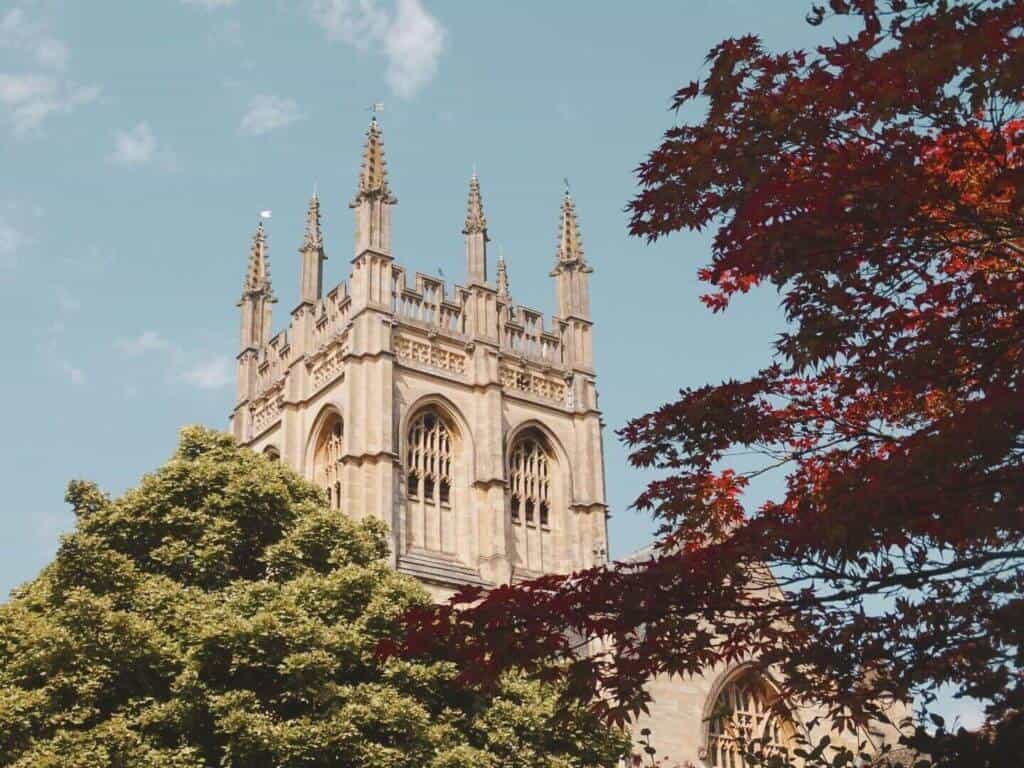 While there are a couple of companies offering free walking tours, I would definitely recommend going local while exploring Oxford on a budget.

Footprint Tours are an Oxford-based company offering 2-hour free walking tours around the city highlights. You'll get to see Harry Potter filming locations like Christ Church and the Bodleian Library, as well as historical locations visited by and C.S. Lewis and J.R.R. Tolkien.

Tours depart from 5 Broadstreet seven days a week up to five times a day. for more details and booking a free space, head to Footprints Tours.
8. Port Meadow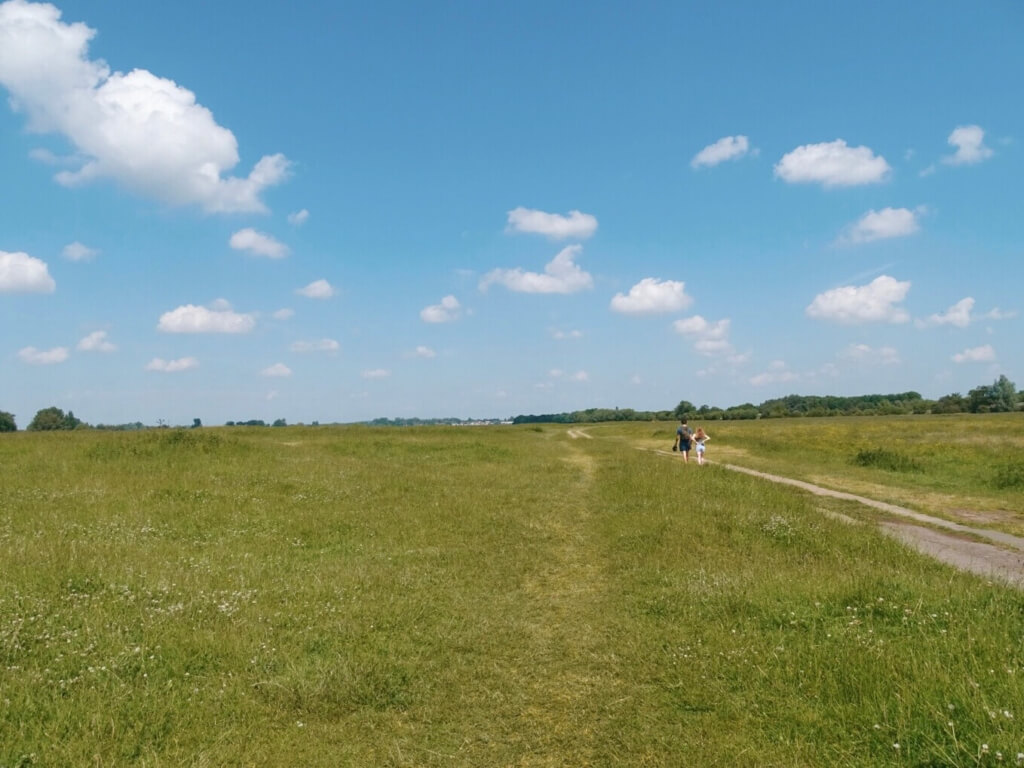 Port Meadow is the largest green space in Oxford running alongside the River Thames.

Not only can you swim in the river and have picnics in the summer, but the meadow is home to wild ponies. Last time I visited, a group of five friendly horses traipsed through a group of people sunbathing, sending them scattering.

Even on an overcast day, you can take a long leisurely walk around Port Meadow. You can walk there from central Oxford, passing through Jericho. Otherwise, you can catch a bus from the city centre or park outside.
9. University Parks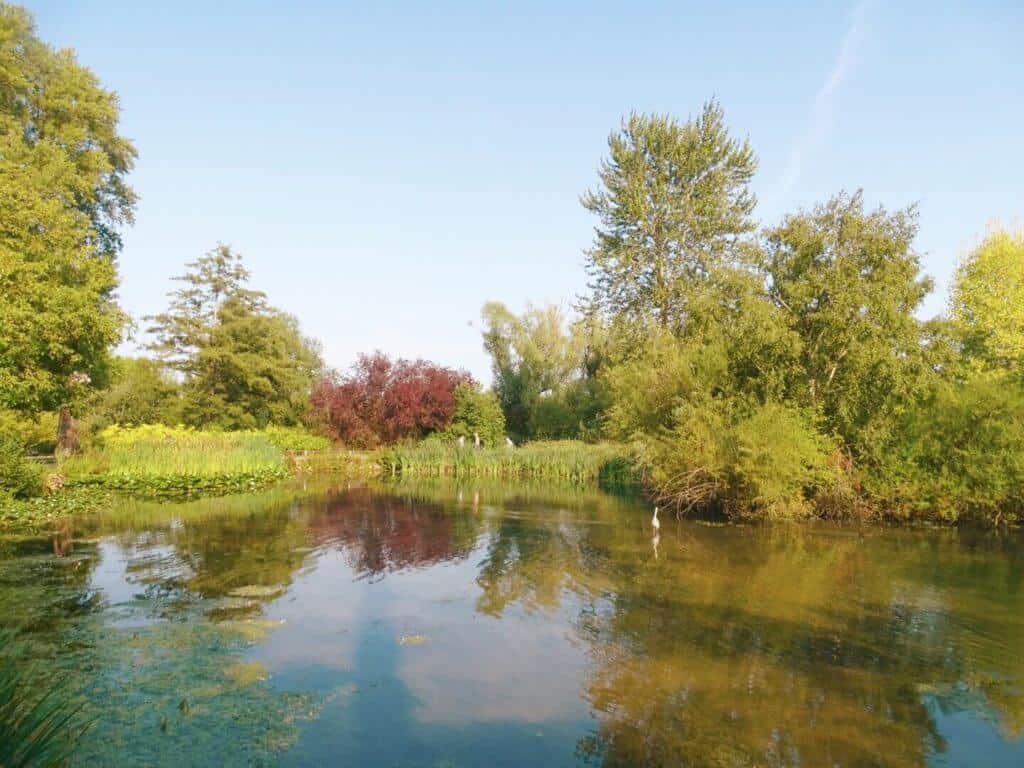 For a free activity in Oxford closer to the city centre than Port Meadow, you can walk and relax in University Parks. Locals and students call these uni parks or simply just the parks.

Like most things in Oxford, they're owned by the University but they're free for the public to enter.

You can walk, picnic, spot wildlife, admire the large collection of plants and trees and even witness a game of Quidditch if you're lucky. Check the University Parks website for events including charity runs and circuses.
10. Thames river walk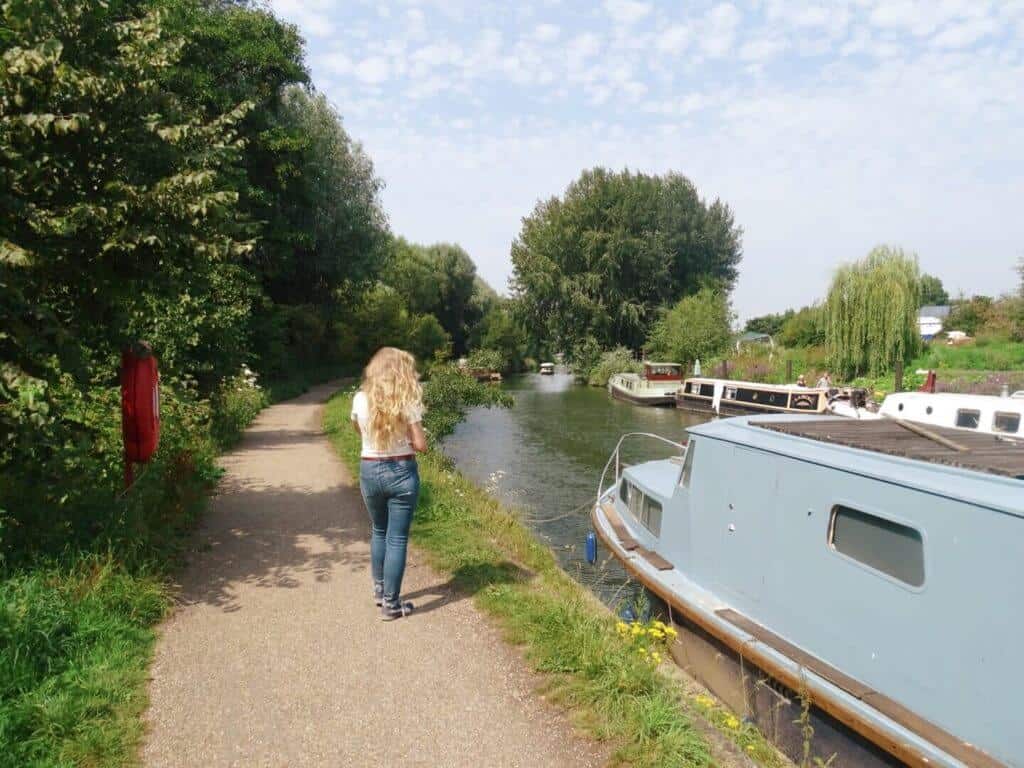 I recently spent an idyllic afternoon walking the Thames river path which is one of the nicest walks in Oxfordshire. Most of the tourists won't know about this place but that shouldn't put you off, in fact that should be an incentive! If you want to escape the crowds, this is one of the best free things to do in Oxford.

Option one: Start at the Head of The River pub and locate the river path which passes along the edge of Christ Church Meadows. Walk on the other side of the river past Boathouse Island where you can watch Oxford students practise rowing and stop for a drink at Isis Farmhouse (if you have the budget). You can loop back around Christ Church Meadows to reenter Oxford via the Cowley Road.

Option two: Take the river walk the opposite direction. Find The Folly Restaurant (the other side of Abingdon Road from the Head of the River Pub) and follow the river path towards Port Meadow, passing through Osney.
Hungry while there? Check out my guide to the top Cowley Road Oxford restaurants.
11. Wander Ifley Village
This charming village on the outskirts of Oxford is a pretty place to wander for a change of scene. To get there from the option #1 riverwalk mentioned above, continue past Christ Church Meadows, Aston's Eyot and Donington, ending in Iffley. This should take about 40 minutes in total if starting from the Head of The River pub, but longer if you stop to relax and take photos.

There's not lots to do in Ifley but it's worth wandering the charming Cotswolds houses, leafy streets and stopping at a traditional English pub.
Read next: best walks in Oxfordshire
12. Get a skyline view at South Park
Yet another gorgeous green space in Oxford is South Park measuring 50 acres. While you can you walk and picnic here, the highlight is the skyline view of Oxford's dreaming spires.

This would be a lovely place to finish a day in Oxford for sunset and a spot of photography. You can reach South Park on foot in 30 minutes from Oxford City centre.
13. Watch the punters
At £20 per person, punting in Oxford isn't ideal for those visiting Oxford on a budget. If it's not within your budget, head to Magdalen Bridge Boathouse and set up camp by the riverside. Here you can amuse yourself by watching punters attempt to push themselves along the river, sometimes bickering and occasionally falling out of the boat. What could be better entertainment than that?
Free things to do in Oxford – colleges
There are 38 colleges in Oxford but most have some kind of entrance fee if you're not a student or staff. If you're visiting Oxford on a budget and want to see these mysterious worlds for yourself, the good news is that there are free Oxford colleges to enter. These include…
14. All Souls College
All Souls is for researchers rather than undergraduate students making it a bit different from other Oxford colleges. In terms of visiting, it's one of the grandest and most impressive colleges to wander around and better yet, it's free. Locate All Souls in Radcliffe Square across from the Radcliffe Camera, marked by its distinctive wrought iron gates.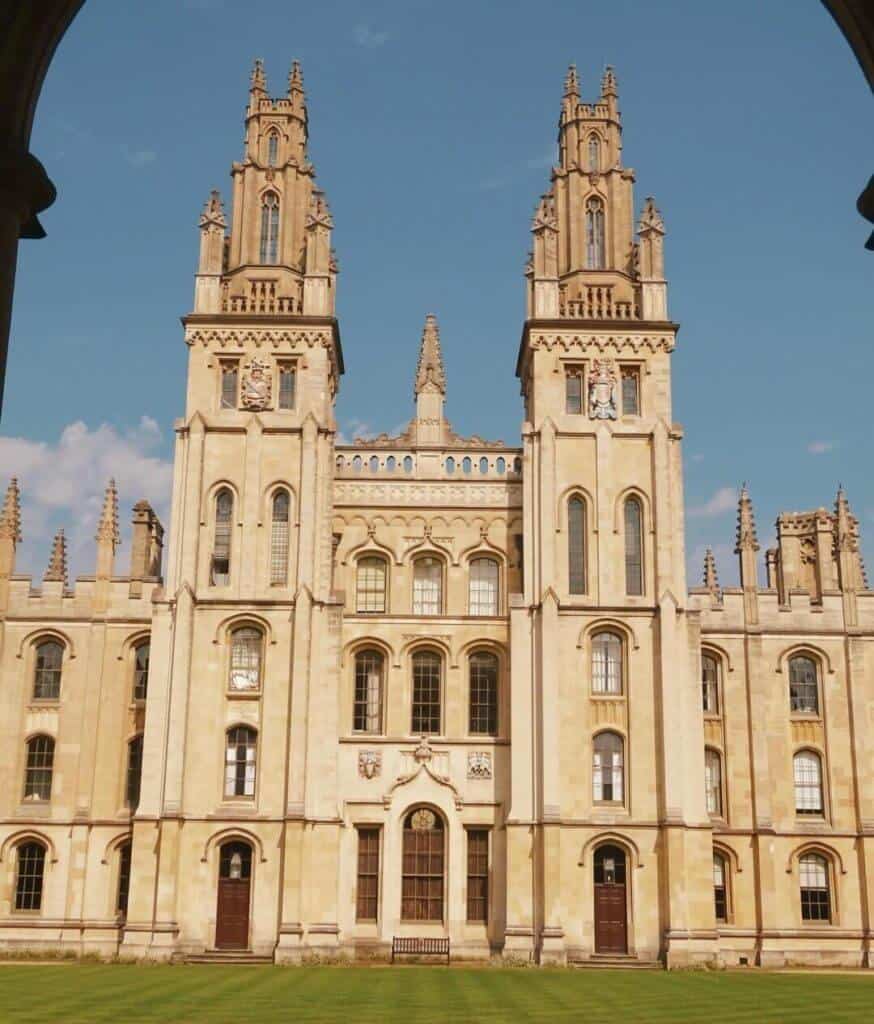 Read next: A complete guide to visiting Oxford colleges
16. Exeter College
Nestled along pretty Turl Street is Exeter College, one of the oldest in Oxford dating back to 1314. It has a sizeable quad with ancient buildings set around a green square. Entrance is free and the doorway can be found across from Missing Bean, one of the best coffee shops in Oxford. J.R.R. Tolkien and Philip Pullman are both alumni.
16. Corpus Christ College
This small but atmospheric Oxford college is free to visit and doesn't take long to wander around. They're known as one of the only colleges to still participate in the annual tortoise racing festival in May. You can find the entrance on Merton Street.
17. Keble College
Keeble looks different to the other Oxford colleges with their golden stone. Keble is built with red brick and is spread across large, open ground. It has less of a cosy feel than some of the others but is visually just as striking.
There are more free colleges but not all are as impressive as these. Check details on the University website. Other free ones include:
Harris Manchester College
Hertford College
Keble College
Kellogg College
Lady Margaret Hall
Lincoln College
The Queen's College
Somerville College
St Catherine's College
St Edmund Hall
Mansfield College
Nuffield College
St Hugh's College
St John's College
Wadham College.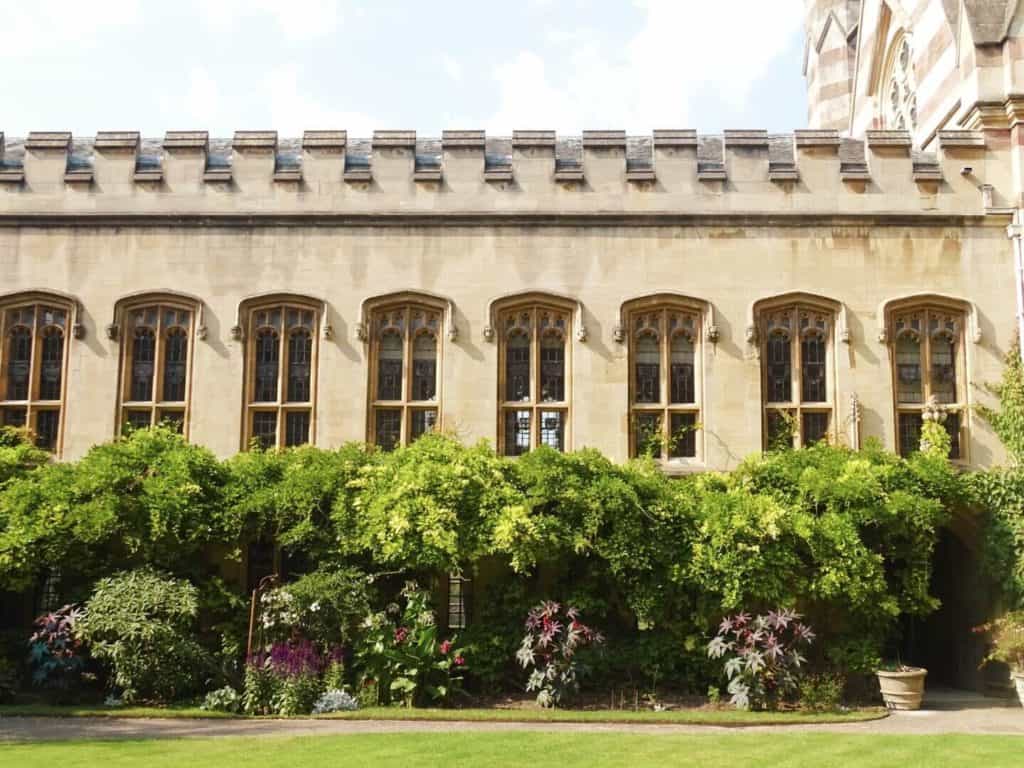 Free things to do in Oxford – sights
If you're visiting Oxford on a budget but don't want to miss the highlights, I would suggest the following free activities in Oxford:
18. University Church of St Mary the Virgin
Along the High Street, you will find University Church of St Mary the Virgin, dating back to the year 1280. While it costs a few pounds to climb the church tower and look out over Oxford, you can enter the impressive church for free.
19. Wander under the Bridge of Sighs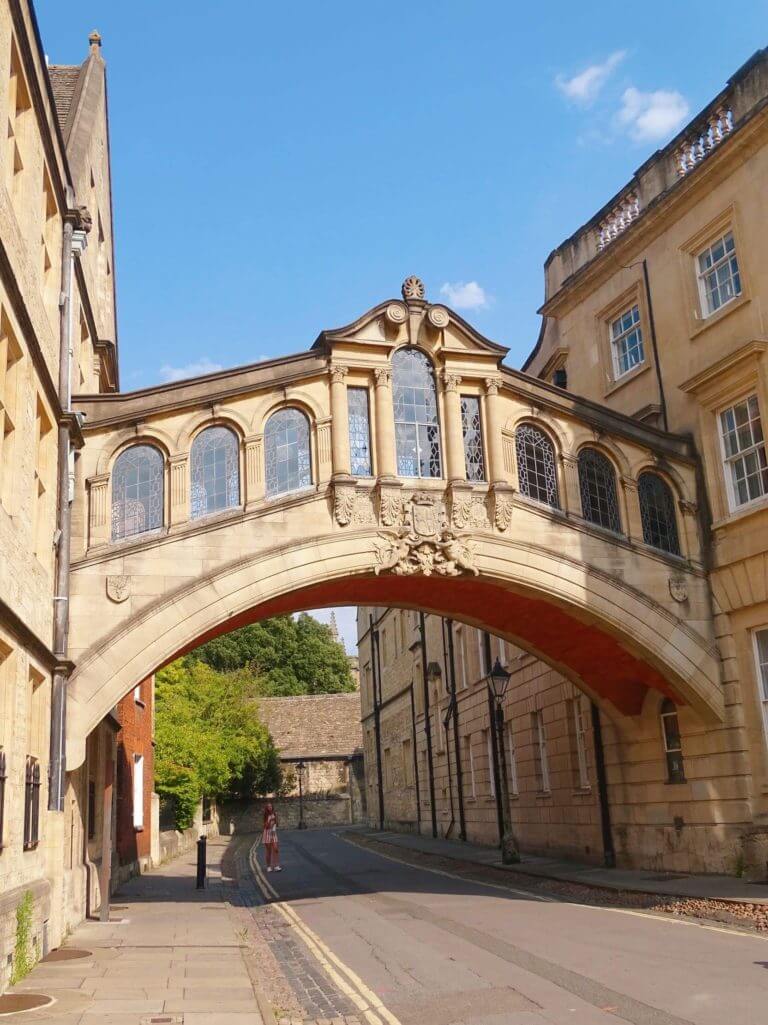 Even if you're stacked with cash, you can't pay to go inside the Bridge of Sighs because it's strictly for staff and students. This charming enclosed bridge connecting two Oxford colleges is suspended above the street.

Wander underneath and take some iconic Oxford photos of the Sheldonian Theatre on the other side.
20. Spot the Sheldonian heads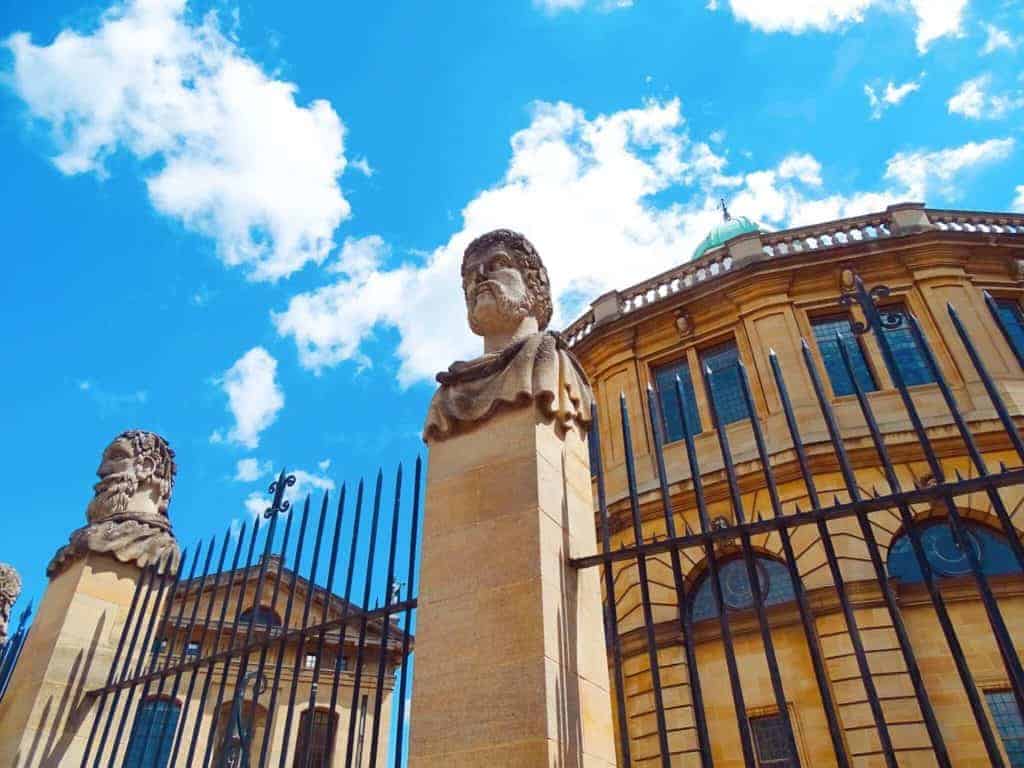 If you're walking down Broad Street, you will see the Sheldonian Theatre but you might accidentally miss the quirky Sheldonian Heads. Around the outside of the building are 13 pillars, each mounted with busts featuring expressive faces. No one really knows who they were but they're not the Twelve Apostles who many foreign tourists mistake them for.
There have now been a few sets of heads as the old ones have crumbled and been replaced. What became of the original ones is a mystery and experts in Oxford are apparently still searching the surrounding countryside for their remains.
21. Radcliffe Square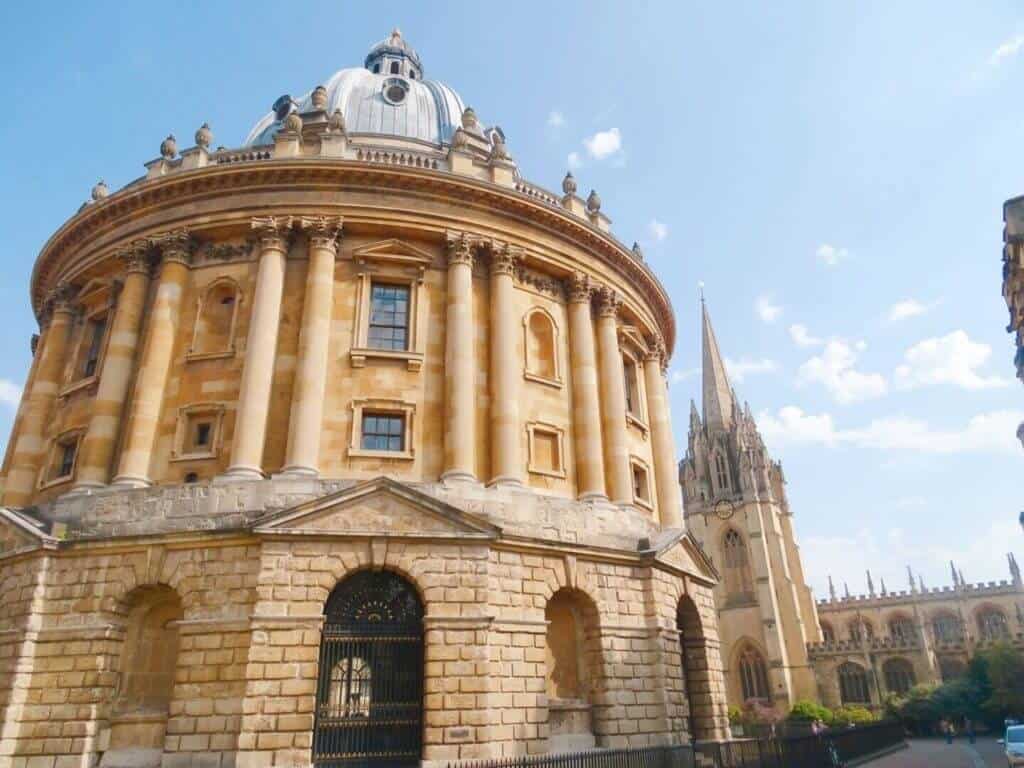 Many of the big names when it comes to Oxford sightseeing can be found scattered around Radcliffe Square.

The Radcliffe Camera is an iconic sight, closeby to All Soul's College and St Mary's Church. Take some time to wander the cobbled square and people-watch.
22. Evensong at Christ Church
During the university term, the Christ Church Cathedral Choir sing for 'evensong', an Anglican Church tradition. For a free activity in Oxford, visit Christ Church Cathedral for a service. Check the Christ Church website for more details.
Free Oxford things to do – hidden gems
23. Blackwell's Bookshop
Literary fans will enjoy this free thing to do in Oxford. Blackwell's are the largest educational publisher in the UK so where else would their flagship store be than Oxford? The higgedly-piggedly blue bookshop on Broad Street is inside an old building dating back centuries.
24. The Norrington Room
As well as browsing, you can head down to the Norrington Room, one of the largest rooms of books in the world. From the looks of the tiny high street store, you'd have no idea it was there.

Covering topics from psychology to sociology and education, it holds over 150,000 books which take up over two miles of shelves!

Blackwell's Bookshop has been open since the 1870s. With so many books joining the collection, there was nowhere to store them but underground.
25. Colourful houses of Holywell Street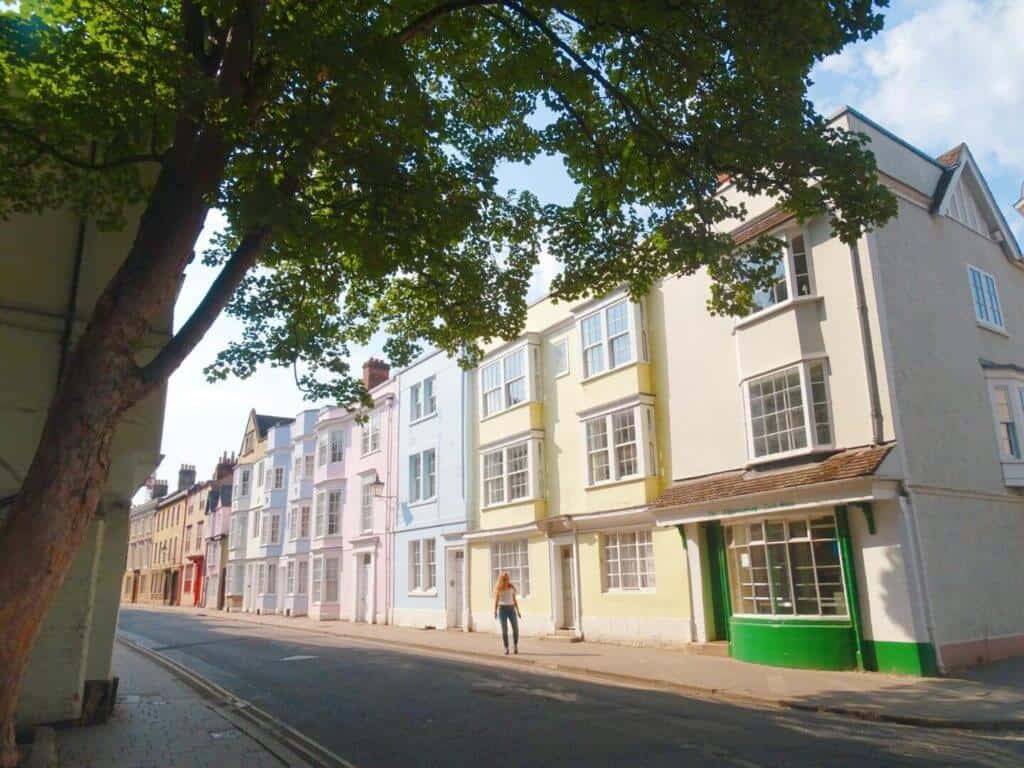 This street is a bit of a hidden gem in Oxford and always much quieter than the High Street.

Bloggers and photographers need to visit because there are so many adorable buildings with flower-laden bikes resting outside, as well as a collection of pastel-painted houses that I believe are lived in by Oxford students.

Local tip – if you love Japanese food, Edamame restaurant on Holywell Street serves some of the best Asian food in Oxford.
26. Find St Helen's Passage
Most people frequenting St Helen's Passage are on the way to the Turf Taven, one of Oxford's oldest and most iconic pubs. Whether or not you're heading there, I would recommend finding this cute alleyway which you'll literally have to squeeze to get down. It reminds me of something from Harry Potter. Find it underneath the Bridge of Sighs.
27. Lion street art on St Catherine Street
During your time in Oxford, you may choose to explore the Cowley Road, a hipster and multi-cultural part of town with lots of cool bars and Cowley Road restaurants from Caribbean to Lebanese. A free thing to do is find the street art including this awesome lion mural on Catherine Street.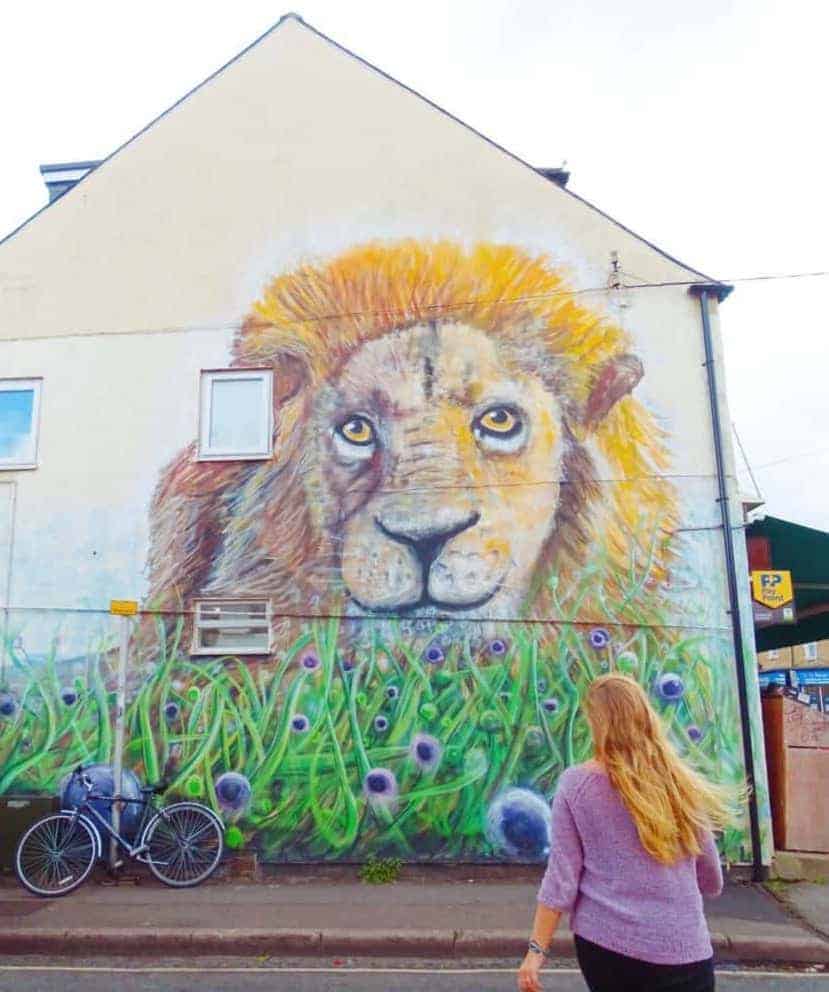 28. Find the Narnia doorway
This decadent doorway shows a gold figure who appears part fawn. Since C.S Lewis lived on St Mary's Passage whilst lecturing at Oxford, it's thought this location may have inspired his Narnia novels, representing the doorway to a magical world. Who knows if it was his inspiration but it seems likely enough!
Free things to do in Oxford – markets
For a fun free activity in Oxford that will include some free samples if you're lucky, explore the city's markets. These include:
29. The Covered Market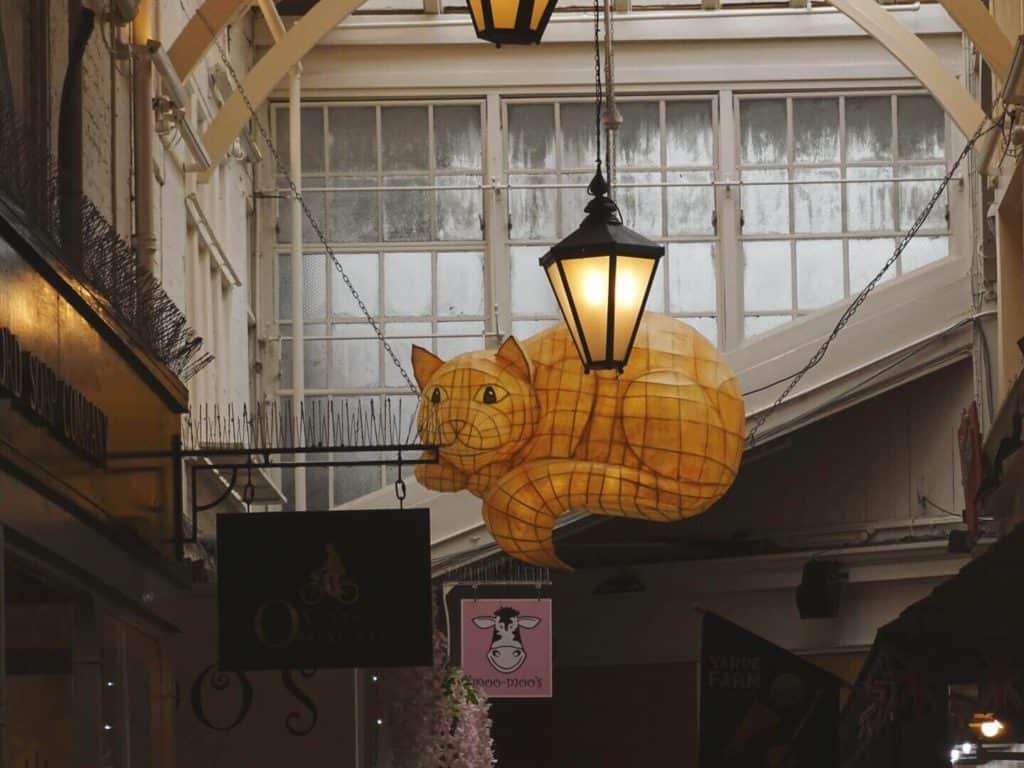 This is one of my favourite places in Oxford. Even though there are lots of cafes where you can spend money, you can also browse the market for free. You'll find stands of fresh produce, independent boutiques and colourful florists. It's a lovely place to get lost in the winding alleys.
Related read: a complete guide to Oxford's Covered Market
30. Gloucester Green Market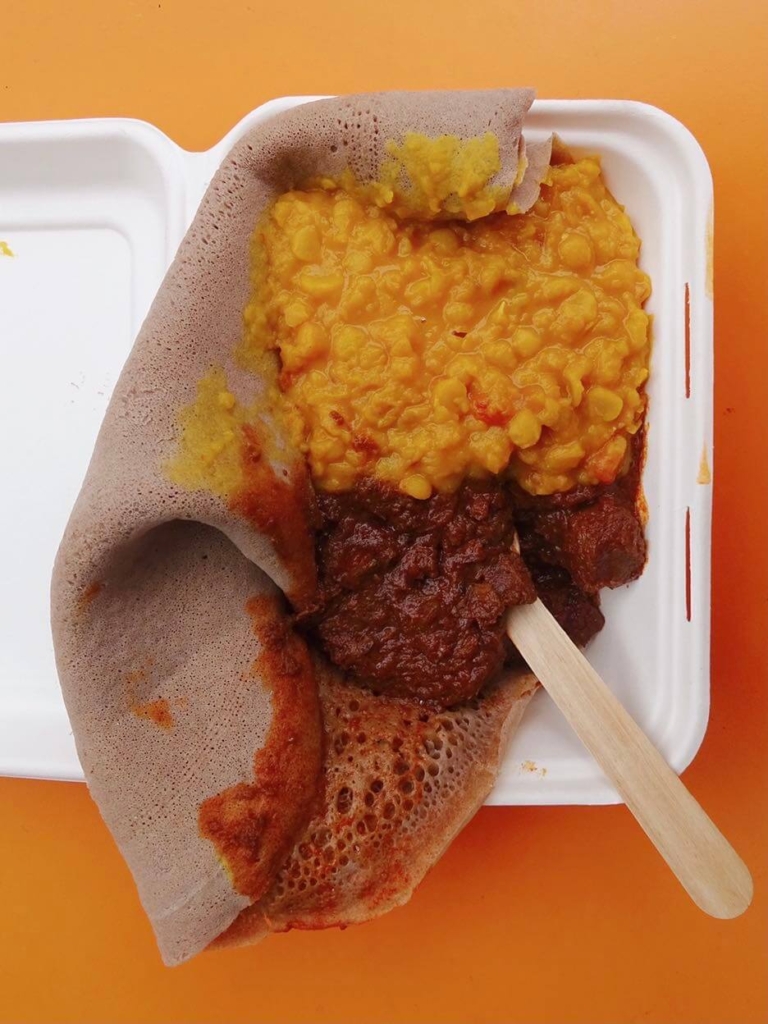 This vibrant open-air market takes place at Gloucester Green on Thursdays and Saturdays. As well as every cuisine from Polish to Venezuelan, you can browse antiques, arts and crafts without feeling pressure to buy.
Read next: the best markets in Oxford
31. North Parade Market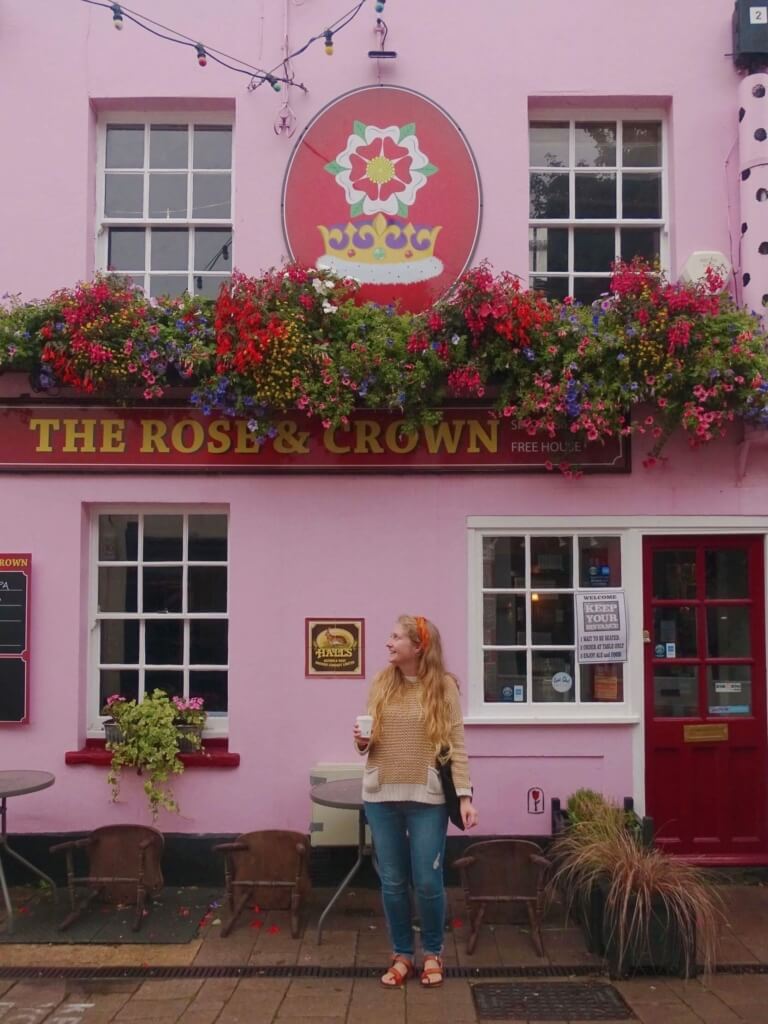 North Parade is a colourful and charming part of Oxford located off the Banbury Road, a 30-minute walk from Central Oxford. With Instagrammable pink pub, The Rose and Crown, decked out with flowery window baskets at all times, you could wander this area as a further free activity in Oxford.

If you can time your visit around 2nd or 4th Saturday of the month, visit for the North Parade Farmers Market. The street comes alive with produce, coffee and takeaway food.
32. East Oxford Farmers' & Community Market
Head to East Oxford Farmers' & Community Market held every Saturday between 10am and 1pm. Head to 3 Collins St (just off Cowley Road) to browse ethically-produced organic food and produce. I had the best falafel of my life here!
Thanks for reading!
From free museums in Oxford to green spaces, markets and other attractions, you won't get bored when visiting Oxford without much money.
Get the best prices on UK travel: 

Getting around by air – I use Skyscanner to find the best-value flights, using the 'search by month' tool to find the cheapest dates. You can also use the 'to anywhere' feature if you're flexible on where you're going.

Car hire – use Rentalcars.com to compare car rentals in the UK (and all around the world).

For UK trains, I use Trainline. The search feature allows you to compare prices, and they show live departure times on the website.

For buses, I use Busbud. It's the only site that compares UK coaches and buses. Find London to Manchester journeys for £1! 

Use Omio to compare trains and buses in one search. It's so handy.

For hotels and self-catering apartments, I use Booking.com. You can filter by review score and price to find the best-rated budget places. For hostels, I use Hostelworld.com.

To save money on accommodation, I use Trusted Housesitters, a website that connects homeowners going away and travellers who can sit their homes & pets.

I use GetYourGuide for tours & activities when I don't want to travel solo. The guides are knowledgeable and you can't beat the prices. I also check Viator as they often have fun and unique offerings.

Need travel insurance? I use True Traveller (for UK & Europe residents) since it's affordable but covers everything you'd need including various activities, valuables and pre-existing conditions. Unlike some companies, they insure you if you're already travelling / don't yet have your flight home booked. Get a quote.

For travel insurance for other nationalities, I recommend Hey Mundo and for long-term digital nomad travellers, I suggest Safety Wing.

Check out my resources page for more travel discounts and budget tips from my 10+ years on the road!
Check out my other Oxford guides:
For more travel content, follow me on Instagram, Facebook, Twitter and YouTube.
Ps. Liked this guide to Oxford on a budget? Pin it for later!