This post may contain affiliate links to things like tours, hotels, Amazon associates and products. These help me earn a small commission at no additional charge to you.
If you've read my blog before or follow me on social media, you may already know that I adore Thailand. Since I know many of you do too, I'm sharing my fun facts about Thailand.

It's hard to put all the reasons I love Thailand into words. It's more than just beaches and parties: Bangkok is one of my favourite cities with countless tourist attractions as well as hidden gems, street art, photographer's paradise the Airplane Graveyard and out-of-this-world street food!

I also spent 2 months living in Chiang Mai in 2019 where I came to love the slower pace of life and wonderous nature in mountainous Northern Thailand. I had just started working online as a freelance writer and blogger so the many co-working spaces and cafes in Chiang Mai were much appreciated.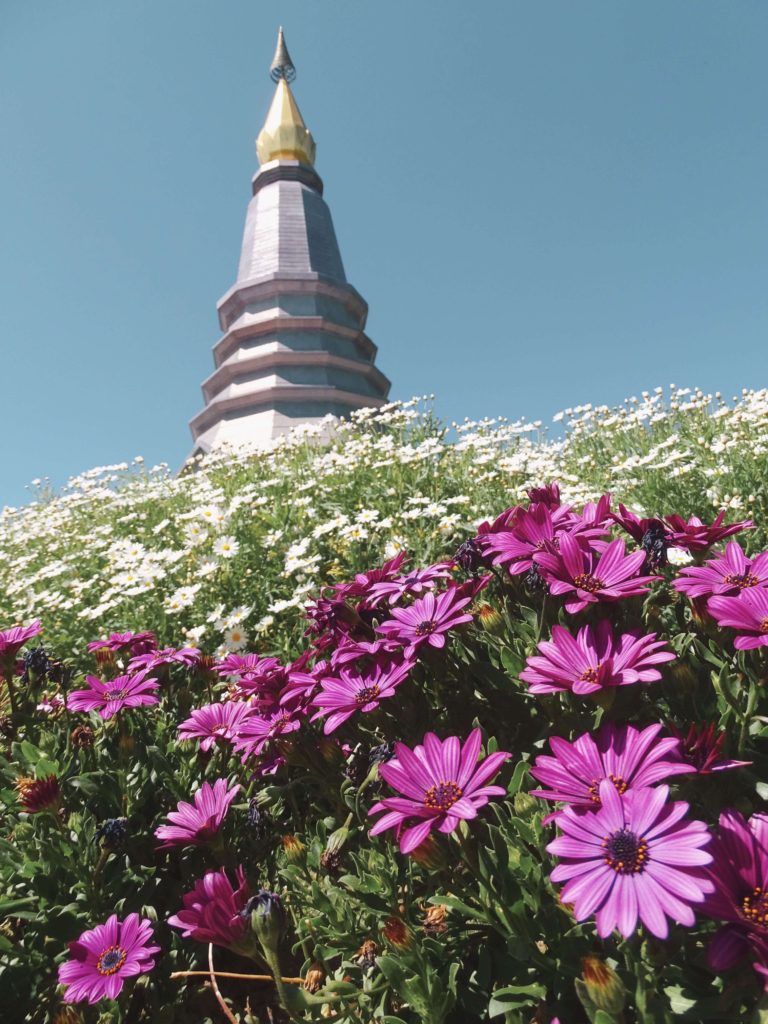 8 fun facts about Thailand
Whether you're geeking up for a pub quiz or simply curious about this fascinating nation, let's get stuck into my Thailand trivia.
1. Bangkok is NOT the capital's real name
The Thai capital's English name is, of course, Bangkok but its full ceremonial name is:

Krungthepmahanakhon Amonrattanakosin Mahintharayutthaya Mahadilokphop Noppharatratchathaniburirom Udomratchaniwetmahasathan Amonphimanawatansathit Sakkathattiyawitsanukamprasit.

This translates into English as: City of angels, great city of immortals, magnificent city of the nine gems, seat of the king, city of royal palaces, home of gods incarnate, erected by Vishvakarman at Indra's behes.

Descriptive, right? These days, it's shortened in Thai to Krung Thep Maha Nakhon or just Krung Thep. Phew!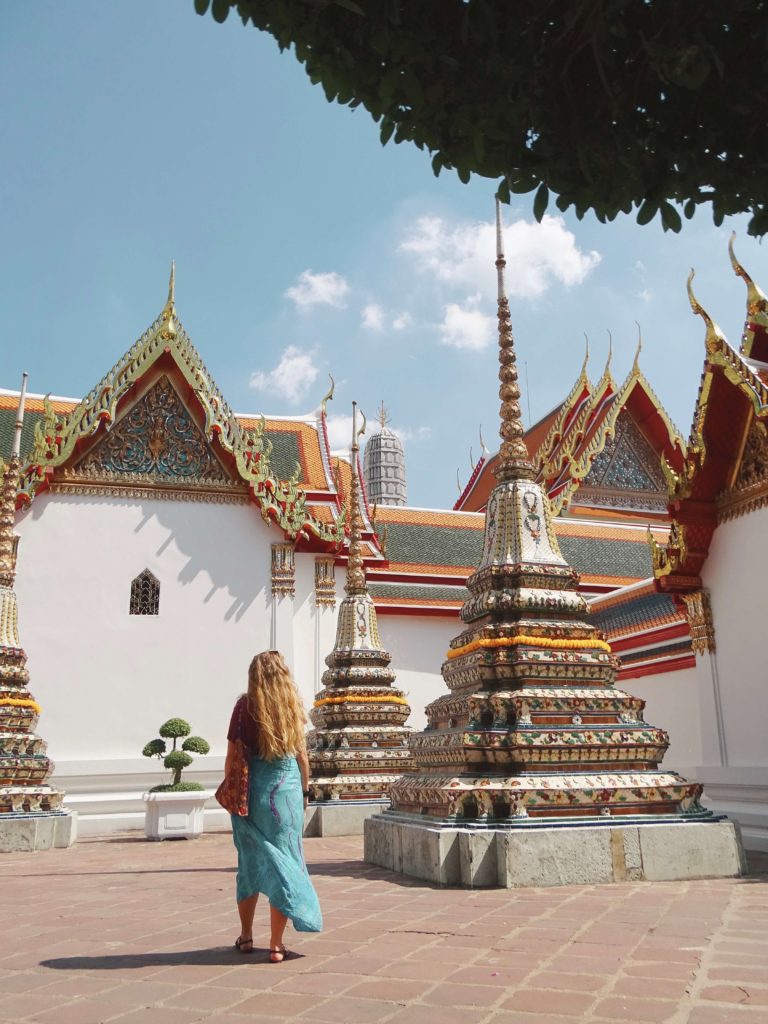 How to experience Bangkok
When visiting Bangkok, use my 2 day Bangkok itinerary to explore the highlights, and don't forget to book with some of my favourite tour companies who support local livelihoods, A Chef's Tour and TakeMeTour.
2. There's a third gender in Thailand: the kathoey
Kathoeys are transgender women or effeminate gay men. Estimates suggest that around 1.6% of the Thai population identify as kathoey and live freely in Thailand where their 'third gender' is widely accepted. From a modern Western perspective, they might be considered LGBT, but their culture long predates this: ancient Buddhist scripts mention 3 genders: men, women and kathoey.
How to experience kathoey culture
Vibrant cabaret shows are popular in Thailand, especially in Pattaya. To enjoy a celebratory performance of kathoey culture, attend one of these shows.

Ethics note – always read reviews before going to any event or experience involving people or animals. Two Wandering Soles wrote a great article about how to travel Thailand ethically.
3. Pad Thai won its role as the Thai national dish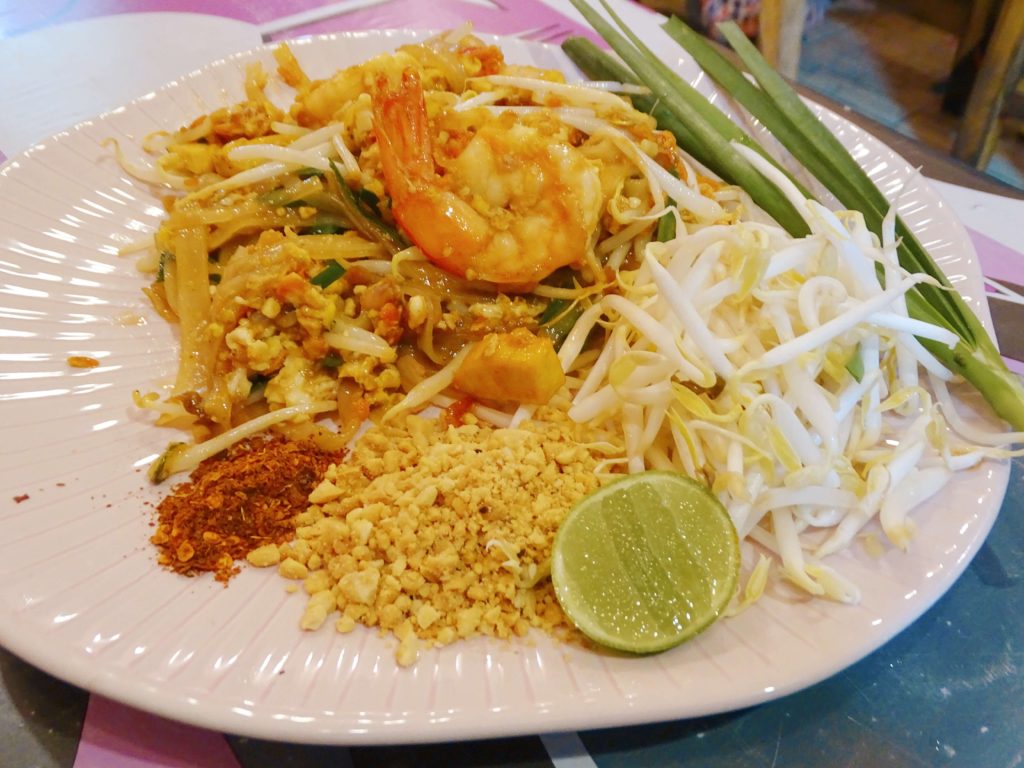 Many Asian dishes have been served for centuries but not pad Thai. Noodles only came to Thailand due to a rice shortage in the last century. Rice has always been the staple ingredient in Thailand and it's so popular there's a phrase akin to 'How are you?' which is 'Gin kôw rĕu yang?' meaning 'have you had rice yet?'.

While the rice shortage was devastating, it brought noodles to Thai cuisine which is something we can all enjoy today!

Pad Thai is a relatively new Thai dish, invented when the prime minister wanted to promote Thai nationalism in the 1930s. He led a campaign looking for a new dish and the winner was pad Thai. Hooray! Life would be worse without it.
How to experience pad Thai at home
Luckily for us travel-starved kids, it's easy to make pad Thai at home. You can make it veggie or vegan by replacing the shrimp and chicken with tofu and extra veggies. Pick up a Rosa's Thai Meal Kit to make the Thai national dish at home. Serve with a Chang beer for the full experience!
How to experience pad Thai in Thailand
I've taken about five cooking classes in Thailand and would recommend you do the same! I also stayed at Hom Cooking Hostel in Bangkok, a friendly and comfy hostel that offers free dinner each night which you make yourself with a local chef. We made pad Thai (and similar dishes like pad see ew made with large flat noodles) a few times during my stay.

Book Hom Cooking Hostel here (save this link for later).
4. The world's largest gold Buddha statue is in Thailand – it's worth $250 million!
Thailand is predominantly a Buddhist nation and, as a result, you'll see Buddha statues everywhere. Many are gold on the outside but made with cheaper materials inside. However, one Buddha statue made from solid gold is Phra Phuttha Maha Suwana Patimakon.

This breathtaking Buddha is 3 metres and nearly 4 metres tall, weighing a staggering 5 and a half tons. It has a fascinating history: it was made in Bangkok as early as 1200 AD and transferred to ancient Thai kingdom, Ayutthaya, where it was later covered in concrete to disguise its worth from Burmese invaders.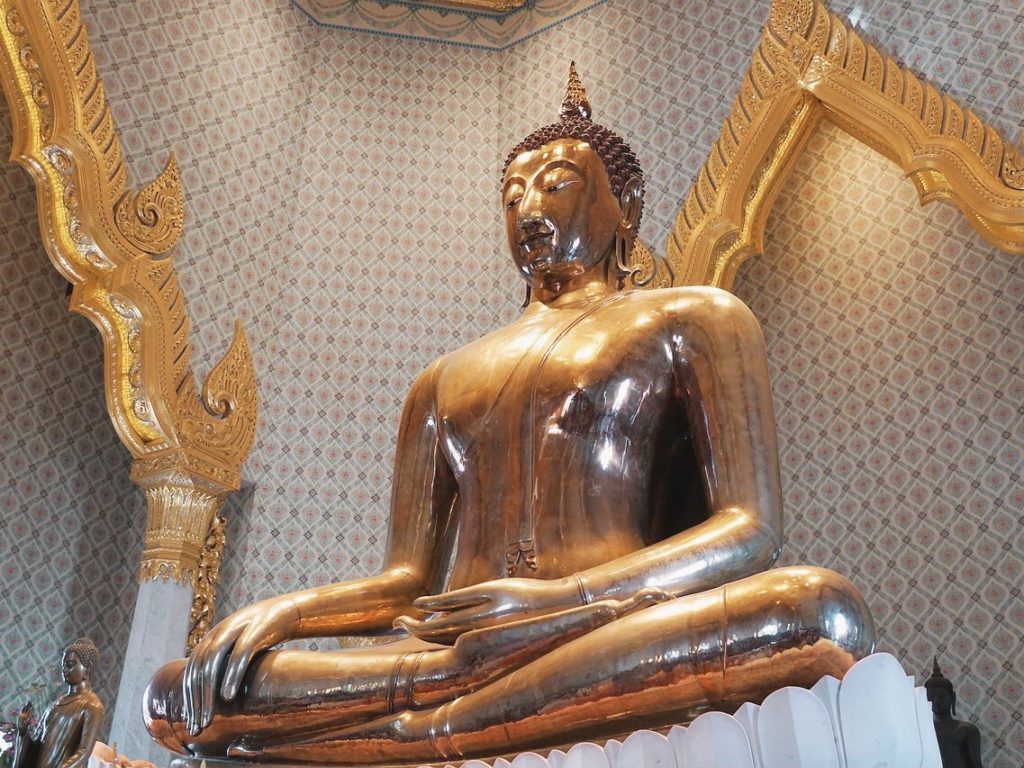 The disguise was so good that it was forgotten once the temple capital was abandoned. Many years later, it was later transferred back to Bangkok but placed in a small, unknown temple in Chinatown as no one realised its true value. It wasn't until it was accidentally damaged that the concrete came away and its identity was revealed!
Cultural Thai fact – it's deeply offensive to be taller than a Buddha statue. If you find yourself in this situation, you should kneel or sit down!
Learn more Thai stories at home
You can read the full story of the Golden Buddha here but why stop there? For more fun facts about Thailand in the form of literature (both fictional and historical), check out these books about Thailand from The Beach to detective mysteries and more.

Buy The Beach (book) or watch The Beach (film).
How to see the Gold Buddha in Thailand
Visit Wat Traimit Temple, most famous for being the home of the Golden Buddha statue. Wat Tramit is close to Yaowarat Road, one of my favourite areas of Bangkok. Stay to sample the amazing food in Chinatown, Bangkok!
5. Thai food is the perfect balance of 4 elements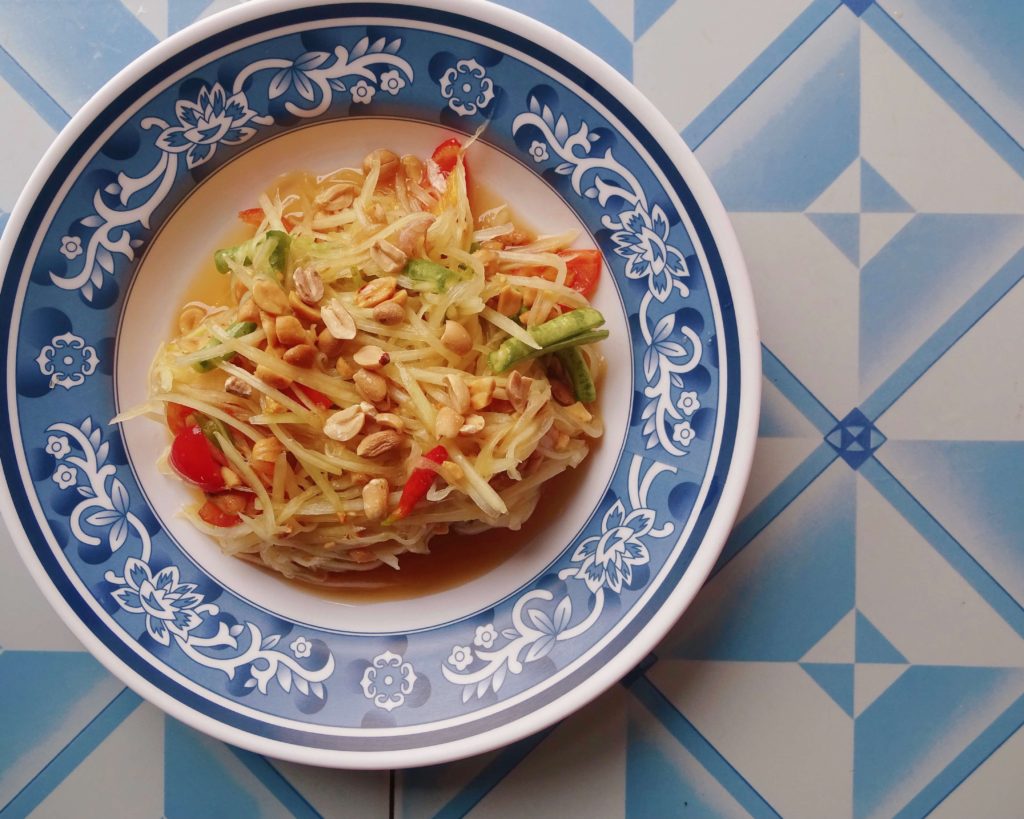 Ever marvelled at how delicious Thai food is? Its perfectly balanced flavour is no coincidence. Almost every Thai dish incorporates salty, sweet, bitter and spicy flavours. These sometimes include:
Salty – fish sauce

Sweet – palm sugar

Bitter – lime or tamarind

Spicy – chilli or herbs
Thai cuisine is made with this unique blend in mind. You'll even see fruit served with salt and chilli. Gotta get that balance!
How to experience Thai cooking from home
Lots of Thai cooking schools in Thailand offer online experiences. Not only is this a fun and cultural way to make dinner and learn more fun Thailand facts, but you'll be supporting local people. Use Airbnb Experiences to book online classes.

I'm taking my first online Thai cooking class next week with Traverse Events and I can't wait.
How to experience Thai cooking in Thailand
I can personally vouch for this Shrimp Farm Visit & Tom Yum Kung Cooking Tour. It takes guests from Bangkok to the Thai countryside where they visit a local shrimp farm, catch their own lunch and cook a feast including everyone's favourite Thai soup, tom yum. This was one of my favourite days in Thailand.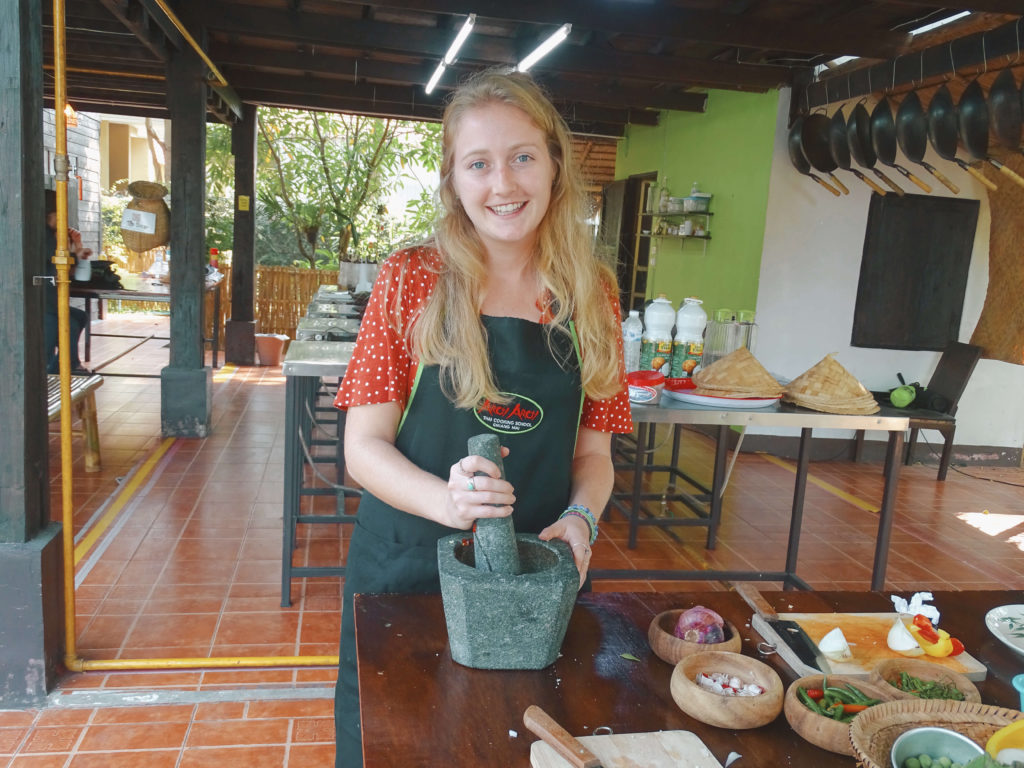 6. Thai cinema has 100 years of history
Thai cinema began in 1897 when King Chulalongkorn was filmed during a trip to Switzerland and came to appreciate the medium of film. It started with documentaries about the royals and moved to comedies and action films, enjoying a golden age in the 1930s.

Competition from Hollywood saw a decline in the industry but it had a comeback in the 1990s thanks to a new wave of filmmaking.
How to experience Thai cinema from home
There are lots of Thai movies you can watch at home. Some of the best Thai movies on Netflix include Unlucky Ploy and Bangkok Traffic Love Story. My favourite movie I saw in Thailand was The Billionaire, a true story about the young entrepreneur who launched a now-famous Thai seaweed snack business.

Sadly, I can't find this movie to stream in the UK… Let me know if you find it!
7. There are 35,000 temples in Thailand
Thailand is one of the most temple-dense countries in the world. The small city of Chiang Mai has 300 alone which you can easily wander between.
How to experience Thai temples at home
One of my favourite places in Bangkok is the Grand Palace, the ceremonial home of the Thai royal family. There's a Bangkok Grand Palace 360 virtual tour to take you around the many temples in the grounds. View Buddha statues from all angles and choose between day and night scenes.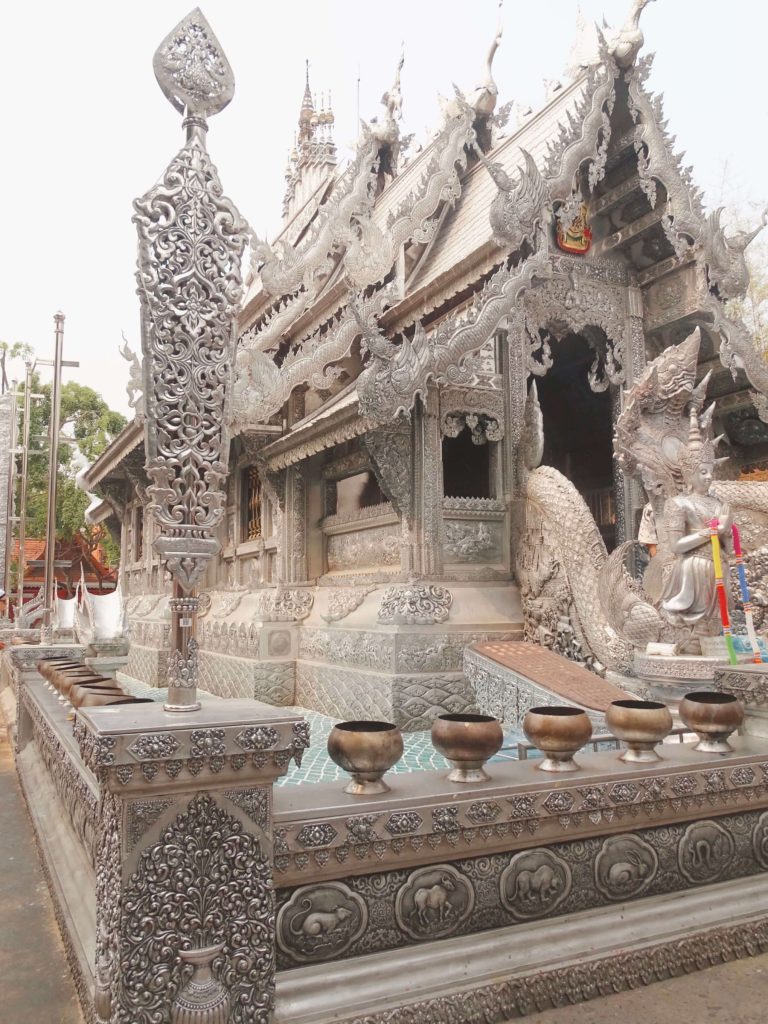 Another cultural experience temple in Chiang Mai is joining a Monk Chat at Wat Chedi Luang, Wat Suan Dok or Doi Suthep temples. This is what it says on the tin: a chance to chat with Buddhist monks and help them practice English while learning about their culture.
Read about the other fun and unusual things to do in Chiang Mai here.
8. There's a fruit so smelly it's banned in airports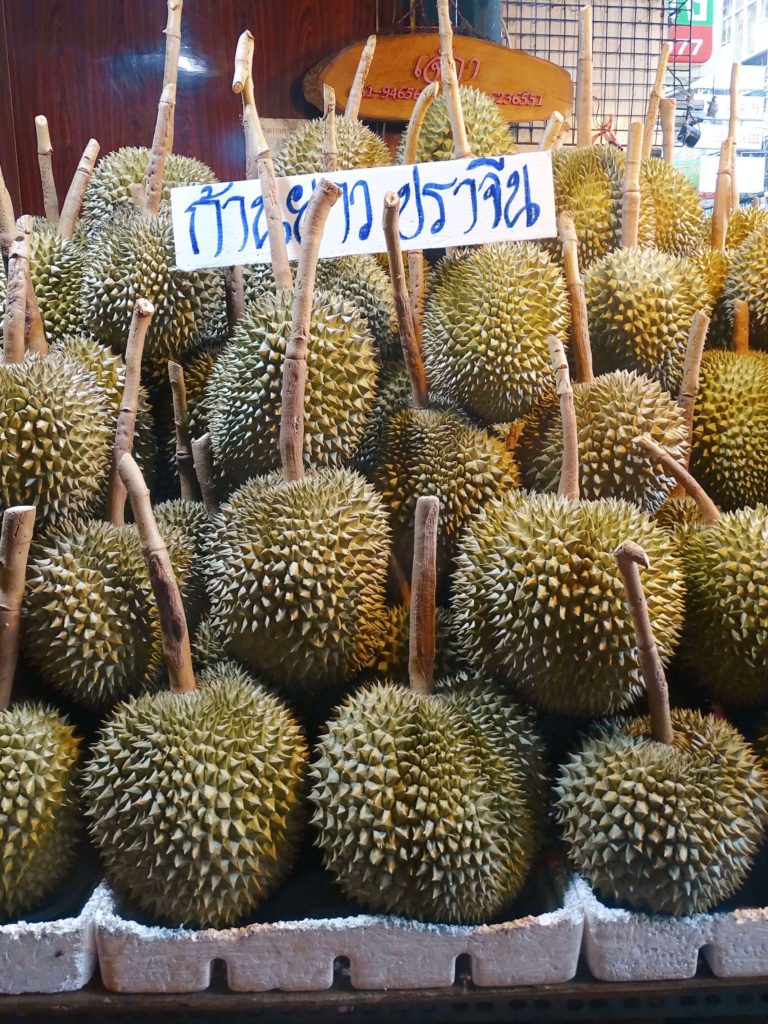 A fun Thailand fact to finish!

Enter the durian. A lot of Thai people love this stinky fruit while travellers often aren't so keen. Whatever you think about durian, it's a fact that many hotels and airports in Thailand display signs banning explosives and durians.

Feeling brave? Order some durian from Longdan. If you're not that keen, wait until visiting Thailand to give it a try. I sampled this adventurous eat on the Bangkok Backstreet food tasting tour with A Chef's Tour and actually didn't hate it.
Thanks for reading my fun facts about Thailand!
Check out some of my other Thailand posts:
See you next time,
Rose
Disclaimer – I was compensated for this post as a collaboration with the Tourism Authority of Thailand (TAT) and Fan Club Thailand.
Ps. Liked these fun Thailand facts? Pin this for later!