This post may contain affiliate links to things like tours, hotels, Amazon associates and products. These help me earn a small commission at no additional charge to you.
The Garden Route is a stunning region with beaches, national parks and hikes galore. I had a great time backpacking it – and you can too!

You'll find the Route running along the south coast of South Africa, from the Eastern Cape to the Western Cape. Here are the stops I'd recommend you don't miss:
Mossel Bay
This cute little town is great for beaches and hiking – take the St. Blaize trail along the cliff edge and you might spy dassies (guinea pig-like animals) and even dolphins riding the waves. Also check out Blue Shed Coffee Roastery, the cutest coffee shack I've been to in ages.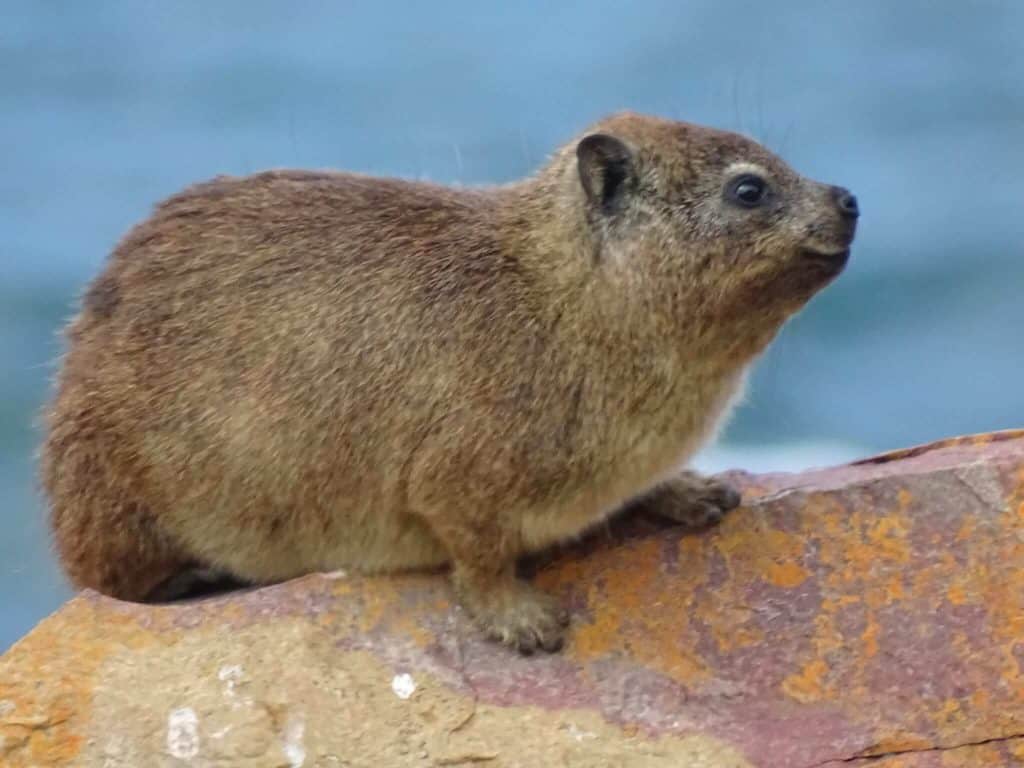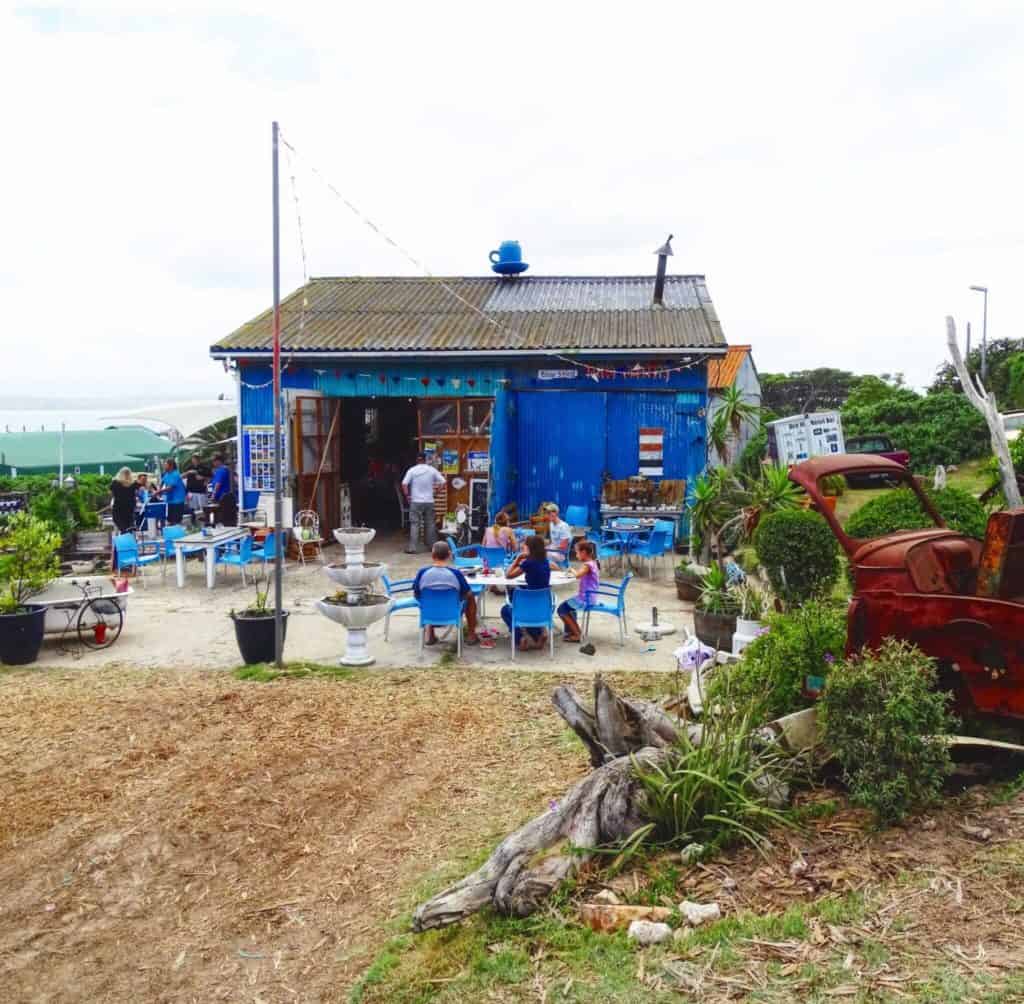 Wilderness
In Wilderness, you'll find more beaches and walking routes. I took the hike to Victoria Bay along disused railway tracks and past the hippie caves, an awesome humble abode made from shells and driftwood found on the beach.

The other main activity in town is canoeing with Eden Adventures (departing from Fairy Knowe Hotel). Paddle downstream through Wilderness National Park to the waterfall at the end. This is easy work and a nice half day activity.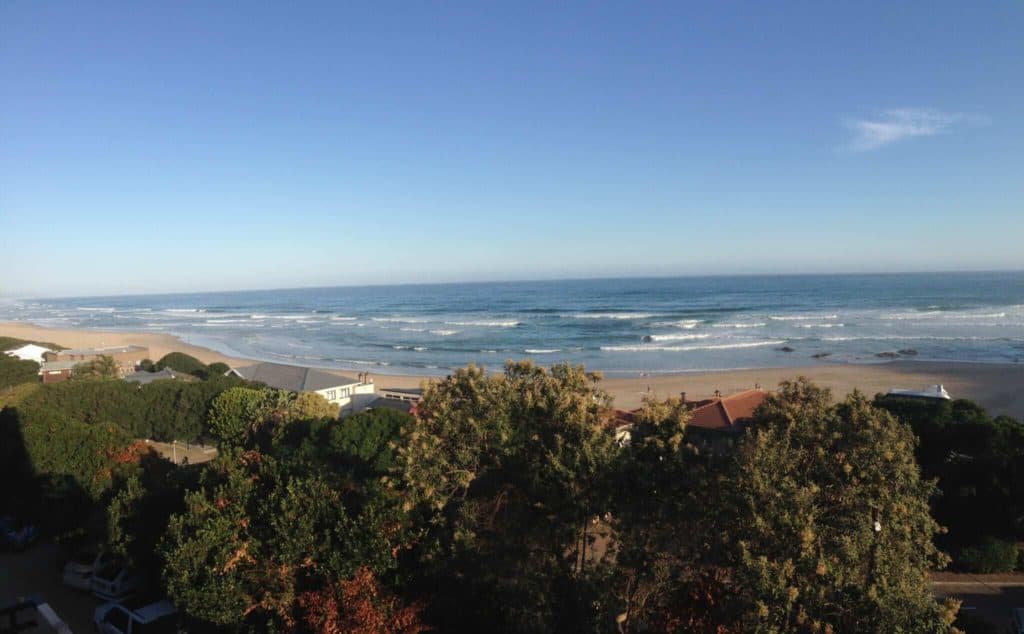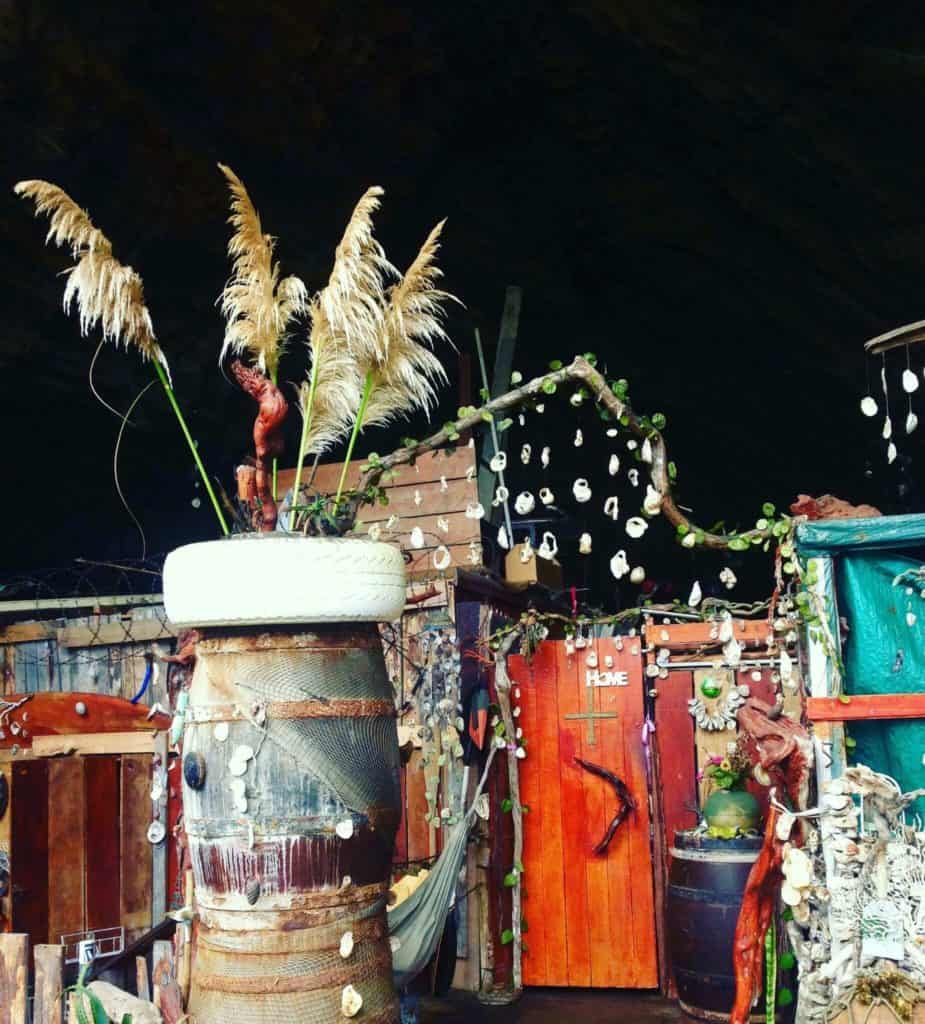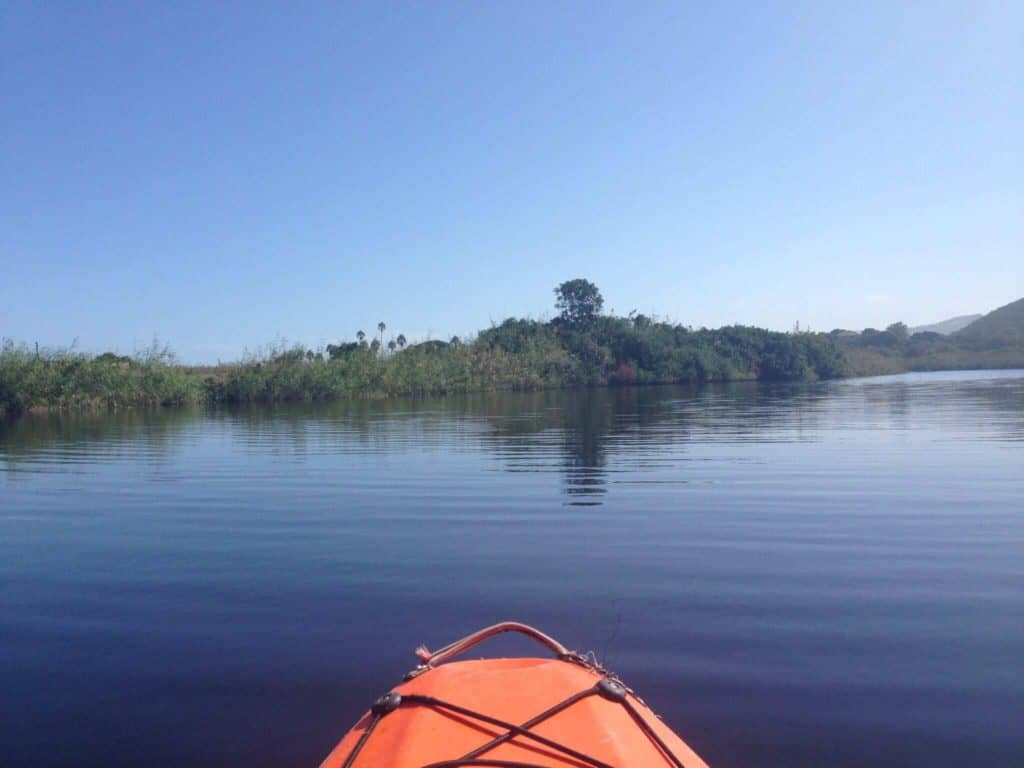 Where to stay? I'd recommend Wilderness Beach House Backpackers as a clean and comfy base with friendly staff, amazing pizza dinners and wonderful views looking out over the beach. Dorms from £10 a night.
Knysna
This pretty town has a slightly bigger city centre than some of the smaller seaside communities – look how pretty the harbour is! The most famous attraction is the Knysna Heads, a couple of cliffs that create a lagoon separated from the sea. Drive, cycle or hike up to them for stunning views and reward yourself at East Head Cafe.

You can also easily walk across a set of bridges to Thesen Island or Leisure Island where you'll find boutique shops and great eats.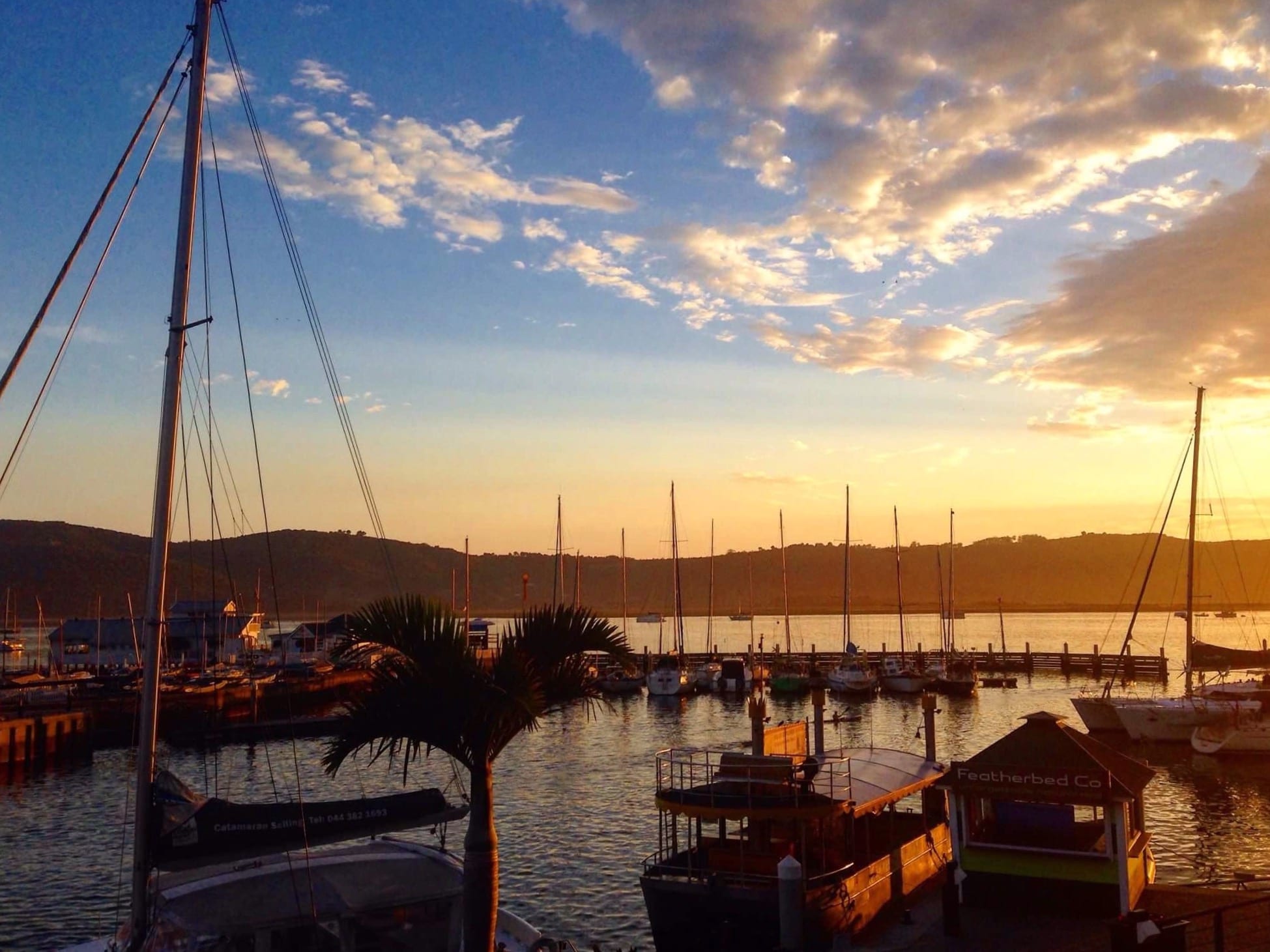 Where to stay? I stayed at Jembjo's Lodge and Backpackers which had a comfy sofa area and a free breakfast for your £9 dorm bed. Other travellers mentioned Island Vibe which apparently had more of a social feel (but no free breakfast – what a conundrum.)
Plettenberg Bay
Another seaside town – but this one is famous for seal snorkelling. I donned a wetsuit to protect myself from the freezing sea and spent half an hour splashing around with a tame colony who enjoyed coming up close, biting my GoPro and trying to swim off with it. You know you're in a ridiculous travel scenario when you're underwater wrestling with a seal for your possessions back!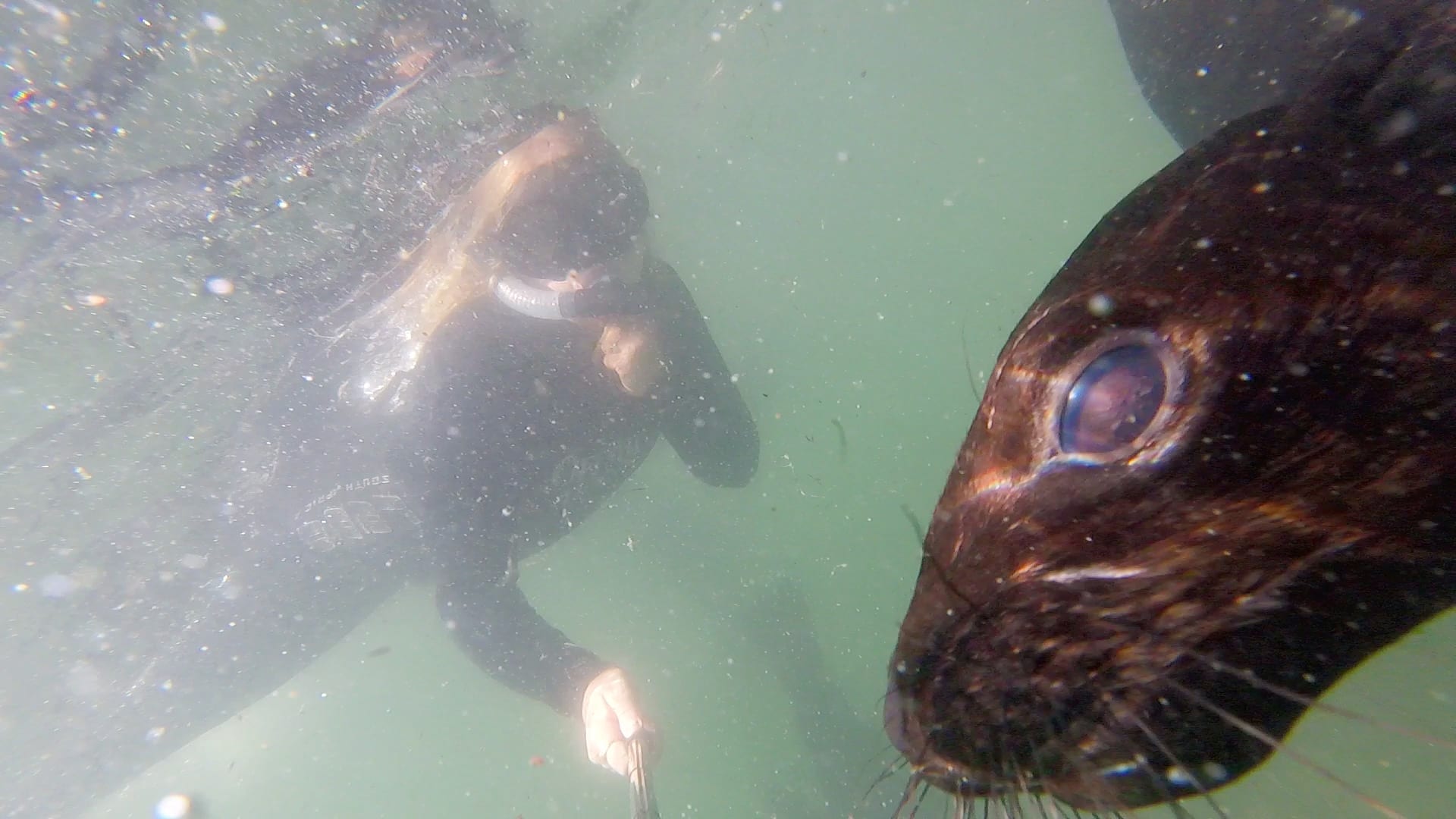 Also in Plettenberg you can drive (or catch a cab) 20 minutes to…
Robberg Nature Reserve
This peninsula juts off the coast and is the perfect place for a spectacular hike. We saw giant grasshoppers, more dassies and a seal colony down below.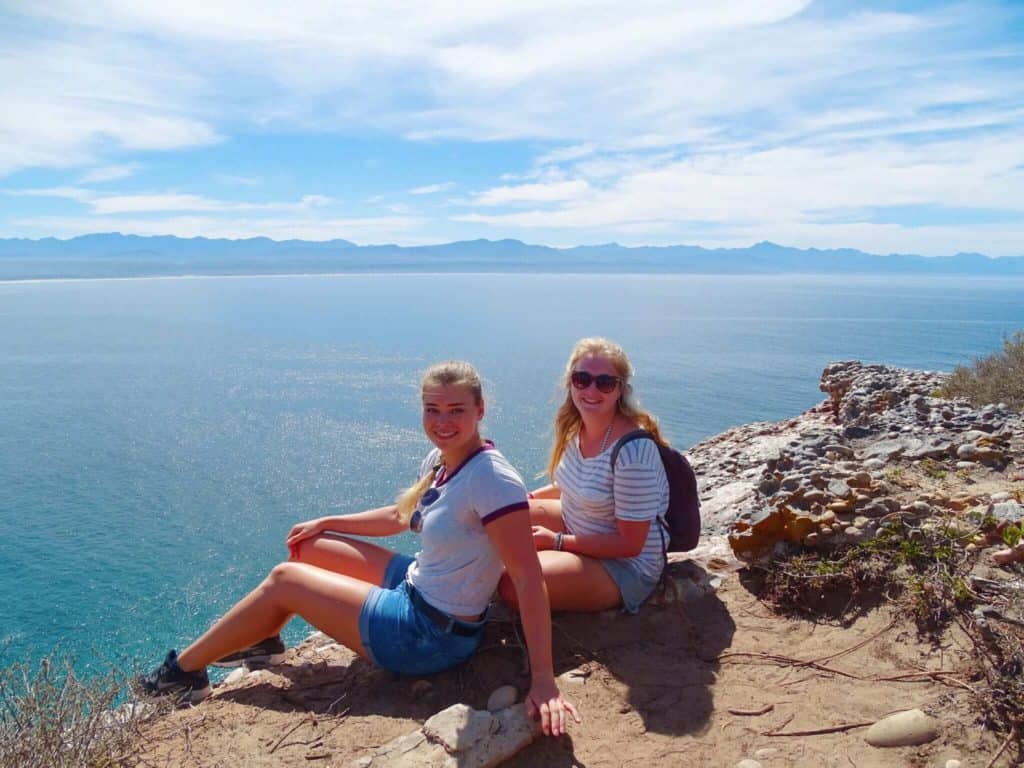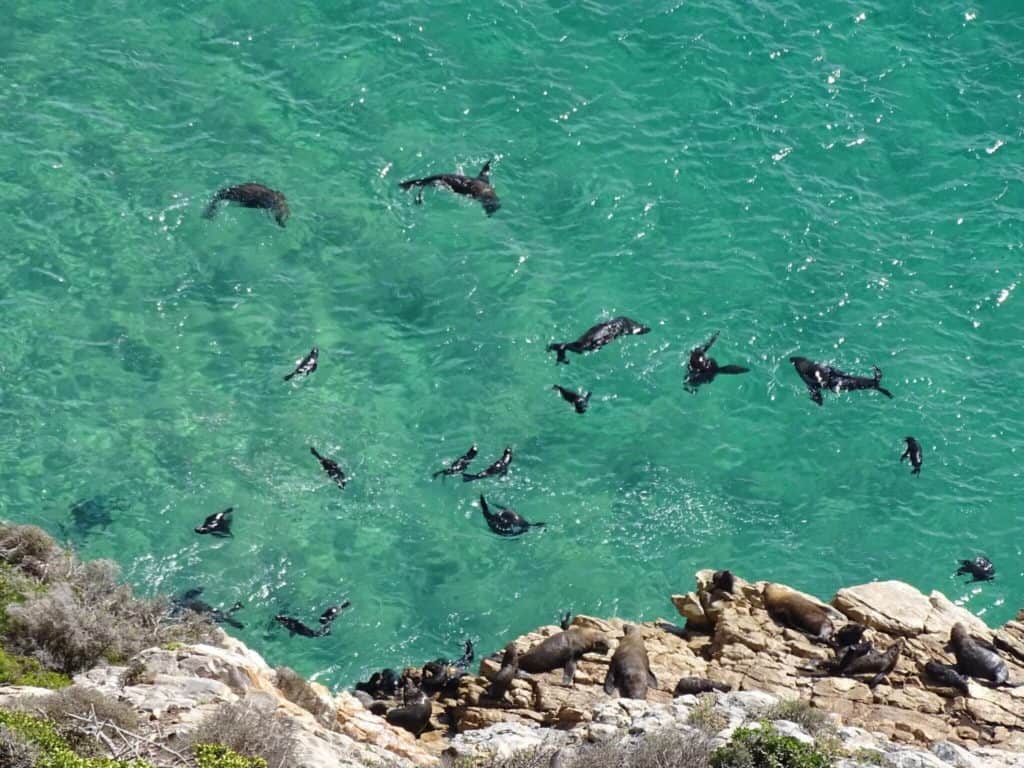 Where to stay in Plettenberg? Head to Albergo for Backpackers which has a pretty garden and braai (barbeque) nights. All you need!
Storms River
This village in the mountains has an awesome hippie feel (especially if you stay at Dijembe Backpackers). It's a sleepy vibe but there are lots of activities on offer like canopy tours and river tubing, plus you can head off into the wild of Tsitsikamma National Park. The below photos are of the awesome coastal hike we did there: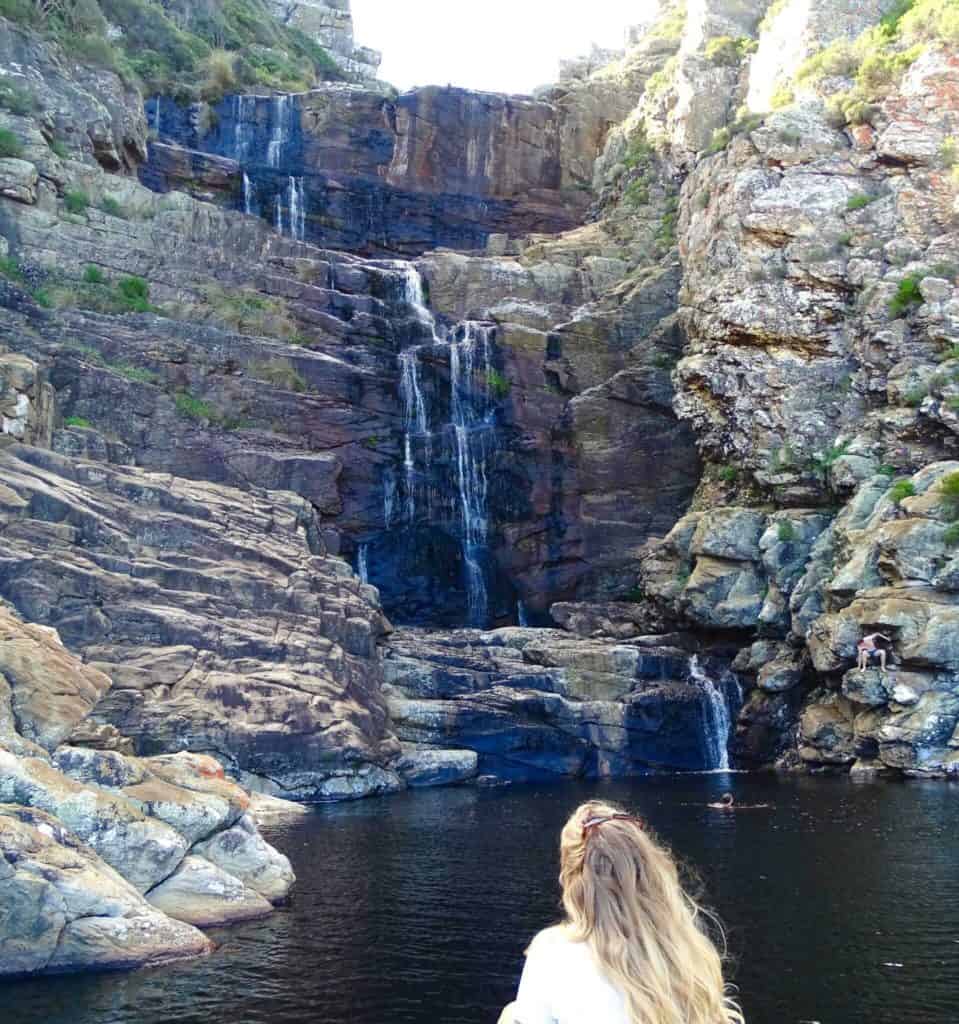 Where to stay? I found Dijembe Backpackers to be totally unique – parts of it were falling down and we ended up sleeping in a shed in the garden but the friendly, quirky vibe totally made up for it. There were lots of hostel pets and once when I was enjoying a drink in the colourful bar, a horse wandered in and joined me. You'll love it if you don't mind a bit of madness.
How to travel the Garden Route
The Baz Bus
I took this option. The Baz Bus is a minibus service designed for backpackers. It picks you up from the door of your hostel and drops you at the door of the next one (all the hostels mentioned in this blog are Baz Bus stops) meaning it's a safe and easy way to get around.

A bus pass to take you from Cape Town to Port Elizabeth will include the whole Garden Route stretch and a little bit more and will set you back R2300 (£130) one way or R3100 (£180) return. This includes the flexibility to book and amend your tickets between individual destinations a day or two before.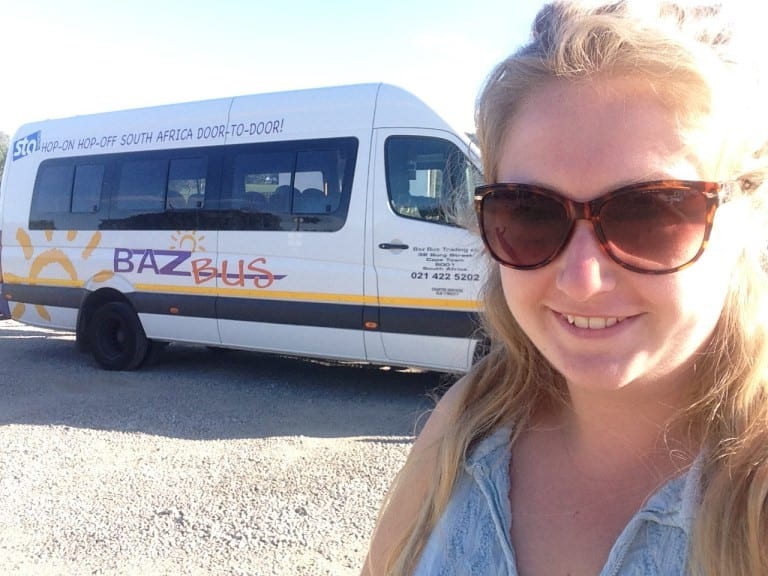 The only downside to the Baz Bus is that it runs just five days a week and you have to fit around its schedule. For a little more flexibility you might think about…
Car hires
Car hires start from £10 a day (not including petrol and sometimes with a cap on miles travelled per day) so it's cheap and cheerful option with total control to you. I didn't take this option but the general consensus was that it's worth it if there's two or more of you, but not the cheapest or most sociable option if travelling alone.
Local buses
TransLux, Greyhound and City to City Bus are cheaper than the Baz Bus by about half. You'll meet fewer backpackers on them and they may drop you at out-of-town bus stations that require you to take taxis to your accommodation, unlike the Baz Bus which will drop you at your door. As a solo female, I preferred the security of the Baz Bus but those who travelled by local bus said the services did the job for a cheaper price.
What to budget for the Garden Route
A month along the Garden Route only cost me R13,000 (£800) including everything. Hostels were around R170 (£10) a night though as I travelled just out of season there were some nights as cheap as R130 (£8). You can eat in mid-range restaurants for under R100 (£5-6) and cook supermarket food in hostels for even cheaper.
There are a lot of free activities like hiking and visiting beaches however I would say my time was so inexpensive because I didn't do many activities on this stretch. Budget more for things like skydives, bungee jumps or rafting.
Will you get culture shock?
Nope. The Garden Route is touristic and Westernised. Don't walk around at night anywhere in South Africa but do explore alone in the daytime – apart from around townships which are areas of shanty housing where poverty and crime levels are high. They're usually out of the town centre so you don't need to worry about accidentally strolling into one.

South Africa is a fantastic country full of friendly locals and lots of other tourists. The Garden Route is a spectacular place to travel – so enjoy!
Going further than the Garden Route?
Keep travelling east along the 'Wild Coast' and you'll reach Jeffrey's Bay (a chilled surfing spot), Hogsback (a hippie town in the mountains that inspired the Lord of the Rings books), Coffee Bay and Port St Johns (two beautiful beach areas with lots of hikes) and Durban (the country's second-largest city).
If you have the time I would recommend this region. As I mentioned, the Garden Route feels Western and touristic whereas further east I felt I experienced more of a culture contrast and a better-rounded view of South Africa. A pass all the way to Durban is available on the Baz Bus.
Thanks for reading!
If you liked it, please share it 🙂
Check out my other South Africa posts:
See you next time for more adventures,
Rose