This post may contain affiliate links to things like tours, hotels, Amazon associates and products. These help me earn a small commission at no additional charge to you.
San Miguel de Allende is a charming city in Central Mexico known for its crafts markets and colonial architecture. It's located in the eastern part of Guanajuato state. In this guide, I'll explain how to get to San Miguel to Allende, what to do, where to stay and, most importantly (to me anyway), where to eat and drink.
Why should you visit San Miguel de Allende?
If you've just visited Mexico City, you'll probably be craving peace and quiet. San Miguel de Allende has exactly that: cobbled streets, charming buildings, and almost empty backstreets. Throw in centuries of history and shopping opportunities in the form of galleries, boutiques and craft markets and, well, you're on to a winner!

During my solo travels in Mexico, I spent two days in San Miguel. Here's what you need to know…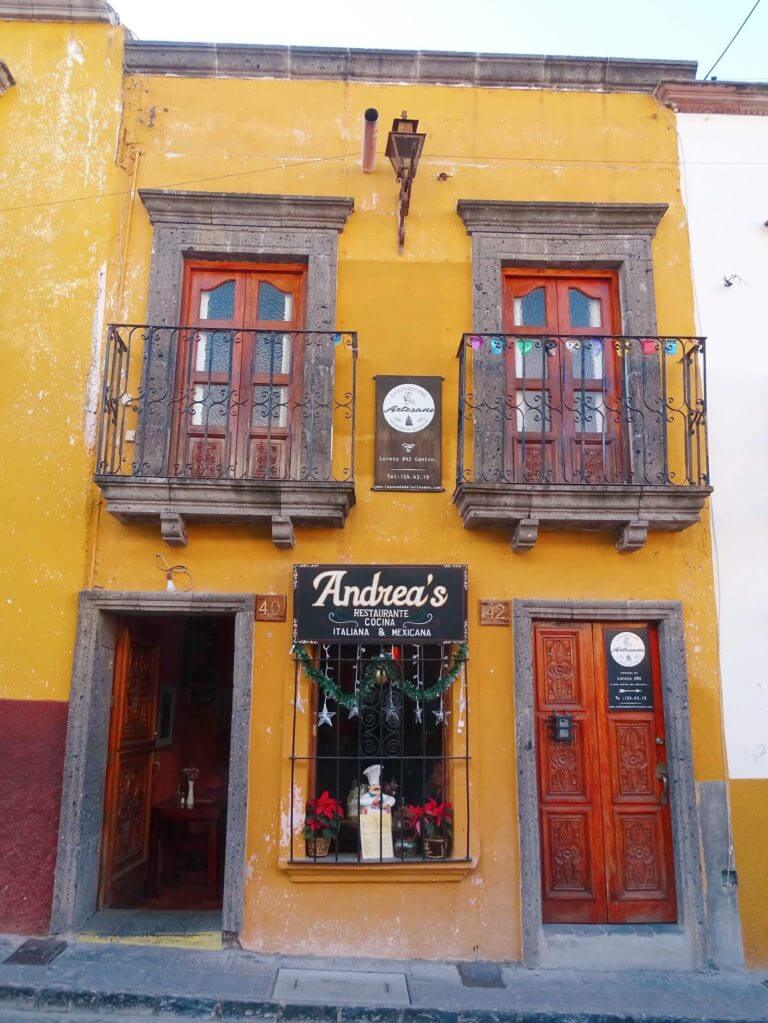 SAN MIGUEL QUICK LINKS

Accommodation: Booking.com / Hostelworld

Copy of Lonely Planet Mexico / Mexican Spanish Phrasebook

Activities: GetYourGuide
How to get to San Miguel de Allende
San Miguel isn't difficult to visit but there are a few options. You have the option of visiting as part of a tour from Mexico City or visiting independently.
In a rush? Pin this for later on Pinterest.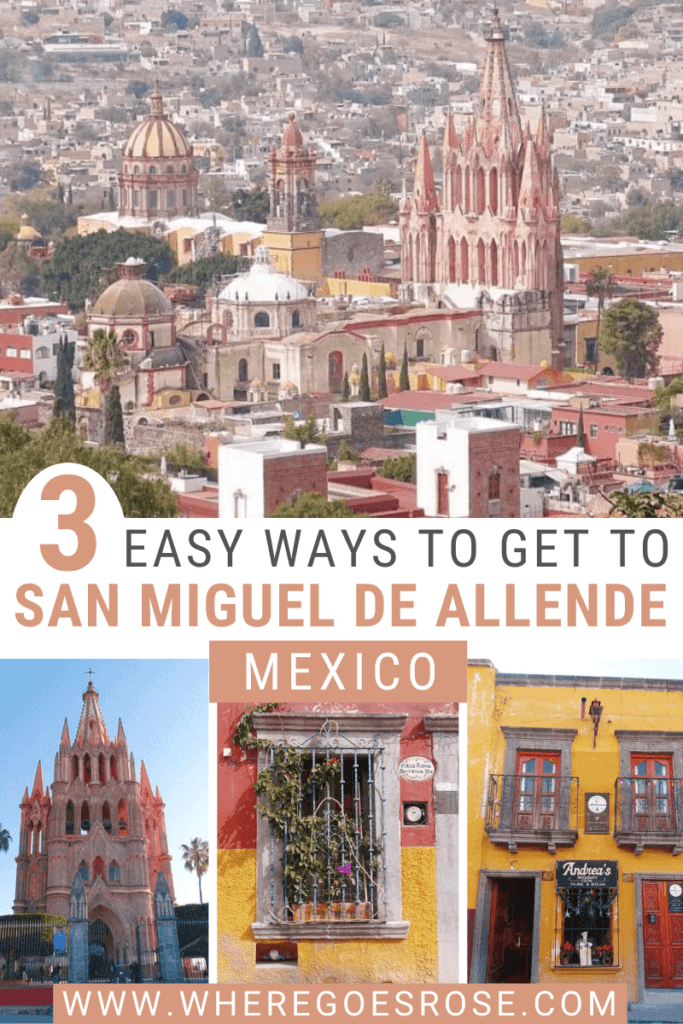 Visiting San Miguel de Allende by day tour
As an independent traveller with a flexible schedule, this wouldn't be the option for me. But if you don't fancy organising this trip yourself, or perhaps you're on too tight a schedule to stay overnight, it's possible to visit San Miguel as a day trip from Mexico City.

Tours typically take 12 hours from start to finish, including transport, a guided tour and free time to explore at your leisure.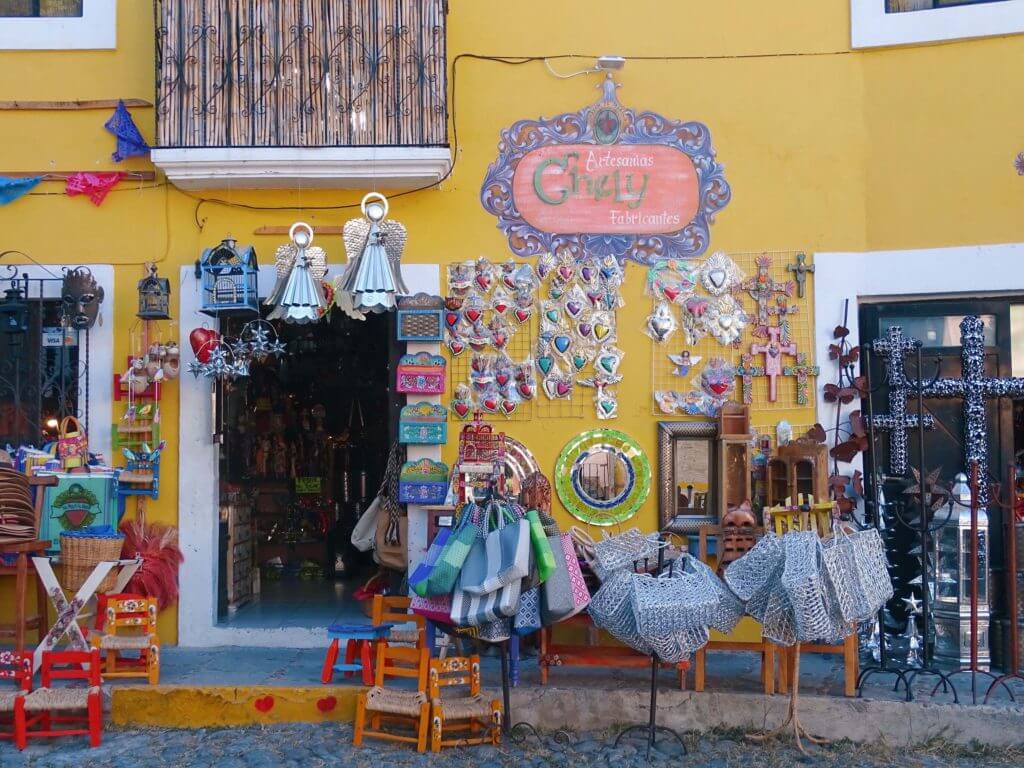 How to get to San Miguel de Allende independently
To explore the city independently, it's best to stay overnight and spend as long as you want exploring. This gives you increased flexibility and allows you to eat even more food during your trip! You have a few options…
Getting to San Miguel de Allende by bus
This is the option I took. I was arriving from Mexico City but you can catch a bus from numerous other Mexican cities.

Getting to San Miguel de Allende from Mexico City by bus: The journey from Mexico City takes 4 hours, departing Central del Norte (CDMX's north bus station) and arriving into Central de Autobuses in San Miguel de Allende. From here, you can catch a local bus, taxi or even walk to the city centre. Book tickets on CheckMyBus.

Where next? I would also recommend visiting colourful Guanajuato city before or after San Miguel de Allende. If travelling from San Miguel to Mexico City (or the other way around), you can stop off in Santiago de Queretaro, the capital of Queretaro state and a base to visit Queretaro wine region!
Getting to San Miguel de Allende by air
The nearest airport is Guanajuato International Airport (BJX), a 1.5-hour drive from San Miguel de Allende. Flights connect to other Mexican cities including Mexico City, Tijuana, Cancun, Merida and Monterrey for as little as $20.

You can also fly to and from the US with flights starting at $100. Direct flights operate between LA, Dallas, Houston, Chicago, Vegas, Detroit, San Jose, Oakland and Sacramento.

To get from BJX to San Miguel de Allende, catch a direct shuttle in 1.5 hours (from $25), drive or catch a taxi. Expect to pay around $50 / 1,000 pesos for the latter.

Book your BJX to San Miguel taxi in advance.
Want to hire a car in Mexico? Use Rentalcars.com to compare prices.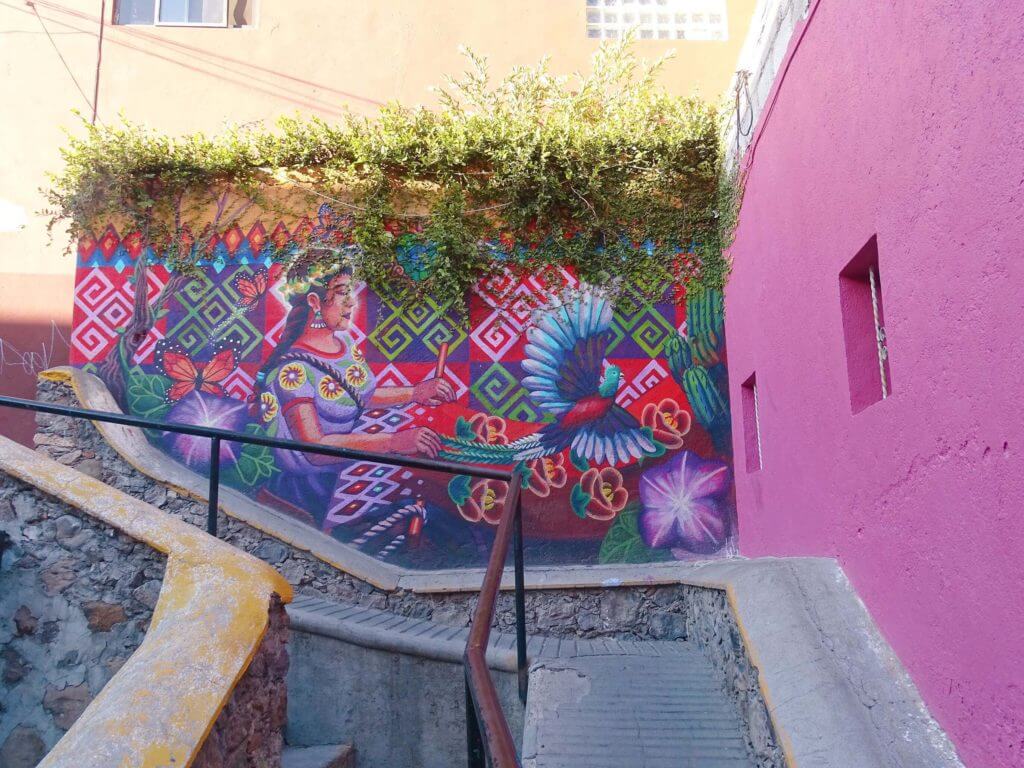 Getting to San Miguel de Allende – other airports
Queretaro Airport (QRO) – although flights into BJX are usually cheaper, you can also arrive into QRO. It's an hour's drive to San Miguel de Allende. Shuttles start from $25 and taxis are around $100.

Finally, you could fly into Mexico City Juarez Intl (MEX) airport and follow the steps above to get to San Miguel de Allende.
How to get around in San Miguel de Allende
Walk – the best way to get around in San Miguel is on foot. The twisty-turny alleyways would be a nightmare in a car! Saying that, you'll need a basic level of physical fitness as there are lots of hills.

Car – this might be a good way to get to San Miguel but it's not the best way to sightsee. It's a small, pedestrian-friendly city.

Taxi – these will take you anywhere in San Miguel for around 50 pesos. To go further afield, arrange a price in advance. There are a couple of Ubers in San Miguel but the drivers are often busy as there's so few of them.

Bike – hire a cycle or take an organised bike tour into the countryside Prices start from 500 pesos per day at Bici-Burro Bike Tours.
How long to spend in San Miguel de Allende
This depends on how long you want to spend relaxing and also whether you're keen to visit the hot springs. If you're on a faster-paced Mexico itinerary and want to see as much as possible, a day is enough.

If you have time to kill, spend two days. Soak up the vibe and enjoy the city. SM is surrounded by natural hot springs which can be visited on day two of your trip.

For the perfect San Miguel de Allende itinerary, I would recommend one day seeing the city and one day relaxing in the hot pools.

Either way, 1-2 days is perfect. After that, you might run out of things to do.
Why is San Miguel an expat hub?
Before I discuss what to see and do in San Miguel, there's one other thing to mention… Its surprisingly large expat population.
It's predicted that 10% of San Miguel's 125,000 population is made up of expats, predominantly American and Canadian retirees. When you walk the charming backstreets, you'll certainly see why they want to live here!

For this reason, you'll feel a Western presence and see a lot of English menus in San Miguel de Allende. To me, this didn't sound the most cultural or appealing trait. But during my trip, I observed the expats chatting to locals in Spanish (or at least trying their best) and being friendly and respectful.

Although it's not the most authentic travel destination in Mexico, it has a good vibe.
Where to stay in San Miguel de Allende
Hostel – I stayed at La Catrina which is a colourful hostel great for meeting other travellers. Book from $10 a night.

Budget hotel – Casa Lool Beh. Book from $25 a night.

Luxury option – Posada de la Aldea. Book from $65 a night.

Self-service apartment – Suites Santo Domingo. Book from $45 a night.

Browse all San Miguel hotels and apartments on Booking.com.
What to do in San Miguel de Allende
San Miguel isn't packed with weeks worth of activities. Your itinerary will be much slower-paced than any Mexico City itinerary! But that's no bad thing; there's enough to keep you occupied during a couple of days exploring.

While wandering the colourful backstreets, you'll stumble across lots of cute boutiques, galleries, coffee shops and 'grammable doorways and window baskets.

For more specific activities, check out the following things to do in San Miguel de Allende…
Mercado de Artesanías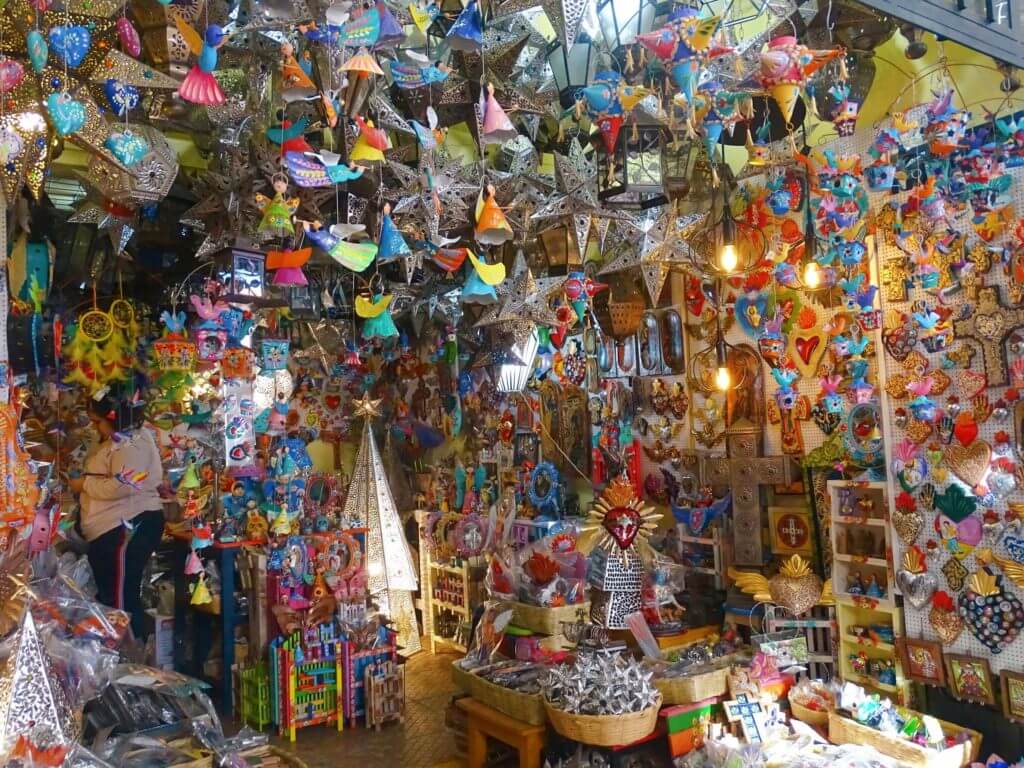 Whether you're looking for jewellery, clothing, rugs, cushions, souvenirs or art, you're likely to find it at Mercado de Artesanías.

This colourful crafts market sprawls into the streets and through a covered section. When I visited in mid-December, it was overflowing with Christmas ornaments and decorations.
Parroquia de San Miguel Arcángel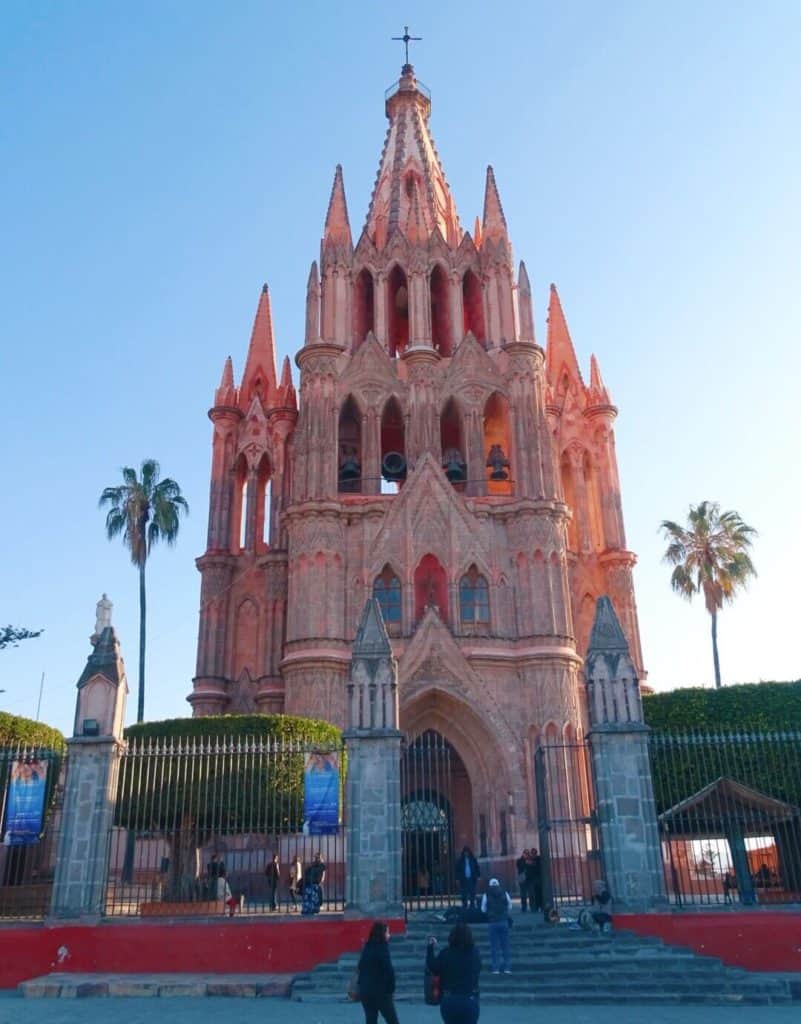 An enormous church is the prominent centre point of many Mexican towns and cities. Parroquia de San Miguel Arcángel is one of the most photographed churches in Mexico thanks to its pinkish hue and gothic 'wedding cake' towers.

It was designed by a self-taught indigenous architect Zeferino Gutierrez. He used European gothic churches as his inspiration but experts would probably tell you it's an imaginative reconstruction rather than an accurate one.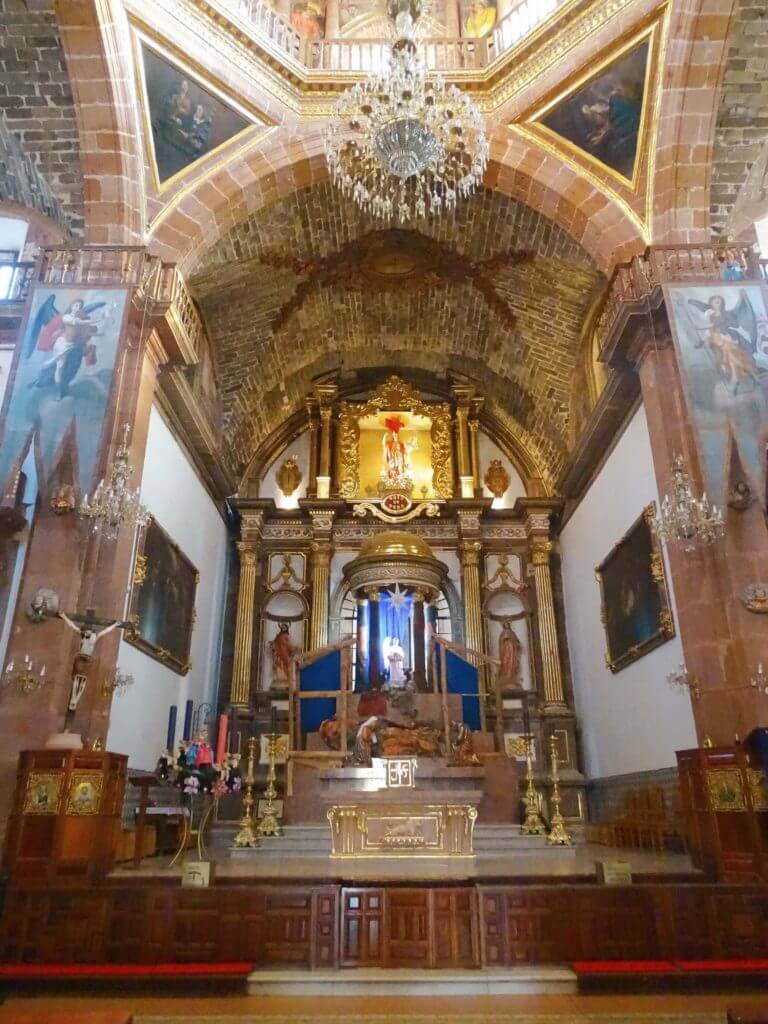 Parroquia de San Miguel Arcángel was built in the 17th century. I suspect Plaza Allende (the central square) hasn't changed much to this day. The Jardin Principal (main garden) in front is a lovely place with cafes spilling out into the square.

It's worth noting the restaurants here serve world cuisine at inflated prices but no bother, you can find authentic cuisine elsewhere as I'll discuss later.
El Mirador (viewpoint)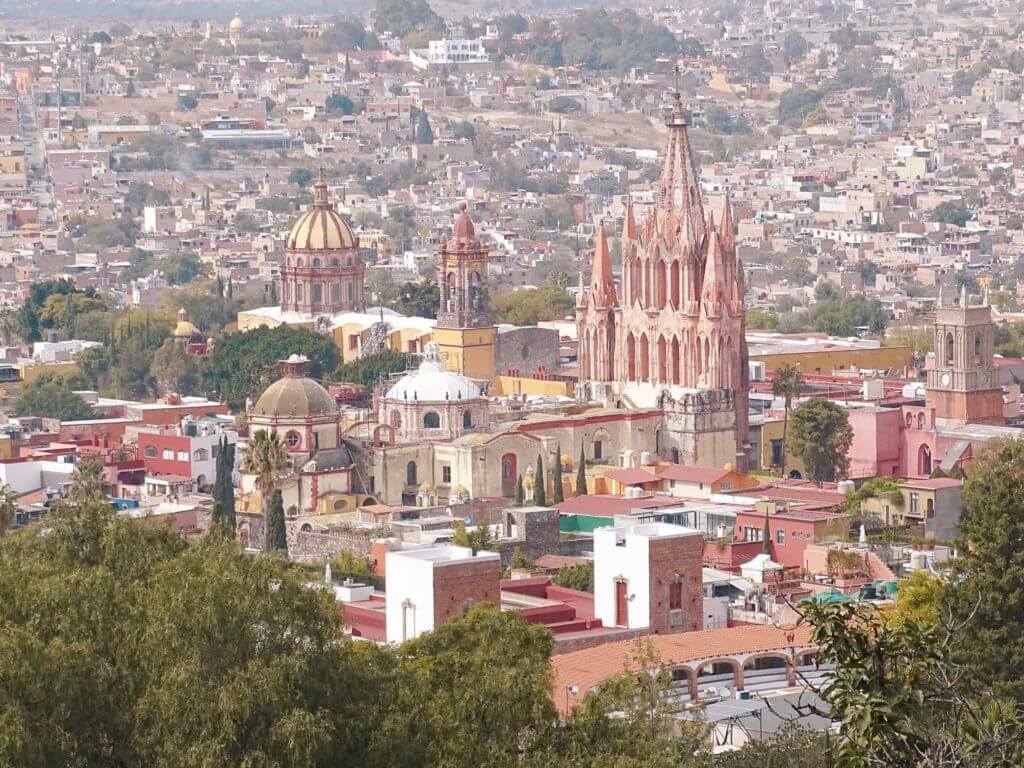 If there's one thing you shouldn't miss in San Miguel de Allende, it's the iconic views from El Mirador. Like most worthwhile views, a little effort is required. The 20-minute walk from the city centre to El Mirador is a hilly one up cobbled backstreets.
While you could persuade a taxi driver to whiz you to the top for a handful of pesos, you'd miss countless photo opportunities along the way. I stopped many times (partly because I was panting) to snap 'grammable doorways, window boxes overflowing with flowers, and quirky, intricate door knockers.
Once you reach El Mirador you'll be rewarded with views out over San Miguel de Allende. It looks like a toy town from above, especially with its colourful buildings and wedding cake-style church.
Chocolate stuffed churros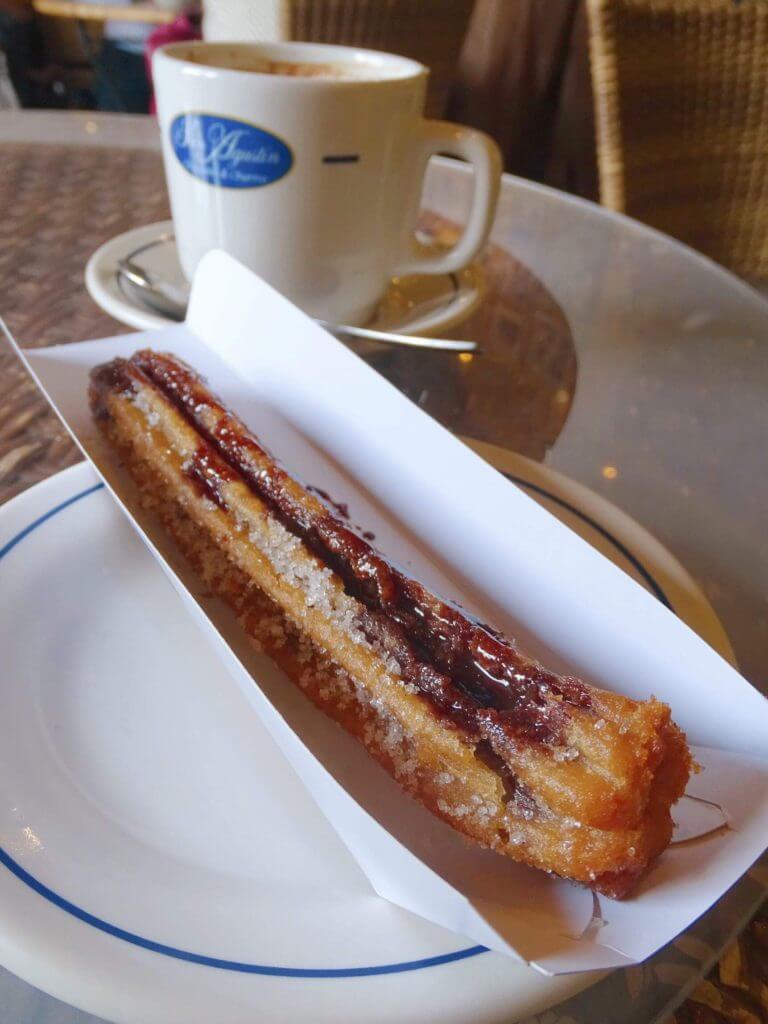 Don't miss churros at Chocolates y Churros San Agustín. Google this place and you'll be greeted with numerous TripAdvisor reviews proclaiming them the 'best churros in the world'. I can't disagree!

The speciality is churros relleno (stuffed churros). You can choose between chocolate, cajeta (Mexican caramel) or rompope (Mexican eggnog). Alcoholic churros? Well, why not!

The hot chocolate is muy delicioso. Choose between Spanish chocolate with espresso; Mexican chocolate with cinnamon; indulgent white chocolate; or iced chocolate.

Upgrade to a paquette deal for 50 pesos including a drink and three classic churros or one stuffed churro. I'd recommend a sugary feast of sweet Mexican hot chocolate and a chocolate-stuffed churro to dip.
Ignacio Ramírez Market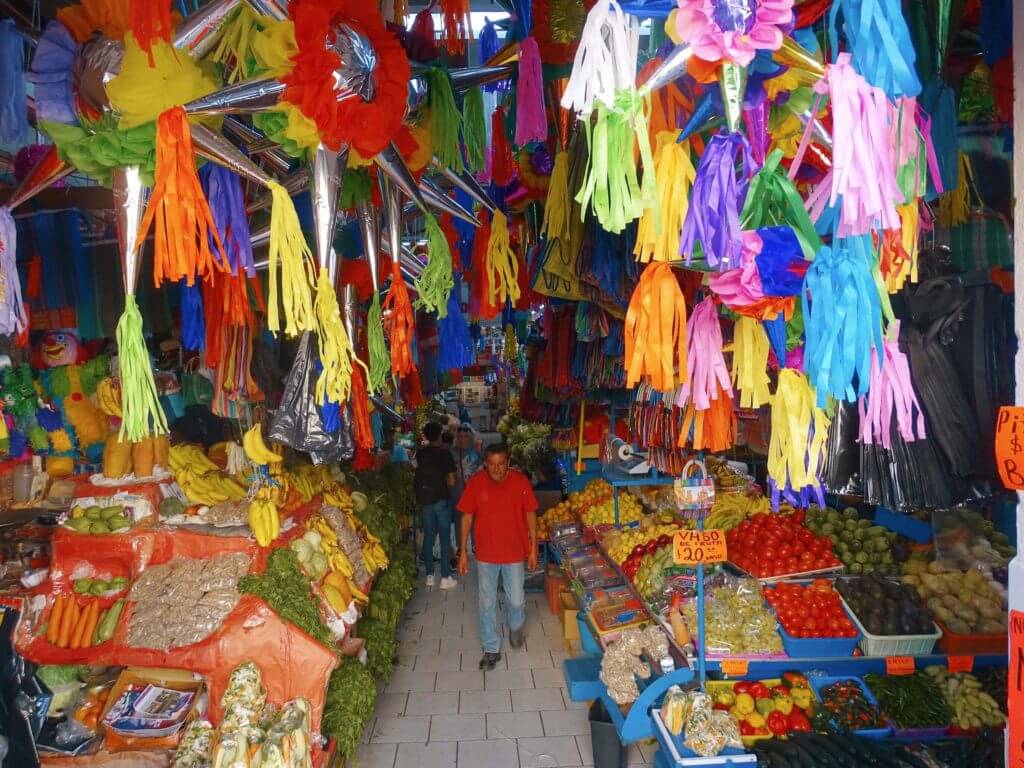 While the artisan markets in San Miguel are fantastic, nothing beats hunting for food in an authentic, bustling Mexican market.

Ignacio Ramírez Market in the centre of town is the place to shop for tacos, tortas, fresh fruit and veg, flowers, piñatas and other Mexican decorations. It's an atmospheric place to stumble through and snap photos even if you're not stopping for lunch.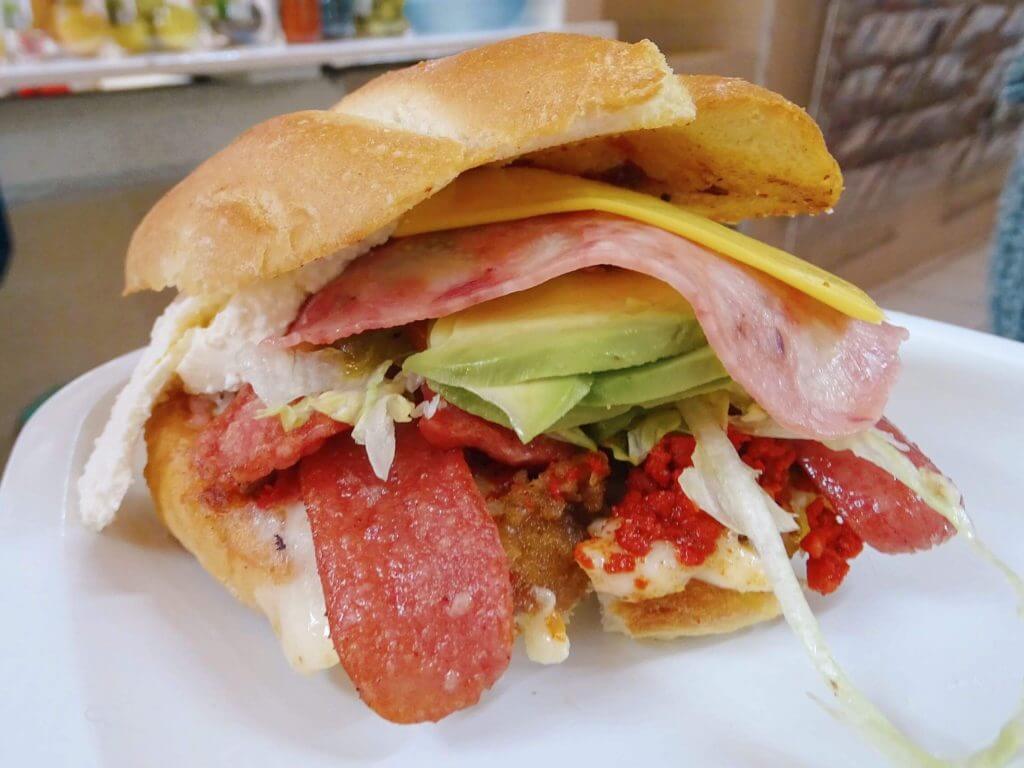 Here, I ate this obscenely large torta. It was stuffed with three types of cheese, ham, sausage, chorizo, avocado, chipotle and salad. Honestly, I was defeated, I think I should have ordered a two-ingredient torta instead! I paid 80 pesos. I suspect prices are lower at out-of-town markets that the tourists don't know about.
Hot Springs around San Miguel de Allende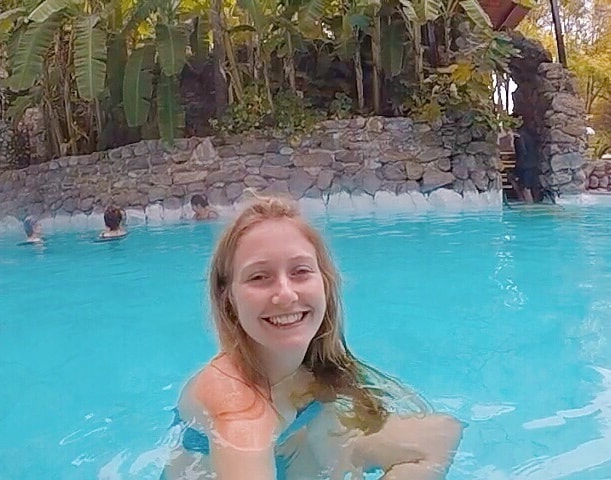 I had no idea there were natural thermal springs surrounding San Miguel de Allende. After arriving at the central bus station, I shared a taxi into town with a lady from the bus who told me her sole reason for visiting San Miguel de Allende was the hot springs.
They sounded amazing so I began researching my visit. There are a few different springs to visit but one of the most popular is La Gruta Spa. There are several outdoor hot pools and even a cave with mini rapids. They also have changing areas and lockers.
Getting to La Gruta Spa, San Miguel de Allende
Driving: Set your satnav to La Gruta Spa, A Dolores Hidalgo km 10, 37893 El Cortijo, Gto., Mexico. The drive should take 15 minutes.

Uber/taxi: We hailed an Uber there but on leaving the spa, discovered we were out of Uber range. I imagine you could arrange a price with a driver to include waiting time.

Bus: Taking the local bus is easy and cheap – we paid 11 pesos per person on the way back. Ask the driver to tell you when to get off or have Google Maps open to check. On the way back, the bus stop is just 100 metres from La Gruta Spa on the same side of the road (turn right when leaving the spa).

Tips for visiting La Gruta: Entrance is 90 pesos per person which doesn't include a towel so make sure to bring your own, as well as your bathing suit. There are lockers for your valuables.
Doors, windows and door knockers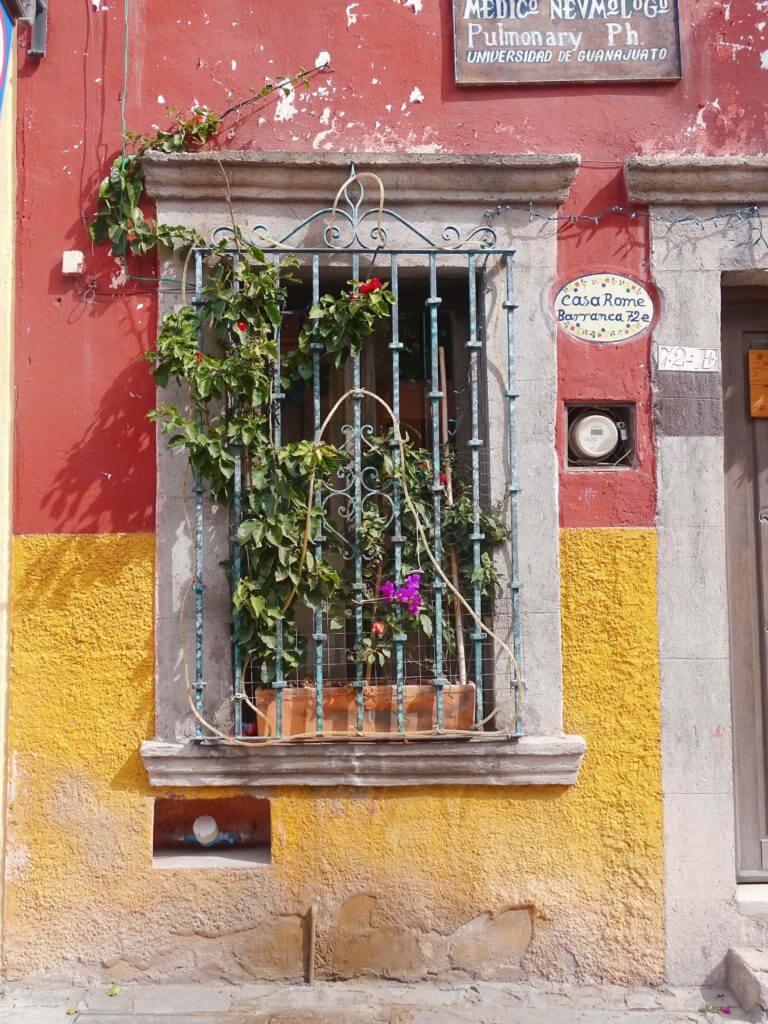 Is it weird that the door knockers were my favourite thing about San Miguel de Allende? I became slightly obsessed with finding the most unusual ones which included owls and human hands.

The pastel-coloured buildings, doorways and windows in San Miguel de Allende are all different. Exploring the backstreets is a fun way to spend half a day. You never know what you'll find!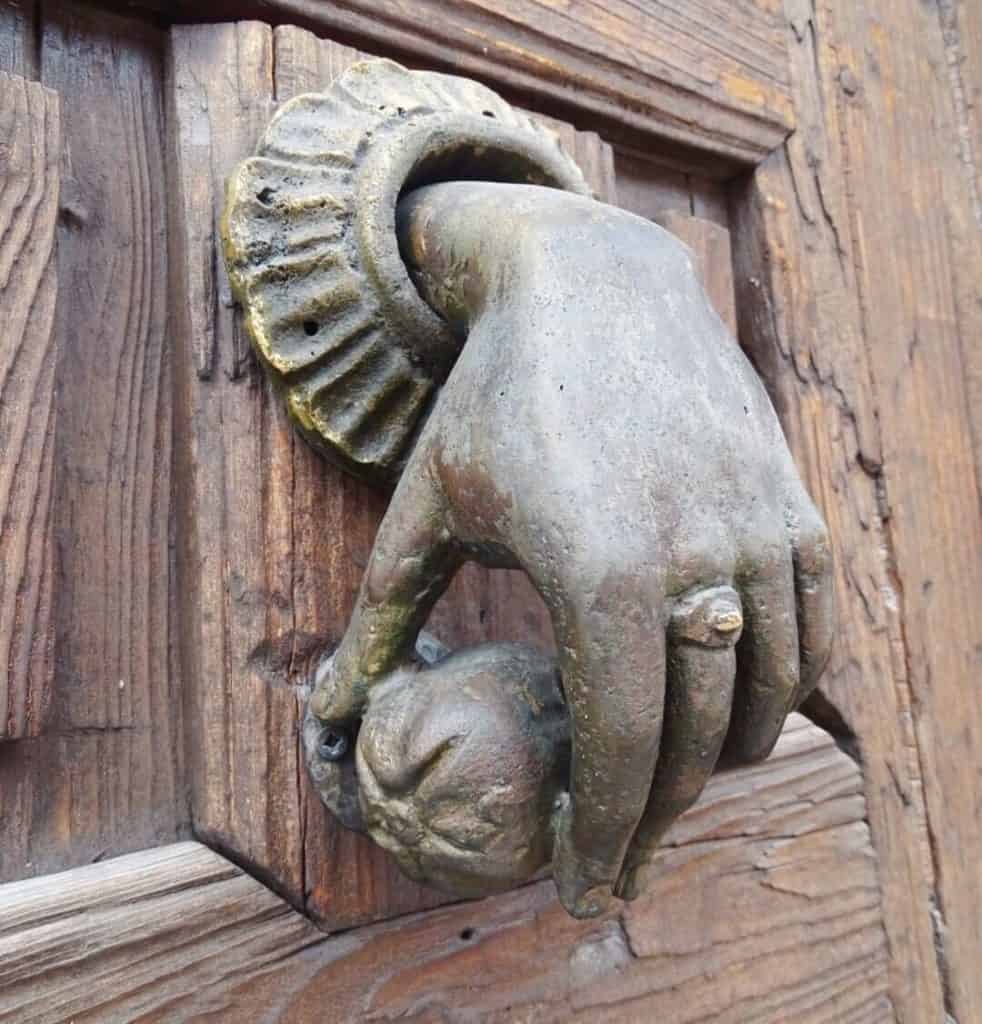 Where to eat and drink in San Miguel de Allende
El Cafe de la Mancha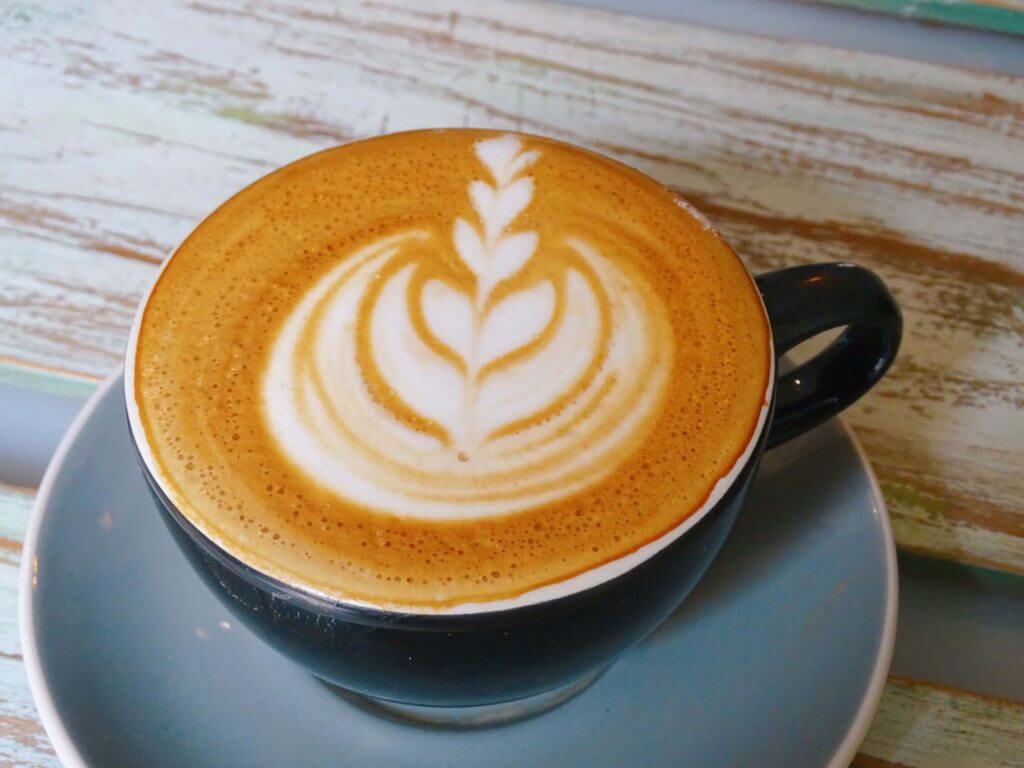 Start your day in San Miguel de Allende by sipping a perfect flat white at El Cafe de la Mancha. This cafe inside a sunny yellow building will please even the biggest coffee snob (I would know as that is me!). They serve all kinds of hot coffees, cold brews and custom infusions.

The food at El Cafe de la Mancha is also worth trying. These bacon chilaquiles served with a fried egg and frijoles brought the phrase 'England meets Mexico' to mind. Prices are high for Mexico but far cheaper than similar restaurants in the Condesa or Roma neighbourhoods of Mexico City.
If you don't know chilaquiles yet, check out my guide to the best Mexican foods to try!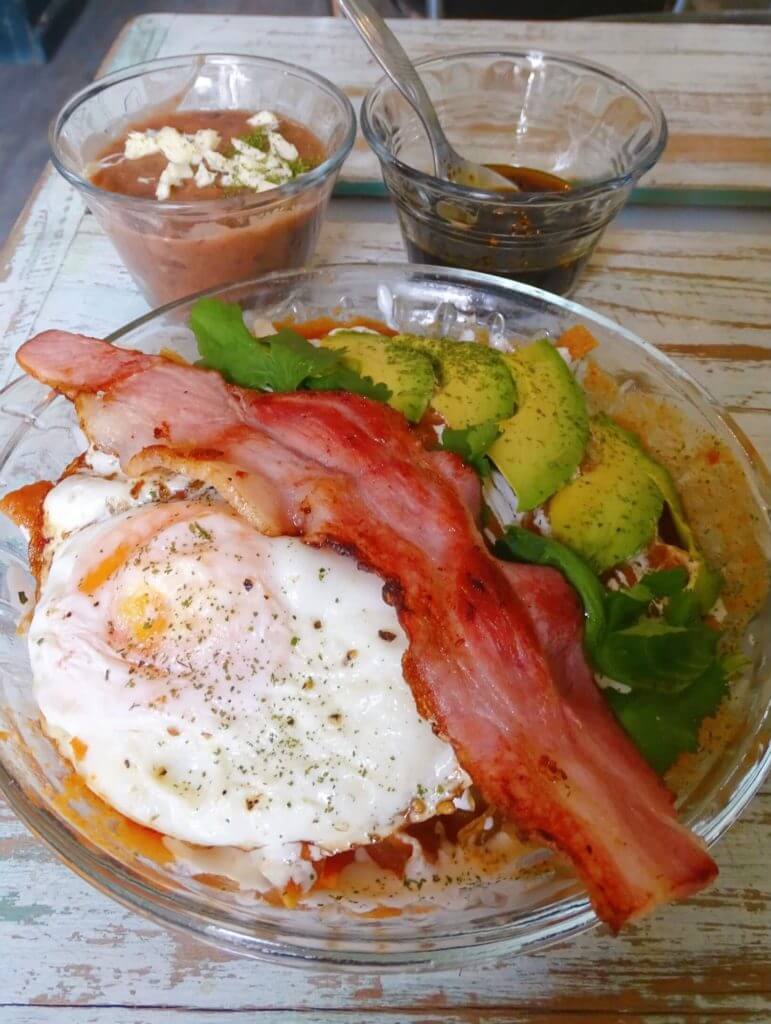 Baja Fish Taquito
I love fish tacos, found everywhere in Mexico even away from the coast. Baja Fish Taquito in central San Miguel de Allende serves tacos, tostadas and burritos with pescado (fish), camaron (shrimp), ceviche and more.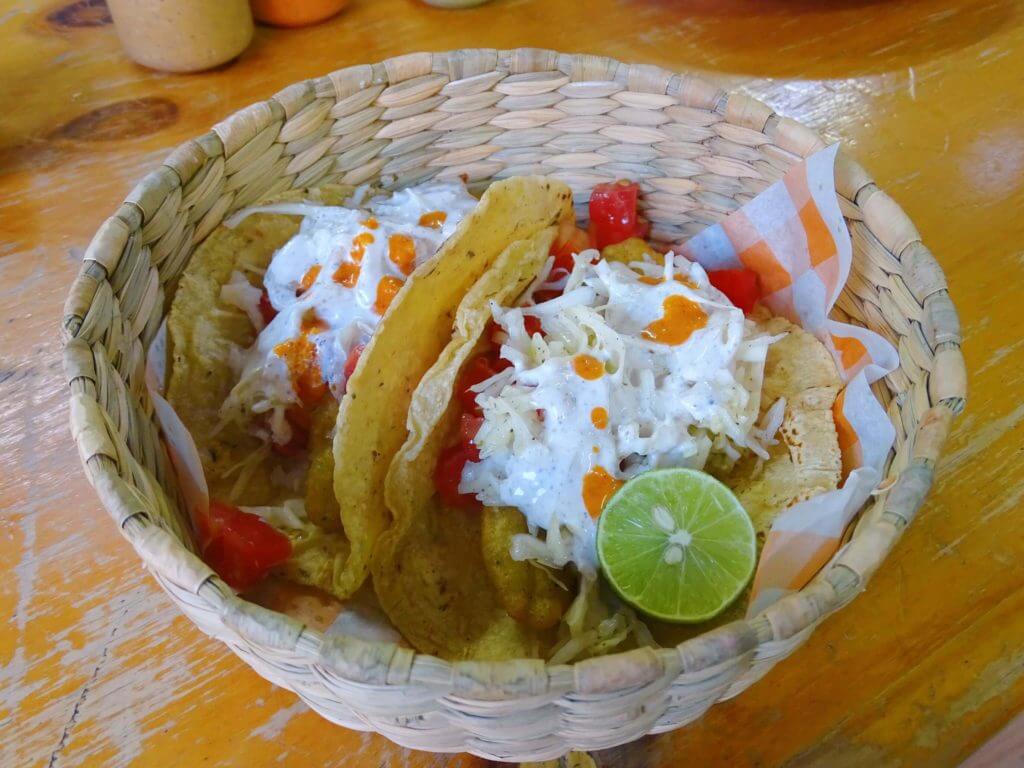 I went for fish tacos served in a basket and topped with coleslaw, chilli sauce and a squirt of lime.

Don't miss the mistake I made by eating downstairs in Baja Fish Taquito. After checking the Instagram tag when I got home, I realised I'd missed the sunny terrace upstairs with views over the city.
Tamales, gorditas and atole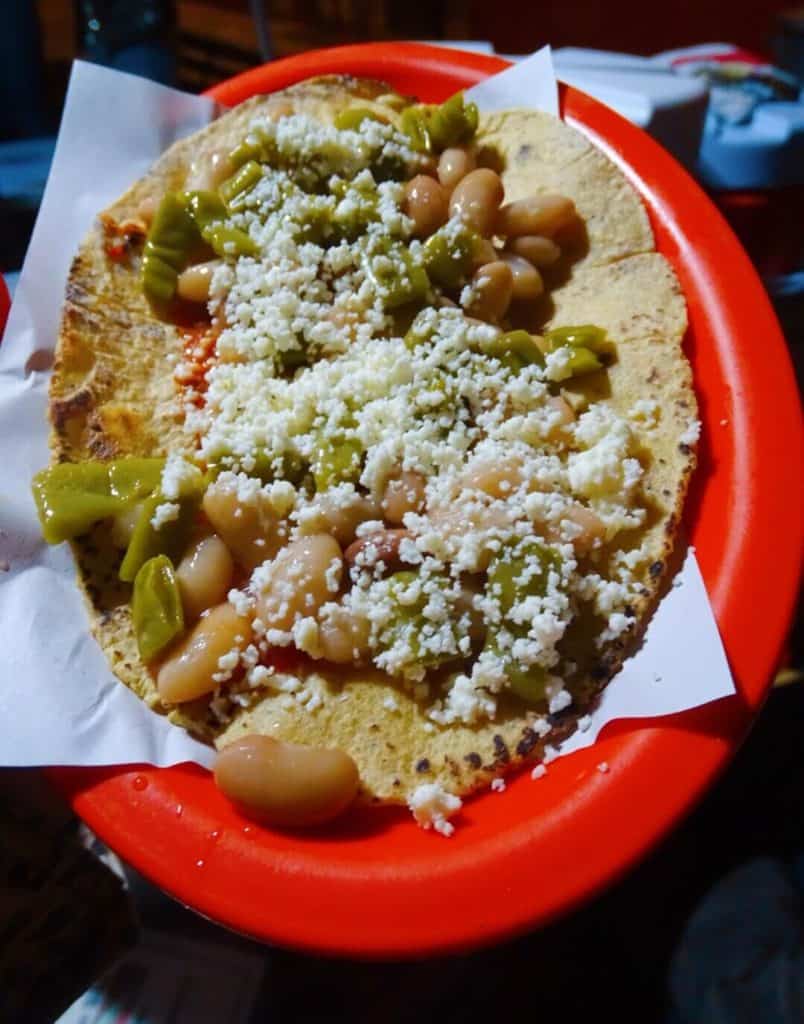 Set your Google Maps to Doña Chelo beside Jardín de Zaragoza for some of the best street food in town. Here you can eat tamales (a prehispanic Mexican dish comprising steamed corn dough, salsa and meat served inside a corn husk) as well as gorditas and huaraches, corn-based snacks topped with beans, cheese and nopales.

Eat these dishes perched on a plastic stool rubbing shoulders with the locals. Wash your dinner down with a cup of atole, a warming drink made from corn and flavoured with chocolate or guava. Expect to pay less than 50 pesos for dinner.
Tacos San Francisco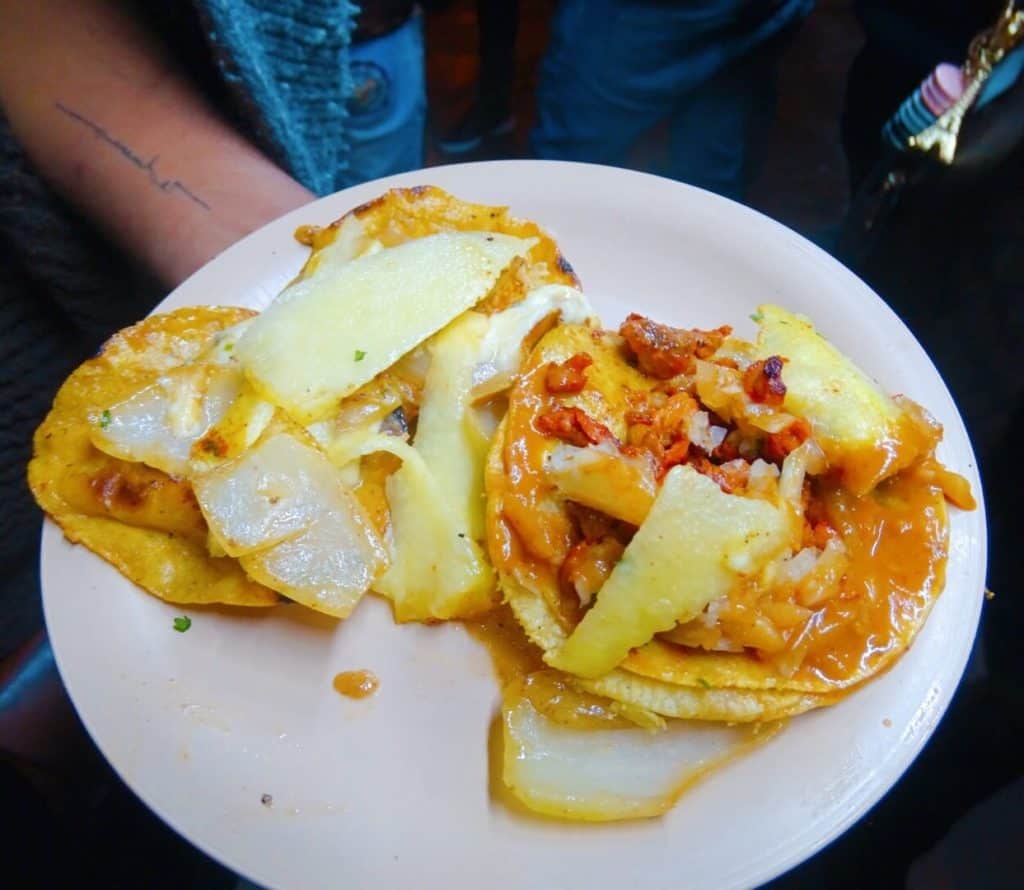 Gourmet food lovers, avert your eyes now!

Some of the best tacos in San Miguel de Allende are served at Tacos San Francisco, a busy food truck in Zona Centro. Don't expect any frills but do expect meaty tacos fresh off the trompo for 15 pesos. Use the salsas to make them as spicy as you want.
Vegan tacos at Don Tequila Taco
I didn't personally dine at Don Tequila Taco but I heard great things about the vegan tacos and margaritas. You definitely won't pay 15 pesos for tacos here – it's a slightly more upmarket late lunch or dinner option, opening at 2pm daily.
San Miguel de Allende safe?
For many years, San Miguel has been regarded as one of Mexico's safest cities.

Just take the normal precautions you would anywhere, not leaving your bag unattended or walking alone at night. I spent several days while travelling solo in Mexico and felt perfectly secure.
Read next: my solo travel guide to Mexico
However, those wondering is San Miguel safe? might note that, since 2020, crime has been on the rise. This has resulted in the odd outbreak of violent crime, not aimed at tourists. As ever, you can check on the current status on your government website.
San Miguel packing list
VISITING MEXICO?
These are my trusted resources:

Getting around by air – the quickest (and often cheapest) way to travel between Mexican cities is by flight. I use Skyscanner to find the best-value flights, using the 'search by month' tool to find the cheapest dates. You can also use the 'to anywhere' feature if you're flexible on where you're going.

Getting around by bus (environmental option) – buses in Mexico are comfy with free snacks and an in-journey entertainment system. I use Busbud to find the best prices.

Driving in Mexico – use Rentalcars.com to compare car rentals in Mexico (and all around the world).

For hotels in Mexico, I use Booking.com – they also have self-catering apartments. You can filter by review score and price to find the best-rated budget places. For hostels, I use Hostelworld.com.

To save money on accommodation, I use Trusted Housesitters, a website that connects homeowners going away and travellers who can sit their homes & pets.

Browse Mexico tours and activities on GetYourGuide. I also check Viator as they often have fun & unique tours.

For Mexico food tours with passionate local chefs and foodies, check out EatWith.

Need to top up your Spanish? Pack a Lonely Planet Mexican Spanish Phrasebook & Dictionary.

Need travel insurance? I use True Traveller (for UK & Europe residents) since it's affordable but covers everything you'd need including various activities, valuables and pre-existing conditions. Unlike some companies, they insure you if you're already travelling / don't yet have your flight home booked. Get a quote.

For travel insurance for other nationalities, I recommend Hey Mundo and for long-term digital nomad travellers, I suggest Safety Wing.

Check out my resources page for more travel discounts and tips!
Thanks for reading!
I hope you have a better idea of how to visit San Miguel de Allende and what to do whilst you're there!
Check out my other Mexico blogs:
See you next time,
Rose
Ps. Pin this for later!