San Miguel de Allende is a charming city in Central Mexico known for its crafts markets and colonial architecture. It's located in the eastern part of Guanajuato state. In this guide, I'll explain how to get to San Miguel to Allende, what to do, where to stay and, most importantly (to me anyway), where to eat and drink.
Why should you visit San Miguel de Allende?
If you've just visited Mexico City, you'll probably be craving peace and quiet. San Miguel de Allende has exactly that: cobbled streets, charming buildings, and almost empty backstreets. Throw in centuries of history and shopping opportunities in the form of galleries, boutiques and craft markets and, well, you're on to a winner!

During my solo travels in Mexico, I spent two days in San Miguel. Here's what you need to know…
Getting to San Miguel de Allende by bus
This is the option I took. I was arriving from Mexico City but you can catch a bus from numerous other Mexican cities.

Getting to San Miguel de Allende from Mexico City by bus: The journey from Mexico City takes 4 hours, departing Central del Norte (CDMX's north bus station) and arriving into Central de Autobuses in San Miguel de Allende. From here, you can catch a local bus, taxi or even walk to the city centre. Book tickets on CheckMyBus.

Where next? I would also recommend visiting colourful Guanajuato city before or after San Miguel de Allende. If travelling from San Miguel to Mexico City (or the other way around), you can stop off in Santiago de Queretaro, the capital of Queretaro state and a base to visit Queretaro wine region!
Getting to San Miguel de Allende by air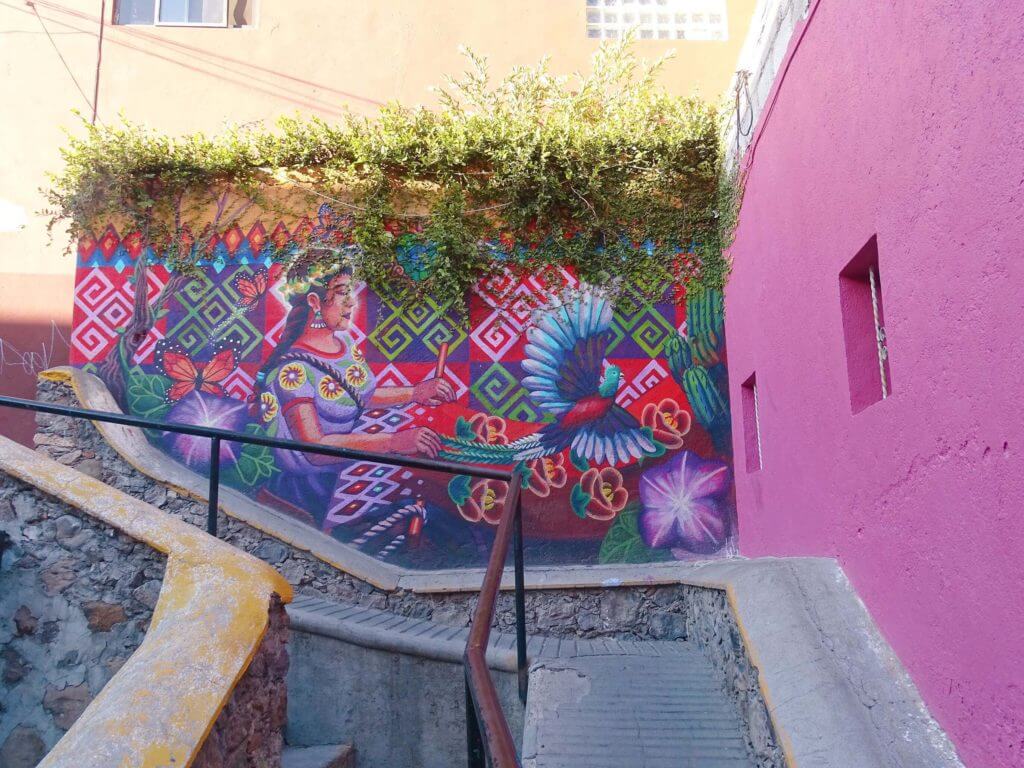 How to get around in San Miguel de Allende
Walk – the best way to get around in San Miguel is on foot. The twisty-turny alleyways would be a nightmare in a car! Saying that, you'll need a basic level of physical fitness as there are lots of hills.

Car – this might be a good way to get to San Miguel but it's not the best way to sightsee. It's a small, pedestrian-friendly city.

Taxi – these will take you anywhere in San Miguel for around 50 pesos. To go further afield, arrange a price in advance. There are a couple of Ubers in San Miguel but the drivers are often busy as there's so few of them.

Bike – hire a cycle or take an organised bike tour into the countryside Prices start from 500 pesos per day at Bici-Burro Bike Tours.
How long to spend in San Miguel de Allende
This depends on how long you want to spend relaxing and also whether you're keen to visit the hot springs. If you're on a faster-paced Mexico itinerary and want to see as much as possible, a day is enough.

If you have time to kill, spend two days. Soak up the vibe and enjoy the city. SM is surrounded by natural hot springs which can be visited on day two of your trip.

For the perfect San Miguel de Allende itinerary, I would recommend one day seeing the city and one day relaxing in the hot pools.

Either way, 1-2 days is perfect. After that, you might run out of things to do.
Why is San Miguel an expat hub?
Before I discuss what to see and do in San Miguel, there's one other thing to mention… Its surprisingly large expat population.
It's predicted that 10% of San Miguel's 125,000 population is made up of expats, predominantly American and Canadian retirees. When you walk the charming backstreets, you'll certainly see why they want to live here!

For this reason, you'll feel a Western presence and see a lot of English menus in San Miguel de Allende. To me, this didn't sound the most cultural or appealing trait. But during my trip, I observed the expats chatting to locals in Spanish (or at least trying their best) and being friendly and respectful.

Although it's not the most authentic travel destination in Mexico, it has a good vibe.
What to do in San Miguel de Allende
San Miguel isn't packed with weeks worth of activities. Your itinerary will be much slower-paced than any Mexico City itinerary! But that's no bad thing; there's enough to keep you occupied during a couple of days exploring.

While wandering the colourful backstreets, you'll stumble across lots of cute boutiques, galleries, coffee shops and 'grammable doorways and window baskets.

For more specific activities, check out the following things to do in San Miguel de Allende…
Mercado de Artesanías
Parroquia de San Miguel Arcángel
El Mirador (viewpoint)
Chocolate stuffed churros
Ignacio Ramírez Market
Hot Springs around San Miguel de Allende
Getting to La Gruta Spa, San Miguel de Allende
Driving: Set your satnav to La Gruta Spa, A Dolores Hidalgo km 10, 37893 El Cortijo, Gto., Mexico. The drive should take 15 minutes.

Uber/taxi: We hailed an Uber there but on leaving the spa, discovered we were out of Uber range. I imagine you could arrange a price with a driver to include waiting time.

Bus: Taking the local bus is easy and cheap – we paid 11 pesos per person on the way back. Ask the driver to tell you when to get off or have Google Maps open to check. On the way back, the bus stop is just 100 metres from La Gruta Spa on the same side of the road (turn right when leaving the spa).

Tips for visiting La Gruta: Entrance is 90 pesos per person which doesn't include a towel so make sure to bring your own, as well as your bathing suit. There are lockers for your valuables.
Where to eat and drink in San Miguel de Allende
El Cafe de la Mancha
Tamales, gorditas and atole
Tacos San Francisco
San Miguel de Allende safe?