This post may contain affiliate links to things like tours, hotels, Amazon associates and products. These help me earn a small commission at no additional charge to you.
Joining Cape Town, Manchester, London and Vienna as some of my favourite colourful locations, enter the Glasgow street art!

I'm not going to lie, the street art was one of the key reasons I was excited to visit Scotland. I discovered loads of other things to do in Glasgow but beforehand, all I'd researched was the colourful art.

With various factories and derelict buildings needing a facelift, Glasgow has done what many cities have recently and utilised street art in their gentrification process.

As I do whenever I explore street art, I've compiled the pieces into a blog to help you find them, too.
Read next: how to spend a perfect weekend in Glasgow
Glasgow street art guide
High Street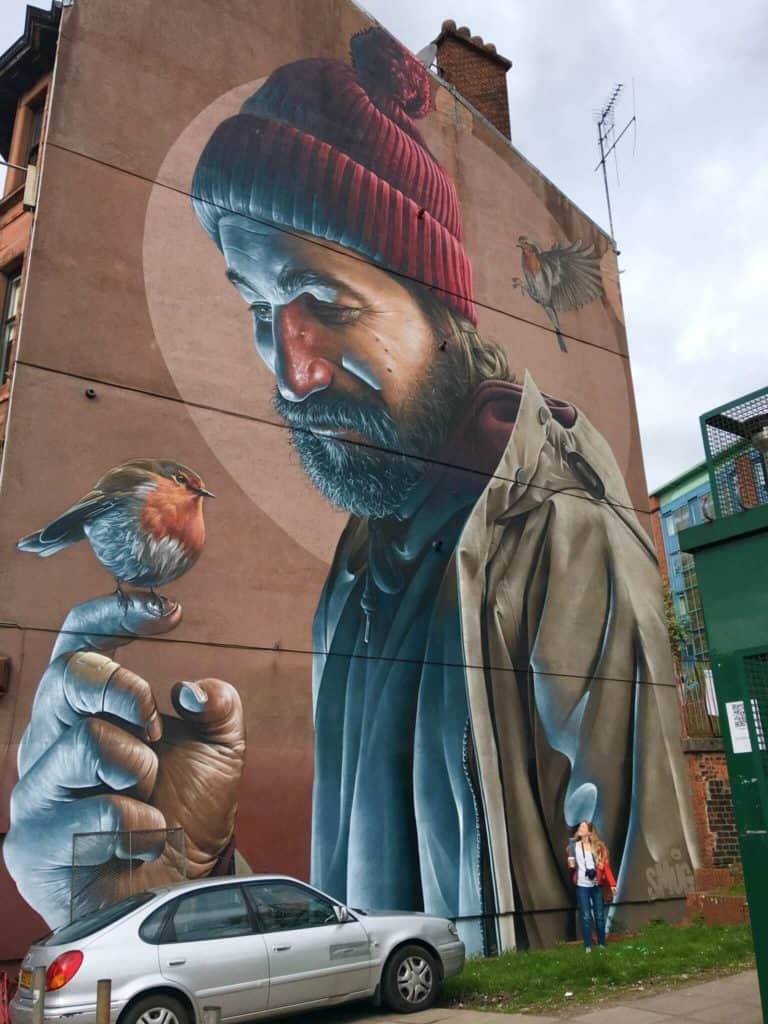 The first piece of Glasgow street art I spied was probably my favourite. It depicts who I think may be a homeless man feeding the robins.

This work was completed by Australian artist, Smug. The level of detail is completely mind-blowing especially when you get up close.

Location: 287 High St, Glasgow G4 0QS.
Wilson Street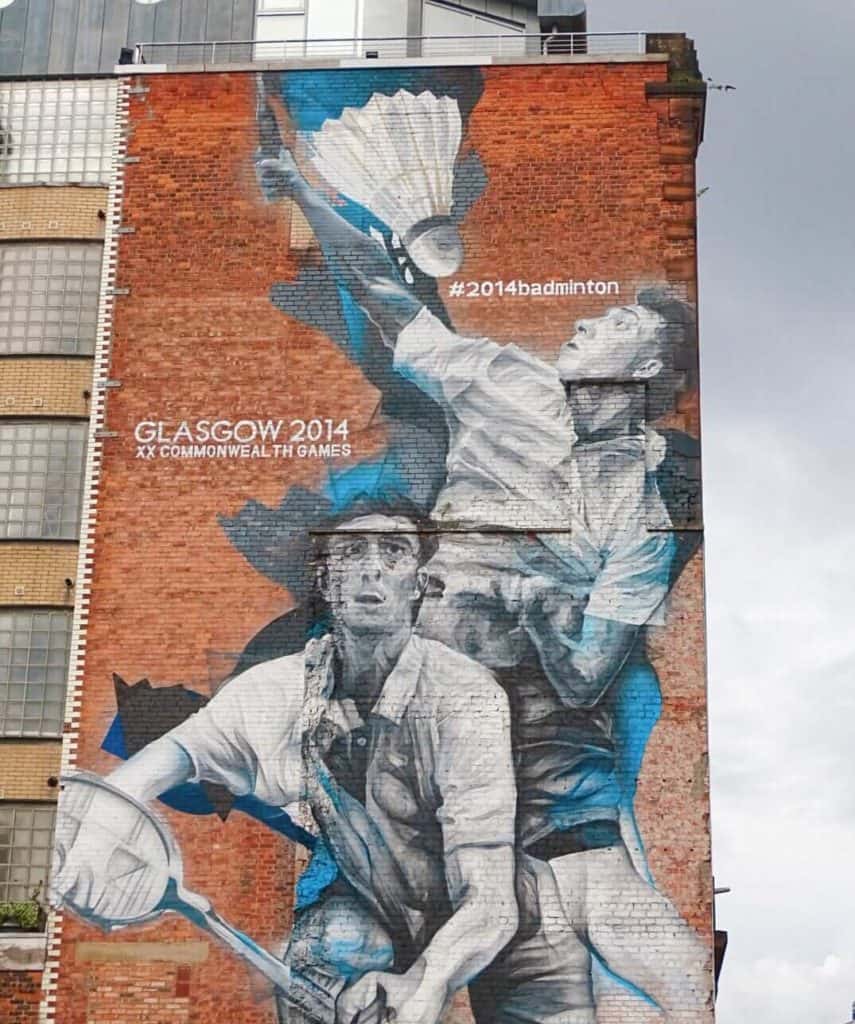 This badminton-inspired piece of street art was completed for the 2014 Commonwealth Games. It's also right beside Wilson Street Pantry, one of the best brunch spots in the city – just sayin'!

Location: 22 Wilson St, Glasgow G1 1SS.
Mitchell Street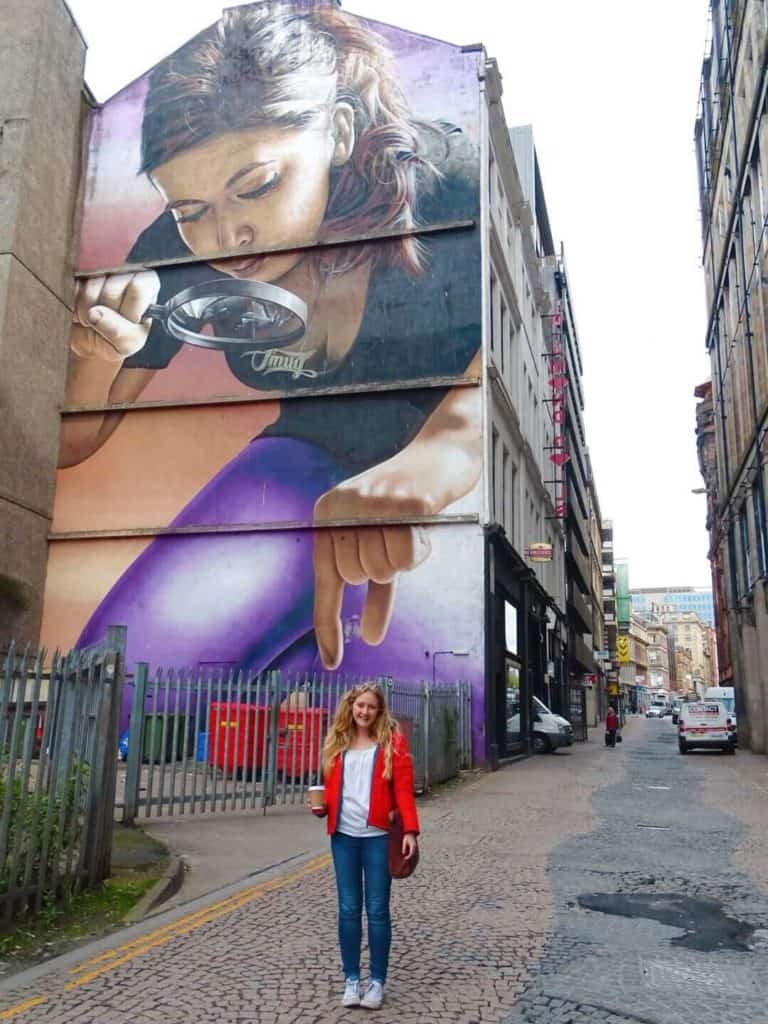 This gigantic mural is by Smug, the same artist who did the man and robin art in the first photo. You can see the resemblance in both size and level of detail.

I wonder if it has a message about recycling as it's beside a bin area – I'll probably never know but it's fun to guess.

Location: Mitchell Street.
Mitchell Lane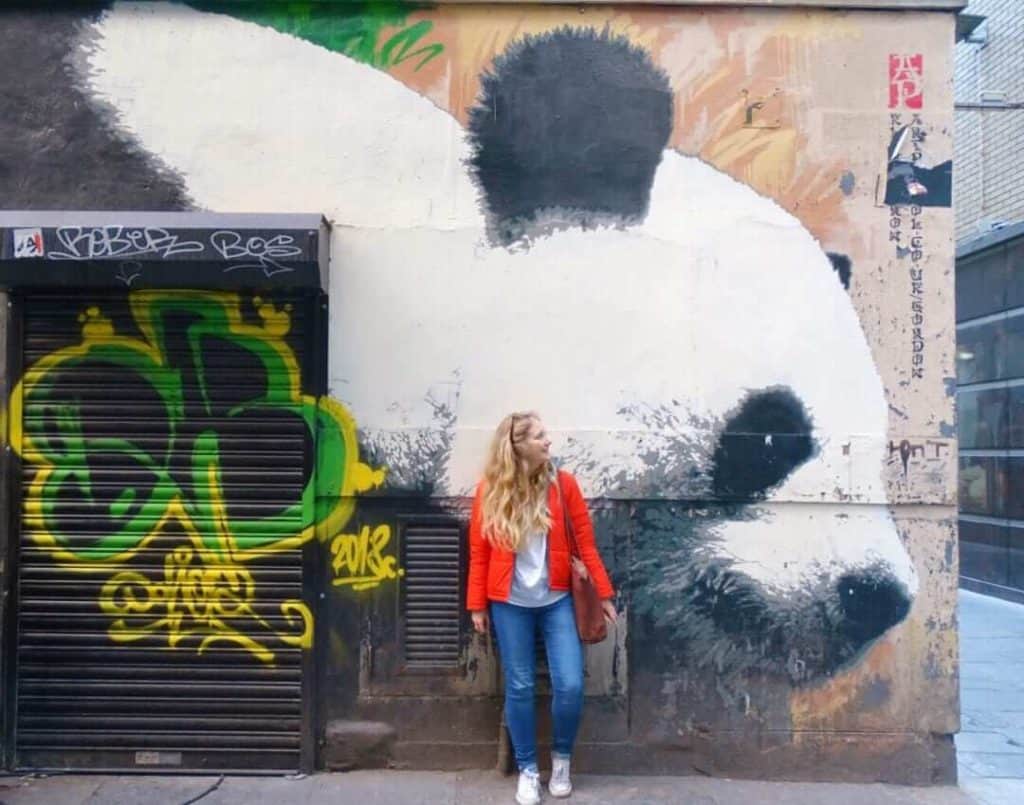 Right in front of the entrance to The Lighthouse (Glasgow's top modern art gallery) is this adorable panda painting by artist, Klingatron.

Location: Mitchell Street.
Ingram Street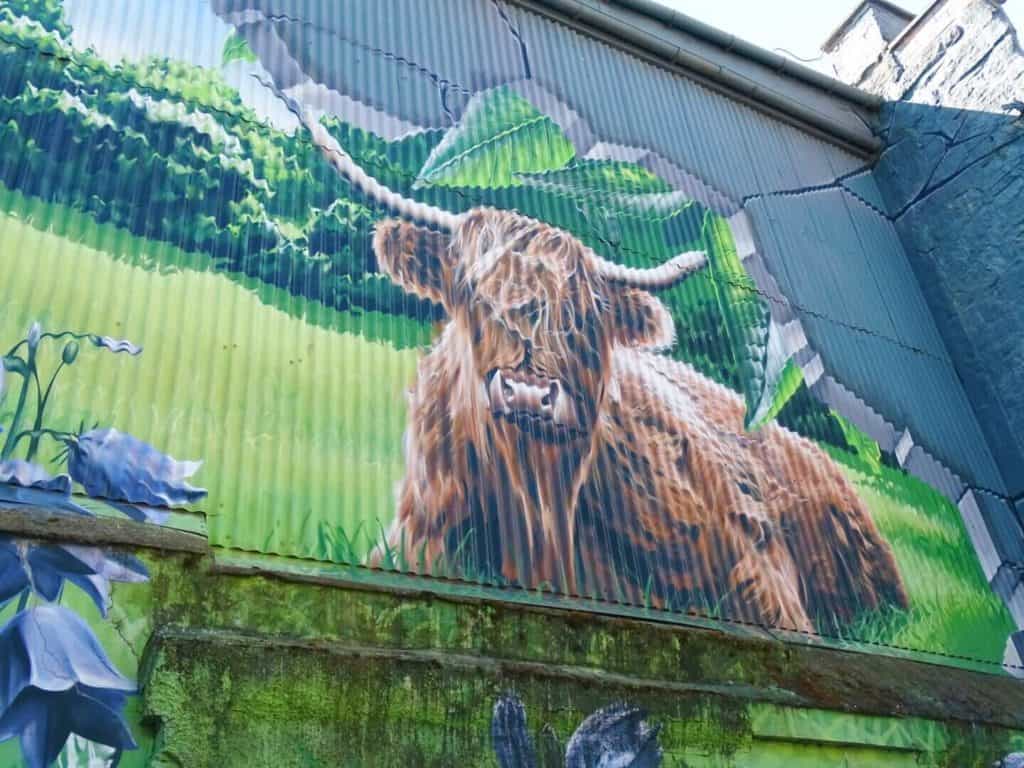 Any Glasgow guide will tell you to visit Ingram Street car park. It shows all kinds of wildlife found in Scotland including red squirrels and Highland cows.

No surprises for guessing the giant detailed works are by Smug (definitely my new favourite street artist).

Location: Ingram St, Glasgow G1 1DJ.
John Street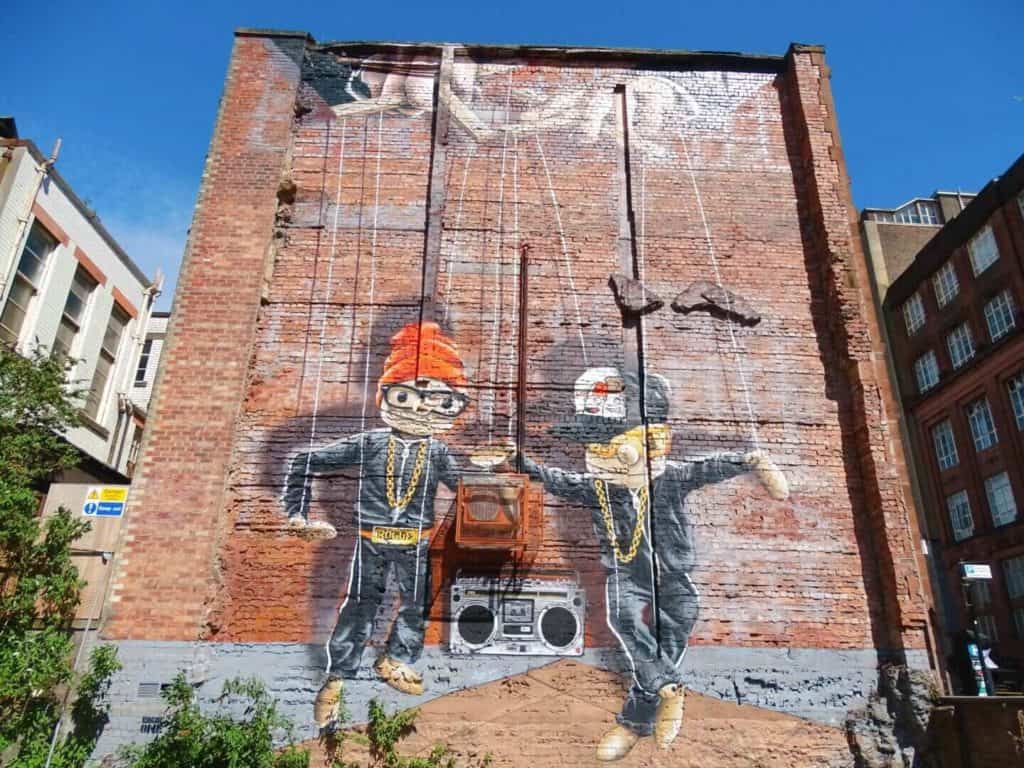 I love the contrast of old and new in Glasgow. Right behind me as I took this shot were the elaborate, traditional City Chambers. They couldn't be more different to this urban, hip-hop-inspired piece of street art by Rogue-One.

Location: NCP Car Park Glasgow Ingram Street.
New Wynd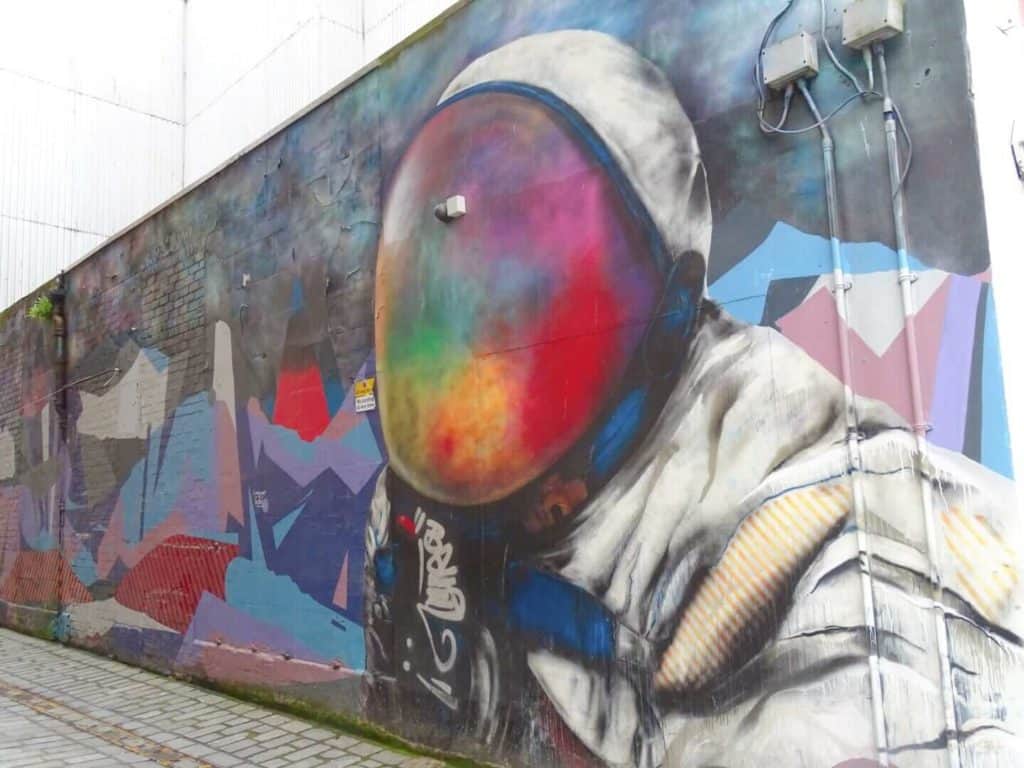 This spaceman on New Wynd is easy to find as it's just moments from Argyle Street, the main area for high street shopping. It's not the most exciting piece of Glasgow street art but I liked the blurring of colours used on the astronaut's helmet.

Location: New Wynd.
George Street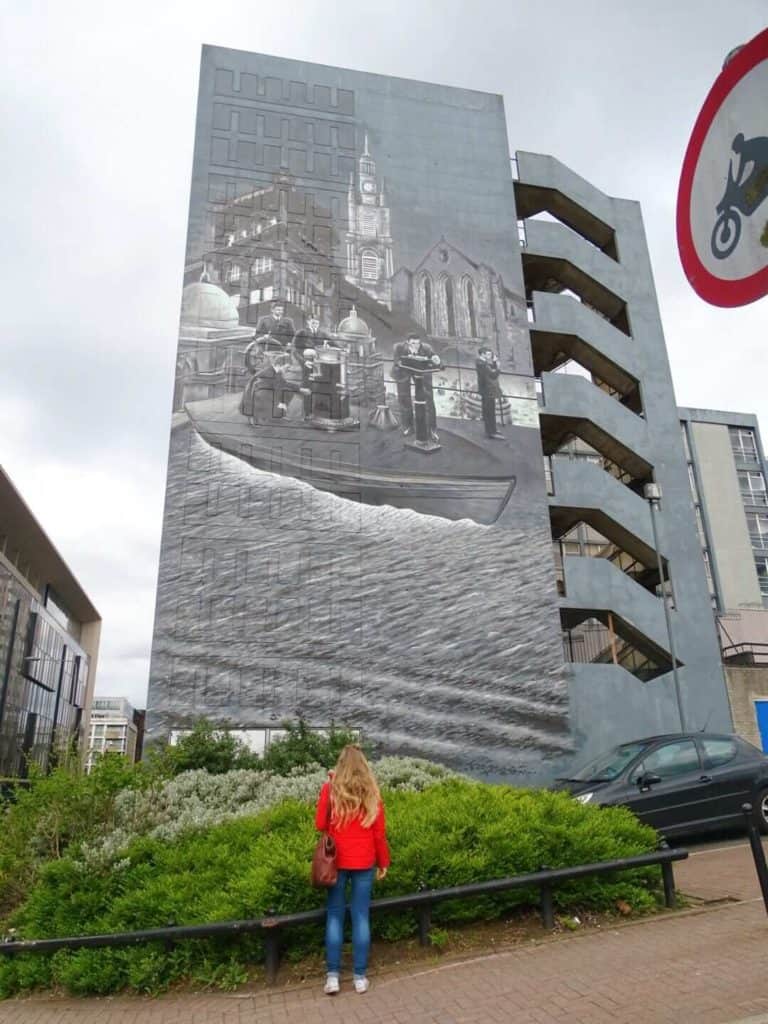 This black and white piece of Glasgow street art beside the University of Strathclyde and features alumni and their achievements. It's definitely one to drum up patriotic Glasgow feeling!

It was completed by Glasgow local, Rogue-One who also did the (totally different) hip-hop image above.

Location: George Street.
Argyle Street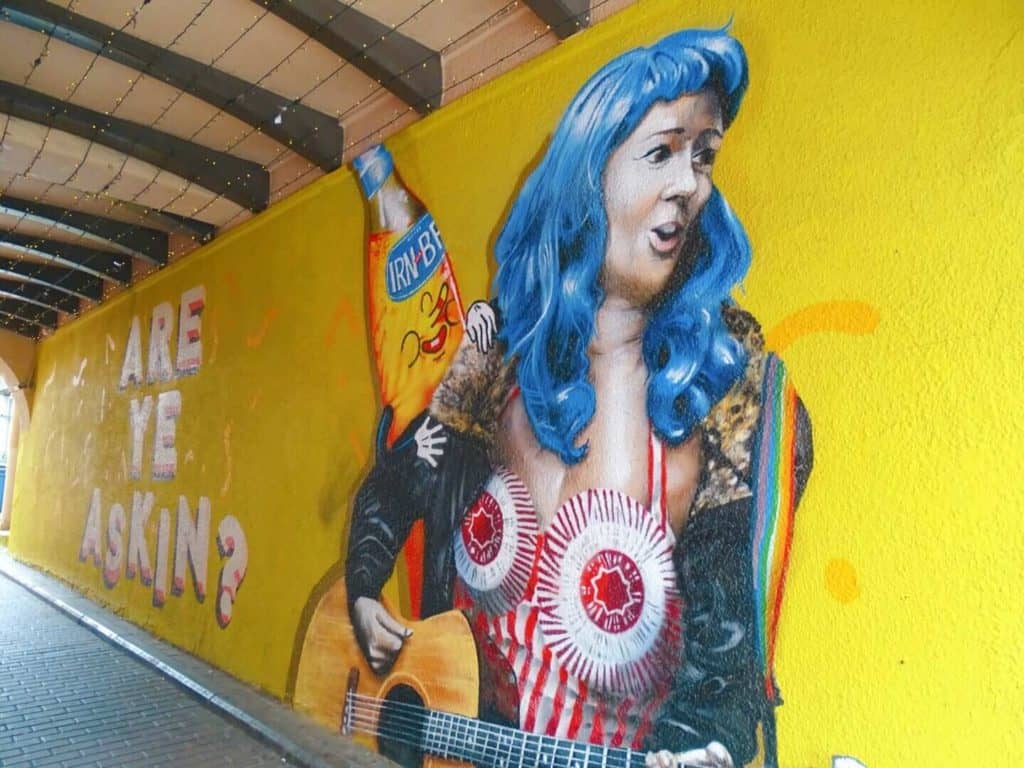 To find this piece, locate the tiny alleyway off Argyle Street labelled 'Cranston House'. It's full of Glasgow street art including this woman, laden with Scottish goods like Irn Bru and Tunnocks Tea Cakes.

Also on Argyle Street you'll find a cool piece of street art displaying a giant monkey – sadly this was also covered during my stay but it's just across from Topshop.

Location: 106 Argyle St.
What a colourful city! Hopefully, I'll visit Glasgow again soon and see any new Glasgow street art that's popped up. Let me know how you get on during your visit and if you find any other pieces.

Looking for a fun Glasgow street art tour?
More UK street art
There are some fantastic street art cities down in England. Check out:
Travelling around the world? Browse all my street art blogs:
Thanks for reading my Glasgow street art guide!
If you liked it, please share it 🙂
Visiting Scotland? Check out my other posts:
See you next time for more adventures,
Rose
For more travel content, follow me on Instagram, Facebook, Twitter and YouTube.
Ps. Liked this Glasgow street art guide? Pin it for later!