This post may contain affiliate links to things like tours, hotels, Amazon associates and products. These help me earn a small commission at no additional charge to you.
There are few better places for Harry Potter fans in the UK than Gloucester. Spotting the Gloucester Cathedral Harry Potter filming locations is a must!

After my adventures finding Harry Potter locations at Lacock Abbey the previous week, Gloucester was high on my agenda. Both buildings have well-preserved cloisters (corridors) that suit Hogwarts to a T.

Because I live in Oxford and work for Oxford University, I'm used to seeing cloisters. Although several scenes of Harry Potter were filmed at Oxford University, Gloucester is much grander: the corridors are wider and the ceilings higher. It's truly a marvellous place to visit whether you're a Potterhead or not (although if you're reading, I'm guessing you are!).
Where is Gloucester Cathedral?
Gloucester Cathedral is in Gloucester city in Southern England, just outside of the Cotswolds. It's 2 hours from London by train.

One of the best things about Gloucester Cathedral is its location: it's right in the heart of town. It's well connected by public transport and there's parking nearby. I'll cover all the practical details later as I guess we all want to get stuck into Harry Potter at Gloucester Cathedral!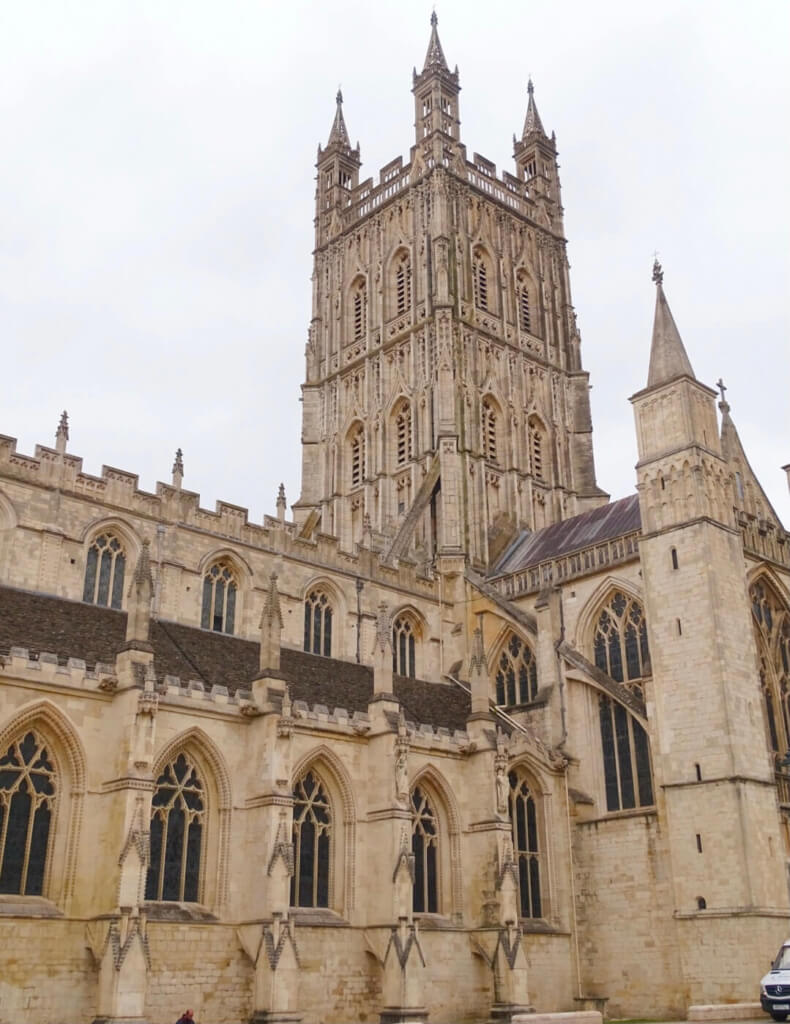 Quick history of Gloucester Cathedral
With over 1,300 years of history, Gloucester Cathedral has seen it all. It's been forcibly dissolved (and rescued) and see the crowning of kings and world wars.

It was first founded by Anglo-Saxon prince, Osric, in 678 AD although little is known about its early days. It became a Norman Abbey after the conquest of 1066 and grew into a magnificent abbey, overseen by a monk named Serlo.

Major events during the Middle Ages include the crowning of Henry III and the burying of King Edward II.

When Henry VIII split from Rome in the 1500s, it became a Cathedral rather than Abbey. Then began the troubled days: in the 16th and 17th centuries, several bishops were burnt at the stake over differing views surrounding the country's new religion (Church of England).

Since the 1700s, things have run more smoothly. The Cathedral is kept in traditional style and only repaired, not remodelled or modernised.

A new era began when audiences became fascinated by period dramas. Several TV shows have been filmed at Gloucester Cathedral including several of the Harry Potter movies.
Harry Potter at Gloucester Cathedral
Gloucester was one of the lucky places selected for Harry Potter filming in the UK. Scenes from the Philosopher's Stone (2001), Chamber of Secrets (2002) and the Half-Blood Prince (2009) were filmed at Gloucester Cathedral.

Famous Gloucester Cathedral Harry Potter scenes include:
Where Moaning Myrtle floods the corridor from the girl's bathroom (Chamber of Secrets)
When a troll breaks into the girl's bathroom and corners Hermione (Philosopher's Stone)
When the writing 'The Chamber of Secrets has opened. Enemies of the heir beware' appears in blood on the wall (Chamber of Secrets)
Where Harry hides listening to Snape and Malfoy talking about the Unbreakable Vow (Half-Blood Prince)
When the new Gryffindors walk down Hogwarts corridors for the first time (Philosopher's Stone)
The door to Gryffindor's common room (Philosopher's Stone).
How to locate yourself
When I first arrived, I was disorientated. I knew the Harry Potter scenes I was looking for but couldn't work out which corridor was which. They're not marked as North/South etc and shockingly I'd forgotten my compass!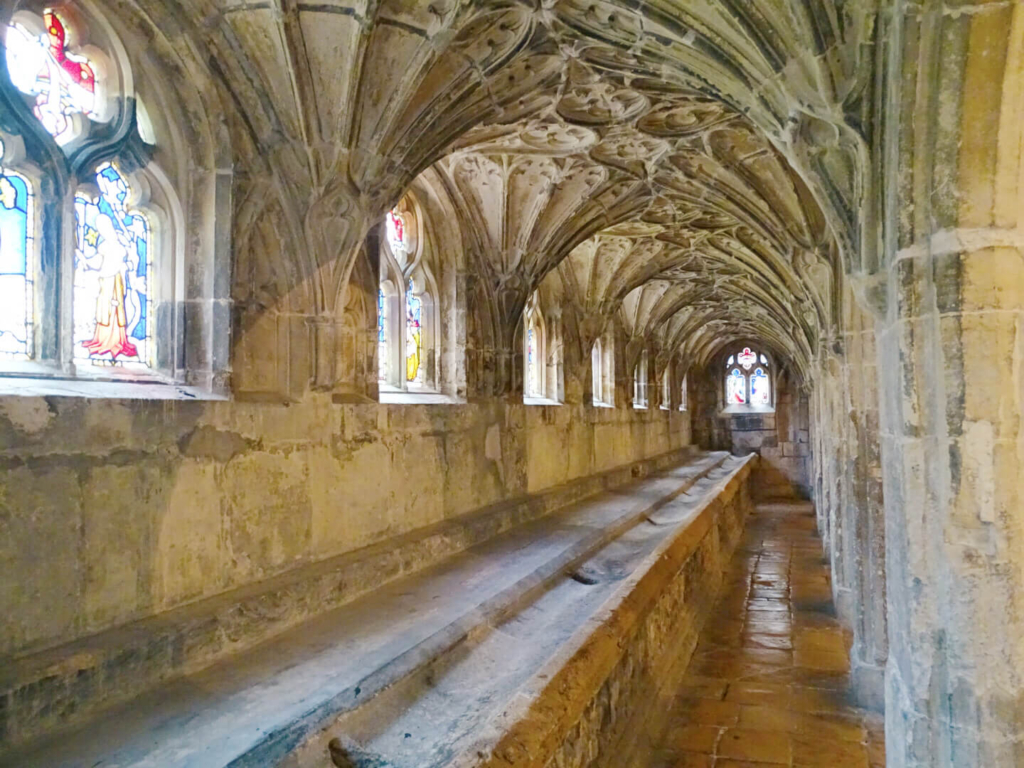 I would first suggest finding the Lavatorium to locate which is the North Corridor. The deep grooves of the sinks are quite distinctive. Then, look for the big red door (to your left when facing the Lavatorium). This door marks the start of East Corridor.
By working this out, you should be able to navigate yourself around.
Interactive screen: The Cathedral have a helpful interactive screen to your right when first entering the cloisters. It shows all the Harry Potter filming locations around the Cathedral so I snapped some photos of the screen so I knew what to look for.

Saying that, you have this blog post so you don't really need any extra help!
Gloucester Cathedral Harry Potter filming locations
Now for the good bit!

Use the below photos and descriptions, spotting iconic Harry Potter locations at Gloucester Cathedral as you go…
1. North Corridor, East Wall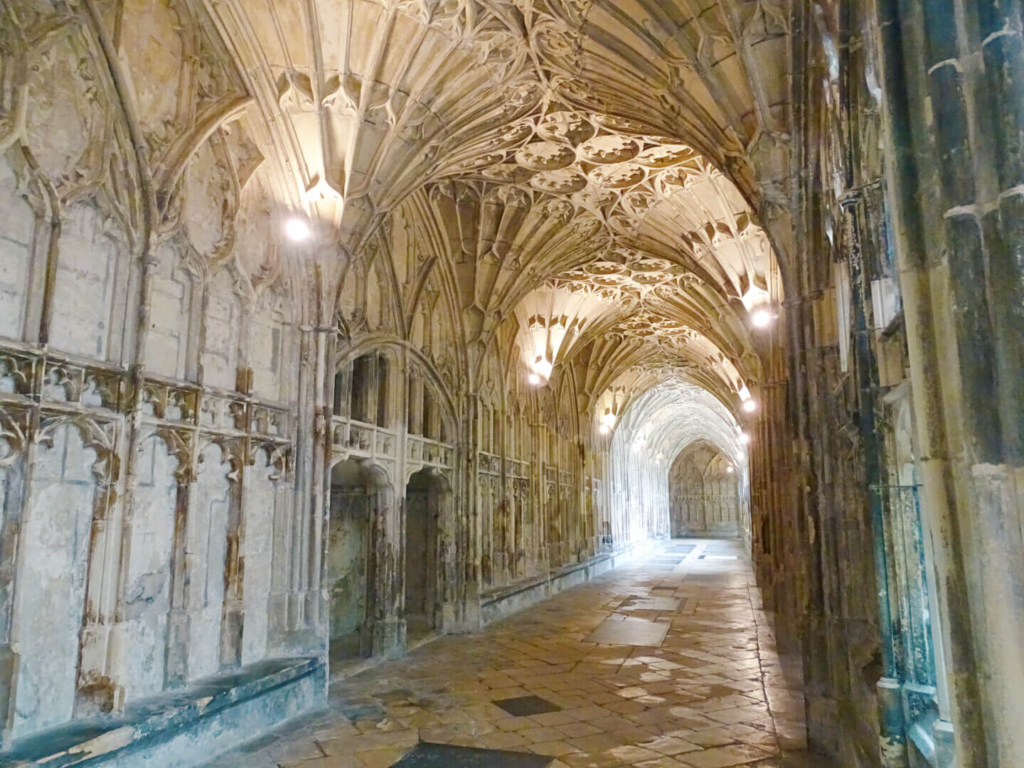 North Corridor boasts not one but two Harry Potter locations at Gloucester Cathedral.

The first is the wall where the heart-stopping message appears:
"The Chamber of Secrets has opened. Enemies of the heir beware"
Next time you watch the Chamber of Secrets, be sure to look at the walls not just the words!

There's an interesting story behind this scene. Since the Abbey (understandably) didn't want blood-red paint everywhere, the directors made an identical fake version of the wall to stick on top of the original. The effort that went into filming is mind-blowing!
2. The Lavatorium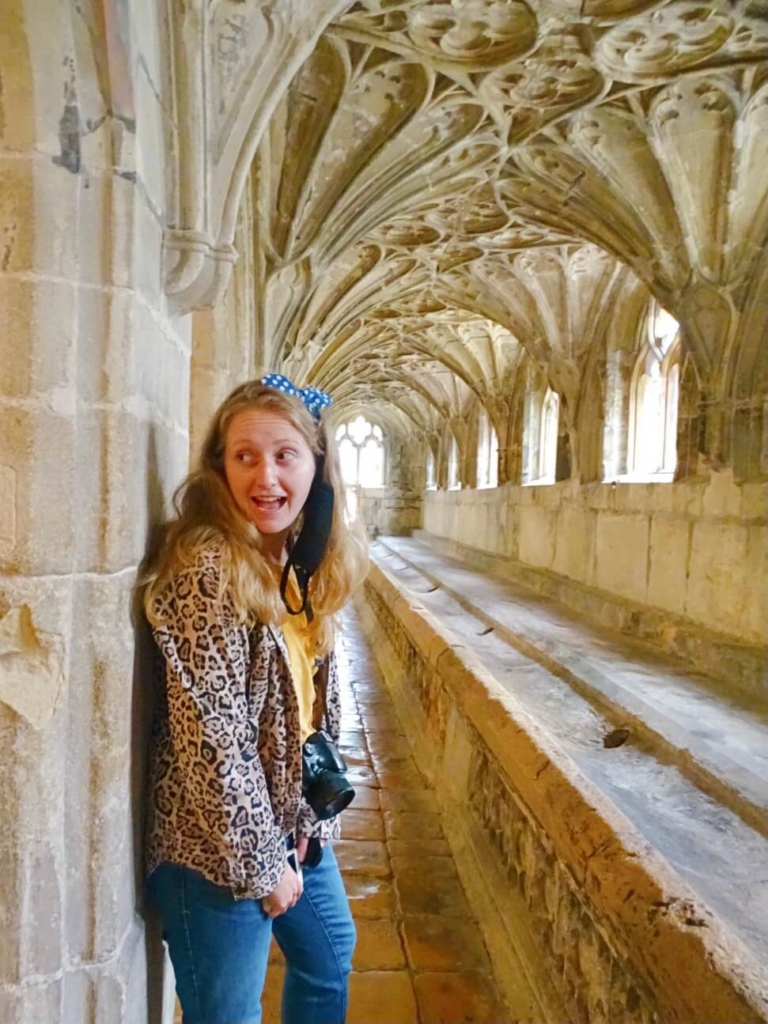 The second Gloucester Cathedral Harry Potter location on North Corridor is the Lavatorium, once a communal washing area for the monks.

Harry Potter filming at the Lavatorium: We see this location when Harry and Ron hide from the troll in the Philosopher's Stone.

This is right after Professor Quirrell comes running into the Great Hall shouting 'troll! In the dungeons! Thought you ought to know!'. He then collapses on the floor and the students go wild while Dumbledore tries to calm them down.

Knowing Hermione is in the girl's bathroom, Harry and Ron run down to the dungeons and hide in the Lavatorium while the troll walks by dragging his bat on the floor.

The actual bathroom scene where the students defeat the troll doesn't happen in the Lavatorium, only the prelude before the troll enters.

History of Gloucester Cathedral Lavatorium: It's the country's oldest surviving lavatorium (followed by the one at Durham Cathedral). Since handwashing was required before monastery mealtimes, the lavatorium would have been placed near the eating area. The lead pipes providing water were removed when Henry VIII ordered all monasteries to be closed.
3. East Corridor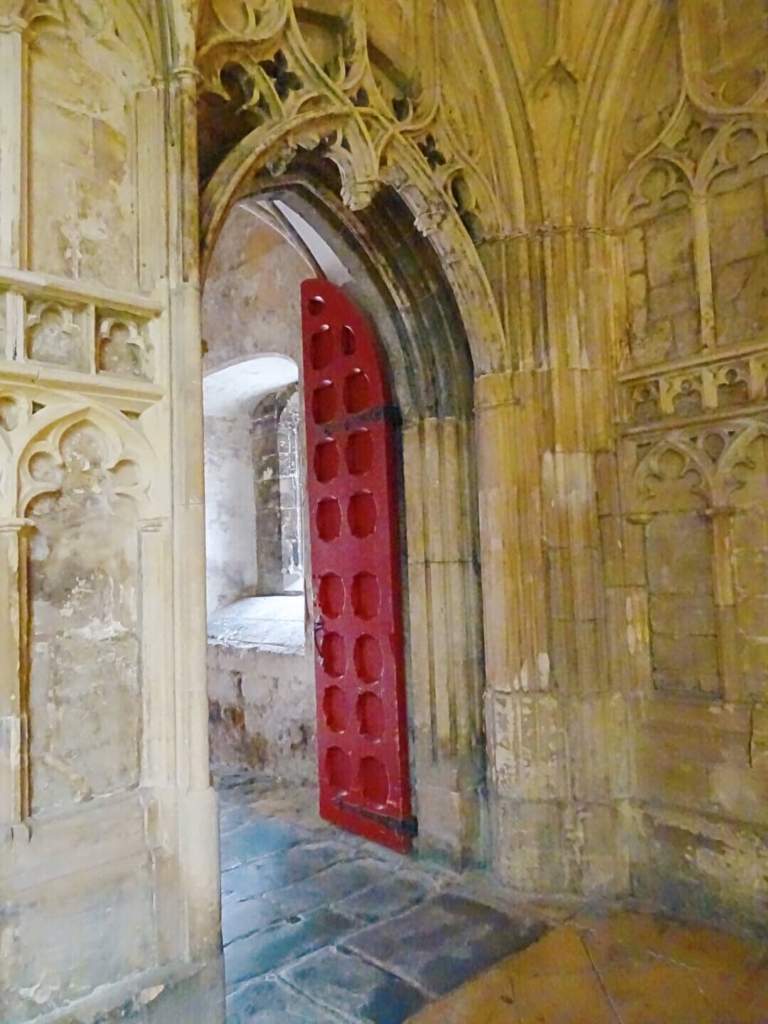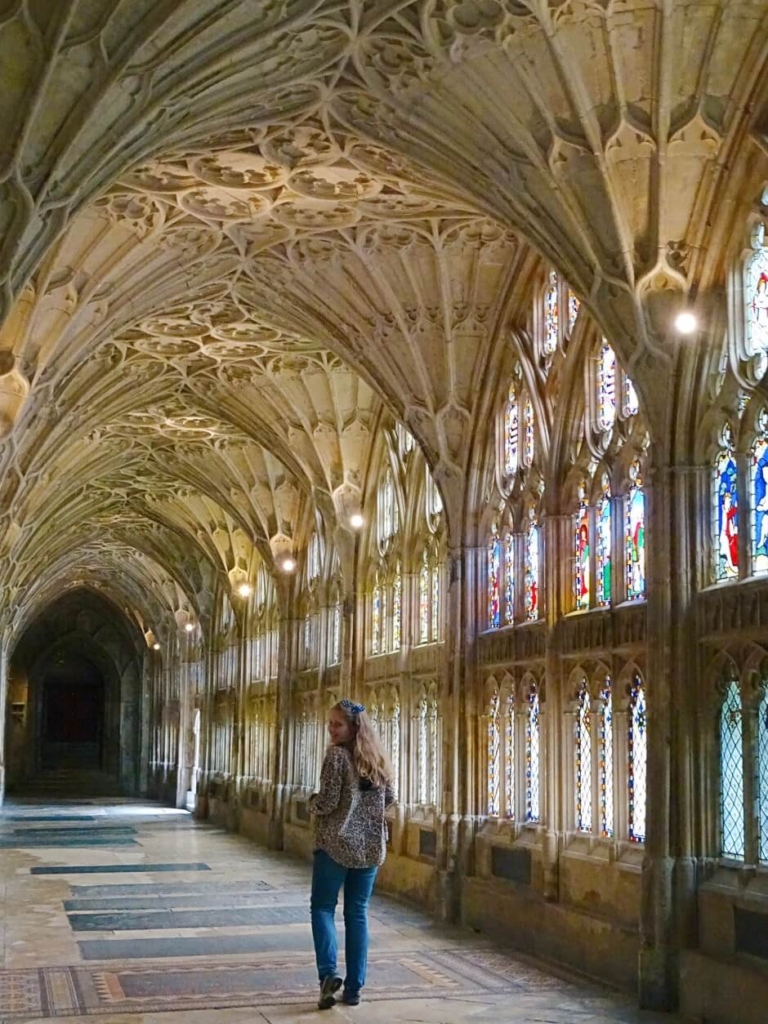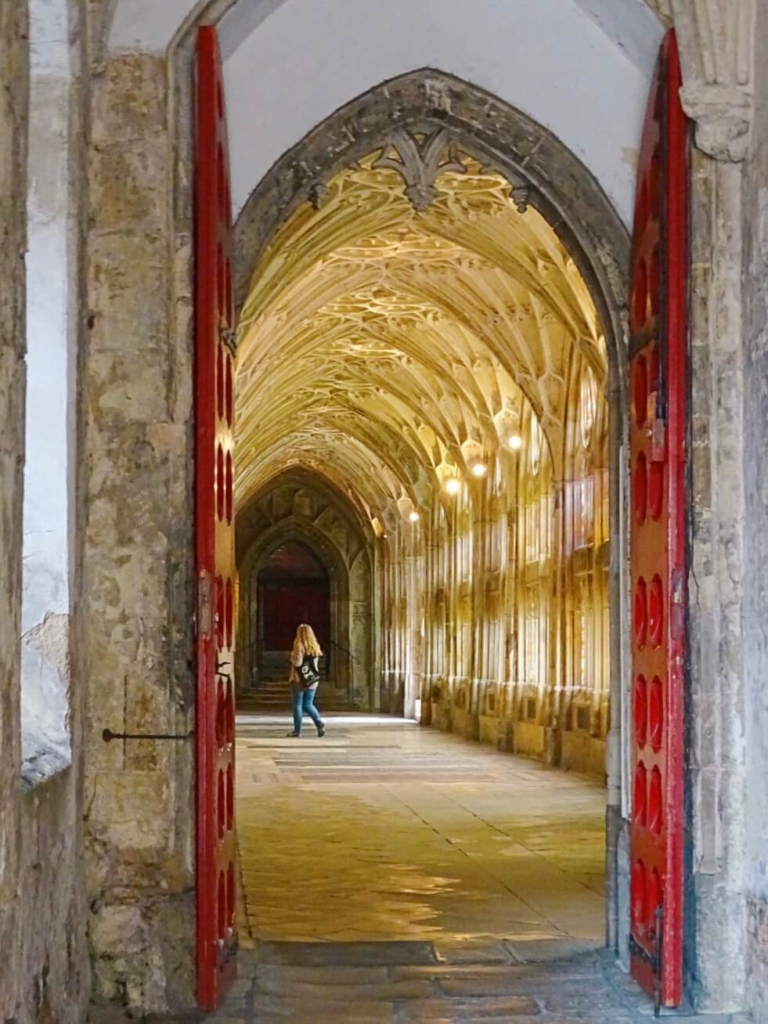 East Corridor is another famous Harry Potter location at Gloucester Cathedral. The bright red door played an important role in the films and the whole corridor was flooded by the crew! You'll find the big red door just a few metres from the Lavatorium.

Harry Potter filming on the East Corridor: You may remember the scene in Harry Potter and the Chamber of Secrets when Moaning Myrtle floods the second-floor girls' lavatory.

This bathroom had been out of order since a student, Myrtle Warren, was killed there years ago. Little-known to most, the bathroom houses the entrance to the Chamber of Secrets. …

I'm stunned that the Cathedral let the crew flood the cloisters (I'm guessing there was a lot of money involved?). To keep the corridors safe, a watertight layer was added to the floor before the flooding began.

However, as a friendly member of staff showed me, there ARE a few watermarks where liquid managed to get through… Awkward! Luckily, they're not too noticeable.
4. South Corridor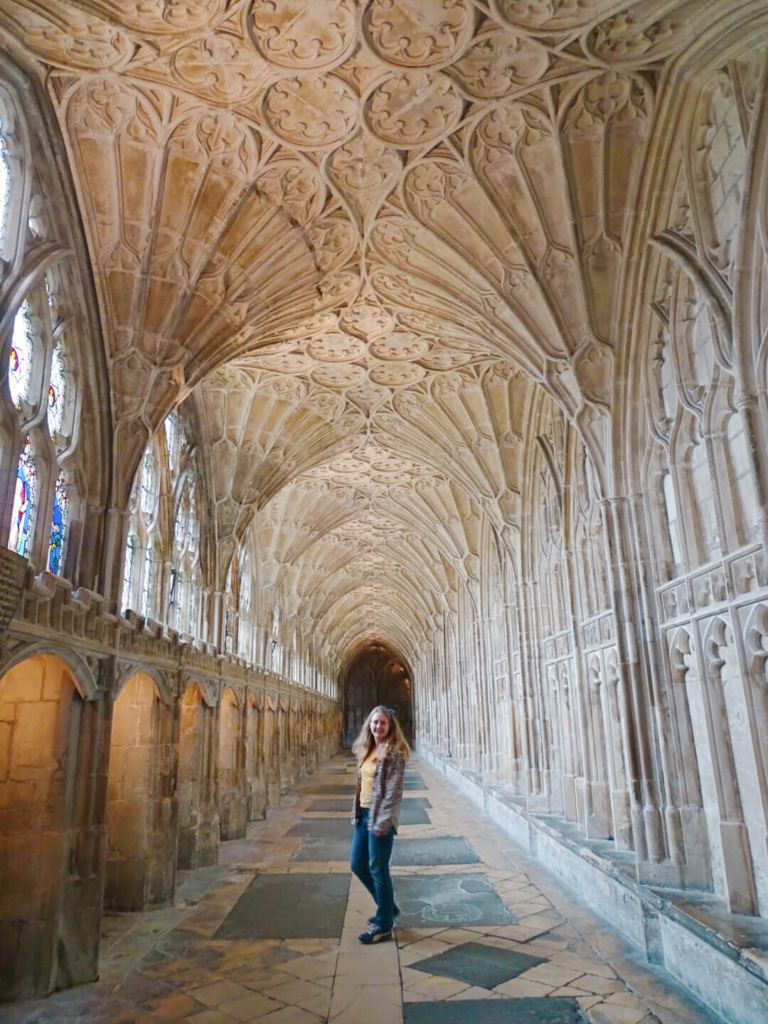 South Corridor is on your right as you enter the cloisters from the lobby. With its intricate carvings and stained glass art, it's one of the most impressive Harry Potter locations in the Gloucester Cathedral.

Harry Potter filming in South Corridor: This is where we see the new Hogwarts students entering Hogwarts for the first time. They're led down the corridor by Professor McGonagall after arriving on the Hogwarts Express.

They head towards….
5. West Corridor – Gryffindor common room door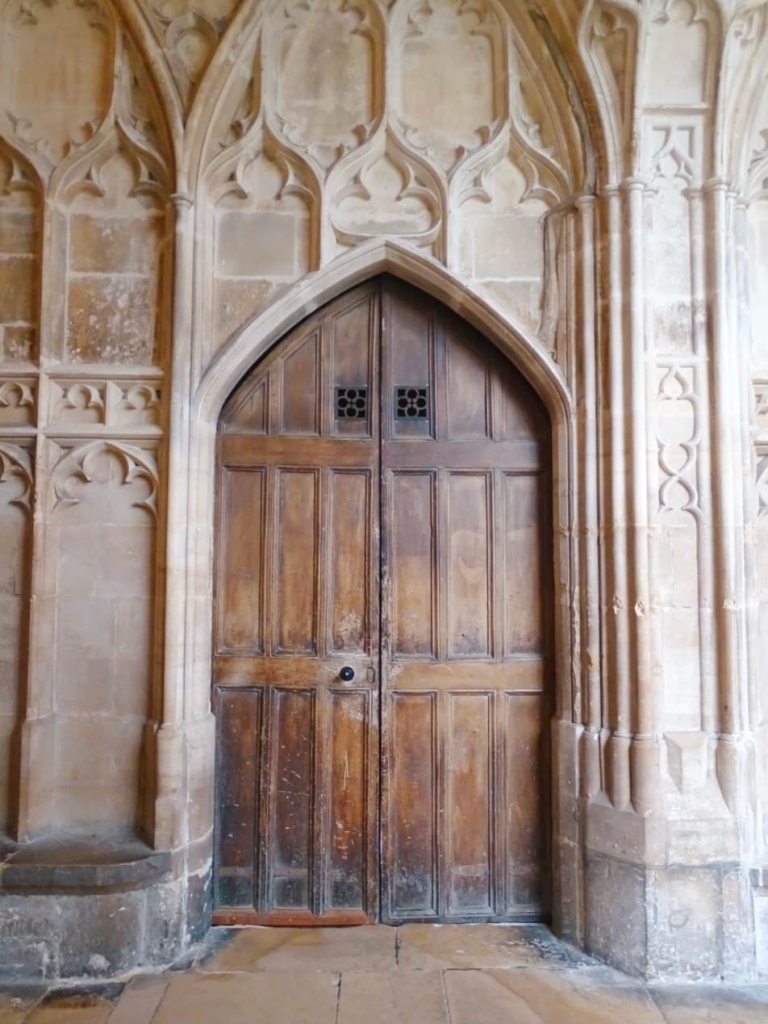 If you see tourists snapping photos here, it's not because they're stunned by the architecture: they likely know this door was used to film Harry Potter scenes at Gloucester Cathedral.

The wooden door is one of the first things you'll see (on your left) as you enter the cloisters.

Harry Potter filming on Gloucester Cathedral's East Corridor: After the students walk up South Corridor (mentioned above), they arrive at the door to Gryffindor Common Room. The Fat Lady – a painting of a large woman hanging over the door – asks for the password to which Percy Weasley replies 'caput draconis' (Latin for 'dragon's head').
6. West Corridor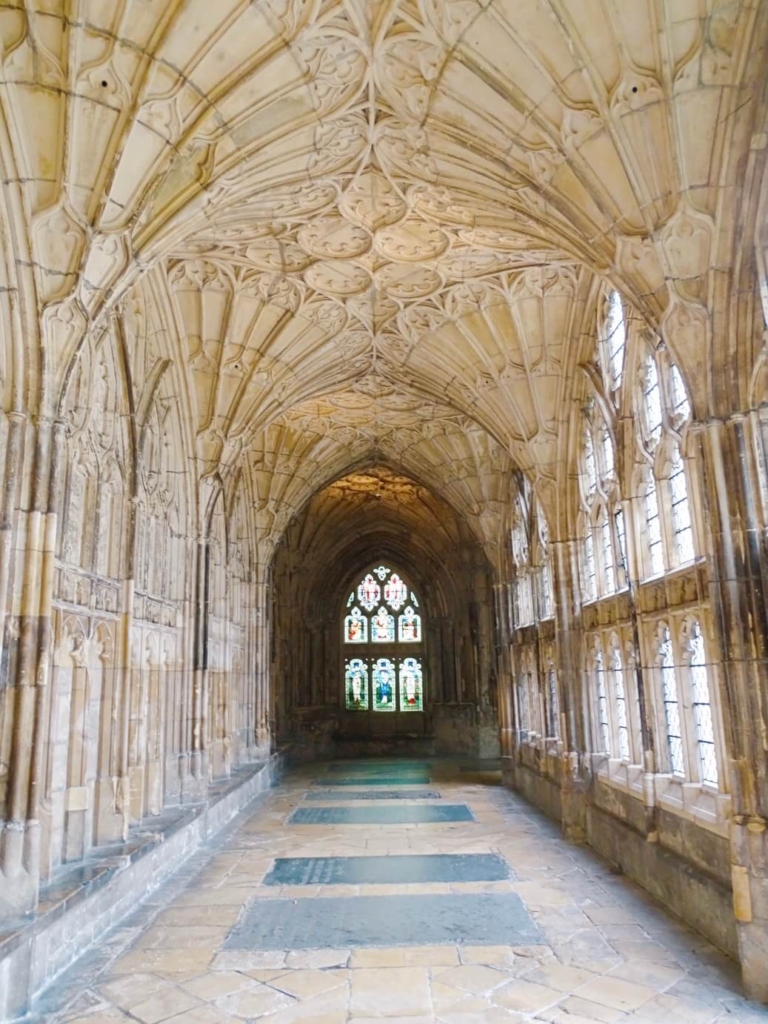 West Corridor appeared in the Harry Potter franchise in 2009 when the directors selected Gloucester Cathedral as a filming location for Harry Potter and the Half-Blood Prince.

A guide told us that everything was more advanced the second time filming took place: the crew returned with ingenious gear and ideas to transform the Cathedral into a convincing Hogwarts.

Harry Potter filming on the West Corridor: In the Half-Blood Prince, Harry and Ron are seen standing in the corridor as students walk by to their first classes of term.
Harry Potter at Gloucester Cathedral – filming remnants
You might be interested to know there are some leftovers from Harry Potter filming at Gloucester Cathedral. These aren't marked and you might not notice them… Luckily, I got chatting with a member of staff who showed me the secrets.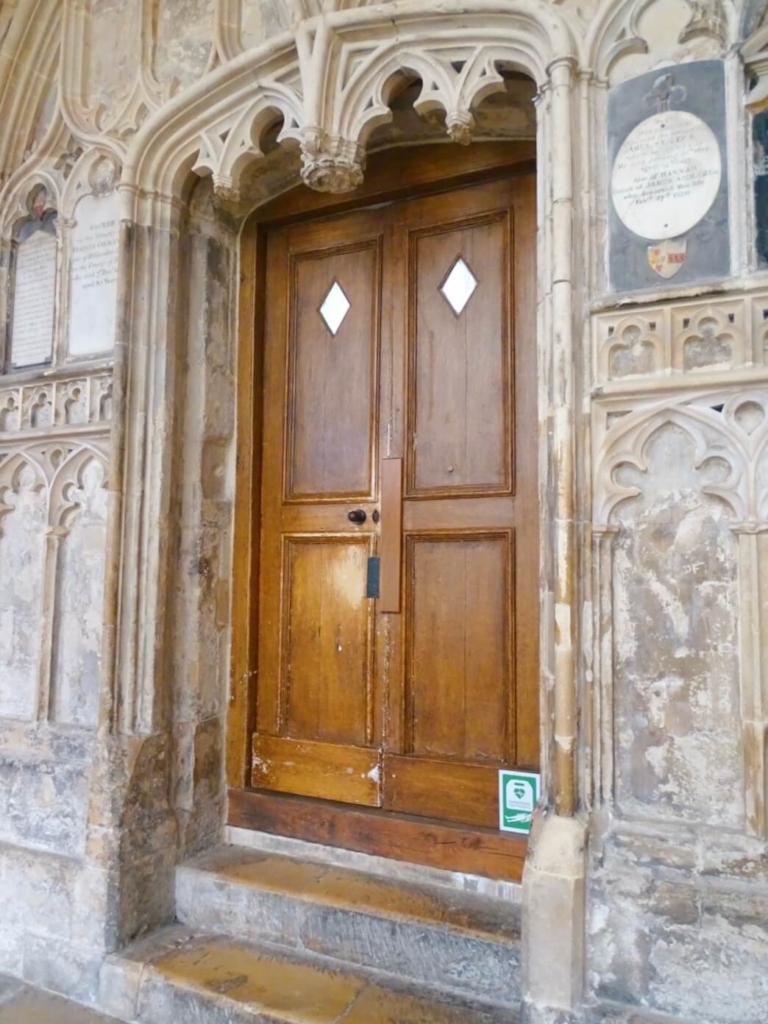 7. Brown door on East Corridor (near the Moaning Myrtle door) – we were told this brown door was either blue or green before Harry Potter filming. The crew decided it didn't look very 'Hogwarts' and paid to have it painted brown. After all that, it never actually appeared on screen!

A funny story is that the Cathedral staff now can't remember what colour the door was before filming, and no one has any photos.

8. Watermarks from flooding (also near the Moaning Myrtle door) – as I mentioned before, the crew flooded the East Corridor while filming Harry Potter at Gloucester Cathedral. Although they sealed the original floors with a protective layer, we were told that some water got through. In the below photo, you may be able to see some faint white marks below the darker ones.

To be honest, I'm impressed with how minimal the damage was. Flooding the entire corridor sounds like a huge undertaking, and seriously risky when you consider the age and value of the Cathedral!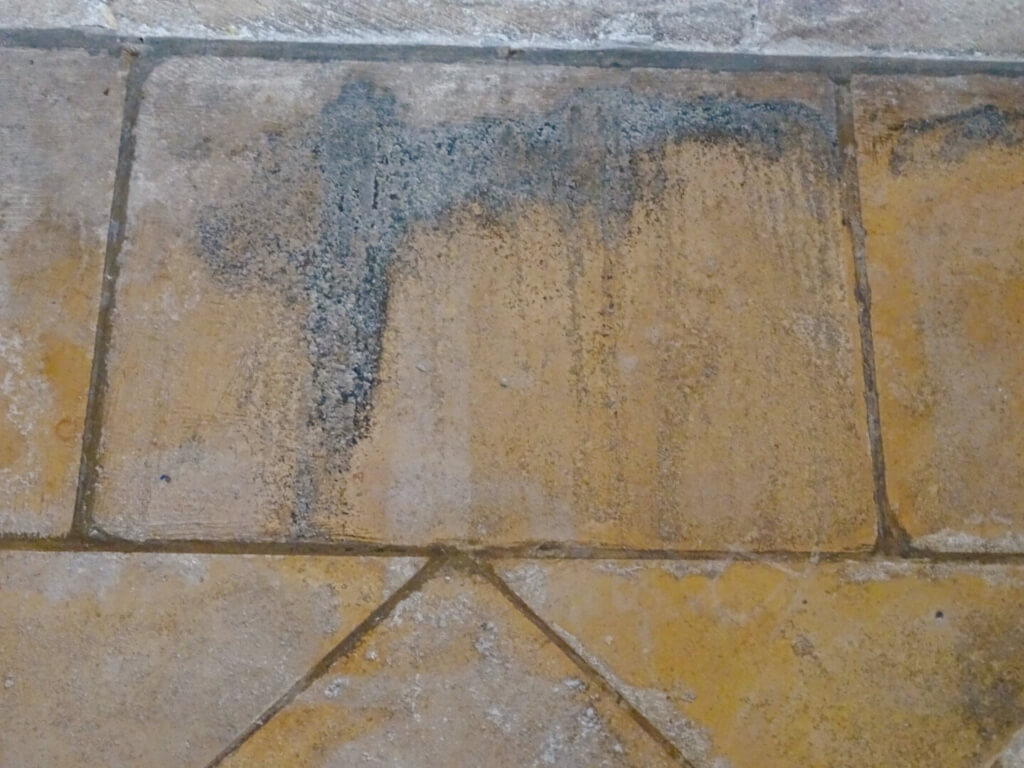 Gloucester Cathedral visitors info
Gloucester Cathedral is a fantastic place to spend a few hours. Here's everything you need to know for your visit:

Entrance price: free. It's not customary to pay to visit places of worship hence why there is no official fee to enter Gloucester Cathedral. However, it's recommended you donate to its upkeep. £5 per person is suggested. You can pay with cash or card.

Harry Potter Gloucester Cathedral tickets: Formal tickets aren't required and there's no need to book anything online before your visit. Simply enter the Cathedral and give a contribution at the Welcome Desk.

Opening times:
Monday – Saturday
10:00
– 17:00
Check updates and plan your visit to Gloucester Cathedral via their website.

Gloucester Wi-Fi & app: For a 1,300-year-old building, the Cathedral is surprisingly with the times! There's free Wi-Fi in the lobby where you can download the Gloucester Cathedral app (via the App store or Google Play). This includes the history, a map and walking tour. If you don't have your own headphones, you can buy them from the Welcome Desk (or read the info on screen instead).
Gloucester Cathedral Harry Potter tours
There aren't any exclusive Harry Potter tours at Gloucester Cathedral. However, they do run 'highlight tours' several times a day which visit the HP filming locations and tell you about the architecture and monks who used to live here.

These last 50 minutes and run at the following times:
Monday – Friday: 10.30am, 11am, 12pm, 1.30pm, 2pm, 3pm
Saturday: 10.30am, 11am, 12pm, 1.30pm, pm
Sunday: 12pm.
Tickets are £5 per adult, £1 per child (under 16) and free for under 3s. You can buy your tickets on arrival at the Welcome Desk.

I'd also add that the Cathedral guides are always on hand around the Cathedral. One approached us as we were snapping photos and proceeded to tell us the Harry Potter secrets and show us some incredible stained glass paintings we might not have noticed otherwise. If you're visiting Gloucester for Harry Potter tourism, the Cathedral guides are the best people to speak to.
What else to see at Gloucester Cathedral
Although I was mainly (okay, 100%) visiting Gloucester Cathedral for the Harry Potter connection, I can't deny how impressive this place is. You'll miss out if you snap the movie locations and leave.

Here are a few other locations around the Cathedral worth visiting…
Main hall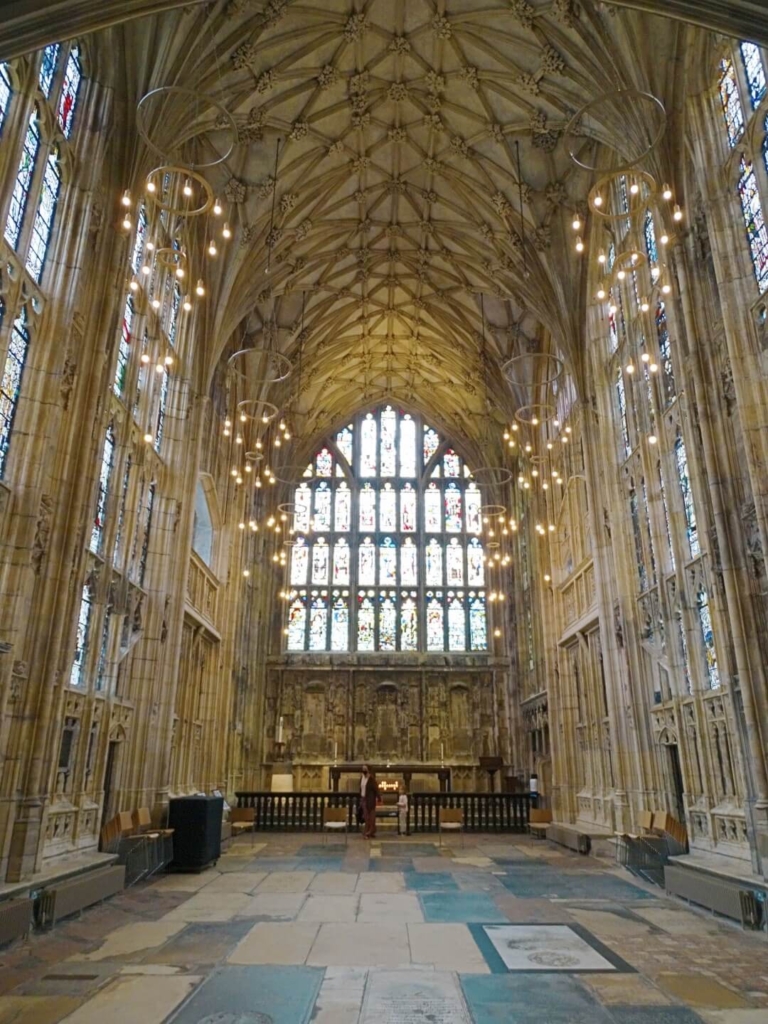 Although there are no Harry Potter filming locations in Gloucester Cathedral's main hall, it's the most visually impressive part of the building. With high ceilings and golden hanging light bulbs, it would have made an excellent Hogwarts Great Hall!

Actually, Hogwarts hall was modelled on Christ Church College in Oxford and filmed in a studio. Perhaps the crew wanted to use this room but alas, the Cathedral did not approve any filming in their rooms with religious function. To learn how to visit Christ Church College, read my Harry Potter guide to Oxford.
Glass art behind the altar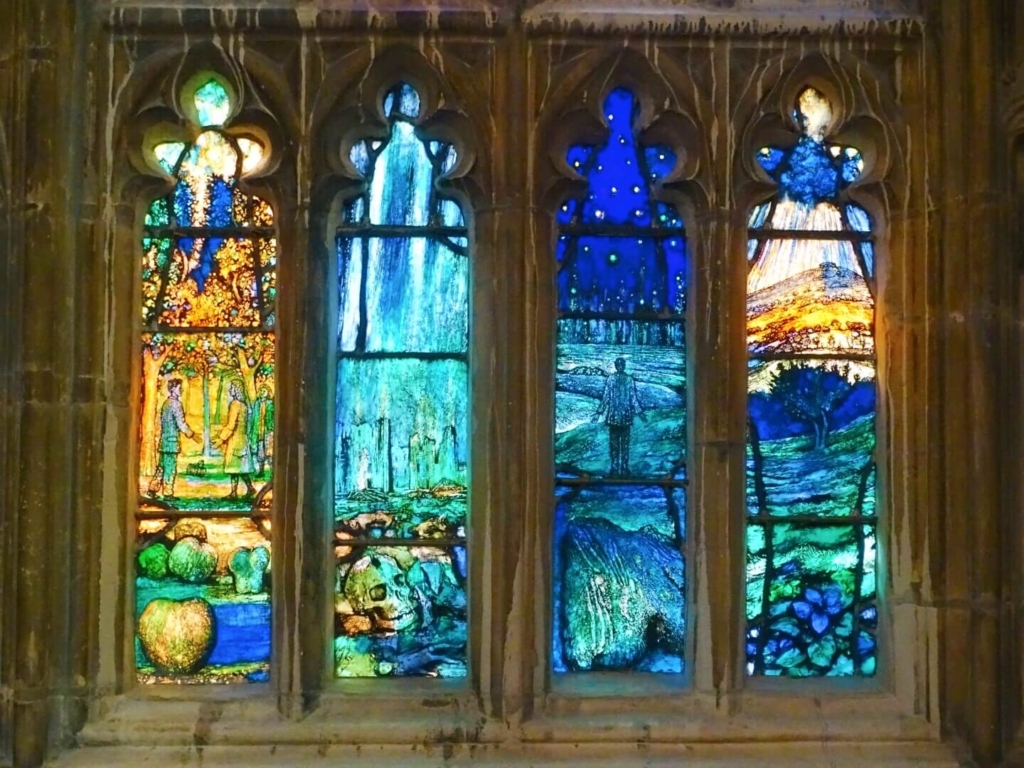 Although many visitors leave after snapping photos of the sweeping hall, the devil is in the detail. These stained glass windows behind the altar are some of the most impressive I've seen. Responsible is Thomas Denny, contemporary British painter and stained glass artist. They were painted in 2016.

Don't miss the South Ambulatory Chapel where there's another, larger set of Denny's windows, painted in 1989 to celebrate the Cathedral's 900th anniversary.

Fun fact – the oldest existing images of golf can be found in the (much older) stained glass windows dating back to 1350. There's also a carved statue of people playing medieval football.
Spot Gargoyles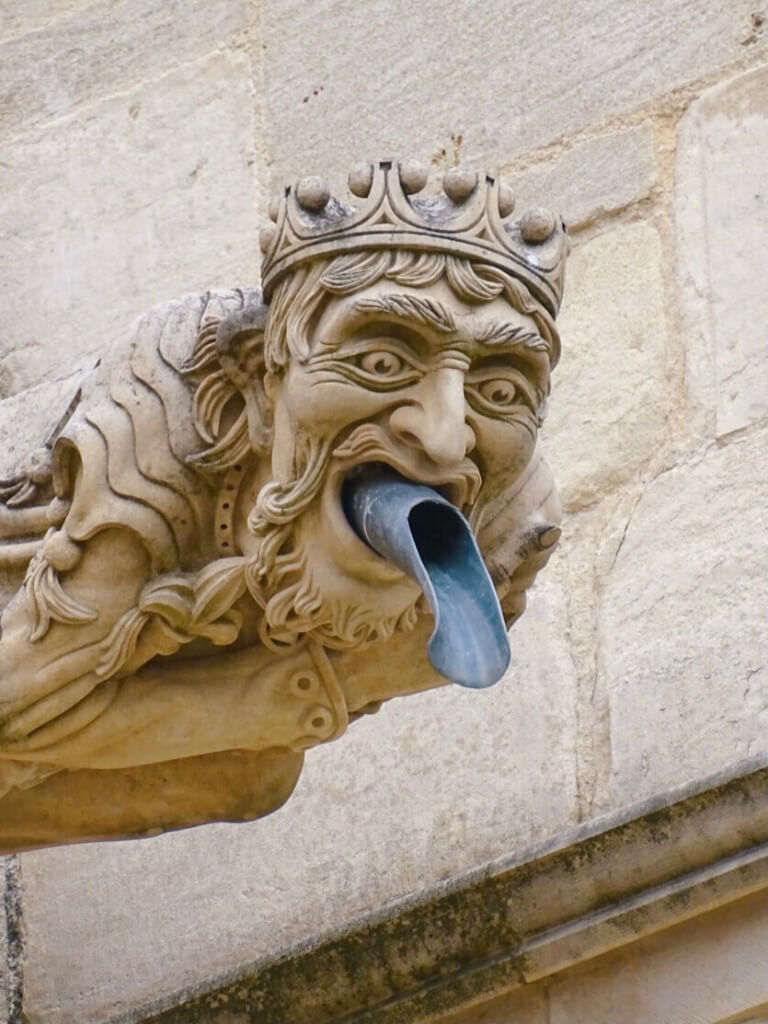 I recently learnt that statues are only gargoyles if they have a water spout. Otherwise they're 'grotesques'. Dotted around the outside of Gloucester Cathedral are countless gargoyles and grotesques.

Although they're hard to see from the ground, I used my camera zoom to admire the details. They all have so much character!
How to get to Gloucester Cathedral
By car: Set your Sat Nav to Westgate Street Car Park, Gloucester GL1 2SZ. The drive takes just under 2 hours from London.

If you've visiting the UK without your own transport, use Rentalcars.com to compare car rentals.

From London by train – you can catch a train from London Paddington to Gloucester in 1 hour 45 minutes. Book your tickets on the Trainline from £30.

From London by bus – although it's a longer journey, you can catch a coach from Heathrow Airport to Gloucester in 3 hours 25 minutes from £7. I use Busbud to compare bus prices in the UK and book tickets.

You can also arrive by bus and train from other UK cities like Oxford, Bristol and Bath (some trains will change in Swindon).

Top tip – I use Omio to compare trains and buses in one search. It's so handy!
Parking
For best value and distance from the Cathedral, park at Westgate Street Car Park, a 5-minute walk from Gloucester Cathedral. It costs £6 to park all day. The car park is a bit tatty (and don't use the toilets!) but it does the job.
Where to stay in Gloucester
Budget hotel – ibis Gloucester is an affordable option with bright double rooms, en suite bathrooms and tasty breakfasts. Check availability from £52pn.

Splash out – for a treat, check out Hatherley Manor Hotel and Spa. This 4* star hotel in Gloucestershire's rolling hills is just a 10-minute drive from Gloucester. Check availability from £85pn.

Private apartment – Chesterton Court Apartment has a kitchen, cooking facilities, living room, bathtub and flat-screen TV. Just 10 minutes drive / bus ride from town. Check availability from £85pn.

Browse all hotels and self-catering apartments in Gloucester on Booking.com.
Other things to do in Gloucester
I'll be honest: Gloucester isn't my favourite UK city. I enjoyed the docks area but noticed how the shops and restaurants there had taken business away from the city centre which now looks quite rundown.

But there are still a few worthwhile things to do once you've finished with Harry Potter locations at Gloucester Cathedral. These are:
Gloucester Docks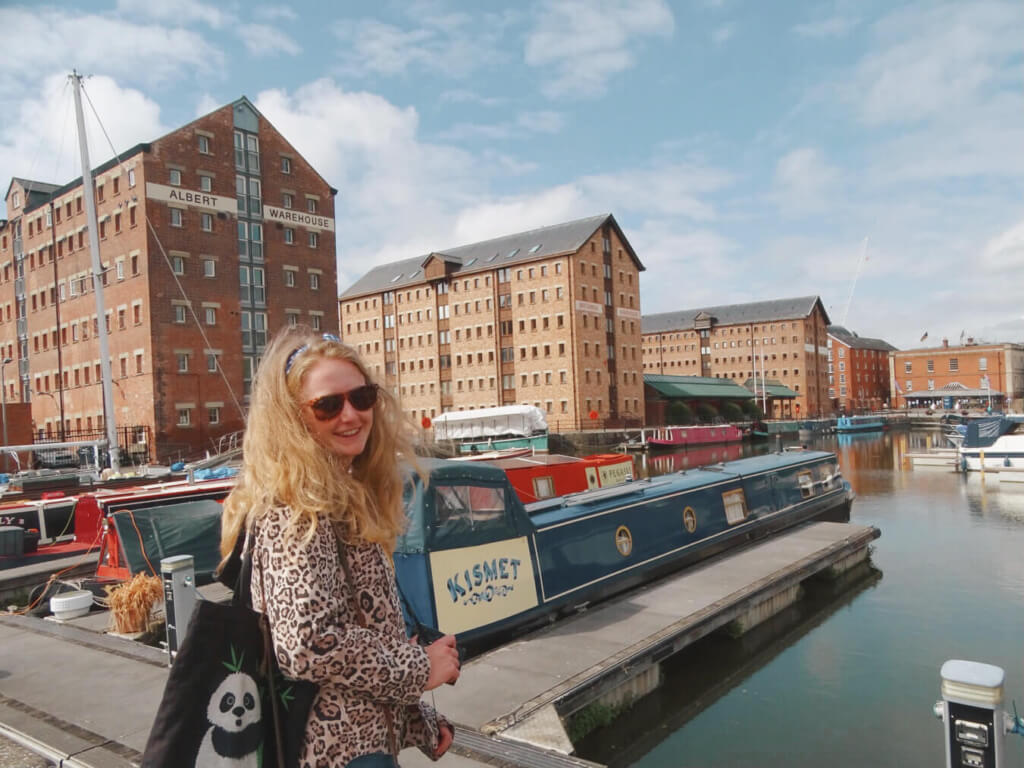 Make sure to visit the docks! Once the heart of industry, this is now a vibrant area for shopping, museums and waterside dining.

Learn about the Historic Docks at Gloucester Waterways Museum or the Soldiers of Gloucestershire Museum, shop at Gloucester Quays Designer Outlet or enjoy the restaurants, cafes and bars. The area is open all hours, free to visit, pedestrian-friendly and suitable for wheelchairs.
Although Gloucester Docks are impressive in many ways, I think my highlight was this cookie dough dessert with salted caramel ice cream that I demolished! Find the turquoise food van in the Quay's outdoor area (near Wagamamas).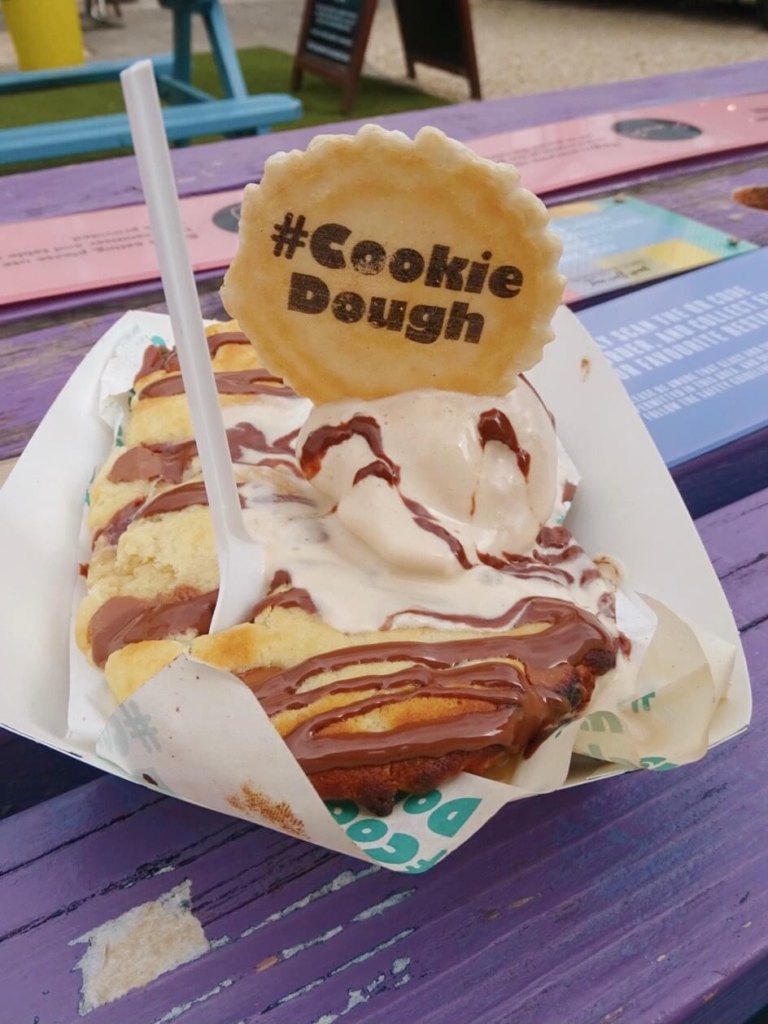 Beatrix Potter connections
Don't miss House Of The Tailor Of Gloucester beside the Cathedral. This museum and shop is named after the book of the same name. It was once home to real local Tailor, John Pritchard, who Beatrix based the story on.

Find the House Of The Tailor at 9 College Court, open from Monday-Saturday, 10am-4pm.

Other things to do in Gloucester include visiting historical sites like St Oswald's Church and Greyfriars.
Other things filmed at Gloucester Cathedral
Other productions filmed in Gloucester include:
Peter Rabbit 2 (2020)
Spanish Princess (2020)
Doctor Who – Fugitive of the Judoon (2020) and The Next Doctor (2008)
Mary Queen of Scots (2018)
The White Princess (2017)
Wolf Hall (2015)
Sherlock (2015)
And that's just the last 6 years!
Where next?
Thanks for reading!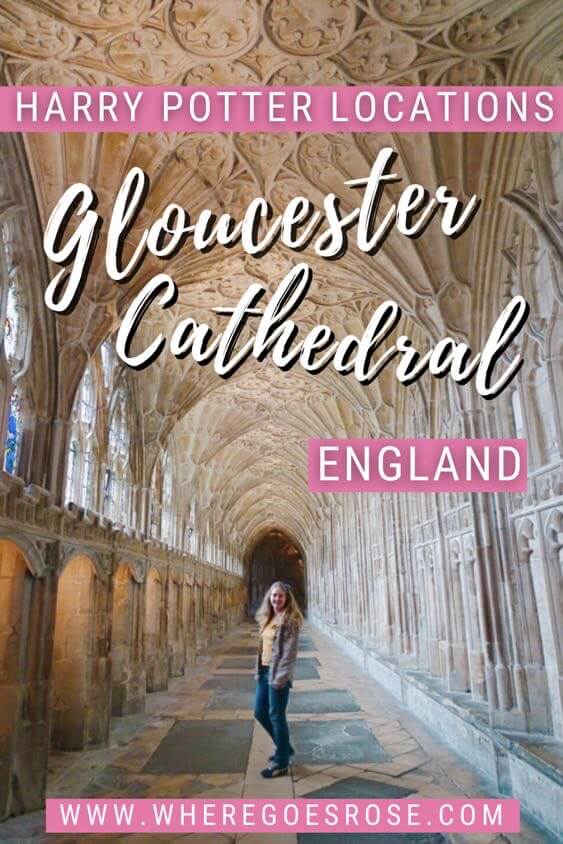 Visiting the UK?

These are my trusted resources…

Guide books – LP always get my seal of approval. Use the latest copy of Lonely Planet Great Britain.

Flights (international and domestic): I use Skyscanner to find the best-value flights, using the 'search by month' tool to find the cheapest dates. You can also use the 'to anywhere' feature if you're flexible on where you're going.

Car hire – use Rentalcars.com to compare car rentals in the UK (and all around the world).

For UK trains, I use Trainline. The search feature allows you to compare prices, and they show live departure times on the website.

For buses, I use Busbud. It's the only site that compares UK coaches and buses. Find London to Manchester journeys for £1!

For hotels and self-catering apartments, I use Booking.com. You can filter by review score and price to find the best-rated budget places. For hostels, I use Hostelworld.com.

I use GetYourGuide for tours & activities when I don't want to travel solo. The guides are knowledgeable and you can't beat the prices. I also check Viator as they often have fun and unique offerings.

For food tours pairing travellers with passionate local chefs and foodies, check out EatWith.

To save money on accommodation, I use Trusted Housesitters, a website that connects homeowners going away and travellers who can sit their homes & pets.

Need travel insurance? I use True Traveller (for Europe residents) since it's affordable but covers everything you'd need including various activities, valuables and pre-existing conditions. Unlike some companies, they insure you if you're already travelling / don't yet have your flight home booked. Get a quote.

For travel insurance for other nationalities, I recommend Hey Mundo and for long-term digital nomad travellers, I suggest Safety Wing.

Check out my resources page for more travel discounts and budget tips from my 10+ years on the road!
For more travel content, follow me on Instagram, Facebook, Twitter and YouTube.