This post may contain affiliate links to things like tours, hotels, Amazon associates and products. These help me earn a small commission at no additional charge to you.
Gloucester Green Market in Oxford is one of my favourite UK street food markets. There's affordable cuisine from around the world, fresh local produce and plenty of shopping opportunities.

Although England isn't known for affordable street food, you just need to know where to look. If you've explored London street food markets like Borough and Brixton, you'll know what I mean! Oxford Gloucester Green may not be quite on that level but I'm a huge fan.

Visitors tend to come to Oxford for the historic University buildings (and more recently the Harry Potter filming locations) but the fantastic Oxford food and drink scene is worth sticking around for.

Although there are several others including Oxford Covered Market, my favourite market in Oxford is Gloucester Green.

Note – if you see it referred to as Oxford Outdoor Market, this is the same thing.
Useful info for visiting Gloucester Green Market, Oxford
Gloucester Green Market address: 78 Gloucester St, Oxford OX1 2BU, UK.

Hours of operation:
| | | |
| --- | --- | --- |
| | Wednesday & Thursday | Friday & Saturday |
| Opening times | 9am-4pm | 9am-5pm |
Getting to Gloucester Green Oxford Market
One of the best things about Gloucester Green Market is its location. Gloucester Green is also a bus station servicing surrounding towns and other UK cities including London.

The Oxford Tube departs Gloucester Green bus station (about 10 steps from the market) up to every 10 minutes, 24 hours a day, 365 days a year.

By train: Gloucester Green Market is a 10-minute walk from Oxford Train Station.

By car: Central Oxford isn't fantastic for affordable parking. Your best bet is to park at one of the Park & Rides and catch a 10-minute bus into Oxford.
Best days of the week to visit Gloucester Green Market
Wednesdays are general market days with all vendors present. Browse street food, groceries, antiques, jewellery and more.

Thursdays are focused around antiques and arts & crafts with just a few food stands in attendance.

On Saturdays and Sundays, there are also events and entertainment. Expect giant bubbles, interactive craft stalls, poem writing sessions and dance acts. It's a lot of fun!

Look out for Refugee Oxford who sometimes deliver talks about the wonderful work they do.
What to eat at Gloucester Green Market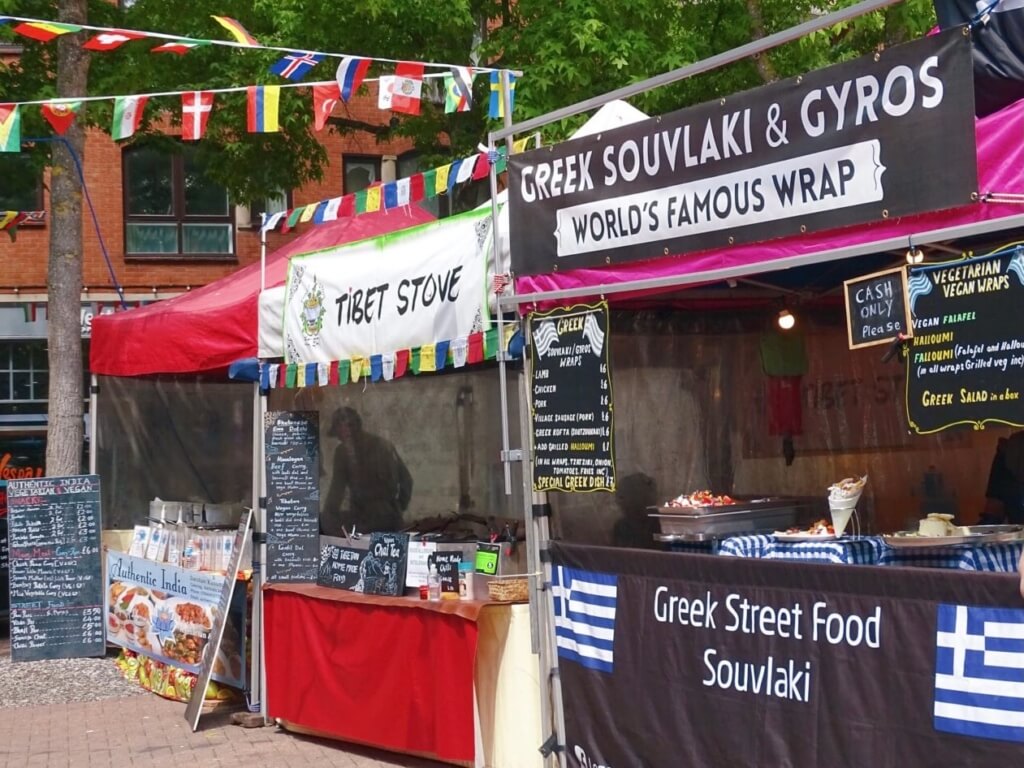 There's so much to eat at Gloucester Green food market that you might feel overwhelmed. I know I have a bad habit of buying food from the first vendor who gives me a free sample!

There's no bad food at the market but there are a few stands I'd particularly recommend. Keep an eye out for:
Lula's Ethiopian Cuisine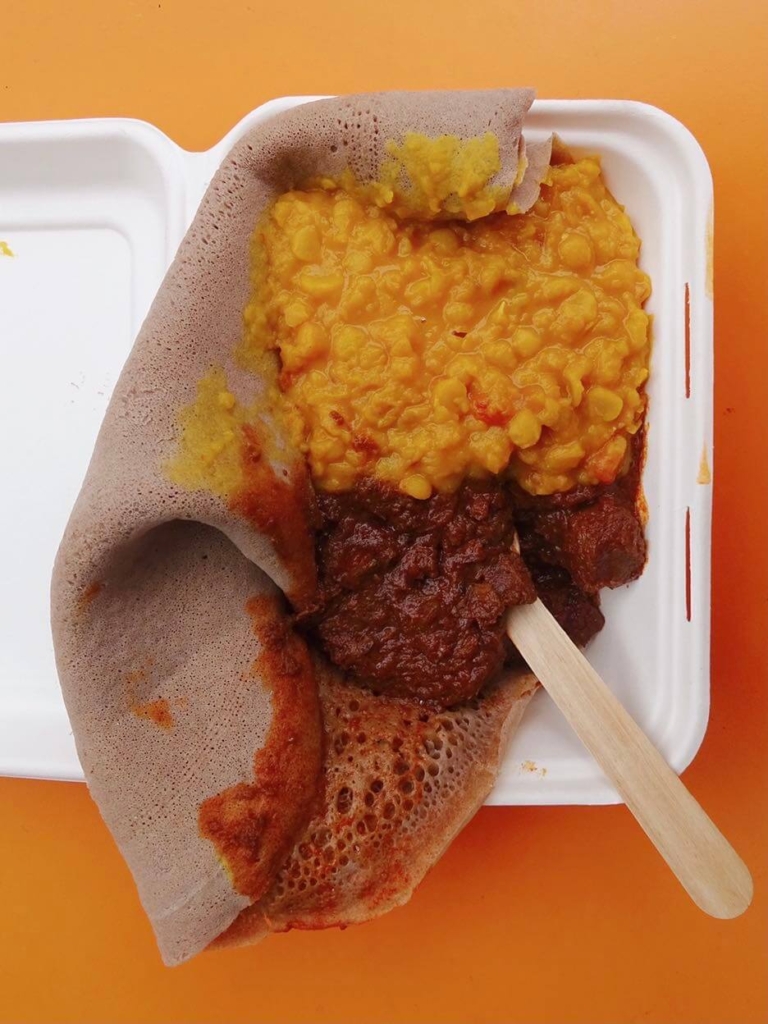 One of the top vendors at Gloucester Green Market is Lula's Ethiopian Cuisine.

I'd never tried Ethiopian or Eritrean food before so this was a real treat (trying new foods from around the world is basically my passion!).

There are several curries to choose from served with injera, a type of sourdough bread. The idea is that you use injera to scoop up your food rather than a knife and fork. If that sounds too messy, don't stress – you can pick up some cutlery!

I went for the zigni curry: lamb with onion, garlic, ginger and tomato. You can also opt for chicken curry or one of three vegan options (red lentils; split pea; or cabbage, carrot and potato curry). I paid £9 for two large scoops of curry and injera.

You'll find Lula at Gloucester Green food market on Wednesdays only. On Thursdays, you can get home delivery from the website and on Fridays, she serves at Common Ground community space and cafe on Little Clarendon Street (read my Jericho neighbourhood guide to learn about this part of town).
Crazy Bastard Sauces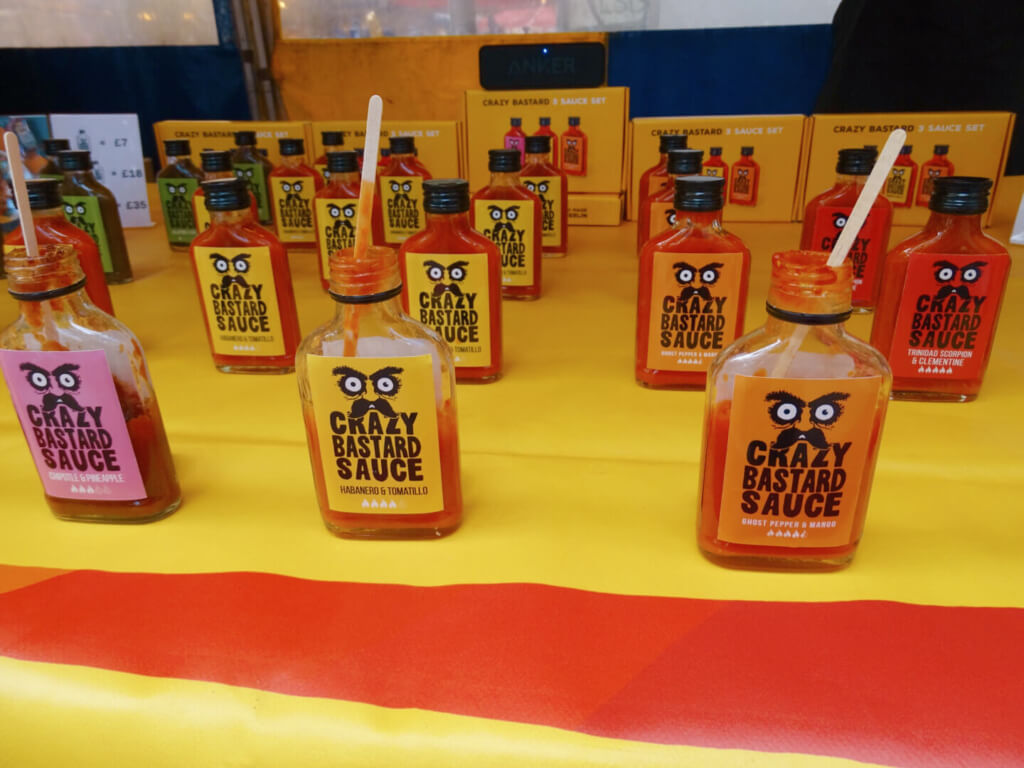 If you can handle the heat, don't miss this stall at Gloucester Green food market. Crazy Bastard Sauces are made using chillis from around the world, grown underground in optimum conditions in Berlin.

The friendly owner will let you sample the sauces before you buy. They're laid out in order of spiciness from chipotle and pineapple (mild) to habanero and tomatillo (my favourite as I love Mexican chillis), ghost pepper and mango and – hottest of all – Trinidad scorpion and clementine. Not for the faint of heart.

Prices start from £7.
So Tung Street
So Tung Street is a must for Asian food fans. They specialise in Hong Kong street food and, as the owner explained to me, the star dish is the Numbing Spicy Rice Roll. After several years living in Asia, I'm obsessed with the soft, chewy texture of rice rolls. It's a bonus when they're spicy!

Other dishes worth trying include the dim sum and minced pork rice.
Flavours of Goa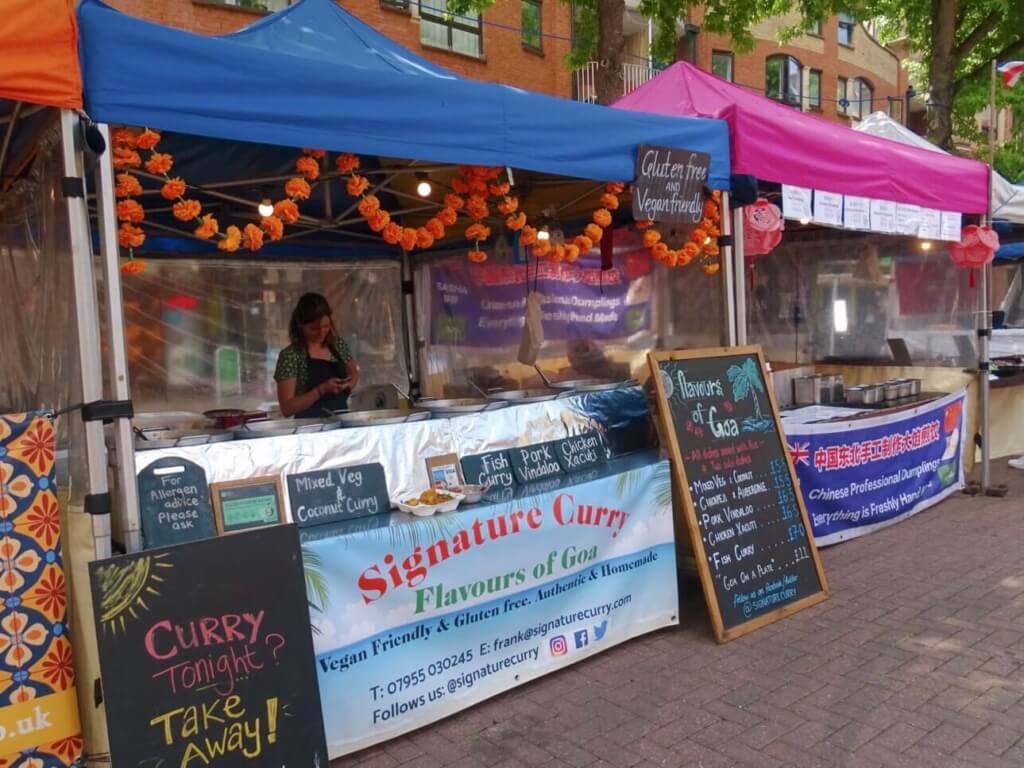 For authentic South Indian food, make sure to visit Signature Curry Flavours of Goa.

Although I love a chicken tikka masala as much as the next person, Anglicised Indian food is no longer new or exciting in the UK. That's why I was excited to try chef Franklin Lobo's home-cooked Goan cuisine.

Dishes include okra bhaji, chana (chickpea) dahl, fish fry and aubergine curry. If you're veggie or vegan, this is one of the best stalls at Gloucester Green Market.

Most dishes are around £5 with rice. A bargain for some of the best Asian food in Oxford!
Polentista by I Gustoni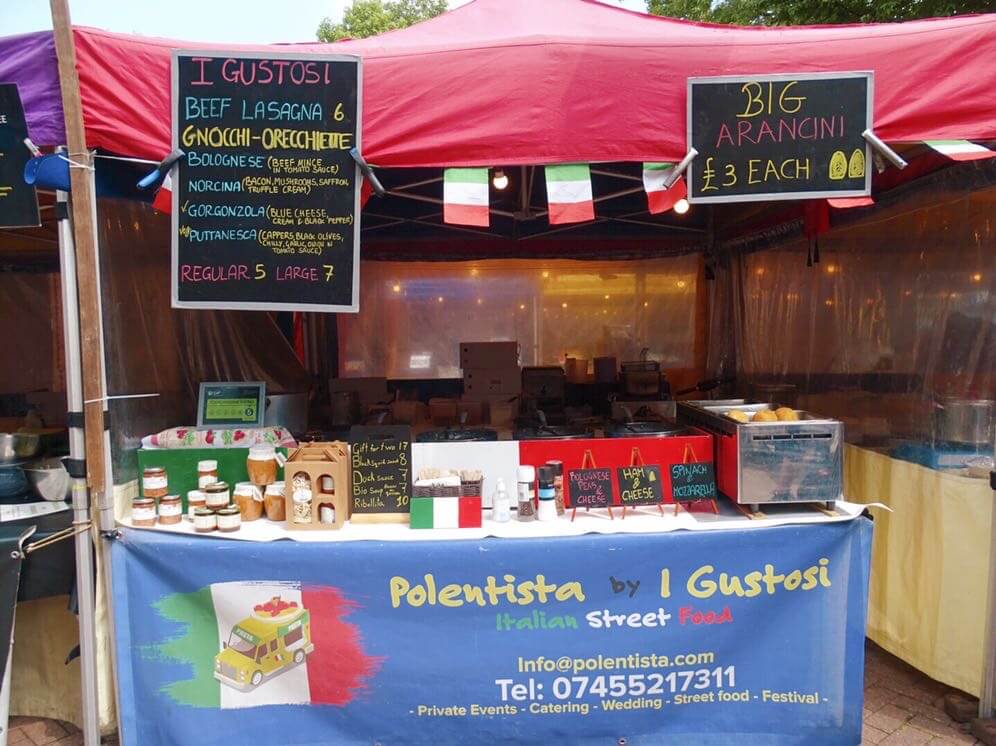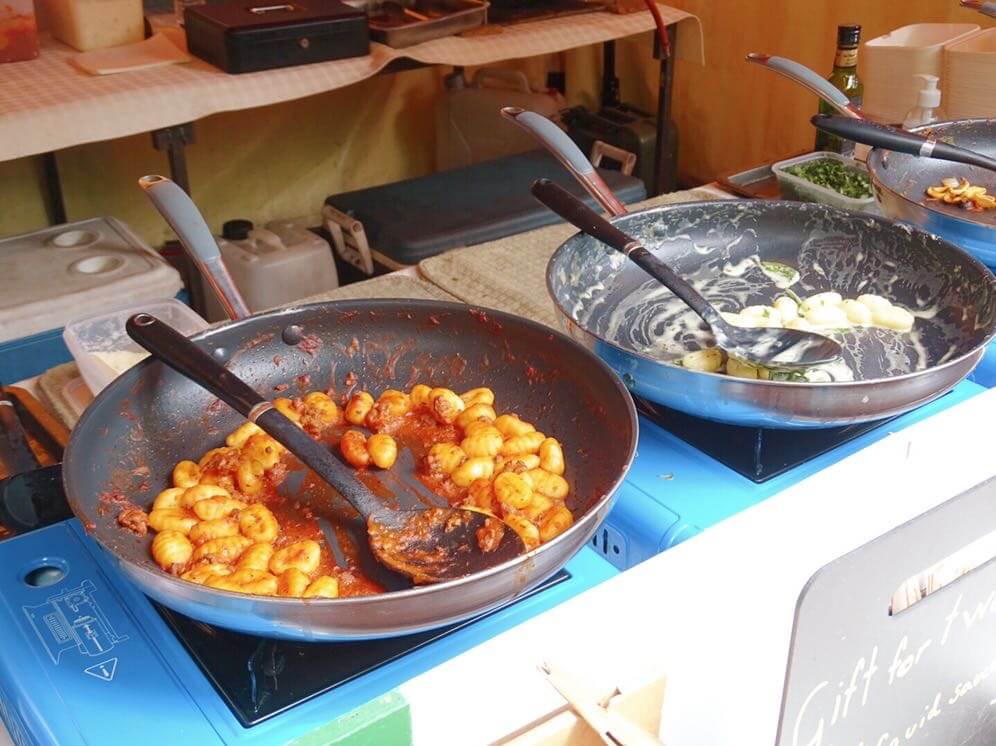 For famous beef lasagna and gnocchi, Polentista by I Gustoni is the best place at Gloucester Green Oxford Market to eat authentic Italian food.

Gnocci flavours:
Bolognese – beef mince & tomato sauce
Norcina – bacon, mushroom, saffron & truffle cream
Gorgonzola – blue cheese, cream & black pepper
Puttanesca – capers, black olives, chilli, garlic, onion & tomato.
It's £5 for a small serving or £7 for a large. If you're still hungry, add a giant arancini ball to your meal.
Picoteo Paella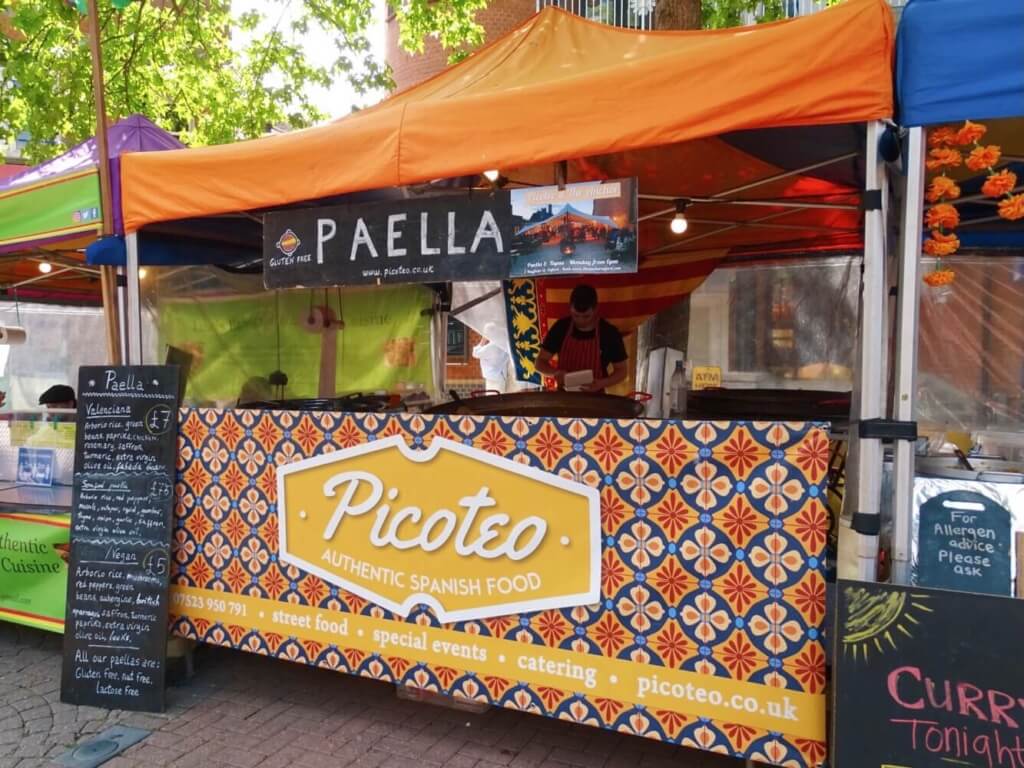 Bringing the flavours of Spain (but sadly none of the sun) to Oxford is Picoteo, an authentic paella stand at Oxford Gloucester Green Market.

Order the classic Valenciana paella (£7) with arborio rice, green beans, paprika, chicken, rosemary, saffron and turmeric, or opt instead for seafood paella (£7.50) with mussels, octopus, squid and gammas, or vegan paella (£5) with asparagus, red pepper and mushrooms.
Gyoza Oxford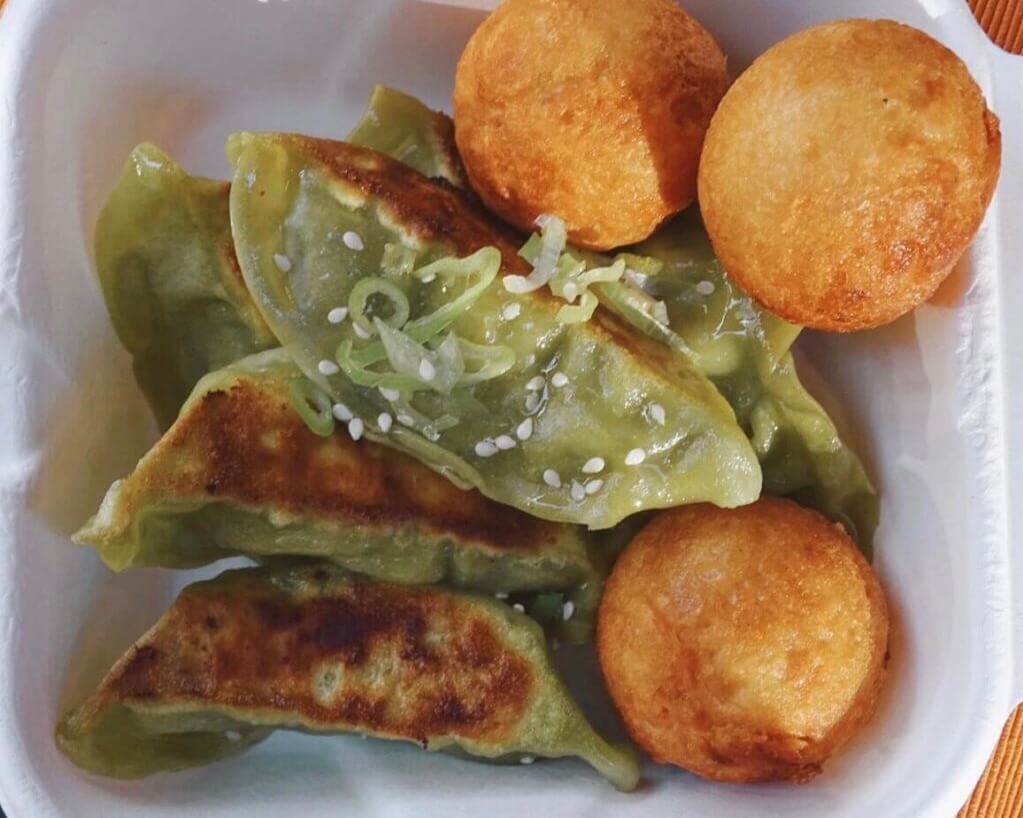 Visit Gyoza Oxford for authentic Japanese snacks like gyoza (obviously!), onigiri, takoyaki octopus balls, yakitori chicken skewers, pumpkin croquettes and steamed pork buns.

If you're not sure what everything is, the friendly owner will help you choose.

Items start from 60p! Bargain.
Caffe Vespa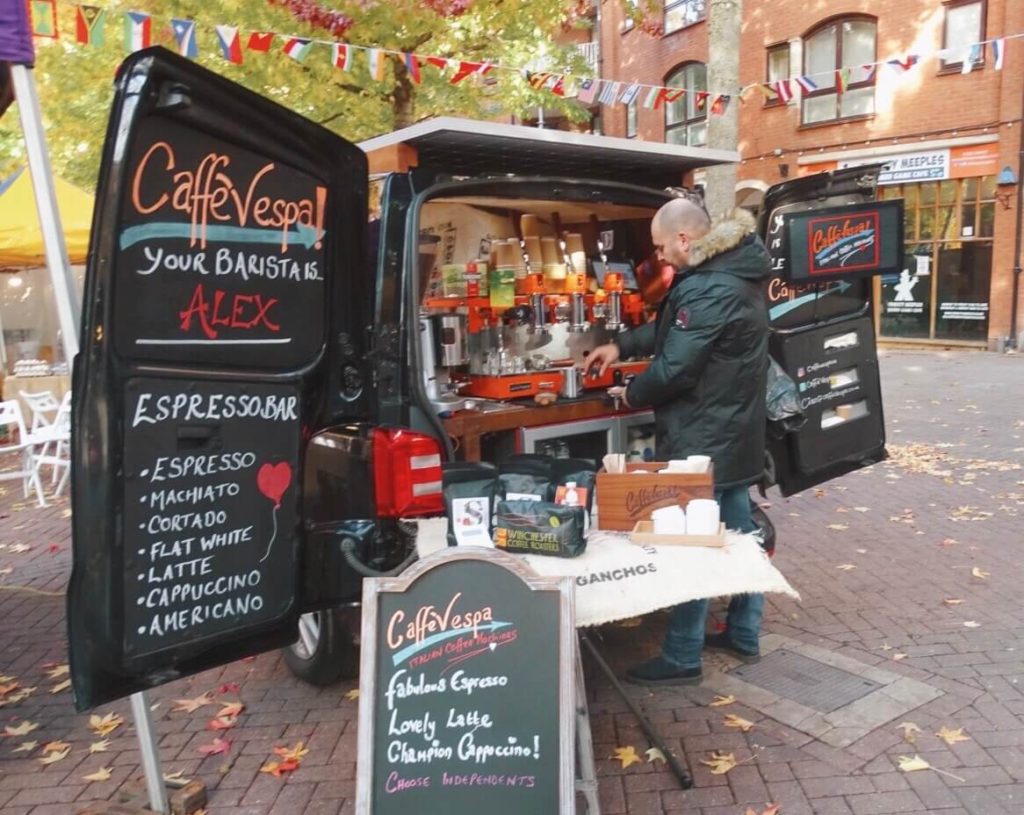 If after reading this guide, you STILL can't choose what cuisine you want (I hear you, it's tough), grab a coffee from Caffe Vespa and take another lap around the market. Friendly owner, Alex, serves espresso, macchiatos, cortados and more from his portable coffee van. Future dream job? I think so.
Read next: the best coffee in Oxford
Best food for veggies & vegans
Flavours of Goa – most of the dishes are veggie using ingredients like okra, aubergine and chickpea.
Lula's Ethiopian Cuisine – three out of the five curries are vegan.
Shopping at Oxford Gloucester Green Market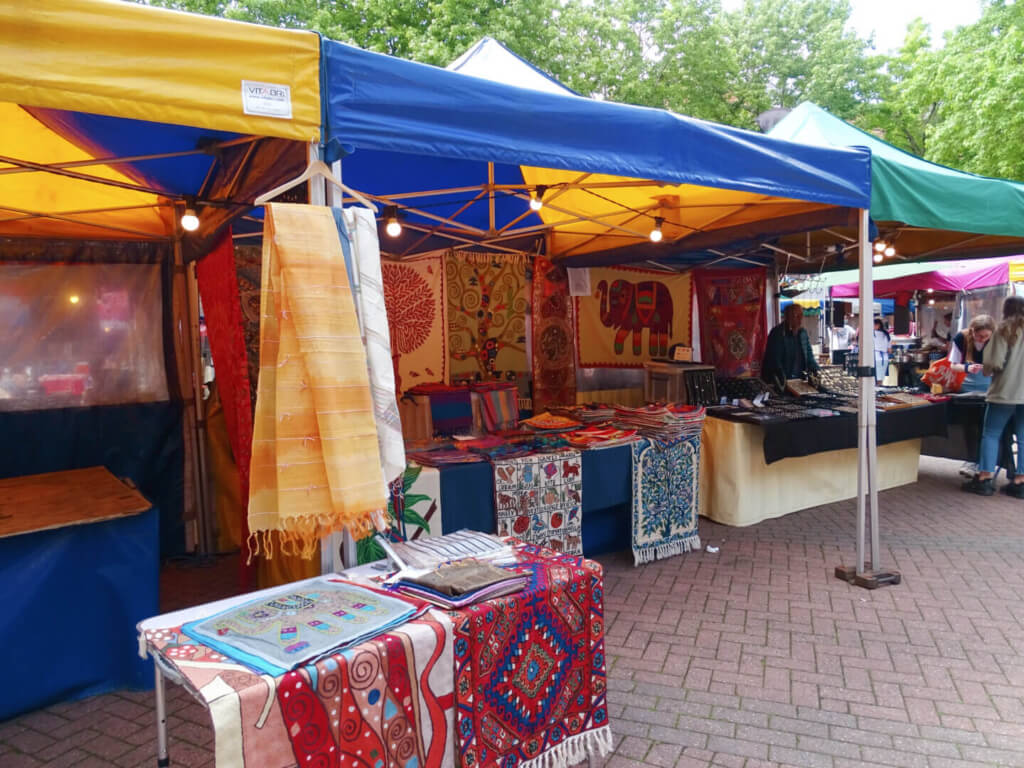 There are lots of colourful shops to browse at Gloucester Green Oxford Market. You'll find:
Rugs, scarves, tablecloths, cushion covers and throws
Gorgeous jewellery. The stall pictured above on the right sells handmade silver jewellery with precious stones
CDs and DVDs
Clothes – shirts, hoodies and sweatshirts
Trinkets and collectables
Crystals and precious gems
Painted mugs and plant pots
Bath products like bath bombs (check out the Glam Fizz stand)
Pop-up cards.
Gloucester Green Farmers Market
It's not often you find Tibetan street food and fresh farmers produce side by side. That's why I love the variety on offer at Gloucester Green Market.

Wednesday is a good day to shop for fresh vegetables like tomatoes, aubergines, avocados, peppers and more. Items are priced by weight.

There are also butchers stalls selling raw meats and locally produced British cheeses.
Other places to eat nearby
Oxford is a fantastic city for eating and drinking. There's fine dining, budget eats and lots of Asian food.

There are a few particularly good restaurants near Gloucester Green Market. One is White Rabbit, a cosy pub with fantastic pizzas and a spacious garden area with heaters in the winter.

My other favourite pizza cafe in Oxford is right beside Gloucester Green Market. Bbouna serve authentic Italian pizza by the slice, half or whole pizza. They also make a mean Aperol Spritz!
Where else to eat in Oxford
If you're reading this, I'm guessing you like food. Here are all my Oxford food guides:
What else to do in Oxford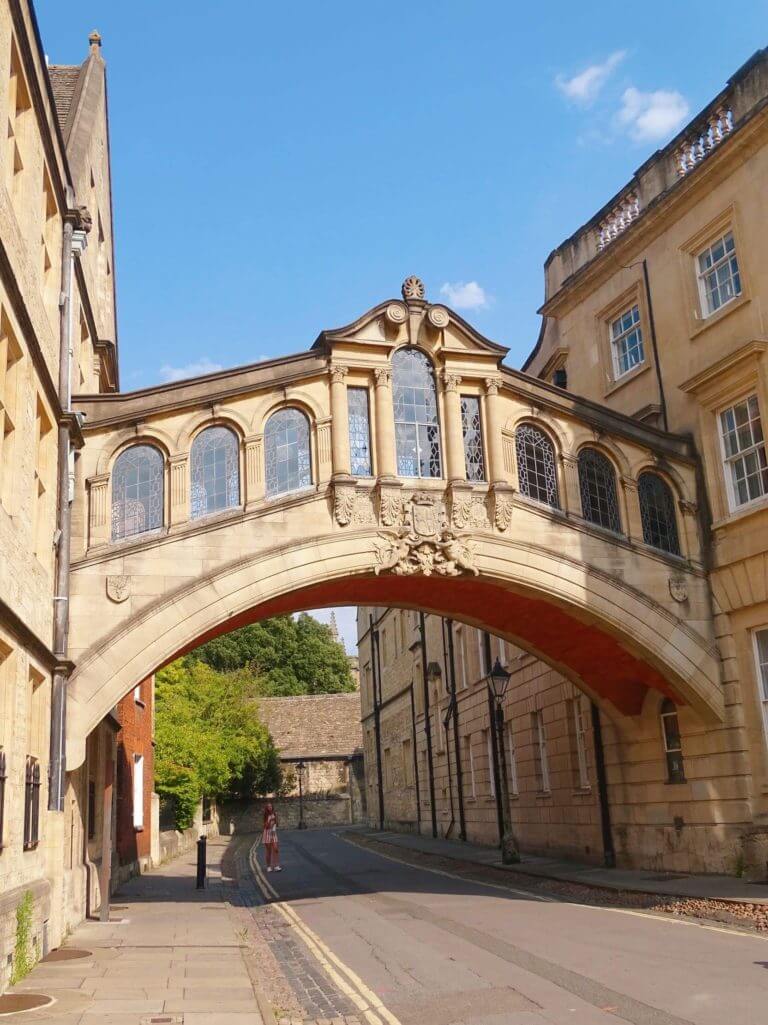 Check out the key historic sights like Radcliffe Square, Sheldonian Theatre, Bridge of Sighs and Bodleian Library. There are lots of free things to do in Oxford if you're visiting on a budget.

To experience Oxford University life, visit one of the beautiful Oxford colleges.

Fans of the franchise can explore the Harry Potter movie locations in Oxford.

Head to stylish Jericho neighbourhood for cosy cafes and boutique shops. Catch a film at Phoneix Picture House or watch live music at the Jericho Tavern.

For excellent world cuisine and cheaper prices, visit Cowley Road. This is one of my favourite parts of town with plenty of Cowley restaurants and cafes.
Other markets in the Oxford
As well as Gloucester Green Market, there are several other awesome markets in Oxford, some serving street food, others serving local produce.

Oxford Covered Market is a fantastic option with fresh market stands and cosy cafes serving English classics and international cuisine.

For the best of the best, check out my Oxford markets blog.