This post may contain affiliate links to things like tours, hotels, Amazon associates and products. These help me earn a small commission at no additional charge to you.
Planning a trip to Guadalajara? I would highly recommend it. I recently spent an awesome 4 days in Guadalajara hence I wanted to share with you my Guadalajara itinerary and tips for visiting.
GUADALAJARA QUICK LINKS

Accommodation: Booking.com / Hostelworld

Copy of Lonely Planet Mexico / Mexican Spanish Phrasebook

Activities: GetYourGuide / Viator

Getting there: Rentalcars.com / Busbud

Getting around: Bus / Uber
Where is Guadalajara?
Guadalajara is located in the west of Mexico, approximately a six-hour drive from Mexico City. I headed there a non-direct way, visiting San Miguel de Allende and Guanajuato en route but you can also make the journey directly. Drive, take a bus or carpool using BlaBlaCar.

Mexican buses aren't as cheap as those in other countries but at least they're very comfortable, often with complimentary snacks and TV screens in front of your seat!
To book buses in Mexico, use Busbud.
By air: To book flights around Mexico, use Skyscanner. Direct flights from Mexico City to Guadalajara start from $50. You can fly direct from the US from several airports including Miami, New York City, Oakland, East Bay and Orlando.
Guadalajara intro
Guadalajara is without doubt a large city, although it's no rival to Mexico City. It has 1.5 million residents compared to CDMX's 9 million (in the metropolitan area alone).

Like the capital, Guadalajara has a hectic city centre but also some leafy, more upmarket neighbourhoods. There are also some excellent day trip options which is why I would recommend spending at least 4 days in Guadalajara.

Keep reading for what to do during 1 day in Guadalajara as well as how to spend 2 days in Guadalajara & 3 days in Guadalajara.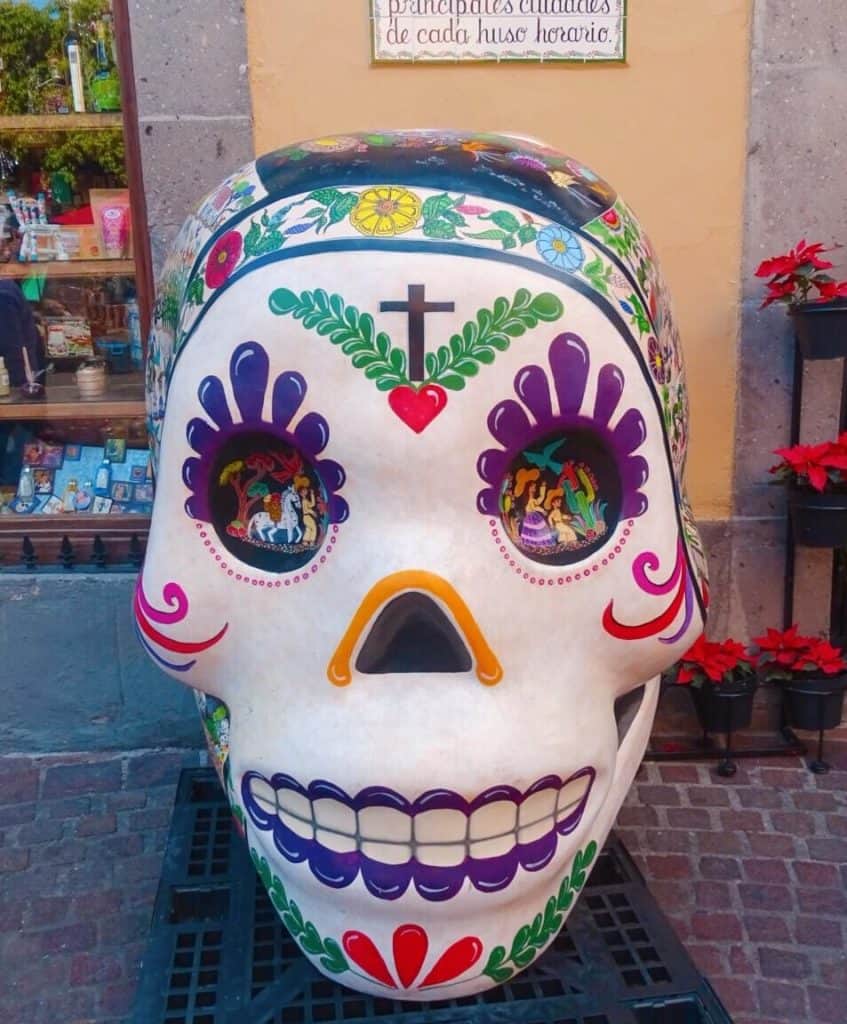 Read next: a complete guide to solo travel in Mexico
Where to stay in Guadalajara
Chapultepec neighbourhood is a great location for your 4 days in Guadalajara. With leafy, wide streets and cute coffee shops, it's the perfect base to relax after a busy day of exploring.

Hostel: Hostal Hospedarte in Chapultepec has a garden area, kitchen, bar and generous free breakfasts each morning. They also run bar crawls, lucha libre wrestling trips, street food tours and more. The rooms were nothing special but they were comfy enough. It's a great place to meet other travellers.

Note – Hostal Hospedarte have two branches, one in Chapultepec and one in the Zocalo. I would suggest the Chapultepec one as this neighbourhood is both nicer and safer.

Other accommodation options:

Budget hostel: Hostel Isabel ($32)
Boutique: Del Carmen Concept Hotel ($52)
Splash out: Quinta Real Guadalajara ($97)

Apartment: Life Style Executive Suites ($59)
Best experiences in Guadalajara
GUADALAJARA ITINERARY
I'd recommend 4 days in Guadalajara in order to take 2 day trips during your stay. These are to Tequila (yes it's actually a place) and Lake Chapala. The latter is a refreshing break from the busy city and you can tie in a stop at charming Ajijic town.

However, if you don't have as long as I did, don't worry. This Guadalajara itinerary accounts for 1, 2, 3 and 4 days in Guadalajara. If you have just one day, simply follow day one's itinerary. Add the additional days depending how much time you have!
1 day in Guadalajara: Zocalo and Chapultepec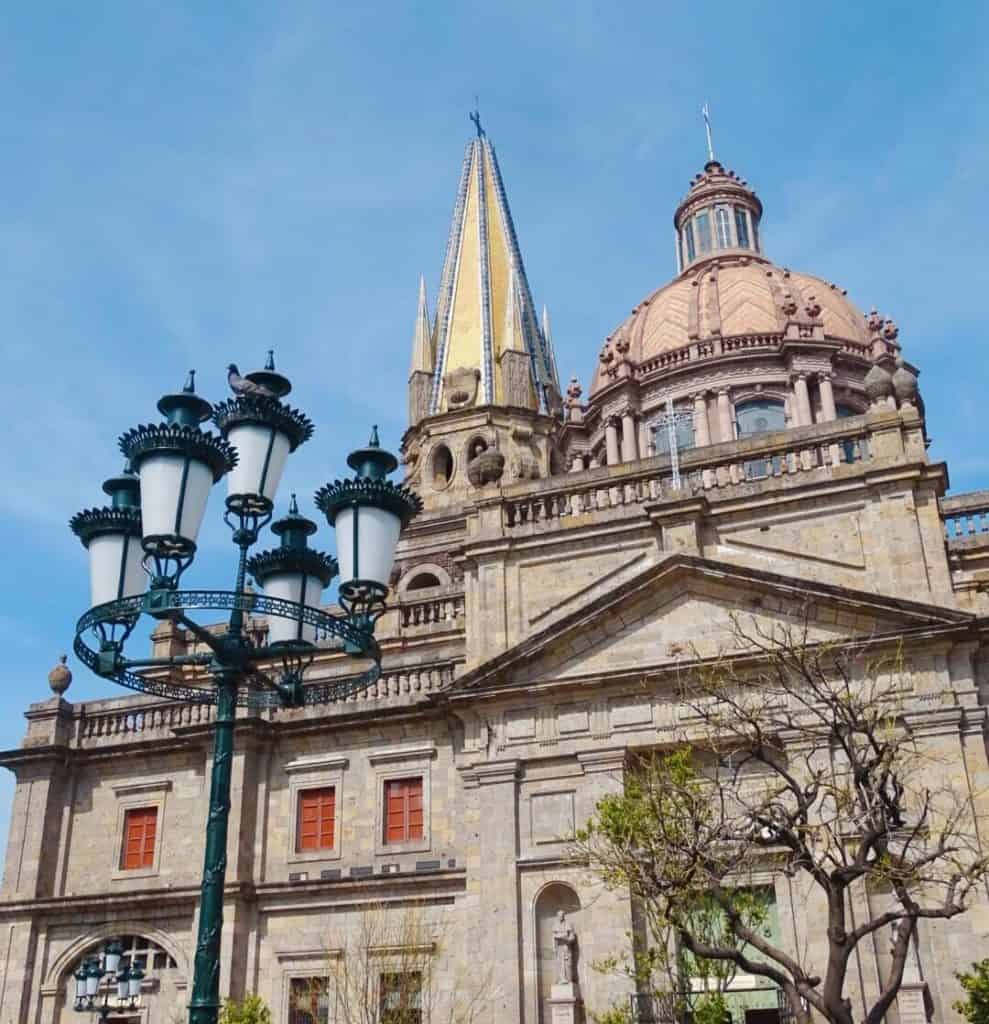 If you have just one day in Guadalajara, start the day in the Zocalo (city centre). Guadalajara centre reminds me of Mexico City because there are lots of grand colonial buildings but also some hectic local markets.

Guadalajara Zocalo is a generally safe place to wander around with lots of wide, sunny squares and impressive churches. As a word of warning, I would suggest you catch Ubers at night rather than walking because the city centre can be known for pickpockets.

The guy in the bunk above me at the hostel had his phone stolen whilst speaking on it during a trip to the Zocalo. So just be smart and exercise caution like you would elsewhere, particularly at night.

Don't fancy walking? Take a bike tour of the historic centre with a local guide.
Mercado General Ramon Corona
One of the best places to eat in Guadalajara Zocalo is at this local market, Mercado General Ramon Corona. It's not a huge market compared to the one I'll mention next but it's still worth checking out during 4 days in Guadalajara, especially to ease yourself in before hitting the big'un.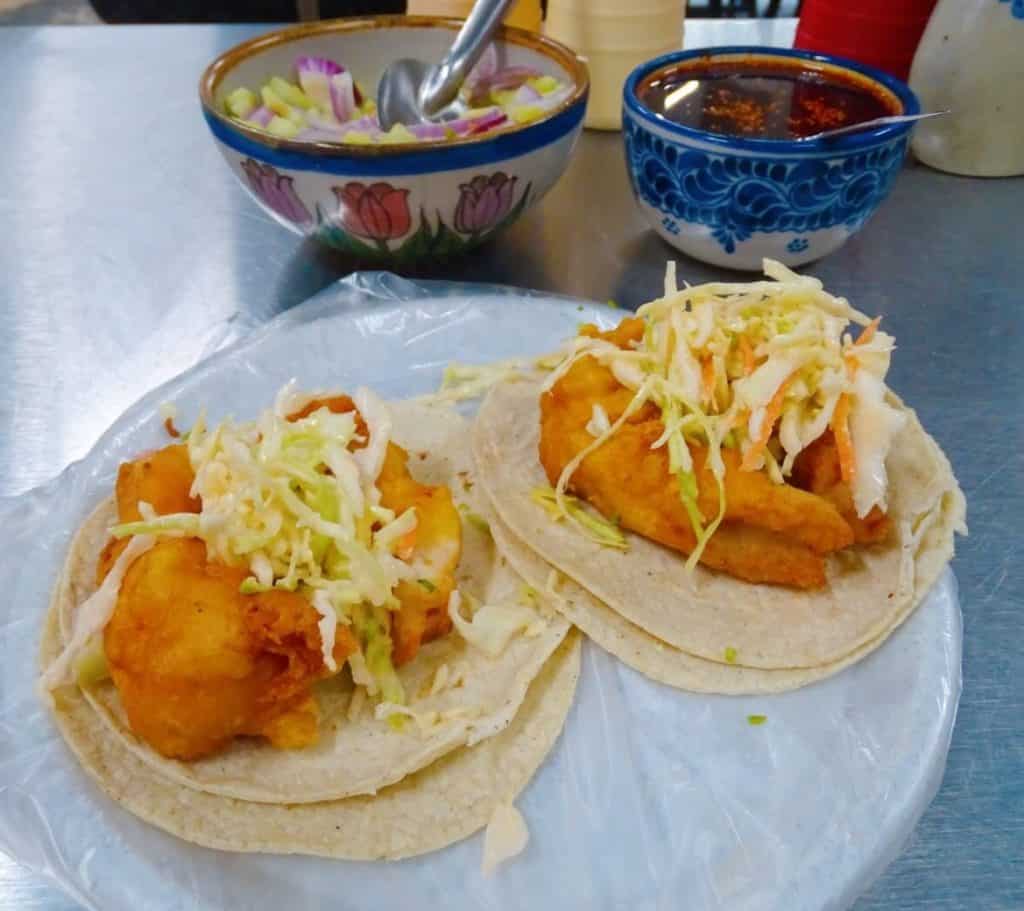 There are plenty of popular Mexican foods to try in Mercado General Ramon Corona such as tacos, tortas, chilaquiles and more. Don't miss the fish tacos, especially since they're just 15 pesos apiece. Crispy breaded fish topped with salad, coleslaw, salsa and a squirt of lime can only be improved by washing it down with a cold beer. Bliss!
Mercado Libertad San Juan de Dios
If you're a fan of local markets, head to Guadalajara's Mercado Libertad San Juan de Dios, a short walk from the Zocalo. This hectic local market is a total maze but offers an authentic Mexican market experience. Tightly-packed alleys overflow with clothes, bags, spices, sweets, counterfeit DVDs, technology… Literally everything you can think of.
You might be the only foreigner in Mercado Libertad San Juan de Dios. Don't feel nervous, just keep an eye on your belongings and explore this vibrant corner of Guadalajara. Very few of the vendors will speak English so any Spanish you know will go a long way.

Head upstairs in Mercado Libertad San Juan de Dios for one of the most authentic places to eat in Guadalajara. At this bustling food court, you can try every type of Mexican food and drink but I'd particularly recommend Guadalajara's national dish, a torta ahogada or 'drowned sandwich'. These meaty sandwiches in tomato-based sauce are messy but very tasty.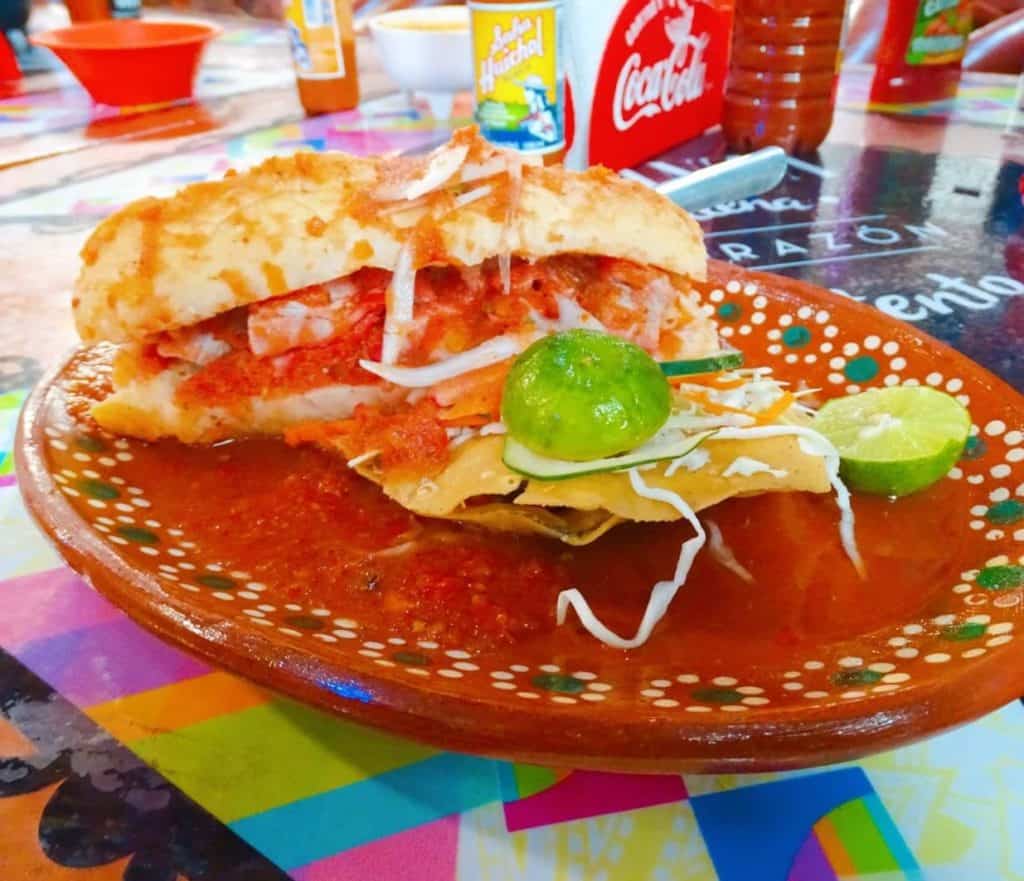 Another corner of Mercado Libertad San Juan de Dios I'd recommend is this cute coffee stand below. The speciality coffee equipment and numerous drinks from affogato to ChocoBoom (get me some of that!) would be at home in any hipster cafe so I was surprised to find this cafe in the otherwise local market.

I know this cafe is in the downstairs section towards the left side but it's hard to pinpoint the exact location. Good luck finding it. It's worth it!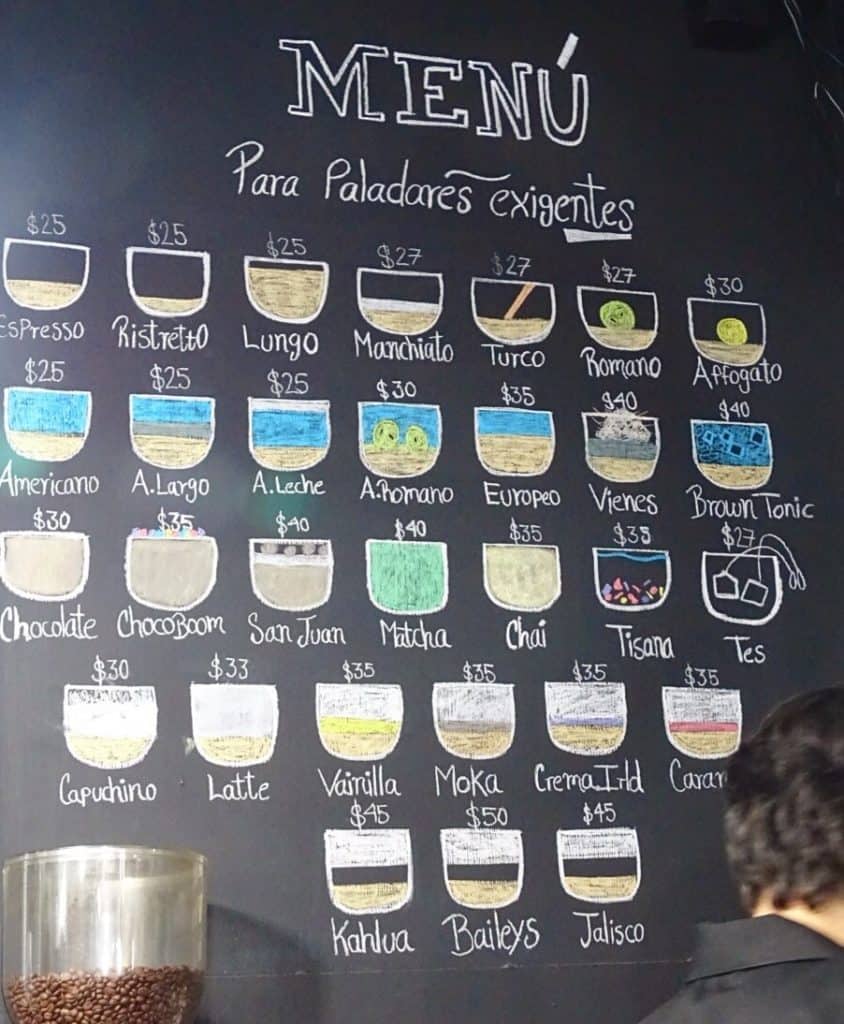 Afternoon – Chapultepec / Tlaquepaque
I headed back to Chapultepec where my hostel was located and explored the leafy neighbourhood. There are lots of street art murals in this part of town, as well as cute cafes and restaurants. I really liked Roart Cafe where I chatted to the owner for several hours and had some great coffee.

If you're staying in Chapultepec for the evening, head for tacos at Tomate Taqueria. This busy local joint has queues out the door but it's worth it to get your hands on some of Guadalajara's best, meatiest tacos. This place is open 'til 12.30am so feel free to show up for post-drink tacos.
2 days in Guadalajara itinerary: Tequila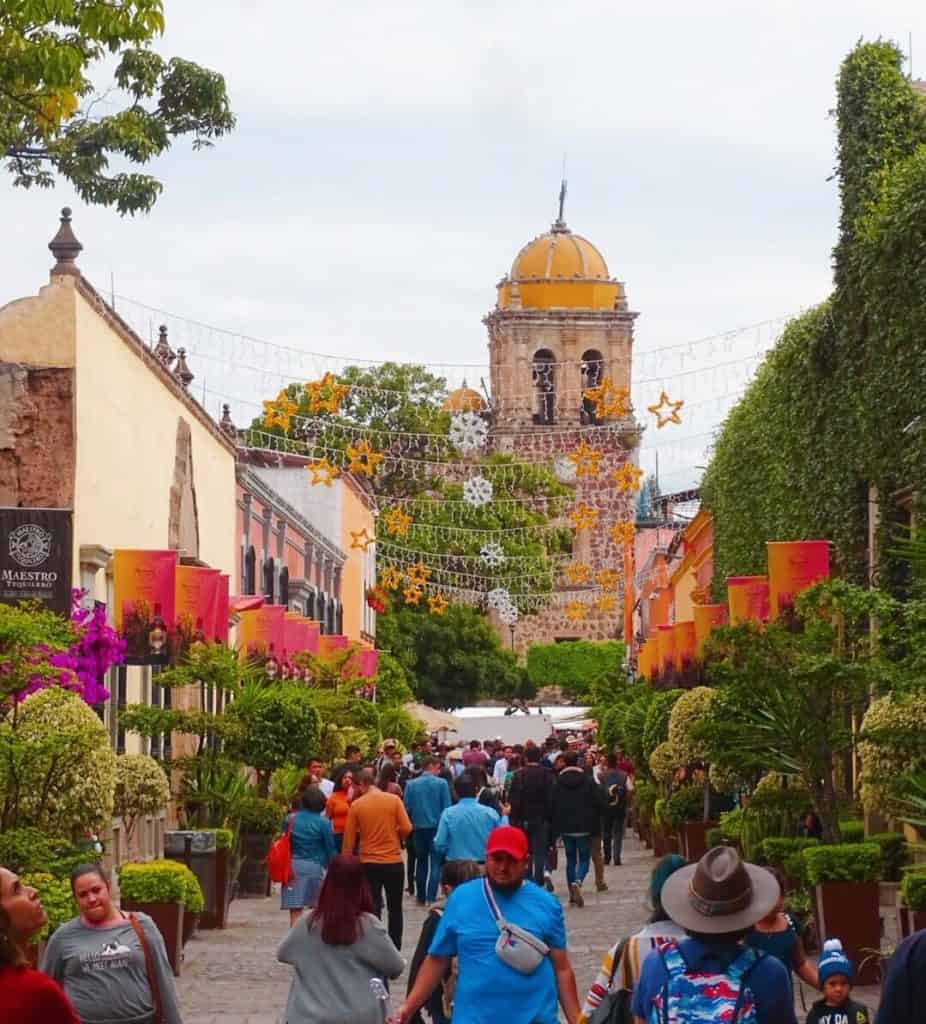 Everyone's heard of Tequila but not everyone knows where it comes from (although the clue's in the name). Tequila is much like Champagne: the beverage has to be made in the town of the same name to qualify. I'd highly recommend a day trip to Tequila if you have 2 days in Guadalajara.

As well as mariachi music, Tequila is one of the main things that puts Guadalajara on the map. The small town is an hour's drive away in the state of Jalisco and there are a few ways to visit.
Ways to visit Tequila:
Take the Tequila train from Guadalajara, sampling unlimited tequila as you journey through the scenic agave fields. This is your most expensive option at $100.
A Tequila day tour travelling between Guadalajara and Tequila by shuttle bus as part of a small group. Everything is organised including a Tequila factory tour. Take this tour with GetYourGuide.
Take the public bus from Antigua Central Camionera. Journeys leave hourly and cost just 200 pesos return. Even considering you'll have to pay for your own Tequila factory tour when you arrive, this is still the cheapest option.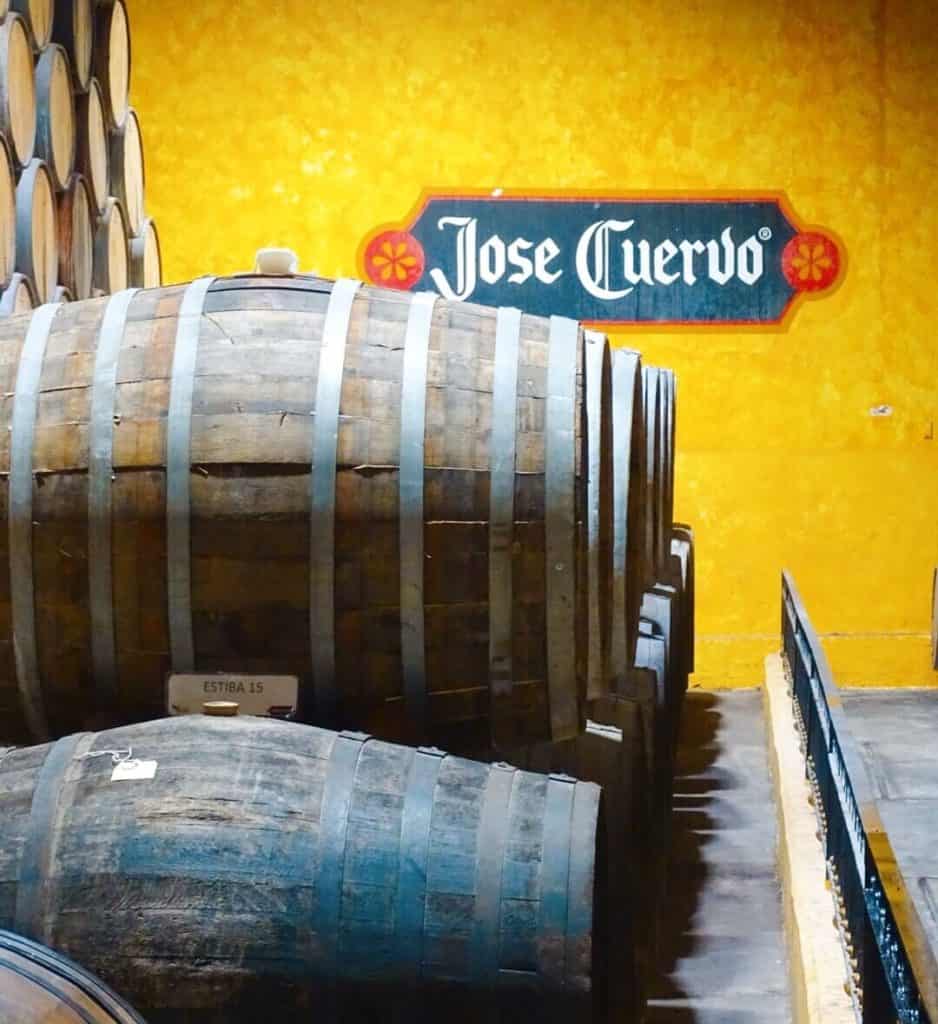 What to do in Tequila: The main activity is visiting one of the Tequila factories to tour the venue, learn about the production process and (most importantly) sample the famous beverage. I can confirm it tasted just as lethal as any time I've tried it in the past. It's not my favourite drink but when in Tequila!

We visited Jose Cuervo Distillery at Fábrica La Rojeña which is one of the most popular and longstanding venues in Tequila. For 150 pesos, you get a factory tour and tasters. Alternatively, you can upgrade to other packages which include tequila cocktails.

The whole tour took around an hour which gave us plenty of time for wandering Tequila. There isn't a great amount more to do but it's a pretty colonial town which is usually busy and vibey at weekends with local markets and voladores performing. If you haven't seen these guys yet, expect to be amazed as they swing from the top of a 150-metre pole attached by harnesses.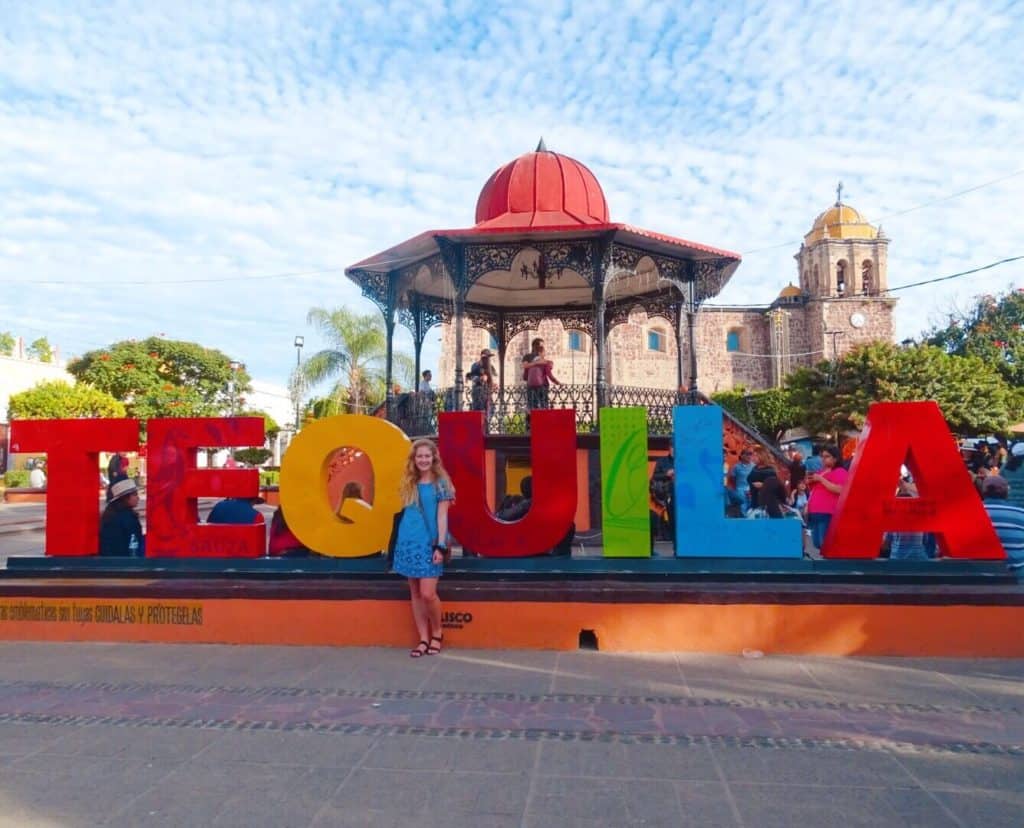 3 days in Guadalajara: Chapala
With a third day in Guadalajara, you can take another day trip within Jalisco state, this time to Mexico's largest lake.

Chapala is the name of the lake as well as the popular tourist town on its banks. The cheapest option is taking a bus but the easiest option is an organised day tour to both Chapala and Ajijic.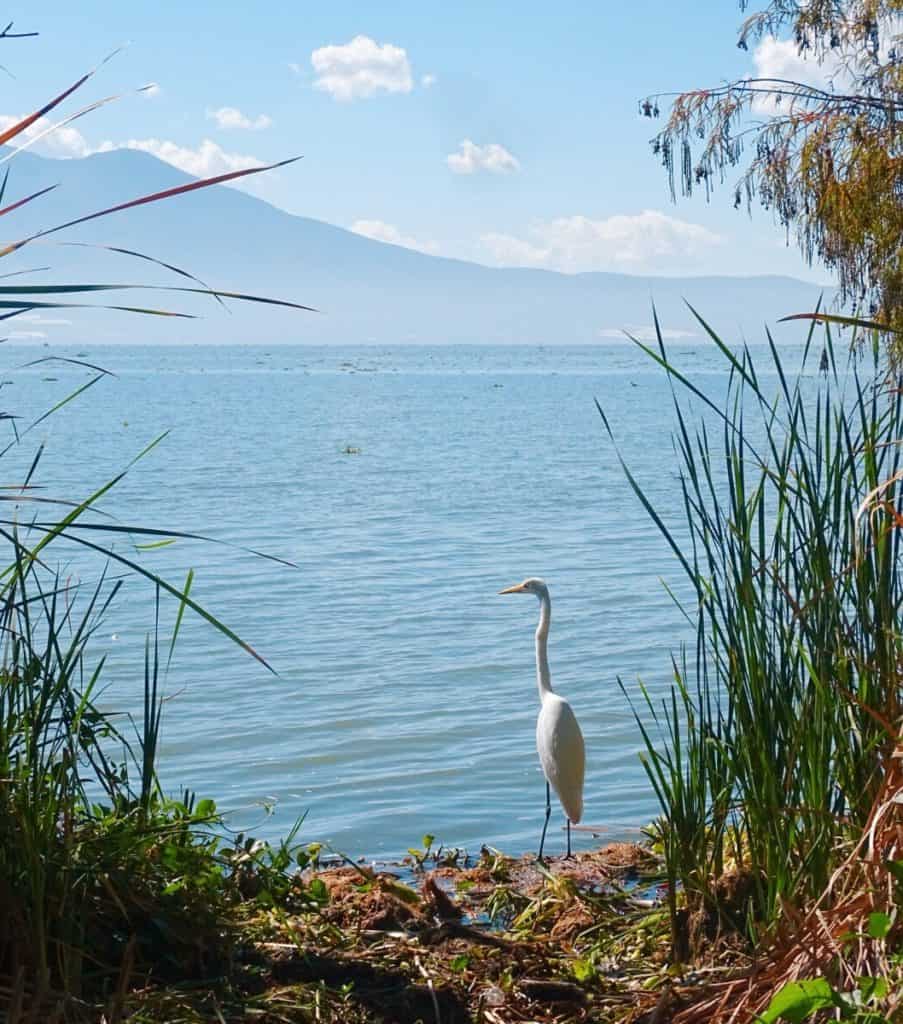 Chapala town can get very busy, especially if you visit on a weekend. I would suggest visiting on a weekday if you can.

There's another nearby town called Ajijic (pronounced ah-he-hic) which is also worth adding to your Guadalajara itinerary. I'd suggest starting your day at Ajijic as it's furthest away, then stopping at Chapala town on the way home.

How to get to Ajijic from Guadalajara by bus: Along with two girls from the hostel, we caught an Uber to Antigua Central Camionera, the same place we'd caught a bus to Tequila the day before. We paid around 100 pesos for a ticket to Ajijic and the ride took around 1.5 hours.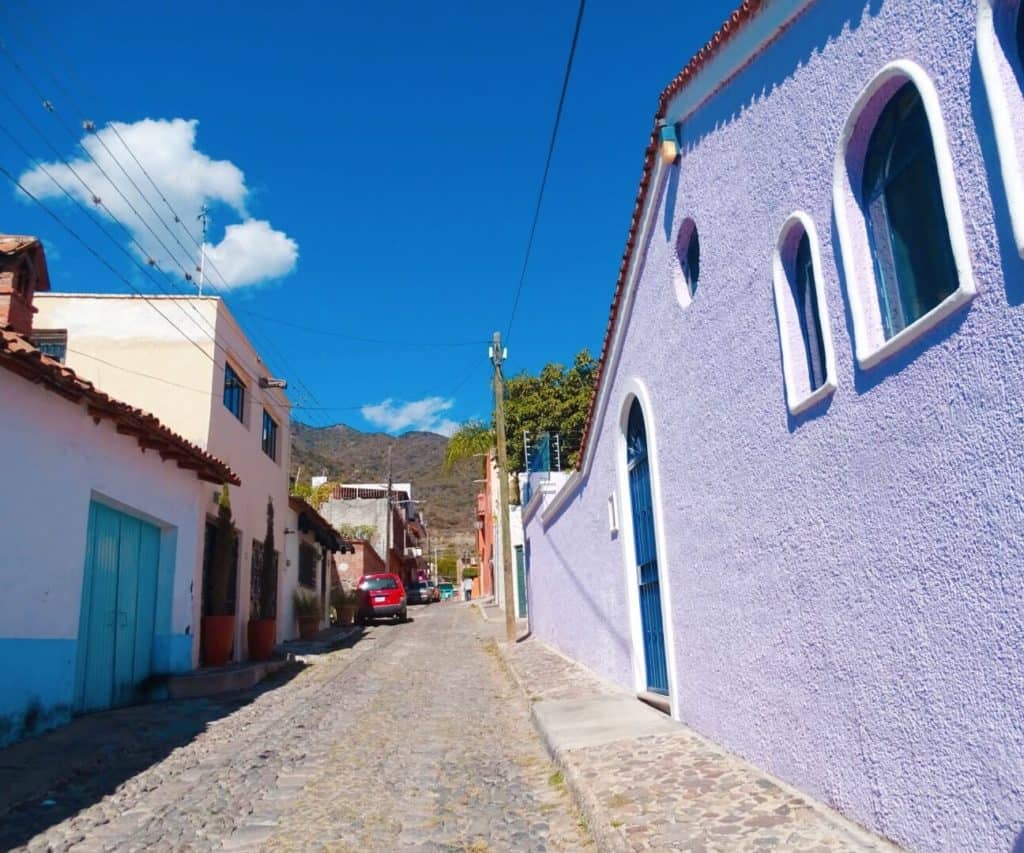 Things to do in Ajijic
Ajijic is a funny place because it's widely known as an American and Canadian retirement town. Many of the residents clearly aren't Mexican and eat at Western-style restaurants with menus in English.

While this doesn't make Ajijic sound particularly authentic or interesting, I still liked this pretty, colourful town. A taxi driver also told us that the foreigners are friendly and respectful, bringing with them job opportunities for locals.

It's also worth a visit for the lakeside views!
Things to do in Ajijic:
Take a hike to El Tepalo Waterfall, although maybe not in the dry season – it was all dried up when we arrived
Walk the lakeside promenade and take in scenic views
Explore the quiet lake banks away from the promenade to ditch the crowds (not that there are many in Ajijic compared to Chapala town) and spot wildlife
Eat at Chilli Verde Restaurant. The chile relleno (giant breaded chilli stuffed with cheese and bathed in a tomato sauce) was very tasty, as were the juices
Spot street art and visit art galleries.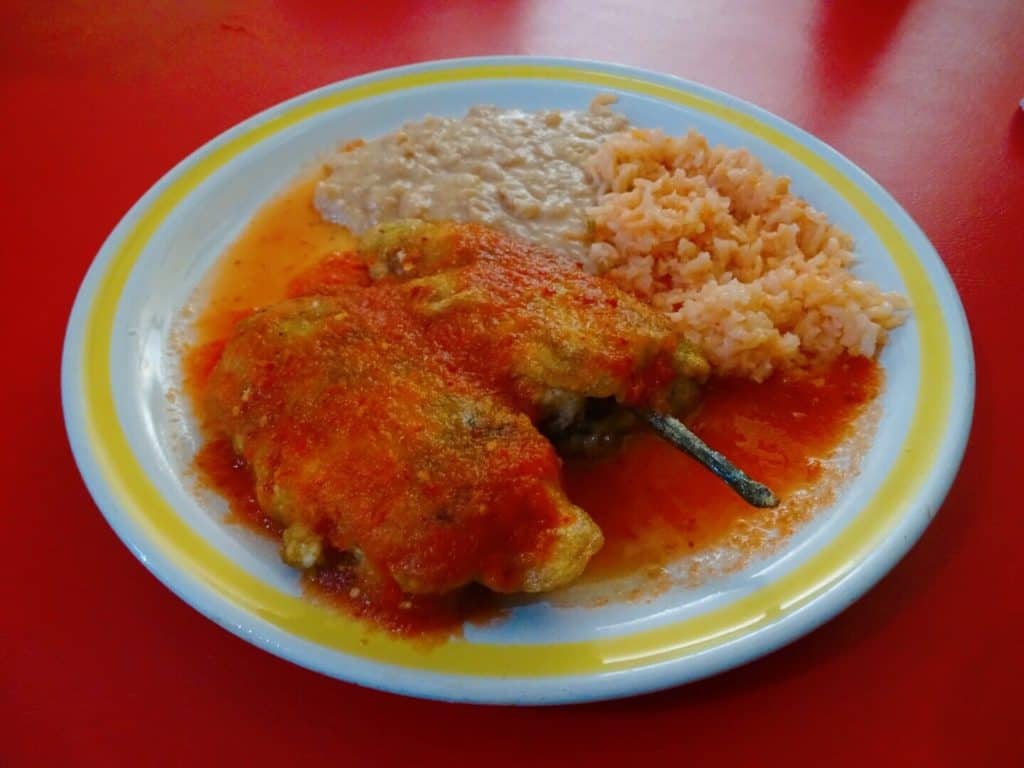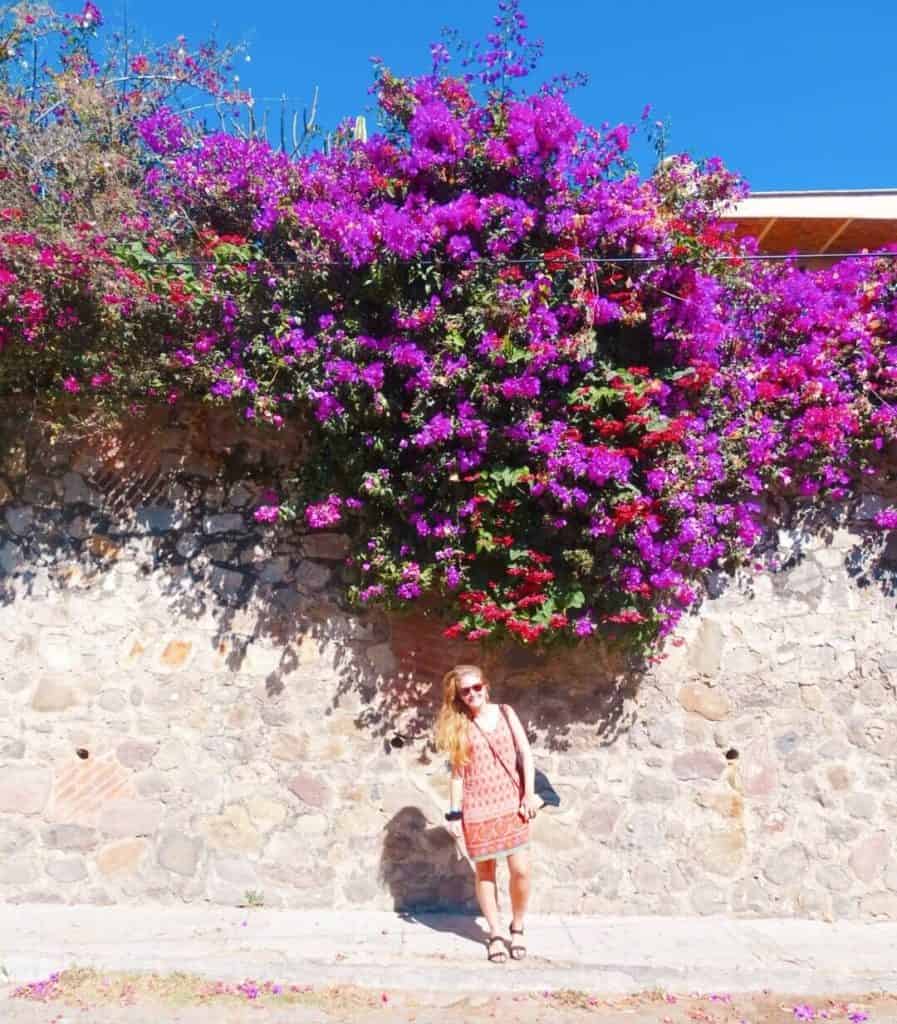 Getting to Chapala: Call an Uber or hail a local taxi for the short ride between Ajijic and Chapala town. I can't remember the exact price we paid but I believe it was around 100 pesos split between three of us.
Things to do in Chapala
We arrived in Chapala and felt instantly overwhelmed by the amount of people, as well as baffled by a man walking a honey badger on a lead.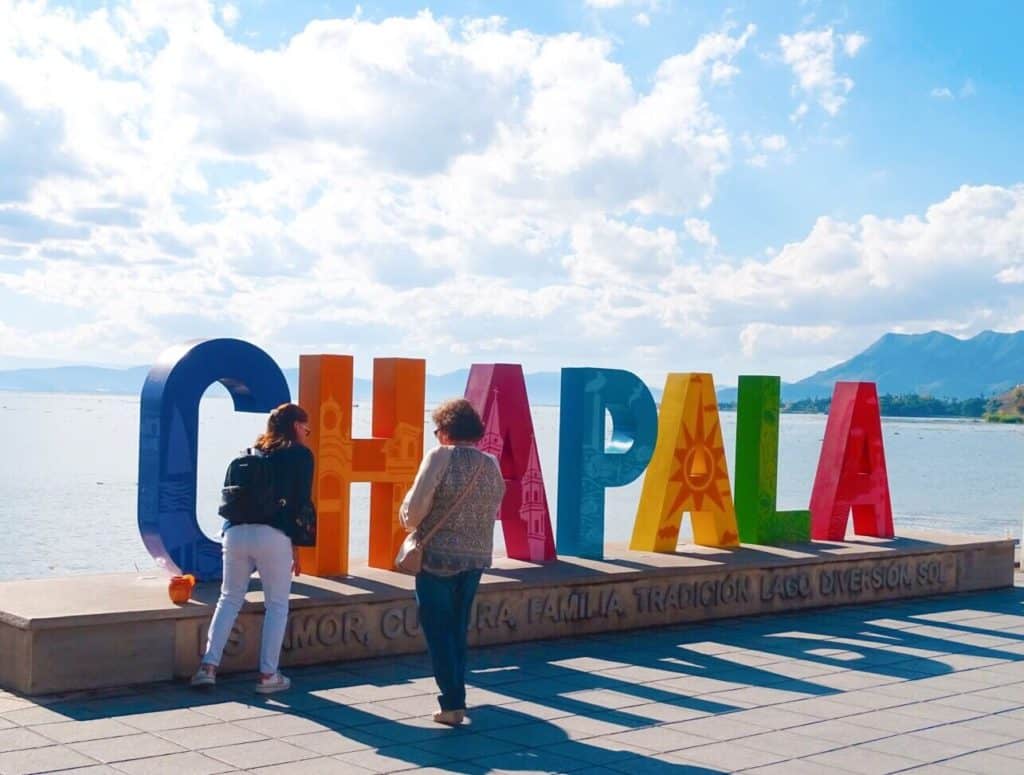 Chapala was overwhelming and I wasn't as enamoured as I was by Ajijic. Still, it's an iconic place to include in your Guadalajara itinerary nonetheless.
Things to do in Chapala town:
Take a boat trip on Lake Chapala. Vendors will approach you selling tickets as soon as you arrive
Eat seafood beside the lake
Shop for snacks, souvenirs and shoes at Tianguis Market on Wednesdays
Drive 10 minutes to San Juan Cosalá town and bathe in natural hot springs
Stroll the Malecon (lakefront area) and snap photos with the colourful Chapala sign.
We set off from our hostel at 9am and arrived back at 6.30pm, having toured both Ajijic and Chapala before catching the 1-hour bus back to Guadalajara. It's a busy but easy day trip.

If you would rather take a tour, you can book a Chapala and Ajijic trip with Viator.
4 days in Guadalajara: Tlaquepaque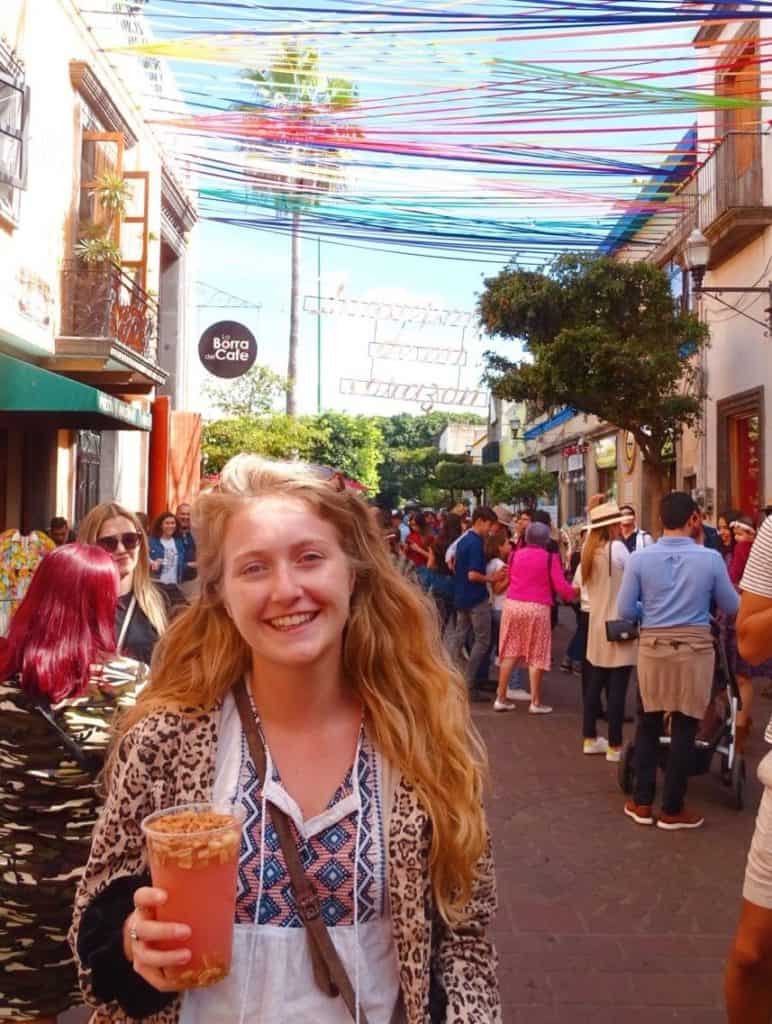 To finish this 4 day Guadalajara itinerary, make sure to visit Tlaquepaque. This charming suburb of Guadalajara was once its own town but has since been absorbed into the urban sprawl. Tlaquepaque is a fun place to visit… As is trying to pronounce it!

Tlaquepaque is known for its traditional pottery and ceramics. There's not a whole load to do but you can easily kill a few hours browsing craft shops and sipping coffee.
Things to do in Tlaquepaque:
Head to El Parían bandstand to watch mariachi players perform. Mariachi, now known around the world, started life here so catching some is a must for your Guadalajara itinerary. You can get a drink at one of the many cafes and watch as performers sing and play violin and guitar while wearing traditional dress. Tlaquepaque may have changed over the decades but this is one thing that hasn't!
Shop for pottery. You'll get great deals on colourful Mexican crafts in Tlaquepaque. You can also attend workshops to see how it's made. Check out Cantú craft shop.
Visit Pantaleón Panduro Museum to see modern ceramic style arts including mini models of Guadalajara's famous buildings.
Stroll Sergio Bustamante Gallery and admire exhibits including statues with a modern art focus. I liked the leafy garden at the back of this gallery.
If you spy street vendors selling this local drink called tuba, give it a try. It's sweet and fruity with peanuts and candies floating inside.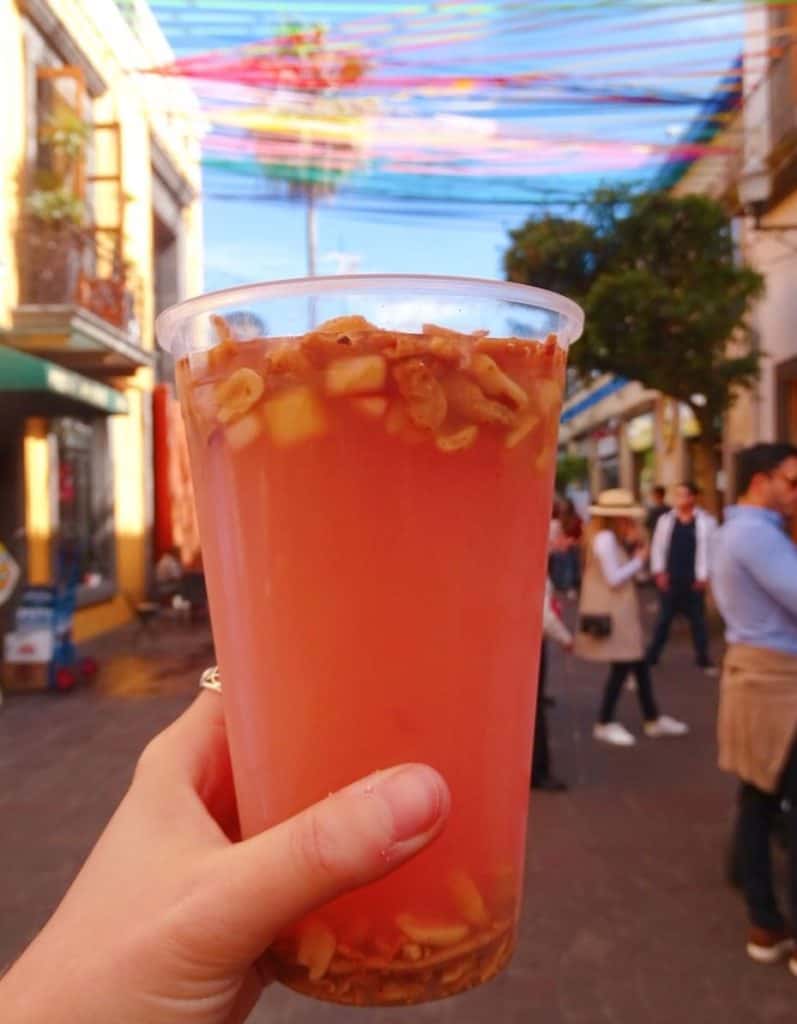 Afternoon activity for street art fans
If you're a street art fan, there's one final thing to add to your Guadalajara itinerary. This impressive street art location isn't in the centre of Guadalajara, in fact it's quite far out. But I can vouch for it as a cool, colourful activity if you have the time.

To reach this street art mural by Boa Mistura, set your Google Maps to Mural Urbano 'Nierika'. From central Guadalajara, you can catch a direct bus with a short walk at the end. From Chapultepec or Tlaquepaque, you'll need to change buses in the centre. Alternatively, take an Uber there.

Tip – for navigating Guadalajara by bus, use the Moovit app.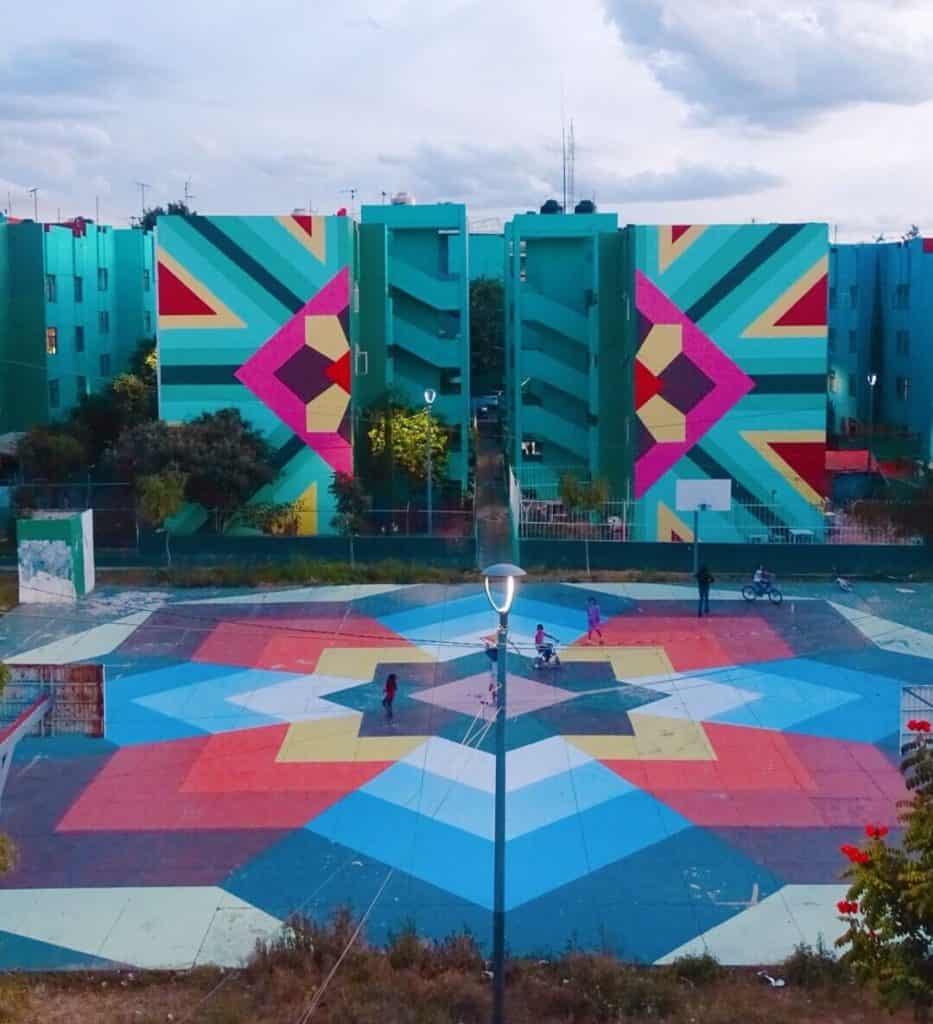 This cool street art mural is spread out over several apartment buildings, even extending to the baseball court. I don't think this location gets a lot of tourist traffic judging by the curious but friendly welcome from the locals.

I was happy to find it and learn about a street artist I didn't know about previously. Boa Mistura is from Madrid but now has street art all over the world. This mural is dedicated to Wixáritari indigenous people living in Mexico. Nierika is a word in their language referring to energy that comes from the wisdom of their ancestors and guides the next generation in building their future. We could all use some of this, I think!

If you can get a panoramic view of all the buildings at once (which we got by climbing a stairwell opposite) you'll see the words FUI, SOY, SERÉ (I am, I was, I will be) written across three buildings. I loved the scale of this art and the different message conveyed by seeing it from another angle.
Guadalajara packing list
Wondering what to pack for Guadalajara? I'd suggest:
Thanks for reading my Guadalajara itinerary!
Check out my other Mexico blogs:
VISITING MEXICO?
These are my trusted resources:

Getting around by air – the quickest (and often cheapest) way to travel between Mexican cities is by flight. I use Skyscanner to find the best-value flights, using the 'search by month' tool to find the cheapest dates. You can also use the 'to anywhere' feature if you're flexible on where you're going.

Getting around by bus (environmental option) – buses in Mexico are comfy with free snacks and an in-journey entertainment system. I use Busbud to find the best prices.

Driving in Mexico – use Rentalcars.com to compare car rentals in Mexico (and all around the world).

For hotels and apartments, I use Booking.com. They have a wide range of accommodation for all budgets, plus the loyalty programme gives you discounts and upgrades.

For hostels, I use Hostelworld.com. Hostels in Mexico are great for meeting other travellers.

To save money on accommodation, I use Trusted Housesitters, a website that connects homeowners going away and travellers who can sit their homes & pets.

I use GetYourGuide for tours & activities when I don't want to travel solo. I also check Viator as they often have fun & unique options.

EatWith – your one-stop for Mexico food tours, cooking classes and hosted meals with local chefs and foodies.

Need to top up your Spanish? Pack a Lonely Planet Mexican Spanish Phrasebook & Dictionary.

Need travel insurance? I use True Traveller (for UK & Europe residents) since it's affordable but covers everything you'd need including various activities, valuables and pre-existing conditions. Unlike some companies, they insure you if you're already travelling / don't yet have your flight home booked. Get a quote.

For travel insurance for other nationalities, I recommend Hey Mundo and for long-term digital nomad travellers, I suggest Safety Wing.

Check out my resources page for more travel discounts and tips from 10+ years of travel!
See you next time for more adventures,
Rose
Ps. Liked this Guadalajara itinerary? Pin it for later!