This post may contain affiliate links to things like tours, hotels, Amazon associates and products. These help me earn a small commission at no additional charge to you.
I just took my second trip to Ha Long Bay and it was as glorious as the first time!

If you're not familiar with Ha Long Bay already, it's the most amazing region home to limestone cliffs that tower above the crystal-clear waters. As one of the top attractions in Northern Vietnam, if not all of Southeast Asia, an overnight trip aboard a 'junk boat' is a must for any nature or ocean lover (or in fact, just anyone).

The mouth of the bay can feel crowded which is why my top tip is to include a second night on Cat Ba Island. Cruising deeper into Ha Long Bay to reach this destination is the perfect way to see more of the dreamy scenery.
Looking to include Ha Long Bay in a Northern Vietnam itinerary or an itinerary for north, central & south Vietnam?
We headed on tour with Sea Sun Cruise for three days and two nights, the first of which would be spent in a boat cabin and the second on Cat Ba Island. I was more excited than before my first trip because I already knew what to expect – great things were on their way! Here's what we got up to…

(Note: Keep reading to the end and I'll review the two tour companies I've now travelled with).
Day 1 – exploring the Bay
Departing Hanoi and boarding our boat
Cruising through the bay in the morning
Visiting Sun Sot Cave
Exploring Titop Island and climbing the viewpoint
Wine on the boat before dinner
A night docked in the bay.
Here are my photos from day 1!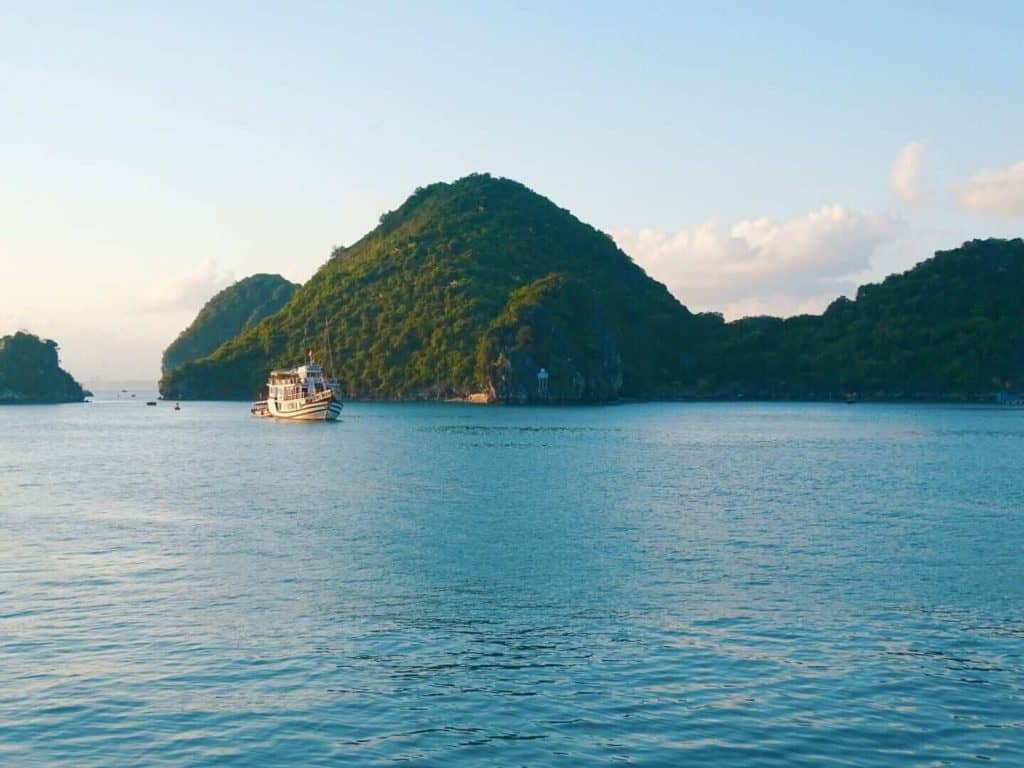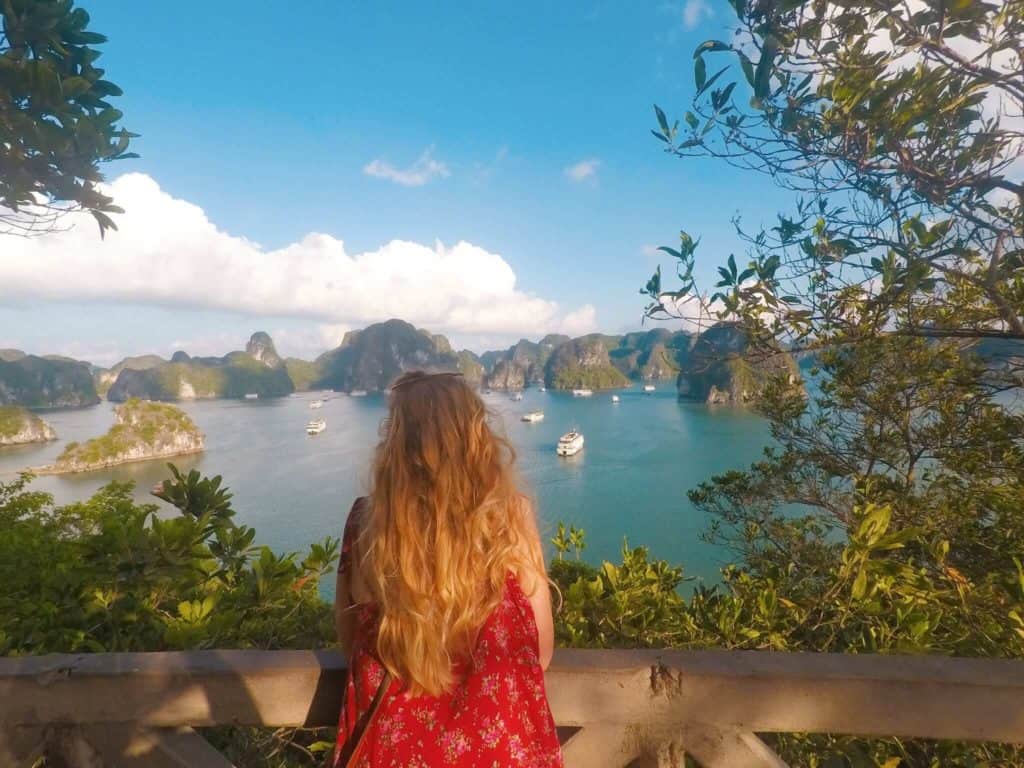 Day 2 – heading to Cat Ba Island
We got up early on day 2 for a few morning activities:
Visiting a pearl farm
Kayaking around the limestone cliffs.
When the one-dayers headed back to Hanoi, us lucky ones continued towards Cat Ba Island. As we got deeper into the bay and further from the busy mouth, the scenery quickly became even more beautiful – if that were possible! The plan for the afternoon was:
Visiting Monkey Beach
Arriving on Cat Ba and checking into our hotel
Free time before dinner – we climbed the viewpoint.
Here are my photos from day 2!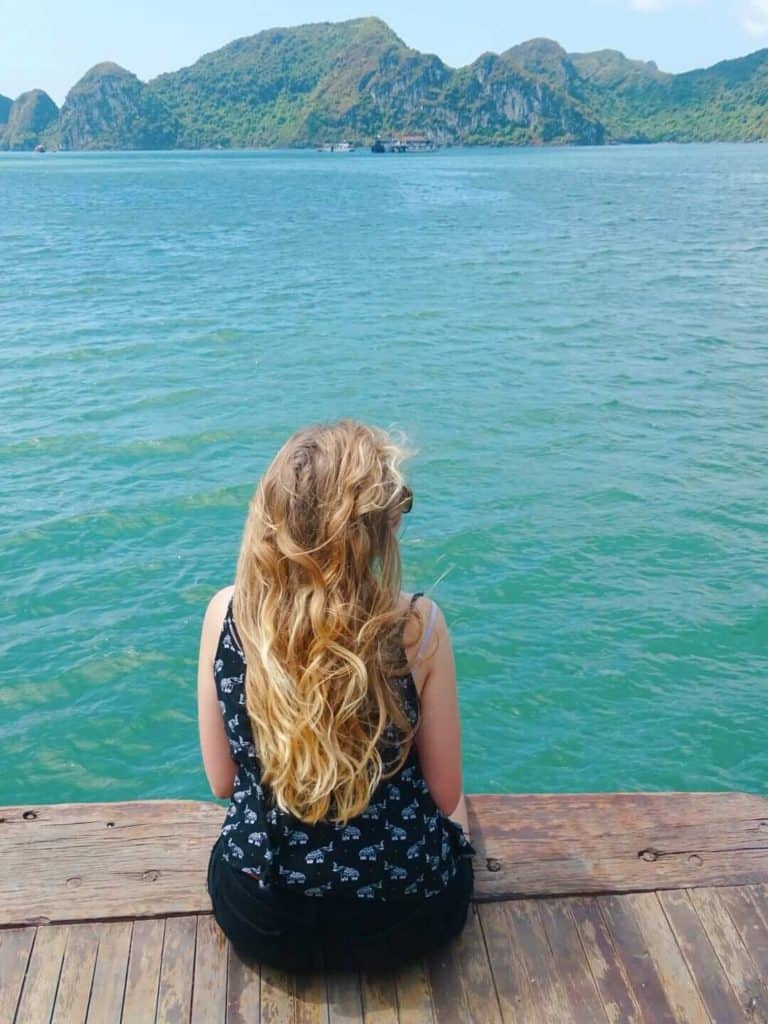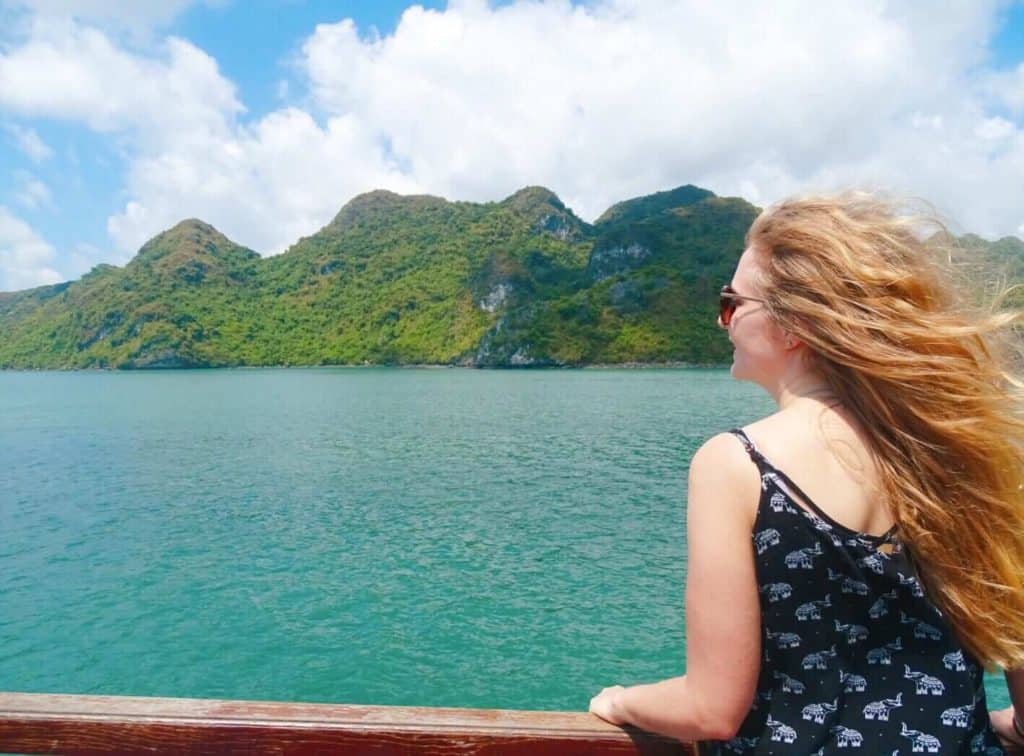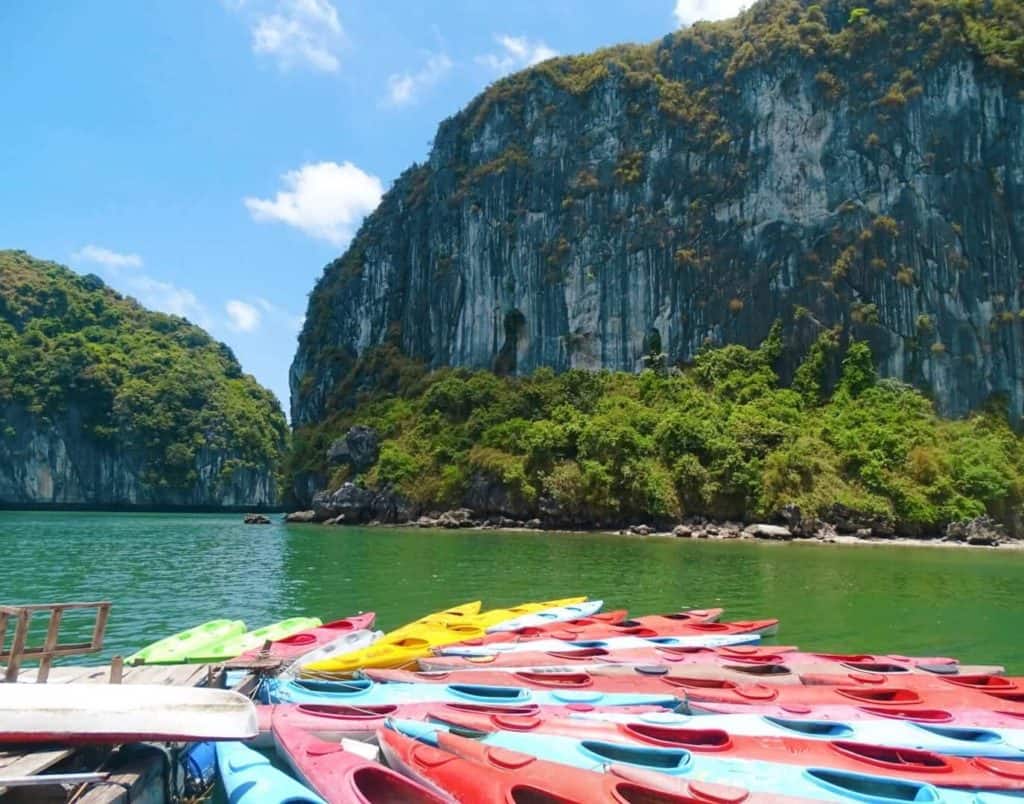 Gallery from Cat Ba Island & viewpoint: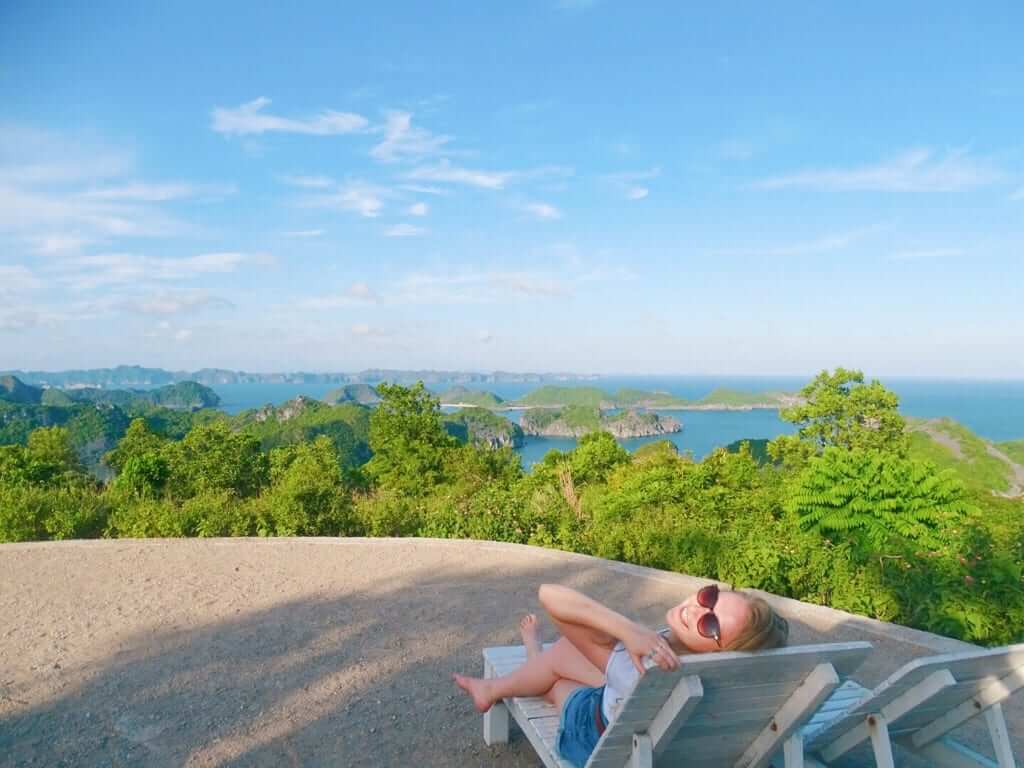 Day 3 – cruising home
As we left Cat Ba Island, we admired the floating villages bobbing in the harbour. As well as pearl farms, there are many fish farms where people live on the water and harvest fish for the food industry.

The communities in Cat Ba harbour even had restaurants and shops built on springy, barrel walkways – totally unlike any villages I'd ever seen on dry land!

It truly fascinates me seeing the different ways people live around the world. In fact, the modest, bobbing homes were the only things that could tear my eyes from the incredible towering cliffs around me.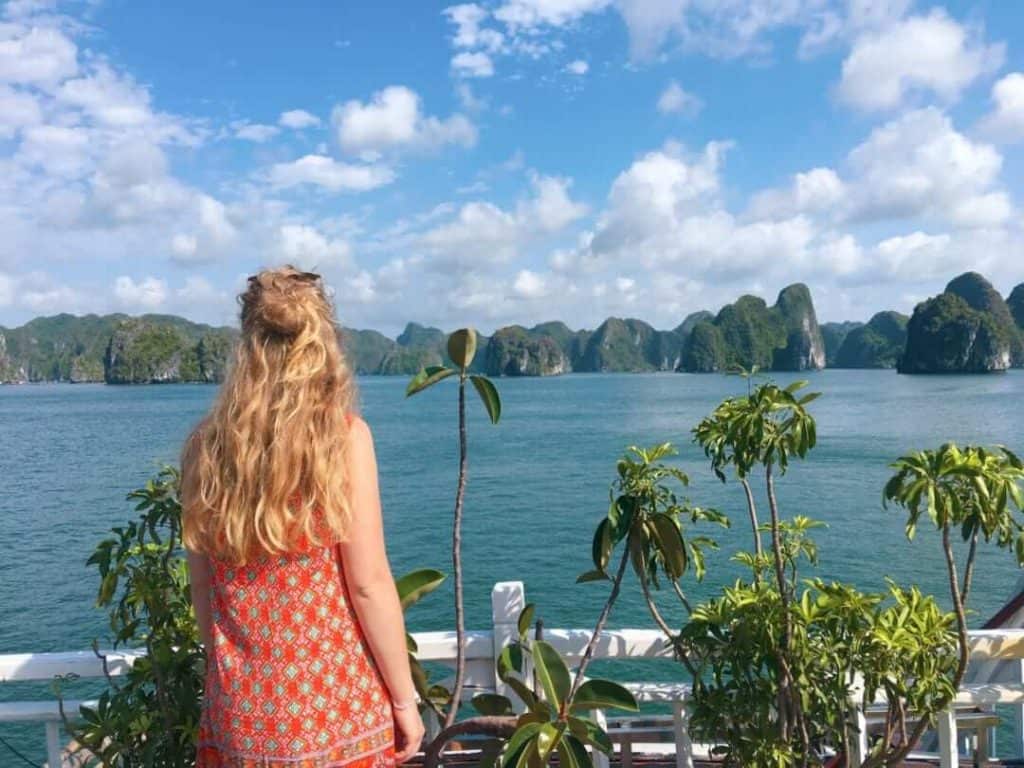 Once we reached the mainland it was back to the bus and home to Hanoi – but only very briefly as we departed to Sapa the same night. More adventures to come…
I hope you've enjoyed my Ha Long Bay photo journal!
If you're planning a visit to Ha Long Bay yourself, you're probably keen to book on a decent cruise. Since I've now been on two, I'm going to round up their good and bad points. I went with Sea Sun Cruise this time around and with Vega Travel in 2015.
2018 Sea Sun Cruise rating – 7/10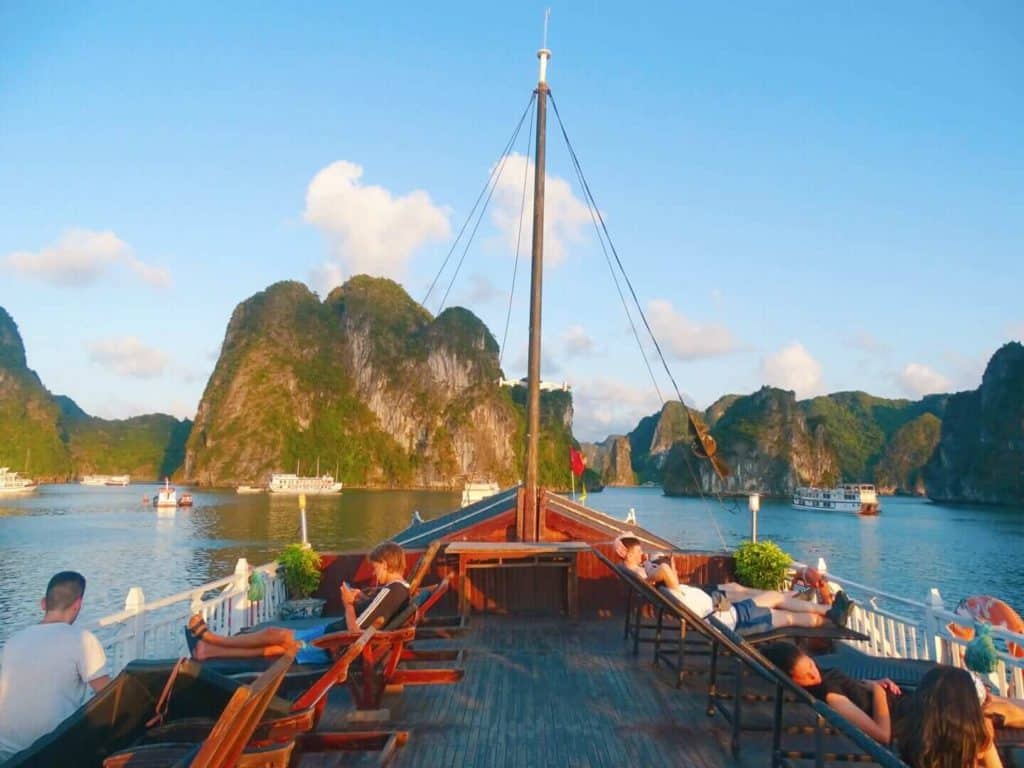 Price: $160

Pros:
Price
The food was amazing!
Lots of free time
Our Cat Ba hotel was close to the viewpoint which was a highlight of the island.
Cons
The cabin didn't have portholes that looked out over the water
The hotel was near the main port on Cat Ba so it felt busy and not very relaxing.
My 2015 trip with Vega Travel – 9/10
Price: $185

Pros
Lots of activities – Cat Ba trekking and cycling were included on day 2 (with Sea Sun they weren't)
The boat quality was really high – the bedrooms were nicer than on Sea Sun and had portholes so you could see the sights at all times
The food was equally amazing.
Cons
A lack of free time on Cat Ba meant it was harder to explore independently (I didn't have time to visit the viewpoint on this tour)
It's hardly a complaint but the busy itinerary made it harder to relax.
Which was best?
To summarise, Vega Travel was a tad more expensive but the better option for boat comfort and activities. It included Cat Ba cycling and trekking rather than a trip to Monkey Beach, and I think the former was preferable as Monkey Beach (included with Sea Sun) was pretty touristic.

However, both cruises were really enjoyable and I'd recommend either! The most important thing is experiencing the beauty of Cat Ba which was easy during both.

I hope you have a wonderful time exploring Ha Long Bay and enjoy it just as much as I did 🙂
Thanks for reading!
Check out my other Vietnam posts:
See you next time for more adventures,
Rose
Liked this? PIn it for later!