This post may contain affiliate links to things like tours, hotels, Amazon associates and products. These help me earn a small commission at no additional charge to you.
I recently took an incredible trip along the Hai Van Pass in Vietnam; a road trip I'll remember for a very long time!

I'd been wanting to drive the Hai Van Pass, voted one of the most beautiful coastal drives in the world by the Guardian, since I visited Vietnam in 2015. Back then, I was short of time so opted for the bus to get between Hue and Hoi An. The bus travels through a tunnel and skips the views which is a crying shame!

When I travelled through central Vietnam with friends a few weeks back, their timeframe was even tighter as they had an exit flight booked from Saigon. We opted for the Hai Van Pass train as our mode of transport which soaked up some views but not all of them.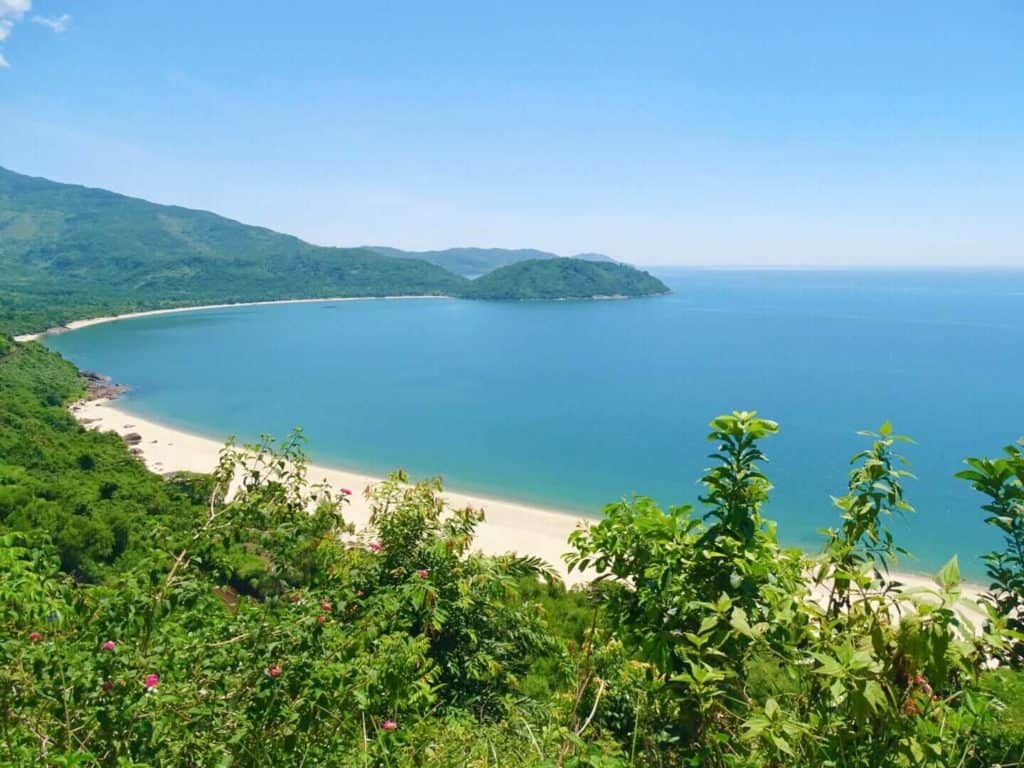 Basically, the Hai Van Pass was high on my Southeast Asia bucket list. The time became right when my friend Lola of Miss Filatelista invited me to join her on a weekend trip to the gorgeous city of Hue.

We decided to kill two birds with one stone and travel from Hoi An to Hue on the Hai Van Pass – something that turned out to be as worthwhile as the getaway to Hue itself!
If you're including both Hue and Hoi An in your Vietnam itinerary, you'll have to pass through this area anyway. Why not turn it into an unforgettable road trip through the mountains, stopping at pristine beaches along the coast?
Read next: the ultimate Southeast Asia backpacking itinerary
Hai Van Pass history
Located on Highway 1 between Thua Thien-Hue Province and Da Nang, the highest road in Vietnam (500m above sea level) translates as 'Sea Clouds' because it stretches from one to the other.

It traditionally acted as a geographic boundary between the ancient kingdoms of Champa and Dai Viet. To this day, you can spy the gate that acted as the border crossing between the two kingdoms.

During the horrific 'American War', the Pass was dubbed the 'Street Without Joy' because it connected two of the worst affected cities, Da Nang and Hoi An.

In the 2008 Hai Van Pass Top Gear episode, Jeremy Clarkson dubbed it a 'deserted ribbon of perfection'. While I despise the man and his political views, he was right about this!
Where to begin your Hai Van Pass journey?
There are three main places to begin the adventure: Hoi An, Da Nang and Hue. The first two are south of the Pass, and Hue is north.

It doesn't matter which Hai Van route you take because you'll see the same sights but in reverse. If you're travelling Vietnam from south-north, begin in Hoi An, and if you're travelling north-south, begin in Hue.
How to travel the Hai Van Pass: modes of transport
Hire a motorbike: Many people drive the Hai Van Pass on a motorbike. It's a fun and adventurous option with all power to you. Keep reading for my tips.

Easy Rider tours (on the back of a guide's motorbike): This is a great option if you want the motorbike experience but you're not comfortable driving – I don't blame you. There are Easy Rider centres in every city or you can book a 1-day Hai Van Pass tour from Hue or Hoi An/Da Nang in advance.

By car: to travel the Pass (either from Hue to Hoi An/Da Nang or in reverse), take this 1-day Hai Van Pass tour by car.

By Jeep: by far the coolest option! Take a 1-day Jeep tour of the Hai Van Pass.
Which mode of transport is best?

For an adventure, riding by motorbike is most fun. But having done the Hai Van Pass Jeep tour, I don't think you can beat it. We had the opportunity to put the top on for shade or ride with it off.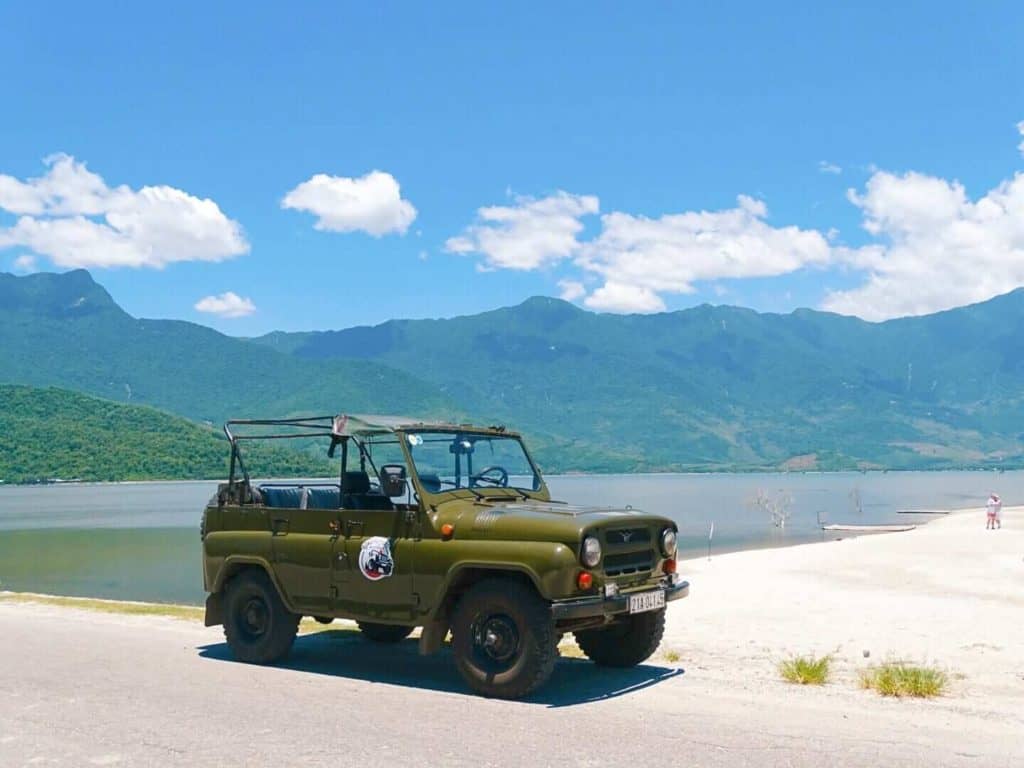 Advice for Hai Van Pass motorcycle rental
If you're keen to drive the Pass yourself, ensure you have practised driving a scooter in Vietnam already. Highway 1A is paved and in good condition but the hairpin bends are not for the inexperienced!

There are several places to hire motorbikes in Hue, Da Nang and Hoi An but it's worth doing some research to ensure you're getting a quality rental. Expect to pay around 100-200k VND per day.

Tips for hiring a bike:
Inspect your bike before leaving the rental place. Check the breaks and lights are working properly.
Check the tires are in good condition. If not, you're vulnerable to puncturing and skidding.
Photograph any scrapes or damage to the bike in case you're charged for it on return.
Insist upon a helmet. These have been legal since 2007 so you may get fined without one and, more importantly, they could save your life!
Check you're travelling with insurance that covers riding a scooter. I recommend True Traveller for European travellers, Hey Mundo for other nationalities and Safety Wing for digital nomads.
Companies including Hoi An Bike Rental will organise luggage transfers for as little as 40k VND. It will be waiting at our hotel when you arrive in Hue/Da Nang/Hoi An.
Tips for driving the Hai Van Pass by motorbike
Fill up on gas in Hoi An/Da Nang/Hue before embarking on the Pass; there's nowhere to refuel along the way
It's not uncommon for cars and lorries to turn blind corners at speed. Proceed with caution!
Check the weather before setting off especially during the rainy season. Not only could heavy rain prove hazardous but you'd also miss out on the views.
It's best to start the drive after 8-9am when the morning fog has lifted.
Get the app Maps.me and download the maps for Vietnam. Especially if you don't have data, it's a great offline tool.
To stay connected on the Pass and in Southeast Asia, get an E-sim data plan.
Use all my Southeast Asia travel tips for safety, navigation and more!
Hai Van Pass distance
The Pass measures 21km but the complete distance between Hue and Hoi An is 170km. You should set aside 5-6 hours for the complete journey, or longer if you want to relax on the beaches.
Best stops on the Hai Van Pass
I'm going to run through the highlights of our day trip with photos. These are the spots I'd recommend you don't miss whether you're travelling by car or scooter, independently or on a tour!

These stops are listed as if you're coming from Hoi An. If you're coming from Hue, reverse them.
Note – if you're taking a Hai Van Pass tour, check the itinerary to see what's included as different companies may have different itineraries.
Here are the best Hai Van Pass stops:
Da Nang
Just 20 minutes from Hoi An lies Vietnam's fastest-growing city, Da Nang. It's not somewhere I've really explored before – if you know how much charm Hoi An has, you'll understand why I don't exactly make pilgrimages to this urban city.

However, it was cool to check out the sights before we properly got on the road for the day. The colourful fishing boats in the harbour were such a contrast to the ever-evolving skyscraper backdrop, and I loved the enormous gold dragon bridge which apparently lights up and breathes fire at weekends.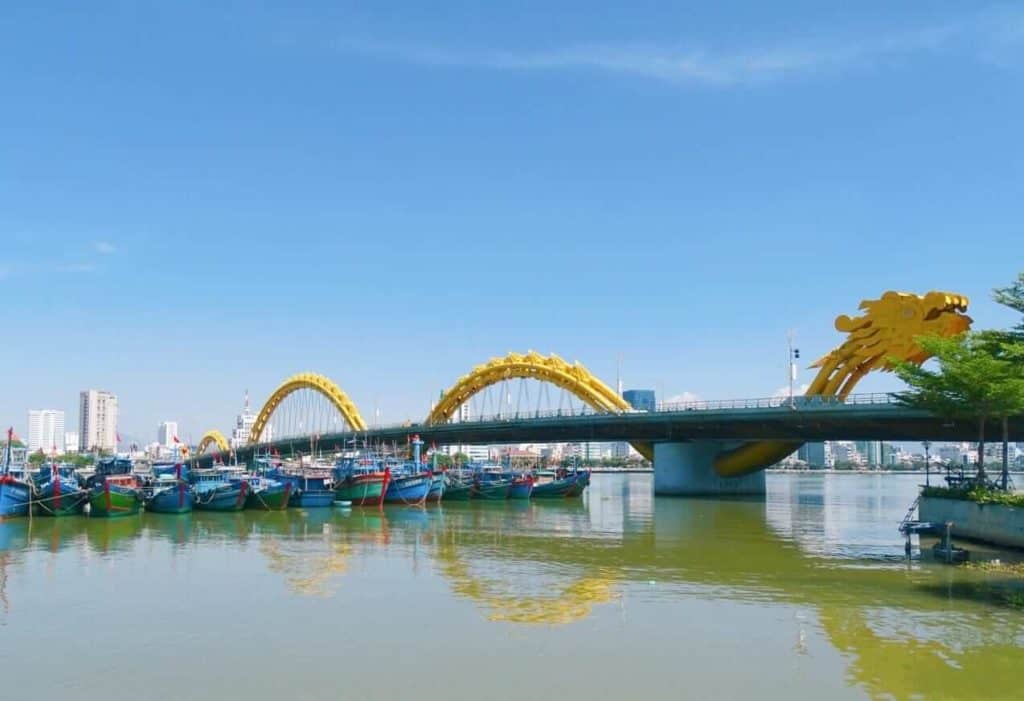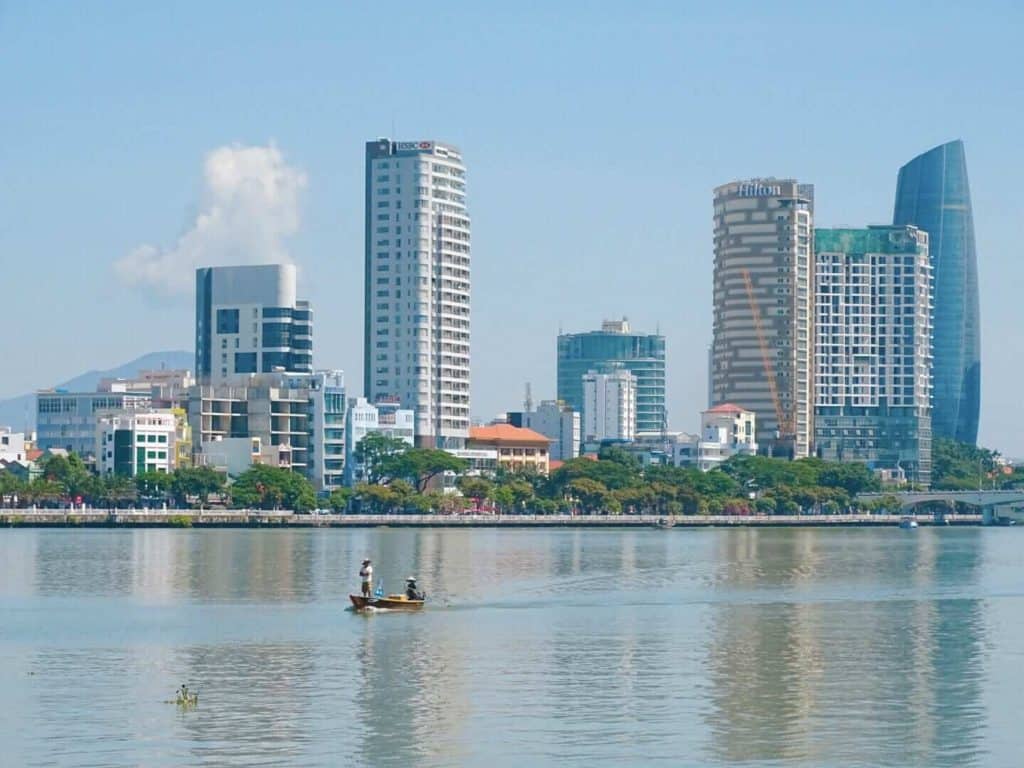 If you're staying here already, you can travel the Hai Van Pass from Da Nang by tour, motorbike or train. Alternatively, you can start in Hue and finish here.
Reaching the Hai Van Pass
As we left the city behind, we started reaching higher elevations. Soon the scenery became a sight to behold, especially around the curving bay where we spied abandoned beaches down below us. Apparently, the only way to reach them is by boat and no one really does!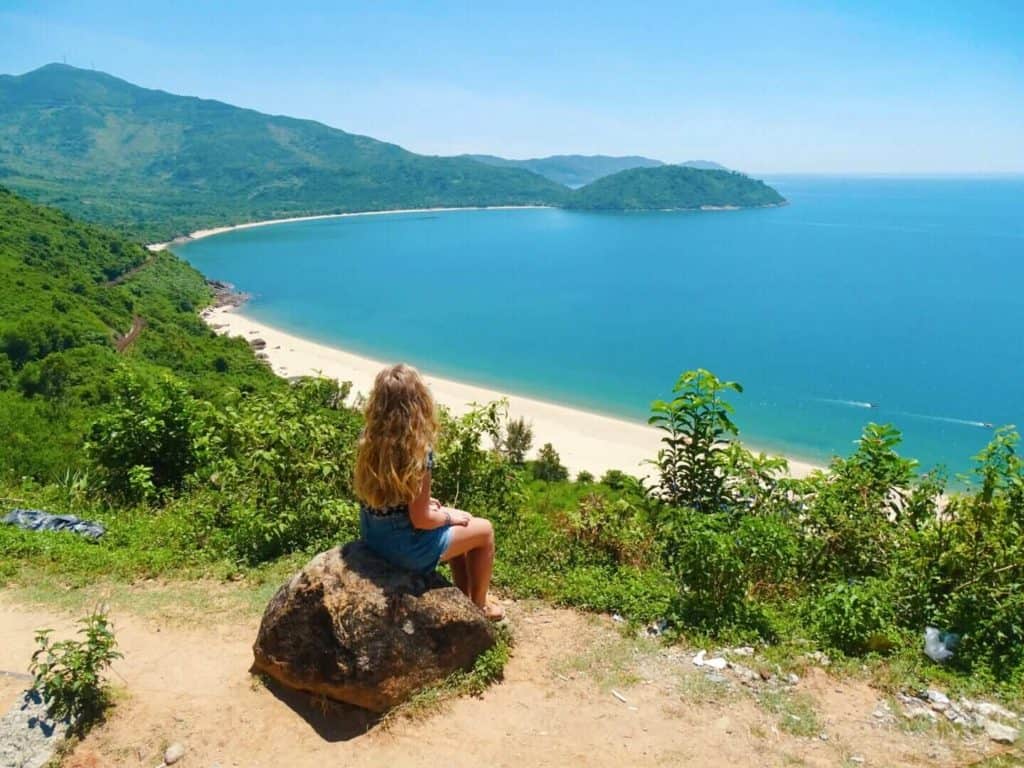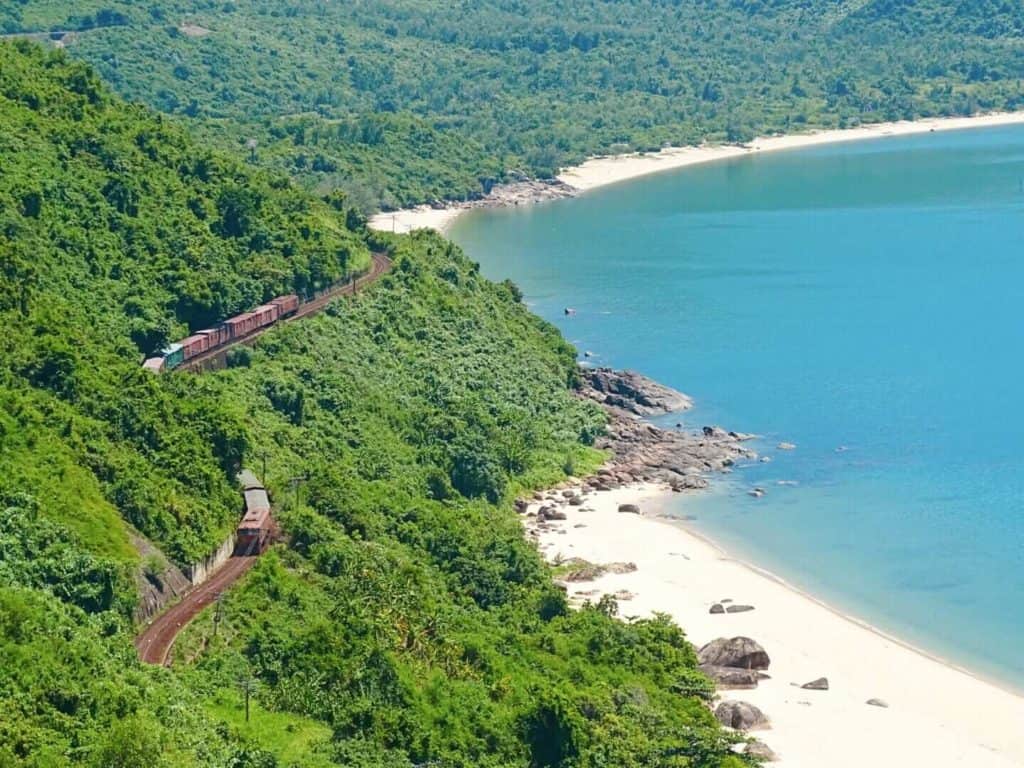 Lập An Lagoon & the sand dune road
It was fast becoming apparent that the highlight of my day was going to be the sandy white beaches. I'd expected the mountains to be stunning but hadn't appreciated how extraordinary – and also empty – the coastline would be. We called in at the oyster farm area of Lập An Lagoon (click for exact location).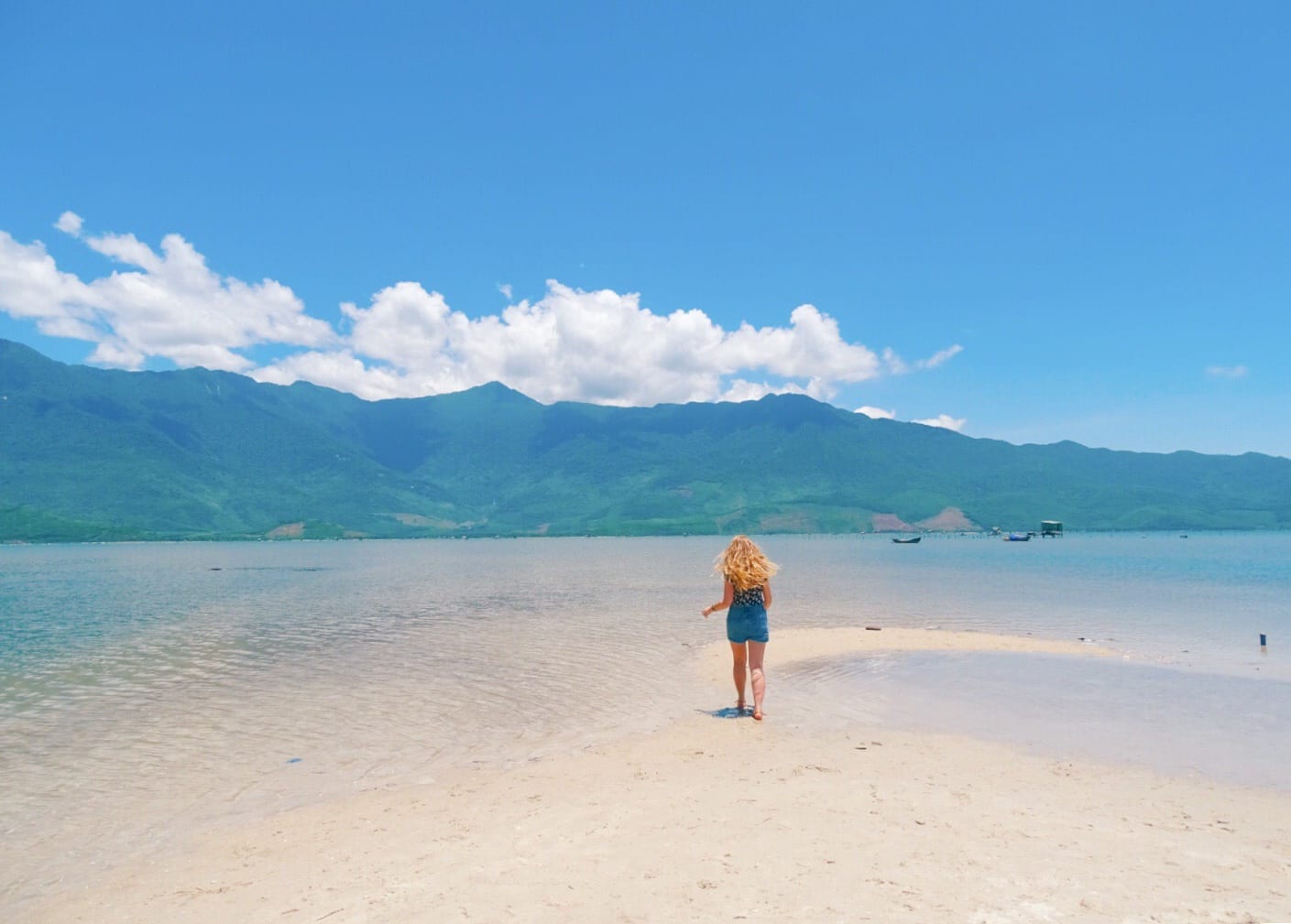 Here people cultivate oysters for food and jewellery. Not only are they high in nutritional value, locals love their flavour and serve them at the heart of various dishes. Combine that with pearl production and they're regarded as the jewels of heaven.

The sand dune road is a spot you can't miss. A strip of sand runs right into the lagoon like a red (okay, golden) carpet. Surprisingly for such an Instagrammable spot, there weren't that many people there. We only had to wait five minutes before we had it to ourselves.
Lunch at Cảnh Dương Bay
Most importantly in my Hai Van Pass guide… lunch!

If we thought the dreamy sandbar was nice, we were about to be blown away by Cảnh Dương Bay where we stopped for lunch.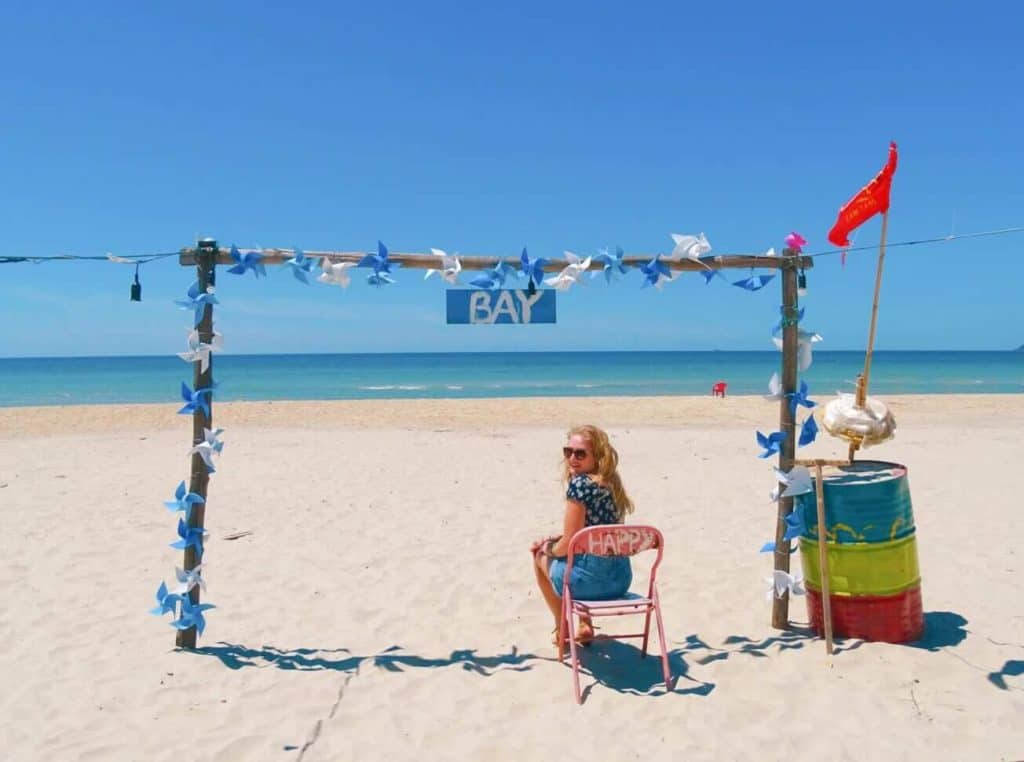 I'm always enthusiastic where mealtimes are concerned but this stop was something else. We had a tasty meal that we could pick from a menu, but the highlight was this incredible stretch of abandoned sand and turquoise ocean.

We couldn't resist going for a swim even though we were boiling hot and the shade of the restaurant was so appealing.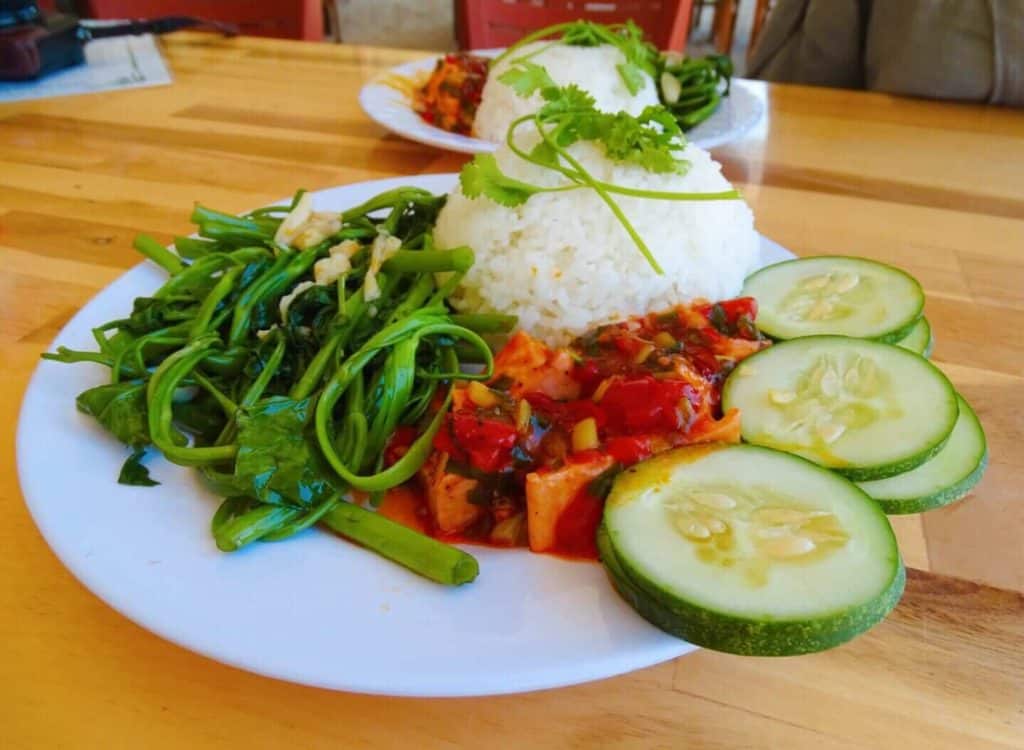 Countryside and buffalo-spotting
After lunch, the scenery along the Hai Van Pass started to change. We saw fewer beaches and more green, glorious countryside. Mountain backdrops were peppered with grazing buffalo which came up close to our car, unbothered by us our presence.

I felt like I was back in Africa as we admired them from our Jeep! It's amazing how African buffalo are deadly but Asian ones seem calm and act as valuable aids to the farming industry. I can't count the number of times I've seen children as young as five riding them, or workers relaxing on their back as a comfy seat!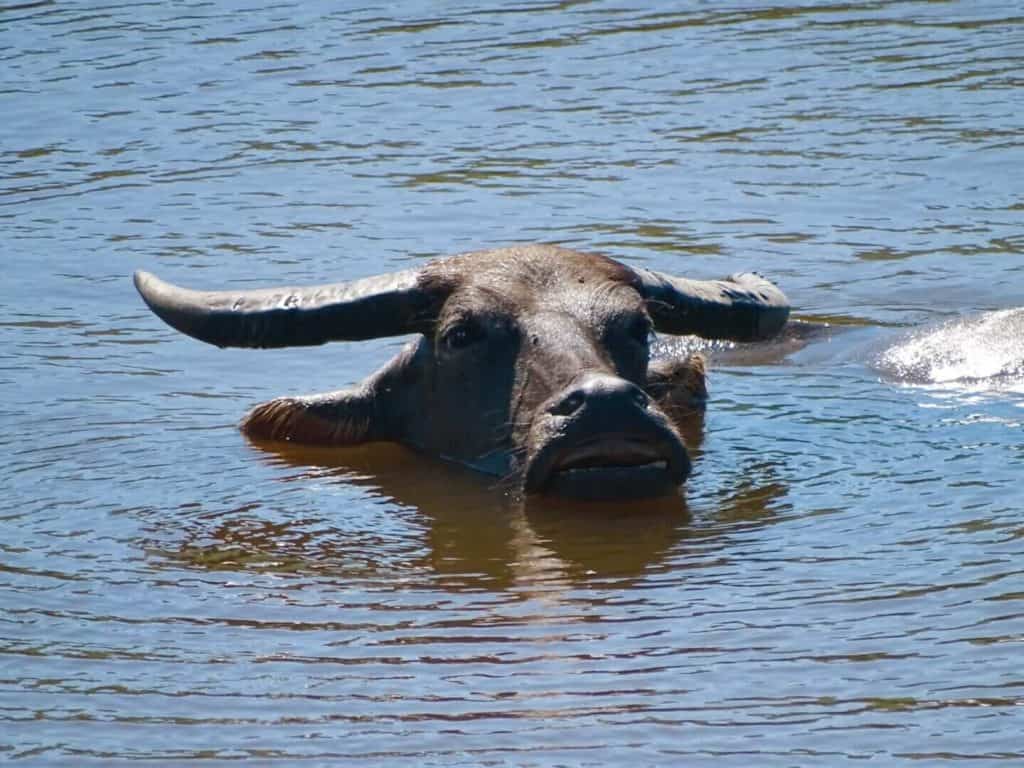 Dam Cau Hai (Salt Lake)
We stopped on a bridge alongside Vietnam's largest salt lake for a few photos. Our guide told us a bit about the region while we admired a small fishing village nestled on the shore.

As you can tell, we were loving posing for photos with the Jeep's roof off!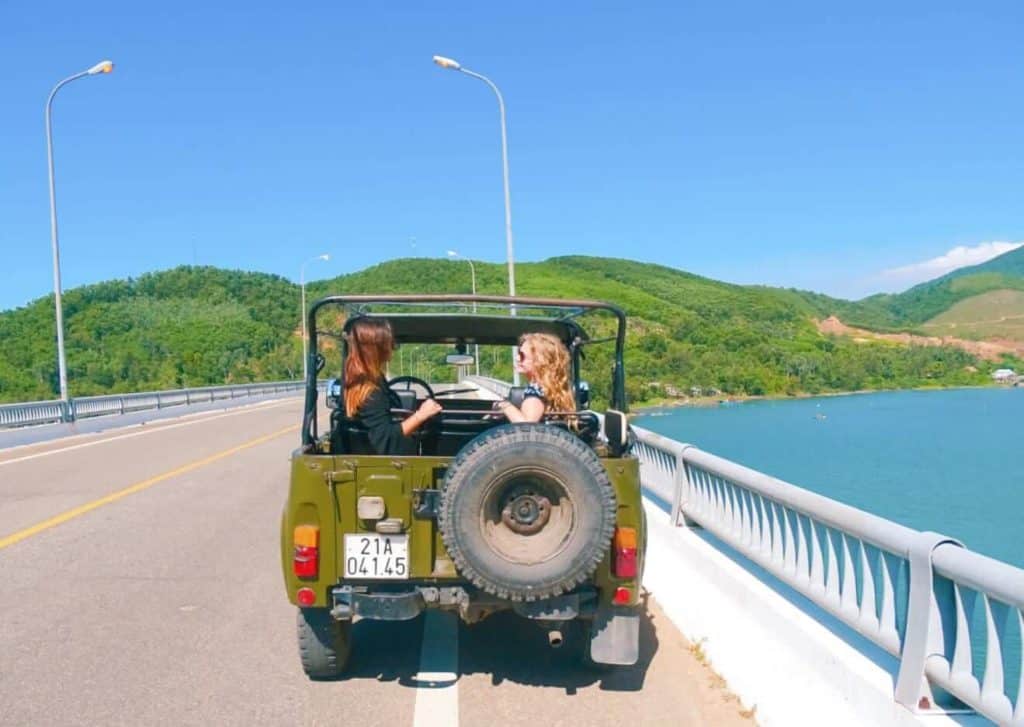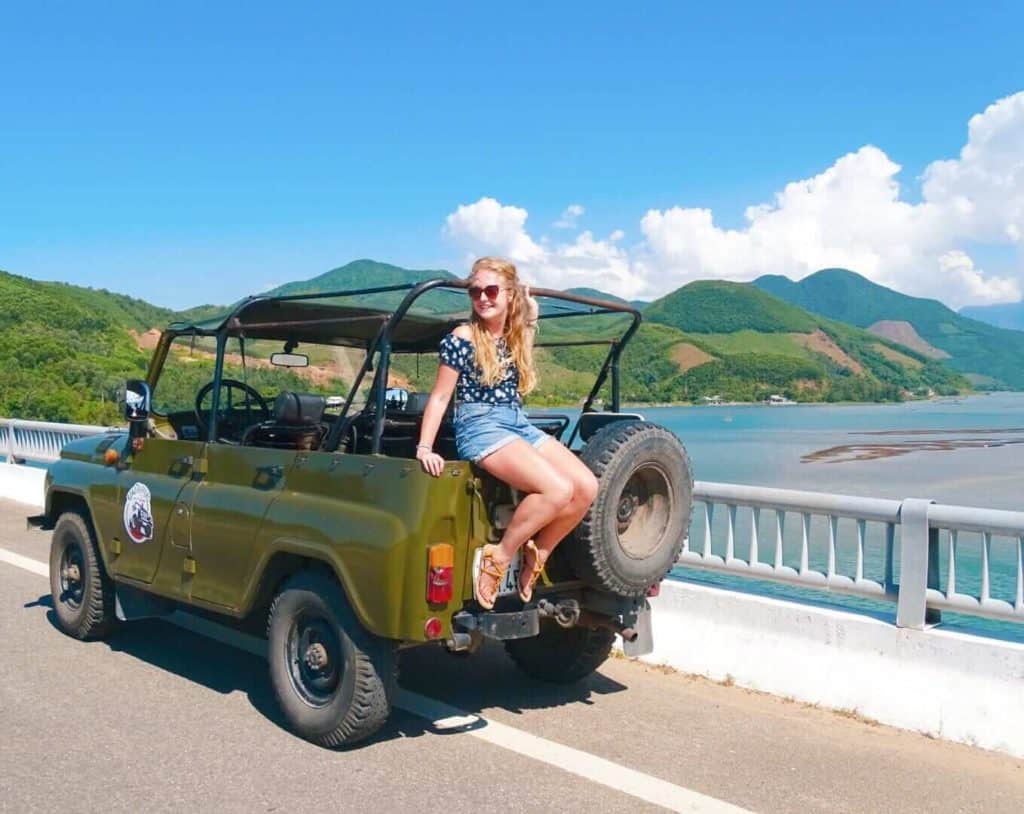 An Bang Cemetery
For a final stop on our Hoi An to Hue tour via the Hai Van Pass, our guide announced we were going to be visiting a cemetery. I assumed it would be nice because Vietnamese graveyards usually are but I didn't fathom even a tenth of the colour and detail we were about to see…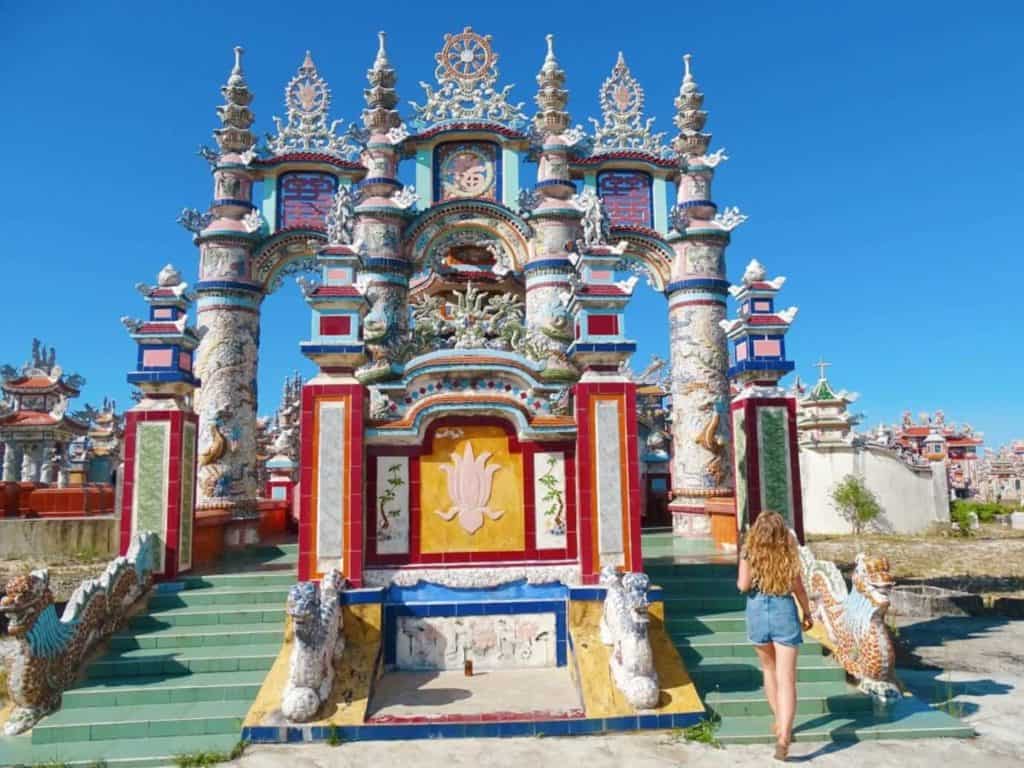 Westerners would probably describe Vietnamese graves as temples because they really don't resemble the plain stone slabs we see at home. An Bang Cemetery – also known as the 'City of Ghosts' – is a particularly large example built by wealthy families.

From this region, many residents moved overseas to the USA or Europe where they began to earn more money and send it home. The town of An Bang became richer and so did the cemetery. Many of the tombs boast bedrooms and kitchens, honouring the belief that people have the same needs in the afterlife.

The first thing that struck me when we arrived was the sheer volume of tombs – they stretched as far as I could see. Our guide told us that you can determine a lot about the life of the deceased from the buildings. The one above features ship-style wheels to communicate that the person buried had been a sailor during their life.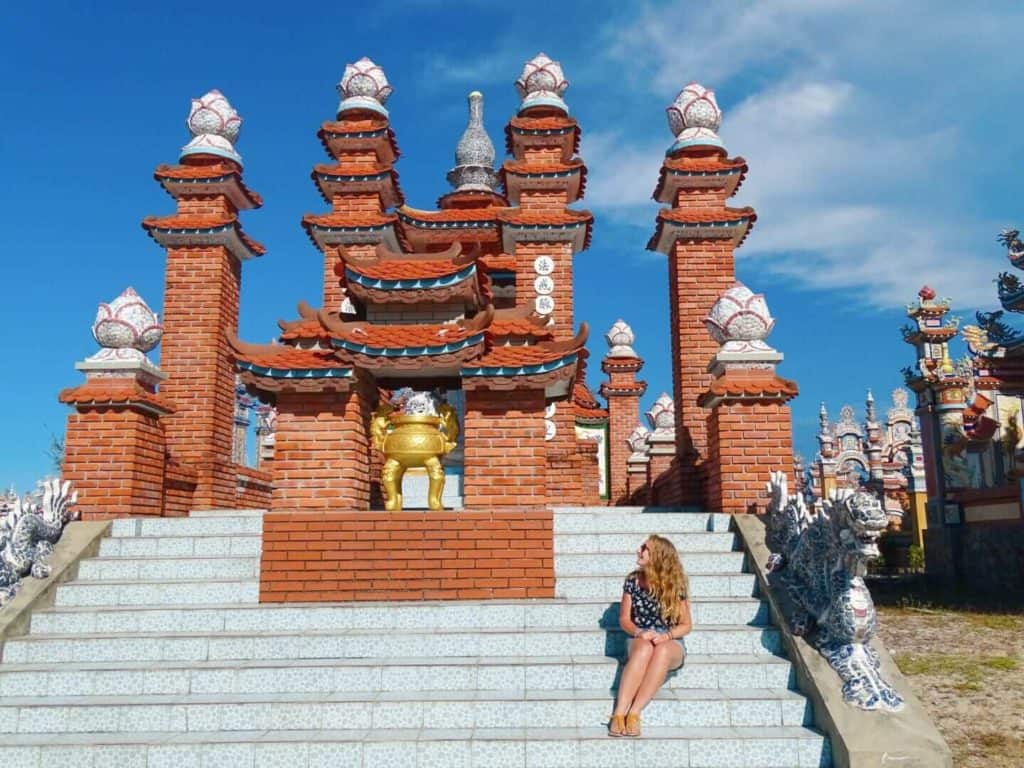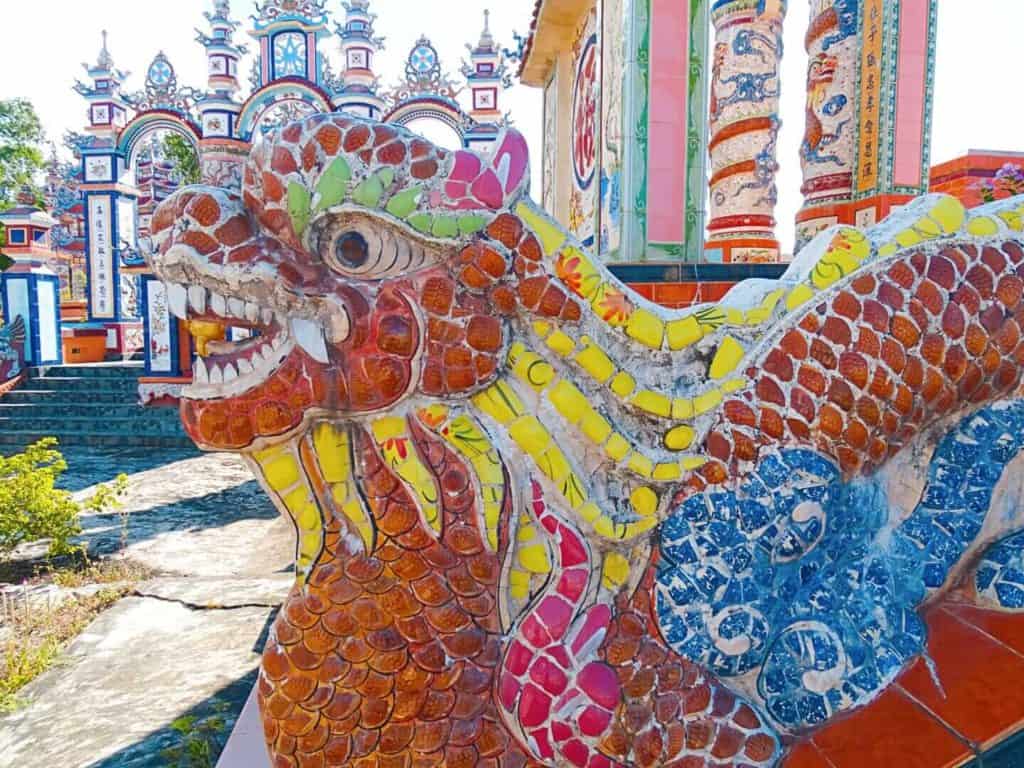 Arriving in Hue
Soon after An Bang we arrived in Hue where we were dropped at our home for the next three days, Hue Ecolodge. I'd highly recommend this beautiful, secluded hotel with luxurious rooms, verandas and a lovely swimming pool. Rooms start at $65 a night.
Best season to drive the Hai Van Pass
April to September is the best time to visit the Hai Van Pass because it's dry season and there's little fog blocking the spectacular views.

September to March is rainy season so check the weather if you plan to visit. Depending on the day, it may become unsuitable at the last minute.
What to pack
Suncream
Sun hat
Enough water
Power bank to keep your devices alive
Camera to record your memories
GoPro attached to your helmet if you want to make videos.
Where next?
Depending which direction you're travelling, your next stop might be…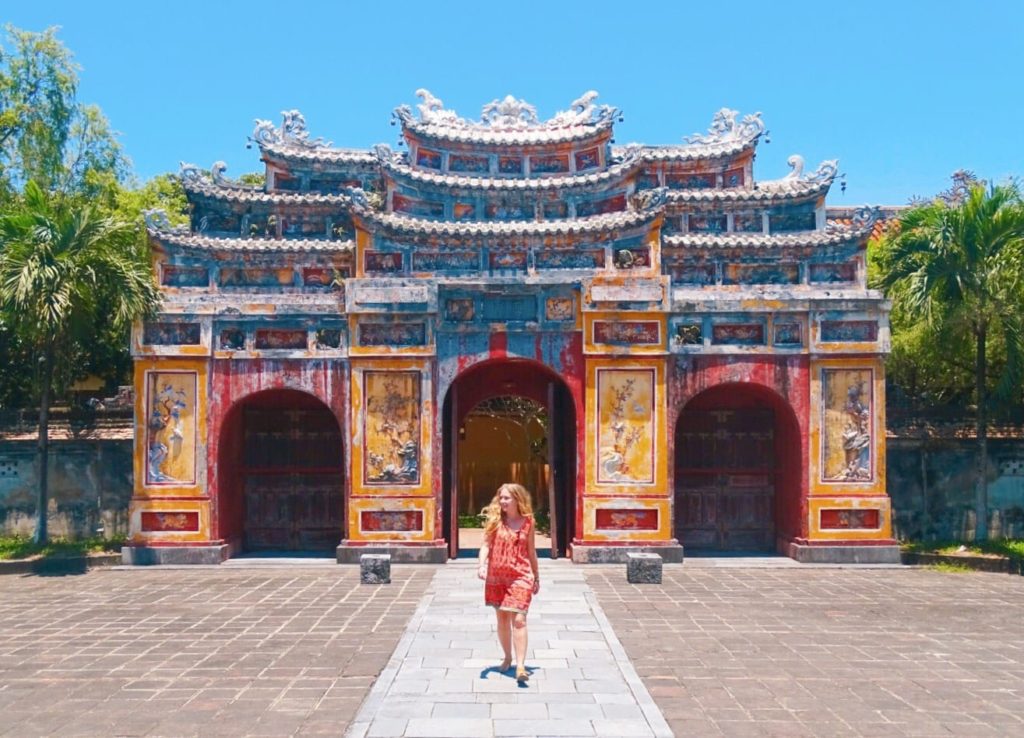 If you're taking a Hai Van Pass tour from Hoi An, you'll finish in Hue. This spectacular city was once the imperial capital of Vietnam, known to this day for its decadent palaces and tombs. It's a must for travellers looking to experience history and culture.
Plan your trip with my 2 day Hue itinerary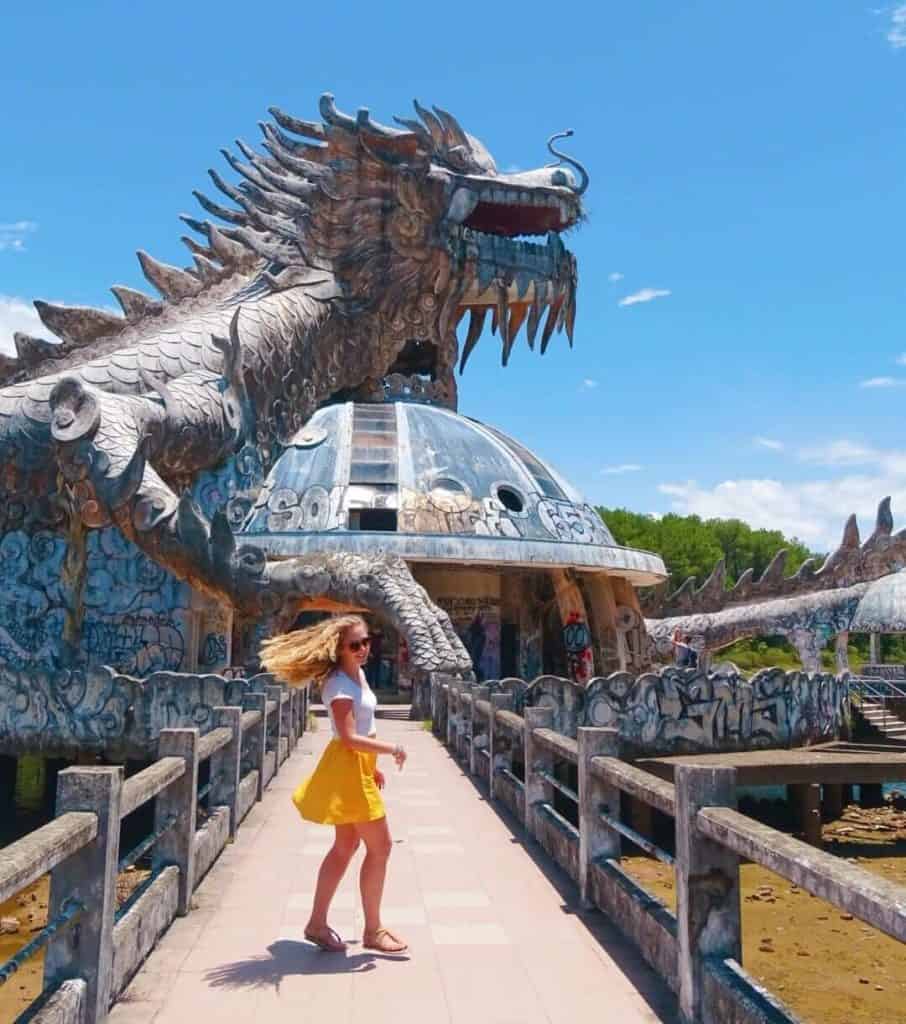 While visiting Hue, take an excursion to Vietnam's Abandoned Waterpark. This quirky place became dilapidated after it closed… Now it's a favourite with travellers who sneak in to take photos and admire the roaring dragon!
Hoi An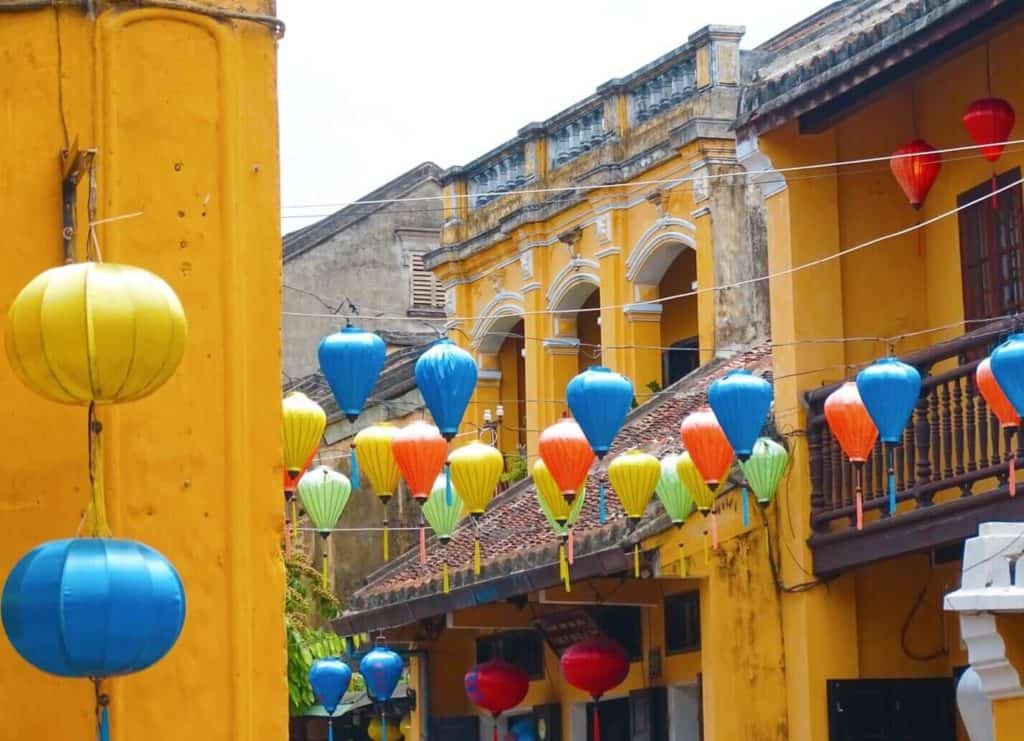 After two months living in Hoi An, it goes without saying that Hoi An is one of my favourite places in Vietnam! The low-rise yellow buildings couldn't be more charming, plus there are beautiful beaches and numerous day trips to enjoy.
My Hoi An blogs:
For more Vietnam inspo, I got you covered…
Thanks for reading!
See you next time for more adventures,
Rose
For more content, follow me on Instagram, Facebook, Twitter and YouTube.
Note – while we were hosted by Road Trippers Vietnam, all opinions are my own.
Ps. Liked this guide to the Vietnam Hai Van Pass? Pin it for later!
Vietnam quick links

Getting around by air – it's easy to get between cities by flight. I use Skyscanner to find the best-value flights, using the 'search by month' tool to find the cheapest dates. You can also use the 'to anywhere' feature if you're flexible on where you're going.

Stay connected with E-sim data plans that don't require delivery or collection; just span the QR code.

In my opinion, Lonely Planet offer the best guidebooks. Get the latest Lonely Planet Vietnam.

For Vietnam buses and trains, I use 12GoAsia. The search feature allows you to compare prices and durations.

I use Booking.com for accommodation. They have the best range of hotels and self-catering apartments, plus you can filter by review score and price to find the best-rated budget places. For hostels, I use Hostelworld.

To save money on accommodation, I use Trusted Housesitters, a website that connects homeowners going away and travellers who can sit their homes & pets.

For activities, I use GetYourGuide as they have a huge range of affordable tours.

Need travel insurance? I use True Traveller (for UK & Europe residents) since it's affordable but covers everything you'd need including various activities, valuables and pre-existing conditions. Unlike some companies, they insure you if you're already travelling / don't yet have your flight home booked. Get a quote.

For travel insurance for other nationalities, I recommend Hey Mundo and for long-term digital nomad travellers, I suggest Safety Wing.

Check out my resources page for more travel discounts and tips!