This post may contain affiliate links to things like tours, hotels, Amazon associates and products. These help me earn a small commission at no additional charge to you.
Who doesn't love Edinburgh? With gothic buildings, centuries of history, scenery, hikes, shopping, Scottish cuisine and countless museums and galleries, it's truly one of the greatest cities in the world… Not to mention the Edinburgh Harry Potter connections! In today's guide, I'm going to share the many Harry Potter sites in Edinburgh and a few themed activities to maximise your trip.
Related read: 32 free activities in Edinburgh
When I reviewed my Instagram story from my time in Scotland, I realised about 80% of it had some reference to Harry Potter in Edinburgh. From potion-inspired cocktail classes (which had little to do with Edinburgh and more to do with me liking alcohol and quirky things I can blog about) to famous Harry Potter locations around the city, there's plenty to keep Potterheads busy.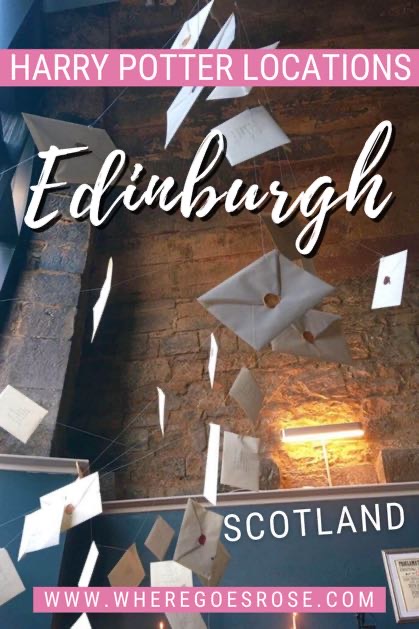 EDINBURGH ESSENTIALS

Accommodation: Booking.com / Hostelworld.com

A copy of Lonely Planet Pocket Edinburgh

Activities: GetYourGuide

Getting there: Trainline / Busbud
Harry Potter in Edinburgh – what's the deal?
The reason there are so many Harry Potter locations in Edinburgh is because of one thing – the books were written there! J.K Rowling lived in Edinburgh as a hard-up single mum in the 1990s and used inspiration from the city to dream up the magical world that has touched almost everybody's life today.

You can retrace her steps, see the cafes where she used to write and spot locations that may have inspired her. Although much of it may be based on rumours, it's fun to try and guess.

Rather explore these Harry Potter sites in Edinburgh with a guide? I can vouch for GetYourGuide.
Read my other Harry Potter guides:
Harry Potter sites in Edinburgh
1. The Elephant House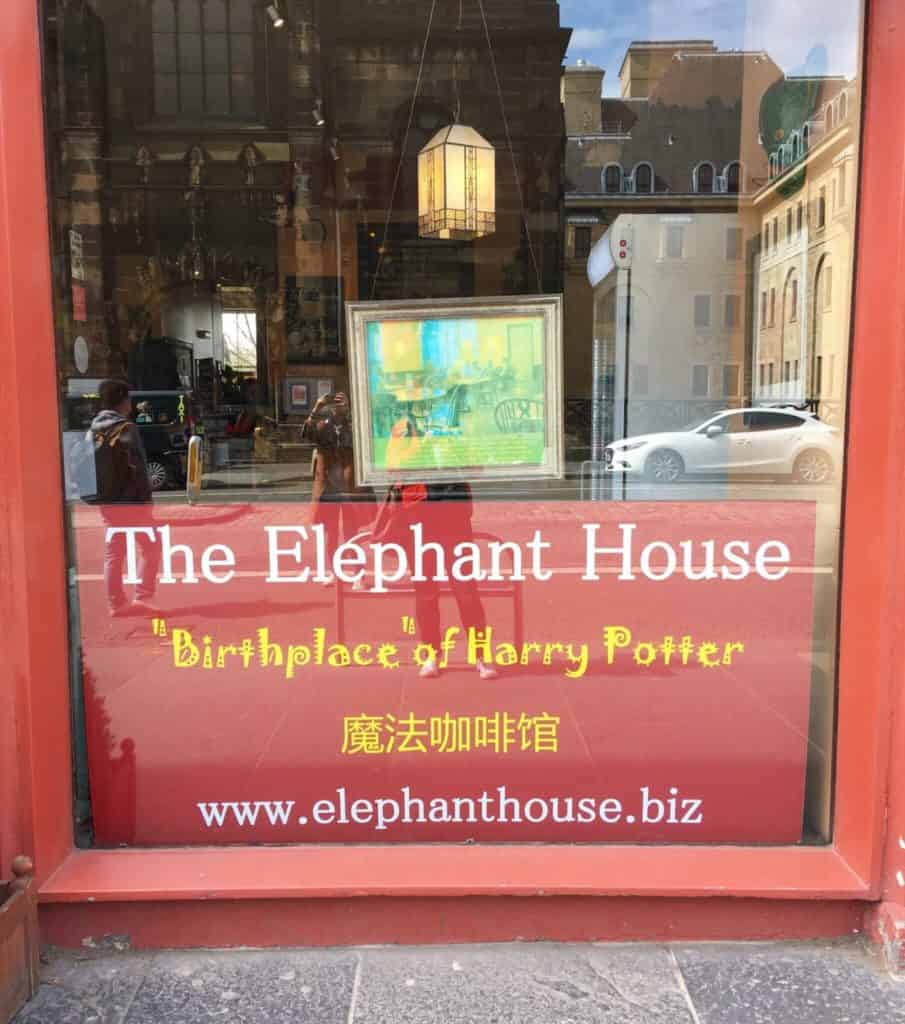 The key Harry Potter location in Edinburgh must be the spot where it all began! J.K Rowling used to sit in the back of this cafe as she wrote the book she had no idea would change the world.

While writing Harry Potter at the Elephant House, J.K would have been looking out over Castle Rock and George Heriot School (which I'll mention later) which many people suspect may have inspired the Hogwarts scenery.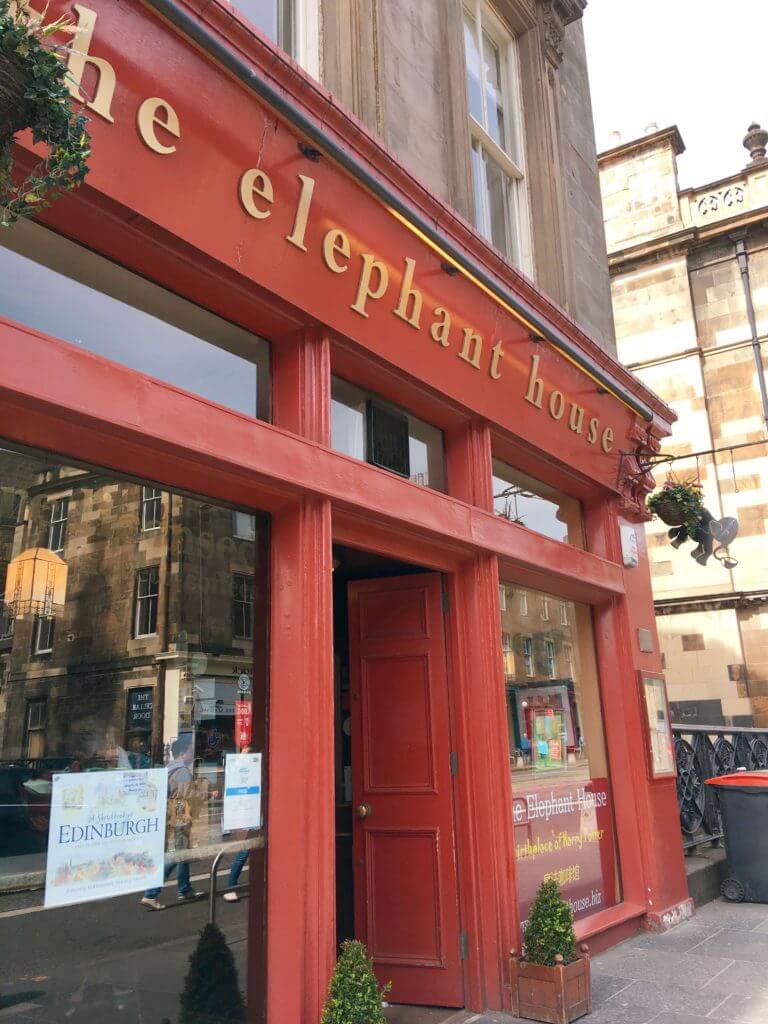 Most tourists come and stand outside to take a few photos, but I imagine a lot go inside too. I wonder if the cafe owners get frustrated with tourists they suspect aren't really there for the coffee but the Edinburgh Harry Potter potential… At least they profit from it!

I didn't go inside on this occasion but maybe next time I'm in Edinburgh, I'll grab a coffee and see if the creative juices flow better than normal…

Address: 21 George IV Bridge, Edinburgh EH1 1EN.
Greyfriars Kirkyard (the spookiest Harry Potter site in Edinburgh)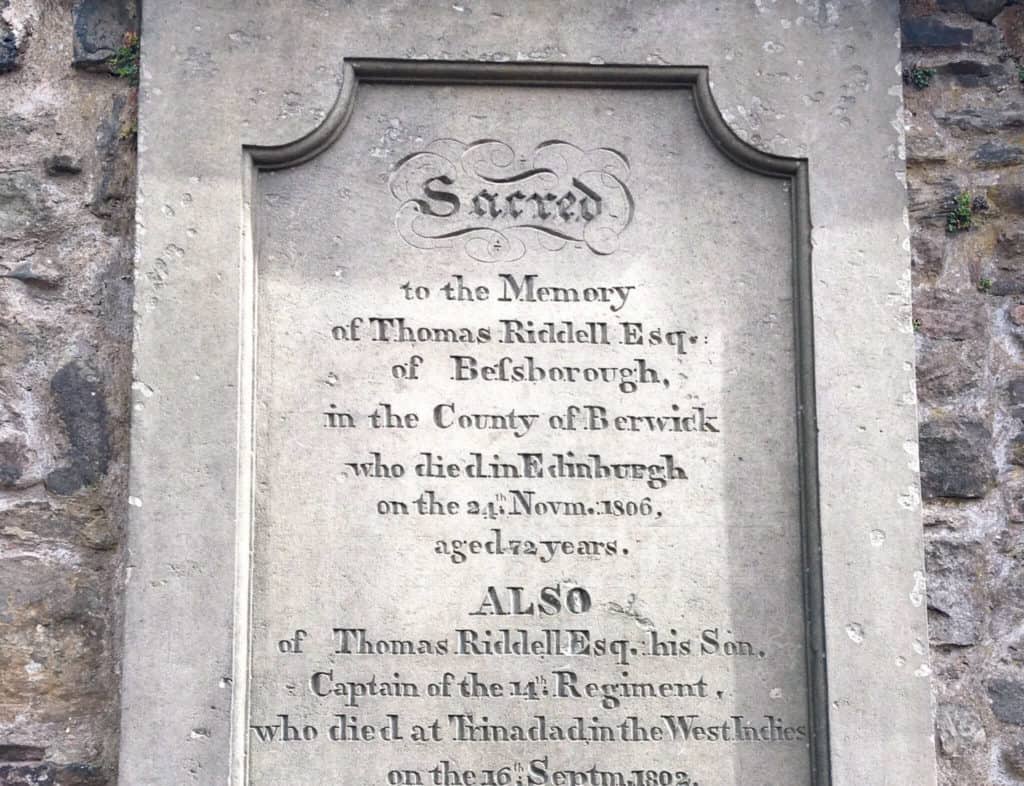 The first I heard of Tom Riddle's Grave was when I visited Greyfriars Kirkyard on a walking tour and a woman stopped me to ask where it was. Torn between explaining he's a fictional character or just saying 'no', I asked my tour guide who explained there really was a Tom Riddle who, without ever knowing it, became part of the story of Harry Potter in Edinburgh…

Just around the corner from the Elephant House, J.K Rowling has confessed she used to stroll this graveyard and come up with character inspiration from the names on the tombstones. As well as Thomas Riddel Esquire, there's also a William McGonagall who's thought to have been the inspiration for Professor McGonagall.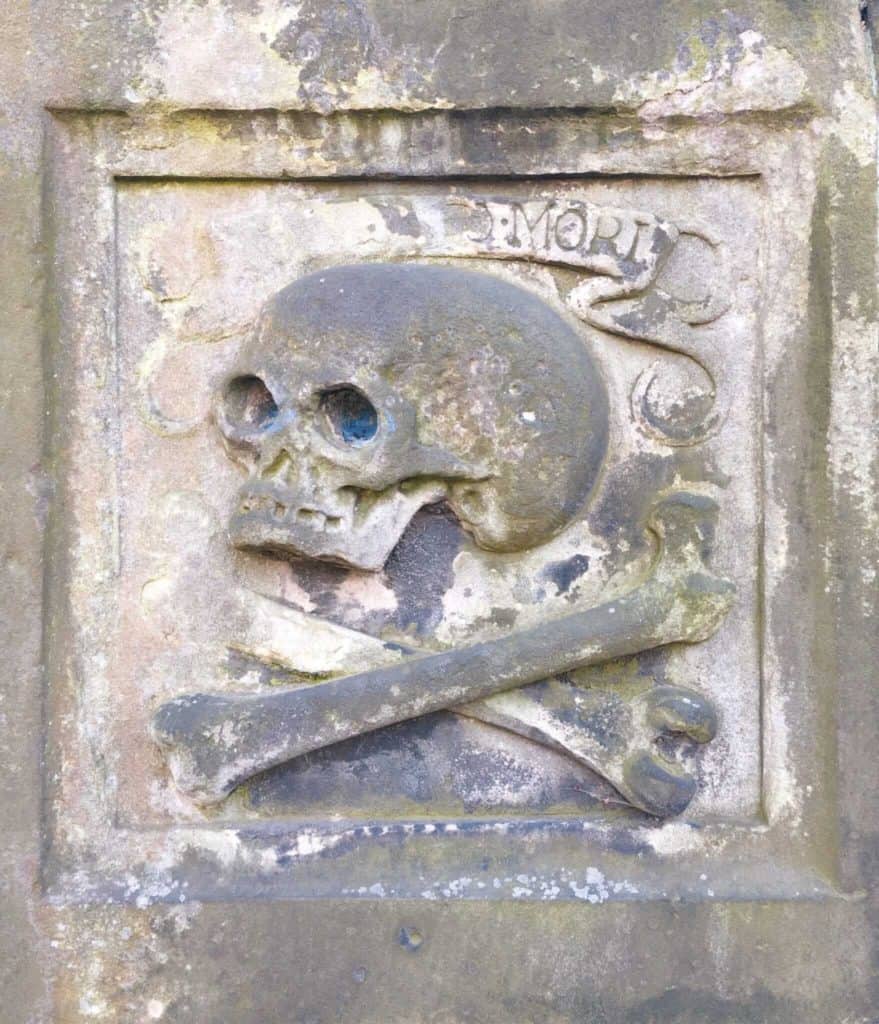 You may also spot the grave of a Robert Potter in Greyfriars Kirkyard although, let's face it, this one could be a coincidence!

Address: 26A Candlemaker Row, Edinburgh EH1 2QE.

How to find Tom Riddle's grave: Enter Greyfriars Kirkyard from George IV Bridge. Walk towards the back end with the Covenantor's Prison on your left. You'll enter a walled area and turn right – this will take you to the grave after a 2-minute walk.
Victoria Street (Diagon Alley?)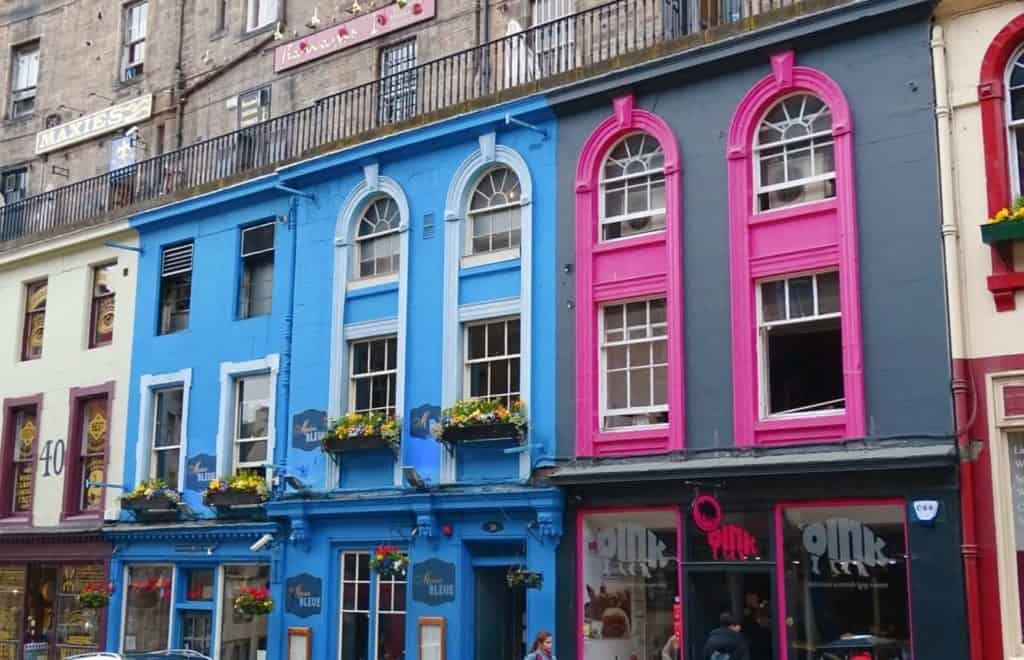 Can you tell Victoria Street was (allegedly) the inspiration for Diagon Alley?

This is another Harry Potter location in Edinburgh that we don't know for sure inspired the Harry Potter novels… but it easily could have done. With its cobbled streets and eclectic mix of colourful architecture, it's certainly bewitching. Throw in the fact that Diagon Alley is described in The Philosopher's Stone as 'cobbled' and 'twisted' and it certainly seems like a convincing match.

Nowadays, Victoria Street can be found teeming with super fans exploring the Edinburgh Harry Potter spots. They usually end up in Diagon House buying stuffed Hedwigs, chocolate frogs and magic wands. Well, if you can't beat 'em…

Don't miss – Bains Retro Sweets where you can purchase sugary goodies and imagine you're at Honeydukes.
The Balmoral Hotel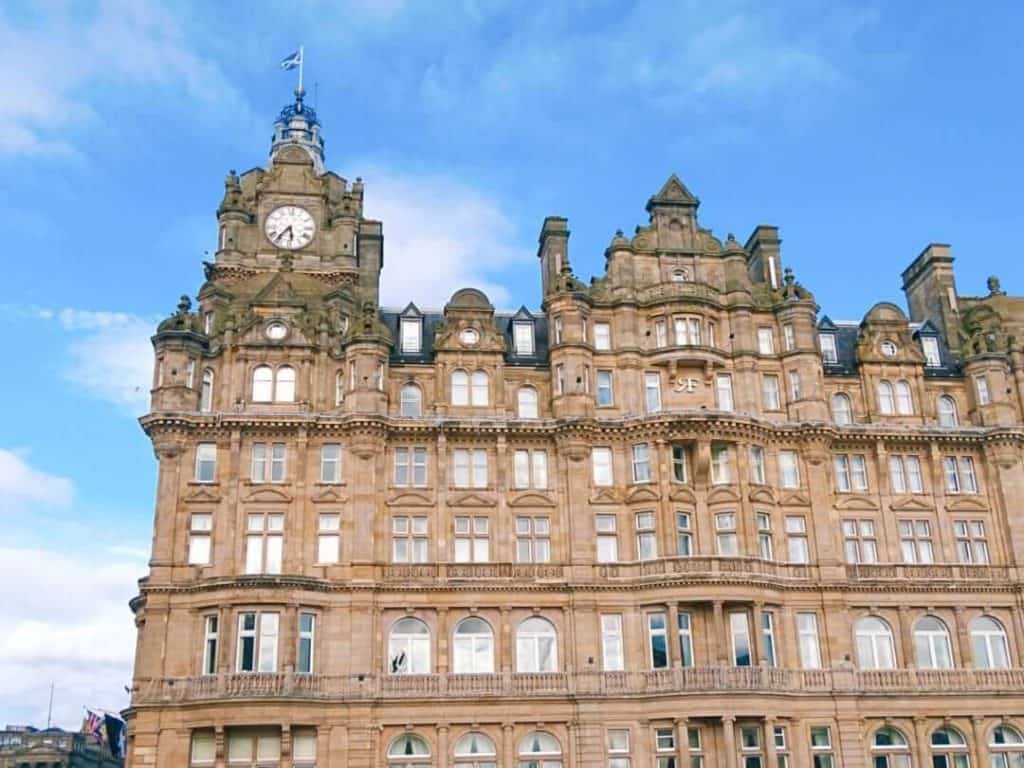 As Harry Potter sites in Edinburgh go, this is a stunner. The Balmoral Hotel is worth admiring for the architecture alone; I can't even count how many windows there are.

But how is this fancy hotel an Edinburgh Harry Potter location?

It's the spot where J.K Rowling finished writing the final novel, Harry Potter and the Deathly Hallows. Room 552 was subsequently renamed the 'J.K Rowing Suite' and boasts a gold owl door knocker, a framed and signed copy of the Deathly Hallows on the wall, her writing desk and a bust statue that she also signed when she completed the final book. She lived in this suite for six months to give her the headspace to finish her masterpiece.

Feeling flash? You can book to spend a night in the suite for a cool £2,370. If you're backpacking the UK on a budget, it's probably not the one for you!

Address: 1 Princes Street; EH2 2EQ.
J.K Rowling's handprint at the City Chambers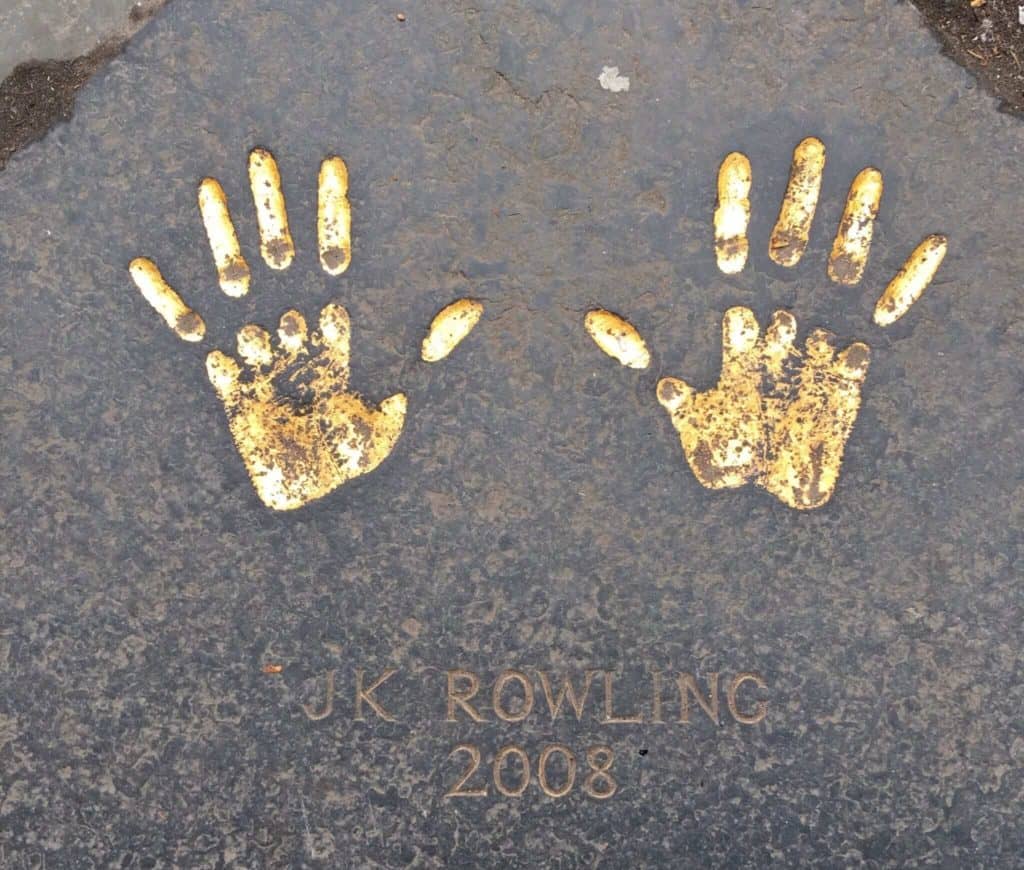 In 2008, J.K Rowling was the second person (following Ian Rankin) to receive the Edinburgh Award and have her prints displayed at the City Chambers, a bit like the Hollywood Boulevard (but a million times worse weather).

On a mission to find the prints, I accidentally walked over them twice while staring at the walls expecting to see them there.

Find the gold prints on a flagstone in the quadrangle and remember to keep your eyes on the ground! You'll also see the handprints of Ian Rankin, George Kerr and Chris Hoy.

Address: 253 High St, Edinburgh EH1 1YJ.
George Heriot School
It's thought that this private school was the inspiration for Hogwarts Castle. Some speculate that it must be because it has four towers like Hogwarts is described to, and the colours of the school houses seem to correlate.

For a little more history, this school was built in 1659 as a hospital and charitable school. George Heriot left behind £25,000 when he died which is the equivalent of tens of millions today. Nowadays 1,600 students study there at one time and wear a classic tartan school uniform. This briefly included J.K Rowling's daughter.

Despite the rumours, JK Rowling has disputed the claims that Hogwarts is based on George Heriot School. Either way, fans of Harry Potter in Edinburgh may want to snap a few photos from the outside.

Address: Lauriston Pl, Edinburgh EH3 9EQ.
Unofficial Harry Potter sites in Edinburgh
If you've found all these Edinburgh Harry Potter locations, why not continue soaking up the Hogwarts vibe elsewhere?
Edinburgh Castle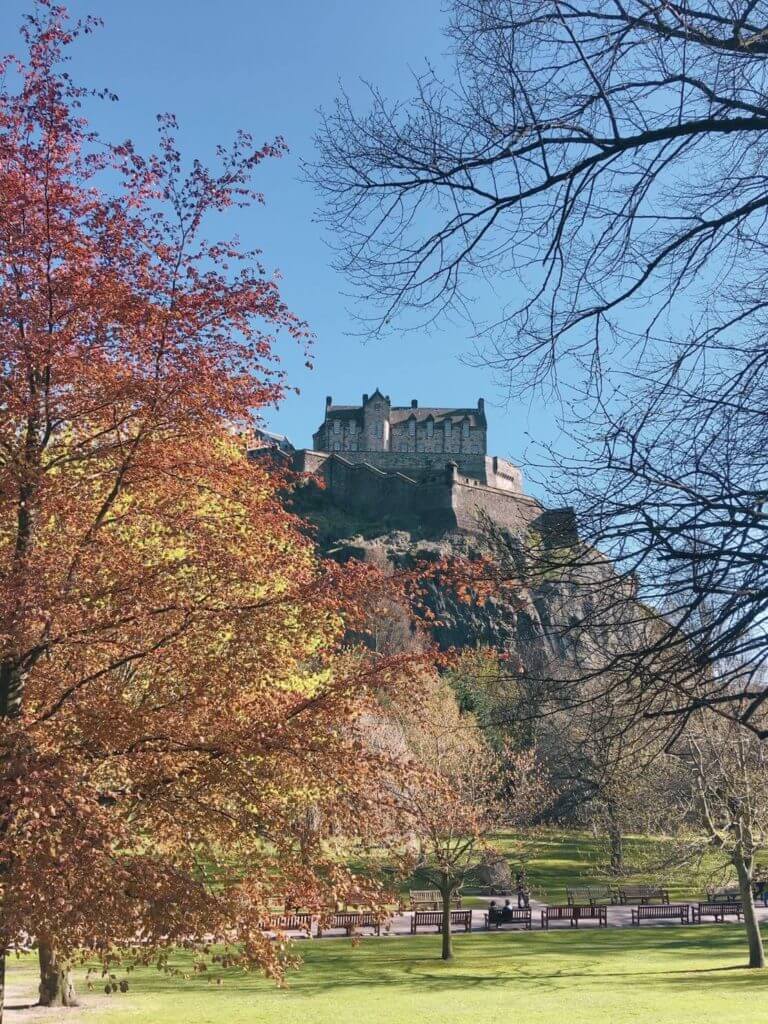 Of course there's a rumour that Edinburgh Castle was the inspiration for Hogwarts or at least inspired the books in some way. I'm sure anyone with a creative mind would feel inspired by dramatic Edinburgh Castle but alas, J.K disputes these claims.

Still, don't leave Edinburgh without heading inside the castle or, if you're visiting Edinburgh on a budget, gazing up at it from Princes Street Gardens.

Address: Castlehill, Edinburgh EH1 2NG.
Edinburgh Vaults
Although it's not directly related to Harry Potter in Edinburgh, this is worth a visit. For a spooky experience that would even freak Harry & co, look no further than South Bridge's Vaults. Nineteen arches were built in the 1700s creating underground tunnels and rooms beneath.

These were originally used as storage spaces by shops and pubs but soon became eerie, illicit places where people were solemnly up to no good. It's widely rumoured they're haunted. When you wander the dark, airless tunnels, you'll believe it!

Take a ghost tour through Edinburgh South Vault.

Address: South Bridge, Edinburgh EH1 1QR.
Armchair Books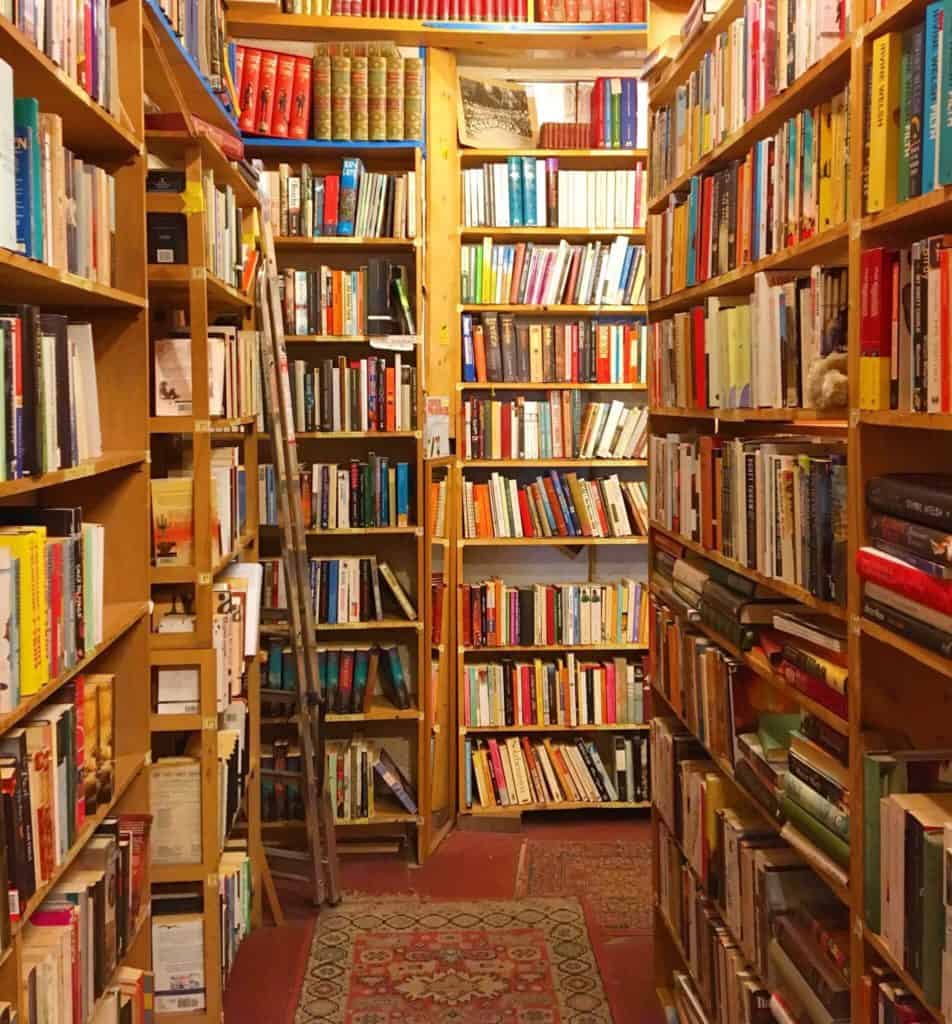 After having been to Oxford's Duke Humfrey's Library which was used as a Hogwarts filming location, I'm surprised this cosy bookshop didn't make the cut! Can't you just imagine Hermione curled up here with her head in a book?

Address: 72-74 West Port, Edinburgh EH1 2LE.
Harry Potter in Edinburgh experiences
Who cares if these spots didn't actually inspire the novels or movies? If you've come all the way to Scotland, these Harry Potter Edinburgh activities will bring the magic to life…
The Cauldron (Harry Potter cocktails)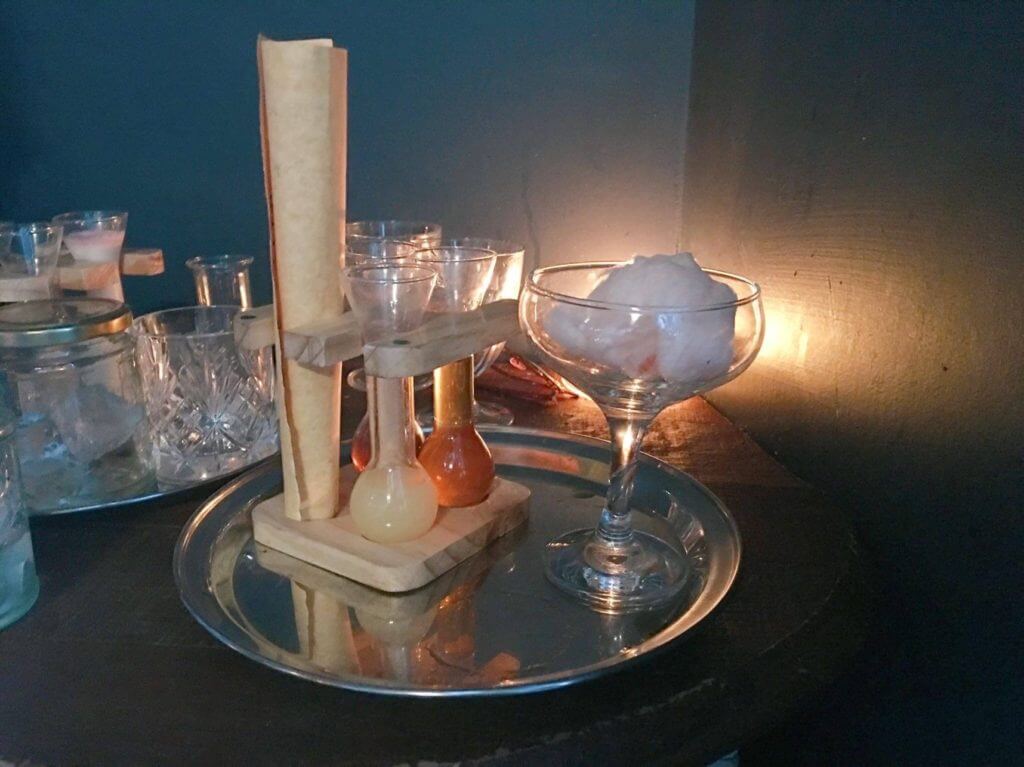 This fantasy-inspired pub on Queen Street is the place to come for a quirky, Harry Potter Edinburgh night out. Brew your own molecular cocktails while wearing a cloak and waving a magic wand. Alternatively, book a wizard's afternoon tea (£35) where you'll complete puzzles to unlock magic ingredients and other-worldly desserts.
Address: 57a Frederick St, Edinburgh EH2 1LH.
Department of Magic Escape Room
Fancy using your Potter knowledge to bust yourself out of a tight spot? Try a Harry Potter escape room from the Department of Magic. The Prophecies Quest sees contestants scramble to find clues scattered around the Department of Magic, while the Dark Lord Resurrection challenge requires finding the correct incantation to create a spellbinding potion.

Address: 9 Blair Street, Edinburgh EH1 1QR.
Try butterbeer at The Dog House
Sink a pint at this final Harry Potter Edinburgh location but make it butterbeer! The Dog House is THE place to try the magical beverage which is brewed with butterscotch, ginger beer and cream soda to create its signature froth. When in Edinburgh!

Address: 18-24 Clerk St, Newington, Edinburgh EH8 9HX.
Harry Potter day trips from Edinburgh
After soaking up the Harry Potter sites in Edinburgh, consider soaking up surrounding Scotland. Don't miss…
The Harry Potter train
Thanks for reading!
For more travel content, follow me on Instagram, Facebook, Twitter and YouTube.
If you're looking for Scotland travel inspo, check out my other posts:
See you next time for more adventures,
Rose
Ps. Liked these Harry Potter Edinburgh locations? Pin this for later!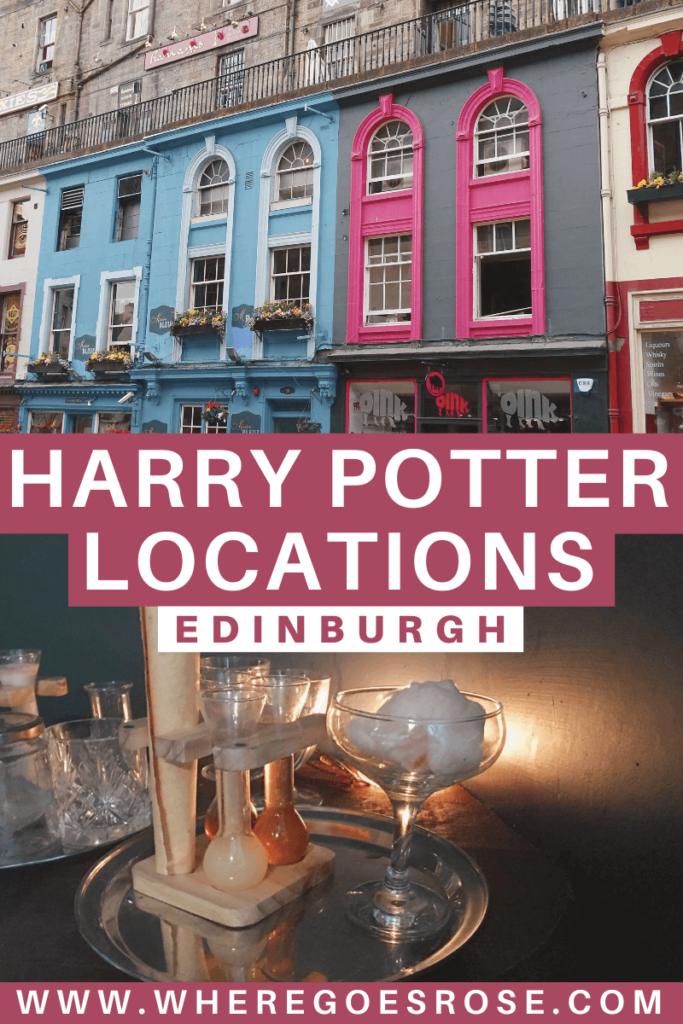 Visiting Scotland? These are my trusted resources…

Guidebooks – LP always get my seal of approval. Pack the latest copy of Lonely Planet Scotland.

Flights (international and domestic): I use Skyscanner to find the best-value flights, using the 'search by month' tool to find the cheapest dates. You can also use the 'to anywhere' feature if you're flexible on where you're going.

Car hire – use Rentalcars.com to compare car rentals in the UK (and all around the world).

For UK trains, I use Trainline. The search feature allows you to compare prices, and they show live departure times on the website.

For buses, I use Busbud. It's the only site that compares UK coaches and buses. Find London to Manchester journeys for £1!

Use Omio to compare trains and buses in one search. It's so handy!

For hotels and self-catering apartments, I use Booking.com. You can filter by review score and price to find the best-rated budget places. For hostels, I use Hostelworld.com.

To save money on accommodation, I use Trusted Housesitters, a website that connects homeowners going away and travellers who can sit their homes & pets.

I use GetYourGuide for tours & activities when I don't want to travel solo. The guides are knowledgeable and you can't beat the prices. I also check Viator as they often have fun and unique offerings.

For food tours pairing travellers with passionate local chefs and foodies, check out EatWith.

Need travel insurance? I use True Traveller (for Europe residents) since it's affordable but covers everything you'd need including various activities, valuables and pre-existing conditions. Unlike some companies, they insure you if you're already travelling / don't yet have your flight home booked. Get a quote.

For travel insurance for other nationalities, I recommend Hey Mundo and for long-term digital nomad travellers, I suggest Safety Wing.

Check out my resources page for more travel discounts and budget tips from my 10+ years on the road!