This post may contain affiliate links to things like tours, hotels, Amazon associates and products. These help me earn a small commission at no additional charge to you.
Although it's not how I spend my days as a local, I completely understand why tourists want to find the Harry Potter Oxford locations. If you're here to explore the wonderful world of Harry Potter in Oxford, here are my tips on the topic. I'll share the filming locations and take you on a self-guided Harry Potter tour of Oxford.

If you're yet to arrive in Oxford, you'll understand its charm when you do! With golden buildings, turrets and dreaming spires, it's easily of the most beautiful cities in the UK. It's little wonder countless movies and TV shows – including Inspector Morse and The Golden Compass – were shot here.
Oxford couldn't be better suited had it been built as a film set. But of course, much of it was built 780 years before Harry Potter filming in Oxford commenced!
New to Oxford? Start with my Oxford day trip guide and my Oxford weekend guide.
Was Harry Potter filmed in Oxford?
Not exclusively. Filming took place around the UK and Ireland. I've now visited several locations including the Harry potter locations at Lacock Abbey, Dobby's Grave in Wales, Gloucester Cathedral's Harry Potter sites, the Cliffs of Moher cave where Harry and Dumbledore destroyed a Horcrux, and many of the Harry Potter filming locations in Edinburgh.

There are several Harry Potter filming locations in Oxford. Most of them are indoors (perfect if you have bad weather during your visit) and several require an entrance fee; I'll explain as we go.
Oxford Harry Potter tours – if you'd rather explore with a guide, take a 2 hour HP walking tour (inc Bodleian Library entry).
Pin this for later!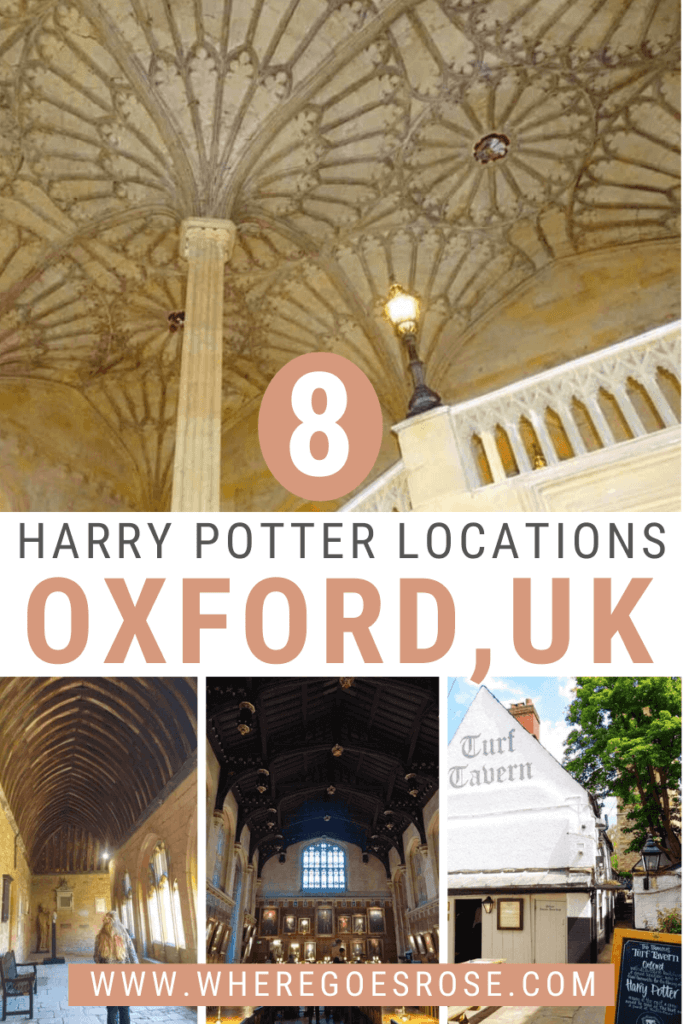 What's the deal with Harry Potter at Oxford University?
When it comes to Oxford tourist attractions, most of them are connected to the University. If you're not familiar, Oxford University is spread out across the city encompassing many of the historical buildings and attractions. Working for the Uni in the past 100% funded me setting up this blog so hey, we've come full circle!
The Oxford University Harry Potter locations are well worth visiting. It's hardly surprising the historical, charming colleges captured the filmmakers' attention: they look exactly like Hogwarts! Although still inhabited by students, most can be visited by guests for varying entrance fees.
Related read: Visiting the Oxford University colleges: map + entrance fees
A couple of years ago, I was visited by some Aussie friends who were desperate to see where Harry Potter was filmed in Oxford.
I took them on this very Harry Potter tour of Oxford so I can be sure it works! let's get stuck in…
Christ Church College
You can't research Harry Potter locations in Oxford without Christ Church College popping up! There are 38 Oxford colleges but Christ Church is the most famous.

Christ Church fun facts:
It was founded by King Henry VIII (not a feminist icon)
Thirteen Prime Ministers have studied here
Lewis Carrol (the author of Alice in Wonderland) lectured here
It was a filming location for Philip Pullman's Golden Compass
It receives 13 million annual visitors – probably because of its Harry Oxford Potter history!
There are not one but three Oxford University Harry Potter filming locations at Christ Church college. These are…
1. Bodley Tower staircase, Christ Church College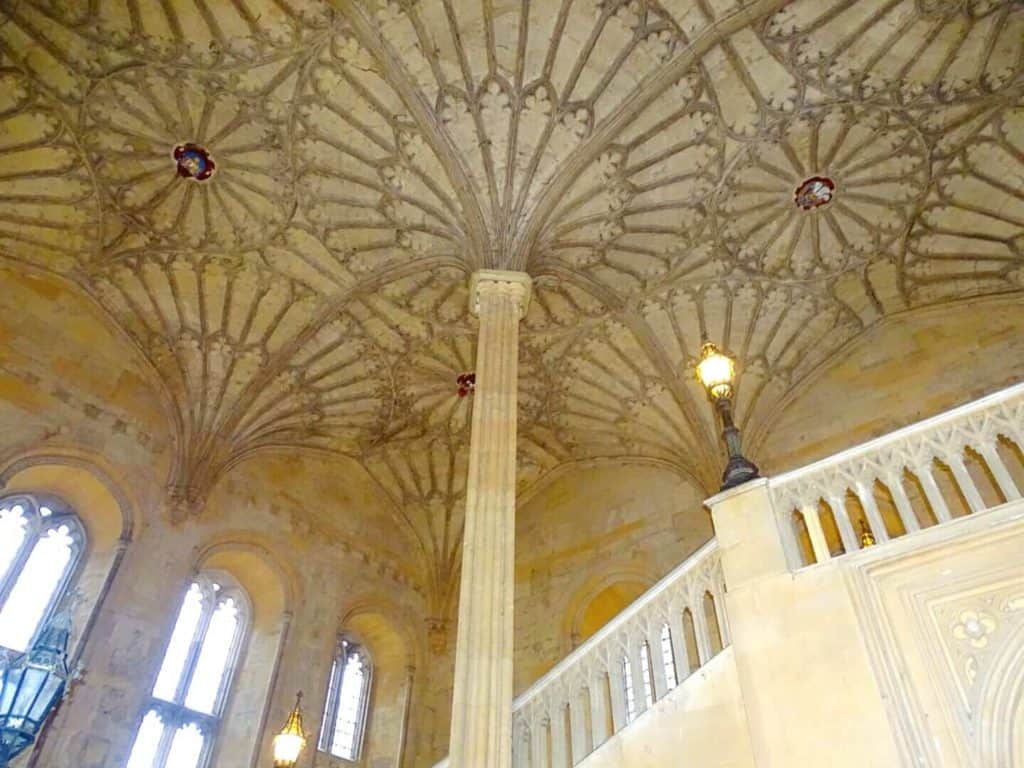 In The Philosopher's Stone, Harry, Ron and Hermione walk up this staircase where they're greeted by Professor McGonagall. You can see why this Harry Potter Oxford location was selected: the sweeping staircase and ornate details are perfectly-suited.

The staircase is part of Bodley Tower and leads to a room just called Hall. At one point, some bells from the cathedral were moved to the tower causing Lewis Caroll to write crirical articles about how they were unsatisfactory.
2. Christ Church College dining hall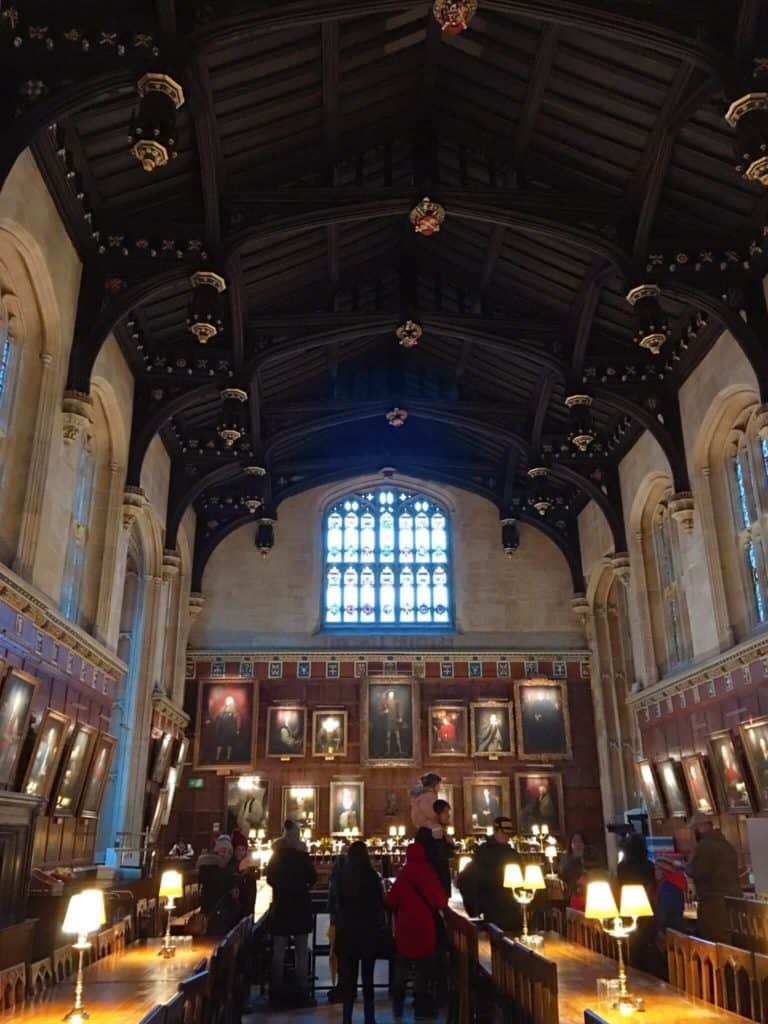 Does this room look familiar? This instagrammable place in Oxford resembles the Hogwarts Great Hall which is no coincidence because it is! (Well, sort of). Filming never took place here however it's the most famous Harry Potter location in Oxford. Confused?

Christ Church College dining hall was the inspiration for the Great Hall at Hogwarts. Filming took place at Gloucester Cathedral (which I believe is bigger) but the film set was modelled on this room. I'm guessing the directors saw it, perhaps while filming at the staircase, and thought it was the perfect blueprint for Hogwarts.

You can't blame them! With rows of dark wooden tables, old paintings on the walls, and light filtering through a dramatic window, it couldn't be more atmospheric. You can almost imagine Dumbledore on stage and a fresh-faced Harry hanging on his every word.

Fun fact about Christ Church dining hall – students still dine here every day! I'm told they wear the appropriate gowns (which are upgraded once you've sat your exams) and listen to grace in ACTUAL LATIN before eating. I wonder how they feel about tourists popping their heads around the door.
3. Christ Church cloisters (hallways)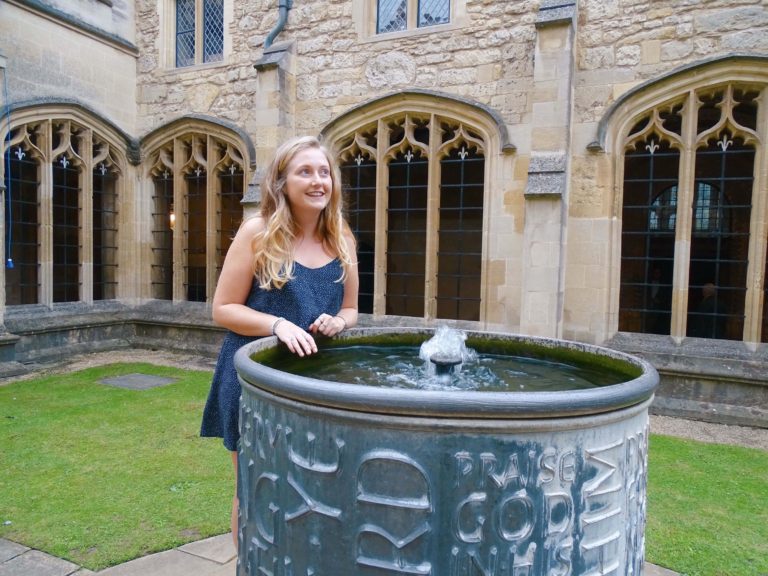 The third and final Oxford Harry Potter location at Christ Church College is the cloisters. Several of these traditional semi-open hallways were used as filming locations. If it's crowded and busy, keep reading to location #6 for a quieter alternative.

Christ Church entrance fee: £15 (up from £7 in 2017!). It may be expensive but it'll gain you entry to the three Harry Potter Oxford locations mentioned above.

Opening times: Christ Church is currently closed at the time of writing (May 2021); see their website for reopening details. Entry is free for Oxford residents and Oxford staff and students. They get a plus one so maybe you can befriend a local to sign you in!
4. Duke Humfrey's Library
This famous library is part of the Bodleian Libraries, Oxford's main research centre and the UK's second-biggest library after the British Library in London. Dating back to the 14th century, it holds 13 million items including maps and manuscripts – all the things you'd expect to find at Hogwarts!

Several different libraries make up the Bodleian Libraries. One of them is Duke Humfrey's which has a small and cosy feel. For this reason, it was used as a filming location in The Philosopher's Stone. In the scene, Harry is looking for clues in Hogwarts Library whilst wearing his invisibility cloak planning to steal a book.

Entrance details: Duke Humfrey's is the only Harry Potter location at Oxford University not freely open to the public. Luckily, it couldn't be easier to book a tour with an official guide. Book onto a tour on the Bodleian website from £6. The 30-minute and 60-minute tour both include a stop at Duke Humfrey's.
5. The Divinity School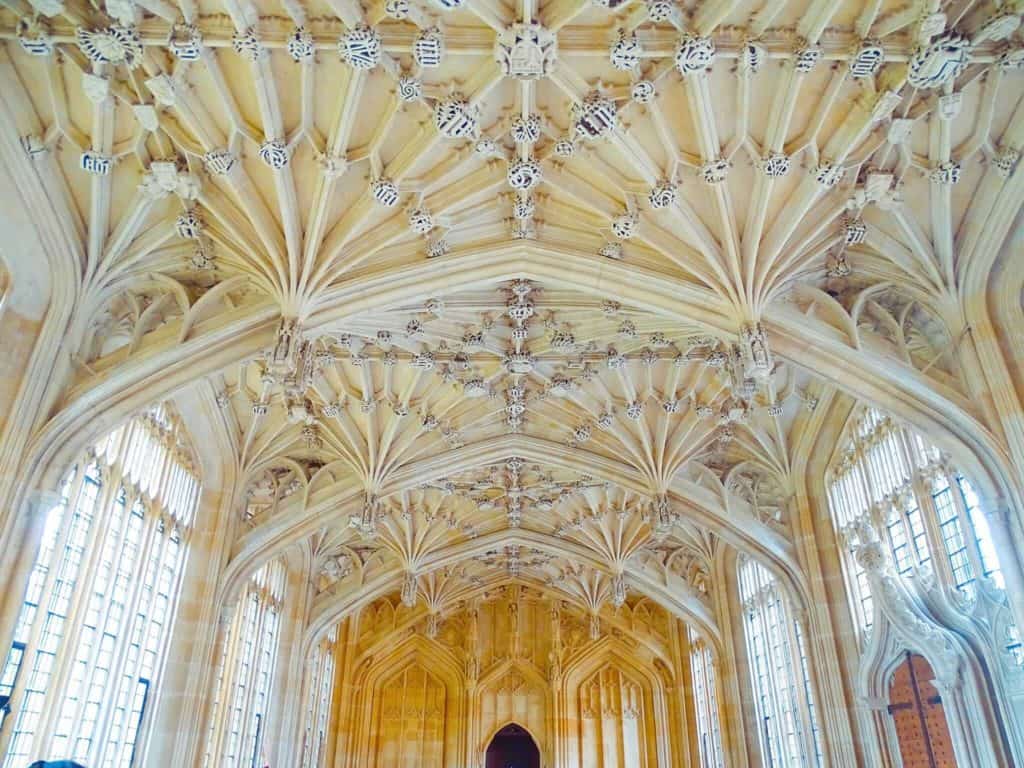 Our next stop is the attractive Divinity School, also part of the Bodleian Libraries. You'll find this grand room and its impressive ceiling just a minute's walk from Duke Humfrey's.

The medieval Divinity School was used more than once during filming. It served as the Hogwarts hospital wing and the hall where Professor McGonagall taught the students to dance in The Goblet of Fire.

Background: The Divinity School is the oldest purpose-built University building in the world. It was used in the 1400s for lectures, exams and discussions about theology, and used by the House of Commons in the 1600s when they fled London to escape the plague. It still gets used today for graduations and special events.

Divinity School entrance fee: £1, the cheapest Harry Potter location in Oxford. If taking a Bodleian Library tour to see Duke Humfrey's Library, it's included.
6. New College cloisters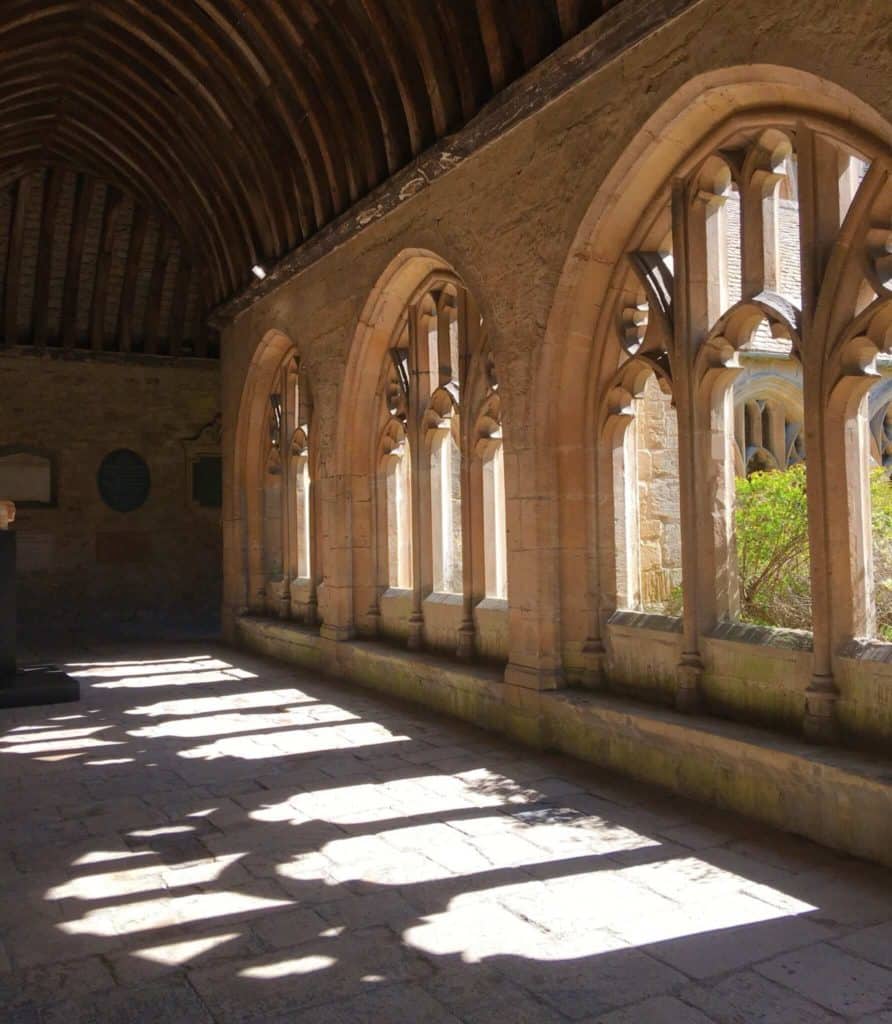 A visit to New College Oxford is quieter and cheaper than Christ Church. Hidden away from central Oxford, you'll be surprised how spacious it is with a large quad, field, cathedral and dining hall. But it's not the aesthetics that bring people in: it's the filming of Harry Potter at Oxford University, in particular the scene where Harry turns Malfoy into a ferret!

To properly explore this Harry Potter filming location in Oxford, head to the cloisters. These walkways with large, open windows look out onto the quad. You often see the Hogwarts students strolling along these in the films. This particular one at New College is famous because it was used in Goblet of Fire.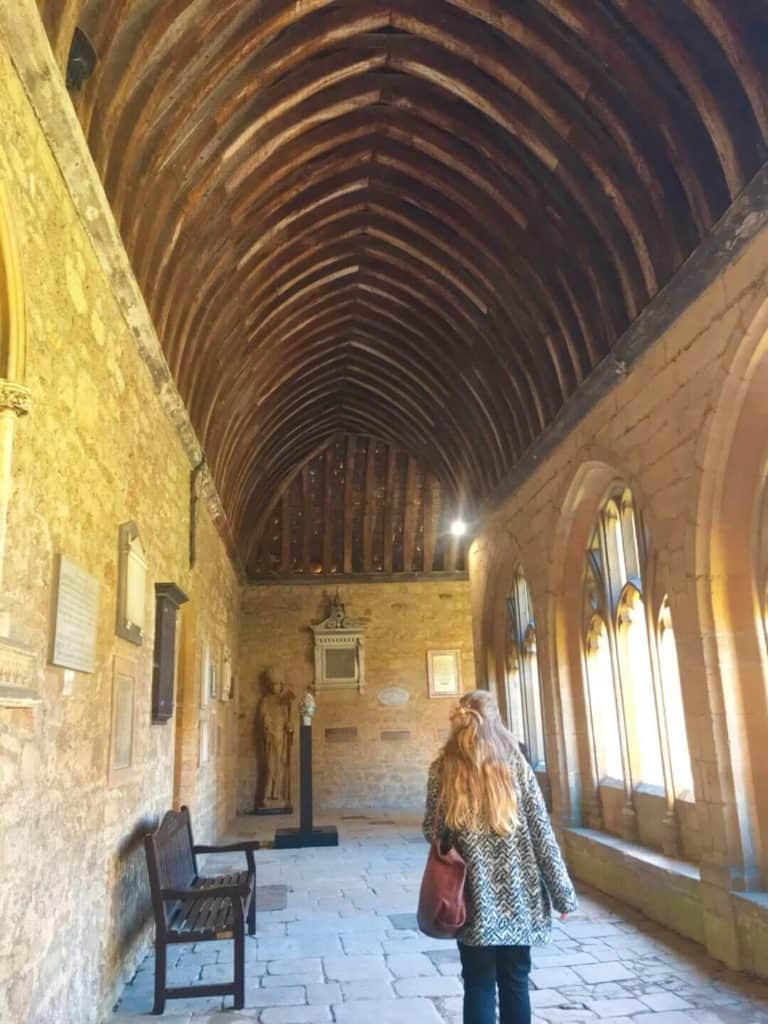 Keep an eye out for the Harry Potter tree outside where the confrontation between Harry and Draco took place.

New College entrance fee: Free from 2pm-4pm between October-March. The rest of the year it's £5 entry.

Opening times: Currently closed until July 2021; check the New College website for more details. There are two entrances: Holywell Street and Queen's Lane.
7. Budget option – the Harry Potter Oxford tree from outside
Don't want to pay £5 entry? Don't worry. You can see the tree for free. Of course I'd recommend going inside New College if you have the time and budget but if not, locate the Bridge of Sighs and stand under it. When facing New College, you should be able to glimpse the tree.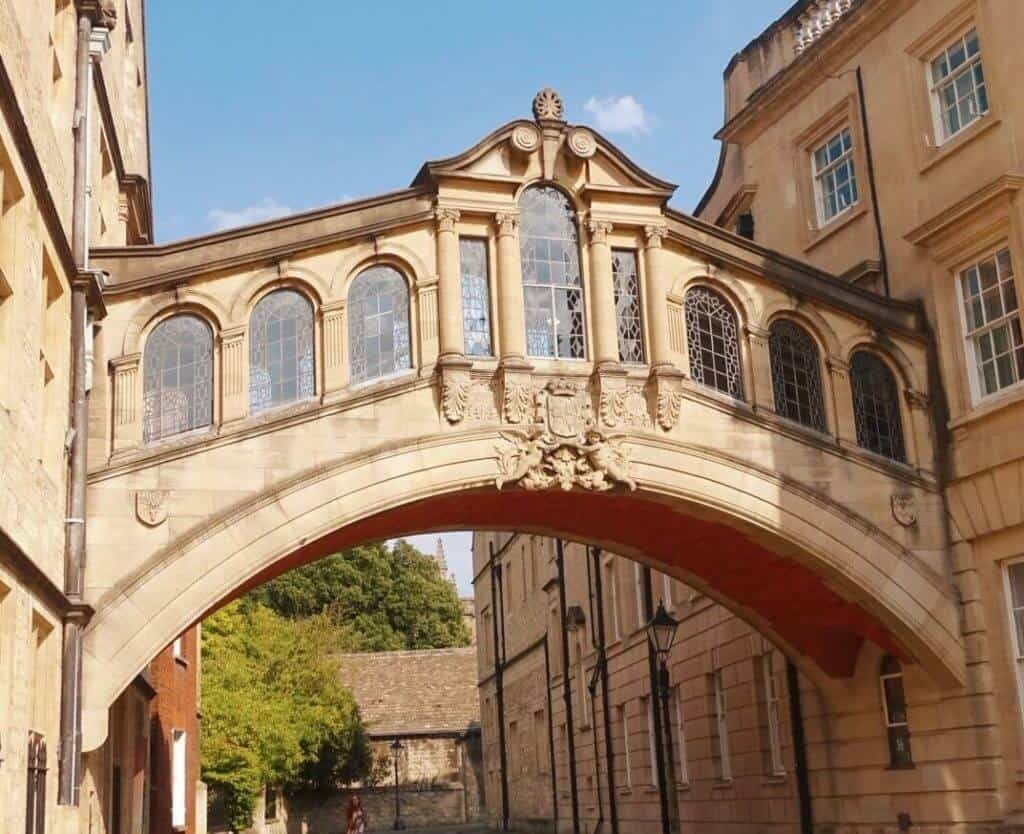 Next, find the tiny alleyway entrance to your left. This is called St Helen's Passage and leads to our next Harry Potter location in Oxford…
8. The Turf Tavern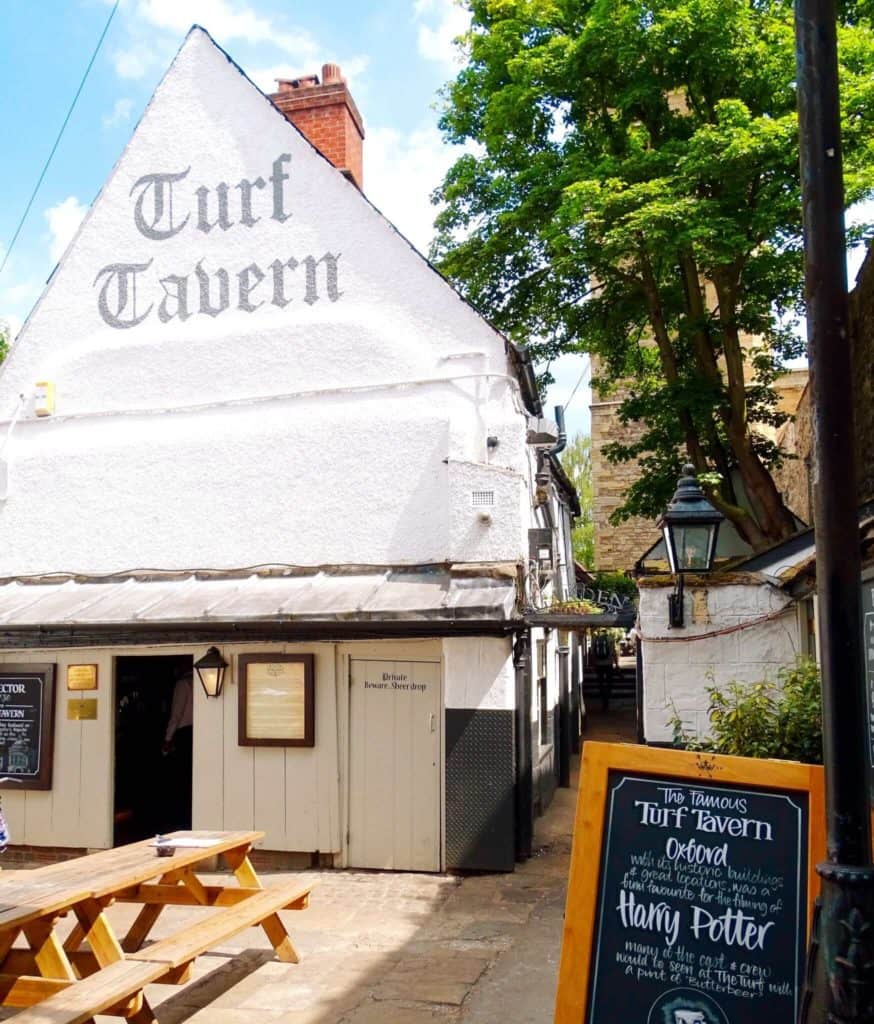 Not technically a Harry Potter movie location in Oxford, this quirky pub was a favourite of the cast during filming. It must have been a quirky time for the locals: imagine walking into your regular pub and seeing Dumbledore sipping a pint!

It's a shame it was never featured in the films because the surroundings would have been perfect for Hogwarts. When you squeeze down cobbled St Helen's Passage, you'll see what I mean.

Background: 'The Turf' has been a popular drinking hole since the 1300s although it was then known as the Spotted Cow. Another fun fact is that ex-prime minister Bob Hawke broke a Guinness World Record here by finishing a pint of beer in 11 seconds.

The pub has embraced becoming a Harry Potter Oxford location but they're yet to start serving butterbeer. Watch this space…

Entrance price: Free. But maybe buy a drink. They also serve decent pub grub if you're hungry.
Tips for visiting Oxford Harry Potter locations
When touring the Harry Potter Oxford University locations, check individual college websites / the Bodleian Libraries website. Each college is separate and may close for exam periods and other events.
Be mindful that these are still working colleges with students and staff going about their day-to-day life. Wave a selfie stick in their face and they may not be too happy!
Set aside 2-4 hours for all these filming locations
Wear comfy shoes. This tour requires a bit of walking, plus cobbles.
How long does an Oxford Harry Potter tour take?
It depends on you but here are my suggestions:
1-1.5 hours at Christ Church – after paying £15 entry, make the most of the college and grounds!
30-60 minutes at Duke Humfrey's depending which tour you pick
15 minutes at the Divinity School – it's just one room
30-45 minutes at New College
10-?? minutes at Turf Tavern (depending if you stop for a drink).
Total entrance fees: If you follow this Harry Potter Oxford tour exactly, your entrance fees will come to £22 or £27 (depending whether you visit between October and March when New College is free to enter).
Bonus stop – Natural History Museum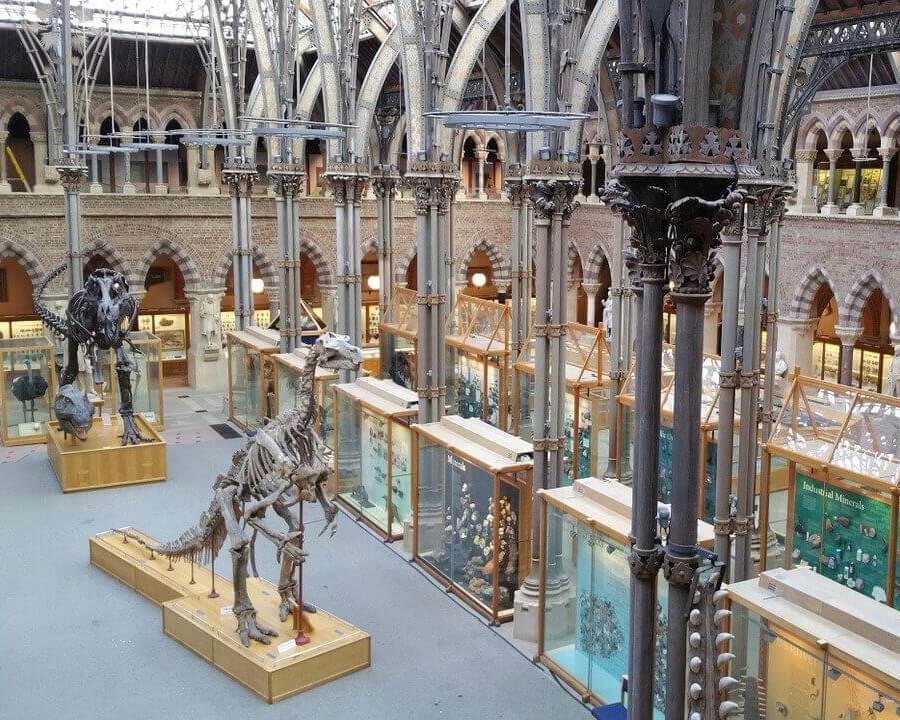 Since no filming took place at the Natural History Museum and it's away from town, I left this stop out. However, if you have time, this is one of my favourite places in Oxford to spend a rainy afternoon. Better yet, it has a Harry Potter connection.

The directors visited while filming Harry Potter in Oxford and perused the artefacts for inspiration. I don't blame them: the museum has a long history of inspiring creative sorts. Stare long enough at the dodo skeleton and you'll understand where Lewis Caroll got inspiration for the Dodo in Alice in Wonderland…
Official Harry Potter Oxford tours
If you'd rather explore the Harry Potter locations in Oxford with an official guide, browse these tours.
Browse all Harry tours in Oxford.

If you're coming from London and don't wish to self-navigate, you can take a Harry Potter day tour from London with GetYourGuide.
Harry Potter shops in Oxford
Broad Street encompasses all kinds of shops, cafes and restaurants but it's recently become a hotspot for fans of Harry Potter in Oxford. Head to the House of Wonders to rummage for wands, sorting hats, cuddly owls and more.
Where to refuel
Check out my Oxford food and drink guides because I've written in detail about brunch, coffee, Asian restaurants and more!

For a quick eat, Sasi's Thai in the Covered Market is one of my favourite Oxford restaurants. Coffee lovers, head straight to the Missing Bean on Turl Street, one of the best cafes in Oxford known for its cappuccinos and cakes.
Getting to Oxford
Book a train on Trainline; it takes just 1 hour from London Paddington.

A cheaper option is the Oxford Tube, a bus service that runs up to every 10 minutes between Oxford and London.

In addition to the Oxford Tube, there are a few other bus services running between UK cities and Oxford. Compare journey prices and times on Busbud.
Visiting the UK? 

Guidebooks – LP always get my seal of approval. Use the latest copy of Lonely Planet England.

Getting around by air – I use Skyscanner to find the best-value flights, using the 'search by month' tool to find the cheapest dates. You can also use the 'to anywhere' feature if you're flexible on where you're going.

Car hire – use Rentalcars.com to compare car rentals in the UK (and all around the world).

For hotels and self-catering apartments, I use Booking.com. You can filter by review score and price to find the best-rated budget places. For hostels, I use Hostelworld.com.

To save money on accommodation, I use Trusted Housesitters, a website that connects homeowners going away and travellers who can sit their homes & pets.

I use GetYourGuide for tours & activities when I don't want to travel solo. The guides are knowledgeable and you can't beat the prices. I also check Viator as they often have fun and unique offerings.

Need travel insurance? I use True Traveller (for Europe residents) since it's affordable but covers everything you'd need including various activities, valuables and pre-existing conditions. Unlike some companies, they insure you if you're already travelling / don't yet have your flight home booked. Get a quote.

For travel insurance for other nationalities, I recommend Hey Mundo and for long-term digital nomad travellers, I suggest Safety Wing.

Check out my resources page for more travel discounts and budget tips from my 10+ years on the road!
Thanks for following my Harry Potter Oxford tour!
Check out my other Oxford posts:
See you next time for more adventures,
Rose
For more travel content, follow me on Instagram, Facebook, Twitter and YouTube.
Pin this for later!