This post may contain affiliate links to things like tours, hotels, Amazon associates and products. These help me earn a small commission at no additional charge to you.
One of the best experiences during my recent 10 day Cuba itinerary was a Havana to Viñales day trip. In this guide, I'll explain everything you need to know about visiting Viñales. This includes how to get from Havana to Viñales, the pros and cons of a Viñales day trip vs. staying overnight, what to do in Viñales and more.
First of all though, a quick Viñales introduction. This rolling countryside region has become a popular tourist destination in recent years. While 'Viñales' refers to the town, it's not the highlight of the region. The surrounding countryside provides the ultimate escape from busy towns and cities.

While many travellers use Viñales town as their base, they'll spend their days exploring caves, greenery, plantations and spectacular viewpoints in the countryside.
Viñales is a great addition to your Cuba itinerary. You can't compare it to the busy streets of Havana, the colourful houses of Trinidad, the beaches of Varadero or, in fact, anywhere else! For an immersive comparison of Cuba's various terrains and landscapes, you need to visit Viñales.
Viñales day trip from Havana
A few itineraries I'd read before visiting Cuba suggested spending a few days in Viñales. But being a slow traveller, 10 days in a country isn't very long for me. I could have spent the entire time in Havana before getting bored!

I felt I didn't have time for multiple days in Viñales so instead, opted for a Viñales day trip from Havana.

If you're short of time in Cuba, I would highly recommend a Viñales day tour. It was a long day as we left Havana just after 7am and arrived back after 6pm. However, it didn't feel too rushed and we managed to see all the top sights in Viñales.

Another reason I'd suggest a day trip to Viñales from Havana? Viñales town doesn't have many attractions of its own so you don't need multiple nights there. Since Havana has more bars, live music and evening activities, I preferred to base there for the social aspect since I was travelling alone in Cuba.

But, like anything in life, it's about personal preference. If you're more of a countryside person than a city one, you may wish to spend a few days in Viñales. Rather than ticking off the sights, this would let you relax and soak up the countryside at your leisure. If this sounds better suited to you, I've included the following section on visiting Viñales independently.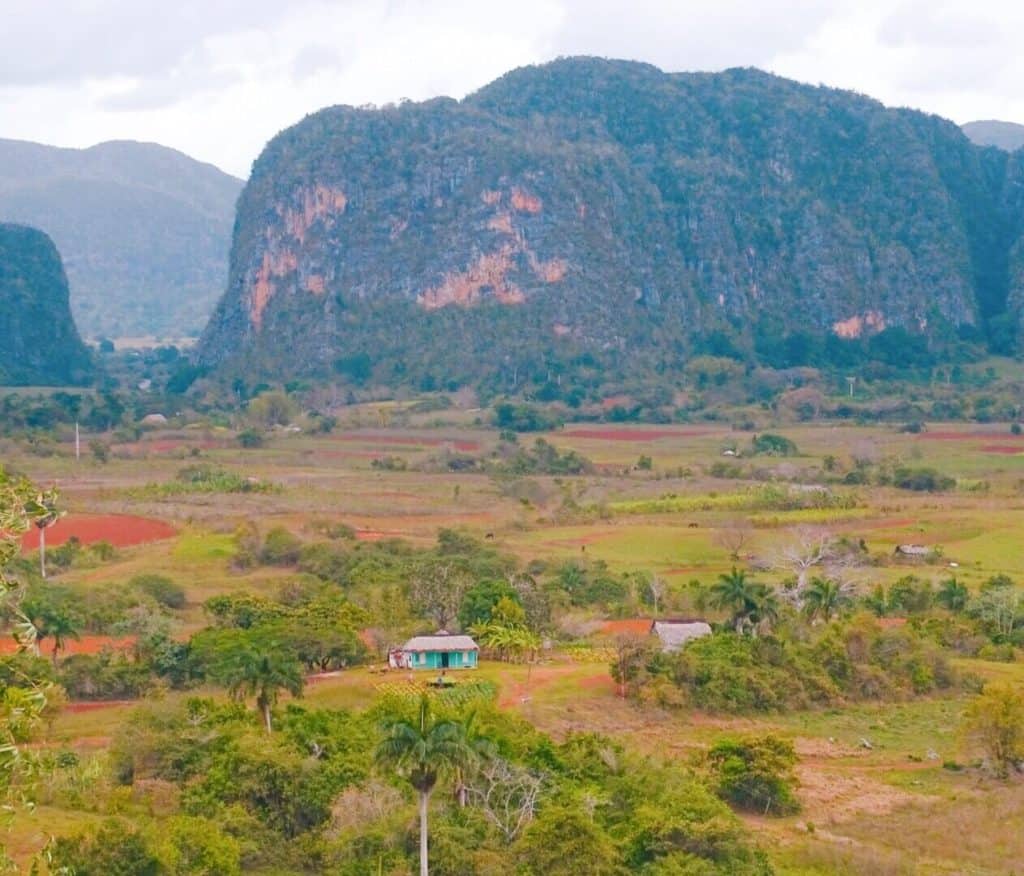 Getting to Viñales independently
Government taxi: The most popular way for travellers to get around Cuba is by taxi. While this sounds like a flash mode of transport, it's the most convenient option in Cuba. These government-run taxis can be booked at your accommodation and will take you door-to-door. They're a form of shared transport so you'll ride with other travellers who've booked that day. You'll pay 25 CUC per person.

Bus: There are two daily departures from Havana main station on the Viazul bus. This costs 12 CUC and takes either 3.5 hours or 2 hours depending whether or not it changes in Las Terrazas. Viazul is a private bus company; the local bus company only accepts tourists who are students or have Cuban residency.
Viñales tour from Havana
To visit Viñales as a day trip, you'll need to take a tour. The government taxis usually run at set times each morning so, even if you travel there bright and early, you'd have to wait until the next day to come back.

A Viñales tour from Havana will allow you to see all the sights and get back to Havana the same day. I really hate packing so this was an extra plus for me!

The tour I took was an Airbnb Experience. We travelled by classic Cuban car with a friendly local guide named Jose who explained his favourite part of Cuba had always been Viñales. His passion ended up as a profession after he started taking tourists to explore with him.

The tour also included the most delicious meal I ate in Cuba. Foodies take note!

The following stops were included during our Viñales tour from Havana. Don't miss them, whether you're travelling as a tour or independently.
Viewpoint at Hotel Jazmin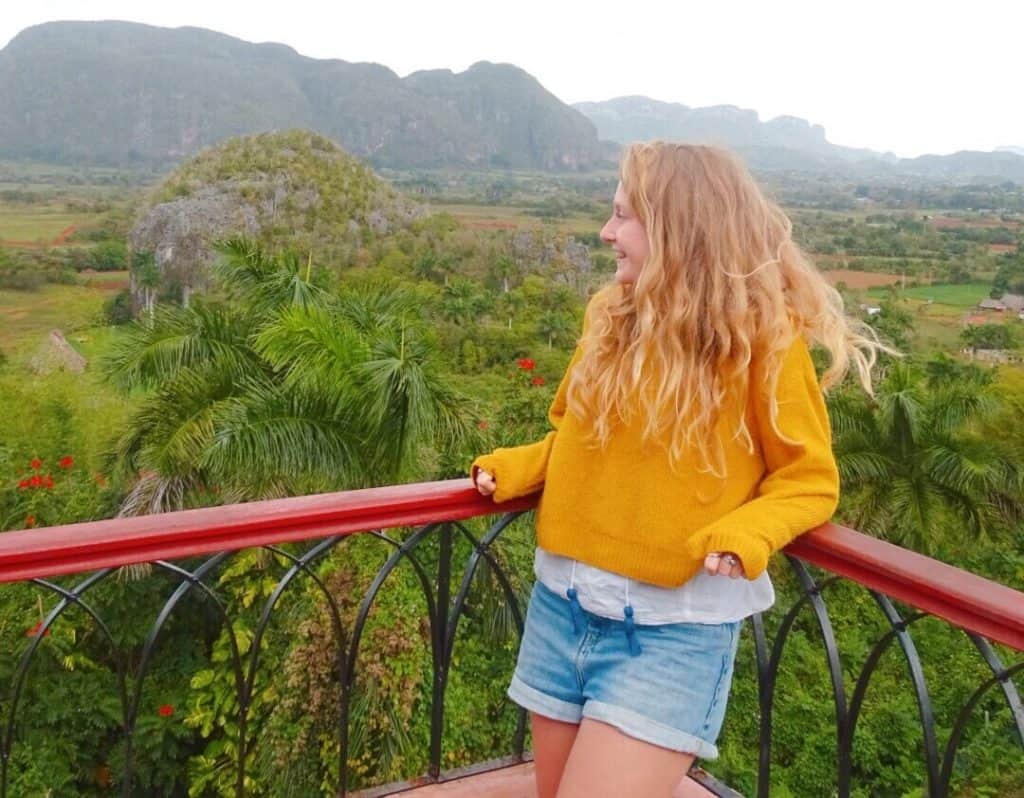 The first place we stopped in Viñales was this stunning viewpoint at Hotel Los Jazmines. Here you can gaze out across Viñales Valley without needing to be a guest at the hotel. Once you lay your eyes on these sights, you'll know you're in Viñales: the rolling green fields and craggy cliffs couldn't be anywhere else.

We took twenty minutes to explore the viewing platform area and snap photos. However, if you have free time on your hands, why not grab some Cuban coffee at the onsite cafe and spend an hour or so gazing over the valley?
If you fancy staying at Hotel Los Jazmines, check availability here. I would love to relax in the swimming pool while looking out over these views.
Horse riding in Viñales (note on ethics)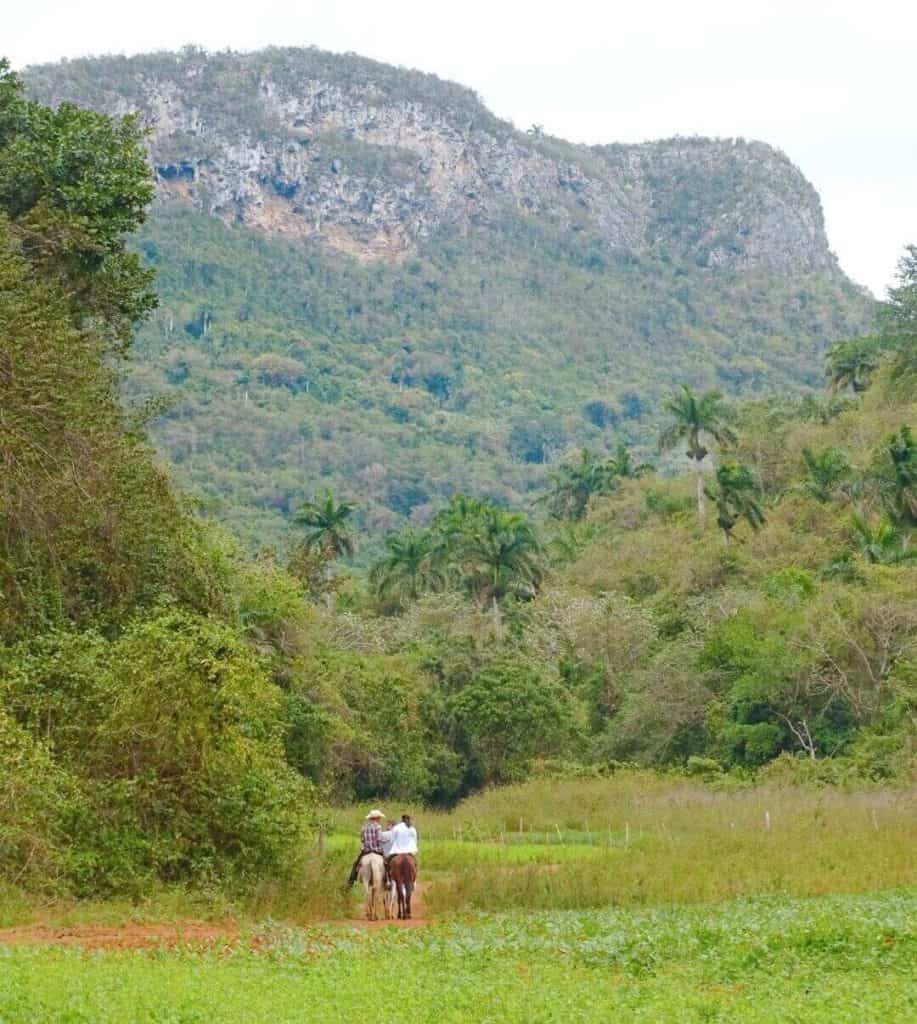 Many people go horse riding in Viñales and of course, this is entirely up to you. I'm personally a bit sceptical of horse riding at the best of times and the animal rights in Cuba could not be described as 'the best of times'. The horses I saw looked sad and worse for wear so it wasn't something I wanted to participate in.

However, it's not my job to tell you what to do. There are many places you can go horse riding in Viñales and my Viñales tour from Havana included the option to ride if you wanted.
Tobacco plantation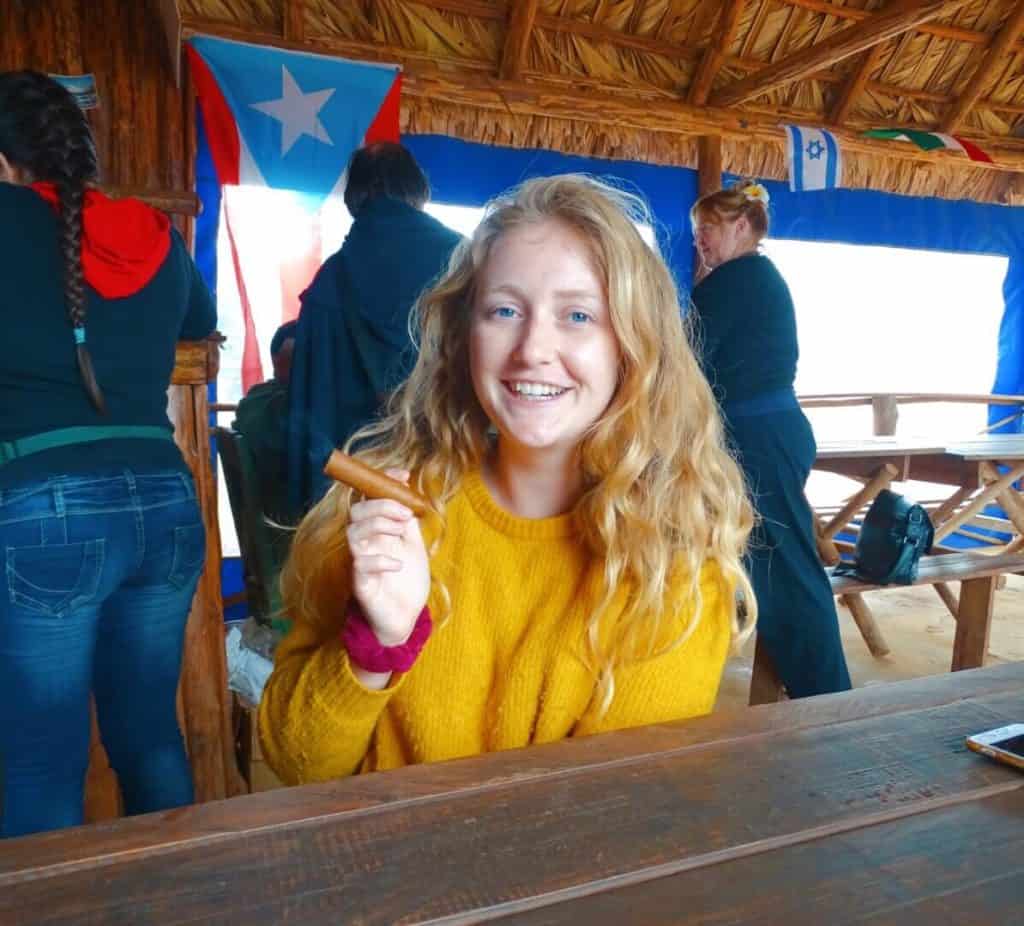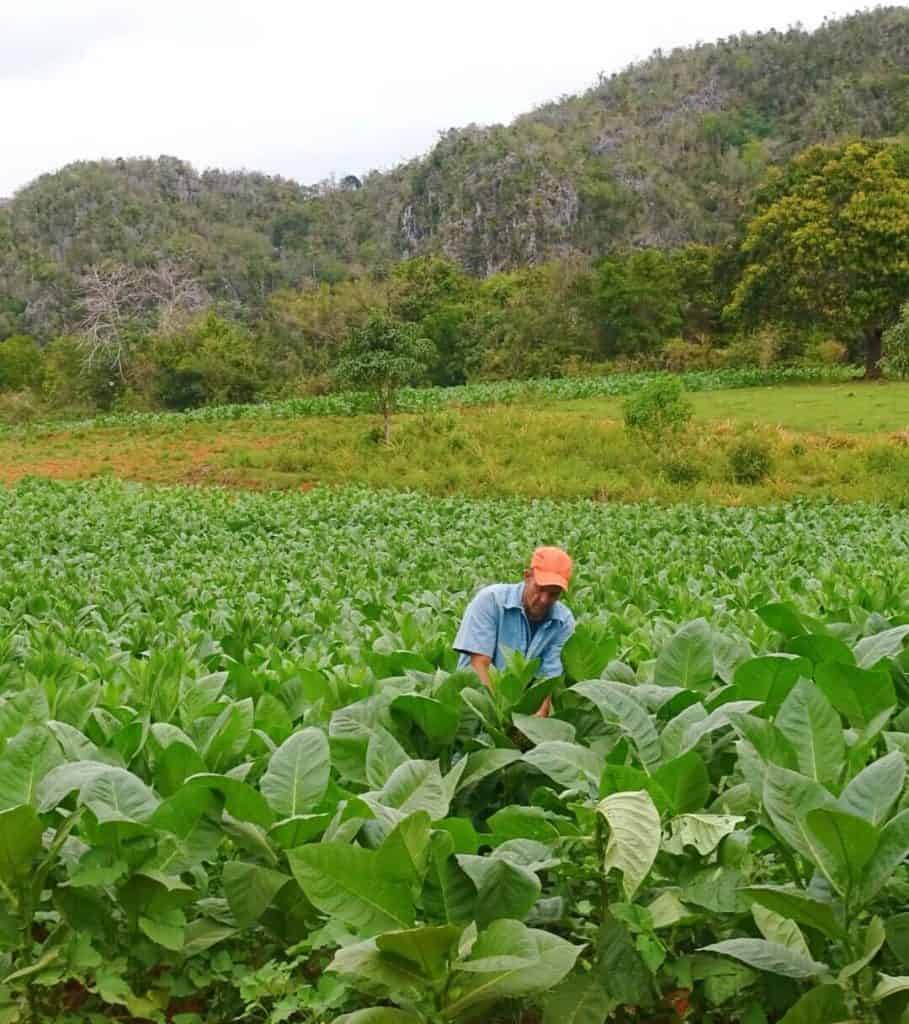 A highlight of the Viñales day tour from Havana was visiting a tobacco plantation. This had never been high on my bucket list but actually, it's a must while visiting Cuba.

I don't have a particular interest in tobacco but I do have an interest in learning about Cuban life and customs. Cuban cigars are famous all around the world and most of the tobacco is grown here in Viñales. It's the perfect place to learn about Cuba's biggest export and try one for yourself.

I was horrified to learn that the government take 90% of the tobacco grown at plantations. While the farms are run by local people, they only get to keep a fraction of their own product. I learnt that the same applies to Airbnb owners and tour guides. They have to pay large percentages of their earnings to the Cuban government.

Still, it's better than Castro's rule when locals couldn't have a business at all.
The best lunch in Viñales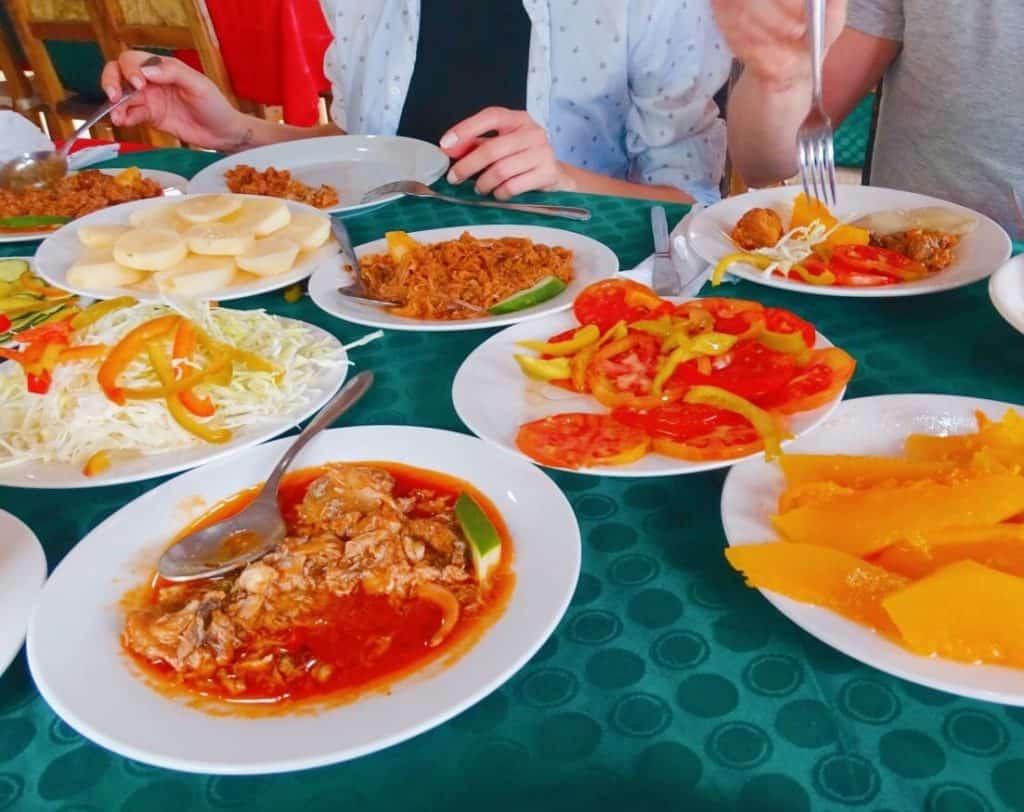 Jose told us the best food in Cuba was out in the countryside and he wasn't wrong. As I've mentioned in other blogs and on social media, I wasn't wild about Cuban cuisine. Still, there were some good bits and this spread included all of them.

We had ropa vieja (pulled pork with sauce), sweet potato, pumpkin, yukka and salad. We also had dessert and washed it all down with a delicious local beverage: rum and sugar cane. If there was any doubt about its freshness, we saw locals freshly squeezing sugar canes with a press and pouring the juice straight into our glasses. Muy rico!
Cueva del Indio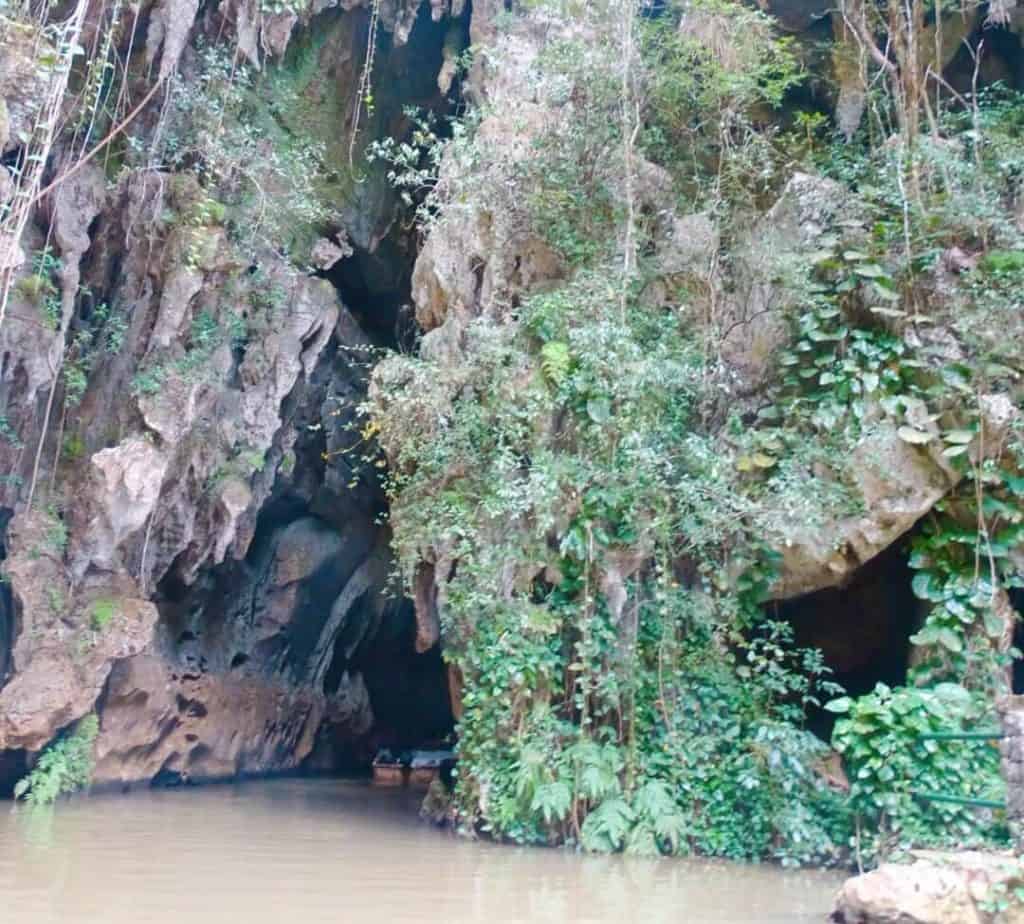 Struggling under the weight of everything I'd gorged myself on during lunch, our Havana to Viñales day trip continued as we headed to some ancient caves. The craggy cliffs you see all over Viñales are not empty: they're full of caves, some with rivers running inside.

The best cave to explore in Viñales is Cueva del Indio located 5km from Vinales town. This unique location was once an indigenous dwelling, rediscovered in 1920. In recent years, it's become popular with tourists who cruise through it by boat.

You enter Cueva del Indio by foot and admire stalagmites and stalactites as you head to the boat station. Then you cruise through the cave system and exit via the back of the caves where there's coincidentally a line of gift shops. Standard 😉
Viñales Mural de la Prehistoria
For the final stop of our Havana to Viñales day trip, we visited Viñales Mural de la Prehistoria, apparently the second-largest mural in the world. As a street art fanatic, I like to think of it as giant street art, although it's more cave than street, really.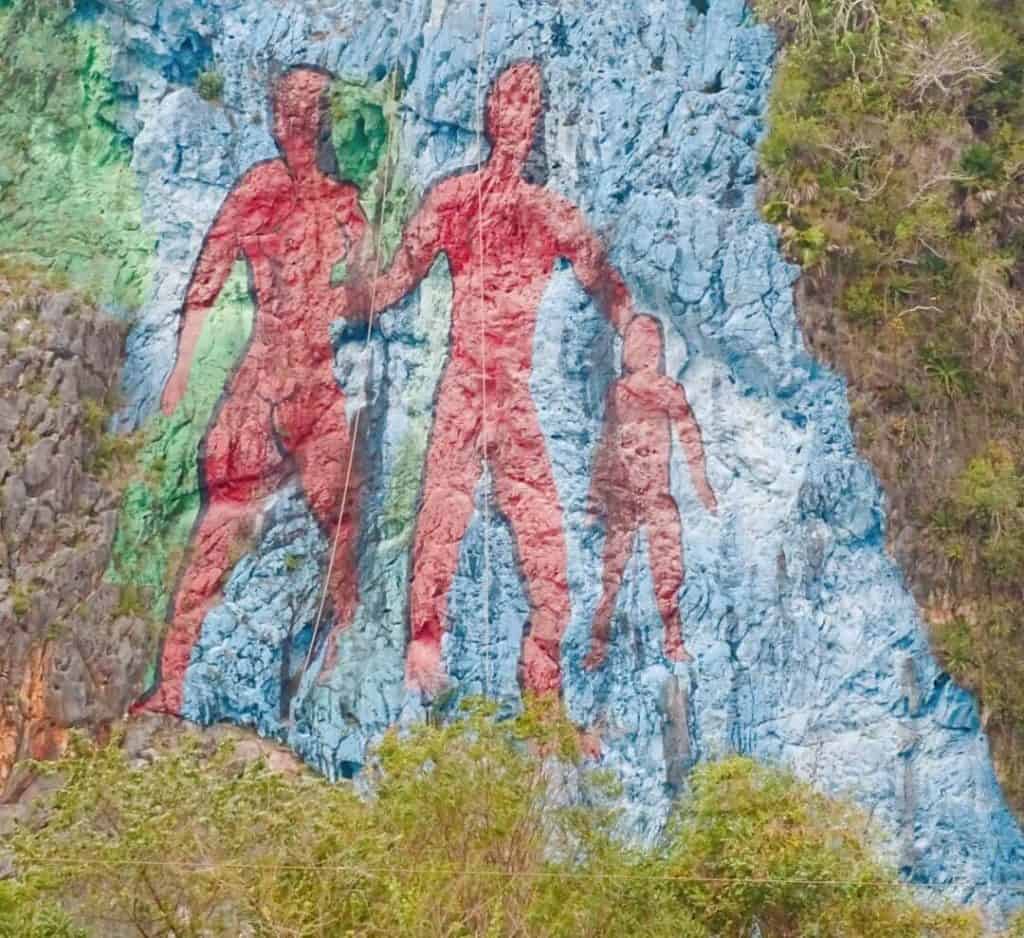 Jose explained the director of the Cuban Academy of Science is responsible for the giant image which displays the world history including dinosaurs and the first humans.

This mural is pretty cool if you're passing by but I'm not sure I'd travel far out of my way. Still, it's free and worthy of a few photos.
Tips for a Havana to Viñales day tour
Bring an extra layer – the mountainous terrain of Viñales means it feels cooler than other parts of Cuba. I'd been hot and sweaty in Havana but didn't take my jumper off all day in Viñales.
Bring a reusable water bottle that you can fill up with filtered water (your accommodation will have this).
Carry your reusable coffee cup (collapsable) for hot takeaway drinks (we had a stop on the way there and back) and metal straw set to reduce the use of plastic straws
Pack a book or some entertainment for the journey there and back – it takes 2.5 hours each way to travel from Viñales to Havana.
As usual when it comes to Cuba, do your research in advance. You won't find many Wi-Fi hotspots when you're out and about!
Wear comfy footwear. You won't need to do any intensive hikes but you'll want something comfy to walk through the caves.
Don't forget a copy of Lonely Planet Cuba!
Overall, I really enjoyed my Viñales day tour. It's rare for me to only spend a day somewhere but I felt the itinerary worked just fine. However, if I'd had endless time, it might have been nice to stay a few nights in Viñales, especially so I could eat that lunch buffet again!
Thanks for reading!
Check out my other Cuba blogs:
For more solo travel content, follow me on Instagram, Facebook, Twitter and YouTube.
Rose
Ps. Liked this Viñales day tour from Havana? Pin it for later!
VISITING CUBA? 

These are my trusted resources:

Getting there – I use Skyscanner to find the best-value flights, using the 'search by month' tool to find the cheapest dates. You can also use the 'to anywhere' feature if you're flexible on where you're going.

For apartments and private rooms, use Airbnb. For hotels, I recommend Booking.com.

For hostels, I use Hostelworld. Hostels in Cuba are the best places to meet other travellers.

Browse Cuba tours and activities on Airbnb Experiences and Urban Adventures.

Pack the latest copy of Lonely Planet Cuba.

Need to top up your Spanish? Pick up a Lonely Planet Latin American Spanish Phrasebook & Dictionary.

Need travel insurance? I use True Traveller (for UK & Europe residents) since it's affordable but covers everything you'd need including various activities, valuables and pre-existing conditions. Unlike some companies, they insure you if you're already travelling / don't yet have your flight home booked. Get a quote.

For travel insurance for other nationalities, I recommend Hey Mundo and for long-term digital nomad travellers, I suggest Safety Wing.

Check out my resources page for more travel discounts and tips from 10+ years of travel!