This post may contain affiliate links to things like tours, hotels, Amazon associates and products. These help me earn a small commission at no additional charge to you.
When I first arrived in Malaysia, I was craving healthy food. I'd eaten a lot of delicious yet unhealthy foods whilst exploring Java and I'd also tried to pack in all of Ipoh's most famous eateries into a three-day trip.

Then, after the delicious food in Melaka THEN the Penang street food, I was desperate for nourishment!

I was expecting to find lots of cafes serving healthy food in George Town Penang. As a digital nomad hub, I assumed there would be demand. However, as often happens when you travel, all was not as I expected. Initially, everything healthy I found was either tiny, expensive or randomly doused in syrup.

Read more Penang posts:
Best healthy foods in George Town Penang
George Town is never going to be an Ubud or Canggu of this world but I did find a few healthy restaurants in George Town Penang that I'd recommend.

For vegetarian Malaysian food and other nutritious meals, let's get stuck in…
Carrot Fish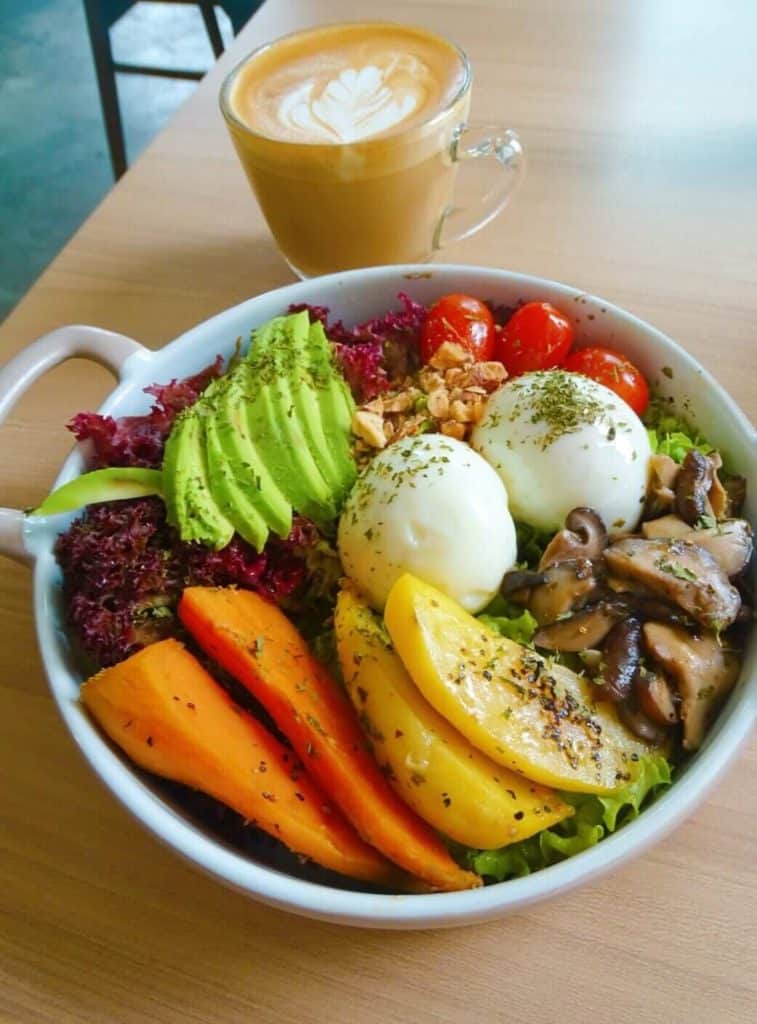 Carrot Fish is probably my favourite healthy restaurant in George Town. The portions are big enough that you feel full, plus there's lots of choice. The prices weren't too high either, which is often the downfall of a healthy cafe (why should we pay more to feel good? Vegetables are cheap!).

The menu offers lots of freshly made salads and soups, as well as main dishes including salmon quinoa and grilled chicken with brown rice. Though if you're not feeling overly healthy you can opt for pizzas and pasta dishes made with lots of fresh veg.

This dish pictured is the Goodness Green bowl with avocado, sweet potato, grilled mushrooms and poached eggs. I paid 18 MYR which wasn't so bad.

Find Carrot Fish located at the back of the New World Park, a food court and collection of indoor cafes.
The Leaf Healthy House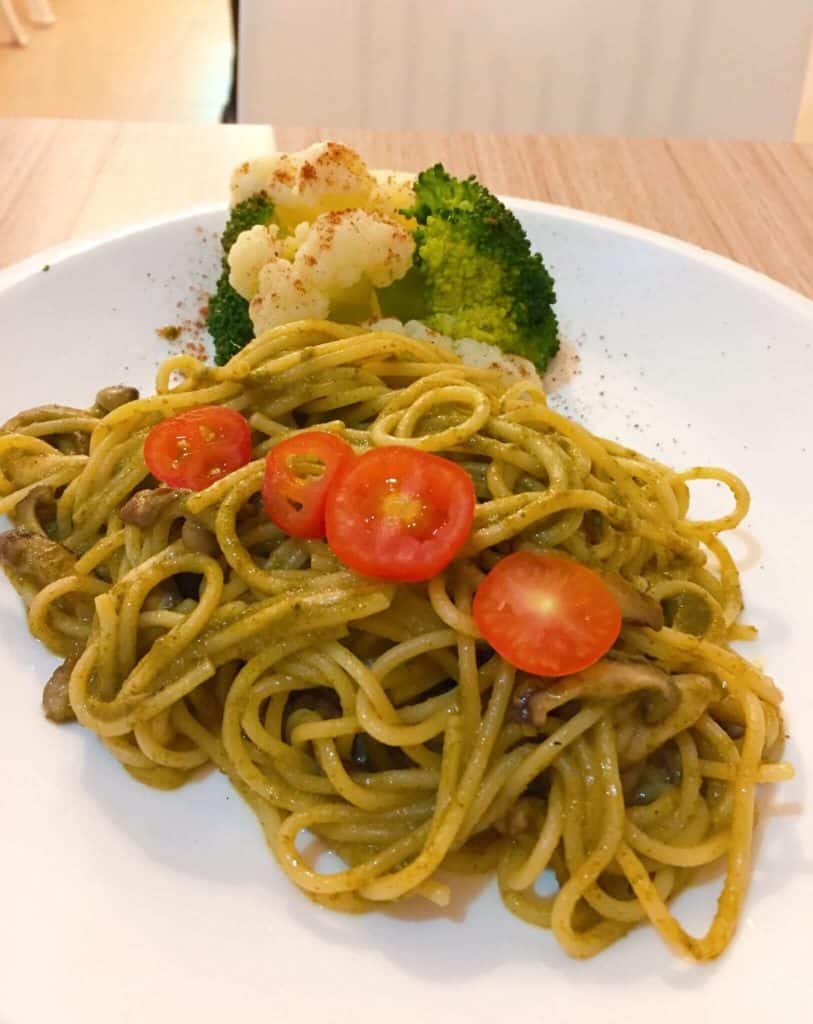 Some people seem to think healthy means you can't eat carbs or dessert and, frankly, that's not a school of thought I want to part of. The Leaf Healthy House opt for organic ingredients and lots of veggies but don't shy away from a good carbohydrate.

I ate in the restaurant (which you'll find in Little India) and opted for pesto pasta with tomato and broccoli, then finished my meal off with real fruit jelly. You should also look into their healthy bento box delivery service because it looks great.
Cloud Dreaming
Following the 'if it's vegan it's healthy' mantra (one I just invented) enter Cloud Dreaming, one of the most creative healthy restaurants in George Town.

2020 update – this cafe is now named Blue Vegan Restaurant!

Describing themselves as a western vegan restaurant, they serve healthy burgers, salads, pasta, salads, sandwiches and share plates. My tempered mushroom burger in a charcoal bun was absolutely delicious. Not bad for 18 MYR.

Being me, I obviously picked the biggest dish on the menu and chose chips over salad, but most of the menu was much lighter.

They also serve a lot of vegan cake. I think I'm drifting off the topic of healthy food in George Town here…
Wholey Wonder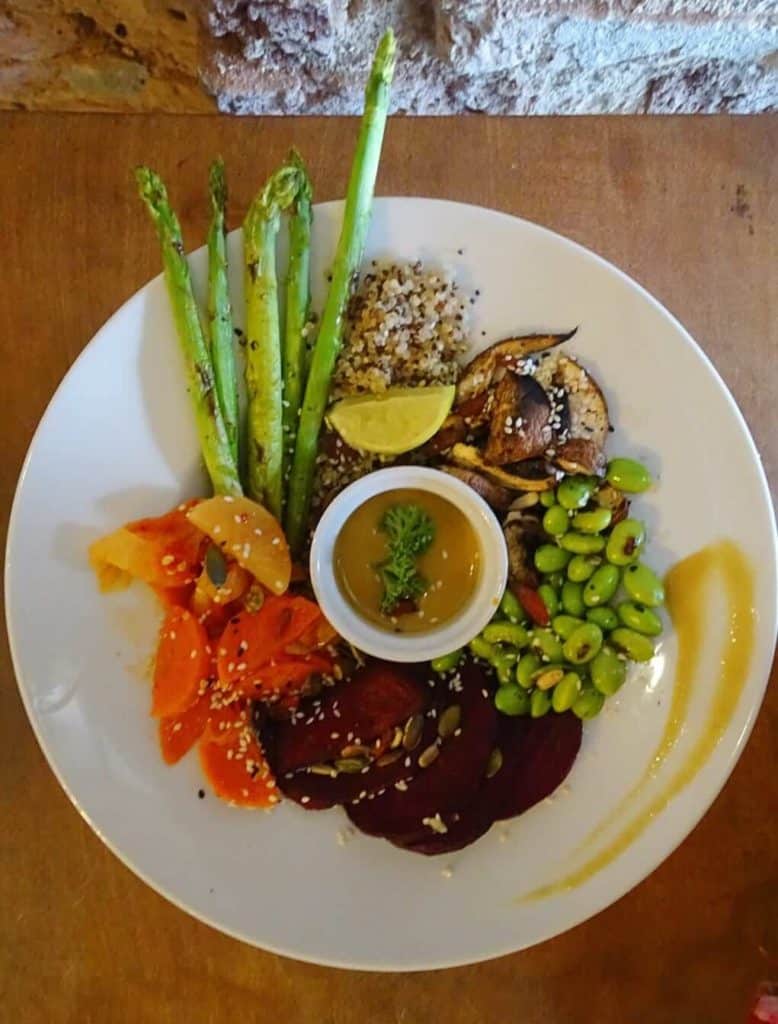 This George Town vegetarian restaurant and yoga studio serves amazing healthy food in Penang. Wholey Wonder is in the Hin Bus Depot, a community space that hosts an awesome Sunday Market. Why not combine some shopping with a nourishing lunch like I did?

The fanciest salad in the whole of Penang must surely be the Nourish Bowl which is made with edamame beans, pickled carrot, asparagus, quinoa kimchi, avocado and beetroot, with goji flower and healthy seeds sprinkled on top. Wow – you'll be a goddess in no time!

Not going to lie though, I was hungry again in a few hours. Though that might say more about me…
Coffee Addict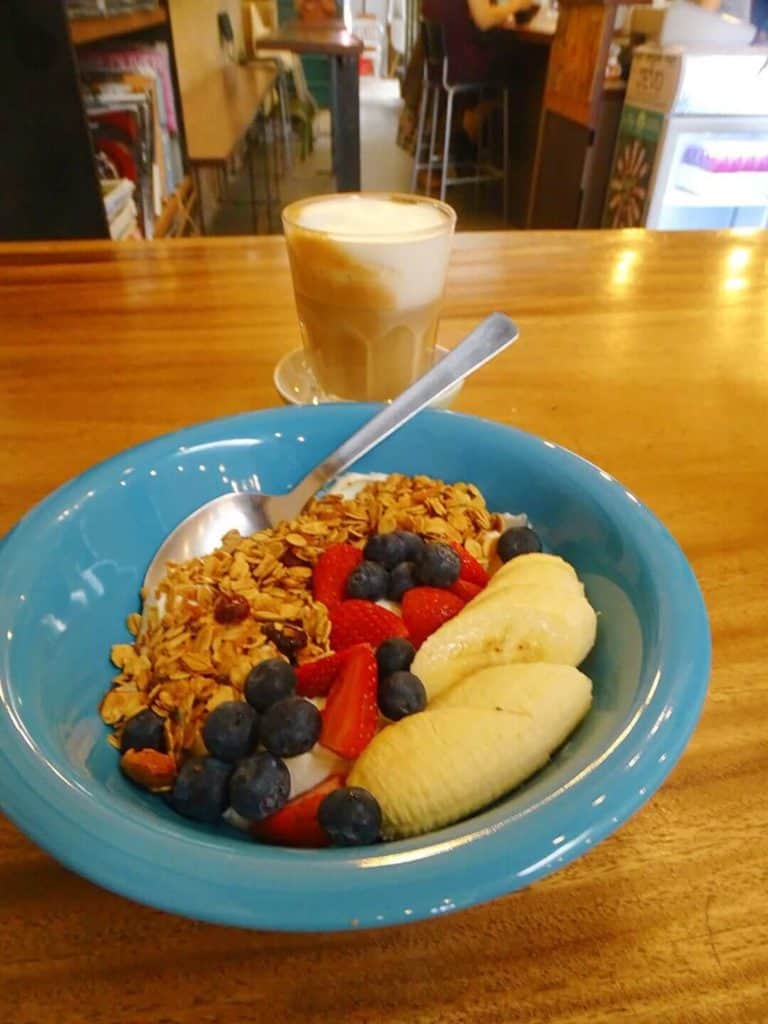 Coffee Addict isn't dedicated to healthy food like some cafes in this blog, but they do offer some nutritious dishes if you're in need. The fruit and yoghurt breakfast is an excellent healthy breakfast in Penang, and there are also salads to choose from.

However, the scent of bacon when someone orders it may be too much to resist…
Pin Xin Vegan Cuisine
If you're looking for vegan and vegetarian food in George Town Penang, look not further.

Unlike Cloud Dreaming which serves Western vegan food, Pin Xin dish up Malaysian vegan food. I love this because most of the street food in George Town is pretty meaty, and I don't think anyone should have to miss out.

Mains include Hokkien noodles, asam laksa, jawa mee (pictured) and tom yum noodles. Almost all of them contain veggies, meat replacements and salad for your health fix, as well as noodles to actually fill you up – a winning combo.

Most mains are around 15 MYR (less than £3) so it's not street food prices but still affordable. It's one of the tastiest healthy restaurants in George Town thanks to the spicy and sour local flavours.
Thanks for reading my George Town healthy food guide
Kuala Lumpur posts:
Melaka posts:
Ipoh posts:
Southeast Asia travel planning:
See you next time for more adventures,
Rose
For more content, follow me on Instagram, Facebook, Twitter and YouTube.
Ps. Liked these healthy restaurants in George Town Penang? Pin it for later!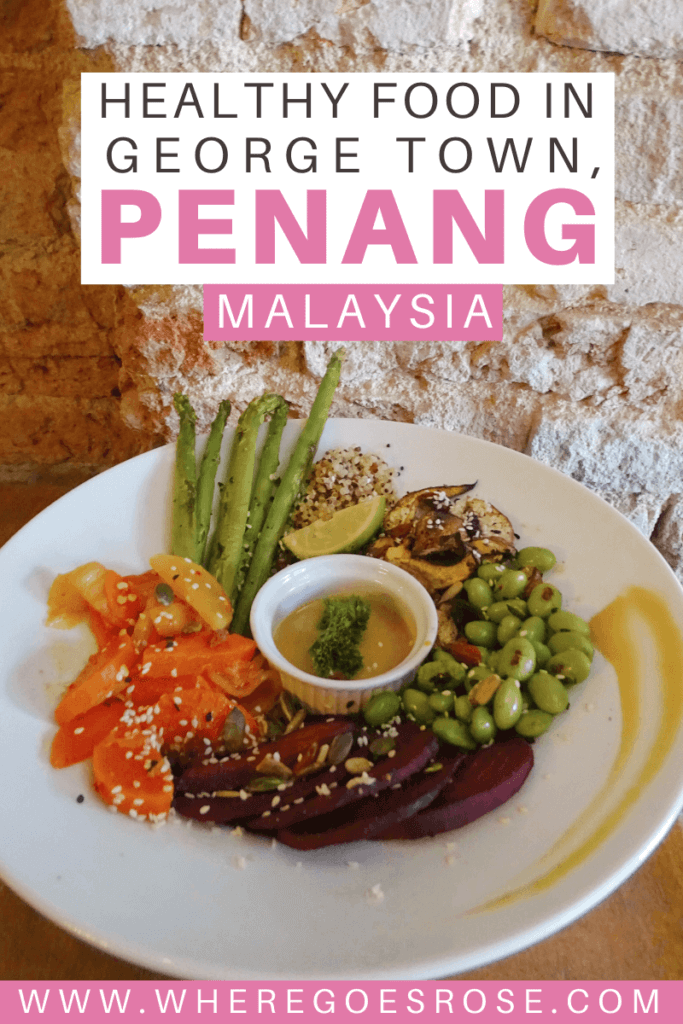 Malaysia quick links

Flights – I use Skyscanner to find the best-value flights, using the 'search by month' tool to find the cheapest dates. You can also use the 'to anywhere' feature if you're flexible on where you're going.

Stay connected with E-sim data plans that don't require delivery or collection; just span the QR code.

In my opinion, Lonely Planet offer the best guidebooks. Get the latest Copy of Lonely Planet Malaysia.

For Malaysia buses and trains, I use 12GoAsia. The search feature allows you to compare prices and durations.

I use Booking.com for accommodation. They have the best range of hotels and self-catering apartments, plus you can filter by review score and price to find the best-rated budget places. For hostels, I use Hostelworld.

To save money on accommodation, I use Trusted Housesitters, a website that connects homeowners going away and travellers who can sit their homes & pets.

For activities, I use GetYourGuide and Viator as they both have a huge range of affordable tours.

Need travel insurance? I use True Traveller (for UK & Europe residents) since it's affordable but covers everything you'd need including various activities, valuables and pre-existing conditions. Unlike some companies, they insure you if you're already travelling / don't yet have your flight home booked. Get a quote.

For travel insurance for other nationalities, I recommend Hey Mundo and for long-term digital nomad travellers, I suggest Safety Wing.

Check out my resources page for more travel discounts and tips!