This post may contain affiliate links to things like tours, hotels, Amazon associates and products. These help me earn a small commission at no additional charge to you.
An island off an island off the coast of Wales? When I heard about Holy Island, Anglesey, I was instantly captivated. In this guide, I'll share what to do on Holy Island, how to get there, and things to know before your visit.
Read next: everything to see and do on Anglesey Island, Wales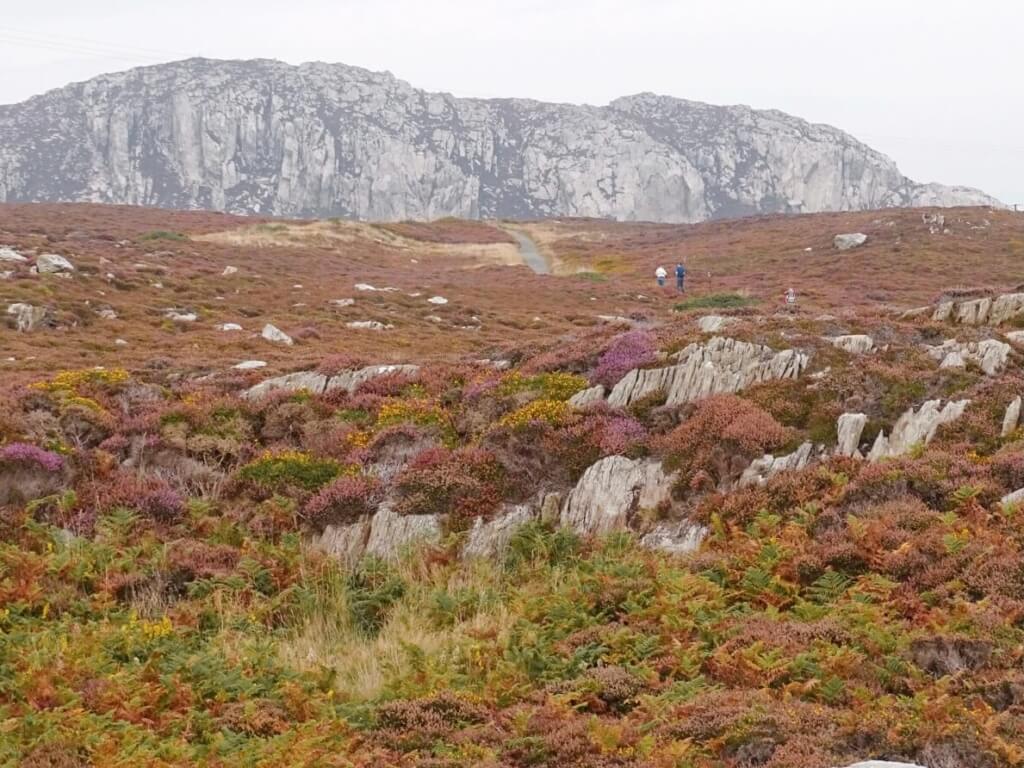 After a year stranded in England from 2020 to 2021, I was itching for my trip to Wales. The previous summer I'd visited Pembrokeshire and become reacquainted with beautiful Wales, having not visited since I was a child.

For all the problems the last year has caused, I'm grateful for these memorable adventures close to home.

Although I loved Pembrokeshire, I'd seen plenty of photos of North Wales which is undeniably more rugged and striking in parts. From Snowdonia National Park to Conwy walled town and Anglesey Island, there are some real UK hidden gems in North Wales.
Read next: 3 x Wales road trips for South, Central & North Wales
Where is Holy Island, Wales?
Holy Island is on the west side of Anglesey, a larger island off the west coast of Wales. It's the country's most westerly point, looking out towards Dublin.
Quick facts about Holy Island Anglesey
It got the name 'Holy' due to the many stone circles and ancient burial chambers
It has some of North Wales' best beaches and spots for watersports
You may see it called Holyhead Island which is the English name
For adventurous hikers, a complete coastal path runs around the outside of the island.
How to get to Holy Island Wales
Driving to Holy Island in Wales from the mainland takes less than 30 minutes.

Cross the Pont Britannia bridge connecting the mainland with Anglesey Island and continue on the A55 North Wales Expressway following signs to Holy Island.

You'll cross the Cymyran Strait, arriving on Holy Island.

Although the A55 is quickest, another option is to cross Four Mile Bridge to reach the south part of Holy Island. The best destinations on Holy Island are mostly north, however the south is home to a couple of lovely beaches like Traeth Borth Wen and plenty of camping and glamping spots.

In terms of getting around Holy Island, it's easy to explore by car as everything is close together. Although a train runs to Holyhead, the main town on the island, there's not much in the way of public transport around the island.
Things to do on Holy Island, Wales
Here's what we got up during our trip…
Trearddur Bay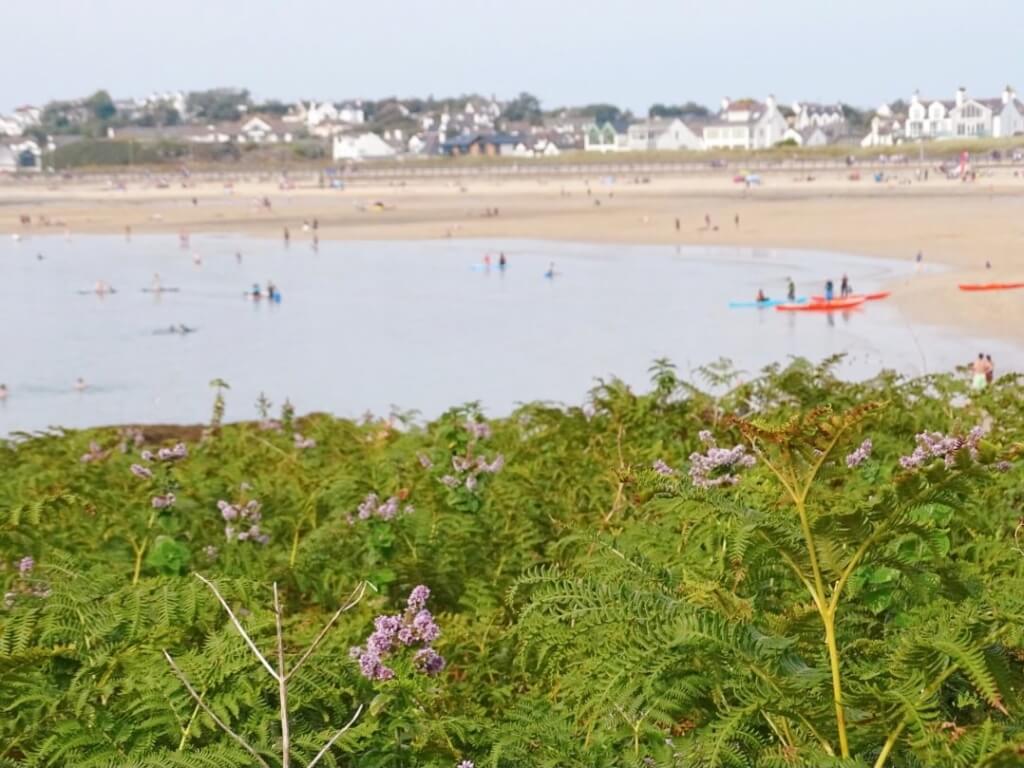 The first beach we visited on Holy Island, Anglesey was undoubtedly one of the loveliest.

Sleepy Trearddur Bay can be found in the south of Holy Island. Once you arrive on Holy Island via the Expressway, keep an eye out for the left turn on the A5153. From here, it's just a 5-minute drive to the beach.

Not only is Trearddur Bay a beautiful beach but it's a convenient stop when exploring Holy Island. There are cafes, toilets (including disabled facilities) and ample parking.

You can chill on the beach or, if you're looking for active things to do on Holy Island, grab a paddleboard or kayak from Blu Chameleon. They host sunset paddleboarding sessions which look like an idyllic way to end a day.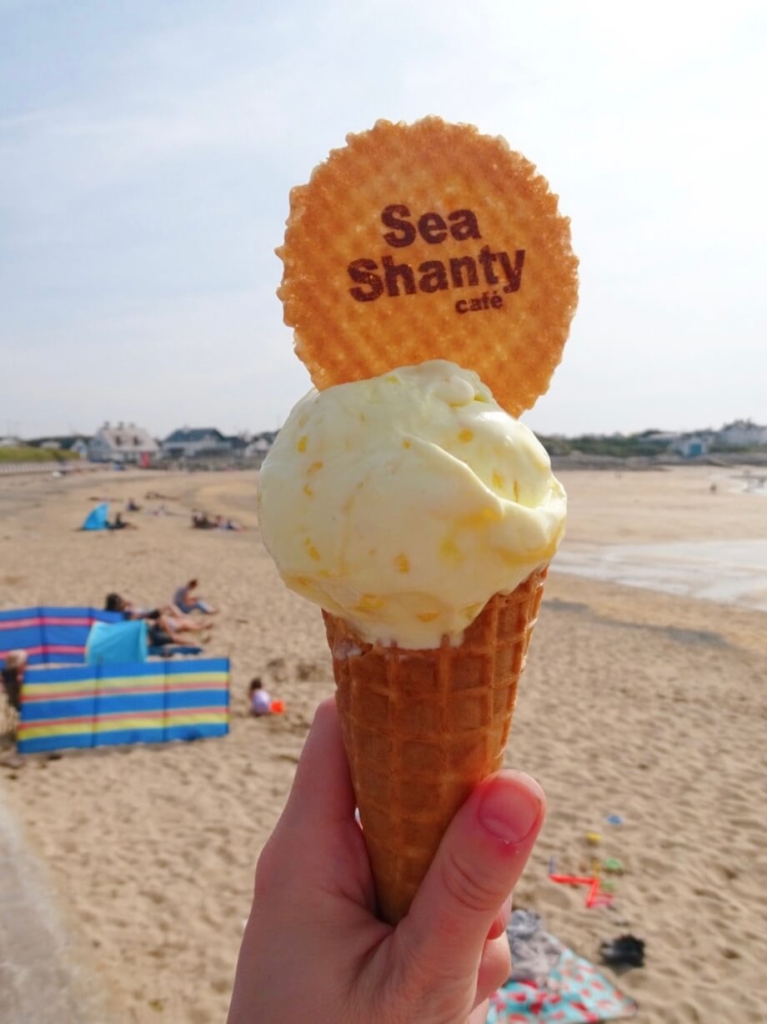 Don't forget to grab an ice cream at Sea Shanty Cafe. They have a huge range of flavours but I went for salted caramel. Always a winner. Although we didn't stop for a full meal, I notice they serve food from 12-9pm daily. There's Welsh and world cuisine with a handful of veggie and vegan options.

Parking at Trearddur Bay: Park at the village car park on Lôn St Ffraid (LL65 2YR); from Easter until the end of October, there's a charge of £3 for 4 hours.
Walk to Porth Castell & Porth Diana Beach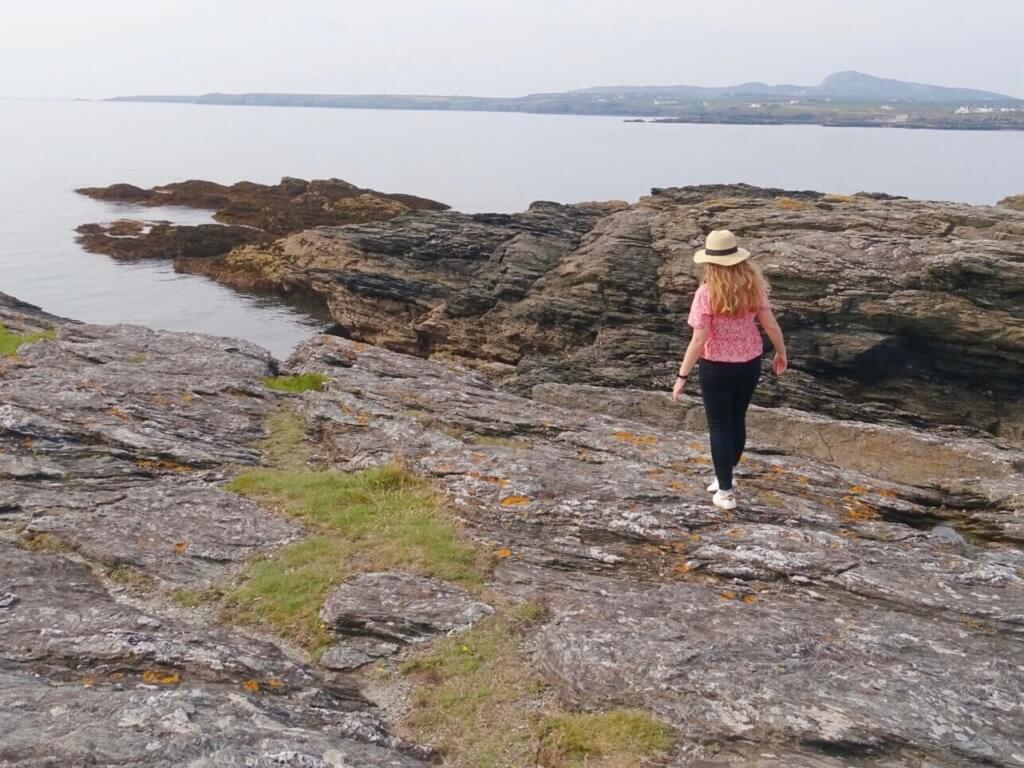 While visiting Trearddur Bay, take a 10-minute walk to the two other beaches in town. Admittedly neither are as impressive as Trearddur Bay but these small beaches make a pleasant detour with pretty cliffside views along the way.

You'll reach Porth Castell first. Continue a minute further to Porth Diana before returning the same route towards Trearddur Bay.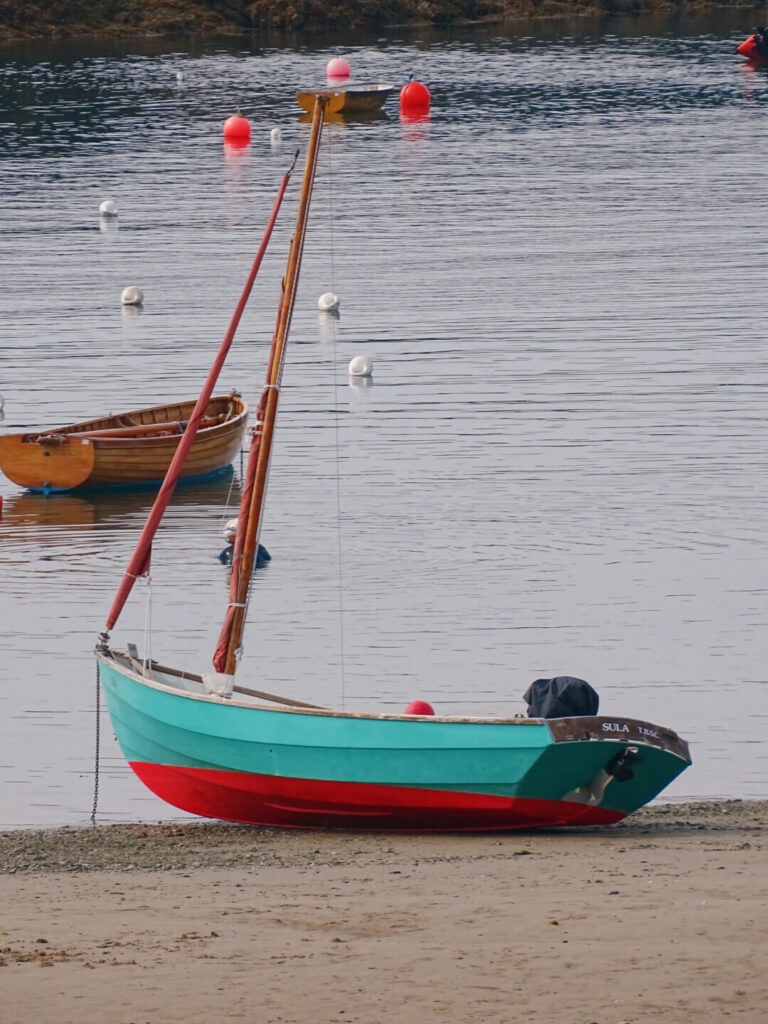 After a couple of hours at Trearddur Bay, we got on the road to discover some of the other things to do on Holy Island, Anglesey. One of the first places we came to (just 1.5 miles away) was Porth Dafarch.
Porth Dafarch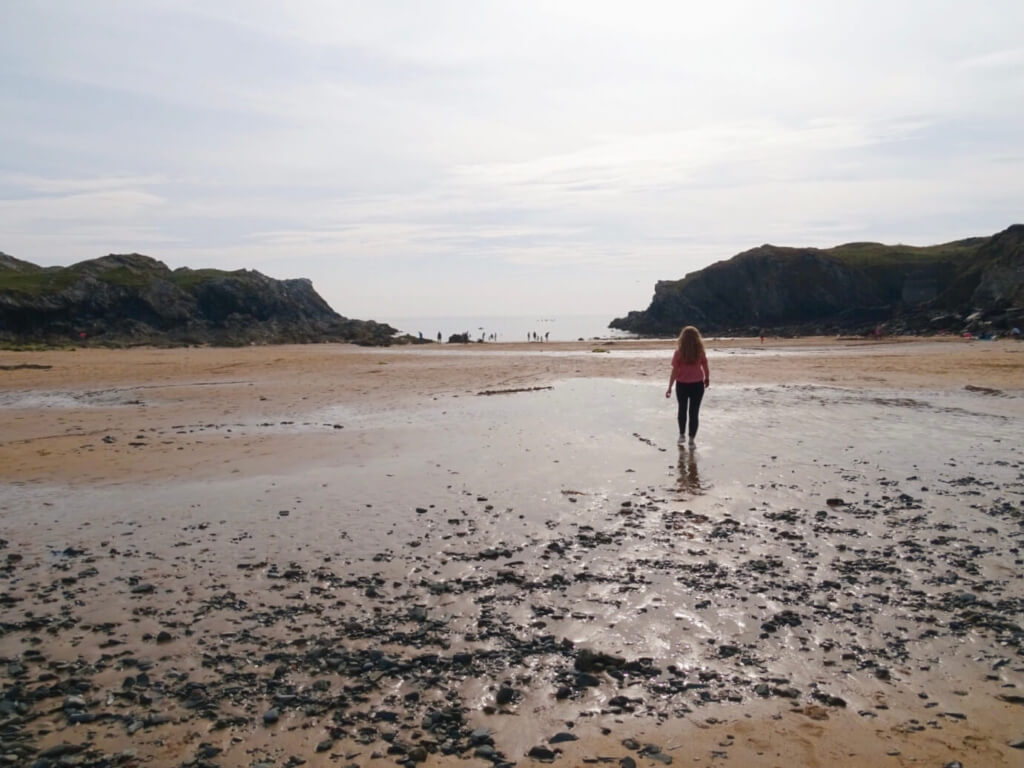 This blissful sandy cove has protective cliffs that buffer it from strong waves, making it an ideal place for watersports. The beach is managed by the National Trust but it's free to enter and a lovely place to spend a day.

As well as kayaking, Porth Dafarch is known for coasteering. If you're not familiar, this is where daredevils climb, jump and swim, following a natural obstacle course around the bay. Rather them than me!

It was here I heard an elderly paddleboarder telling a friend 'It's a special place, this'. I may not know Holy Island as well as a local but my guess is he's right…

Although it's far from gourmet cuisine, there's a takeaway food van beside Porth Dafarch. Handy if you forgot to pack your sarnies.

Address: LL65 2LS.

Parking: Free on road.

Dogs allowed? From October to April only.
Where to pratise watersports on Holy Island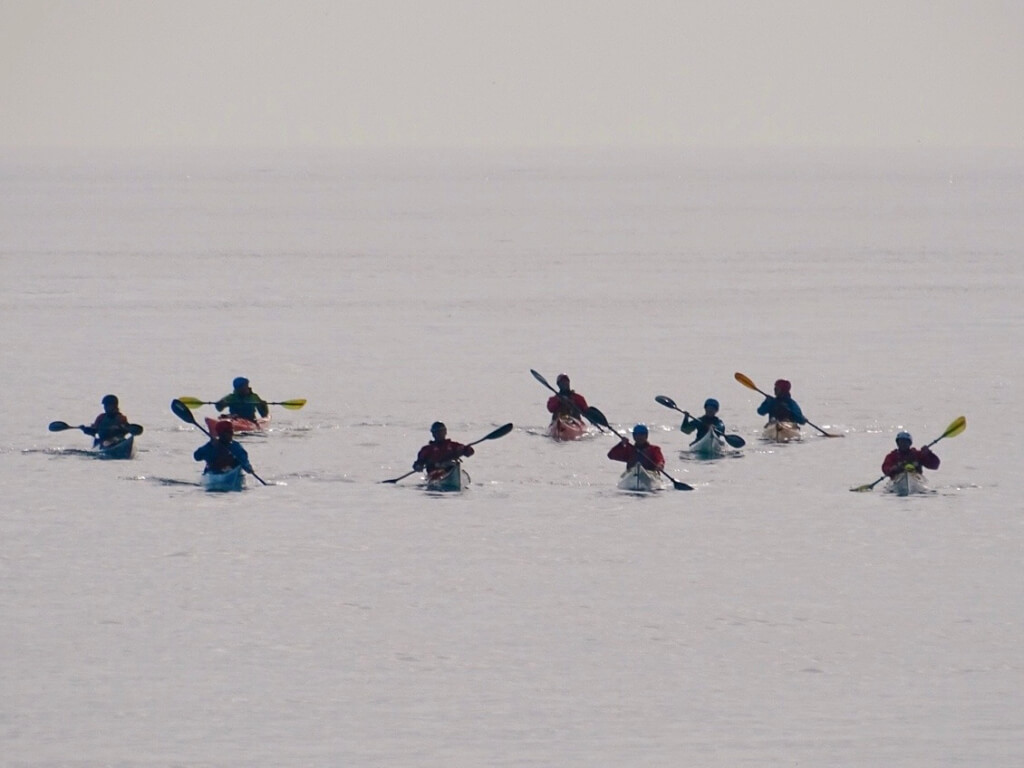 To get immersed in nature and burn a few calories, a few of the top spots include:
Paddleboarding at Holyhead harbour. Holyhead Breakwater provides protection from strong waves.
Kayaking at Porth Dafarch.
Penrhos Feilw Standing Stones
These mysterious Bronze Age structures cropped up when I was researching things to do on Holy Island, Wales and I was instantly intrigued.

No one knows exactly why Penrhos Feilw Standing Stones were built but rumours permeate that a larger stone circle with a grave containing bones and spears was found beside them.

A sign near the stones instructs visitors to walk up to the stones but not past them. While this is realistically due to private property, I like to think they're perhaps the doorway to another realm that you'll be transported to if you step between them!

The stones measure an impressive 3 meters tall, standing at 3.3 meters apart. Such perfect symmetry makes you wonder if it was on purpose.

Admission is free and you can visit around the year. There's free parking on the road beside the stones. They're a little tricky to find since you can't see them from the road; drive down Plas Road and keep an eye out for the gate.
South Stack Lighthouse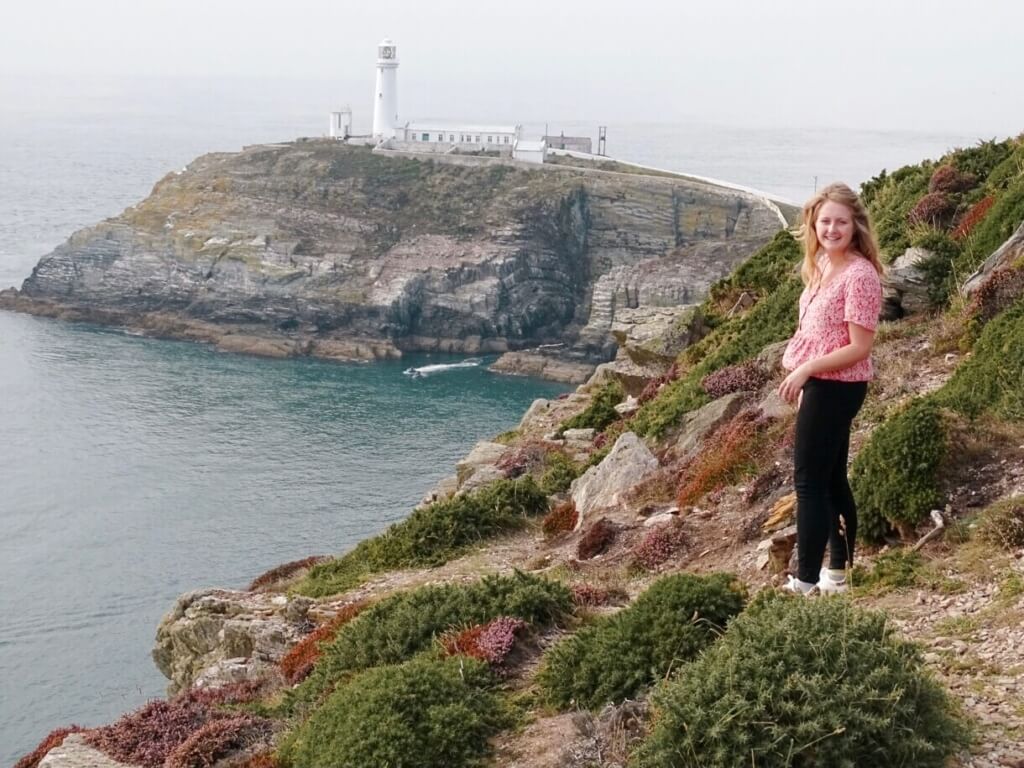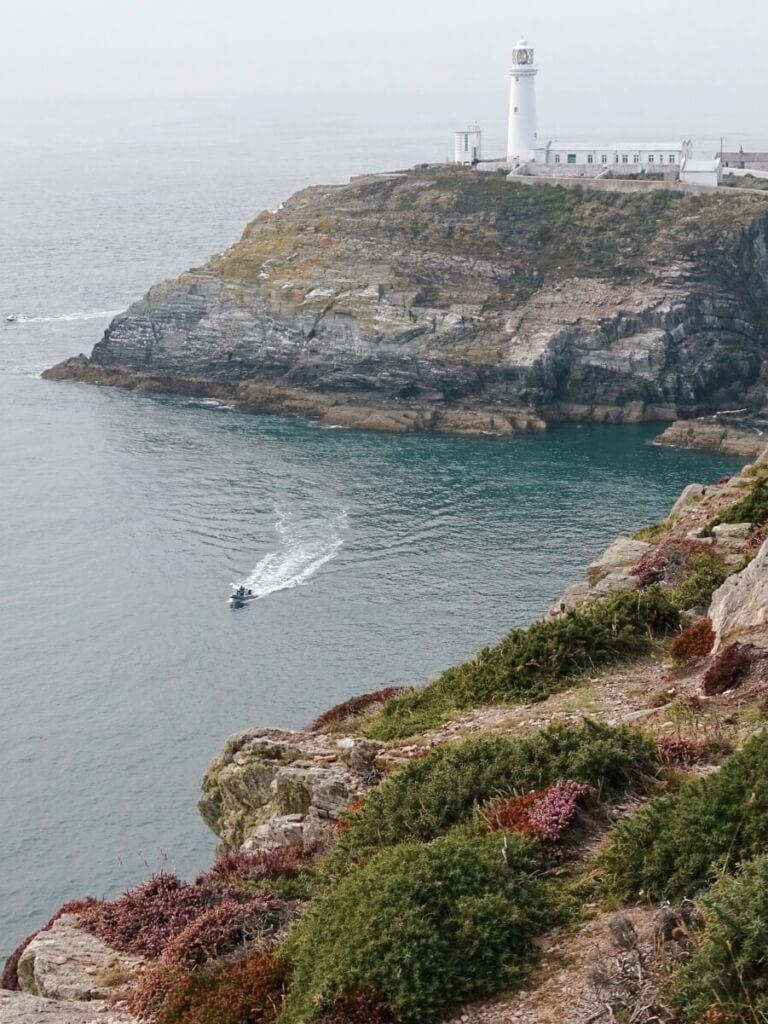 When you Google 'Holy Island Wales', you'll be instantly rewarded with photos of this beauty.

South Stock Lighthouse (Ynys Lawd) was built in 1806 to warn ships of the dangerous rocks and cliffs below. At 28 metres tall, it's a distinctive part of the coastline.

You can walk all the way to the lighthouse across a footbridge (at a cost of £5.80) but beware, it's accessed by 400 steps. Bring comfy shoes and maybe avoid if you're afraid of heights…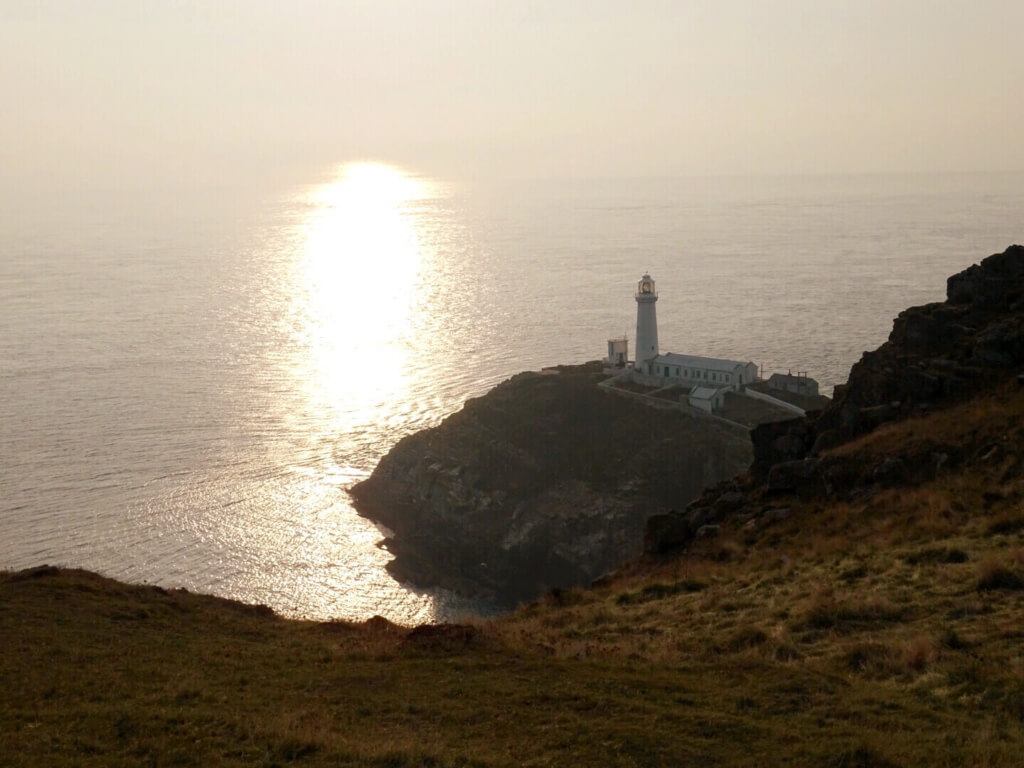 The easy – and free – option is to park at RSPB South Stack and walk to the viewing area (past Elin's Tower). Here you get fantastic views of South Stack Lighthouse, especially at sunset.

There are no toilets or cafes near the lighthouse so take advantage of the facilities at South Stack cliffs. The cafe is open from 10am-5pm and you can book guided walks to learn about the area and wildlife from a local guide.
Elin's Tower
You'll pass this castle-like white tower as you walk from the RSPB parking area to the South Stack viewing area.

Used in the 1800s as a summer home for the renowned Stanley family, it was named Elin's Tower after Ellen Stanley, wife of politician, William Owen Stanley.

It's now managed by the RSPB and inside, you'll find an information centre complete with bird drawings by wildlife artist, Philip Snow. The long windows offer excellent views of South Stack Lighthouse and, if you're lucky, you'll catch glimpses of the birds pictured via telescope and digital cameras.

Razorbills and guillemots are commonly spotted and, very occasionally, puffins in spring. You might also glimpse dolphins and porpoises in the bay.
Hiking in Breakwater Country Park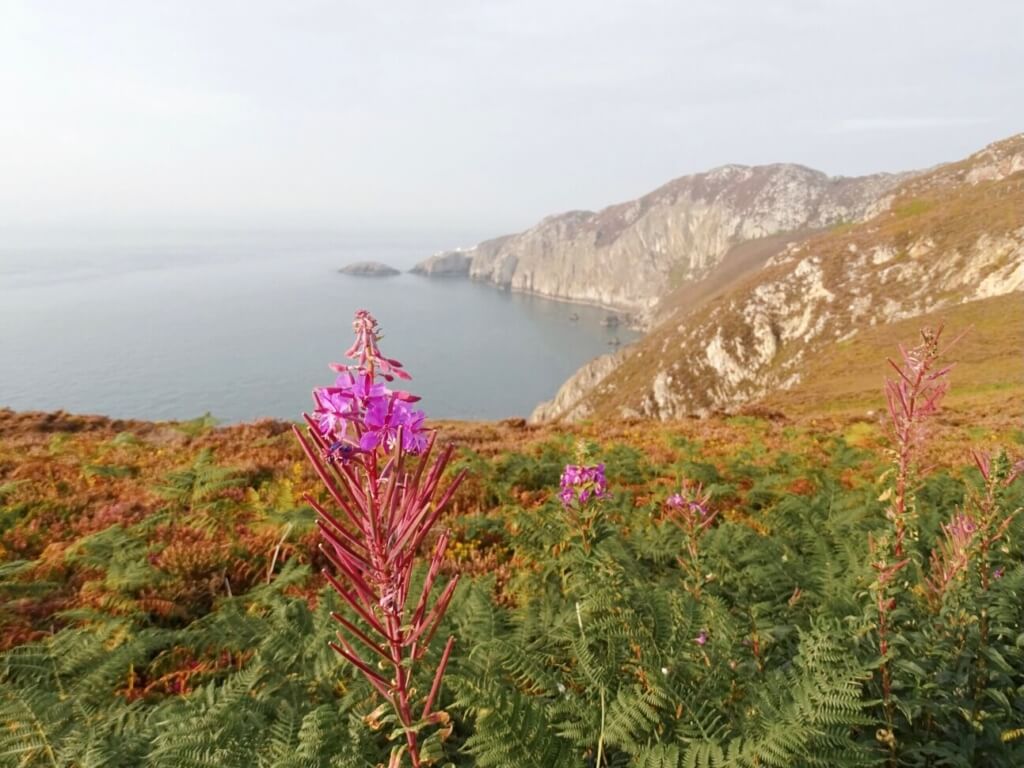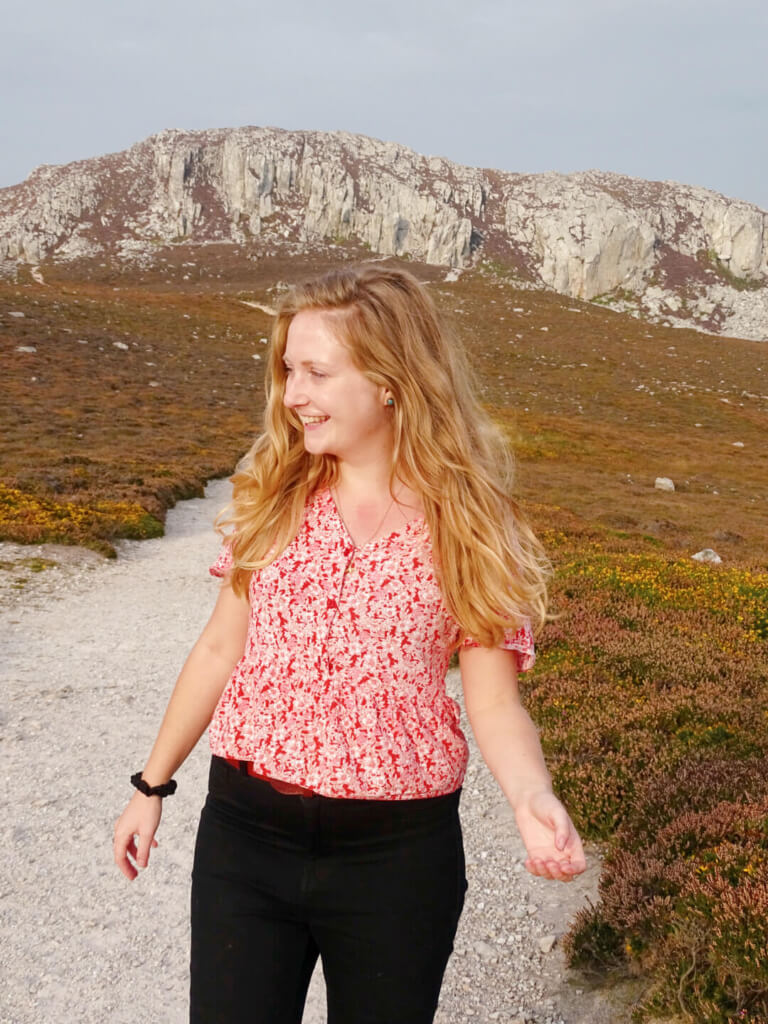 One of my favourite experiences on Holy Island was escaping the crowds (not that there were many) and getting off-grid in Breakwater Country Park. I'm not sure if the park gets busier in peak season but, during my visit in early September, there wasn't another soul around.

This rugged area of Holy Island is scattered with pink and yellow flowers, etched with stony white paths that weave towards craggy Holyhead Mountain. The scenery was unlike any I'd seen before. Unsurprisingly, part of it falls within an official Area of Outstanding Natural Beauty (AONB).

As well as spectacular views of the coast, you may also catch sight of swooping peregrine falcons.
We parked at South Stacks RSPB car park but you can also park at the other side of the park (Siop Ymddiriedolaeth). Here, there's a North Wales Wildlife Trust cafe with all proceeds going to protecting Welsh wildlife.
Tŷ Mawr Hut Circles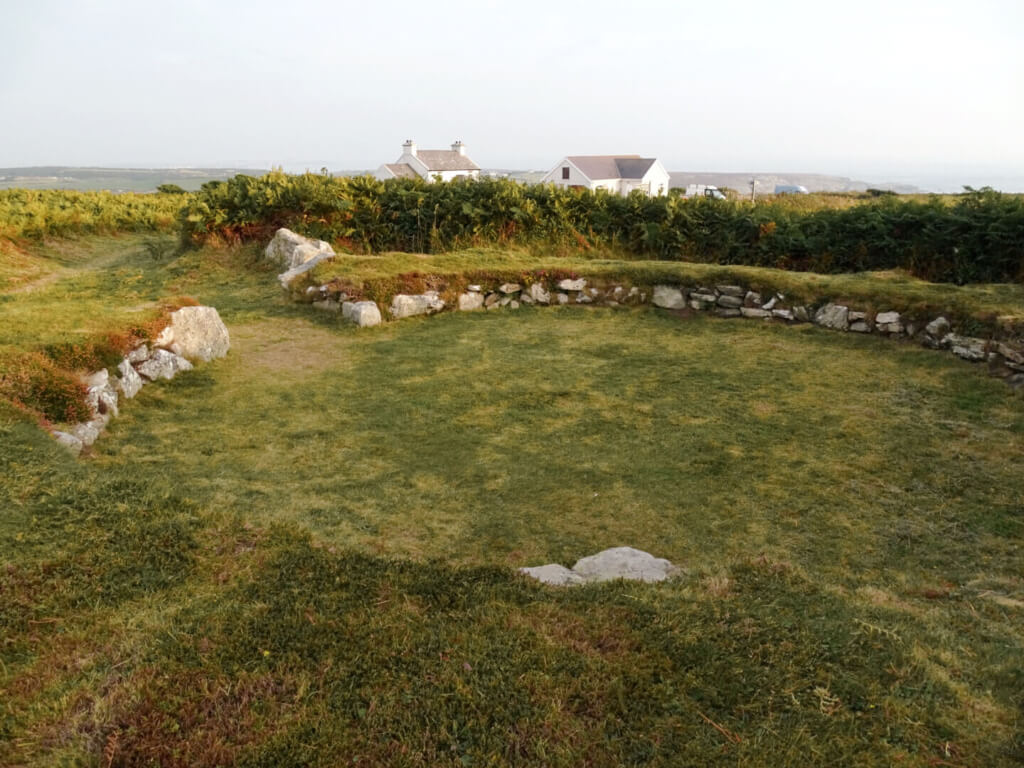 If the mysterious ancient monuments on Holy Island appeal to you, here's another stop for your road trip.

Like the other historical sites on Holy Island, these are marked as Cytiau'r Gwyddelod translating as Irishmen's huts. It's thought that migrants from the neighbouring Celtic Island may have stayed in them when Ireland occupied Anglesey, although other sources say they're much older.

Tŷ Mawr Hut Circles are less impressive than Penrhos Feilw Standing Stones because they're largely below ground. Still, the outline of the ring set against the view of Holyhead Mountain is worth visiting for.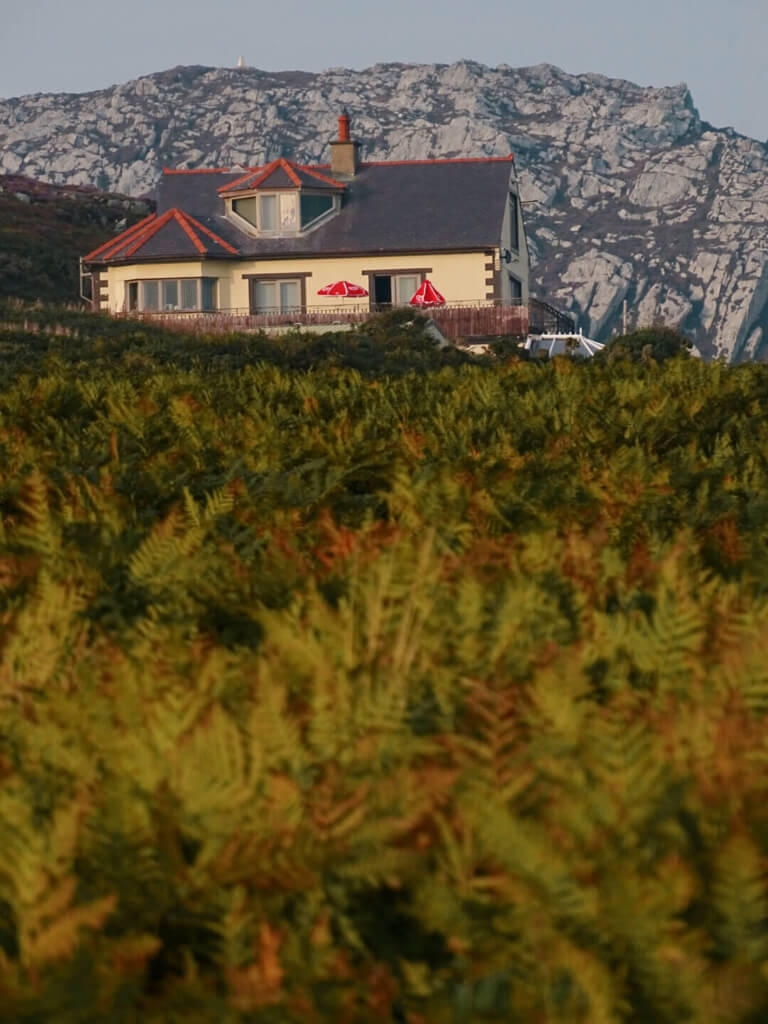 Wales Coastal Path
Another activity on Holy Island is walking the Wales Coastal Path around the island.

As you'll know if you read my facts about Wales, this is the only country in the world to have a complete path around its coast. I love this. From Barry Island to Cardiff Bay and quieter, rural parts of Wales, you'll see the Coastal Path signs constantly.

If walking the whole of Wales is (understandably) daunting, consider the Anglesey section or simply the Holy Island coastal path section. This 41km route is moderate in difficulty but worthwhile for the striking coastal scenery, lighthouses, beaches and birdlife.
Trefignath
This final Neolithic burial chamber on Holy Island can be found near Trearddur Beach in the south of the island. There are three chambers and a set of standing stones.

If you're looking for adventurous things to do on Holy Island, consider a 14km guided bike tour around the prehistoric sites.
Traeth Borth Wen
A final destination on Holy Island to visit is Traeth Borth Wen, a beautiful beach in the south of the island. As it's slightly out of the way, it's a quieter spot to escape the crowds, especially outside of peak season.

Traeth Borth Wen is a sandy beach with gentle waves and plenty of rockpools. It's dog-friendly and ideal for families, or really any type of traveller. There's a small car park (accessed via a tight lane) and a few basic amenities including a toilet block.

Address: LL65 2NX.
Holy Island FAQs
When is the best time to visit Holy Island?
Spring and autumn are truly the best times to visit Holy Island because the crowds are gone but the weather isn't too bad. Summer is best for beach basking but don't expect any empty beaches!

Where can you stay on Holy Island?
For those spending more than a day on the island, there are several hotels and B&Bs. Head to the south of the island for camping and glamping.

Blackthorn Farm is an idyllic place to stay near all the main attractions. The comfy rooms and private cottages offer gorgeous coastal and countryside views. Book from £85 per night.

For a cheaper, quirky option near to South Stack, don't miss Coastal Pods. These comfy cabins have tea & coffee facilities and BBQ access within spacious grounds. Book from £60 per night.

Browse all Holy Island accommodation on Booking.com.
Thanks for reading my guide to Holy Island, Wales!
For more travel content, follow me on Instagram, Facebook, Twitter and YouTube.
Check out my other Wales blogs:
See you next time,
Rose
Ps. Pin this for later!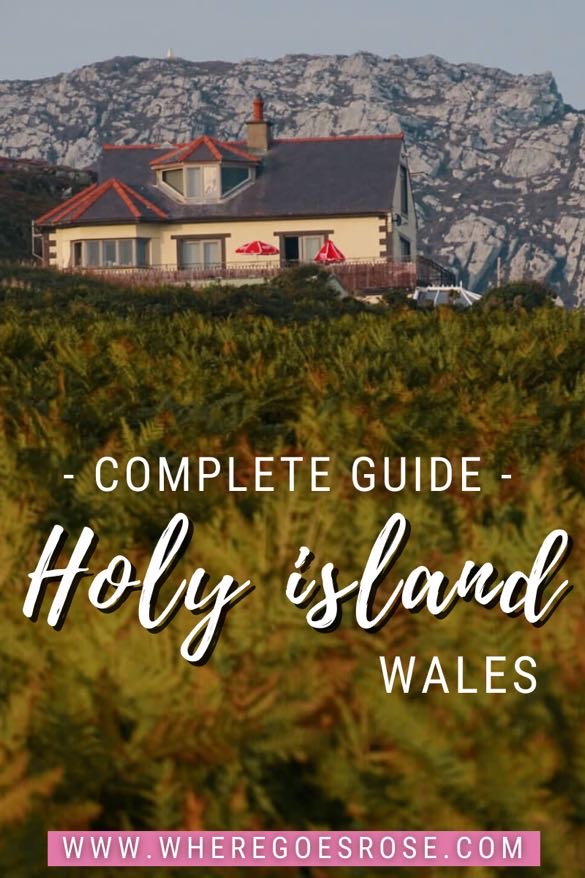 WALES QUICK LINKS

Guidebooks – LP always get my seal of approval. Use the latest copy of Lonely Planet Wales / Lonely Planet Great Britain.

Flights (international and domestic):  I use Skyscanner to find the best-value flights, using the 'search by month' tool to find the cheapest dates. You can also use the 'to anywhere' feature if you're flexible on where you're going.

Car hire – use Rentalcars.com to compare car rentals and campers in the UK (and all around the world).


For trains, use Trainine. The search feature allows you to compare prices and see live departures.

For buses, I use Busbud. It's the only site that compares UK coaches and buses. Find London to Manchester journeys for £1! 

For hotels and self-catering apartments, I use Booking.com. You can filter by review score and price to find the best-rated budget places. For hostels, I use Hostelworld.com.

To save money on accommodation, I use Trusted Housesitters, a website that connects homeowners going away and travellers who can sit their homes & pets.

Browse UK tours and activities on GetYourGuide.

For food tours pairing travellers with passionate local chefs and foodies, check out EatWith. 

Need travel insurance? I use True Traveller (for Europe residents) since it's affordable but covers everything you'd need including various activities, valuables and pre-existing conditions. Unlike some companies, they insure you if you're already travelling / don't yet have your flight home booked. Get a quote.

For travel insurance for other nationalities, I recommend Hey Mundo and for long-term digital nomad travellers, I suggest Safety Wing.

Check out my resources page for more travel discounts and budget tips from my 10+ years on the road!