This post may contain affiliate links to things like tours, hotels, Amazon associates and products. These help me earn a small commission at no additional charge to you.
When I heard about and saw photos of the Matrimandir, a giant gold meditation hub in the South Indian countryside, I was instantly intrigued.

It's a must-visit while in Tamil Nadu and, in this blog, I'm going to tell you how to visit Auroville from Pondicherry as a day trip. This spiritual town of Auroville is about more than just practising meditation: it's an alternative society, separated from the rest of India by its deeply ingrained longing for a utopian lifestyle.
What is Auroville all about?
Auroville is a small city in Tamil Nadu, South India, dedicated to human unity. It was founded by a woman called The Mother in 1968 (real name Mirra Alfassa) based on the visions of Sri Aurobindo, a famous Indian yogi and philosopher.

The gold Matrimandir dome is a symbol of the community and a central focus point for the area. In The Mother's words:
Auroville wants to be a universal town where men and women of all countries are able to live in peace and progressive harmony above all creeds, all politics and all nationalities. The purpose of Auroville is to realise human unity.

Auroville.org
Quick Auroville history
Auroville was born, it seems, as a response to the events of the 1960s. The Cold War was escalating and there was the feeling in India that a safe place was needed, free from politics and ideology.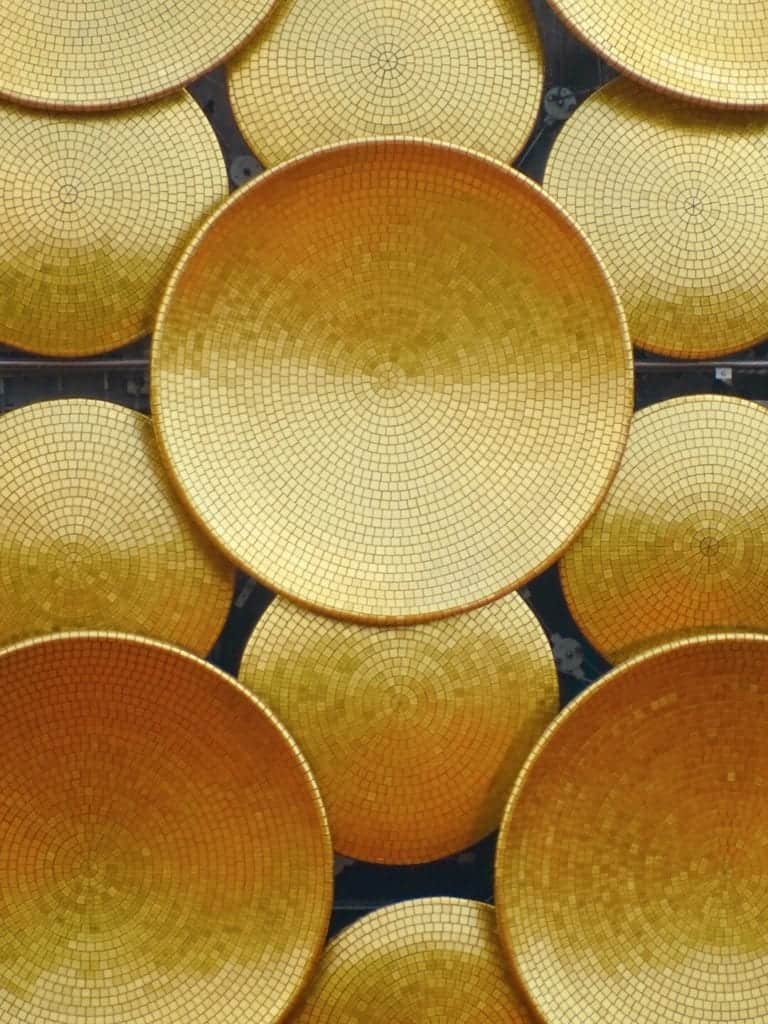 Nowadays, Auroville is recognised as an alternative society by UNESCO and the Indian government. Around 2,000 residents from all over the world live there, following the principles of Sri Aurobindo and volunteering to grow the community.

Apparently, Auroville is taken very seriously by the government who monitor how many people are registered as residents and even offer certain visas to overseas residents wanting to emigrate to India to join the community. It seems The Mother's vision has paid off.
How to visit Auroville from Pondicherry as a day trip
Most people ride a scooter or take a tuk-tuk when visiting Auroville from Pondicherry. A scooter is obviously the cheap and cheerful option but if you don't feel comfortable driving, a return tuk-tuk trip will cost 700 rupees including waiting time.

However, there's a lesser-known way to visit Auroville from Pondicherry that's cheap and interesting: the local bus for 10 rupees! Personally I loved exploring India by bus and meeting the locals.

The only problem is that it doesn't take you the whole way so you have to catch a tuk-tuk the last leg, but it's still cheaper than going in a tuk-tuk the whole way. Still, for travelling India on a budget, it's worth it!
I caught the local bus from the corner of Bussy Street near the Clock Tower. The exact location is the same as the Sunday Market pin on Google, see here. This dropped me on the corner of Kuilapalayam Main Rd and East Coast Road, where I had to jump in a tuk-tuk the rest of the way for 150 rupees.

Note – pay attention to know when to get off the bus. Put a landmark into Google like Goodman Restaurant and when you're approaching, hop off the bus. The tuk-tuk rank is right there.

You can get the bus back from the same place, just on the other side of the road. The locals are so friendly so if you get stuck, ask them to help. On the way home, a coconut vendor sat me down on his chair with a cold coconut to drink and said he'd tell me which one my bus was. So lovely!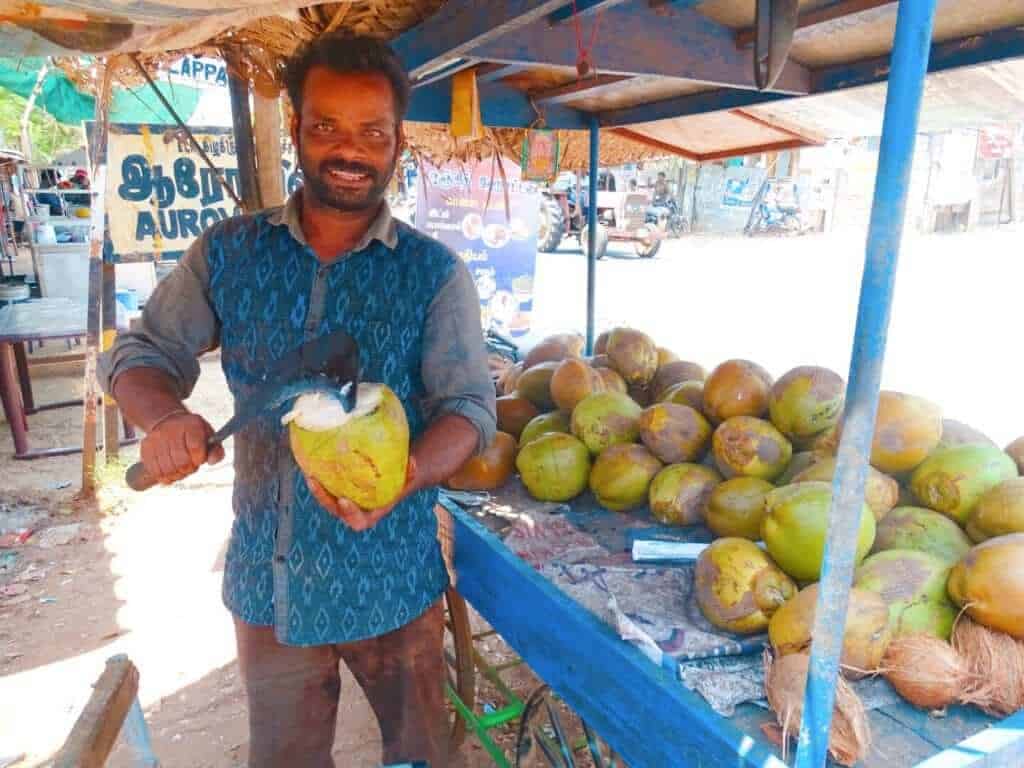 Related activity: Auroville walking tour with a local guide ($10)
Visiting the Matrimandir
Most guests visiting Auroville from Pondicherry simply see the Matrimandir from the outside. To do this, you need to show up at the Visitor's Centre to get a pass, then watch a short introductory video. After this, you follow signs and walk 15 minutes to the viewing platform.

This is free and you can visit the Matrimandir between 9am–4pm Monday to Saturday and from 9am–1pm on Sundays.

There's nothing really to do at the viewing platform so I only spent 15 minutes there taking photos. Regardless, it's very impressive, especially if you have a camera with a zoom and can look in detail at the intricate tiles it's made from.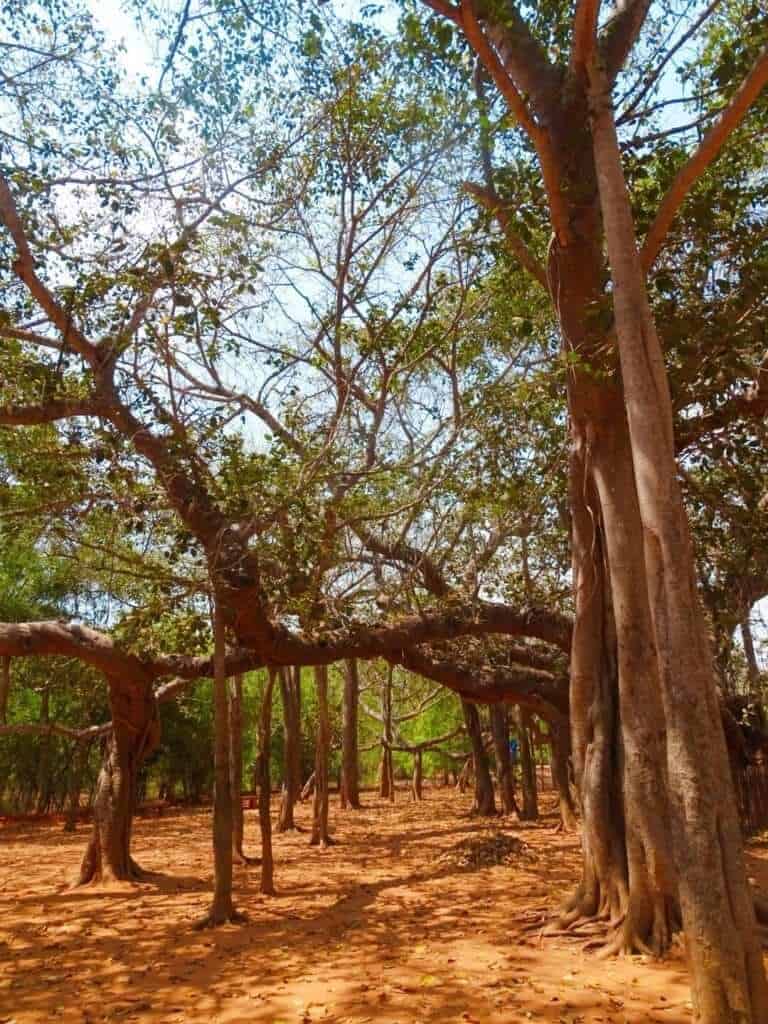 Once you walk back to the Visitor's Centre, you can read various boards about the society's work around the world, or relax at one of the cafes onsite. It's a pleasant, leafy place to hang out once you've finished seeing the Matrimandir.
Going inside the Matrimandir Auroville
The only way to get inside the Matrimandir is with a guided tour which also includes a meditation session. It's a bit tricky to register for this, so here are my tips:

Register in person one day before: Sadly, there is no way to do this online. The best way is to register during your initial visit to Auroville from Pondicherry, then return the following day for your session. For this reason, you could consider staying over in Auroville town, something I'll talk about later.

Check the registration hours: The booking office is only open 10am-11am and 2pm-3pm. You will need to go to the office between these hours to get your pass for the following day. Remember it's closed on Tuesdays – I had to register on Monday for a pass for the Wednesday.

What to bring: Your passport. When I arrived at the booking office, I saw a sign suggesting you needed it to register which would have been so annoying as I didn't have it on me. Luckily, you can register without one as long as you know your passport number but you have to bring it on the day of your session. I actually can't remember if anyone checked, but do it to be safe.
What is the Matrimandir like inside?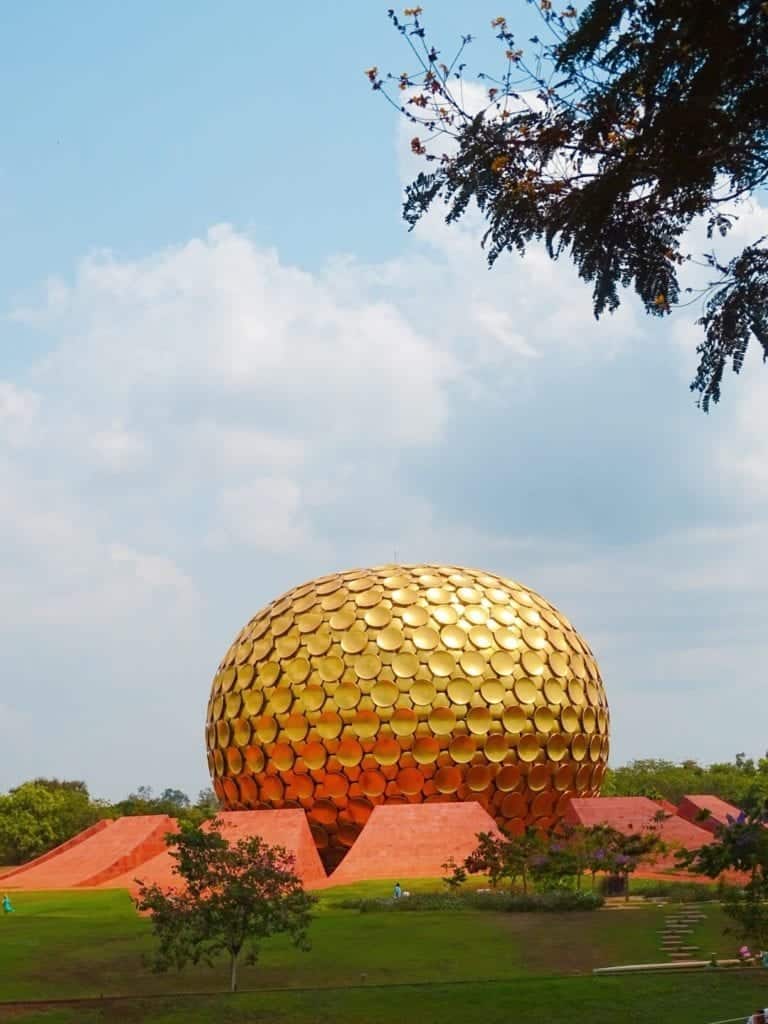 Absolutely incredible! I've never been anywhere else like it and I can't imagine I will again because where else on earth could be as weird and wonderful as the Matrimandir?

I expected it to be gold on the inside too but actually, it's made from clean white marble. Despite the fact that I was drenched in sweat from the hot April day outside, I found myself almost cold inside the serene, silent dome. The guide told us afterwards that there's actually a very effective aircon unit hidden out of view.

The phrase 'sci-fi' comes to mind when I think of the Matrimandir. Beams of light stretch from giant crystals all the way to the ceiling. Everything is totally symmetrical. You could hear a pin drop. The interior is enormous yet there's no echo. I honestly felt like I was inside a spaceship or on another planet. It was bizarre but memorable.
My honest thoughts on Auroville
Call me a sceptic but I wasn't fully sold on Auroville. It's an interesting concept for society and quite the achievement to set it up. The Matrimandir is very impressive from the outside, and one of the most amazing things I've ever seen inside!

But what I can't get to the bottom of is how things really operate day-to-day. That's not to say it's bad, but I can't understand what the residents do all day, or what being part of this community really entails.

The other thing that bugs me is that you'd have to be quite wealthy to be part of the Auroville society. You have to build and buy your own house to live there, but you don't officially own it because Auroville's ethos involves the community belonging to everyone.

So if you leave Auroville, you'd leave your house behind and not be able to sell it. In addition, to integrate into Auroville you have to volunteer for free in the community for a year before they even consider accepting you.

Ultimately, to build a house you don't get to keep and work for a year for free while supporting yourself, you'd have to be fairly rich. This just seems dodgy to me. How can they say it includes everyone when it only includes those with money?
Staying over in Auroville
I assumed I'd stay over in Auroville until I realised it was pretty easy to visit Auroville from Pondicherry. Maybe I missed part of the spiritual experience because staying over would allow you to get involved in the various classes that run in the area. Meditation and sound healing are popular.

There are a few hostels in Auroville, one I heard good things about was Time Travellers Hostel. A friend I made in Pondicherry headed there for a few days and said it was a cool spot, though very earthy with a certain hippie clientele.

You sleep in outside huts, and she and I had previously discussed the prospect of creepy crawlies and no aircon in the roasting summer heat. After visiting, she told me it gets much cooler at night and she didn't see any bugs – so that's positive!
Getting around Auroville
You'll probably want to rent a scooter if you stay in Auroville. It's made up of long, dusty roads, plus tuk-tuks overcharge the tourists. Here's a guide to hiring a motorcycle in India. My friend made it work without driving a bike but it's less convenient.

If you don't drive, a tuk-tuk tour from Pondicherry is probably your best option. During my second visit, I hired a guy who took me from Pondy and back, waiting at the Matrimandir and letting me stop for 2 hours at a cafe.
Brunch in Auroville
I believe the hippie tourist community has resulted in a thriving brunch scene, and the best place is Bread & Chocolate, a 10-minute drive from the Matrimandir. The cacao smoothie bowls are so good with lots of high-quality ingredients, plus the almond croissants are divine! If you're visiting Auroville from Pondicherry, swing by this spot on the way home.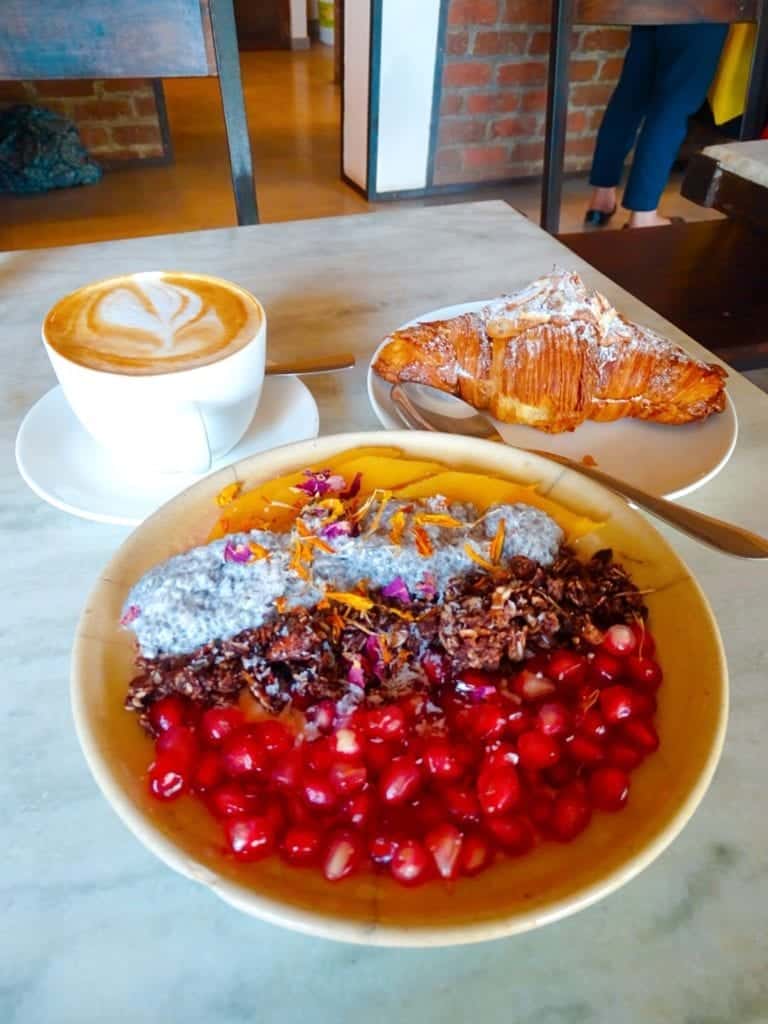 Thanks for reading my Auroville guide!
I hope you have a better idea about how to visit Auroville from Pondicherry as a day trip. Enjoy the adventure; it's truly unlike anywhere else.
Check out my other India posts:
See you next time for more adventures,
Rose
For more travel content, follow me on Instagram, Facebook, Twitter and YouTube.
Ps. Liked my guide to visiting Auroville from Pondicherry? Pin this for later!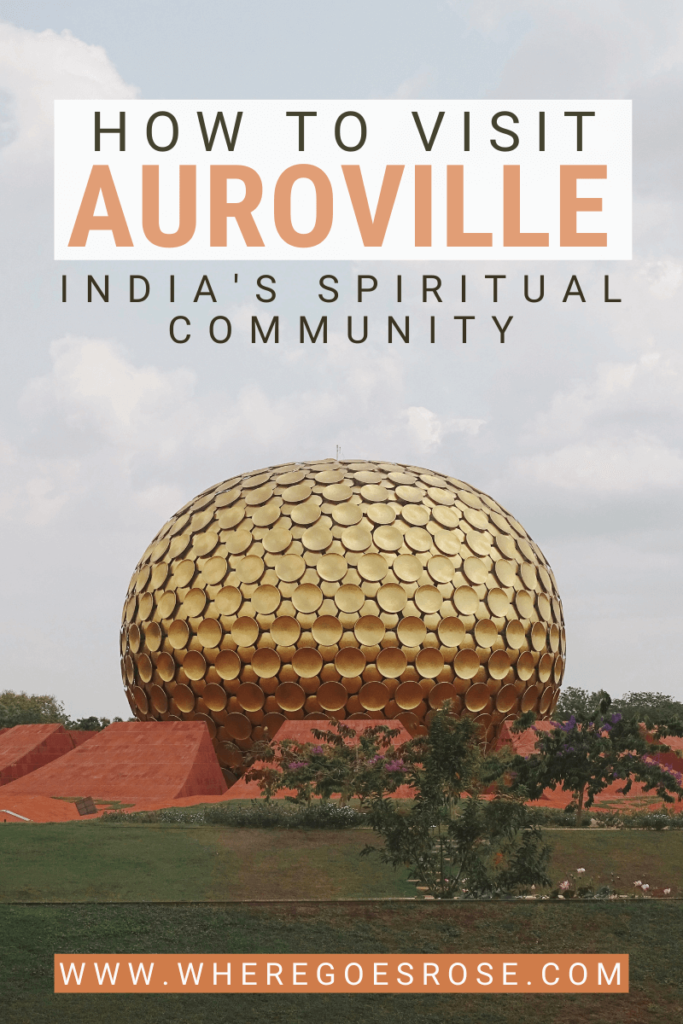 VISITING INDIA?

These are my trusted resources:

Getting around by air – it's easy to get between cities by flight. I use Skyscanner and search by whole month to find the best value dates.

Buses – buses are comfy and efficient. Use 12Go to book.

Trains – these are a good option for long journeys because you have a bed rather than a seat. Use 12Go to book.

For hotels, I use Booking.com – they also have self-catering apartments. You can filter by review score and price to find the best-rated budget places. For hostels, I use Hostelworld.

Browse tours and activities on GetYourGuide. I also check Viator and Klook in case they have a better price.

For food tours with passionate local chefs and foodies, check out EatWith.

Pack the latest copy of India Lonely Planet.

Need travel insurance? I use True Traveller (for UK & Europe residents) since it's affordable but covers everything you'd need including various activities, valuables and pre-existing conditions. Unlike some companies, they insure you if you're already travelling / don't yet have your flight home booked. Get a quote.

For travel insurance for other nationalities, I recommend Hey Mundo and for long-term digital nomad travellers, I suggest Safety Wing.

Check out my resources page for more travel discounts and tips!