This post may contain affiliate links to things like tours, hotels, Amazon associates and products. These help me earn a small commission at no additional charge to you.
When I started researching my Southern Mexico trip, I knew there was one thing I couldn't miss: visiting Hierve El Agua in Oaxaca. This incredible natural formation was every bit as beautiful as I'd imagined.

Of all the amazing things to do in Oaxaca, this was one of my favourites. However, it's true that the area gets incredibly busy, especially around midday. I wondered how to visit Hierve El Agua without the crowds and managed to find a way!
OAXACA ESSENTIALS

Accommodation: Booking.com / Hostelworld

Copy of Lonely Planet Mexico

Activities: GetYourGuide

Getting there: Flight / Rentalcars.com / Busbud
Wait – is Hierve El Agua closed?
In March 2021, the site was closed by community landowners in San Lorenzo Albarradas, Oaxaca. If you're wondering why Hierve el Agua was closed, the decision came because locals were not benefitting from tourism to the region.

I empathise with their position: mass tourism can wreck natural places with no regard for the livelihoods of the locals since, oftentimes, they're not the ones leading the Hierve El Agua tours.

However, in October 2021, the site reopened for tourism with a limit of 200 people per day and certain tour companies banned for not been paying their parking and disrespecting the area. With the city's prime tourism event, Day of the Dead Oaxaca just around the corner, this compromise brought back tourism in a controlled way.

I updated this guide in 2022 to include updated costs and tips.
What and where is Hierve El Agua, Mexico?
This set of rock formations is easily mistaken for a waterfall because, from a distance, it does look very much one.

Hierve el Agua means in English 'the water boils' which is ironic since the pools are icy cold!

The structure is a stalactite (and yes I had to double-check that on Google because who really knows the difference between a stalactite and a stalagmite?) found outside of a cave, something that's very rare. There's only one other similar one, Pamukkale in Turkey, which has also spent time closed due to over-tourism.

This crazy stalactite in the middle of Mexico was formed thousands of years ago thanks to the runoff of carbonated water from natural springs full of calcium. As the water trickled over the cliff, it became 'frozen' by thick mineral deposits.
Hierve El Agua is located 70km from Oaxaca City, 1.5 hours by car.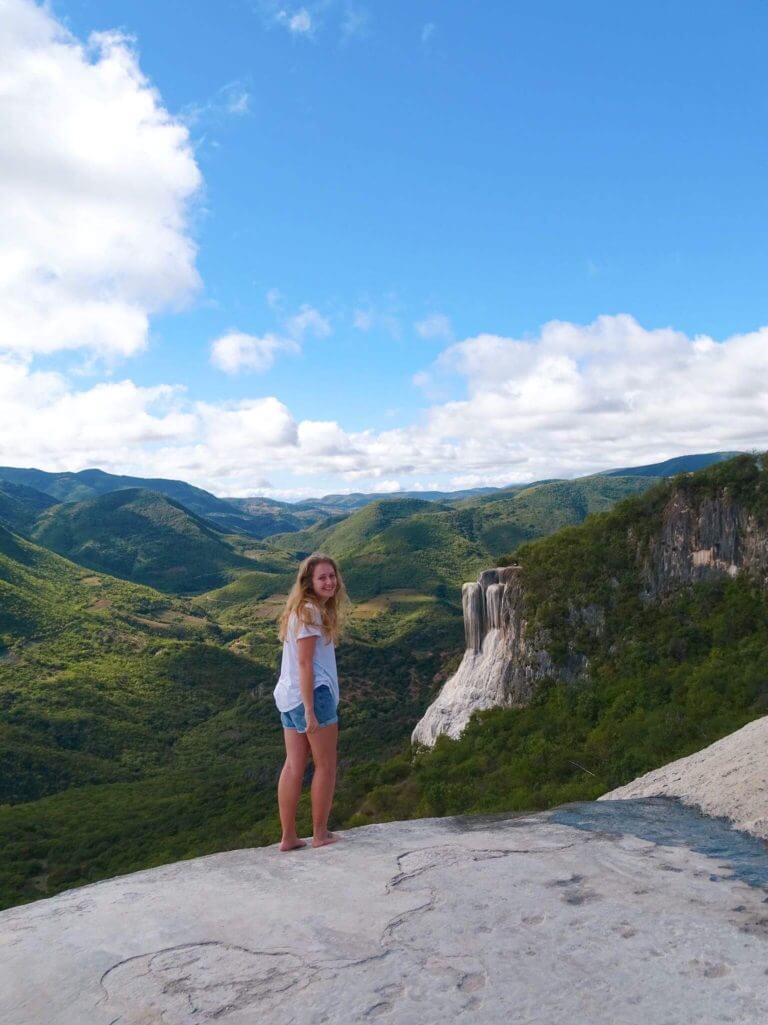 Related read: solo travel in Mexico – everything you need to know!
How to get to Hierve El Agua from Oaxaca
This isn't automatically obvious as Google tells you there's no public transport available. However, if you're keen to visit independently, it is possible.

By public transport: Catch a bus from Periferico street in Oaxaca destined for Mitla. The bus should cost 18 pesos. This isn't a direct route to Hierve El Agua from Oaxaca as you'll be dropped in Mitla.

From Mitla, pick-up trucks journey the rest of the way. These cost 50-100 pesos depending how full they are.

Tip – remember to bring cash in small denominations. No bus driver wants to receive a 500 peso note for an 18 peso journey! You may also be charged 10 pesos later as a road fee.

By car: to visit Hierve El Agua independantly, hire a car in Oaxaca. Use Rentalcars.com to get the best price.

By day tour: there are a variety of tours starting from $35 USD. Browse all tours here. Since Hierve El Agua tours often stop at additional attractions, my top tip is to check the schedule and choose one that departs early and visits Hierve El Agua first. After mid-morning, the pools are likely to be crowded.

If you're keen to visit Hierve El Agua without the crowds and snap photos to your heart's content, let me share the option I took.
Hierve El Agua tour with Coyote Aventuras
Coyote Aventuras are a Oaxaca-based tour company set up locals, Carlos and Fer. I was lucky enough to be hosted on a few of their tours during my time in Oaxaca including this 1-day tour hiking to Hierve el Agua.

Despite being a hiking tour, it really wasn't difficult at all: more of a nature walk through beautiful countryside and peaceful forest.

If you're wondering how to visit Hierve el Agua, I would highly recommend the trip with Coyote Aventuras. We arrived at Hierve el Agua by 9am and had the beautiful green and blue pools all to ourselves. It was spectacular!

We also headed to see Hierve el Agua from behind and totally ditched the crowds on our nature walk.

Our itinerary:
6.30am – leave for Hierve el Agua
8am – breakfast stop
9-11am: Visit Hierve el Agua
11am: Nature hike
2pm: Picnic and hidden cave swim
3pm-5pm: Mezcal tasting
6pm: Return to Oaxaca
Next, I'll run through the day, share my tips for visiting Hierve el Agua, and show off my photo gallery of this incredible place…
Food for fuel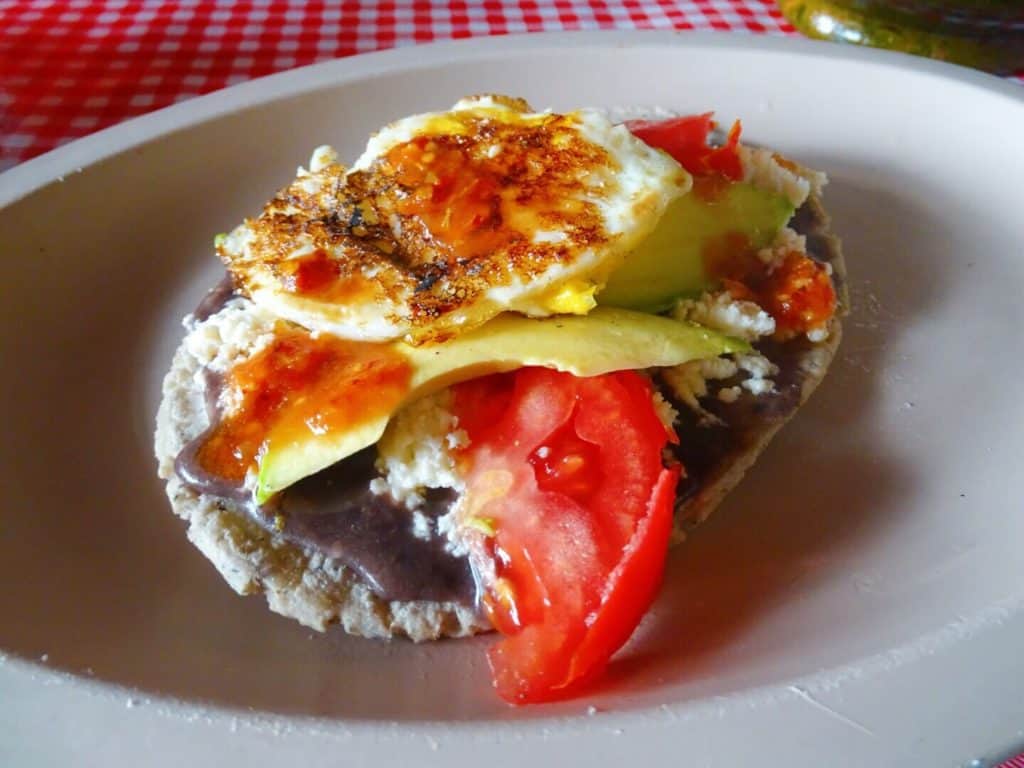 Leaving Oaxaca at 6.30am meant getting up at 6am and wow, that is difficult for a lazy backpacker like me!

However, the early start was 100% worth it. I ate some bus snacks on the road as I'm just not one of those people who forgets to at breakfast.

Luckily, I was in store for an excellent foodie day as we stopped close to the falls at a family-run restaurant where the locals were preparing eggs, frijoles (bean paste) and corn tortillas.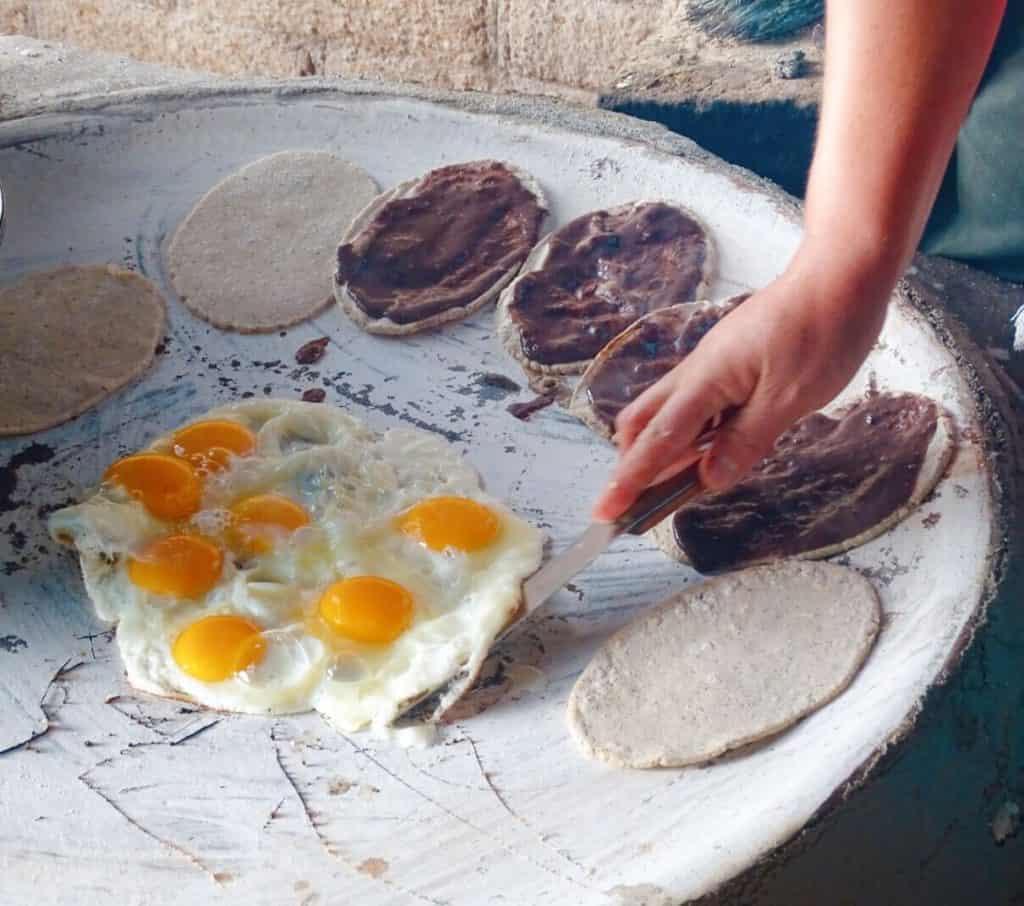 Breakfast was fresh tortillas piled high with beans, eggs, avocado and tomato. This is now one of my favourite Mexican dishes!
Full of food and coffee, we pulled up at Hierve el Agua to feast our eyes on the most incredible views for miles around. I'll say it was even better than breakfast and coffee and if you know me, that's high praise!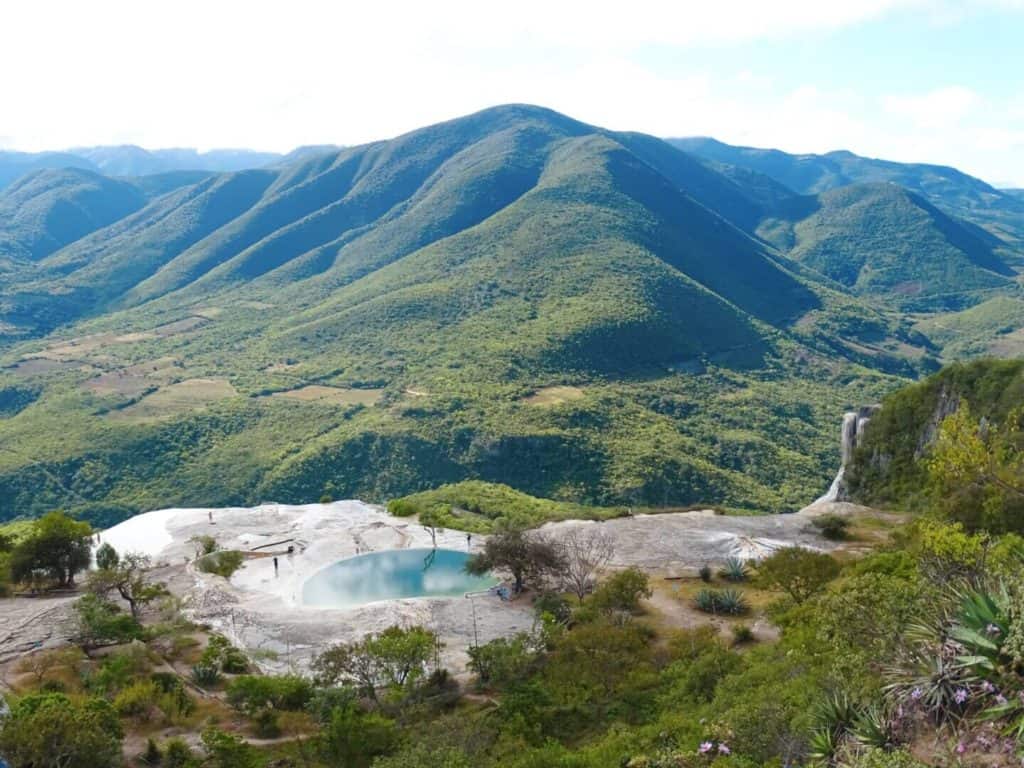 I couldn't believe the natural colours of the pools. Some were as blue as the sky while others were almost lime green. I learnt from our guide, Yesi, this is due to the natural minerals found in the region.

We also observed how small insects, leaves and even human hair that had fallen in the water a day or so ago had become petrified, coated in a thick layer of limestone.

The striking drops over the cliffside made the pools appear like luxurious infinity pools, even though it felt a little scary being so close to the edge!
FAQ – how much does visiting Hierve El Agua cost?
The entry fee is 50 pesos ($2.50), a small price to pay to marvel at one of the natural wonders of the world.

Factor in the cost of a day tour, car hire or public transport (the latter costing approximately 120 pesos). Remember to bring cash as you won't be able to pay with bank card.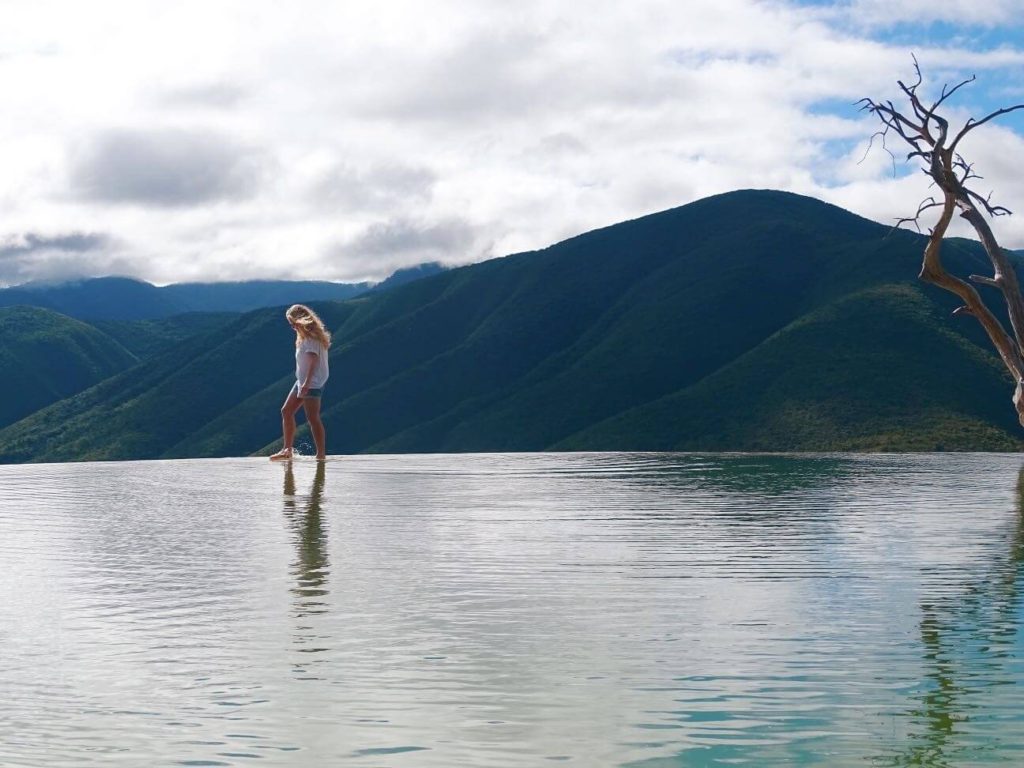 Out into the distance, we could see the famous petrified waterfall in Oaxaca that we'd soon be hiking to. The mountain backdrop was like a patchwork of greenery with vultures riding the wind currents and circling over the forest canopy below.

Sitting with my legs dangling, breathing in the fresh air and taking in as much of the scenery as possible, I was in awe. I'm such a city girl but I need to remind myself to get out into the country more often!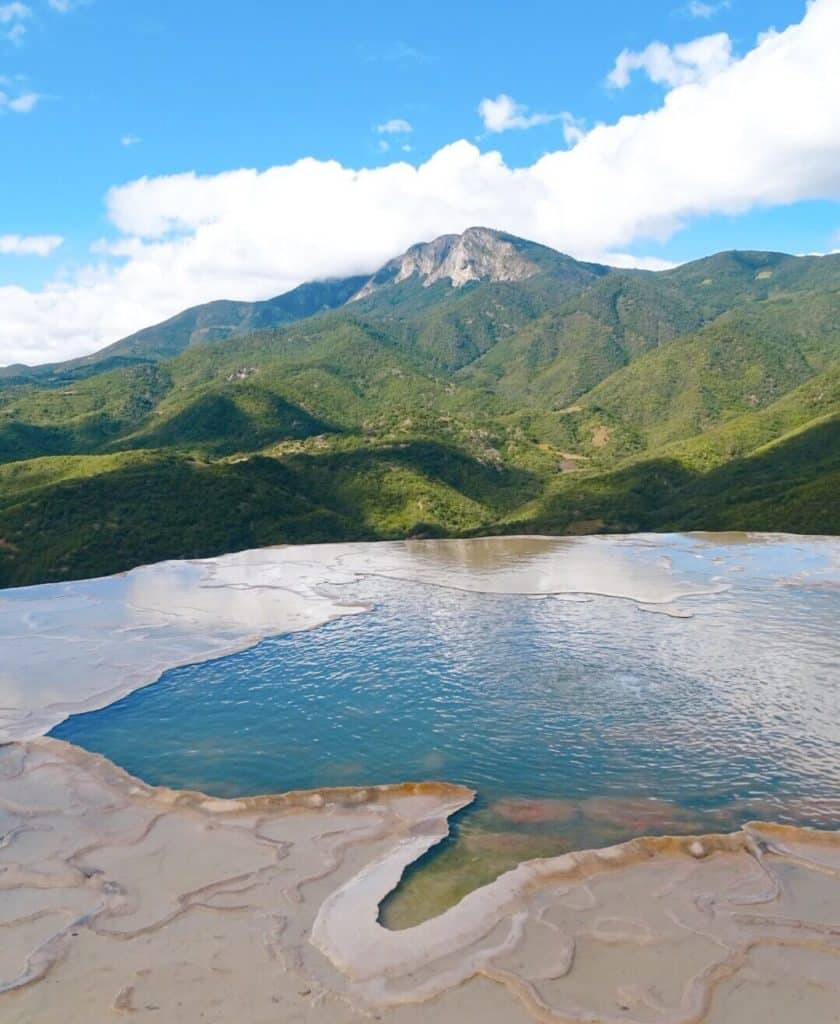 FAQ – Can you swim at Hierve el Agua?
Yes – but only if you're brave! The water is freezing even if the weather is warm.

I couldn't brave inserting more than a toe into the water but you'll see people doing it. Rather them than me!
Behind Oaxaca's petrified falls
For the next leg of our adventure, we began our nature hike. We clambered downhill, leaving behind the few tourists who had begun arriving. Before long, we were below the giant 'waterfall' stalactite, staring up at it. Having seen it from afar, it looked so much bigger up close.

We could see the mineral-rich waters dripping down it, leaving behind an extra layer that slowly builds up over time. Yesi explained that this gigantic rock formation is always growing and changing, as it has been for thousands of years.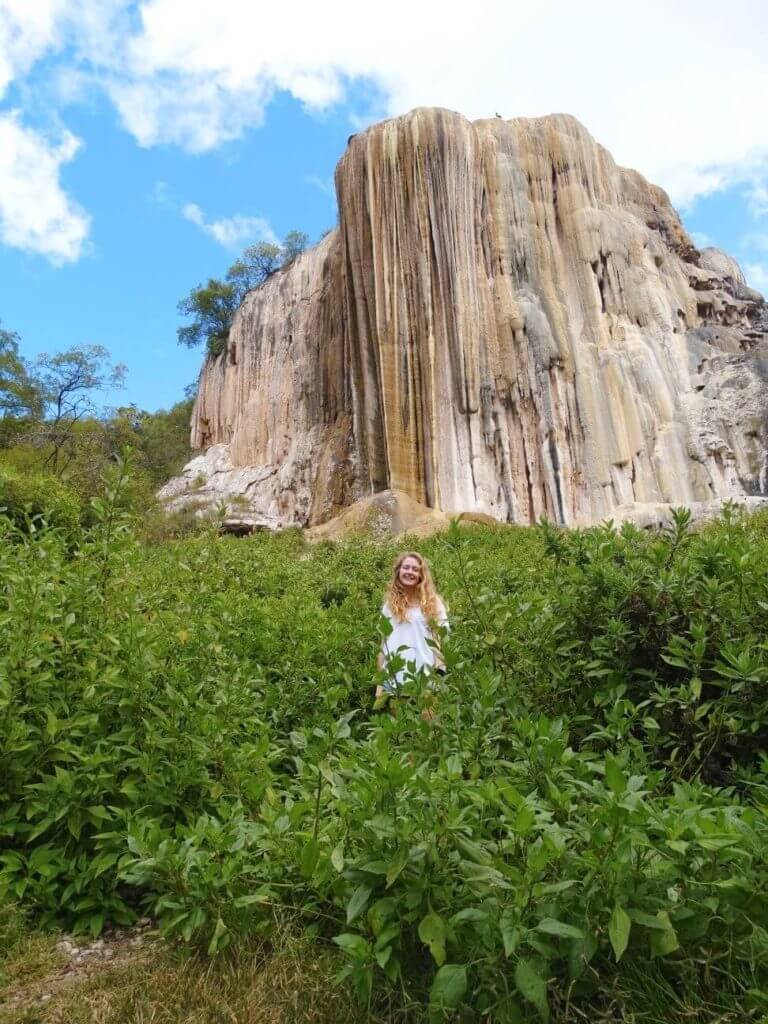 The Hierve el Agua hike
We continue into the Mexican forest where we were surrounded by cacti. Some were three times our height while others were absolutely tiny and we set ourselves a challenge to find the smallest one. Plenty were as small as my fingernails.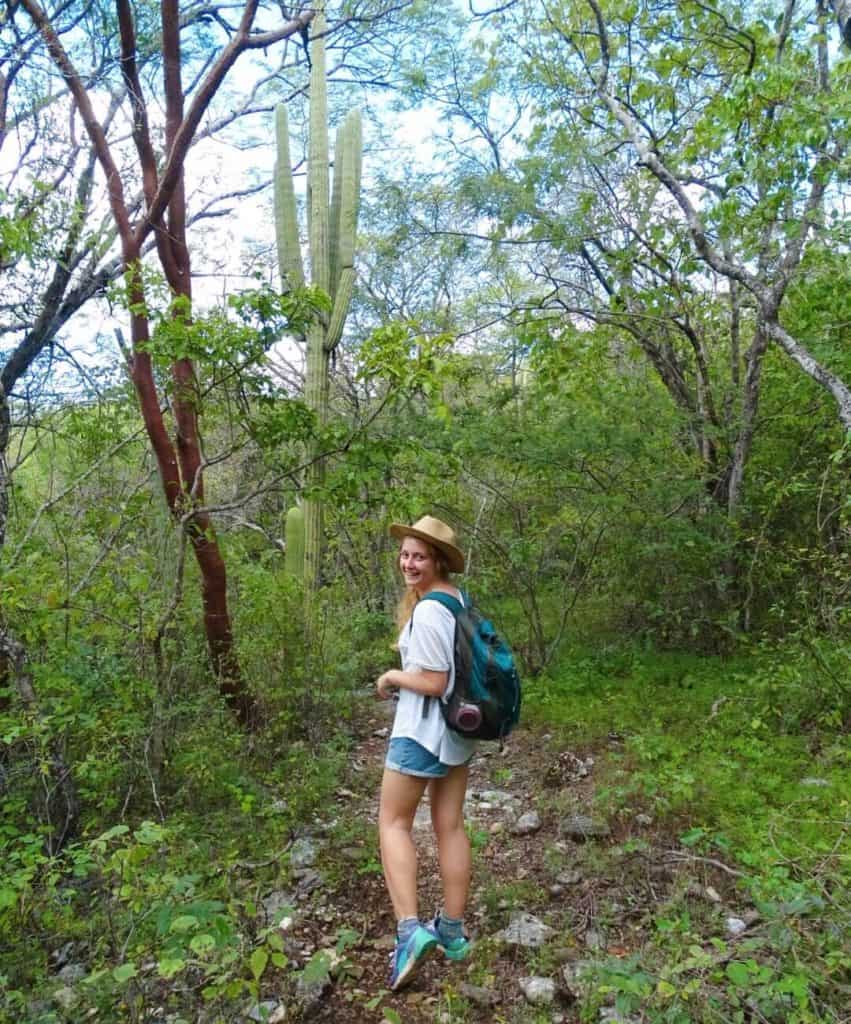 Once the forest opened up, we came out into a field of agave. If you don't know these Mexican plants, they're responsible for one very popular drink: mezcal, which originates here in Oaxaca. Yesi explained we would be sampling this later.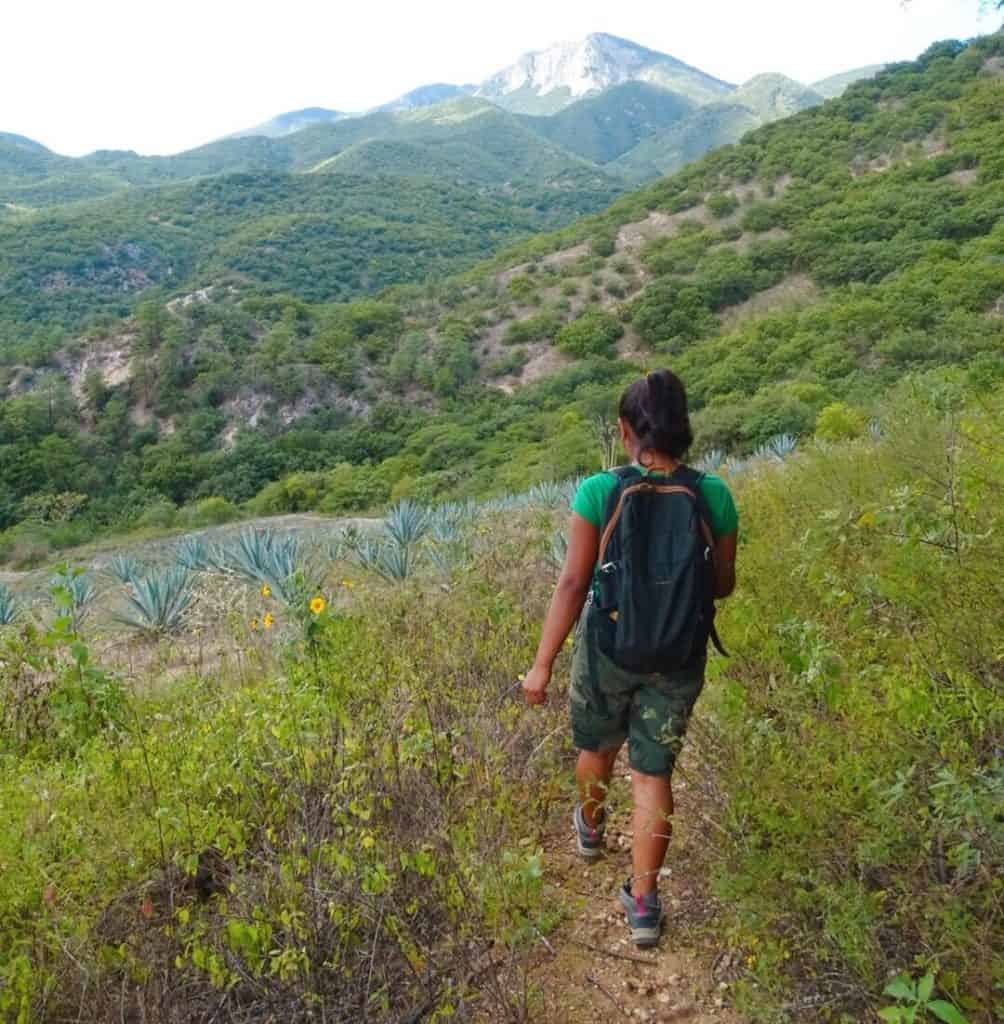 Swimming in hidden caves
My favourite experience from visiting Hierve el Agua was finding these completely empty caves and swimming inside.

While they were a hike away from the main pools, they were clearly the same region, filled with mineral build-up and crazy colours. The red iron in this segment was particularly noticeable.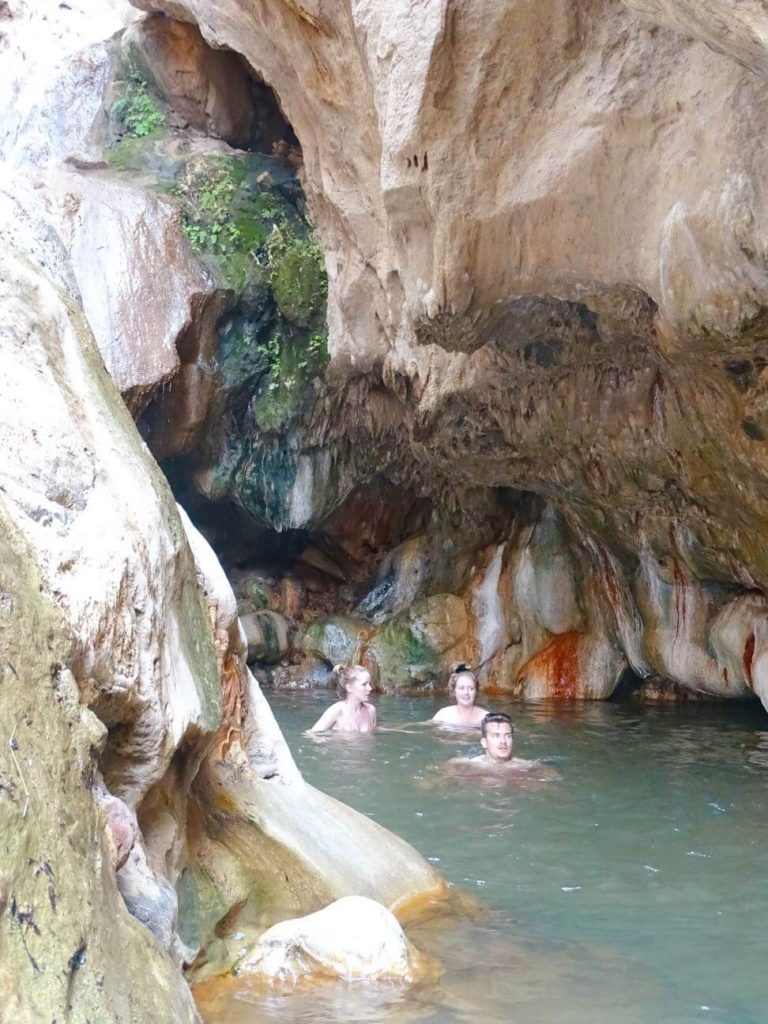 Perhaps because they're less exposed to the elements, the water feels warmer than the main pools beside the petrified waterfall.
Where next?
The most important Zapotec site in Oaxaca state is Mitla, known for its ancient ruins. Since it's just under an hour from Hierve El Agua, many travellers visit Mitla during the same day, either by car or day tour (it's included on many companies' itineraries).

If you're visiting Hievre El Agua by public transport, you'll need to visit Mitla on the way home to change from pick-up truck to local bus.

As well as the Teotitlan ruins, Mitla is known for the Tule Tree (the widest tree in the word) and mezcal tasting.

I was yet to try mezcal and hoping I'd like it more than tequila which always has a horrible effect on me.

After arriving at the mezcal plantation, we were shown how agave plants are harvested, crushed and left to ferment in giant vats. We learnt about the lengthy process including distillation, then got to try the famous beverage for ourselves.
Mezcal can have a very smoky flavour which is quite an acquired taste. It wasn't my favourite so during the mezcal tasting session, I preferred the lighter and less smoky varieties.

We got to try a whole array, even including coffee and strawberry-flavoured mezcals (I suspect these are the tacky variety made with tourists in mind).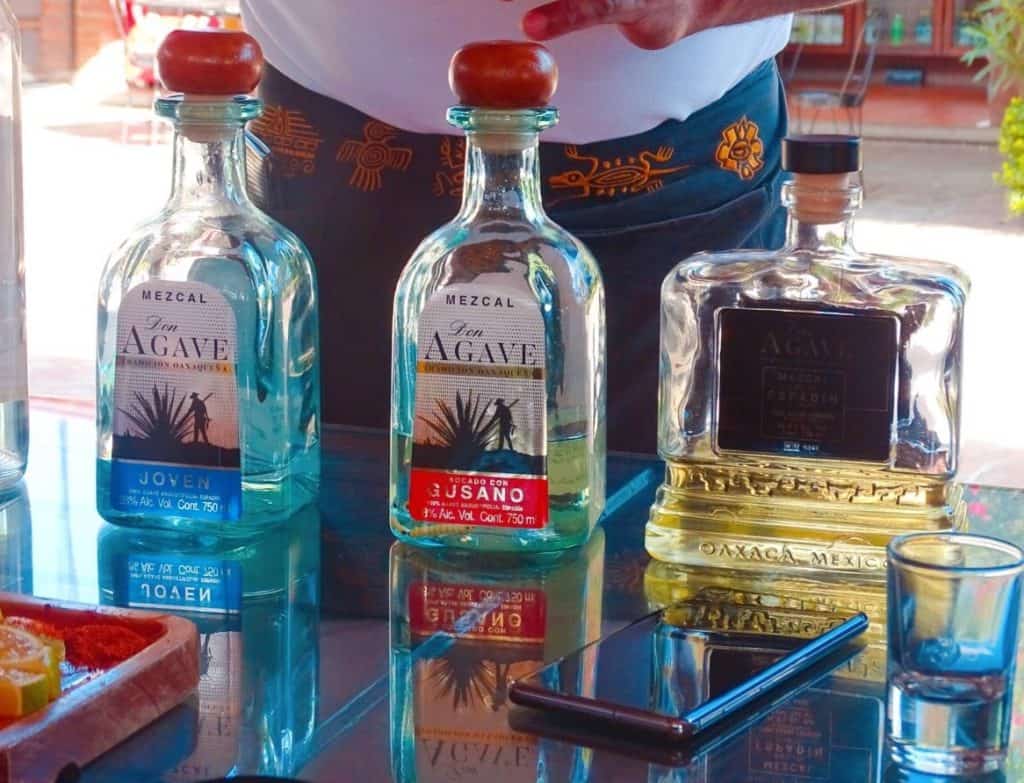 What's the best time to visit Hierve El Agua?
Late October-early April is best because the temperatures are milder than the peak summer months.

From May to September, Oaxaca can be scorching. Make sure to prepare for the heat if you visit during this season.
How to visit Hierve El Agua responsibly?
While travelling, try to think critically about your actions and how you spend your money.

Remember this natural site won't be around forever unless we protect it and leave it as we found it. Don't drop litter, write your name anywhere, or take anything home.

Google the reviews of a tour company before booking with them in case past guests have flagged up any ethical issues. If you can, always support smaller, local companies rather than large corporations. If ever you take a tour and feel something unethical happens, flag it up and leave a review.
What to pack
There are a few things you'll need to pack for a trip to Hierve El Agua from Oaxaca. You should also check the weather before you go. Things to bring include:
Swimwear. There's a toilet building when you get there but it's pretty basic – I would wear your swim stuff under your clothes if I were you. However, if you forget your swimwear, don't stress: it's basically too cold anyway!
Towel
Change of clothes for after (if you decide to try and swim)
Enough drinking water
Sunscreen
Hat/sunglasses
A book if you fancy lounging by the pools and reading after
Comfortable footwear if you plan to hike around Hierve El Agua afterwards
Camera, preferably a waterproof one if you want to use it in the pools.
Thanks for reading!
While I was hosted by Coyote Aventuras while visiting Hierve El Agua from Oaxaca, all options are my own.
Check out my other Mexico blogs:
See you next time for more adventures,
Rose
For more travel content, follow me on Instagram, Facebook, Twitter and YouTube.
Liked my guide to visiting Hierve el Agua, Mexico? Pin it for later!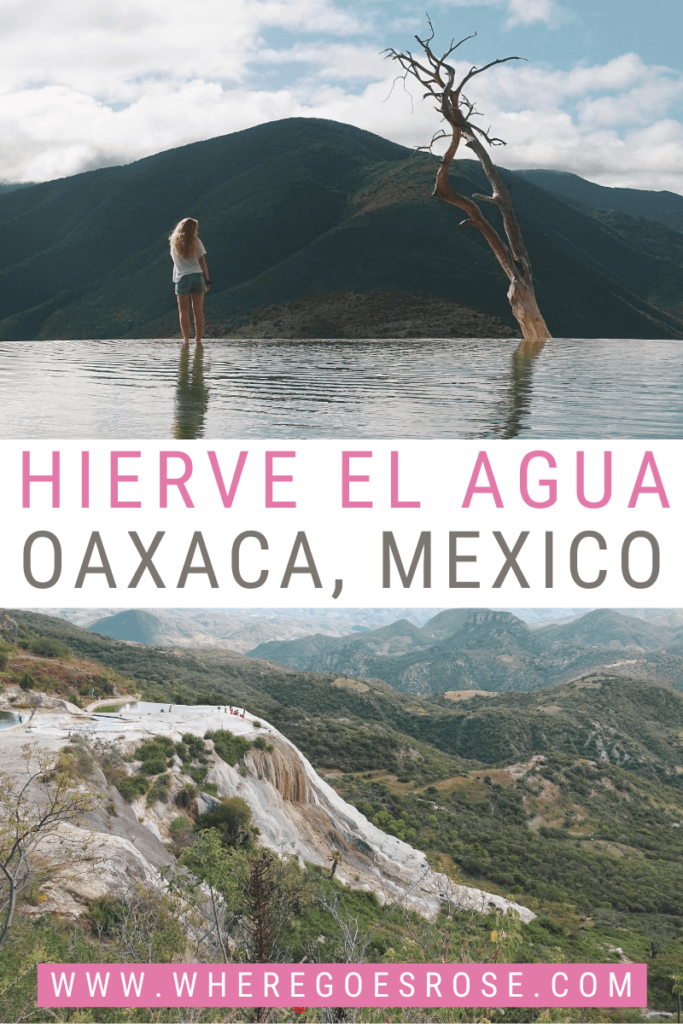 VISITING MEXICO?
These are my trusted resources:

Getting around by air – the quickest (and often cheapest) way to travel between Mexican cities is by flight. I use Skyscanner to find the best-value flights, using the 'search by month' tool to find the cheapest dates. You can also use the 'to anywhere' feature if you're flexible on where you're going.

Getting around by bus (environmental option) – buses in Mexico are comfy with free snacks and an in-journey entertainment system. I use Busbud to find the best prices.

Driving in Mexico – use Rentalcars.com to compare car rentals in Mexico (and all around the world).

For hotels and apartments, I use Booking.com. They have a wide range of accommodation for all budgets, plus the loyalty programme gives you discounts and upgrades.

For hostels, I use Hostelworld.com. Hostels in Mexico are great for meeting other travellers.

To save money on accommodation, I use Trusted Housesitters, a website that connects homeowners going away and travellers who can sit their homes & pets.

I use GetYourGuide for tours & activities when I don't want to travel solo. I also check Viator as they often have fun & unique options.

EatWith – your one-stop for Mexico food tours, cooking classes and hosted meals with local chefs and foodies.

Need travel insurance? I use True Traveller (for UK & Europe residents) since it's affordable but covers everything you'd need including various activities, valuables and pre-existing conditions. Unlike some companies, they insure you if you're already travelling / don't yet have your flight home booked. Get a quote.

For travel insurance for other nationalities, I recommend Hey Mundo and for long-term digital nomad travellers, I suggest Safety Wing.

Need to top up your Spanish? Pack a Lonely Planet Mexican Spanish Phrasebook & Dictionary.

Check out my resources page for more travel discounts and tips from 10+ years of travel!