This post may contain affiliate links to things like tours, hotels, Amazon associates and products. These help me earn a small commission at no additional charge to you.
While I was fascinated by the ancient history and rich culture of Jaipur, I was also blown away by the colourful corners and decadent doorways. The Instagrammble places in Jaipur are by no means the only reason to visit, but they are worth seeking out while you're here.

If you follow me on social media, you'll know I had mixed feelings about Jaipur, India.

One the one hand, the palaces and forts were some of the most incredible I've ever seen. On the other hand, they're spread across a hectic city that isn't particularly walkable or pedestrian-friendly.

For that reason, it was hard to wander and discover the city at my leisure. A taxi tour between the highlights was the most convenient way to get around and subsequently, I felt I missed the real, modern-day Jaipur. Overall, it wasn't my favourite solo travel destination in India but I can't deny it's beautiful!
Instagrammable places in Jaipur
All that aside, there are some incredibly photo-worthy places in Jaipur. It's, without doubt, one of the most photographed places in India. Bloggers, Instagrammer and photographers will be in heaven!

I thought I'd share with you my favourite Instagram locations in Jaipur. I had a lot of fun seeking out and visiting these spots – enjoy!

If you're travelling solo in India, you may benefit from a Jaipur Instagram tour with a guide.
The Step Well behind Amber Fort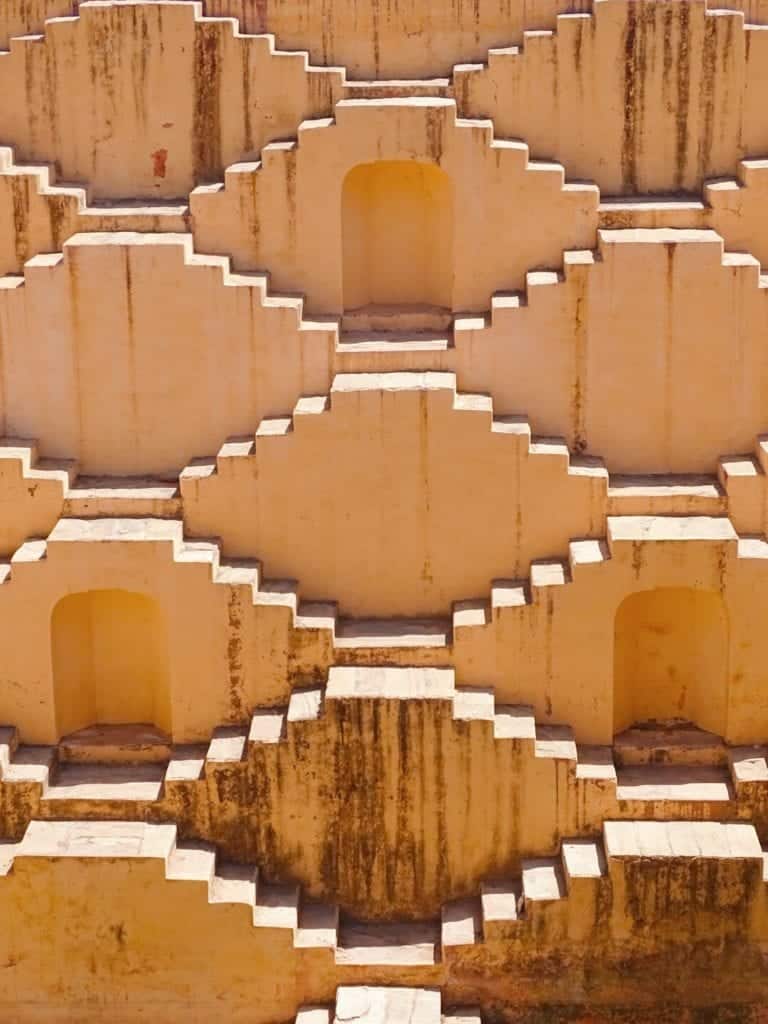 This first Instagrammable spot in Jaipur is a hidden gem: this ancient Step Well down the hill from Amber Fort. Thousands of tourists visit the fort each day but only a handful make it here, and I had it almost to myself.

You might have seen photos of the bigger and more famous step well near Jaipur called Chand Baori but this is a 2-hour drive away. This is a much easier alternative for your 'gram shots.

These step wells were built in medieval times when collecting and storing rainwater was tricky. Around 3,000 were built in Rajasthan and Gujarat alone but nowadays just a few remain. Locals would use them to bathe, drink and wash their clothes.

After your visit to the Amber Fort, take the back exit and follow the road down to the Step Well. You can head to this Google Maps location but there's a shortcut down a flight of stairs near the parking lot.
Ask any local for directions if you get stuck. I was lazy in the heat and got a guide to whiz me down there on a bike for 50 rupees but the walk isn't more than 10 minutes.

Getting the shot: Despite what you might see on Instagram, you're not allowed to walk on the steps. I think the popular photos tagged here are old ones before the rules changed. I tried to sweet-talk the security guard to no avail! On the upside, at least no one can spoil your photos.
Instagram spots at the Amber Fort
The Amber Fort deserves its own Jaipur Instagram guide. I've now been twice and I think its my favourite place in the city. The level of detail is crazy and it's so easy to imagine the royals living there back in the day.

The next few places on this list are specific locations you should find at the fort:
The columns and domes in the front courtyard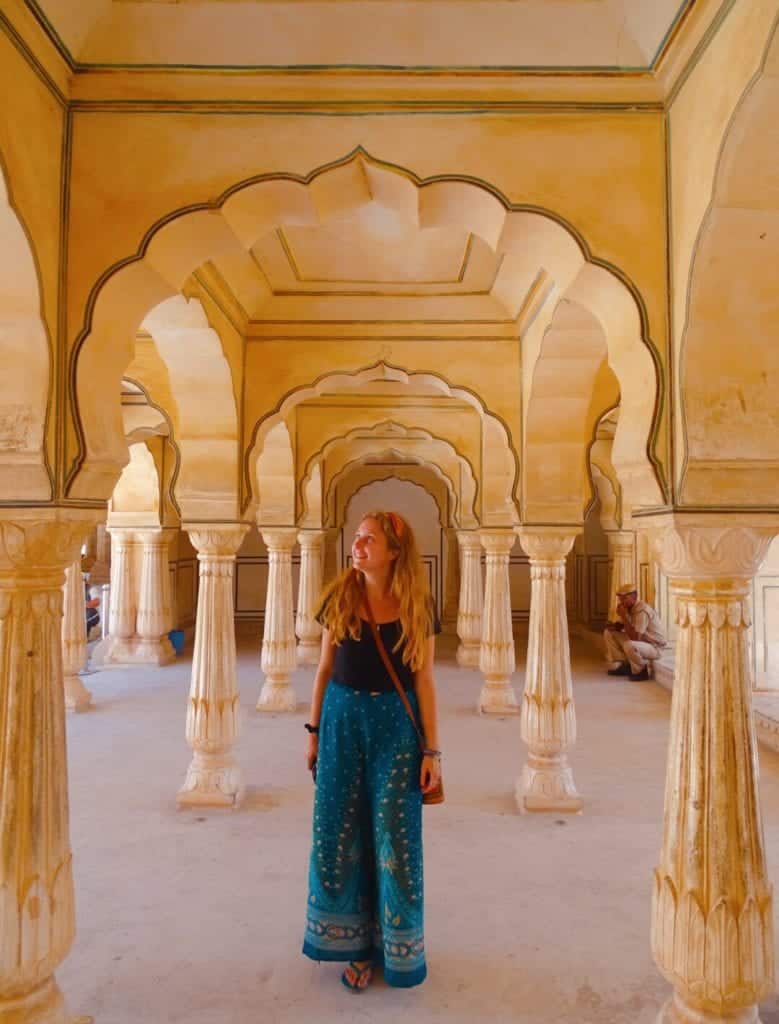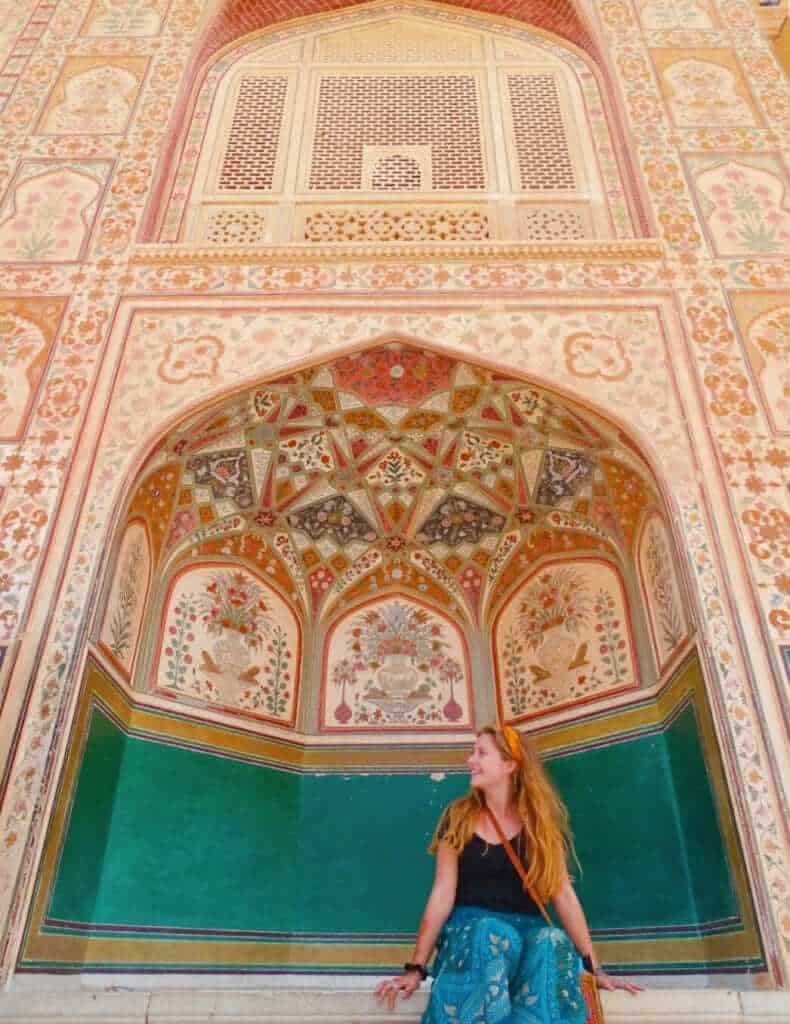 You don't have to search long and hard for Instagrammable places at the Amber Fort.

After paying your entrance fee, take a left into the first courtyard. Here you'll see the colourful front facade of the Amber Palace. Up close, you'll find these colourful domes below and, to the left, you'll notice this covered sea of columns.
Related read: what to wear and pack for India travel (female)
Palace of Mirrors, Sheesh Mahal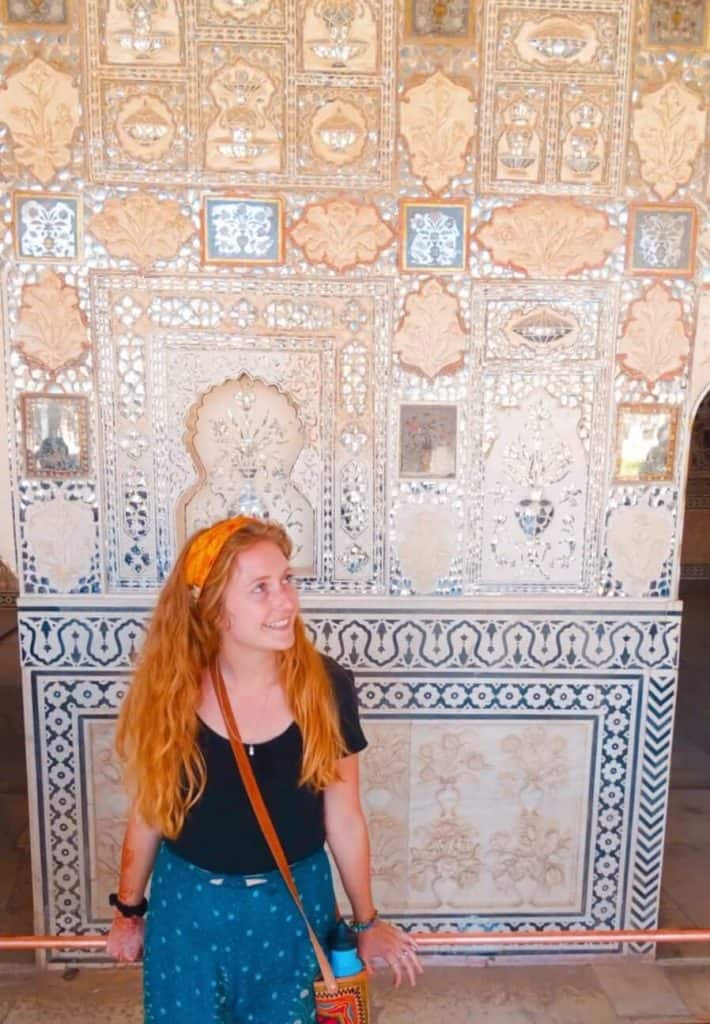 I can't believe the detail of the Palace of Mirrors which can be found in the Sheesh Mahal building.

The maharaja of the time designed the ceiling with thousands of mirror shards to resemble the shimmering stars of the nighttime sky. If that's not photo-worthy, I don't know what is!
The vegetable dyes upstairs
The most Instagrammable place at the Amber Fort has to be this faded pastel wall of gorgeous artwork. Amazingly, it uses no chemicals whatsoever – only natural vegetable dies.

Having withstood years of the elements, it's definitely worth a photo or ten.

Getting the shot: Unless you're travelling with someone else, the best way of getting photos at the Amber Fort is to hire a guide. Not only will they fill you in on the history, but they'll also happily double up as your photographer for an hour or two.

Most charge 300 rupees but mine was a guide in training who only charged 100 (though I gave him 300 anyway as he was so good!).
Patrika Gate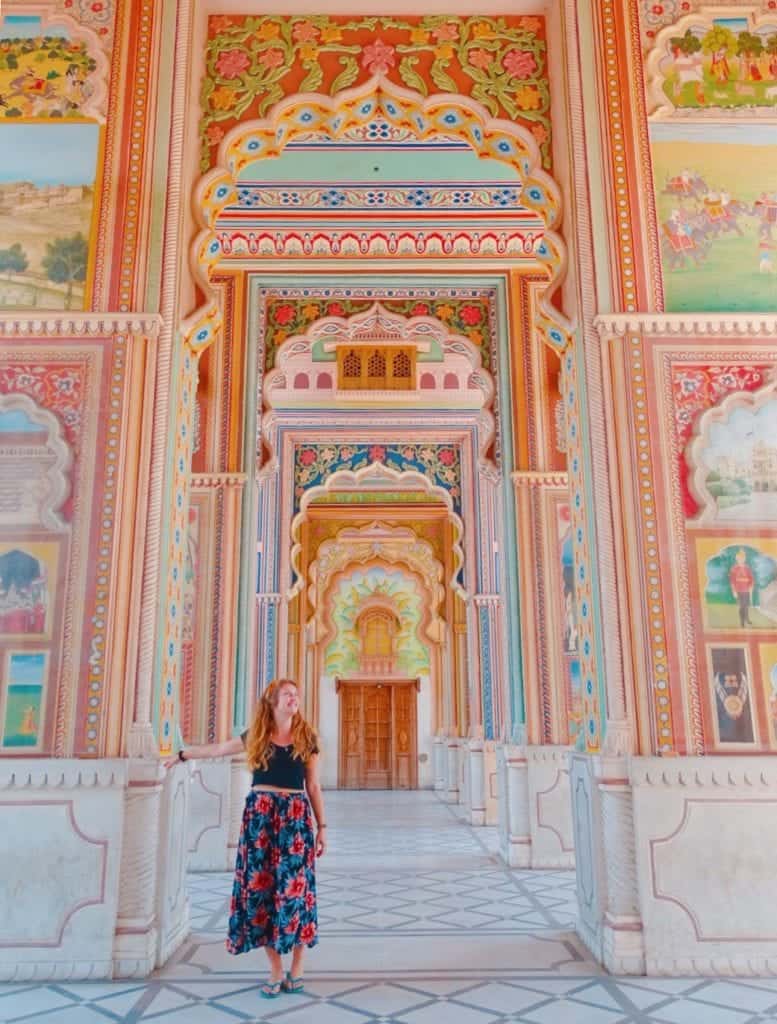 Moving away from the Amer fort and on to some other Instagrammable places in Jaipur, the colourful details of Patrika Gate are like nowhere else.

This decadent gateway out towards the airport is a bit of a trek from the city but well worth it for the photo opps.

There's not really anything else to see or do at Patrika Gate, or much history to be learnt, but I'd still recommend a visit. I paid 200 rupees for a return tuk-tuk but you can go for even cheaper if you order an Uber bike.

Getting the shot: This was a tripod jobbie! Unlike some of the popular tourist destinations in Jaipur which don't let you use a tripod, you're free to set one up at Patrika Gate. I visited early in the morning (well, 10am) which is always a good idea where clear photos are concerned.

If you're looking for tips, check out my guide to taking pictures of yourself while travelling solo.
Nahargarh Fort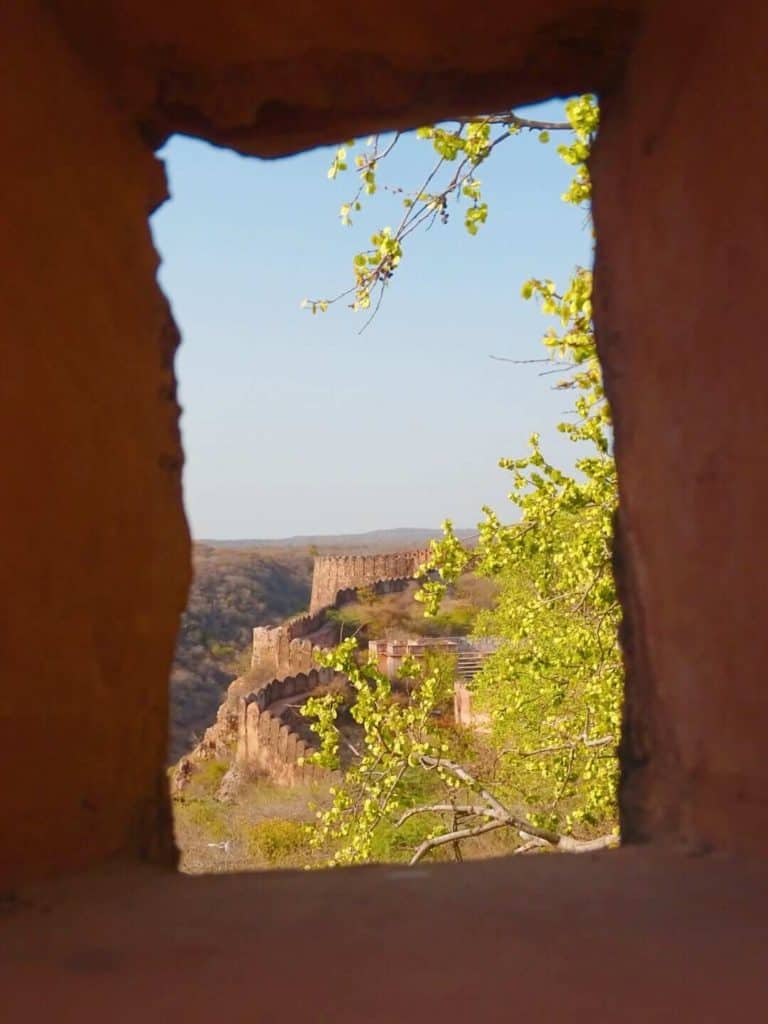 This wasn't my favourite excursion in Jaipur because I felt the 200 rupee entrance fee was expensive since there wasn't much to see inside the fort, plus they wanted an extra 200 for the sunset viewpoint.

Despite this, you can't deny that Nahargarh Fort is one of the most Instagrammable places in Jaipur. You get a panoramic view of the whole city, all the way out to the mountains on the horizon.

I didn't stay until sunset but I imagine this would be even more impressive.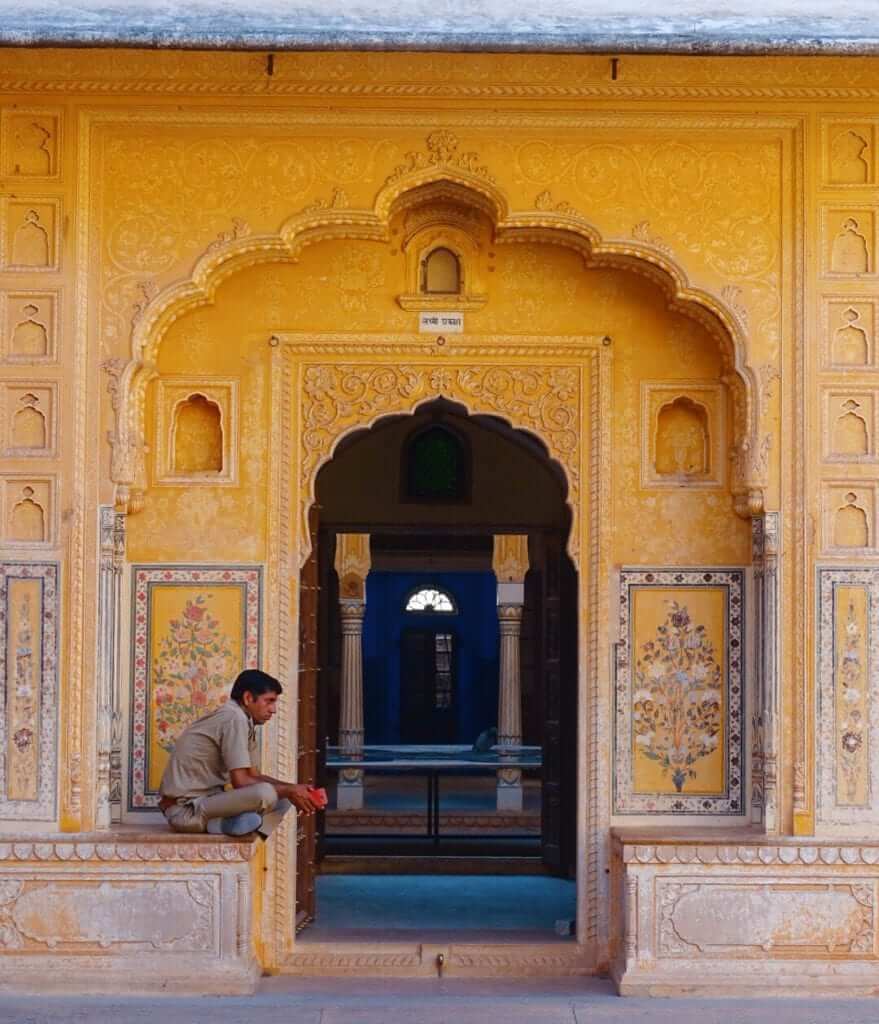 Getting the shot: I didn't manage to get in my own photo here but it was okay because the focus was the city views. My face certainly can't compete with mountains and sprawling cityscape!
The Water Palace from above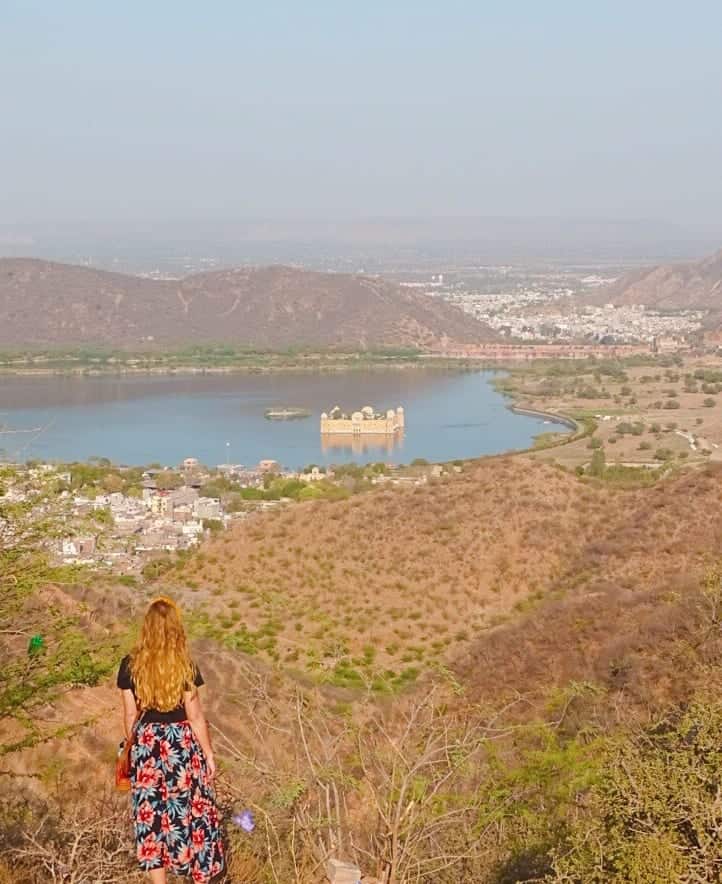 Most Instagram guides to Jaipur will tell you to visit Jal Mahal, otherwise known as the Water Palace. I'd agree with them but also advise you to try a different angle – this view from the hills.

I found this photo stop by accident when coming back from Nahargarh Fort. My driver actually recommended it, pulling in and offering to take my photo. It's a bonus if you can get some mountains in the shot, too.

Getting the shot: As I mentioned, this was taken by my Grab driver. If you're on an organised tour (including a taxi/tuk-tuk city day tour), they'll be happy to do the same.
The Lotus Gate at the City Palace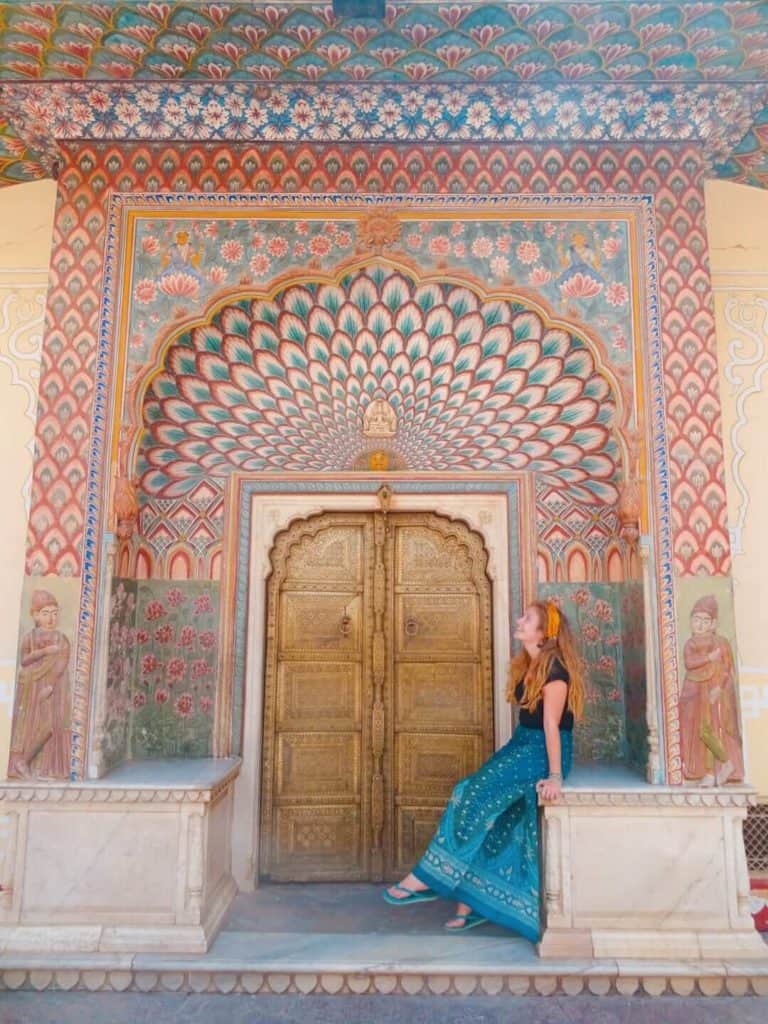 You could probably scrap everything else in Jaipur, just visit the City Palace and still come back with some impressive Instagram shots!

My first question on arrival was 'so where's the gate?'. There are four main gates and the most popular is this one pictured, the Lotus Gate. The others are the Peacock Gate, Rose Gate and Leheriya (Wave) Gate.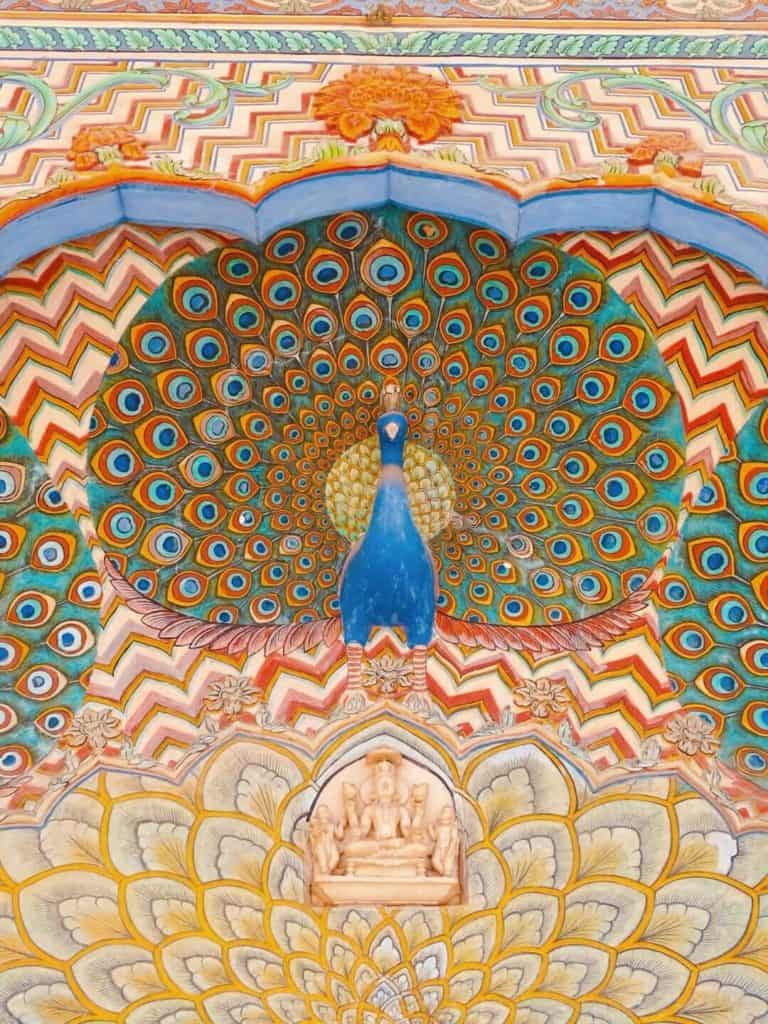 The gates can be found in a courtyard of the City Palace named Pritam Niwas Chowk. Follow signs from the entrance.

Getting the shot: In terms of getting the much-awaited Instagram shot, it's a tricky one if you're not with a friend because tripods aren't allowed at the City Palace.

Luckily the stranger I asked did an amazing job, restoring my faith in passersby. Maybe because he had a decent camera himself or maybe because I was friendly and asked where he was from, he felt more inclined to help me. We'll never know but I love the shot I got!
Raj Mandir Cinema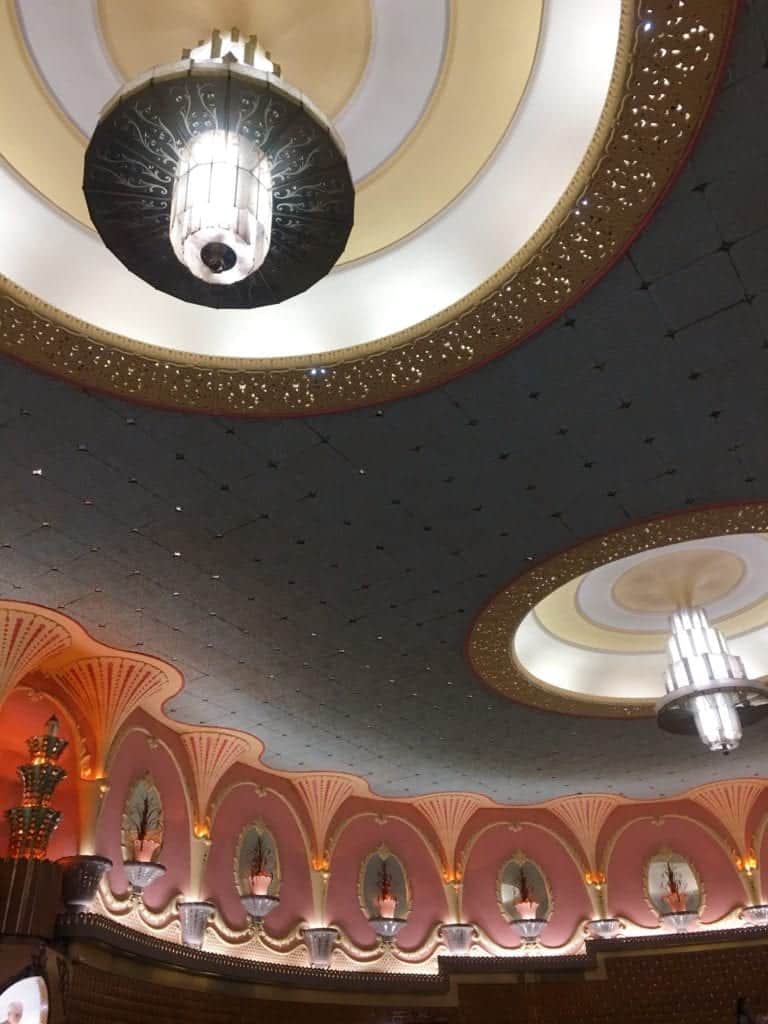 India's most famous cinema is more than just a movie hall now; it's a popular tourist attraction regularly appearing in lists of the most Instagrammable places in Jaipur

It's certainly impressive with giant chandeliers and some extremely decadent decor.

You'll want to take some photos and videos in the entrance hall because once the movie starts, the highlight of this excursion might be over… I watched a Hindi film I couldn't understand and left in the interval.

Tickets to the cinema are only 150 rupees. Manage to find a film with subtitles and it's even better value!
Tattoo Cafe
Hawa Mahal is one of the most Instagrammable spots in Jaipur without doubt, but it's also a very obvious location for taking photos.

For the best view of Hawa Mahal, head to higher ground. Tattoo Cafe directly faces it so you can get a view straight-on which is much better for symmetrical photos. I bought a coke for 60 rupees and spent 20 minutes relaxing on the terrace.
This photo below was actually taken on the way down the stairs from Tattoo Cafe. I liked the view from Tattoo but there was a clear screen and metal bar which got in the way of the photos.

I think the overall best view of Hawa Mahal is from this viewpoint on the floor below which you'll pass on the way up and down.
Rainbow windows inside Hawa Mahal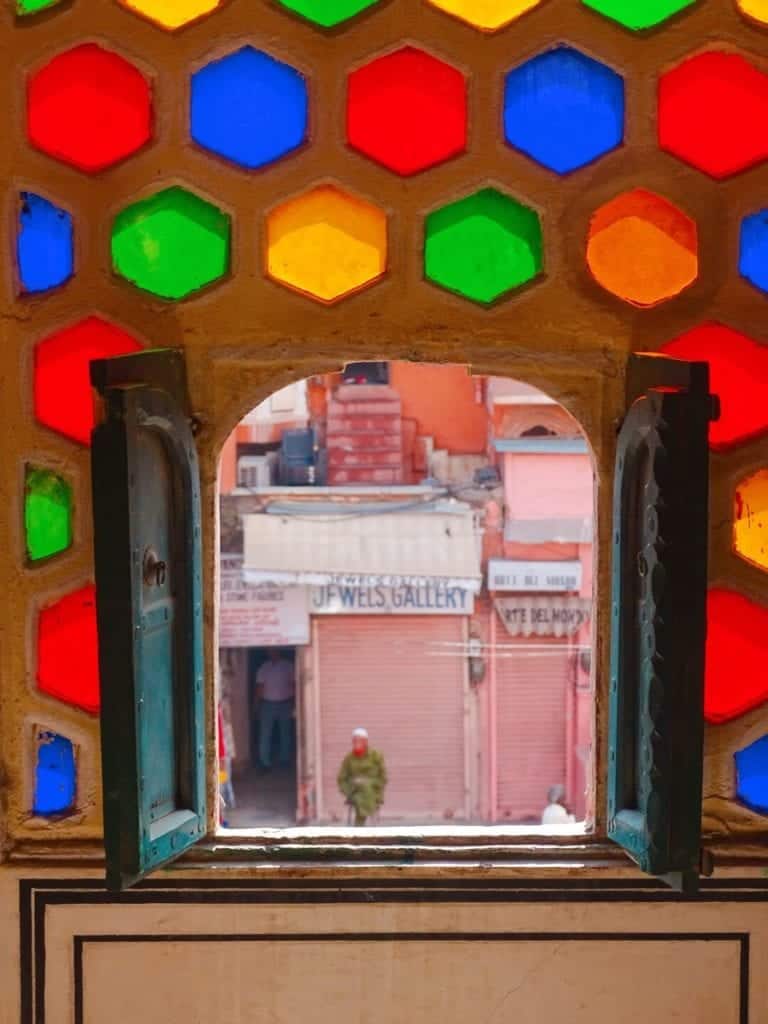 While many people just view Hawa Mahal from the outside, I loved the chance to head inside and look out from the same windows I'd been looking up at minutes before.

While this building is famous for its iconic pink facade, its history is what drew me in.

The wives of the maharajas (and in fact many women of the time) weren't allowed to be seen in public without their husbands and instead, were hidden away in elaborate buildings such as Hawa Mahal.

Here, they lived lives of luxury but weren't allowed to mix with the rest of the world. Windows were specially designed so that those inside could look out, while those outside couldn't see in.

From the windows, you can glimpse daily Jaipur life unobserved, just as you would have been able to 200 years ago.

Getting the shot: I was behind the camera rather than in front of it which made things easy at Hawa Mahal. Saying that, there's a stunning gate in the main courtyard that is great for posing against.

Tripods aren't allowed so I asked the security guard for a photo.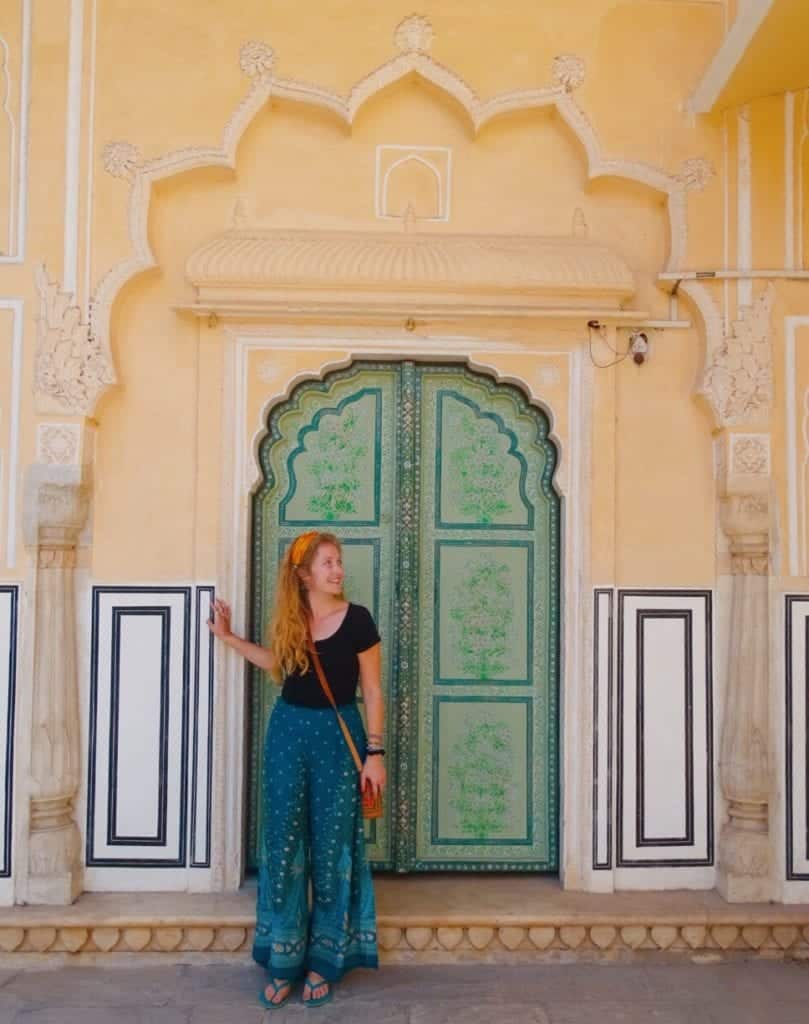 Thanks for reading my Jaipur Instagram guide!
Check out my other India blogs:
See you next time for more adventures,
Rose
For more travel content, follow me on Instagram, Facebook, Twitter and YouTube.
Ps. Liked my guide to the Instagram locations in Jaipur? Pin it for later!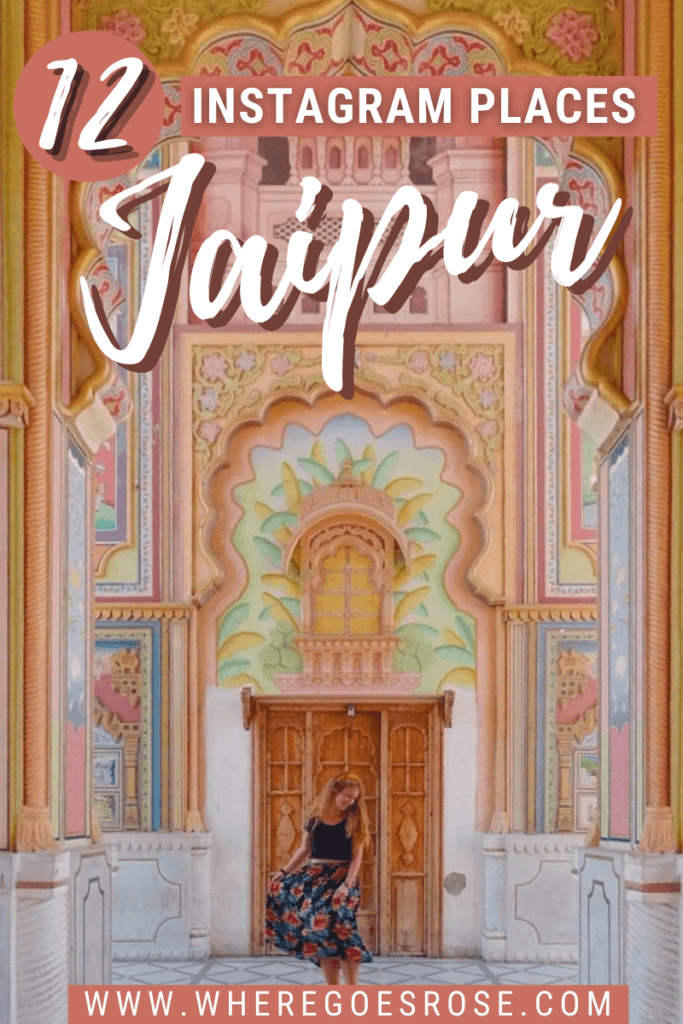 VISITING INDIA?

These are my trusted resources:

Getting around by air – it's easy to get between cities by flight. I use Skyscanner and search by whole month to find the best value dates.

Buses – buses are comfy and efficient. Use 12Go to book.

Trains – these are a good option for long journeys because you have a bed rather than a seat. Use 12Go to book.

For hotels, I use Booking.com – they also have self-catering apartments. You can filter by review score and price to find the best-rated budget places. For hostels, I use Hostelworld.

Browse tours and activities on GetYourGuide. I also check Viator and Klook in case they have a better price.

For food tours with passionate local chefs and foodies, check out EatWith.

Pack the latest copy of India Lonely Planet.

Need travel insurance? I use True Traveller (for UK & Europe residents) since it's affordable but covers everything you'd need including various activities, valuables and pre-existing conditions. Unlike some companies, they insure you if you're already travelling / don't yet have your flight home booked. Get a quote.

For travel insurance for other nationalities, I recommend Hey Mundo and for long-term digital nomad travellers, I suggest Safety Wing.

Check out my resources page for more travel discounts and tips!