This post may contain affiliate links to things like tours, hotels, Amazon associates and products. These help me earn a small commission at no additional charge to you.
Ipoh is the most gorgeous little city in the state of Perak. One of the highlights is visiting the impressive Ipoh caves dotted around the city.

These are all set inside limestone hills which you'll see if you manage to get a panoramic view of Ipoh and its surrounds. If you've travelled extensively in Asia, you'll know that cave temples are a big deal. In central Malaysia these are abundant with over 30 Ipoh cave temples to visit. While these caves have a religious significance, they partly date back to Ipoh's history of tin-mining.
IPOH ESSENTIALS

E-sim data plan

Copy of Lonely Planet Malaysia

Getting there: flight, bus, train (12GoAsia)

Accommodation: Hotels on Booking.com // hostels on Hostelworld

Tours: GetYourGuide / Viator
Looking for things to do in Ipoh? Read my other blogs:
Things to do in Ipoh
Finding street art in Ipoh.
Of the 30 or so Ipoh cave temples, there are three that are particularly popular. You might think visiting them all is excessive but I'd recommend it – each set is different from the last.
The best Ipoh caves
Before running through the full details, I'll introduce the three best caves in Ipoh:
Sam Poh Tong – this colourful temple complex features bright, cartoon-like statues and characters from mythology.
Kek Si Tong Temple – the most beautiful surroundings of all three Ipoh caves can be found here. It's so green you'll forget you're anywhere near a city.
Perak Cave Temple – this one is different again and features some interesting cave paintings inside. There's also gorgeous panoramic view from the top.
Based on this, you might have decided which cave(s) near Ipoh to visit. Here's a bit more info and my photos from all three…
Sam Poh Tong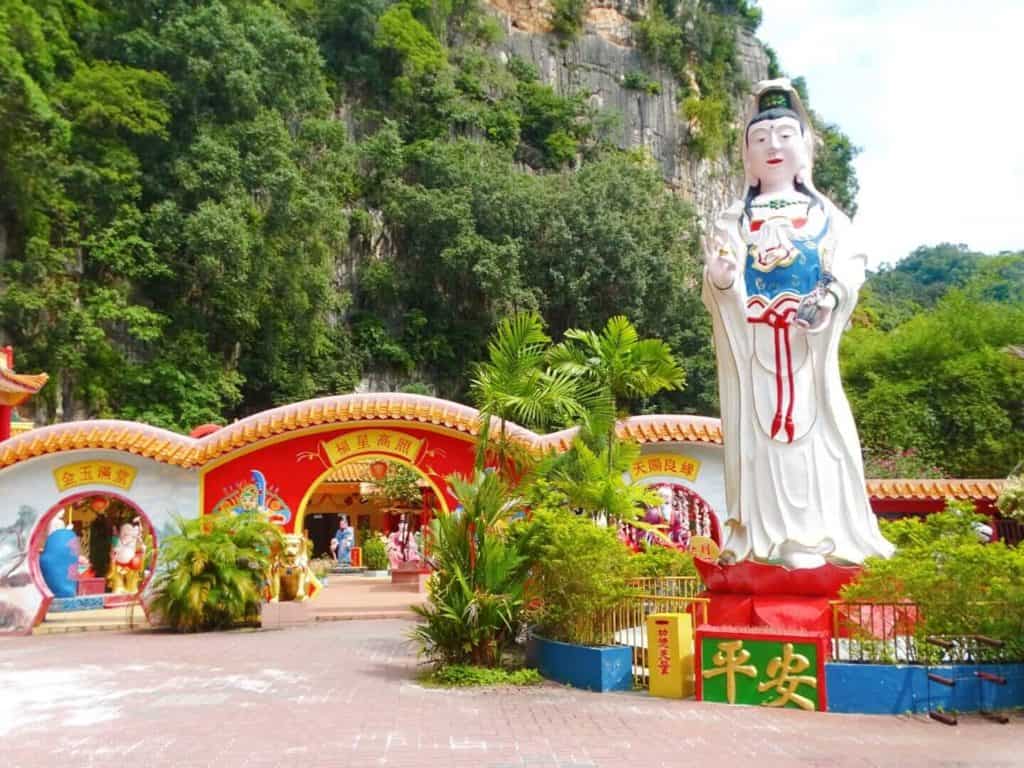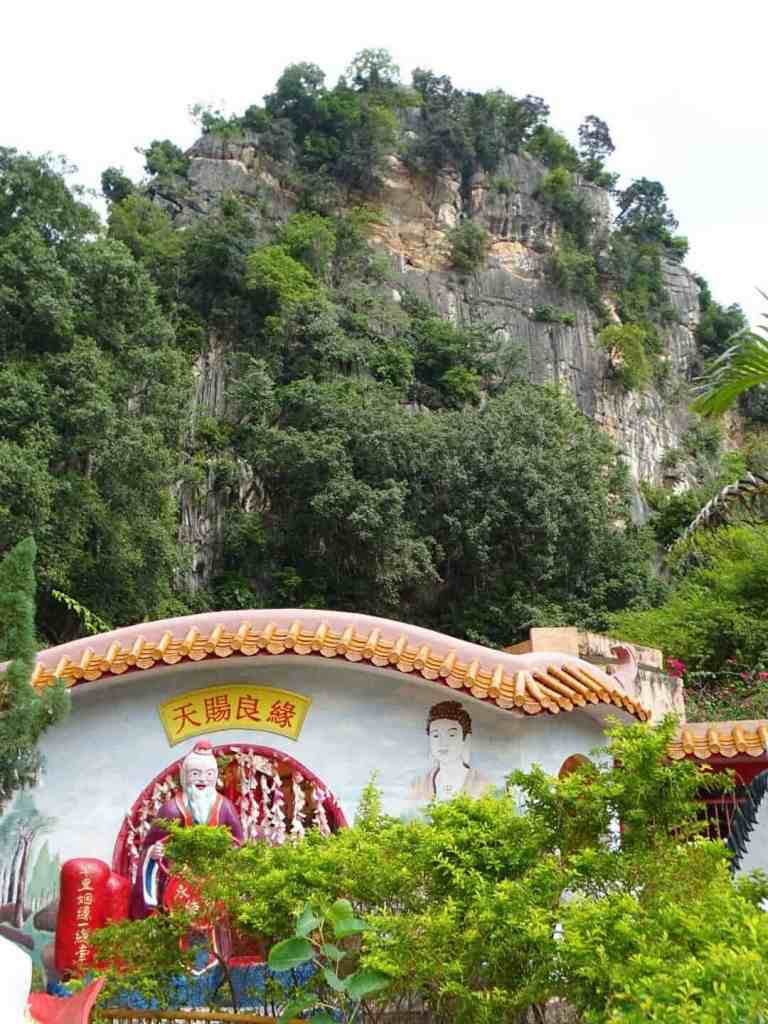 Let's start with the biggest and most popular cave temple in Ipoh, and in fact all of Malaysia. If you have limited time, this is probably the best cave in Ipoh to visit.

Sam Poh Tong is a 50-year-old Chinese Buddhist temple about 5km from Ipoh. There are three temples side by side, as well as a reclining lady Buddha statue.

The imagery here is fun and cartoon-like – a contrast to many temples around Southeast Asia.

Weirdly, you'll find some statues at Sam Poh Tong from Greek Mythology including Pegasus. I didn't get to the bottom of what he has to do with Buddhism… If anyone knows, please enlighten me in the comments!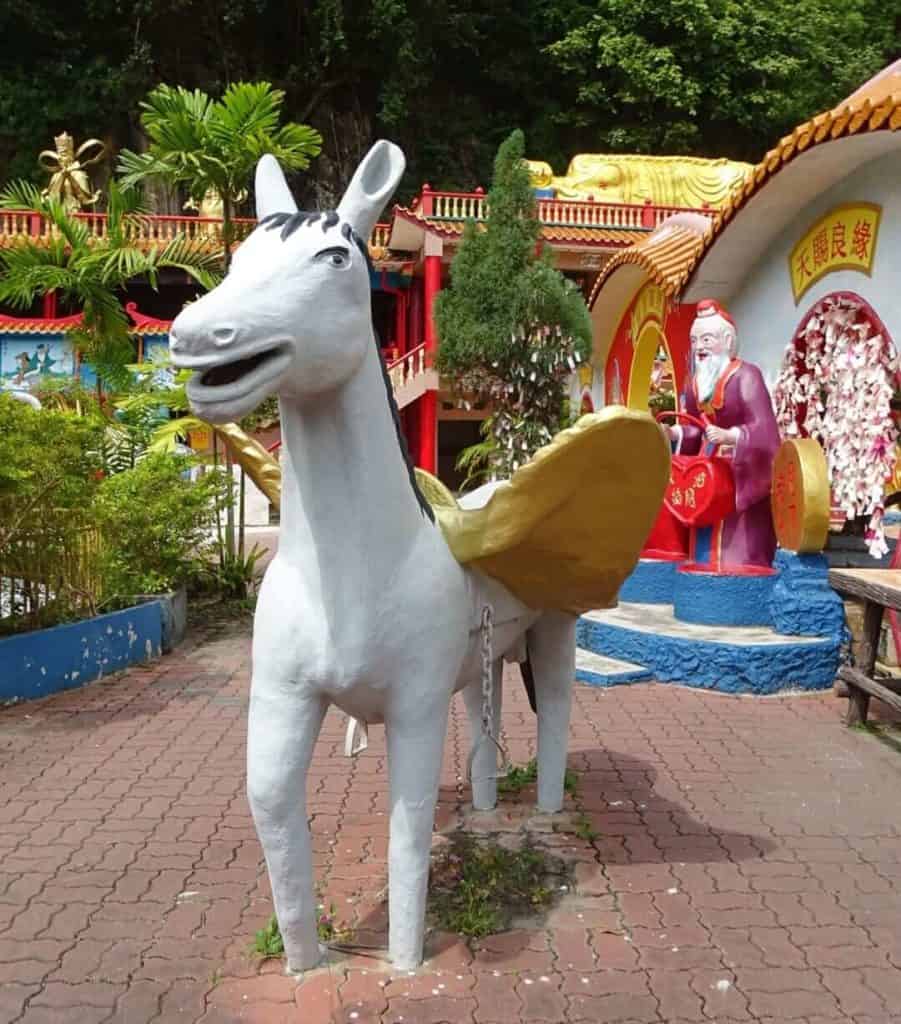 Don't miss the red pagoda at the back!

While there's plenty to explore at the site, this red pagoda (below right) is hidden away near the back. If you hadn't Googled photos beforehand, you might not know to look for it.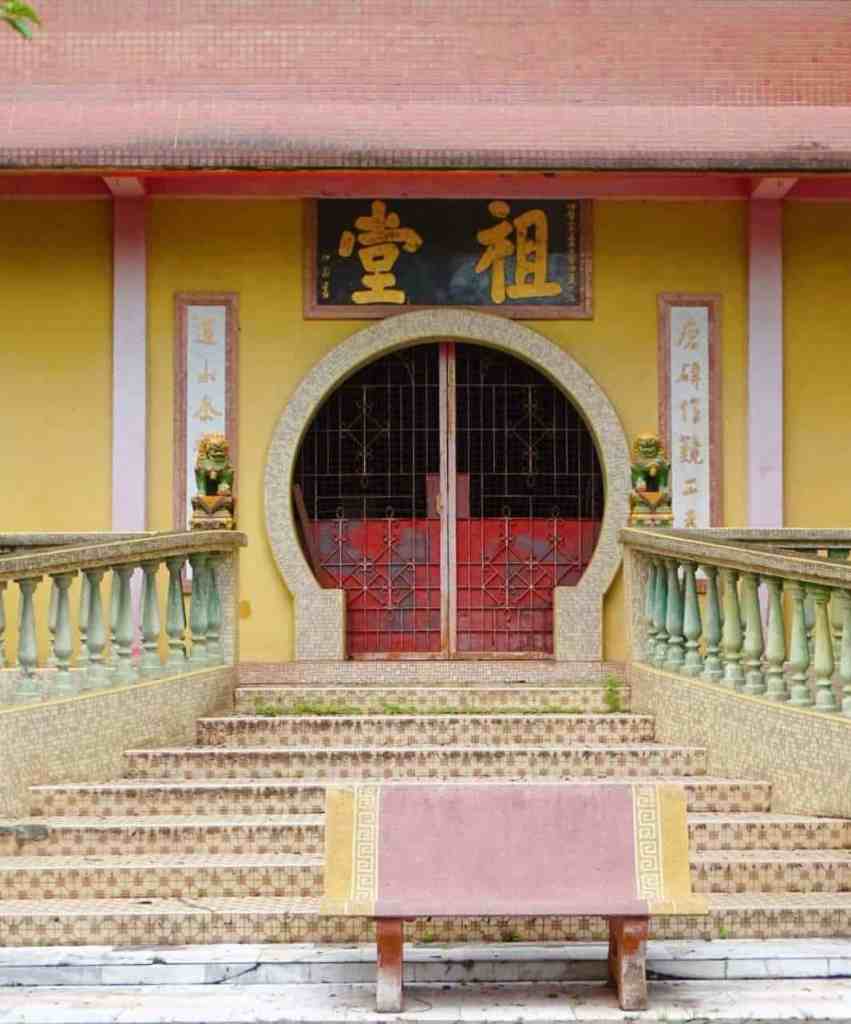 To get to the red pagoda, begin at the furthest away section from the main road. When you see the yellow building pictured (above left), enter and go all the way to the back. Follow the cave tunnel and directions to the turtle pond where you'll find the temple alongside it.

Releasing a turtle into water is said to balance one's karma, a tradition that many Buddhists honour when they visit Sam Poh Tong.

Getting to Sam Poh Tong: While you can board a local bus from town, I'd recommend taking a Grab taxi for convenience. My hostel owner explained there was a local bus but I forgot her instructions, and Google says it takes 2 hours by public transport.

A Grab taxi takes just 17 minutes and costs 8 MYR ($2).

Opening hours: The internet suggests 9am to 6pm but I see lots of comments on TripAdvisor saying it's now closing at 2pm. Check this out or go before to be safe.
Kek Lok Tong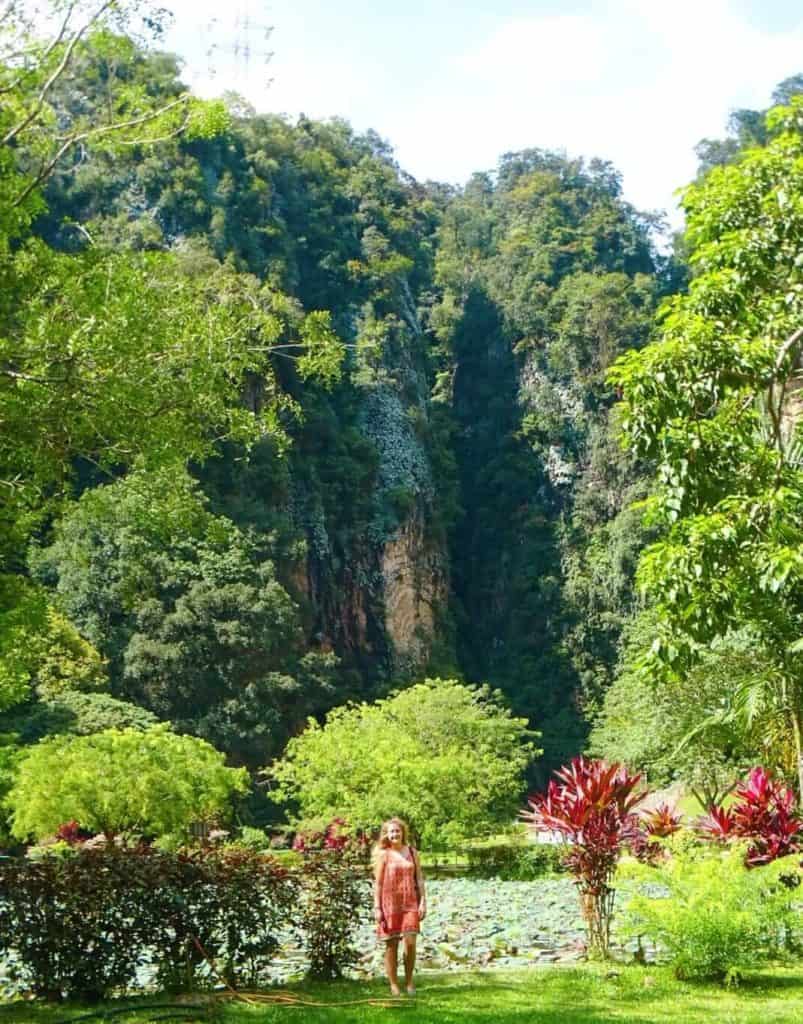 Not to be confused with Kek Lok Si Temple in George Town, this is the most beautiful cave near Ipoh in terms of its natural surroundings. You might think once you've seen one cave temple you've seen them all but that's not the case with the Ipoh caves – this one is totally different to Sam Poh Tong. I have to admit I neglected the cave temple in order to wander the gorgeous grounds.

Kek Lok Tong is set in 14 acres of greenery and surrounded by enormous limestone peaks. If you prefer nature to architecture, this is the best cave to visit near Ipoh. It's one of the oldest caves in the region having been built in 1920. In the sixties, it was used for tin mining (which is how Ipoh gained its wealth) but nowadays it's back to being a temple, as well as a tourist attraction.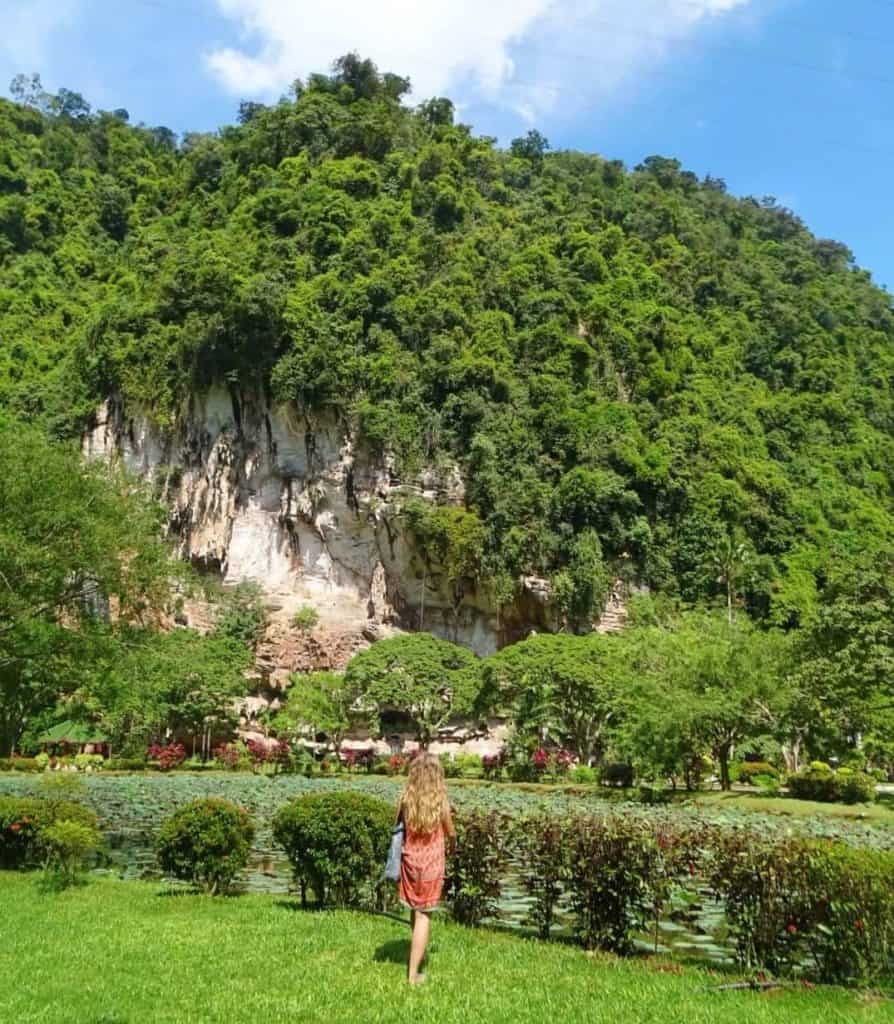 Getting to Kek Lok Tong: A Grab from Ipoh costs 12 MYR ($3). My driver warned me it's difficult to get picked up from Kek Lok Tong as few drivers wait nearby. For that reason, I asked him to wait and take me to my next stop afterwards.

I'd advise doing the same, though you might have luck calling a Grab while there – I didn't actually try.

Opening hours: 7am-5.30pm.
Perak Cave Temple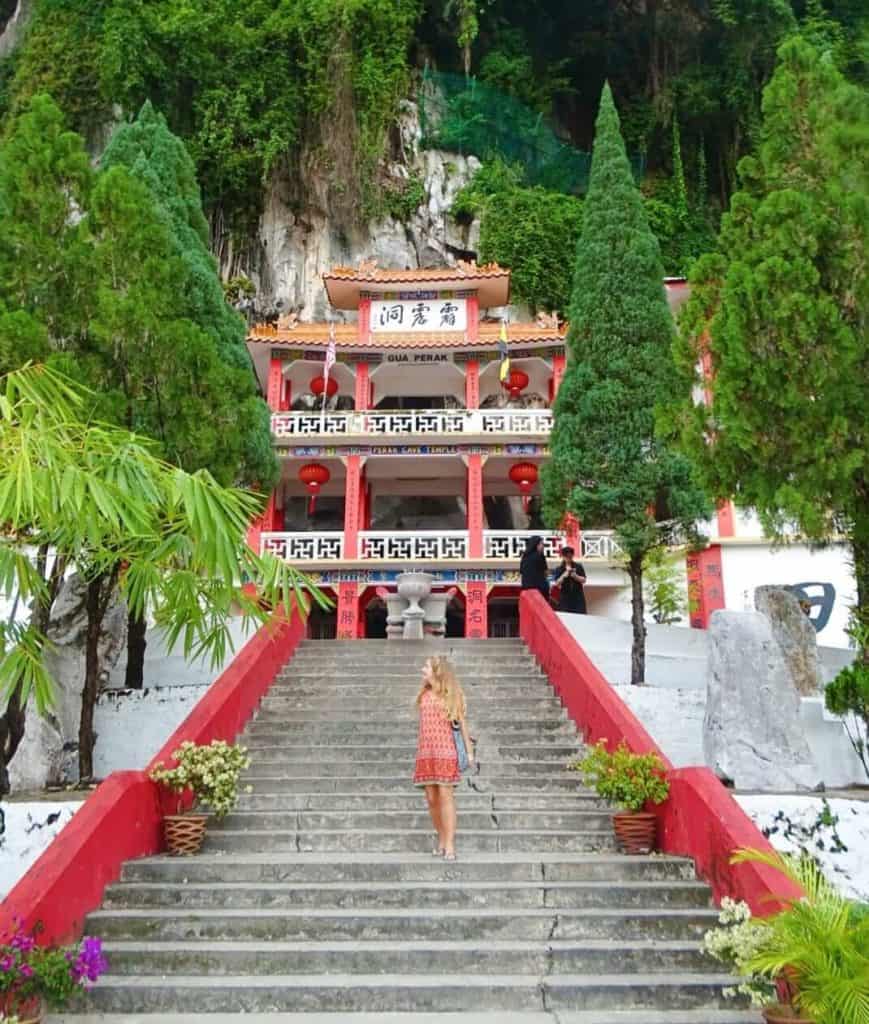 I planned to skip Perak Cave Temple having already been to two cave temples near Ipoh. In the end, I was glad I didn't because it was different to both Sam Poh Tong and Kek Lok Tong.

Perak Cave Temple is full of rare, religious cave art. I'd never seen anything like this before so I'm glad I stopped by.

Apparently, Perak Cave was discovered by a Chinese couple in the 1920s who set about building a temple there. Sadly they've both passed away but their legacy lives on here.

You can also climb 500 stairs for a panoramic view from the top of Perak Cave.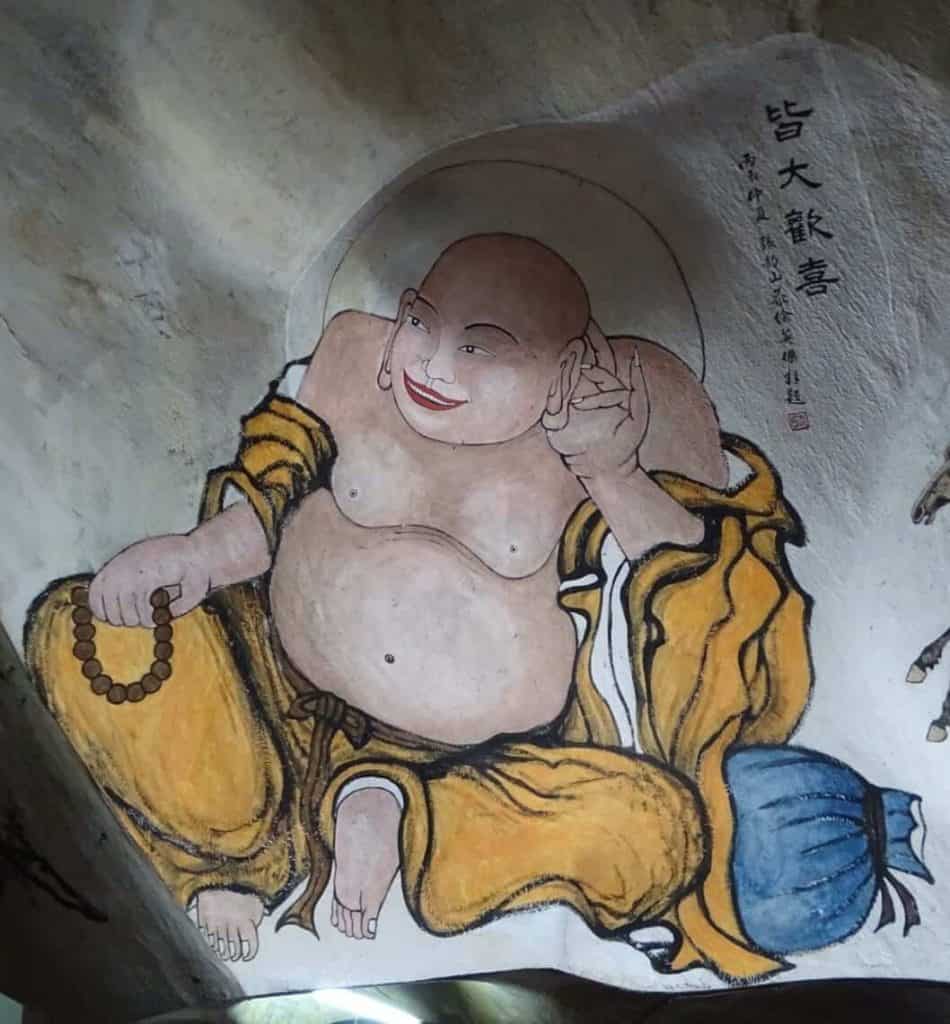 Getting to Perak Cave Temple: I'd asked my driver to wait at Kek Lok Tong but as with the other caves near Ipoh, I'd recommend calling a Grab from town – it shouldn't cost more than 10 MYR or so.

Opening hours: 9am-6pm.
Thanks for reading my Ipoh cave guide!
Check out my other Ipoh/Malaysia posts:
See you next time for more adventures,
Rose
Follow for more Malaysia content on Instagram, Facebook, Twitter and YouTube.
Ps. Liked my guide to the best caves around Ipoh? Pin it for later!