This post may contain affiliate links to things like tours, hotels, Amazon associates and products. These help me earn a small commission at no additional charge to you.
Jeju Island is a must when visiting South Korea! I had the best time on this green and glorious island, even if visiting Jeju without a car was a little changing.

South Korea is full of fun destinations to visit and Jeju is one of the most popular places include in a South Korea itinerary. Lots of travellers with limited time fly from Seoul to Jeju then on to Busan which is a good way to see Korea's 3 most visited destinations in a week.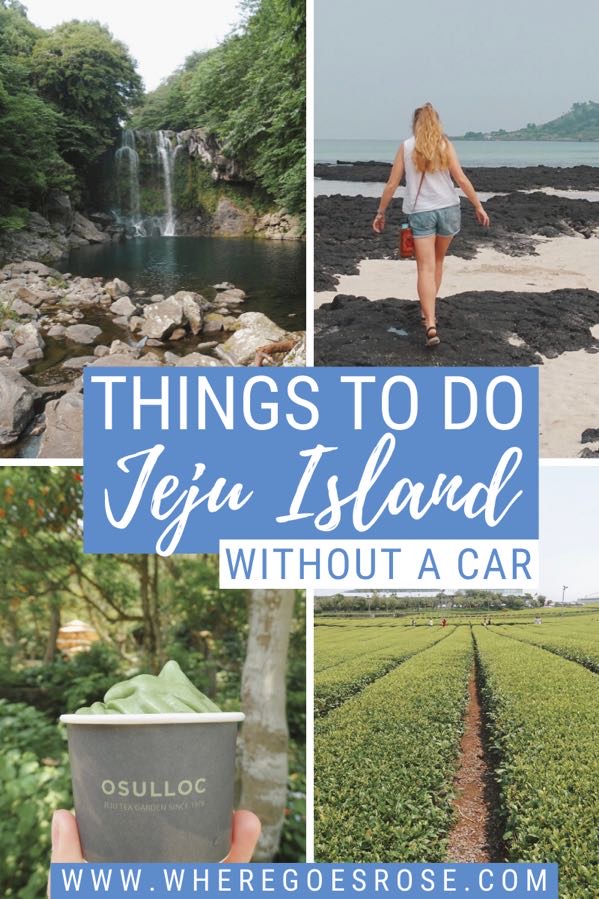 Fun facts about Jeju Island
Jeju is often described as the Hawaii of Korea!
The island receives 15 million visitors a year despite only having 600,000 permanent residents.
During the Korean War, 70% of villages were burned and destroyed. Thankfully, it's fully restored today.
The Seoul to Jeju flight route is the most popular in the world with flights taking off every 15 minutes!
The dialect of Korean on Jeju is almost like a different language. People from the mainland say they can barely understand the locals.
Next up, in my Jeju guide, I'll share practical Korea travel tips for a Jeju trip before running through the best things to do on Jeju Island. First of all…
Getting to Jeju Island
While a lengthy ferry does run from Busan, the cheapest and quickest way to get to Jeju is by air. You can fly internally from various cities in South Korea and you can also fly direct from other countries in Asia.

After an action-packed 5 days in Seoul, I flew into Jeju with Value Alliance or more specifically Jeju Air, their partner. This flight website partners with all the affordable carriers in Southeast Asia to bring you the best value flights. They also fly to Thailand, Laos, Cambodia, Vietnam, Taiwan, Singapore and even over to Berlin.

You can simply use the search tool like any other website but it will only bring up Asia's low-cost carriers – really useful if you're travelling Korea on a budget! You're able to select your seats, add-ons and meals without having to go over to any third-party websites which is super handy
Note – through July and August, flights get booked up in advance so book ahead of time if possible.

Flights from Seoul to depart from Gimpo International Airport and take just over 1 hour to reach Jeju. As I was flying internally, there were no customs and everything was so quick and efficient. I guess it has to be when flights leave 100 times a day: this route is a well-oiled machine!
Getting around Jeju Island without a car
Now for the tricky bit: Jeju is a place that's difficult to get around without a car. Many visitors hire one for the duration of their time on the island, however you'll need an international driving license.

Since it was off the cards for me, I looked into getting around Jeju by public transport and found out it's possible. A bus service runs around Jeju but it isn't the most frequent or convenient so it really depends how much you want to see and do on Jeju. If you're happy with seeing a few select sights, the bus is definitely the most cost-effective option.

Get the Jeju bus schedule here.
Jeju tours
However, if you want to pack a lot into your Jeju Island adventure, I would suggest taking a day tour. I travelled around Jeju on two consecutive days, one on an East Coast tour and the other on a West Coast tour.

As a full-time solo traveller, I often get exhausted doing all the planning and navigating myself. Jeju was a holiday for me thanks to these tours, plus I learnt a lot of valuable info from our guide.

There are three popular tours:
West Coast tour which runs on Mon, Weds and Fri (Cheonjeyeon waterfalls, Hyupjae beach and tea plantations)
East Coast tour which runs Tues, Thurs and Sat (Manjang Cave and haenyeo female divers)
South Coast tour which runs on Sundays (the Mysterious Road, Jusangjeolli Hexagon Lava Cliff and Mt Halla hiking).
My visit sadly didn't coincide with a Sunday but I loved the West & East Coast tours. Jeju is way too big to see in one day so I liked the approach of breaking up the attractions by area.
Where to stay on Jeju Island
There are lots of places to stay on Jeju Island. It really depends whether you want be around restaurants and other amenities or if you want to break away from city life and stay somewhere more peaceful.

If you're visiting Jeju Island without a car, I would suggest staying in Jeju City which is 10 minutes from the airport. Here you can access bus connections and be within the pick-up area for day tours. Klook offer airport to hotel transfers.

Hostel: A stay at Greenday Guesthouse offers free daily breakfast and close proximity to restaurants and supermarkets. Without a car, this will make life much easier in Jeju. Check availability from 16,000 won ($13).

Budget hotel – stay at Guest House Brick air-conditioned rooms, free WiFi, a terrace, shared kitchen and lounge. Check availability from 47,000 won ($39).

Mid-range hotel – for a hotel that's also a gallery with 220 stylish art pieces, Hotel Leo is stylish and elegant with sweeping views of Jeju City. Check availability from 77,000 won ($64).
Browse all hotels on Booking.com and hostels on Hostelworld.
Things to do on Jeju Island
Now for the fun bit! There are so many amazing things to do on Jeju Island as well as a lot of beautiful landscapes to drink in. As a volcanic island, the scenery is very striking with plenty of black sand beaches and bizarre rock formations.

Mount Hallasan sits in the middle of the island and is surrounded by Mount Hallasan National Park which is a popular place for hiking. Basically, nature lovers and outdoor types will be in their element!
Relax on a white sandy beach (included on West Coast tour)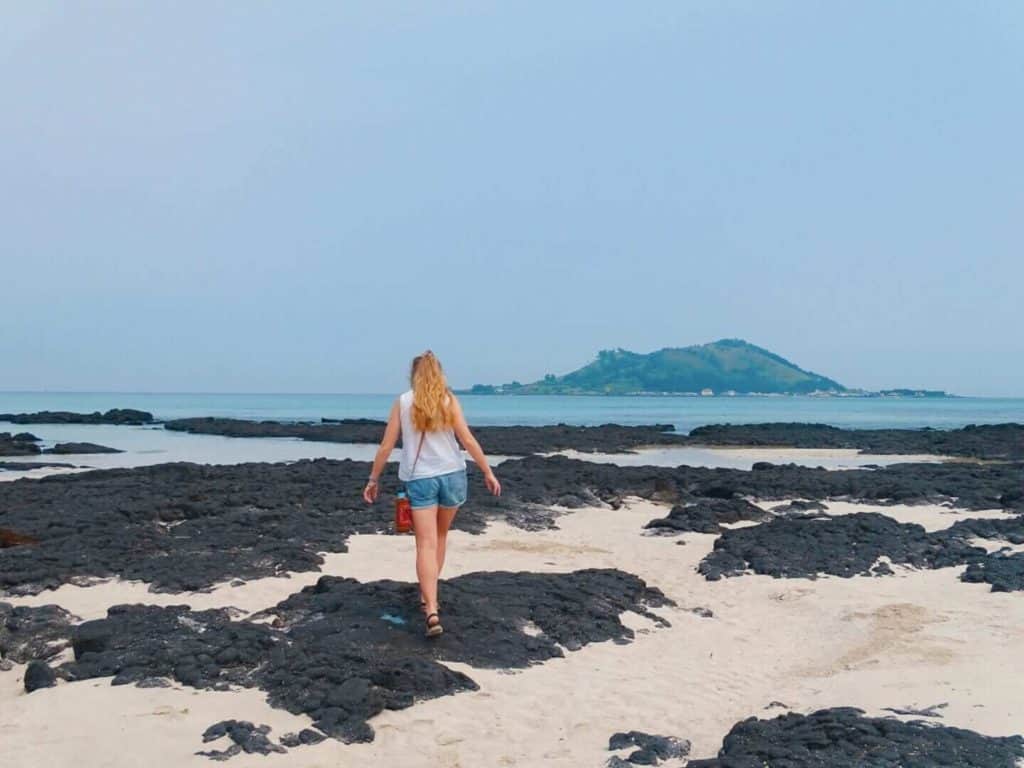 Jeju Island is the perfect place for a beach day. If you're visiting from Seoul, you'll definitely enjoy the escape from the urban jungle. Even if you're visiting Busan, you'll find the beaches on Jeju much better for relaxing with not a skyscraper in sight.
While there are plenty to choose from, I enjoyed my trip to Hyupjae Beach on the west coast of Jeju. The white sand is a total contrast to the black volcanic rocks, making it visually unlike any beach I've been to before.

Even though I only visited briefly with a tour, I think it would be a good place to spread out with a book and beach towel.
Compare it to a black sand beach (East Coast bus tour)
One of the coolest spots I visited on Jeju Island was Gwangchigi black sand beach on the east coast. The black sand is made from ground-down volcanic rocks which you'll also see in abundance on the beach, their porous bubble-like texture telling tales of ancient eruptions.

Gwangchigi can be found on the peninsula that juts off Jeju's east coast as you head over towards Seongsan Park. If you're journeying to the Haenyeo Woman Diver's Show (spoiler, you should) you can check out Gwangchigi en route.
Hallim Park (West Coast tour)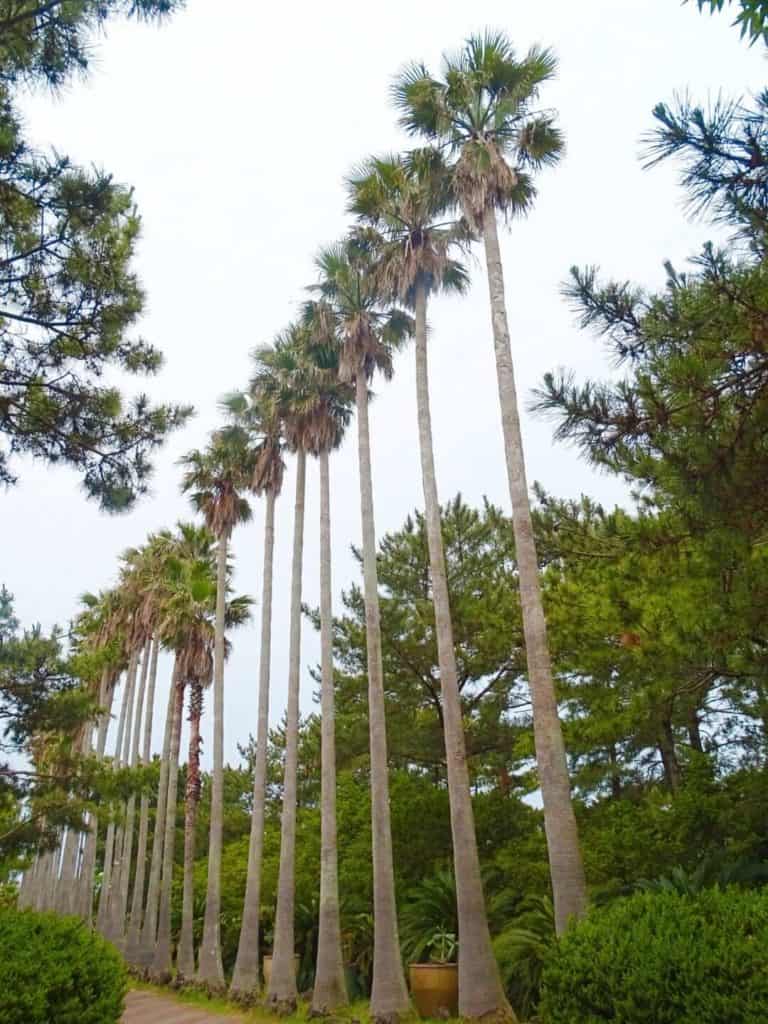 Hallim Park is a sweet spot to check out if you're cruising the west coast (it's just a minute's drive from Hyupjae Beach). However it wasn't my overall favourite place on Jeju Island. Maybe I've just seen a lot of botanical gardens before and the 10,000 won (£6/$8) entrance fee seemed excessive.

Still, it's a pretty and peaceful place with caves, a bonsai garden, folk village and live peacocks strutting around, so it might be worth it for you.
Meet the Haeyeo women divers (East Coast tour)
For me, this is hands down the best thing to do on Jeju Island!

To set some background, the Haenyeo are a group of elderly women whose profession is now protected by UNESCO. When they were young, there were few opportunities to work in tourism and instead, they began fishing for clams and other sea life, selling to local markets to earn a living.

They began free diving down to depths of 20 metres without any diving equipment, something I can't imagine doing at any age, let alone in my 60s or 70s!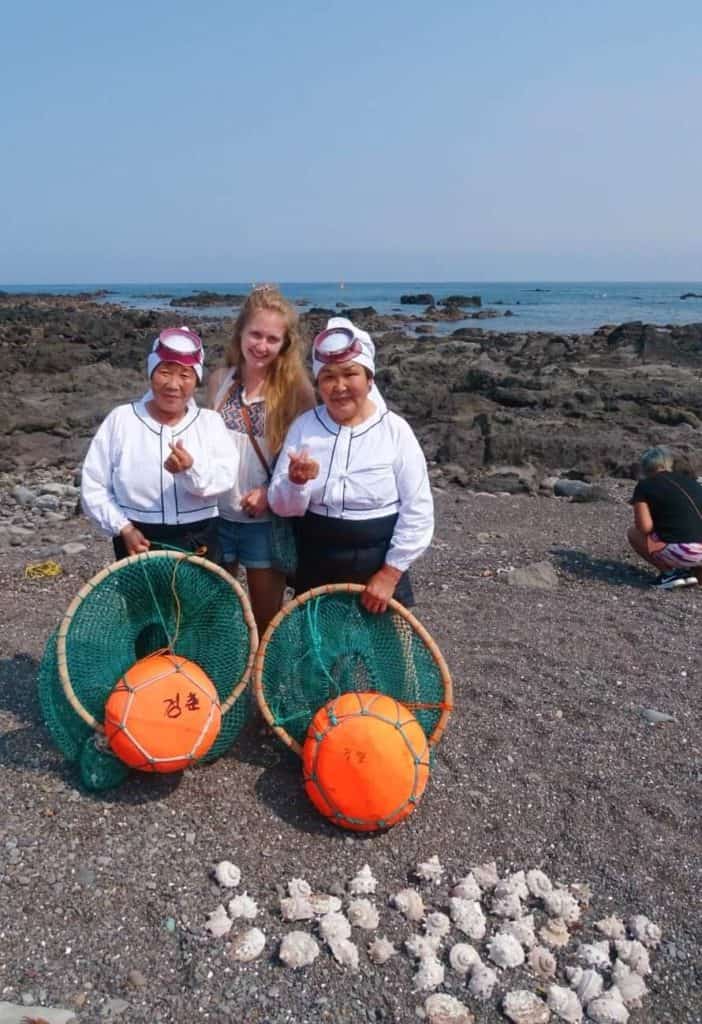 Since Jeju has boomed in terms of tourism, young people aren't interested in taking on the profession of the Haenyeo. The work is hard and often badly paid; I can't say I blame them. The future exists without the Haenyeo but, for now, the original women continue their trade. The youngest is in her 50s and the eldest is 91!

I couldn't be in greater admiration of these women although I do wonder if it's safe or healthy for them. Does associating their trade with UNESCO deter them from retiring? They must be working themselves to death rather than letting their profession die.

Ethical debates abide, the Haenyeo are certainly an inspiring group of women. In the future, it won't be possible to see them in action when visiting Jeju Island. Now's the time.

The Haenyeo Women Diver Show in Seongsan-ri Park takes place at 1.30pm every day. Visit to watch the women diving for sea life, then bringing in and sorting through their catch. Truly an amazing experience!
Try matcha at O'sulloc Tea Plantation (West Coast tour)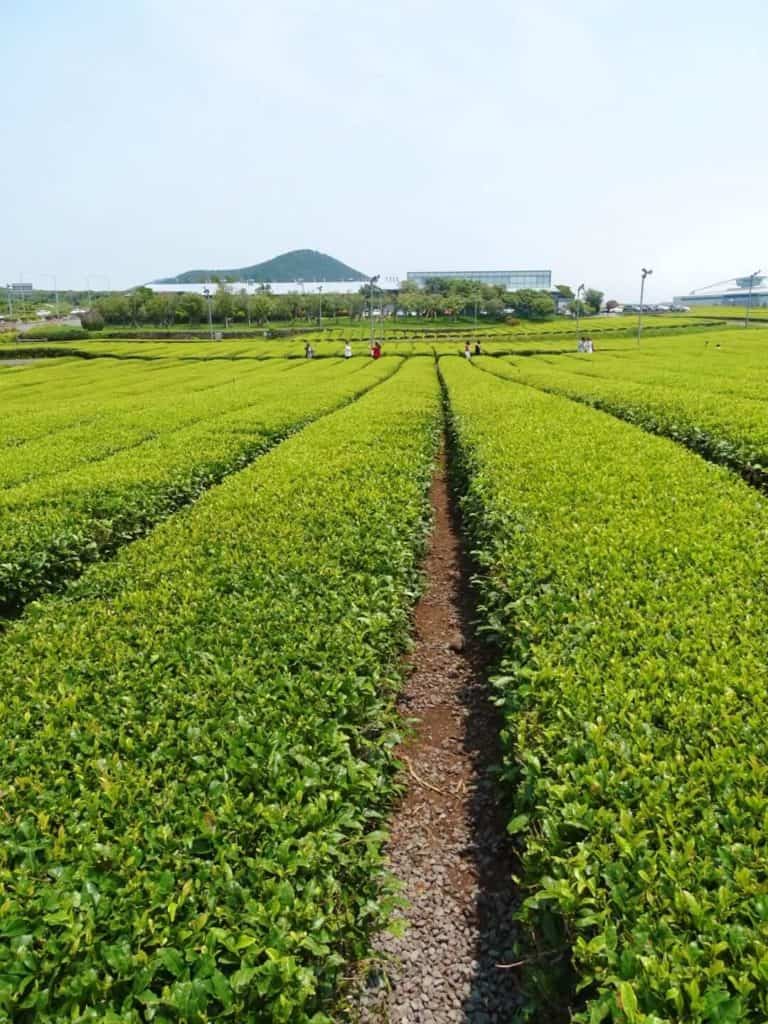 If there's matcha, I will seek it out. O'Sulloc Tea Museum is a green tea plantation on the west coast of Jeju Island. Cafes all over Jeju (including Starbucks) serve Jeju green tea beverages but there's no better place to try it than at O'Sulloc.

There are matcha lattes, ice creams, cakes and loads of other desserts to tuck into, as well as a wide range of green tea beauty products to purchase. Well, what else would you expect from Korea, the beauty capital of the world?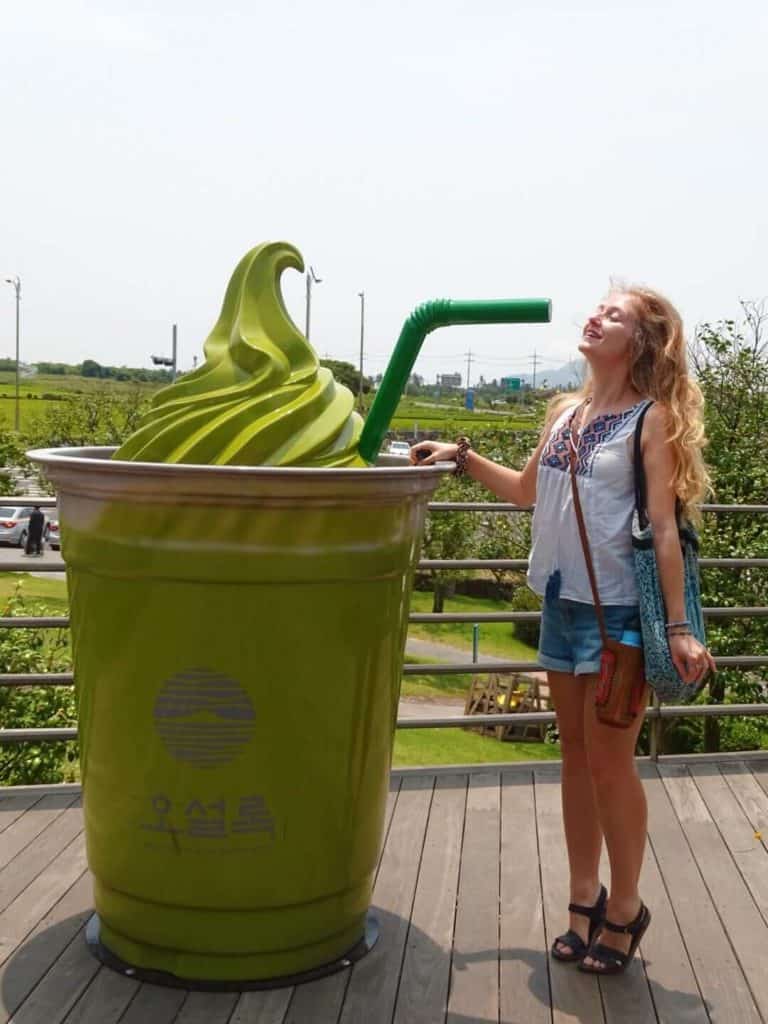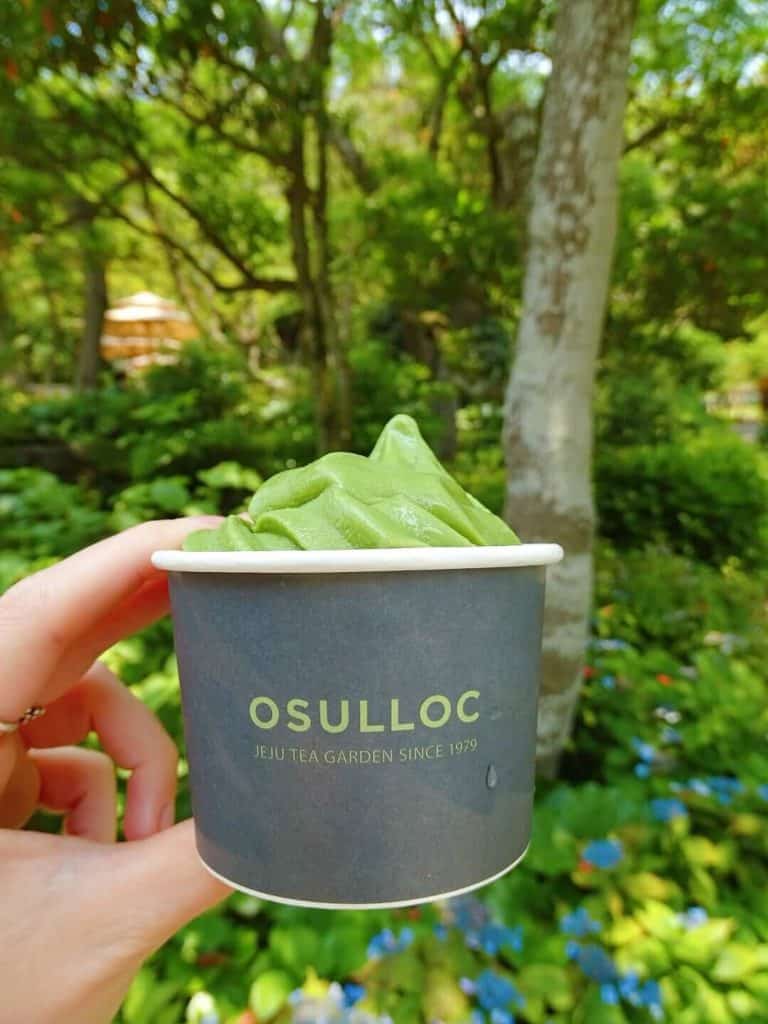 The stretching green tea fields are also a gorgeous place to wander and snap photos. Schedule an hour or so here, especially if you want to do some shopping or pop in and learn about the history of green tea at the museum.
Try Jeju black pork (East Coast Tour)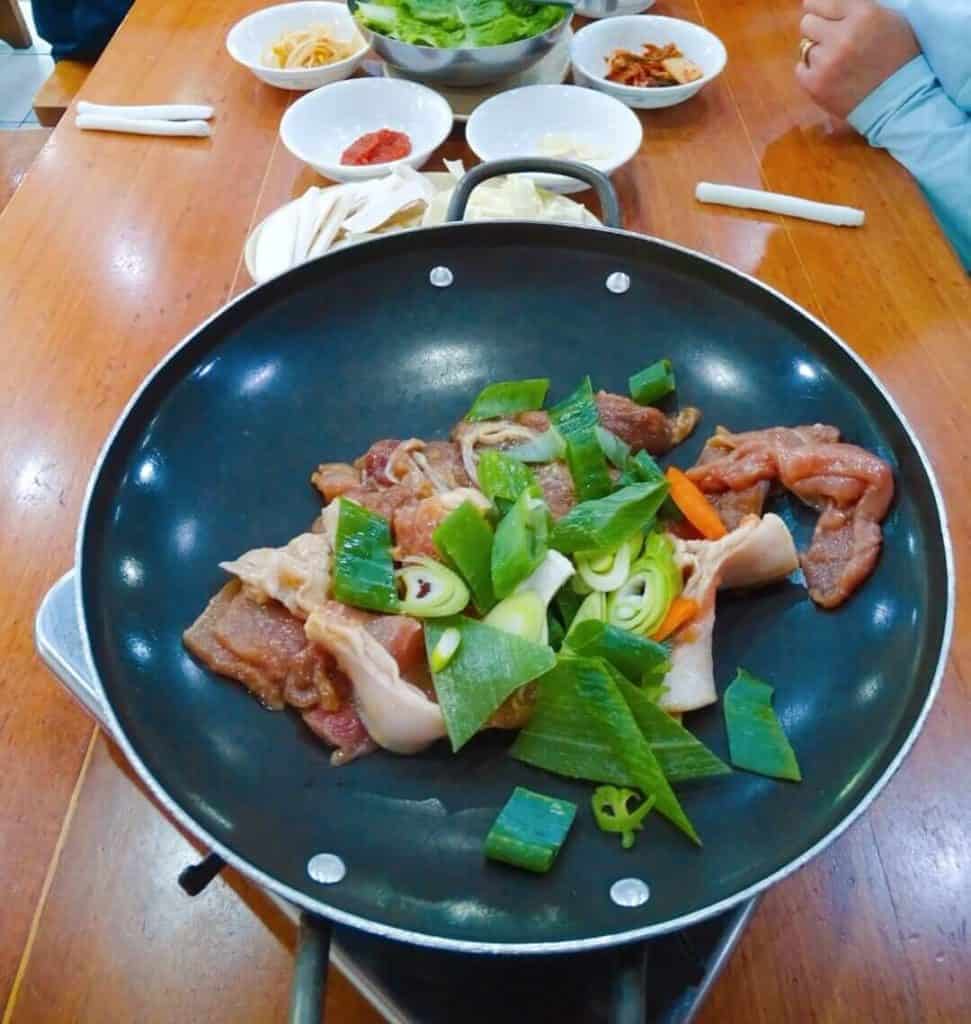 On Jeju Island, you'll find all the usual Korean foods from the mainland like bibimbap and Korean barbecue but you'll also find a few Jeju-specific dishes.

The most famous food from Jeju is black pork, made from a particular bread of pig found on the island. I can't say it tasted that different to regular pork but it was certainly very tasty. Eat it with traditional Korean sides like kimchi, bean sprouts and gochujang (hot pepper paste).

Tip – if you take the East Coast Tour with Yeha Tour, a delicious Jeju black pork meal is included for lunch.
Take a cruise around Mt Sanbang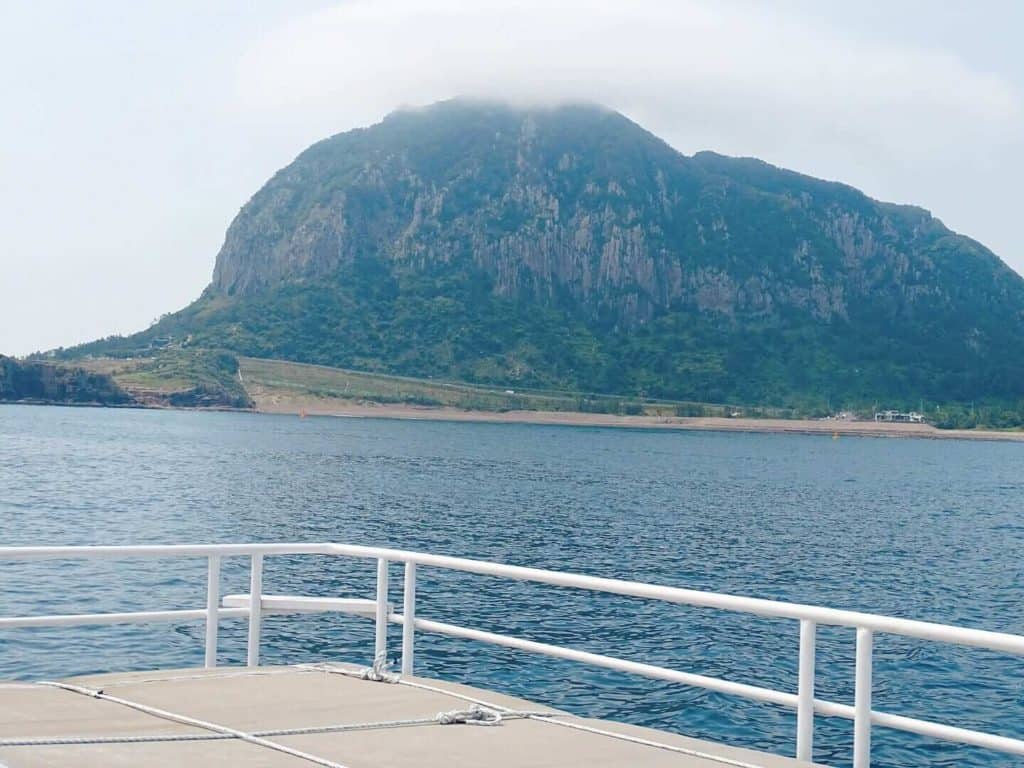 Check out these gorgeous views! If you have a clear day, one of the best things to do on Jeju Island is take a cruise.

The Sanbang Mountain Cruise departs daily at 11am, 2.10pm and 3.20pm from Hwasun Port. You'll spend an hour cruising the beautiful waters around Jeju, admiring volcanic Sanbang Mountain in the background.

The Sanbang Mountain Cruise costs 17,500 won per person; kind of expensive but worth it if you have great weather!
Cheonjiyeon Waterfall (West Coat tour)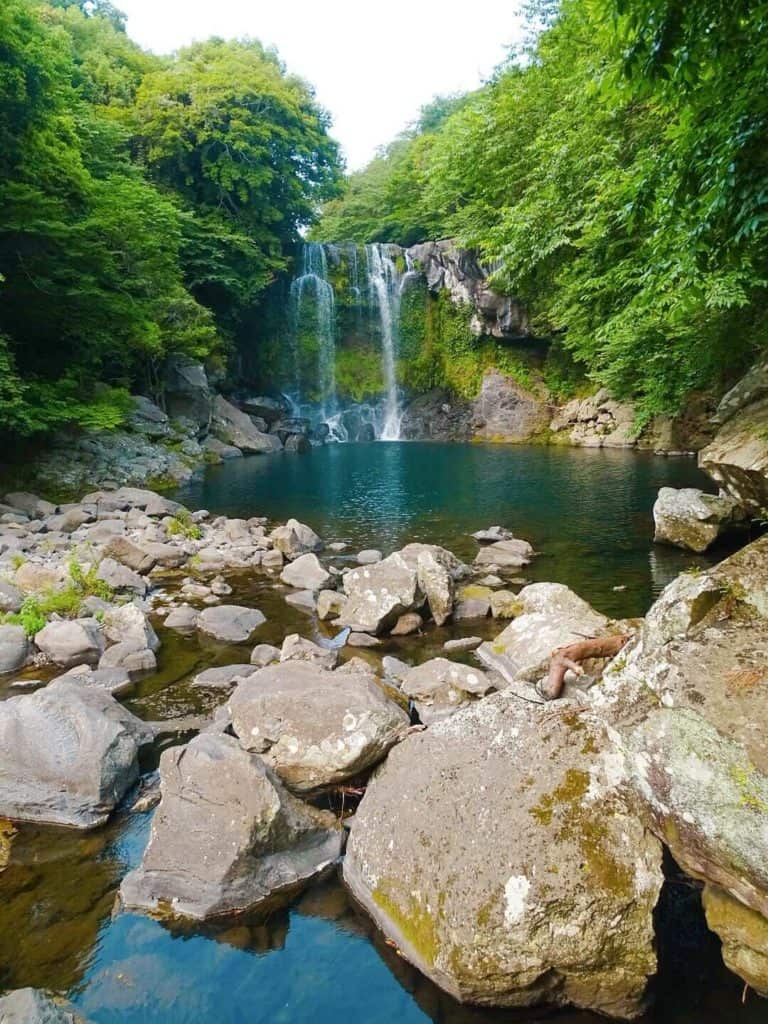 Cheonjiyeon Waterfall is nestled in the middle of the forest, the clear blue and green waters carving out a pool in the rocky basin. It's a gorgeous spot at the southern base of Jeju Island, perfect for a little peace and quiet. Entrance is free.
Manjanggul Lava Tubes (East Coast tour)
Visiting these weird and wonderful lava tubes is one of the best things to do on Jeju Island. They're part of the reason Jeju was voted a New 7 Wonder of Nature and they're widely considered the best of their kind in the world. Stretching 7.4 kilometres underground, they're a map of where boiling lava travelled several thousand years ago. You can still see its marks etched into the rock.

The Manjanggul tunnel is 23 metres tall so you don't need to worry about feeling claustrophobic. But do bring an extra layer as it's pretty cold, dark and eerie underground…
Hiking Mt Hallasan
This is the only entry in this blog I didn't do myself. I hear hiking Mt Hallasan is a tough full-day job and honestly, I was feeling pretty lazy after two 8-hour days touring Jeju.

If you're not driving, you can catch a taxi (approx 12,000 won) or two buses to the start of the hking area. If that sounds confusing and you'd prefer to hike with a guide, take this small group Mt Hallasen hiking tour.
Thanks for reading my Jeju guide!
Check out my other South Korea blogs:
See you next time for more adventures,
Rose
For more travel content, follow me on Instagram, Facebook, Twitter and YouTube.
Ps. Liked my Jeju Island guide? Pin it for later!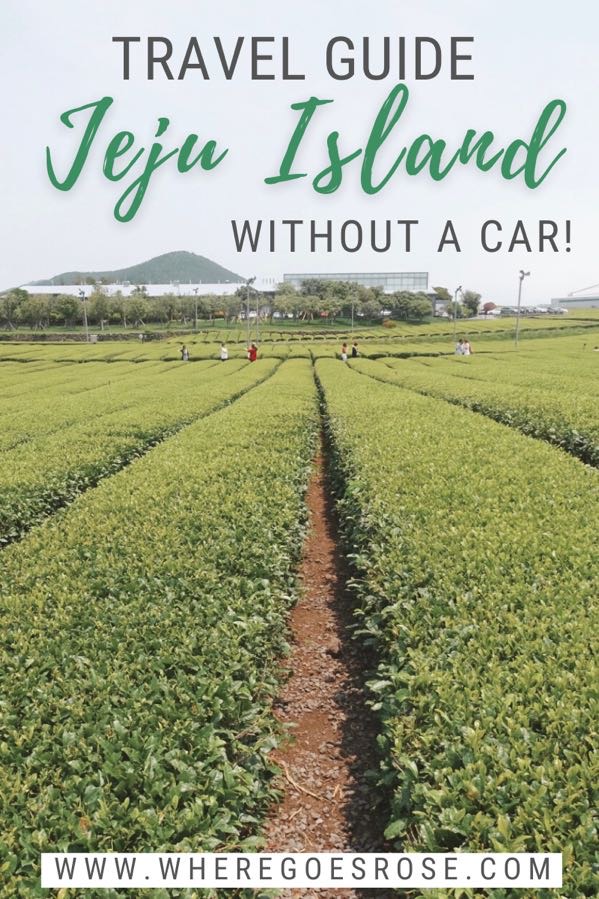 VISITING SOUTH KOREA?
These are my trusted resources:

Getting around by air – I use Skyscanner to find the best-value flights, using the 'search by month' tool to find the cheapest dates. You can also use the 'to anywhere' feature if you're flexible on where you're going.

Buses – buses are comfy and efficient. It's tricky for foreigners to book online so it's best to turn up on the day.

Trains – use Trip.com, partner of Korail (the official railway network of Korea) to book your tickets in advance. The website accepts international payment options, unlike Korean rail websites. Click the three stripes in the top right corner then the flag to change it to English.

Driving in Korea – use Rentalcars.com to compare car rentals. Hiring a car will be especially useful on Jeju Island.

For hotels in Korea, I use Booking.com – they also have self-catering apartments. You can filter by review score and price to find the best-rated budget places. For hostels, I use Hostelworld.

To save money on accommodation, I use Trusted Housesitters, a website that connects homeowners going away and travellers who can sit their homes & pets.

Browse South Korea tours and activities on GetYourGuide. I also check Viator and Klook in case they have a better price.

For food tours with passionate local chefs and foodies, check out EatWith.

Need travel insurance? I use True Traveller (for UK & Europe residents) since it's affordable but covers everything you'd need including various activities, valuables and pre-existing conditions. Unlike some companies, they insure you if you're already travelling / don't yet have your flight home booked. Get a quote.

For travel insurance for other nationalities, I recommend Hey Mundo and for long-term digital nomad travellers, I suggest Safety Wing.

Check out my resources page for more travel discounts and tips!