This post may contain affiliate links to things like tours, hotels, Amazon associates and products. These help me earn a small commission at no additional charge to you.
The small settlement of Jeonju in South Korea may not feel like a city but by definition it is. But instead of skyscrapers and bright lights, you can expect modest hanok houses and traditional local cuisine.

Jeonju is worth visiting during any South Korea itinerary simply because it's so different to anywhere else. If you want to experience traditional Korea, there are plenty of cultural things to do in Jeonju.

This city was voted a UNESCO city of gastronomy in 2012 which only made me more excited as I'm head-over-heels in love with Korean food!
JEONJU KOREA ESSENTIALS

Accommodation: Booking.com / Hostelworld

Jeonju activities: Viator

Getting there: flight / bus / train (Trip.com)
Where is Jeonju?
Jeonju is in West Korea, halfway between Seoul in the north and Busan in the south. If you just have a week in Korea, it would make a nice pitstop as you journey between the two megacities.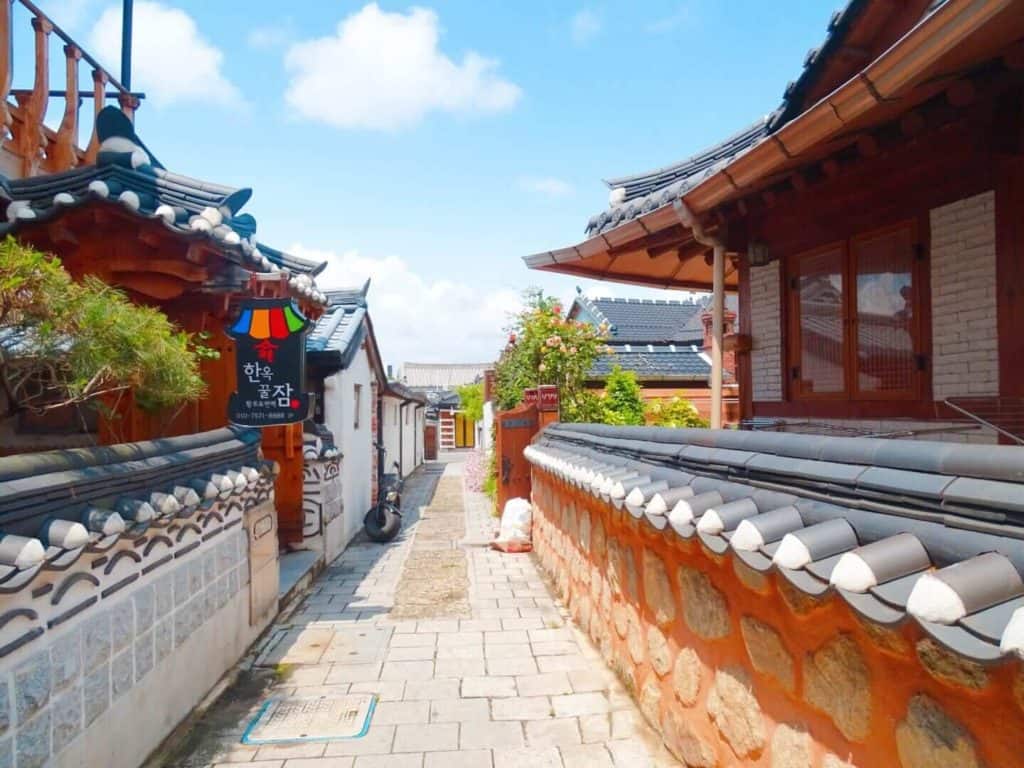 Getting to Jeonju, Korea
One thing to know about public transport in South Korea: it's seriously efficient. Unlike countries in Southeast Asia where night buses and long days in transit are a necessity, things are a breeze in South Korea. Both buses and trains are quick and comfortable.

By train: The journey takes just under 2 hours and cost 30,000 won ($25) including a free drink and cake. To book, show up at the station or use Trip.com, partner of Korail (the official railway network of Korea) to reserve your tickets. The website accepts international payment options, unlike Korean rail websites. Click the three stripes in the top right corner then the flag to change it to English.

By bus: If you're travelling on a budget, my best Korea travel tip is to take the bus. They take around 3 hours and depart from Jeonju Express Bus Terminal. Booking bus tickets online is a faff so it's best to just turn up on the day. Buses depart regularly so you shouldn't have any problems.
Can you visit Jeonju as a day trip from Seoul?
Yes! If you have limited time, you can easily see Jeonju Hanok Village during a day trip from Seoul. But I always enjoy staying in a place and having time to see it properly. There are several places to visit in Jeonju so it was nice to enjoy them at my leisure while staying overnight.
Where to stay in Jeonju
Staying in a hanok house was high on my Korea bucket list. One of the reasons I wanted to visit Jeonju was to do precisely this. Jeonju has some of the best-preserved hanok houses in the country, dating back to the 14th century.

Simply translating as 'Korean house', hanoks are modest buildings displaying traditional Korean architecture. They're typically made with dark-coloured wood and elegant, sloping ceilings, set around sleepy courtyards.
Korean architecture is deeply holistic, representing a spiritual connection between the inhabitants and their surroundings. Hanoks were traditionally built with a mountain behind and a river in front. Indeed, my hanok guesthouse had a river running not far from the entrance.

While there are plenty of hanoks, I chose to stay at Happiness Full Hanok Guesthouse. The owner of this sweet little place didn't speak English but it wasn't necessary. She smiled warmly, made me tea and handed me some maps.

My room was basic like most hanoks: a bed on the floor, minimal furniture and a TV showing Korean channels (which by the way are a treat in themselves. There are 2 dog channels!).
What to do in Jeonju
Next in my Jeonju travel guide, what to do, see and eat during your visit. There are only a few attractions in Jeonju compared to Seoul or Busan but is that such a bad thing?

Not at all. Jeonju is the antidote to big, busy cities and just what I needed at the time.

Here are some of the top attractions and places to go in Jeonju…
Eat the best bibimbap in Jeonju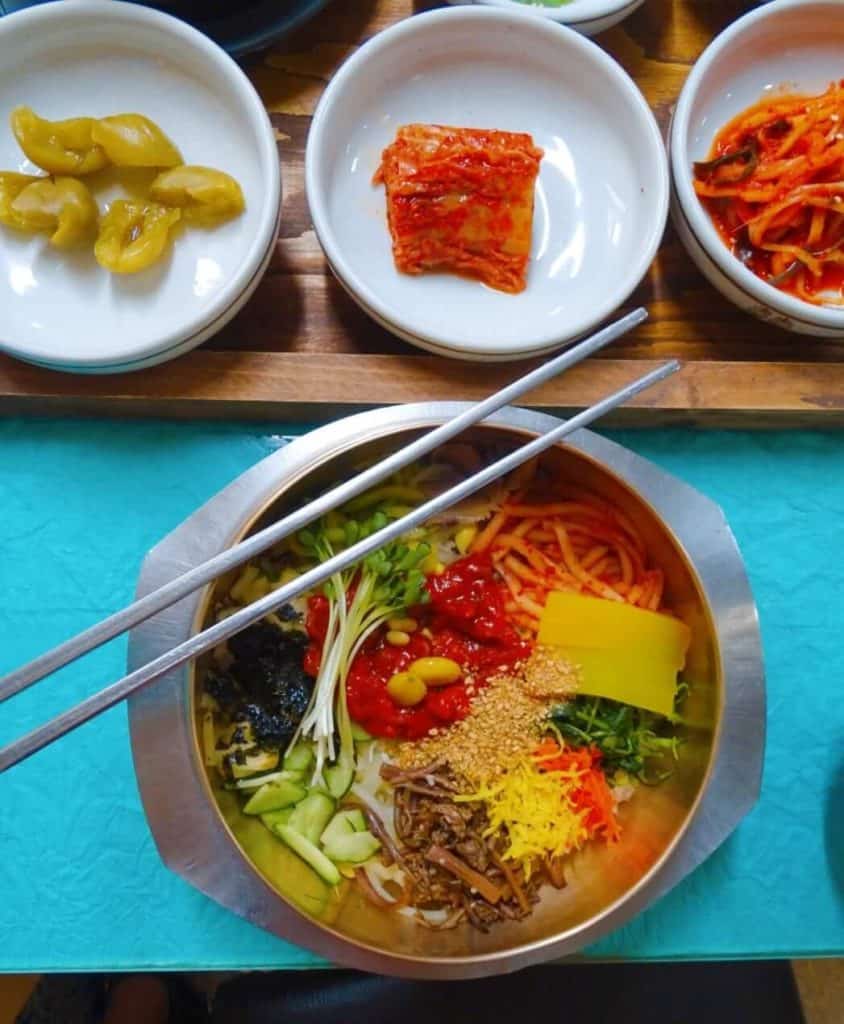 My sightseeing in Jeonju began with bibimbap and that's exactly how I want all my travel adventures to start!

Would you believe that the photo below is just of my side dishes? Jeonju is the original hometown of the dish so it would be rude to leave without tucking into at least one bowl.

In case you don't know – bibimbap translates as 'mixed rice' and is a tasty mess of egg, veggies, beansprouts, kimchi and pepper sauce. If you're travelling Korea on a budget, eating this affordable dish is one of the best ways to keep the costs down.
If you're looking to try bibimbap in Jeonju (spoiler – you should), I'd highly recommend Family House. There are plenty of restaurants in Jeonju that serve bibimbap but honestly, you can't do better than this place.

My bibimbap with 12 side dishes was 12,000 won. Bargain! These sides included kimchi, asparagus, glass noodle salad, pickled jelly, gooseberries, syrup-soaked sweet potato and more.
Jeonju Hanok Village
If you're not staying in one (and even if you are), ensure you visit the famed Hanok Village. This was well worth the hype: a preserved traditional village with some cultural finds along the way.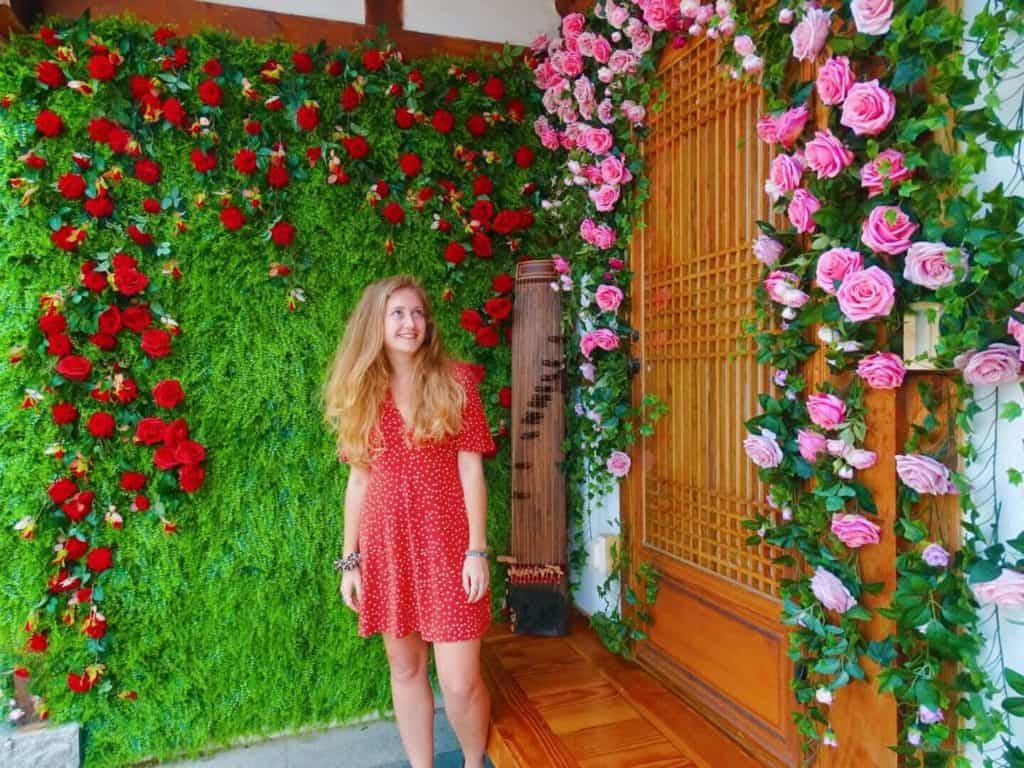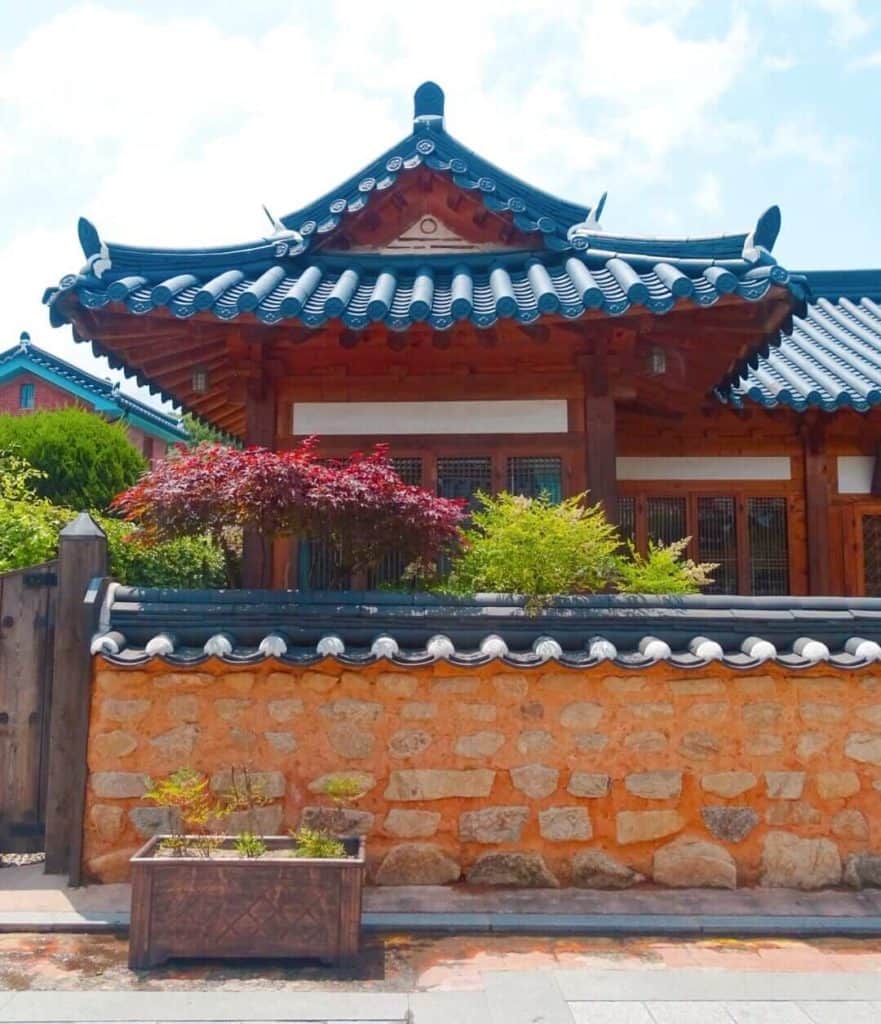 Things to do in Jeonju Hanok Village include visiting the calligraphy and sake museums or simply strolling the peaceful streets, trying Korean snacks or renting a traditional hanbok outfit.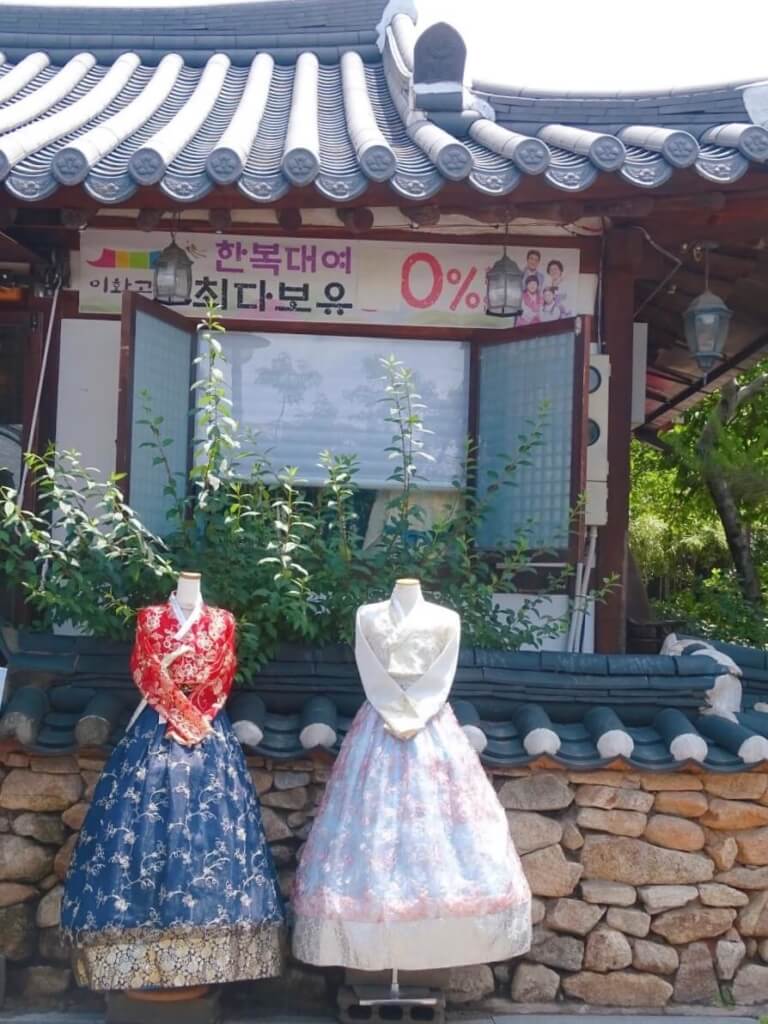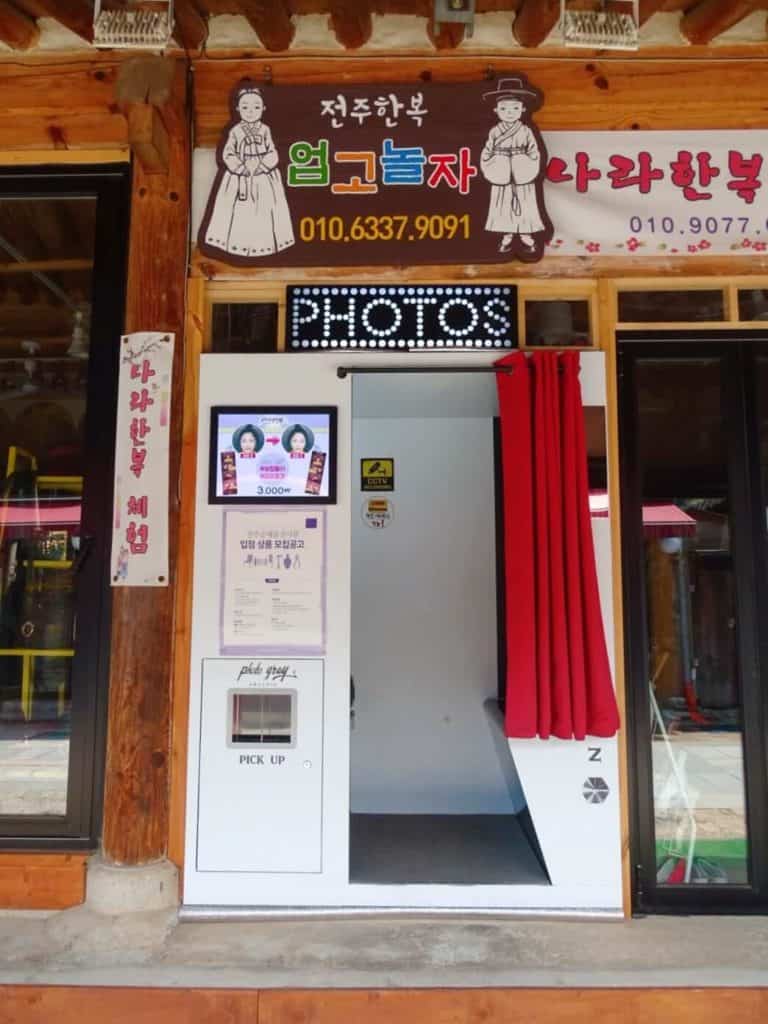 Jeonju may have deep traditional roots but who doesn't love a selfie? There are a few modern touches dotted around Jeonju Hanok Village including these fun photobooths. The ultimate millennial souvenir!
Eat at Nambu Market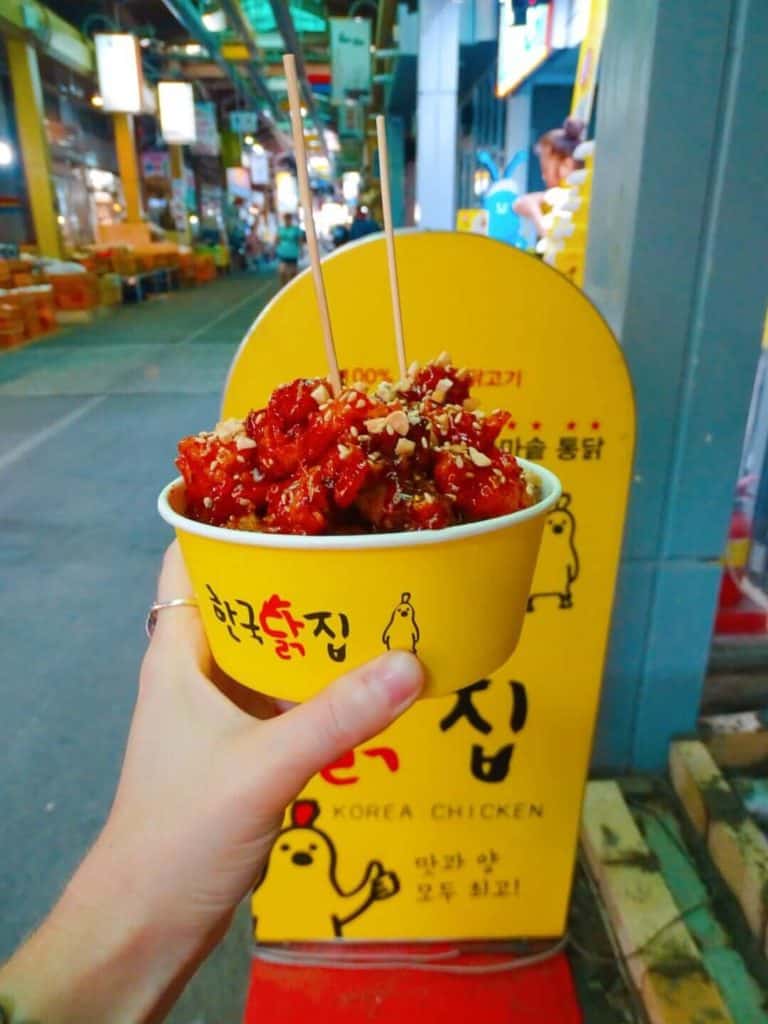 For Korean food and a taste of local life, head to the biggest local market in Jeonju. Nambu Market has been selling groceries, hot dishes and colourful fruit and veg for over 200 years.

Google says Nambu Market is open all day and evening but I didn't find this to be the case. It was closed when I visited at 6pm but apparently it's open on Friday and Saturday nights. The best time to visit is for breakfast or lunch.

There wasn't quite as much hot food as I was hoping for but I did find some tasty Korean fried chicken. It's not old-school Korean food but it was delish.
Hike to Omodae Viewpoint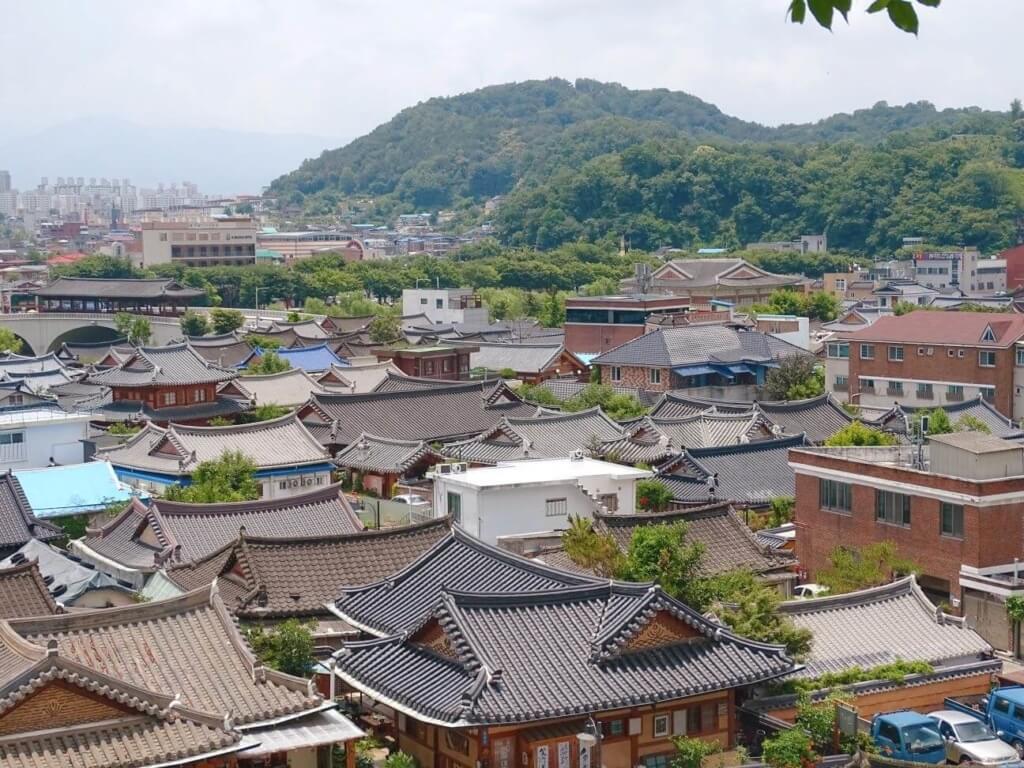 Being a low-rise city, it's not too difficult to capture Jeonju from above. Walking up to Omodae Viewpoint is an easy 5-minute climb up a couple of flights of wooden stairs.

Snap some photos of the idyllic Hanok Village before returning to ground level… and perhaps rewarding yourself with a bowl of bibimbap for that oh-so-strenuous 😉 hike.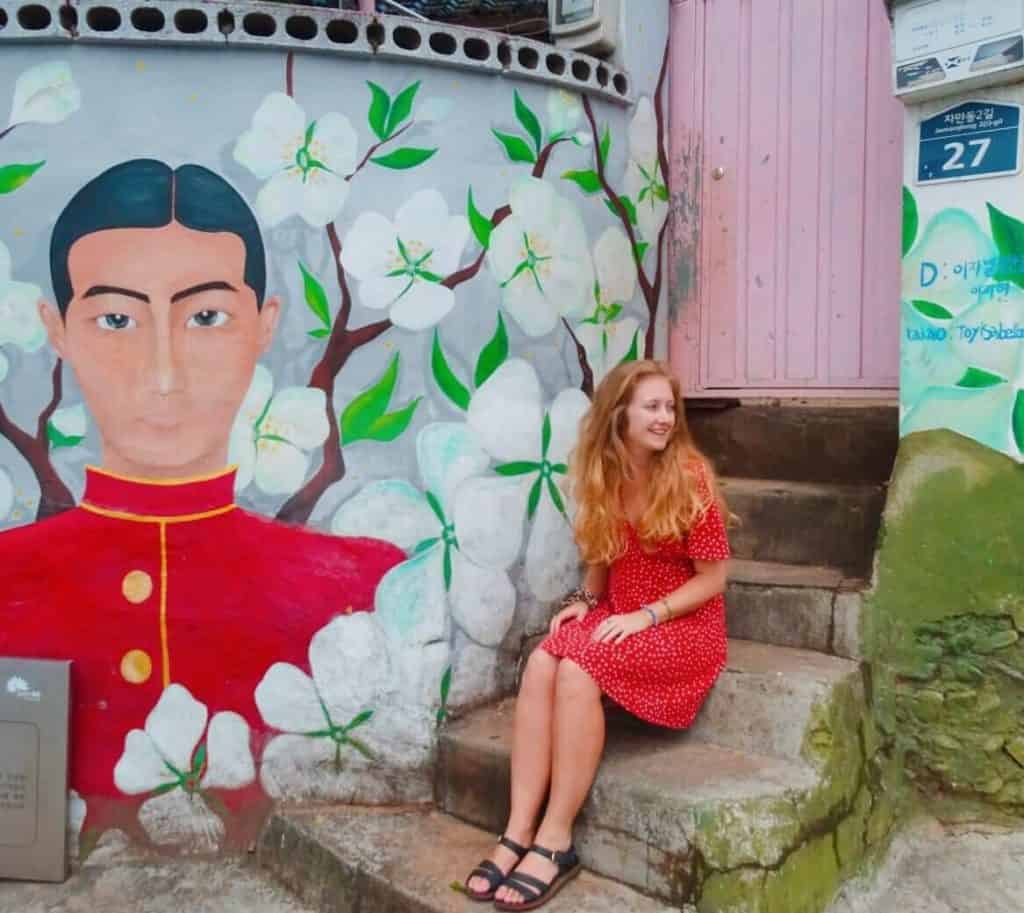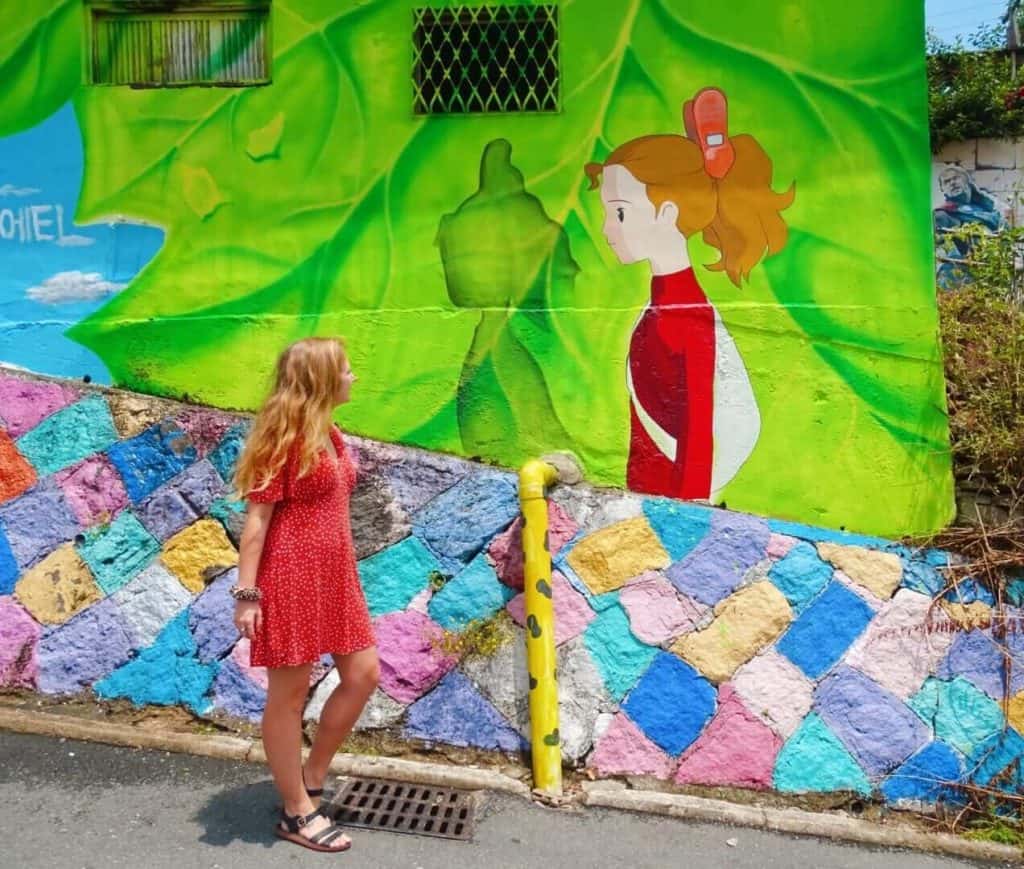 I love the diversity of Korea. Who would expect a vibrant and modern street art village in this traditional town? South Korea somehow marries the old and new so well; good news for me as I love street art.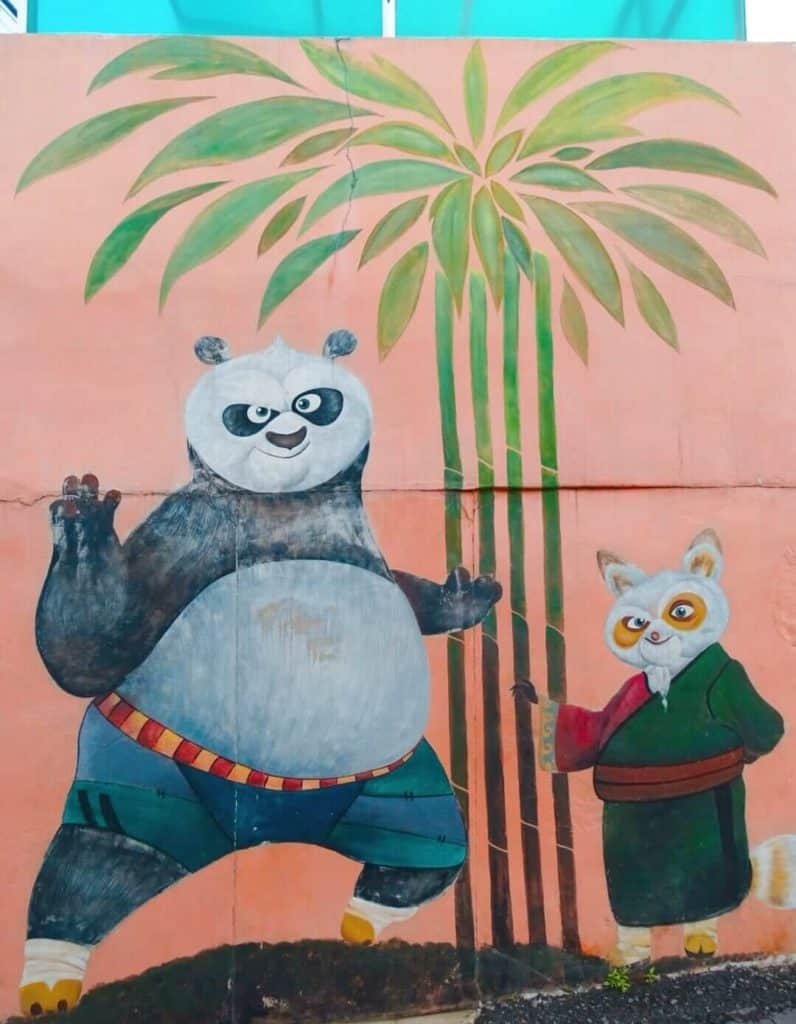 The most colourful place to visit in Jeonju is Jaman Mural Village, just a short walk from the centre of Jeonju. In this colourful residential corner, the homes and walls are splattered with cartoon-like images of people and animals. As well as the art itself, there are a few Insta-worthy cafes to check out.
Jeonjuchun River walkway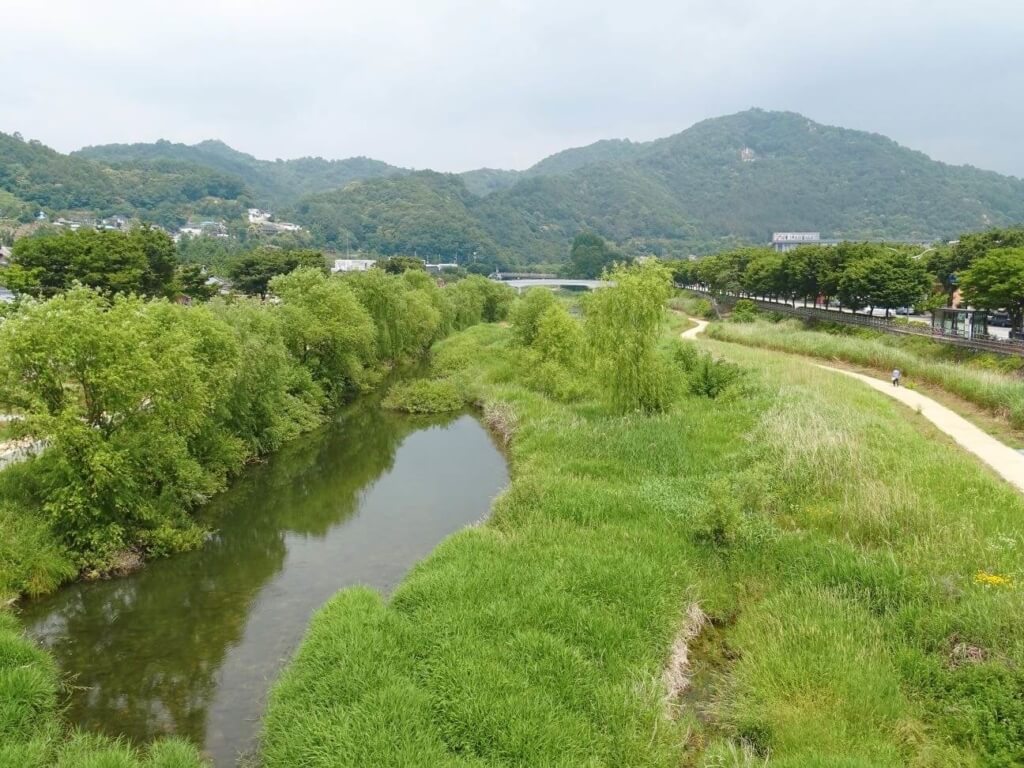 During my time in Jeonju, I took several early evening runs beside the Jeonjuchun River. Whether your motivation is staying fit and healthy while travelling or simply experiencing the peaceful Korean countryside, you can't go wrong.

For an easy, flat walk with beautiful views, follow the Silver Grass path along the Jeonjuchun River from Ssajeondari Bridge to Jeonju Ecomuseum.
Seohakdong Art Village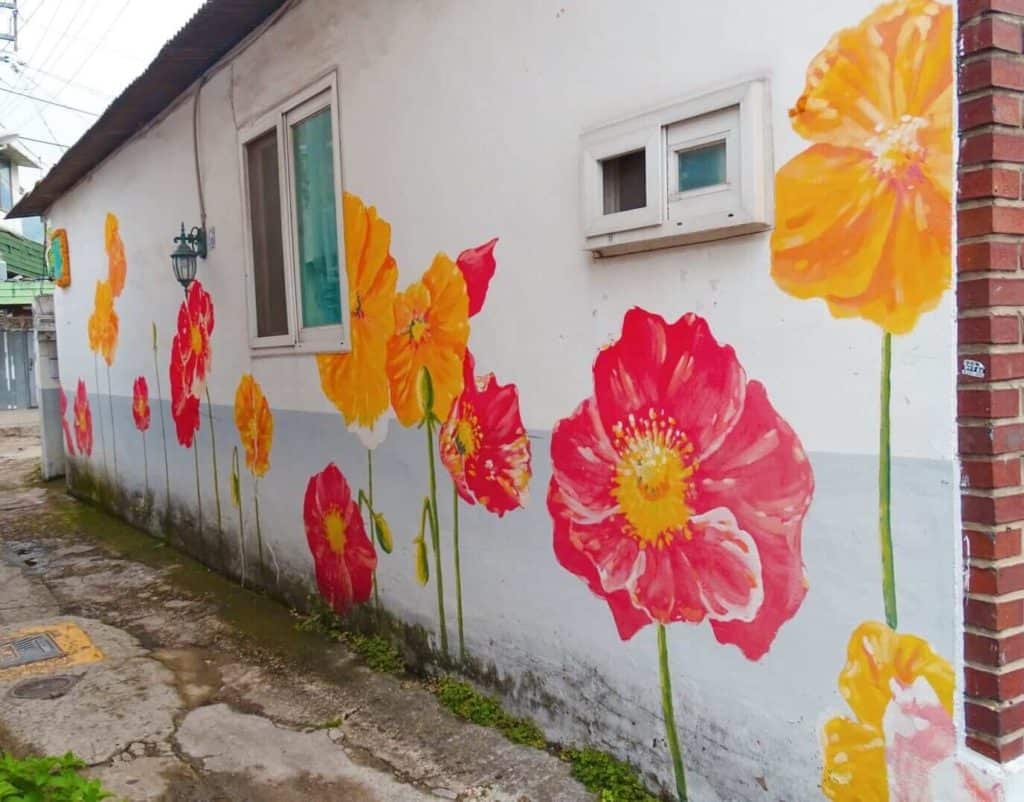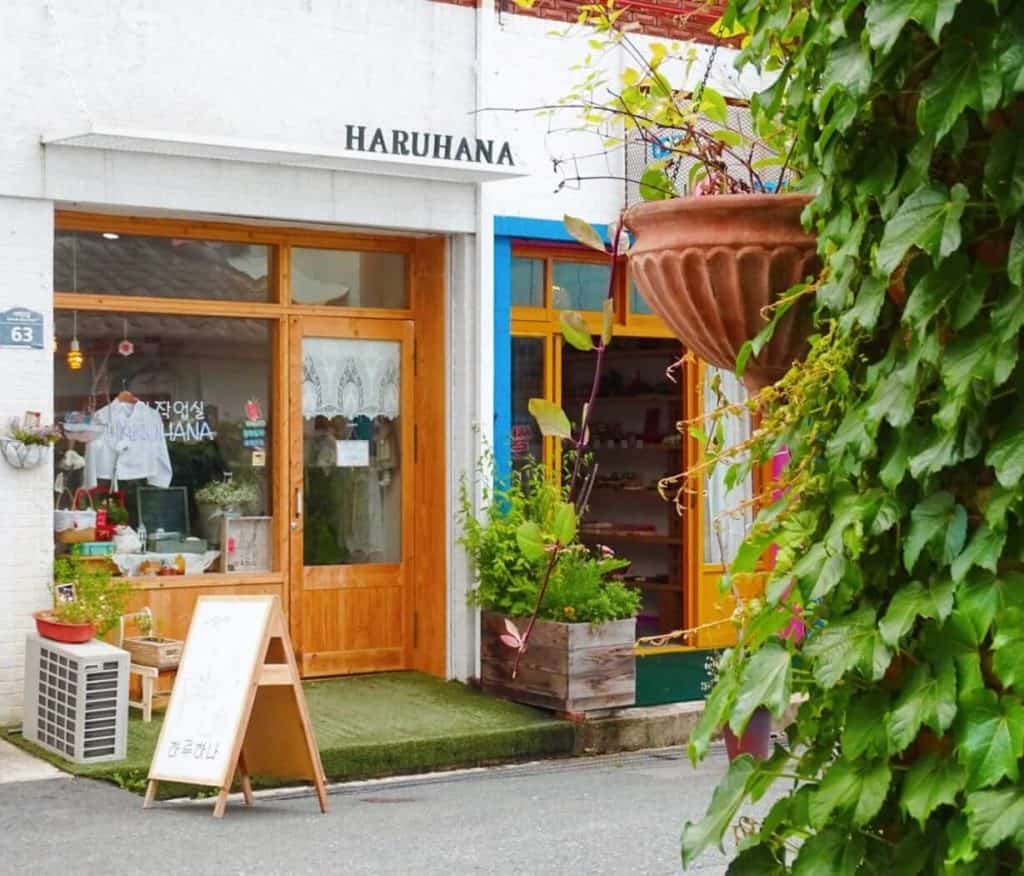 One spot I read about before visiting Jeonju was Seohakdong Art Village. After checking it out, I can't say it was the best thing to do in Jeonju as it was fairly small and sleepy. However, if you've got a spare hour, take a walk around this part of town. There are a few art galleries, shops and cute wall murals to check out.

Address: Jeollabuk-do, Jeonju-si, Pungnam-dong.
Sip on makgeolli
Alcoholic milk? Believe it or not, this beverage is a favourite with Koreans and tourists alike. Makgeolli is a popular milky rice wine with a hint of fizz. It might sound odd but it's famously from Jeonju so it would be rude not to try it whilst you're in town.

There are plenty of places in Jeonju to try makgeolli but you can't go wrong with Yetchon Makgeolli Restaurant.
1 day itinerary for Jeonju Korea
Include these things to do in Jeonju for the perfect day in this gorgeous city…

Morning – wander Jeonju Hanok Village. Sample local snacks, take photos in the booths or simply soak up the atmosphere.

Lunch – stop at Nambu Market for hot food (I would highly recommend the Korean fried chicken).

Afternoon – walk to Jaman Mural Village. Afterwards, take a loop around Seohakdong Art Village.

Evening – head for dinner at Family House for your bibimbap feast.

Evening drinks – Visit Yetchon Makgeolli Restaurant to try the famous Jeonju beverage.
Thanks for reading my guide to Jeonju Korea
Check out my other South Korea blogs:
See you next time,
Rose
For more travel content, follow me on Instagram, Facebook, Twitter and YouTube.
Ps. Liked these things to do in Jeonju? Pin it for later!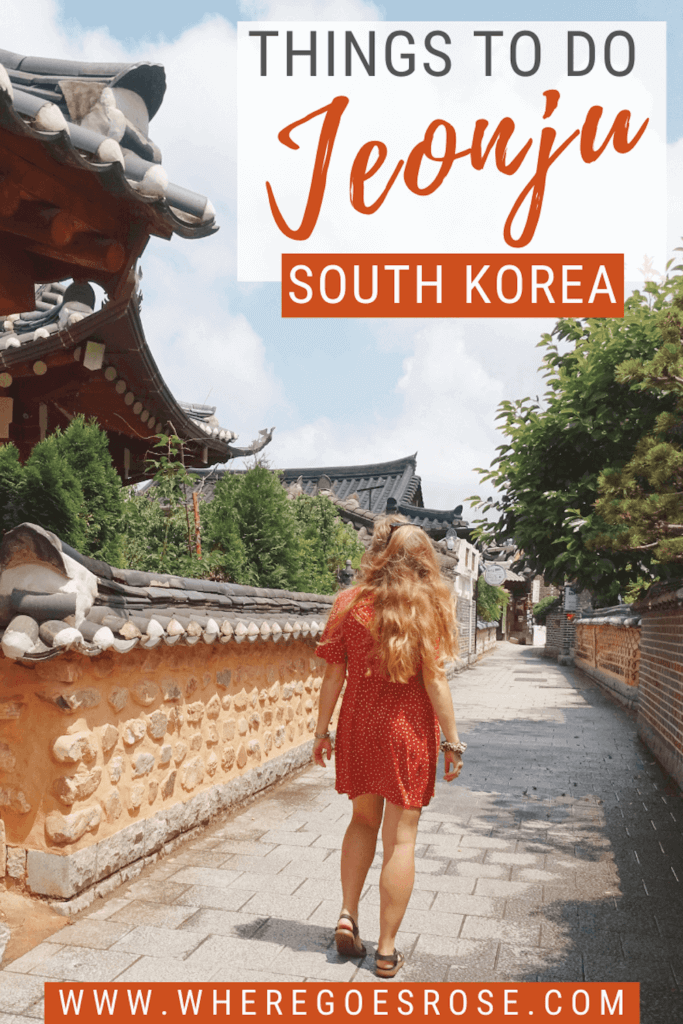 VISITING SOUTH KOREA?
These are my trusted resources:

Getting around by air – I use Skyscanner to find the best-value flights, using the 'search by month' tool to find the cheapest dates. You can also use the 'to anywhere' feature if you're flexible on where you're going.

Buses – buses are comfy and efficient. It's tricky for foreigners to book online so it's best to turn up on the day.

Trains – use Trip.com, partner of Korail (the official railway network of Korea) to book your seats in advance. The website accepts international payment options, unlike Korean rail websites. Click the three stripes in the top right corner then the flag to change it to English.

Driving in Korea – use Rentalcars.com to compare car rentals. Hiring a car will be especially useful on Jeju Island.

For hotels in Korea, I use Booking.com – they also have self-catering apartments. You can filter by review score and price to find the best-rated budget places. For hostels, I use Hostelworld.

Browse South Korea tours and activities on GetYourGuide. I also check Viator and Klook in case they have a better price.

For food tours with passionate local chefs and foodies, check out EatWith.

Need travel insurance? I use True Traveller (for UK & Europe residents) since it's affordable but covers everything you'd need including various activities, valuables and pre-existing conditions. Unlike some companies, they insure you if you're already travelling / don't yet have your flight home booked. Get a quote.

For travel insurance for other nationalities, I recommend Hey Mundo and for long-term digital nomad travellers, I suggest Safety Wing.

Check out my resources page for more travel discounts and tips!