This post may contain affiliate links to things like tours, hotels, Amazon associates and products. These help me earn a small commission at no additional charge to you.
During my time in Ubud, I decided to pay a visit to Pura Lempuyang Temple, Bali, one of the most iconic – and photographed – places in Indonesia. Even though the famous Gates of Heaven aren't, shall we say, au naturale, I still enjoyed my day trip.

The way our day ended – crashing our scooter and not being able to walk for a day – wasn't the best, however. Were the lows worth the highs? Yes, I guess they were.

In this guide, I'll share everything you need to know about visiting Lempuyang Temple (also known as Pura Lempuyang Bali). And yes, I'll also spill the tea on the Gates of Heaven Temple photo trickery!
BALI ESSENTIALS

Bali SIM card (30 days, 6GB)

Copy of Lonely Planet Bali

Accommodation: Hotels on Booking.com // hostels on Hostelworld

Tours: GetYourGuide

Travel insurance: True Traveller (European travellers) / Hey Mundo (other nationalities) / Safety Wing (digital nomads)
Read next: 2 weeks in Bali itinerary
Lempuyang Temple introduction
Lempuyang is the jaw-dropping temple you've probably already seen on Instagram. The elegant Gates of Heaven are etched with carvings to the Hindu gods, overlooking Mount Agung (Bali's most active volcano) topped with fluffy white clouds.

The stuff of Southeast Asia bucket lists, right?

Well, kind of. There are also endless queues for the Lempuyang Gates of Heaven with grammers desperate to get 'that' shot. Staff indulge in photo trickery and the whole thing feels… not especially authentic.

Before we talk more about this, let's cover the practical info…
Lempuyang Temple history
The temple's full name is Pura Luhur Penataran Agung Lempuyang and it's one of the 'Sad Kahyangan Jagad' temples referring to the six most important religious sites in Bali. Sad means six and Kahyangan means place of Gods. Some of the others include Pura Besakih and Pura Goa Lawah which I write about in my guide to Bali hidden gems.

Built in the year 91 AD, it predates most temples on the island. To be a good Balinese Hindu, it's said you should visit once every 10 years.

Located in the highlands of Mount Lempuyang at a lofty 600m (2,000 ft) above sea level, the views can almost rival those of hiking Mount Batur. With several parts of the complex nestled in the forest, it's not only the temple that's striking but its surroundings.

It's one of the few temple sites to rival Tanah Lot Temple near Canggu and Uluwatu Temple in terms of aesthetics and religious significance.

The mountain site is organised with Balinese mythology in mind. The base of the mountain represents Brahma, the middle Vishnu and the top of the mountain where Pura Lempuyang is placed, signifies Shiva.
Where is Lempuyang Temple?
The Gateway to Heaven Temple at Pura Lempuyang is located within Karangasem Regency in East Bali. The nearest city is Amlapura, 22km away. The closest tourist town is Amed (a 30-minute drive away) with plenty of accommodation options.

We visited from Ubud and I'll share everything you need to know about doing the same.
Getting to Pura Lempuyang Temple Bali
The site is located a 2-hour 45-minute drive from Denpasar Ngurah Rai International Airport, 2 hours from Ubud and 2 hours 30 minutes from Kuta, Seminyak and Canggu.

Since there's no public transport available, the best options are…
Self-driving a scooter
We took a trip to Lempuyang Temple from Ubud by scooter. Hire cost us 70,000 IDR plus gas at 10,000 IDR a tank. Your accommodation or any tour agency can rent you a scooter but for a reputable vendor, I can vouch for GetYourGuide.

Of course, we did end up lying on the tarmac! When I researched the journey in advance, I was a little nervous because everyone said the temple was on a sharp incline uphill. Would it be a risky drive?

It wasn't too bad. This was not the scene of our accident. We came off on a flat highway due to another vehicle's bad driving (and possibly ours, too) which could have happened anywhere and anytime.

Bottom line – you should be fine but don't self-drive to Lempuyang if you're brand new to driving a scooter in Bali!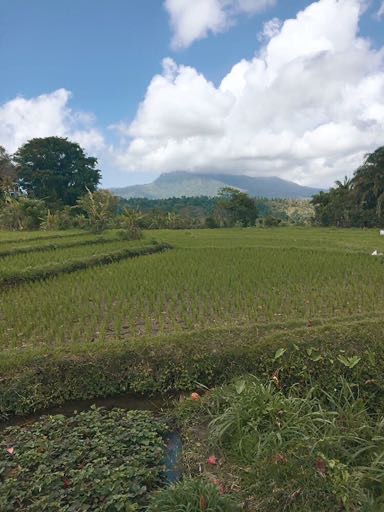 Taxi tour
If you want to visit independently rather than on a tour group schedule but you don't want to drive a scooter there and back (I hear ya), consider a taxi tour. If there's a couple of you, this is cheaper than taking a tour. For solo travellers in Bali, I would suggest budding up with people you meet at hostels.

You'll have a car and driver for up to 10 hours meaning you can see also visit places that take your fancy. Book a full-day tour.
Group tour
Another option is taking a small group tour. You don't need to organise anything and your guide will explain the history of the temple. Tours are also a great way to meet people while travelling. The only downside is travelling on someone else's time schedule.

Tours you can take include:
Best time of the year to visit
Dry season in Bali is the best time to visit Lemuyang. The season runs from April to October and sees mainly clear skies: ideal if you're hoping for photo-worthy views of Mount Agung.

But, like a true Brit, I know that weather can always be unpredictable. We experienced cloudy, grey skies despite visiting in dry season.

Still, these months are your best bet for a scenic temple experience.
Best time of the day to visit
I would recommend visiting early or late in the day to beat the heat and the crowds.

If you're not afraid of an early start, sunrise would be a fantastic time to visit. Those partial to sleep might prefer to visit for golden hour before the sun sets.

We chose to arrive around 9am, meaning we didn't have to get up too early and the site wasn't yet totally crowded. Starting early is always my top Southeast Asia travel tip because it gets ridiculously hot by midday. There was no avoiding the heat later on, but at least we were cool on the way there.

The main reason for the early start was to reach Lempuyang Gates of Heaven before everyone else did. Despite its rural location, it's a popular religious pilgrimage for locals and an equally popular pilgrimage for snap-happy tourists. To really beat the crowds, arrive well before the opening time of 7am.
Driving tips from Ubud
We set off from Ubud by scooter at 7.30am, arriving around 9.45am. The drive there was just over two hours but it wasn't a bad journey. Once we got out of Ubud, the roads were quiet and we made good time, seeing local life along the way.

Just after Goa Lawah (another large temple), the road became windy as we entered the mountains. Josh didn't find driving a problem but I guess it depends on your scooter confidence… I wouldn't recommend it for beginners.

The trickiest bit of the drive was the curvy incline during the last 10 minutes of the journey. I was clinging onto the back of the scooter as it was VERY steep.
Arriving at Lempuyang Gates of Heaven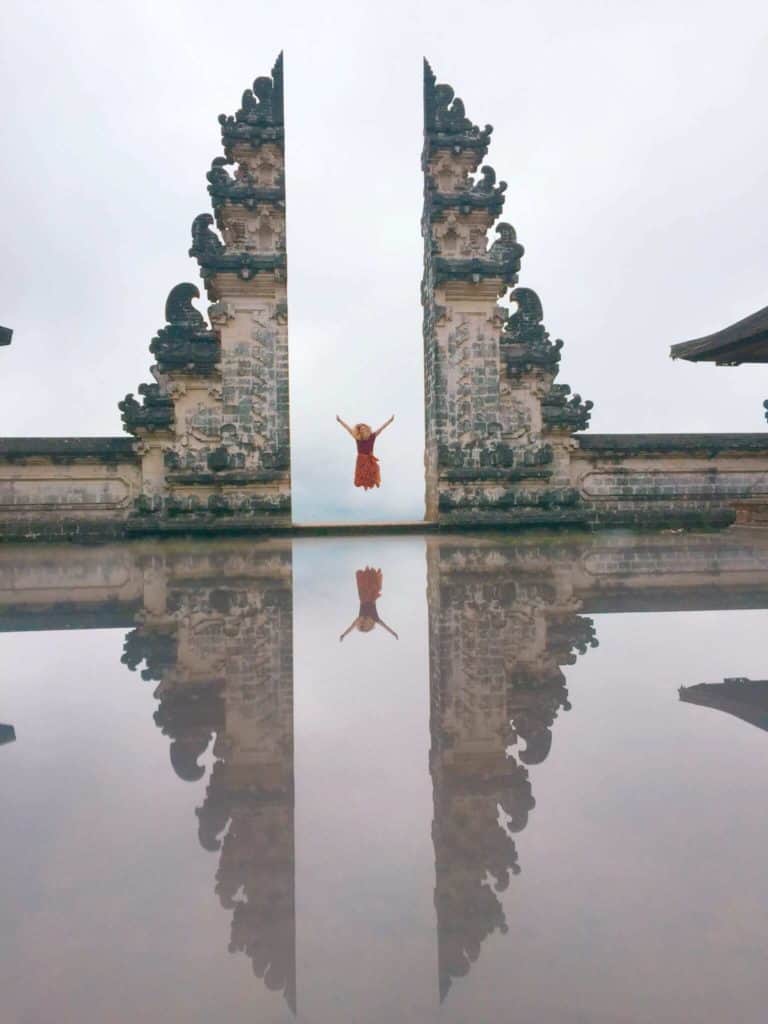 The Bali Gates of Heaven are located just a 5-minute walk from the temple entrance and parking area.

This impressive gate is a what Hindus call a candi bentar (split gateway) connecting the outside world to the religious compound. The symbolism relates to Mount Meru, the golden mountain thought to stand at the centre of the universe, explaining the name 'Gates of Heaven'.

Although the gates are undeniably impressive, I was instantly stunned by the line of people already formed by 10am. We waited about 30 minutes for our chance between the gates and, when we walked back past later, it was at least 2 hours long!
Spilling the tea – the Gates of Heaven reality!
Spoiler: the Gates of Heaven aren't real! Well, the photos you see aren't. Let me explain…

The dreamy aesthetics are created using photo trickery. There's a whole team at work, which I guess is necessary to manage that many people wanting a shot.

See what looks like a pool of water in the foreground? It doesn't exist. A team with a mirror at the Gates of Heaven position it halfway across your camera lens to get that epic reflection shot.

Shocked? I know I was!

My best tip for Gates of Heaven Bali temple? If you decide to have your photo taken, give them your smartphone, even if you have a fancy camera. The team know how to operate most major smartphone brands but the mirror technique didn't work with my camera as the shots came out weirdly bleached with no reflection.

Temple tip #2: Decide on your poses! With so many people waiting in line, you only get a chance for three. The photo team yell out what number you're on – no extras!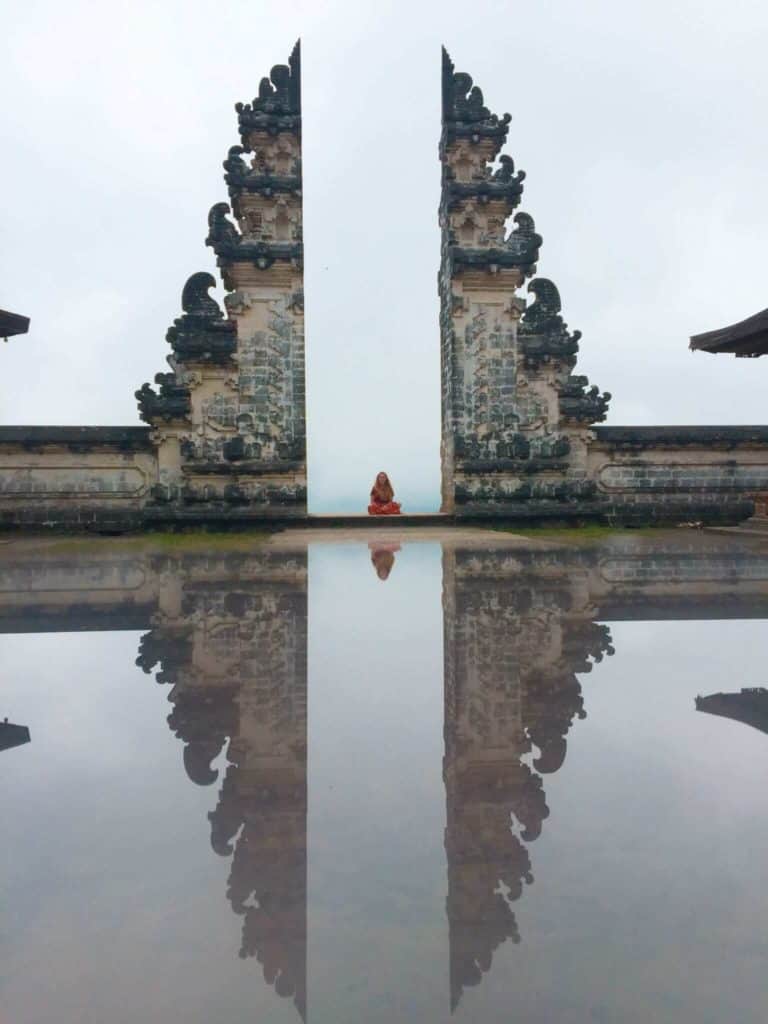 Pose suggestions for the Lempuyang Temple Gates of Heaven:
Looking out at the view (or in our case, the grey clouds)
Jumping! The ultimate basic pose!
Sitting down in the middle
If you're a cheesy couple, one of you could be lifting the other up romantically. Obviously, I'd rather die.
Btw – if you're visiting as a pair, you can have a round each and a round together. So get coordinated!
Are the Gates of Heaven worth it?
It's easy to get swept up in the moment and follow travel fads. I'm sure many of us have seen cool photos on Instagram and thought 'let's do it!' then find it not as expected.

The Gates of Heaven might be the definition of unexpected: hoards of people turning an ancient, holy temple into a photo playground? At best it's bizarre and at worst, it's disrespectful especially when you consider that many tourists give no thought to their poses, often indulging in PDAs and yoga poses when this is considered wholly inappropriate.

Having visited, I would give the photo opportunity a miss if I came back, save myself hours in the queue and explore the holy temple site instead. I might also watch people posing for a bit of entertainment 😉

It's totally up to you but just be aware what you're letting yourself in for. If you're reading this blog, you're already doing your research so well done!
Exploring the whole temple site
The Lempuyang Gates of Heaven are one of the first points you come to but there's a lot to do after; it's a huge temple site. There are 7 temples in total, and a full journey around them is said to take 4 hours.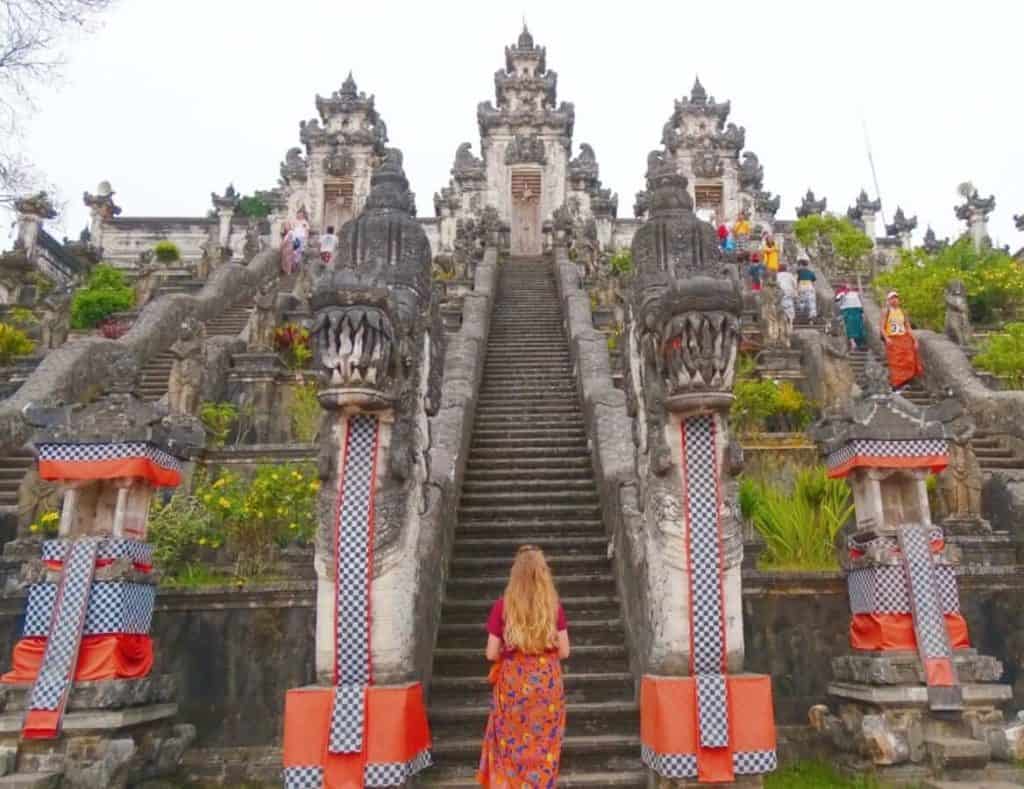 To get to the other temples, a trek through the forest to the upper level is required. With the cloudiest weather possible, the rest of our visit wasn't overly 'grammable but I enjoyed exploring the vast site and seeing local people at worship.

Shortly after passing the Gates of Heaven, you'll have the option to hike a big hill or pay Rp. 10,000 for a scooter driver to whizz you up. It's up to you but I hate a hill and opted for the ride. It's much easier coming down so there's no need on your way back.
Should you hire a guide?
I'd read that it was a good idea to hire a guide as otherwise, you won't know where you're going and might be attacked by killer apes.
Killer apes!? No thanks!
I'll just let you know, we didn't hire a guide and we found our way around without bumping into any murderous monkeys. We didn't learn much about the history though so it might be worth hiring a guide at the entrance.

If you're not hiring a guide, this point below is where you'll need to make a decision…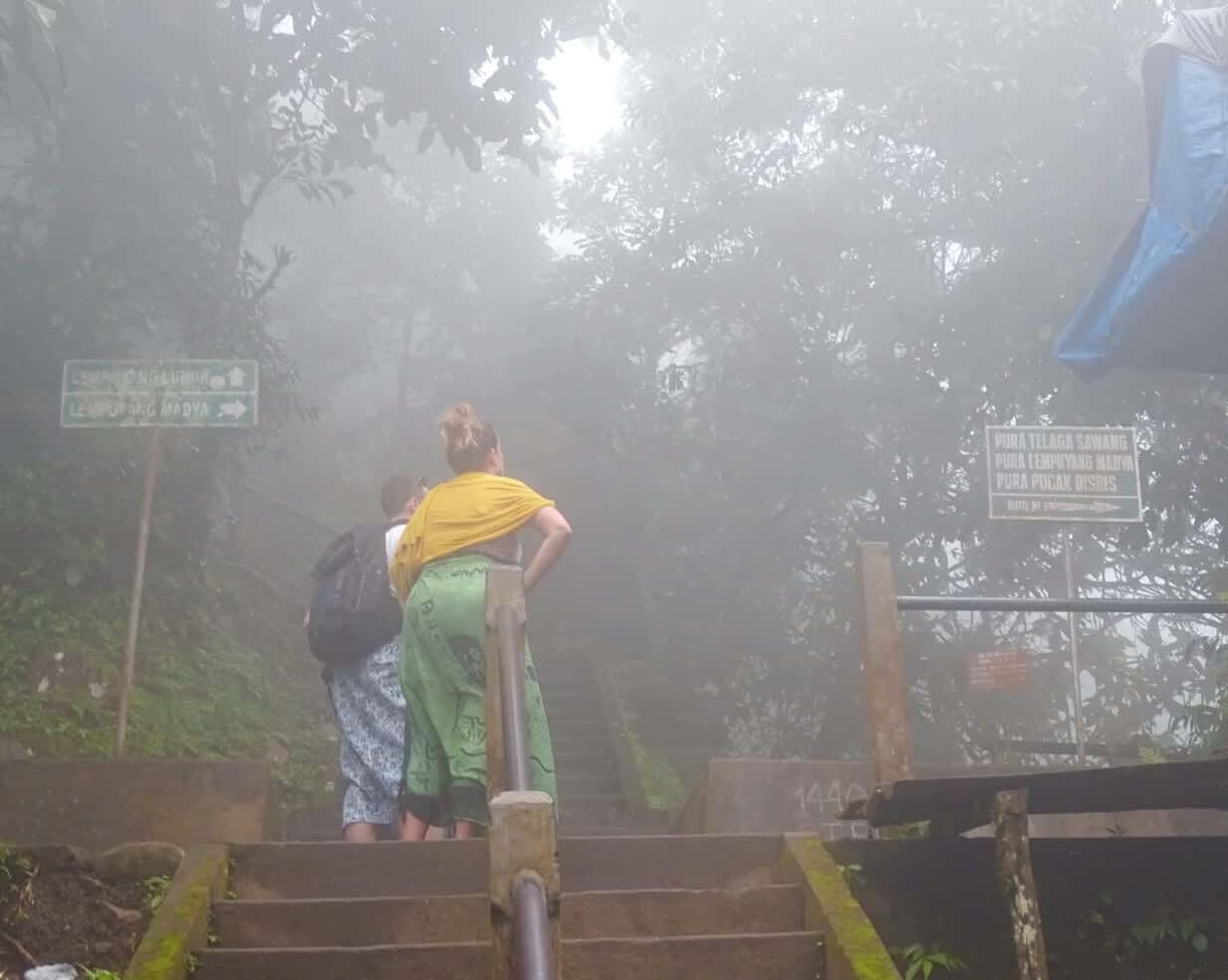 Take the road up and you'll be treated to a 1,700-step extravaganza to the top temple. Go right instead and there are far fewer steps and a couple of other secluded temples and viewpoints.

Obviously, we had no luck at the viewpoints with cloudy weather but we did witness a small, colourful Hindu ceremony at a temple we reached. Nestled up in the misty mountains with the peaceful ringing of bells, I felt very calm and lucky to be experiencing such a beautiful place.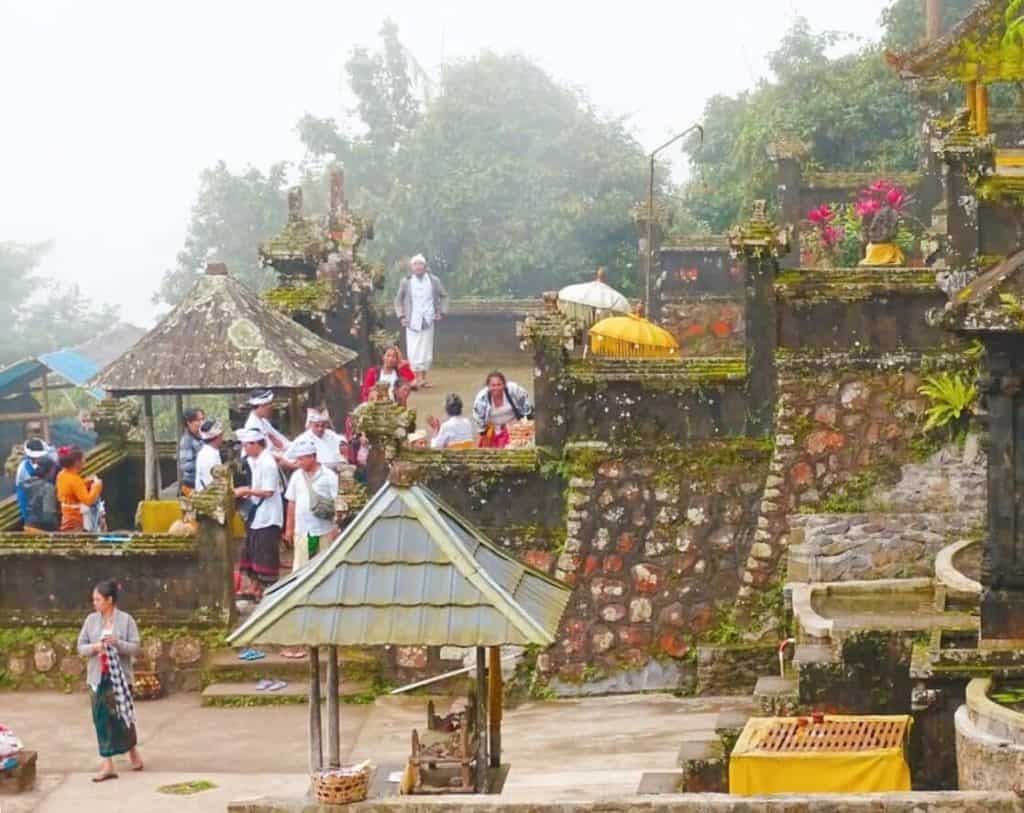 Pura Lempuyang Temple entry price
Entrance is free but a donation is required. I would suggest 10,000-30,000 IDR.

Parking costs around 10,000 IDR.
Pura Lempuyang Temple opening times
There are no set opening hours as it's always open for prayer. However, tourist visiting hours are 7am- 5pm. Some people recommend visiting Lempuyang at sunrise or sunset for beautiful views.
Dress code & etiquette
You'll need to wear a sarong so if you don't have one, hire one for Rp. 10,000. The sarong covers only your legs and, since it's important to cover your shoulders, you should wear a t-shirt. This applies to all genders.

In terms of etiquette, note that public displays of affection aren't appropriate at a Balinese site of worship. Couples take note! Also according to religion, those menstruating or with an open wound are not allowed at the temple site.

Drones are not allowed on the premises.
Final stop before you go home – Tirta Gangga!
Lempuyang Temple is just a 20-minute drive to Tirta Gangga so you should definitely visit whilst you're in the area.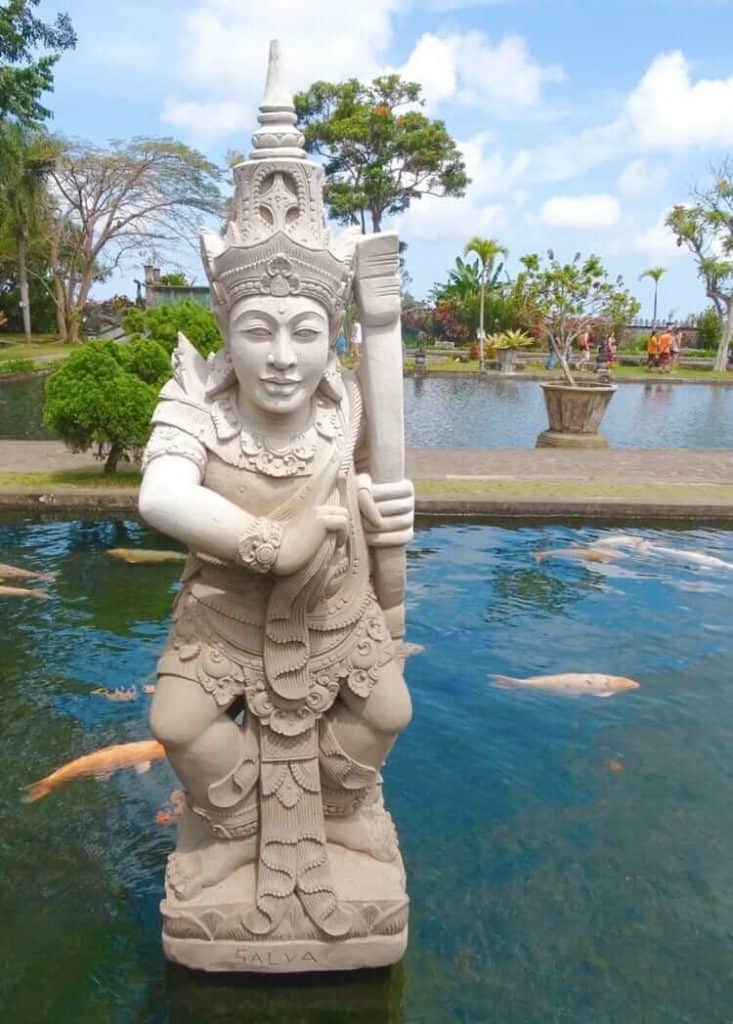 Unlike some of the ancient temples in Bali, the royal water gardens were built in 1946 by a former raj of the Karangasem regency. Originally a place for the royals to unwind, it's still a relaxing place to wander today. Apart from the fact you'll have a hundred other people sharing the space!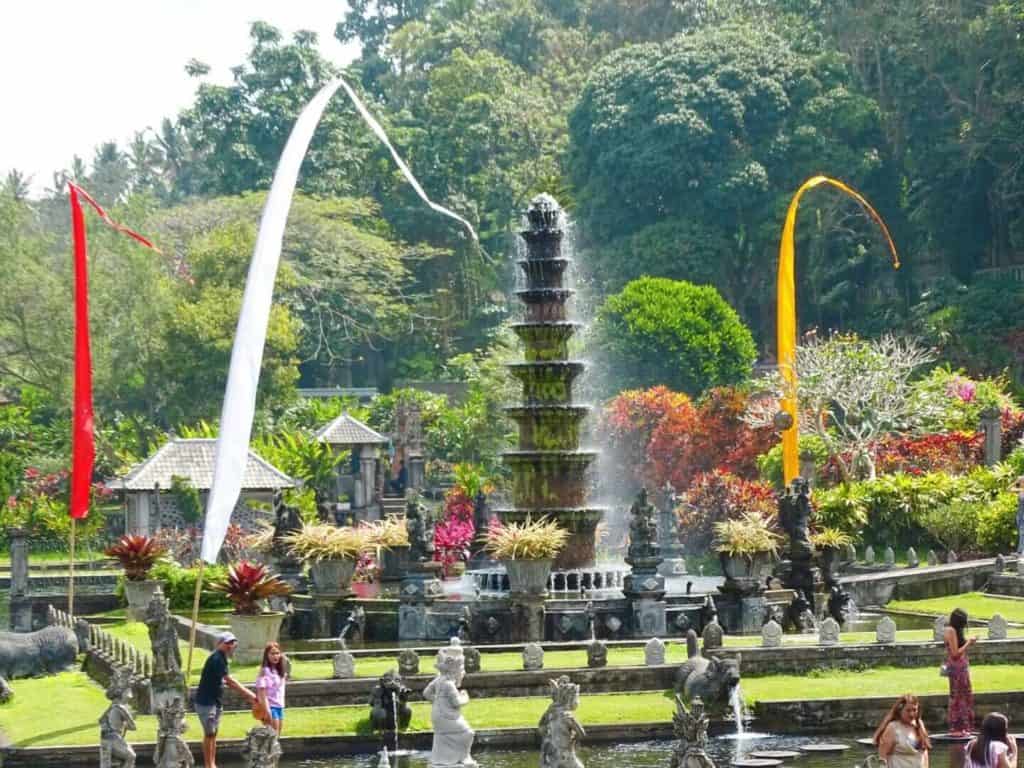 Tips for visiting Tirta Gangga:
Bring your swimwear if you fancy a dip – there's a public pool at the back. I had no idea of this before visiting and could have used the refreshment after a busy morning hiking around Lempuyang Temple site.
There are a couple of cheap food stands in the car park and a proper restaurant just outside the entrance gates.
Entrance is Rp. 40,000 and the public pool is another 20,000.
Tirta Gangga is open from 8am-5pm.
No one offered us sarongs here – the dress code is more relaxed than many other Balinese temples.
Tirta Gangga address: Jalan Raya Abang Desa Adat, Ababi, Kec. Abang, Kabupaten Karangasem, Bali 80852.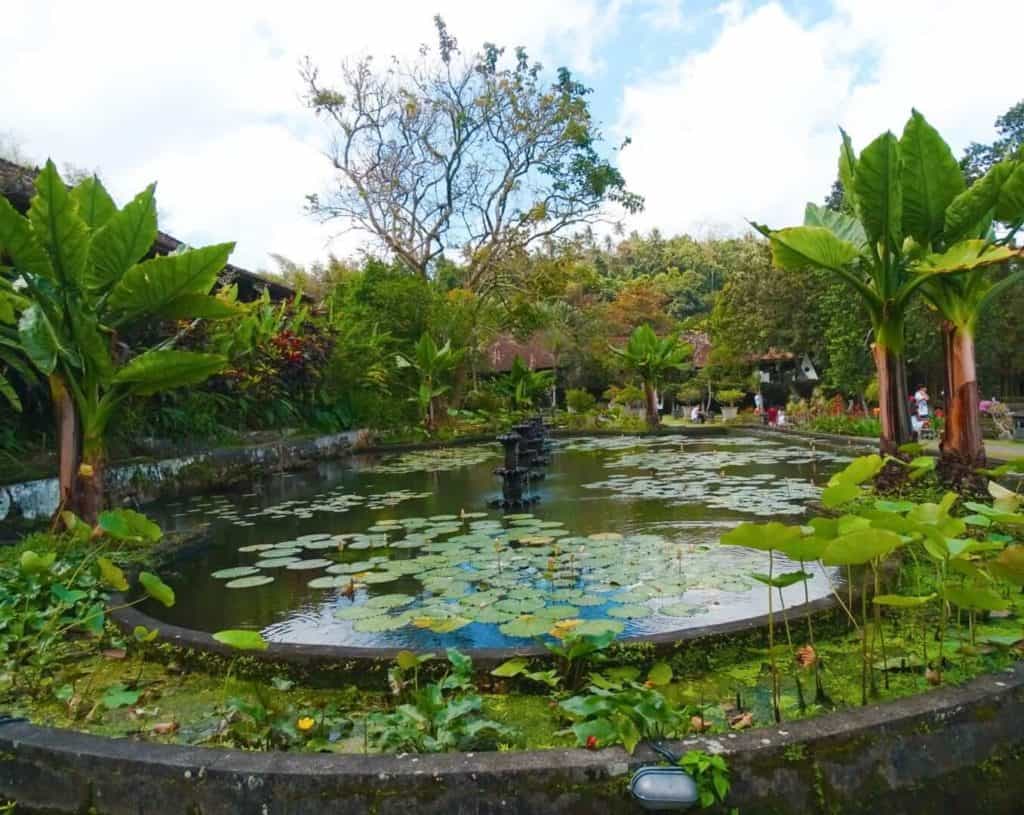 Heading home
Finally, it was time to head back to Ubud. The drive was about 1 hour 45 minutes and we made it more than halfway before our scooter fall.

Along the main road, a car pushed us off the tarmac onto the verge. As we came back on, we fell onto the road. Luckily, there was no one else coming and we weren't seriously injured, just some roadburn. For that reason…
Tips for visiting Lempuyang Temple and Tirta Gangga by scooter:
Be careful! You're so vulnerable on a bike. Most Balinese people have been riding scooters since they were teenagers so I think they forget not everyone has been doing the same. They don't necessarily give you the space you might need.
It's a long drive so take some stops, especially to drink water. It gets hot on the bike.
The most important Bali travel tip: make sure your insurance covers it!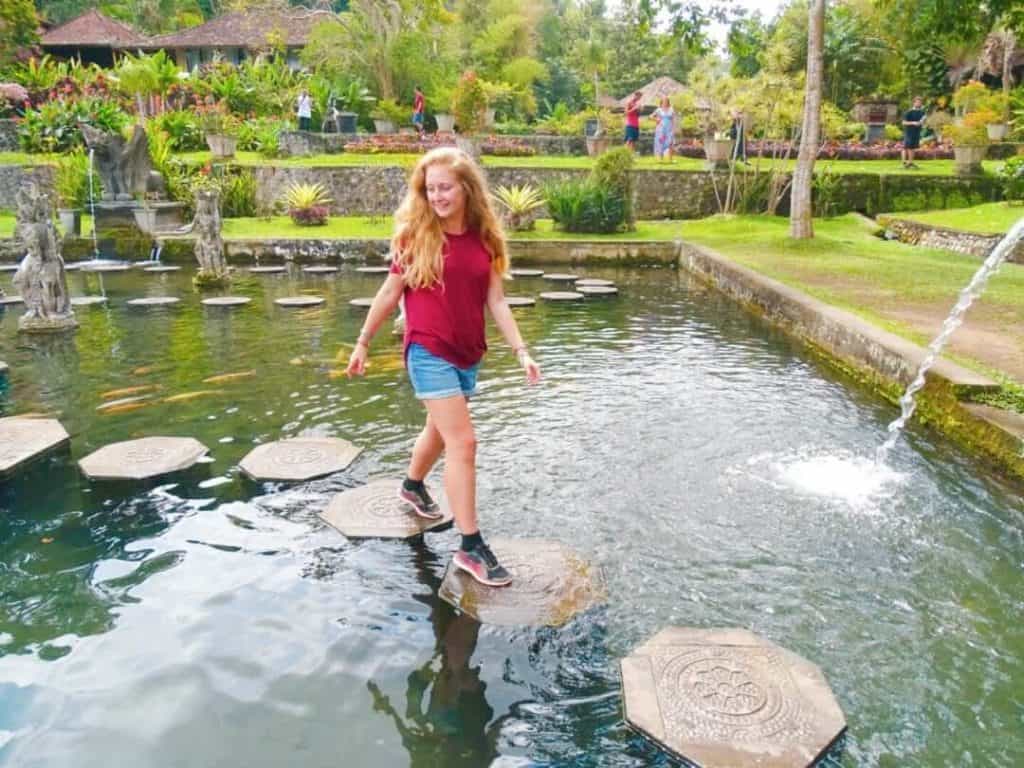 Our Lempuyang Temple and Tirta Gangga itinerary
Here's what our day trip looked like…

7.30am – leave Ubud

9.45am – arrive at Lempuyang Temple

1pm – get back on the road

1.30pm – arrive at Tirta Gangga

3pm – leave Tirta Gangga

5.30pm – Arrive back in Ubud.

Compare prices on temple tours:
Thanks for reading!
Check out my other Bali & Asia posts:
Ubud blogs:
Canggu blogs:
Nusa Islands:
See you next time for more adventures,
Rose
For more content, follow me on Instagram, Facebook, Twitter and YouTube.
Ps. Liked my guide to visiting Lempuyang Gates of Heaven? Pin this for later!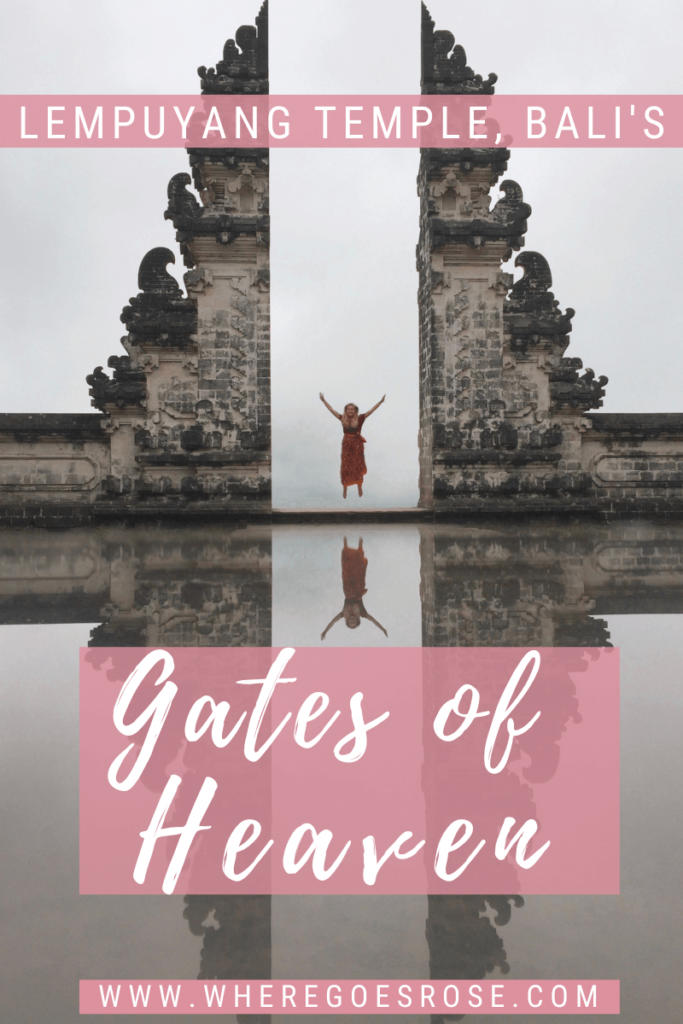 Bali useful links

Flights – I use Skyscanner to find the best-value flights, using the 'search by month' tool to find the cheapest dates. You can also use the 'to anywhere' feature if you're flexible on where you're going.

Stay connected with E-sim data plans that don't require delivery or collection; just scan the QR code.

In my opinion, Lonely Planet offer the best guidebooks. Get the latest Copy of Lonely Planet Bali.

I use Booking.com for accommodation. They have the best range of hotels and self-catering apartments, plus you can filter by review score and price to find the best-rated budget places. For hostels, I use Hostelworld.

To save money on accommodation, I use Trusted Housesitters, a website that connects homeowners going away and travellers who can sit their homes & pets.

For activities, I use GetYourGuide and Viator as they both have a huge range of affordable tours.

Need travel insurance? I use True Traveller (for UK & Europe residents) since it's affordable but covers everything you'd need including various activities, valuables and pre-existing conditions. Unlike some companies, they insure you if you're already travelling / don't yet have your flight home booked. Get a quote.

For travel insurance for other nationalities, I recommend Hey Mundo and for long-term digital nomad travellers, I suggest Safety Wing.

Check out my resources page for more travel discounts and tips!