Traditional Slovenian food in Ljubljana
Before I talk about where to eat in Ljubljana, let's run through the typical dishes…

Štruklji – originally cooked in monasteries several hundred years ago, these moreish dumplings have made it into modern Slovene cuisine and I couldn't be happier about it. They commonly have savoury fillings like meat and cheese or sweet fillings such as apple, nuts and poppy seeds. I can suggest a fantastic restaurant in Ljubljana to try them so keep reading!

Potika – this rolled dough cake is a typical dish in Ljubljana; you can't miss its distinctive dark & light swirled pattern. First mentioned in 1689, it was originally food for the upper classes but now it's readily available for everyone.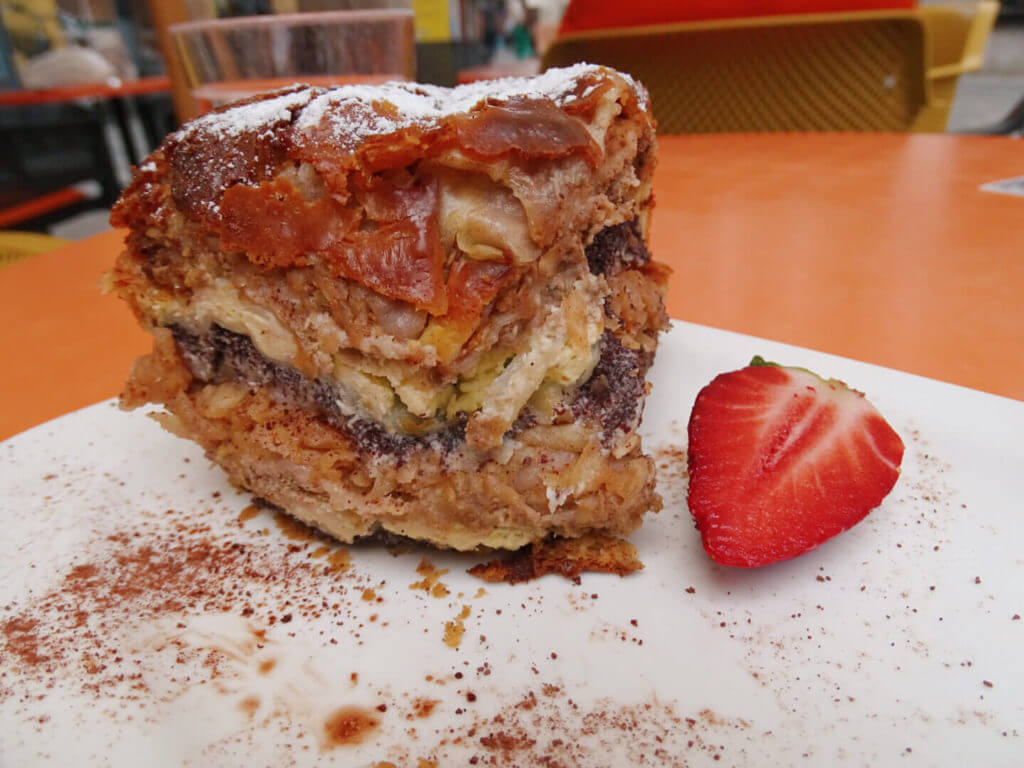 Slovenska Hiša – Figovec (a traditional Ljubljana restaurant)
Gujžina (best vegetarian restaurant in Ljubljana)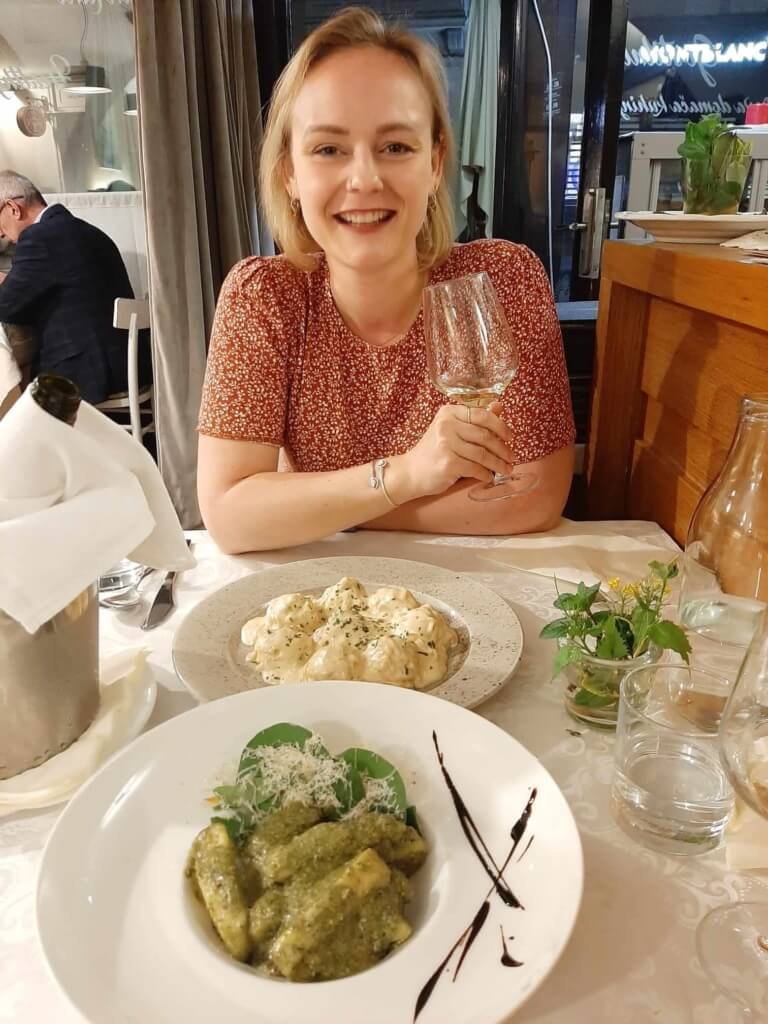 Vegetarians will enjoy visiting Gujžina because they serve vegetarian versions of the classic Ljubljana dishes, as well as other tasty meals. Our guide on the free walking tour recommended this restaurant so we visited that evening for a veggie feast.

We tried the baked dödöli dish made with potato dumplings and a cream and onion sauce, alongside gnocchi with pumpkin seed pesto. Both were delicious! Washed down with a bottle of wine, we were stuffed and couldn't manage any of the desserts.

Other dishes include the vegan bogračj, hearty mushroom or buckwheat stews, and vegan steaks with different sauces. Traditional desserts include prekmurska gibanica, plum dumplings and pumpkin ice cream.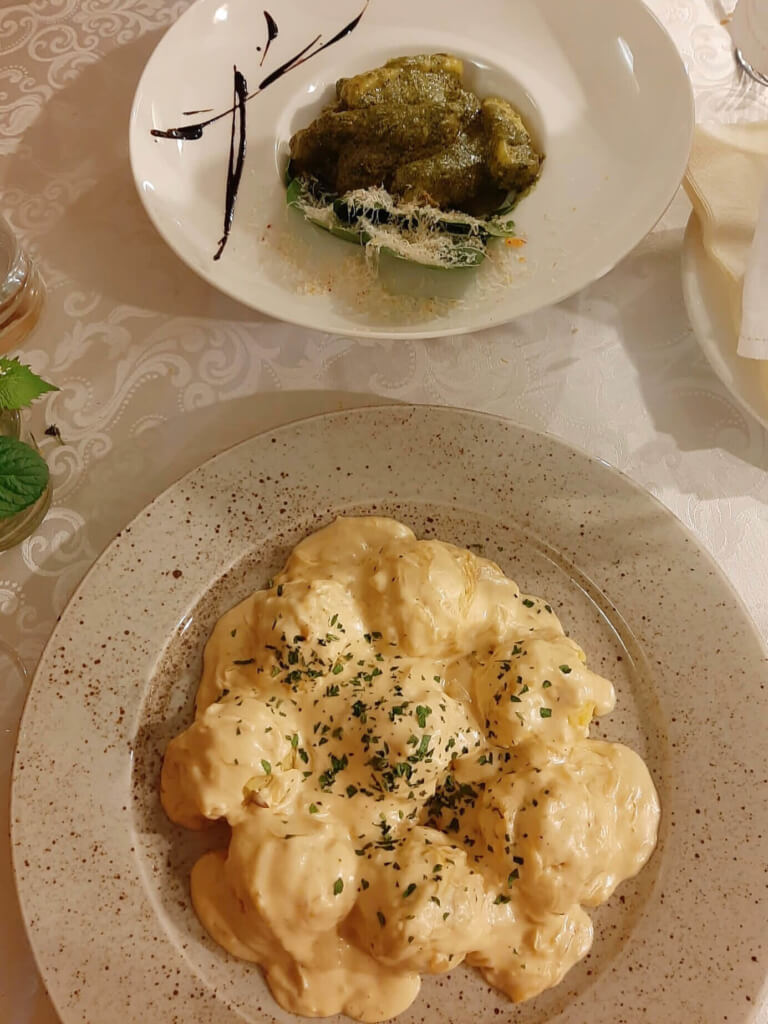 Second Violin (Druga Violina)
Kodila Gourmet
Moji Struklji (best dumpling restaurant in Ljubljana)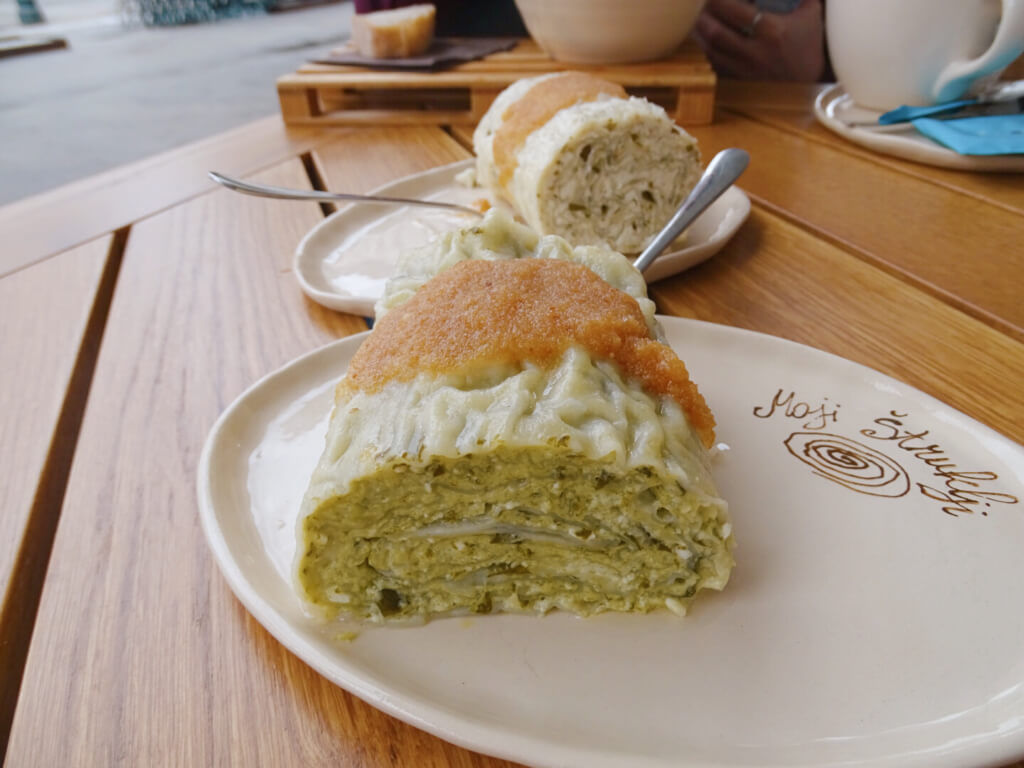 Moji Struklji (My Dumplings) had come up time and time again when researching where to eat in Ljubljana. Beside Kodila Gourmet and the Central Market, this gem of a restaurant specialises in – no prizes for guessing – dumplings!

Struklji probably isn't what you'd envisage when someone says 'dumplings'; they're not like the Asian kind. Instead, strudel dough is layered between sweet or savoury fillings. I knew what to expect as I'd tried them in Zagreb a few months before and couldn't wait to sink my teeth into them again.

Kerrie and I tried two, the tarragon and garlic struklji. If you're dining as a group, I advise you to try as many as possible! Happy Cow lists the chocolate, strawberry and vegetable flavours as being vegan.
Niam Niam
Abi Falafel
Rustika
Rikša
Best place for quirky eats – Trubarjeva Cesta
Central Market
Where to stock up on goods
Cacao
Slascicarna Pri Vodnjaku
Cajnica Gallus
Stow 2 Go
Tozd
Tozd is another riverside cafe popular with young people. With excellent coffee, topped toasts and craft beers, why not join them? Inside, it's a stylish cafe with a bicycle hanging from the ceiling and outside, there's tons of seating overlooking the river.
Vrt Lili Novy (outdoor cafe)
Ljubljana Wine Tasting
We had a fantastic afternoon with the team at Wine Tasting Ljubljana in their atmospheric wine cellar underneath Dvorni Bar. We got to try a wide range of Slovenian wines, cheeses, meats and other local delicacies while learning about Slovenian wine-making, history and culture.

It was a great experience that I can highly recommend. Book your wine tasting.
Lajbah – Craft Beer Bar
Union Beer Factory experience
Sip honey liqueur
Slovenian honey is a big deal and intrinsically linked to the country's bee-keeping traditions. It's widely used in the cuisine and has even extended to the drinks. You should certainly try this sweet and strong beverage thought to warm you from the inside and make you better when sick.
Rooftop drinks at Neboticnik skyscraper