This post may contain affiliate links to things like tours, hotels, Amazon associates and products. These help me earn a small commission at no additional charge to you.
My Margate day trip from London was one of my favourite days of September. If you're looking to escape the busy capital and explore more of England, I would highly recommend spending 1 day in Margate.

I first heard of Margate when a colleague took a trip to Dreamland and raved about it. Dreamland is a giant permanent fairground that was possibly created with Instagram in mind as it's full of colourful rides and quirky sets.

That's not the only reason to visit though; there are plenty of things to do in Margate and the coastal surrounds are gorgeous.
Margate day trip from London
The train from St Pancras International London to Margate takes just 1 hour 30 minutes. Visiting Margate as a day trip from London is super easy: I'd recommend leaving early so you can make the most of your day there.

Another option would be staying over in Margate but, since I had free accommodation at my friend's house in Greenwich, we just visited Margate as a day trip from London.

To save money, book in advance on the Trainline. It's often cheapest to pick specific journey times rather than purchase an open return. The only downside is you can't be flexible on the time you come home, but it's worth it if you're travelling England on a budget.

The journey is longer but cheaper if you take a bus. Compare UK buses and get the best price on Busbud. London to Margate journeys take 2.5 hours and start from £20.

Since there aren't backpacker hostels in Margate, the most cost-effective solution is to take a Margate day trip like we did.
Looking for UK day trips? Check out my 1 day itineraries for Oxford, Brighton, Cardiff, Liverpool and Bath!
Margate 1 day itinerary
My friend Hannah and I grabbed coffee and breakfast and boarded the 10am train (the coffee was necessary at that time on a Sunday) and arrived before the morning was over. We had a great day spotting colourful beach huts, eating candy floss and overlooking Margate harbour.

In this Margate 1 day itinerary I'm going to run through the best things to do in Margate in the order we did them. Enjoy!
Stop off at Broadstairs – 11am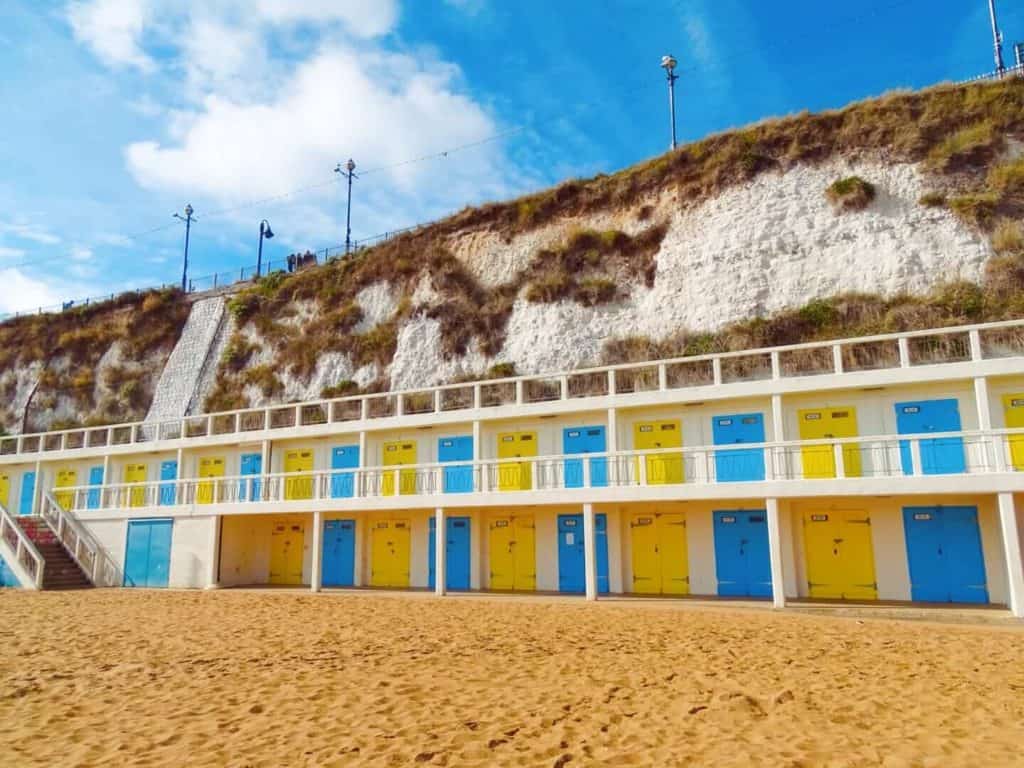 We began our Margate day trip from London with a quick stop at Broadstairs, just a six-minute train from Margate.

This is an easy addition to your day: the London to Margate train calls at Broadstairs so you can hop off for a quick look around.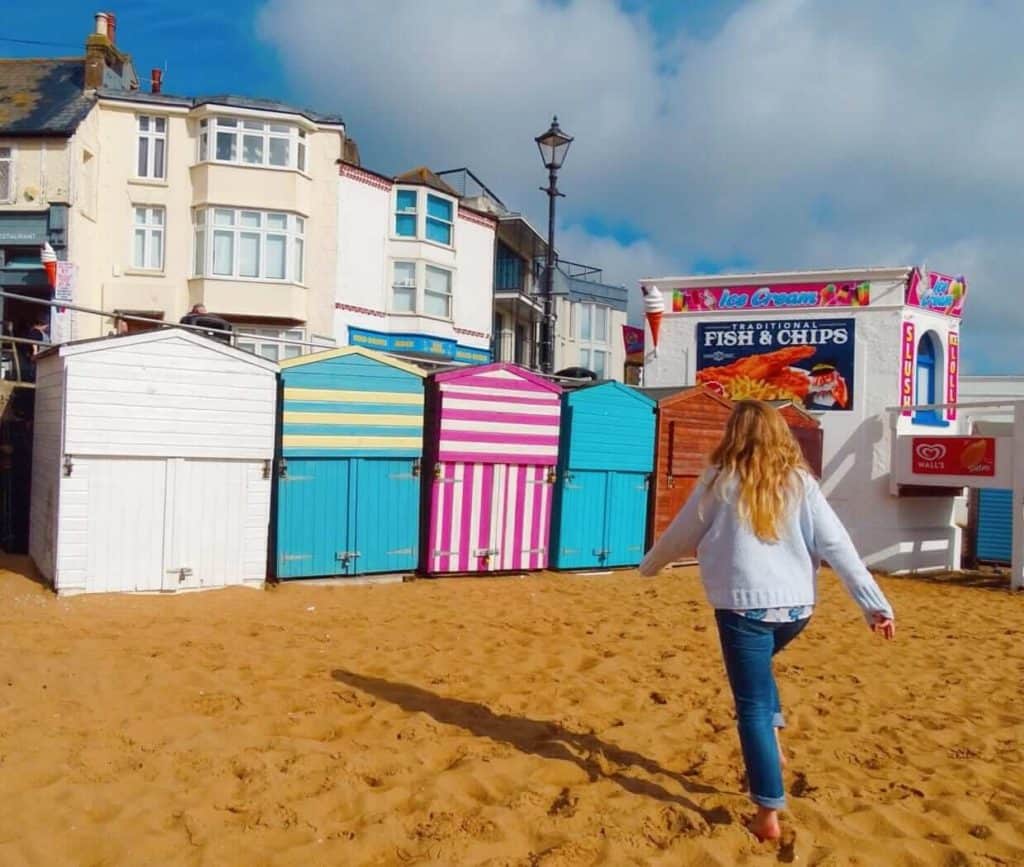 Broadstairs has everything a British beach town should: fish and chips, colourful beach huts and a sandy (although not very warm) beach.

A modern feel? Not so much. Hannah and I mused we were bringing down the average age in town by about 40 years and felt like we might be offered tea and a Worthers Original at any moment (sadly this didn't actually happen).

The unusual chalky, white cliff faces made me think of the White Cliffs of Dover which made sense as they're just 20 miles down the coast.
Arriving in Margate – 12.30pm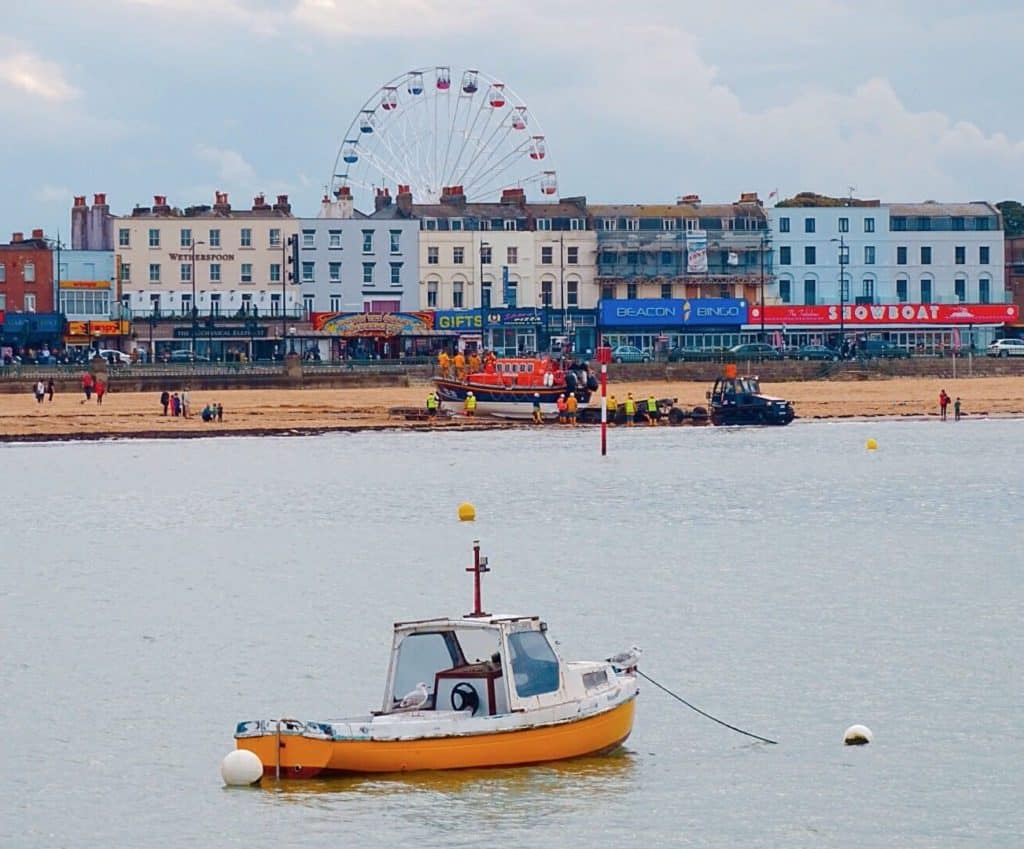 We hopped back on the London to Margate train and arrived six minutes after departing Broadstairs – barely even time to sit down. As soon as we arrived, I noticed how colourful the town was. You can expect street art, bright shop fronts and coloured boats bobbing in the harbour.

Continue your Margate day trip with the following activities…
Dreamland Margate – 1pm
Our first stop after travelling from London to Margate was Dreamland. It was indeed dreamy and we didn't know what to go and look at first. We decided on the giant rainbow slide then followed it up with a spin on the big wheel where every carriage was a different candy colour.

Dreamland is free to enter and you pay for the rides by topping up a fake debit card – the big slide cost £2 and the wheel was £3.50 each.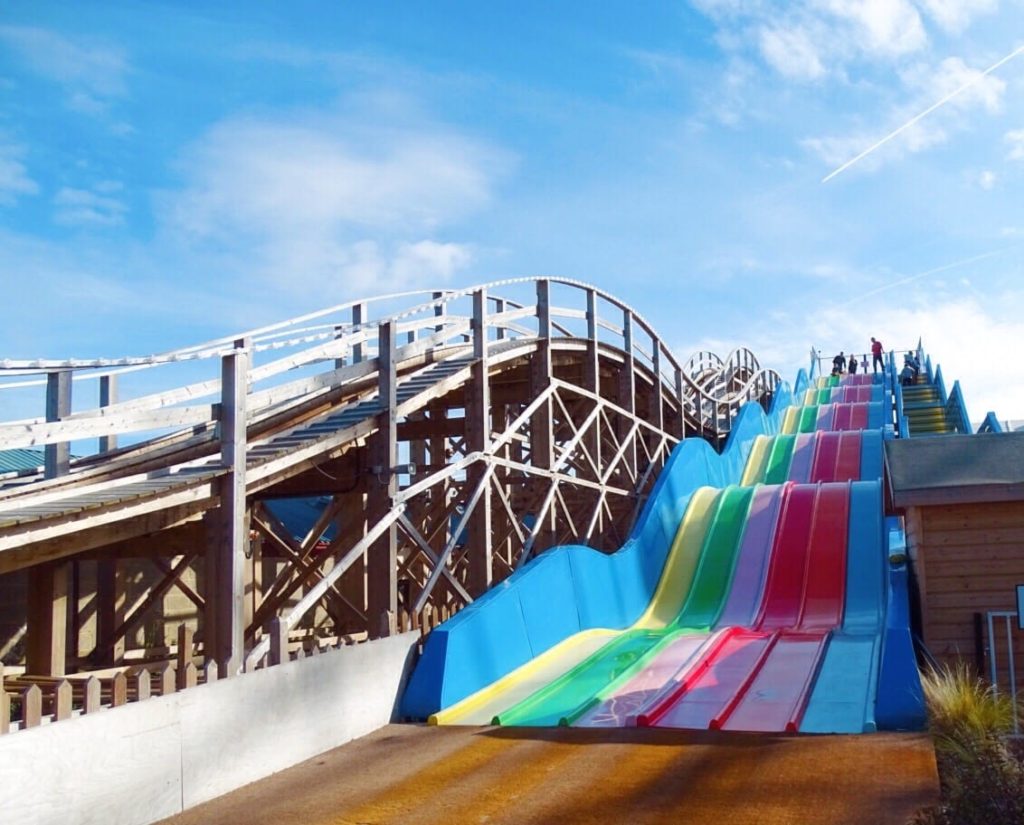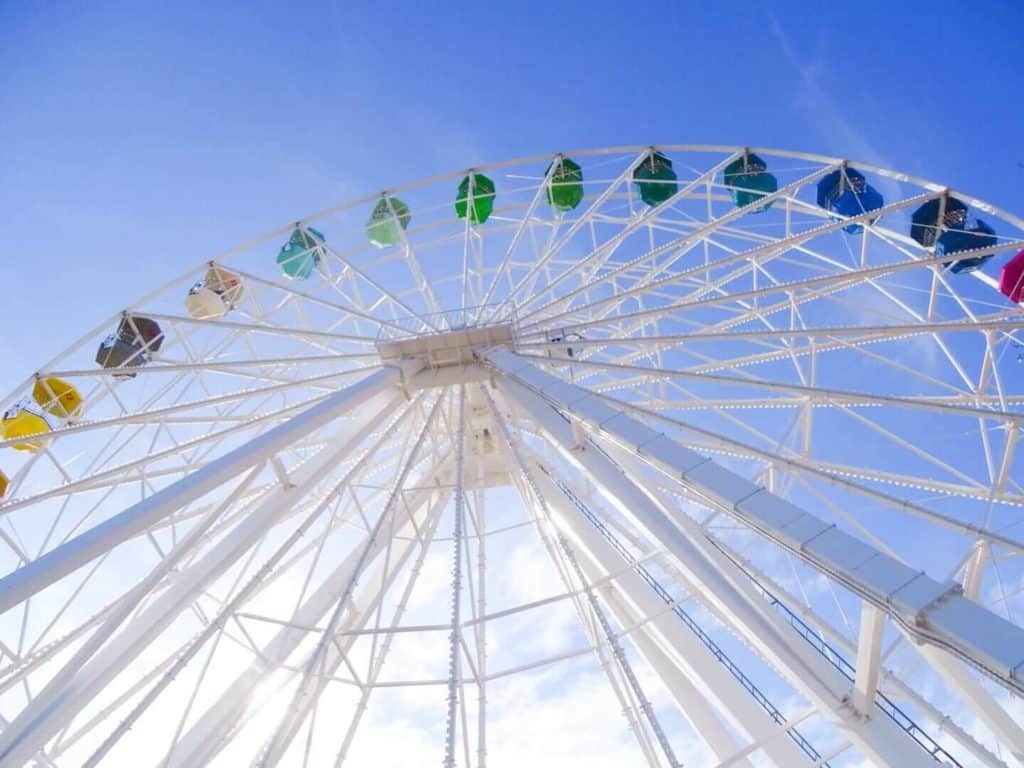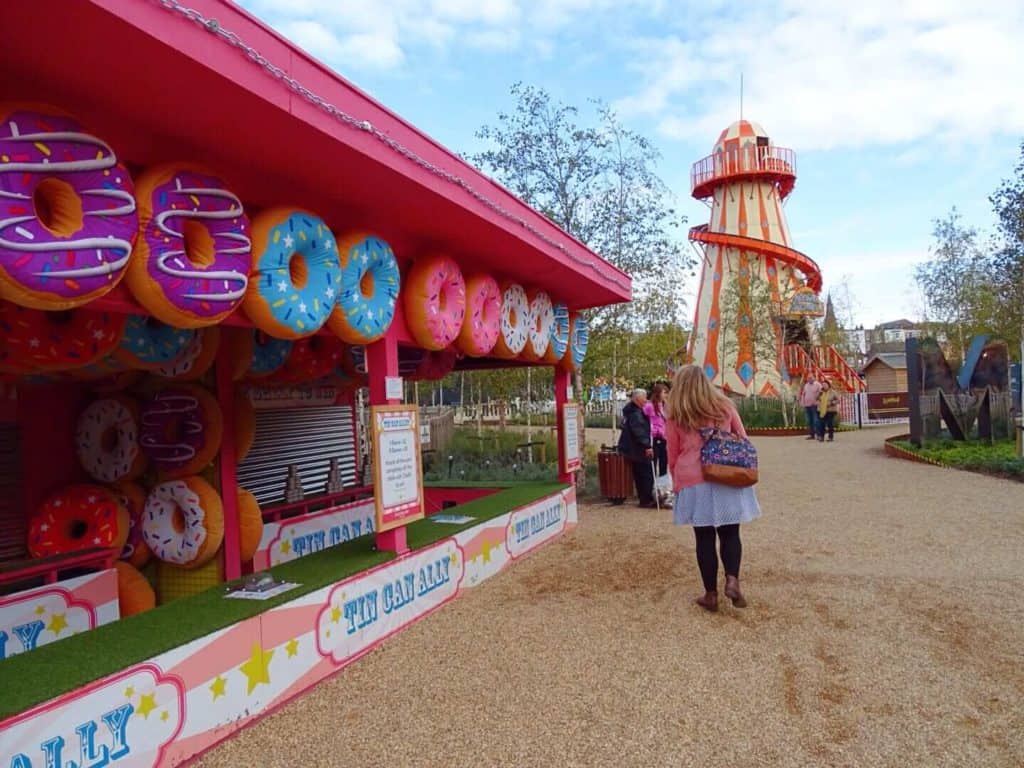 Dreamland's candy floss is definitely worthy of a mention. Naughty Floss serves every floss flavour under the sun (I didn't even know it could come in different flavours) and ours was even sprinkled with fruit flavoured popping candy. We were two happy chappies.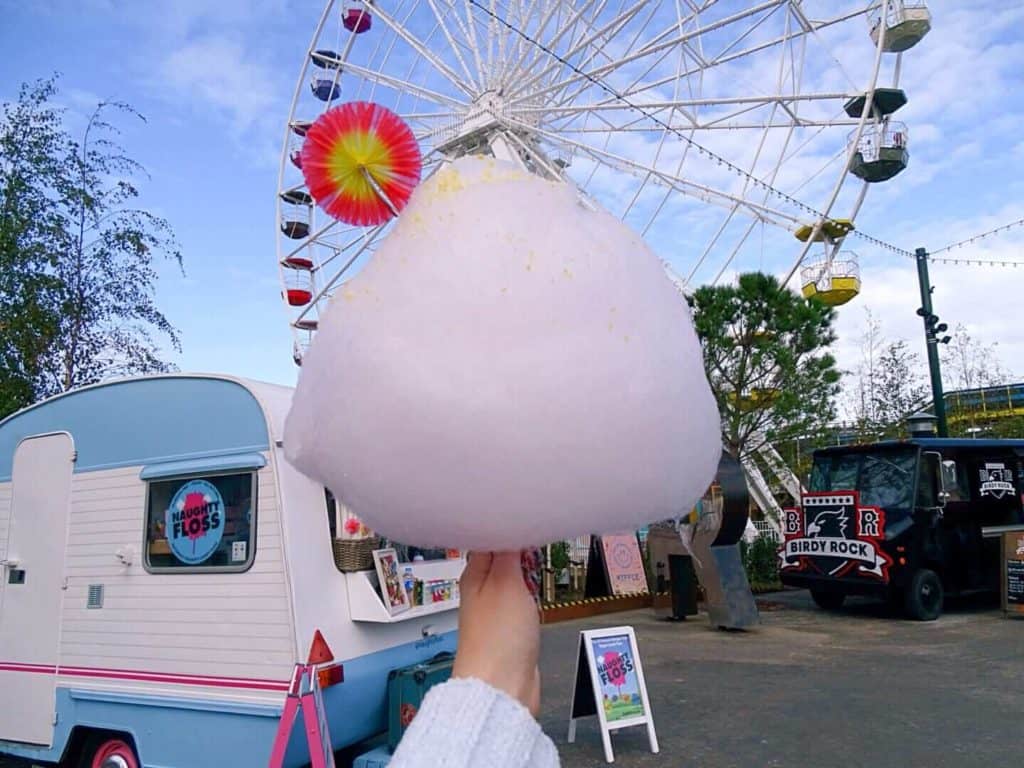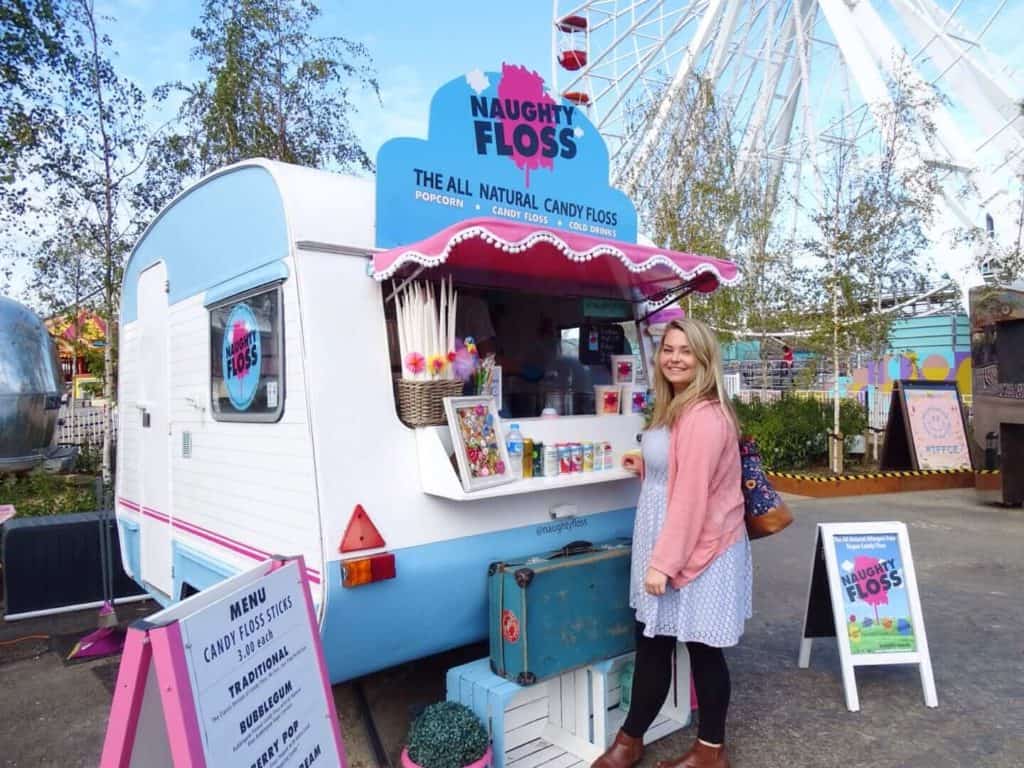 Margate's cheese cafe – 2.30pm
After leaving Dreamland we were feeling hungry and headed over to Cheesy Tiger, Margate's very own cheese cafe. There are plenty of places to eat in Margate but I can never say no to cheese.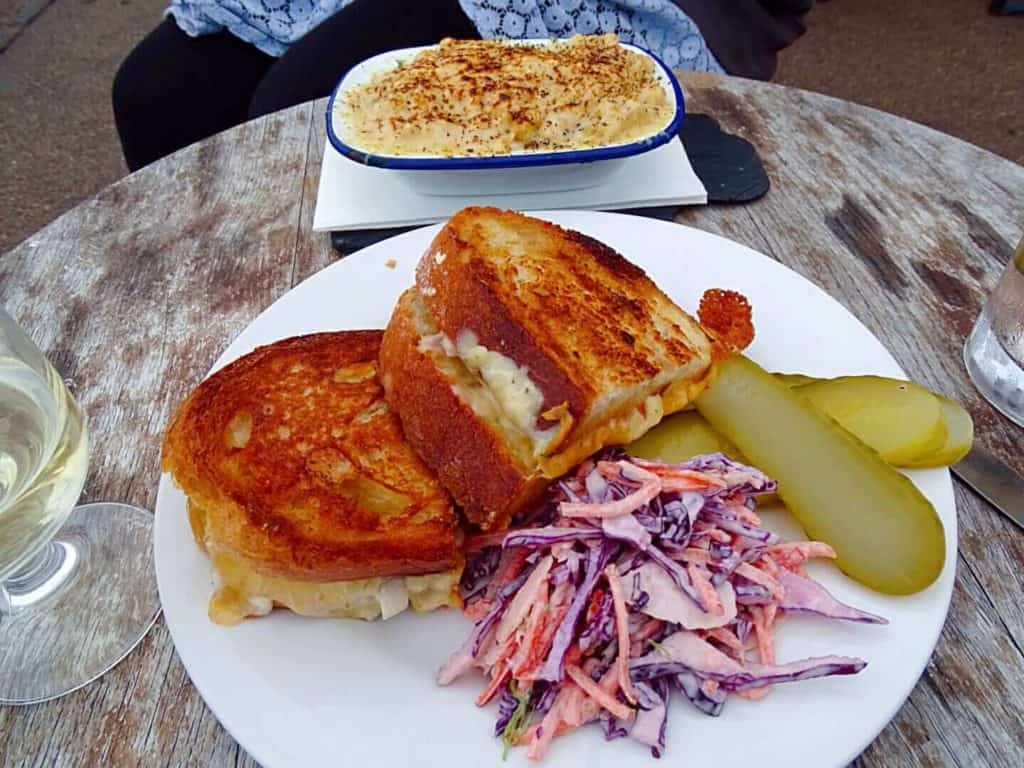 If you just have one meal during your 1 day in Margate, make sure it's here! We shared two cheese-themed dishes: one of the richest and most delicious servings of mac and cheese I've ever had and a giant toastie oozing raclette.
Afternoon – things to do during a Margate day trip
Margate is definitely up-and-coming with lots of quickly shops and cafes to while away an afternoon.

Margate Main Sands: You can't visit Margate and miss the beach! This stretch of sand is busy in the summer months with holidaymakers sunbathing, eating ice creams and making sandcastles. Take a dip in the tidal pools or try your luck at the arcades.

Margate Harbour Arm: Near the beach, Margate Harbour Arm is a curving pier built in the 1800s with a lighthouse perched on the end. Nowadays, there's a selection of outdoor bars and restaurants (including Cheesy Tiger) stretching along it. Visit the Turner Contemporary Gallery, sip coffee at Mala Kaffe Coffee Shop or drink something stronger at the Lighthouse Bar.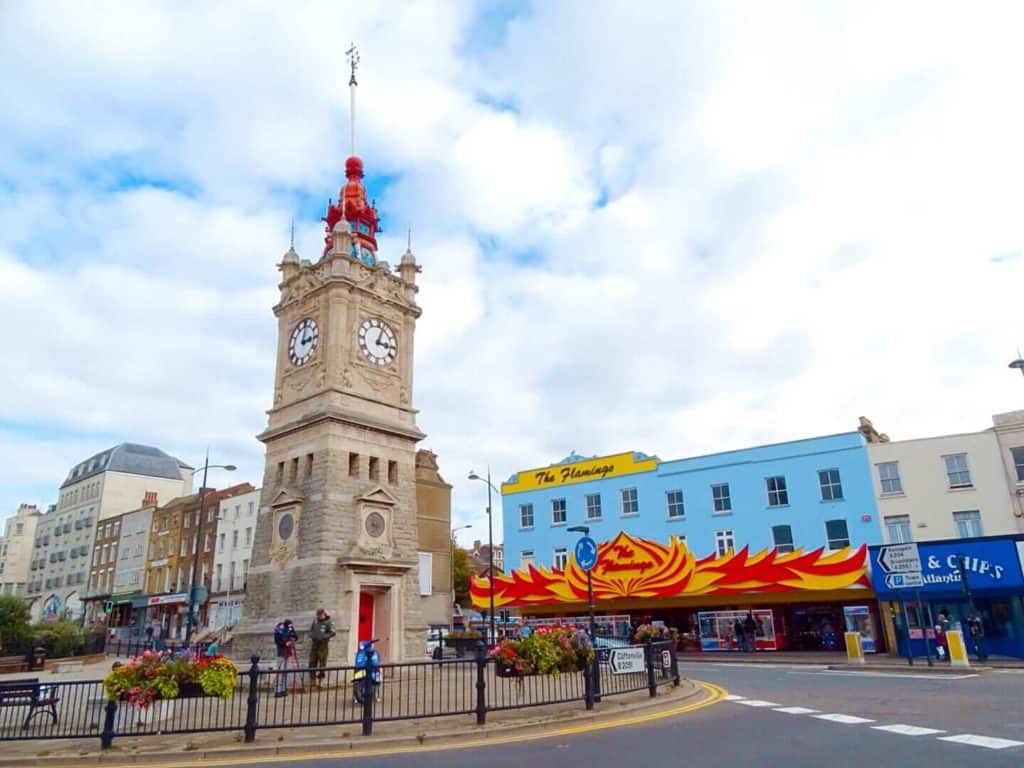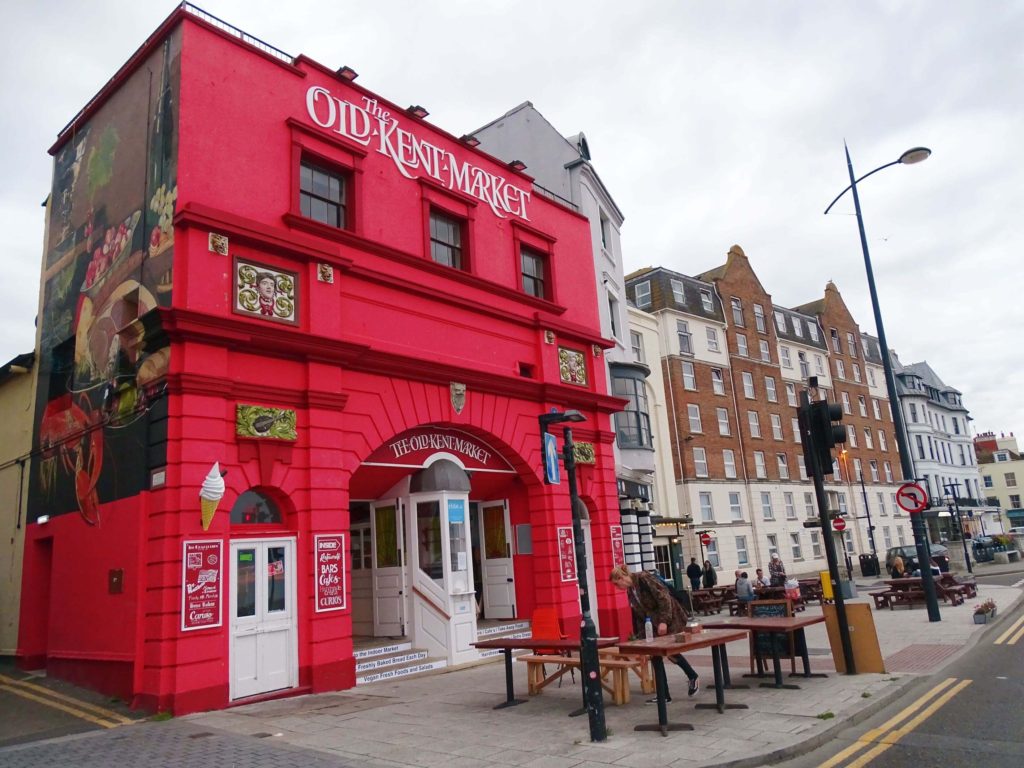 Old Kent Market: you physically can't miss this eye-catching scarlet building which was once the Parade Cinema. Old Kent Market is full of craft stalls, food, local ales, cocktails and a big piano for any guests who want to play.

Turner Contemporary: Displaying the work of J. M. W. Turner and built upon what was once his old boarding house, this is Margate's largest arts venue. Check what exhibitions are taking place on the website. Entry is free.

Shell Grotto: This intriguing location is a bit of a local mystery. No one knows why it was created but whoever did deserves an award: the 30-metre tunnel is decorated with 4.6 million shells, intricately displayed into spectacular artwork. Look closely and you may see animals and ancient gods and goddesses. Entry is £4.50.
Visiting Ramsgate during a Margate day trip
Nearby Ramsgate is known for its royal harbour and beautiful beaches. We didn't have time during our Margate day trip and generally wouldn't recommend attempting squeezing it in as well as Broadstairs.

However, if you're staying overnight or are super speedy, have Ramsgate on your radar as another lovely place to visit in Kent. The London to Margate train calls there too (before Broadstairs on the way from London and afterwards on the way back).
Where to stay in Margate
We headed home after our Margate day trip but if you're looking for places to stay, there are hotels from £47 and loads of self-catering options.
Budget: Warwick Guesthouse has a cosy guesthouse with a friendly owner, right in the heart of Margate.

Splash out: Sands Hotel has a dreamy sea view, boutique rooms and a delicious breakfast which can be eaten on the terrace.

Private apartments: Margate Holiday Apartments (£168pn) // Sunset Apartments (£140pn).

Browse hotels and self-catering apartments on Booking.com.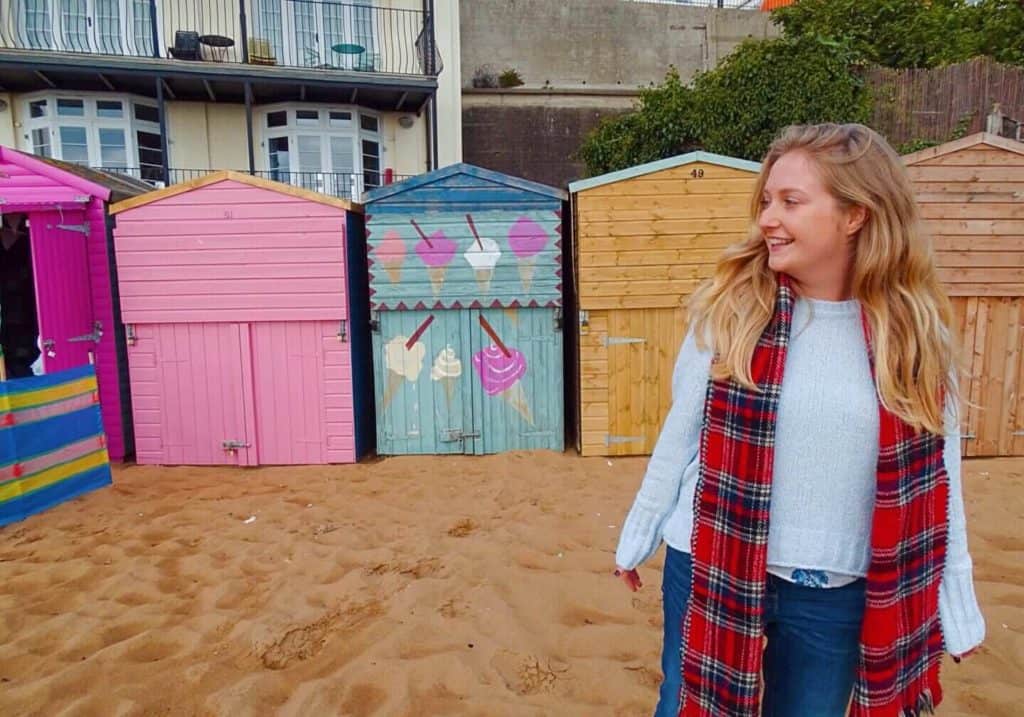 Visiting the UK? 

Guidebooks – LP always get my seal of approval. Use the latest copy of Lonely Planet England.

Getting there & around by air – I use Skyscanner to find the best-value flights, using the 'search by month' tool to find the cheapest dates. You can also use the 'to anywhere' feature if you're flexible on where you're going.

Car hire – use Rentalcars.com to compare car rentals in the UK (and all around the world).

For UK trains, I use Trainline. The search feature allows you to compare prices, and they show live departure times on the website.

For buses, I use Busbud. It's the only site that compares UK coaches and buses. Find London to Manchester journeys for £1! 

For hotels and self-catering apartments, I use Booking.com. You can filter by review score and price to find the best-rated budget places. For hostels, I use Hostelworld.com.

To save money on accommodation, I use Trusted Housesitters, a website that connects homeowners going away and travellers who can sit their homes & pets.

I use GetYourGuide for tours & activities when I don't want to travel solo. The guides are knowledgeable and you can't beat the prices. I also check Viator as they often have fun and unique offerings.

Need travel insurance? I use True Traveller (for UK & Europe residents) since it's affordable but covers everything you'd need including various activities, valuables and pre-existing conditions. Unlike some companies, they insure you if you're already travelling / don't yet have your flight home booked. Get a quote.

For travel insurance for other nationalities, I recommend Hey Mundo and for long-term digital nomad travellers, I suggest Safety Wing.

Check out my resources page for more travel discounts and budget tips from my 10+ years on the road!
Thanks for reading
If you liked it, please share it!
If you're looking for England inspo, check out some of my other posts:
See you next time for more adventures,
Rose
For more travel content, follow me on Instagram, Facebook, Twitter and YouTube.
Ps. Liked this Margate day trip from London? Pin it for later!