This post may contain affiliate links to things like tours, hotels, Amazon associates and products. These help me earn a small commission at no additional charge to you.
My recent Mekong Delta day tour from Saigon reminded me how special the Mekong region is. Green, glorious riverbanks groan under the weight of palm trees, while floating villages and markets emphasize how nature and humans can work together.

The humming, humid world below the palm tree canopy reminded me of my last visit, three years ago. Then, I'd just escaped the 9-5 (pfft, 9-9 thanks to travel saving) and was on my first solo adventure, rapidly ticking off places on my Southeast Asia bucket list.
HCM ESSENTIALS

E-sim data plan

Copy of Lonely Planet Vietnam

Getting there: flight (Skyscanner) / train / bus 12GoAsia

Pre-book your airport to city transfer

Accommodation: Booking.com // Hostelworld

Tours: GetYourGuide

Food tours: EatWith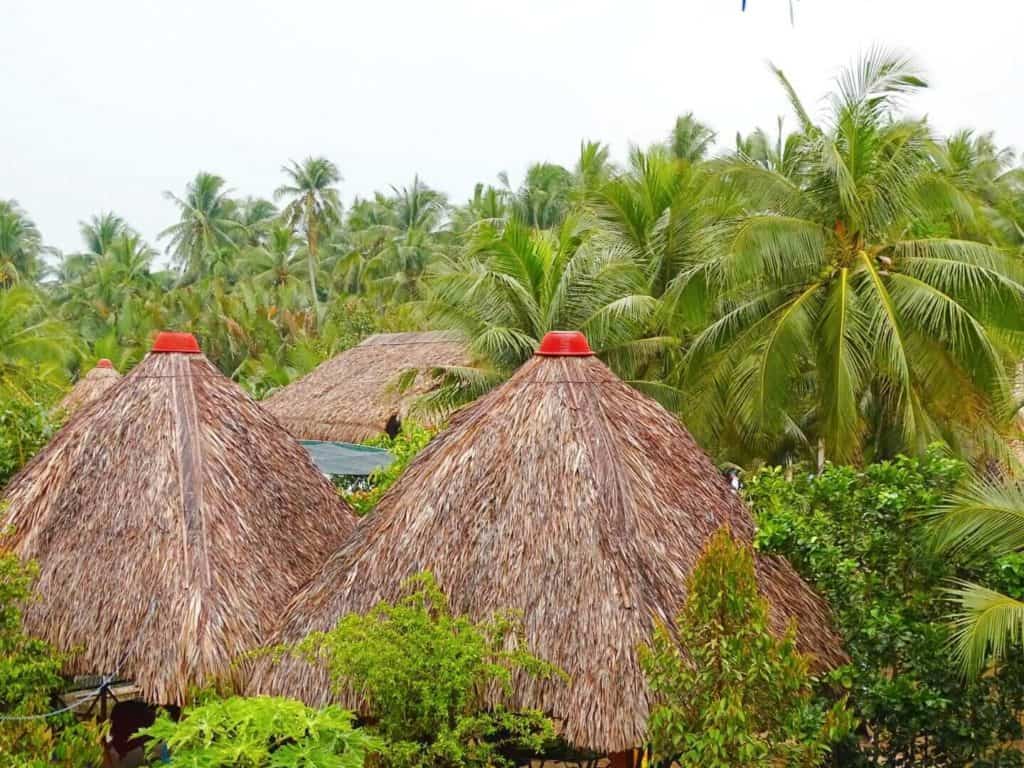 Fast forward three years and I jumped at the chance to return during a Mekong Delta day trip from Saigon, also known as Ho Chi Minh.

After a 9am pick-up, we ditched the concrete jungle and replaced sights of swerving scooters with meandering riverboats.
Related read: how to spend 2 weeks in Vietnam
Mekong Delta day tours from Saigon
It's easy to take a Mekong Delta day trip from Saigon as several companies run tours daily, picking you up in the morning and returning to the city by later afternoon.

Depending on your Saigon itinerary, you can take a full day excursion to the Mekong Delta or a half-day trip combining a Chu Chi Tunnels tour in the same day.
Leaving Ho Chi Minh
Our tour guide kept us entertained on the 2-hour journey by telling us local facts and explaining a little about the Vietnamese language. He told us that there are six tones of Vietnamese meaning a single word can have six meanings depending on the accent.

Indeed, the word 'ma' can apparently either mean mother, ghost, rice, guilt or horse depending on the way you pronounce it. As you can imagine, when texting became a thing this caused all kinds of misunderstandings, like people asking for newspapers and getting condoms. Carnage!
Arriving in My Tho & visiting a temple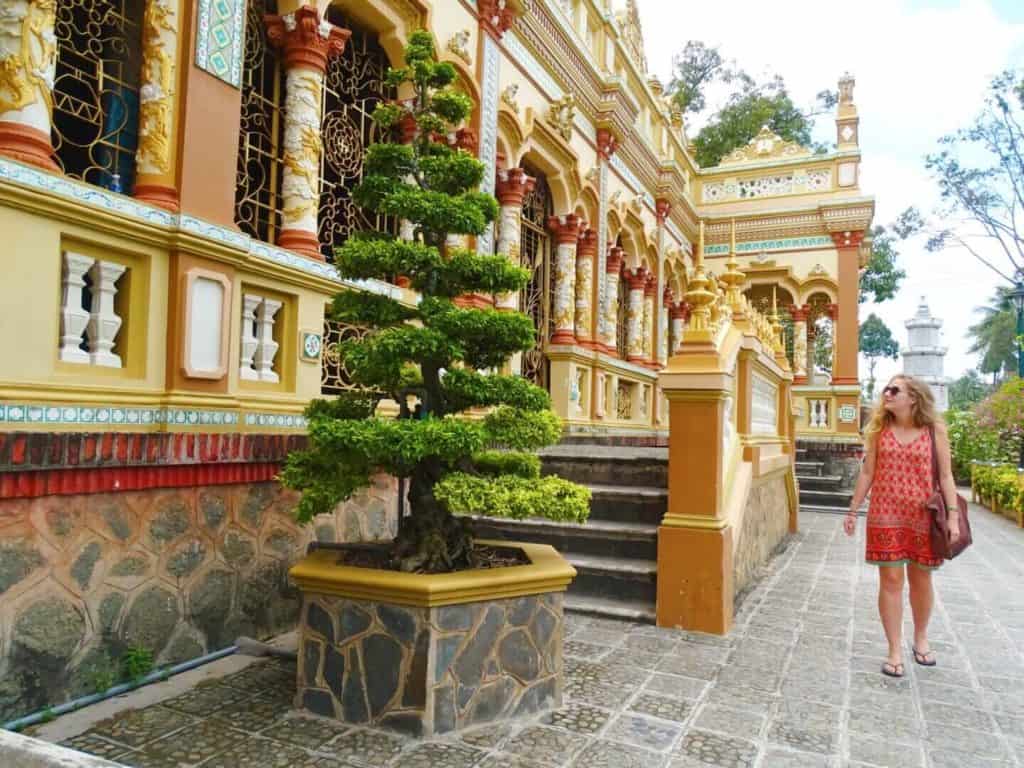 Our minibus pulled into My Tho town where we hopped out to explore Vĩnh Tràng Temple. I was expecting it to be one I remembered from last time but it turned out to be a totally different place I'd never been before.

It was stunning with an ornate design that looked more like a palace, and some enormous Buddha statues. Half an hour there was plenty of time for the others, but time's always tight for Where Goes Rose when she's setting up self-timers and finding things to balance her camera on!

Still, I made it back to the bus in time even if I was a little sweaty (in Vietnam this is a common occurrence!).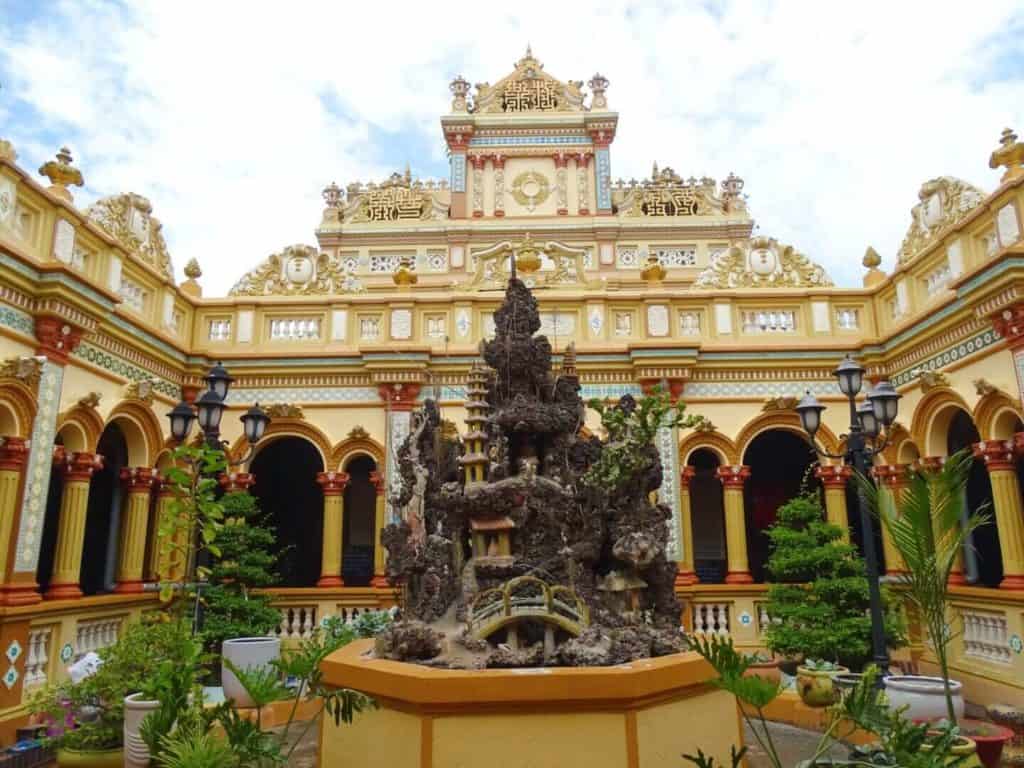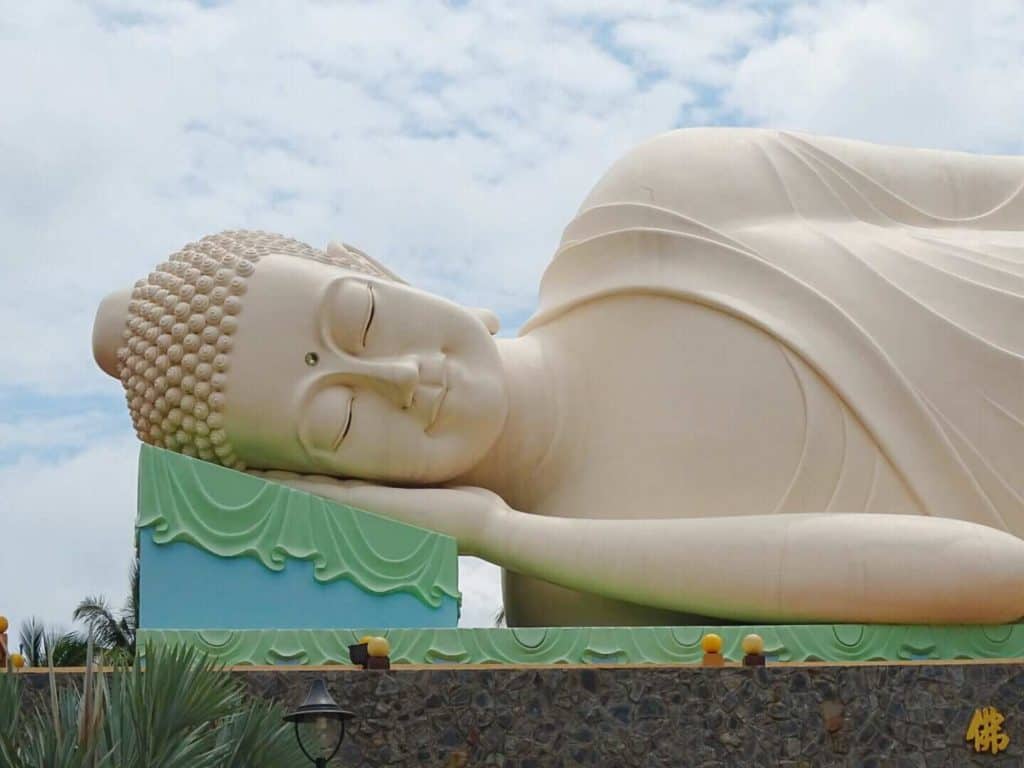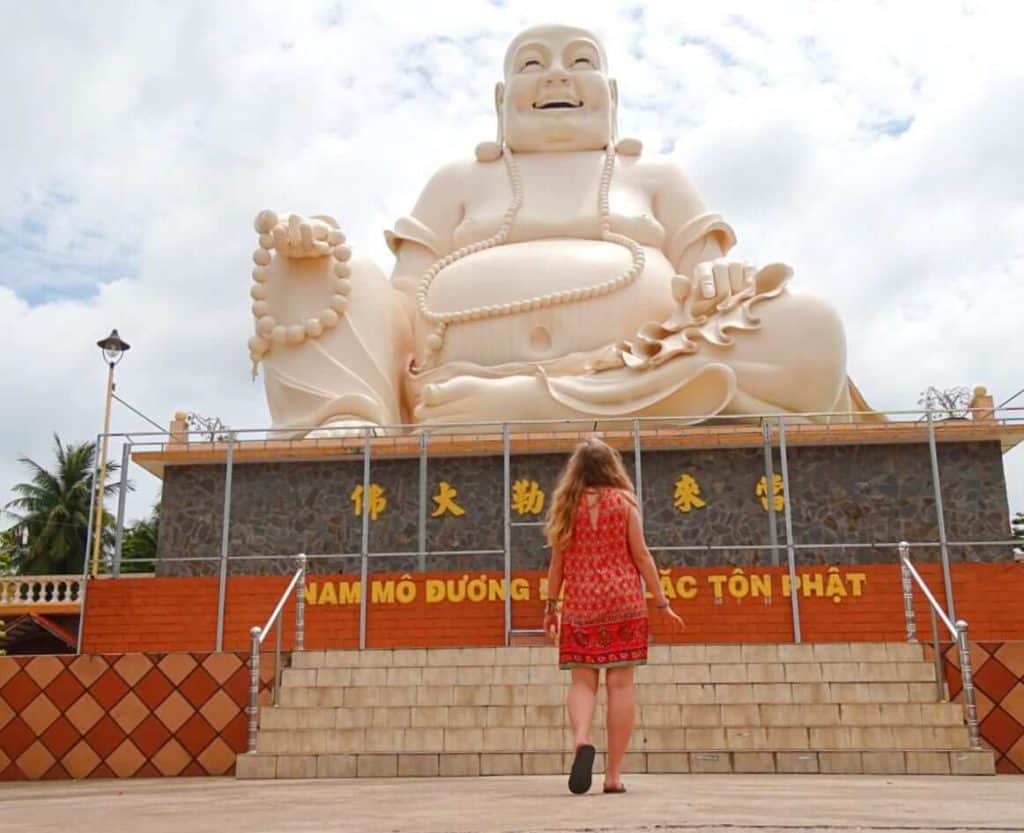 Boarding our boat & sampling honey tea
From My Tho jetty we climbed aboard a narrowboat which was to be our mode of transport for much of the day. To reach the shady, narrow waterways that the Mekong Delta is famed for, we first had to travel down the enlarged main river.

Our first port of call was a honey factory where some members of the group held a rack of sleepy bees, and we all sampled sweet honey tea. The Mekong region is full of flora and fauna, and many local businesses work closely in conjunction with the natural environment.

Honey tea was really tasty, though as usual in Vietnam I had a sneaking suspicion my daily sugar intake was going to be off the scale. Luckily we had a more natural sugar break scheduled and stopped for some popular Asian fruits. Jackfruit is my favourite, and dragon fruit is pretty yum, too.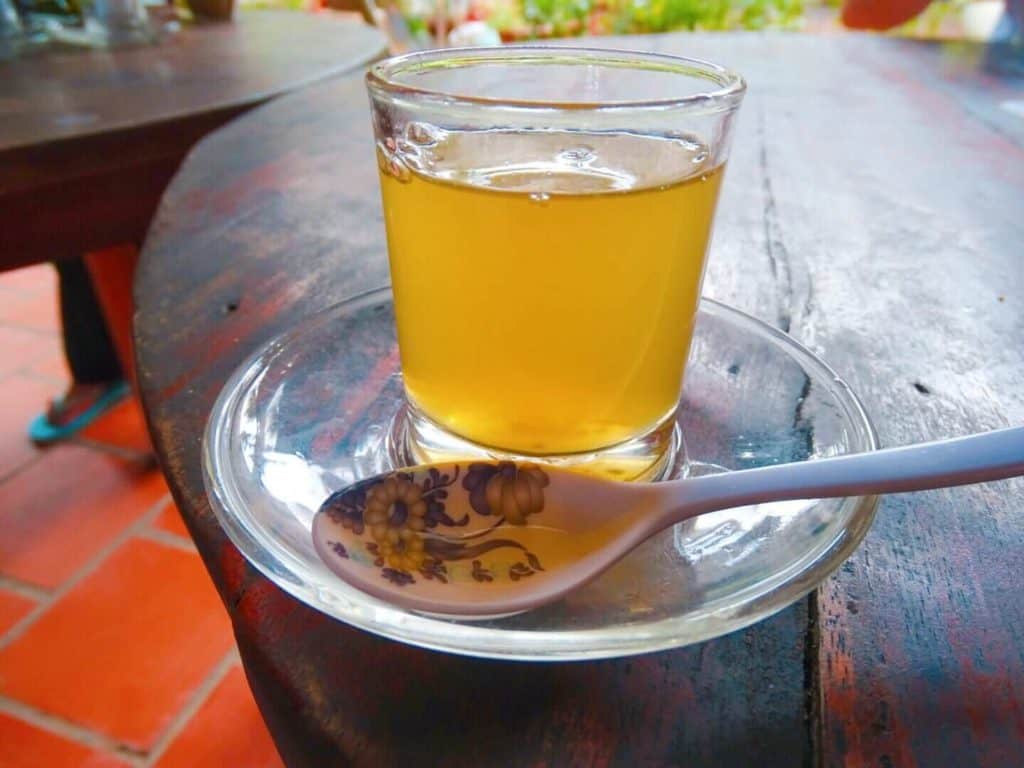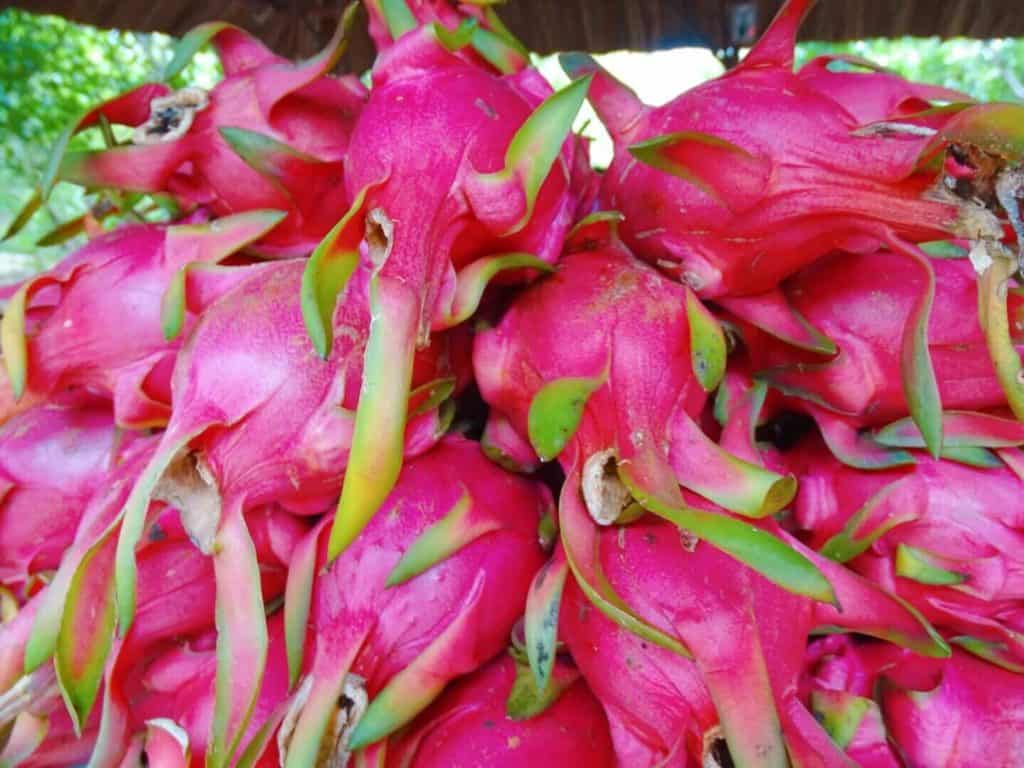 Coconut candy and rice wine
Afterwards, we headed to a coconut candy production centre where our guide showed us how to husk coconuts. The process involves a dangerous dance with a sharp spike (note to self: never do this at home!) which apparently experts do up to 1,000 times a day.

I think I'd prefer to eat 1,000 pieces of coconut candy which I remembered from my last trip. So gooey and addictive!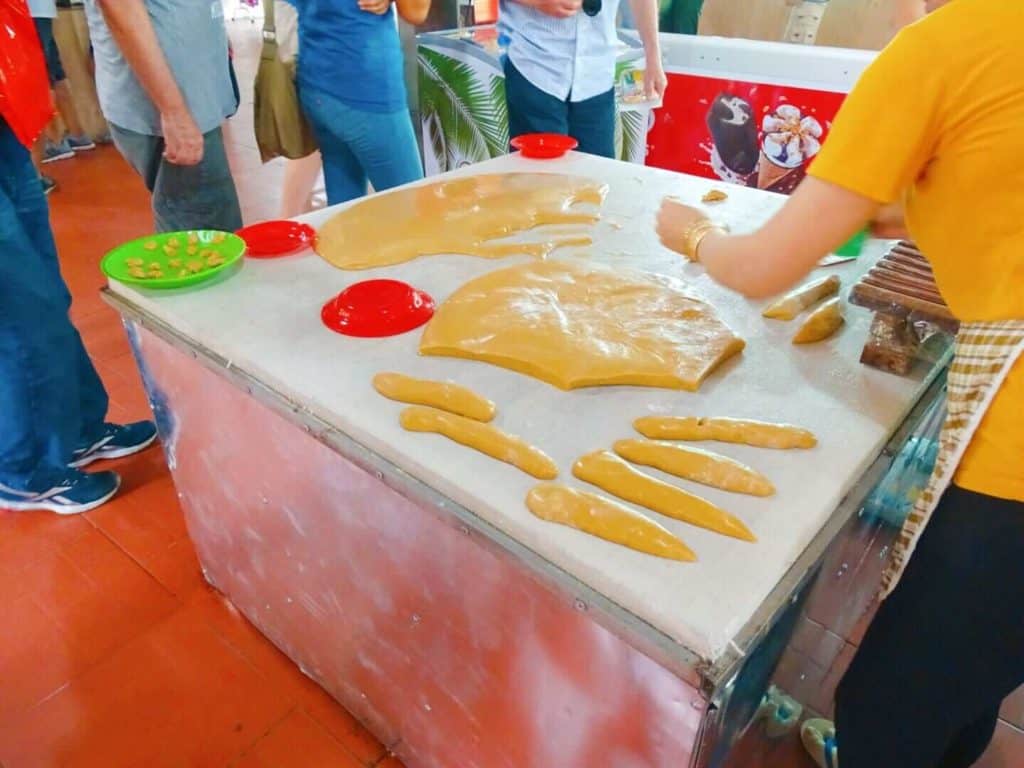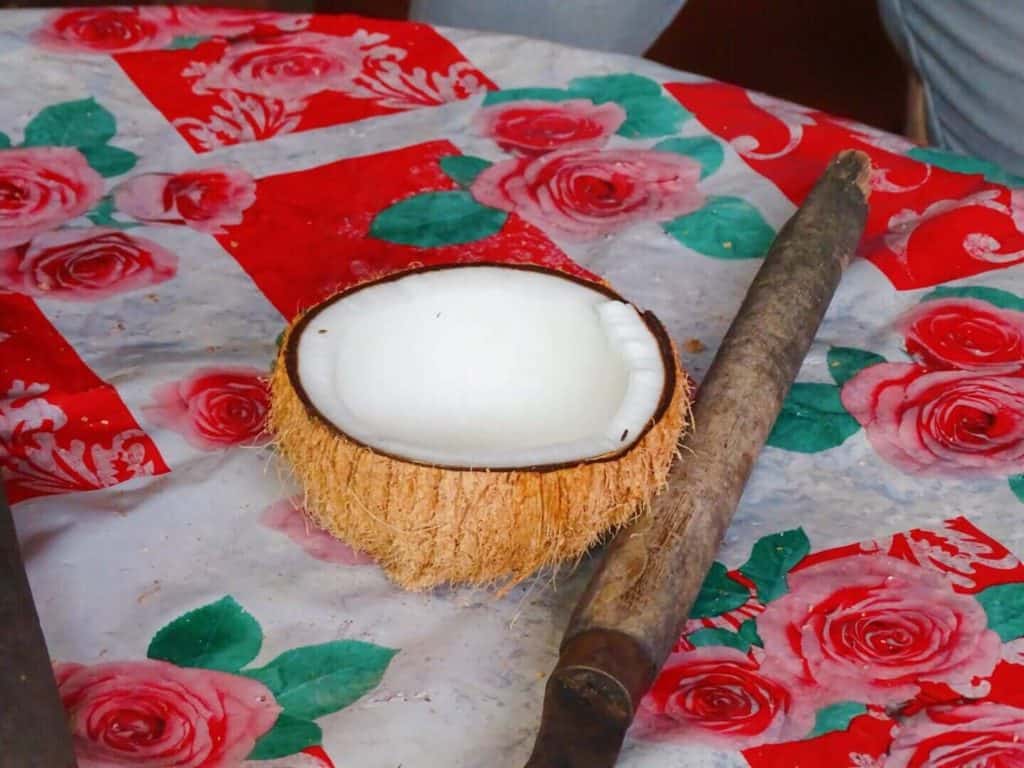 Less tasty was the shot of rice wine we were invited to try after. Named after two things I enjoy, there's absolutely nothing I like about rice wine!
Lunch stop
We hopped on the back of an enlarged tuk-tuk for the highlight of our Mekong Delta day trip… lunch! A woman next to me mused she was already full from the snacks, to which I made a noise of agreement then devoured enough food to end a nationwide famine.

Seriously, it was so good especially the sticky ginger chicken. Dessert was watermelon and a giant ball of sticky rice paper. It sounds weird but tasted divine!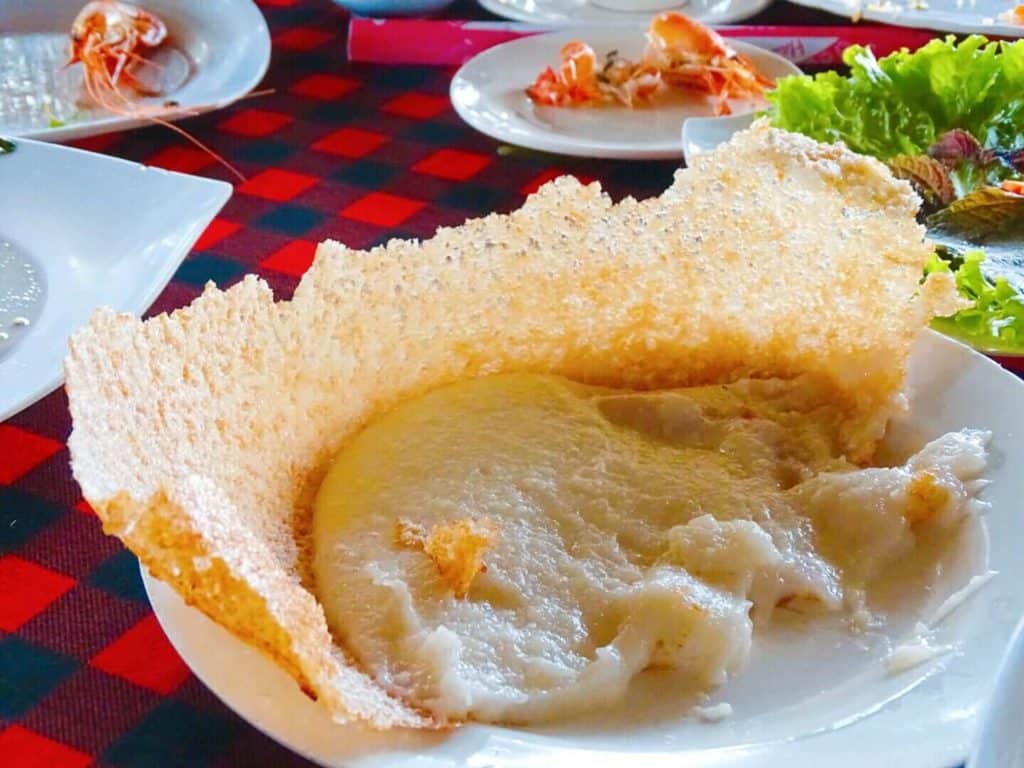 The highlight – a Mekong Delta canoe ride!
This was by far the part of the day I was most excited about, and I rushed to get the front seat. While the island where we'd eaten lunch had been busy, the waterways were so peaceful. Our boat glided through so silently that I felt guilty about the clicking sound of my camera!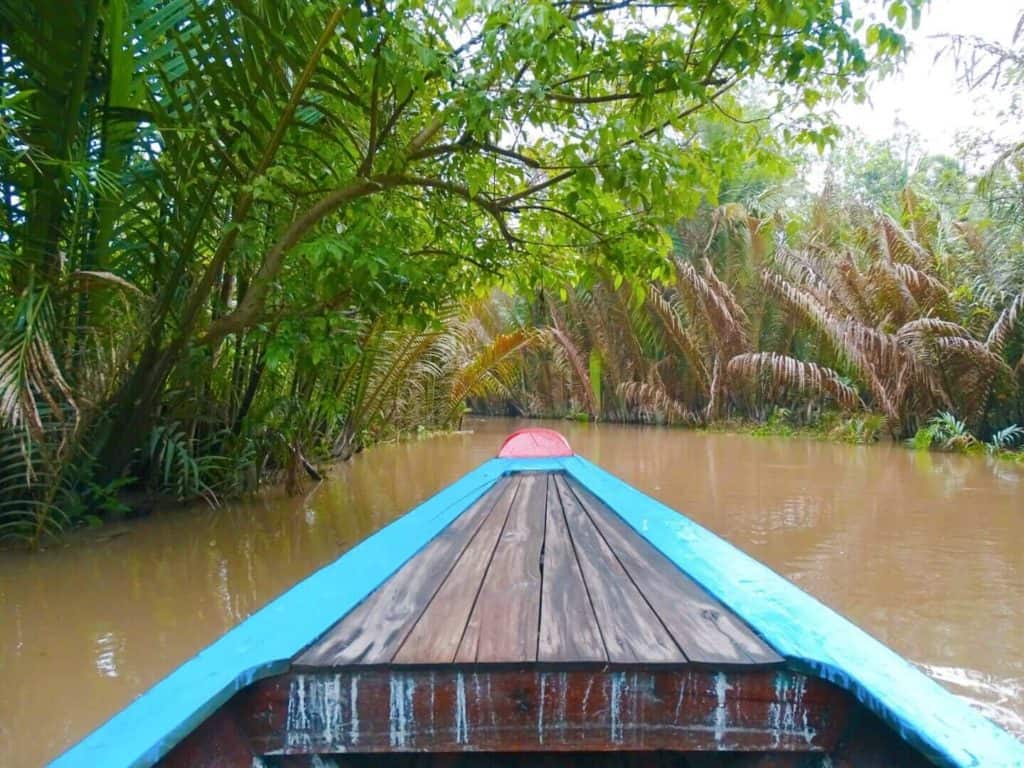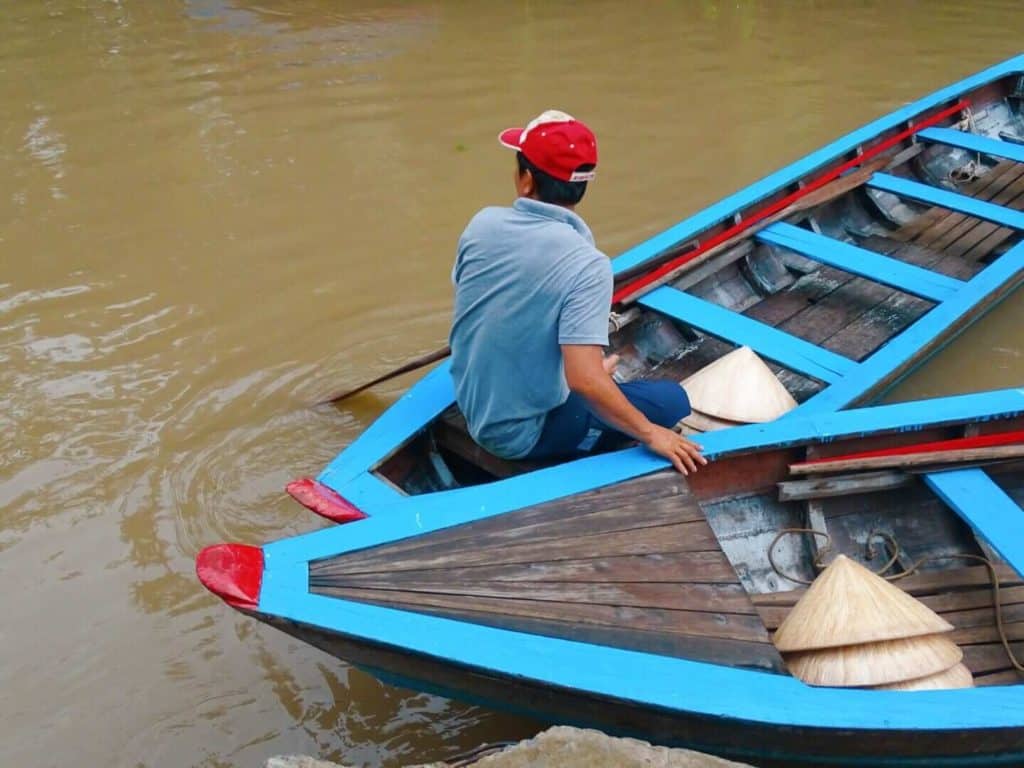 Sadly, our Mekong Delta day trip was nearly over and we boarded our big boat again – just in time as the heavens were about to open. We wore plastic raincoats and sipped from coconuts on the way back to the mainland. From there, it was back on the minibus and home to Ho Chi Minh.

What a cool day – the Mekong hasn't changed one bit since my last trip!

Book your Mekong day tour:
Thanks for following my Mekong Delta day trip!
If you liked it, please share it 🙂
Check out some of my other Vietnam posts:
See you next time for more adventures,
Rose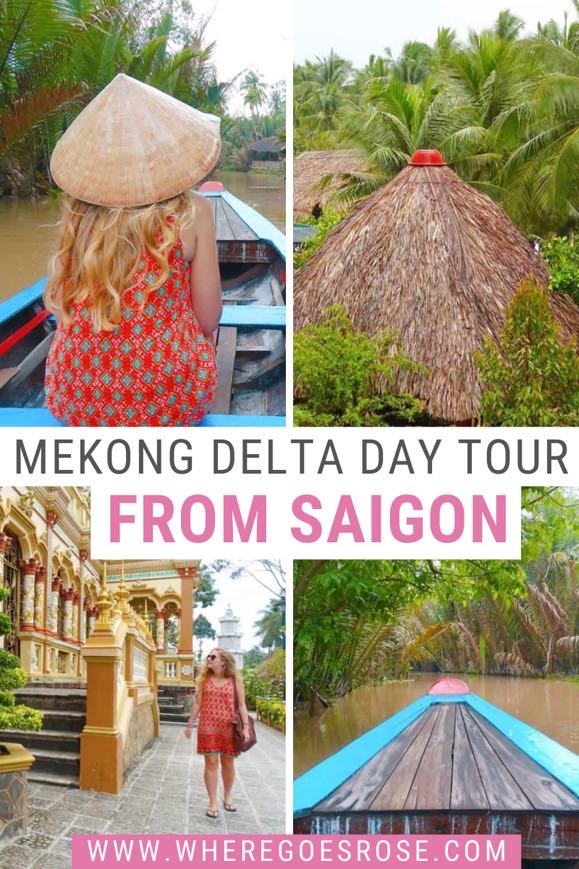 Vietnam quick links

Getting around by air – it's easy to get between cities by flight. I use Skyscanner to find the best-value flights, using the 'search by month' tool to find the cheapest dates. You can also use the 'to anywhere' feature if you're flexible on where you're going.

Stay connected with E-sim data plans that don't require delivery or collection; just span the QR code.

In my opinion, Lonely Planet offer the best guidebooks. Get the latest Lonely Planet Vietnam.

For Vietnam buses and trains, I use 12GoAsia. The search feature allows you to compare prices and durations.

I use Booking.com for accommodation. They have the best range of hotels and self-catering apartments, plus you can filter by review score and price to find the best-rated budget places. For hostels, I use Hostelworld.

To save money on accommodation, I use Trusted Housesitters, a website that connects homeowners going away and travellers who can sit their homes & pets.

For activities, I use GetYourGuide as they have a huge range of affordable tours.

Need travel insurance? I use True Traveller (for UK & Europe residents) since it's affordable but covers everything you'd need including various activities, valuables and pre-existing conditions. Unlike some companies, they insure you if you're already travelling / don't yet have your flight home booked. Get a quote.

For travel insurance for other nationalities, I recommend Hey Mundo and for long-term digital nomad travellers, I suggest Safety Wing.

Check out my resources page for more travel discounts and tips!