This post may contain affiliate links to things like tours, hotels, Amazon associates and products. These help me earn a small commission at no additional charge to you.
This month started off with a much-needed chill sesh. Well, kind of.
BTW – I started this series when I started travelling full-time in May 2018. Read my other monthly round-ups here.
If you read last month's update, you'll know September was one of my busiest months ever. I travelled around Bali for two weeks with Josh, squeezed a month's work into eight days, then worked as a brand ambassador for Duara Travels in a Balinese village.
So, on the 1st of October, I travelled to Nusa Lembongan (an island off the coast of Bali) and didn't move for a week, apart from a day trip to neighbouring island, Nusa Ceningan.
I'd wanted to come to Lembongan ever since Josh and I had sailed past it on the ferry to Nusa Penida. Of this 3-island cluster, Nusa Lembongan is the most chilled and holiday-esque. Foreigners have been visiting for a decade so there are plenty of cafes and forms of entertainment if you need them… Including boat trips to snorkel with manta rays, something I was desperate to do.
Nusa Lembongan: 1st-7th October
I had some work to do during the first few days but then I just focussed on my blog which was super nice as I often struggle to find the time.
Sightseeing-wise, I did two main things on Nusa Lembongan. The first was take a snorkelling trip in an attempt to find manta rays. As they're wild animals, there's no guarantee but we were lucky. The few seconds I had circling with this beauty made the whole trip worth it!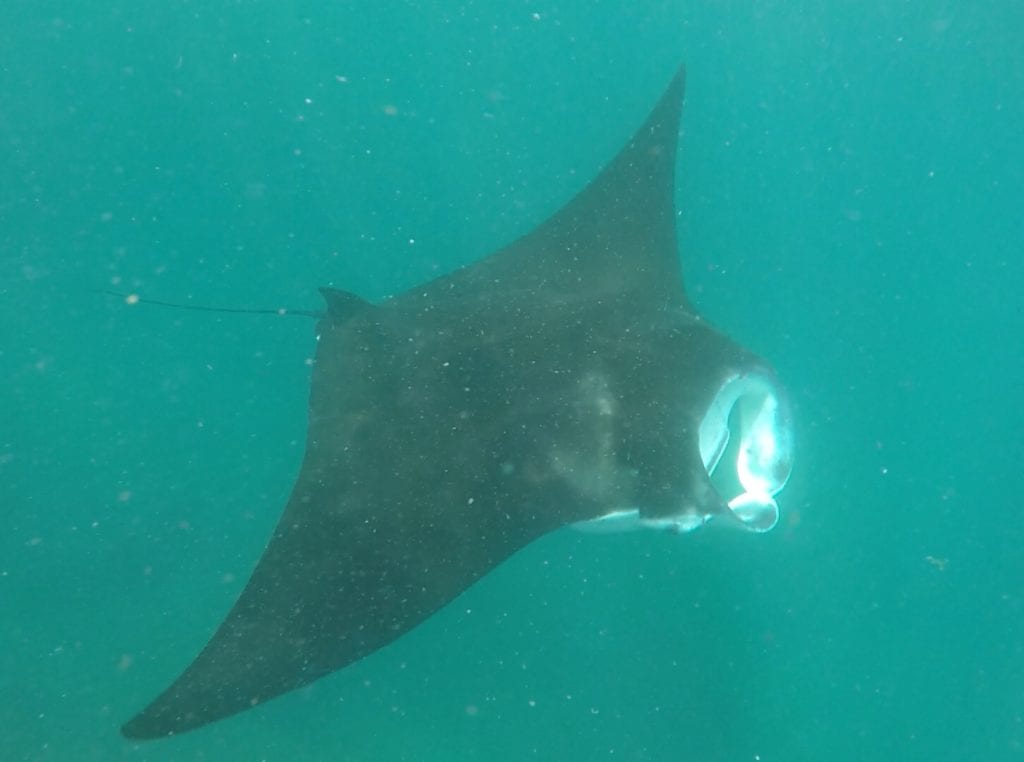 The other fun thing I did was take a day trip over the Yellow Bridge to Nusa Ceningan, the tiny neighbouring island that makes up the Nusa trio. I took a scooter trip with a driver but I ended up sending him home when I realised it was easier to walk around. There was no point him waiting an hour at each place to drive me a short walk away!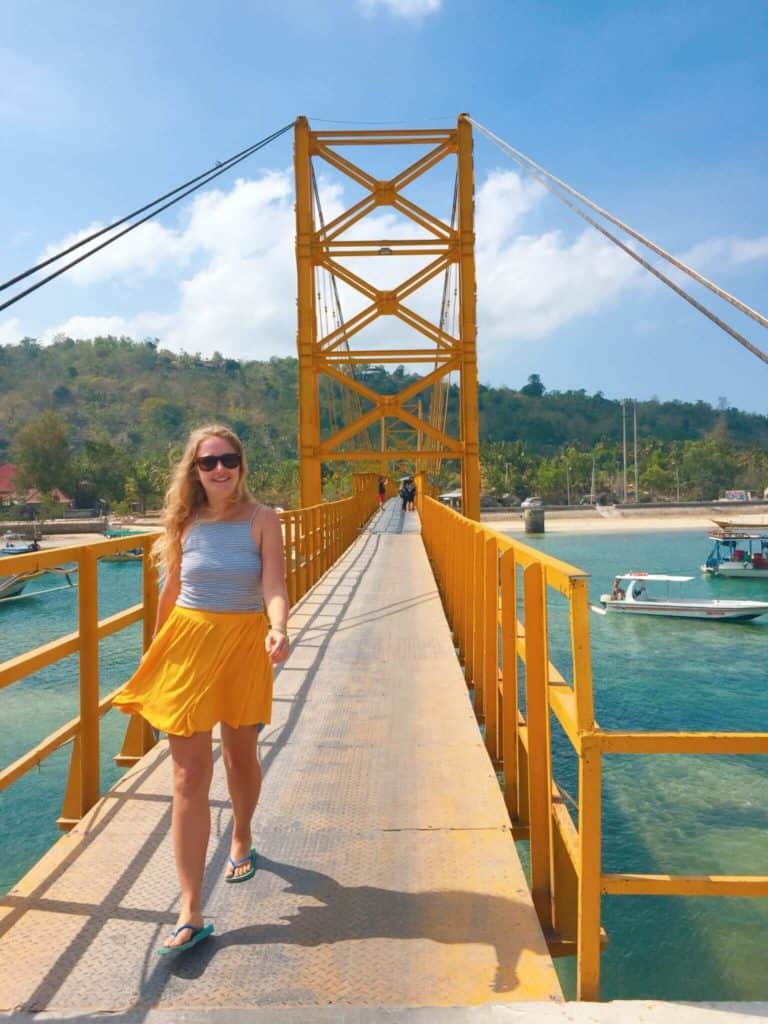 Leaving Bali
Leaving the island, I felt semi-relaxed. On Lembongan, I'd been staying in a dorm and working hard on my blog, plus trying my best to explore and create content, so I wasn't totally over my crazy last month. It was about to get busier as I tried to juggle all my commitments in my next two destinations.
I felt a little sad to leave Bali: I'd bonded with it more than I'd expected (you might remember I didn't love Ubud to start with), due to my fun memories with Josh and my amazing experience with Duara. But I wasn't devastated – I was really excited to get to Java and spend my last week in Indonesia seeing somewhere that wasn't Bali. It was well overdue.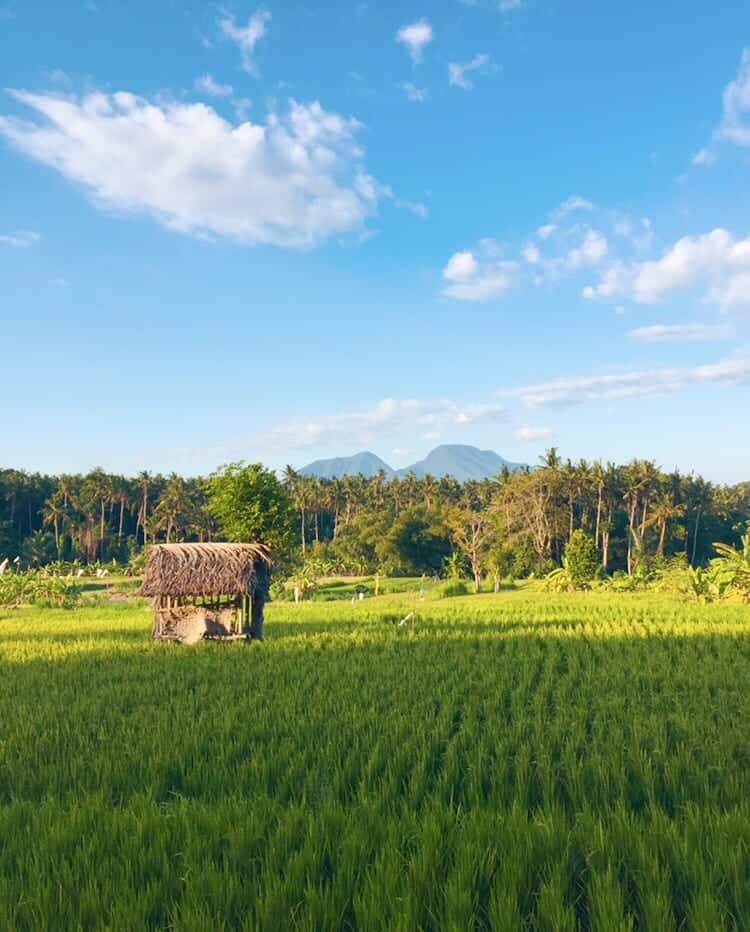 Yogyakarta, Java: 8th-15th October
Do you ever go somewhere with few expectations? This was me headed to Yogyakarta. I was mainly visiting as a launching point for the Borobudur Temple site, but I ended up having the best time. I'd say this was due to:
Good Karma, the incredible hostel I stayed it. It was so colourful and friendly and, for £4 a night, it included the tastiest breakfasts that changed every day. My favourite was pina colada pancakes with pineapple and coconut. People say accommodation is just somewhere to sleep but I disagree: sometimes a friendly base to come home to can make or break your experience of a place.
The fun sponsored tours I did with Backstreet Academy. They treated me to a Yogyakarta food tour with a lovely local guide, Rama, who introduced me to four amazing local dishes during one indulgent evening. They also sent me on a Yogyakarta street art tour, discovering the most incredible urban art with the famous local artist who did it!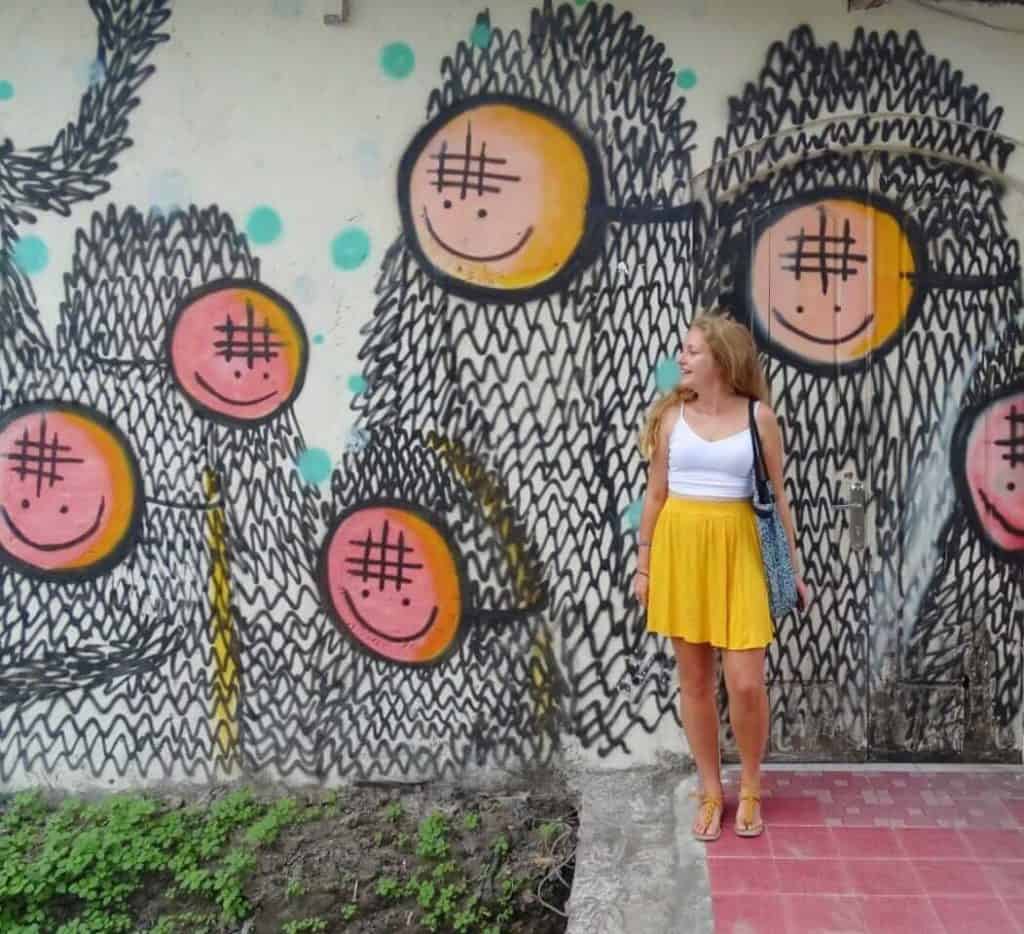 The pretty city of Yogyakarta itself. After hearing about Java's hectic capital city, Jakarta, I didn't know what to expect of the island's cities. But Yogyakarta was lovely: a mix of old-fashioned calm streets, colourful modern street art, palaces, culture and hipster cafes. With a massive arts university, it's transformed in recent years to a forward-thinking, colourful city with a large student population.
Borobudur! Despite the 3am wake up to see it at sunrise, the experience was worth it. I'd been wanting to visit for 3 years so I'm thankful it didn't disappoint.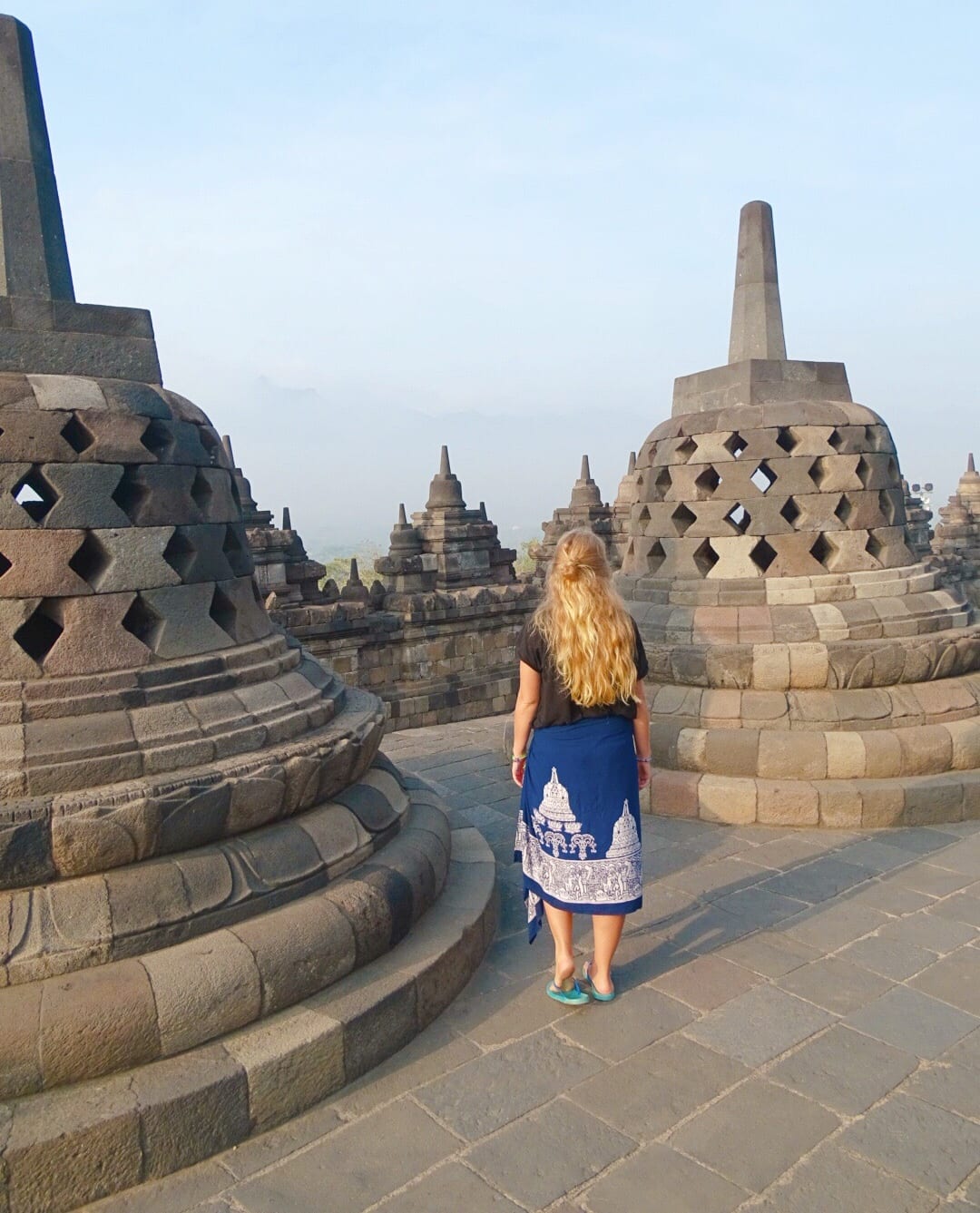 Was there anything I didn't like about Yogyakarta?
Well. The people of Yogyakarta were some of the friendliest I've ever encountered. (Stay with me here – I know it doesn't sound like a bad thing!). After Bali where people were used to seeing you, I had become accustomed to people only chatting to me on the street when they wanted to sell me something. So on my first day in Jogja when people stopped me to say hello, I was on edge until I realised they really were genuine.
The only bad bits were a) getting asked where my husband was 20 times a day and b) the incessant selfies. While on my day trip to Borobudur and Prambanan Temple, I got totally mobbed. I had to give up sitting down because a crowd always formed, blocking out the sun with its selfie sticks.
The experience made me feel totally dehumanised: a walking selfie board! Some people were sweet of course, but others just grabbed me, saying 'selfie!' and not taking no for an answer. They didn't care if their photo featured me posing or trying to escape! They also didn't care about whether or not I liked being prodded, poked and touched.
It was really a contrast to Bali where they're so used to seeing tourists!
Next stop – bye Indo, hello Malaysia!
Did I say September was my busiest month lol? October got busy too as I caught my exit flight from Indonesia on day 60 of my 60-day visa. I arrived in Kuala Lumpur but had decided not to hang around. I had an Airbnb booked for the next few weeks in George Town, Penang and had just three day's until my stay began. I was keen to visit Ipoh en route, a less touristic city my sister had recommended after she came to Malaysia.
If I loved Yogyakarta, I was infatuated with Ipoh! This small city is so vibrant and colourful, with amazing food and hardly any other tourists. It's basically an Instagram paradise too with lots of street art, colourful houses, gorgeous temples and Hong Kong-style apartment blocks. I think for Ipoh I'll just share my photos with you as I have a guide coming.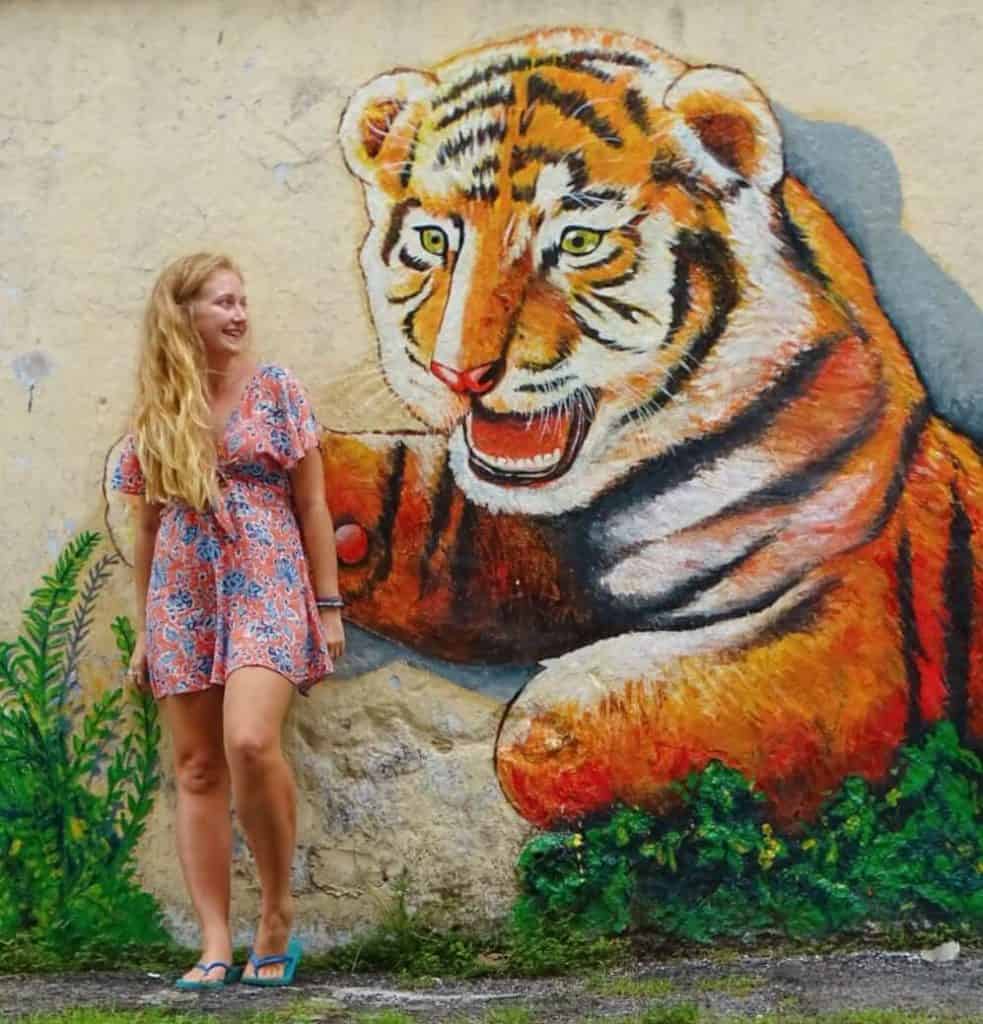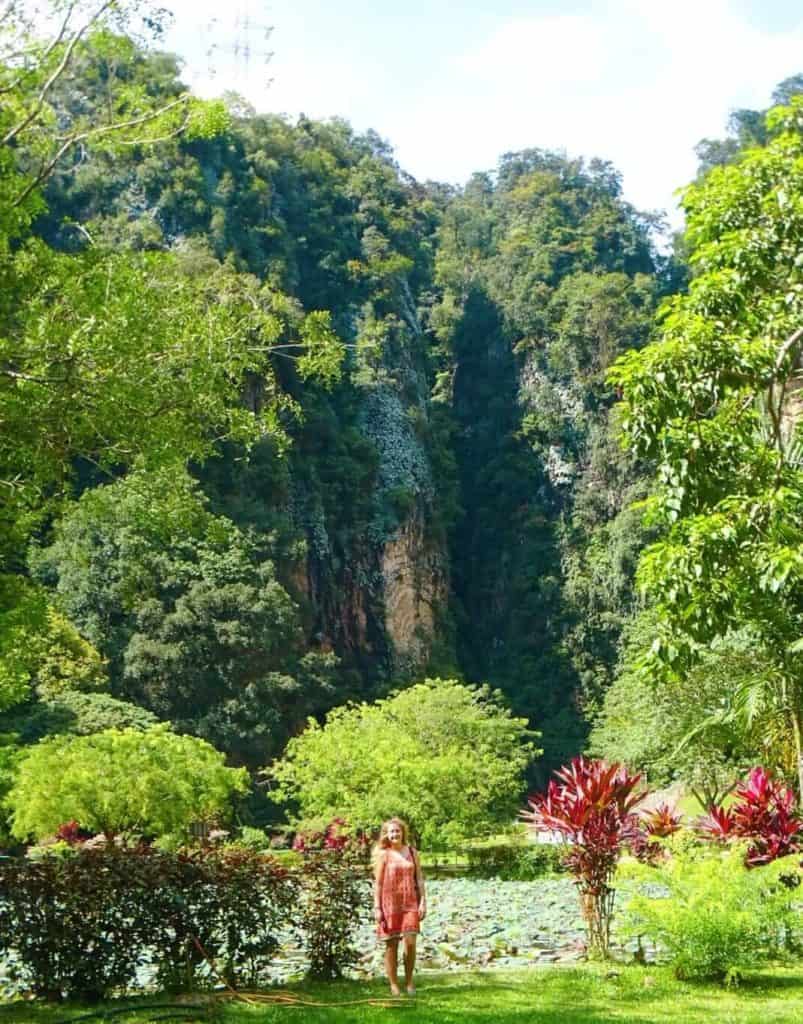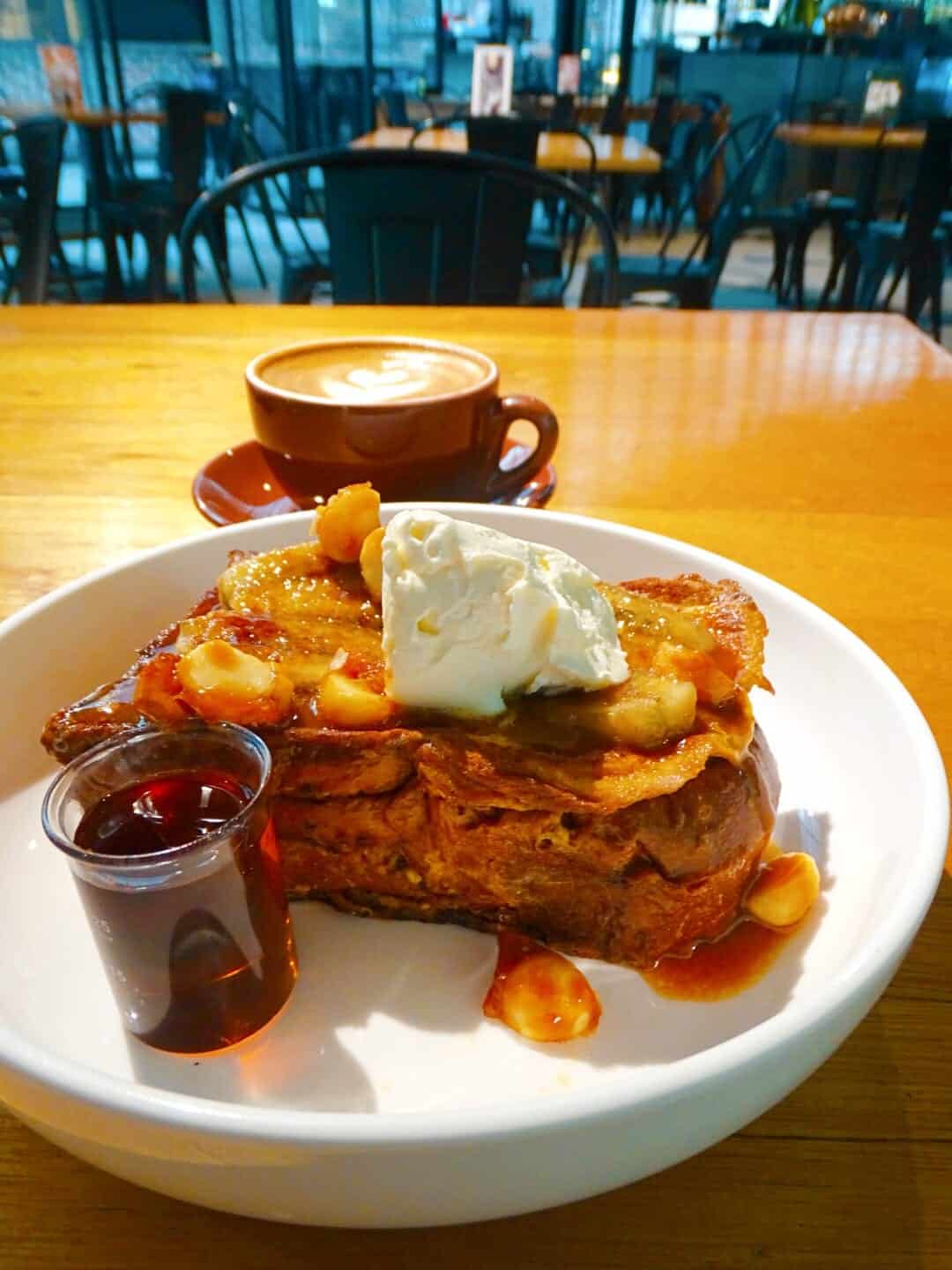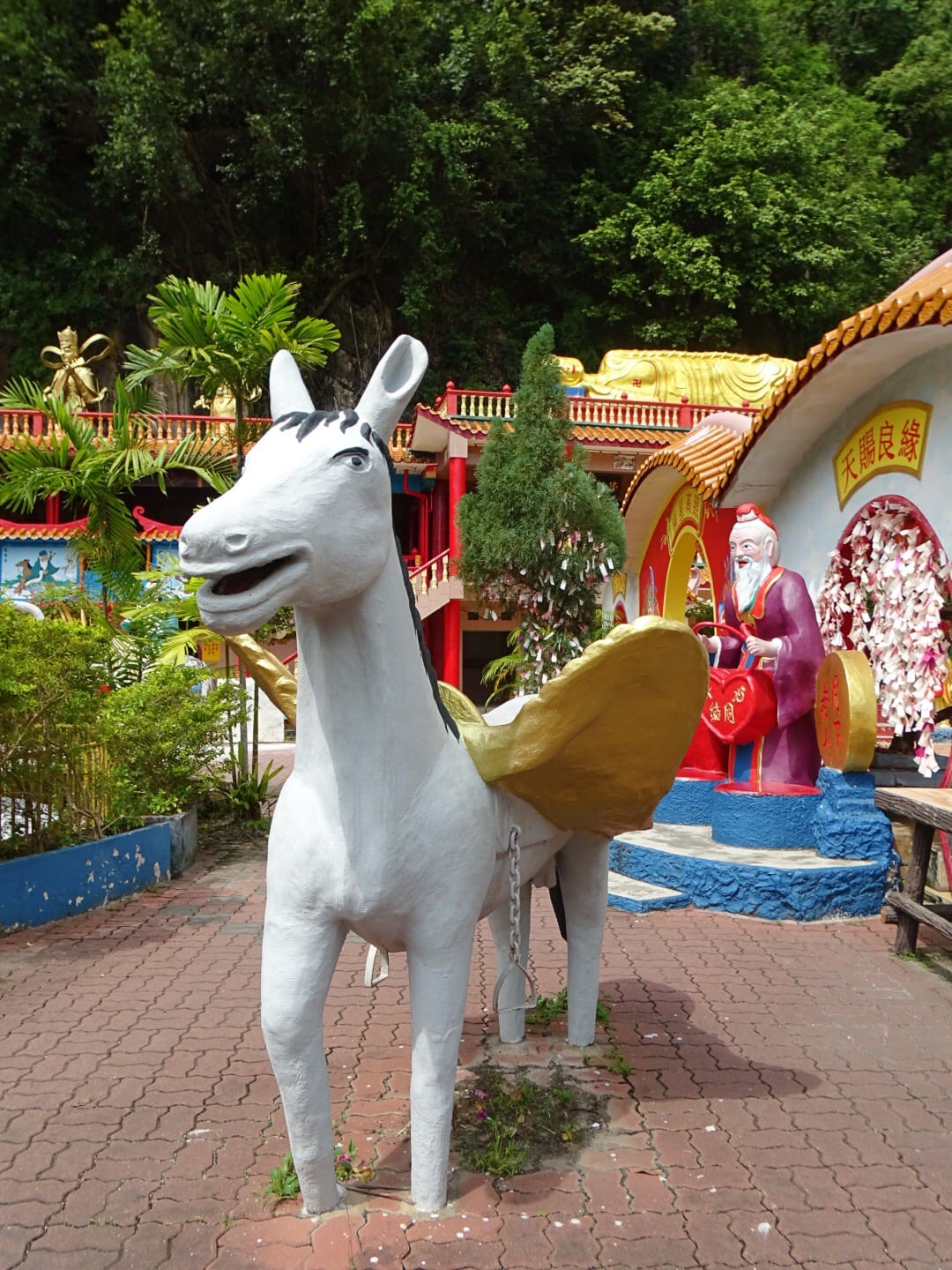 The people were super friendly, too. I befriended a Grab driver who ended up taking me on a city tour for free. He revelled in showing me his home city and wanted no money, wasn't creepy, and just wanted my time. I wish everyone in the world could be like the people in Ipoh.
Burning out and lessons learnt
I definitely burnt myself out trying to keep up my freelance writing for my clients, my blog and sponsored tours with brands, all while experiencing new places and gathering content. By the time I got to George Town, I was tired, stressed and emotional despite having had an amazing few weeks.
I knew I needed to slow it down.
Luckily, the timing was right. I had almost three weeks booked in my room in George Town so the sightseeing could wait.
Writing this on the 30th of October, I'm feeling a little better. I've managed to finish my work around copious Netflix binges and can explore at my leisure while continuing to watch Making a Murder. This month has been exhausting and taught me some lessons about how to manage this digital nomad life!
George Town: 18th October onwards
I really need to wrap up this round-up as it's a long one, but I'll finish by telling you I really love George Town.
This city on the island of Penang is a bigger version of Ipoh: a historical city with lots of colourful street art. There are more Western-style cafes than in Ipoh which is helpful in getting my work done. I can see why so many digital nomads base themselves here as it's a good mix of culture and modern amenities, plus it's beautiful.
Oh, the food is incredible. Lonely Planet didn't vote it the best foodie city in the world for no reason! It's definitely touristic though and I don't enjoy having to queue to get a photo with the street art.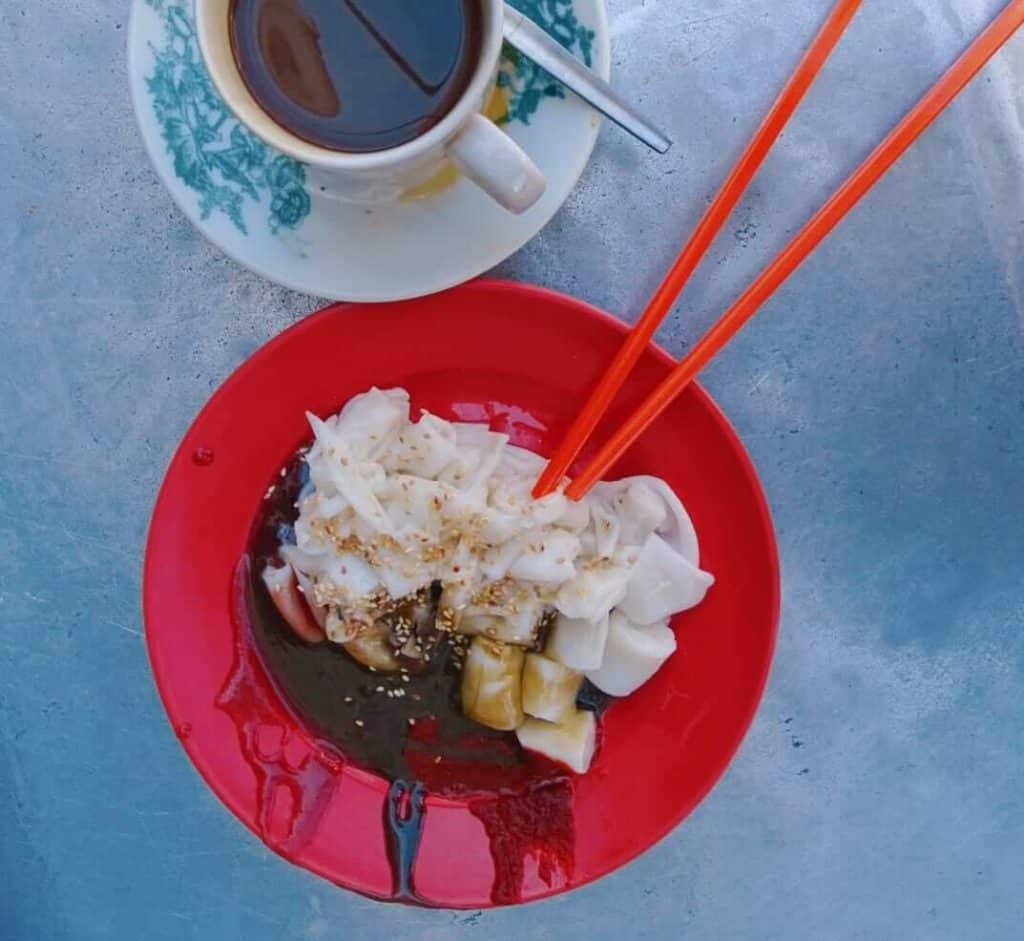 I'm also loving Malaysia and its diversity. In George Town, you can pass a mosque, a Hindu temple, a Taoist Temple and a church on the same street. I love that. Malaysia, you beaut.
I still have one more week in George Town. It's amazing how three weeks can fly by. It's better than just a few days, but when I have work, blogs and life to do, it's still not long at all!
I'm leaving Asia for a bit next month so I'll fill you in on that next time…
Thanks for reading!
Read my other monthly round-ups here.
See you next time for more adventures,
Rose