This post may contain affiliate links to things like tours, hotels, Amazon associates and products. These help me earn a small commission at no additional charge to you.
When I left the UK in May, I didn't think I'd be returning to the West anytime soon. The West to me usually means cold and expensive – two things I am always running from!
BTW – I started this series when I started travelling full-time in May 2018. Read my monthly round-ups here.
This month's trip might have been expensive but it wasn't cold. And actually it wasn't that pricey when you consider I got a flight to Sydney from Malaysia for £80 – how crazy is that? I can barely get from Oxford to Manchester on the train for that at home.
Leaving Malaysia
It wasn't exactly a heartfelt farewell from Malaysia because I knew I was coming back in a fortnight. Malaysia is acting as my base from October to December, and so far I've spent most of my time in George Town on the island of Penang. It's a lovely city, though I've been tired and burnt out. I managed to do everything I wanted in George Town but without a whole load of enthusiasm. At least my energy was back up for Australia!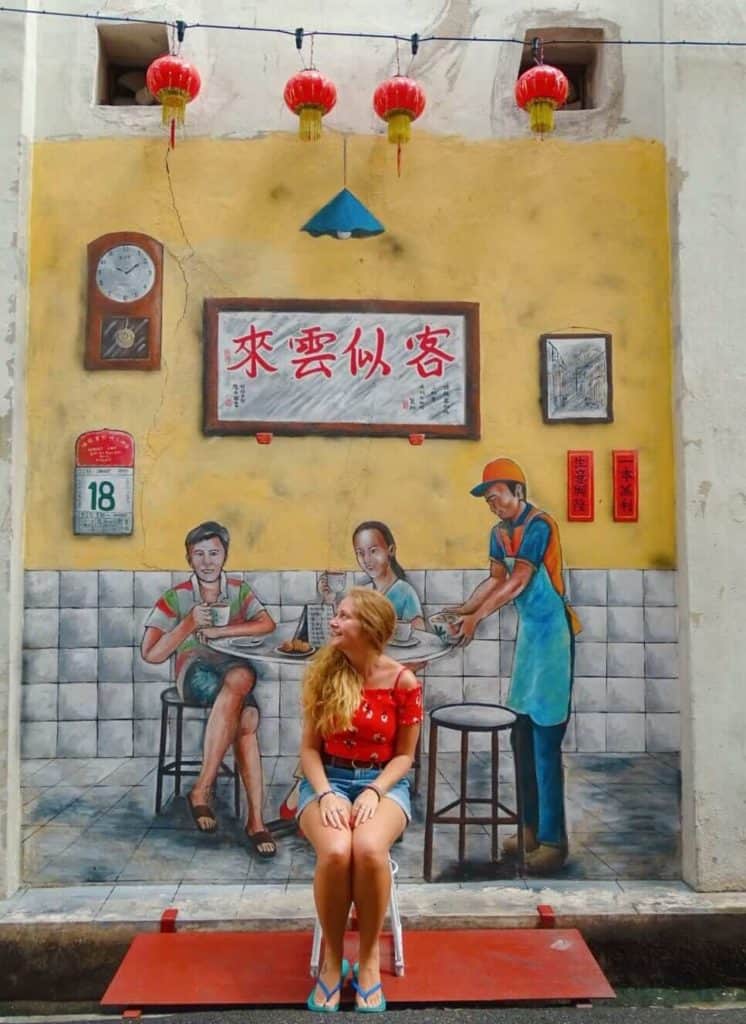 Arriving in Australia
I'd visited Melbourne three years ago but I hadn't been to Sydney for almost 10 years. I was a 19-year-old backpacker then, living off peanut butter sandwiches and choosing nights out over daytime activities. While my motivations might be a little different now, I was just as excited to be there.
I would probably consider myself more of a Melbourne person than a Sydney one – I love everything quirky, especially the endless street art around Melbourne's Hosier Lane. I was expecting to find Sydney a little glitzy for me but actually, I really enjoyed it. As someone who's used to landlocked English cities like Oxford and London, I'm always amazed by cities that have beaches and mountains on their doorsteps.
A weekend in the Blue Mountains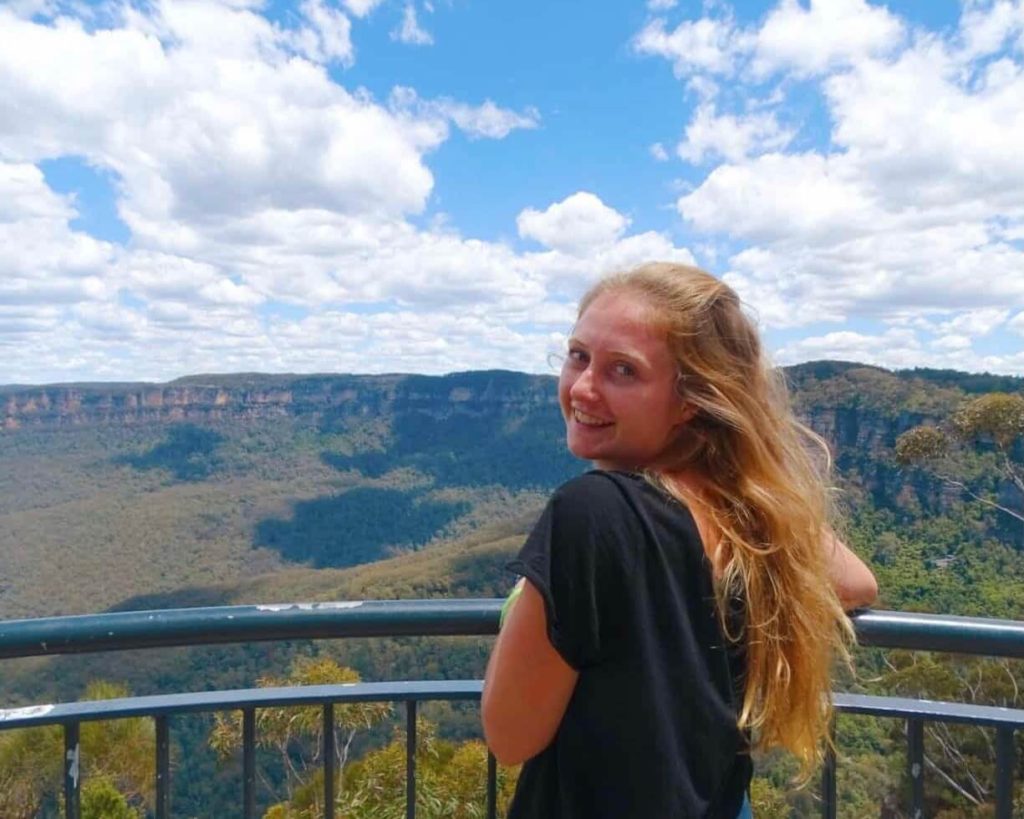 While most of my time was spent in Sydney, Josh and I started the fortnight with a weekend in the Blue Mountains. I didn't know much about this national park before visiting but it turned out to be stunning, if busier than I expected. The main town is Katoomba, where we spent two nights in an Airbnb.
The main thing to do in the Blue Mountains is hike – and that we did! On the Saturday we packed in a solid 30,000 steps around the Federal Pass Walking Track and Giant Stairway. The views were insane!
While the scenery and hiking trails were amazing, you have to get off-the-beaten-track to get the best of the Blue Mountains. When we first arrived at Echo Point, we could barely move for tightly-packed crowds. A bus load of Chinese tourists stopped photographing the scenery to start snapping Josh, something I was very happy I missed since I receive so much of that normally in Asia.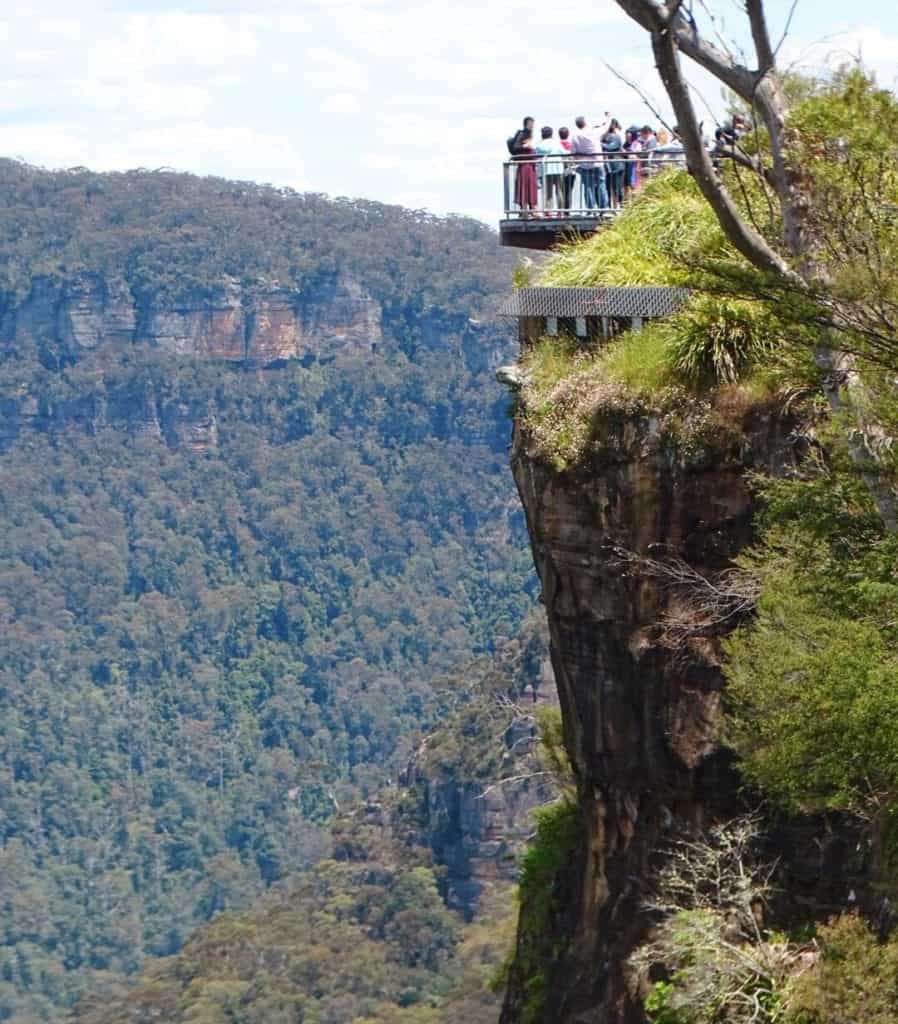 The other thing I found strange was how organised everything was. We hiked 30,000 steps and at least 15 kilometres, yet we barely made it off springy boardwalks with safety-conscious handrails.
I guess I'm used to everything being a bit more relaxed in Asia. I found Australia very organised generally, even compared to other Western places like the UK. For example, anyone can put on fireworks displays in England but in Aus you can only watch them at organised events.
Other things I did in Sydney
Sydney wasn't exactly a holiday – I worked about half the time from my laptop. I was arriving back in Malaysia on November 22nd and a week wasn't quite long enough to finish my monthly projects. Josh was at work during the days so I didn't mind working too.
I had a good balance, often working in the mornings then heading off to explore in the afternoon. Some days I took my laptop around with me, meeting Josh or our friends Corinne and Kavita for lunch, then pitching up to work over coffee. Other days I went off on full adventures and didn't work at all. Some of my Sydney highlights were:
The Manly to Spit Bridge Coastal Walk – this four-hour track was pretty but I had terrible weather. It was cold, grey and rainy but at least I spied a kookaburra and some lizards!
The Rose Bay to Watson's Bay Walk – this was one of my favourite days in Sydney. The views along the coastal track were incredible, overlooking the iconic Sydney skyline the whole way. For such an urban area, I couldn't believe how many abandoned beaches and hidden bays there were. My favourite spot was Laings Point rockpool around the corner from Watson's Bay. I really fell in love with Sydney on this walk!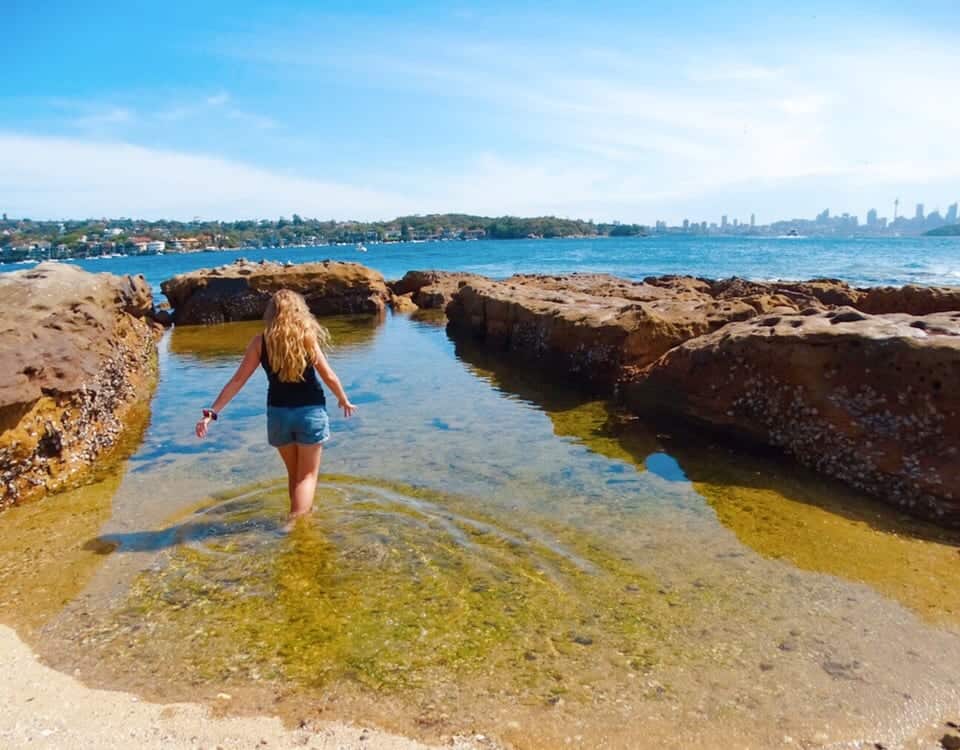 The Royal Botanic Gardens – this enormous leafy area near the CBD was one of the first places I wandered. It's a great intro to Sydney's outdoorsey culture! I walked all the way around the gardens to Mrs Macquire's Chair where you get amazing views of Harbour Bridge.
Luna Park – I loved walking around this retro Coney Island-style theme park with its giant (though slightly freaky) clown face at the front. I liked even more that it was free! I didn't go on any rides but I snapped lots of grammable photos while feeling like I'd stepped back in time.
Wendy Whiteley's Secret Garden – I found this leafy park around the corner from Luna Park. It overlooks the colourful rides as well as Harbour Bridge and bobbing boats in sleepy Lavender Bay. A free thing to do in Sydney with great views!
Bondi to Coogee Beach Walk – this track is busy and paved unlike the other more natural walks, but it's a classic while in Sydney. I took a 'then and now' photo of me sitting in the same spot 10 years later!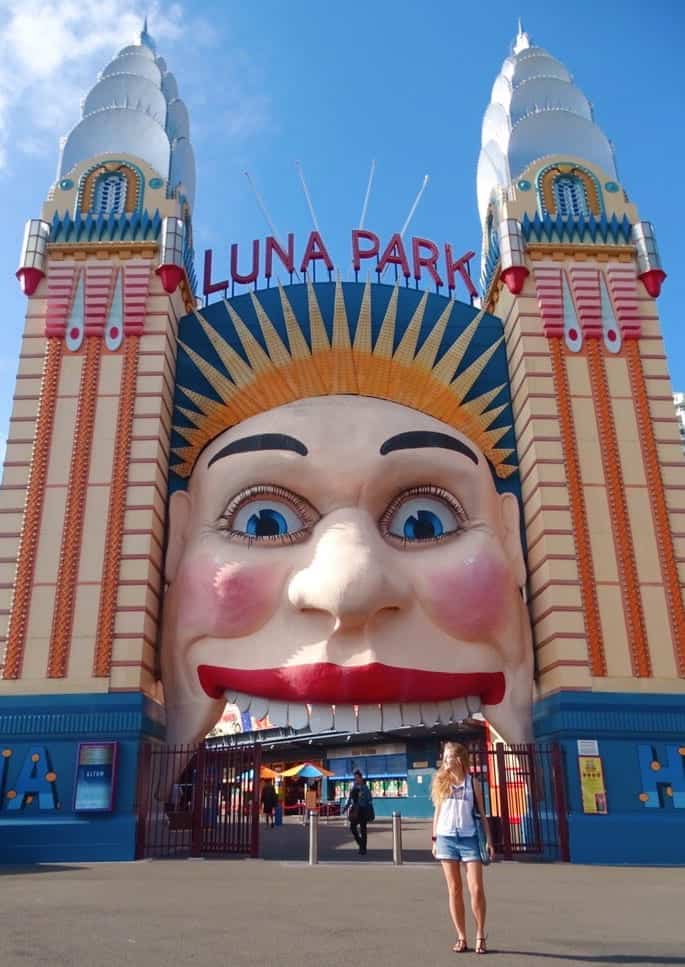 Sydney overall
I have to say I loved it! I was worried about the prices and yes, they were crazy high compared to Southeast Asia. But for someone who's also accustomised to UK prices, it wasn't horrific. I don't find Sydney more expensive than London – and the minimum wage is almost double!
Supermarkets may be a little more expensive but restaurant prices are often a bit cheaper, especially if you take advantage of offers. On my last night, we headed to El Camino for $2 tacos Tuesday and half price frozen margaritas. An absolute feast for about £7 – (I had 5 tacos) – you'd never get that at home!
I really enjoyed all the amazing hikes and scenery, as well as the iconic Opera House and Harbour Bridge views which you can see from almost everywhere. Brunch and coffee in Sydney is on point, and during November the city was bright purple with blossoming jacaranda flowers. Yes, I might even be toying with the idea of spending some more time in Sydney next year… but I'll update you as my plans for 2019 come together.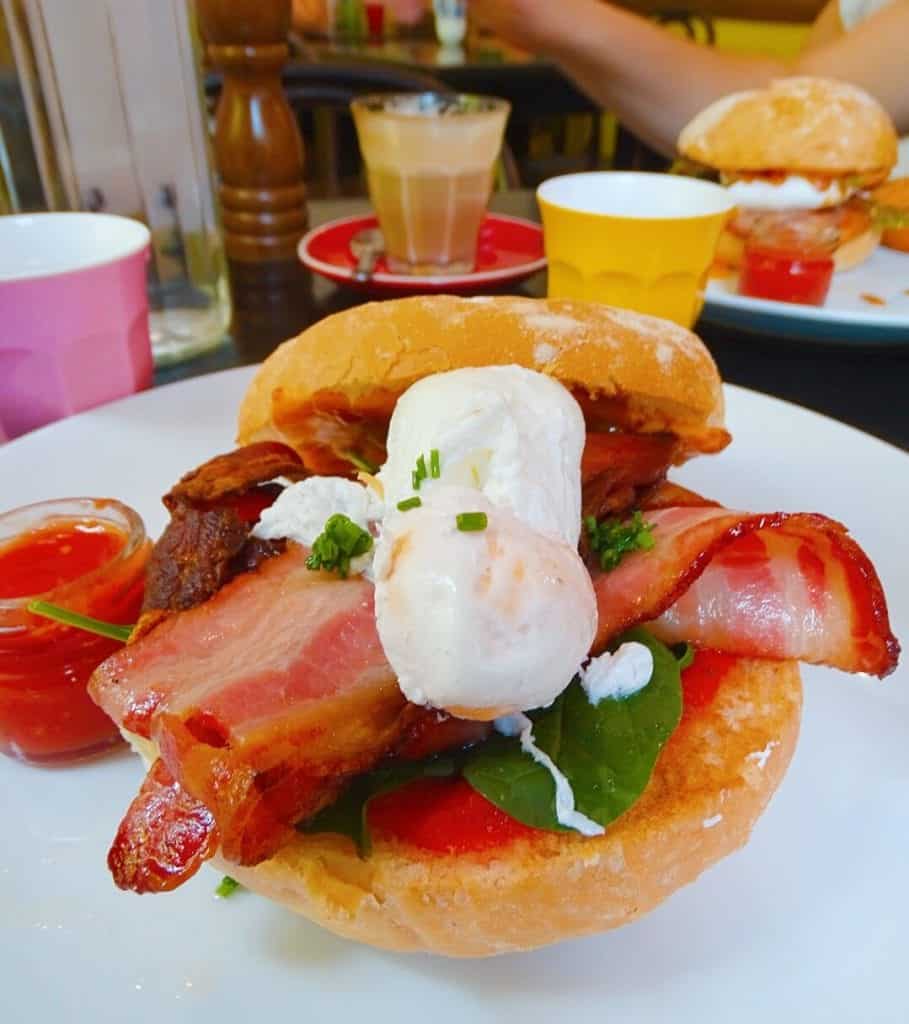 Back to Malaysia
I have to say the rest of November wasn't that exciting. I managed to sleep for 9 hours runway to runway on the way back from Sydney which is literally a miracle for me! So at least I arrived with enough energy to finish my work for the month. I worked from my favourite base of Explorer's Guesthouse, a basic but cosy hostel in Kuala Lumpur's Chinatown. I stayed there a few times in 2016 and can vouch for it as decent base for £5 a night.
I managed to explore some more of KL around my work, gathering content for my blog and sampling lots of delicious local food in KL Chinatown. I love a list so let's do another one…
Revisiting the Batu Caves which have been painted all shades of the rainbow since my last visit three years ago.
Walking the swinging canopy bridge at KL Forest Eco Park, simultaneously listening to humming insects and the sound of the highway.
Finding all the amazing street art in Bukit Bintang, then tucking into a street food feast at nearby Jalan Alor Night Market.
Exploring Thean Thou Temple, a colourful Buddhist place of worship with great views over KL.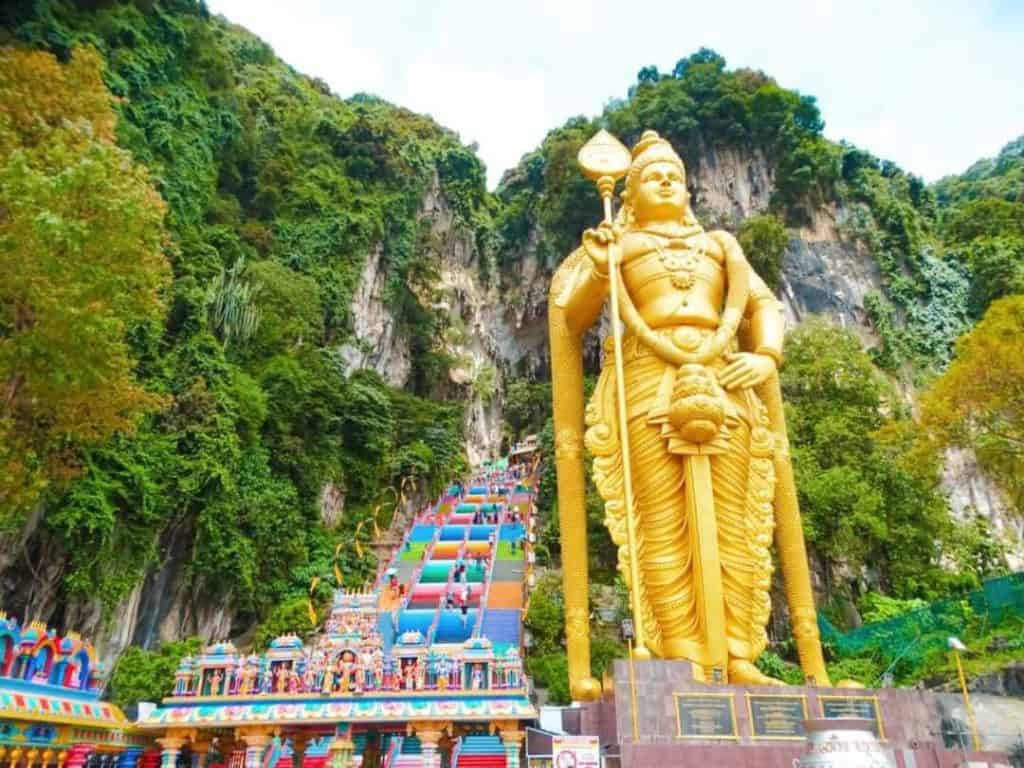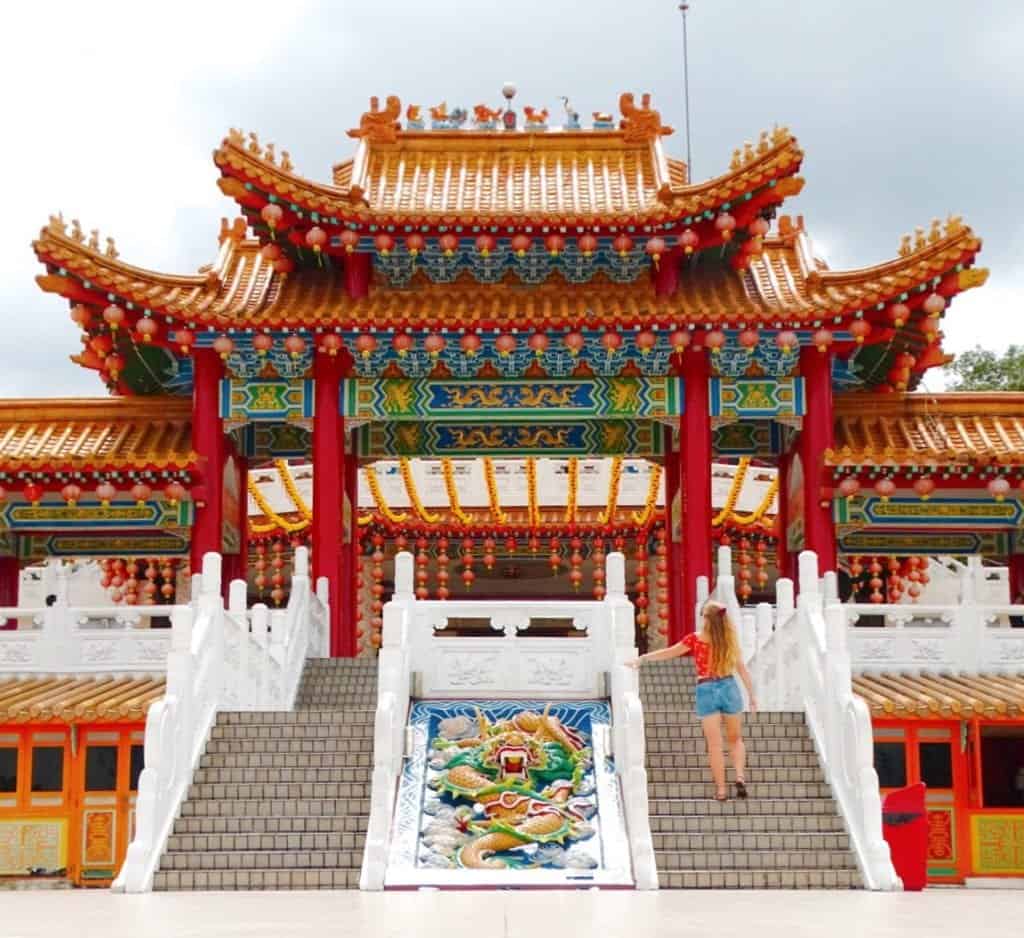 Checking out the cute cafe scene – I ended up with lots of favourites like Merchant's Lane and Chocha Foodstore.
Eating my heart out in Little India, Chinatown and countless food courts. I can't get enough of Malaysian food… Or Malaysia in general!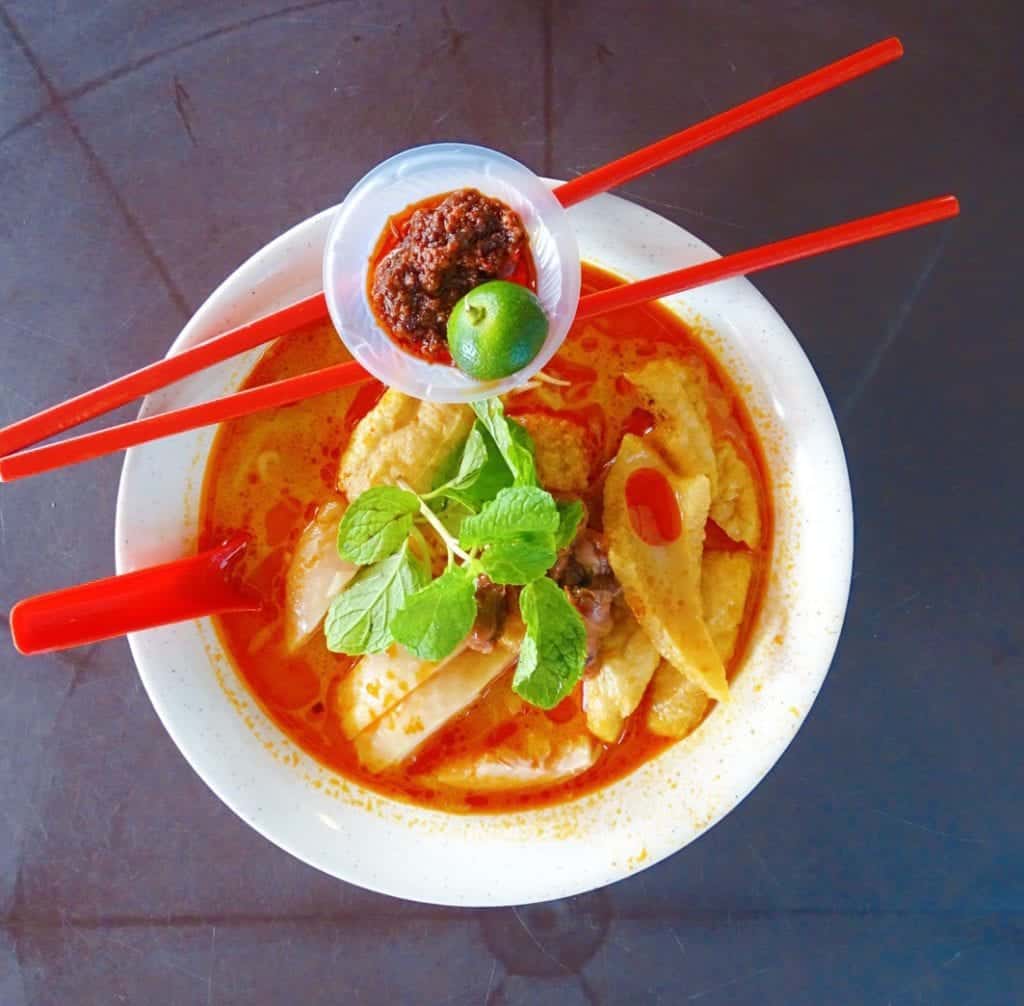 Okay, so maybe the last week of the month wasn't so boring after all! I've rambled enough for one month so see ya next time!
Thanks for reading!
Read my other monthly round-ups here.
See you next time for more adventures,
Rose