This post may contain affiliate links to things like tours, hotels, Amazon associates and products. These help me earn a small commission at no additional charge to you.
Disclaimer – I was hosted by Visit Czech Republic during my trip but all opinions are my own.

I recently had a wonderful experience in the Czech Republic that I'm itching to tell you about. Following a Traverse Events conference for content creators, I was invited to learn about South Moravian wine in the Slovako Region of the Czech Republic.

I'm a big fan of Czech cuisine but, until recently, I'd only sampled the food in Prague. Although it's a fantastic city, there's lots more to see in the country in terms of both sightseeing and cuisine, as I discovered a few years ago on a spontaneous trip to Cesky Krumlov (a UNESCO town in South Bohemia known for idyllic Cesky Krumlov Castle).
With countless spectacular destinations and even more regional dishes and drinks to try, I was excited to see more of the Czech Republic, starting with South Moravia wine region.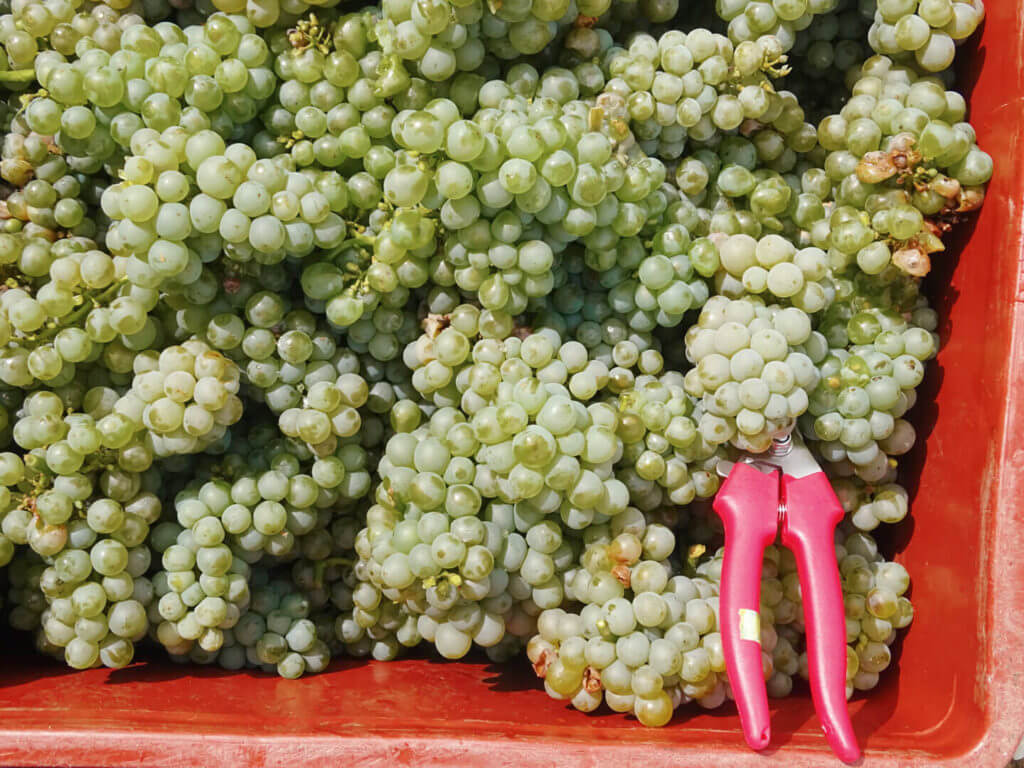 A bit about Czech wine
During the communist period, wineries were run by the state, preferring quantity over quality. As I'd learnt when drinking wine in Ljubljana, Slovenia and various locations in Croatia, this applied to the whole Eastern Bloc.

It was only after the Velvet Revolution of 1993 that individuality was restored to wine-making. Since wineries have returned to their original owners or been bought by new ones, the Czech wine industry has flourished.

Locals love their wine and most of it gets drunk in the country rather than being exported. Your best bet is coming here to try it for yourself!

Although you'll find wineries around the country, any local will tell you that Moravia is wine country! This region south of Bohemia straddles the borders of Austria and Slovakia, easily accessed from Brno, the second-largest city in the Czech Republic.

There are several notable grape varieties grown in Moravia such as Riesling, Pinot Blanc and Pinot Noir.
Harvest season & 'young wine'
If you're travelling to Czechia for wine, it's advisable to plan your trip around young wine season. Vineyards in Moravia harvest from mid-August to November, marking the coming of autumn. This is prime time to learn about the process, attend wine festivals and, better yet, drink it!

Young Moravian wine, made from the first grapes of the season, is known as burčák. It's protected by EU laws meaning that only grapes grown in this region can be used to make true burčák. Even though the alcohol percentage is relatively low at 5-7%, its light, fruity taste can be deceiving. It'll get you tipsy quicker than you'd expect!

Wine bars and refrigerated trucks sell the sweet beverage. Usually, there's an abundance to be drunk before it loses its freshness, usually after a day or two of purchase.
Let's get stuck into my time in South Moravia and what I learnt about the wine…
Arriving at Vinne Sklepy Skalak winery in Moravia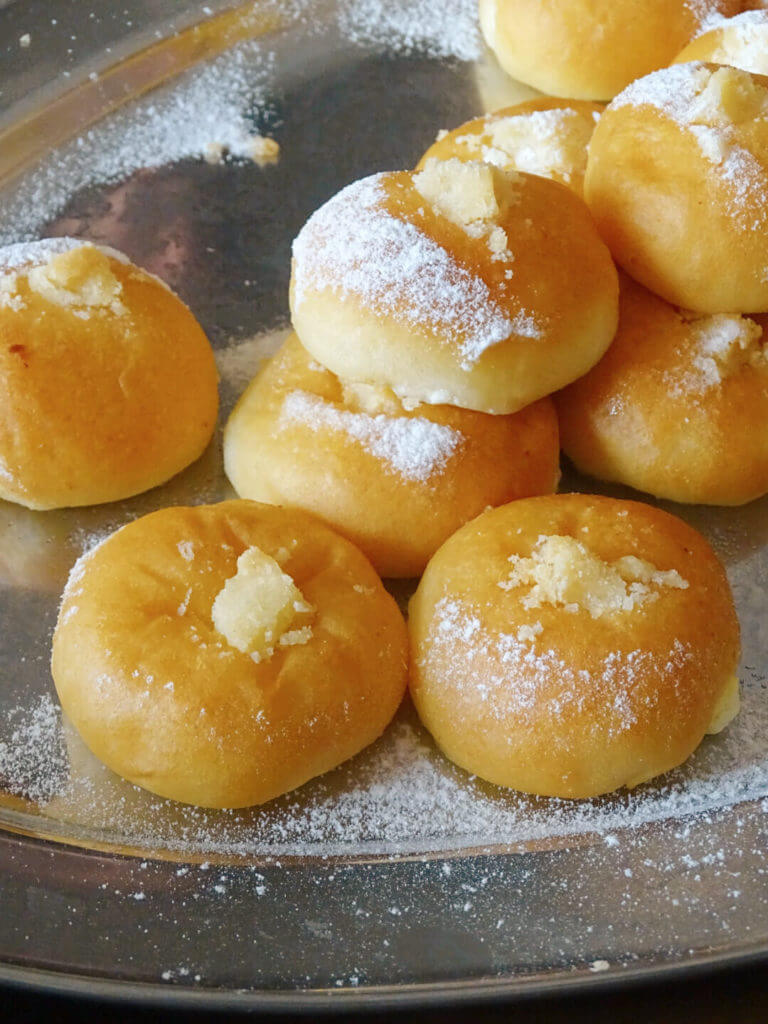 The highlight of my time in Moravian wine region was certainly my visit to Vinne Sklepy Skalak, a wonderful winery nestled in the Moravian countryside south of Brno.

We were greeted with a delicious glass of fresh burčák and some seasonal Czech desserts filled with stewed apple and dusted with icing sugar. I can't think of a better way to be greeted, to be honest!
Learning how to make wine in South Moravia
Better than simply touring the venue and trying their hearty food and drink, we were in for a treat: learning how wine is produced and making it for ourselves!

First, we hopped in the back of a van to their gorgeous Moravian vineyard where grapes are grown. As it was already late September, the branches were heavy with the weight of green grapes.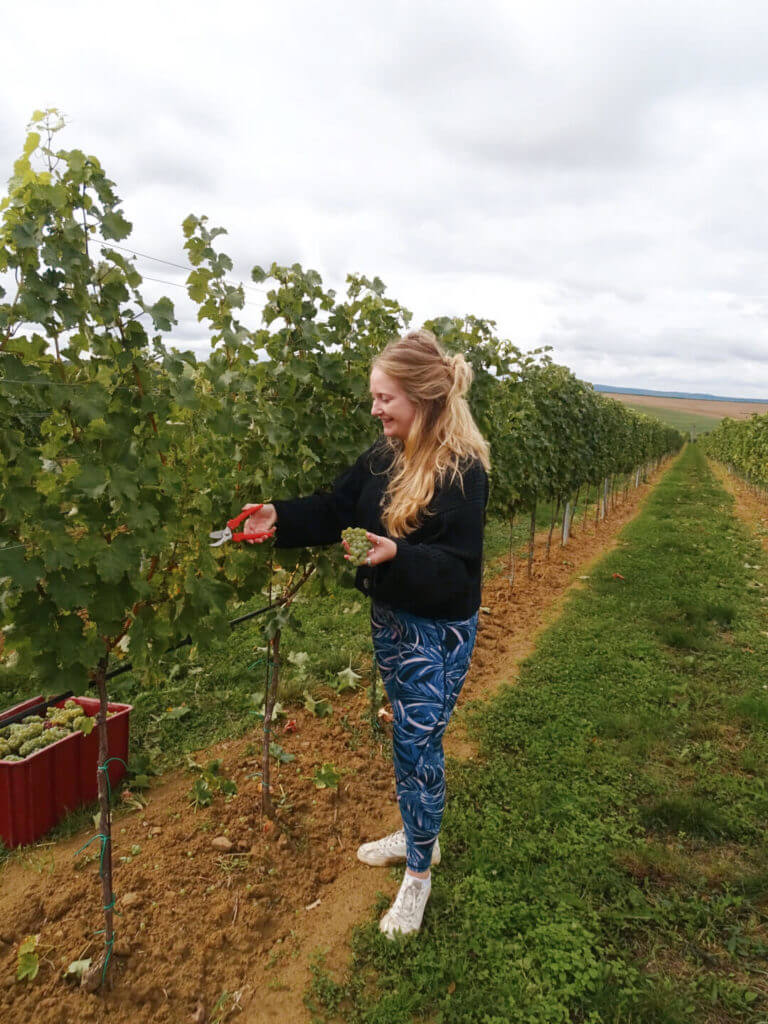 Small grapes densely packed into tight brunches are characteristic of the region. They're sweet and tasty (not that I tried them, obviously, I was hard at work!) so it was no surprise they make equally sweet burčák.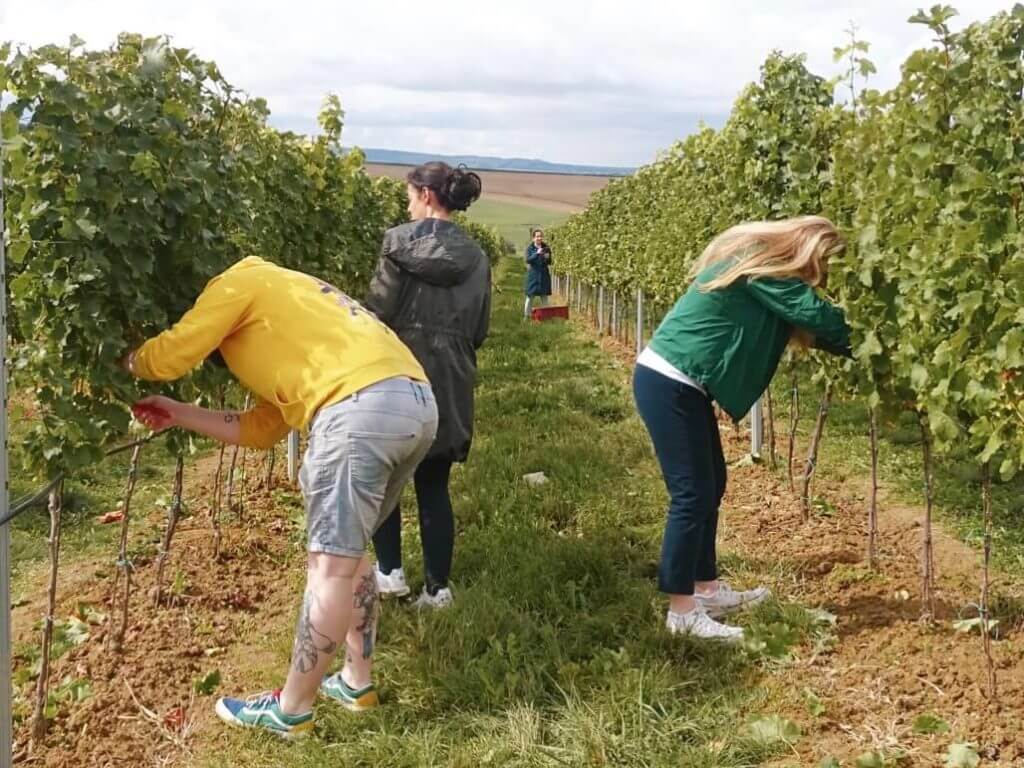 We got to work picking the grapes with shears, each filling a basket to the brim.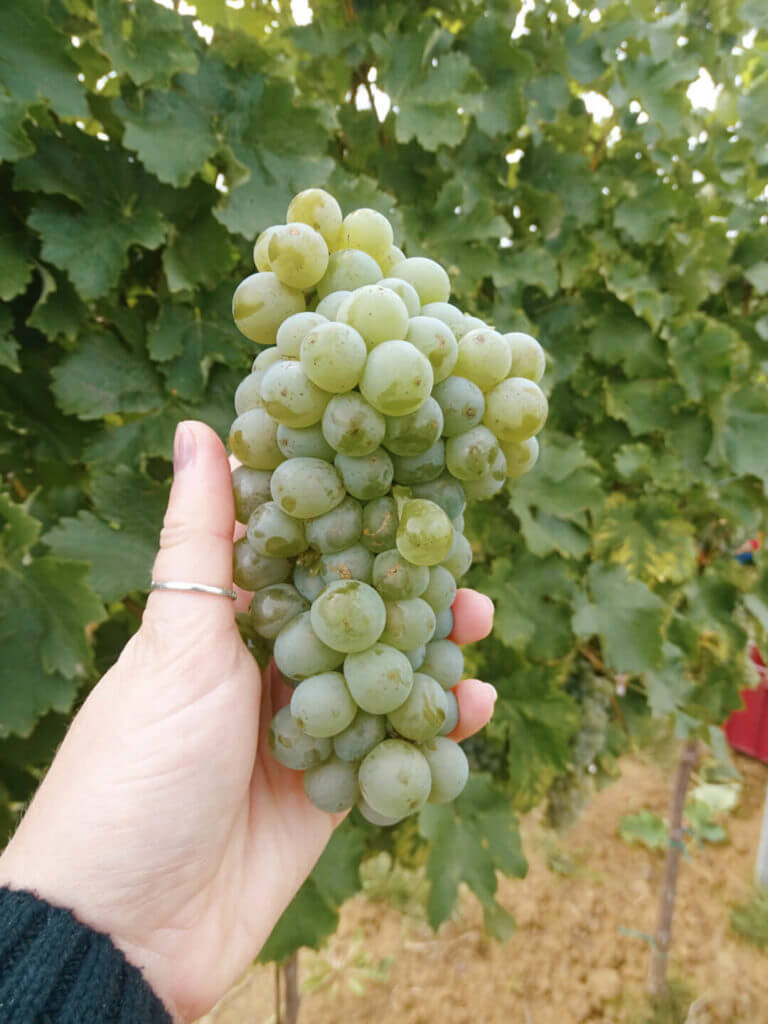 Once we'd each filled up a box, it was back in the van to the production area. The staff showed us how they go through a machine that pulps them and separates the stalks.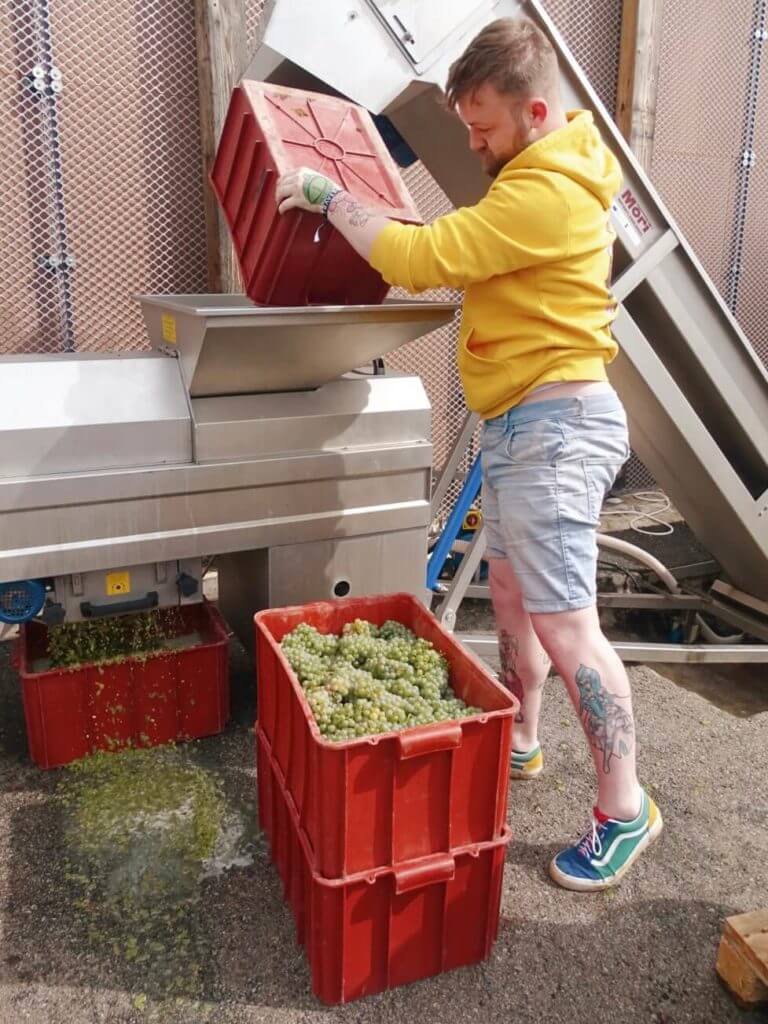 Then, they get pulverised further during 2 steps, the second one involving some serious arm work in a wooden barrel.
Check out my Instagram Reel to see the whole process of making Moravian wine
After the hard work is over, they're turned into sweet, delicious grape juice. After yeast is added to convert sugar into alcohol, the liquid becomes 'early wine' AKA burčák.
Day 0 – grape juice
Day 2 – burčák
Day 14 – young wine.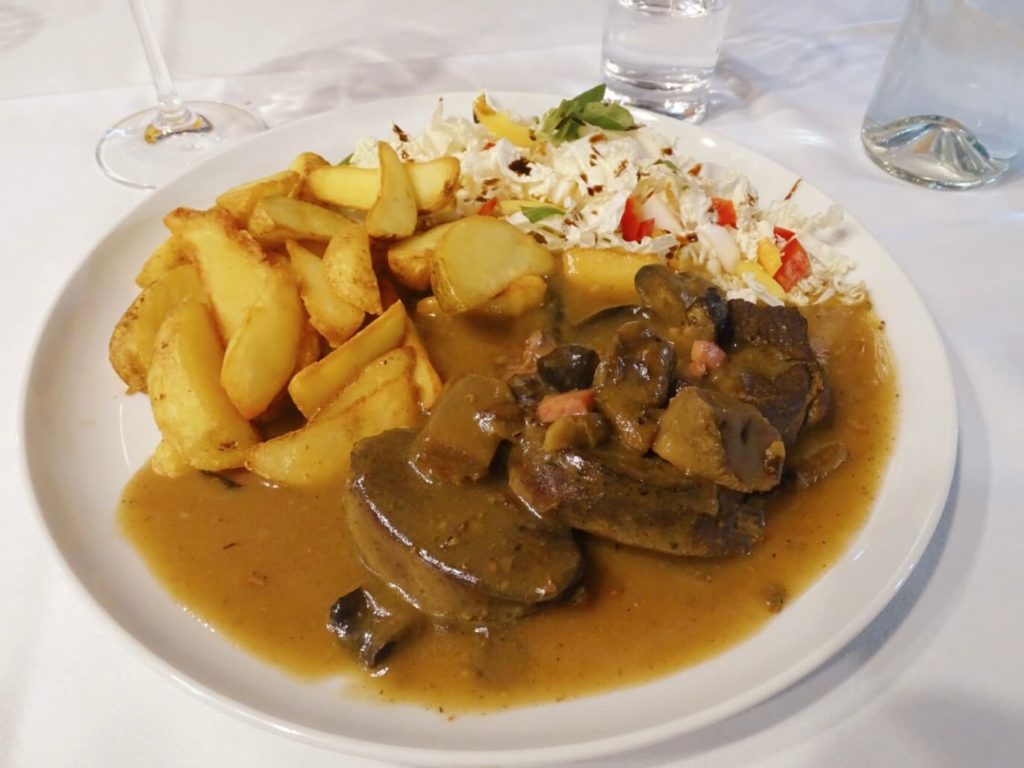 During our Czech wine adventure, we also visited…
Cellars Plže (South Moravia wine huts)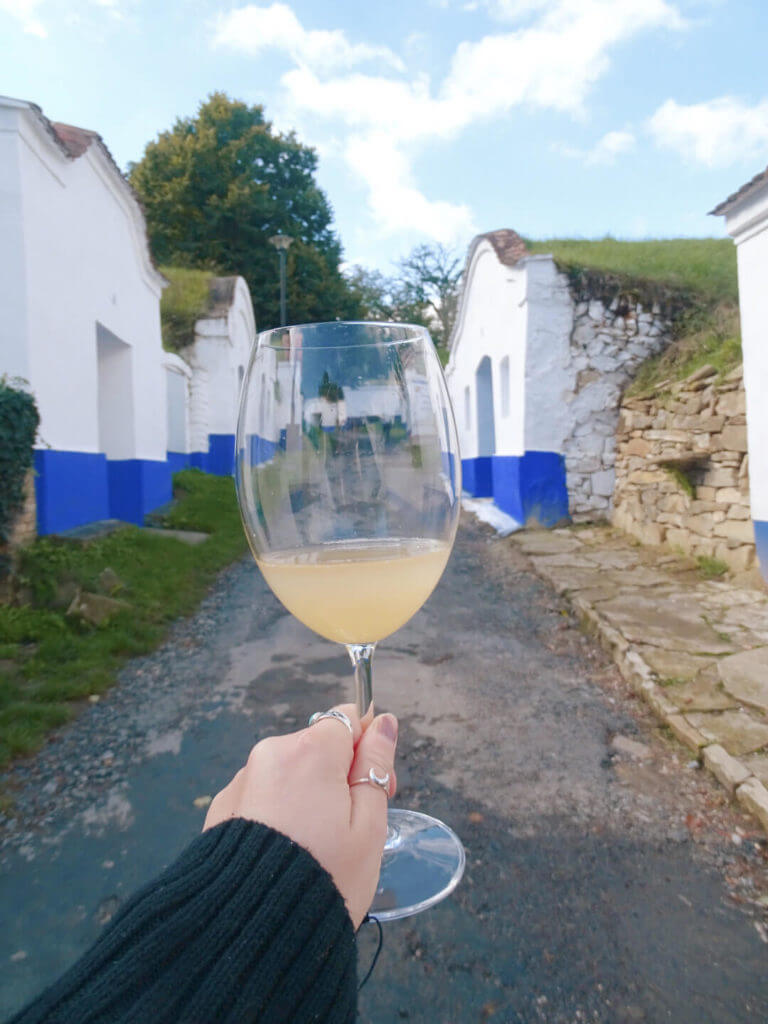 If you're looking for idyllic places in the Czech Republic, you can't do better than these charming blue and white houses that would be at home in Santorini with throngs of Instagrammers climbing on the roofs. Luckily, there's none of that here. We had this lovely rural location all to ourselves!

Not only are they unbelievably picturesque but the Plže Wine Cellars are a fabulous place to visit when learning about the wine in Moravia. These traditional wine cellars dating back to the 15th century have been declared a folk architecture monument.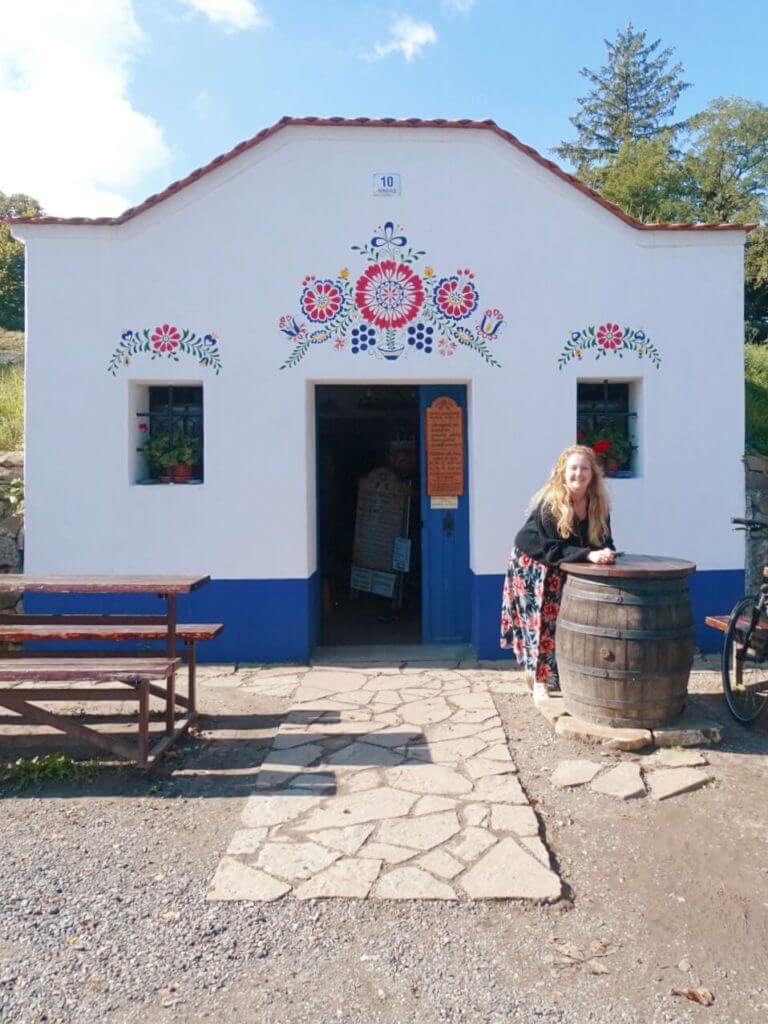 The pretty cellars are arranged in two rows with a walkway down the middle. Wander down it and you'll find a few of the wine huts open, operating as tiny bars and shops. It's such a unique and charming place!

Where? These cute cellars are located between the villages of Strážnice and Hodonín. Find their exact location here.
Moravian wine tour at Winery Chateau Bzenec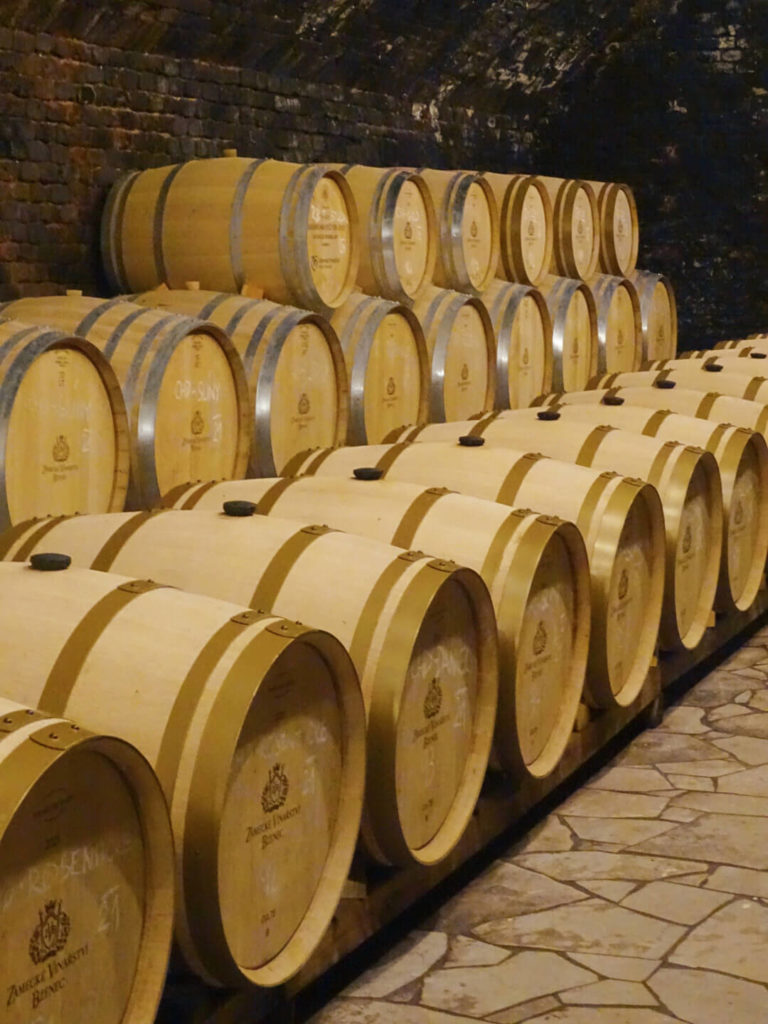 Winery Chateau Bzenec located in the small Czech town of Bzenec was another place we had the pleasure of visiting. After a tour of the cellars where we saw barrels carved with traditional images from Czech life, we enjoyed an evening of wine tasting and a hearty Czech buffet dinner, around a huge round table.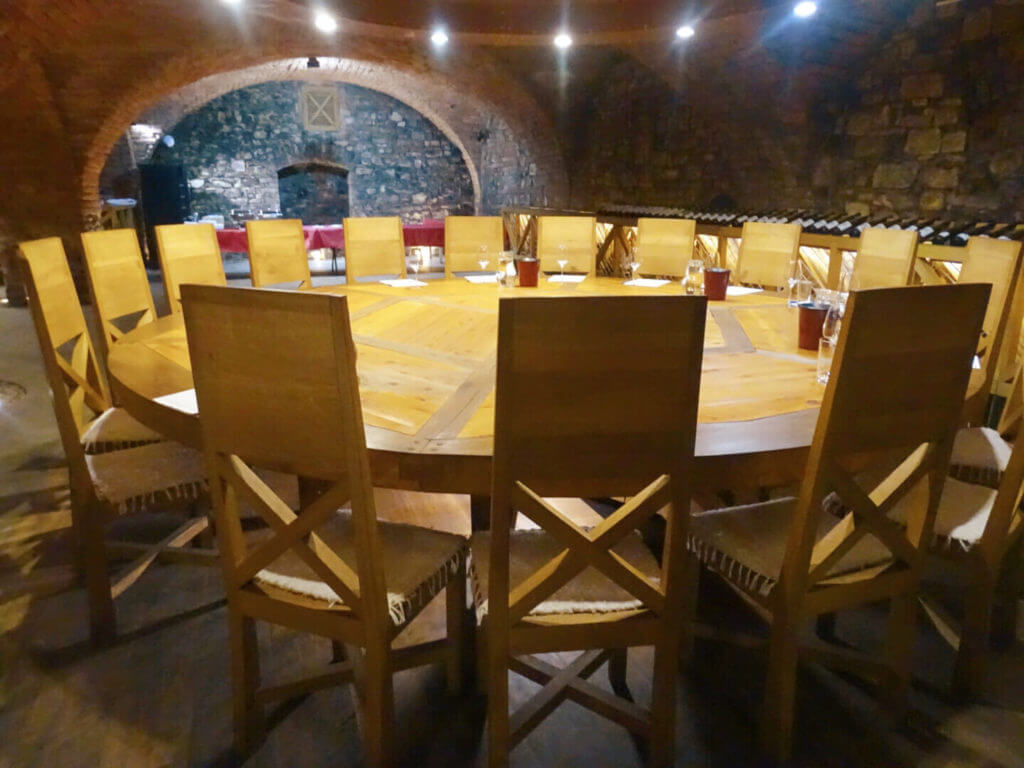 We tried a range of the best Moravian wines including white, rosé and red. I had many favourites including the Starak one above with illustrations from the Czech Republic on the label. I'd highly recommend it!

Guests can pay 169 CZK for a tour and five samples.

Where? Zámecká 1508, 696 81 Bzenec, Czechia.
Vino Spielberg – more Moravia wine tasting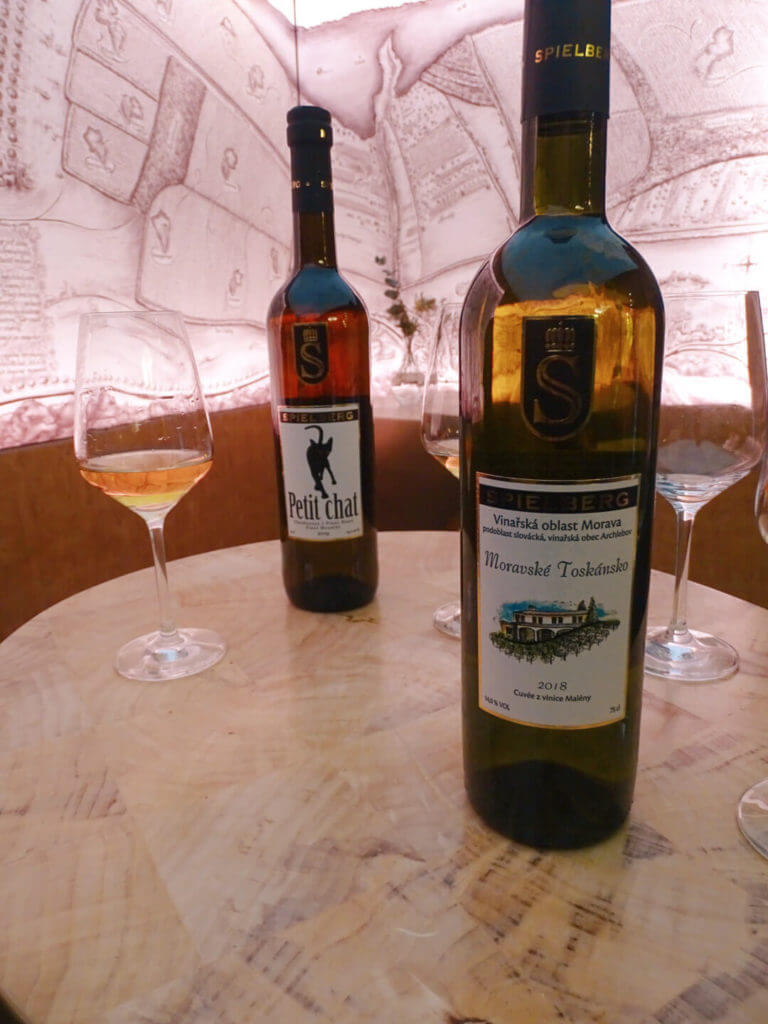 Another South Moravian winery we visited was Vino Spielberg. Here, they make a range of wines including the lovely Petit Chat, a white blend of Pinot Blanc, Pinot Meunier and Chardonnay which I gladly took home a bottle of.
Other fun things to do in South Moravia
Although we were visiting for wine, there are other tourist attractions in the region that we were lucky enough to visit. A few of my personal highlights included…
A ride on the pedal-powered railway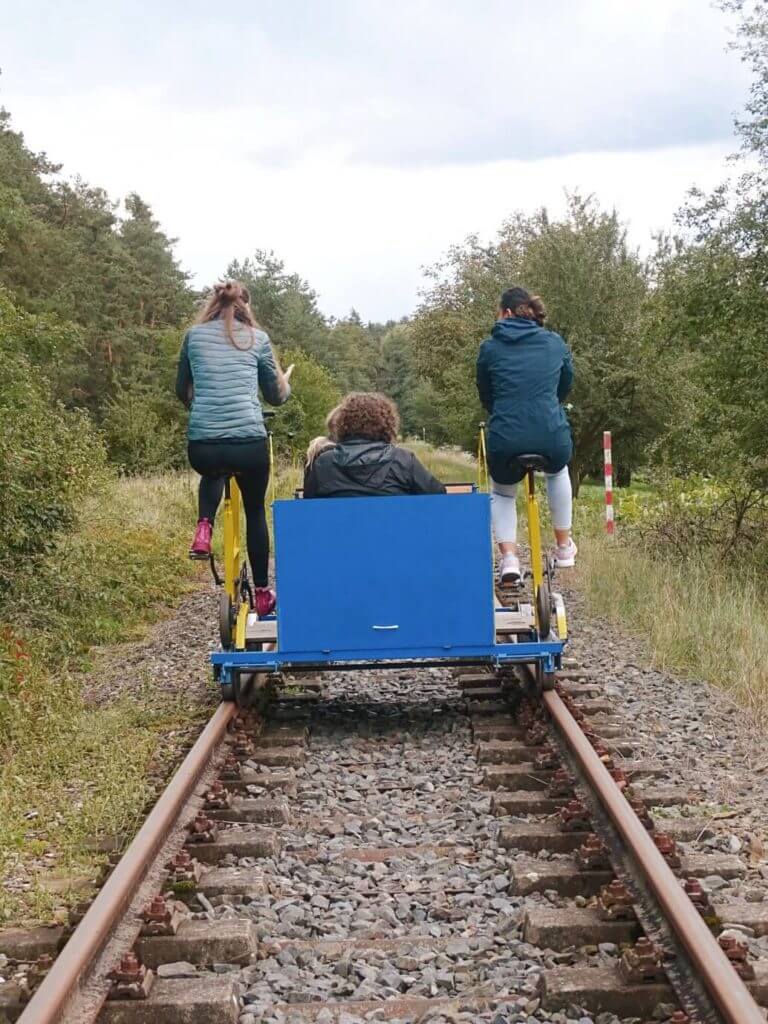 We had a fun hour pedalling down this unused 3km stretch of railway in a traditional pedal cart. It was originally used to transport coal, and now connects two wine trails.

To visit the railroad, book ahead (CZK 200 per hour) by calling +420 724 247 671.

It was here we got to sample another Czech delicacy, bramborove patenty: pancakes stuffed with sweet jam. Yum!
Slavkov Castle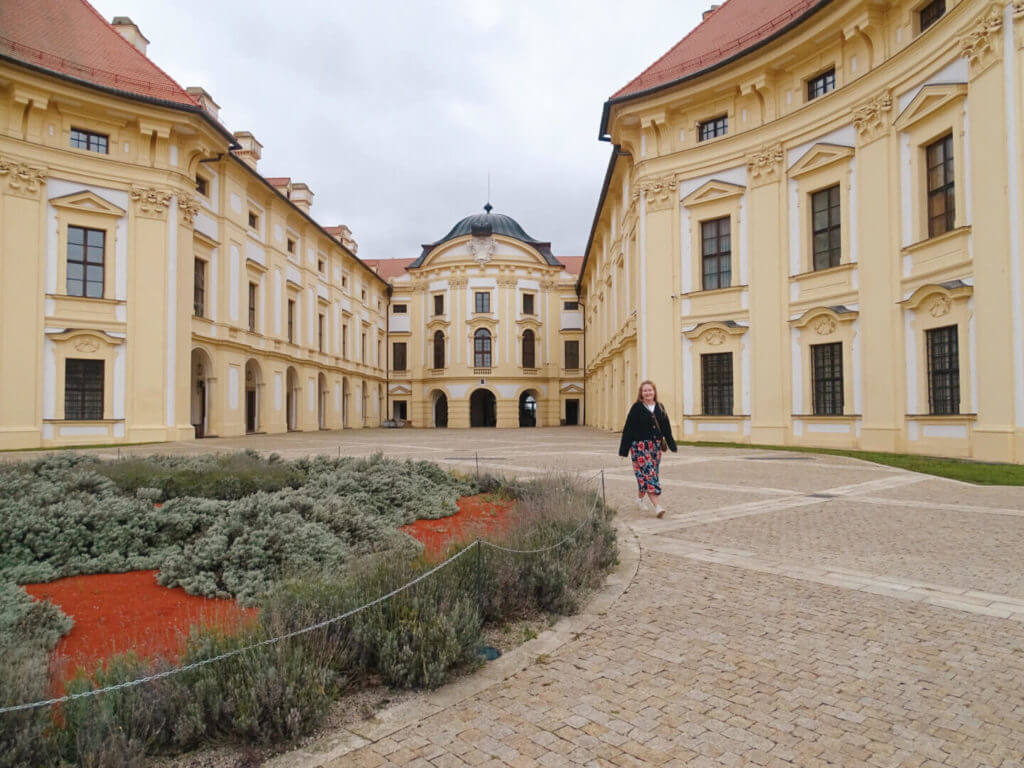 Built in the early 18th century, Slavkov Castle was the residence of the notable Kounic family who styled it with French Baroque gardens in mind. However, the most famous guest was Napoleon who was rumoured to have spent the night in the decadent bed below!
We had a wonderful tour around the castle with the staff who stayed perfectly in role as the traditional residents of the house, sharing facts and stories about its rich history. Of course, we sampled a glass of Moravian wine while there. Wine not?
Boat ride on Bata Canal
What better way to conclude our time in the Czech Republic than cruising down the Bata Canal aboard a comfy boat?

Connected to the Morava River, the Bata Canal is a popular tourist stretch with opportunities to hire boats, spot wildlife and learn about the region. We visited in late September when the weather was sublime but the crowds were missing. Perfect!
Thanks for reading!
I had a fantastic time in the Czech Republic and I know I'll be back again. I'll remember the hearty food and delicious Moravian wine for a long time, although I may need a few salads to recover…
Liked this? Pin it for later!
TRUSTED RESOURCES FOR VISITING THE CZECH REPUBLIC

Getting around by air – I use Skyscanner to find the best-value flights, using the 'search by month' tool to find the cheapest dates. You can also use the 'to anywhere' feature if you're flexible on where you're going.

Driving in Europe – use Rentalcars.com to compare car rentals in European countries (and all around the world).

For trains, I use RailEurope. The search feature allows you to compare prices, and they show live departure times on the website.

For buses, I use FlixBus. Find journeys between European countries from €1!

For hotels and self-catering apartments, I use Booking.com. You can filter by review score and price to find the best-rated budget places. For hostels, I use Hostelworld.com.

To save money on accommodation, I use Trusted Housesitters, a website that connects homeowners going away and travellers who can sit their homes & pets.

Browse tours and activities on GetYourGuide.

Need travel insurance? I use True Traveller (for UK & Europe residents) since it's some of the most affordable insurance out there but still covers everything you'd need including various activities, valuables and pre-existing conditions. Unlike some companies, they insure you if you're already travelling / don't yet have your flight home booked. Get a quote.

For other nationalities, I recommend Hey Mundo and for long-term digital nomad travellers, I suggest Safety Wing.

Check out my resources page for more travel discounts and budget tips from my 10+ years on the road!