This post may contain affiliate links to things like tours, hotels, Amazon associates and products. These help me earn a small commission at no additional charge to you.
You might know Munich as the home of the Oktoberfest. Before my recent trip, I'd only visited once and not seen more than the inside of a beer tent – so I'm glad I've now had the chance to get to know the city and discover the best things to do in Munich, Germany.
MUNICH ESSENTIALS

Accomodation: Booking.com / Hostelworld

Copy of Lonely Planet Munich

Activities: GetYourGuide / Viator

Getting there: air (Skyscanner), train (RailEurope), bus (Flixbus)
Where to stay in Munich
Hostel: Meininger City Hostel is a great base. Dorm beds start at €23 including WiFi and it's just a 15-minute walk into town. It's also across the road from Augustiner Braustuben beer hall. Book here from €23 a night.

Mid-range hotel: Boutique Hotel Atrium München has clean, comfy rooms and an enviable breakfast buffet. It's just a 6-minute walk from Munich Central Station. Check availability from €75.

Private apartment: Aparthotel Adagio Muenchen City has cosy private suites with lounge and desk areas. Check availability from €75.
Getting there and away
Air: The international airport links you up with London from as little as £20 per flight and lots of other domestic and international airports around the world. I use Skyscanner to find the best-value flights, using the 'search by month' tool to find the cheapest dates.

Train: Germany has incredibly efficient trains. You can reach Munich from all over the country as well, as well as from other countries. Search trains to & from Munich here.

Bus: From Munich, you can also catch the affordable FlixBus over the border to France, Spain, Austria and other countries – a good option if you're on a budget euro trip and don't mind a long journey. Search Flixbus journies to & from Munich here.

Getting from Munich airport to the city:
Getting around Munich
On foot: It's easy to see the city centre by walking around. Lots of the main attractions are close together.

By bike: The locals love to cycle. Unlock hire bikes by calling a number with the Call a Bike scheme. Alternatively, take a guided cycling tour.

U-Bahn (underground): This is the fastest way to get around Munich and visit areas away from the centre. Buy a ticket in the station before boarding.

Straßenbahn (tram): This is a great way to see the city while travelling around it. There are night trams when the underground has closed (between 1am and 4am).

Bus: You can also hop on one of the city's blue buses to get around.

Taxi: this is one of the most expensive ways to get around Munich. You'll need to hail or phone a taxi as Uber is banned in Germany.

Grab a Munich city card for €12 which gives you unlimited public transport use and discounts on attractions.
Top experiences in Munich
Best 10 things to do in Munich
1. See the Glockenspiel perform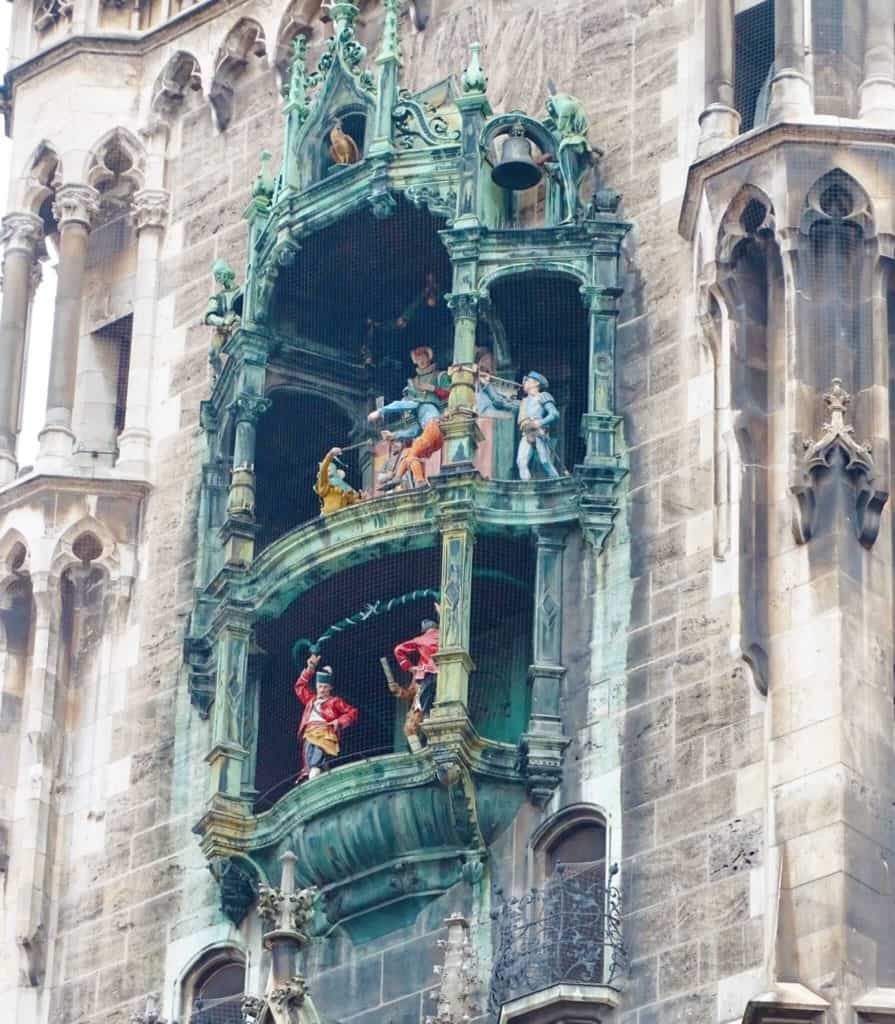 Every day at 11am and midday (and 5pm between March and October) the Glockenspiel performance beings visitors to the central Marienplatz Square.

You'll find the dancing figurines located up at the top of the New Town Hall (or in German the Neues Rathaus). Their dance tells tales from old folklore: a royal wedding, a jousting tournament and a traditional dance.
2. Put your foot in Devil's footprint in the Frauenkirche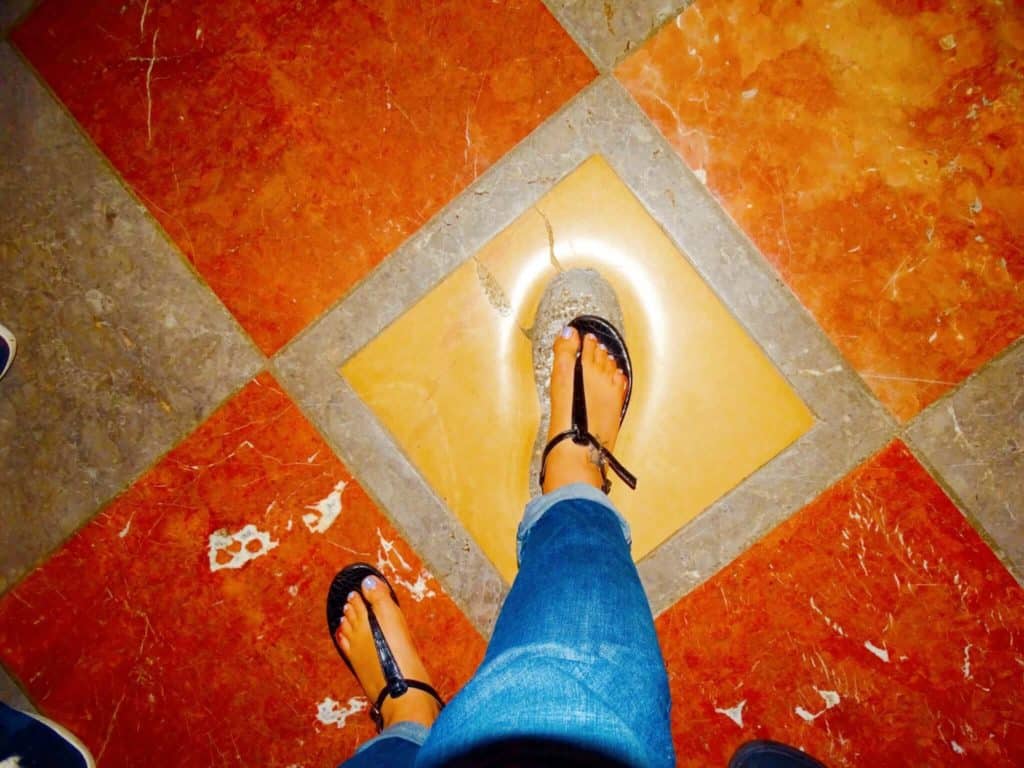 In an old legend, architect Jorg von Halsbach made a deal with the Devil. So long as no windows were built and it remained a celebration of darkness, the devil would provide funds for the church. Halsbach built windows but designed columns to block them from view so that the Devil couldn't see them from his position on the vestibule.

The Devil was happy initially but once he realised he'd been tricked, flew into a rage and stamped his footprint into the floor – it's thought you can still feel the cold breeze of him there today.

Whether you believe it or not, everyone seems to take this photo!
3. Climb the New Town Hall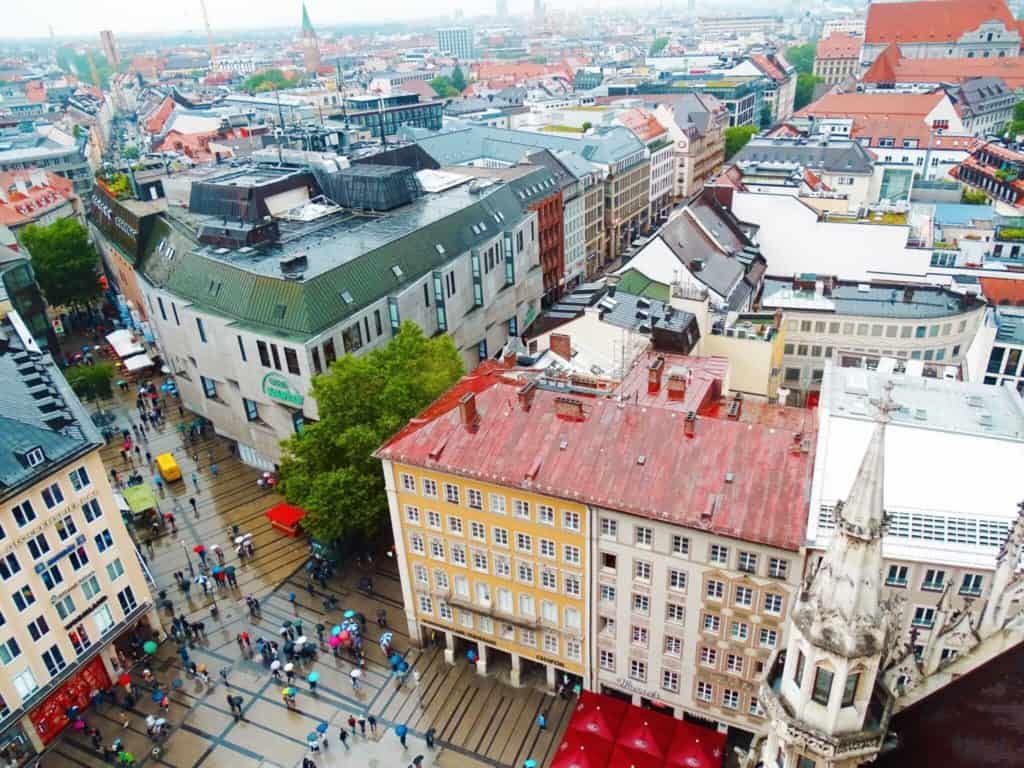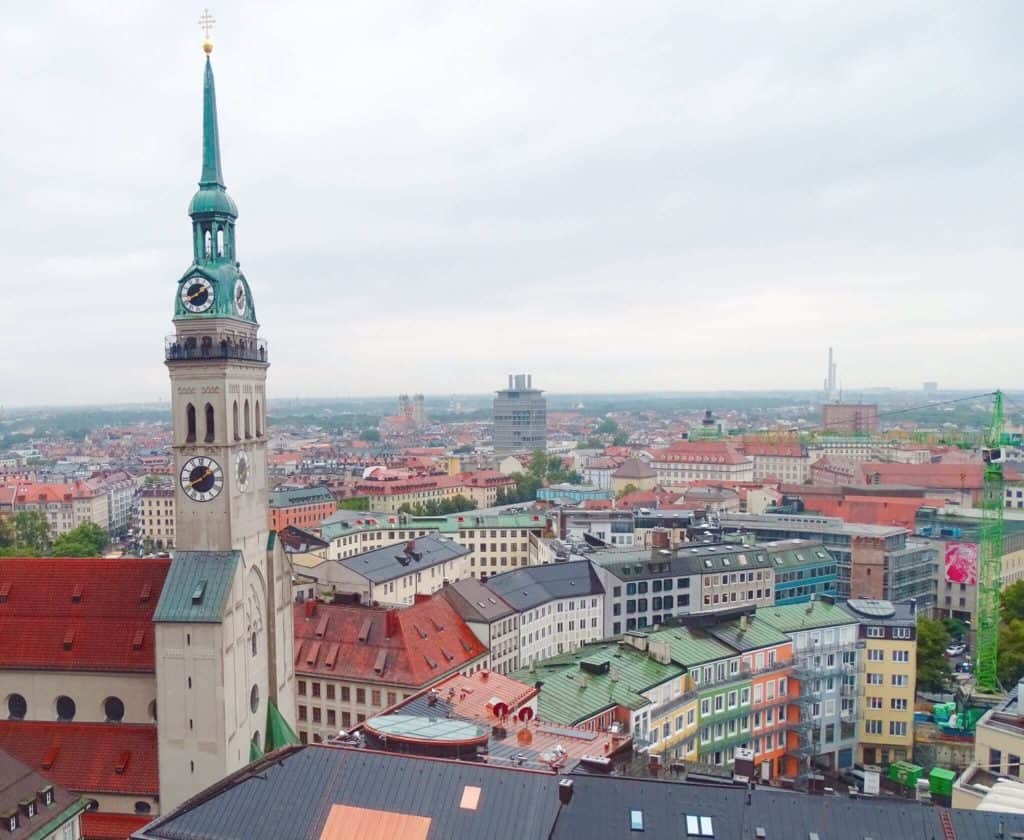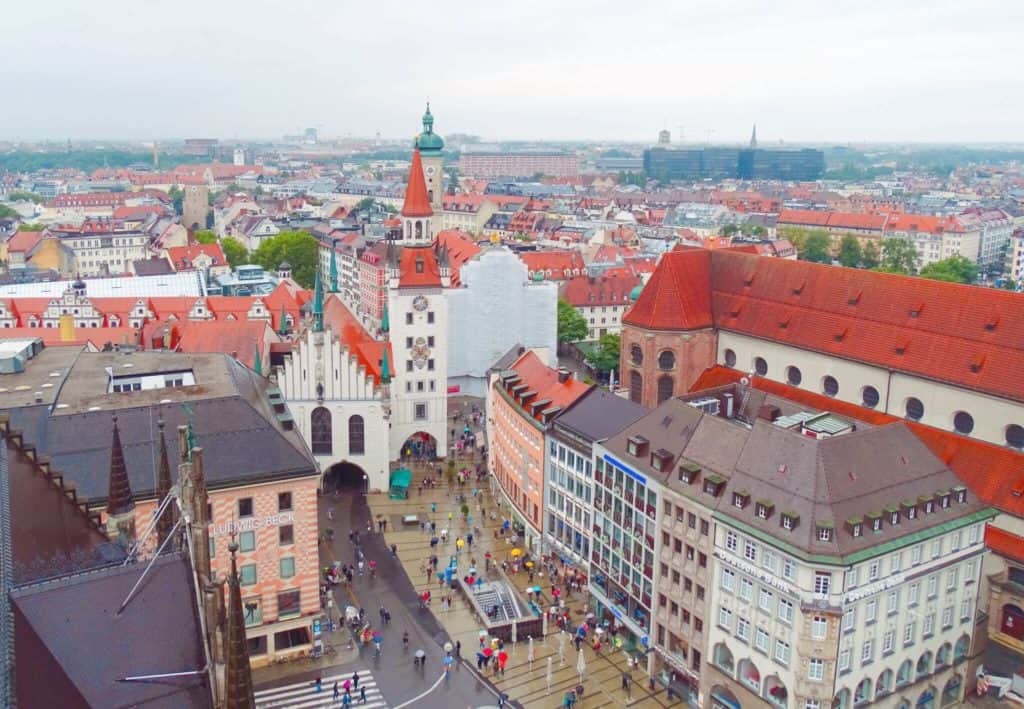 Getting a birds-eye view is one of the best things to do in Munich especially on a clear day.

The day I visited was probably the greyest on record but I still enjoyed my view of colourful Munich (including people's bright umbrellas) from one of the highest vantage points in the city.

Admission to the New Town Hall is €2.50. You catch a lift meaning no stressful climbing is involved!
4. Eat Bavarian food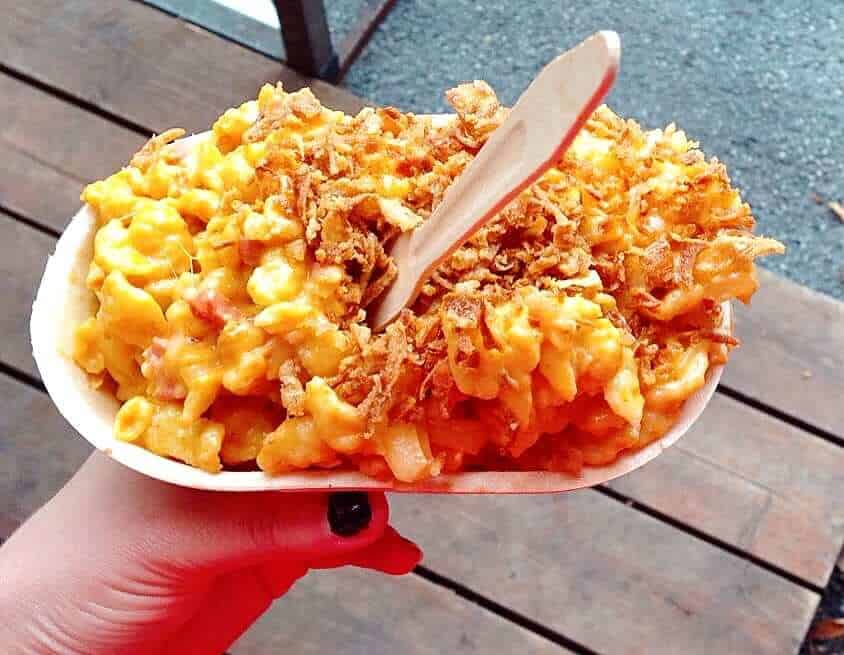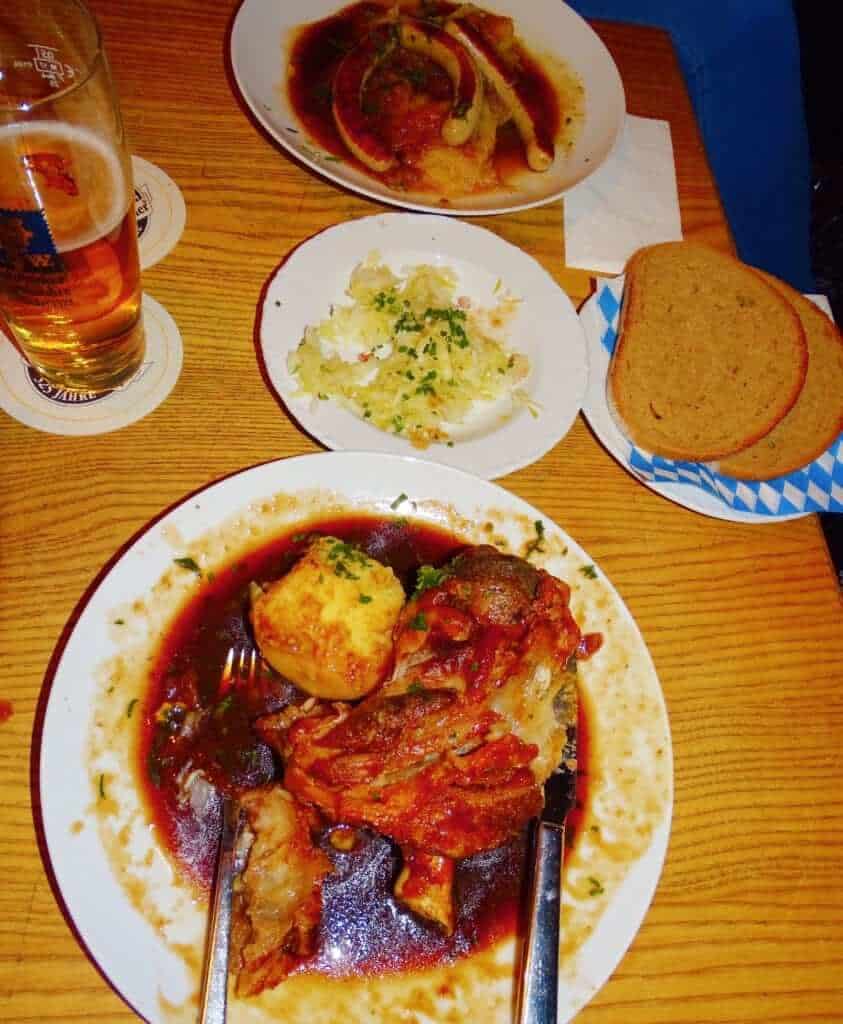 There are lots of things to do in Munich for foodies from food tours, supper clubs and simply eating your way through the many restaurants serving Bavarian food.

In Munich, I discovered bratwurst sausages with sauerkraut cabbage, or why not try pork knuckle with gravy and dumplings? Pretzels are everywhere and I enjoyed eating them with a traditional cheesy dip. Another food I loved was käsespätzle: cheesy pasta with bacon and crispy onion on top.
To experience the best of Bavarian food with a local guide, take a Bavarian beer and food tour. Opt for a behind-the-scenes brewery tour to learn all about German beer.
Read next: The best German dishes to try
5. Go on a free walking tour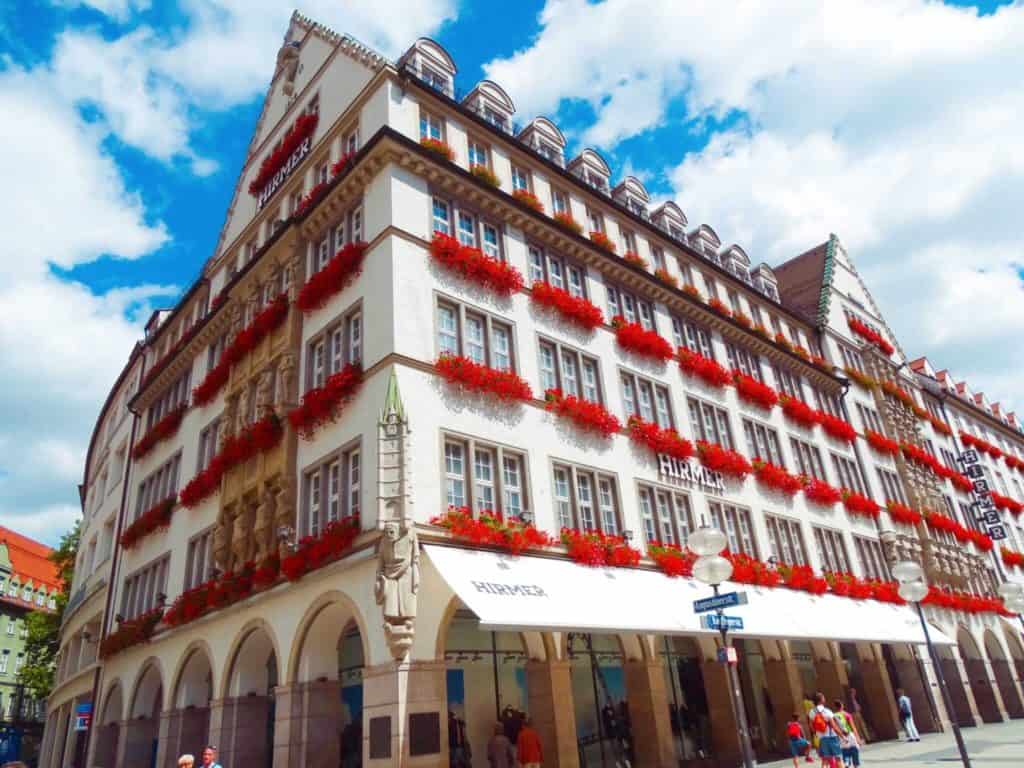 I love free walking tours when I visit a new city. I went exploring on the Sandemans tour which operates on a donation system and begins at the Marienplatz Square. You'll visit the Frauenkirche, Odeonsplatz Square and lots of other spots of interest, plus learn about the city from someone who knows it inside out.
6. Shop at the local markets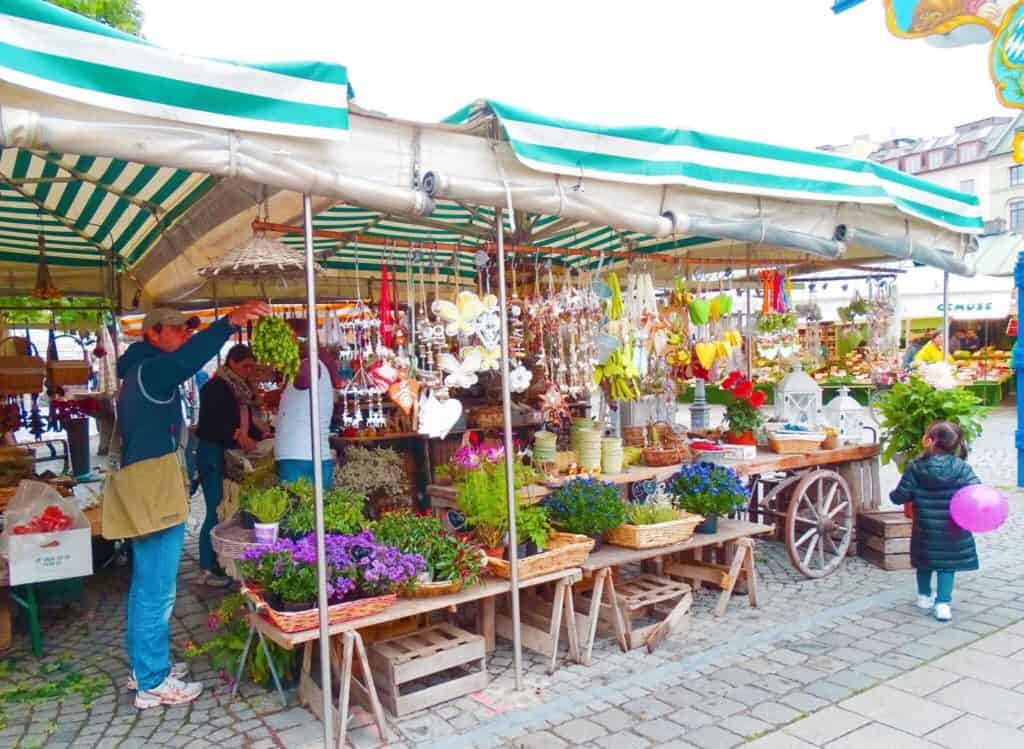 The Viktualienmarkt is a farmers market with lots of fresh deli produce as well as trinkets and flowers. You'll find 140 Bavarian stalls just a minute's walk from central Marienplatz Square so it's the perfect spot for eating and foodie souvenirs. The cheese market made me want to tuck in there and then!

It's closed Sundays so if you visit Munich on a weekend be sure to add it to your Saturday itinerary before the finish time of 3pm (on weekdays it's on from 10am-6pm).
Suggested activities: a market tour with samples or a full foodie tour with 9+ eats
7. Explore the traditional buildings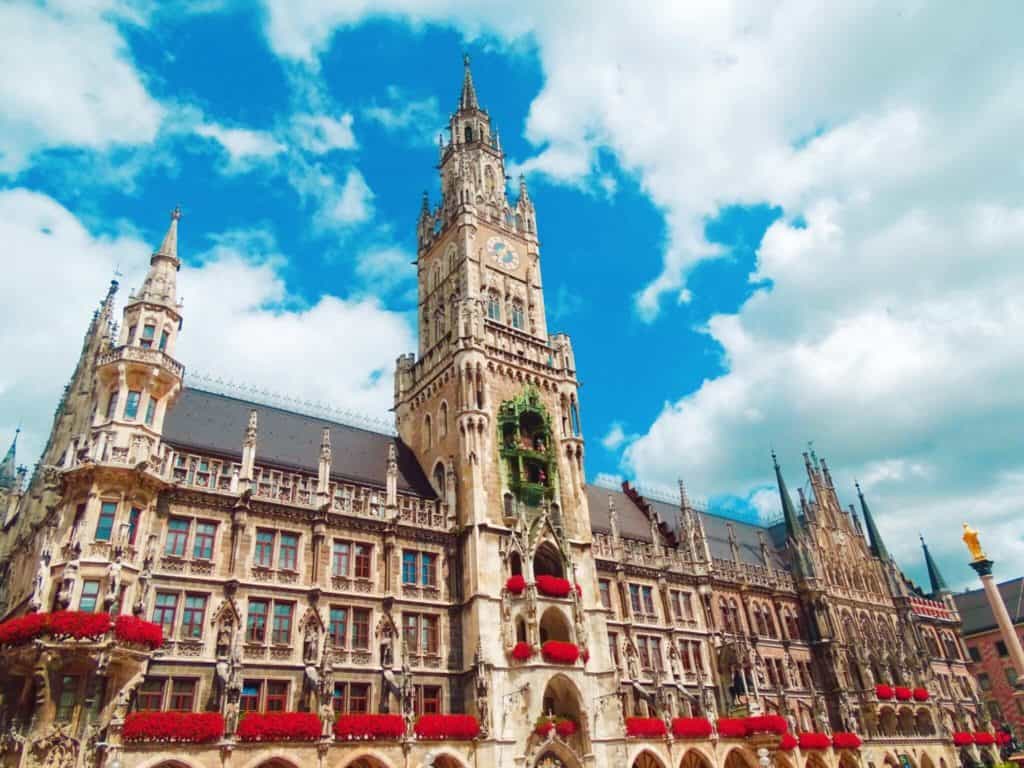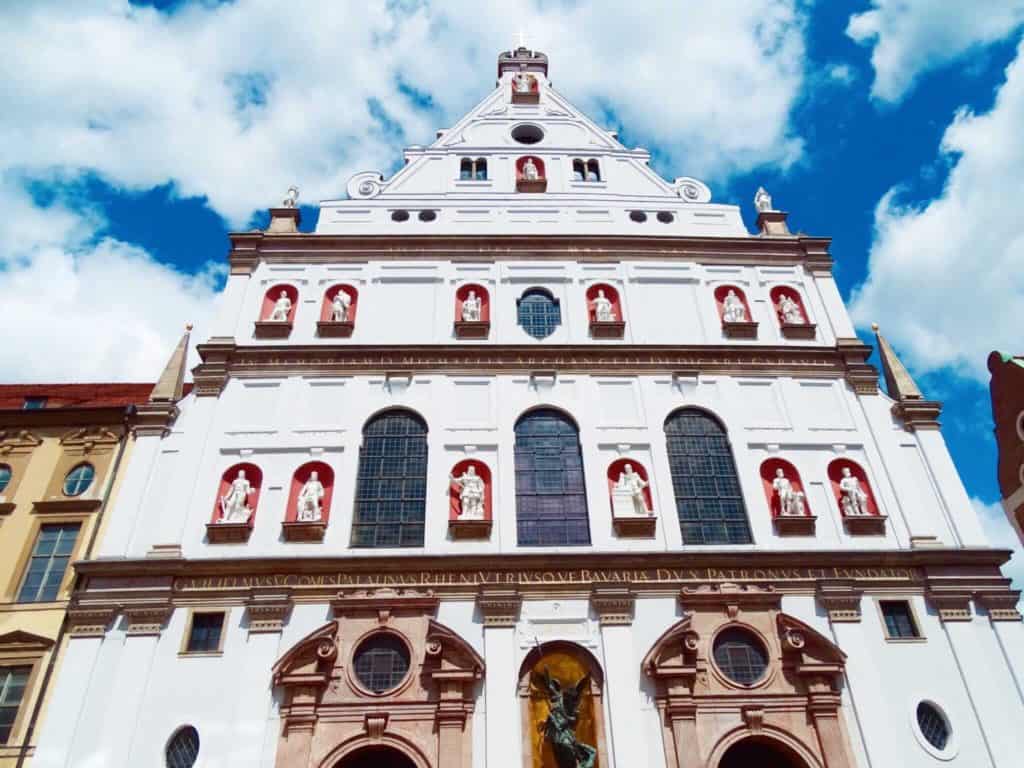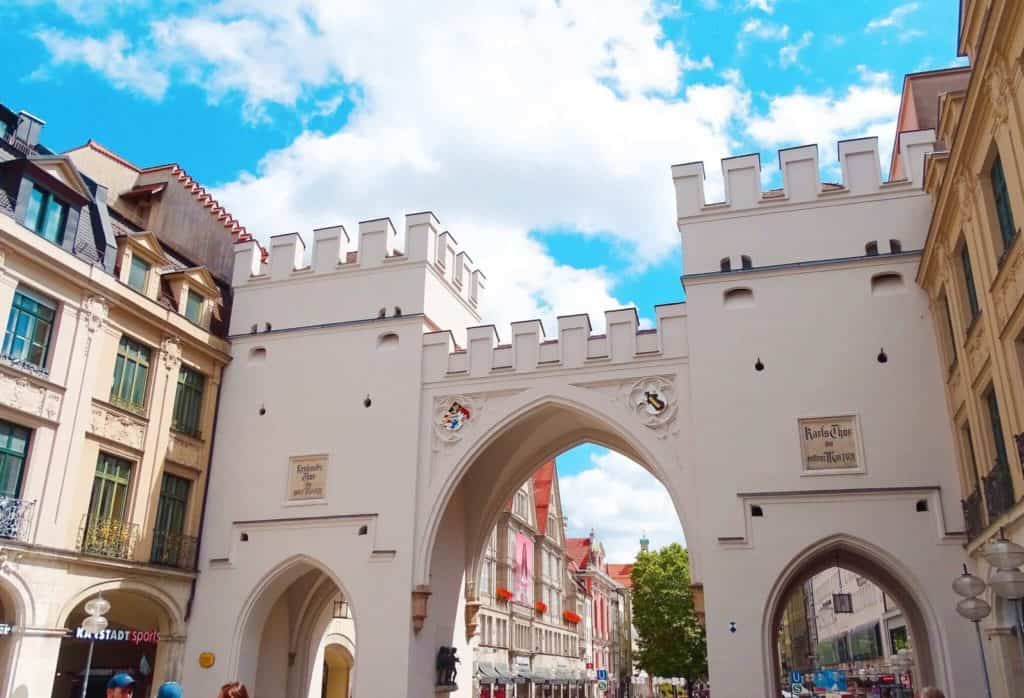 With loads of centuries-old buildings, Munich is a great spot for experiencing the real Bavaria. The New Town Hall was built in classic neo-gothic style while lots of the newer town houses are simple and colourful yet typically German.
8. Enjoy the gardens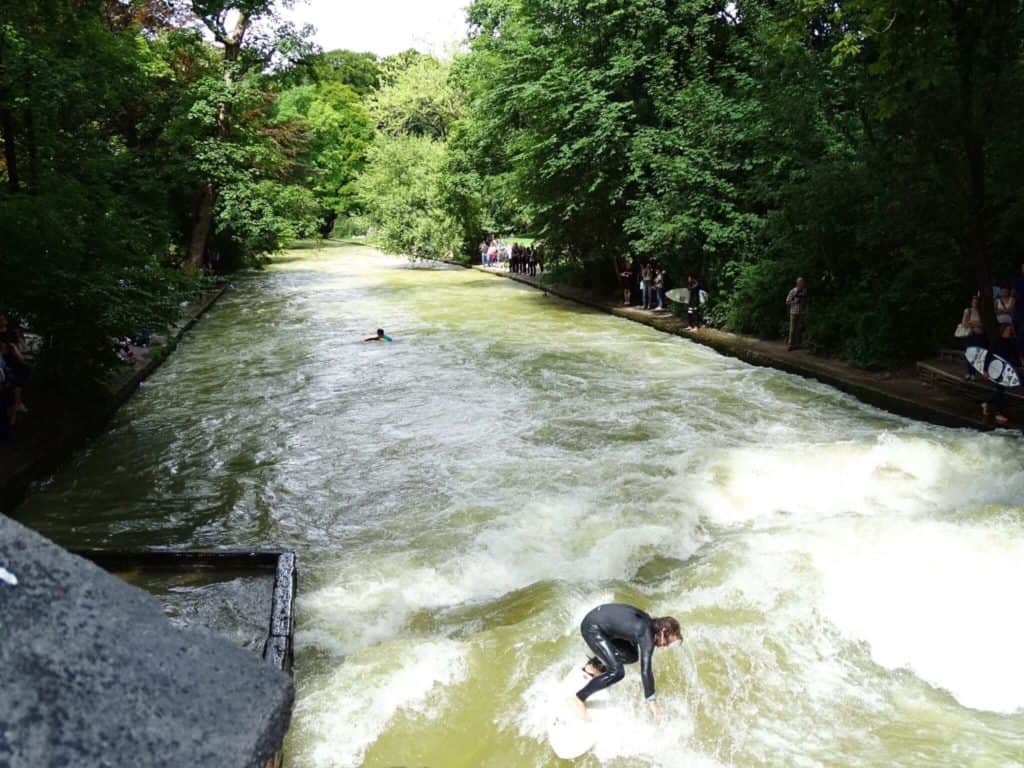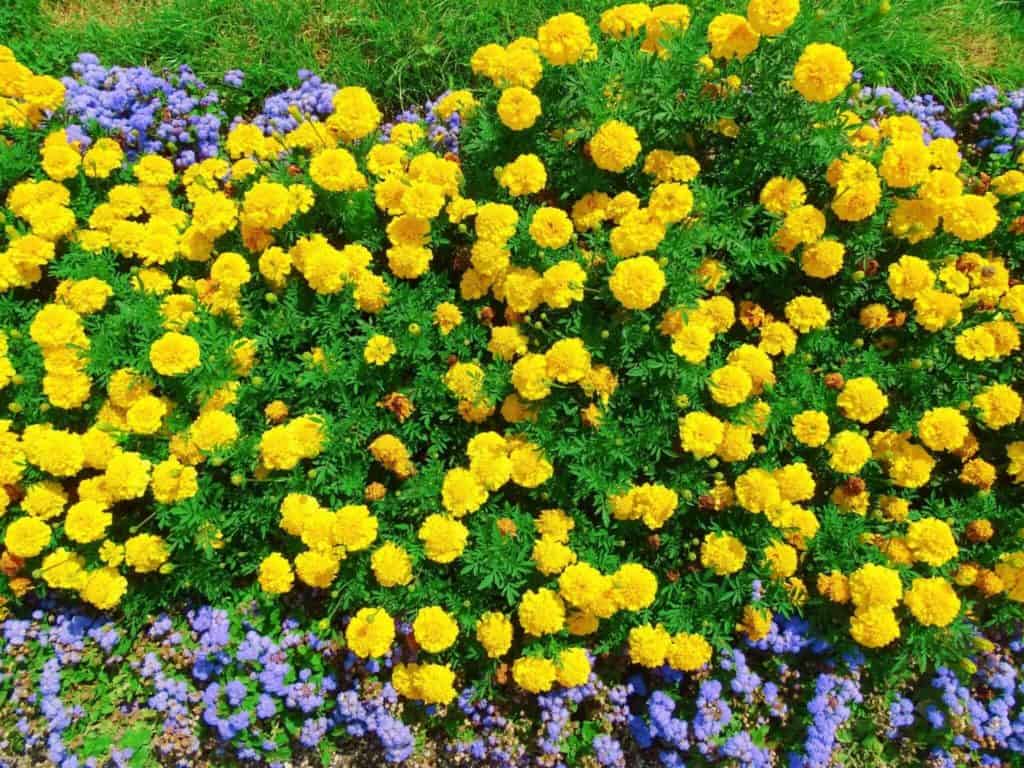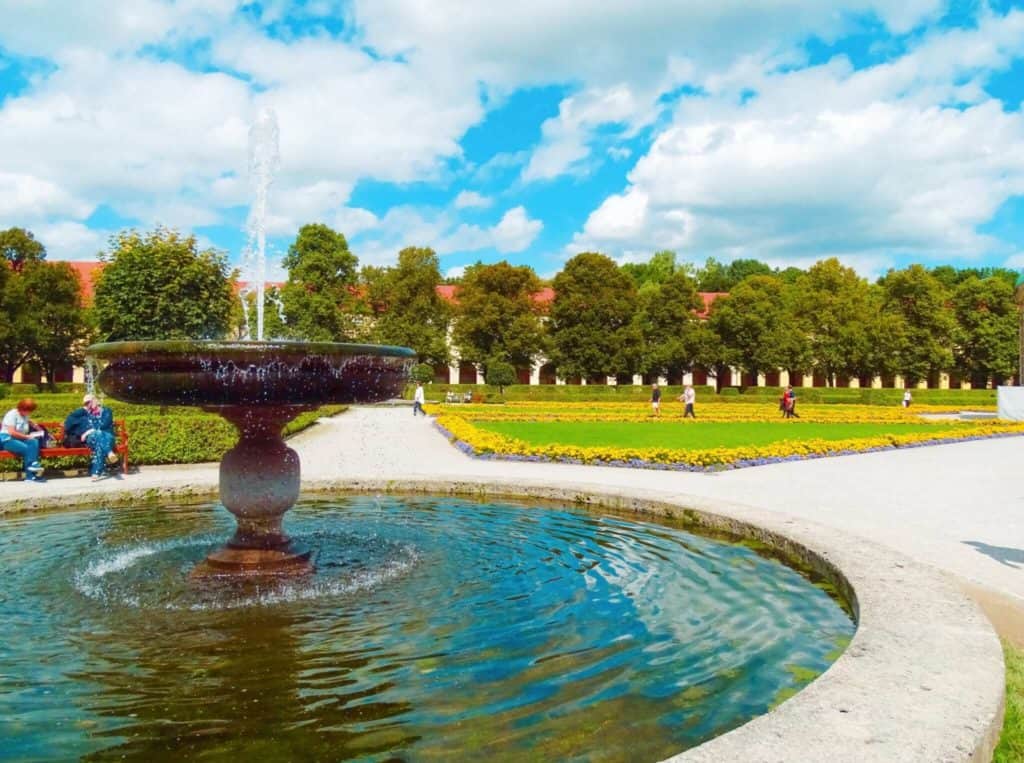 Relaxing in the Englischer Garten is surely one of the top things to do in Munich. Here you can sit and enjoy a beer by the Chinese pagoda or watch surfers ride the rapids in the river.

If you walk to it from Odeonsplatz Square, you can begin by meandering through the Hofgarten (below) and work yourself up for some real greenery.
9. Odeonsplatz Square
The Odeonsplatz Square has a few sights to see like the golden Theatinerkirche (note: anything with 'kirche' on the end means church). You can also take in the Feldherrnhalle building: a monument decorated with impressive lion sculptures where the Nazi party delivered their propaganda speeches.
10. Experience a beer festival
If you can time your visit around the Oktoberfest, great!

If not, there are lots of alternatives. Nearby town Dachau is just a 15-minute train journey from Munich and holds an annual two-week festival in August called the Dachau Volksfest.

Failing that, you'll get a similar vibe at a proper beer hall – two of my favourites are the Augustiner Braustuben across the road from Meininger City Hostel in Hackerbrucke or the Augustiner-Keller not far around the corner.

As the names suggest, both these places serve Munich-favourite Augustiner-Brau beer as well as traditional German food.
Day trips from Munich
Although you can keep busy exploring the many things to do in Munich, it would be a shame not to see more of the region. Here are a few fun excursions you can take…
Neuschwanstein Castle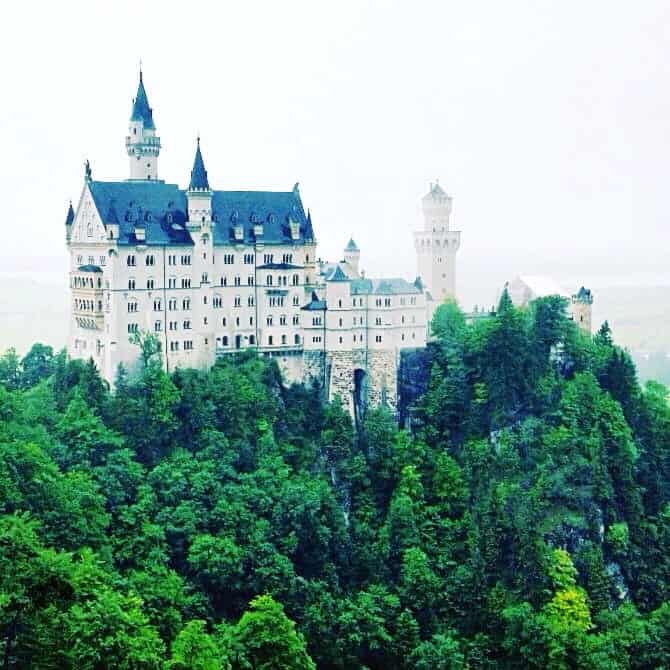 I was gutted I didn't have time to head to Neuschwanstein Castle and it's the first thing on my itinerary next time I'm in Southern Germany. You can make the pilgrimage as a day tour from Munich. Trips depart around 9am, returning by 7pm. Entrance to the castle on arrival costs €13.
Book a day trip to Neuschwanstein & Linderhof castles from Munich
Dachau concentration camp
You can catch a 15-minute train to Dachau from Munich Hauptbahnhof to visit the first concentration camp – a poignant and important reminder of the country's history.
Garmisch-Partenkirchen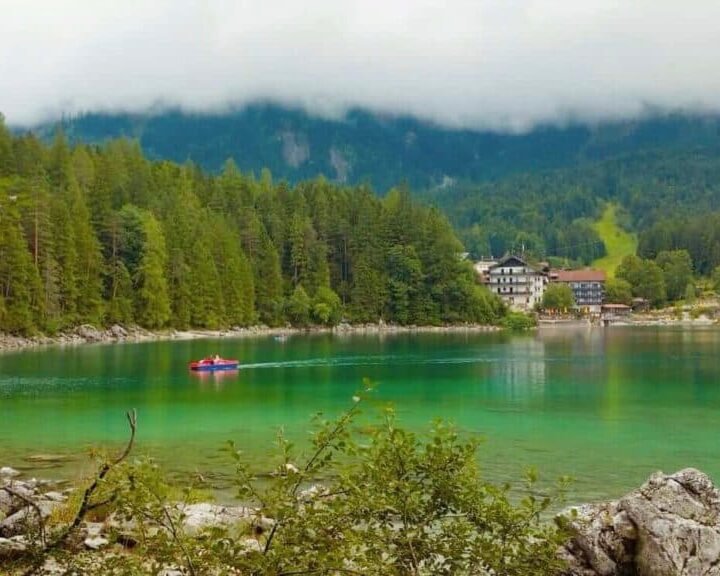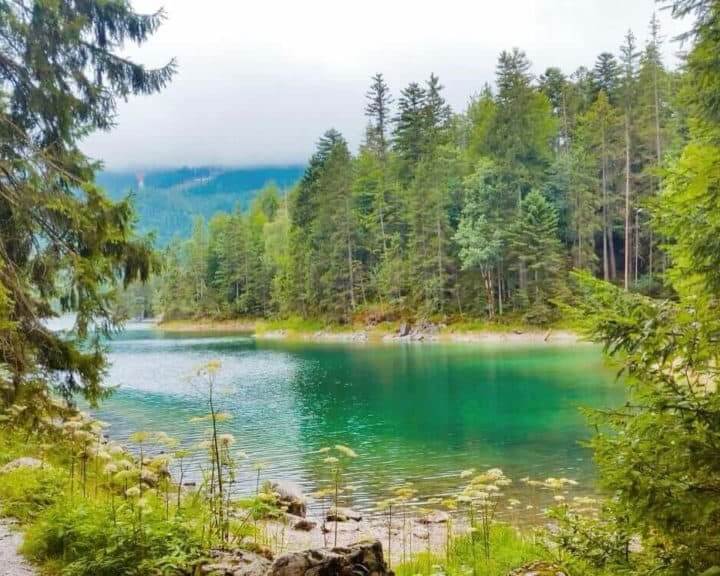 This famous ski town is a 1.5-hour drive from Munich. You can travel there easily via the FlixBus (the bus station is just a 10-minute walk from central Munich). Book your Munich to Garmish bus here.

Alternatively, if you're a group of four or more, take a private day tour from Munich.

Whether or not you ski, it's worth a visit to the area for the typical Bavarian houses and cogwheel train journey into the mountains. You can get off the train at various places – for example, Lake Eibsee where you can take an hour-long circular walk and soak up the striking scenery.
Nuremberg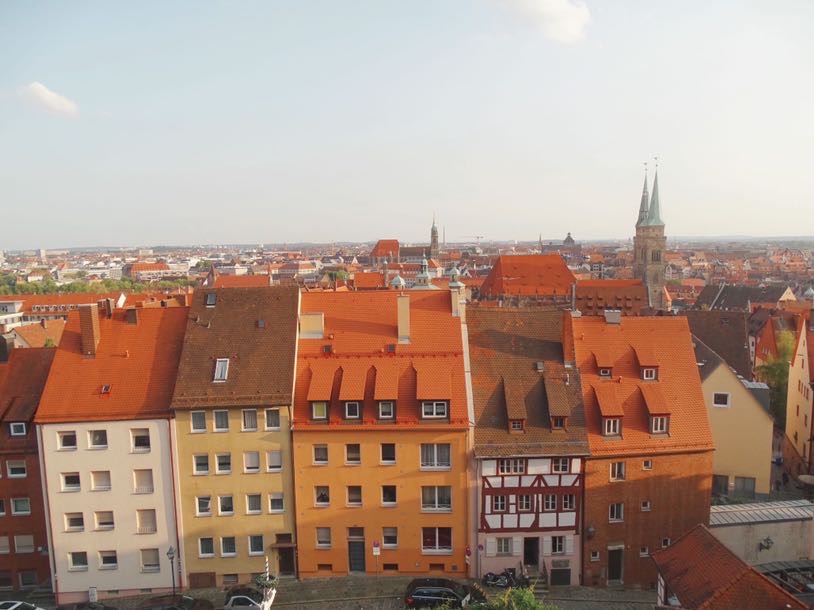 The traditional city of Nuremberg is a Bavarian gem that I had the pleasure of visiting many times while my sister lived there. It's an hour's drive from Munich so can be easily accessed as a day tour.

Although it's most famous for the Nuremberg trials, there are plenty of more upbeat things to do in Nuremberg including strolling the markets, visiting Nuremberg Castle, boating around the lake and touring the underground beer cellars. In my opinion, it's even nicer and prettier than Munich.
Where to eat in Munich
You'll get a great traditional meal at beer halls like Augustiner Braustuben or Augustiner-Keller near Hackerbrucke station.

However, my favourite eatery was Glockenspiel Cafe which has a view down to Marienplatz Square and directly across to the Glockenspiel figurines (visit at 11am or 12pm to see the performance). I ordered a cheese and fruit platter with lots of locally produced German cheeses and generous helpings of Bavarian bread for around €10.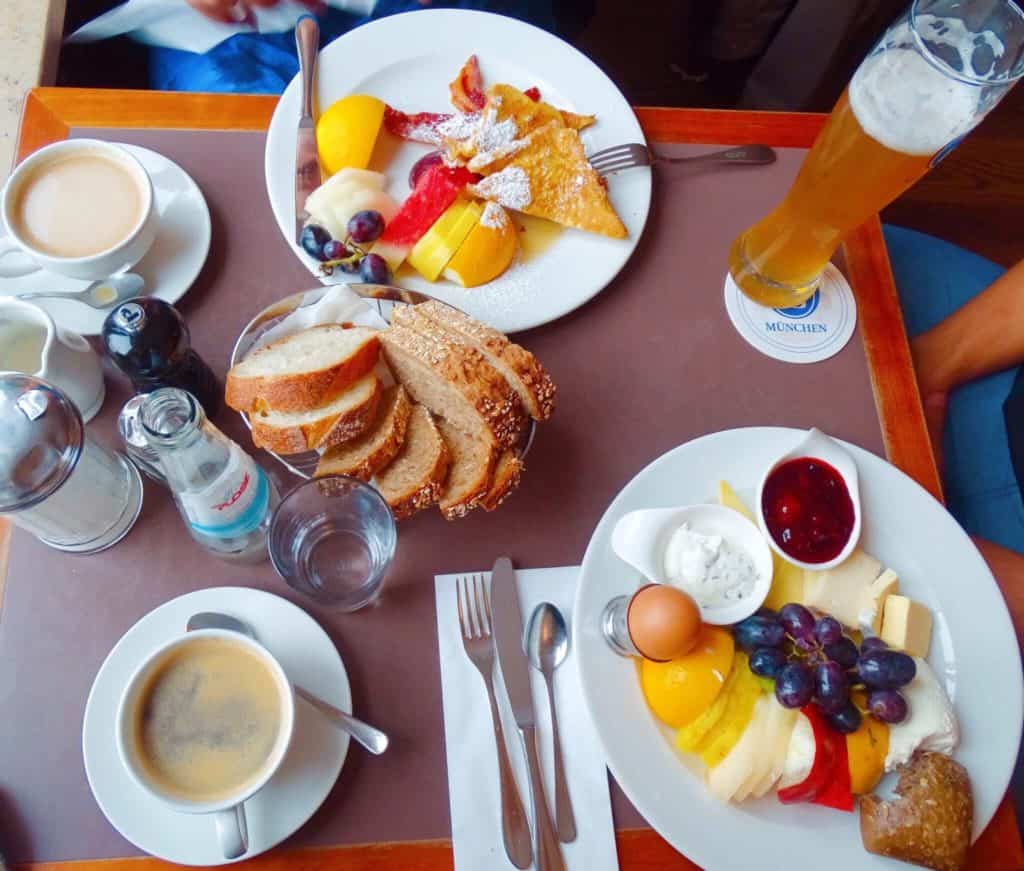 To try German snacks and learn about 'gemütlichkeit' (the feeling of comfort after eating), take a guided evening cycling tour to family-run beer gardens.
Thanks for reading my Munich travel guide
If you liked it, please share it 🙂
Check out my other Germany posts:
See you next time for more adventures,
Rose
Ps. Liked my Munich travel guide? Pin it for later!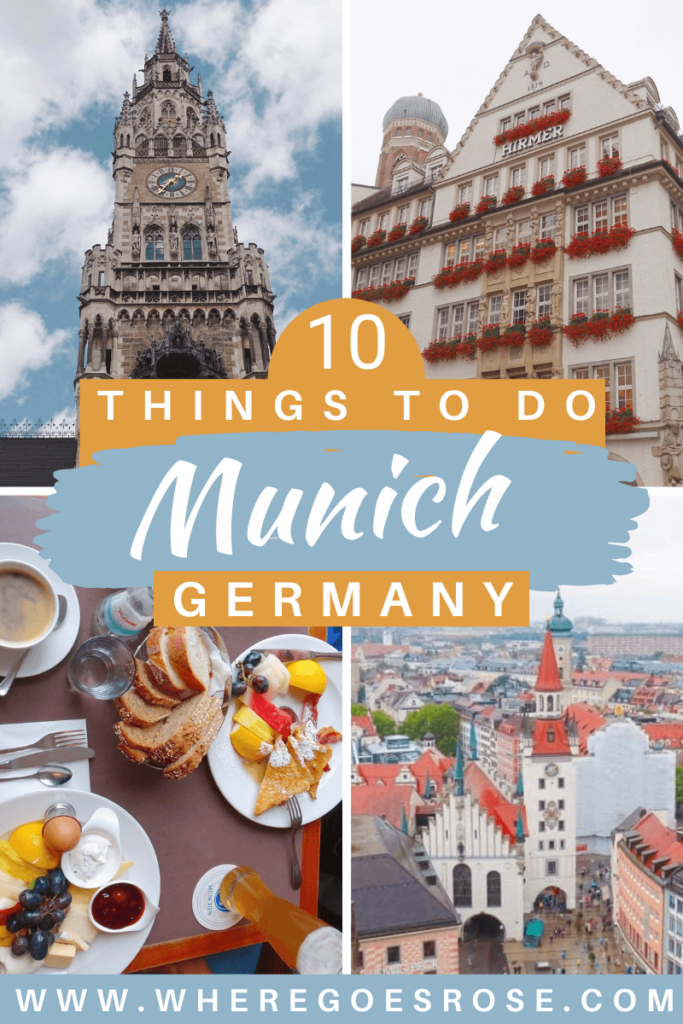 TRUSTED RESOURCES FOR VISITING GERMANY

Getting around by air – I use Skyscanner to find the best-value flights, using the 'search by month' tool to find the cheapest dates. You can also use the 'to anywhere' feature if you're flexible on where you're going.

Driving in Europe – use Rentalcars.com to compare car rentals in European countries (and all around the world).

For trains, I use RailEurope. The search feature allows you to compare prices, and they show live departure times on the website.

For buses, I use FlixBus. Find journeys between European countries from €1! 

Use Omio to compare trains and buses in one search. It's so handy!

For hotels and self-catering apartments, I use Booking.com. You can filter by review score and price to find the best-rated budget places. For hostels, I use Hostelworld.com.

To save money on accommodation, I use Trusted Housesitters, a website that connects homeowners going away and travellers who can sit their homes & pets.

Need travel insurance? I use True Traveller (for UK & Europe residents) since it's some of the most affordable insurance out there but still covers everything you'd need including various activities, valuables and pre-existing conditions. Unlike some companies, they insure you if you're already travelling / don't yet have your flight home booked. Get a quote.

For other nationalities, I recommend Hey Mundo and for long-term digital nomad travellers, I suggest Safety Wing.

Need travel insurance? I use True Traveller (for UK & Europe residents) since it's affordable but covers everything you'd need including various activities, valuables and pre-existing conditions. Unlike some companies, they insure you if you're already travelling / don't yet have your flight home booked. Get a quote.

For travel insurance for other nationalities, I recommend Hey Mundo and for long-term digital nomad travellers, I suggest Safety Wing.

Check out my resources page for more travel discounts and budget tips from my 10+ years on the road!