This post may contain affiliate links to things like tours, hotels, Amazon associates and products. These help me earn a small commission at no additional charge to you.
There are so many reasons to visit Nuremberg: the history, architecture and cuisine to name a few. Visiting Nuremberg Castle is another spectacular feature of this charming Bavarian city.

My sister lived in Nuremberg for 5 years and I can't even count how many times I've visited during that time. A trip to Nuremberg feels like a mix between stepping back in time and stepping into a postcard. From the timber buildings to the cobbled streets and bridges crossing gentle rivers, it has to be one of the most idyllic places in Europe.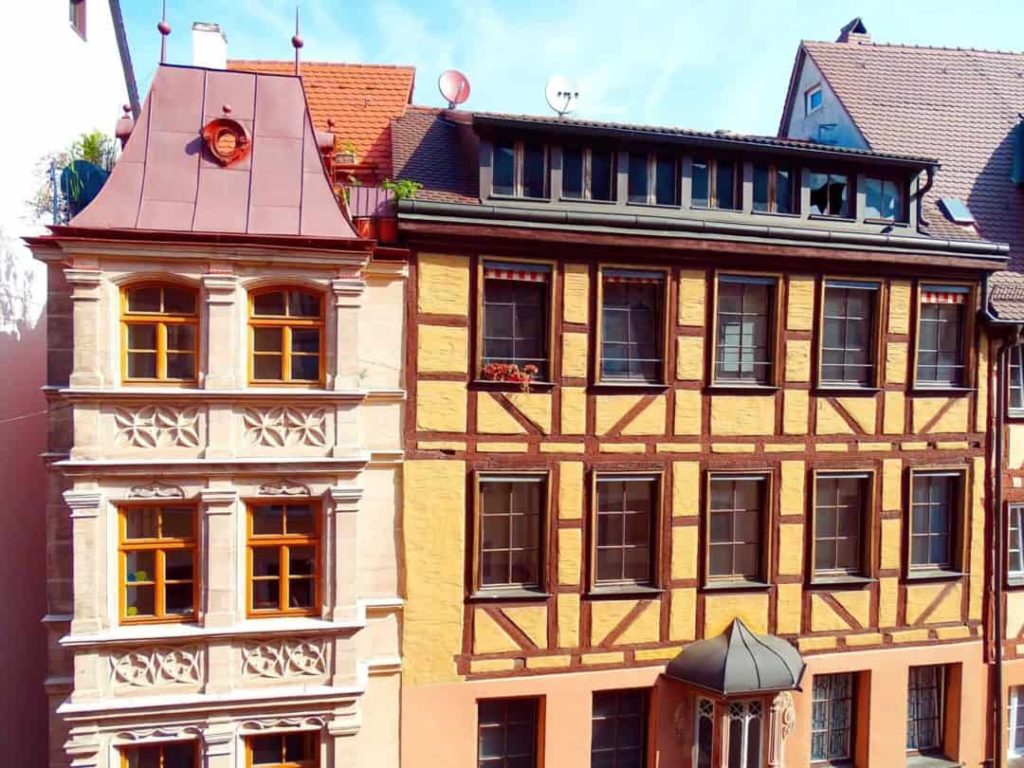 Wherever you are in Nuremberg, look up and you'll likely see Nuremberg Castle on the horizon.

This magnificent structure dating back over 1,000 years is widely considered one of Europe's most formidable walled castles. It's not hard to cast your mind back to days of battle and invasion when Nuremberg Castle would have been a fortress of protection and one of the most important buildings in the Holy Roman Empire.
Where is Nuremberg Castle?
Nuremberg Castle is located in the historic city of Nuremberg, halfway between Munich and Frankfurt in the state of Bavaria.

Like many castles in Europe, it's impossible to miss. It dominates much of Nuremberg Old Town reaching from the town square to the Old City Walls that embrace Nuremberg.

Its initial purpose was partly to scare off intruders. You can see how it succeeded!
Nuremberg introduction
Nuremberg is Bavaria's second-largest city and – in my opinion – the most beautiful.

You'll find very few modern influences. Although it's occasionally frustrating to not be able to pay by card – or go food shopping on Sundays – Nuremberg is totally idyllic, without the mad rush of many modern cities.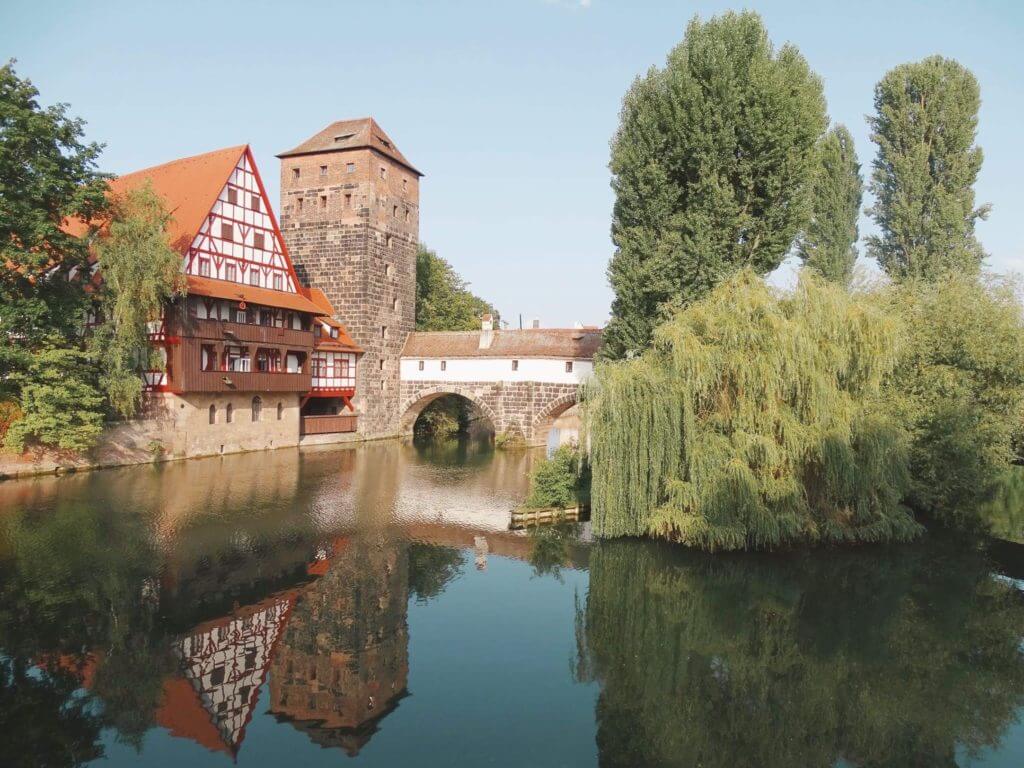 As well as simply soaking up the vibes, there are plenty of things to do in Nuremberg that I'll run through later in this post.
A quick history of Nuremberg Castle
Nuremberg has a long history, intertwined with the Castle. You could fill a dissertation with facts and figures but here's a quick summary.

Dating back to the Middle Ages, Nuremberg Castle first appears in the record books in 1050.

Nuremberg Castle was put on the map due to its importance as a Holy Roman Empire hang out. It was home to every emperor between 1051 and 1571. Alongside Frankfurt where kings were elected and Aachen where they were crowned, it was a key building for religious and functional reasons.

It also had an administrative purpose: the courts and Imperial Diet (an important body that debated Empire matters) also met at Nuremberg Castle. In 1356, Charles IV issued the Golden Bull of 1356, instructing new rulers to hold their first Diet at Nuremberg.

Like most castles, it was used for protection. Once you've seen how thick the walls are, and gasped for breath trekking up the hill, you'll see why intruders were put off!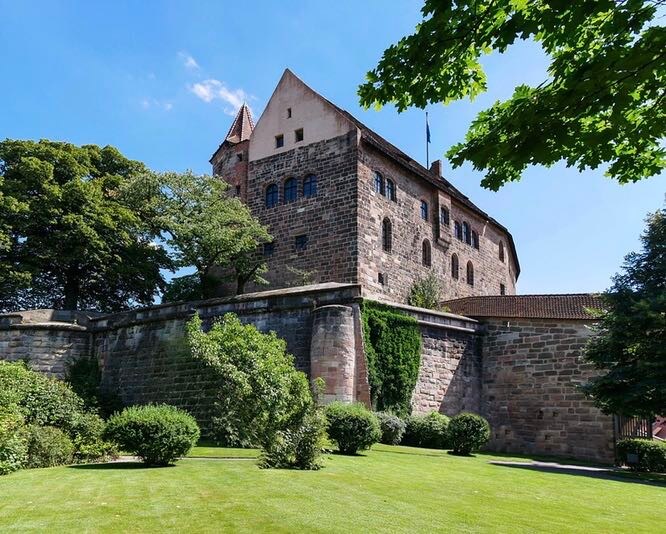 Style and preservation
After the Thirty Years' War in the 1600s, the Castle slipped in importance and parts crumbled. When the Nazi Party were active in Nuremberg, they restored it for the Nuremberg Party Rally of 1936.

But then, WWII began. By 1945, most of the castle was destroyed apart from a few Romanesque and late Gothic sections, as well as the Double Chapel which was miraculously missed (by God or chance, who's to say?).

It was rebuilt in timeless German artisanship style which is how it remains today.
How to get to Nuremberg Castle
It's less than a 10-minute walk from the centre of Nuremberg. Enter at the corner of Burgstraße (Castle Street) and Am Ölberg.

By public transport:
Nearest tram stop: Tiergärtnertorplatz (line 4)
Nearest U-Bahn stop: Lorenzkirche.
Entrance fees
Entrance to Nuremberg Castle and the museum costs €5.50.

I'd highly recommend upgrading to a €7 Imperial Palace combination ticket including the Double Chapel, Sinwell Tower and Deep Well.

Under 18s can enter the Castle for free.

Travelling on a budget? The Castle Gardens and city viewing area (pictured below) are free to enter during the summer months and offer spectacular views of the Castle. You can even venture inside the walls to look down over the square without a ticket.

However, you won't learn much about the history so it's well worth buying a ticket to explore inside Nuremberg Castle.
If you're visiting a few attractions, purchase a Nuremberg Card to save some pennies.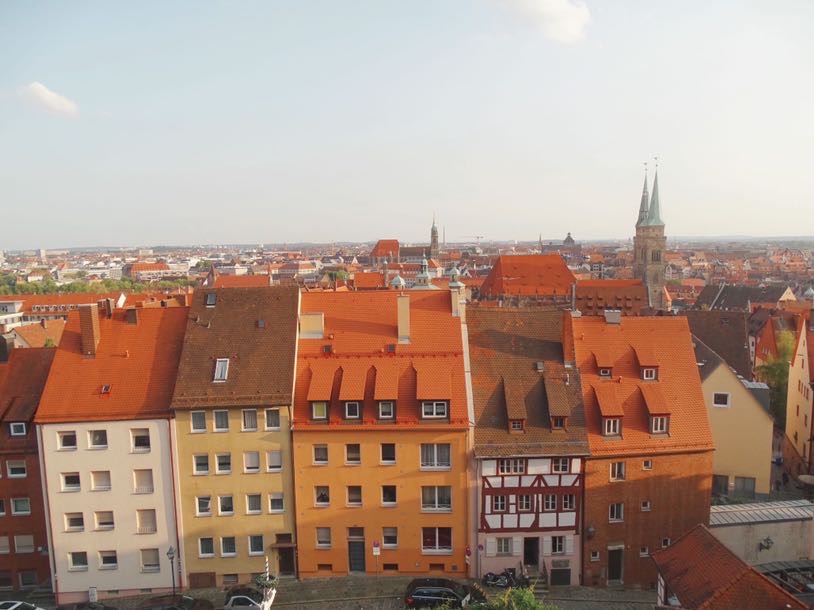 Opening hours
The castle is open from 9am to 6pm (April to September) and 10am to 4pm (October to March).

Last entrance is 30 minutes before closing time. I'd advise arriving before that, though: you can't do the Castle justice in 30 minutes!

You can access the Castle Gardens from April to October between 8am and dusk or 8pm, whatever comes soonest. The Gardens are closed throughout the winter.
Useful visitors information
Dogs are allowed in the courtyard but not inside the Castle
There's free Wi-Fi in the courtyard (useful for 'gramming your visit)
You can take photos wherever you like, but drones require a special permit
All wheelchair and acceesibility information can be found here.
Things to do at Nuremberg Castle
Unlike many ruined castles, Nuremberg Castle is well preserved with lots of things to see and do inside.

Here's a rundown of the places at Nuremberg Castle not to miss…

Check out the Sinwell Tower – meaning 'perfectly round' in High German, this circular tower was used for status and defence. In other words, it showed intruders that Nuremberg meant business!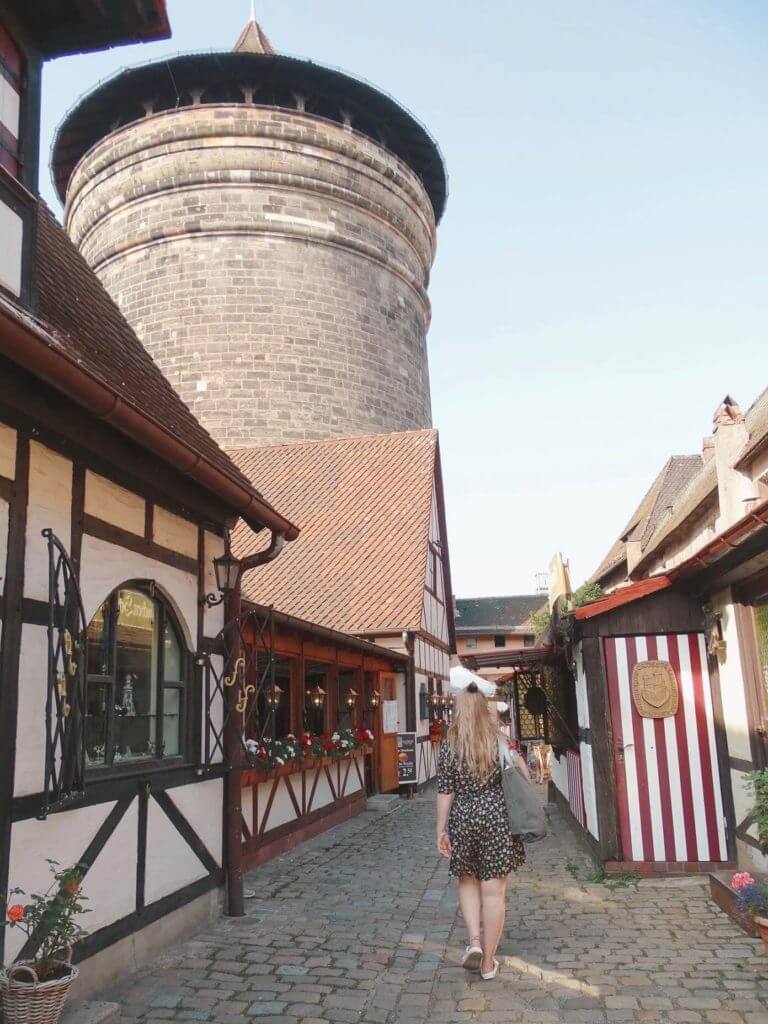 The Knight's Hall – this is where emperors met important people and saw to legal matters. Since the Holy Roman Empire had no capital, it was at castles like Nuremberg that important meetings took place.

Corner Chamber – don't miss gawping at the Imperial Crown bejeweled with colourful stones and a gleaming gold cross. In this room, you'll also spot an impressive wooden model of Nuremberg.

The Deep Well – protruding through 50 metres of rock, this enormous well would have provided the castle with its water supply in its early days. On top of the well is a small house from which you can visit the well, often lit with candles for atmospheric tours.

Double Chapel – this ancient chapel built from sandstone retains original features for example the Emperor's Gallery (where they would have sat during royal courts) and the altar.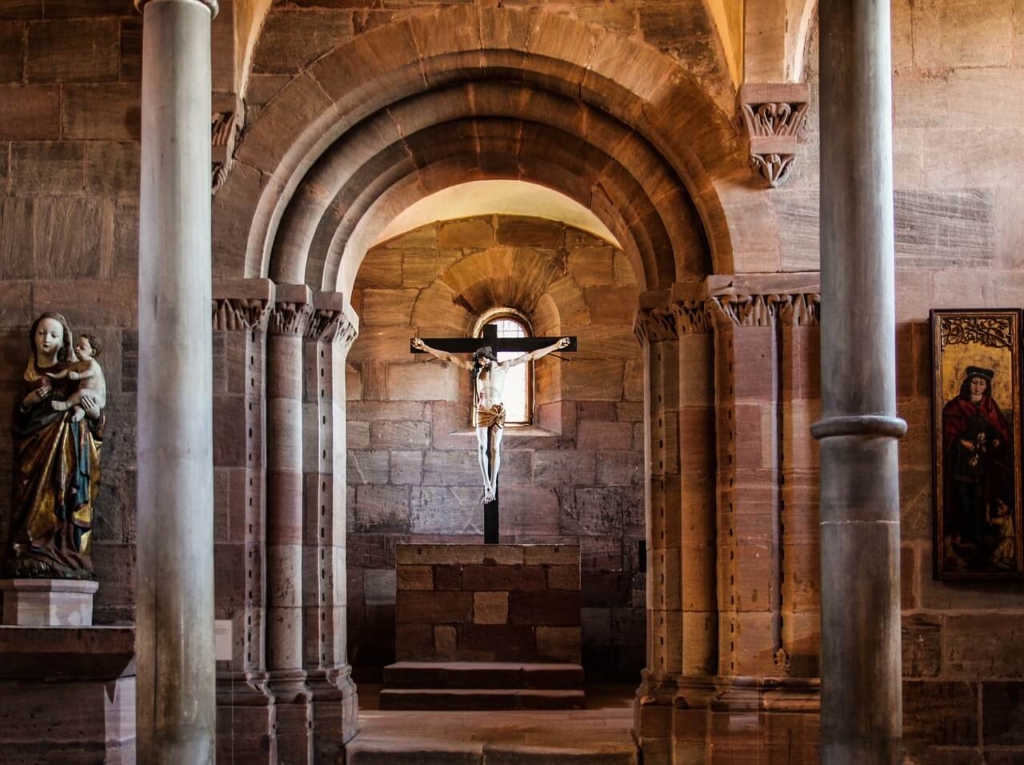 Kaiserburg Museum – learn about the Castle's history and spy medieval armour and weapons including full body armour for horses!

Castle Gardens – these pretty gardens are often missed by tourists as they're slightly hidden away. Make sure you find them; they're a real highlight. Here you can see red squirrels and enjoy a picnic.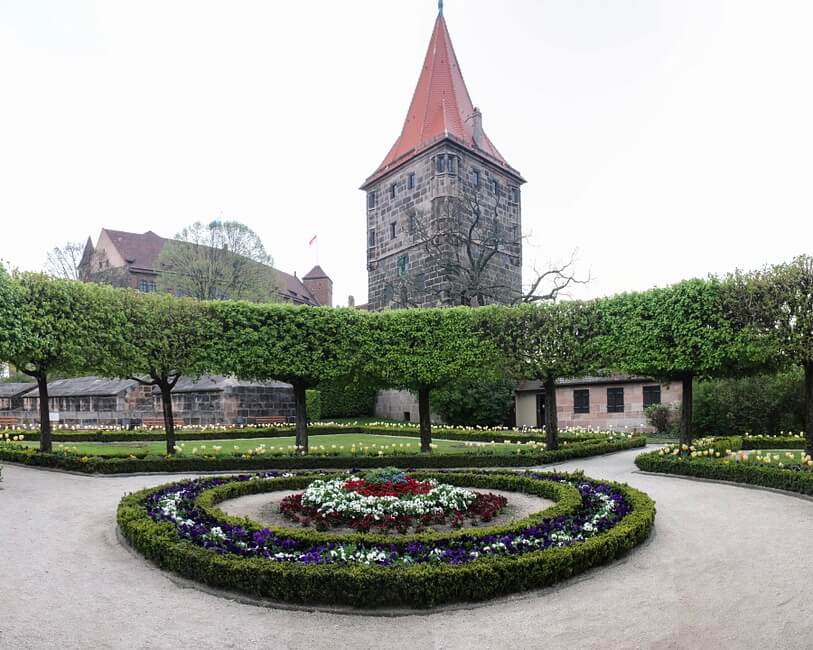 Maria Sibylla Merian Garden – this garden is named after artist and naturalist, Maria Sibylla Merian, who lived in Nuremberg for over a decade and used the gardens for her plant and insect collection.

The beds are laid out by theme, for example 'decorative' and 'fragrant'. It's a lovely place to wander and bring a picnic. It's open 2 days per week so consider timing your visit around an open day.

Note – both gardens are free to enter!
Insider's tip – from the Castle Gardens, enter the covered walkway in the Kaiserburg section of the Castle Walls (free to enter). Just a short way along, you'll find a viewpoint overlooking Nuremberg central square and Albrecht Dürer House, once lived in by the famous German Renaissance artist.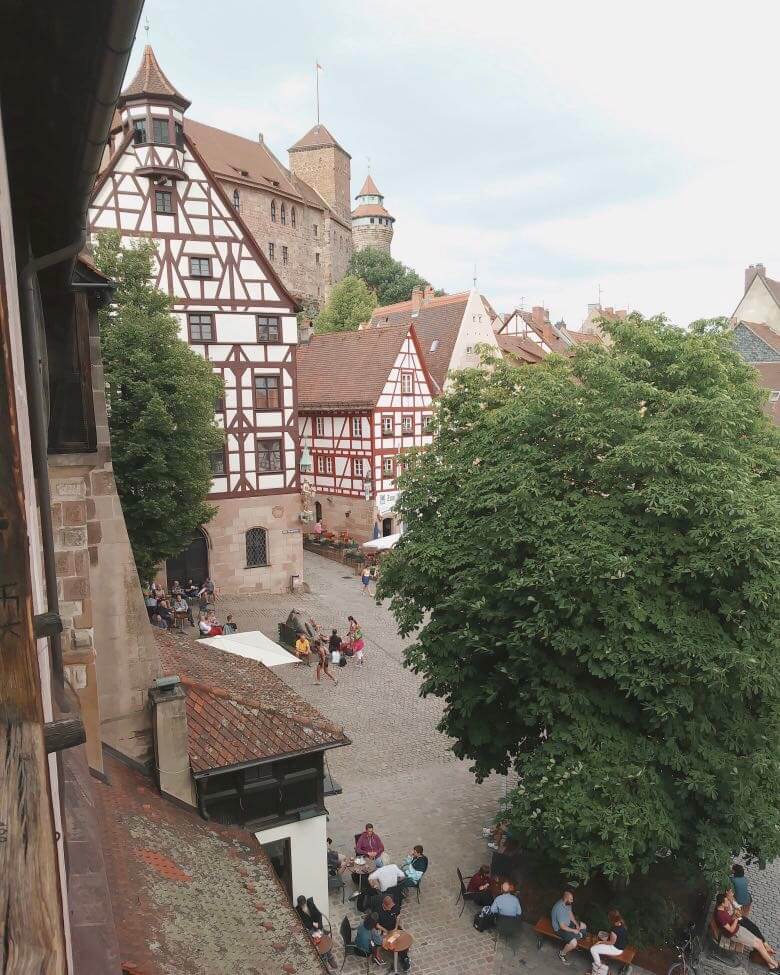 Don't miss the view from the top – one of the best things to do at Nuremberg Castle is time your visit for sunset and look down over the city from the viewing area (no Castle ticket required). Nuremberg looks beautiful bathed in golden light.
Want to stay overnight at Nuremberg Castle?
Of course you do!

How often can you stay overnight in a 1,000-year-old castle on a backpacker's budget?

Jugendherberge Nürnberg is located inside Nuremberg Castle. Although you might expect it to be old-fashioned, it's modern and comfy with Wi-Fi and a buffet restaurant.

Private rooms start from €80 a night (there are usually cheaper dorm rooms which should open later in 2022). Whether or not you'll be joined by a ghostly inhabitant of the castle remains another matter…
What to do after visiting Nuremberg Castle?
Walk down the slope to Tiergartnertor Platz just below the Castle. Every building in this attractive square deserves a spot on a postcard.

In the summer months, open-air bars spill into the streets and you can sip a cocktail (try a Hugo, my favourite) sat on the cobbles.

In winter, tuck into hearty German cuisine at one of the many Nuremberg restaurants. Most are pretty meaty although I can personally vouch for some of the vegan restaurants in Nuremberg.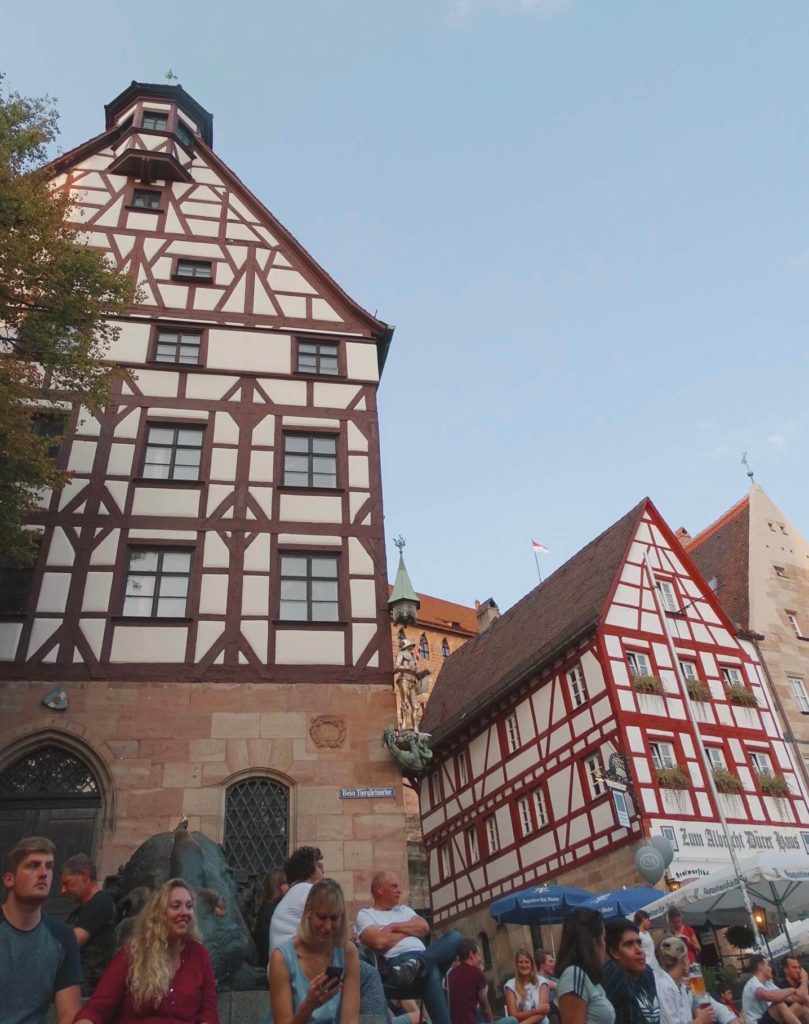 Other things to do in Nuremberg
There are plenty of other historical sights in Nuremberg and ways to get immersed in Bavarian culture. These include:
Wandering and browsing artisan goods at the Handwerkerhof Market, a medieval walled shopping area. Not your average mall!
Walk down Weißgerbergasse, the most photo-worthy street in the city. Colourful timber buildings act as your Insta backdrop.
Catch a concert at Lorenzkirche performed with the largest set of church organs in the world
Visit the Documentation Center Nazi Party Rally Grounds (now a museum) and learn how history came full circle at the Nuremberg Trials Memorium, a preserved courtroom in Nuremberg Palace of Justice where Nazi leaders finally had to answer for their crimes.
Take a self-guided walk of Nuremberg City Walls
Check out the many parks and green spaces including Wöhrder Lake and Wöhrder Meadow and Stadtpark.
Eat hearty Bavarian cuisine, washed down with a stein of beer
Read my things to do in Nuremberg guide for more.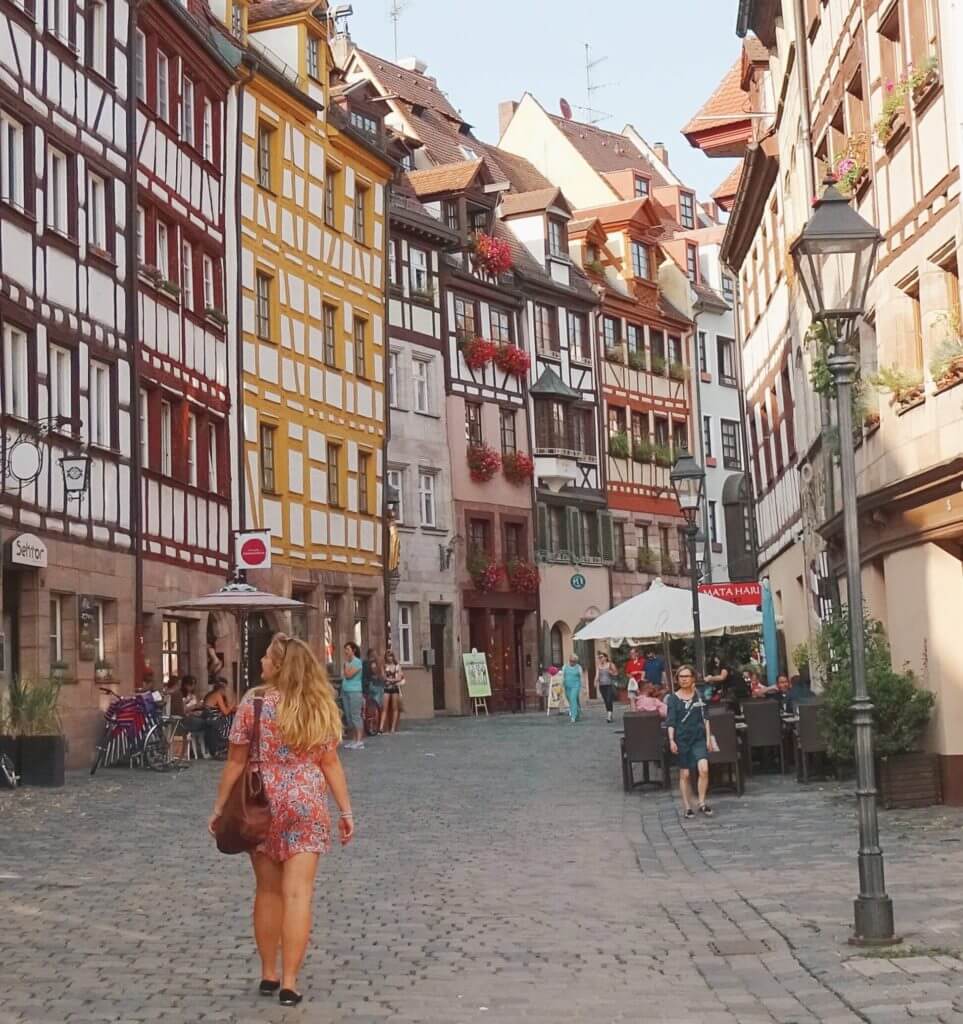 Where to stay in Nuremberg
Splash out – Hotel Victoria is right in the city centre and has lovely, individually decorated 4* single and double rooms. Check availability from €115.

Budget option – Leonardo Hotel Nürnberg. With comfy en suite rooms, a breakfast buffet and a roof terrace, this is the best place to stay on a budget. Check availability from €70.
More beautiful castles in Europe
If you're captivated by the idea of visiting more castles in Germany, you can't miss Neuschwanstein, the 'Disney' castle with a backdrop of the alps. It's just 2 hours from Munich and can be visited as a day trip.

One of my personal favourite European castles is Cesky Krumlov, a spectacular residence in the South Bohemia region of the Czech Republic. If you like Nuremberg Castle, you'll love Cesky Krumlov Castle.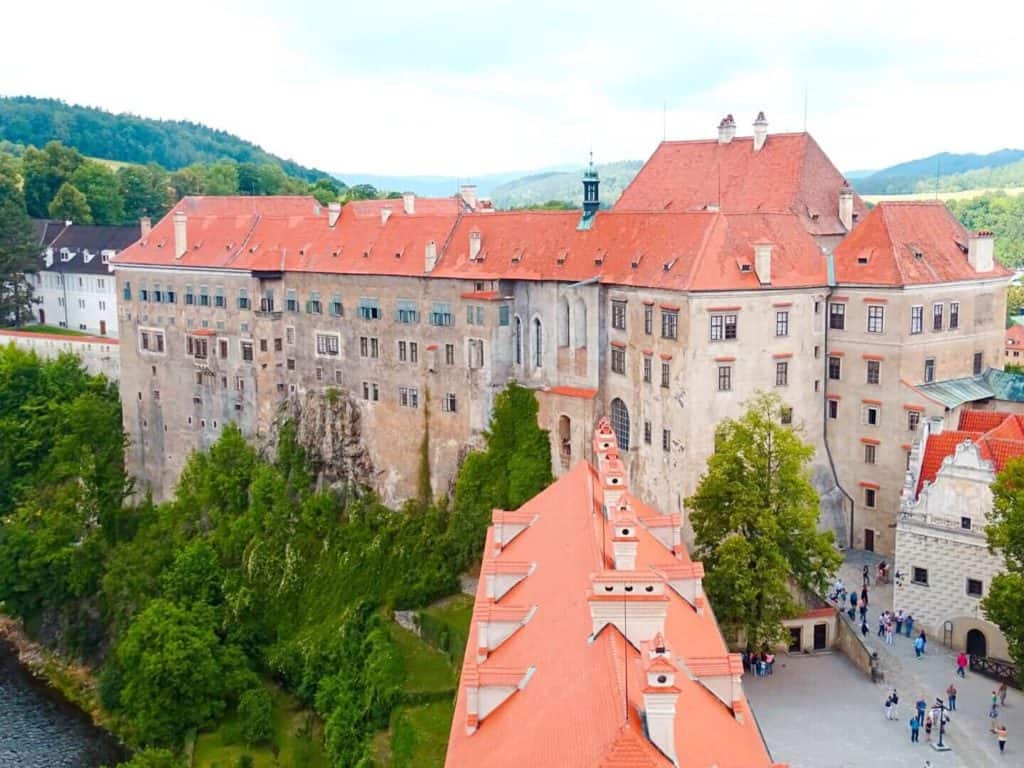 Where else to go after Nuremberg?
There are many fantastic places to visit in Germany bursting with history, culture and attractions.

Close to Nuremberg in Southern Germany, you can visit Wurzburg and Munich, both typical Bavarian cities with classic architecture and traditional cultures and cuisines.

Head up north for a totally different side to Germany: there are endless quirky and unusual things to do in Berlin, and a blend of traditional and hipster places to explore in Hamburg. Check out my weekend in Hamburg guide for everything to do and see, plus all the best Hamburg food.
More Europe
Read my other Europe posts for more inspo:
See you next time,
Rose
Ps. Liked this? Pin it for later!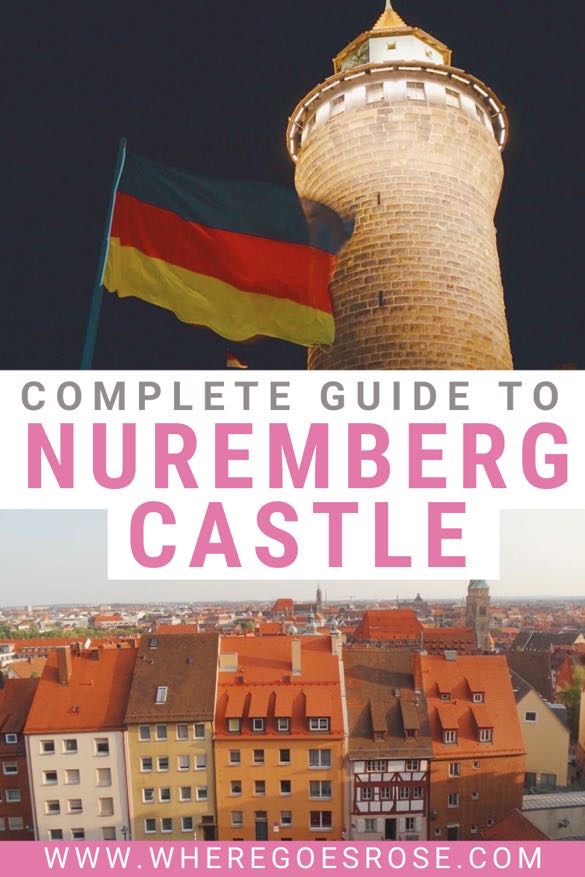 TRUSTED RESOURCES FOR VISITING GERMANY

Getting around by air – I use Skyscanner to find the best-value flights, using the 'search by month' tool to find the cheapest dates. You can also use the 'to anywhere' feature if you're flexible on where you're going.

Driving in Europe – use Rentalcars.com to compare car rentals in European countries (and all around the world).

For trains, I use RailEurope. The search feature allows you to compare prices, and they show live departure times on the website.

For buses, I use FlixBus. Find journeys between European countries from €1! 

Use Omio to compare trains and buses in one search. It's so handy!

For hotels and self-catering apartments, I use Booking.com. You can filter by review score and price to find the best-rated budget places. For hostels, I use Hostelworld.

To save money on accommodation, I use Trusted Housesitters, a website that connects homeowners going away and travellers who can sit their homes & pets.

Browse tours and activities on GetYourGuide.

Need travel insurance? I use True Traveller (for UK & Europe residents) since it's some of the most affordable insurance out there but still covers everything you'd need including various activities, valuables and pre-existing conditions. Unlike some companies, they insure you if you're already travelling / don't yet have your flight home booked. Get a quote.

For other nationalities, I recommend Hey Mundo and for long-term digital nomad travellers, I suggest Safety Wing.

Check out my resources page for more travel discounts and budget tips from my 10+ years on the road!