This post may contain affiliate links to things like tours, hotels, Amazon associates and products. These help me earn a small commission at no additional charge to you.
I've never been one to rush through countries and continents.

When people tell me how they made it through 12 countries in Europe in two weeks it makes me feel a bit sick. Not because I judge their way of doing things – I honestly believe people should travel however they want.
Visit Paris, eat Thai food and skip the Eiffel Tower?
Life is short and we'll all be dead one day so do whatever makes your heart feel good!
No, I just don't enjoy rushing personally. Just like I don't like coriander, and my sister doesn't like snorkelling after a jellyfish stung her on the face.

That's why I've been in Hoi An nearly two months. That and because I was house and cat sitting – who could say no to free accommodation in their favourite town for that period of time? (Not Where Goes Rose!).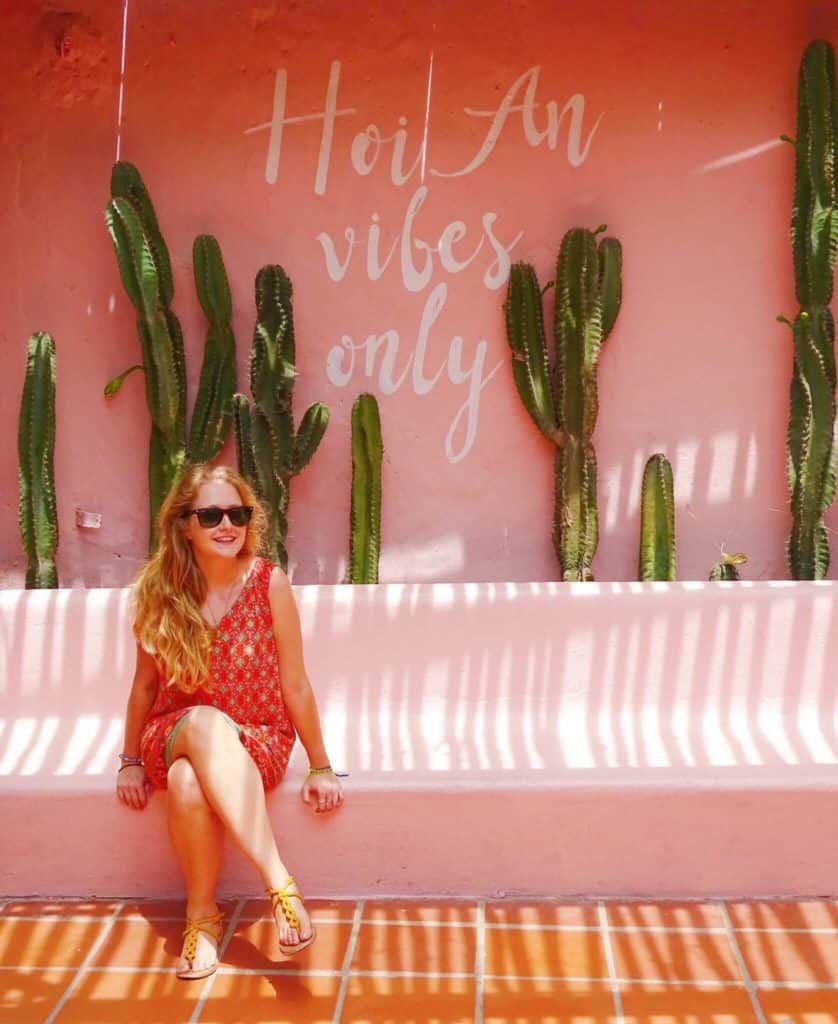 I was so excited about coming to Hoi An and, minus one robbery, it's been everything I hoped. More, actually. I didn't expect to meet such an inspiring group of talented women all following their passions.

I expected simply to focus on my blog and freelancing projects while in Hoi An. I'm so keen to set myself up and achieve my goals that honestly, socialising has taken a backseat for me recently in some ways.
To the inspiring women I've met in Hoi An…
Lola is a travel journalist and the voice behind Miss Filatelista. She specialises in responsible travel and has prompted me to look at so many things in different ways. Despite having known me a few weeks, she lent me £400 for a new phone and cash withdrawals when I was robbed, has supported me in finding freelance work and taken MANY a photo of me (including some in this blog!).

Flo is a scientist who has lived in France, Denmark and Australia and cycled across South America on a bike she built! Ziba is a talented writer and singer working for a local Hoi An magazine. Joy is an osteopath from the UK who was working in Hoi An and plans to base herself in Asia again.
Tara is writer who also keeps a blog, Silly Little Kiwi. I love her writing style and mix of helpful and beautifully written personal posts from her time living in America, New Zealand, the UK and China. She is almost as bad as me at climbing on unicorn pool floats 😉

Sharay is from Holland and currently does marketing and design for a new Hoi An publication. All these girls plan to stay in Southeast Asia for some time so I have no doubt I'll see them again! In fact, I'm pretty sure I'll see Lola tomorrow in Hanoi.

While people undoubtedly make a place and I was so lucky to connect with these babes early on, Hoi An as a place has also captivated me.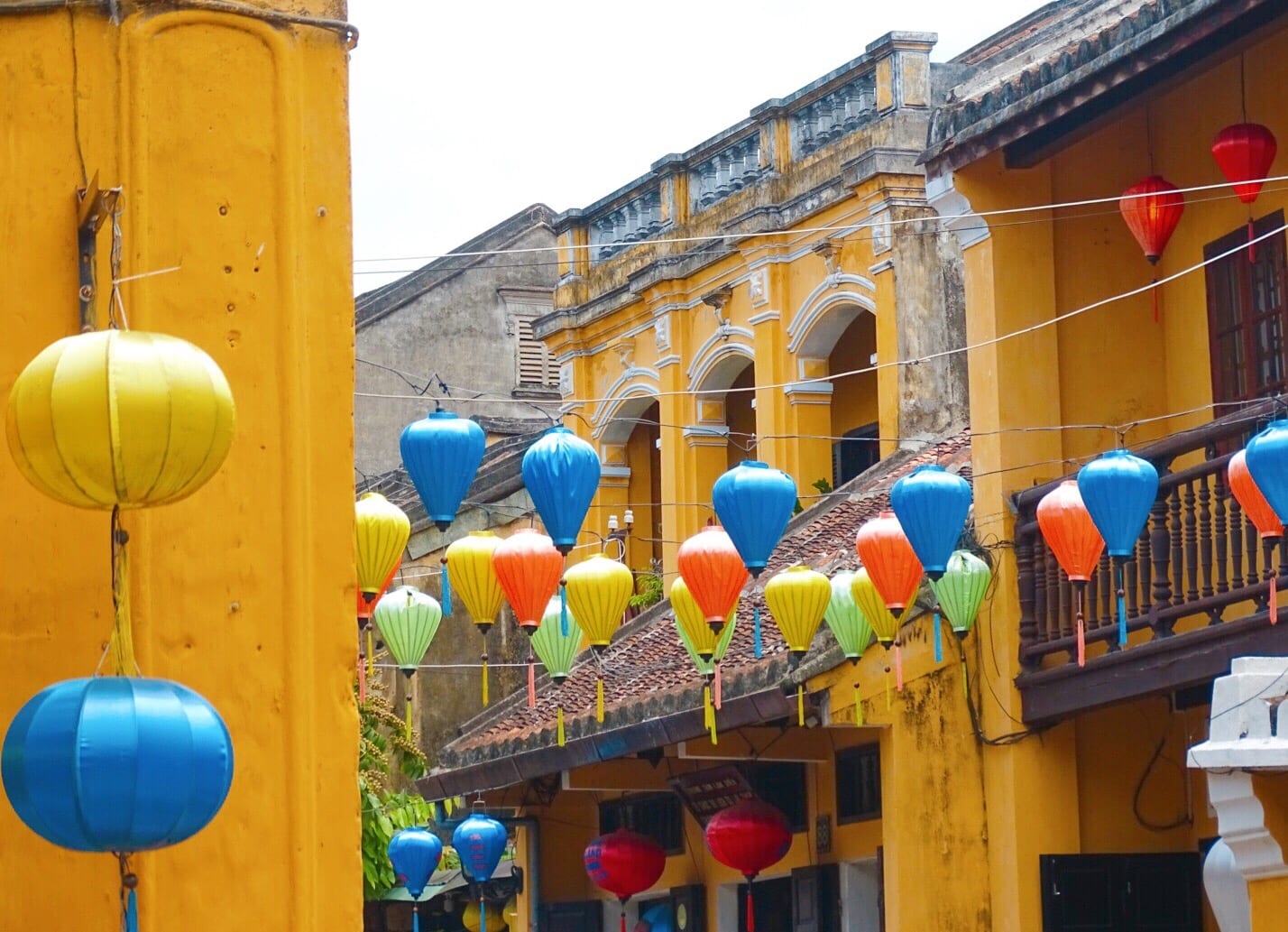 What about this enchanting town wouldn't captivate you? Lanterns swing in the breeze while crumbling yellow buildings serve as adorable coffee shops and boutiques. The countryside and beach are on your doorstep, too – I've not wanted for anything.
Moving on from places you've loved is always hard. Spending long enough in a place to have experienced it properly doesn't make it easier to leave – it makes it harder.
There are places you've spent time, then there are homes. However temporary, you know when you've found one. I found that in Cape Town last year too (how different that is to Hoi An!), a city that had everything I needed and that I could have seen a future in.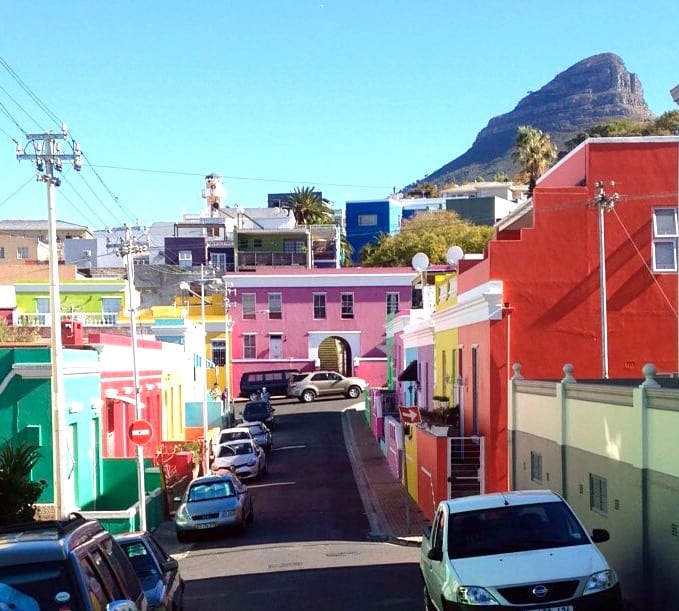 But staying put would be too easy. You continue on a road that's comfortable, you have your routines, habits and comforts. Whether it's a favourite beach or the store that sells English teabags, you might not find somewhere you like as much in the next place. But you might find somewhere you like more. It's a gamble.
Stay on the same path? Or take a risk and dive head first into the next place, no idea what will happen?
It's the dilemma of nomads everywhere. When do we stay and when do we go? Often our visas decide for us! I only have two weeks left on my Vietnam one hence why I'm headed up to Hanoi to spend time there while I can.
On my last evening in Hoi An, I visited my favourite cafe and rode my bike home. The sky was golden and bursts of light streaked through the clouds. A father and little boy ambled slowly in front of me, the boy kicking up dust. How I would miss this little city.

The Ancient Town may be full of international visitors but simply take a 20-minute bike ride out of town and the smiles from the locals will make you glad you did.
Sometimes it's about getting past the things-to-do and 'must-sees' isn't it? I write a lot of Buzzfeedy guides for the traveller passing through a city but that's not the sole extent of my experiences. Sometimes I couldn't give a damn about the 5 best pagodas to see in x place, and I'd rather sit on a red stool and have a local tell how it feels to walk in their shoes. What it's like to live in their city.

I feel like I know that about Hoi An now: I know what the locals do for work, what they think about the tourists, what they will say if I ask them about the secret recipe for cao lau noodles.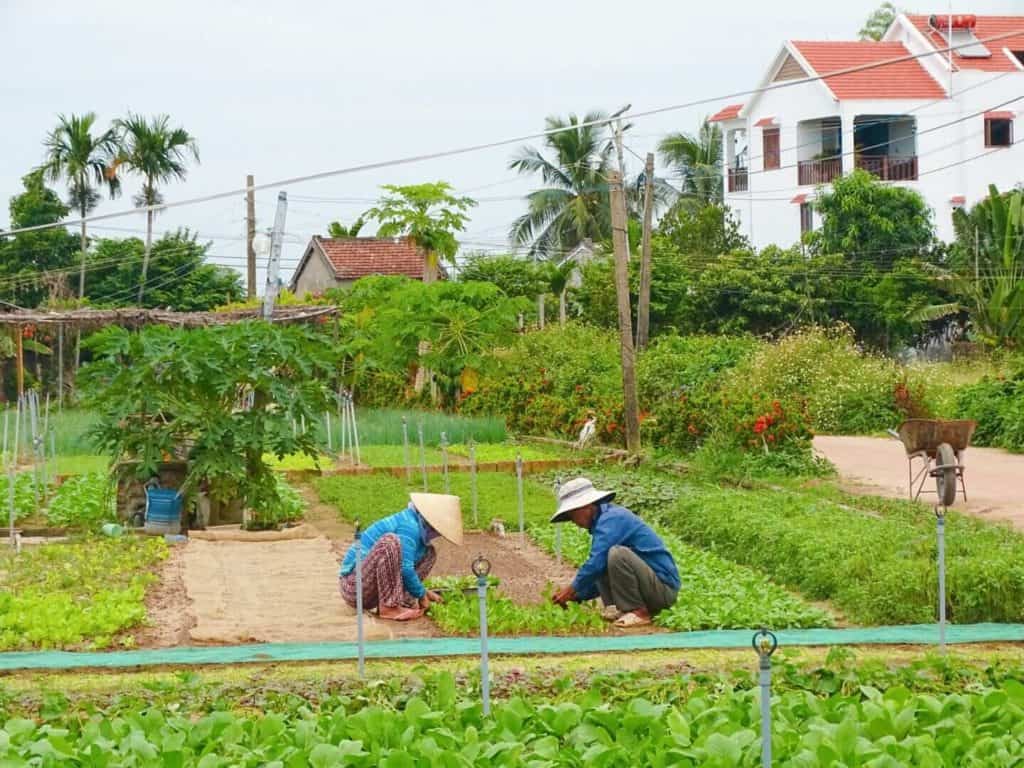 Crap! Daydreaming about my time here, I'd drifted into the wrong lane on the highway. Maybe I didn't know as much about Hoi An as I thought I did.
To turn right I needed to ride into and across a sea of streaming scooters that stopped for no man. The alternative was not turning; continuing down the highway in the opposite direction of my house.
Stay on the same path? Or take a risk and dive head first into the next place, no idea what will happen?
Gearing up to cross the highway, I thought yep: I would be leaving Hoi An and diving into my next destination. If I ever made it across the road, that was…
Thanks for reading!
I hope you'll follow along and see what I get up to during the next 14 days in Hanoi and the following two months in Bali.
If you liked it, please share it 🙂
Check out my all my My Hoi An blogs!
See you next time for more adventures,
Rose