This post may contain affiliate links to things like tours, hotels, Amazon associates and products. These help me earn a small commission at no additional charge to you.
I recently spent 1 day in Bratislava and it was one of the best surprises of my summer Europe trip. I hadn't known what to expect but I thoroughly enjoyed my visit. I'll share my Bratislava itinerary for 1 day to help you enjoy it, too.

There are plenty of things to do in Bratislava from palaces to churches and catacombs, along with opportunities to learn about Slovakian history and culture.

If you're wondering is Bratislava worth visiting?, you might be swayed by the fact that wine is almost cheaper than water! I was stunned by the affordability of Bratislava.

While you could easily spend longer enjoying the cafe culture and tucking into hearty Slovakian food, it's common for travellers to spend a day in Bratislava en route between Vienna and Budapest.
ESSENTIALS FOR A DAY IN BRATISLAVA

Tours & activities: GetYourGuide / Viator

Accommodation: Booking.com / Hostelworld

Getting there: air (Skyscanner) / bus (Flixbus), train (RailEurope)

Getting around: foot / bus / tram
In a rush? Pin this one day in Bratislava guide for later.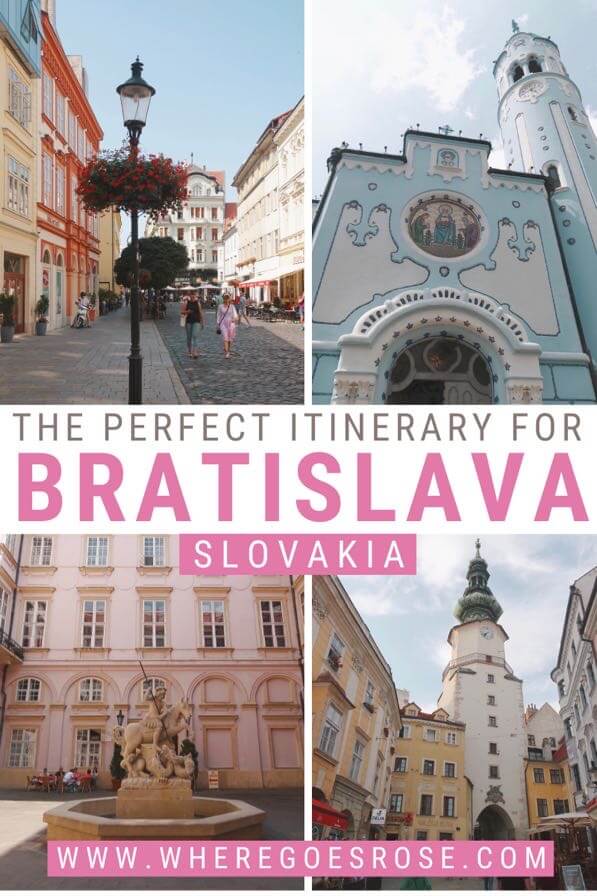 Where is Bratislava?
Bratislava is the capital city of Slovakia, located on the western border connecting with Austria. Slovakia also shares borders with the Czech Republic, Poland, Ukraine and Hungary.

It only takes 1 hour to reach Vienna from Bratislava and it's not much further to Budapest.
Read my blogs about Vienna, Czechia and Budapest!
Getting to Bratislava
Beginning your Bratislava itinerary is easy. You can fly into Bratislava airport (I use Skyscanner to find the best flight prices) or, if you're travelling from neighbouring countries, arrive by land.

To get from the airport to the city, book a private transfer for €20 or take the number 61 bus (5am-11pm).

From Vienna to Bratislava: Book a 1-hour train on the RailEurope website. For a cheaper option, book a bus ticket with FlixBus. The journey takes 1.5 hours and costs as little as €7. If time's tight, take a Vienna to Bratislava guided day trip.

By boat: Since Bratislava sits alongside the Danube, you can arrive by boat. Many people visit as a day trip from Vienna to spend one day in Bratislava. Book your Vienna to Bratislava bus & boat tour.

From Hungary: Catch a direct FlixBus from Budapest to Bratislava in 2 hours and 20 minutes. Despite being a longer journey, tickets still start at €7.

From Prague: The journey from Prague to Bratislava costs just €11 by FlixBus and takes 4 hours. Book a few days in advance as these direct buses book up.

Europe travel tip – use Omio to compare transport options to any destination, comparing price and duration.
Getting around Bratislava in a day
Bratislava is a small capital city so it's easy to explore most of the attractions on foot.

Public transport: If you need them, there are buses, trams and trolleybuses to help you get around Bratislava. Public transport runs from 5am-midnight and schedules are displayed beside the stops (they also show on Google Maps).

One ticket allows you to use all three modes of transport including the night bus. To see Bratislava in a day, a 24-hour pass costs just €3.50.

Fun ways to get around Bratislava:
Where to stay during 1 day in Bratislava
There are loads of places to rest your weary head after exploring Bratislava in one day. Here are a few suggestions:
Hostel: Schöndorf Hostel is a brilliant option for backpackers. Besides the comfy rooms, they have a restaurant, shared kitchen, contemporary lounge area and terrace. The location is fantastic, and they have a virtual reception for smooth self-check-ins. Check availability from €37.
Budget hotel: Hotel Max Inn has everything you need for a comfy base in Bratislava, including an onsite restaurant which serves breakfast beside the fireplace and comfortable modern rooms. The hotel is a 2-minute walk from the nearest direct bus stop to the city centre. Check availability from €55.
Mid-range: For a comfy and stylish base, stay at LOFT Hotel Bratislava. It has an industrial-chic vibe with vintage coffee machines and exposed brick walls. Better yet, there's a craft beer and wine bar inside. Check availability from €115.
Splash-out: Check out the deluxe apartments at Roset Hotel & Residence. This historic Art Nouveau property offers 5-star luxury in either a standard room or a giant maisonette suite, including a kitchen and fireplace. Make the most of Bratislava prices; this would be triple the price over the border in Vienna! Check availability from €155.
Browse all Bratislava accommodation on Booking.com and Hostelworld.
Best season to visit Bratislava
I visited Bratislava in July when the sun was shining and the city was bustling and busy. Summer is a great time of year to visit Bratislava but prepare for things to be busy and touristy.

Spring (March-May) and autumn (September-November) see fewer crowds and lower prices but average temperatures are lower and there's more chance of rain.

Winter is December-February and this is a great time to visit Bratislava for one day because there are Christmas markets and cosy pubs and restaurants to visit.
Things to do during 1 day in Bratislava
Take a free walking tour
Admire Grassalkovich Palace
Visit Bratislava Castle
Take a Bratislavan food tour
Explore the Old Town
Climb St Michael's Gate
Visit the Blue Church
Tour Primate's Palace
Spot the funky statues
Go underneath St. Martin's Cathedral
Follow the Coronation Trail
Go up the UFO Bridge
Eat at Slovak Pub.
Bratislava itinerary
If you have just one day in Bratislava, never fear: it's enough time to see the best of Slovakia's capital. Let's get stuck into my Bratislava itinerary for 1 day…
Bratislava 1 day itinerary – morning
On the busy July day I visited, Bratislava city centre was bustling. I noticed lots of people buying tickets for paid Bratislava walking tours but I opted for a free one instead. I've enjoyed these in several countries and continents around the world. The guides are always great.
For this tour in Bratislava, check out Be Free Tours. They have a few different tours (I took the original one) which run at the following times:
Original free walking tour – 11am and 2pm (November to March), 11am and 3pm (April to October)
Old Town & castle free walking tour – 11am (November to March), 10am (April to October)
Communism tour – 2pm Friday, Saturday & Sunday (November to March), 4pm seven days a week (April to October).
Depending which tour you take, it may include some of the following stops.

If you'd rather explore solo, make sure to check out these places during your one day in Bratislava:
Changing of the guards at Grassalkovich Palace (12pm)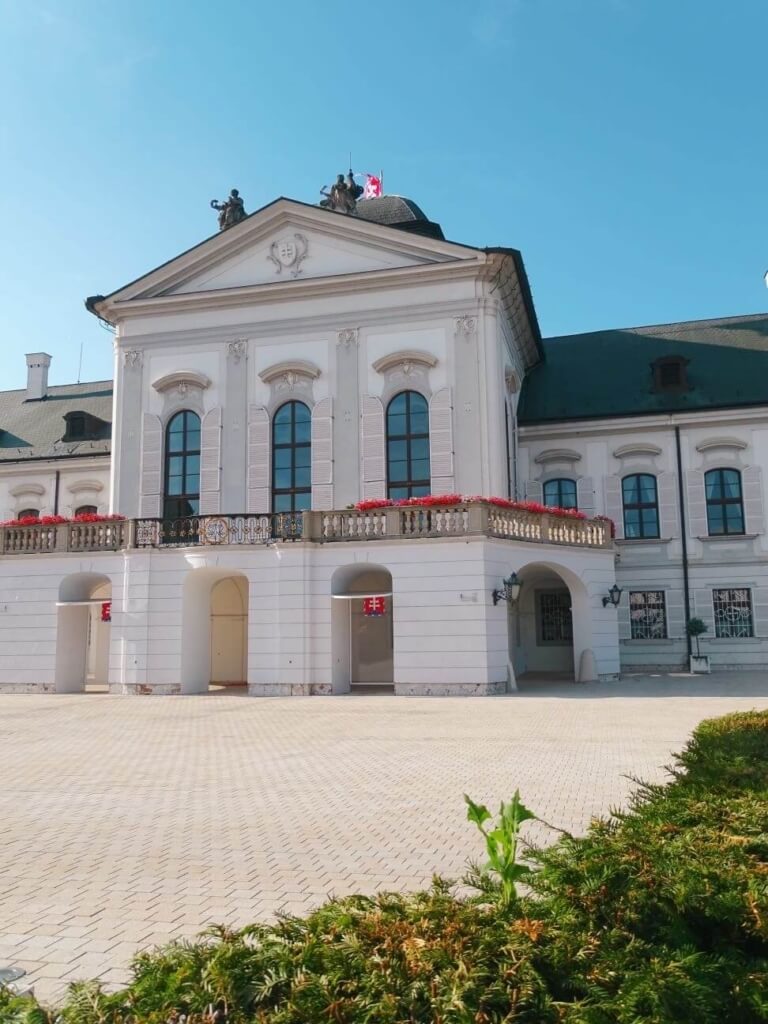 Provided you're not on a walking tour, swing by Grassalkovich Palace at midday. This grand palace is Slovakia's answer to the White House, surrounded by a large park and spacious square filled with water fountains.

When the president is in town, there's a changing of the guard ceremony held daily at 12pm. You can't go inside the palace but you can view it from the outside and walk around the leafy gardens for free.
Explore the Old Town
Wandering colourful Old Town is essential if you want to fully explore Bratislava in 1 day. The city is colourful with beautiful architecture and green parks.

The Old Town Hall is one of the key places to see during your Bratislava itinerary for 1 day, as are the following attractions…
St. Michael's Gate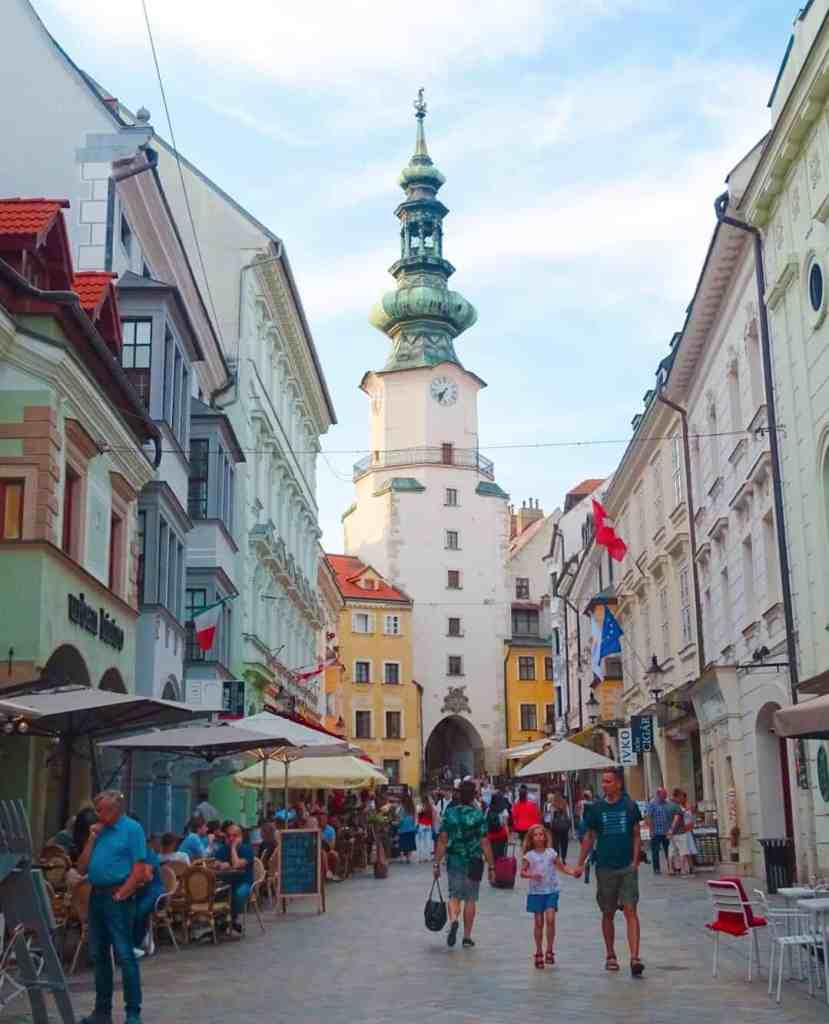 The Old Town was once guarded by four main gates but this is the last one standing. Climb to the top of the white and green tower for exceptional views over Bratislava. There's also a small museum at the bottom.

Don't miss the 'zero kilometre' plate at the bottom listing the distance to 29 world capitals.
The Blue Church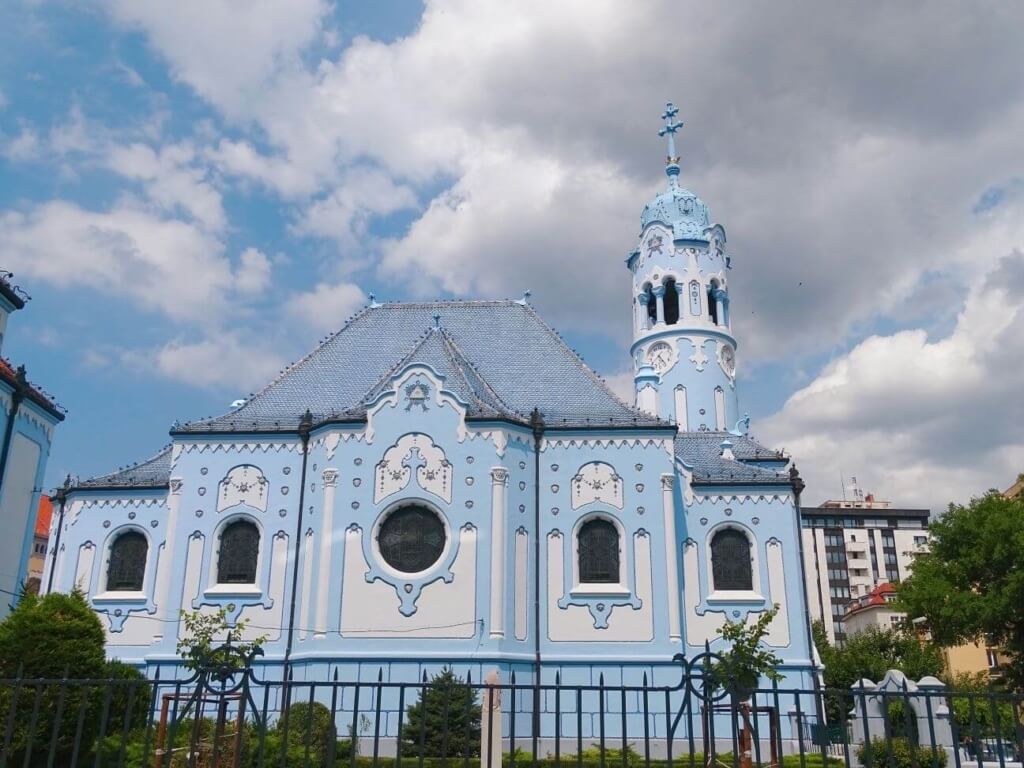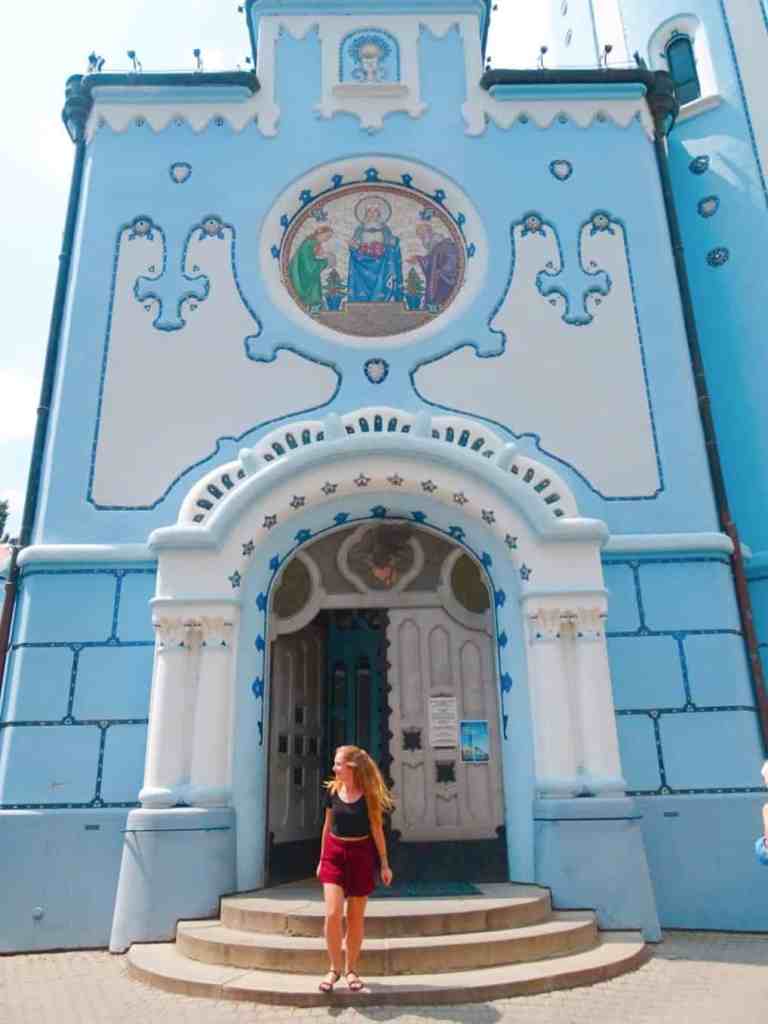 This Art Nouveau building is easily Bratislava's most famous monument. Although it was designed by a Hungarian architect, it has a Gaudí look that may remind you of Barcelona.

Not only is the exterior blue, but the mosaics and interior are equally blue. On a sunny day, it almost blends into the sky.

The Blue Church can be found on the corner of Bezručova Street on the edge of Bratislava's Old Town.

It's only open early and late: 6.30-7.30am and 5.30-7pm, apart from Sundays when the morning session is from 7.30am-12pm.
The quirky statues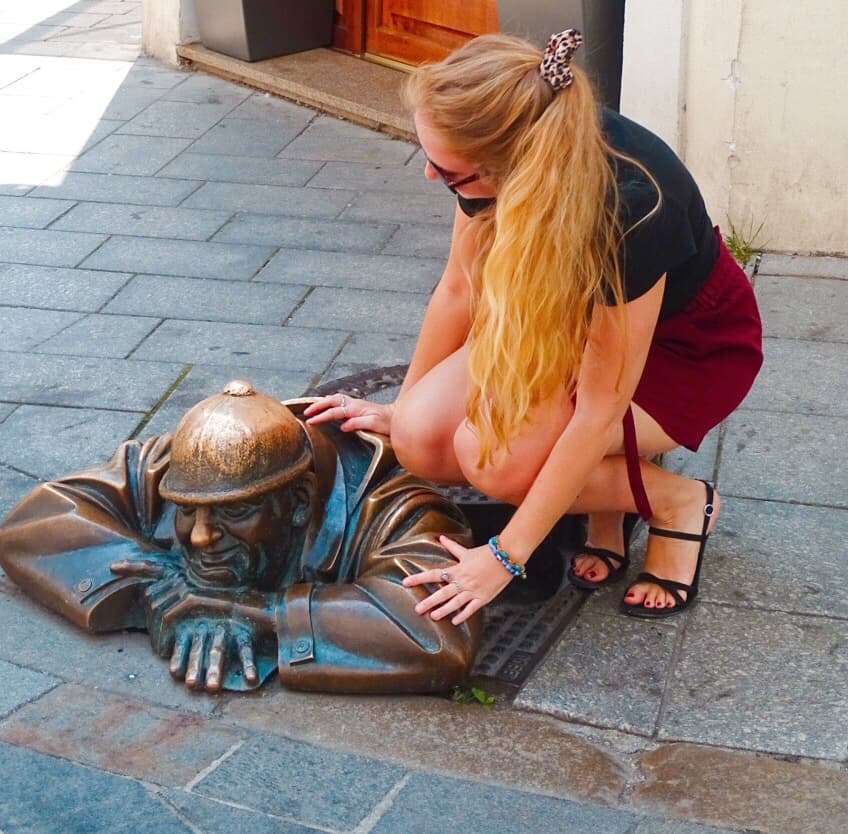 Around Bratislava, you'll notice some fun statues including this one of a friendly workman coming up from the drains. Tourists all want to pose with him so you'll find a line forming in the summer months.

A tour guide told me that the grey and drab nature of the city following communist rule was the reason for brightening the place up with these quirky statues.
St. Martin's Cathedral
Not far from St Michael's Gate is St. Martin's Cathedral, one of the most important religious buildings in Slovakia. This is where many Hungarian kings were crowned from the 15th-18th centuries.

Visually, St. Martin's Cathedral isn't anything to write home about but it's one of the best things to do during 1 day in Bratislava due to the eerie catacombs beneath it. Walk through the tight underground passageways and feel the chill.
Discover the Coronation Trail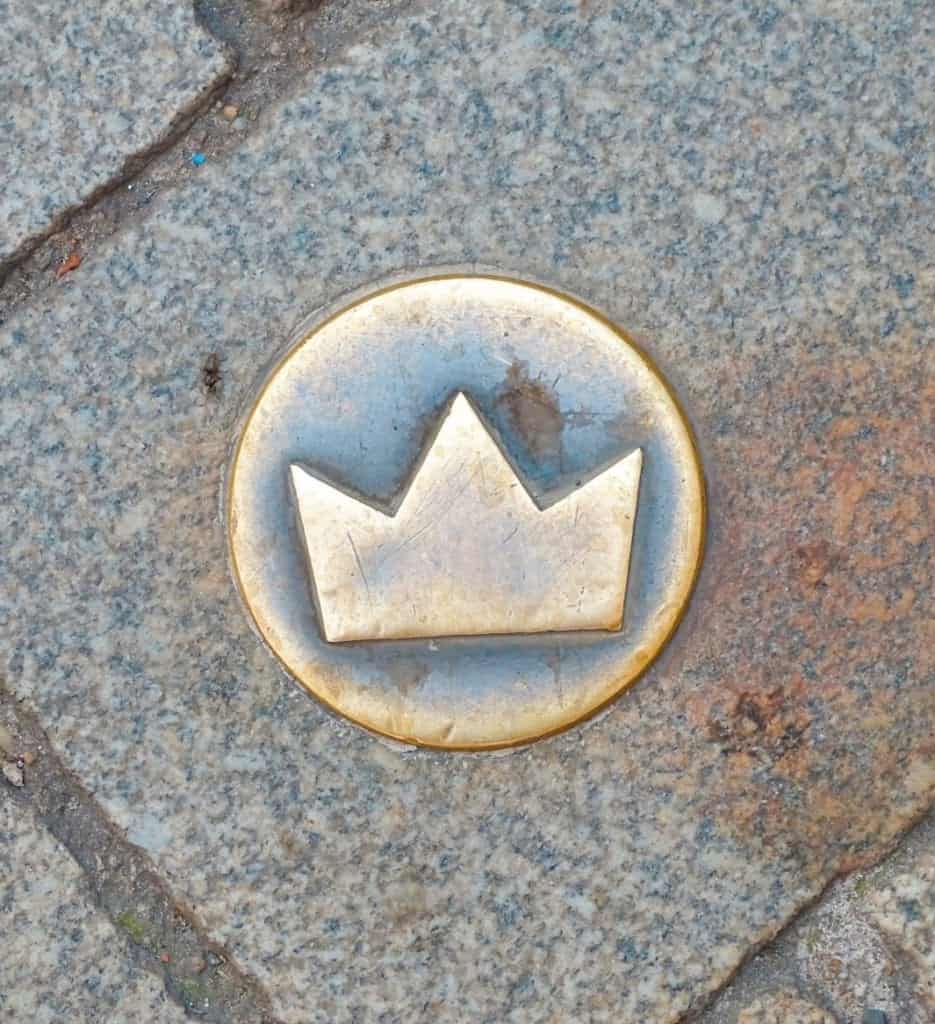 One of the hidden gems of Bratislava is the Coronation Trail. You won't notice it initially as it requires looking down at the ground. While seeing Bratislava in one day, follow the crown-shaped tiles in a loop from the banks of the Danube to the Old Town and back.

For more than 300 years, Hungarian kings were crowned in Bratislava and followed a certain route around the city as part of the coronation process.

There are 178 crown-shaped tiles around Bratislava that you can follow while soaking up the sights of the city.
Lunch at Slovak Pub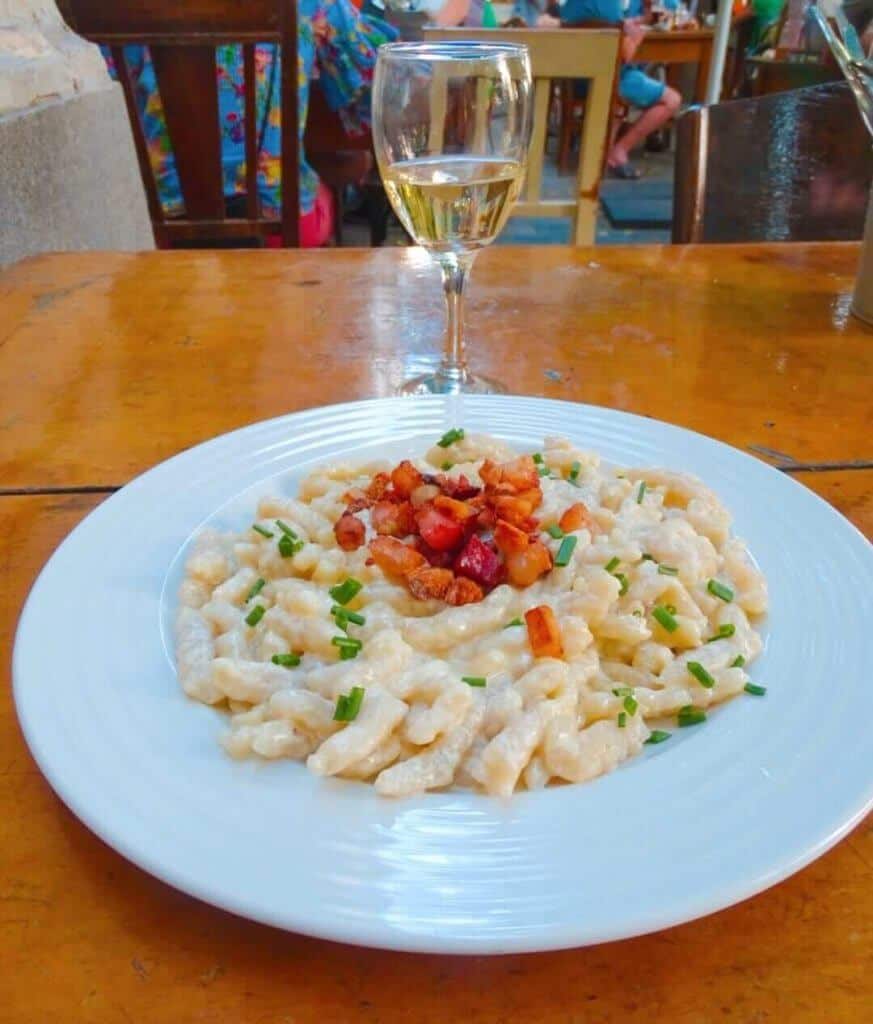 If you just have one day in Bratislava, make sure to eat lunch or dinner at Slovak Pub. Here you can tuck into tasty Slovakian dishes and try Kofola, the communist version of Coca-Cola, made when the Soviets banned the American beverage.

Prices at this cosy pub are so affordable that I ordered two lunches (and finished them) just to try two different things.
Read next: The best restaurants in Bratislava
One of the best dishes to try at Slovak Pub (or anywhere in Bratislava) is bryndzové halušky or, in English, sheep's cheese gnocchi. This dish is slathered in a rich, cheesy sauce and topped with fried bacon. Heart attack-inducing but worth it.

At Slovak Pub, you can also order a sharing platter with a portion of bryndzové halušky and six sheep's cheese dumplings. The 'sharing' part is optional…
Suggested activity: traditional food tour with a local expert
Bratislava in one day – afternoon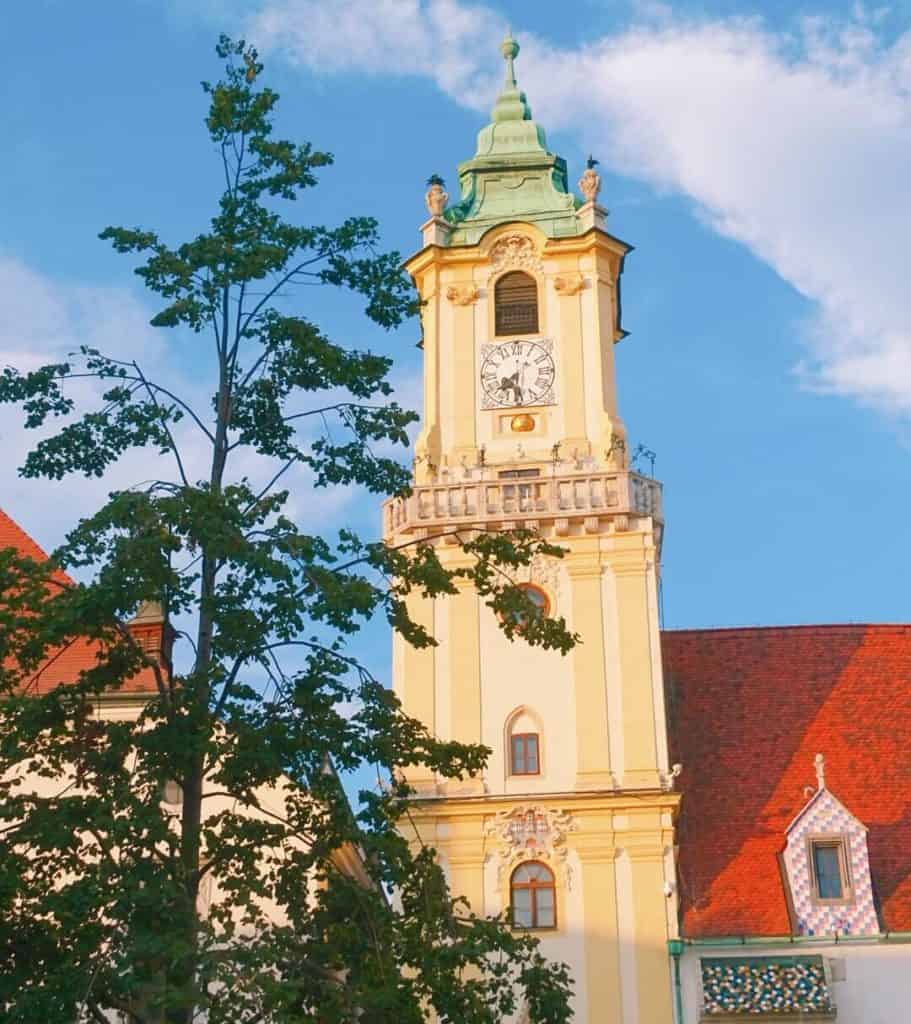 Next, let's spot unusual architecture in the main square, although it's a funny place. Almost every building has a different architectural style from a total mix of time periods.

To get to know the city during 1 day in Bratislava, I'd recommend wandering Main Square and browsing the markets that regularly take place there. Why not grab a drink and soak up some sun?
Explore the Bratislava cafes
Take a break from sightseeing to enjoy Bratislava's cafe culture. There are so many places to stop for coffee and cake including hipster cafes, cute teahouses and even a whole cafe dedicated to cheesecake!

This is a chance to take a break from this busy Bratislava one day itinerary and treat yourself.

Urban House is a fashionable and spacious cafe in the heart of town. Pollito Cheesecake is the best place to try lemonade in various fruit flavours and, as the name suggests, delicious cheesecake.
Primate's Palace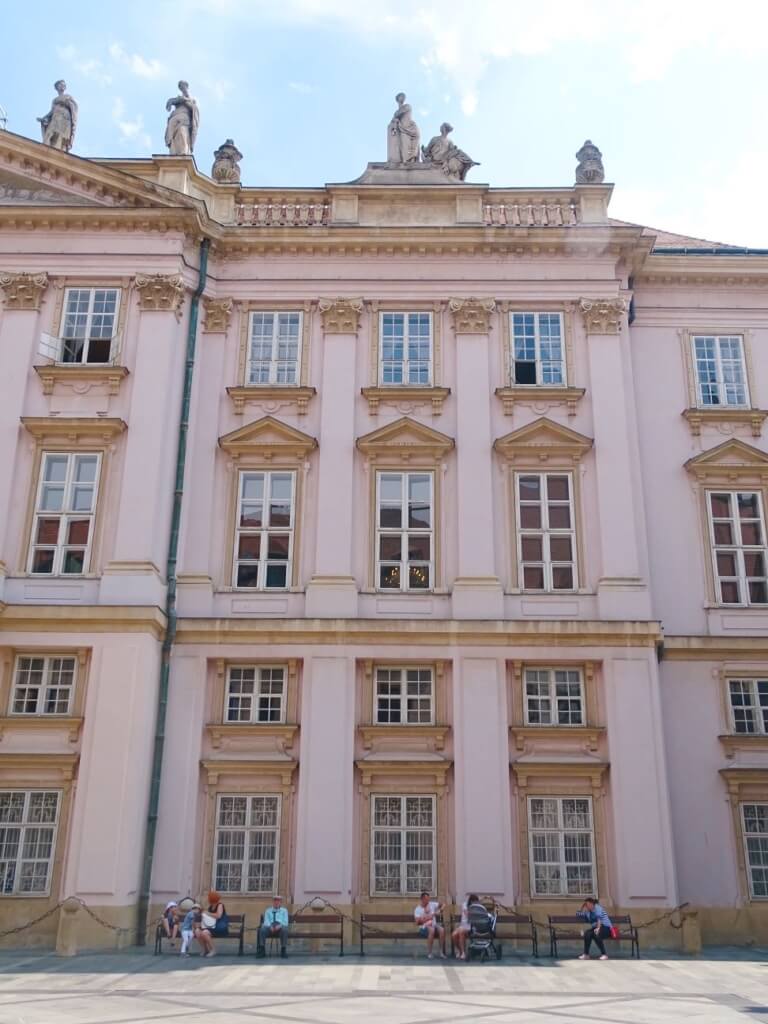 The Primate's Palace is not only a beautiful building but a place of historical significance. Napoleon signed the Peace of Pressburg treaty here in 1805, ending the Holy Roman Empire.

Pay just €3 to enter the pink palace and tour the famous Hall of Mirrors where the treaty was signed. The courtyard is a lovely place to relax with lots of tourists and locals sat outside in the summer months (partly because of the free Wi-Fi!).
Dusk at Bratislava Castle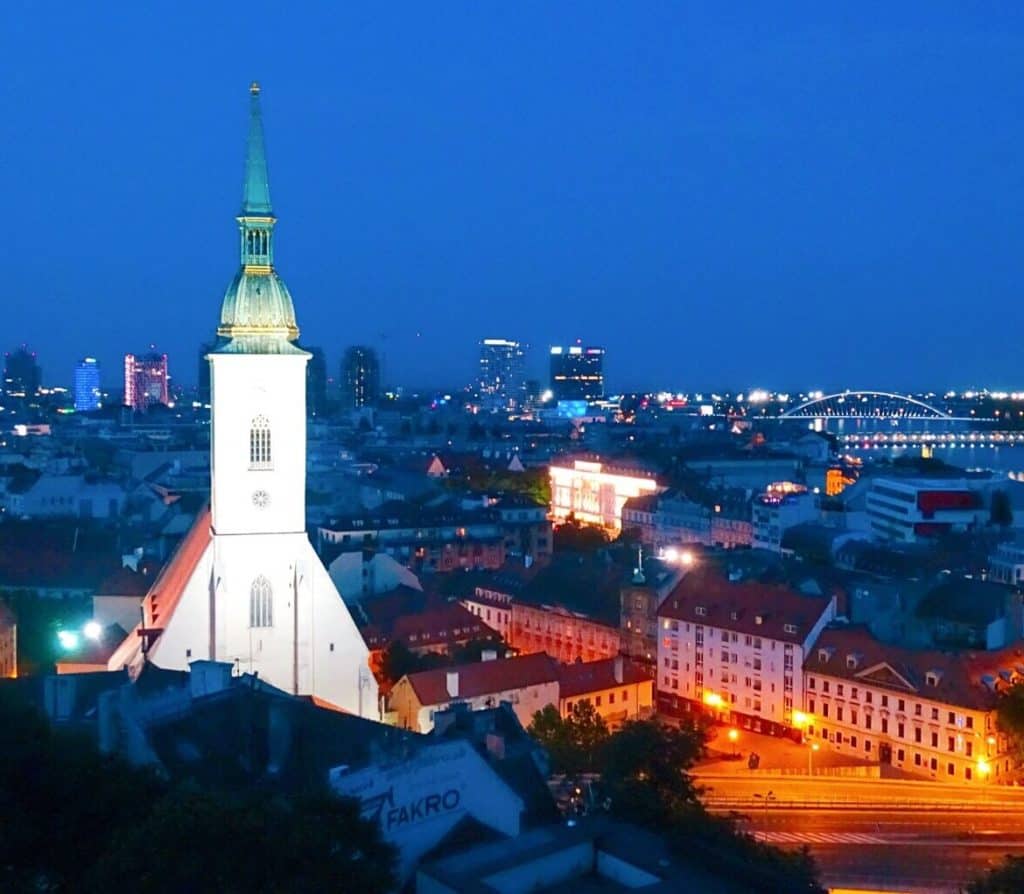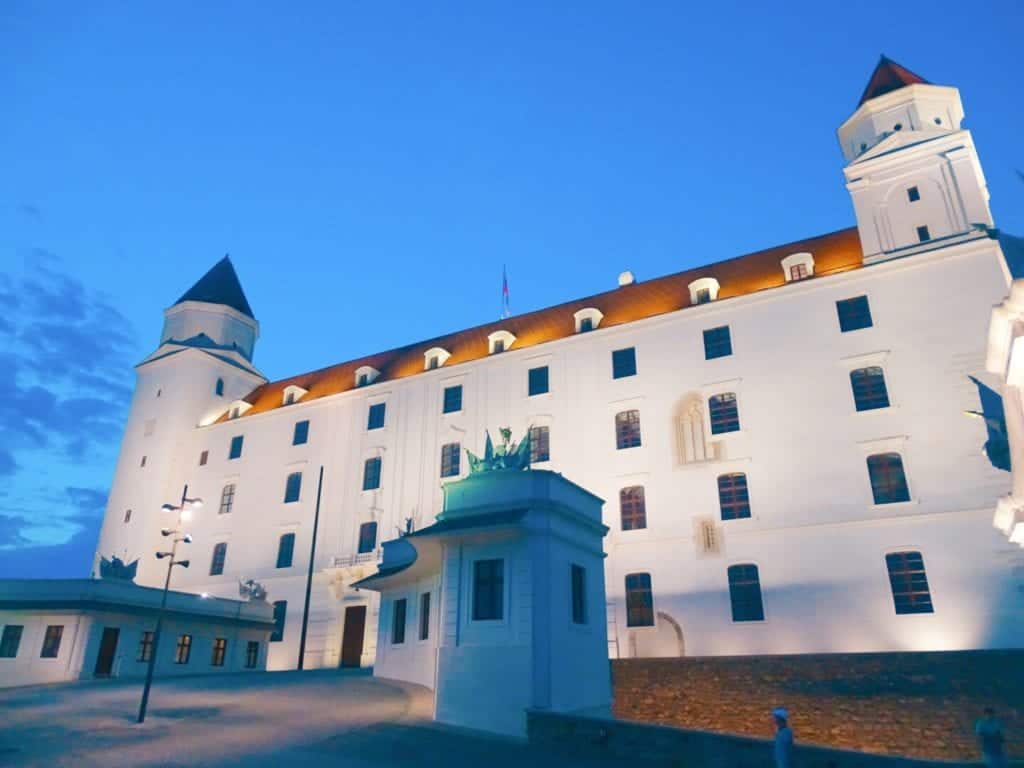 No Bratislava itinerary would be complete without visiting Bratislava Castle.

My top tip is to visit just before it gets dark and spy some of Bratislava's best views from your lofty position. You'll see the castle in daylight before catching sunset views over the Danube and finally, admiring the sprawling capital lit up at night.

You could even bring a picnic and spend a couple of hours enjoying the views from the castle walls.

This castle dating back 500 years is impressive from the outside but apparently, the inside isn't half as grand. I skipped it myself and didn't regret it when I read TripAdvisor reviews saying it wasn't amazing.
Evening drinks at the UFO Bridge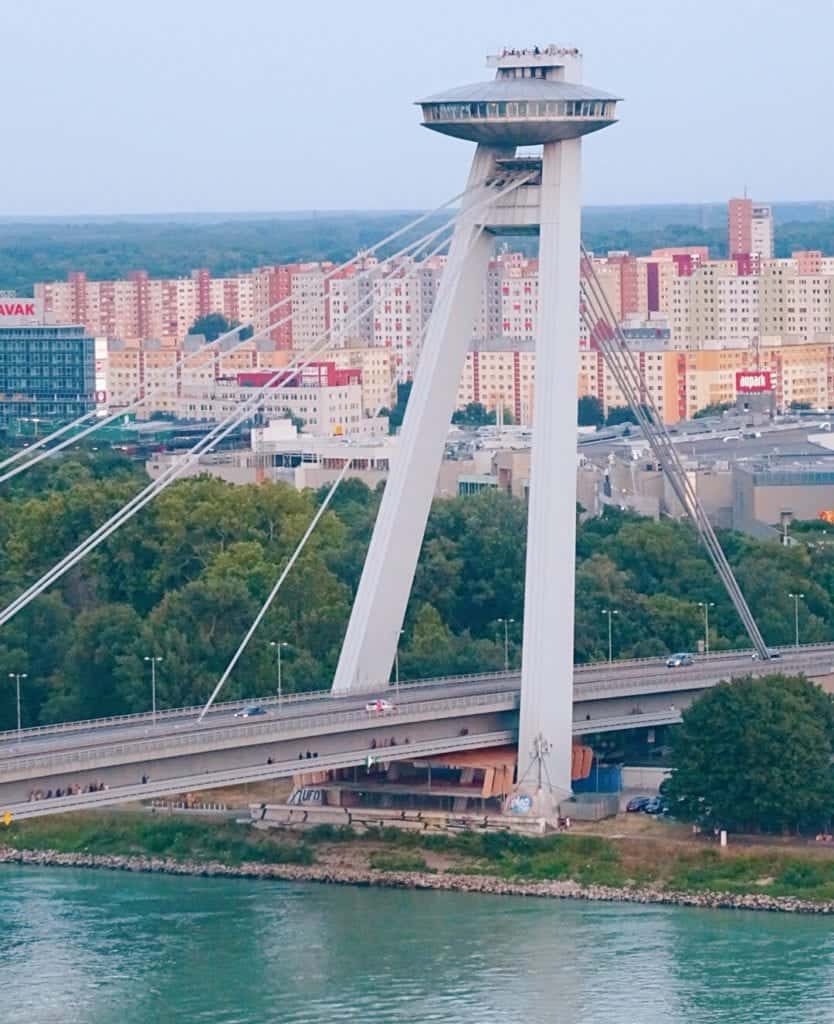 One of the weirdest and most wonderful places to visit during your Bratislava itinerary is the UFO Bridge, called so because of the bizarre structure on top that looks a bit like a spacecraft.

Catch the elevator to the bar at the top where you can sit near floor-to-ceiling windows looking out over the Danube and city.

Drinks are slightly pricey but not too bad given the location. Cocktails start at €9 but the food is more expensive with main dishes at around €40.
Suggested activity: evening walking tour & UFO tour drink
Bratislava itinerary for 1 day – evening drinks
While backpacking, I find it easy to eat cheap but drinking can be another matter. The places I go with good nightlife often drain my bank balance. However, this isn't a problem you'll encounter in Bratislava: it's one of the cheapest world cities for a pint of beer, perfect for a cheap Bratislava one day trip!

With pints of beer for under €2 and wine for not much more, it's easy to have a cheap night in Bratislava. It's not known for its clubs like Prague or Berlin but there are plenty of places to go out and dance.

Trafo Bar is known for RnB music and a young student crowd. For an underground club with techno music and cheap drinks, head to Nu Spirit.

For a chilled night with great views and cocktails, end your 1 day in Bratislava by checking out Lemontree & Sky Bar Restaurant. Drinks are a little pricey but worth it. Michalska Cocktail Room is a cosy underground lounge while Spin Coctail Bar is a stylish spot in central Bratislava.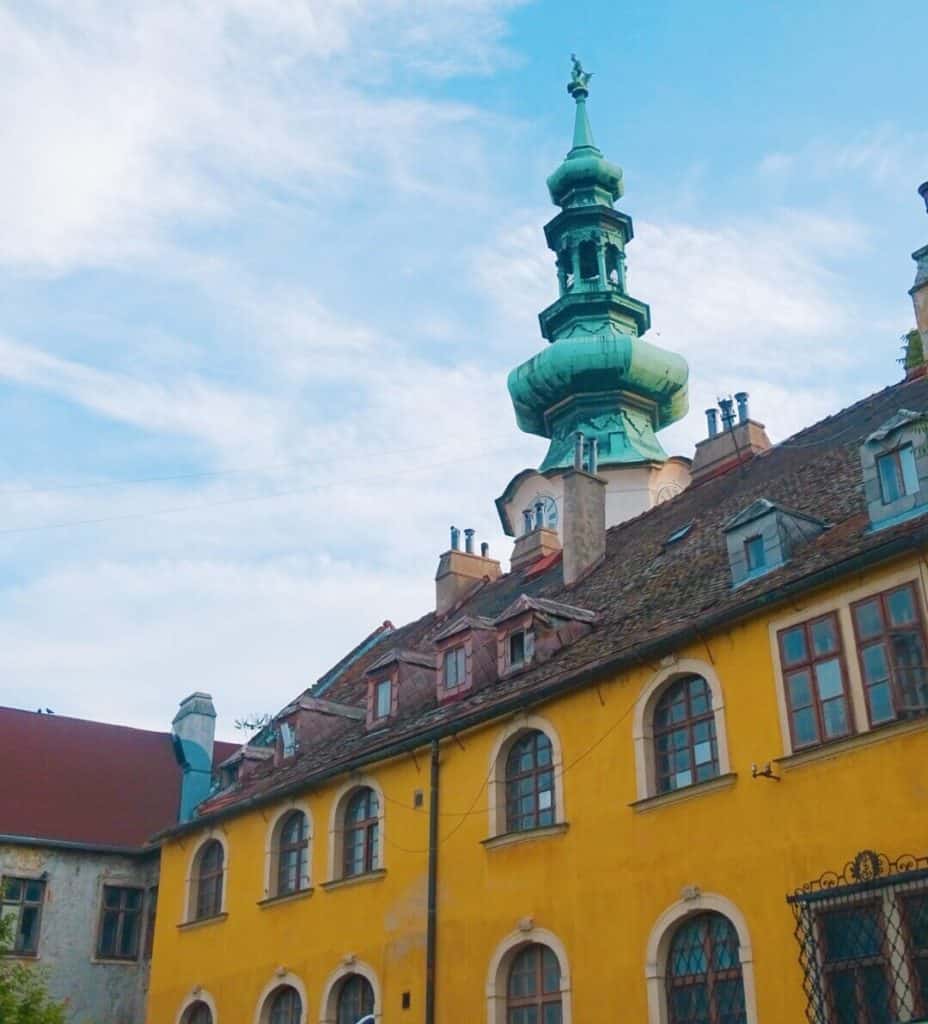 Thanks for reading my Bratislava 1 day itinerary!
I hope you have a fantastic one day in Bratislava and enjoy this relaxed and pretty city. Drop any questions in the comments below.
Check out my other Europe blogs:
See you next time for more adventures
Rose
For more travel content, follow me on Instagram, Facebook, Twitter and YouTube.
Ps. Taking a Bratislava one day trip? Pin it for later!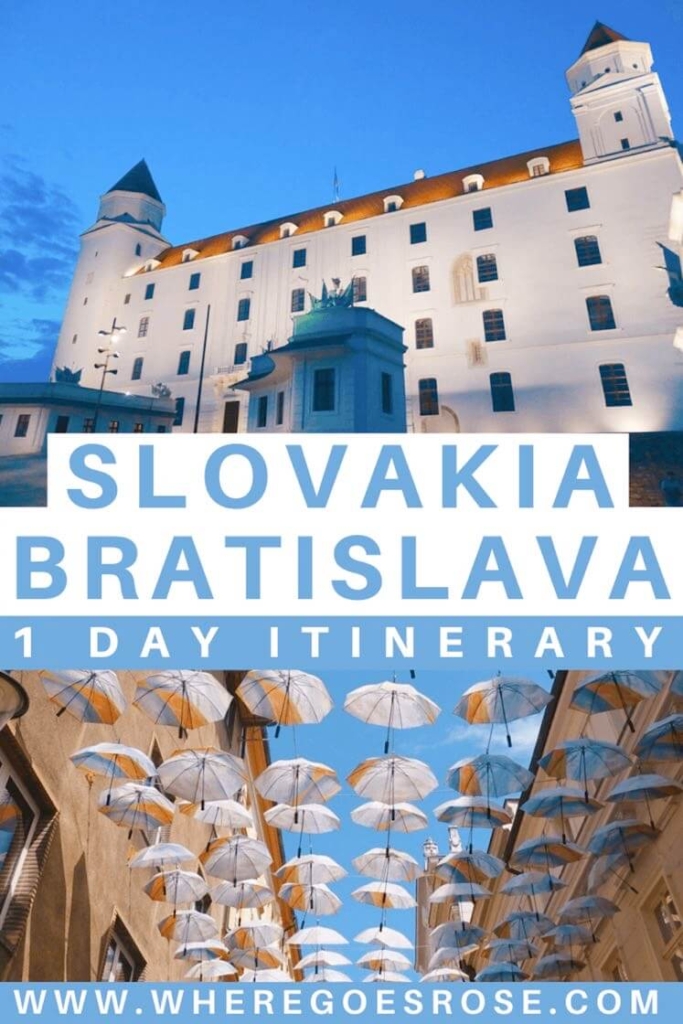 TRUSTED RESOURCES FOR VISITING SLOVAKIA

Getting around by air – I use Skyscanner to find the best-value flights, using the 'search by month' tool to find the cheapest dates. You can also use the 'to anywhere' feature if you're flexible on where you're going

Driving in Europe – use Rentalcars.com to compare car rentals in European countries (and all around the world).

For trains, I use RailEurope. The search feature allows you to compare prices, and they show live departure times on the website.

For buses, I use FlixBus. Find journeys between European countries from €1!

Use Omio to compare trains and buses in one search. It's so handy!

For hotels and self-catering apartments, I use Booking.com. You can filter by review score and price to find the best-rated budget places. For hostels, I use Hostelworld.com.

To save money on accommodation, I use Trusted Housesitters, a website that connects homeowners going away and travellers who can sit their homes & pets.

For tours and activities, I use GetYourGuide. They're always great value with friendly guides.

For food tours pairing travellers with passionate local chefs and foodies, check out EatWith.

Need travel insurance? I use True Traveller (for UK & Europe residents) since it's affordable but covers everything you'd need including various activities, valuables and pre-existing conditions. Unlike some companies, they insure you if you're already travelling / don't yet have your flight home booked. Get a quote.

For travel insurance for other nationalities, I recommend Hey Mundo and for long-term digital nomad travellers, I suggest Safety Wing.

Check out my resources page for more travel discounts and budget tips from my 10+ years on the road!