This post may contain affiliate links to things like tours, hotels, Amazon associates and products. These help me earn a small commission at no additional charge to you.
Have you heard of Pag Island in Croatia? It may not be your typical island paradise but it's a unique and fascinating destination to add to your Croatia itinerary. The craggy island near Zadar is known for its moon-like landscape and rich craft and culinary history.

During my recent trip to Zadar, I was lucky to visit two wonderful – and completely different – islands. Dugi Otok, accessible only by ferry, is a natural wonderland with unique flora and fauna and opportunities for diving, swimming and boat trips.

In contrast, Pag Island is sparse and barren. It's hard to believe it's only an hour from Dugi Otok! I relished the chance to discover both islands as well as the other wonderful things to do & see in Zadar.

Note – I was hosted in Pag by the Pag tourist board but all opinions are my own.
Pag island introduction
Measuring 110 square miles, the island of Pag is located 52km from Zadar. It has 8,400 residents, almost half of whom based in Pag Town. Only one bridge connects Pag to the mainland meaning that during days with strong bora (wind), it's cut off from the rest of the world.
Geographically speaking, Pag is a curious place. In the shadow of the Velebit mountains, the sparse landscape is characterised by the strong bora winds meaning that little grows on the island. Still, it manages to sustain 35,000 sheep, outnumbering people 4 to 1!

There's also a very different side to Pag: the party resort of Novalja in the northern part of the island draws in huge volumes of foreign tourists for festivals including Sonus. Having not experienced the island's party side, I can only picture Pag as a peaceful place rooted in tradition.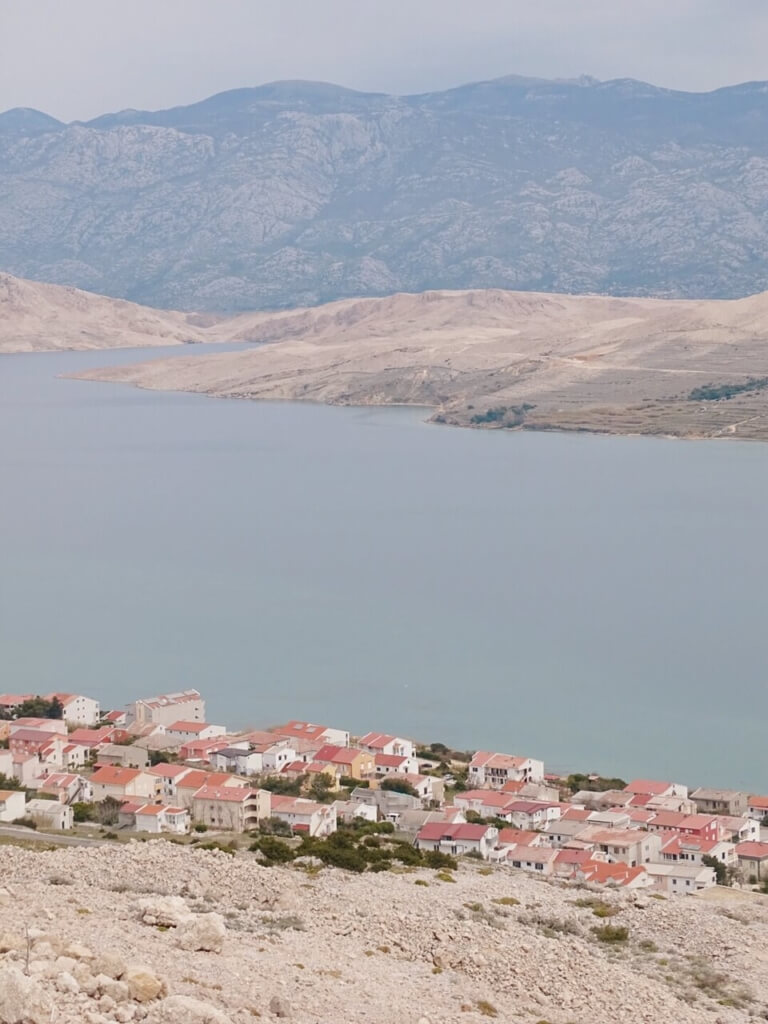 Getting to Pag Island
Since there's only one road to Pag, there are limited ways to arrive. These are…

By car: follow the D106 road, crossing Paški most bridge. It should take around 1 hour to reach Pag Town from Zadar. I recommend Rentalcars.com for car hires in Croatia.

By bus: this is how I arrived, catching the Antonio tours bus from Zadar bus station. This departs daily at 10.15am, returning at 6.20pm. Use GetbyBus to book.

Ferry: Novalja ferry port connects three mainland ports (Pesaro, Rab and Rijeka) with Pag's exclusive party area, while Zigljen ferry port (a 25-minute drive from Pag Town) connects Prizna on mainland Croatia. These options aren't convenient when coming from Zadar so road is your best bet.
Getting around Pag Island
To experience the best of Pag, it's advisable to travel by car. Although I arrived by bus, I was lucky to have a (fantastic) guide from the tourist board, Bernard, showing me around by car.

If you were to visit without a vehicle, you'd be restricted to Pag Town. That's not necessarily a bad thing as it's a lovely place, but there's more to Pag Island that you'd miss.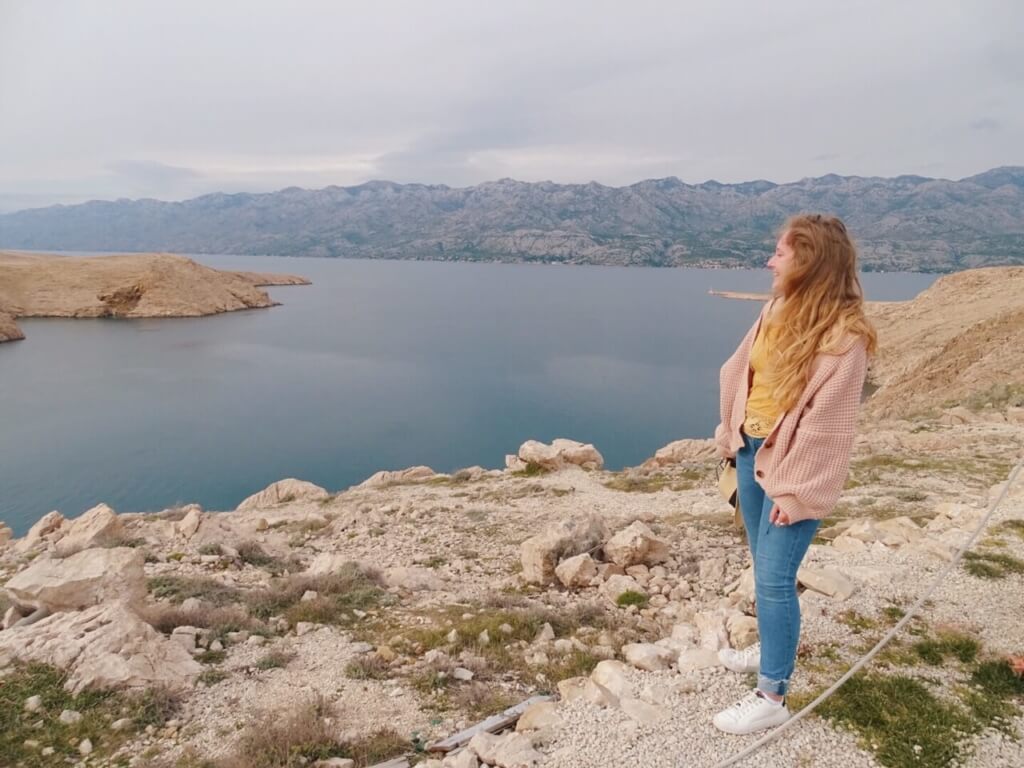 Things to do on Pag Island
For an initial overview, here are a few of the attractions on Pag Island.
Explore Pag Town – admire the various churches including St Mary's Church, the museums dedicated to regional crafts and try local dishes at the various cafes and bars
Eat Pag cheese – my highlight of visiting Pag Island from Zadar! More on this to come…
Visit Pag Lace Gallery – inside the Ducal Palace in Pag Town, the intricate designs tell the story of lace-making, a craft that dates back centuries
Learn about Pag salt production at the Permanent Exhibition of Salt (not to be confused with Solana Nin Salt Museum on nearby Nin Island although this is also worth a visit)
Try traditional food – Pag lamb and fish are best washed down with local brandy and Pag wine
Experience Pag Carnival – in particular, the Pasko kolo is a traditional folk dance that won't be seen elsewhere
Take a boat cruise from Pag Town harbour around the island's surrounds
Visit Stari Grad Pag – this archaeological site was once a thriving town. To this day, a procession carrying a statue of the Virgin Mary journeys between the old and new town to celebrate the Feast of the Assumption of Mary into Heaven.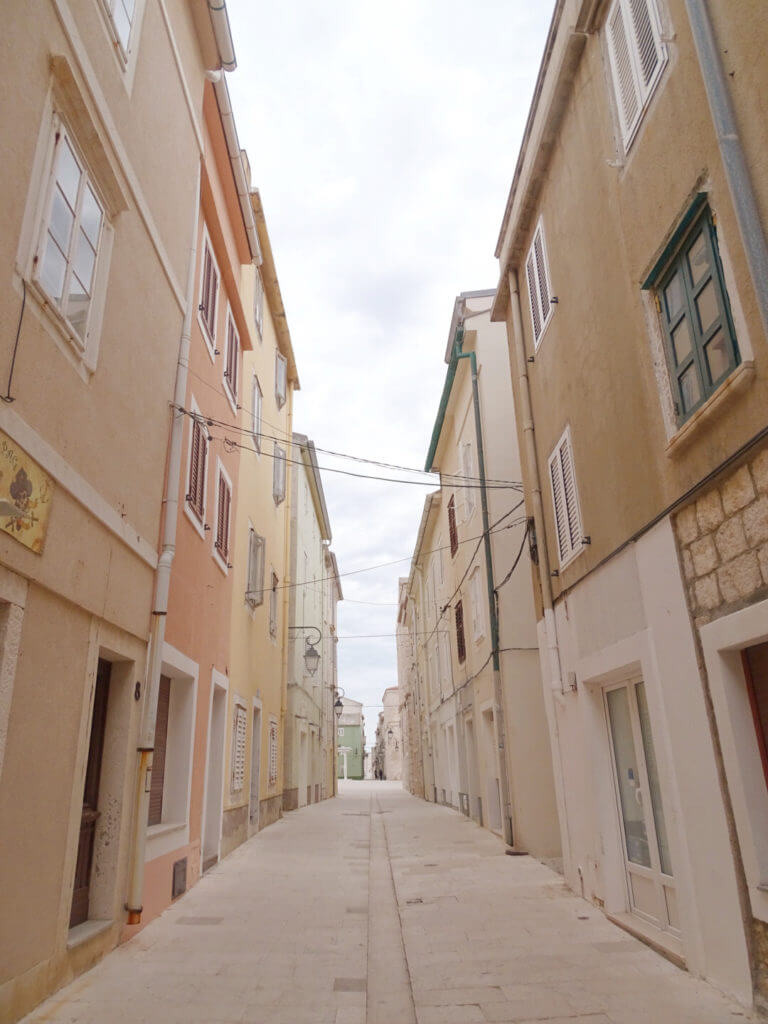 Now, let's dive deeper into the wonderful cultural traditions of Pag…
Discovering the culinary culture with Paški sir cheese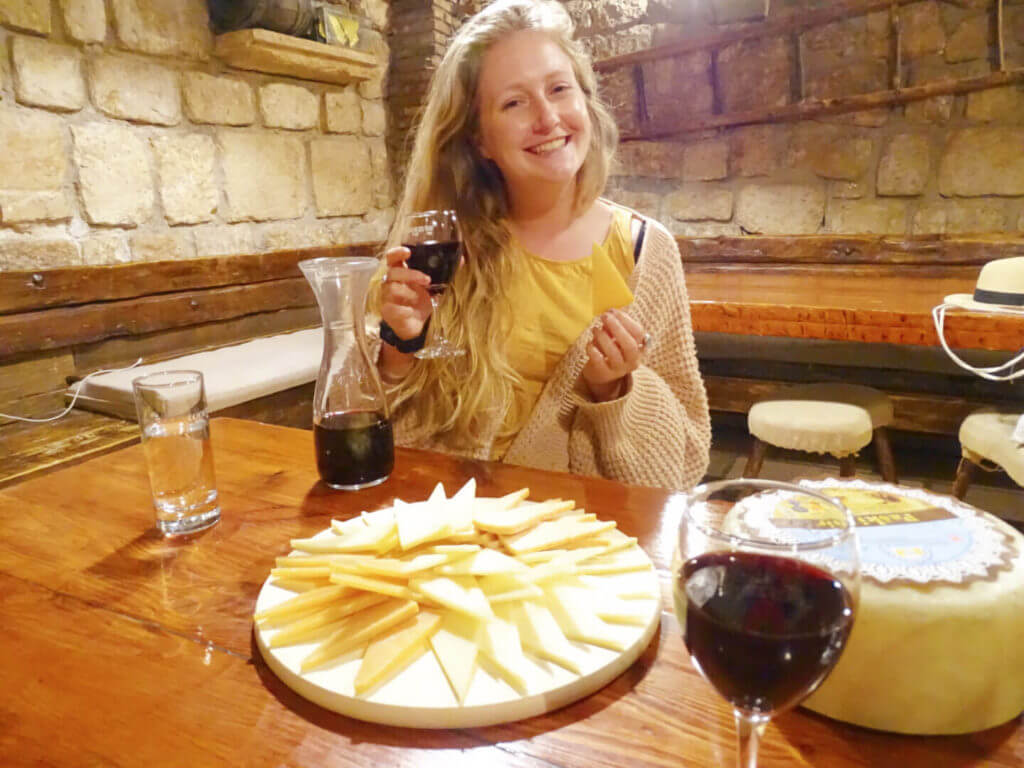 Without doubt, the highlight of my trip to Pag Island was eating delicious Paški sir, the famous cheese made exclusively on Pag. This hard cheese is farmed from the 35,000 sheep who call the island home.

Last year, Pag was listed as one of the 9 best cheese destinations in Europe! With destinations like Gouda, Emmental, Roquefort and Camembert on the list, this is high praise indeed.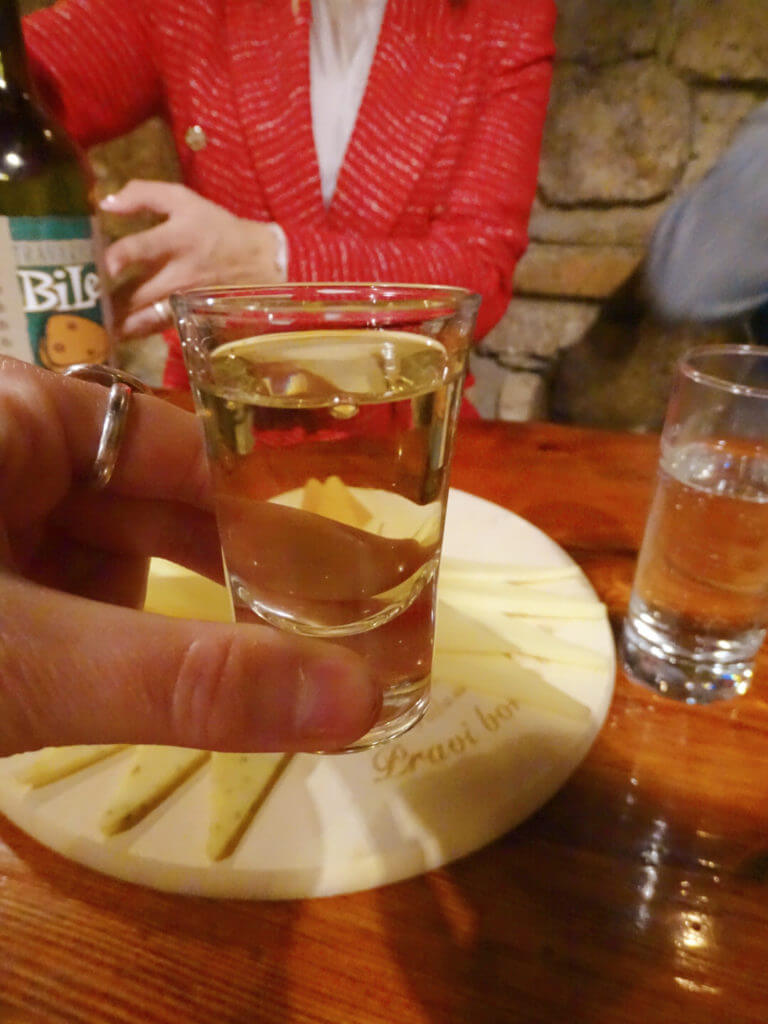 There's more than one cheese factory on the island but, after sampling the produce from Paška Sirana, I don't think you can do much better! As the oldest factory on the island with more than 70 years' experience, they first created the product and sent it around the world for cheese competitions.

Some of the flavours I tasted included:
Original
Paprika
Sage
Mature
My favourite was whichever one I'd eaten most recently 😉 they were all phenomenal.

I tried Pag cheese, wine and spirits in cosy Bile tavern with Martina from Paška Sirana factory. Other places to try delicious Pag cheese include Trapula Wine & Cheese Bar in the central square. Here you can try cheese, meat, wine and other locally-sourced deli products from Pag.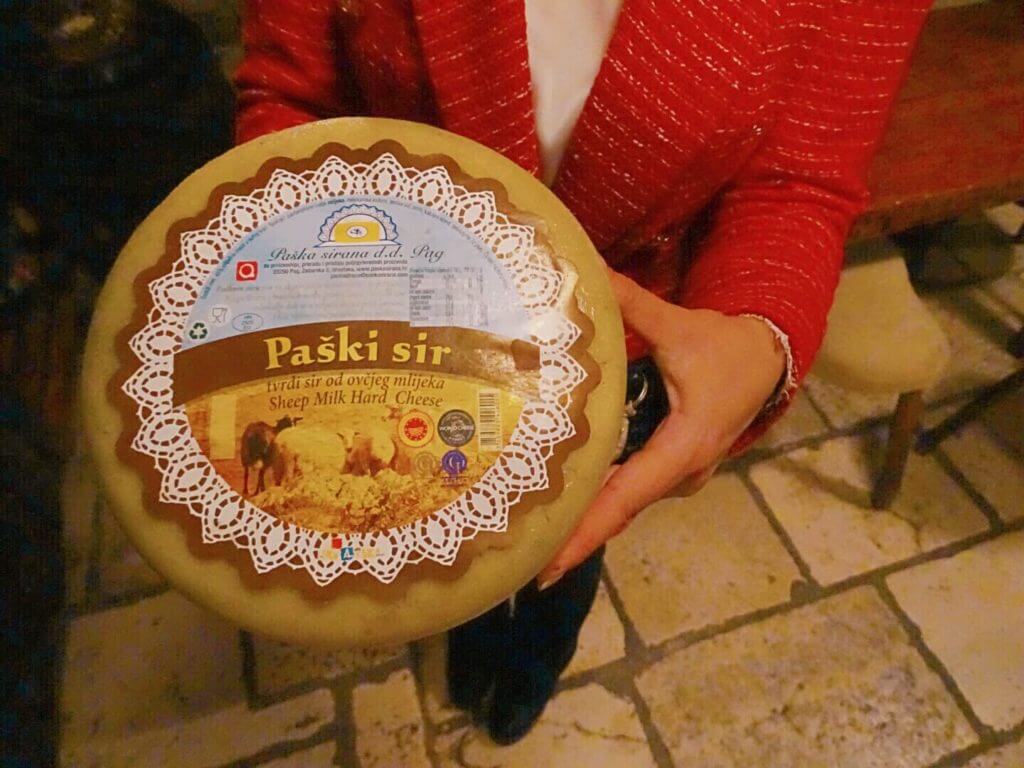 As you may notice, even the cheese label is decorated with distinctive Pag lace. I love how all the beloved traditions complement one another. On that note…
Pag lace museum & history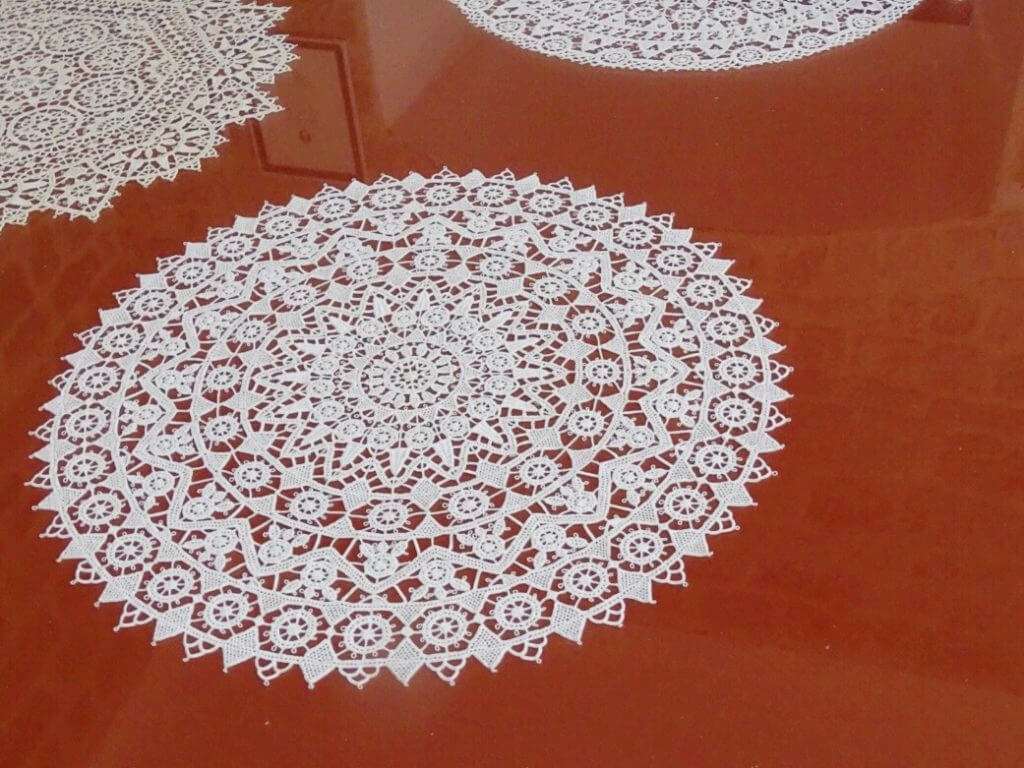 No trip to Pag Island would be complete without learning about the history of lace.
Noted by UNESCO as an Intangible Cultural Heritage of Humanity, lace-making has been recorded in Pag as far back as the 15th century. Instead of being written down, the techniques then were passed through generations of women who learnt the craft from their mothers and grandmothers.

The making of Pag lace empowered women to have a better life than working in the fields. Originating in the Convent of St. Margaret, girls would learn to read, write and make lace. The trade has since won numerous awards and accolades such as the gold medal at the Paris World Exhibition in 1937.

The best place to learn more is Pag Lace Gallery in Pag Town. Entrance is 10 kuna and the opening hours are:
10am-1pm, May
9am-12pm, Jun & Sep
9am-12pm & 7-10pm, Jul & Aug
By arrangement at the tourist office Oct-April.
Pag salt history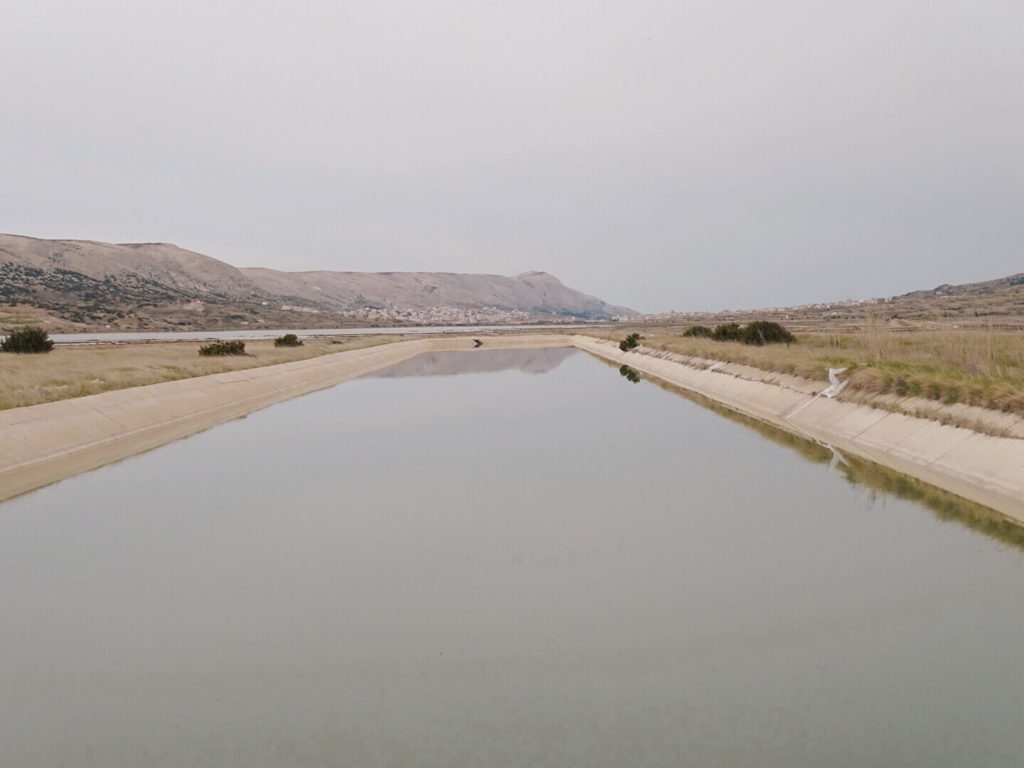 During my trip, I learnt about another important Pag industry with centuries of tradition: salt production. Giving us the modern word salary, salt was used as payment to Roman soldiers. In the Middle Ages, its ability to preserve meat fed the population during times of famine and made trade possible with other settlements.

The naturally salty waters of Pag bay are further concentrated by cultivated salt pans on the island. As I learnt, Pag has the perfect landscape and climate for salt production, something that was central to the Pag's early economy. Today, Pag Island accounts for two-thirds of Croatia's overall salt production.

Salt also enriches the cheese made from sheep who graze on the land. Yet more evidence of Pag's regional trades interlinking!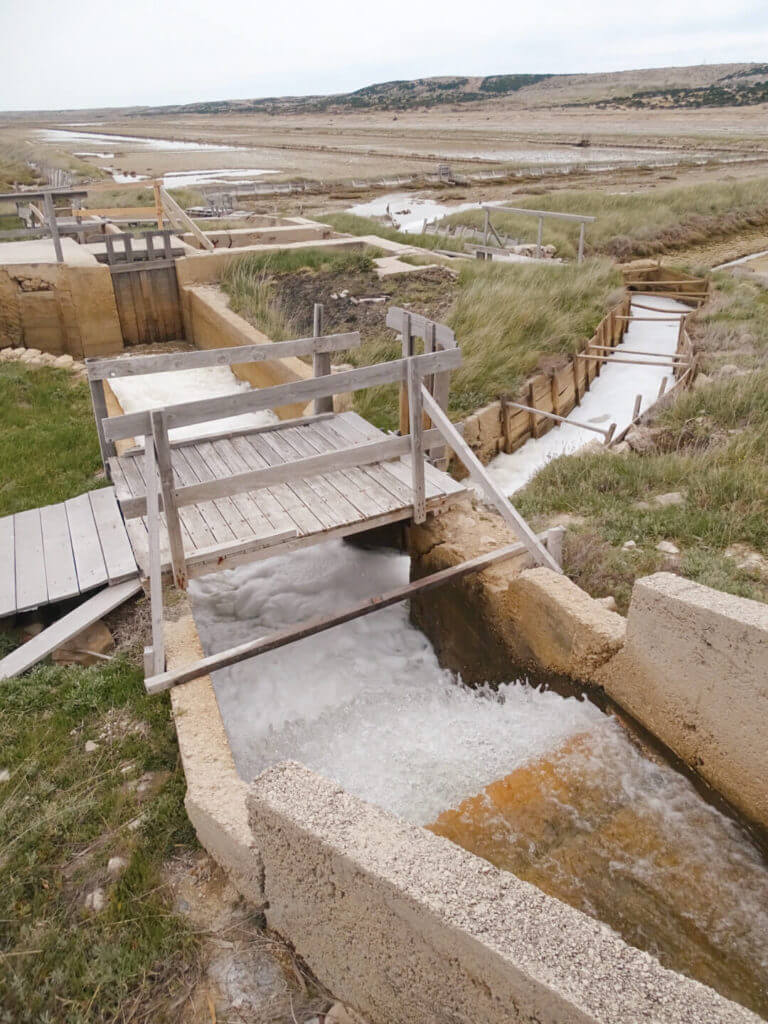 I saw the complete process while touring the Solana Pag saltworks starting with the vast salt plains and finishing with huge piles of salt awaiting packaging inside the factory.

Sadly, cheap and low-quality production overseas has undercut the quality salt industry. But, given that low-quality salt 'eats' whatever you store it in, thus soaking up plastics and other potentially unhealthy particles, it's highly advisable to buy quality salt.

I also learnt about flor de sal (salt flower): gourmet sea salt made from the top layer of the salt harvest. Known for its high calcium and magnesium content, it's sold at a higher price and often found in Michelin-starred restaurants.

I took home a Pag salt goodie bag that's been enriching my Airbnb and hostel kitchen cooking over the last month!

Over all, I had a fantastic day on Pag Island. I've never been anywhere quite like it… I suspect there's nowhere quite like Pag! I'll remember it a long, long time.

More Pag activities:
Thanks for reading!
For more Croatia content, see my other blogs…
General:
Zadar blogs:
Split blogs:
Zagreb blogs:
Dubrovnik blogs:
For more content, follow me on Instagram, Facebook, Twitter and YouTube.
Liked this guide to Pag Island Croatia? Pin this for later!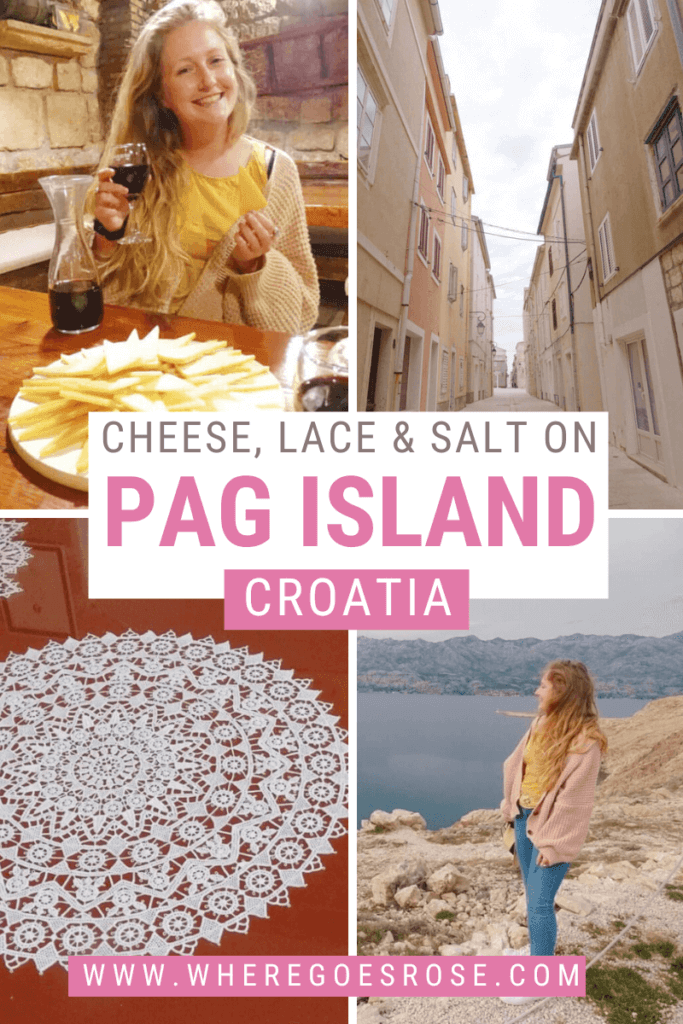 TRUSTED RESOURCES FOR VISITING CROATIA

Getting around by air – I use Skyscanner and search by month to see the cheapest dates.

Driving in Europe – use Rentalcars.com to compare car rentals in European countries (and all around the world).

For trains, I use RailEurope. The search feature allows you to compare prices, and they show live departure times on the website.

For buses, I use FlixBus. Find journeys between European countries from €1! 

Use Omio to compare trains and buses in one search. It's so handy!

For hotels and self-catering apartments, I use Booking.com. You can filter by review score and price to find the best-rated budget places. For hostels, I use Hostelworld.com.

To save money on accommodation, I use Trusted Housesitters, a website that connects homeowners going away and travellers who can sit their homes & pets.

Browse tours and activities on GetYourGuide.

Need travel insurance? I use True Traveller (for UK & Europe residents) since it's affordable but covers everything you'd need including various activities, valuables and pre-existing conditions. Unlike some companies, they insure you if you're already travelling / don't yet have your flight home booked. Get a quote.

For travel insurance for other nationalities, I recommend Hey Mundo and for long-term digital nomad travellers, I suggest Safety Wing.

Check out my resources page for more travel discounts and budget tips from my 10+ years on the road!