This post may contain affiliate links to things like tours, hotels, Amazon associates and products. These help me earn a small commission at no additional charge to you.
Penang is one of my favourite places in Malaysia, in part due to all the amazing Penang cafes!
The island of Penang off the west coast of Malaysia is known for its nature, culture and lively capital, George Town. This diverse city has thriving Indian, Chinese and Malay communities, as well as bustling markets and quirky street art. The Penang coffee and food scene is fantastic whether you're looking for authentic fare or world cuisine.
PENANG ESSENTIALS

E-sim data plan

Copy of Lonely Planet Malaysia

Getting there: flight, bus, train (12GoAsia)

Pre-book your Penang airport to city transfer

Accommodation: Booking.com // Hostelworld

Tours: GetYourGuide / Viator
More George Town blogs:
Since there are so many things to do in Penang, you'll want to know the best cafes in Penang to relax in between sightseeing. When I visited in October, the weather was hot and sticky and there were several thunderstorms.

As a result, I spent lots of time hiding over iced coffee in Penang which was not time wasted!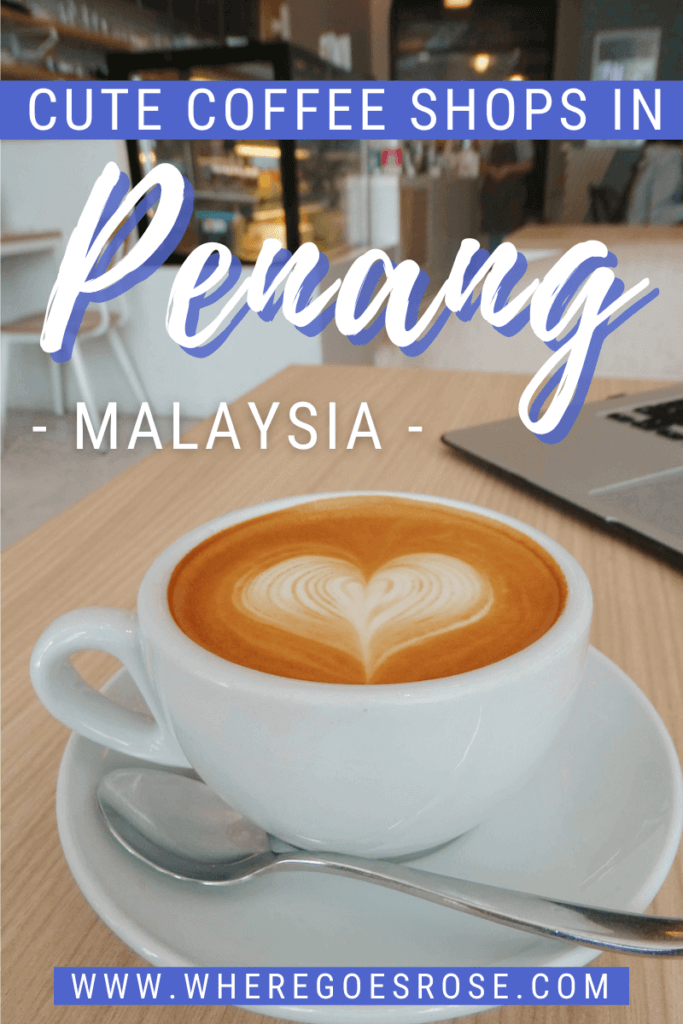 Best cafes in Penang
To help with your quest to find the best coffee in Penang, I've put together all my favourite cafes and coffee shops. Here you'll find a mix of hipster coffee roasters, historical coffee shops, modern cafes and quirky, cosy venues. I hope that's something for everyone!

Let's begin with the coolest cafes and coffee shops in Penang…
Chinahouse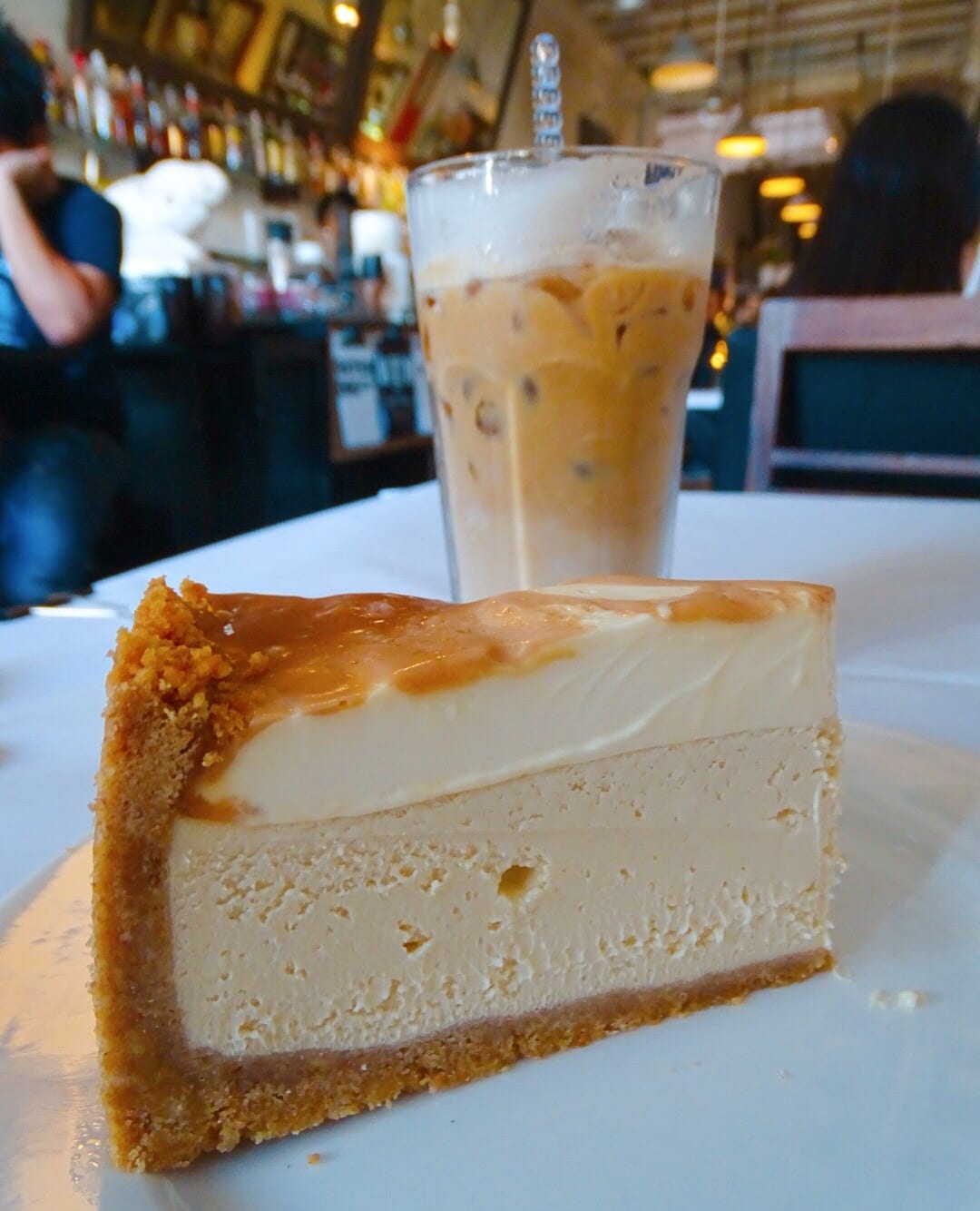 This Penang cafe isn't about hipster flat whites or modern quirks. It's set inside a Straits Heritage building and prides itself on being the longest cafe in Penang.

Indeed, it seems to go on forever but I was more preoccupied with the cake. Usually, the cake in Asia doesn't blow me away but after one round with the salted caramel cheesecake, I was sold. The ginormous cake table is overflowing with all kinds of sponges, brownies, cupcakes, cheesecakes and more.

For your Penang coffee and cake fix, don't miss this iconic cafe. I washed down my cheesecake with a refreshing iced coffee, just what I needed on a hot summer day. The aesthetics of Chinahouse are also worth a visit with lots of artwork and trinkets lining the long, thin cafe which is more like a corridor.

Address: 153 Beach St.
Mugshot Cafe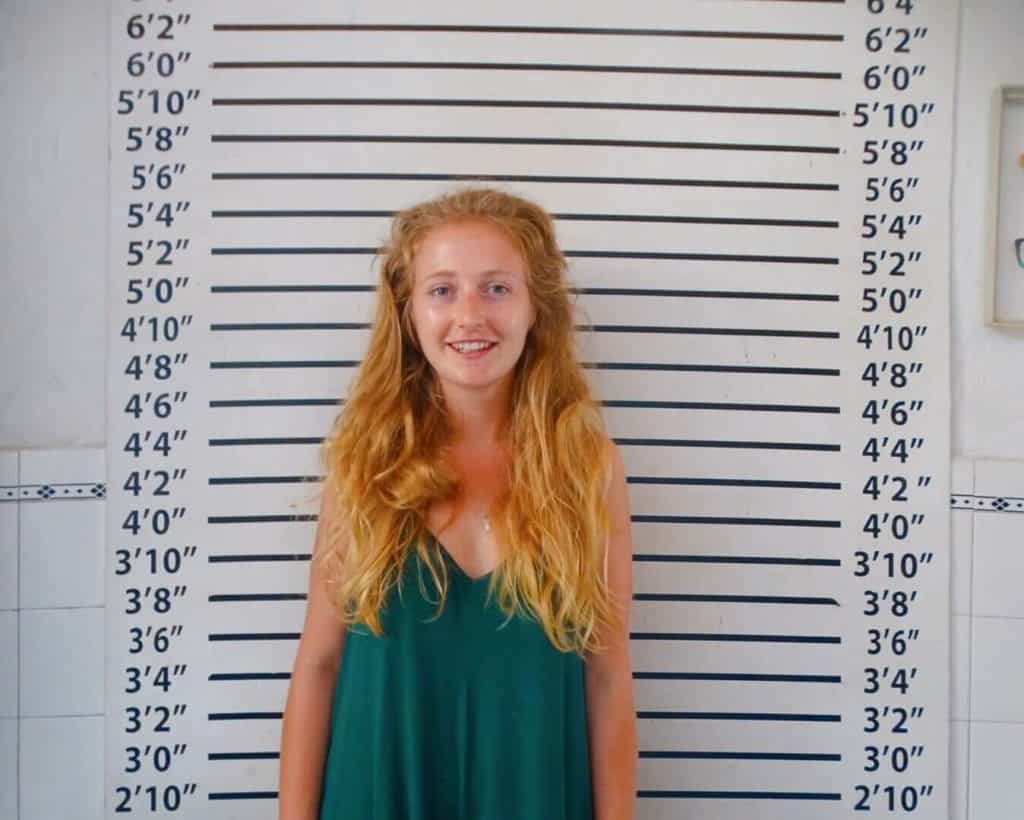 Undoubtedly one of the most famous cafes in Penang, enter Mugshot. Everyone will have heard of Mugshot even if they're visiting just for a day.

Instagrammers will want to swing by Mugshot to take their photo against the black and white police board at the back. Even if you visit solo, the friendly staff will help you get a photo; it must be part of their job description!

The coffee is really tasty at Mugshot Cafe Penang, plus the bagels will satisfy your cravings for home comforts. They're only 13 MYR with high-quality ingredients like smoked salmon and cream cheese. These were my vice during two weeks in Penang when I didn't feel like oily street food.

Other bagel fillings include bacon & egg, ham & cranberry or nutella & banana.
Because of Mugshot's popularity, it's a busy and lively cafe where you share tables with strangers. I loved the friendly vibe of this sunny Penang coffee shop with lots of scope for people-watching and making new friends.

It's right beside Chulia Street Night Hawker Stalls so I would recommend hanging out in the cafe until 6pm then grabbing a delicious dinner on the way out. Read my Penang street food guide for everything to eat.

Address: 302 Chulia St.
Secawan Hutton
Similar to Coffee Addict, this cool Penang coffee shop has street art murals painted on the walls. It's a popular place for young locals and expats, especially since they serve world cuisine rather than only Malaysian food.

Since the food was slightly more expensive than I'm used to paying in Malaysia (from 15-35 MYR per dish), I didn't eat here so I can't tell you about the food. However, I can tell you about the coffee which was some of the best I had in Penang. Order the flat white.

You could easily spend a couple of hours at Secawan drinking coffee, admiring the murals and using the Wi-Fi, especially if you fancy some comforting world food.

Address: 205 Jalan Hutton.
Wholey Wonder at Hin Bus Depot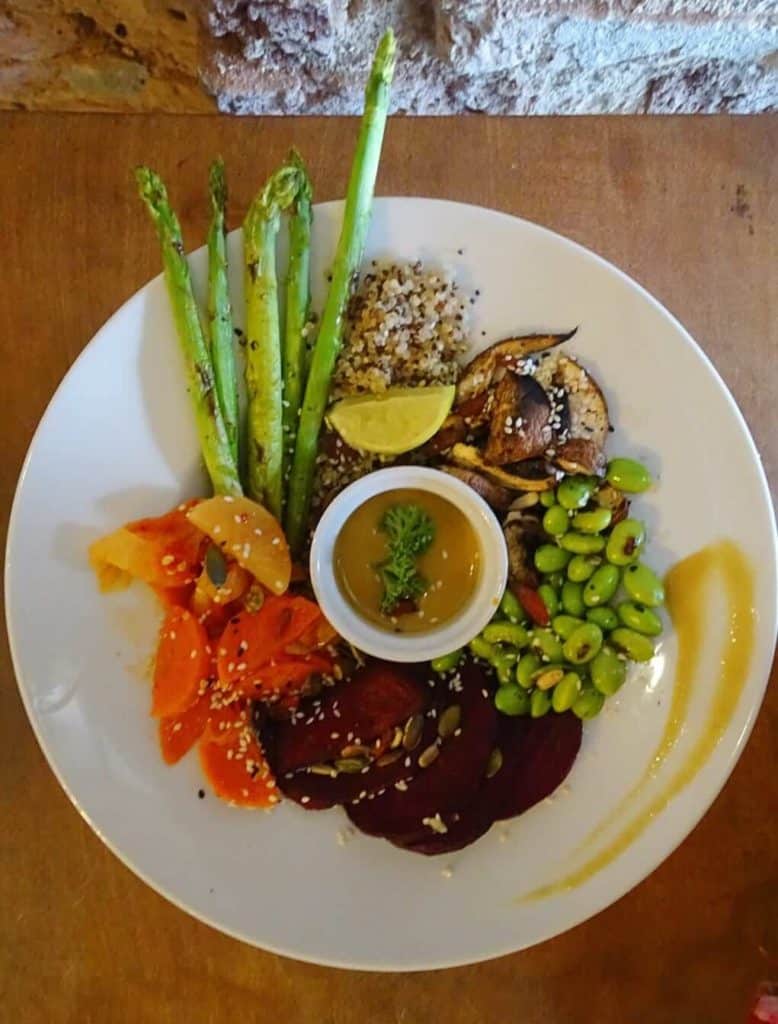 If you're looking for a Penang cafe with healthy food, I would recommend Wholey Wonder. Much of the food in Malaysia is carby without much fresh veg so luckily this cafe is the ultimate antidote.

Psst – for more healthy food in Penang, check out this blog.

All the dishes here are vegan including the Nourish Bowl with edamame, goji berries, asparagus and quinoa. Wholey Wonder is also a yoga studio as well as a plant-based cafe. As well as coffee, you can order fruit teas and loads of healthy juices and smoothies.

Time your visit with the Sunday market at Hin Bus Depot if possible. This colourful crafts market sells clothes, art, jewellery, mini cacti and more. There are also lots of food and coffee stands, as well as street art murals and live music. Always a highlight of my weekend in George Town.

Address: 61 Jalan Gurdwara.
Beansprout Cafe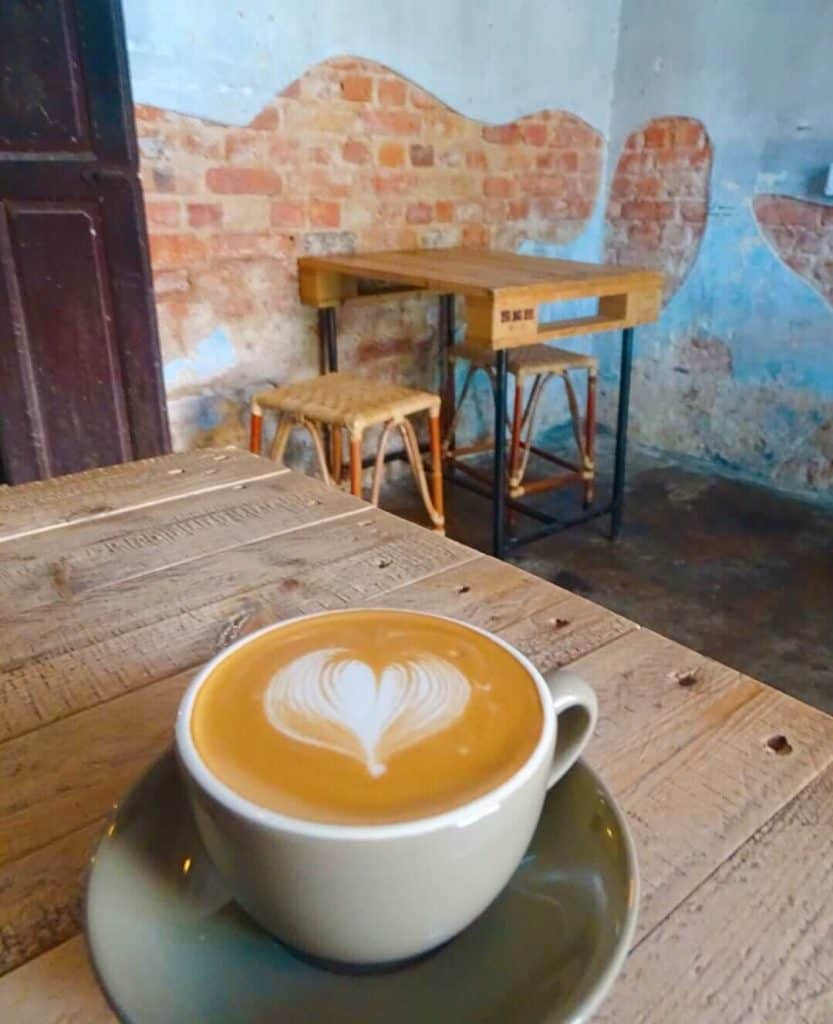 For some reason, I've left Beansprout Cafe towards the end of this blog. I'm not sure why because it was one of my favourite cafes in Penang. While others are very hectic and busy, this tucked-away cafe is a great place to escape the crowds or catch up on some work.

Not only was the coffee fantastic and very aesthetically pleasing with a heart drizzled on top, but the brunch dishes were delicious and affordable. The 'toast three ways' was one of my favourite Penang breakfasts topped with avocado, salmon, eggs and bacon.

This was only 15 MYR and my coffee was a further 10 MYR. Unlike other coffee shops in Penang, they don't charge tax. Woop.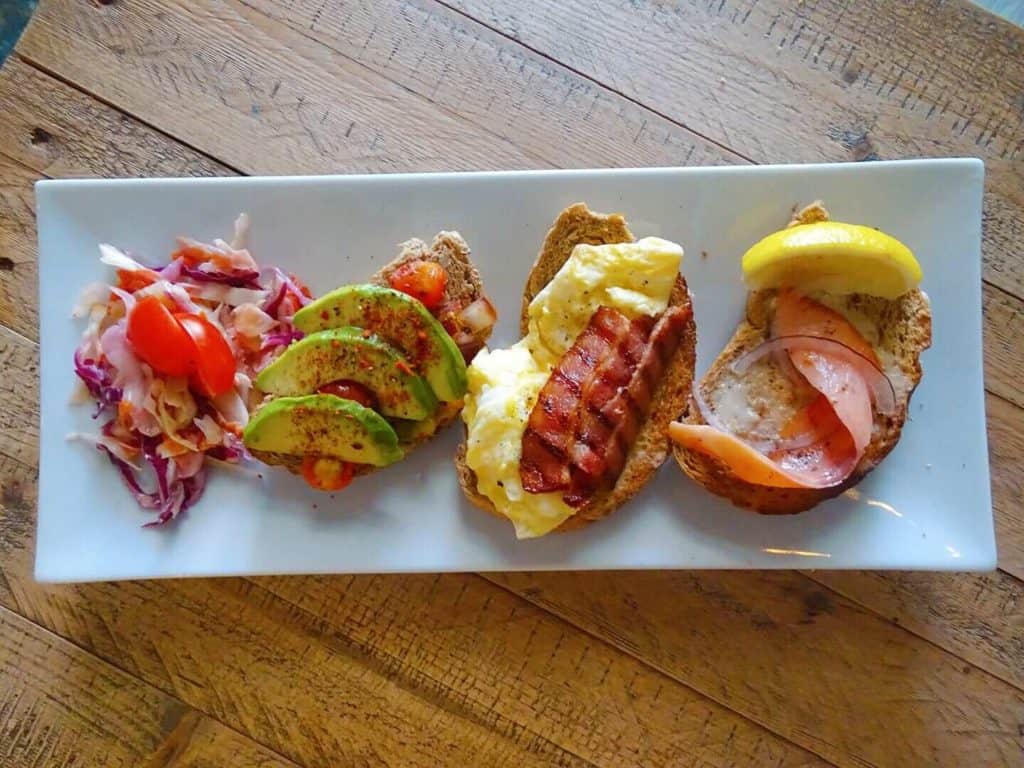 The shabby chic interior is very 'Penang' making it a laidback cafe to start your day before sightseeing. Begin just across the road in Penang Little India, a vibrant place to work up an appetite before an authentic lunchtime curry on a banana leaf.

Address: 35 Jalan Masjid Kapitan Keling.
Twelve Cups
For excellent coffee and a clean minimalistic interior, this modern cafe could be anywhere in the world, not that there's anything wrong with that.

Twelve Cups are true coffee experts, asking me questions about my coffee preference while taking my order. They explained some of their beans from around the world are bitter, warm or acidic so will suit different customers' tastes better than others.

Aside from the Wi-Fi not working well and the toilet being a shared one around the back, this is certainly one of the top Penang cafes for true coffee lovers. A flat white is 11 MYR. They also serve some delicious-looking breakfast dishes including crepes with an Asian twist, plus the baked goods look very tasty and well presented. I'll be back to try the matcha cake.

Address: 12 The WhiteAways Arcade, Beach St.
More by Arang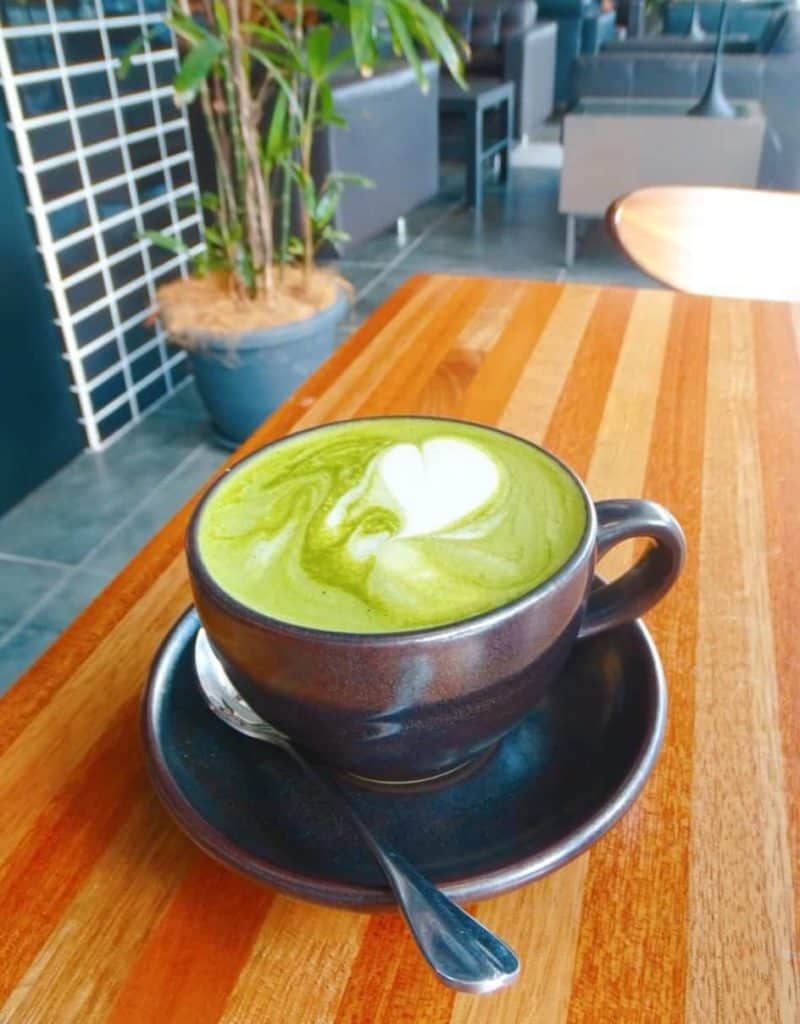 This shiny cafe in George Town Penang is quite the opposite to the rustic coffee houses in ancient heritage buildings. More by Arang is one of the best cafes in Penang if you're looking for a chilled, modern spot with all your home comforts.

For more authenticity, head to any of the other cafes mentioned above.
As well as coffee and tea, they serve excellent matcha lattes. You can also find lots of hearty comfort foods like indulgent nachos absolutely slathered in cheese. You probably won't find anything healthy on the menu but who cares, you're on holiday!

More by Arang is a bright, open-plan cafe with comfy sofas and full-length windows. You can soak up the sunshine (or watch the rain while feeling smug inside) while sipping coffee. More stays open until 11pm, unlike other Penang coffee shops like Coffee Addict that only serve food until 3pm.

You'll only pay 9 MYR for coffee and 12 MYR upwards for main dishes.

Address: 170G-2 Livingston Tower, Argyll Road.
Wheeler's Coffee
Everyone really rates Wheeler's Coffee but unfortunately, it was shut for renovation during my entire trip, a shame as I even walked 20 minutes to visit it. I'm giving it a mention anywhere because apparently it's a quirky cafe with lots of colourful clutter including bicycles hanging from the ceiling.

I've been told the coffee is excellent with pretty shapes drizzled on top. They also serve churros so I'm sold!

Address: 67, Lorong Love.
Meet Up Cafe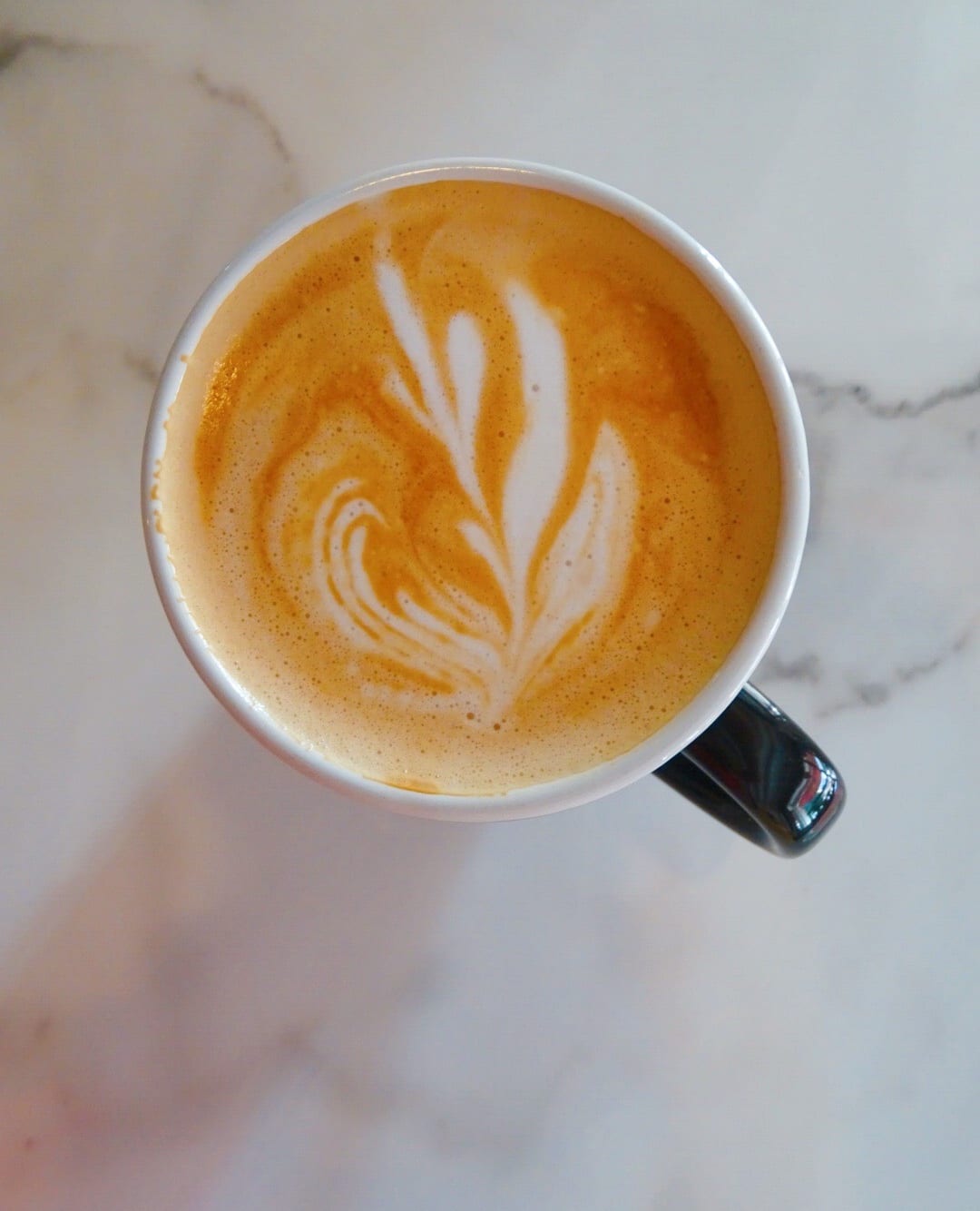 The penultimate entry is Meet Up Bar and Cafe. I liked this pretty coffee shop in Penang as a work base because it was usually quiet with just some tinkling background music. If you're looking for a busy atmospheric cafe in Penang, it might not be the one, but if you need some solitude, it fits the bill.

Meet Up is an old-fashioned Italian-themed cafe with exposed brick walls, marble tables, sepia photos and a well-stocked wine rack. There are a few local Malay breakfast dishes on the menu like nasi lemak for 3.5 MYR but otherwise, it's quite pricey. I had a salmon salad which was tasty but didn't fill me up for 20 MYR.
The coffees cost 10-12 MYR and were passable but nothing amazing. However, they have so many flavourings including matcha, mint, rose, matcha, caramel, butterscotch and more. I considered a rose latte but the last one I tried in Ubud was gross so I stuck to a flat white.

Address: 158 & 160, Jalan Hutton.
Awesome Canteen
In refurbished warehouse style with a quirky rustic look, this cafe couldn't be more 'Malaysia' if it tried. This aesthetic is popular from Melaka to Kuala Lumpur and Ipoh and I wholeheartedly approve. With high ceilings and indoor plants, this coffee shop is light, bright and welcoming.

You could easily while away an afternoon people-watching and drinking excellent coffee made by the skilled baristas. I hope you do!

Address: 19, Jalan 20/13, Taman Paramount.
Where to stay in Penang
There are lots of places to stay in Penang while coffee hunting including Airbnbs, backpacker hostels and more upmarket hotels. Check out this article from Nerd Nomads for more suggestions. I would recommend the following:

Hostel: By far the best option for backpackers who don't want to slum it too much is Ryokan Muntri Boutique Hostel. As well as small 6 bed dorms and chargers beside each bed, you'll benefit from the central location in the UNESCO old town. There are also private rooms.

Hotels: For a stylish base, Kim Haus Loft has become cool and quirky with an onsite bakery and coffee shop. Each room has rustic details dating back to its days as a goldsmith factory. Double rooms start from £35 a night.
Getting to and from Penang
You can fly directly into Penang International Airport but if you're travelling between Penang and Kuala Lumpur, you may be coming by bus or train. I caught the bus from KL to Butterworth where you can hop on a quick ferry over the water to George Town. For buses in Asia, use 12GoAsia.
Thanks for reading!
Kuala Lumpur posts:
Melaka posts:
Ipoh posts:
Southeast Asia travel planning:
Follow for more Malaysia content on Instagram, Facebook, Twitter and YouTube.
See you next time for more adventures,
Rose
Ps. Liked these Penang cafes? Pin it for later!