This post may contain affiliate links to things like tours, hotels, Amazon associates and products. These help me earn a small commission at no additional charge to you.
Backpacking the Philippines remains one of my top travel experiences to date.

I have one main top tip when planning a trip to the Philippines:

DON'T pack in too much.

The Philippines is massive.
Philippines travel guide
It's made up of over 7,000 islands, about 2,000 of which are inhabited. Exploring these paradise islands should be high on your Southeast Asia bucket list. Some of the most popular that I'd recommend are:
Palawan – beaches and lagoons
Cebu

– local life and waterfalls
Boracay – nightlife
Bohol – the Chocolate Hills
Siquijor

– island bliss and mysterious healers
Malapascua

– a tiny, chill island renowned for scuba diving and freediving in the Philippines.
Getting around the Philippines
Getting there – your main options are to fly to Manila or Cebu. Most people enter via Manila but if I was doing it again, I'd honestly try and fly into Cebu or at least get a connecting flight straight out of Manila to avoid staying in the city.

I spent two days in Manila trying to find something to love about it but I ended up resorting to the mall as the city was sketchy and I didn't find many major attractions.

Getting between the islands – the main way is catching flights or ferries. Manila, Palawan and Cebu are all flight apart, Boracay is a flight from most places, and Bohol, Siquijor and Malapascua are reachable by ferry from Cebu.
Read next: A complete itinerary & backpacking route for Southeast Asia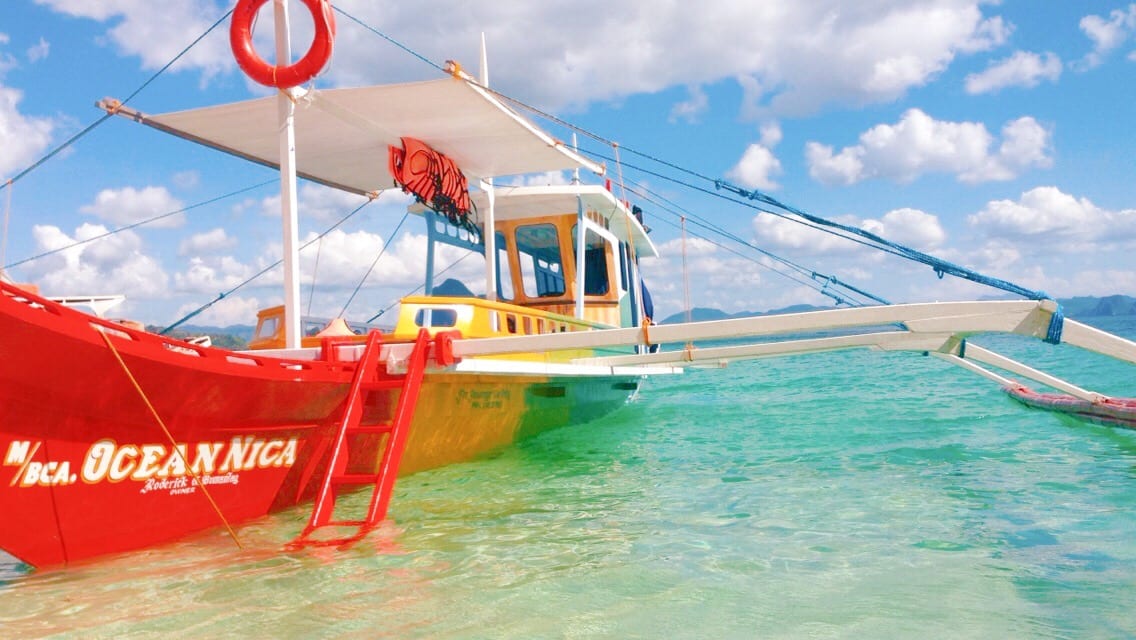 Buses – these are your best bet for getting around once you've reached an island. Often hostels will put on minibuses, especially on touristy islands like Palawan, meaning you'll leave from the front door of your accomodation and not even have to visit a bus station. In other places you can catch local buses extremely cheaply.

Tricycles – these are the Philippines' answer to a tuk-tuk. They're virtually the same apart from they have three wheels instead of four. You can haggle on the prices and will rarely need to pay more than a few dollars a journey. Drivers will try and pack them out as full as possible so you'll often end up in one with seven other travellers when they really only fit four.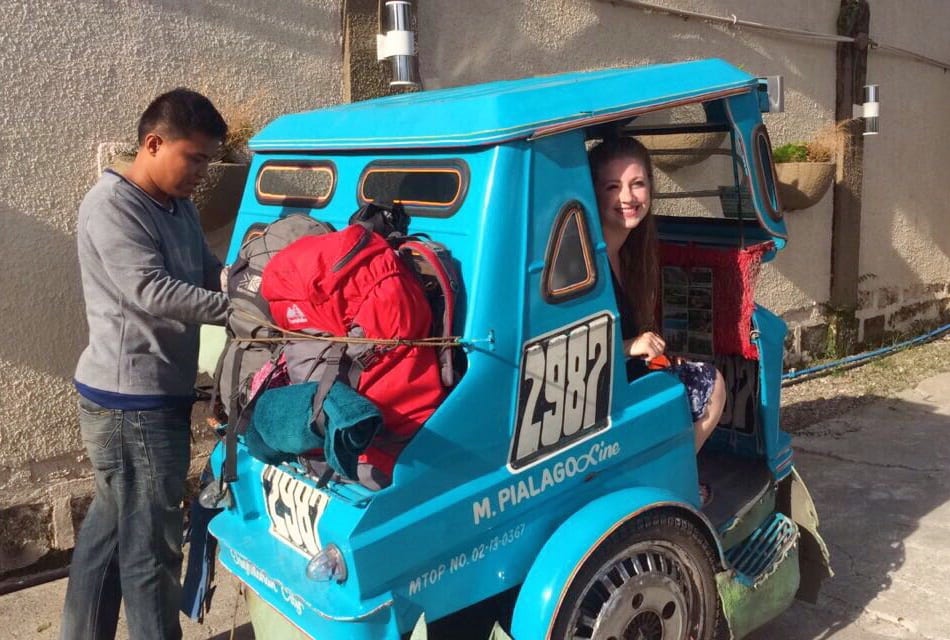 Jeepneys – these old military vehicles are now colourful, local buses which you'll find in big cities. Personally, I never caught one but they look like an adventure and are very cheap. They're often cramped and the driving standards are quite hectic so be prepared.
Money and prices while backpacking the Philippines
The Philippines offers similar affordable prices to the rest of Southeast Asia though I would say it's at the higher end, especially on Palawan. I often found myself £7 (P500) for a dorm bed rather than Thailand and Vietnam's £5.

Like anywhere, eat at Western restaurants and you'll pay more but stick to local spots and you'll still never pay more than £2-3 for dinner. Your main expense will be flights between the islands – remember to factor this in and book two weeks in advance to get the cheapest prices.
Religion, history, language
The country is predominantly Catholic (92%) with a small Muslim population (5%). For that reason, you'll see churches instead of the Buddhist temples you do in the rest of Southeast Asia.

The Philippines was a Spanish colony for 300 years which explains the Christianity, much of the architecture and the fact that many of the Philippine languages are closely linked to Spanish. You'll find Tagalog spoken around Manila and Palawan, and Cebuano around Cebu – but there are about 170 regional languages in total.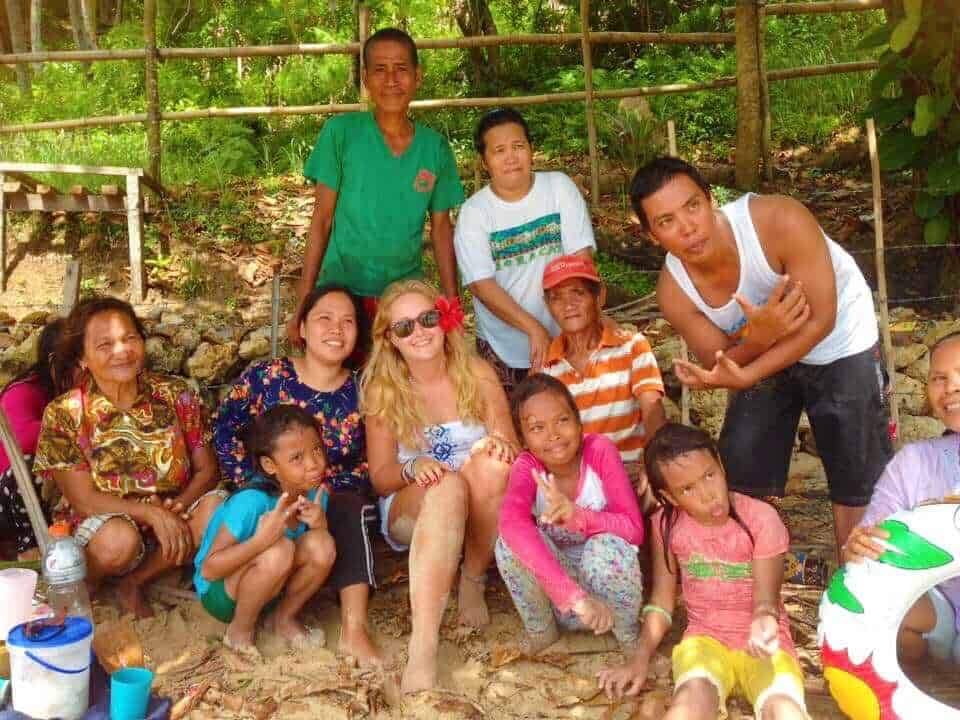 When to backpack the Philippines
Like much of Southeast Asia, peak time is November to April. May to July gets very hot (but that's when I was there and I still had a great time) and August to September are rainy typhoon season so probably the worst time to go.
The food
Compared to the delectable food in Thailand and Vietnam, you might not be blown away by Filipino cuisine. It's stodgy and meaty without much evidence of fresh veg. Also popular are cheap American chains like Jollibee where you'll get burgers and milkshakes for pennies, as well as sweet tomato spaghetti. It's basically the national dish though – the locals love it.

However, there are still some great Filipino foods to try. I would recommend are the fresh seafood and 'adobo' which is flavoursome meat in a gravy-ish sauce. Lechon is a hog roast which is very popular.

You'll find lots of yummy fresh mangos and watermelon and you can try the national dessert of halo-halo. This translates as 'mixed together' and is made with condensed milk, shaved ice, sweet beans, jelly, coconut and ube flavoured ice cream. Ube is a purple root vegetable – yes, this whole dessert is a little strange.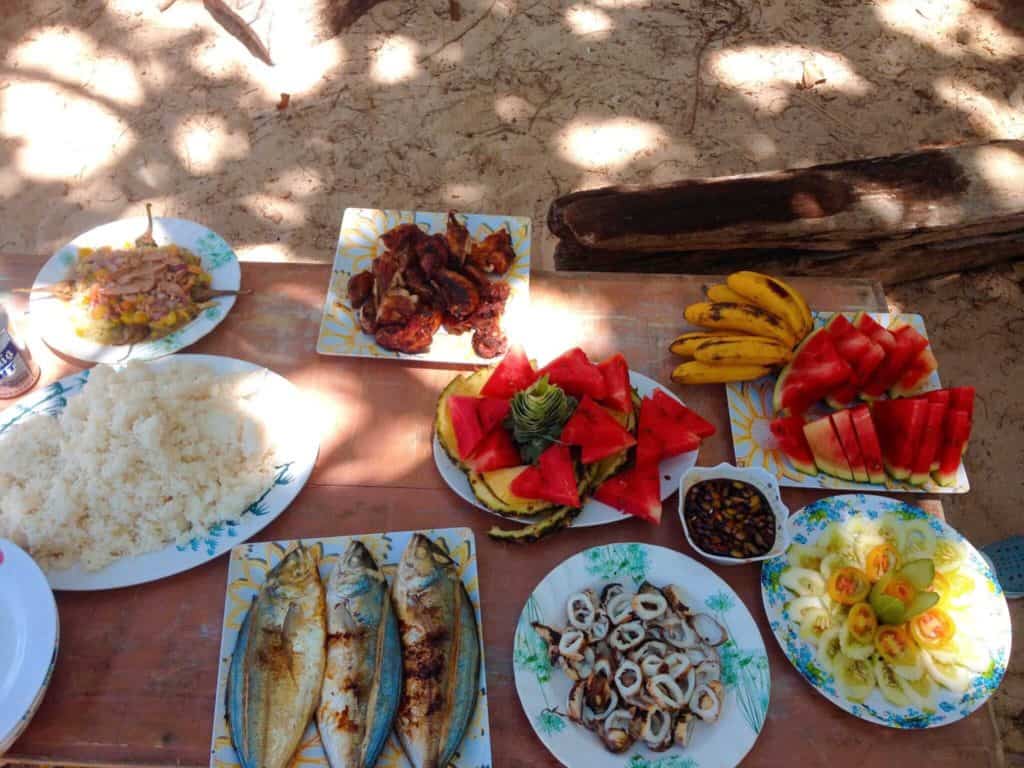 Don't unknowingly agree to eat balut which is a fertilized chicken egg with a crunchy chick inside. Be vigilant, kids – the locals will try and offer it you as it's seen as a delicacy.
Best destinations for backpacking the Philippines
Get ready for all the info about my favourite stops in the Philippines including what to do, how to get there & where to stay.
Read next: 20 best islands in the Philippines
Palawan
This is probably the most popular island in the Philippines and if someone had short trip planned, I'd tell them to spend it all here. You can dive, snorkel, relax on the beach and basically experience island paradise. It's a real mix depending on where you go as some parts are more touristic and expensive than others.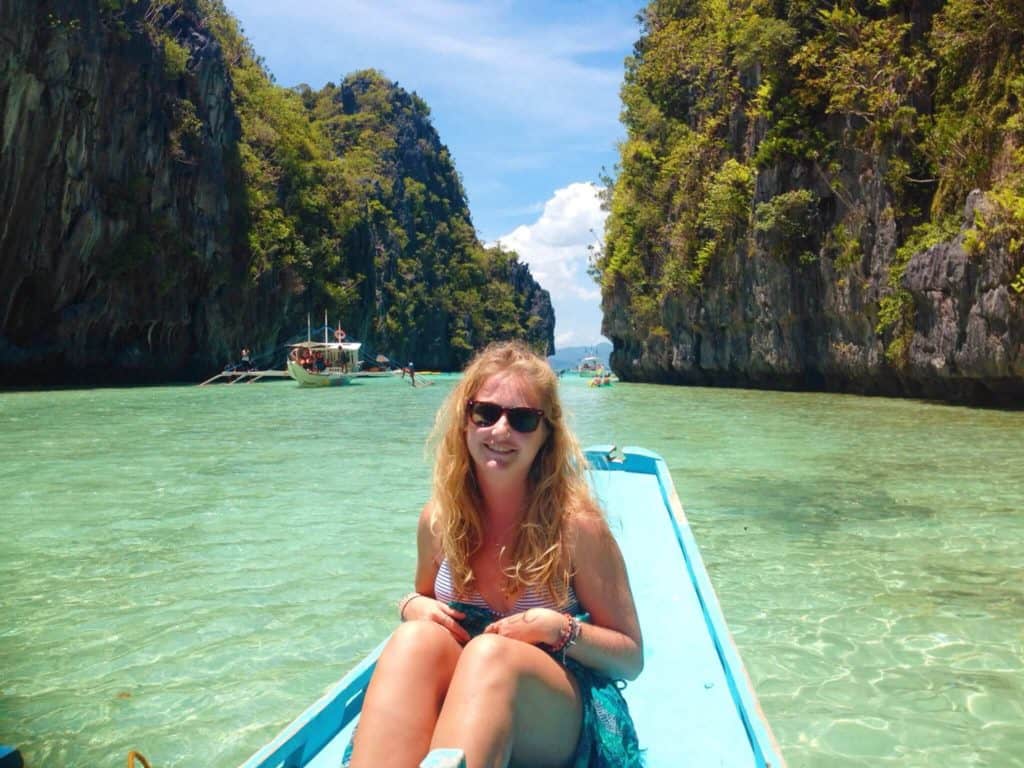 Getting to Palawan: fly into Puerto Princesa from Cebu or Manila. My flight from Manila was £65 as I booked it the week before but you can get them for half that if you book a fortnight in advance.
Where to go in Palawan
Puerto Princesa: the port of entry for most as the main airport is located here. It's quite a local city and Westerners might not find much to do. You might want to take a day trip to the Underground River which was voted one of the New7Wonders of Nature.

I also had one of my most fascinating travel days visiting the city's dancing jail. If you're all about beaches and cocktails, skip it but if you want to chat to friendly convicts about their country and have a really unique day, I'd recommend a visit.

El Nido: this is the place lots of people visualise when you say 'the Philippines'. Blue and green lagoons, beautiful beaches and palm trees – total heaven. Or at least it was 'til 1 BILLION tourists started visiting every day. It's still worth a visit but expect it to be busy. Check out this guide to island hopping in El Nido including the best tour to take.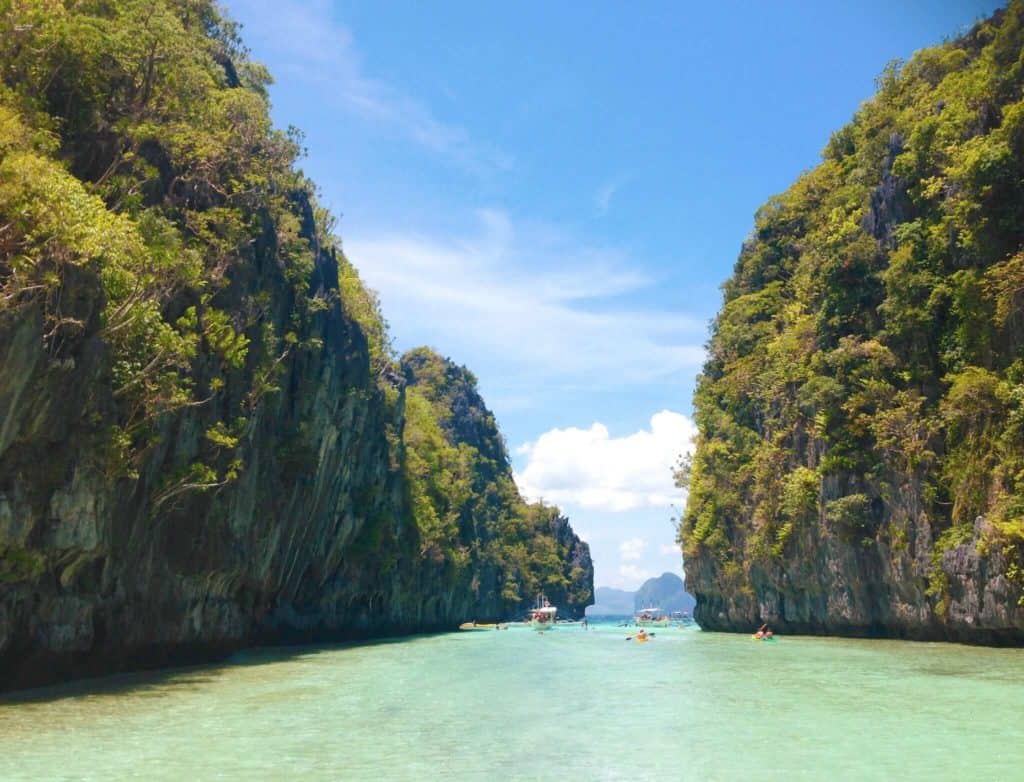 Coron: this island off the north tip of the mainland is still classed as Palawan. Get an eight-hour ferry over from El Nido and maximise beach life and dive opportunities. You can go shipwreck diving which is very exciting in my book.

Port Barton: this was my favourite stop on Palawan. Basically El Nido but cheaper and less touristic. My highlight was organising an overnight camping trip and staying on a nearby abandoned island where we went swimming with luminous plankton.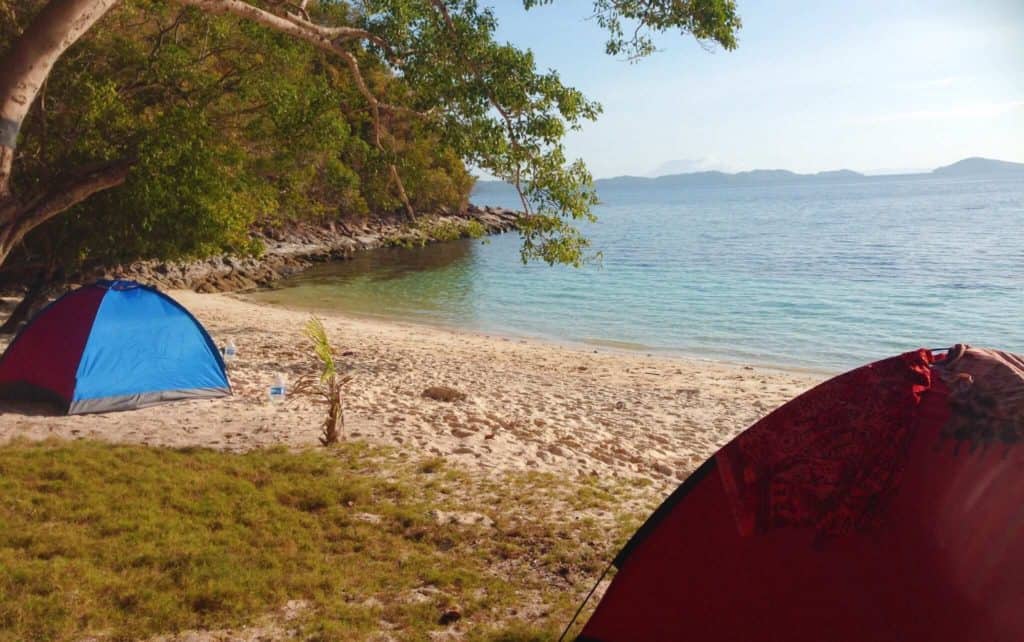 Where to stay on Palawan: I'd recommend Sheebang Hostel in Puerto Princesa, Our Melting Pot or (for a treat) Spin Designer Hostel in El Nido.
Cebu
Cebu refers to both the island and the city. I ended up passing through the city four or five times as my stops north and south of it required connecting there. It's a hectic and urban place and I didn't find a lot to do.

However, around Cebu island there are some good stops and you can also journey to neighbouring islands like Bohol, Siquijor and Malapascua.
Getting to Cebu: fly into Mactan–Cebu International Airport. A taxi into the city should take about half an hour.

Where to go in Cebu: small town Moalboal is a worthwhile stop. As well as snorkelling with the most enormous shoal of sardines I've ever seen in my life, we took a 40-minute scooter ride (but you could also arrange a cheap tricycle ride with a local driver) to the beautiful Kawasan Falls. To reach Moalboal, catch a four-hour local bus from Cebu city.

Where to stay in Cebu: I stayed at Le Village in Cebu city and I don't know whether to recommend it to you or not as the hygiene standards were honestly at an all-time low. I'm only mentioning it because it seemed to be the most social place in the city and I had a great time drinking and travelling with people I met there. If that's what you're after, brave it. Le Village also have a cleaner base in Moalboal.
Bohol
Bohol is popular with both Western and Asian tourists. It's most famous for the Chocolate Hills which are distinctive and quite cool (though dare I say a teeny bit overrated).
Getting to Bohol: catch a two-hour ferry from Cebu city for P500 (£7).

Where to go in Bohol: as well as the Chocolate Hills, the Loboc River region was a good spot. We caught a boat cruise through it and relaxed over the sight of leaning palms whilst tucking into a buffet lunch. I'd also recommend going to see the tarsiers (tiny monkeys with huge eyes) at the Wildlife Sanctuary. We took a tricycle tour to all the main Bohol attractions in one day.

Where to stay in Bohol: we stayed at TR3ATs Hostel in Tagbilaran but you could opt for a guesthouse on the Loboc river. For the latter I heard good things about Nuts Huts.
Panglao
Close to Bohol is Panglao. It's technically a separate island but as you can easily drive from one to the other, it's a perfect extension to a visit to Bohol. It's very touristy and quite expensive so I'd recommend just staying a day or two to see the sights.

Getting to Panglao: catch a tricycle over the bridge from Bohol.

Where to go in Panglao: head off on a dolphin-spotting boat trip and visit the shallow waters of the Virgin Island out at sea.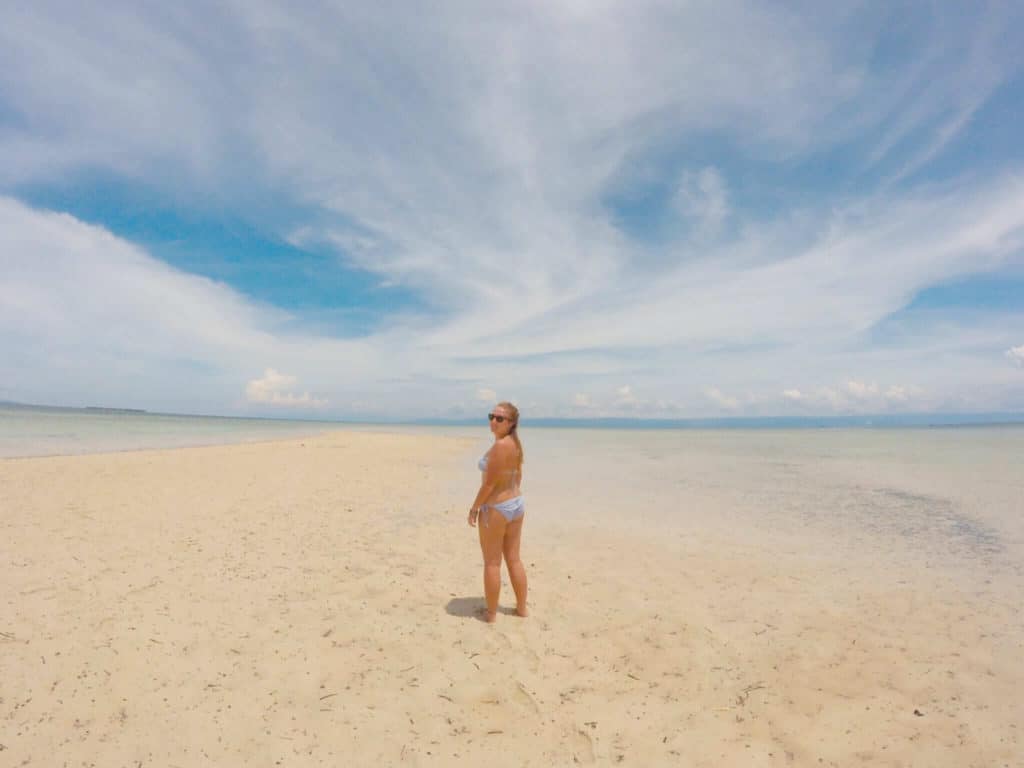 Where to stay in Panglao: we stayed at Moon Fools Hostel which was a dollar or two more than the other hostels but really nice and close to Alona Beach. We also snuck into a fancy hotel to use their private beach and it was total paradise.

As much of the beachfront in Panglao is bought out by hotels, if you're going to splash out anywhere in the Philippines, I'd say do it here and have a chill day.
Siquijor
One of my favourite islands, this is one to escape the crowds. Tourism is definitely yet to boom and for a long time there wasn't even a hospital which led to locals training as spiritual healers to cure ailments. Now even tourists can go and visit these ancient healers on Siquijor known as good witches.

This whole thing fascinated me but if it doesn't you, it's also a really beautiful island where you can do all the usual beach and waterfall hopping.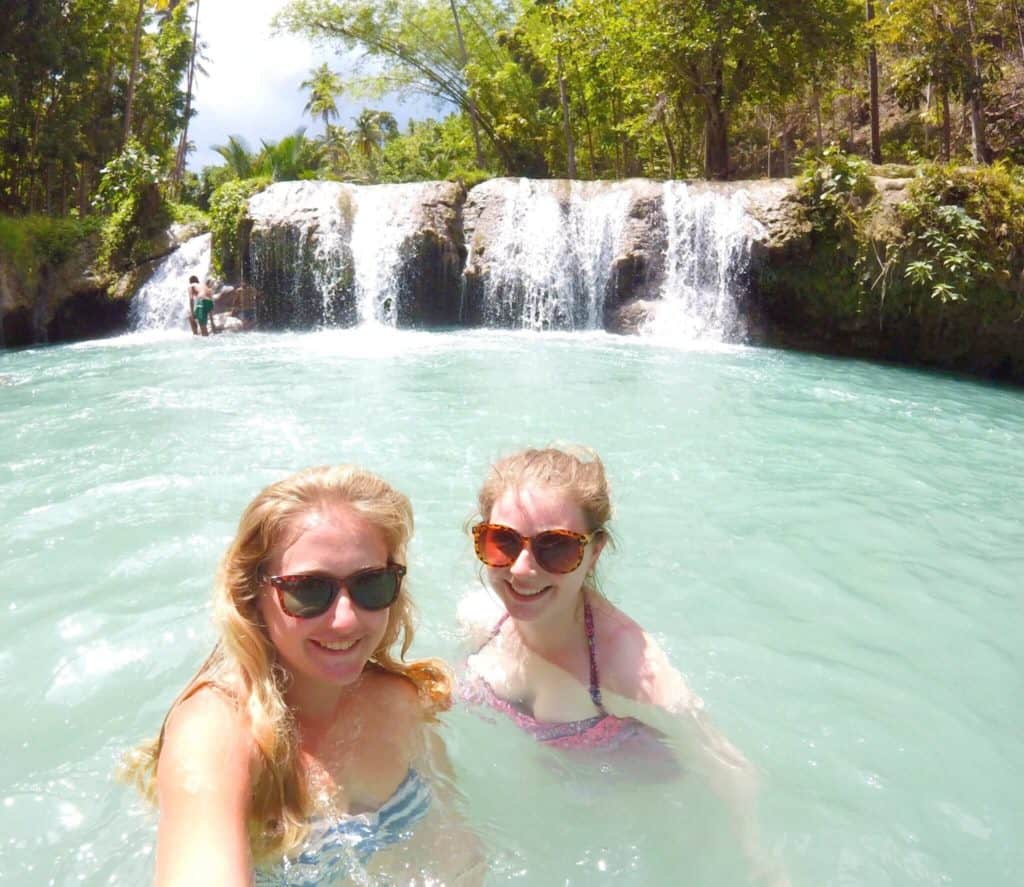 Getting to Siquijor: catch a ferry direct from Bohol. If coming from Cebu you have to change ferries in Dumagette but you can still make it in a day.

Where to go in Siquijor: swim in the Cambughay Falls and tour the beaches. You can do what we did and go off-grid to see a healer.

Where to stay in Siquijor: for a room right by the beach, go for Islandia Beach Resort. The friendly staff even brought our (really tasty) restaurant food down to the sand so we could eat in hammocks while watching the sunset. A double room by the beach will set you back P1,400 (£20) – a total bargain.
Malapascua
I absolutely adored this tiny, local island. It had a friendly feel and the Malapascua shark diving was world-class. I also took the most amazing day trip to a tiny sandbar island that I often now see people lusting over on the Internet.
Getting to Malapascua: just seven kilometres from the northern tip of Cebu island, you can reach Malapascua from Cebu city in a day. It's four hours on a bus, sometimes a long wait until a boat fills up and a 40-minute ride over to the island.

Where to go in Malapascua: tour the island by scooter – it's absolutely beautiful and you'll see a wonderful sunset from the lighthouse. My highlight was diving with thresher sharks.

Don't miss Kalanggaman, a tiny sandbar island that you can visit on boat tours. These are easy to book when you get to Malapascua. Expect to pay P800-1000 for a day trip including lunch. Can you believe how tiny the end tip of the island is?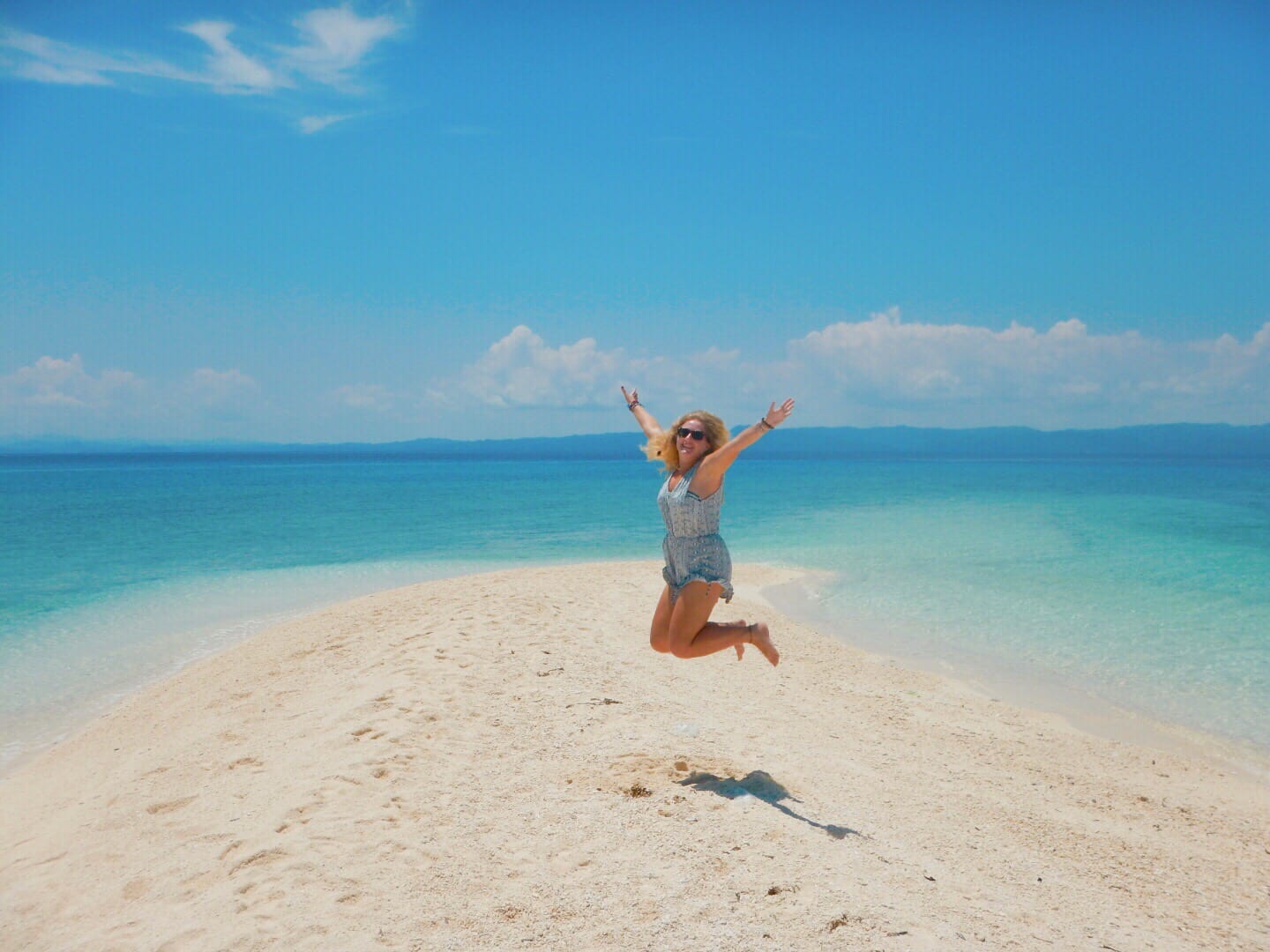 Where to stay in Malapascua: I would highly recommend Threshers Cove Resort and Dive Centre. It's pricey at P1,400 (£15) a night for a dorm but it had lovely breakfasts, a swimming pool, dive shop and private beach.
Boracay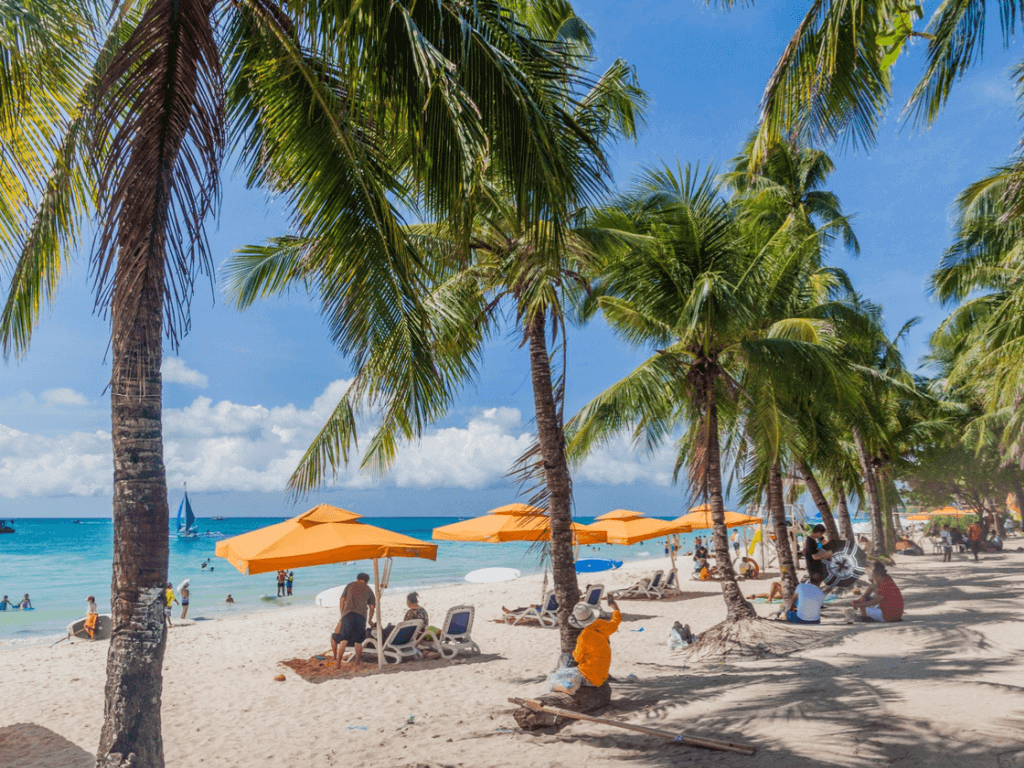 Tourist central and a crazy party island, I'd avoid Boracay if you're looking for a local experience or a relaxing night in. The lively island even made world news in 2018 when it was closed temporarily due to over-tourism.

Getting to Boracay: there is a Boracay airport on the mainland of Panay (a quick ferry ride from Boracay) but it's tiny so flights are super expensive. Instead, catch a cheap internal flight to Kalibo airport where minibuses are waiting to transfer you to Boracay. It's a 1.5-hour drive to Caticlan port then a short ferry, but the ticket you buy at the airport will cover both.

Where to go in Boracay: erm… all the bars and clubs! It's a very party-heavy island. It was great fun however and I made so many friends. Head to Puka Beach for a chilled option (it's a lot quieter than the main beaches) and see a sunset at the open-air Spider Bar. Snorkelling boat trips are also very popular.

Where to stay in Boracay: I loved Frendz Hostel and paid £5 a night for a dorm bed. It was so social and had lovely staff and great breakfasts.
Guimaras
This island is really tiny and just off the coast of Panay Island, the same one you'll visit transferring to Boracay. It's very local – I've never heard of another tourist going.

Guimaras translates as the island of mangos and they export them all over. It's illegal to bring your own mangos to the island in case it messes up the breed. I would say the ones I ate there were super sweet and yummy.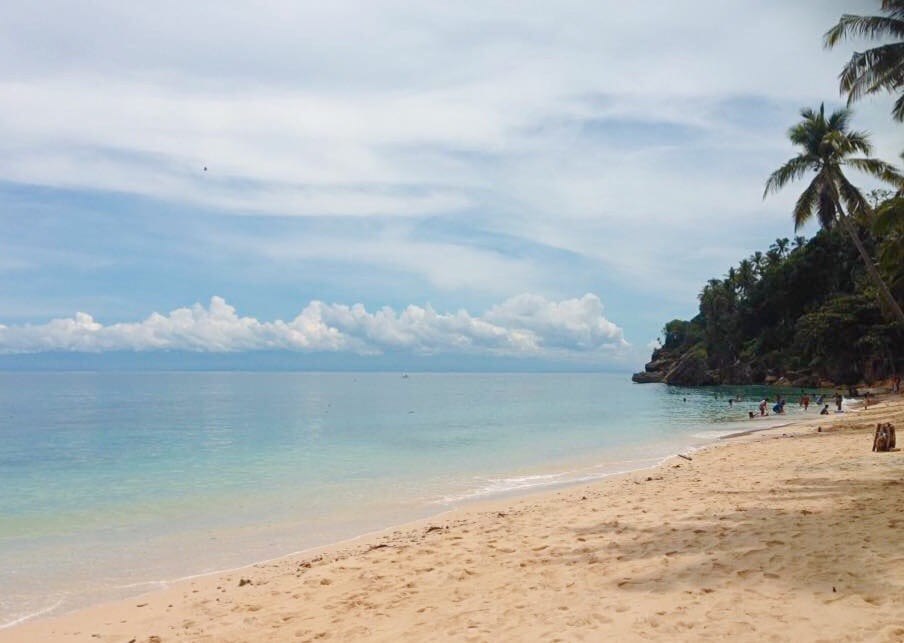 Getting to Guimaras: I stayed in Iloilo city on Panay and did Guimaras as a day trip. When I got off the ferry it was easy to visit the tourism office and organise a tricycle tour. To get to Iloilo, I caught a minibus from the port of Caticlan (where you get off the ferry leaving Boracay) but you could also get one from Kalibo airport.
Where to go in Guimaras: as I said there isn't tons to do but we visited some stunning beaches, drove around seeing the local life and ate a lot of mangos. We even ended up at a diner called the Pitstop where I tried mango pizza. It actually wasn't bad!

Where to stay in Guimaras: there are some local guesthouses or you can stay on the mainland in Iloilo.
Banaue rice terraces
I missed these due to time but trekking the rice terraces is very popular and they're often described as the Eighth Wonder of the World. The best way to get to them is by catching the Banaue Bus overnight from Manila. Here's a really useful blog about how to spend time in the region.
Surigao
Even though I didn't make it here, the stories I heard from other backpackers were of utter paradise. It's a surf island with a hippie vibe. Fly in cheaply from Cebu.
Ethics while backpacking the Philippines
It's really popular to swim with whale sharks in Oslob on Cebu island. It's tempting because they're such amazing creatures but I'd really recommend against it. These animals are fed which means they come to the same location every day as they no longer know how to hunt for food themselves.

It's also messed up their migration patterns – they no longer migrate because they can't without the ability to find their own food.
If you really want to see whale sharks, a more ethical location is Donsol. Catch a cheap flight to Legaspi then a 1.5-hour minivan to Donsol where you can organise snorkelling trips. April and May are the best months to see them.
How long to spend backpacking in the Philippines
Forever!

Deducting the two weeks I spent volunteering in Puerto Princesa, I spent six weeks backpacking the Philippines islands listed (not including Banaue and Surigao as I didn't make it to either). I'm kind of a slow traveller but I wouldn't recommend taking on all the places I did with anything less than a month.

If you have less than two weeks I'd stick to Palawan or Cebu and the surrounding islands. If you have 14+ days you'll be safer to move around a bit without spending all your time on a bus or plane.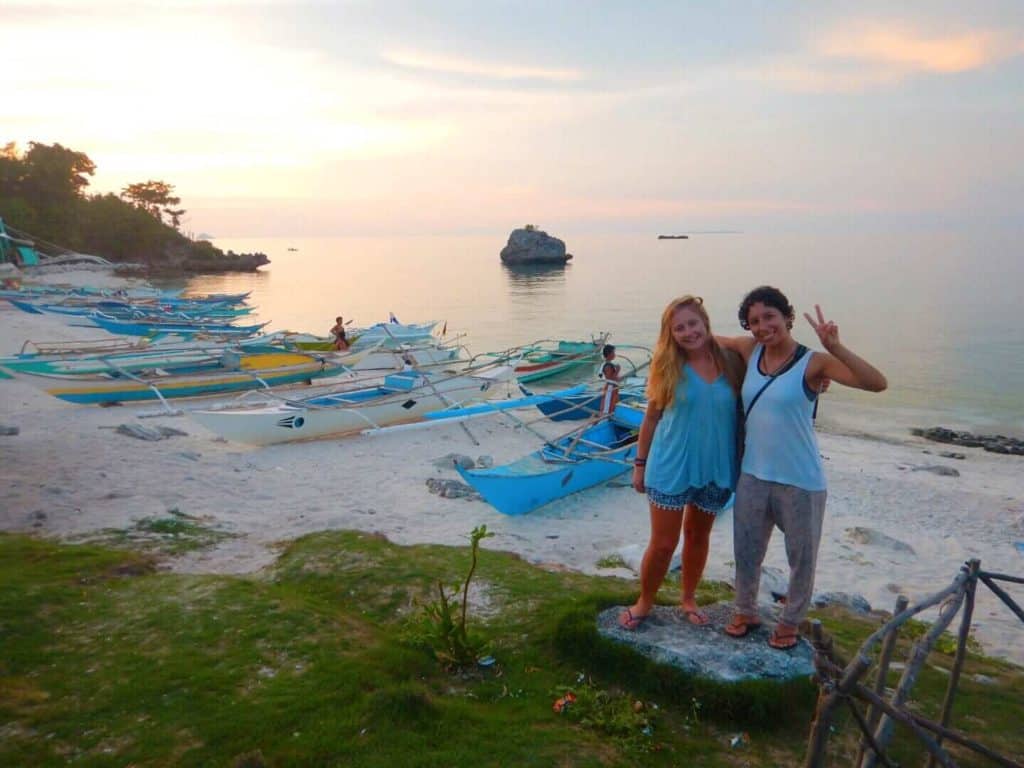 Thanks for reading!
If you liked it, please share it 🙂
Read my other posts about backpacking the Philippines:
See you next time for more adventures,
Rose