This post may contain affiliate links to things like tours, hotels, Amazon associates and products. These help me earn a small commission at no additional charge to you.
I really enjoyed my recent trip to Pondicherry. From visiting spiritual Auroville to wandering the colourful town and visiting the many Pondicherry cafes, I found plenty of ways to keep busy.
A bit about Pondicherry
This city of approximately 250,000 people on the east coast of India's southern tip is unusual to say the least.

While you can still see and experience Indian culture, this city by the sea will remind you of Europe. Colonised by the French rather than the English, the city of Pondicherry has countless pastel-coloured churches and French street names. Many of the locals still speak French as a first or second language.

This makes Pondicherry somewhat of a strange place. You'd be right to say that it doesn't feel like India in some ways. But in other ways it does: the beeping horns, busy markets serving authentic South Indian dishes and curious, friendly locals.

For everything to see and do while visiting, check out my complete Pondicherry travel guide. In this blog, I'm going to focus on one very specific and important topic…
The best Pondicherry cafes to visit
Hanging out in cute Pondicherry cafes drinking iced coffee was a godsend when I visited in April. It was very hot and humid meaning I only had the energy to explore for a few hours at a time. Iced coffee and aircon was a necessity.

The cafes in Pondicherry serve really decent food and drink. Sure, it's not as authentic and affordable as the street food. But if there's one place to stretch your India trip budget and enjoy yourself, it's here!

You'll find some Indian food in the Pondicherry cafes but there's also a lot of general Western food and because of Pondi's history, French food. Since it's India, there's also a lot of great veggie food.
Indian cafe fan? Check out my guides to restaurants in Palolem, Rishikesh and Pushkar.
Cafe des Arts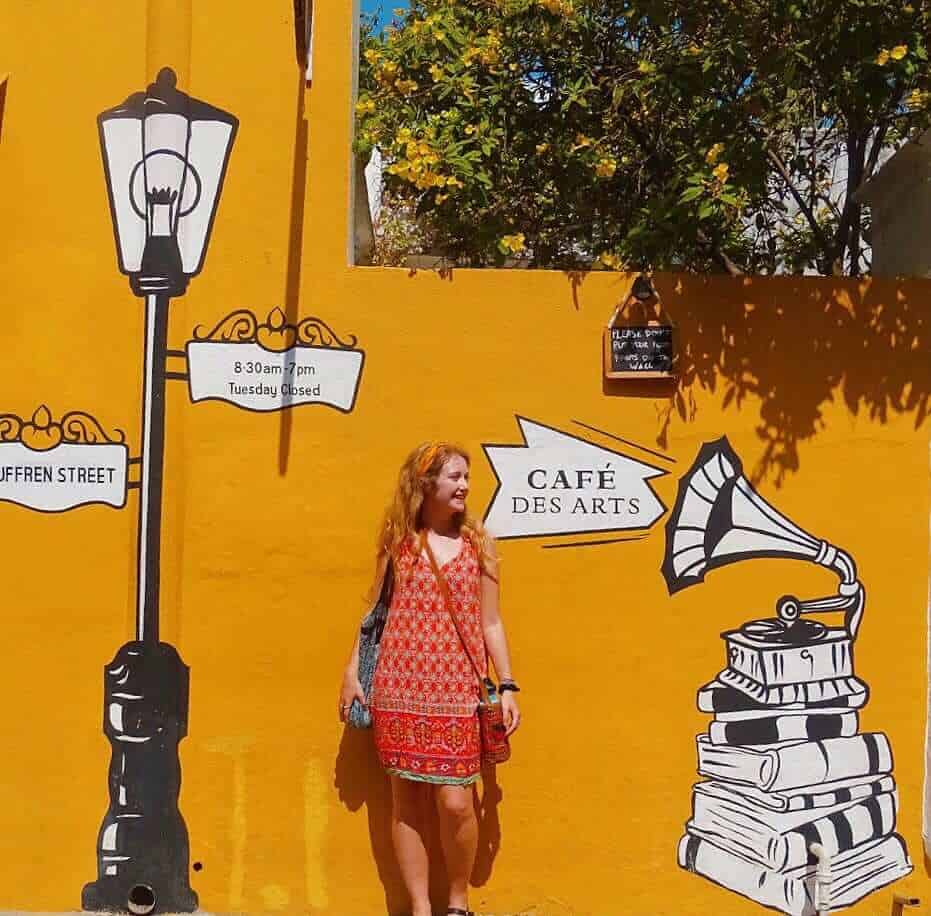 I'll start with the most famous cafe in Pondicherry, one that comes up in every travel guide as well as Pondicherry's location tag on Instagram.

The colourful yellow exterior of Cafe des Artes attracts photographers and selfie-lovers who snap photos with the retro murals. I don't think half the people head inside but at least they're doing the cafe's marketing for them!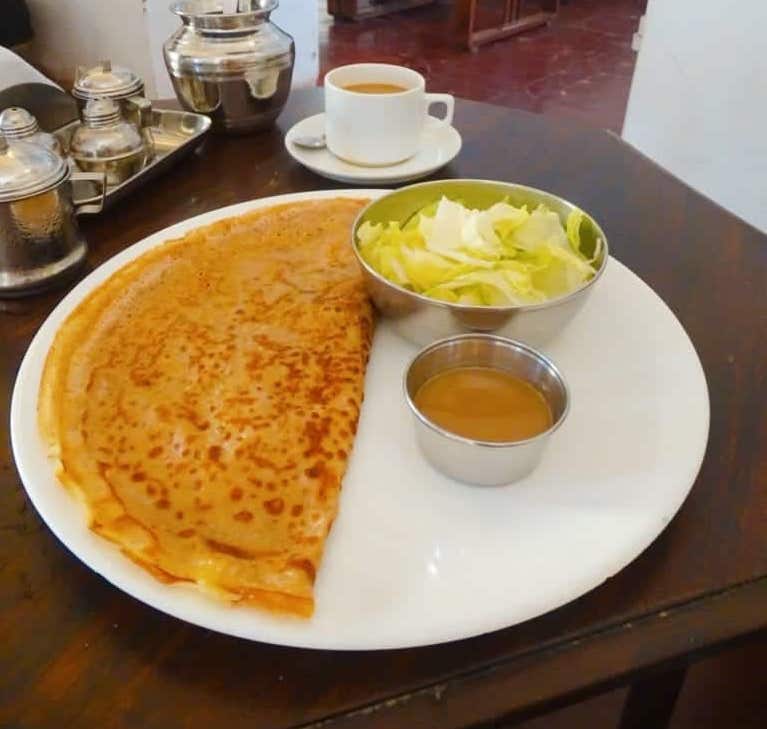 The food and stylish interior of Cafes des Artes is worth a visit once you've taken your photos outside. The menu is French-themed but not too pretentious or expensive. They serve tasty crepes and baguettes with ingredients like ricotta, tomato and basil.

After so many Indian street food meals, I was enjoying the luxury of these ingredients. I had a tasty cheese and ham crepe with salad and a coffee for 400 rupees, more than I'd usually pay for a meal in India but standard for cafes in Pondicherry White Town.

Cafes des Artes has a shabby-chic feel with vintage decorations like old sewing machines, wooden furniture and colourful cushions. There's also a vintage shop should you wish to browse clothes and homeware.
PY Cafe & Restaurant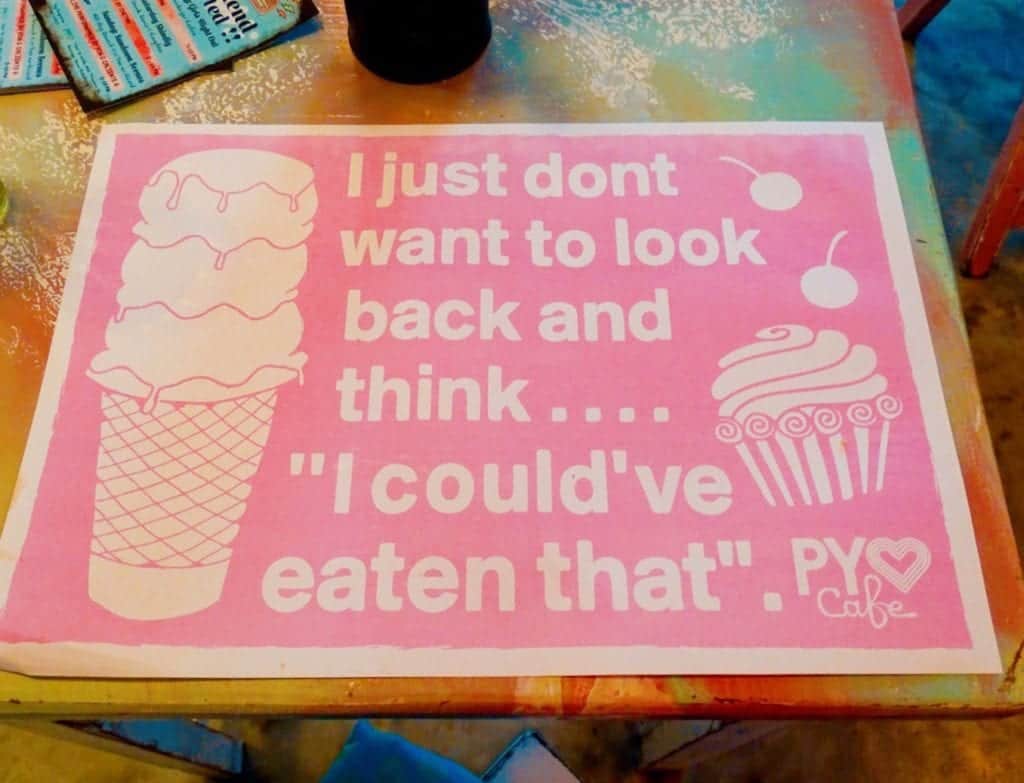 This cute Pondi cafe on Mission Street in the heart of the Heritage Town is a good place to escape the heat. The aircon worked really well unlike other places like Cafe des Artes.

PY Cafe & Restaurant serve all-day breakfast, sandwiches, burgers and Italian food. Honestly, the food wasn't especially memorable but it fills a gap if you're craving something Western.

I loved the cute details at this Pondicherry cafe. This placemat reading 'I just don't want to look back and think… I could have eaten that!' made me feel seen.

They also have a pink love letter postbox and promise to distribute your cards and notes around the world.
Kasha Ki Aasha
2021 note – Google Maps says this cafe has closed. I'll update this blog if this changes.

Despite not being the best known Pondicherry cafe, I'd highly recommend a trip to Kasha Ki Aasha. This cafe doubles up as an arts and crafts shop that supports female artisans. You can browse gorgeous clothes and handmade souvenirs before heading upstairs to the garden cafe on the top floor.

There's no aircon since it's outdoors but it's nicely shaded and didn't feel too hot, even in April.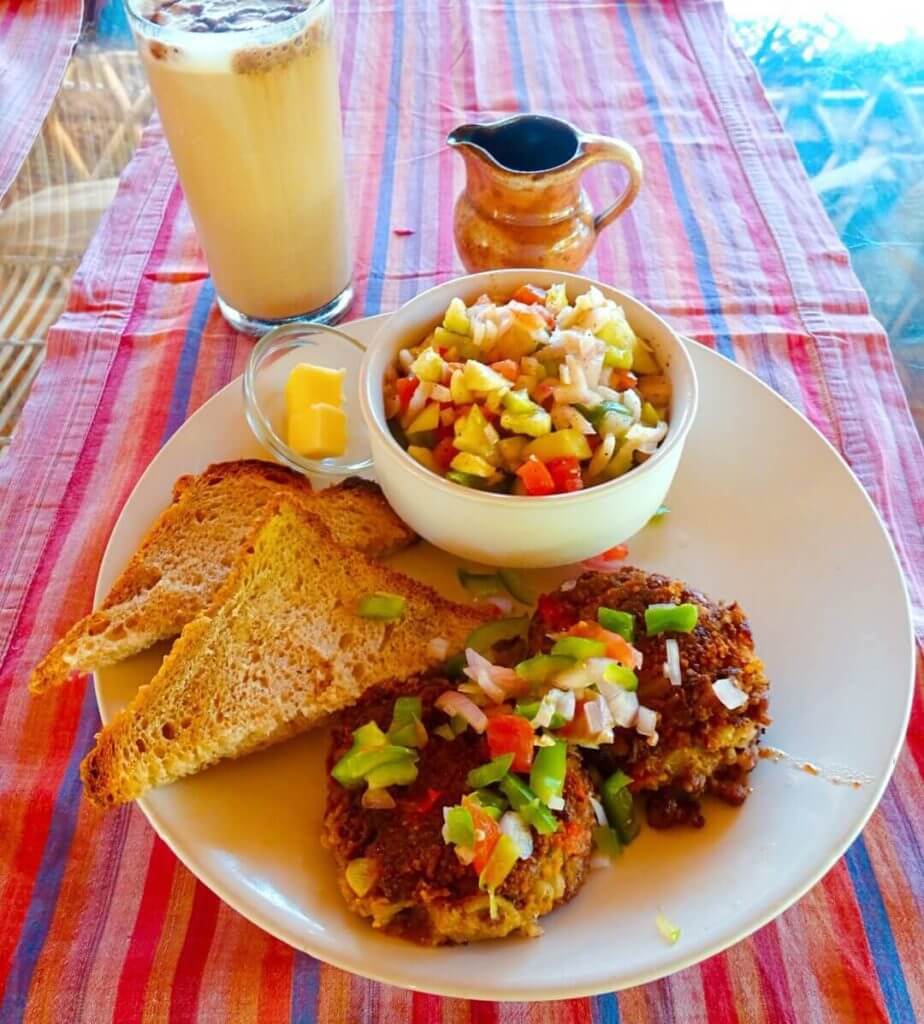 After ordering a veggie burger, I was surprised when it arrived as patties with a side of toast and separate salad. But it was actually very tasty and only set me back 250 rupees.

The iced chai latte was particularly good, too. This is one of the best Pondicherry cafes based on ethics, ambiance and food & drink.
Eat My Cake!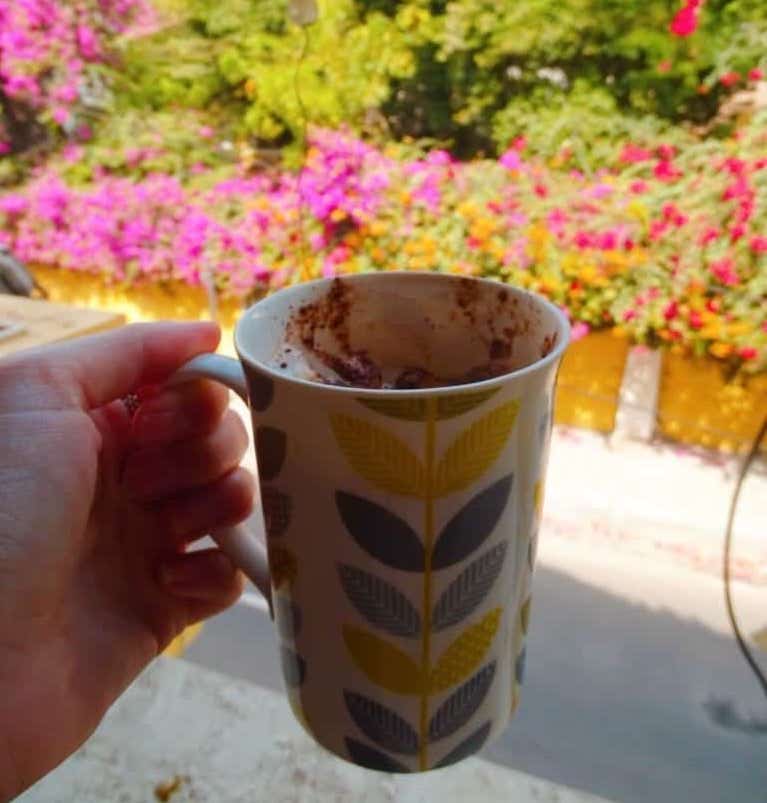 Saving one of the best Pondi cafes for (almost) last, enter Eat My Cake!. This social enterprise employs women who have escaped domestic violence, equipping them with workplace and English skills.

If you visit just one Pondicherry cafe, I would advise you to put your tourist dollar here to good use here.

The coffee at Eat My Cake! was great and served on the pretty terrace cafe upstairs. I sat at the outwards-facing bar table overlooking the streets of Pondicherry which were in bloom in April. Pondicherry isn't the busiest Indian city but it can still feel hectic. This is most definitely a peaceful spot to escape to!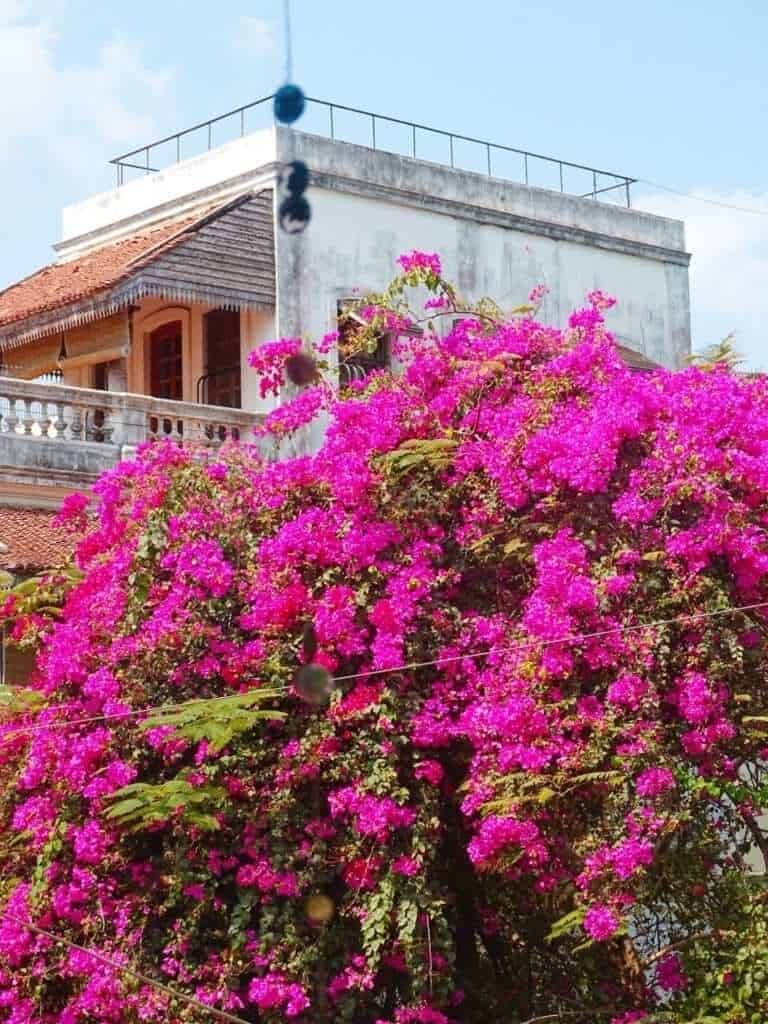 Bread & Chocolate (Auroville)
This technically isn't a Pondicherry cafe since it's down the road in Auroville. However, I'd recommend making this detour, firstly to visit Auroville as a day trip and secondly, to eat this delectable brunch.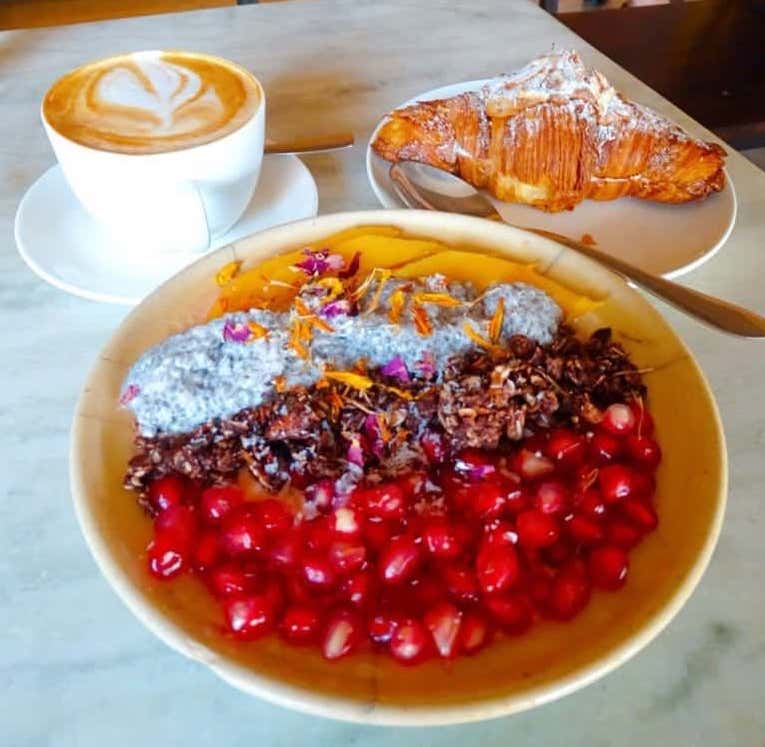 Of all the Western meals I ate in India, this was arguably the best. My smoothie bowl with pomegranate seeds, chia jelly and mango was as good as any I ate in Bali, and the crisp, gooey almond croissant would have been at home in Europe.

I also drank the best coffee in Pondicherry (to my knowledge anyway), a flat white complete with drizzled pattern.

The entire meal cost 400 rupees meaning it wasn't more expensive than any other cafe in Pondicherry. If you're craving a decent brunch, you should head here in a heartbeat.

Veggies will be pleased to know this cafe is entirely vegetarian. Meat-eaters like myself probably won't even notice (I didn't until writing this blog).
If possible, bag a seat inside Bread & Chocolate. The icy aircon is appealing on a hot day, especially since the ground floor cafe on a dusty road doesn't have any views to speak of. I bagged an inside table and watched new customers grumbling about having to sit outside in the heat.
Other Pondicherry cafes
There are a few other Pondicherry cafes that I either didn't get around to visiting or only heard about afterwards. I'll share these with you in case you make it through the list above and want more.

Le Café: The real appeal of this cafe is its location beside the sea. The cafes in Pondicherry Heritage Town are more about the interiors than the views, so head here for a change of scene. I hear it gets busy with holidaymakers in peak season so you might want to arrive before you're starving in case there's a wait. The menu has all the Pondi favourites like croissants and baguettes, plus hot and iced coffee.

Coromandel: This is more of a restaurant than a cafe but I'll give it a quick mention. There's a pretty garden where you can relax while drinking coffee, as well as a vintage shop onsite. They serve creative breakfasts like hot pink eggs benedict coloured with beetroot, plus decadent banana bread French toast. Coromandel also have a huge selection of coffees and cakes available at the bakery counter. Prices are high at 350 rupees for mains but everything looks worth it.

Baker Street: I actually popped into Baker Street for a quick coffee and to use the Wi-Fi but the staff were very frosty about letting me do so. While I can't personally vouch for it as a cosy or friendly cafe, I can't deny the huge selection of baked goods. From quiches to cakes, croissants, eclairs and even strawberries dipped in chocolate, you could seriously indulge during a visit here!
Thanks for reading!
Check out my other India blogs:
See you next time,
Rose