This post may contain affiliate links to things like tours, hotels, Amazon associates and products. These help me earn a small commission at no additional charge to you.
If Jaipur is the Pink City and Jodphur is the Blue City, then Pondicherry is certainly the Yellow City. In this Pondicherry travel guide, I'm going to share my experiences and help you have the best possible visit!

Known by the locals as Pondy, this charming city in Tamil Nadu is yet more proof of India's diversity.

My first two months in India had already included snowy mountains, desert, busy cities, tranquil nature, Hindu temples and Sikh pilgrimage sites, so why not throw a tropical Catholic town into the mix?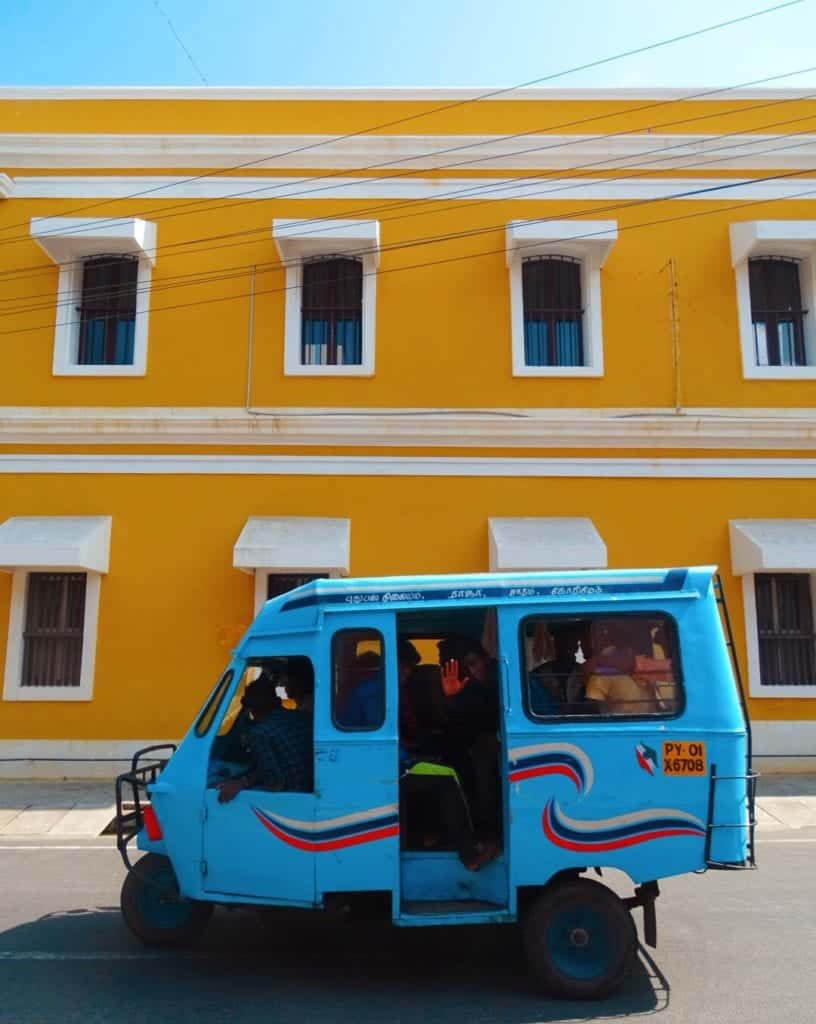 PONDI ESSENTIALS

India Lonely Planet

Accommodation: Booking.com / Hostelworld

Getting there: flight (Skyscanner) / bus / train (12Go)

Travel insurance: True Traveller (European travellers) / Hey Mundo (other nationalities) / Safety Wing (digital nomads)
Like many other Asian settlements – Hoi An in Vietnam for example – the French are responsible for the look of Pondicherry.

While I did really enjoy my time in Pondy, the colonialist influence made me feel uncomfortable. Probably because I've learnt so much about the British involvement in India and the atrocities that came with it.

That's not the most upbeat way to start this Pondicherry tourist guide but I had to get it out of the way!

Pondicherry is a perfect destination for solo female travel in India. If the fast pace of life has got on top of you while in India, Pondy is the perfect place to unwind. You can relax in cute cafes, drink good coffee and simply relax a little.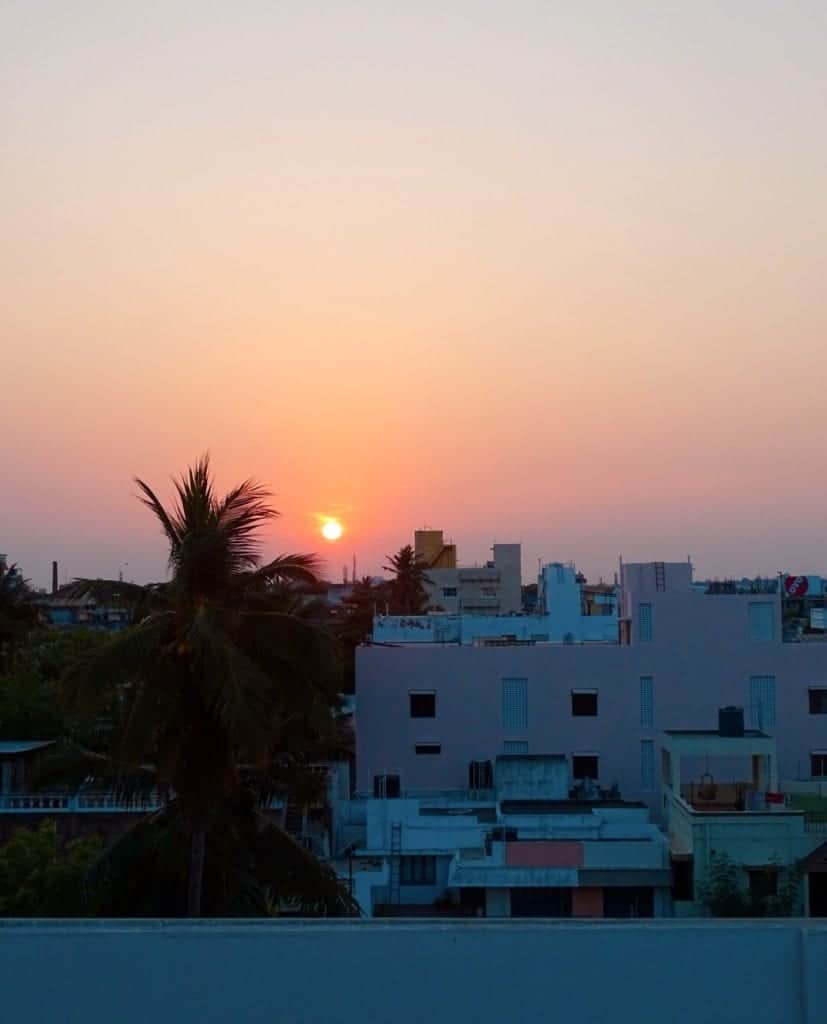 In this Pondicherry travel guide, I'll cover some of the things to do in Pondicherry and share the cutest cafes, something I'm always sniffing out.

Pondicherry wasn't the best budget destination in India because there weren't many hostels and I got sucked into the fancy brunch scene!

Still, you can see the whole town on foot and eat street food when you want to save money.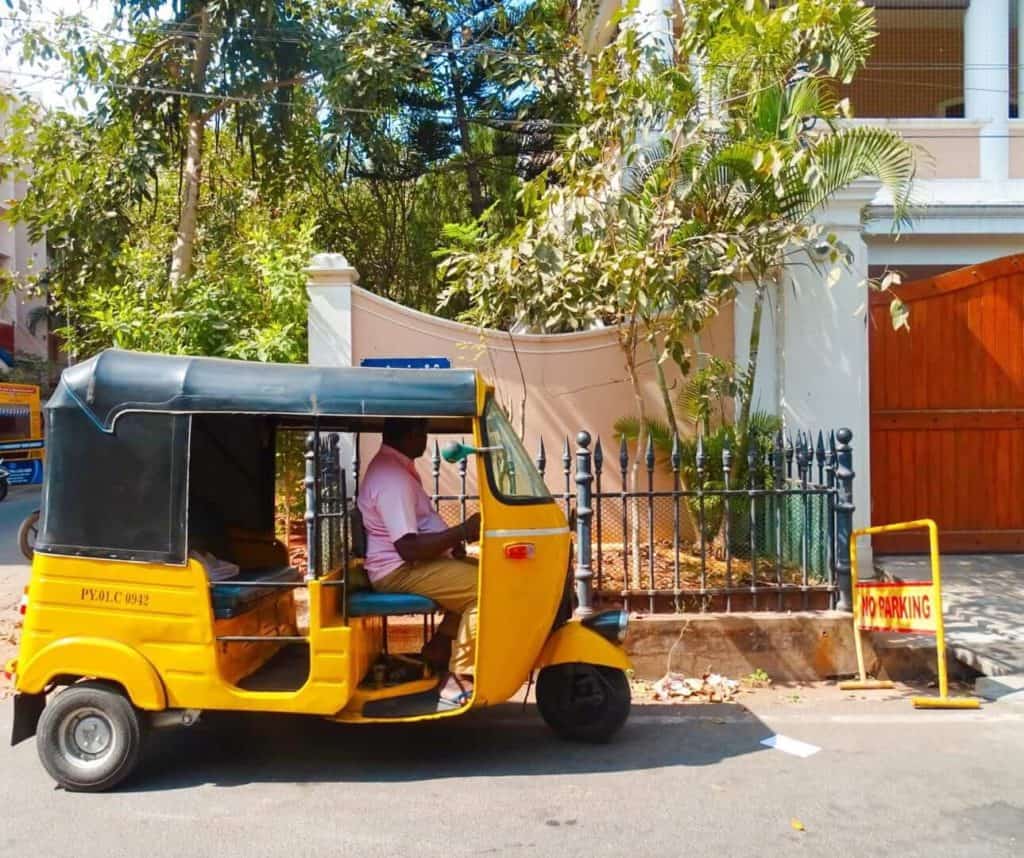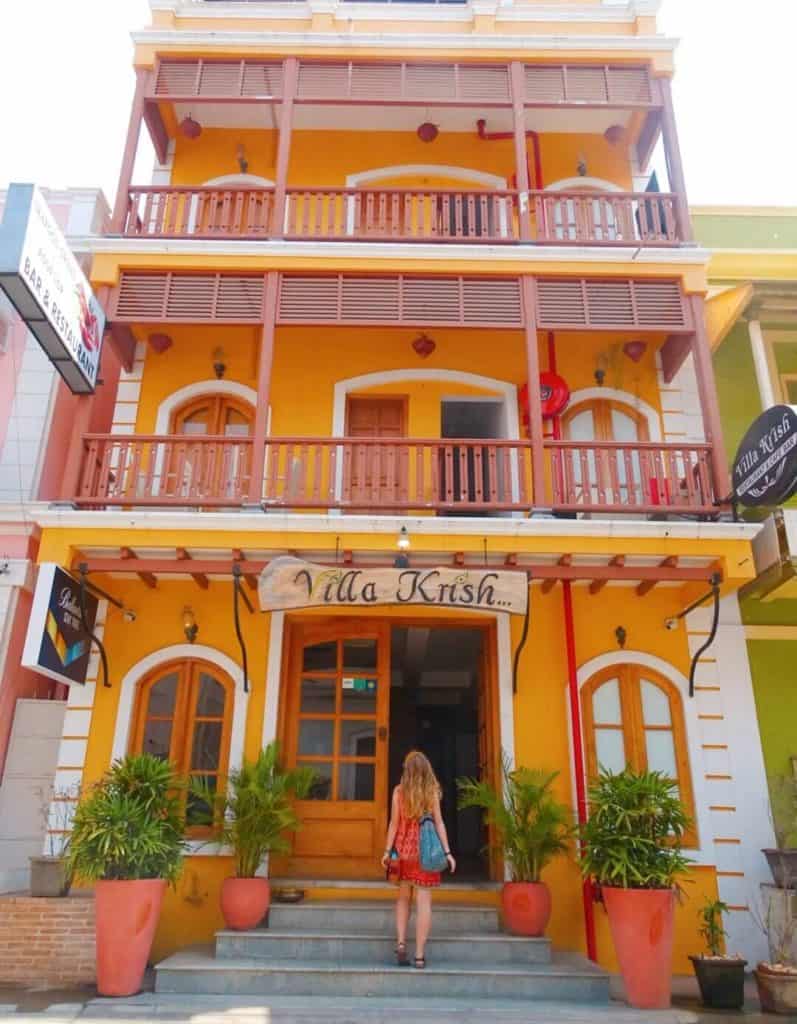 Pondicherry travel guide
Let's start with a quick history.

There aren't any records of Pondicherry before the colonial era so it's only been known as a European settlement.

While it was originally French in the 16th century, Britain and France repeatedly fought over it during the Anglo-French wars. They each both took control three times.

During the lengthy British rule before Indian independence, France was allowed to maintain Pondicherry.

It's crazy to think that this town has only been independent for 70 years in the last 350. Understandably, the effects have lasted. Today, Pondicherry looks French rather than Indian and many locals speak French as well as Tamil.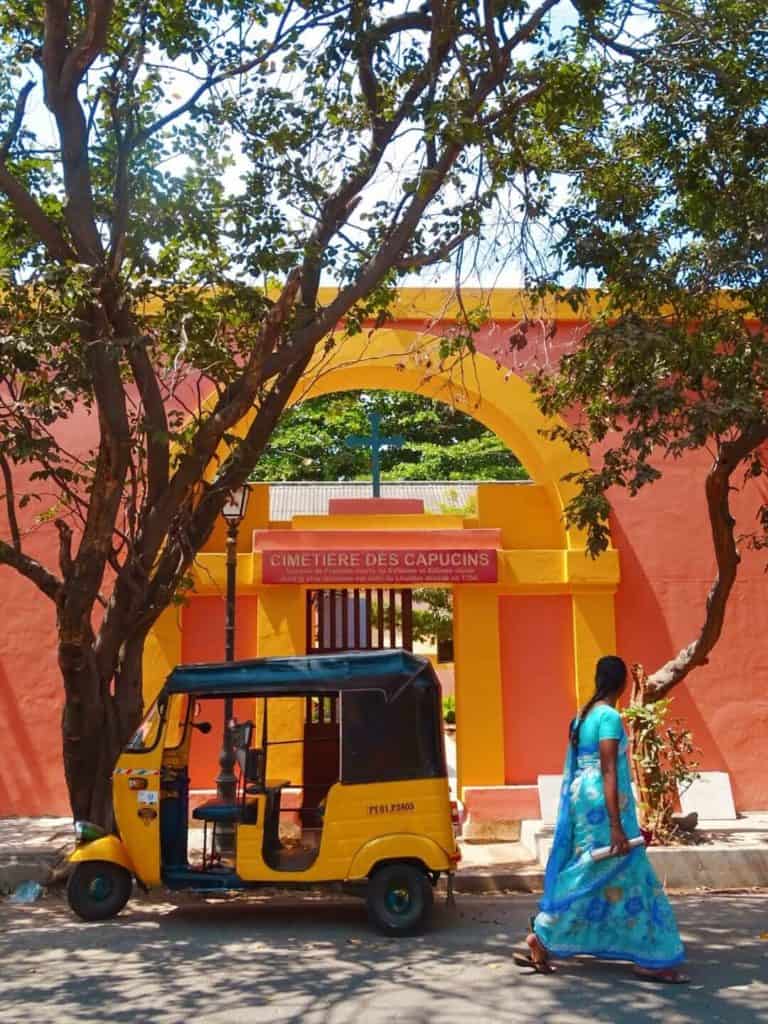 When to visit Pondicherry
If you don't want to die of heat exposure, consider timing your trip between October and March.

I visited in early April and genuinely have never been so hot in my life. I wasn't expecting it because my research had told me that temperatures were only in the mid-30s.

What I hadn't gaged from Google weather was the humidity. The south of India has a humid rather than dry climate which makes everything feel so much hotter. While the temperatures were in the low 40s in Rajasthan, it felt so much worse in Pondy.

For more about visiting India during all seasons of this year, research the best time to visit India here.
Getting to Pondicherry:
I flew into Chennai and caught a bus to Pondicherry which is the most common way to arrive. Check buses on 12Go Asia.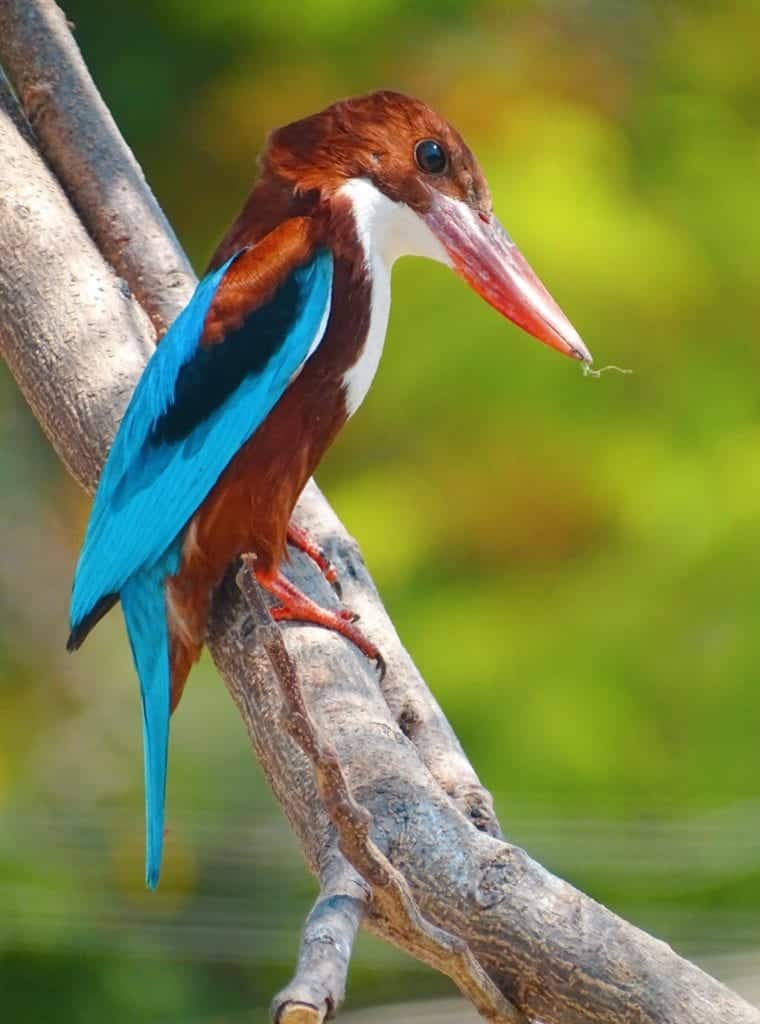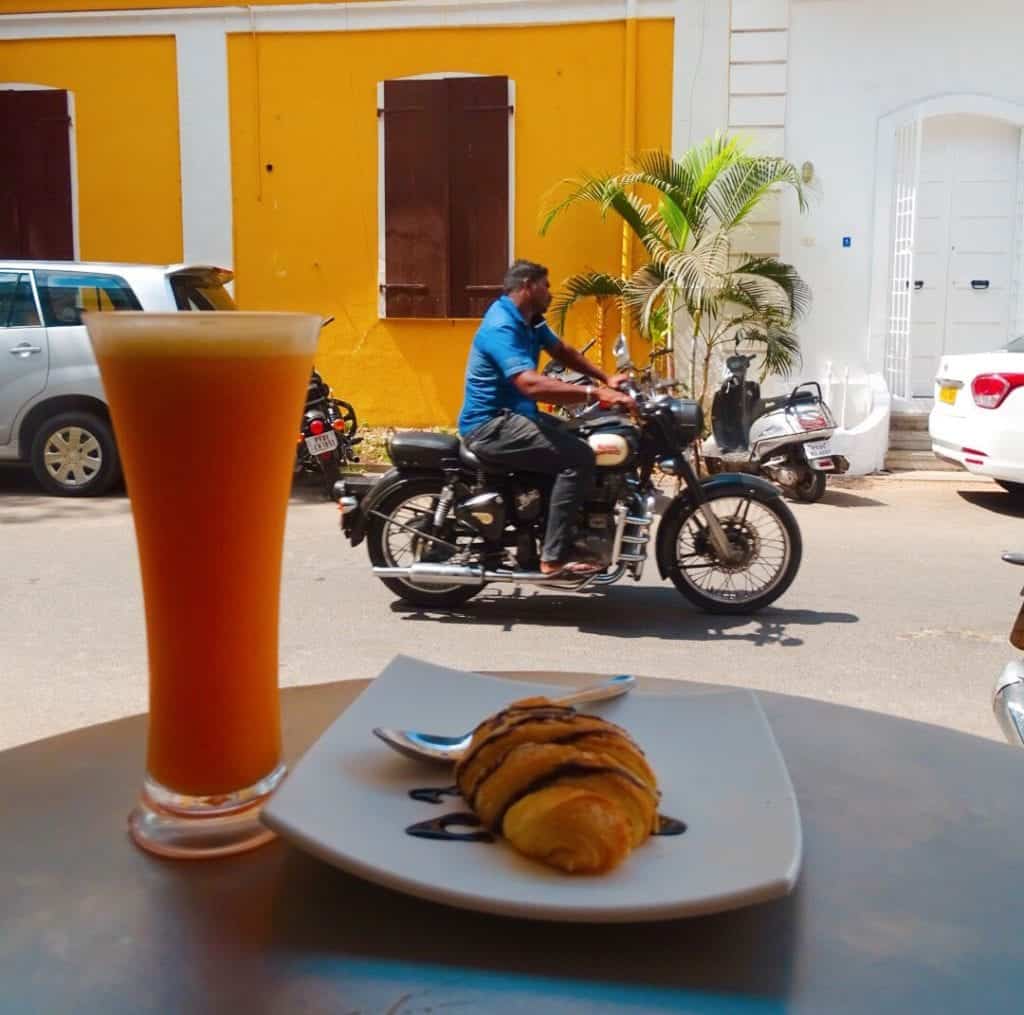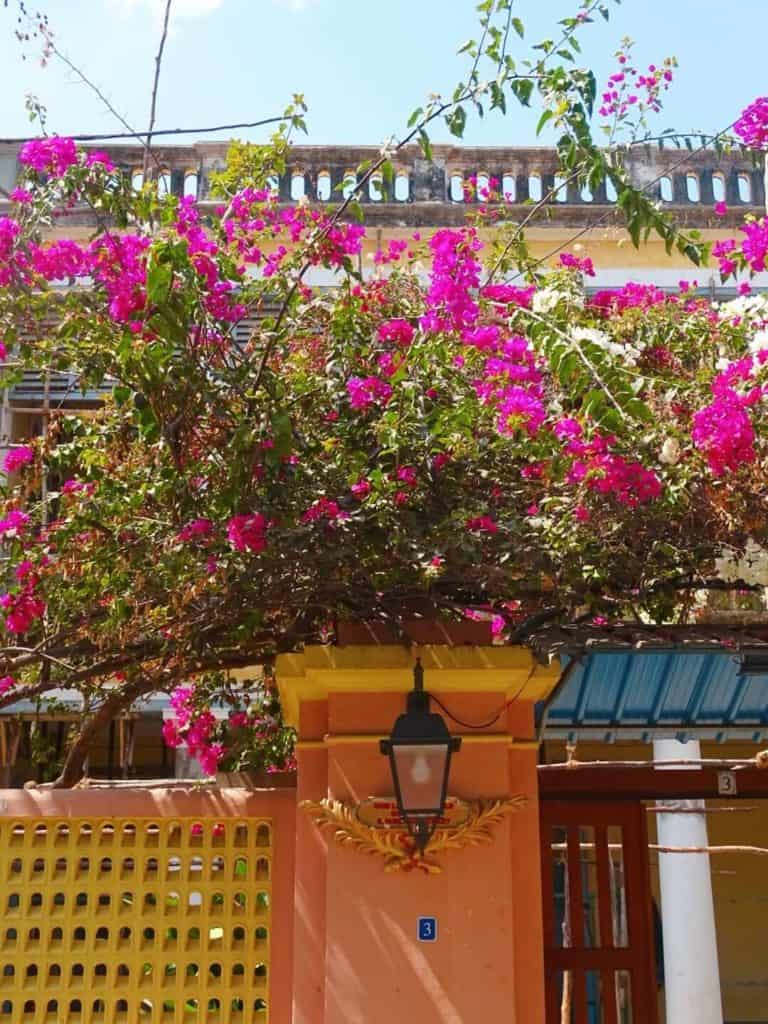 Things to do in Pondicherry
Aside from just chilling out and seeing a different side to India, get stuck into these things to do in Pondicherry…
Visit Cafe des Arts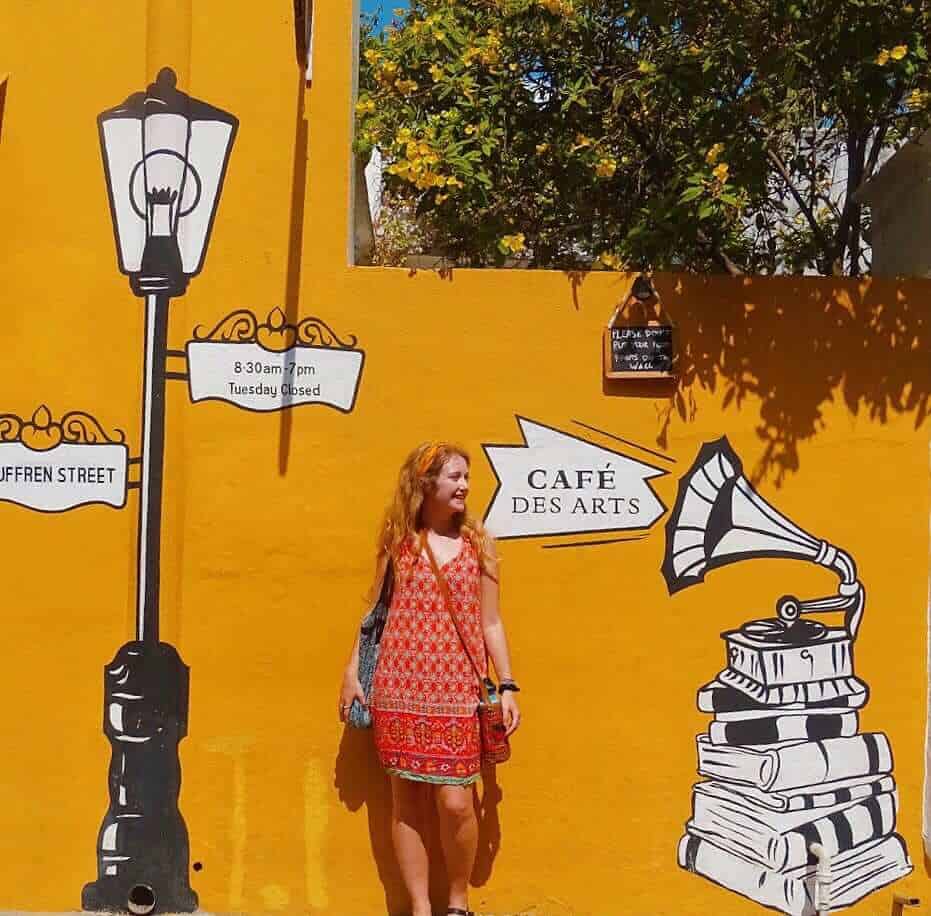 More than just a cafe, this sunny yellow building takes up the whole corner of Surcouf Street and Suffren Street. It's usually packed with weekend guests snapping photos for social media.

It's a cute place for lunch and brunch, as well as one of the most iconic sights of pretty Pondi.
Read next: the best cafes in Pondicherry
Sri Aurobindo Ashram
Over 90 years old, this ashram is named after a well-known Indian philosopher and yogi, Sri Aurobindo.

If you don't know already, an ashram is a spiritual house for Hindus. Often they offer accommodation, meals and yoga classes, but this one is just for day visits.

Today, around 2,000 locals use Sri Aurobindo Ashram to pray and meditate. Visiting is one of the most popular things to do in Pondicherry. It's free and, although I wasn't allowed to take photos inside, I can promise it's very pretty and peaceful.

Take 30 minutes to relax and let all that fast-paced travel stress go.
Wander White Town (especially Rue Surcuof)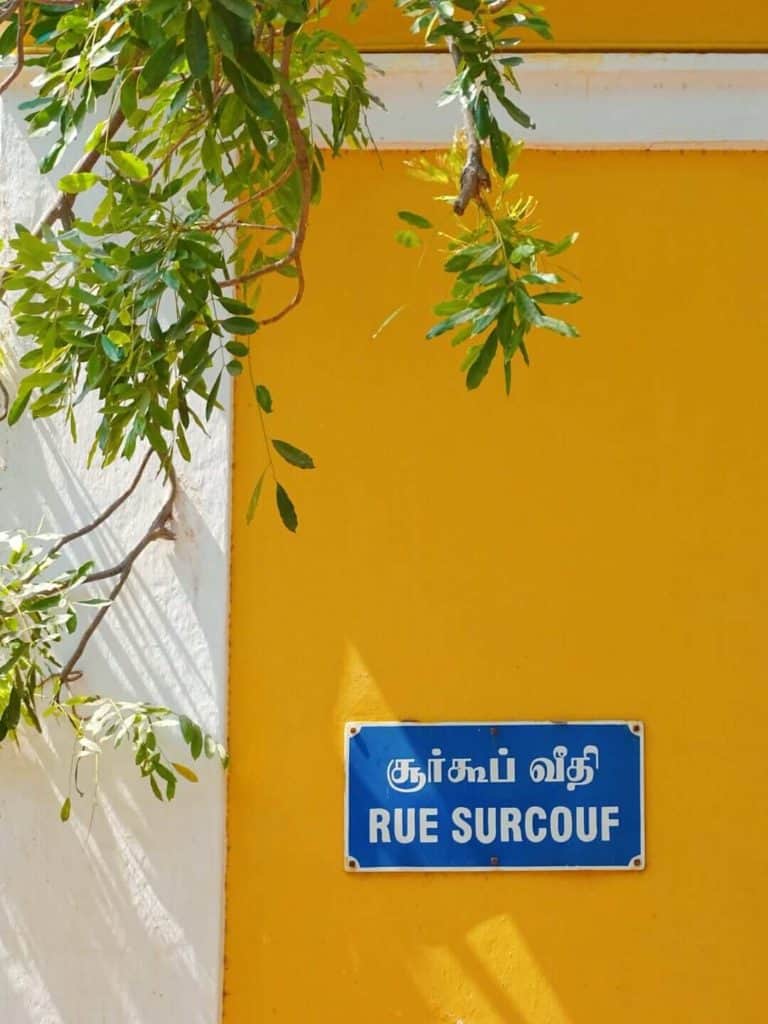 White Town is the area close to the sea, once known as the French Quarter. This is the area that French colonialists would have lived and socialised. While they're no more, the area has remained as charming as I imagine it once was.

Cobbled streets, sunny yellow buildings and old-fashioned lampposts give it a very European feel, while charming cafes and restaurants serve a mix of South Indian and French-influenced food. For this alone, I'm going to say Pondicherry is one of a kind!
Sample local food & chai
I don't want to paint Pondicherry as a totally idyllic French village because, while there's a lot of that, it's definitely still India – in the best way!

After a few days of feeling like I was back in Europe, I was seeking out chai stands and more affordable local food as much as possible.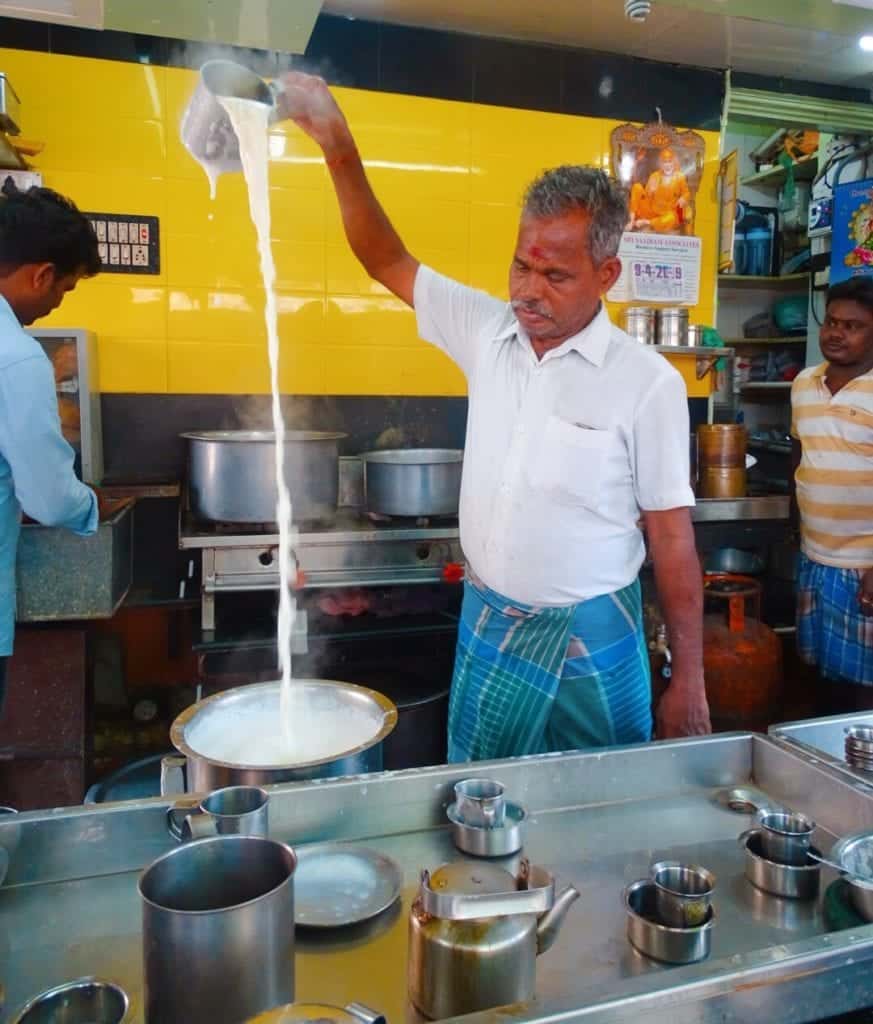 Since no Pondicherry tourist guide would be complete without food and drink, I'd recommend you prop yourself at a chai stall and watch the local vendors 'pull' the tea.

They're incredibly skilled at what they do, pouring hot tea from great heights in the process of frothing the milk.

The guy I watched was so charming. He was obviously proud of his work and, seeing my camera, encouraged me to take as many photos as possible, all while acting nonchalant like he had no idea. When another customer leaned across me, he was agitated, telling him to stop blocking my view.

I had to smile!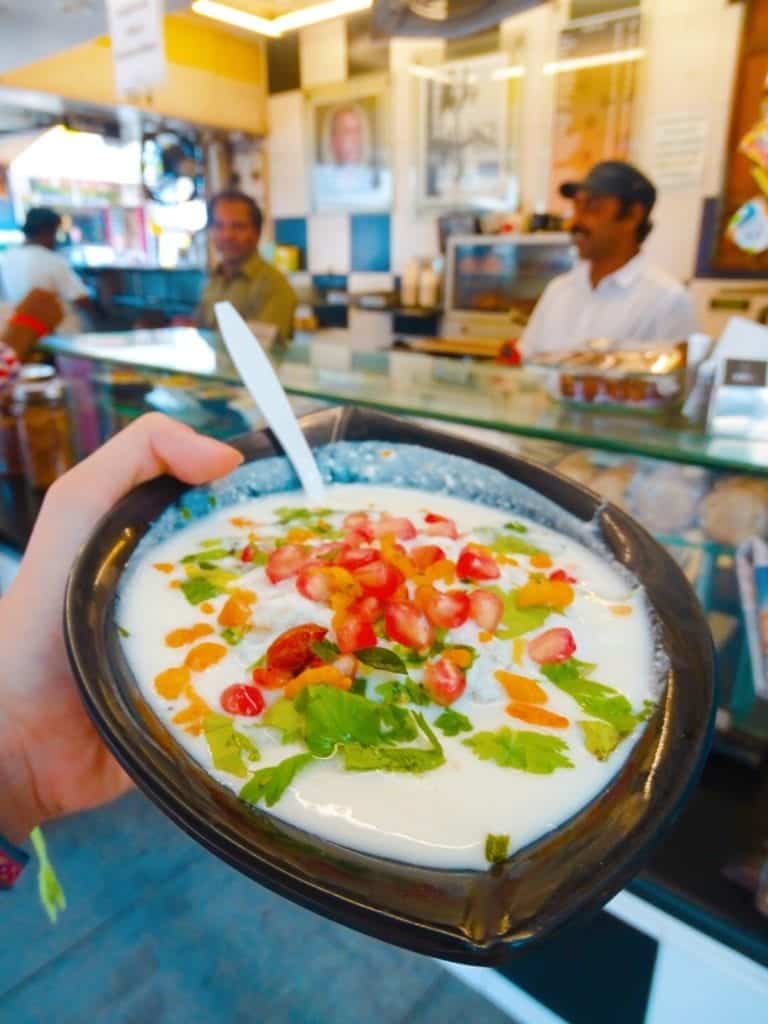 Chai will set you back about 10 rupees, and the street food won't cost much more.

This yoghurt dish from KBS Coffee scattered with pomegranate and mint was so refreshing in the heat. This hawker stand has lots of traditional South Indian dishes to try for pennies. You can take away or perch at a makeshift table.

Read about where to eat and drink in Pondicherry here.
Browse the Sunday Market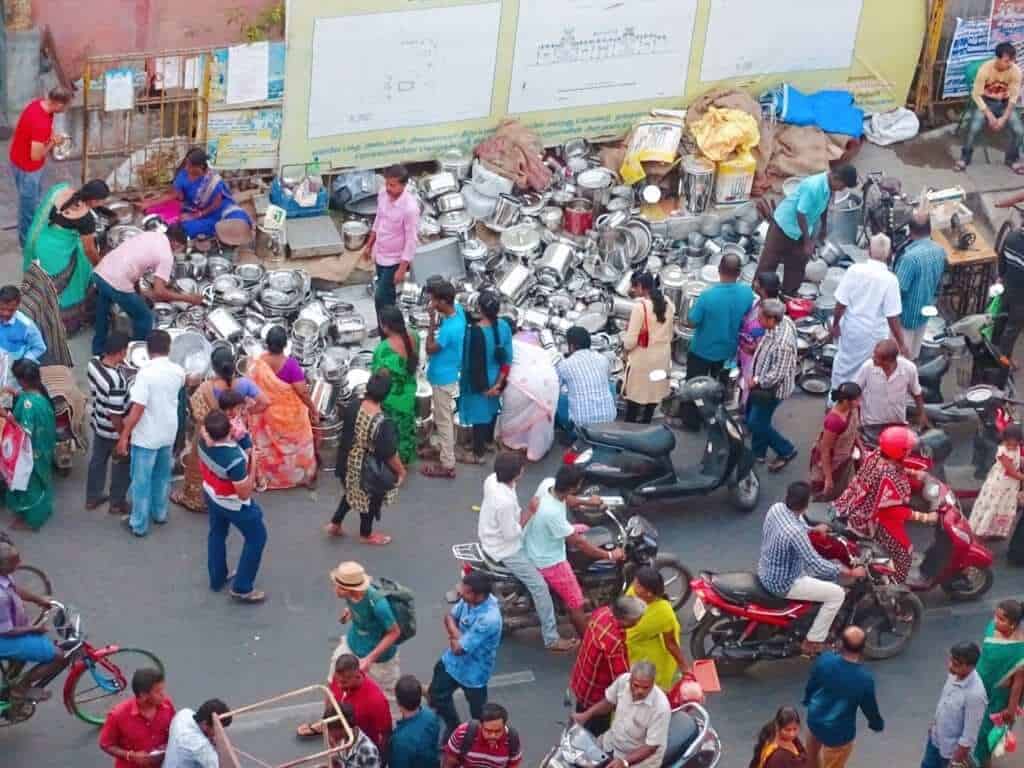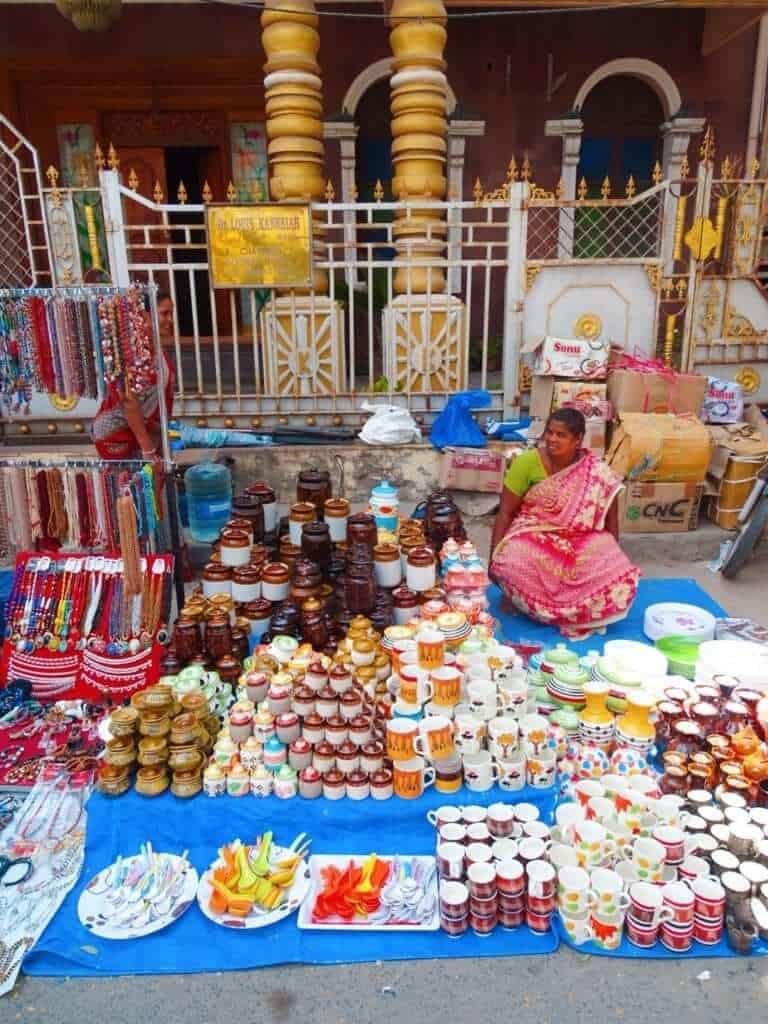 If you're keen to see the real India, rather than just pretty White Town, the Sunday Market is a great place to start.

This runs all along Mahatma Gandhi Rd which was conveniently right in front of my hostel.

The Sunday Market sells everything from silverware to gadgets, books, home items, toys and anything else you can think of. It's very local so you might not buy anything, but it's worth the wander. It runs from morning to night.
Check out the beach
I'll give the beach a quick mention but it's not the greatest thing to do in Pondicherry. The strip of sand is used by locals for paddling but the strong currents prevent anyone from swimming.

I had a little wander along the sand and took a few (uninspiring) photos of the pier. It was nice to see the sea after 2 months in landlocked cities.

While Pondy is less conservative than North India and you don't need to worry so much about covering up, it would definitely be inappropriate to strip into your swimwear.
Related read: what to pack for a trip to India (female)
Take a trip to Auroville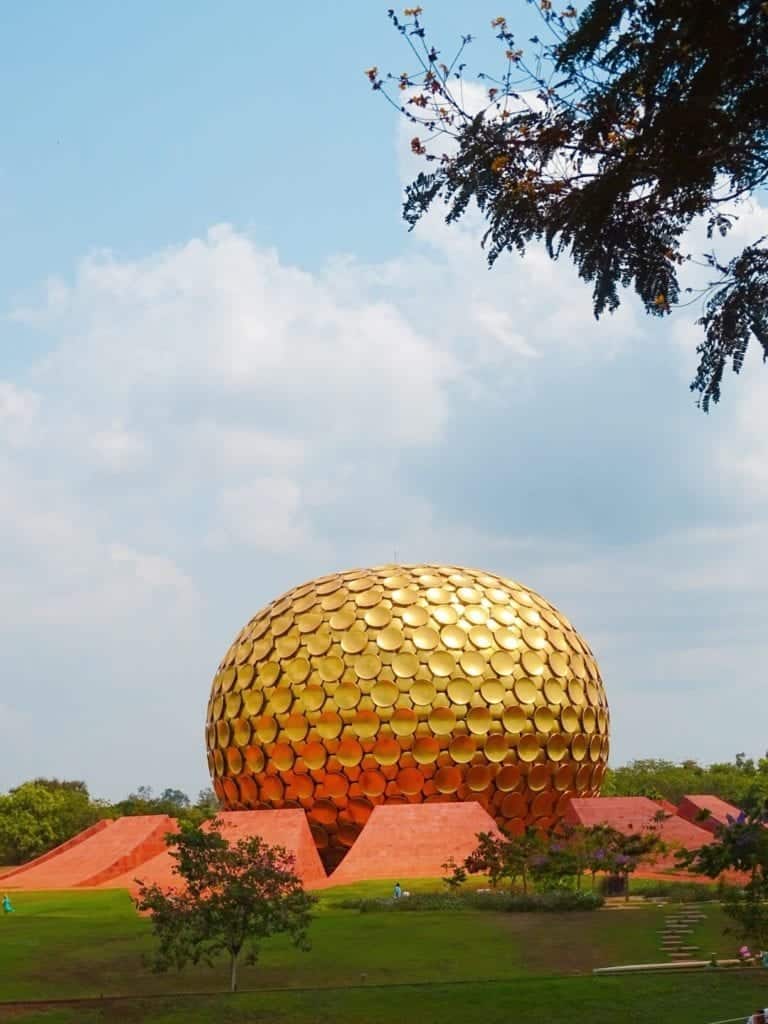 One of the best things to do in Pondicherry is take a day trip to Auroville. In fact, this spiritual settlement is the reason some people visit Pondicherry in the first place.

This alternative community is based around the Matrimandir, a giant gold dome in the countryside, set up by an Indian woman named The Mother.

During the Cold War, there was a call for a new society, a place away from politics where people could be accepted regardless of race, religion and gender. This was the result!

Auroville is a 20-minute drive from Pondicherry. You can take a tuk-tuk for 400 rupees each way or do what I did, catch the local bus (see details in this blog post below).
If you turn up for a day visit, you have to register at the visitor's office before walking over to view the Matrimandir. There's also a museum where you can learn more about it.

While there, I also registered for a meditation session inside, something that you have to do in person a day in advance. It's a bit of a faff as the registration office is only open during certain hours (and closed on Tuesdays) but again, all the details are in my blog post.

Overall, I found this hippie community quite strange. It was certainly interesting, and the inside of the Matrimandir is like something from a sci-fi movie, but I wonder how it operates day-to-day.

It was hard to gather during a quick visit and it seems like you have to be quite wealthy to join. Whatever your view, it's a thing to do in Pondicherry.
Related activity: Auroville walking tour with a local guide ($10)
Our Lady of Angels Church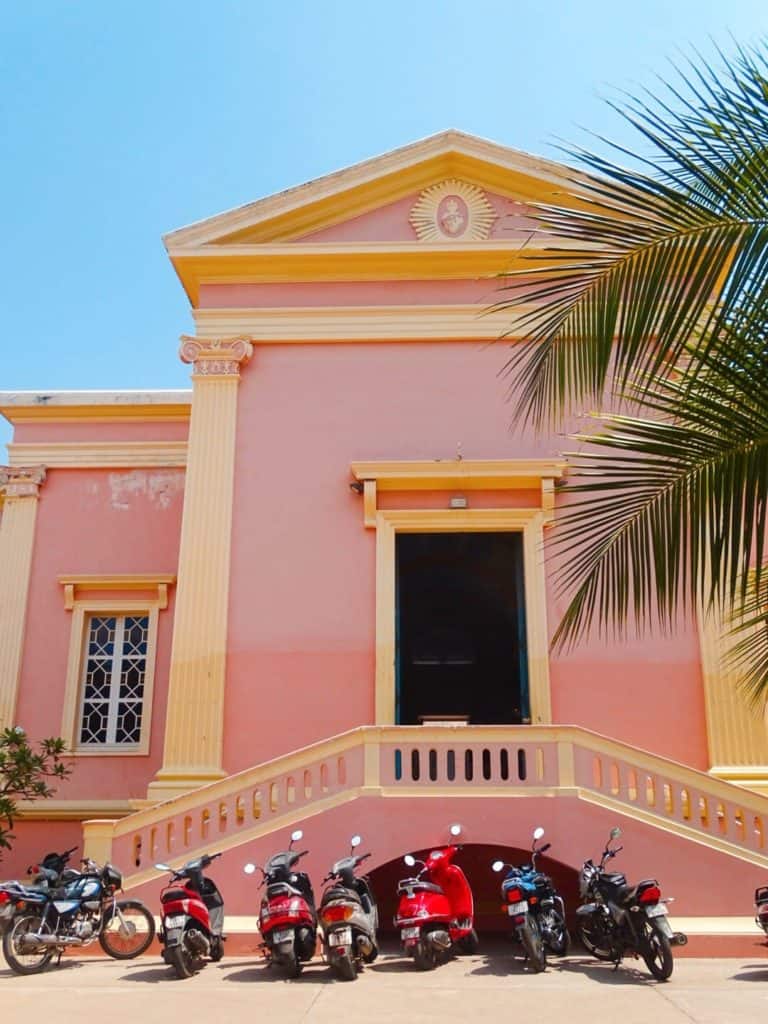 The churches in Pondicherry are charming. I don't really like seeing colonial landmarks in countries that suffered at their hands but it's definitely a popular thing to do in Pondicherry.

I find it so interesting that the locals still use them today – there's a big Catholic population among the Tamil-speaking Indians in this area.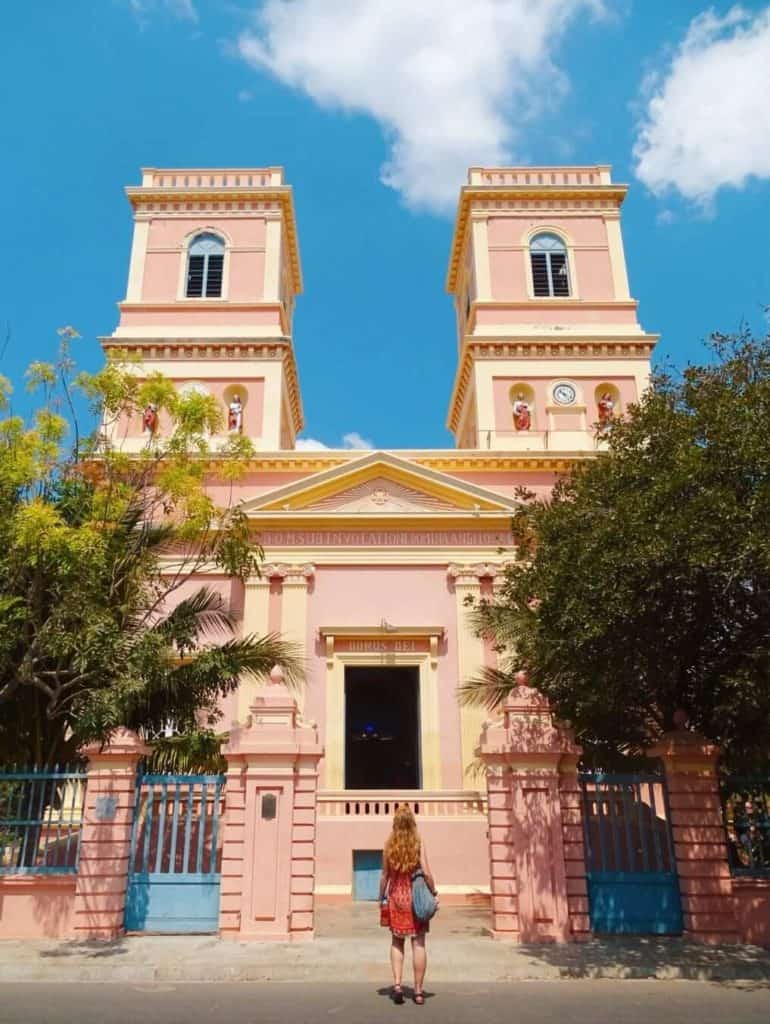 Our Lady of Angels is a pink-washed church in White Town built in 1855, offering services in French, English and Tamil. It's gorgeous both outside and inside with its pale pink and blue-domed ceiling.
Immaculate Conception Cathedral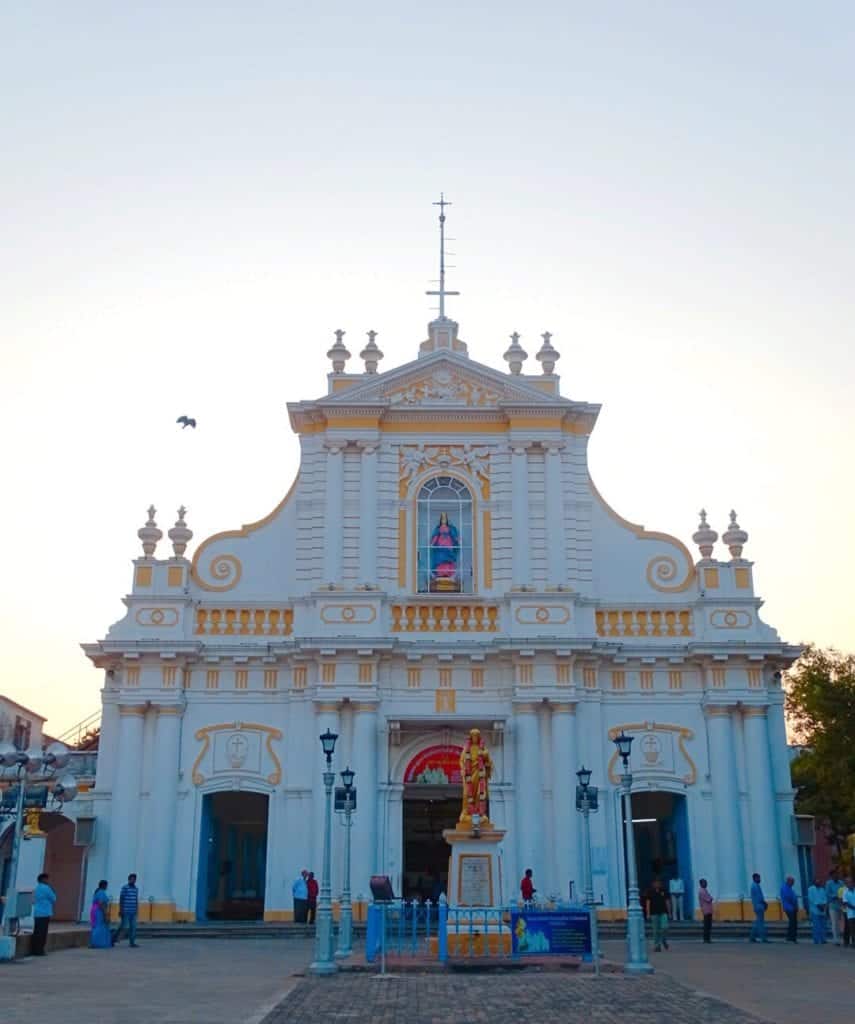 If you have time or find yourself passing by, the Immaculate Conception Cathedral is another photo-worthy spot in Pondicherry.

I didn't go inside but I took some snaps of the white and yellow church at sunset with birds flitting around the spires. Very pretty and peaceful!
Where to stay in Pondicherry
There's only one hostel that I know of in Pondicherry, Nomad House. I forgot to take photos but it was lovely: the beds were comfy and the aircon was icy. There's a rooftop area where you can bond with fellow travellers.

They don't run any hostel activities like the ones up north but it was still a good place to meet people. Check availability from 600 rupees a night.
Thanks for reading my Pondicherry travel guide
I hope you're excited to visit and ready to indulge at all the best cafes in Pondicherry. Bon appetit!
Check out my other India posts:
See you next time for more adventures,
Rose
For more travel content, follow me on Instagram, Facebook, Twitter and YouTube.
Ps. Liked my Pondicherry tourist guide? Pin it for later!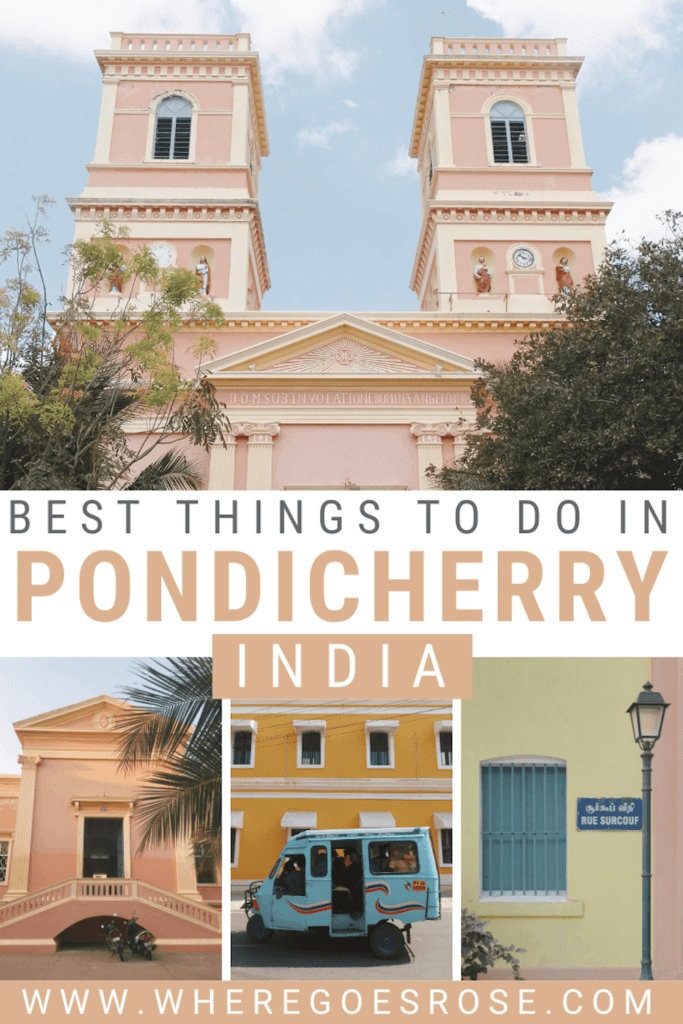 VISITING INDIA?

These are my trusted resources:

Getting around by air – it's easy to get between cities by flight. I use Skyscanner and search by whole month to find the best value dates.

Buses – buses are comfy and efficient. Use 12Go to book.

Trains – these are a good option for long journeys because you have a bed rather than a seat. Use 12Go to book.

For hotels, I use Booking.com – they also have self-catering apartments. You can filter by review score and price to find the best-rated budget places. For hostels, I use Hostelworld.

Browse tours and activities on GetYourGuide. I also check Viator and Klook in case they have a better price.

For food tours with passionate local chefs and foodies, check out EatWith.

Pack the latest copy of India Lonely Planet.

Need travel insurance? I use True Traveller (for UK & Europe residents) since it's affordable but covers everything you'd need including various activities, valuables and pre-existing conditions. Unlike some companies, they insure you if you're already travelling / don't yet have your flight home booked. Get a quote.

For travel insurance for other nationalities, I recommend Hey Mundo and for long-term digital nomad travellers, I suggest Safety Wing.

Check out my resources page for more travel discounts and tips!