This post may contain affiliate links to things like tours, hotels, Amazon associates and products. These help me earn a small commission at no additional charge to you.
One of my favourite things about England is the pub scene. What better way to spend a summer's day than in an Oxford pub garden nursing a beer, cider or refreshing glass of wine?

If a cosy pub meal beside the fire is more your cup of tea, there's plenty of choice. With several famous, historic pubs in Oxford, you can explore centuries of history (including locations to excite literary lovers) via the pub scene.
Since there are plenty of pubs gardens in Oxford, I'll include the best places to drink and dine outdoors. Most places listed in this guide serve English pub grub if you get hungry. Enjoy!
The best pubs in Oxford
Being a historical city with bags of tradition, there are a number of typical British pubs in Oxford. These days you'll also find more modern pubs serving craft beers and international cuisine.

Oxford has a small city centre so you'll find fewer pub gardens and more outdoor courtyards. Head to the outskirts like Cowley or the banks of the Thames for the best and most spacious pubs with gardens in Oxford.

Here are a few of my favourites Oxford drinking holes from historic pubs to open-air gardens…
Head of the River Pub
One of the most famous pubs in Oxford is the Head of the River. It got its name when the Oxford Mail ran a competition and the winner received the apt prize of a bottle of whisky.

The Head of the River pub is located on St Aldates overlooking the River Isis with Christ Church Meadow behind. If you're looking for free things to do in Oxford with an outdoorsy focus, you could walk the Thames Path and finish at the Head of the River for a well-deserved pint and pub lunch.

The Head of the River has indoor seating as well as a large pub garden beside the river. As well as beers and ciders on tap, they serve Pimms, G&Ts, cocktails and wine. Food-wise, there's a mixture of English mains like steaks, and starters including scotch eggs, as well as international dishes including hummus, schnitzel, lasagne and more. Don't miss the Sunday lunches!

Address: Folly Bridge, St Aldates, OX1 4LB.

If you're looking for somewhere to stay overnight in central Oxford, book a room at Head of the River from £150 a night.

Nearby, you can take an outdoor dining boat trip. Check out this afternoon tea aboard a riverboat and this scenic picnic boat cruise with GetYourGuide.
The Perch
This gorgeous 17th-century country inn is located on the banks of the river opposite Port Meadow. It's another Oxford pub garden you can visit before or after a leisurely river walk in Oxford. With 800 years of history, it's been frequented by many famous authors, poets and Inspector Morse!

This spacious pub garden in Oxford has plenty of room between picnic tables and beautiful views to boot. The pub's thatched roof and the willow trees trailing over the garden only add to the ambience. It's a family-friendly and dog-friendly venue.

The food at the Perch is fancy pub grub. Highlights include ale-battered Cornish fish and chips and the famous Perch burger with bacon and triple-cooked chips. There's also a whole vegan menu.

Visit for a Sunday roast with 28-day aged beef, shoulder of lamb, or a lentil and nut roast. As well as wines from around the world, they serve cocktails like Pimms, Aperol Spritz and ginger mojitos.

Address: Binsey Ln, Binsey, OX2 0NG.

Opening times: 12-10pm daily.
Turf Tavern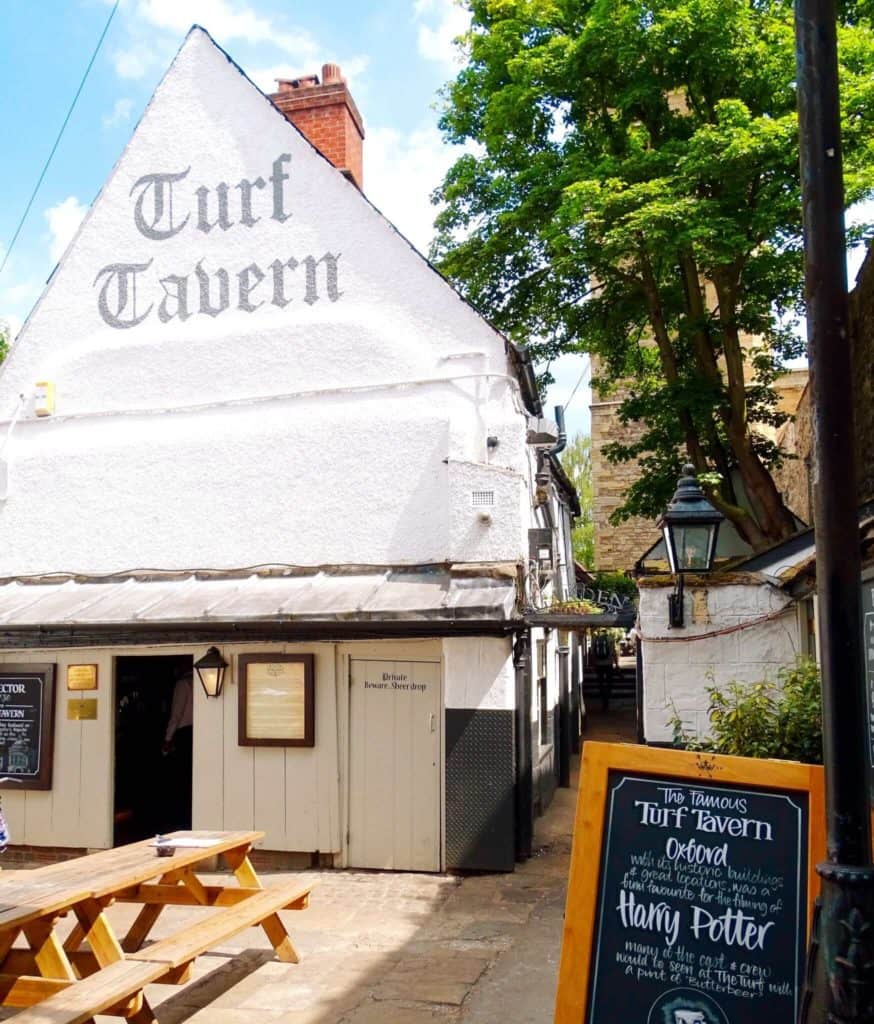 The Turf Tavern is ideal for an outdoor pint in the city centre. It's one of Oxford's best-loved and oldest pubs, visited by Bill Clinton and the Harry Potter cast. If you're interested in Harry & co, check out my guide to the top Harry Potter locations in Oxford.

To find the Turf Tavern, pop down the alleyway at the base of the Bridge of Sighs. There are plenty of outdoor tables, hearty ales, ciders and wines, and a pub menu with British classics like fish and chips and beef burgers.

Address: 4-5 Bath Place, OX1 3SU.

Opening times: 12-10pm Sun-Weds; 12-11pm Thurs-Sat.
The Punter – vegan pub in Oxford
Those looking for vegan food in Oxford will be excited to hear there's a veggie pub in Oxford with local, seasonal food. The Punter is a new Oxford gastropub in Osney Mead beside the Thames. There are outdoor tables where you can enjoy a pint with views of the river.

For starters, try the courgette and halloumi fritters or the veggie scotch egg with pea and wild garlic. The spiced butternut squash burger with shallot bhaji and lime pickle looks phenomenal!

Address: 7 South St, OX2 0BE.

Opening times: Midday 'til 11pm on weekdays; 11.30pm on weekends.
The Gardeners Arms – veggie pub in Oxford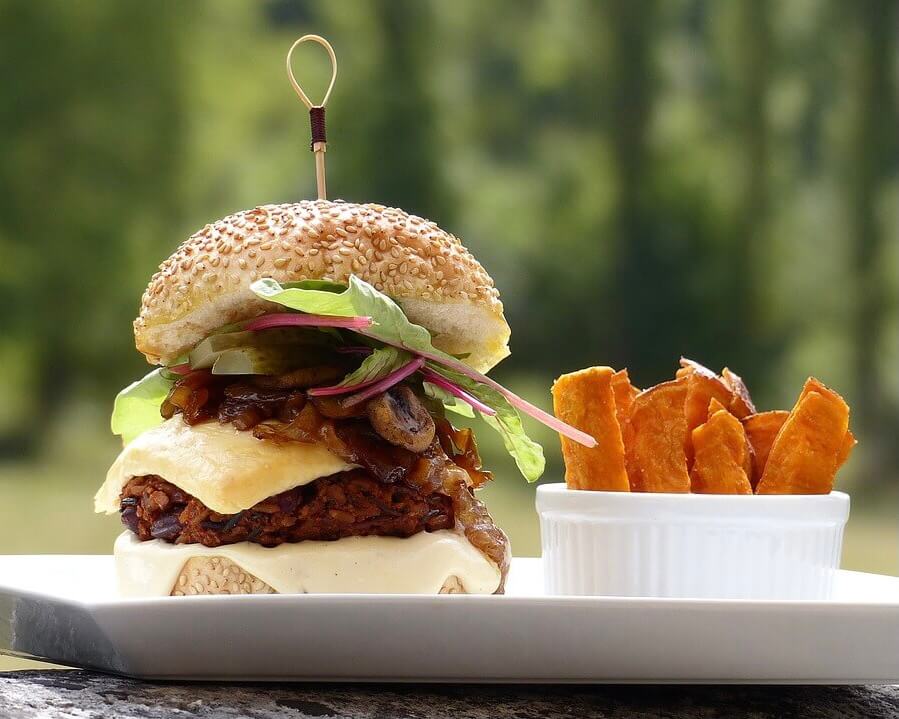 One of the best restaurants in Jericho is the Gardeners Arms. They serve veggie dishes including Indian thali, chilli con carne (or sin carne, I guess), calzones and veggie burgers. The Gardeners Arms has a nice little pub garden in Oxford where you can sit outside and sample local beers, ales and wines.

Address: 39 Plantation Road, OX2 6JE.

Opening times: 12-2.30pm & 5-11pm Mon-Fri; 12-11pm on weekends.
Read next: neighbourhood guide to Jericho, Oxford
The Old Bookbinders Ale House
Also in lovely Jericho neighbourhood, this cosy pub is a local favourite. Although the Bookbinders has all the ales and wines you'd expect from a classic British pub, the menu might surprise you.

Authentic French food is the name of the game. Tuck into escargot, coq au van or sample the delicious crepes with various toppings. Enjoy two courses for £15 or 3 courses for £25.

Address: 17-18 Victor St, Oxford OX2 6BT.

Opening times: 4-11pm, Tues; 12-11pm, Weds-Sat; 12-6pm, Sun; closed Mon.
Jericho Tavern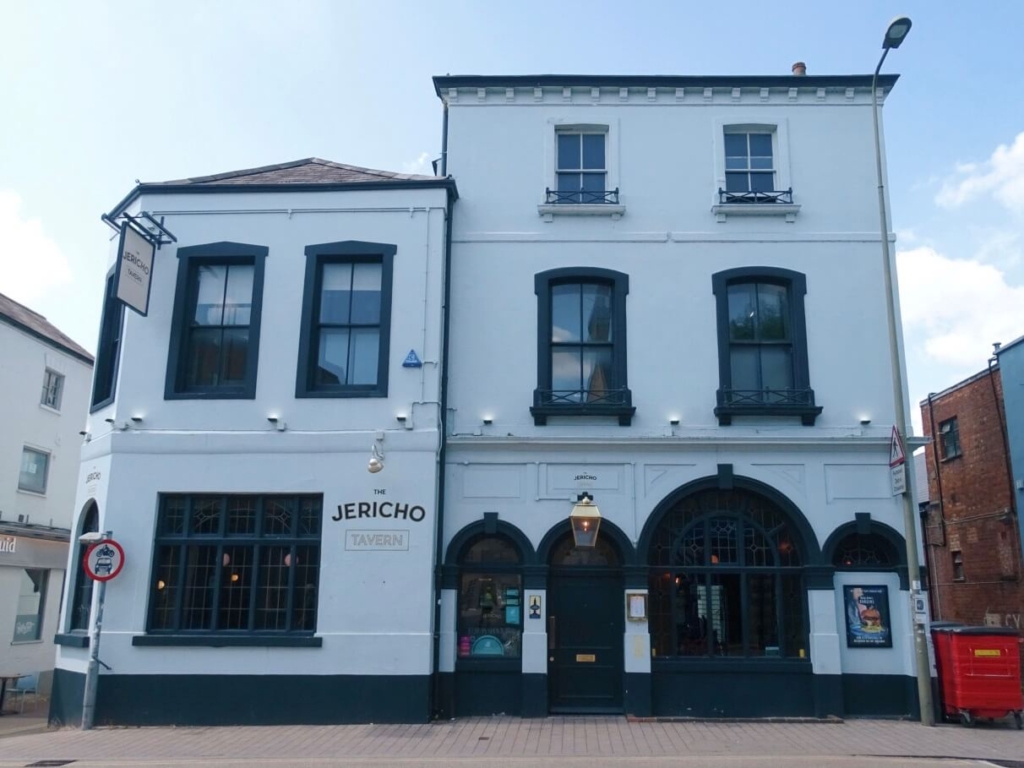 This Oxford pub is also a live music venue boasting past headliners like Mumford & Sons, Bastille and Radiohead.

If your visit to Oxford doesn't time up with a concert, visit Jericho Tavern anyway. Jericho is a friendly, non-touristy part of Oxford where you can rub shoulders with the locals and tuck into English pub classics – including vegan versions – washed down with ales, wines, beers or cocktails.

Address: 56 Walton Street, OX2 6AE.

Opening times: 12pm-11pm, Sun-Thurs; 12pm-12am, Fri-Sat.
Rose & Crown – the prettiest Oxford pub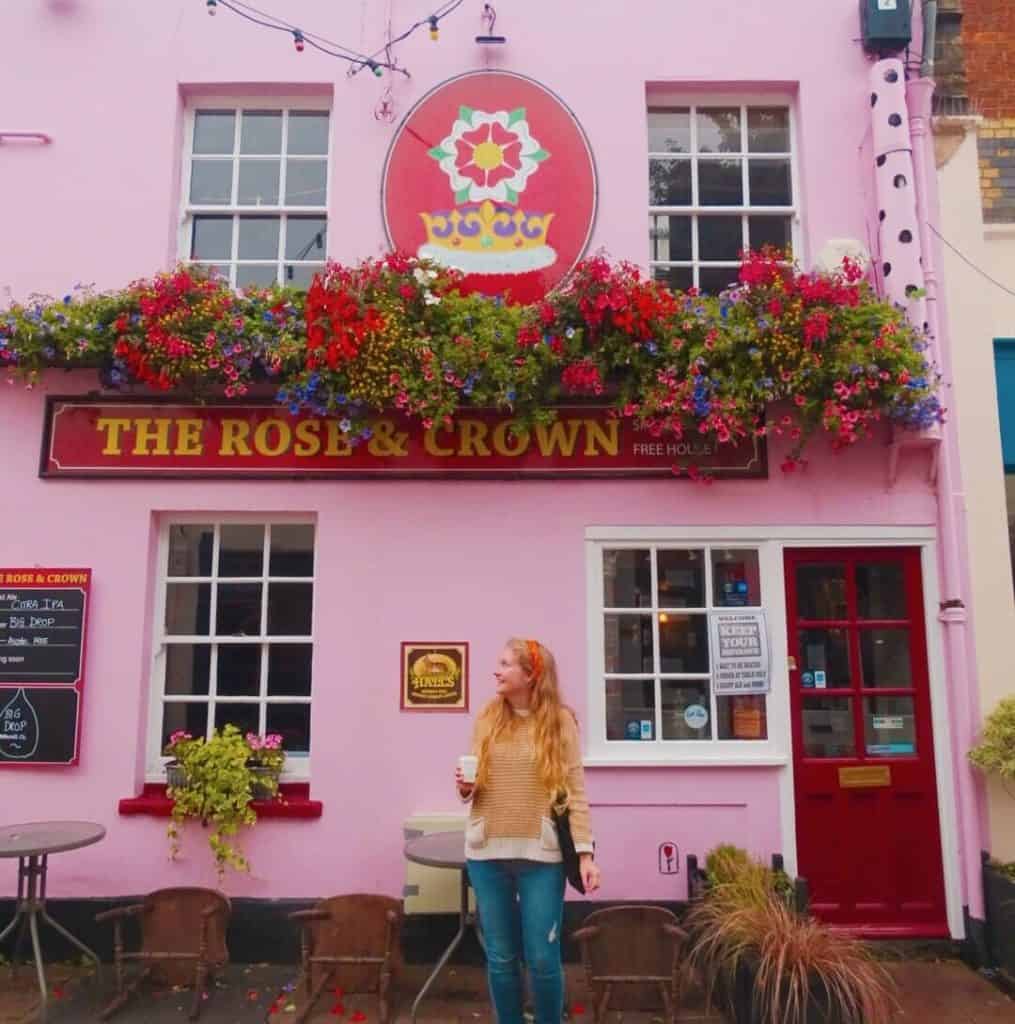 Despite not having the biggest pub garden in Oxford, the Rose & Crown remains one of my favourite outdoor drinking holes. The pretty pink facade has made it an Insta hotspot in Oxford but it's much more than that – the Rose & Crown has been a local institution since 1836!

There's a covered courtyard so you can get some fresh air even if it rains. Menu highlights include fish & chips and steak & kidney pie and fusion dishes like Bombay rarebit and katsu sandwiches. Food is served from midday to 2.30pm (3pm on Sundays) and 6pm-9pm daily.

Find the Rose & Crown on North Parade just off Banbury Road. If your visit coincides with the 2nd or 4th Saturday of the month, browse at North Parade Market, one of my favourite farmers markets in Oxford.

Local tip – some of the best coffee shops in Oxford can be found on North Parade. Check out Brew and Barefoot.

Address: 14 N Parade Ave, OX2 6LX.

Opening times: 12-10.30pm daily.
The Bear Inn – the oldest pub in Oxford!
The Bear Inn is another excellent Oxford city centre pub with outdoor seating. It's not the largest area but considering the small size of central Oxford, it's a handy drinking hole for a pint outdoors.

It's one of Oxford's oldest pubs dating back to 1242. With menu classics like shepherd's pie and battered haddock, it's potentially not changed much since its early days (although the additions of nachos and plant-based burgers spice up the menu nowadays!).

Address: 6 Alfred Street, OX1 4EH.

Opening times: 12-10.30pm, Mon-Thurs; 12-11pm, Fri-Sat, 12-10pm, Sun.
The Red Lion
Once a rundown pub in Oxford, the Red Lion has recently had a facelift. It's stylish and spacious inside with a large outdoor area perfect for summer drinks.

Rather than pub grub, the Red Lion serve contemporary mains including upmarket burgers and pizzas with plenty of vegan and healthy options. They have a huge list of cocktails, wines, champagnes, G&Ts, beers and ciders. It's one of the best pubs in Oxford if you're a cocktail connoisseur looking for more than a quick pint!

Local tip – sign up for their newsletter on their website and get a free starter or dessert when you buy a main dish!

Address: 14 Gloucester Street, OX1 2BN.

Opening times: 12-8pm, Mon-Thurs; 12-10pm, Fri-Sat; 12-7pm, Sun.

Tip – don't miss Gloucester Green Oxford Market. It has some of the best al fresco dining options in Oxford!
The Star
Away from the nooks and crannies of central Oxford, The Star in Cowley has one of the largest Oxford pub gardens. They've been around for yonks and many Oxford locals will tell you they're one of the last remaining venues embodying an authentic 'East Oxford' vibe and holding out against gentrification.

The Star isn't a fancy Oxford pub with gastropub food. It's crisps and pints all the way. A real local Oxford institution!

They also sometimes host barbeques and firework displays.

Opening times: 4-12pm, Mon-Fri; 2-12pm, Sat; 3-11pm Sun.

Address: 21 Rectory Rd, Cowley, OX4 1BU.
Old Tom Pub Oxford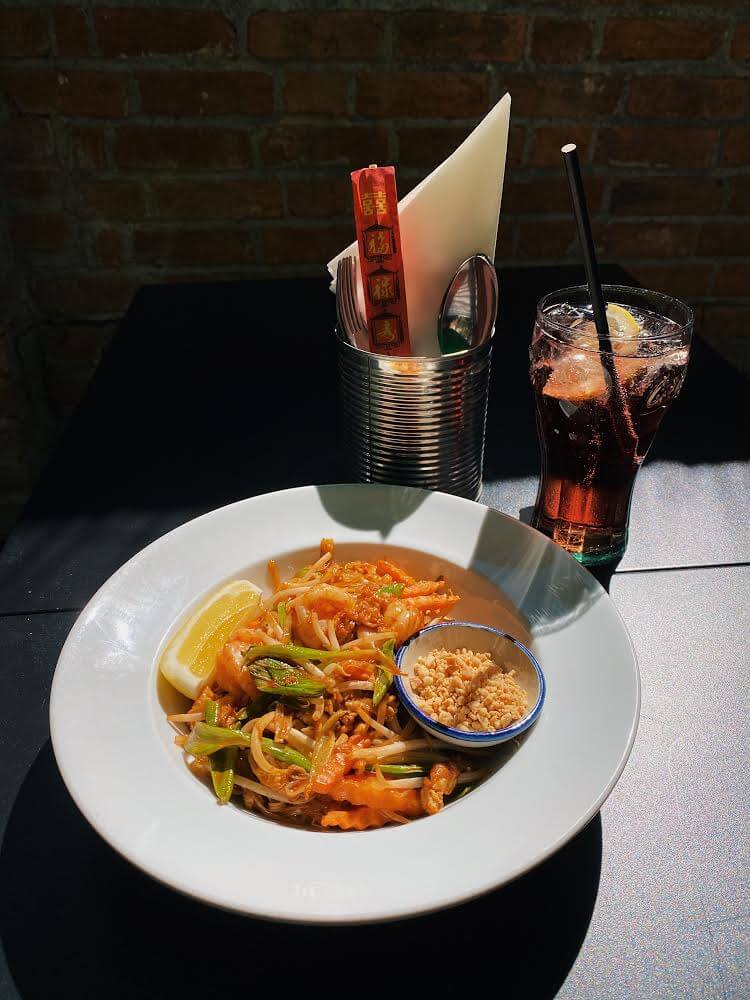 A traditional British pub serving Thai cuisine? East meets England, and I like it!

With bags of history and a cosy 'Oxford' vibe, the Old Tom is a local favourite. The fact it serves some of the best Asian food in Oxford only seals the deal. They're partnered with Monkey and Me in London's Marylebone and order in fresh ingredients direct from Thailand.

Snack on Thai tapas including spicy prawn salad and salt & pepper squid before moving onto mains like pad Thai, crab fried rice, and red duck curry. The best value dish is the Old Tom superbowl with a choice of noodles and proteins for £10.95.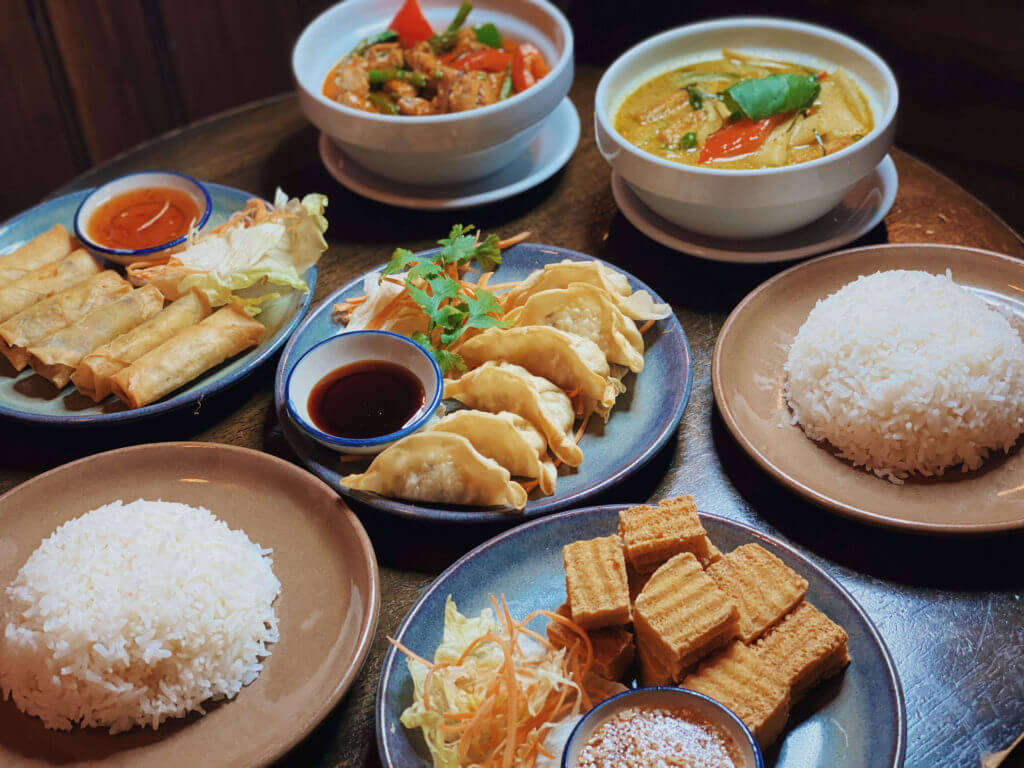 Address: 101 St Aldate's, OX1 1BT.

Opening times: 12-11pm daily. Food is served from 12-2.45pm and 5-9.45pm.
Cowley Retreat
Located on Cowley Road, this is one of the best Oxford pub gardens thanks to its spacious feel and rustic details.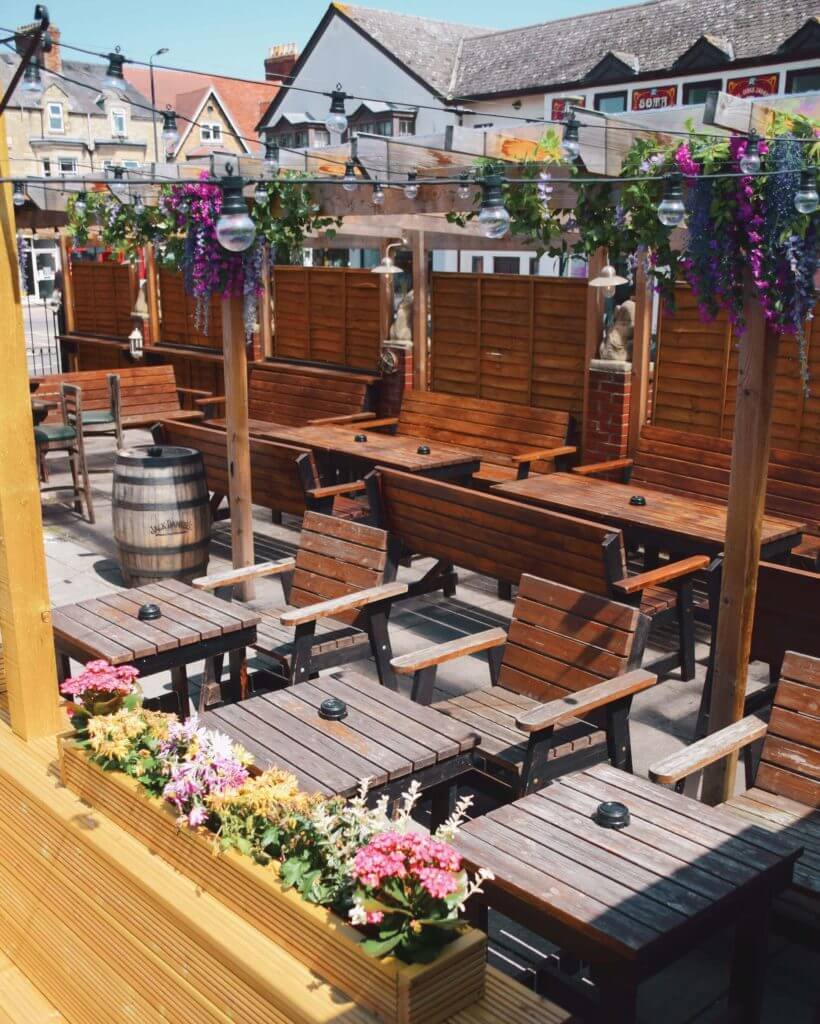 Cowley Retreat serve a tasty menu of beef, chicken, halloumi and beetroot burgers. Drinks-wise, there are craft cocktails, beers, real ales, wines and champagnes. Look out for happy hours when there are 2-for-1 drinks and complimentary cheese boards when you buy wine.

Address: 172 Cowley Rd, Cowley, OX4 1UE.

Opening times: 3pm-12am, Mon-Fri; 12pm-12am Sat-Sun.
Related read: the best restaurants on Cowley Road, Oxford
Eagle and Child
This local institution is easily one of the most historic pubs in Oxford. What puts it on the map is its literary history: a group of authors called the Inklings – including J.R.R Tolkien and C.S Lewis – used to meet at the Eagle & Child to discuss literature. Keep an eye out for a plaque commemorating the famous novelists.

Currently closed for renovation until 2022, the Eagle and Child is set to return better than before. For the last decade or so, under Nicholson's ownership, it's had a distinct 'no frills' feel. Let's see what the future holds for Oxford's most historic pub…
The Fishes
This gorgeous gastropub in North Hinksey is a contemporary restaurant with one of the best pub gardens in Oxford. All the bookable tables at The Fishes are under cover with nearby heaters so you can keep cosy while dining and drinking out. For sunnier days, there's plenty of walk-in space.

Menu highlights include deli platters, steak burgers, miso-glazed cod, crème brûlée, and mango and pineapple eton mess. It's more of a 'treat' budget with mains starting from £15 but it's worth it for the fresh, flavoursome ingredients.

Address: 172 Cowley Road, OX4 1UE.

Opening times: 11am-10pm, Mon-Sat; 11am-9pm, Sun.
Big Society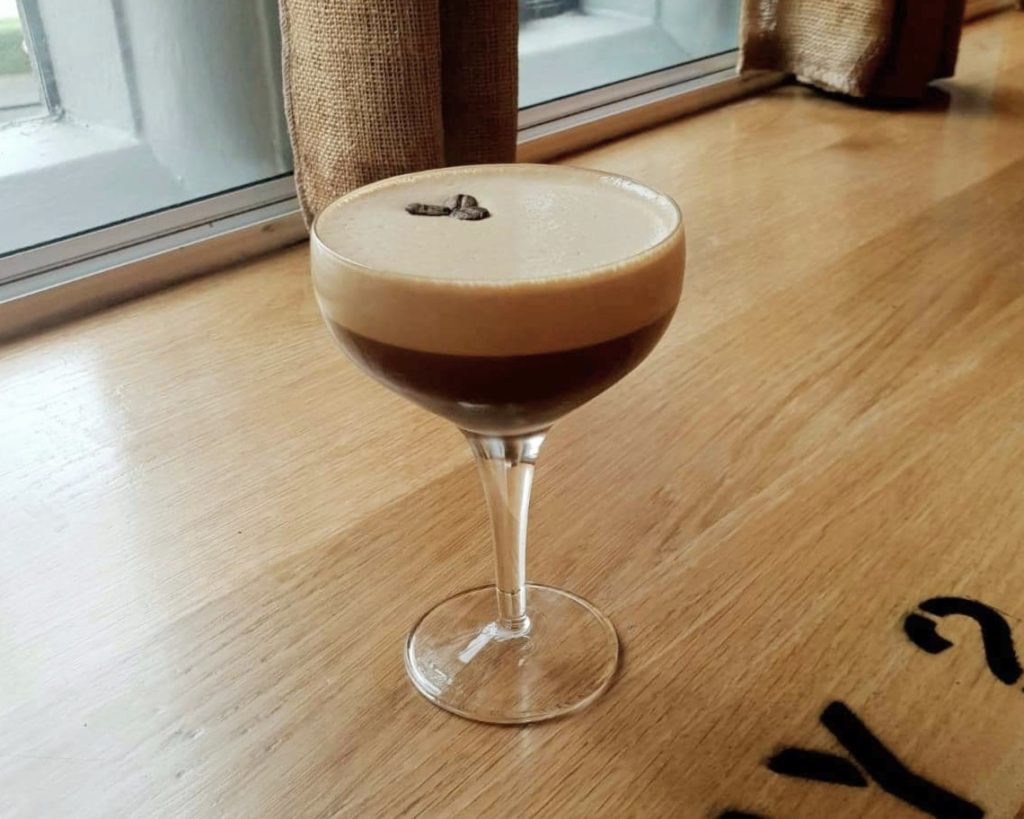 This bar and restaurant on Cowley Road is one of my favourites. They serve American-style burgers, fries and wings along with craft ales, lagers and cocktails. Enjoy them from their Oxford beer garden at the back or their smaller front terrace.

The kitchen is open 'til 10pm. Don't miss the burgers or the deep-fried halloumi!

Address: 95 Cowley Rd, Cowley, OX4 1HR.

Opening times: Tues-Thurs, 5pm-11pm; Fri 5pm-12am; Sat 12pm-12am; Sun 12-8pm, Mon closed.
I hope you enjoy these pubs in Oxford!
Read my other Oxford blogs:
See you next time for more adventures,
Rose
Liked these Oxford pub gardens? Pin this for later!