This post may contain affiliate links to things like tours, hotels, Amazon associates and products. These help me earn a small commission at no additional charge to you.
I've just got back from the most fantastic weekend visiting the Queretaro wineries, something you should not miss during your trip to Mexico.

The Queretaro wine region is located a four-hour drive north of Mexico City, right in the middle of the country. You can stay in Queretaro City (the capital of the state) and explore the surrounding wineries and charming, small towns at your leisure.

I always knew I'd have to visit the wineries of Queretaro without a car but I'd assumed we might have to take a tour if it was the only way to get about. Luckily, seeing the Queretaro wine region by bus was possible (with a couple of taxi rides thrown in) so I'm excited to share my itinerary to help you do the same.
Related read: solo female travel in Mexico
What is the wine like in Queretaro?
The wine in Queretaro isn't like the wine you'll get elsewhere. The speciality is sparkling wine, something I'm not the biggest fan of. But if you are, you'll love the sparkling white and rose wine in Queretaro! If you like regular sweet wine, you'll also be in your element.

They also make a lot of red wine in Queretaro. I ended up drinking a lot of this since there weren't so many dry whites (my usual preference). I really enjoyed them all.
QUERETARO QUICK LINKS

Accommodation: Booking.com / Hostelworld

Copy of Lonely Planet Mexico / Mexican Spanish Phrasebook

Activities: GetYourGuide

Getting there: Rentalcars.com / Busbud
How to visit the wineries in Queretaro
First of all, you could obviously consider hiring a car or taking a tour to the Queretaro wineries. For car hires in Mexico, I would recommend Rentalcars.com.
Since we explored independently, I want to share my cheap and adventurous itinerary which allowed us to explore Queretaro, the wineries and Bernal and Tequisquiapan towns by public transport. We saved money on a tour and spent it at the wineries instead. Wine not?
I'll run through these things:
How to get from Queretaro to Bernal by bus
Visiting Queretaro wineries from Bernal
How to get from Queretaro to Tequisquiapan by bus
Visiting Queretaro wineries from Tequisquiapan.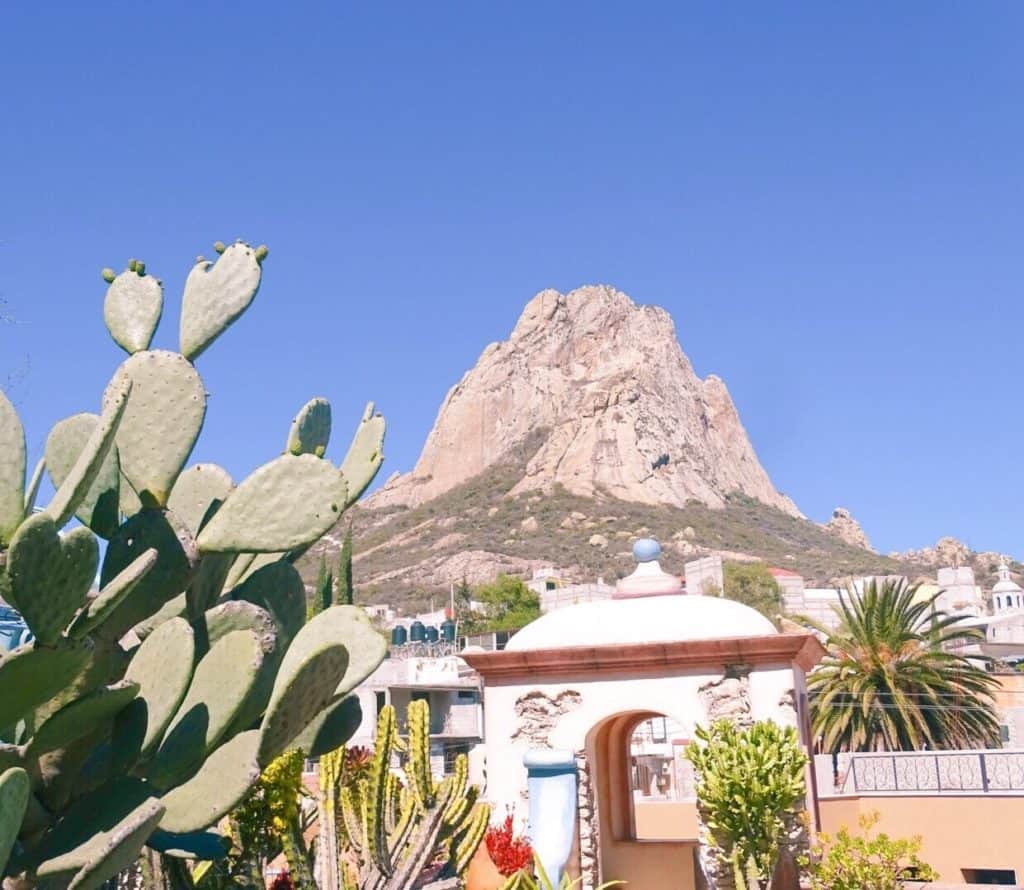 Where are the Queretaro wineries?
There are three Queretaro wineries set along the road connecting Bernal and Tequisquiapan. You could visit all three in a day but then you wouldn't have time to do Bernal and Tequisquiapan justice. I'd recommend splitting them across 2 days if you have time. I'll share my itinerary later on.
Staying in Queretaro
While spending 3 days in Queretaro, we enjoyed this charming city with fantastic local food and drink. For staying overnight there are a few options.
Getting from Queretaro to Bernal by public bus
Catch an Uber from your accommodation to Terminal de Autobuses de Querétaro, the main station a 20-minute drive from town. If you arrived into Queretaro by bus from any major city in Mexico, you'll likely have been here already.

Get your driver to drop you at Terminal B and locate the Flecha Amarilla counter where you can buy a ticket to Bernal for just 58 pesos. The ride takes about an hour.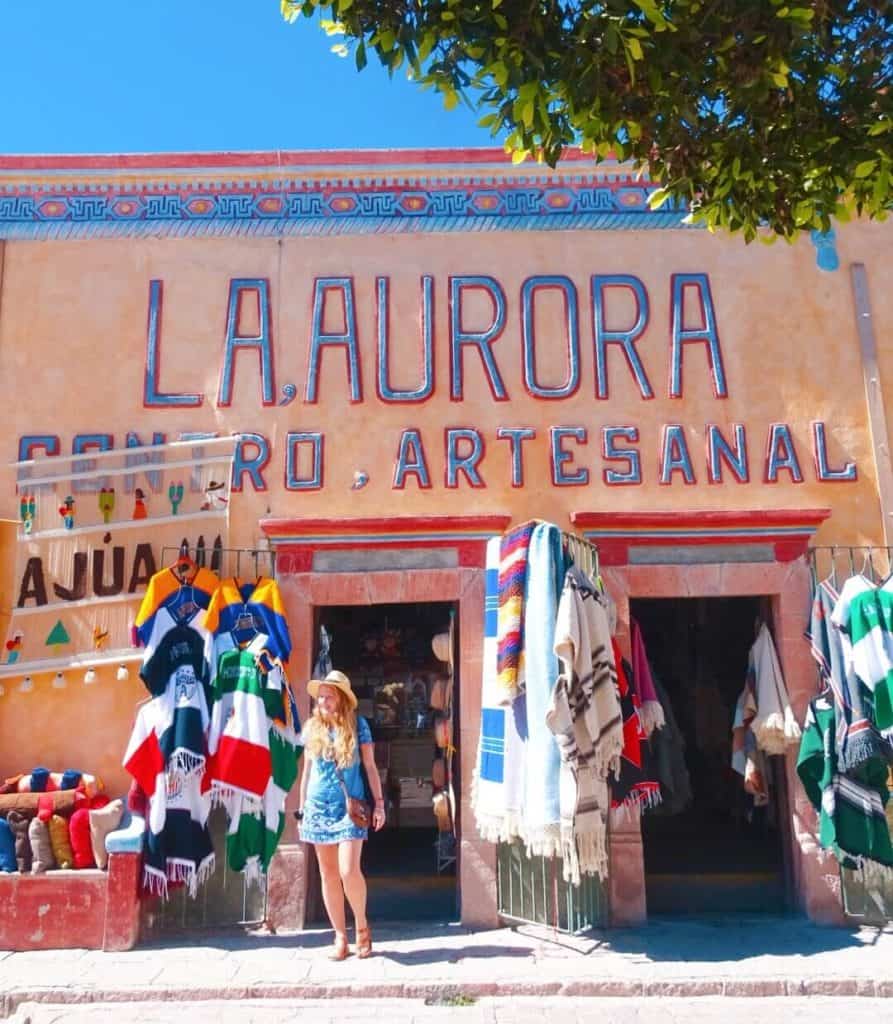 Return bus journey from Bernal to Queretaro: Catch the blue Flecha Azul bus from Benito Juarez (the main street in Bernal) from the point pinned here. Alternatively, enter Butique la Nueva Saga into Google Maps and wait on the opposite side of the road.

The last bus between Bernal and Queretaro is 6pm or 6.30pm depending on the day so check with a tourism stand. If you were to miss it, you'd need to pay 550 pesos by taxi. There's no Uber available outside of Queretaro city.
Getting from Queretaro to Tequisquiapan by bus
To get to Tequisquiapan (the other launching point for the wineries) from Queretaro to by public bus, arrive at Terminal B of Terminal de Autobuses de Querétaro and check the boards for Tequisquiapan. The ticket costs 65 pesos and the ride takes an hour. You'll be dropped at Terminal de Autobuses Tequisquiapan which is a 15-minute walk into town.

Return bus journey from Tequisquiapan to Queretaro: When you want to go home, return to the bus station. Buses run half-hourly from Tequisquiapan to Queretaro with the last service at 8pm.
Which Queretaro wineries to visit (and how to get there)
I'm going to run through the most useful info next: how to visit the wineries in Queretaro by public transport.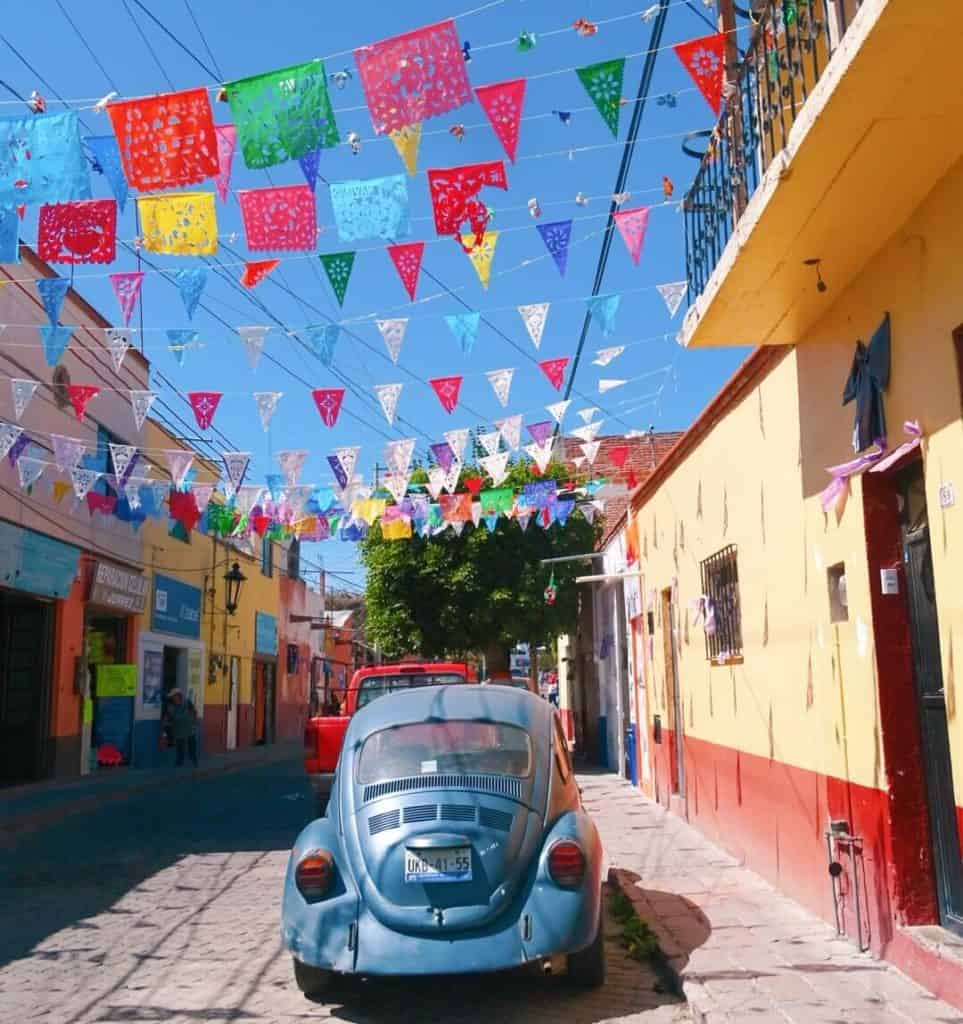 How to get to Queretaro wine region from Bernal
From Bernal, you're closest to Finca Vive by Freixenet winery. Catch the yellow public bus for 16 pesos from Chocolates Xocoles in Bernal. From Finca Vive to the other wineries (mentioned below), you'll want to hail a taxi.
How to get to Queretaro wineries from Tequisquiapan
From Tequisquiapan, you're closest to La Redonda and Viñedo Los Rosales. I would suggest hailing an orange taxi from the corner of the main road in Tequisquiapan. I'll include distances and how much to pay below.
Winery #1 – Finca Sala Vivé by Freixenet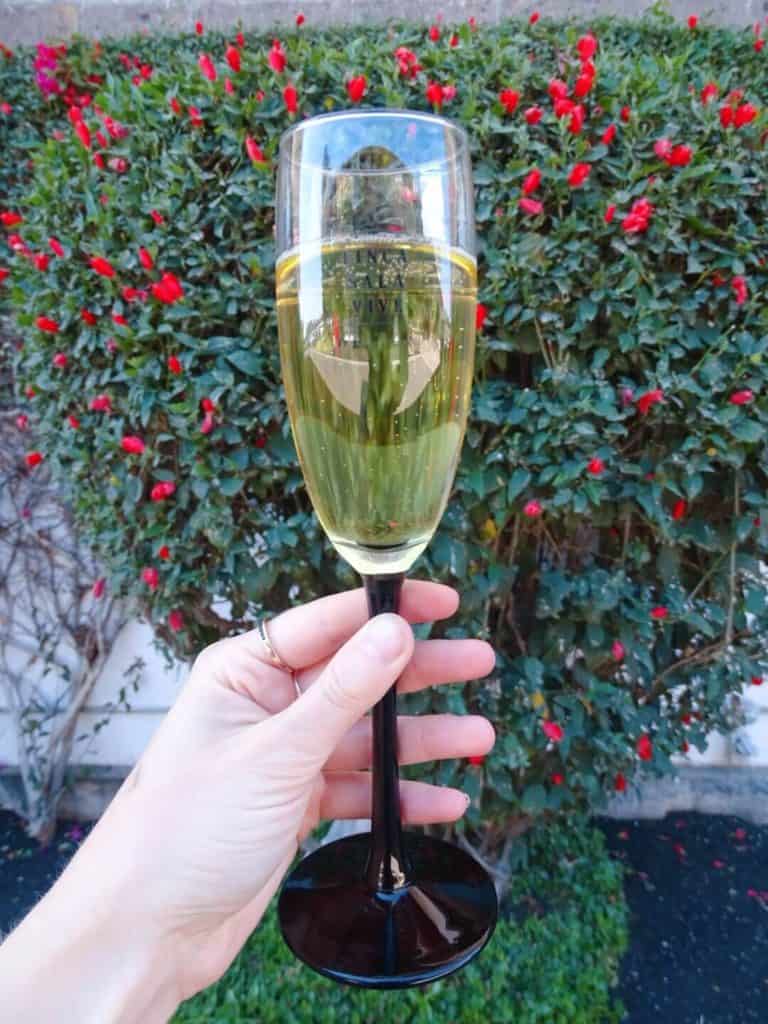 This winery is the busiest and most famous because all the bus tours stop here. For that reason, it was my least favourite, although if you're interested in the wine production and want to see the cellars, it's a great shout. It's also the cheapest Queretaro winery to visit as the public bus from Bernal only costs 16 pesos each way.

Price: You'll pay 120 pesos for a cellar tour and glass of cava. Additional glasses of wine in the yard cost 80 pesos and you can purchase delicious cheeses for 180 pesos, served with biscuits. These are all served in plastic boxes, so the presentation and environmental impact aren't great, FYI.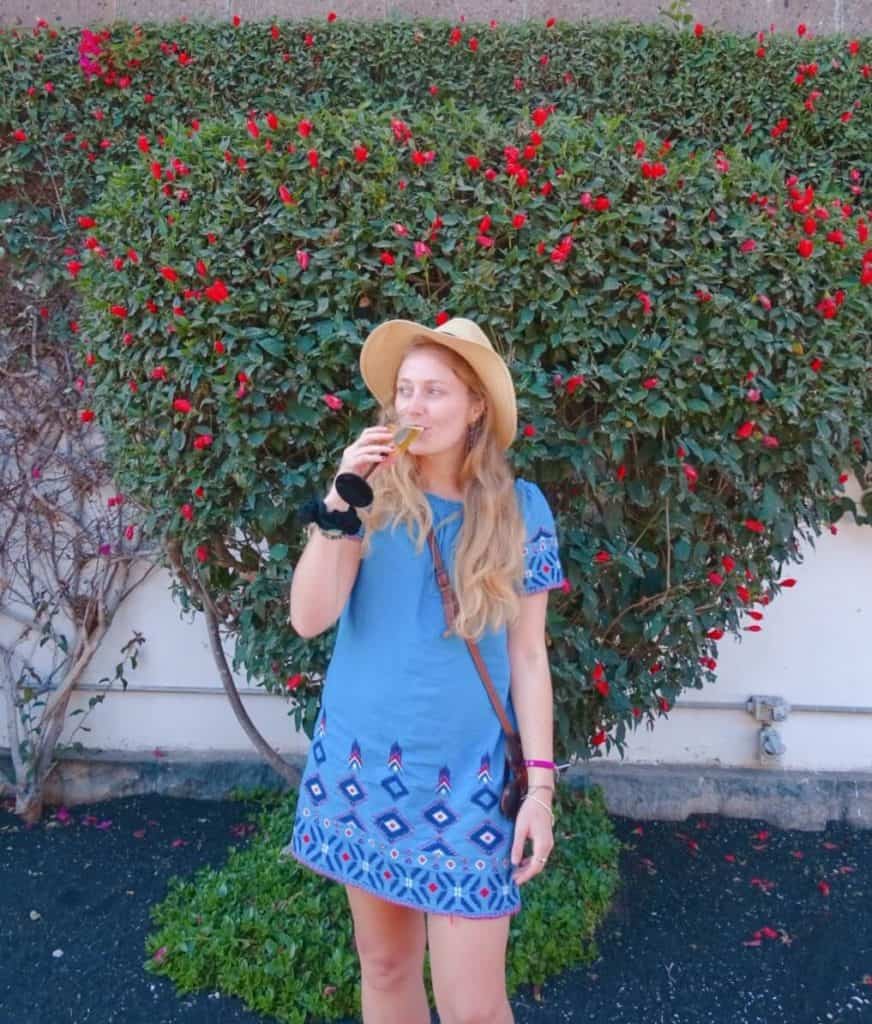 Getting to Finca Sala Vivé by Freixenet: After the tourism stands in Bernal tried to sell us 700 peso tours, we asked a tuk-tuk driver who said he couldn't take us but pointed by a yellow bus just about to depart. We jumped on and got taken to Finca Sala Vivé for 16 pesos. On the way home, we simply waited for the same bus on the other side of the road.

To catch the bus to the Finca Sala Vivé winery from Bernal, wait outside Chocolates Xocoles. To double-check it's the right bus, you can ask the driver 'Vas a Finca Sala Vivé Freixenet?' or show them the location on Google Maps. I'd recommend having this open anyway so you know where to jump off.

Psst – when arriving/departing, pick up some tequila coffee chocolates from the Chocolates Xocoles shop, they're delicious and only 10 pesos each!
Winery #2 – Viñedo Los Rosales
Viñedo Los Rosales is my personal favourite winery in Queretaro. Unlike Finca Sala Vivé, no tour buses stop here. Very pretty and peaceful!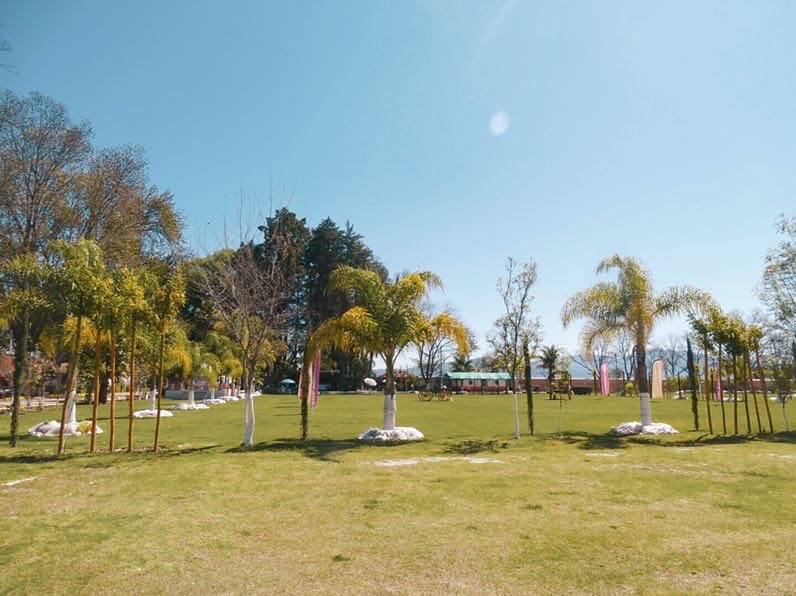 Once you arrive via the long drive way, head to the outdoor bar where the staff are happy to let you sample the wines before buying. I went for a relatively dry red since there weren't any dry whites, only sweet. I'm not usually a huge red wine fan but it was 'moy rico' as the Mexicans would say (delicious).

Price: For 120 pesos, the staff offered us a tour of the vineyards but since it was early in the year and the vines were brown, we didn't take the offer. Instead, we drunk glasses of wine for 100 pesos each.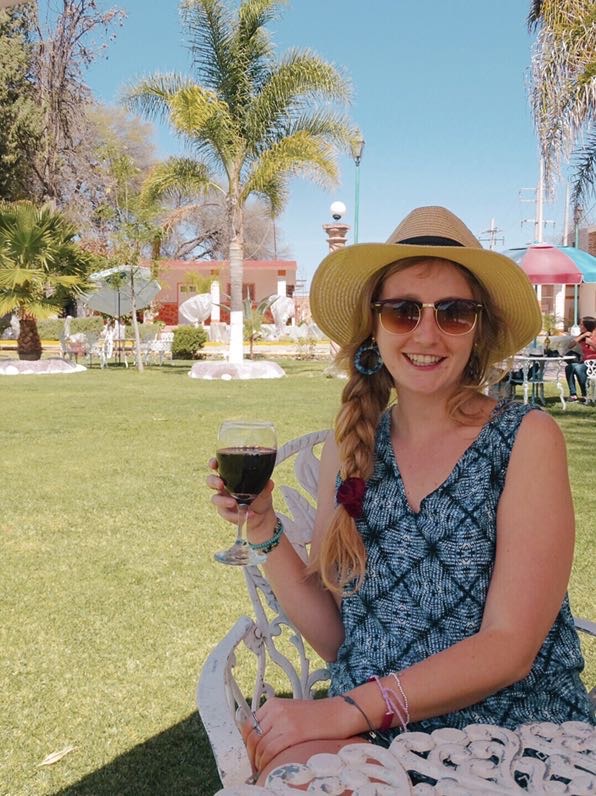 Getting to Los Rosales: This Queretaro winery is best visited from Tequisquiapan as it's just a 10-minute drive away. Jump in an orange taxi where Benito Juarez meets the highway, beside Aventura Park.

The tourism office said we should pay 20 pesos per person but I believe this is only if the taxi is full. Since there were just two of us (and we're obvious tourists!) we were charged 150 pesos total. If you can find a few other people to split the ride with, you may get the cheaper price.
Winery #3 – Vineyards La Redonda
This outdoorsy winery is located between Los Rosales and Finca Sala Vivé. Head inside to purchase wine at the bar, then drink in the garden. Like the other Queretaro wineries, it's known for its sweet wine and reds. My friend, April, vouched for the sweeter white wines while I stuck to the driest sauvignon they had. Because La Redonda doesn't have a long driveway, you can see and hear the road so I slightly preferred Los Rosales.

Price: Here you'll pay 90 pesos for a full glass or 40 pesos for a 'vaso' which is a half cup. I liked this because you get to sample more types. My only complaint was that the vasos came in plastic cups.
Getting to Vineyards La Redonda: Since it's only a five-minute drive from Los Rosales, I'd recommend waiting on the main road for an orange taxi to pass. Since the taxis will likely already have passengers inside, you can get a cheap price by joining them. We paid 20 pesos each for this journey.
When leaving La Redonda, you're halfway between Bernal and Tequisquiapan. For those wondering how to visit the Queretaro wine region without a car, this is where you'll need to budget a little extra. We couldn't get a taxi driver to charge us less than 100 pesos each to Bernal. If you're headed back to Tequisquiapan (which I would recommend as the buses run later back to Queretaro), wait on the other side of the road.
Itinerary for Queretaro wine region by bus
If you want to visit Bernal, Tequisquiapan and all three Queretaro wineries by public transport, you'd be rushed off your feet to do it in a day. For that reason, I'd recommend spending two, whether you're staying in the area or Queretaro city. Our itinerary looked like this:

Day 1: During our first day, we caught the bus from Queretaro to Bernal at 9am (consider going even earlier) and after exploring the town and eating lunch, we boarded the yellow local bus to Finca Sala Vivé by Freixenet around 2pm. Here, we took the cellar tour and had a few glasses of wine. We then caught the bus back to Bernal, had a final wander of the town and boarded the 5.30pm bus to Queretaro.

Day 2: We headed from Queretaro to Tequisquiapan at 9am by bus, explored the town, and had lunch and coffee. Around 1pm, we boarded a taxi to Los Rosales and La Redonda wineries.

Afterwards, you can journey back to Tequisquiapan, sober up and eat dinner as it's obviously a lot cheaper than at the wineries. Catch the bus back to Queretaro. The last service departs at 8pm.
What to do in Bernal
This adorable town is one of my favourites in Mexico. Sleepy Bernal is a Pueblo Magico (magic town voted by the Mexican tourism board) overlooked by Peña de Bernal, the world's third-largest monolith. You can hike if you really fancy a challenge!

Aside from wandering the square, visiting the church, shopping for souvenirs and cafe-hopping, there isn't a great deal to do in Bernal. We ate a delicious breakfast at Restaurante El Mesquite which has a beautiful interior and views of the Peña. A dish and drink only came to 120 pesos.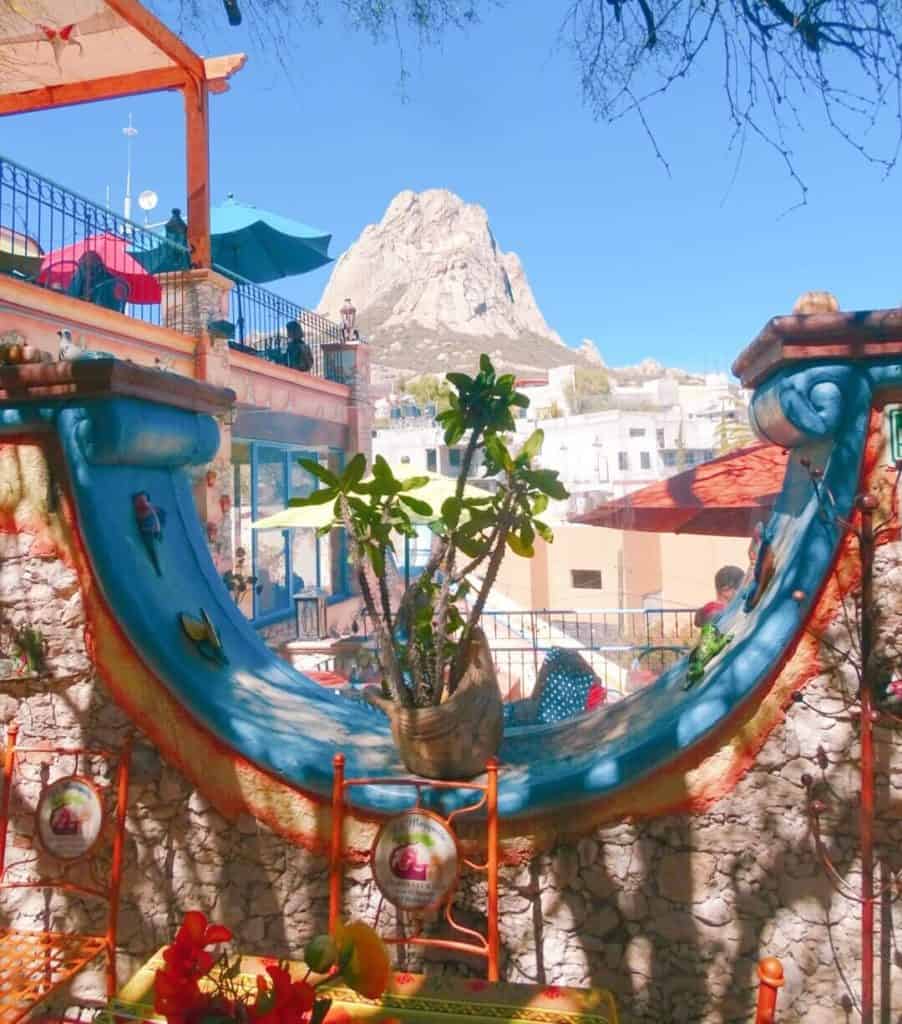 You can also eat Bernal's speciality street food, gorditas (pocket-shaped sandwiches made from blue corn and stuffed with fillings) which are so popular that the locals have a type of wine they pair with them!

Browse accommodation in Bernal on Booking.com.
What to do in Tequisquiapan
This charming Pueblo Magico isn't as well-known as Bernal which makes it even more peaceful and enjoyable to explore, especially if you go on a weekday like we did. The town is dominated by a large square and enormous pink church.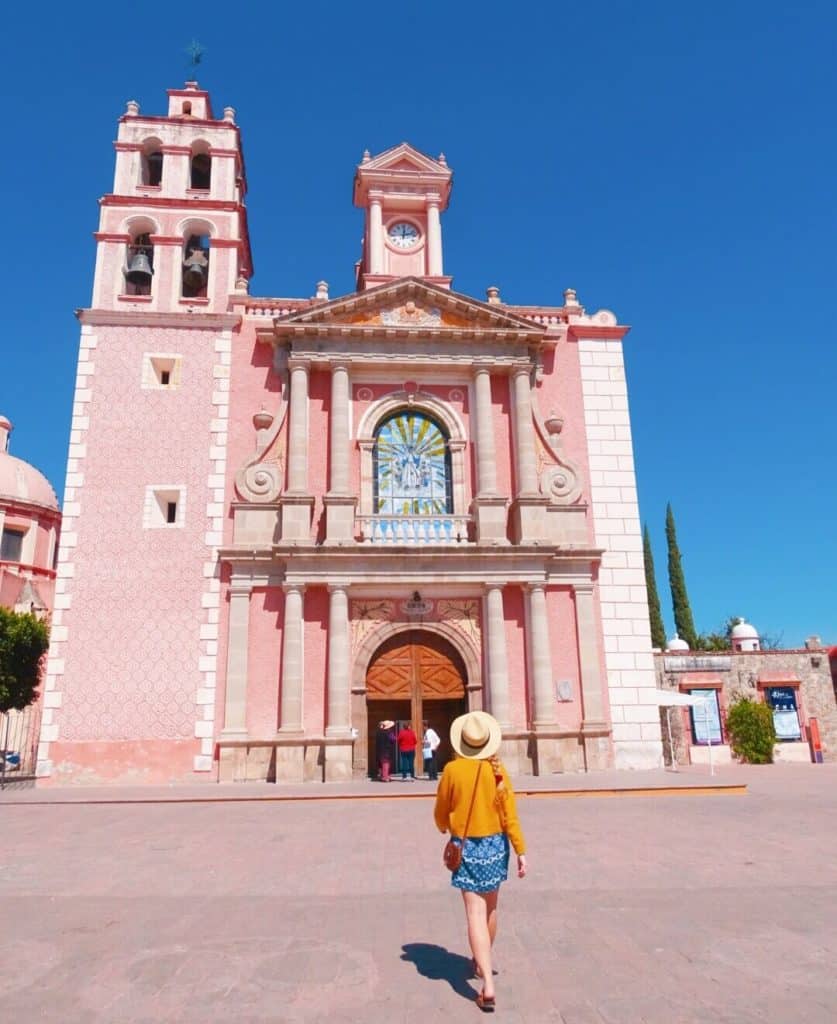 At the corner of the square, you can visit Chocolate Molinillo, a pretty minimalistic cafe serving excellent coffee and cakes (get the pecan pie!). Just around the corner is Liberia Rulfo, a lovely old-fashioned bookstore which a cafe onsite.

As well as wandering the town, you can browse wine y queso (wine and cheese) stores and take a trip to Craft Market Tequesquicalli.

Browse accommodation in Tequisquiapan with Booking.com.
Tips for visiting Queretaro wineries by public transport
Following my day exploring the Queretaro region, I would suggest the following tips. While we worked it all out ourselves, I think these things would have been useful to know beforehand.

These are my best tips for visiting the Queretaro wineries without a car or tour:
Set off early. Especially if you're coming from Queretaro, I'd recommend getting a bus from the city by 9am to have enough time to explore.
Check the times of the last buses home. When I visited, it was 6pm from Bernal and 8pm from Tequisquiapan but you wouldn't want to miss it and pay 550 pesos in a taxi.
Bring a hat, sunscreen and enough water; it gets hot in Central Mexico. There are free water fill-ups up at Finca Sala Vivé but not at the others, although you can buy bottled water.
Visit between March and July to see the vineyards alive with grapes. During our February visit, everything was brown and arid. At least there's no bad season for drinking the wine!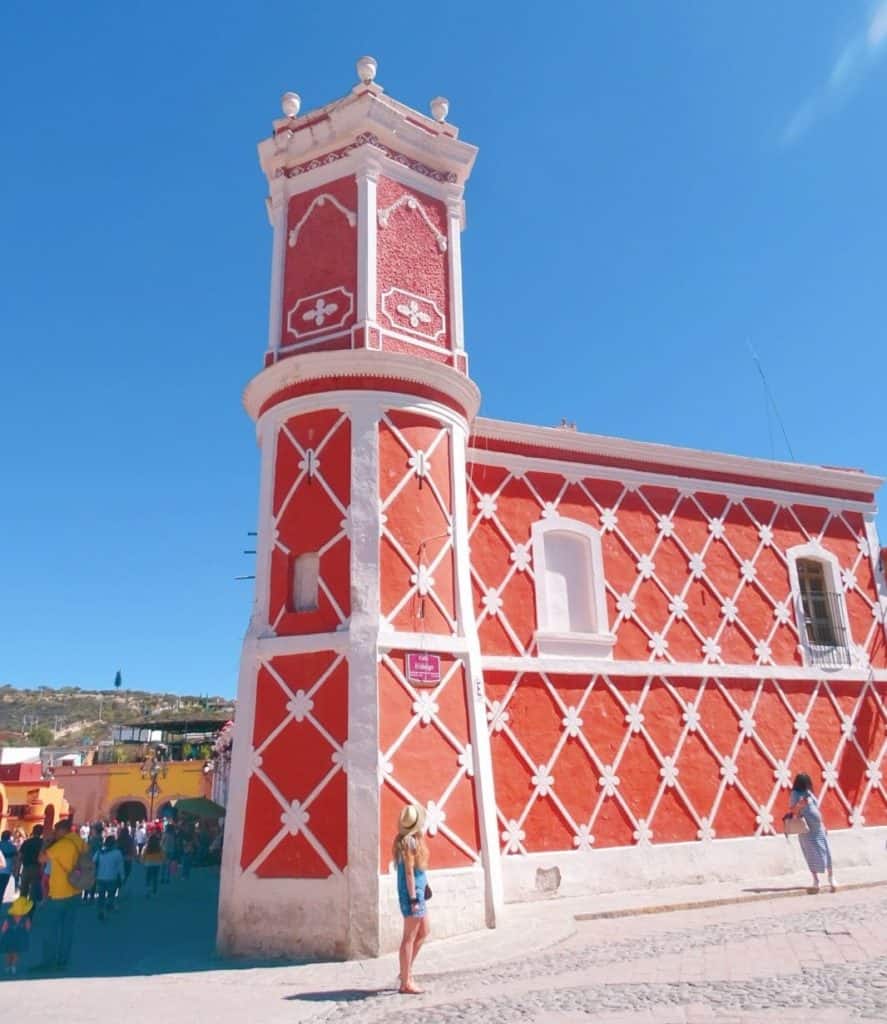 A little Spanish for your visit
English isn't widely spoken in countryside regions of Mexico so, along with your please and thankyous, I'd suggest learning a few wine-related phrases!
White wine – vino blanco
Red wine – vino tinto
Sweet wine – vino dulce
Dry wine – vino seco.
For catching local buses are taxis, you can say:
'Vas a [location]?' – are you going to?
Cuánto Cuesta ir [location]?' – how much to go to [location]?
Where next?
Neighbouring Queretaro state is Guanajuato state. I loved visiting Guanajuato city with its quirky Mummy Museum and colourful houses, as well as San Miguel de Allende, home to more beautiful architecture and bubbling hot spas in the countryside. Check out my San Miguel travel guide.
VISITING MEXICO?
These are my trusted resources:

Getting around by air – the quickest (and often cheapest) way to travel between Mexican cities is by flight. I use Skyscanner to find the best-value flights, using the 'search by month' tool to find the cheapest dates. You can also use the 'to anywhere' feature if you're flexible on where you're going.

Getting around by bus (environmental option) – buses in Mexico are comfy with free snacks and an in-journey entertainment system. I use Busbud to find the best prices.

Driving in Mexico – use Rentalcars.com to compare car rentals in Mexico (and all around the world)

For hotels, I use Booking.com (they also have self-catering apartments). You can filter by review score and price to find the best-rated budget places. They have flexible cancellation policies, plus after 10 bookings you qualify for genius membership and extra discounts.

For hostels, I use Hostelworld.com. Hostels in Mexico are great for meeting other travellers.

To save money on accommodation, I use Trusted Housesitters, a website that connects homeowners going away and travellers who can sit their homes & pets.

I use GetYourGuide for tours & activities when I don't want to travel solo. You can bank on knowledgeable guides & low prices. I also check Viator as they often have fun & unique options.

EatWith – your one-stop for Mexico food tours, cooking classes and hosted meals with local chefs and foodies

Need to top up your Spanish? Pack a Lonely Planet Mexican Spanish Phrasebook & Dictionary.

Need travel insurance? I use True Traveller (for UK & Europe residents) since it's affordable but covers everything you'd need including various activities, valuables and pre-existing conditions. Unlike some companies, they insure you if you're already travelling / don't yet have your flight home booked. Get a quote.

For travel insurance for other nationalities, I recommend Hey Mundo and for long-term digital nomad travellers, I suggest Safety Wing.

Wise – to transfer money overseas or get paid in different currencies, this is the cheapest way. Get your first transfer free.

Check out my resources page for more travel discounts and tips!
Thanks for reading!
I hope you have a better idea of how to visit the Queretaro wineries!
Check out my other Mexico blogs:
See you next time for more adventures,
Rose
Ps. Liked this guide to visiting the Queretaro wineries by bus? Pin it for later!