This post may contain affiliate links to things like tours, hotels, Amazon associates and products. These help me earn a small commission at no additional charge to you.
There's so much delicious food in Roma Norte and Condesa, Mexico City. Unlike the Zocalo which is packed with must-see museums and attractions, this area is all about chilling and eating. The relaxed cafes and restaurants in Condesa are a real highlight, whereas the Roma Norte restaurants and hip and modern.

I've spent the last six months living in Mexico, mainly around Roma and Condesa. They're technically two different areas with Roma also including Roma Norte (North) and Roma Sur (South). As upmarket parts of Mexico City, they're very safe for solo travel in Mexico.

When it comes to Roma, I'll mainly be talking about Roma Norte restaurants and cafes since this is the better-known area for food.
MEXICO QUICK LINKS

Accommodation: Booking.com / Hostelworld

Copy of Lonely Planet Mexico

Food tours: GetYourGuide / Viator

Supper clubs: EatWith

Getting around: Uber / Metro / Jump bike
Read next: all my Mexico City tips
You can wander between Condesa and Roma on foot easily or ride a Jump bike powered by Uber. It doesn't take long to move around so why not explore the Condesa and Roma Norte food scene in one go?

A food crawl would be a lot of fun. If you're based in the area, you'll have plenty of time to explore the best bits around your sightseeing.
Read next: 36 best Mexican food and drinks to try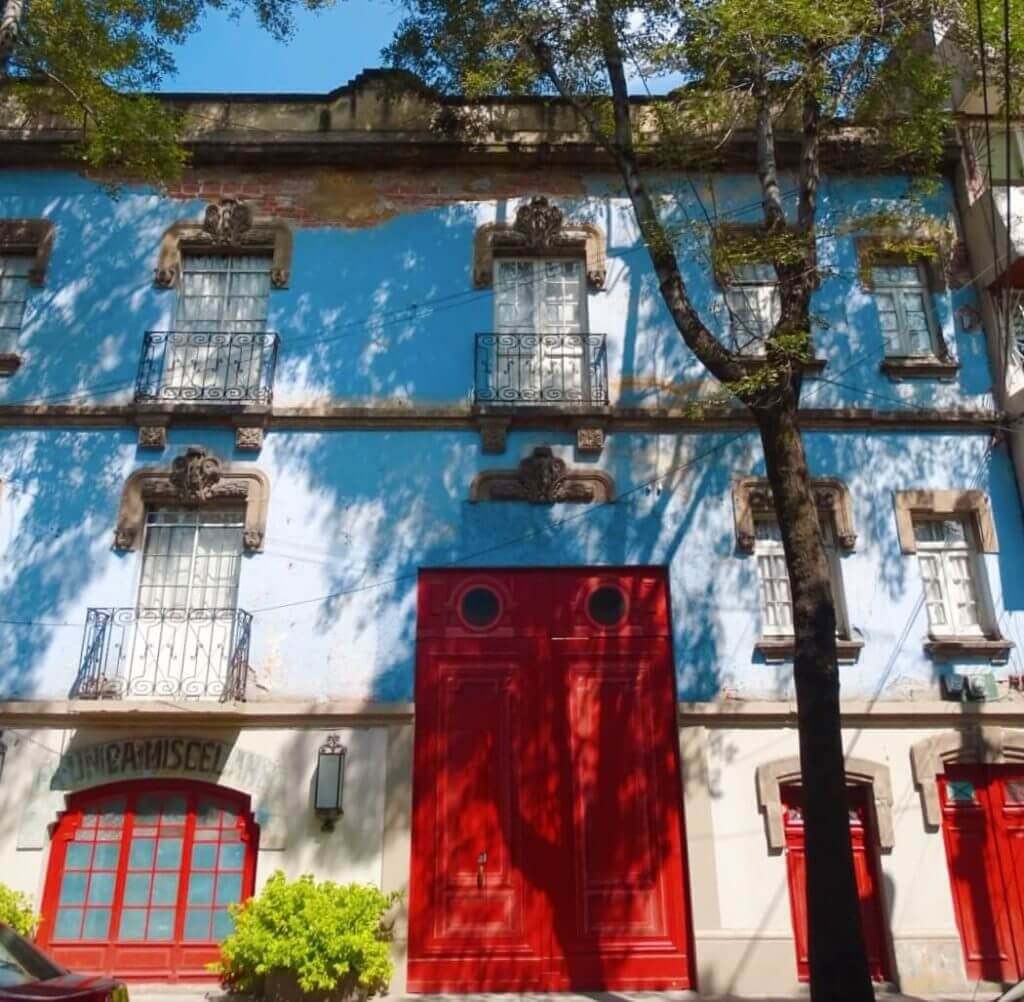 Want to explore with an expert? Book a Roma food tour on Viator.
Best food & restaurants in Condesa and Roma Norte, Mexico City
What I love about CDMX is its variety. Despite the high prices of Roma and Condesa, you'll still find plenty of cheap eats and street food stands. There are also some great bars if you fancy after-dinner drinks.
Best taco restaurants in Condesa and Roma Norte
A Mexico food blog starting with tacos? Maybe I'm a cliche but tacos are LIFE. No two restaurants are the same, meaning vegetarians, meat-eaters and seafood fans will be well catered for.

For tasty affordable Mexican fare, add these taco restaurants in Roma Norte and Condesa to your Mexico City itinerary!
Tacos Hola (casual tacos in Condesa)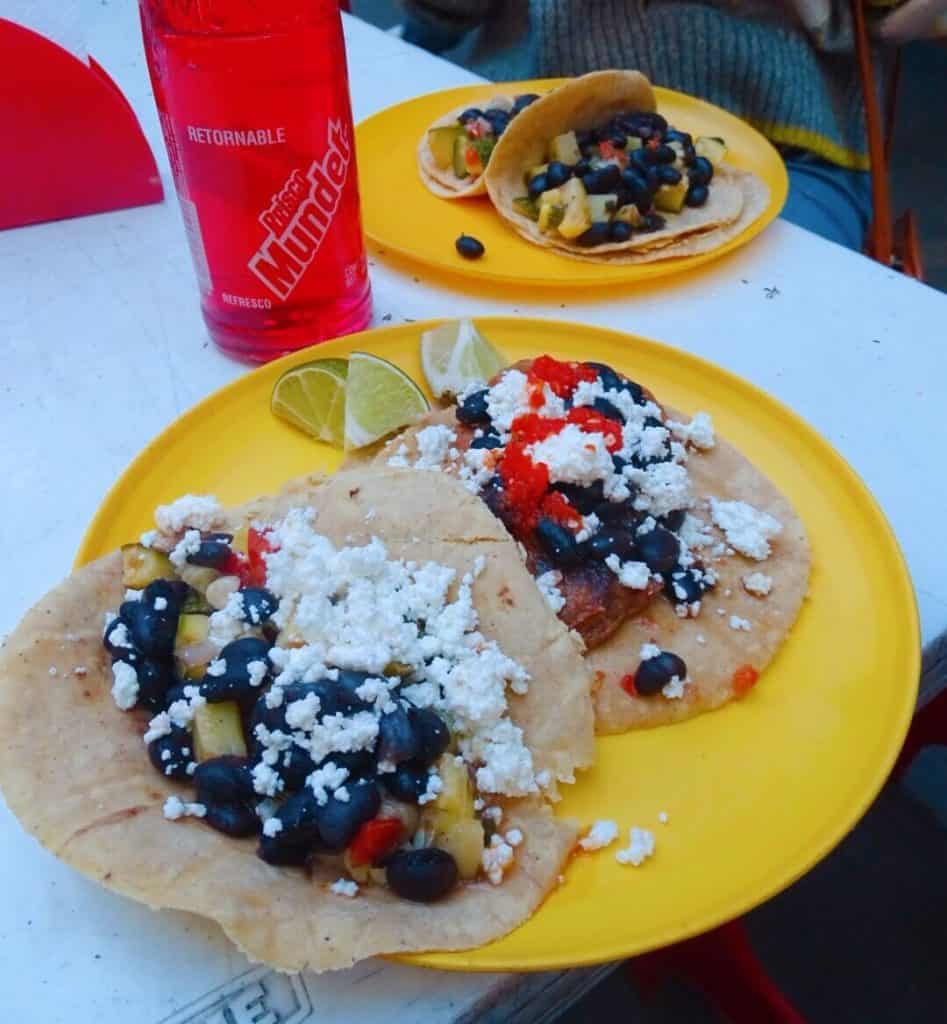 For a quick bite with plenty of flavour, head to this casual restaurant in Condesa, Mexico City.

Tacos Hola is found between Parque Mexico and Parque Espana. Veggies must try the deep-fried cauliflower taco served with guacamole, black beans, spicy salsa and a dash of lime.

These are large tacos rather than the small ones commonly served with al pastor. For a light lunch, order one; if you're hungry, go with two. If you're me, eat five!
Related activity: Roma & Condesa taco tour
Tacos Don Juan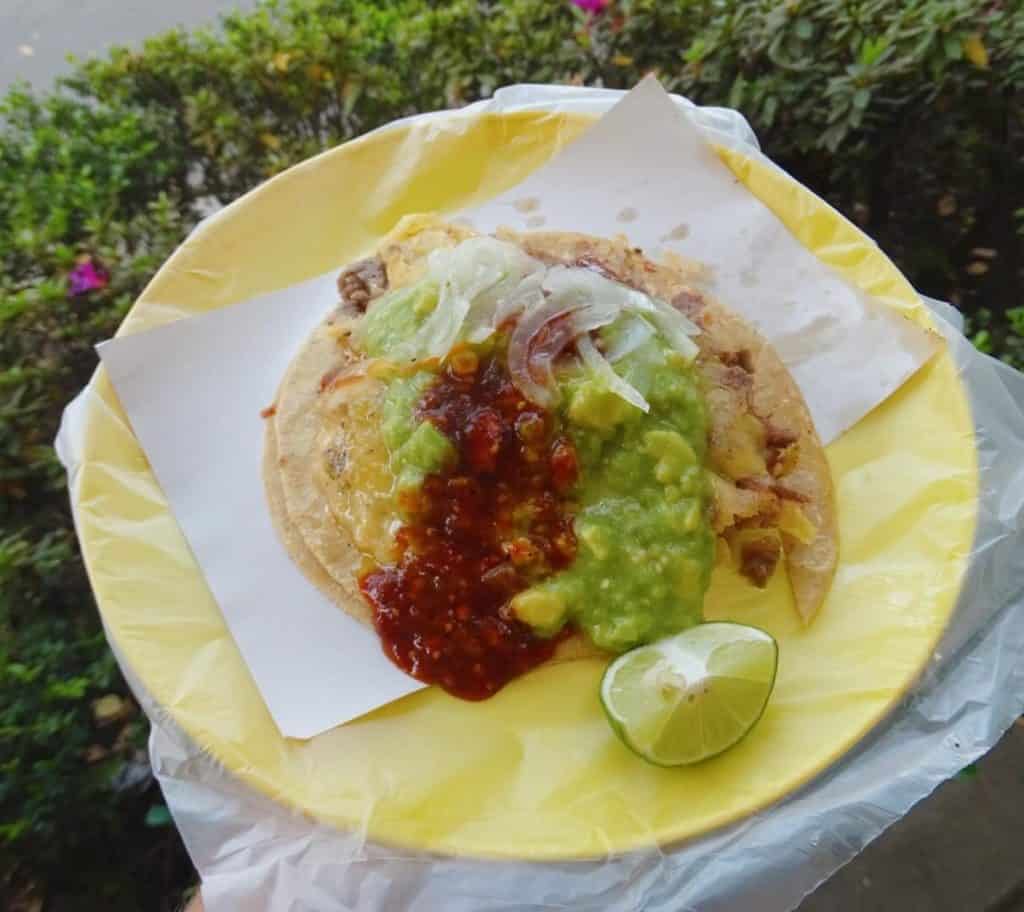 Mexico City locals will tell you Don Juan serves the best tacos in Condesa. Here I tried beef (bistek) tacos with Oaxacan cheese. I was impressed by the juiciness of the meat and the generous salsas and toppings to choose from.

This Condesa restaurant is very casual: grab a taco and eat it standing or perched on a bench outside.

Just one taco left me feeling stuffed; they were delicious but you won't need many. Don Juan sell out by 5pm so visit for lunch instead of dinner.
El Pescadito (best cheap seafood restaurant in Condesa)
If you like seafood, you will agree that El Pescadito serve some of the best tacos in Condesa.

I find myself at El Pescadito on average twice a week. At 38 pesos for a sizeable taco stuffed with fried fish, shrimp or marlin, you won't find cheaper food in Condesa or Roma.

It's a chilled set up: order, grab your plate and add coleslaw, sauces and extras at the serve-yourself station.

Like at Tacos Hola, you'll want to order one taco for a light meal or snack, but at least two if you're feeling hungry. El Pescadito are open daily from 11am-6pm. There's a restaurant in Roma Norte and another in Condesa.
El Tizoncito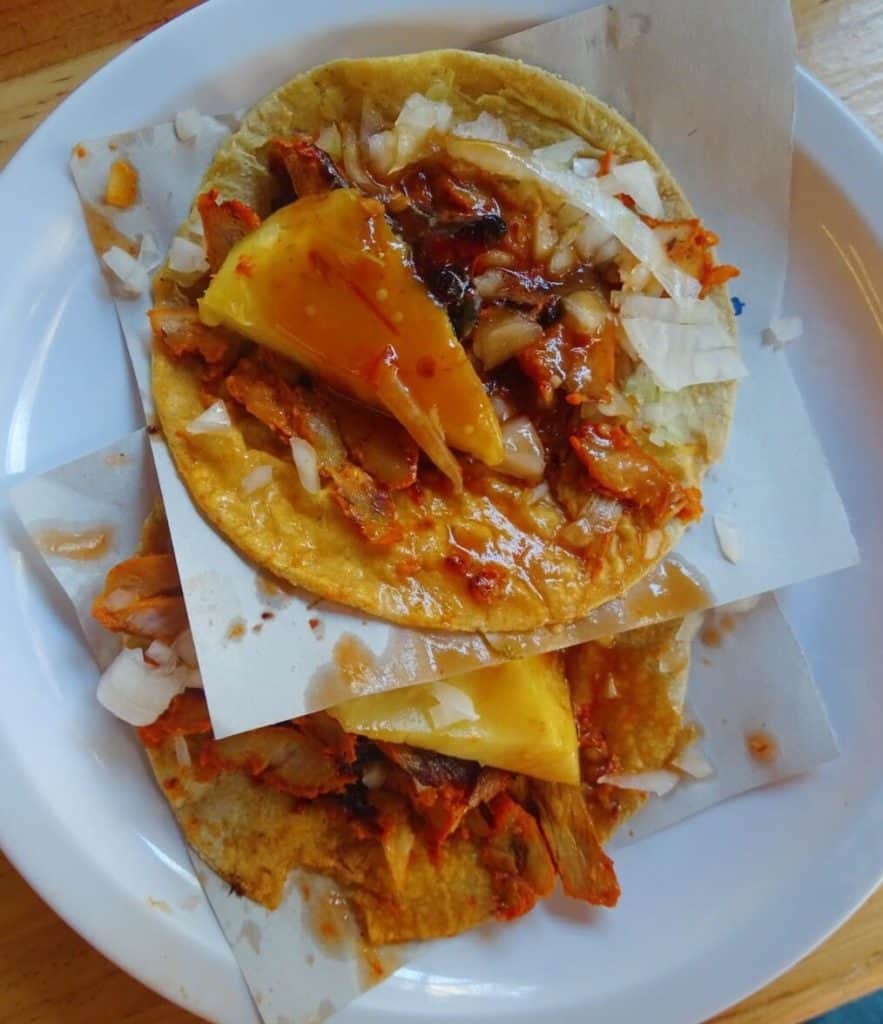 El Tizoncito is a chain of restaurants in Roma Norte and Condesa that claim to have invented tacos al pastor although sshh, I've heard this isn't true. Still, I will forgive them because their tacos al pastor are mouthwatering.

If you're not yet familiar with this dish, tacos al pastor came to Mexico thanks to Lebanese immigrants who settled in the capital. Using kebab meat to fill their tacos, they invented a new dish which is now popular across the country. Tacos al pastor are usually topped with pineapple, onion and cilantro (coriander).

The best thing about El Tizoncito is that however many tacos you order, they'll come with a stand of tortilla chips and dips. Try the pale-coloured bean sauce which is now bottled and sold because locals love it so!

For a tasty meal at any time of day (apparently 2am is prime taco time for El Tizoncito), order at least three of these small tacos. I find four makes a perfect meal, or five if I'm starving.
Tacos Orinoco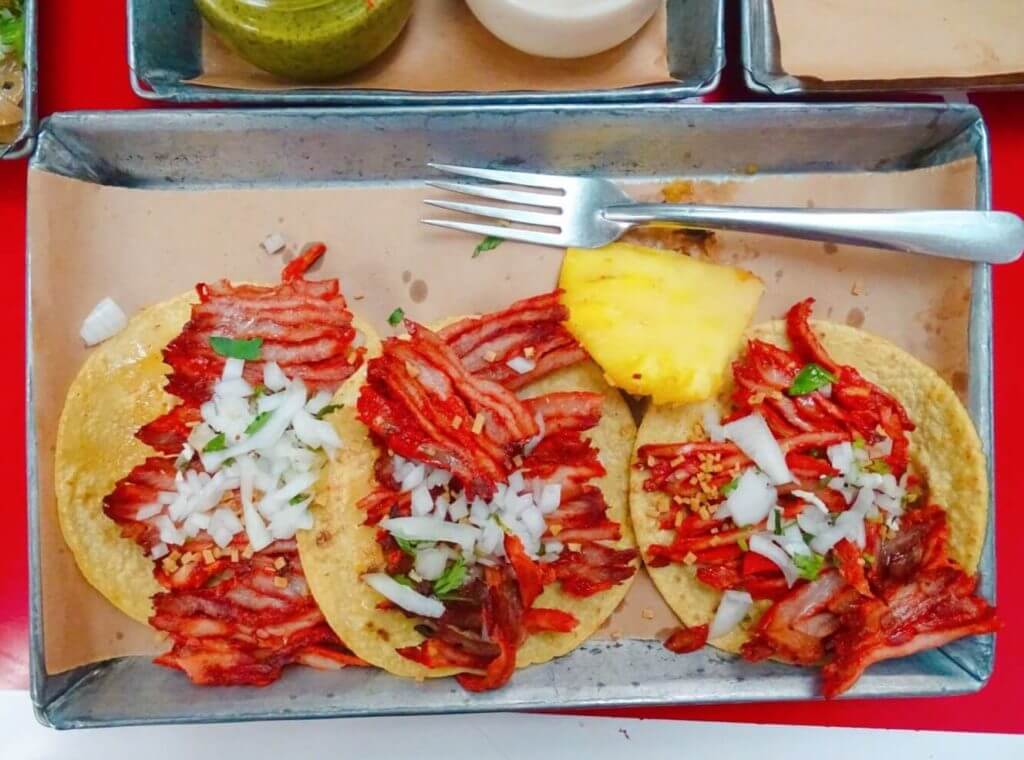 You can't deny the appeal of Tacos Orinoco. Unlike other street stalls, this is a sit-down restaurant specialising in one dish: moreish meaty tacos.

The menu is short and sweet: choose between three types of meat, either trompo (al pastor), rez or chicharron.

I went for al pastor as I was new to Mexico and confused by the options but later went back and tried one of each served with crispy potatoes, something this restaurant is famous for. Wash it all down with a cold beer.

You'll find this restaurant in Roma Norte near the Fuente de Cibeles statue.
Vegan tacos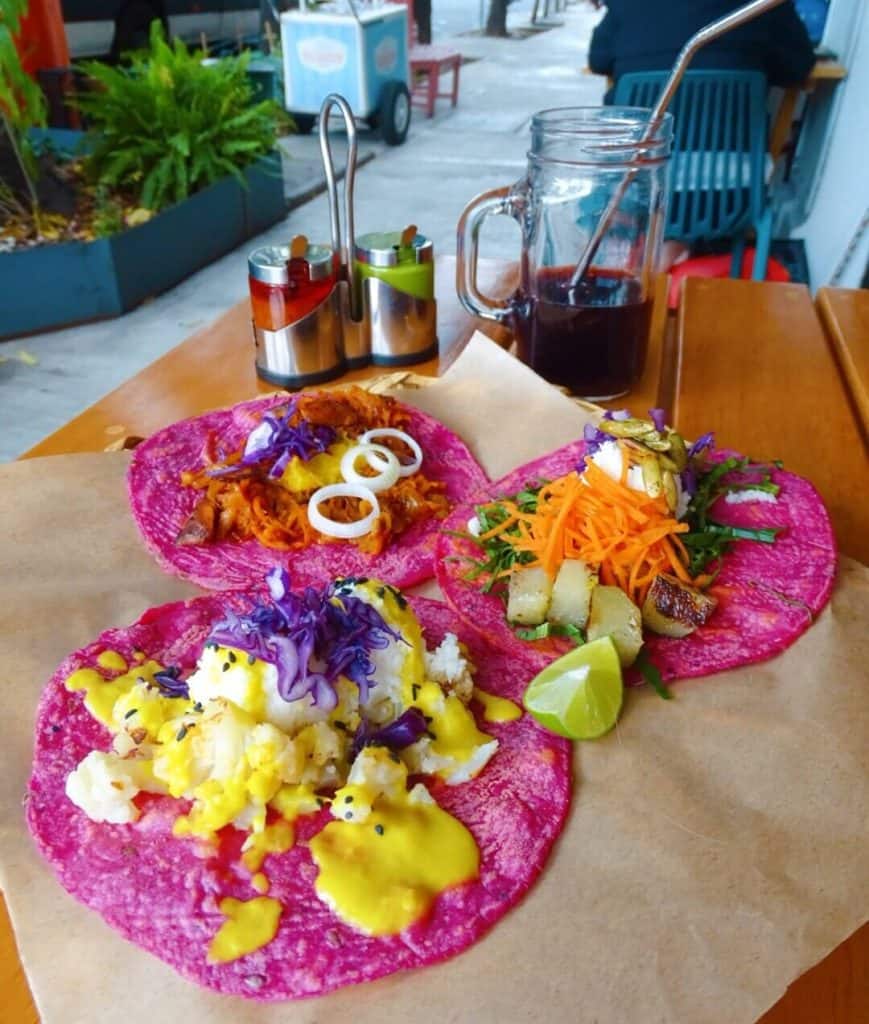 Vegetarians wanting to eat great food in Roma Norte and Condesa will not be disappointed. In fact, some of my favourite tacos in Condesa and Roma are vegan. The best vegan tacos in CDMX can be found at:

La Pitahaya Vegana: This stylish Roma Norte restaurant serves the prettiest tacos using plant-based ingredients. While there are other dishes on the menu like enfrijoladas, enchiladas and mole mixteco, the Insta potential is clearly in the pink tacos coloured with beetroot.

Pay 150 pesos for three and you can mix and match between the toppings. The Crudi with avocado mousse, pecan nut cream and cranberries is a dream.

Por Siempre Vegana Taqueria: This vegan taco restaurant in Roma CDMX is completely different to fancy La Pitahaya. You will pay as little as 50 pesos for five vegan tacos topped with faux meat and all the toppings you want from the generous serve-yourself bar. It's a busy and informal joint that also serves vegan cakes and agua frescas (fruit waters).
Street food in Condesa and Roma Norte
It's not essential to dine at restaurants in Condesa Mexico City; some of the best food can be found on the streets.

While wandering, you'll stumble across cheap and tasty taco and quesadilla stands. Maybe they'll be there the next day, maybe they won't. Either way, you have to try them!

Some of my favourite Mexico City street quesadillas are the ones made with blue corn. Meat is always available but I enjoy the veggie options.

Look out for flor de calabaza which are squash flowers usually served with cheese. You can also try huitlacoche, in other words Mexican truffle. This is a kind of fungus that grows on corn and tastes like a rich, earthy mushroom. It's an acquired taste but one I like.
Other cheap eats in Roma Norte / Condesa
Wondering where to eat in Condesa and Roma Norte on a budget? There are so many Mexican dishes which you can read about in my complete guide to the best Mexican food.

When it comes to affordable street food, you probably wouldn't initially think of Roma Norte and Condesa which is better known for its cafes and restaurants. However, there are plenty of places to eat cheap food in Condesa and Roma including…
La Güera Tortas de Chilaquiles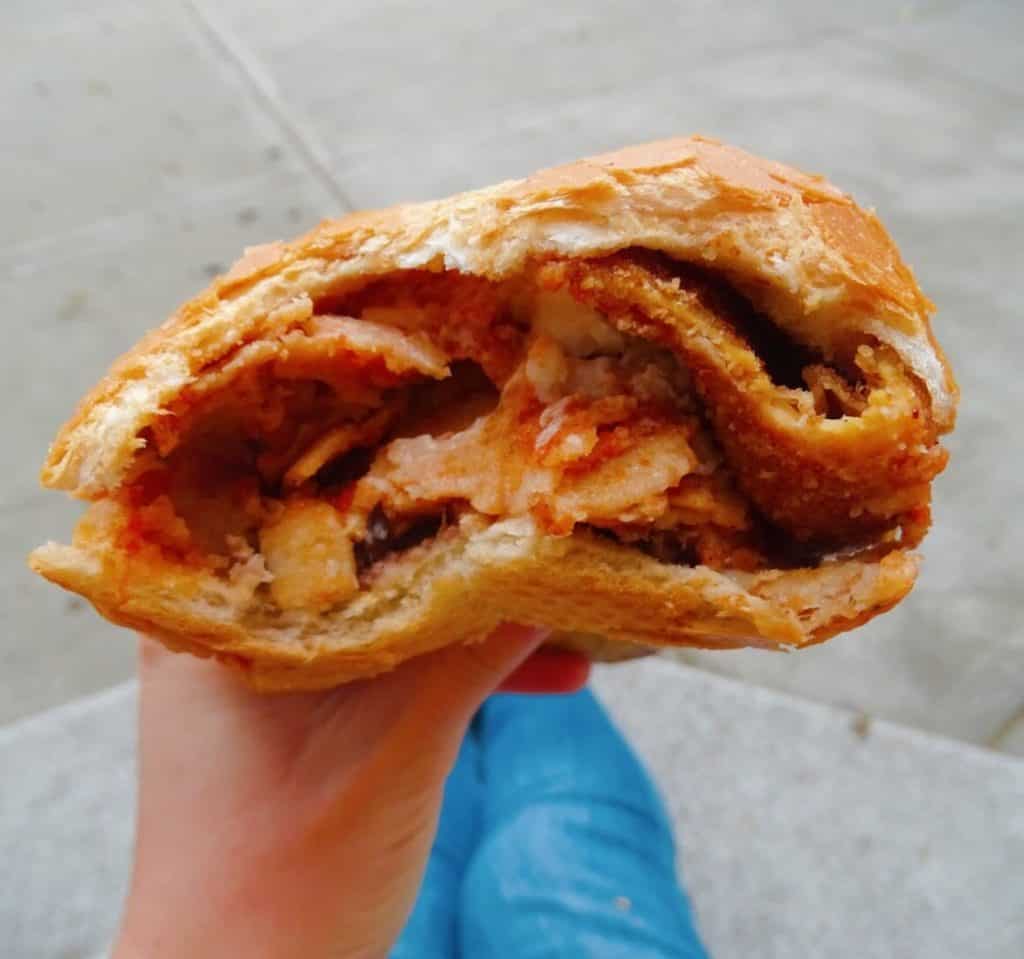 This busy street stall is famous all around the country. If you don't know the words torta and chilaquiles, we need to change that.

Tortas are Mexican sandwiches packed with meat, cheese, veggies and salsas. Chilaquiles are fried tortilla chips (the kind Westerners call nachos) topped with salsa, cream, cheese and often a fried egg.

What could be better than either of these dishes? Oh yes, combining them!

La Güera Tortas de Chilaquiles serve iconic chilaquiles tortas: indulgent tortas overflowing with chilaquiles, red or green salsa, and chicken or pork. Vegetarians can ask for them with just chips and salsa.

It's best to arrive by 8am and get in the queue so they don't sell out. Usually they're all gone by 11am.
Tortas Al Fuego
Want a chilaquiles torta at any time of day without the line-up? Tortas Al Fuego serve tasty tortas with all number of fillings for 30-50 pesos. However, my favourite dish is the chilaquiles torta which is a bargain at 32 pesos.

It's served from 8am-8pm so if you've missed the breakfast rush at La Güera Tortas de Chilaquiles, head here for lunch. This Roma Norte restaurant also serves tacos, gringas and other Mexican classics with veggie, meat and seafood toppings.
La Flauteria
Flautas are a tasty Mexican dish made from rolled up, fried tortillas stuffed with ingredients and topped with cheese, cream and lettuce. Choose from fillings like potato and cheese or meat and salsa.

Visit La Flauteria in Condesa to try a hearty serving washed down with a soft drink like horchata, a plant milk flavoured with cinnamon. You can order flautas individually or as a paquette (packet) deal which includes three and a drink. This modest diner isn't like the hipster Condesa cafes but that's what I like about it!

2021 update – now closed. I'll find a new flauta cafe to add to this guide when I return to CDMX!
Best dessert restaurants in Condesa and Roma Norte
Mexicans certainly have a sweet tooth. I learnt while discovering the Condesa street food that, until recently, Mexico had the highest sugar consumption of any country in the world. Following a recent sugar tax, the leader is now Argentina.

Some of the best food in Condesa is of the sweet variety, from churros to ice cream and chocolate. These are the best desserts in Condesa…
El Moro
How many times have I been to El Moro? I can't even count. This churro cafe is a chain with a few branches in Mexico City, the original in the Zocalo.

However, the prettiest El Moro is this one in Condesa. The white building with tiled walls looks out over Parque Mexico with outside seating and leafy surrounds.

Order four churros and dip them in liquid chocolate, cajeta (caramel) or condensed milk, or add a hot chocolate to your order and drip them straight in your drink. Heaven!
Tout Chocolat
For a gourmet dessert in Condesa, take a trip to Tout Chocolat. In fact, I dare you to just visit once.

The ever-changing chocolates filled with truffle and oozy fondants are so addictive. I'm working my way through the counter display by trying a new one every few days.

It's not just me who's a fan; Tout Chocolat were the winners of a worldwide chocolate competition (something I'd like to be a judge of) thanks to their cantaloupe and peanut butter jelly chocolates. Not served together, by the way.
Clemont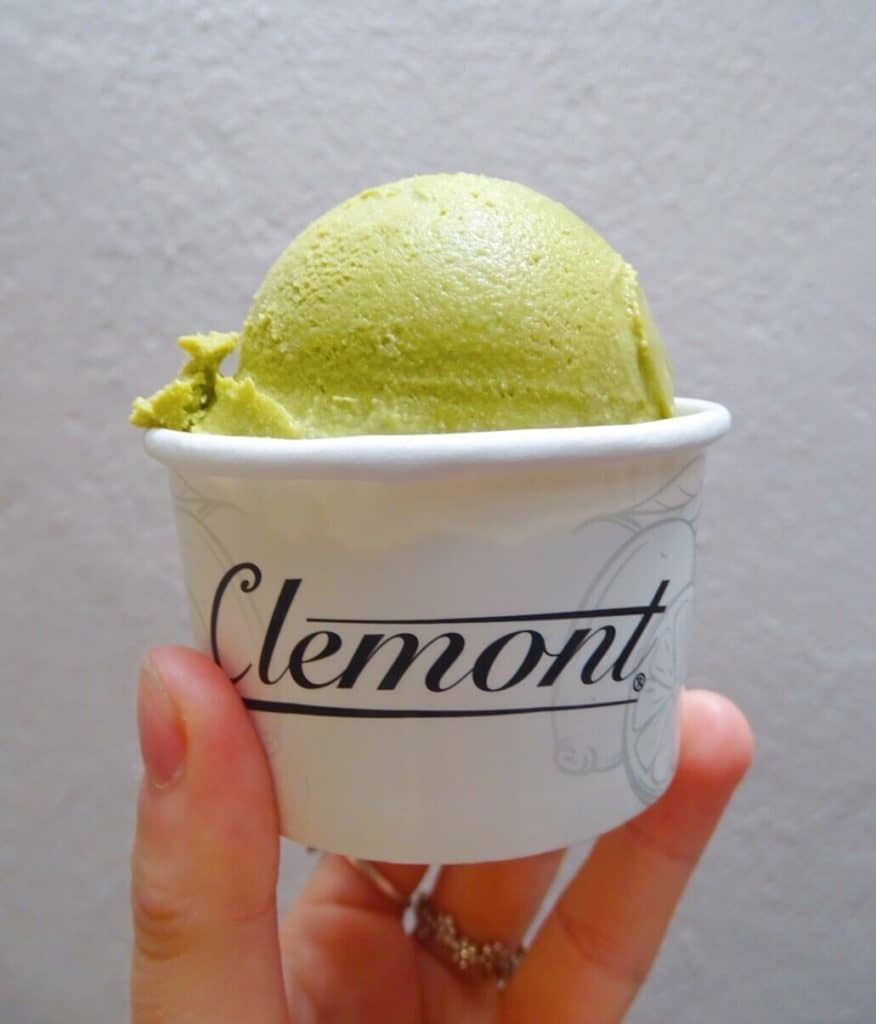 When wandering around the leafy parks of Condesa, you should definitely have a Clemont ice cream in hand.

This ice cream bar serves a number of flavours from coffee to matcha, fruit and chocolate. The ice cream is so rich and creamy.
Ficelle Boulangerie Patisserie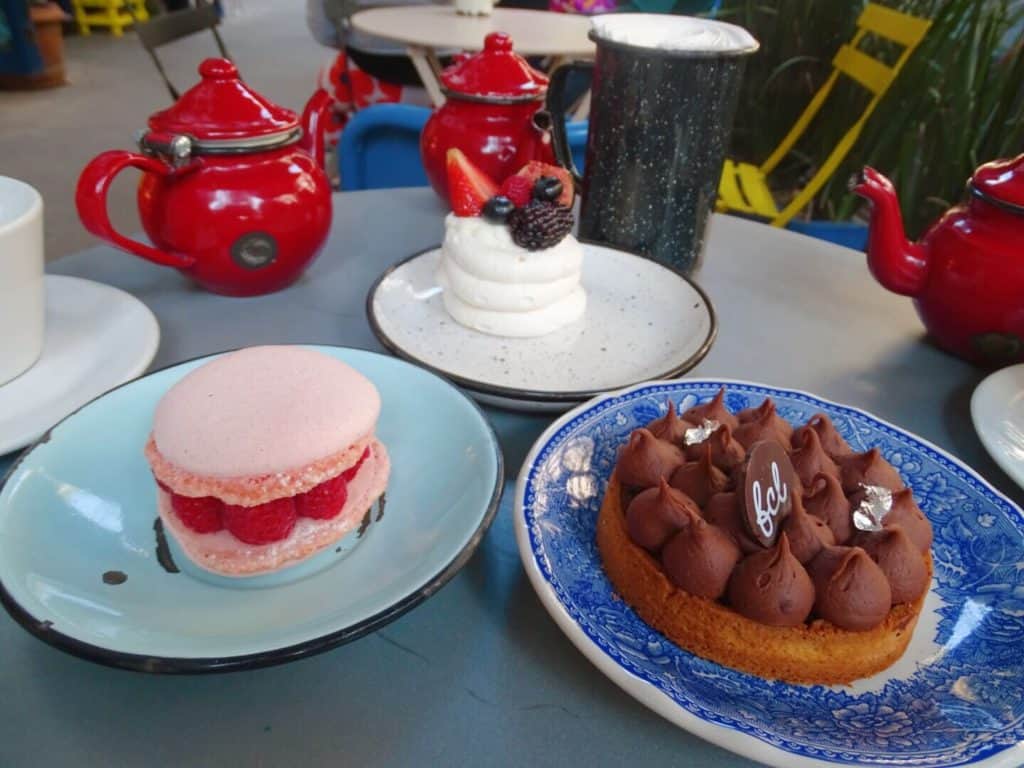 If you really want to indulge in the Condesa food scene, there's no better place than Ficelle Boulangerie Patisserie.

This bakery is French rather than Mexican, giving me another accent to butcher while ordering. There are endless macaroons, fruit tarts and other elegant cakes to choose from.

It's a million miles from Mexican street food but I wanted to include everything in this Condesa and Roma food guide. Prices are inflated but it's worth it for a treat.
Secret Donuts
You won't find a quirkier place to eat in Roma Norte than Secret Donuts. This hipster dessert bar is hidden away in an otherwise plain shop.

When you enter, all you'll see is a luminous menu and yellow retro phone. You'll have to work out for yourself how to order your doughnut and where to find it! No clues from me.
Helado Obscura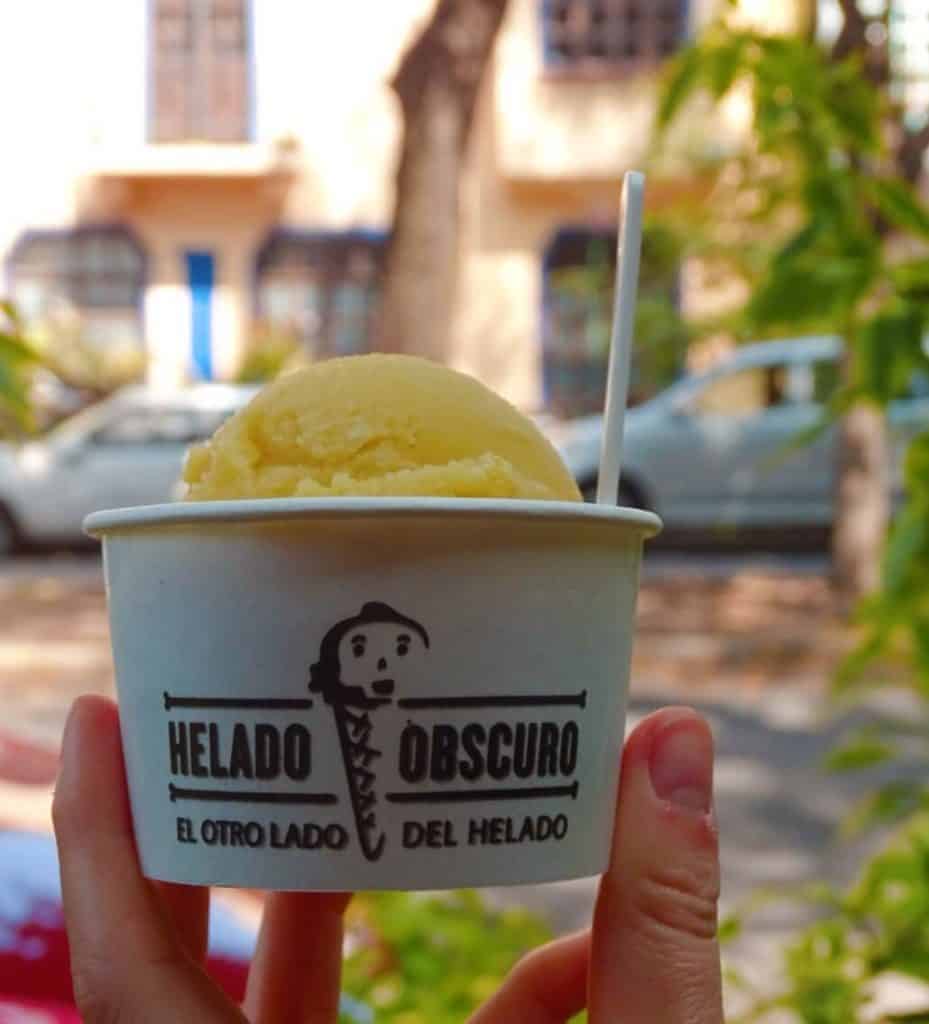 This ice cream bar in Roma serves delicious alcoholic ice creams. The tipsy mango ice cream was delicious and the staff were very friendly, letting me sample different flavours before purchasing.

Pick up a cup and eat it while wandering through Roma's leafy parks.
Best international restaurants in Condesa & Roma Norte
There are many restaurants in Condesa and Roma Norte serving international cuisine. To me, this isn't as exciting as Mexican food but, as a long-term expat, I do occasionally crave a decent burger or Asian food. I'll quickly run through a few of the best options:

Butcher & Sons: The best burger I've had in Mexico City was at Butcher & Sons. They have two restaurants in Roma Mexico City, one near Glorieta Insurgentes and another in central Roma. They both serve giant oozy burgers with toppings like caramelised onion, blue cheese, guacamole and even fried cheese patties, as well as some impressive Beyond Meat veggie burgers.

Galanga Thai: While I've yet to eat here, everyone says this restaurant in Roma Norte serves the best Thai food in the country. I've wandered past and admired the gorgeous interior with its high ceilings and oriental details. It's certainly atmospheric, although some people also say the prices have become too high now they're in their new venue.

Pizza Felix: Margarita pizzas and margarita cocktails? Yes, please. I had the most delectable meal here for a friend's birthday complete with burrata cheese and a banana-rama dessert that shouldn't be missed. Simply amazing Italian-hipster food.

Gin Chan: This restaurant in Roma Norte is pretty and elegant. Most nights of the week, they serve sushi but on Thursdays it's ramen night. The usual menu is omakasa which is Japanese for 'up to you' and includes a selection of courses selected by the chef (500 pesos with alcohol and 700 without). Alternatively, you can just order sushi off the menu.
Coffee in Condesa and Roma Norte
You can usually find me working from the cafes of Roma Norte and Condesa. The best ones are…..

Tierra Garat: The focus here isn't really coffee but the amazing hot chocolates. I love the chocolate con chile which has a spicy kick to it. There are several cafes in Condesa and Roma.

Cardinal Coffee House: There are two of these cafes in Roma Norte and Condesa – both are great for co-working and socialising. The best drink to order is the Cardinal cortado.
Forte: This is probably my favourite coffee shop in Roma CDMX. Not only is the coffee excellent but the croissants and other pastries are absolutely delicious. I also love the hipster decor and the fluffy dog that seems to live here.

Cucurucho: This open plan cafe in central Roma is a lovely place to sit outside with a book and people-watch. They even serve Mexican fusion drinks like coffee with horchata (cinnamon milk).
Best brunch restaurants in Condesa and Roma Norte
If Sunday morning calls and you've had one too many drinks the night before (or if it's any day of the week and you just love brunch), these are the best cafes in Condesa and Roma for coffee and indulgent breakfasts.
Clara y Ema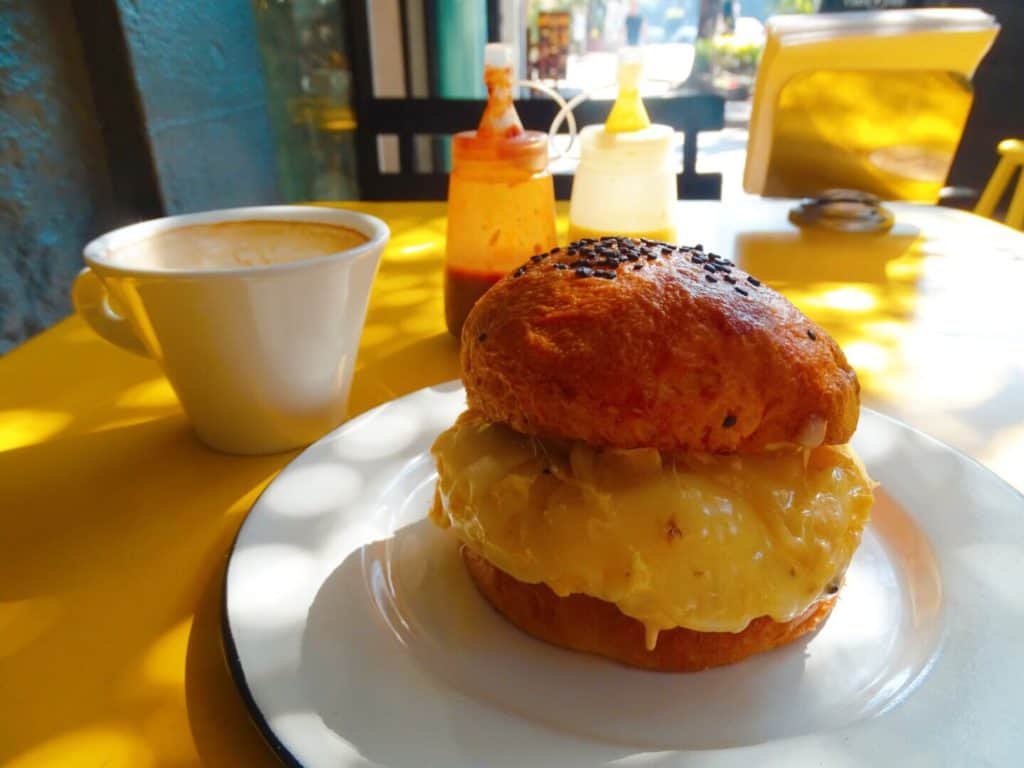 Clara y Ema are one of those places that serve just one signature dish but do it so well. These egg and cheese brioche breakfast buns are so tasty and can be upgraded to include bacon or sausage.

The combo with a huge and coffee for 99 pesos is a bargain!

Find the Condesa branch at Calle Juan Escutia 127 and a branch just north of Roma Norte at Calle Marsella 14.
Lalo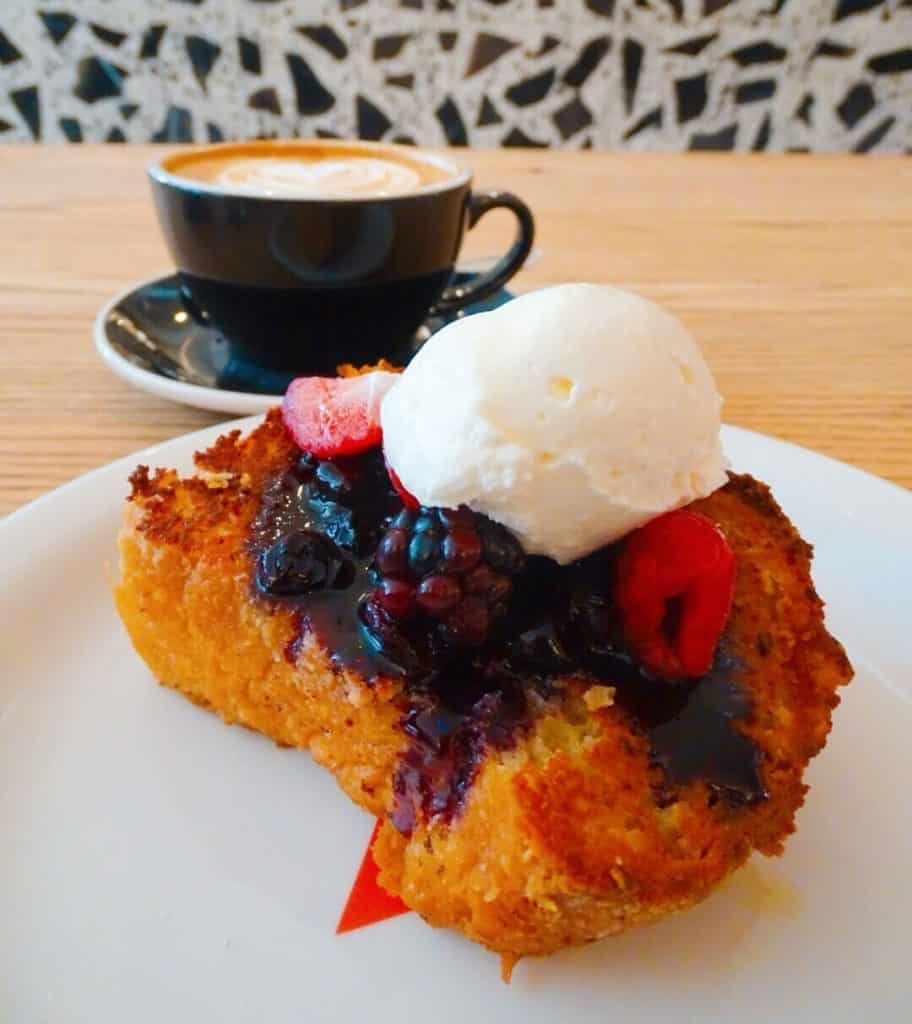 Lalo is a busy, colourful cafe in Roma where guests share tables and the lines stretch down the street on weekends. Is it worth it? Probably but if you can visit on a weekday instead, do that.

While the other dishes look tasty, I don't think you can beat the warm French toast topped fruit compote and a melty dollop of ice cream.
Chilakiler's Loungería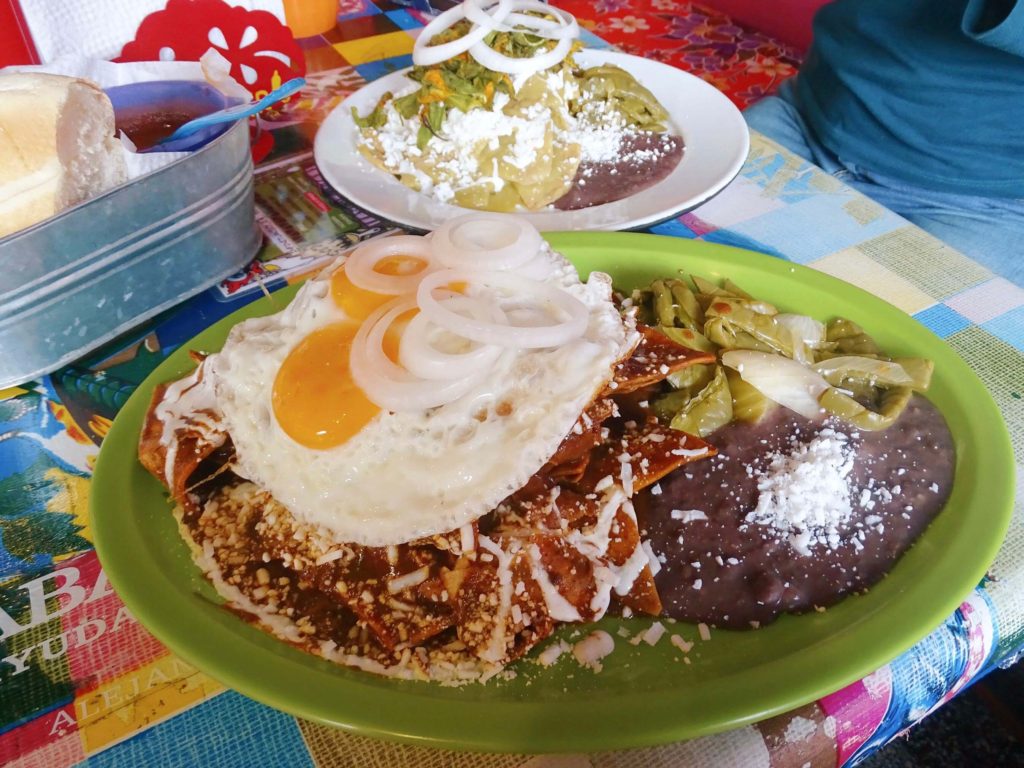 As the name suggests, this bright and colourful cafe serves chilaquiles, in other words, fried tortilla chips with all manner of toppings. You can have meat, salsa, fried, egg, nopales (cactus), mole, cheese and more.

Chilakiler's Loungería is a few minutes west of Condesa in Tacubaya but I'm including it anyway because it's the bomb. They don't take card so remember to bring cash.
Food markets in Condesa and Roma
If the best Roma and Condesa restaurants sound too fancy for your tastes, why not browse a food market and grab something on the go? I would suggest…
Mercado de Roma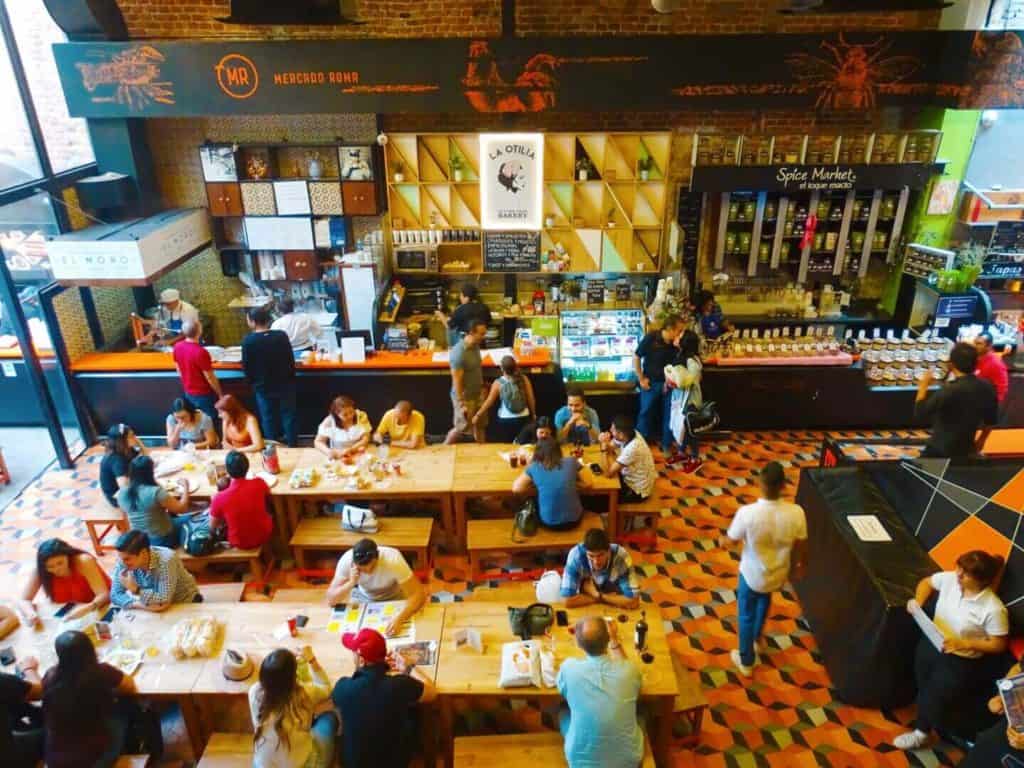 As long as you're not expecting an authentic Mexican food market from Mercado de Roma, you will enjoy this vibey venue with its hipster feel. Lots of the Roma and Condesa restaurants and cafes have pop-up stalls here serving their signature dishes.

You can eat brunch, sip coffee and try Mexican dishes at slightly inflated prices compared to local restaurants and street food. Expect to pay around 100 pesos a meal.
Mercado de Medellin
For a bustling and authentic market, you can ditch Mercado de Roma and come down to Mercado de Medellin.

This Colombian market in Roma Sur is packed with fresh fruit, flowers, butchers and street stalls. It's the total antidote to the hipster cafes in Condesa.

There's also a section of sit-down restaurants at the back where you can eat authentic food for 50 pesos. Make the most of the paquette meals which often include a soup and a drink for around 80 pesos.
Friday Market on Campeche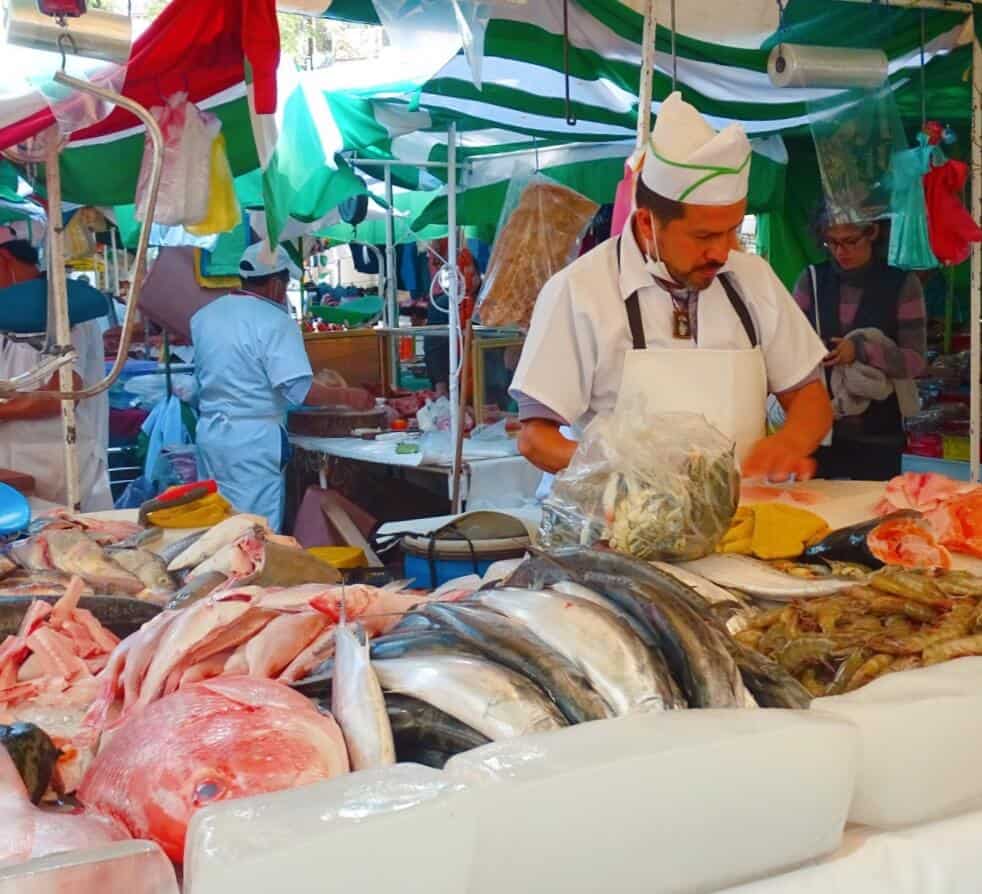 Finally, visit this local farmers market held every Friday.

Unlike the farmers markets I've been to in the UK which feel so pretentious (courgette for £2, anyone?), this market close to the Condesa branch of Cardinal Coffee House serves local food, fruit and veg for affordable prices.

The fresh fish tostadas are excellent.
Looking for a fun cooking class in Roma? I recommend Aura Cocina Mexicana, a cooking class including a morning market trip. Read my review.
Thanks for reading my Condesa and Roma Mexico City food guide
I hope you have a better idea of where to eat in Roma Norte and Condesa and get successfully stuck into all the foodie delights in these neighbourhoods.

I'm sure I will add to this guide as I continue to graze my way through the restaurants in Condesa Mexico City!
Eating sustainably in Mexico
Sadly, a lot of plastic is used when it comes to Mexican street food. I travel with the following items to reduce my footprint:
Check out my other Mexico City guides
VISITING MEXICO?
These are my trusted resources:

Getting around by air – the quickest (and often cheapest) way to travel between Mexican cities is by flight. I use Skyscanner but always check Kayak for price comparison.

Getting around by bus (environmental option) – buses in Mexico are comfy with free snacks and an in-journey entertainment system. I use Busbud to find the best prices.

Driving in Mexico – use Rentalcars.com to compare car rentals in Mexico (and all around the world).

For hotels, I use Booking.com (they also have self-catering apartments). They have flexible cancellation policies, plus after 10 bookings you qualify for genius membership and extra discounts.

For hostels, I use Hostelworld.com. Hostels in Mexico are great for meeting other travellers.

To save money on accommodation, I use Trusted Housesitters, a website that connects homeowners going away and travellers who can sit their homes & pets.

I use GetYourGuide for tours & activities when I don't want to travel solo. You can bank on knowledgeable guides & low prices. I also check Viator as they often have fun & unique options.

EatWith – your one-stop for Mexico food tours, cooking classes and hosted meals with local chefs and foodies.

Confused about visas? I use iVisa to check visa requirements and apply for visas online.

Need travel insurance? I use World Nomads. They cover 150 countries and have 24-hour emergency assistance.

Check out my resources page for more travel discounts and tips from 10+ years of travel!
For more travel content, follow me on Instagram, Facebook, Twitter and YouTube.
See you next time,
Rose
Ps. Liked these best restaurants Roma Norte and Condesa? Pin this for later!